Modern-style bathrooms generally include clean lines, basic colors, natural materials, and geometric patterns. No surprise, they ooze uncomplicated charm. If you want a clutter-free haven, look at these modern bathroom ideas.
No matter the size of your bathroom, you can transform it into a modern oasis for ultimate relaxation. Without further ado, here are stunning modern bathrooms.
1. Modern Bathroom Vanity Designs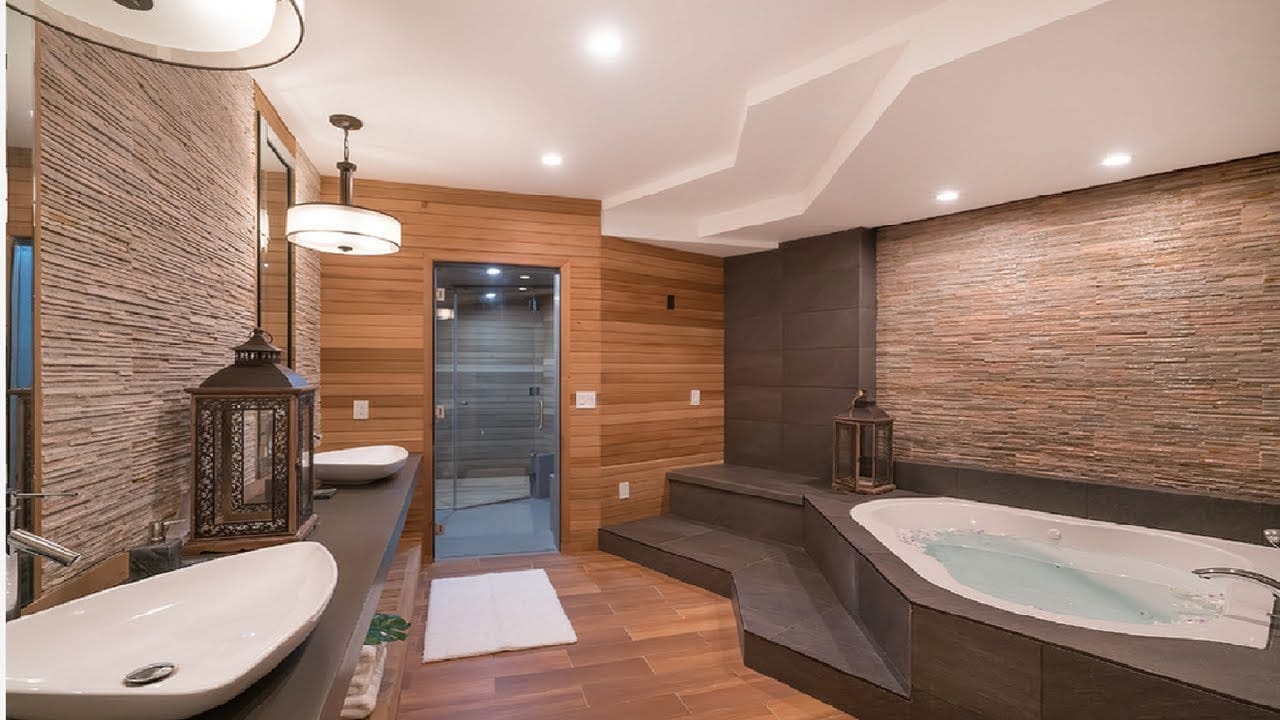 A modern bathing space does not have to be clinical. Use this bathroom as your inspiration. It is stylish and welcoming at the same time.
Moreover, the floating vanity employs an open shelf for accommodating extra towels. Two Moroccan lanterns act as decorative elements.
2. Modern Bathroom Tile Ideas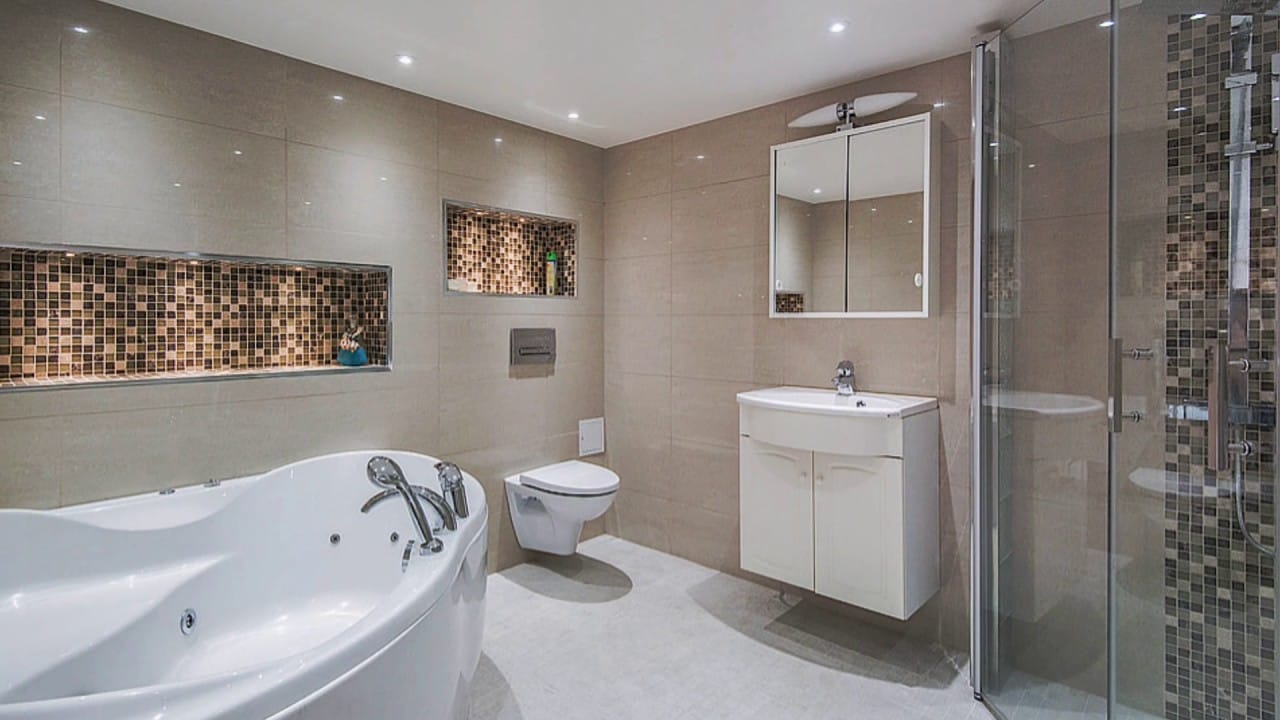 Rectangular wall tiles come in taupe. Do they not only set an inviting scene but also produce a widening effect.
The mosaic tiles cover the built-in niches and a corner shower wall. In no time, they add visual interest and dimension to the bathroom.
3. Modern Bathroom Shower
Glass shower enclosure and windows make the bathroom feel open. The floating shelf and stainless steel bars keep towels within arms reach.
Furthermore, unfinished wood ceiling and floor infuse unrivaled warmth into the interior. Lastly, an oval tub and sinks soften the look.
4. Modern Floating Vanity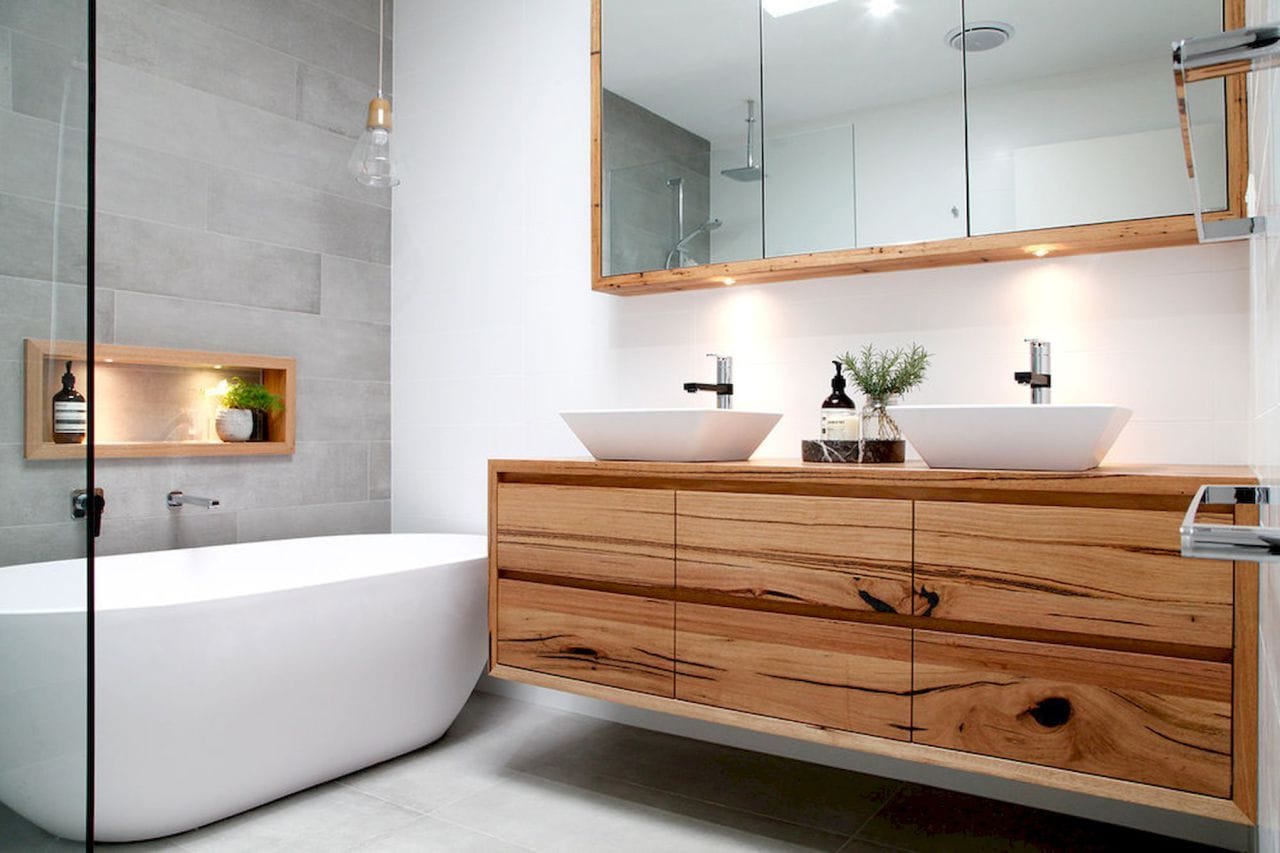 Light gray concrete tiles subtly contrast with white soaking tub and wall. Different sources of light fixture illuminate the bathroom.
Floating vanity, wall niche, and mirror frame are made out of raw woods. They balance out cool elements, while houseplants generate an organic feel.
5. Modern Bathroom Lighting Ideas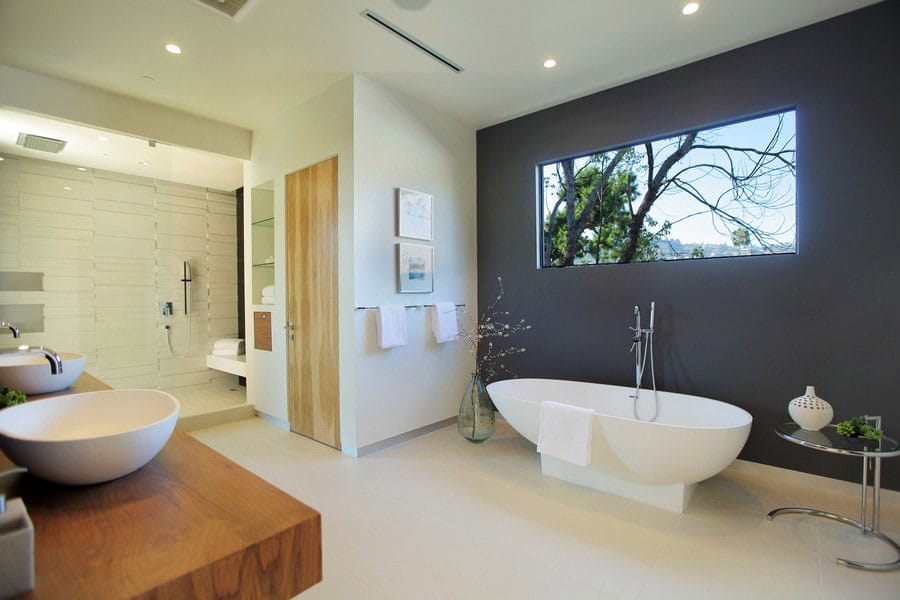 The white foundation contributes to a bright bathroom. Pedestal tub, wall-hung vanity, and shower bench lend the space a trendy appearance.
Downlights brighten up the whole area once the sun sets. The black accent wall imbues the room with drama. Recessed shelves house toiletries and spare towels.
6. Modern Bathroom Plan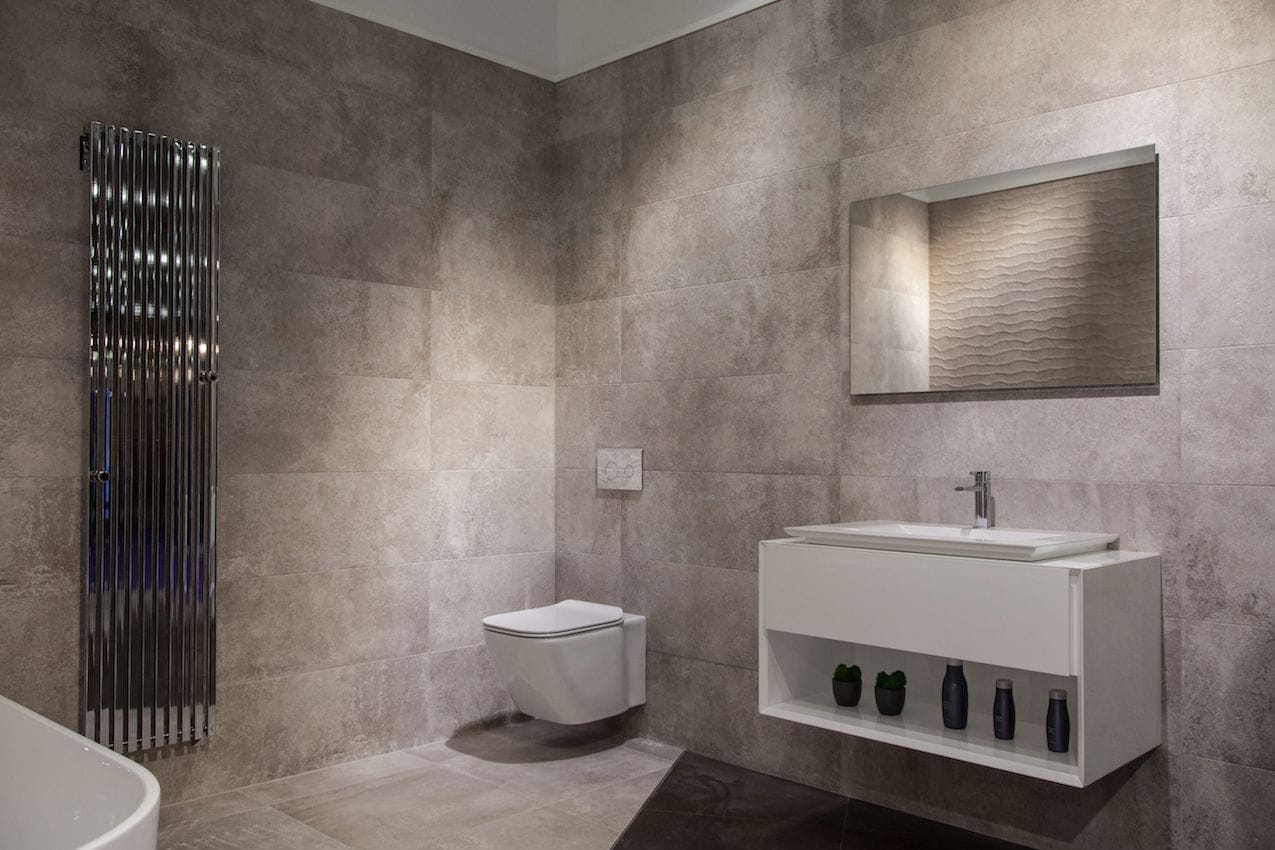 Polished and textured concrete walls carry a masculine vibe to this bathroom. Meanwhile, stainless steel details stamp the industrial aesthetic.
The wall-mounted vanity and tankless toilet convey a sense of simplicity. A rectangular mirror fools the eye into seeing the room is larger.
7. Mid Century Modern Bathroom Vanities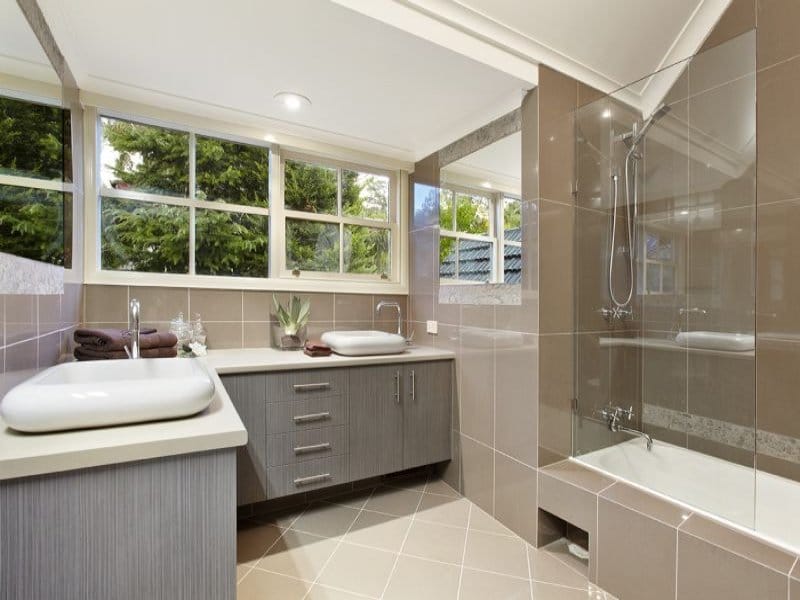 The L-shaped gray vanity utilizes the awkward corner space. Streamline drawer pulls and sinks with rounded edges offer a mid-century modern appeal.
A glass shower panel, windows, and mirrors emanate a feeling of airiness. A potted plant breathes life into the area.
8. Modern Bathroom Designs 2017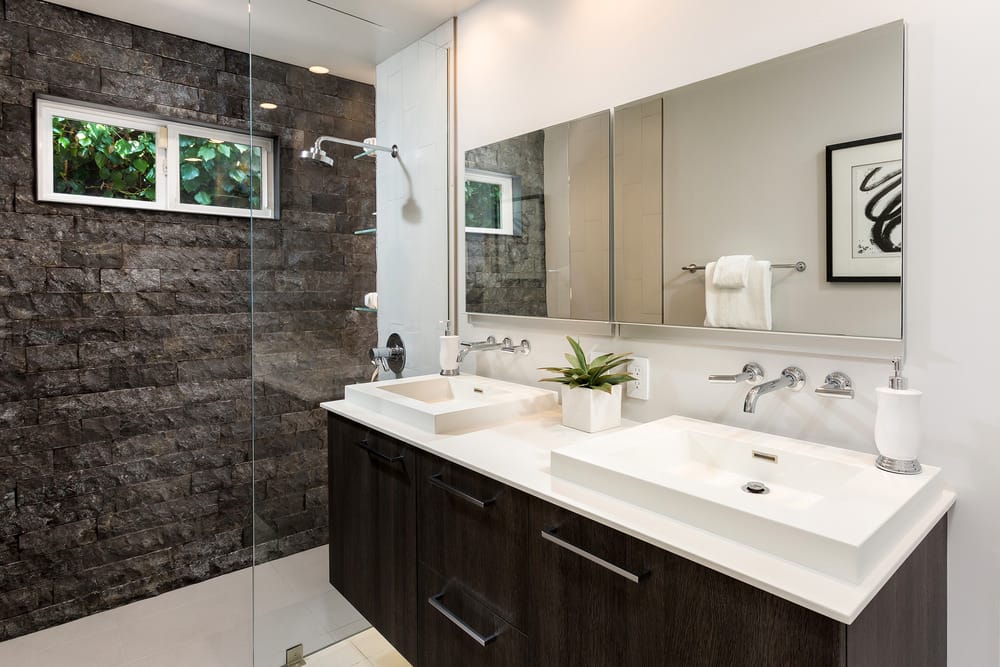 This bathroom is perfect for a couple. It boasts double sink vanity and mirrors. Therefore, they will not fight over the space.
The shower accent wall is clad in rough stone bricks to get a rustic touch. Cabinets hide unsightly bath essentials, while windows let in natural light.
9. Mid Century Modern Bathroom Lighting Ideas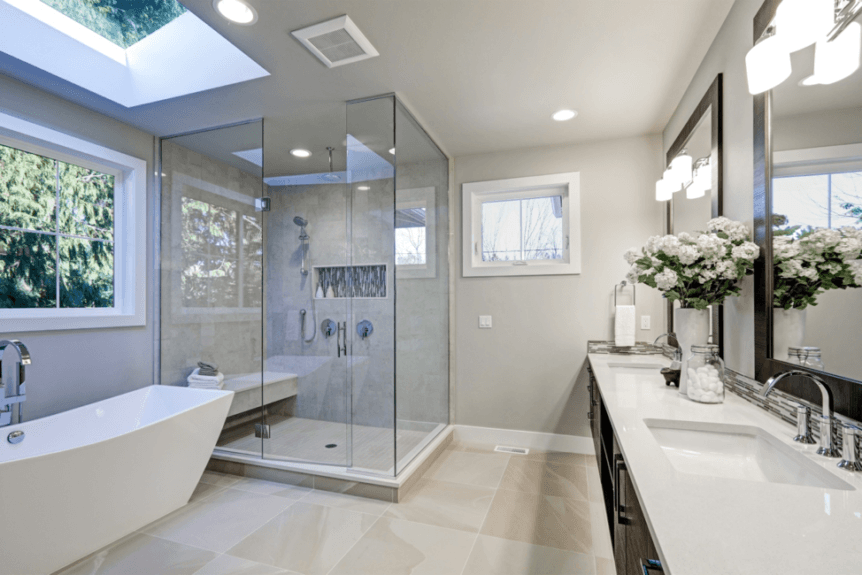 Windows and skylights allow in sunlight. Mid-century modern light fixtures illuminate the area after dark.
Gray walls and metallic pieces inject male energy into the space. White flowers in vase lead to a gender-neutral bathroom.
10. Modern Bathroom Cabinets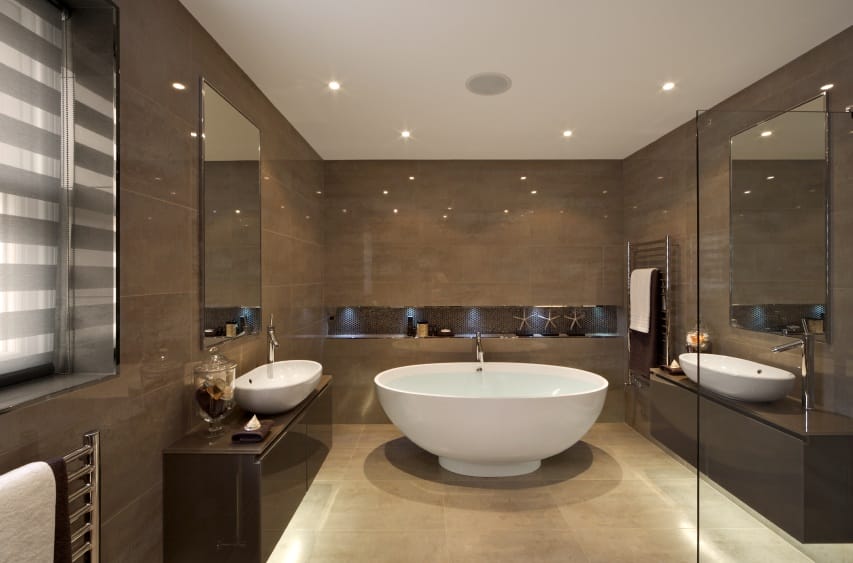 Brown wall tiles carry a homey atmosphere to the bathroom. Glass panel, handle-free cabinets, and square mirrors give the space a modern charm. White bowl tub and oval sinks stand out from the crowd.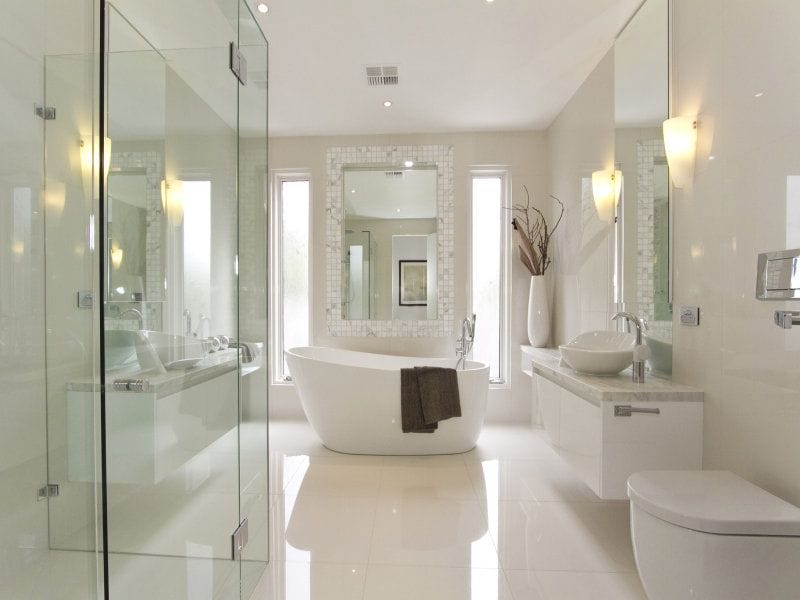 Pure and off whites dominate the scheme. They set a clean setting. Both frameless and mosaic tile-framed mirrors create an illusion of added space. The ornament, dark brown towel, and wall lights make the space less clinical.
12. Modern Bathroom Vanity IKEA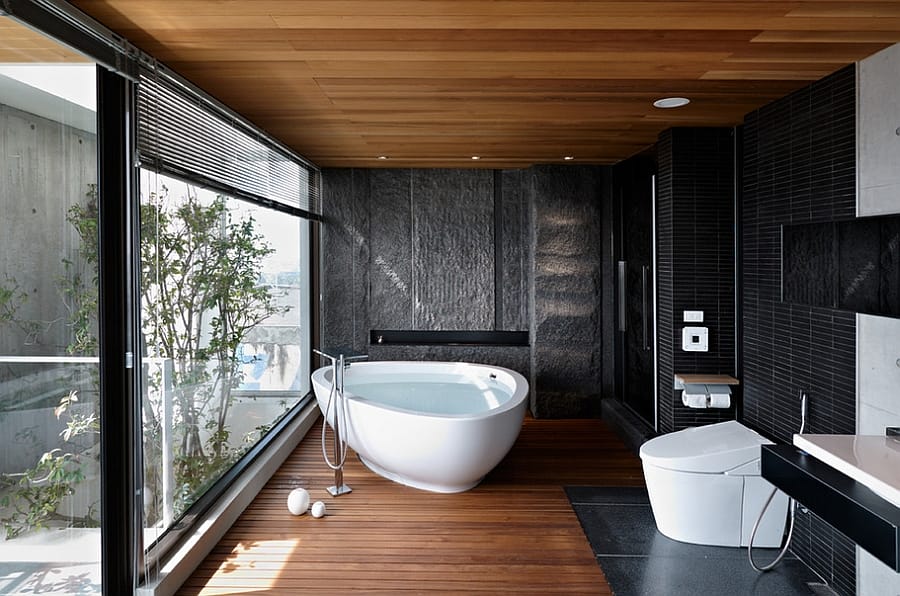 A black floating vanity, floor, built-in niches, and walls elicit a feeling of sophistication. Wood and stone details bring outdoors in. Floor-to-ceiling windows and white units keep the wet room from being dingy.
13. Modern Glass Bathroom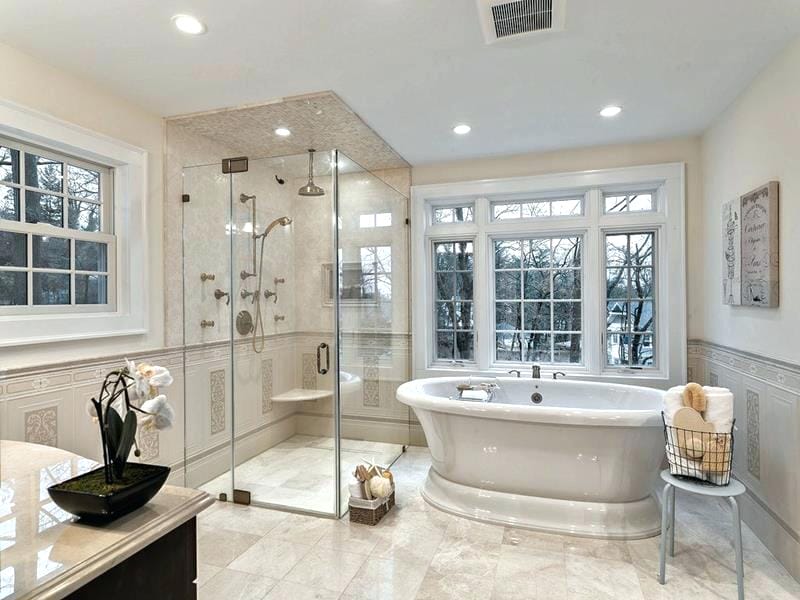 Cream floor, countertop, and upper walls reinsure the space with a serene ambiance. Glass walls and door around the shower area exude a sense of stylishness. The tub, chair, and shower fixtures offer a mid-century modern flair.
14. Dark Modern Bathroom Walls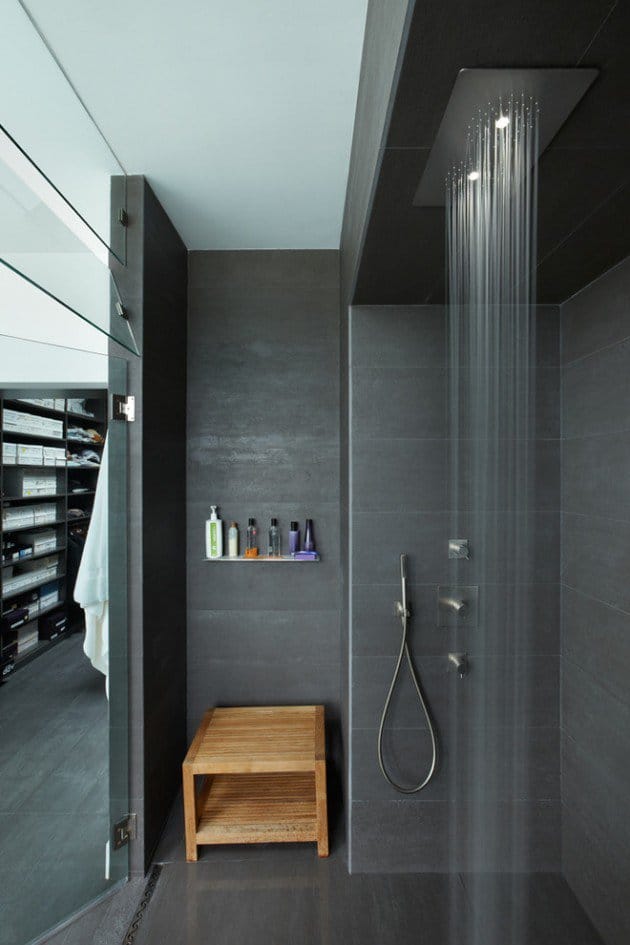 Polished black slate tiles and silvery hardware develop a masculine mood. Rainfall showerhead, open shelf, and glass doors lend the shower room a modern touch. Naked wood bench adds warmth to the space.
15. Modern Bathroom Designs 2019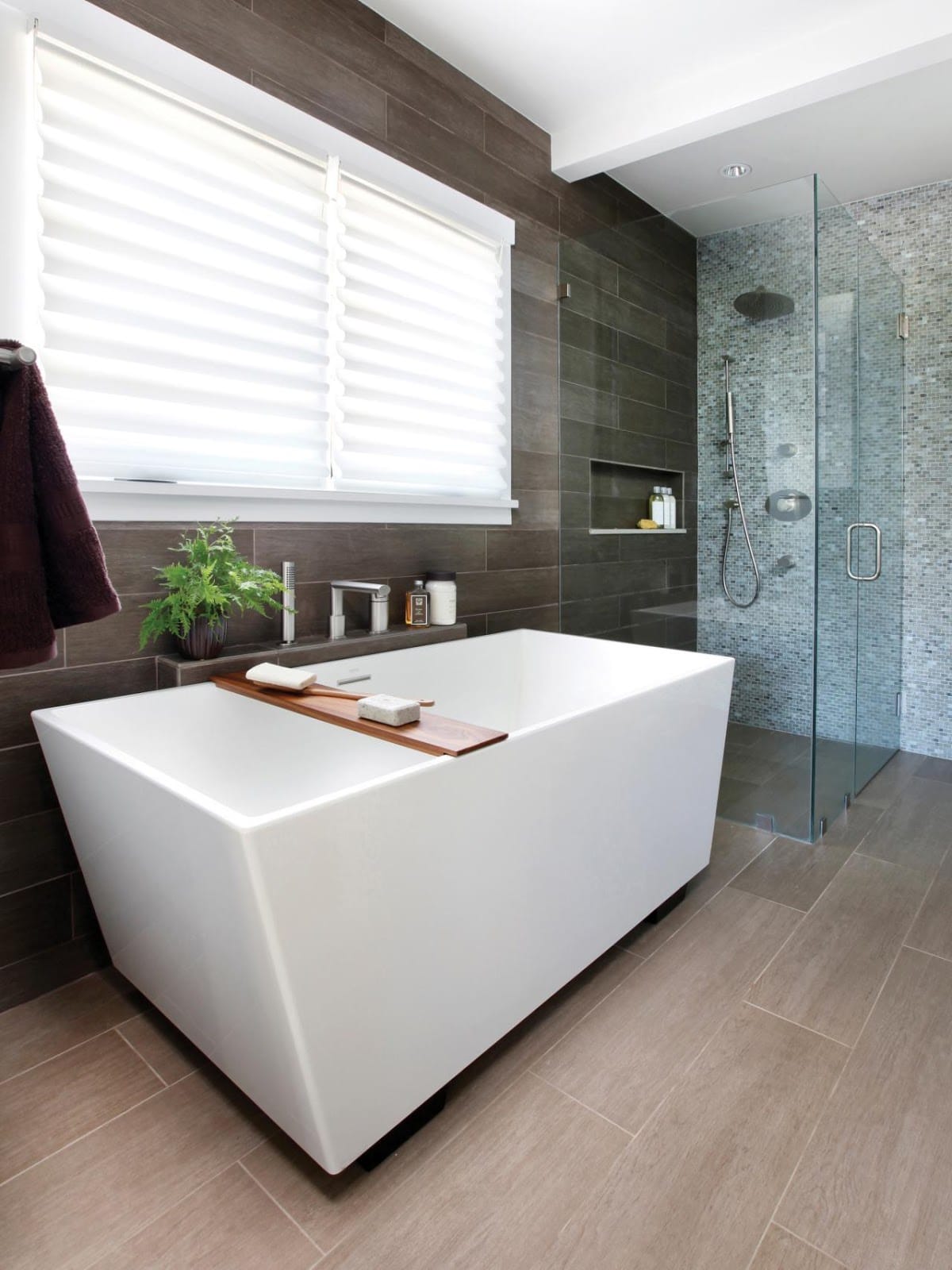 Here, a white soaking tub echoes the shape of wood-look tiles. They, along with a caddy tray provide simple elegance. Lastly, potted houseplant next to bathtub injects fresh air into the entire bathroom.
16. Modern Bathroom Sinks Home Depot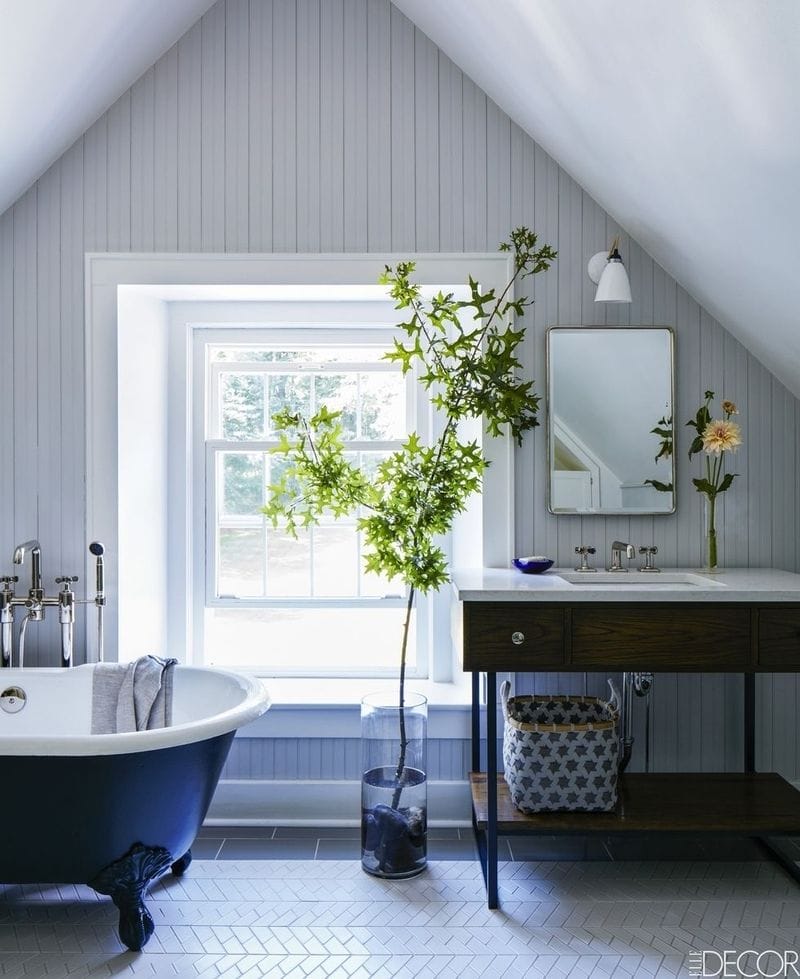 Chevron floor tiles, navy clawfoot tub, and beadboard wall panel take the attic bathroom from meh to mesmerizing.
The undermount sink and metal-and-wood vanity with open shelf embrace modern design. Flowers and greenery enliven the area.
17. Mid Century Modern Shower Curtains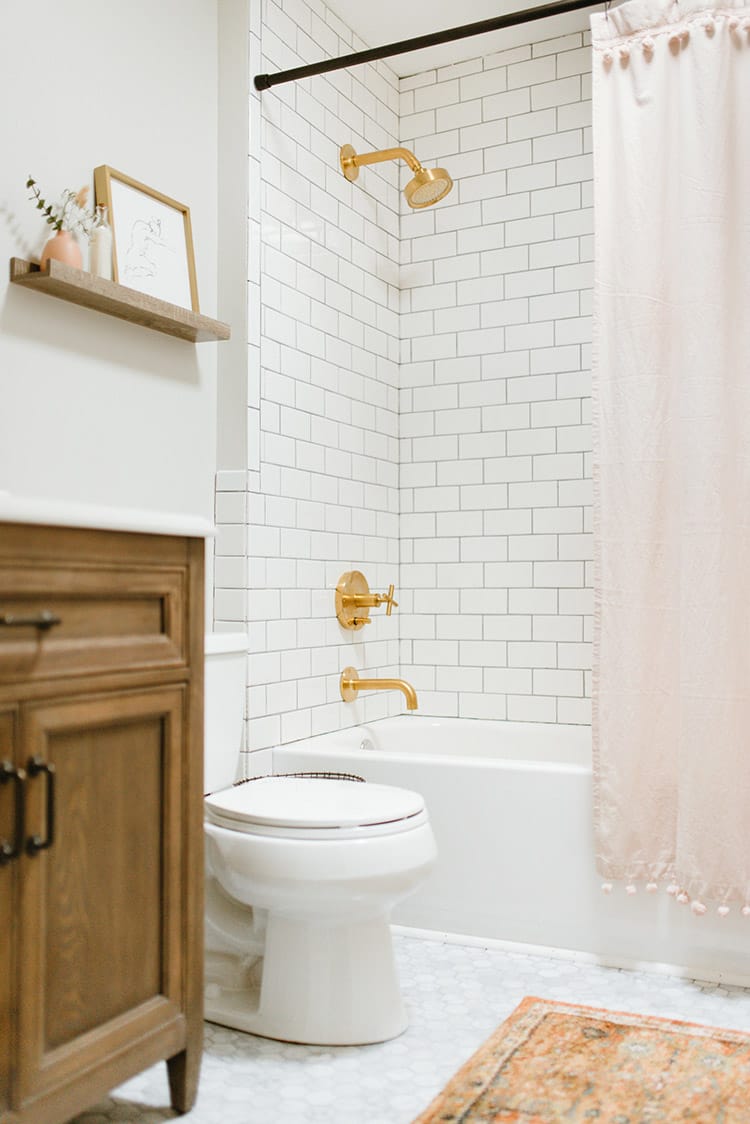 The white color palette tricks the eye into thinking the bathroom is bigger. Brass shower fixtures ooze glamour.
Pink shower curtain, coral rug, and peach vase evoke a sense of femininity. The raw woods generate a welcoming nuance.
18. Modern Bathroom Faucets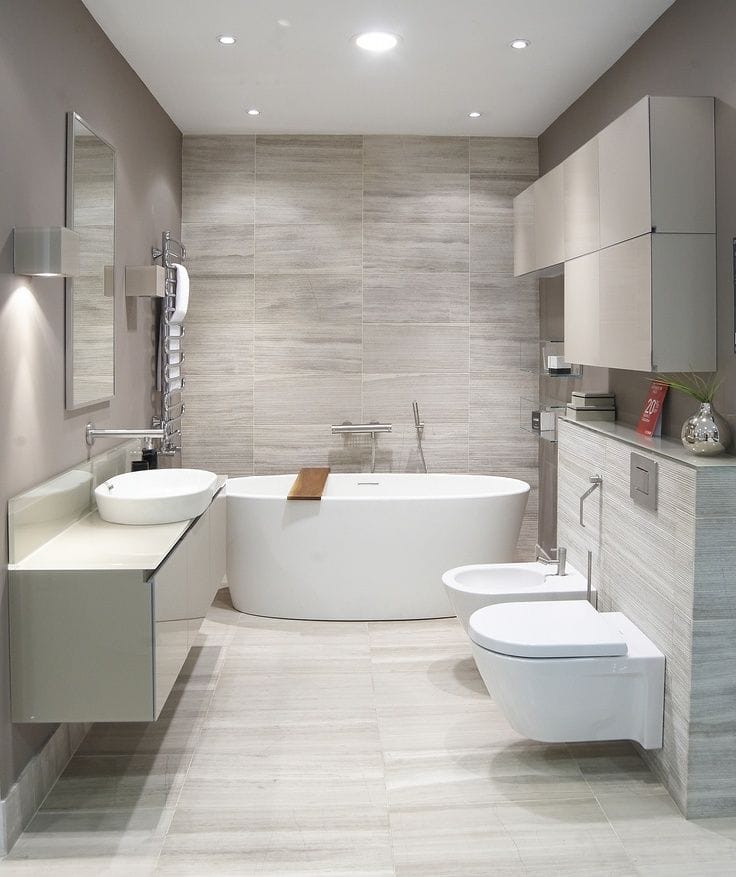 Undoubtedly, this bathroom is the epitome of modern. The vanity, handleless cabinets, and toilets introduce minimal footprint. Stainless steel faucets and gray-wood look tiles develop a sophisticated look.
19. Modern Industrial Style Shower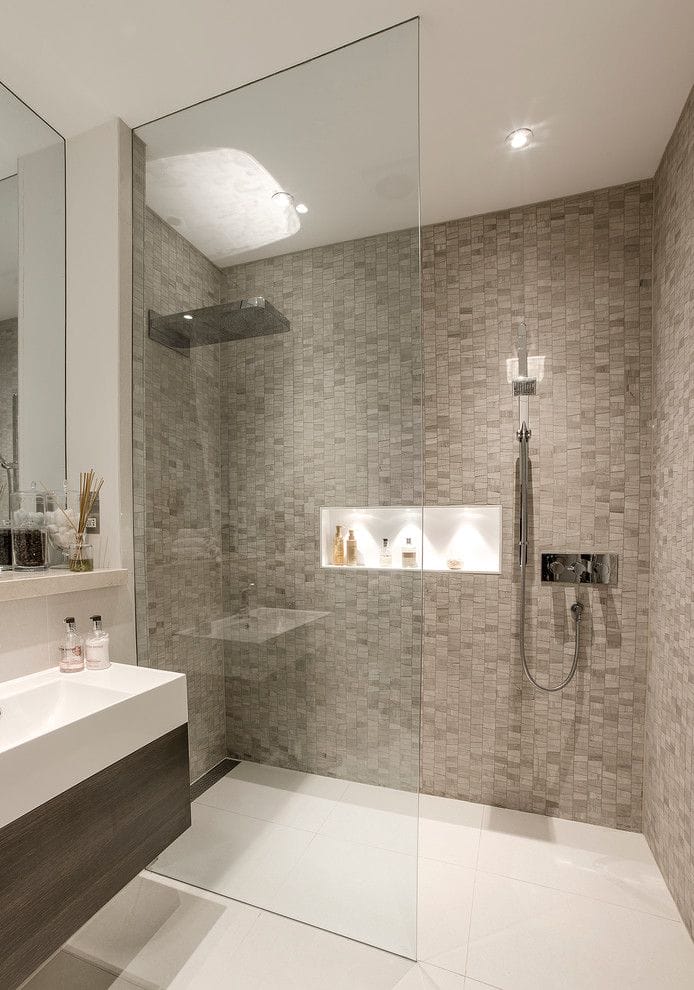 Neutral tones lead to a tranquil bathroom. Metallic showerhead and hardware give the shower area an industrial flavor. Lastly, the white wall niche displays bath essentials.
20. Small Modern Bathroom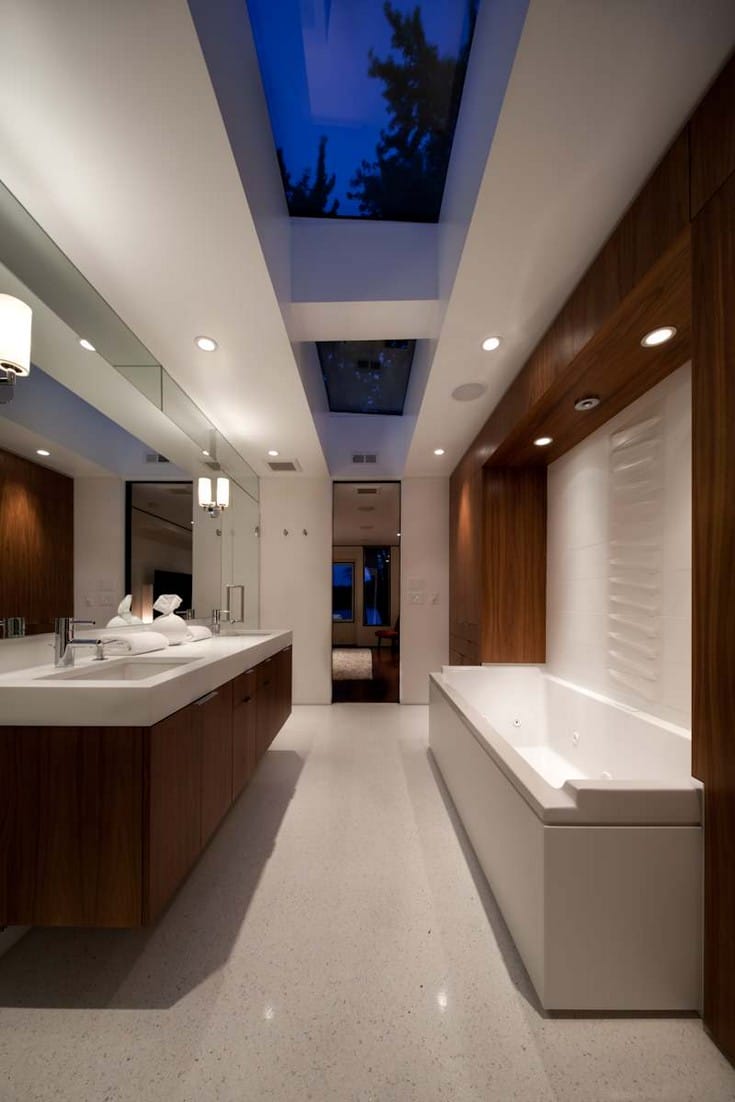 The skylights and lots of white keep this galley bathroom bright. Downlights and wall sconces provide proper illumination in the night. Wood elements cozy up the scene, while full-width mirror expands the space visually.
21. Modern Round Vanity Mirror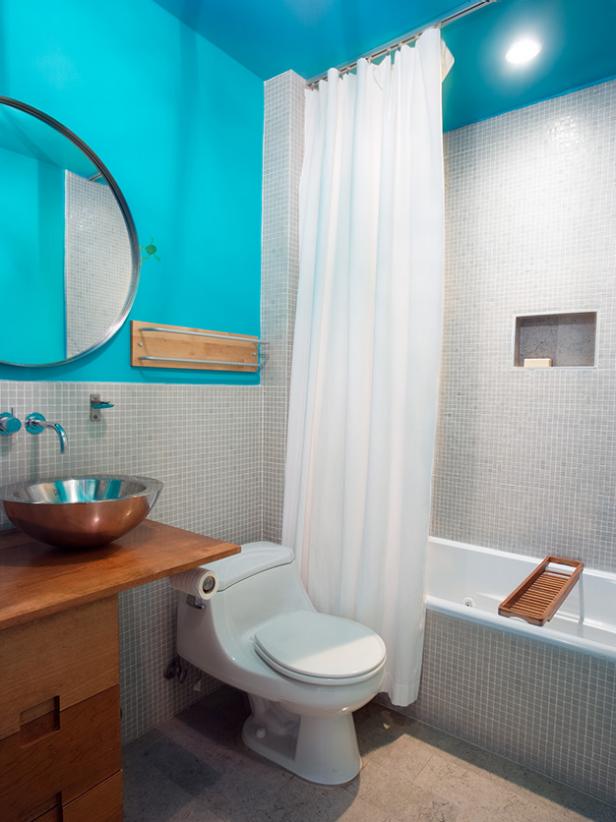 Gray mosaic tiles are a contrast to the vibrant blue ceiling and upper wall. A vanity mirror recalls the shape and color of the sink. White curtains provide privacy. Wood accents prevent the room from being chilly.
22. Modern Bathroom Floating Unit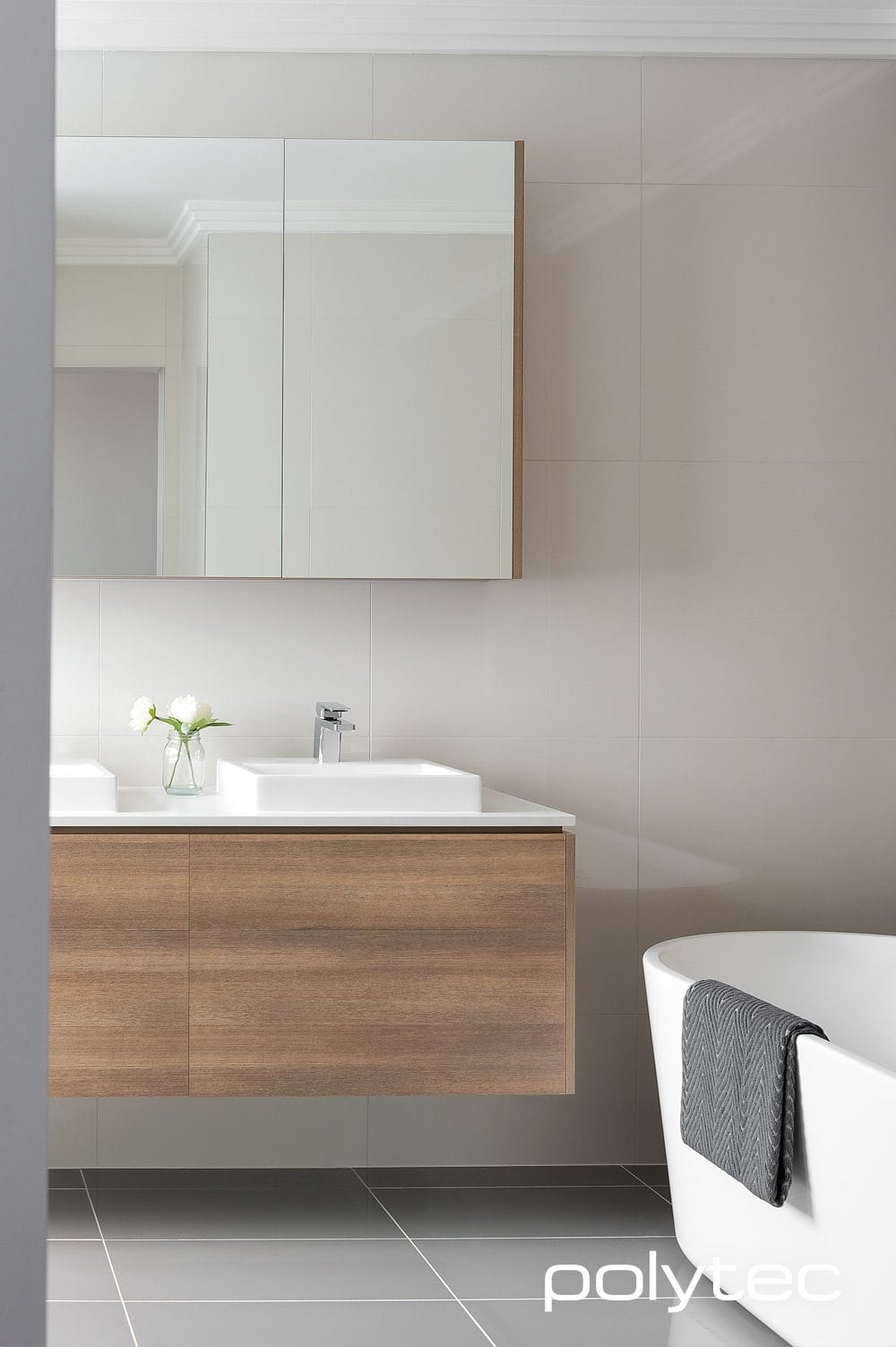 Different shades of gray give this tiny bathroom dimension. White tub, countertop, and sinks convey cleanliness. Floating wood vanity and wall-mounted mirrored cabinets hide the eyesores.
23. Luxury Modern Bathroom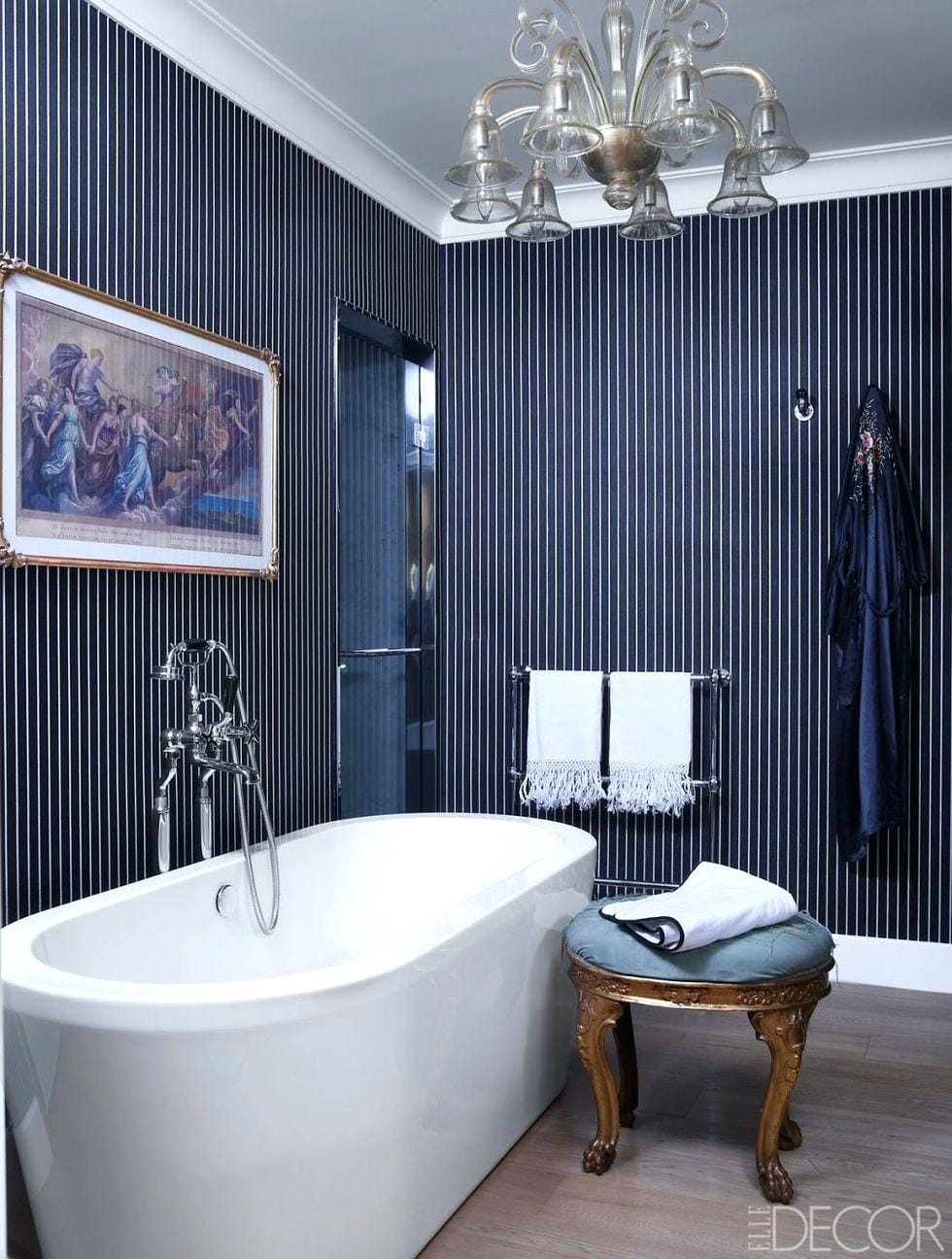 The deep blue striped wall coverings create the perception of a higher ceiling and exhibit a modern vibe. Moreover, they let the oval tub and towels take center stage. Painting, chandelier, and stool promote a sumptuous setting.
Having a modern sanctuary does not mean you must sacrifice your taste. Use geometric shapes and decorations to infuse character into the bathroom. After reading those modern bathroom ideas, do you get inspired?
24. Open Plan Modern Bathroom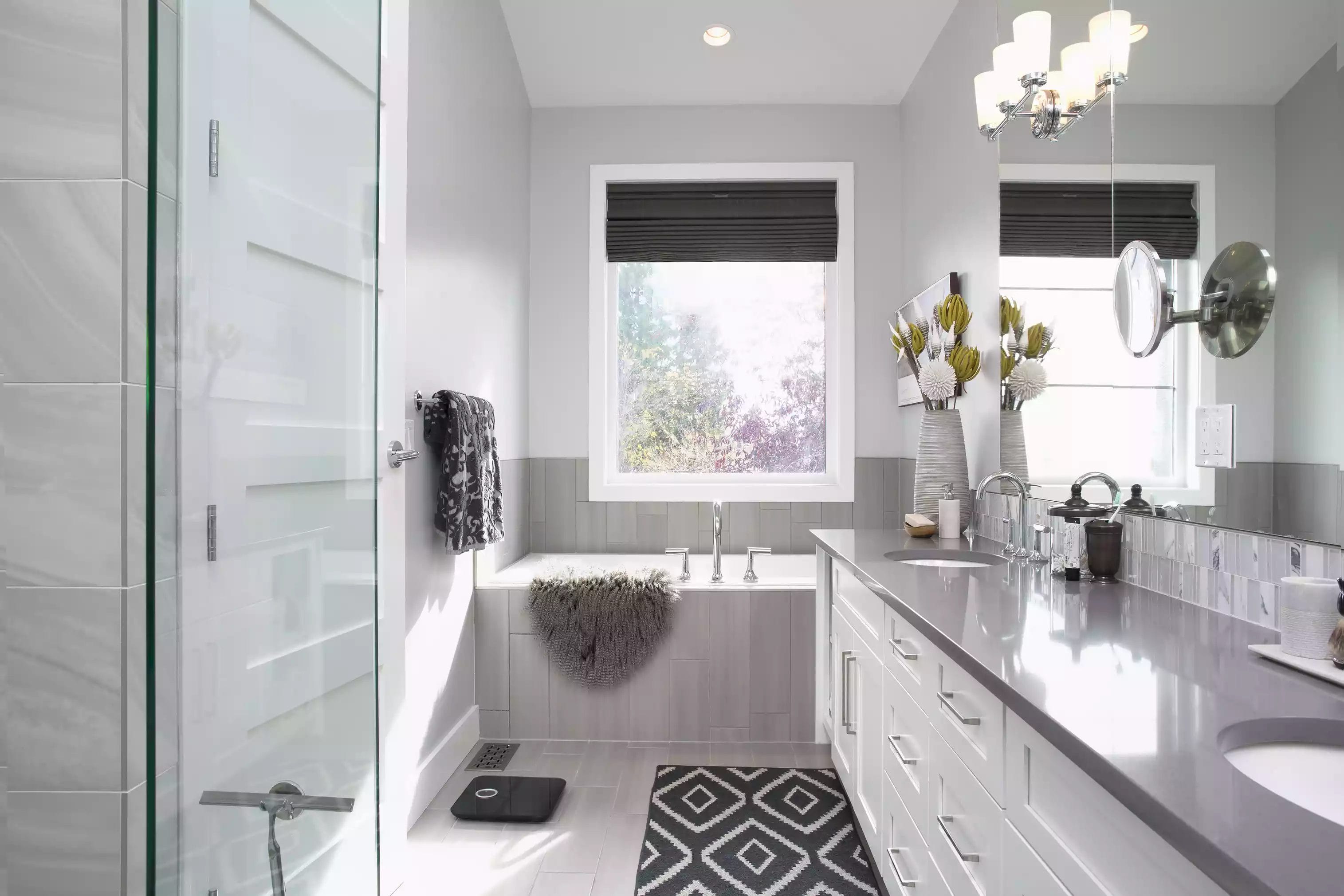 The open-plan of this bathroom is perfect for smaller spaces. It features a "wet room" style and distinctly modern touches with basic shapes in geometrical squares, monochrome colors, minimal decorative elements (such as flowers), and transparent glass walls around the shower.
25. Warm Modern Bathroom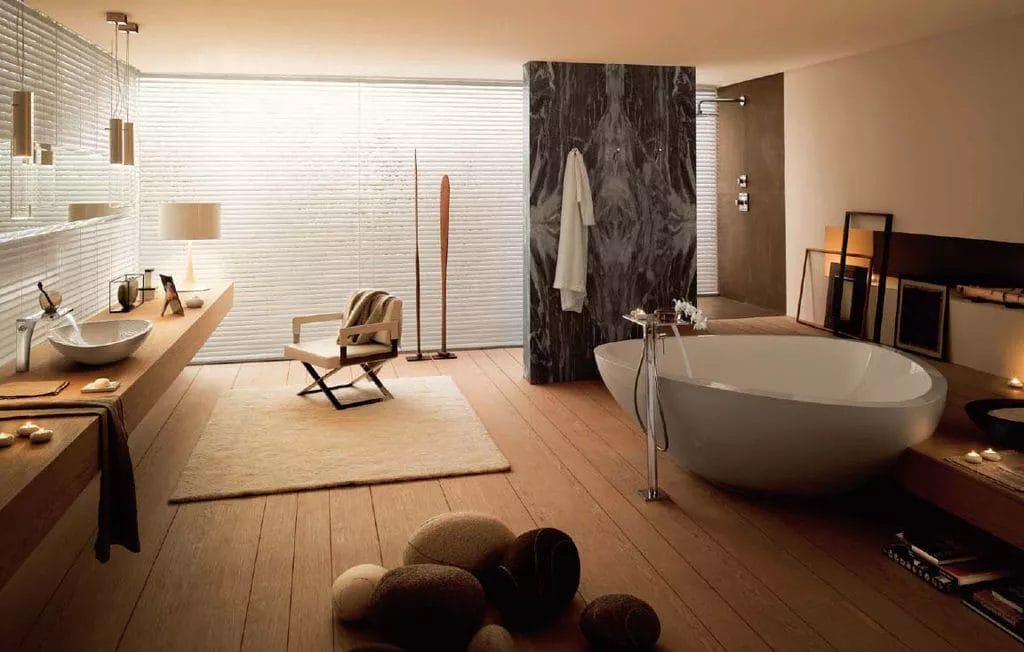 There's no denying that a modern bathroom should be clean and well-lit, but sometimes the allure of luxury is irresistible. This contemporary master bath features warm colors with touches of wood for balance – an oasis in our busy lives where we can relax amidst welcoming decor.
26. Square Shape Modern Bathroom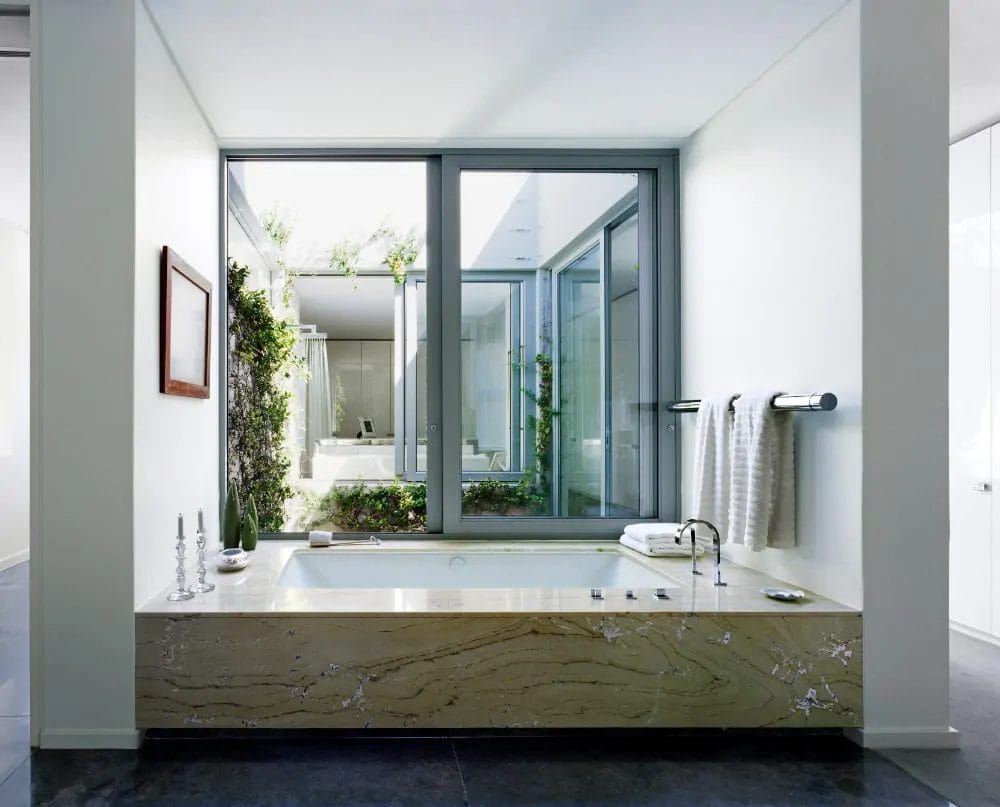 This neutral colored modern bathroom with a large square-shaped bathtub is not like your typical modern day interiors.
Windows looking out into another room, the garden, and even further down to yet more rooms make this space feel open while still feeling private because of the natural light coming in from outside sources. The tub itself can provide that comforting sense of calmness when you're soaking away stress or just relaxing after an intense work week.
27. Hard-Wood Floor Modern Bathroom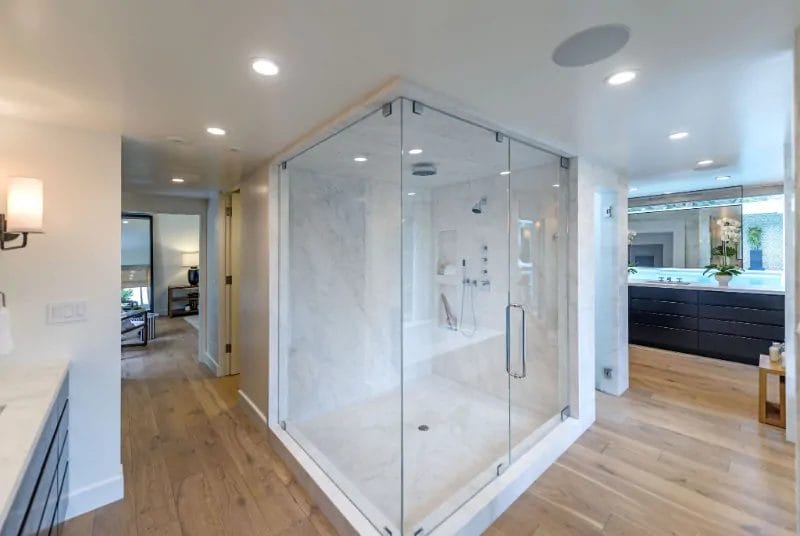 This modern bathroom has the perfect mix of ancient and new. The cool-toned hardwood floors provide contrast to a marble shower stall, with accent lighting coming from both sides for an interesting effect.
28. Frameless Bathroom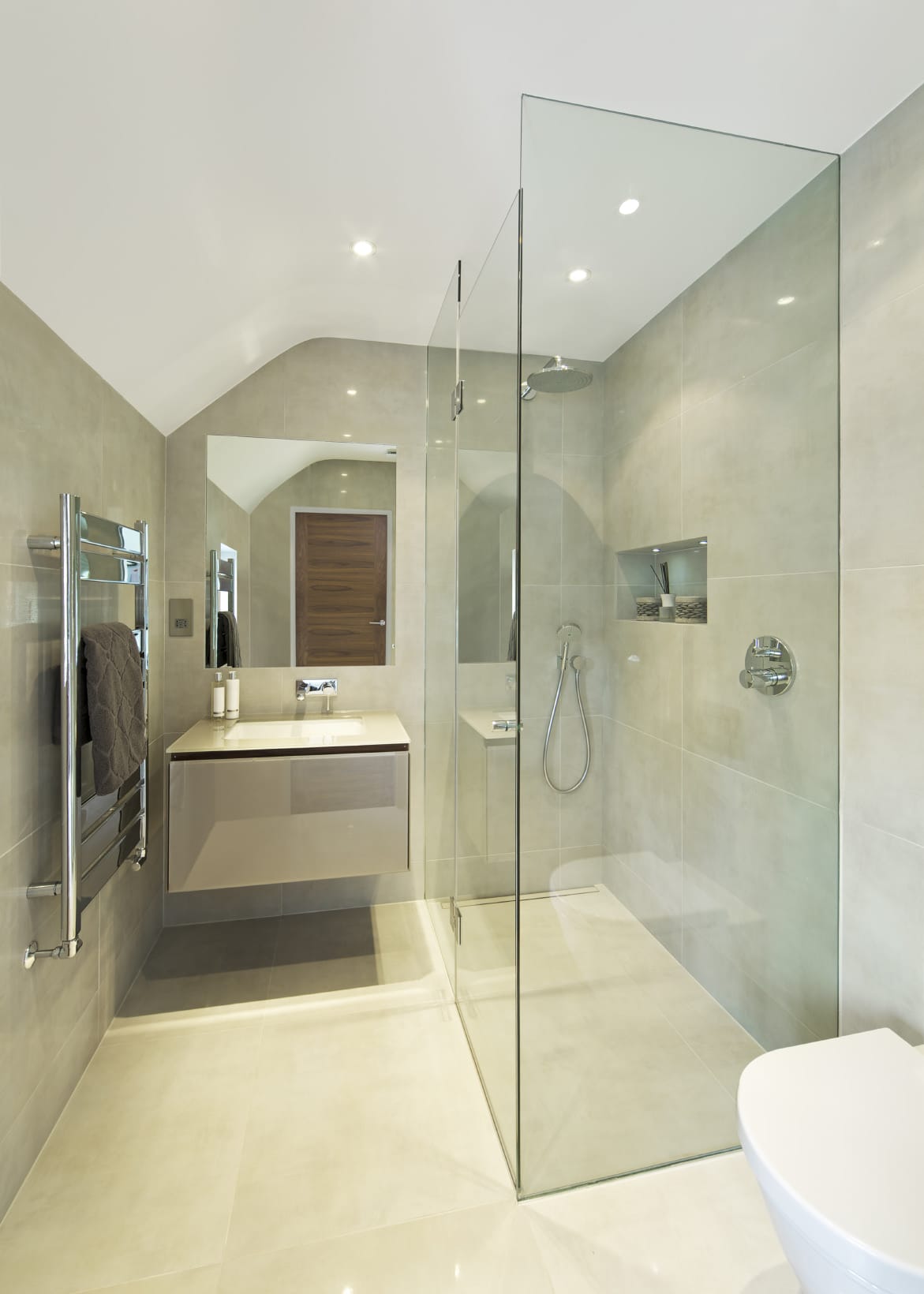 Frameless mirror and frameless shower cubicle create a minimalist look for the bathroom that is functional while still looking spacious. The neutral tones of this room make it perfect to match with any decor without adding too much color or flavor into your space.
29. Mid Century Modern Bathroom
The style of this modern bathroom is actually inspired by the 50s and 60s, a time where rounded corners were popular in design. In contrast to neutral beige tile found throughout the space, dark wood paneling creates an extra mid-century touch that reminds you it's not just your plain old contemporary living room anymore.
30. Intriguing Modern Bathroom
The dark, rectangular tiles are a stark contrast to the geometric shapes of this modern bathroom. The distressed wood on the floating shelf and single wooed chair is contrasted by these neutral pieces in an organic way that creates balance. This modern space features many interesting design elements like circular mirrors or cylindrical pedestal sink with triangular light fixtures which make for a masculine interior aesthetic
31. Rain Shower Modern Bathroom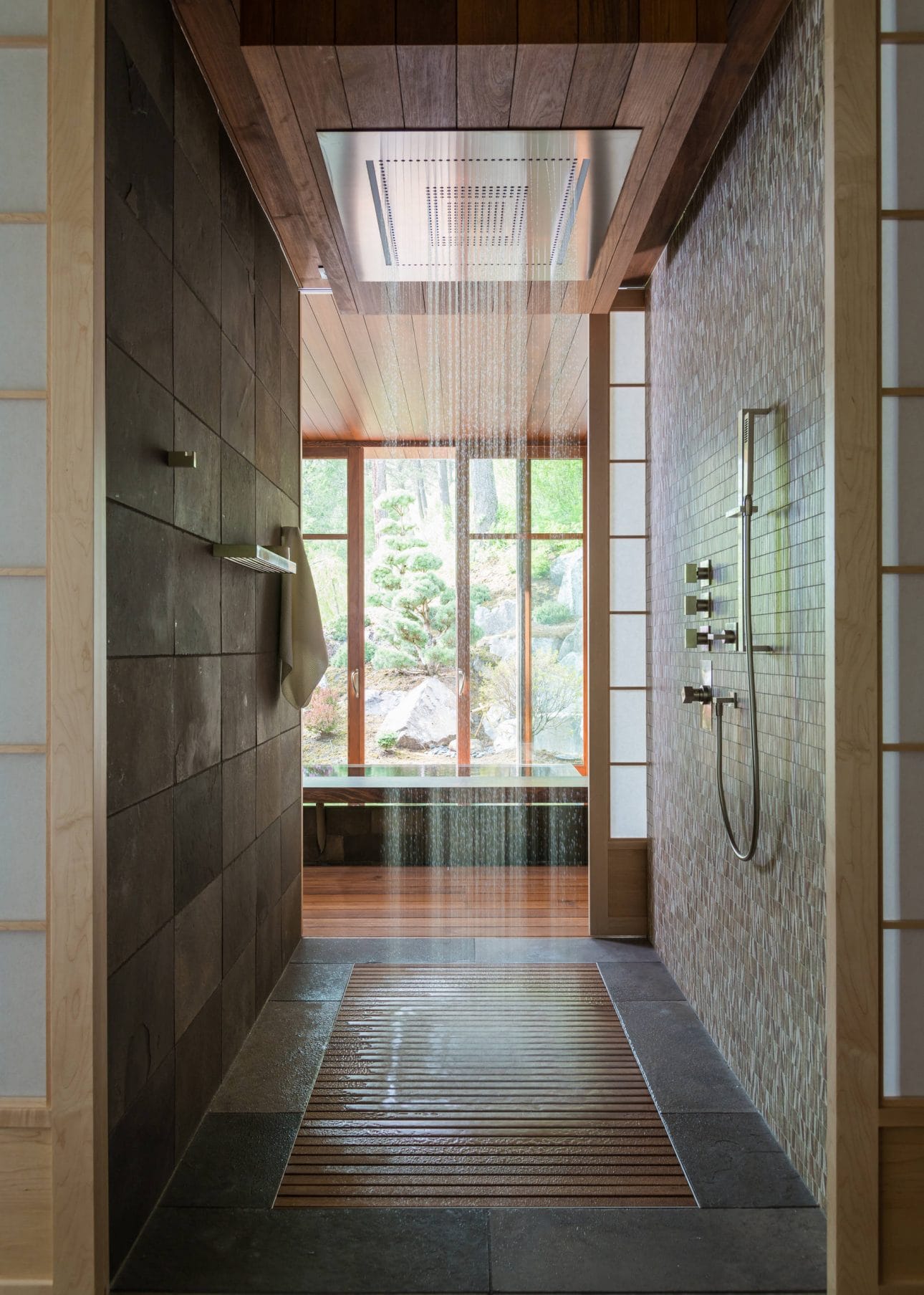 It will surprise you to know that rain showers are becoming the norm in modern bathrooms. The shower head offers a lighter water pressure and even creates an aura of peace with its gentle, soothing downpour effect – putting any stressful thoughts on hold for just one moment while you wash away your worries under this natural rainfall-like experience.
32. Bright Color Modern Bathroom Ideas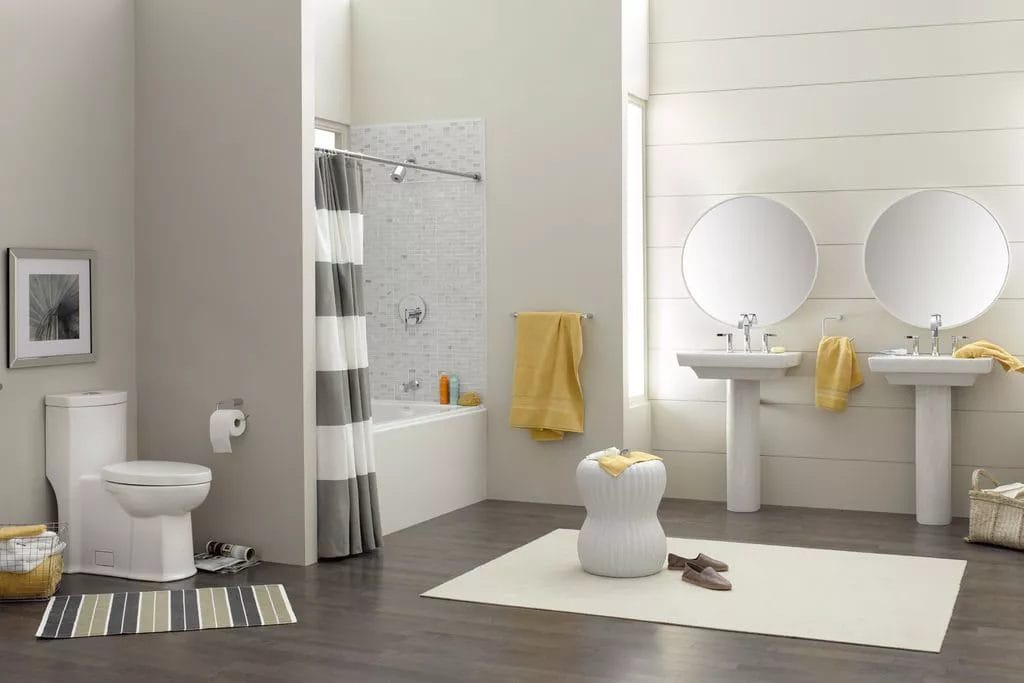 You can really brighten up a modern bathroom with color, especially if it's just one hue. A saturated yellow (like in this contemporary master bath), red, blue or green will add some much-needed brightness to your white space – and not too many people have those colors going on their walls so stand out from the crowd!
33. Natural Stone Modern Bathroom Ideas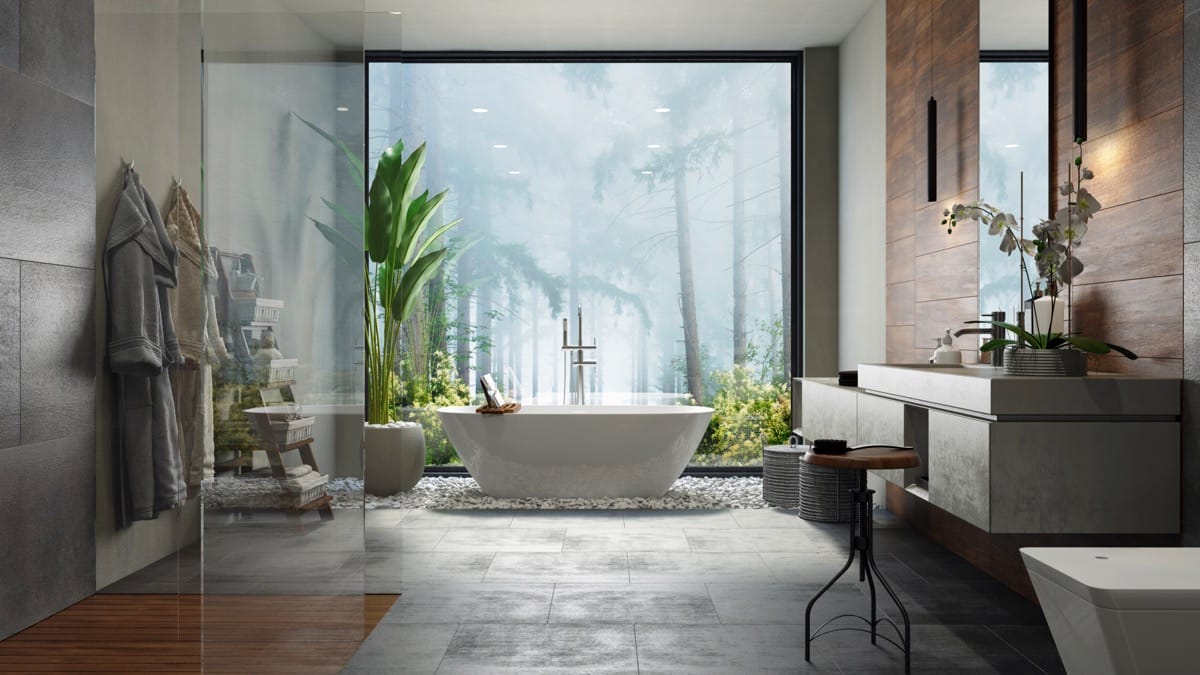 Modern luxury bathrooms are embracing the idea of placing bathtubs on beds of pebbles. The natural stones look nice with a botanical theme and wooden elements, creating an aesthetic that is both modern and rustic at once.
34. Graphic Lines
One of the hottest modern bathroom trends is adding graphic lines. This pink and black bathroom oozes a post-modern vibe with strong geometric shapes that mix well together, while also being versatile enough to work for most any other color scheme. Painting one wall a lighter shade creates depth and perspective in this space too!
35. Wall Planters Modern Bathroom Ideas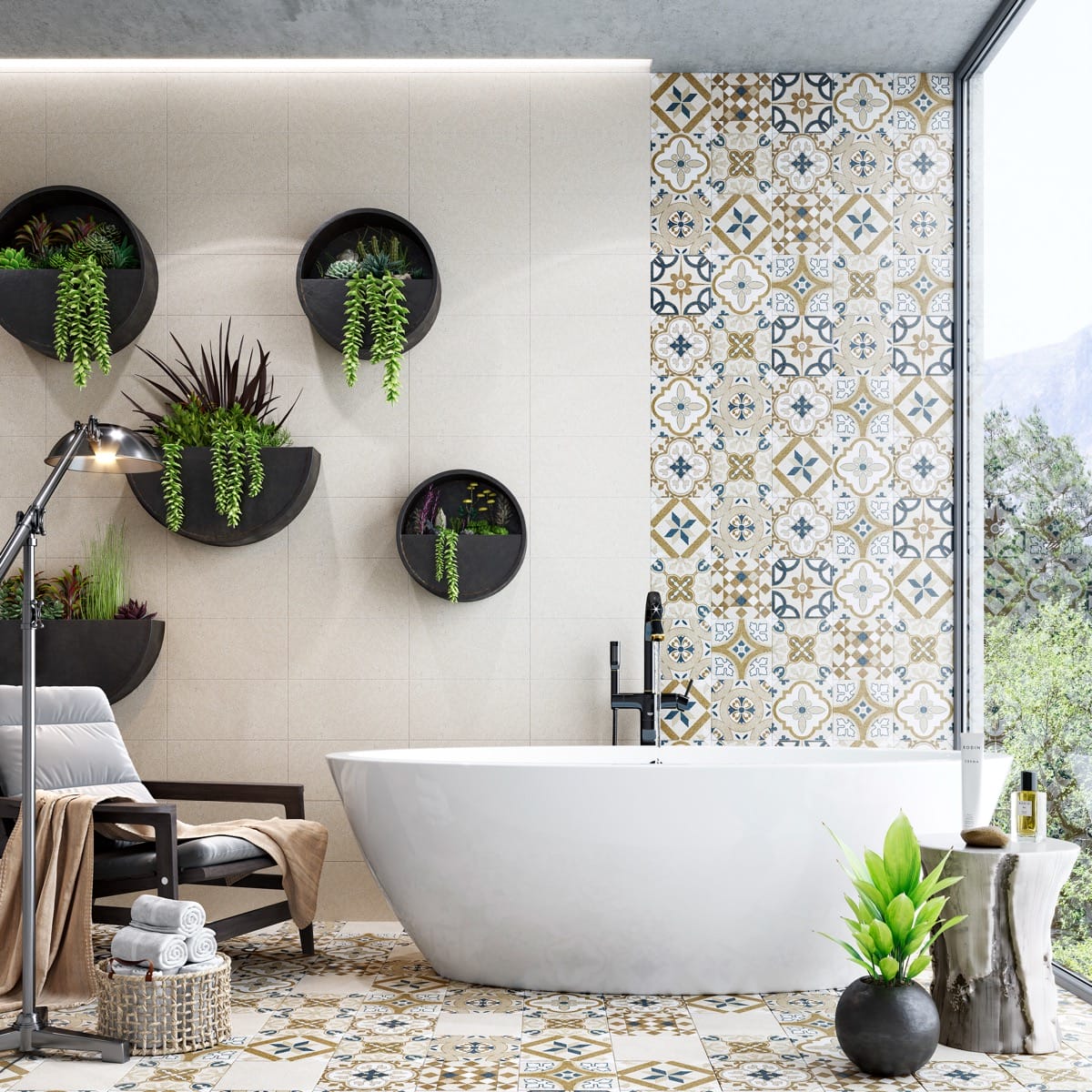 The living greenery in this modern bathroom is brought to life with the circular wall mounted planters. The white walls and colourful tiles make for a simple yet striking decor scheme, but it's really framed by these plants that seem to bring such freshness into the space.
36. Stone Wall Modern Bathroom
Textured feature walls can transform an average space and make it stand out. These same bathroom schemes without the extruding stone wall would still look nice, but they wouldn't have anywhere near as much of a wow factor. Be sure to add focused lighting for some extra flair!
37. Copper Bath and Sinks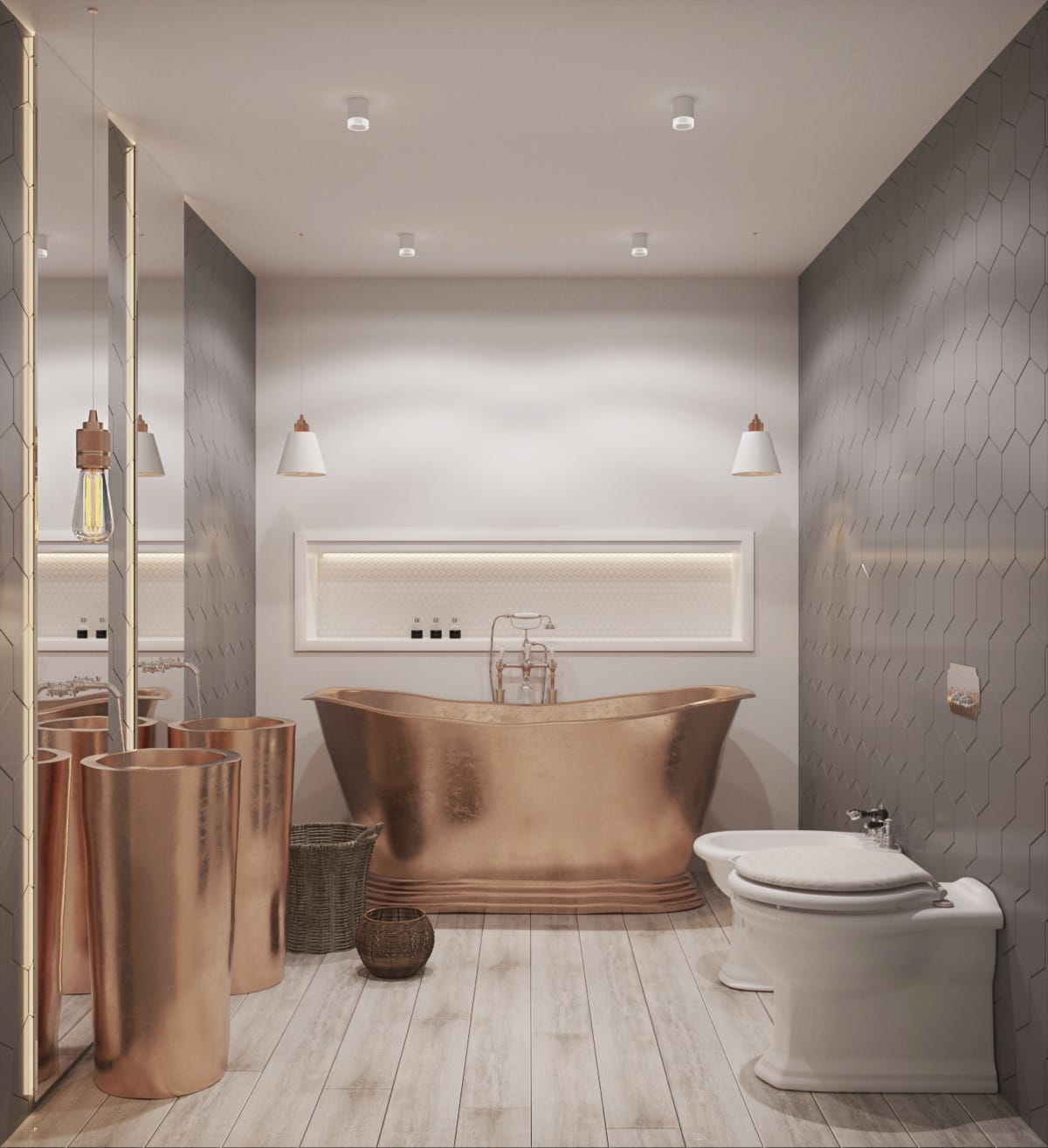 Copper is said to be soothing and calming, so it's no wonder that copper bath fixtures can give your bathroom a spa-like feel. The traditional style roll top of this tub makes an interesting contrast with the modern shape of its pedestal sink counterpart. Gives you plenty room for getting in some relaxation time after work!
38. Choose A Modern Bath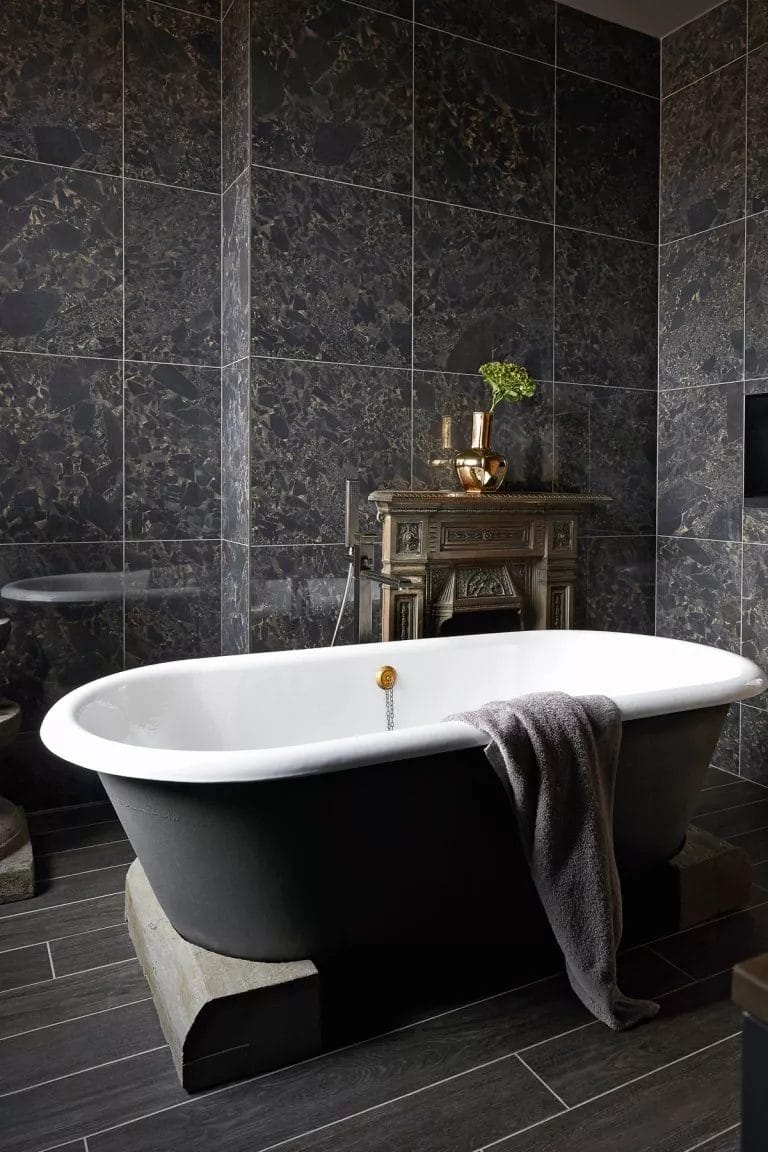 This modern bathroom is a place to totally disconnect from the outside world and indulge in your own creativity. The dark walls give it an elegant vibe, while the raised bath turns into a showpiece. Plus, there's room for you to relax with some tea by the fireplace or have fun in both steam shower and tubs!
39. Modern Bathroom Faucets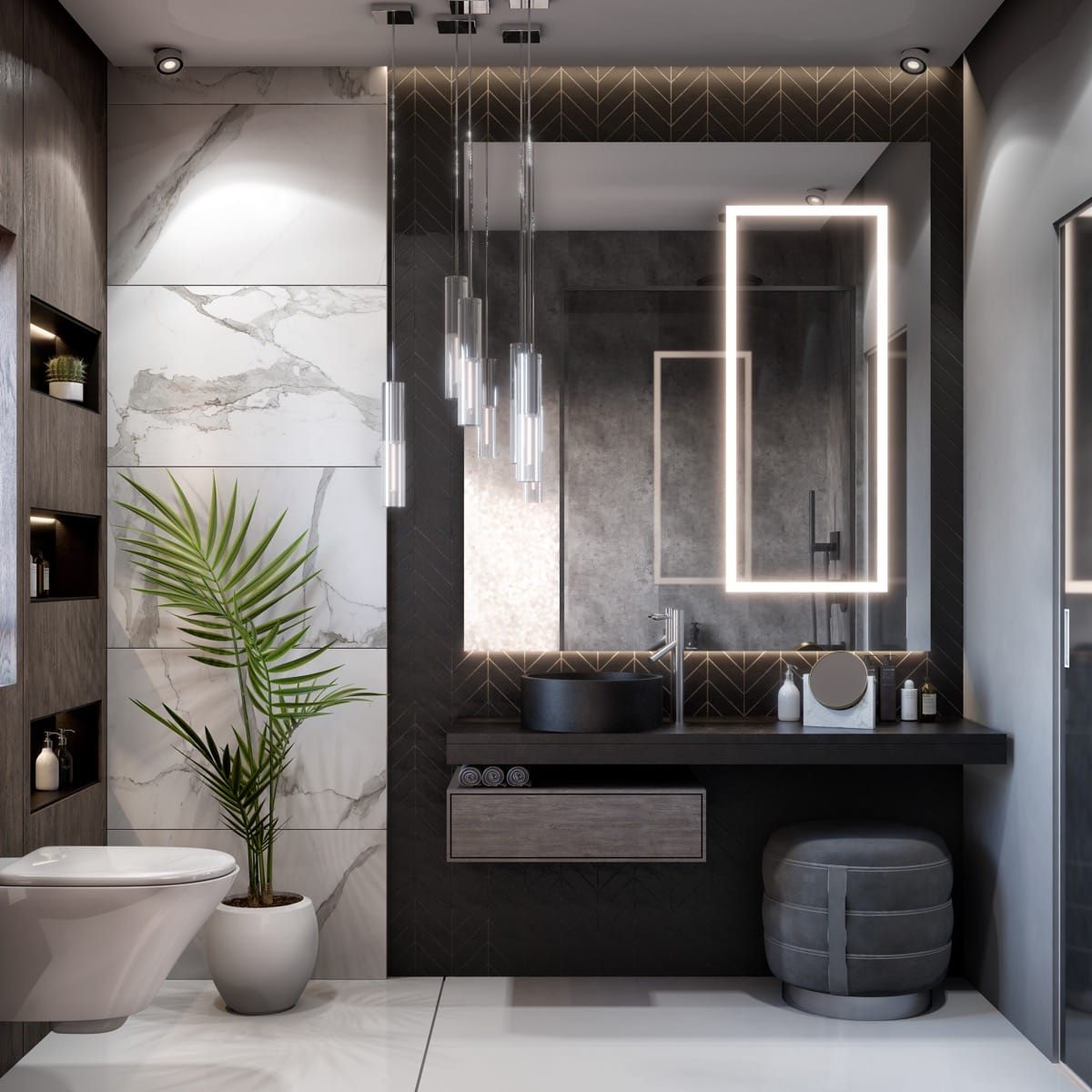 If you are looking for a more unique feeling in your bathroom, try using two different colors. The dark vanity wall works well with the black vessel basin; meanwhile, white toilet looks great on an adjacent light-colored wall.
40. Home Spa Oasis In Your Modern Bathroom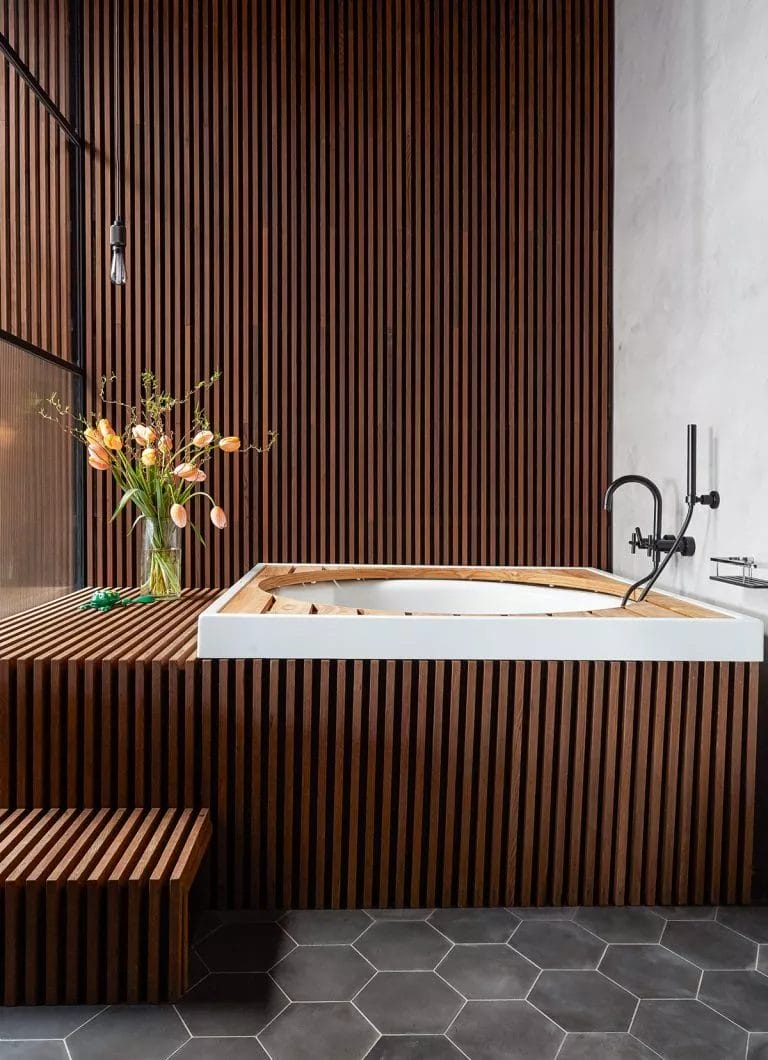 Whoever is lucky enough to stay in this home will enjoy a spa-like experience no matter what room they are staying. The warm woods, graphic tiles and sleek fittings give this modern bathroom an inviting look that can be enjoyed from any point of view!
41. Contemporary Modern Basement Bathroom
Modern design is light neutrals and clean lines. If you are drawn to this basement bathroom design ideas then contemporary might be the right choice for you. It's modern but still warm and inviting while maintaining a stylish look that will never go out of style!
42. Modern Bathroom Mats
Why not let your feet take a break from the cold, hard floor and feel like they're walking on soft grass? These bathroom mats do just that.
43. Boutique Modern Bathroom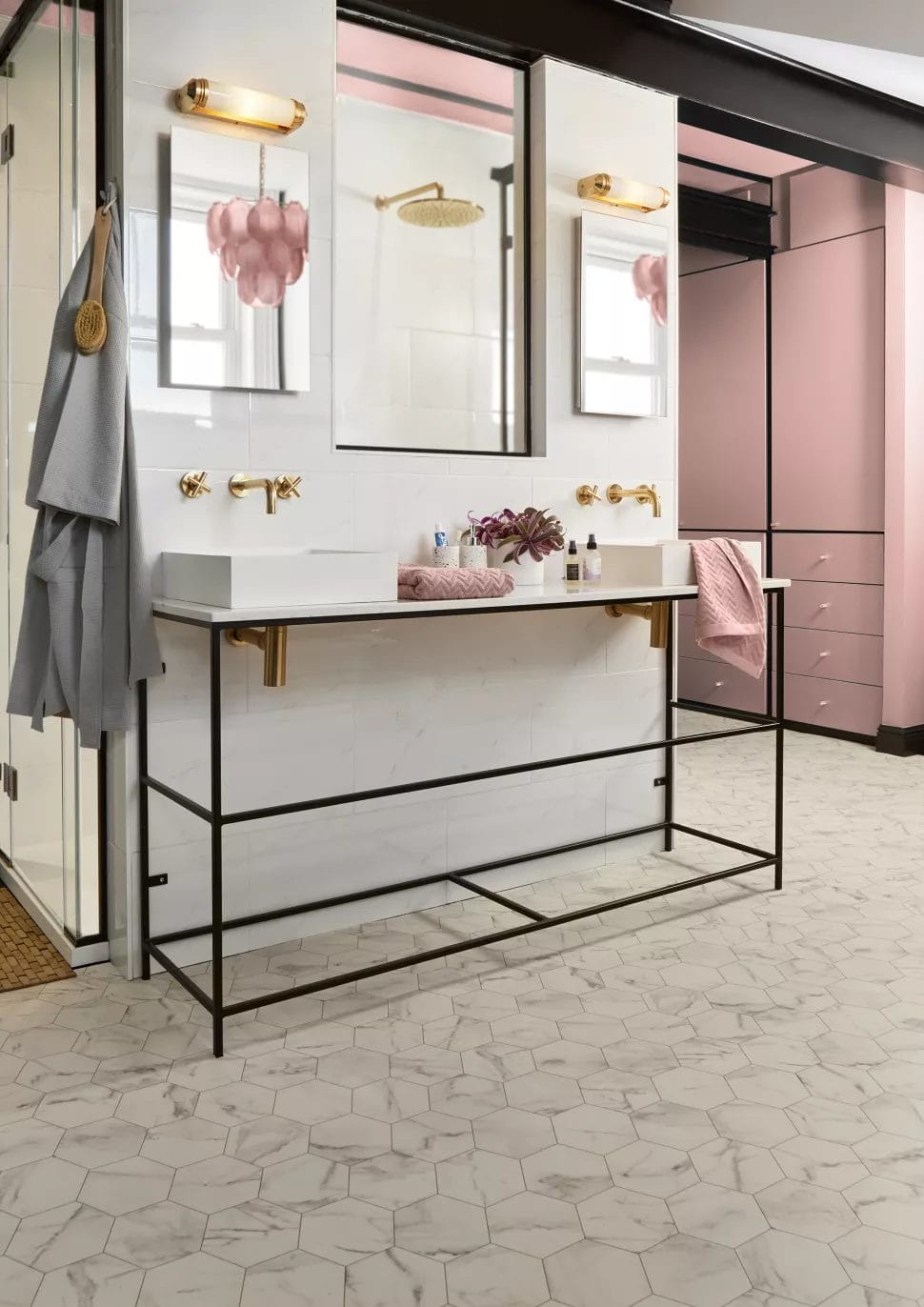 After adding a second basin or vanity unit, couples will no longer fight at night time. With twin sinks being one of the most popular trends in modern bathroom design for busy families and en suite bathrooms alike, this is an amazing option that everyone should take note of to avoid any unnecessary disagreements between loved ones!