A Bathroom is one of the crucial spaces in the house. It is necessary to pay attention to its functionality, cleanliness, and aesthetics. Thus, this article discusses standing shower ideas for you.
As the public knows, a stand-up shower is very convenient to have. This concept will suit all ages and provide a practical experience for anyone.
So, you will not be in vain when you choose to go with this bathroom model.
Additionally, there are also many options of beautiful decoration that are worth duplicating in either a large or small space.
Suppose you are confused about how to spruce up your bath. Read these twenty-nine standing shower ideas that we have collected below.
Moreover, immediately determine which one interests you the most.
1. Stand Up Shower Ideas without Door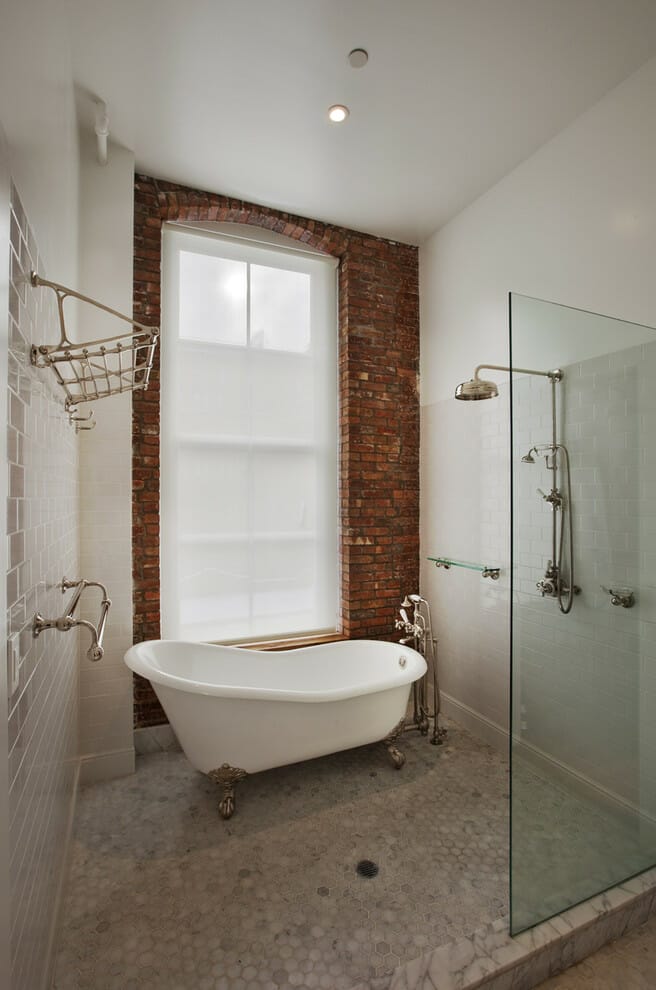 Of the many standing shower ideas, let us discuss the doorless one first. See how the glass partition can still protect other areas in your bathroom from the water splash.
The splash zone is evident even without a door by providing a dividing line on the floor. Through this feature, the water will not inundate the outer area.
In addition, it is essential to furnish a focal point so that your bathroom is not monotonous with only white tiles.
Consider adding a brick wall next to the bathtub to add some drama will be better.
2. Set a Built-in Glass Enclosure and Skylight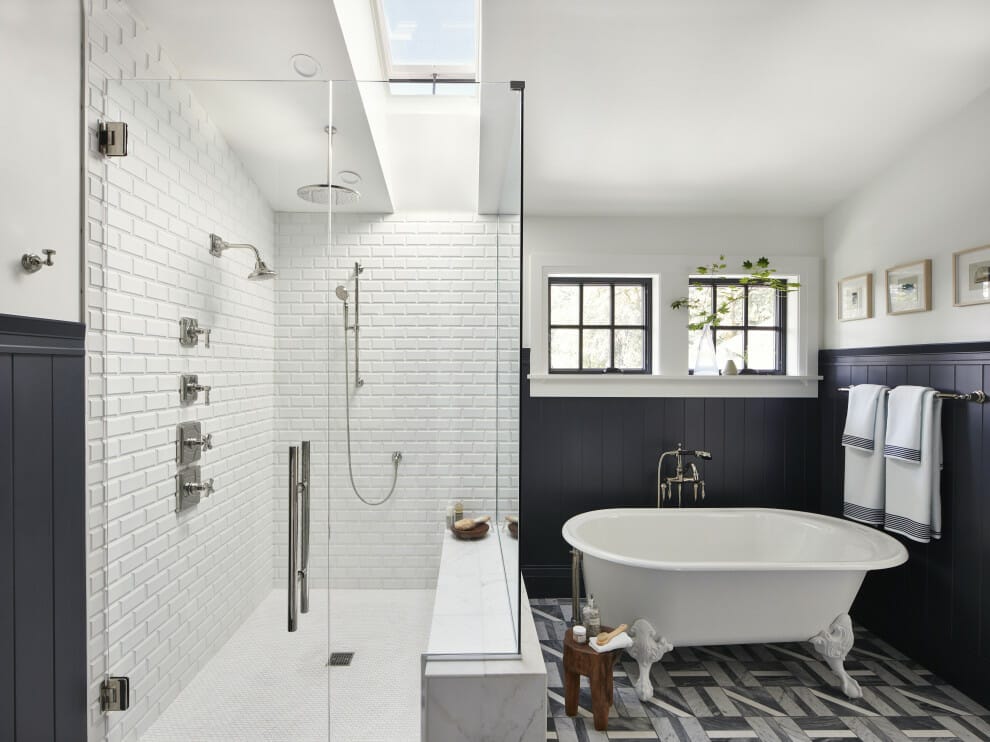 Modern stand up shower ideas will be identical to the use of glass enclosures. In addition to providing infallible protection from splashing water, this unit can still make your bathroom look more expansive than before.
Having a built-in glass enclosure like this, you will hold a bench simultaneously without taking up much space.
Next, it would be best to have a skylight across the room to bring the natural light in during the day.
3. Sleek Standing Shower Ideas with Glass Sliding Door and Pebble Tile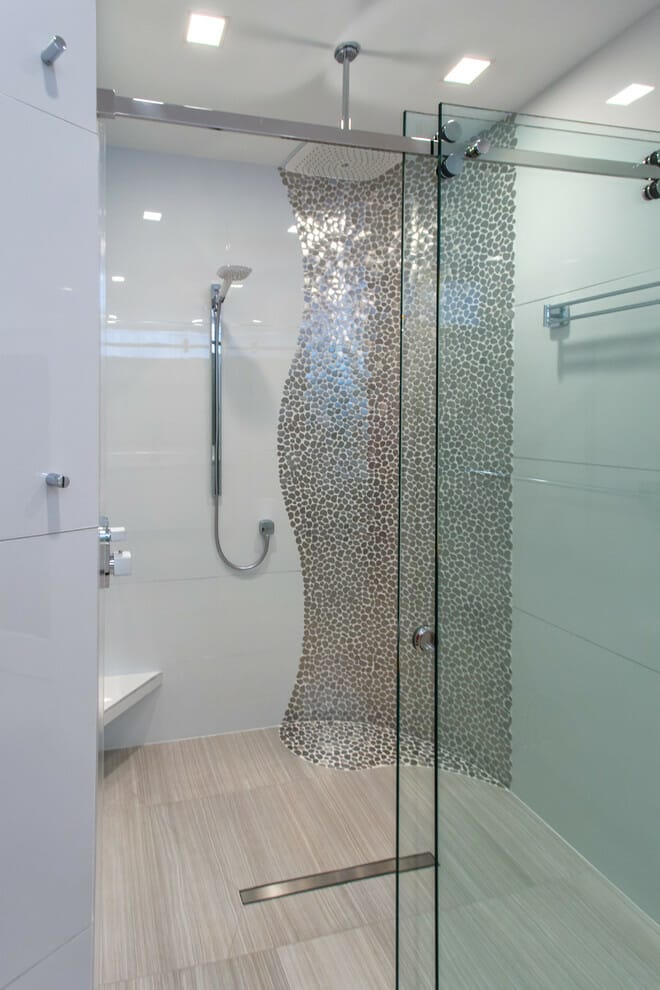 Instead of installing a standard glass door on your stand-up shower area, it would be better to pick a sliding one.
This kind of door will help you save space while providing easy access to a small bathroom. Try installing pebble tiling in the room corner like the picture above to give a little unique personality.
4. Divide Every Space with Glass Partition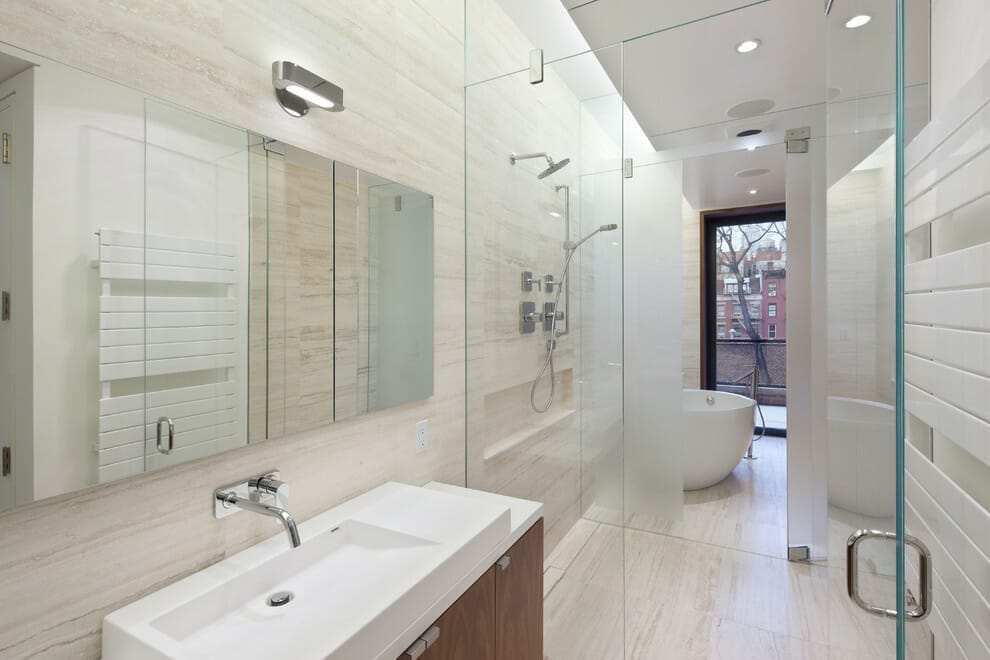 Suppose you want to divide your bathroom into three areas but still do not want to make it look cramped. In that case, glass partitions can be the best solution.
You can arrange them to be connected, starting from the dressing room in front, the standing shower area in the middle, and the bathtub space at the end near the window.
Furthermore, you can even blur one of the partitions to add privacy.
5. Fusion-Style Bathroom in Grey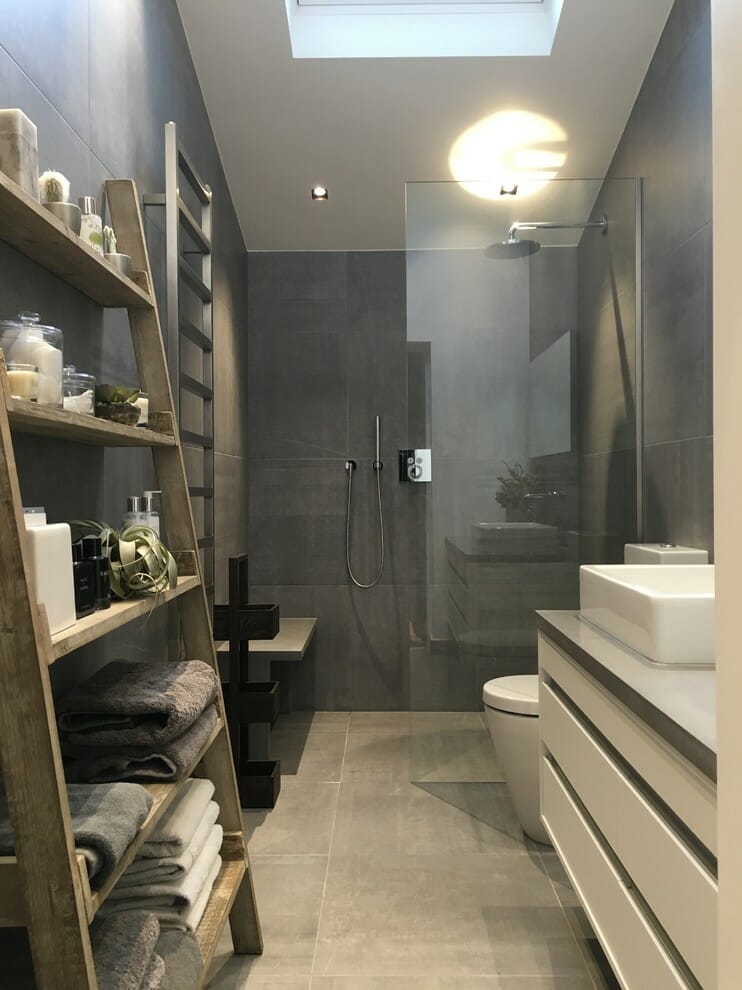 Contemporary style standing shower ideas often combine modern interior design with rustic furniture. As in the picture above, duplicate the look by providing free-standing shelves that resemble a ladder.
Use it to store all your bath necessities such as towels, soap, shampoo, and other decorative elements for a more aesthetical final result.
6. Stylish Enclosure to Avoid Splash
The glass divider for the bathroom comes in many models. To add a curvy and artistic edge, take the partition as above.
This glass partition will be able to divide all areas in your bathroom in distinctive ways. Hence, it is still ideal for protecting the outer zone from splashing water.
7. Rain Shower Head Mounted to The Ceiling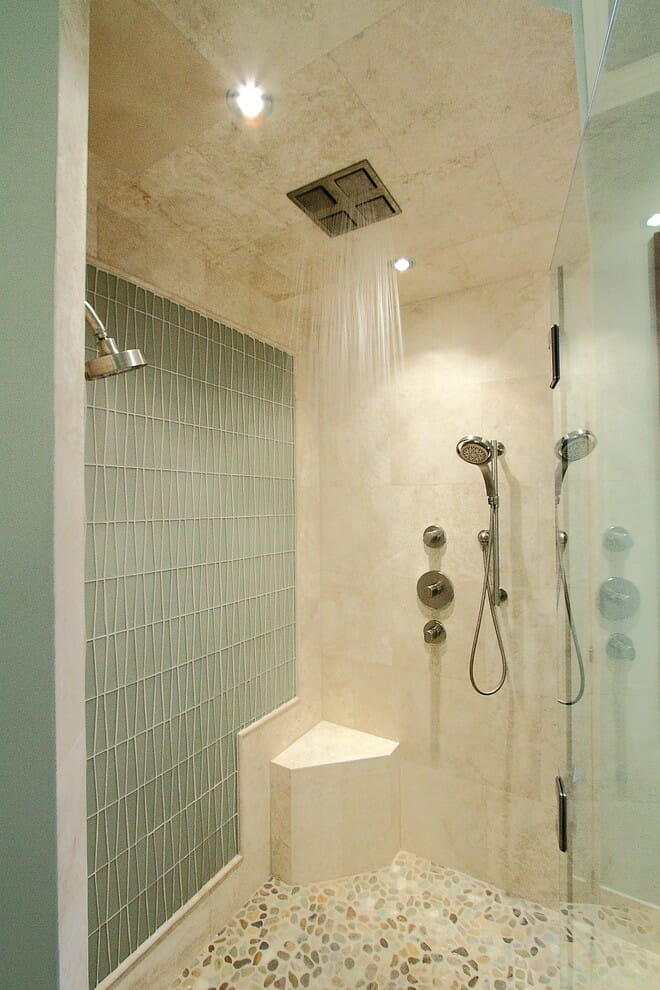 Standing shower ideas with a ceiling-mounted showerhead are becoming popular because they save more space.
So you will still be fine showing off several types of showerheads, even in a small bathroom.
Moreover, rain showerheads are also widely chosen because they spray water in one splash zone without spattering anywhere.
8. Bring the Light-tone Wooden Texture In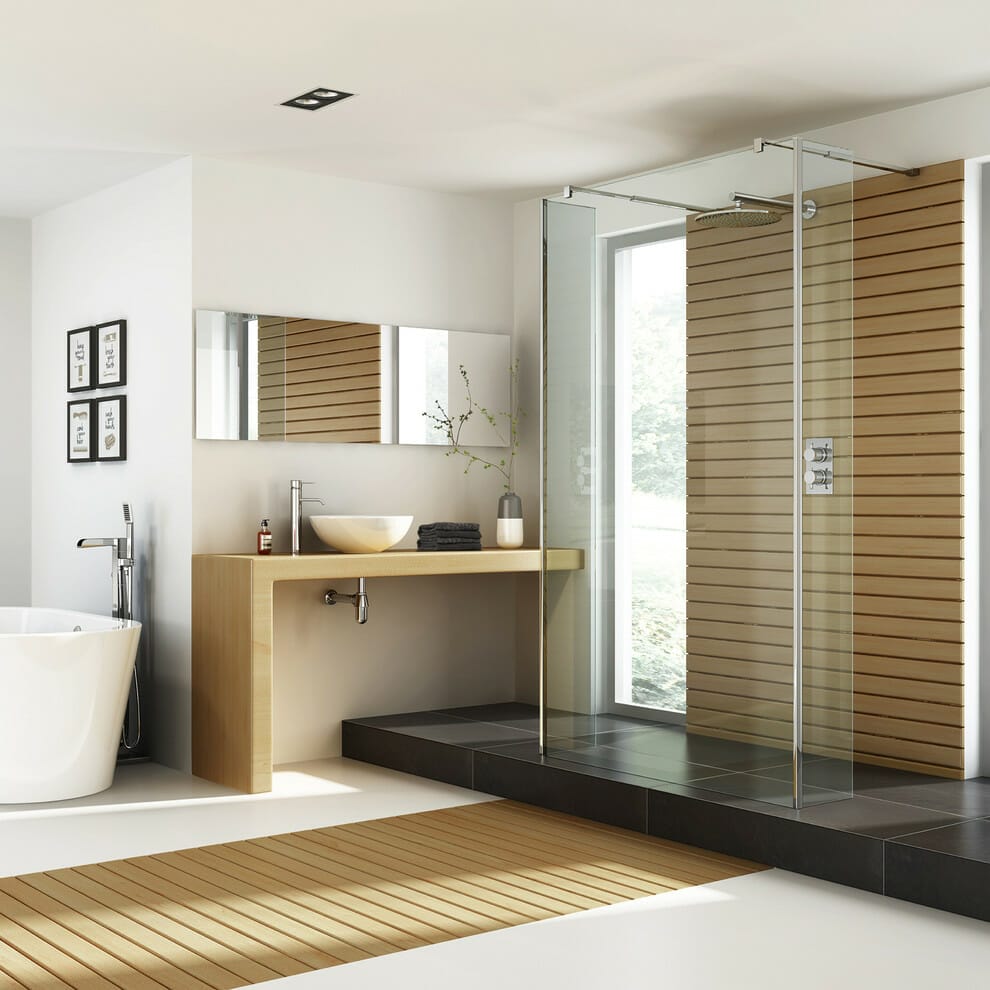 State the existence of your standing shower with a loft floor with black tiles as above. Furthermore, you can give drama to that spot by presenting an accented wall.
The accented wall resembles wooden paneling with a light tone.
It would be even better if the wall tiling inside the enclosure had the same color as some furniture in your bathroom.
9. Wallpapered Standing Shower Ideas in Black and White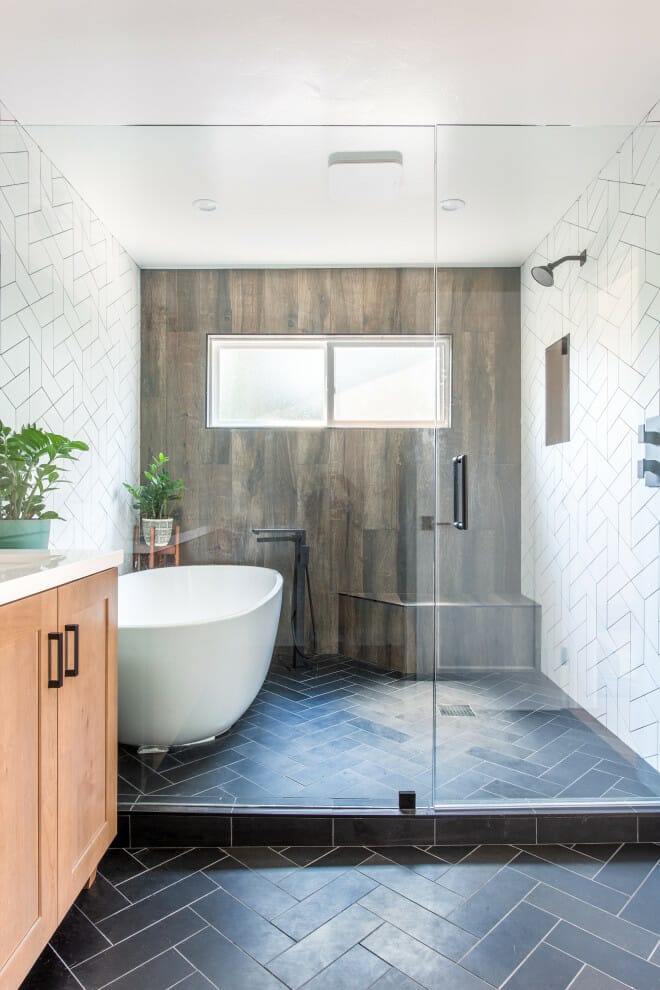 Sprucing up your bathroom can be done by installing wallpaper on the wall. It is a favorite alternative for many homeowners if wall tiling replacement is not possible to take.
The main thing you have to make sure of is that it must be waterproof so that your wallpaper can last a long time in humid areas such as the bathroom.
Regarding the design, adjust it to your preferences. A white base with black symmetrical patterns is the best option for a minimalist look.
10. Double Shower Head Set and Bench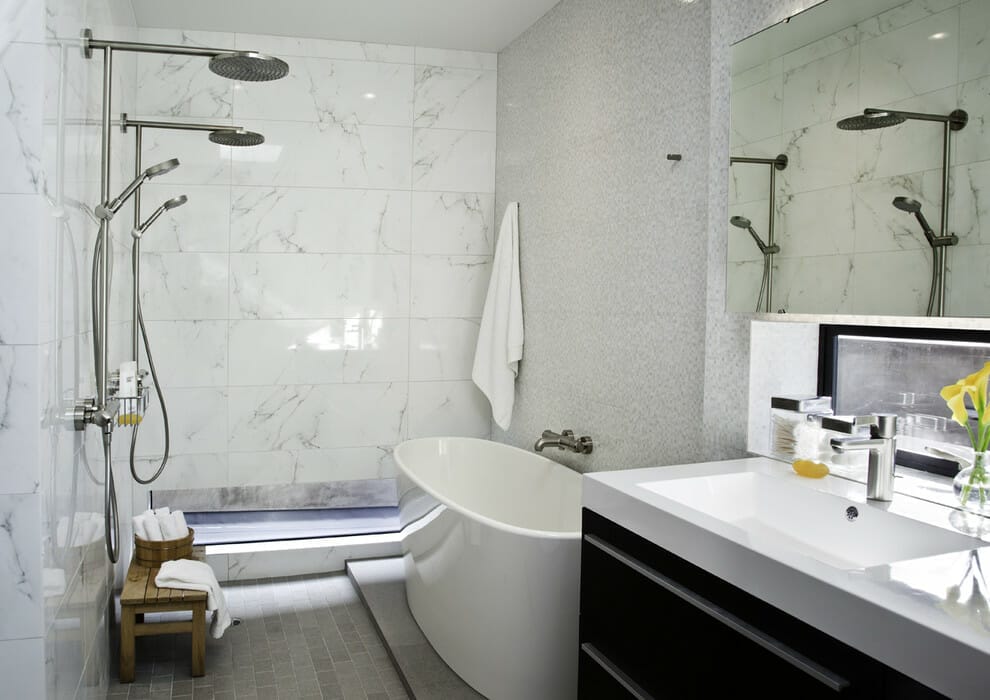 It never hurts to bring two showerheads into the bathroom. Moreover, it will even make your bathing activities run better.
Do not think dual showerheads narrow your bathroom space because white ceramic tiles and long vanity mirrors tolerate it.
The arrangement of all-white tiles and a large mirror will create a more spacious appearance, so do not worry.
Complete your bathroom with a small bench to make it easier for you to clean hard-to-reach parts when taking a shower.
11. Stand Up Shower Ideas for Small Bathrooms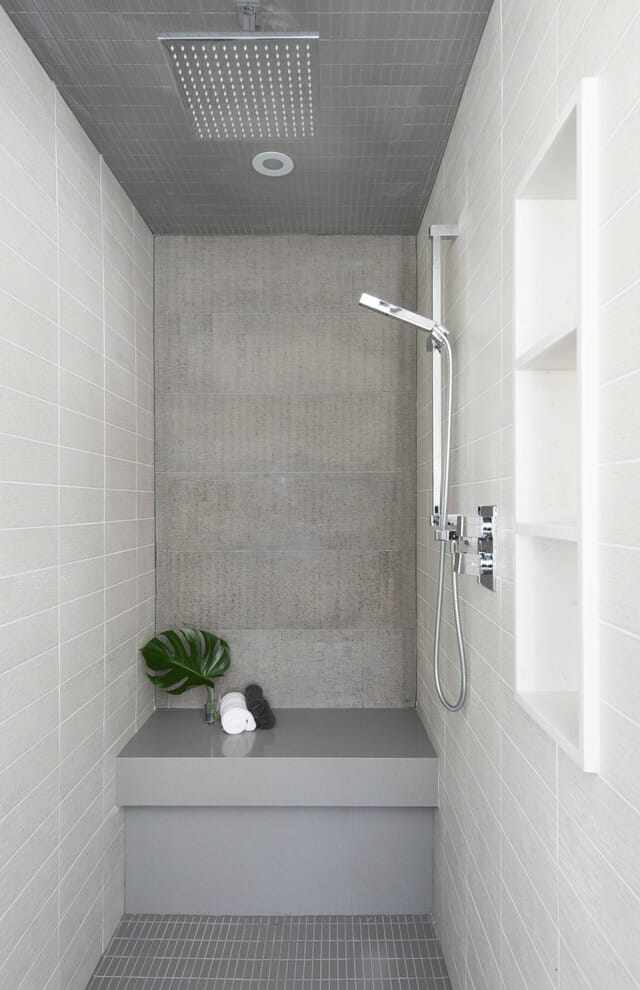 Here is one of the millions of standing shower ideas for small spaces that you should try. You can start by installing more modern showerheads, such as the panel one above.
It will make your bathroom walls much sleeker.
Additionally, suppose you like to have two showerheads at once. Make sure that one is mounted on the ceiling to save space.
Instead of bringing a tub, it would be preferable to have a built-in bench. Then give all the tiles a gray gradient to give off a subtle and comfortable feel.
12. A Built-in Shelf Below the Single Spray
The built-in shelf is a lifesaver for anyone who needs additional storage in a walk-in shower without taking up much floor space.
Thus, build it slightly below your single showerhead to keep your bathing essentials within reach.
One crucial point that you must never forget is to clean this shelf regularly so that it does not get mossy quickly.
13. Wooden Tiles on The Floor, Wall, and Ceiling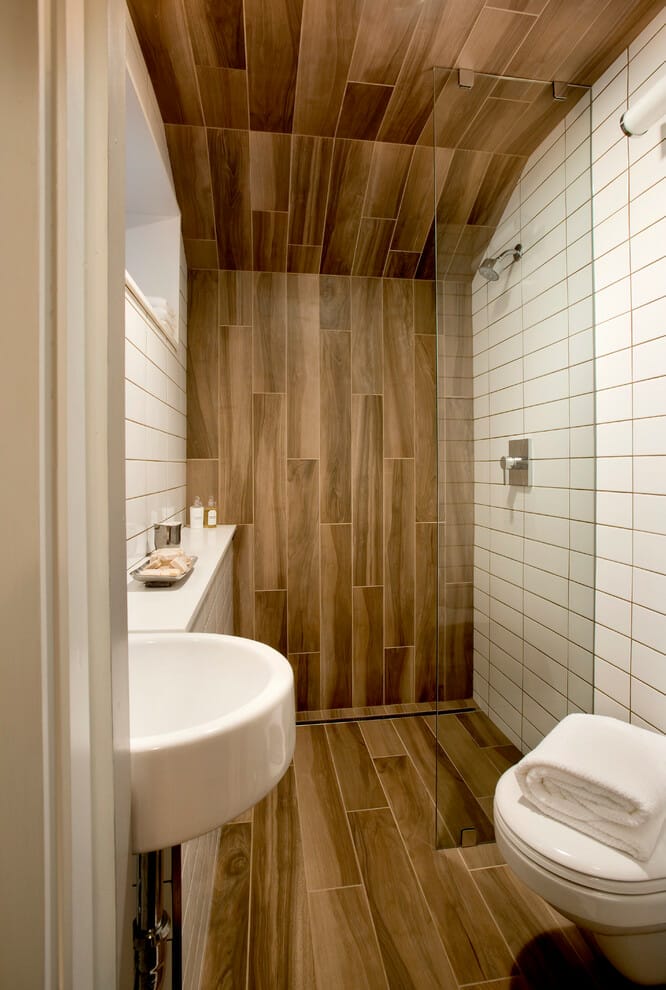 It seems great to add drama to your walk-in bathroom. Then, please consider going with standing shower ideas with wooden accent tiles.
The surface that shows the original structure and hues of the wood makes this tile stand out to be installed anywhere. Whether it is on the walls, floor, or bathroom ceiling.
Even these tiles will still be attractive when you install them in all those spots simultaneously. However, it is better to leave the rest of the wall with white subway tiles so it does not look overwhelming.
14. Honeycomb Accented Wall and Black on Several Elements as Focal Point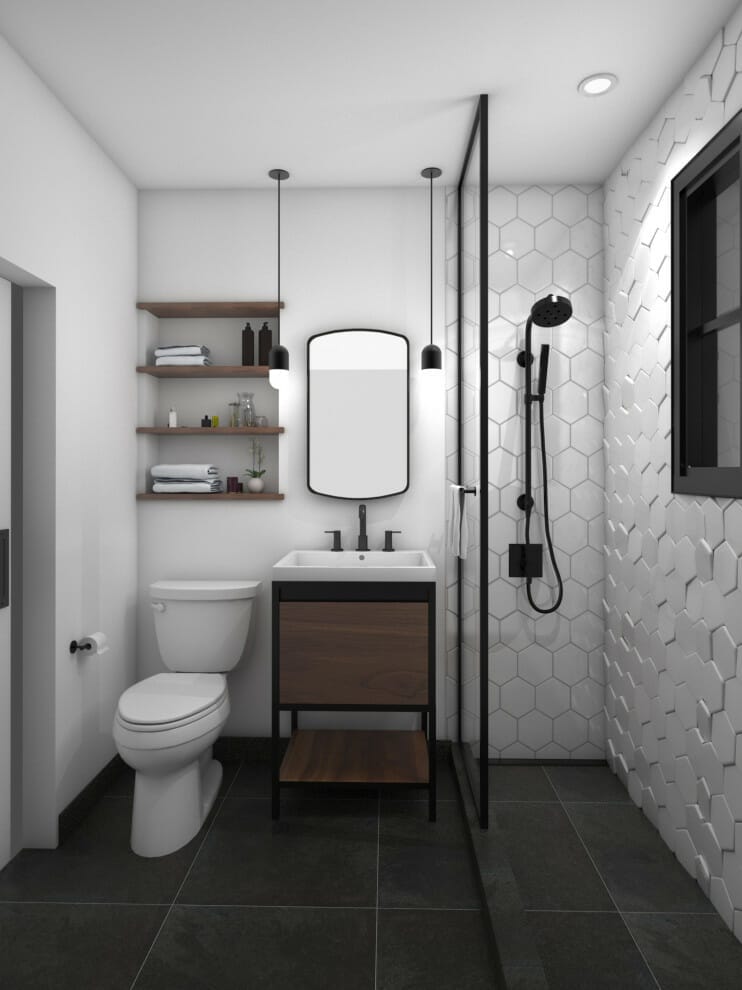 A small bathroom complete with a standing shower, vanity sink, and toilet can be tricky to own. If you cannot provide the proper settings, all you get is a cramped and unaesthetic shower space.
On the other hand, once you are not too obsessed with presenting a texture to highlight the walk-in shower.
Thus, this spot can be fantastic.
It will be better to stick with white for the walls, but give the wall near the shower with honeycomb accents to add drama.
Then, divide the splash zone and the outer area using a glass partition with black trim.
15. Contemporary Standing Shower Ideas with Glass Wall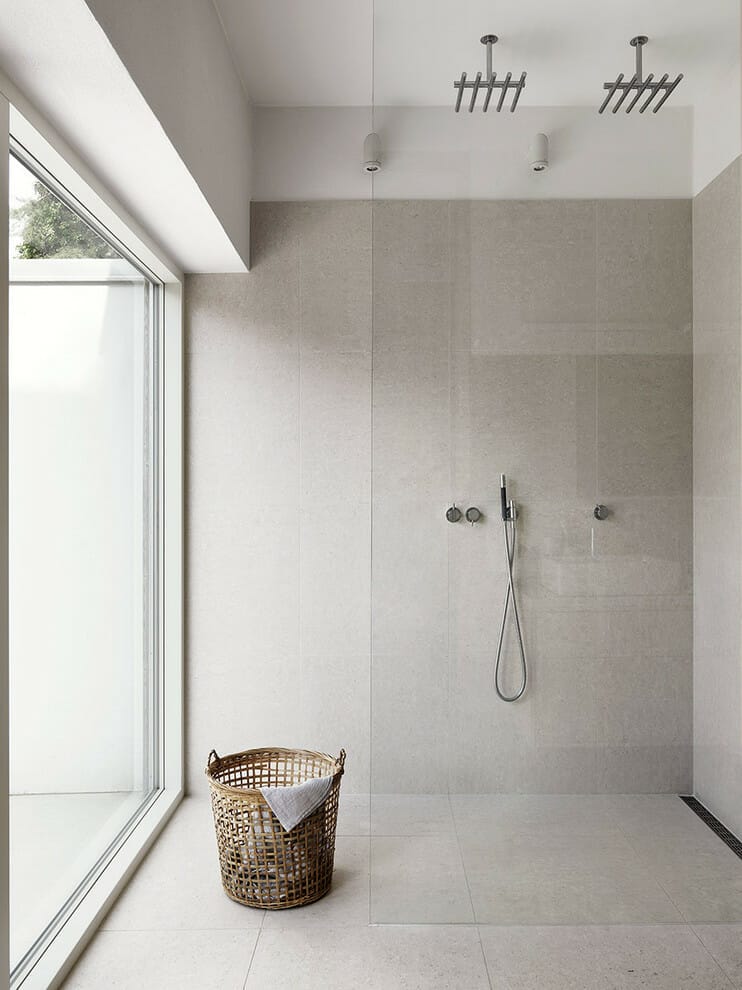 Take a look at the stand-up shower design above. It doesn't have a lot of decorative ornaments but still manages to exude a comfortable and refreshing vibe.
It is because the bathroom is surrounded by subtle tiles and expansive glass walls that instantly offer excellent views of your private yard.
Undoubtedly, you can feel relaxed by enjoying all the scenery while bathing.
16. Multiple Shower Heads and Built-in Tub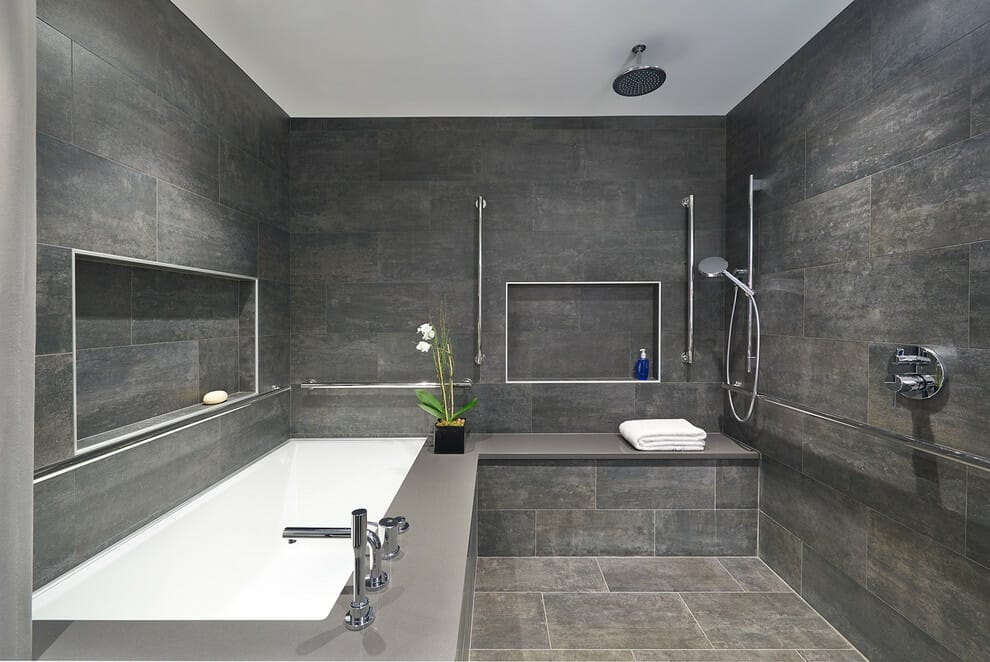 It does not matter if you bring several types of showerheads and a built-in tub in one bathing area. It will always be okay if everything works well and does not come in vain.
Meanwhile, you can arrange the entire bathroom in charcoal tiles. Then make sure there are other white elements besides your bathtub.
You can start with the white ceiling, so your bathroom is not gloomy and still inviting.
17. Cheerful Standing Shower Ideas in Yellow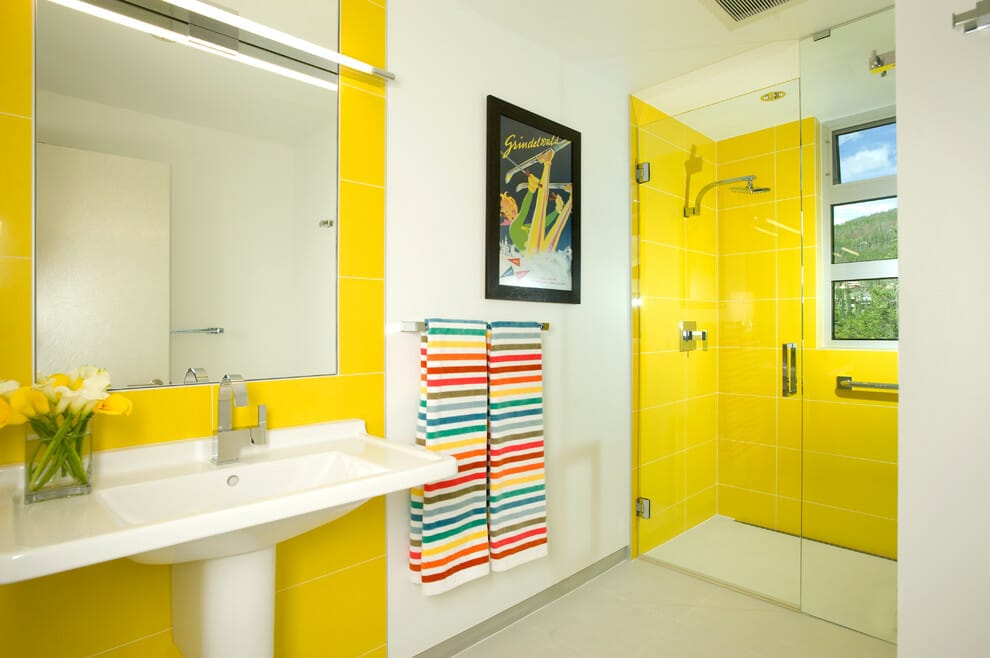 It is a pretty eccentric walk-in shower design. While this is not for everyone, your bathroom still exudes charm and inherently reflects your personality.
Also, to make your bathroom look cheerful, this is not limited to applying yellow hues.
You can be even more creative by exploring any color play to set on your standing shower wall. It could be pink, purple, etc.
18. Skylight Right Above the Rain Shower Head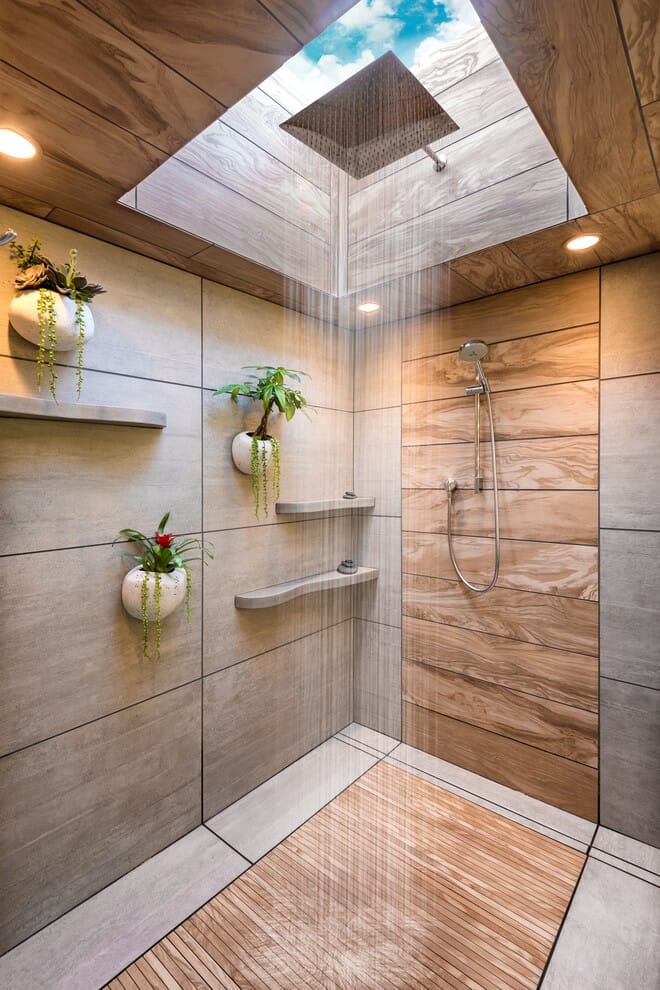 Have you ever imagined having a flying rain shower head in your bathroom? If so, then realizing it is not so difficult.
You only need to ask a professional to install the skylight right above the shower fixture. Besides, make sure this feature has a larger size than the showerhead beneath.
That way, you will succeed in creating the illusion as if your showerhead is flying in the sky.
It would be more pleasing to make everything covered in wooden accent tiles so that the bathroom looks more natural.
Last, hang some vines to create an atmosphere even more refreshing.
19. Spotlight the Standing Shower Area with Black Wall Tiling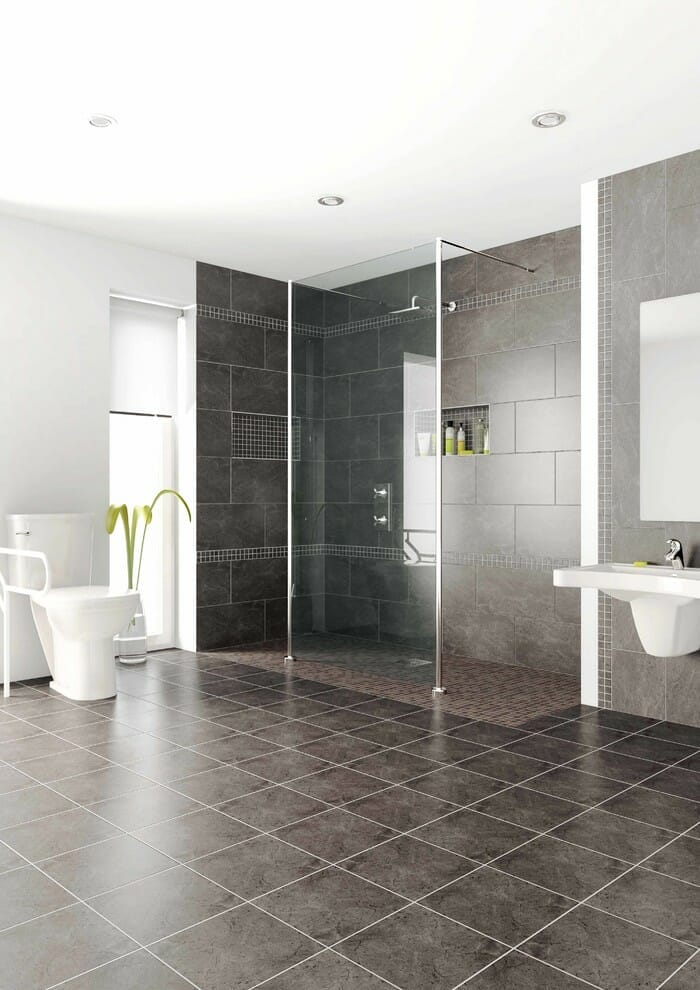 In implementing standing shower ideas, the balance of color and texture in the bathroom is essential. Suppose you have set your outer wall white.
Then it is okay to make the walls inside the enclosure dark.
Installing black wall tiling with the same material and color as the flooring will create a harmonious final look.
20. Adequate Lighting for Dark Concept Bathroom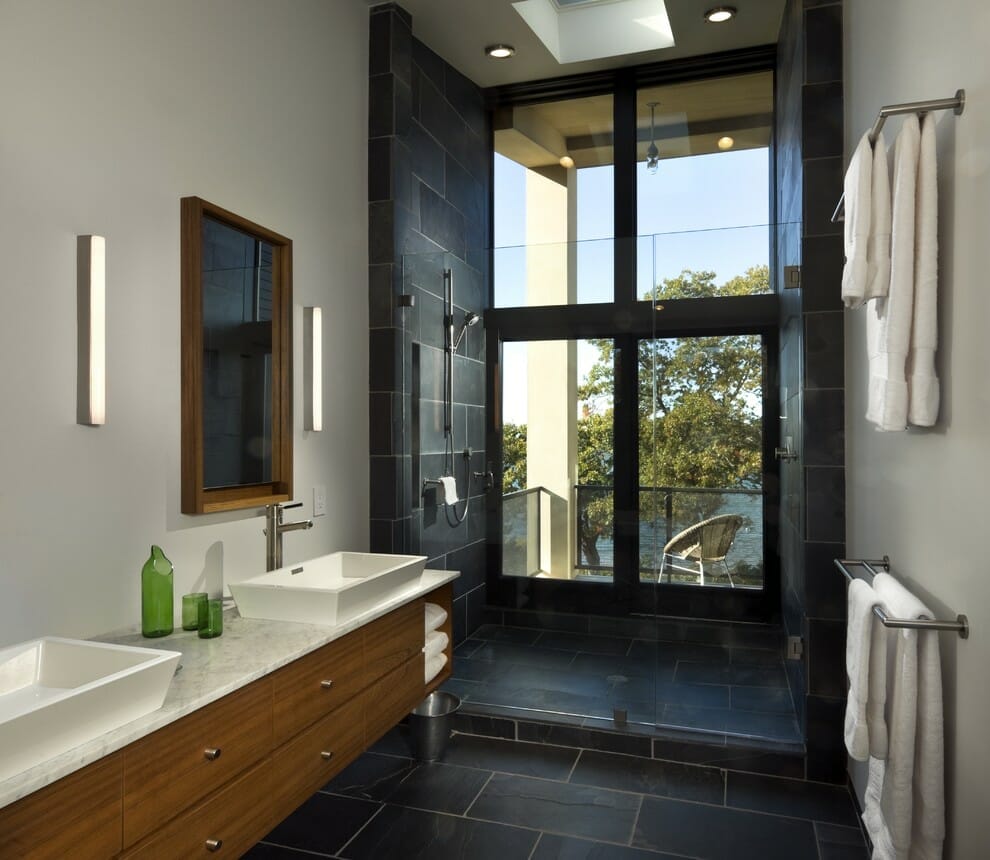 The most effective strategy in overcoming a dark standing shower area is to provide adequate lighting. You can realize it by installing several ceiling-mounted lamps on several sides of the room.
Additionally, set a large glass window made of reflective glasses to let natural light in during the day while maintaining your privacy.
21. Window Treatment to Add Privacy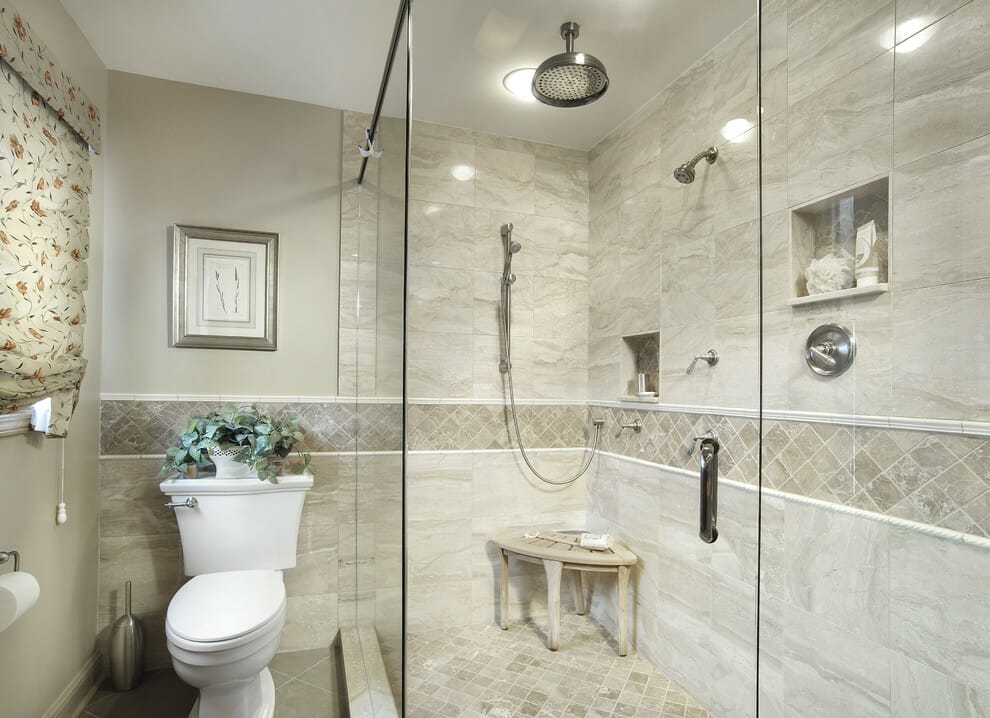 Suppose you have clear glass in your window. So providing blinds, curtains or shades is the wisest way to increase privacy in your bathroom.
It is the basic strategy of all standing shower ideas that you adopt.
Apart from making you feel more secure, most window treatments come in many variations. So it's easy for you to adjust to your walk-in bathroom concept and preference.
22. Wooden Sliding Blind for Window and White Curtain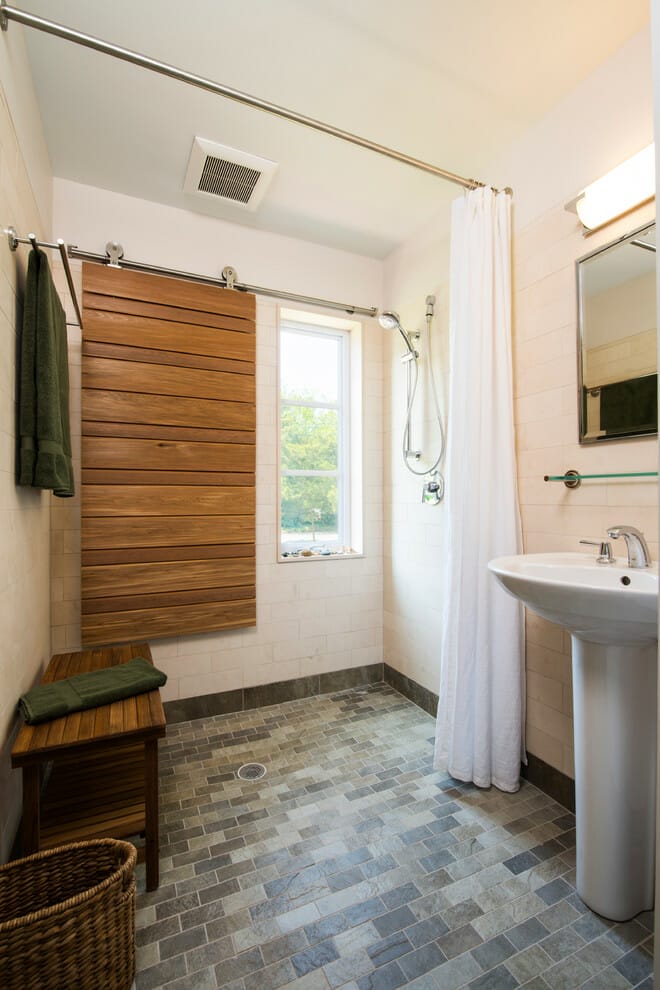 Are you looking for anti-mainstream standing shower ideas? If so, give this design a try. Usually, all rooms will be identical with sliding doors.
But this time, you meet with sliding blinds for your window treatment instead. This feature is distinctive and helps you adjust the light that enters your bathroom.
Because the window is equipped with a rigid treatment, it is good to drape a curtain to replace the door in your walk-in shower.
23. Classic Standing Shower Ideas with Half Wall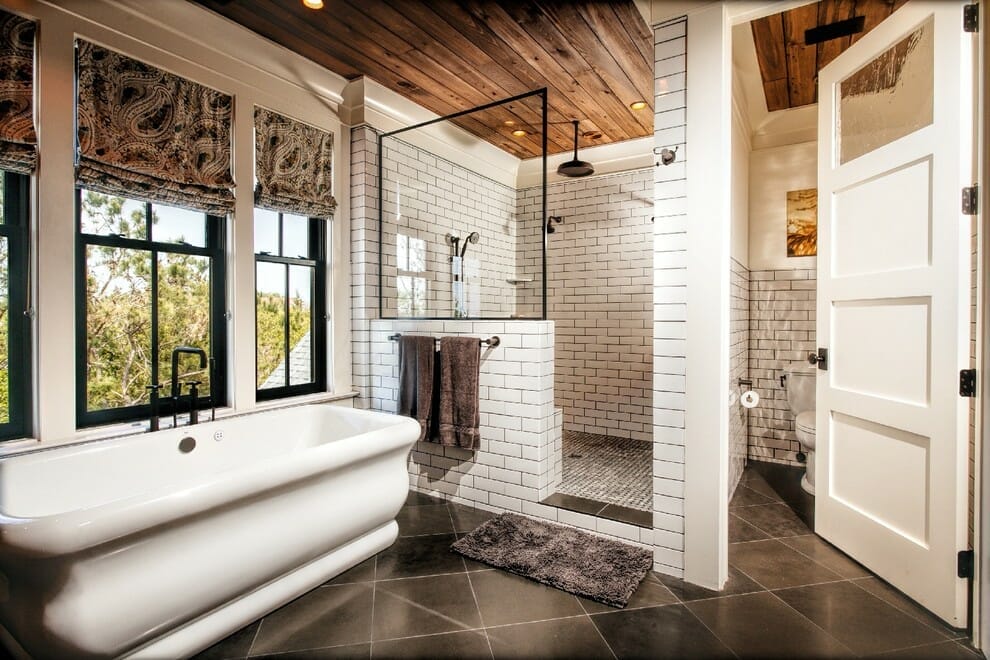 If you have ample bathroom space, letting the lavatory and the other areas separated by a door is not a problem.
As for the walk-in shower, it is better to leave it doorless.
But still provide a partition so that water does not wet the outermost area. You can go with a half wall with a square glass partition above for a more classic impression.
24. Walls with 3D Pictures to Create Real Illusions
It is common to see the walls of walk-in showers covered by wallpaper. However, you can still create a distinctive one that genuinely reflects you.
You can go with 3D wallpaper to produce a natural scene or perfect illusion for consideration.
Like the photo above, wallpaper with water illustrations will succeed in letting the coastal vibe in and capturing the attention of many guests.
25. Free-Standing Oval Tub in Front of Shower Enclosure
In modern traditional standing shower ideas, the point you have to pay attention to is not to showcase a rigid design.
This design can disturb your peace during bathing.
The ultimate step is to provide a free-standing tub instead of a built-in one since you already have a shower enclosure full of natural stone walls.
Also, make sure the tub is oval to give a balanced final result.
26. Glass Door and Tiles to Create Specialty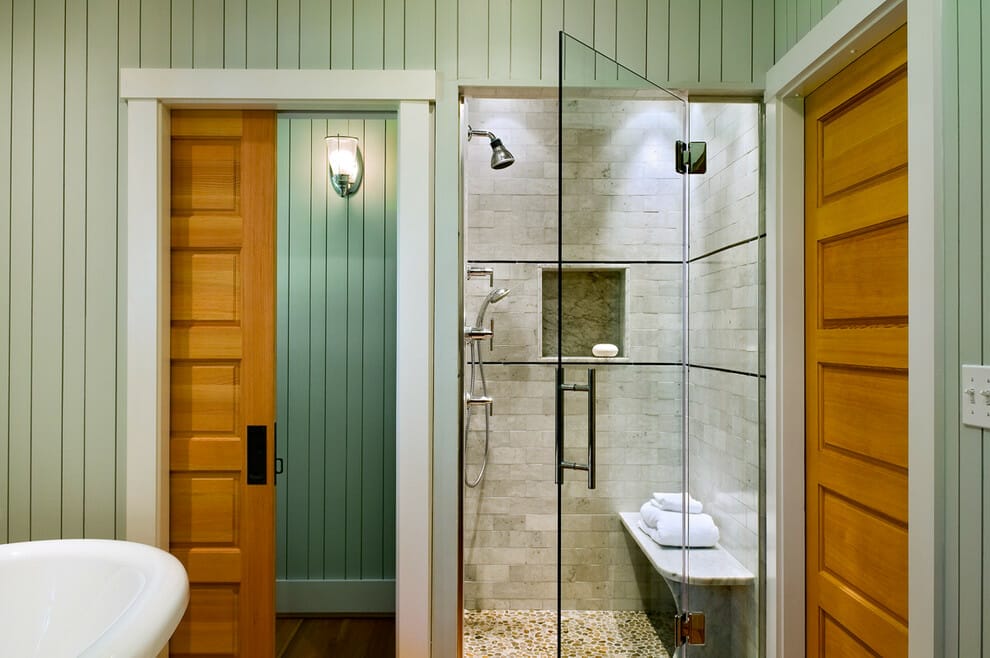 The easiest way to highlight your standing shower space is to give a door and interior different from others.
Suppose the sage green beadboard wall surrounds your bathtub area. So make sure the walls in your shower space come with subtle color of gray tiles.
Next, install glass for the shower zone, while others use sliding wooden doorways.
27. Doorless Standing Shower Ideas with Vertical Shelves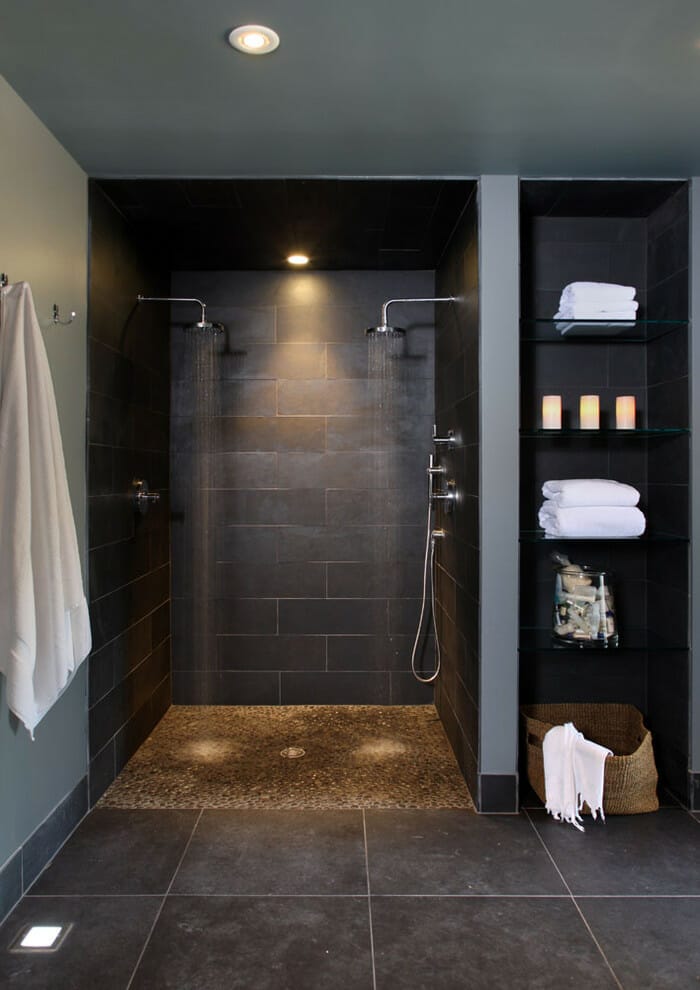 There is nothing more aesthetically pleasing than presenting built-in shelving along with your walk-in shower.
Provide this spot to display all your bath necessities while making it easy to reach. Since this splash zone has no doors, arranging the shelving system beside the enclosure would be best.
28. Raised Floor to Differentiate the Area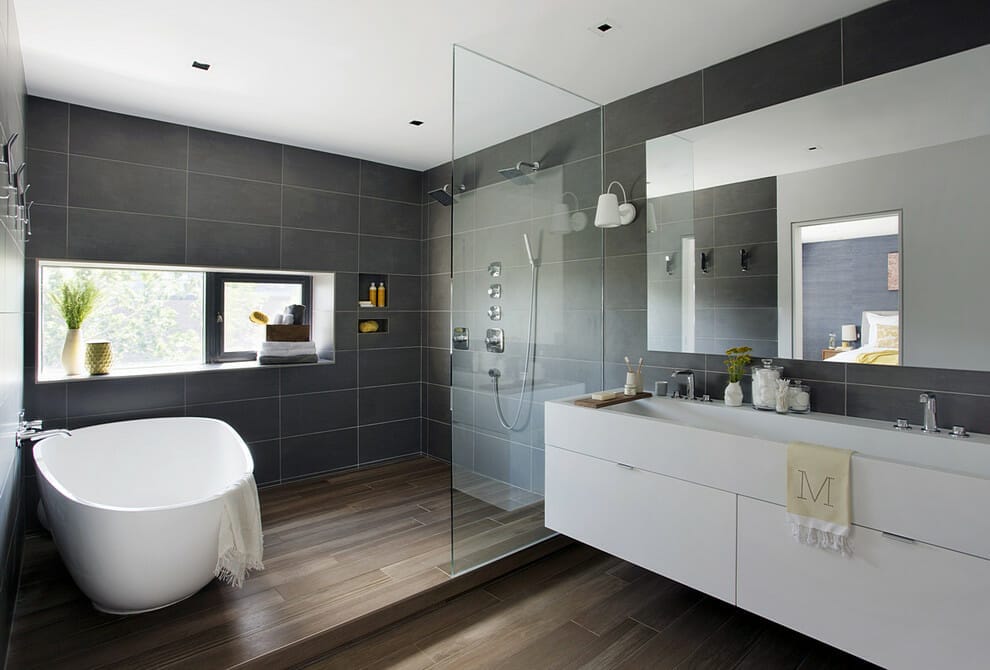 Separate the dress-up room with the bathing space with a raised floor. Even without borders, this will spotlight each area.
Last, do not forget the glass partition to prevent the water splashes on your furniture.
29. Window in Line with The Vanity Mirror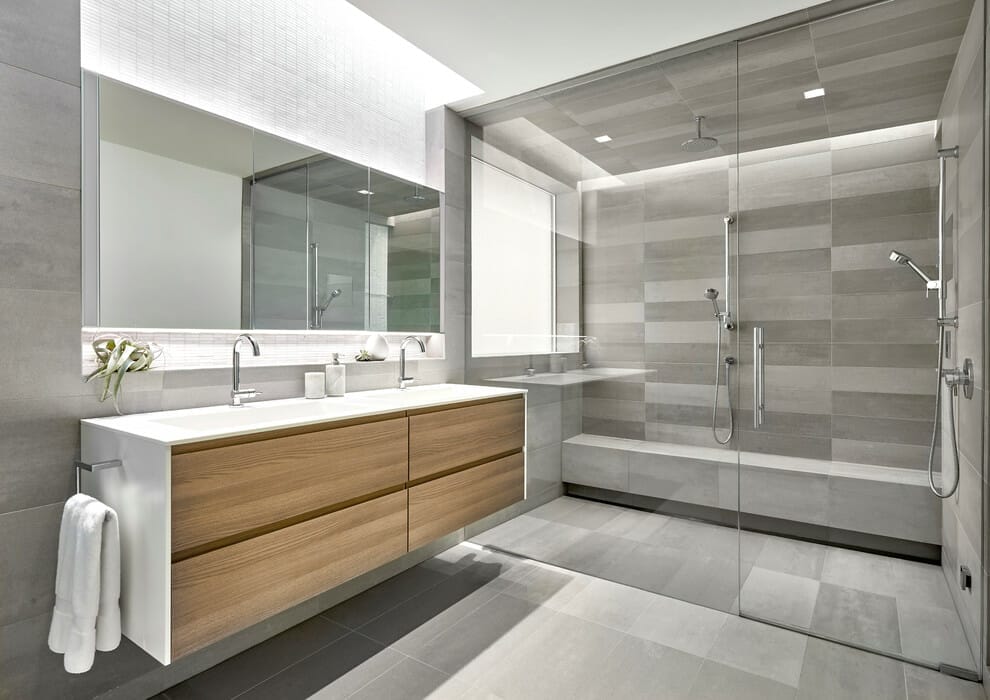 Even the most straightforward standing shower ideas can still attract much attention. It would be like that if all the elements present in the bathroom were well-arranged.
One example is building a window that is parallel to the vanity mirror. Looking at it from afar gives a broad and balanced impression between one area and another.
Choosing one of the many options for standing shower ideas is not too tricky.
All you need is to adjust everything according to your budget, preferences, and cohesion with your entire interior style.
Of course, to implement the best standing shower ideas, you better always consult a professional. So, are you ready to have one?