TV mounted on wall ideas are overgrowing, with many homeowners anchoring their choice to flat-screen TVs.
This idea came about because the flat-screen TV has a slimmer and lighter design than the previous model. It is even getting popular with the rise of interior design that prioritizes saving space in every room.
So, many people in droves decided to mount their TV on the wall instead of standing it up on the media cabinet.
Lately, TV mounted on wall ideas have also become a strategy for decorating homes. Some blend it with wall arts, others camouflage it within wall colors, and the rest make it one with a bookcase.
Interestingly, whatever the concept adopted, they managed to make the room's interior more complete and attractive.
1. Duplicate Surface of Flat-Screen TV with Black Glass Wall on the Side of the Room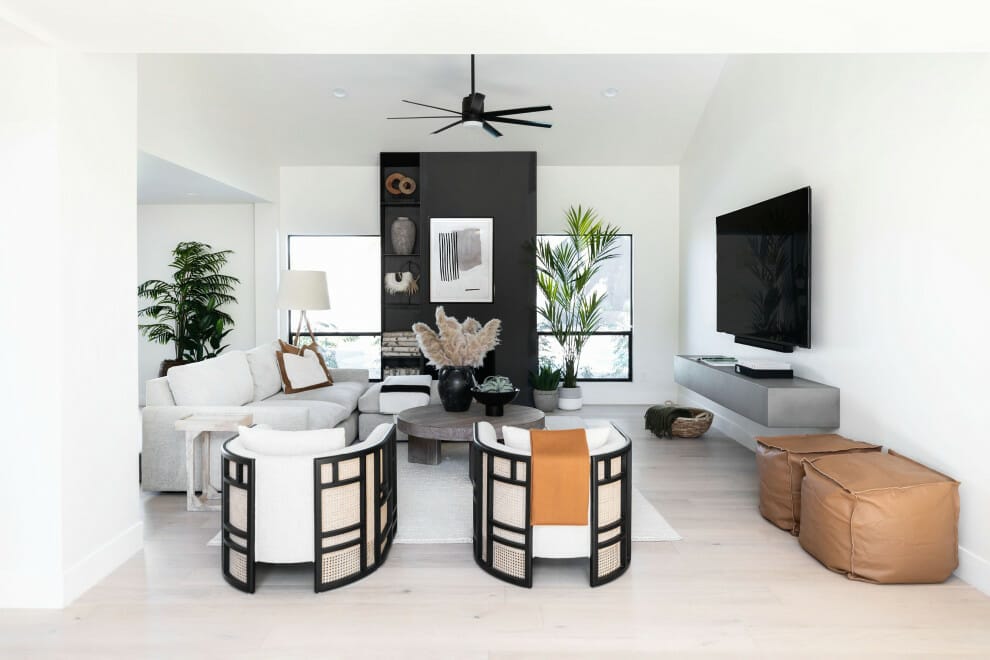 When turned off, a wall-mounted TV can be very dull to look at, especially if white walls surround the entire room.
You can decorate the wall next to it with tall indoor plants to get around that.
Further, install a black glass on the wall in the center to display the same dark surface as the TV. Embellish it with some wall arts to make it more interesting.
2. TV Mounted on Wall Ideas with Strip Light Above and Built-in Drawers Under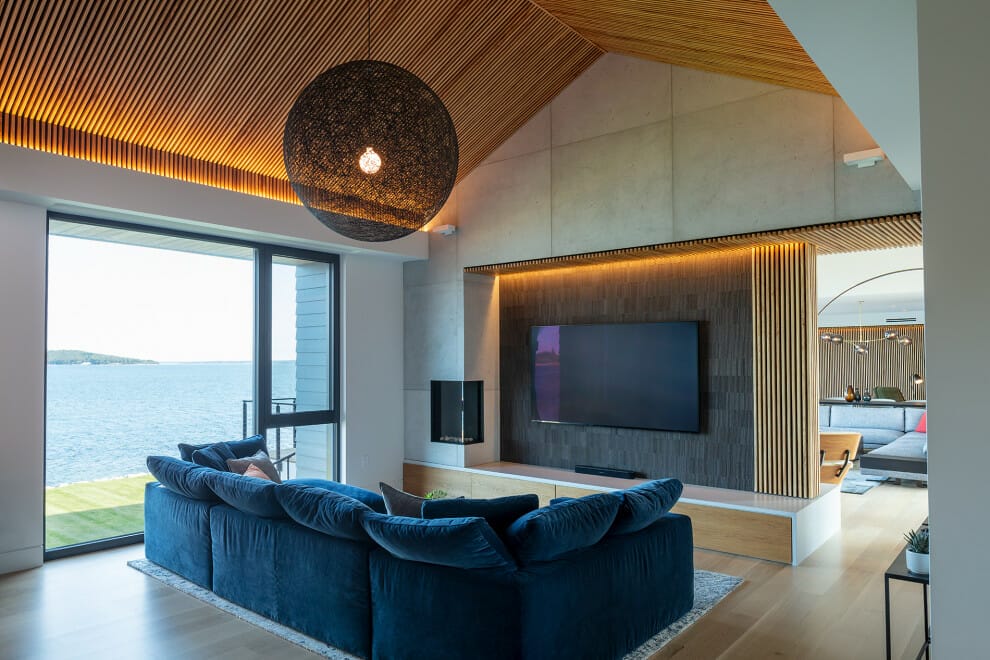 The most straightforward strategy for highlighting a TV on your wall is to stick a strip light at its top. Besides, you can attach similar illumination on each edge of the roof close to the wall.
It aims to make all your decorations more cohesive.
Last, do not forget to put furniture under wall mounted TV so that there is no blank space that can interfere with the sight.
3. Accented the Wall Behind the TV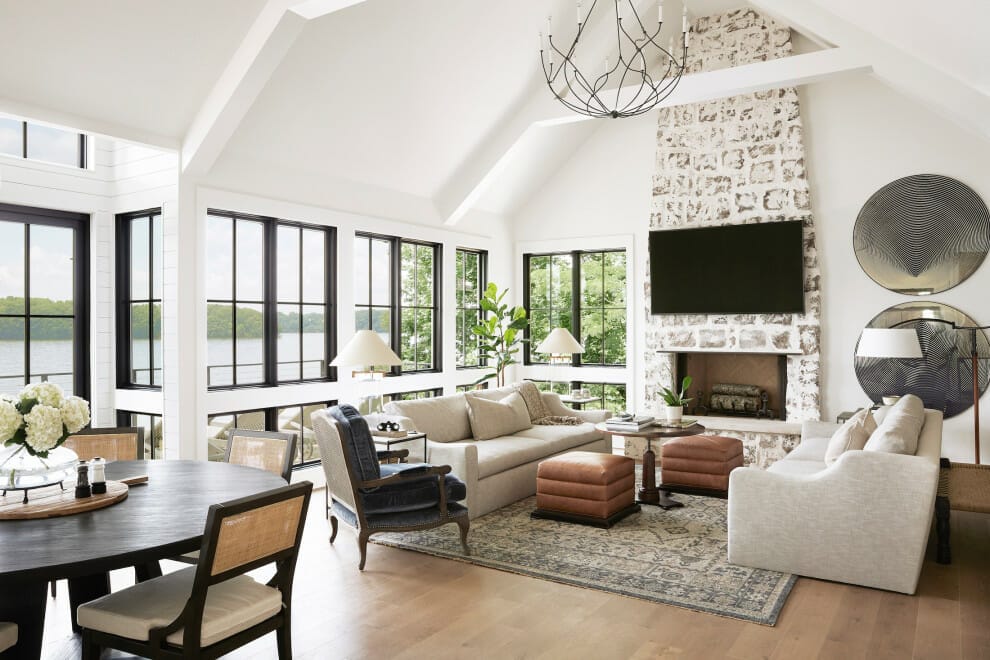 Suppose you have white walls and ceilings in your living room. Yet, you want to state your mounted TV without adopting excessive decorations.
In that case, you can plan to accentuate the exact spot where your TV is placed.
There are many ways to do this, from installing tiles to wallpapers with realistic illustrations. To keep it balanced and still look clean, you can leave the rest of the walls white.
4. Exposed the Roof Beams to Add Drama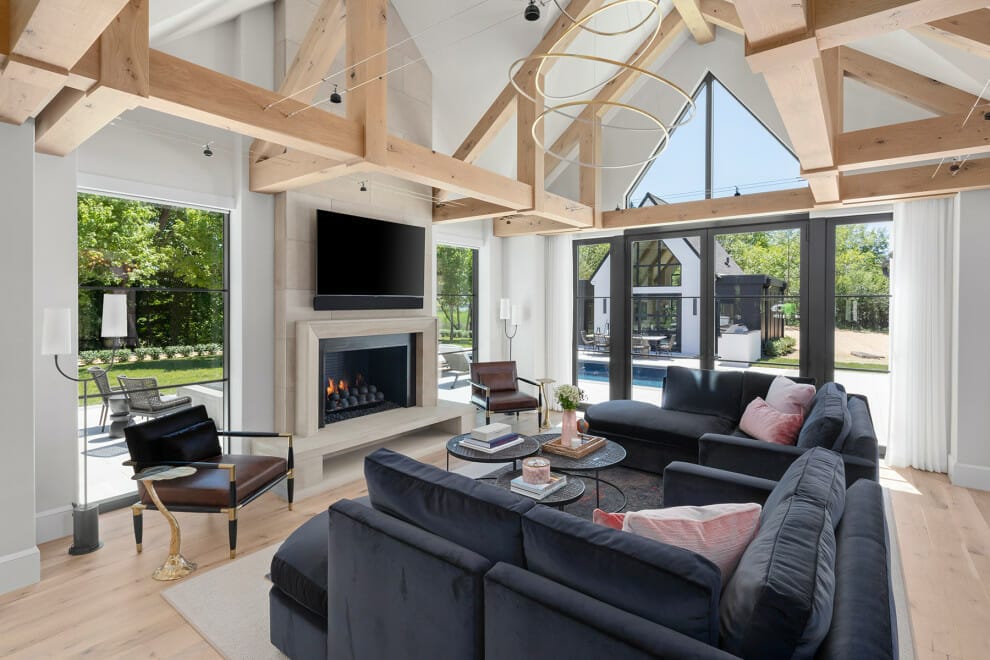 The flat TV's black screen will be very suitable if accompanied by furniture of similar colors. It can be black sofas and dark colors on doors, windows, and fireplace frames.
However, all-black TV mounted on wall ideas are not enough to attract visitors. Therefore, expose all the solid beams texture on the ceiling to add drama to your sitting room.
5. TV Mounted on Wall Ideas in the Dining Space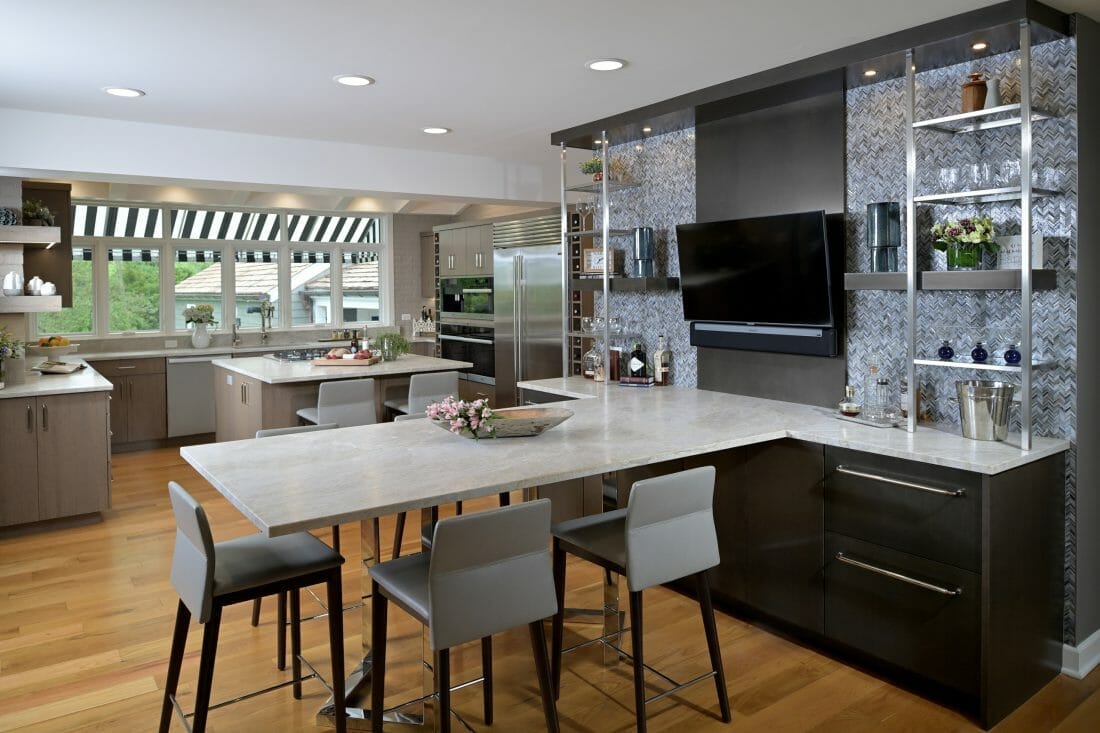 Mounting the TV does not always have to be in the living room. You can even place it in the dining room in the middle of your shelving system.
If you already have a wall with patterned ceramics, it would be best to replace the tile in the middle with a black one to spotlight the TV better.
The idea of hanging the TV in the dining room is precious to make your mealtime more enjoyable.
6. Hide the TV Behind a Wall Art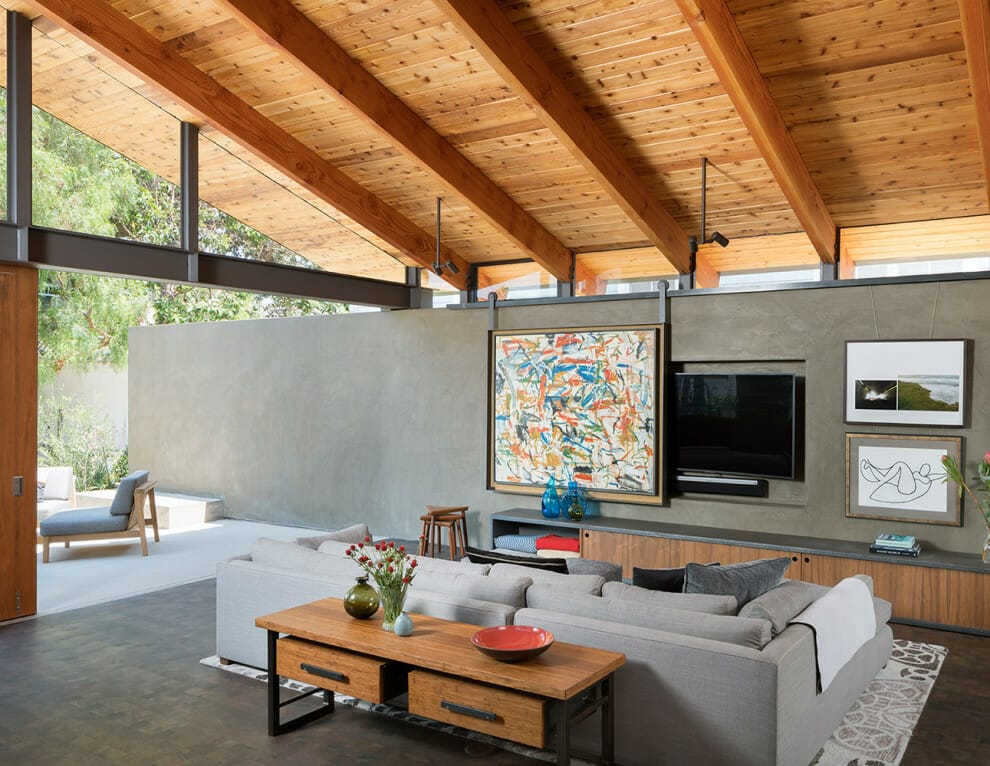 Since the turned-off TV does not have a remarkably pleasing appearance, you can hide it behind wall art.
Creating this object is very easy. It would help if you merely hung your favorite wall art on a metal slide and then scaled it right in front of the wall-mounted TV.
You can slide the painting to the space when you want to watch TV and glide it back to cover the flat-screen TV when it is off.
7. Mount the TV in The Corner of Your Semi-Outdoor Kitchen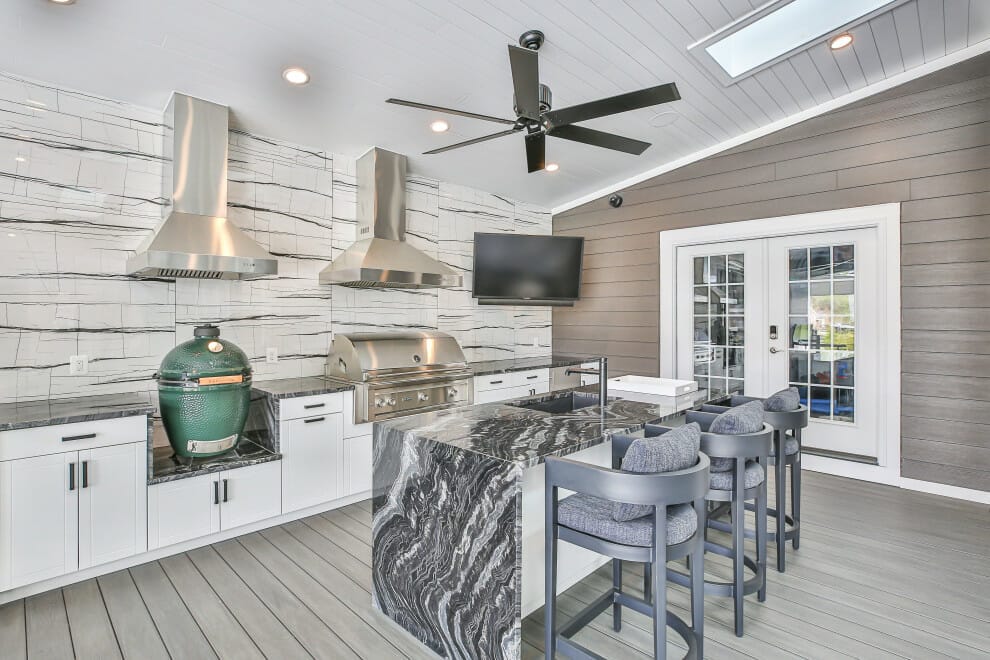 The following TV mounted on wall ideas recommend placing this device in the corner of the room. This placement strategy is very convenient to apply in your semi-outdoor kitchen.
So that everyone gathered there can enjoy entertainment with the excellent viewpoint.
This idea will be even more interesting if you arrange the walls, floors, and ceilings with different patterns, tones, or materials.
Therefore, it shows a unique combination of shapes that everyone desires.
8. TV above the BBQ Vent Hood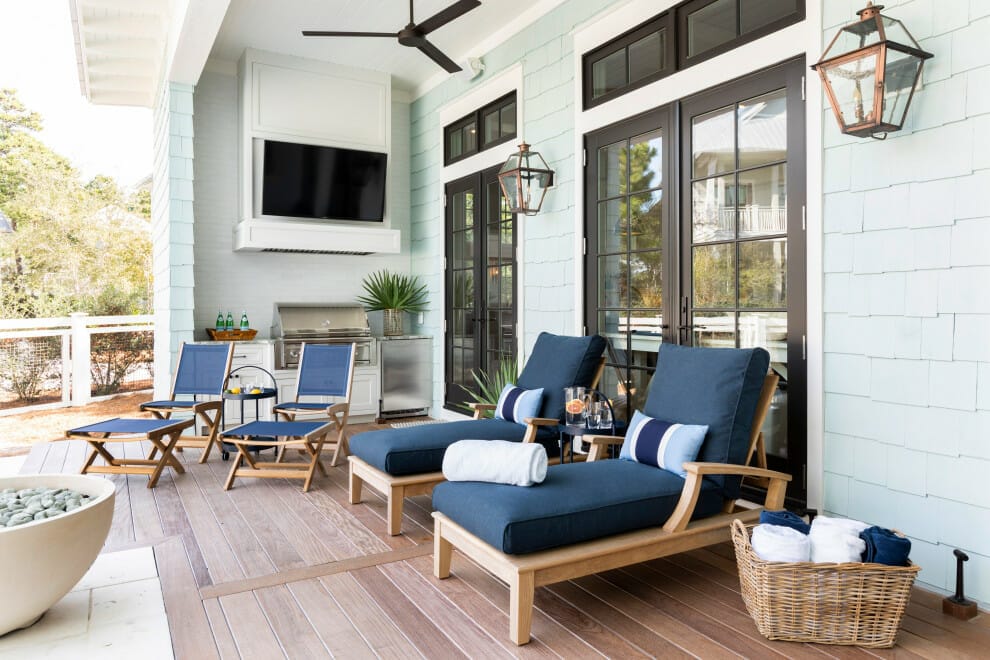 Besides placing it in the corner of the room, you can also mount your TV above the vent hood. Of course, before deciding to use this design, you have to consider the proper material for the TV background first.
The most important thing is to consult a professional, so you do not take the wrong step in decorating the top wall of your BBQ island.
9. Abstract Wall and Built-in Shelves in Dark Color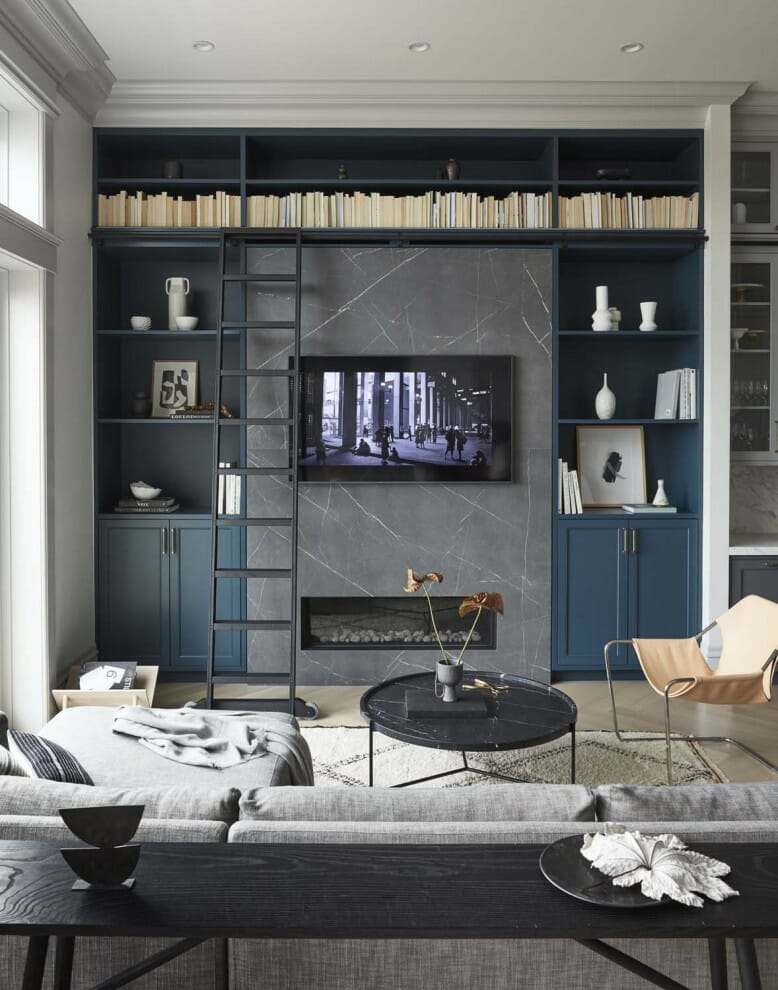 Dare to be creative in realizing the TV mounted on wall ideas you dream of. Whether it's later, you will decorate the TV area with dark or light colors.
Everything will be fine as long as it fits your preferences and interior theme.
To get an elegant and classy look, you can mount the TV on the wall with black abstract wallpaper. Next, install built-in shelving around in the dark blue color.
You can embellish your TV by displaying all the books and ornamental objects on the shelves.
10. Robust Rustic TV Mounted on Wall Ideas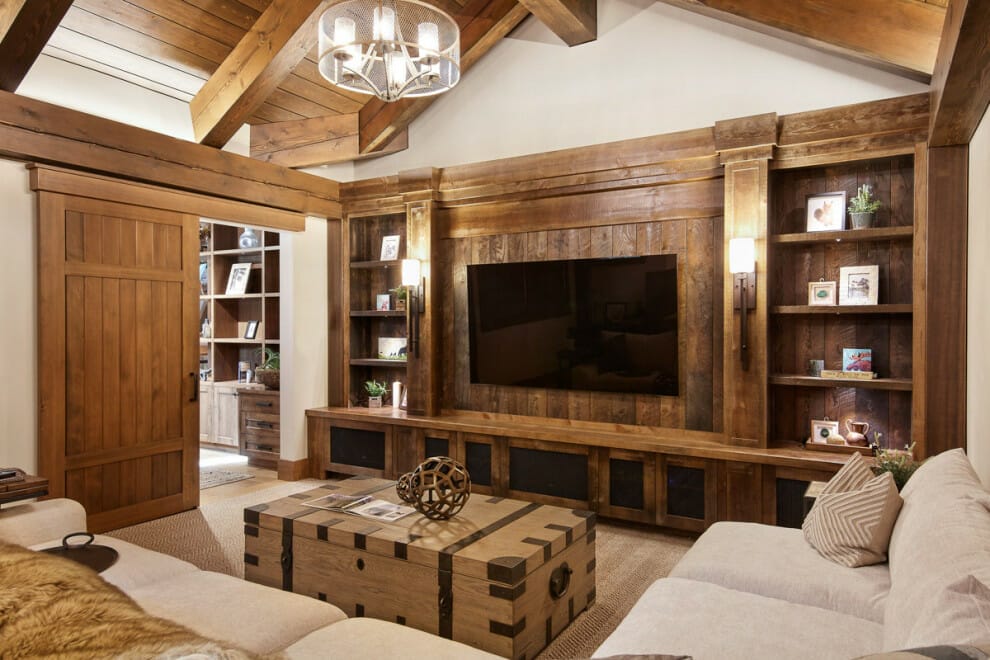 In a rustic-style house, it is effortless to dramatize the presence of your mounted TV.
The ultimate move is to present a wall behind the TV with wooden panels connected directly to the shelves on the right and left and the cabinet below.
Do not forget to install two sconces to make your living room arrangement more interesting.
11. Wall Tiling to Showcase Natural Texture and Vines
Abstract green wall tiling as a TV background like above is perfect for you who want to bring a natural vibe into your sitting room.
Because the green wall tilling already has enough character to highlight the presence of your TV, it is better to leave the side walls white.
Then you can put indoor plants or hang vines to complete the ambiance.
12. TV Mounted on a Wooden Partition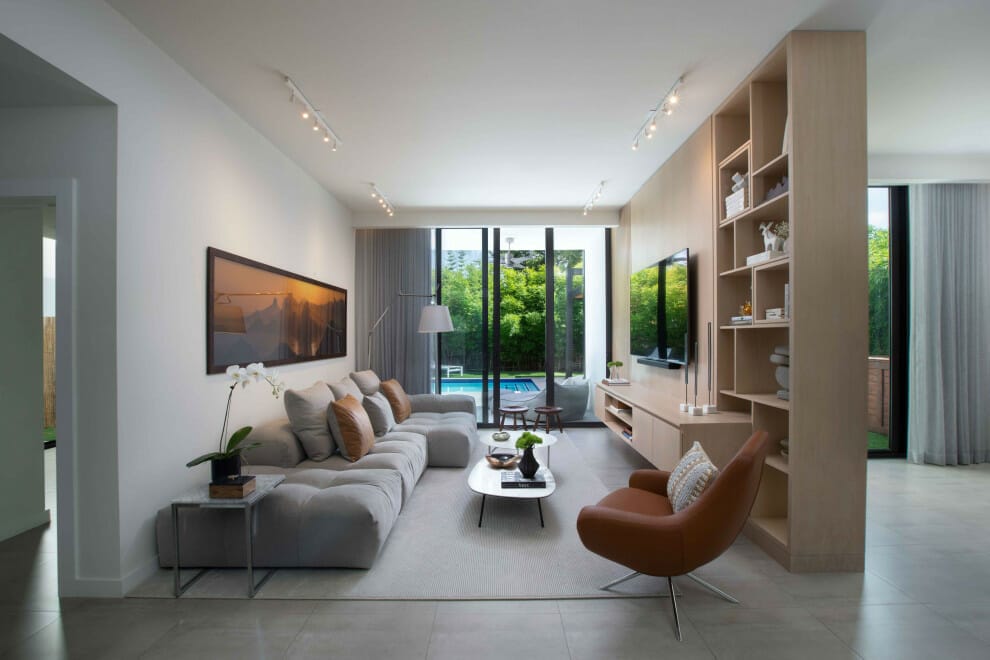 The TV mounted on wall ideas in this section also allow you to place this device on wooden partitions. Also, it will remain safe no matter what.
Suppose the presence of shelves and drawers is not enough. Then you can also add other decorations right on the wall opposite your TV.
It could be a painting or a landscape portrait that you like the most.
13. Come with Colorful Décor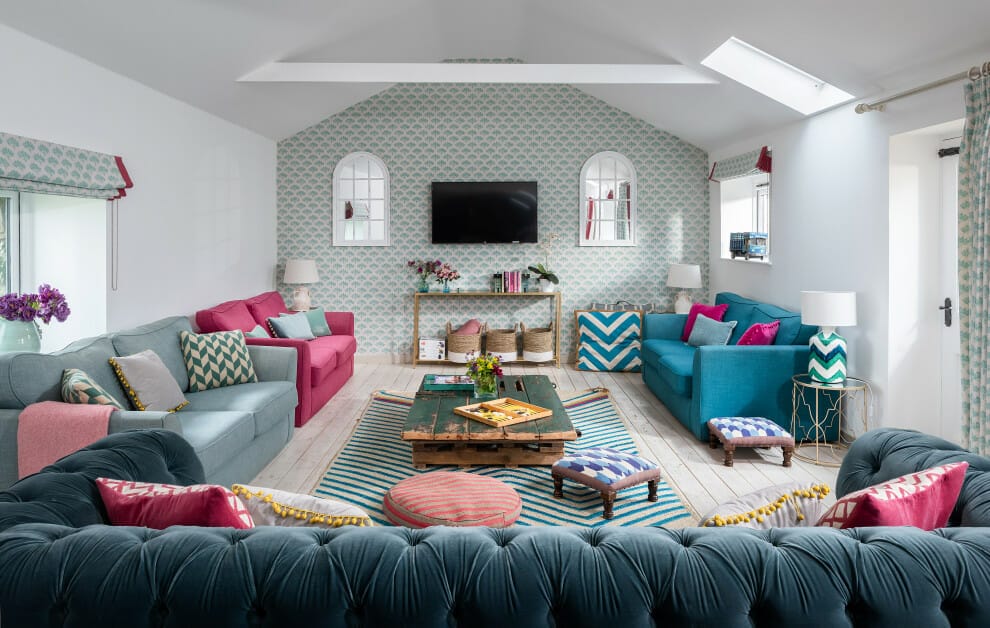 The black surface of the flat-screen TV needs other ornaments to make it pleasing to the eyes. Besides, it does not matter if you give it colorful decorations.
You can start from the walls covered with wallpaper, sofas in pink and blue, to rugs with symmetrical accents in similar hues.
14. TV Mounted on Wall Ideas Between Two Windows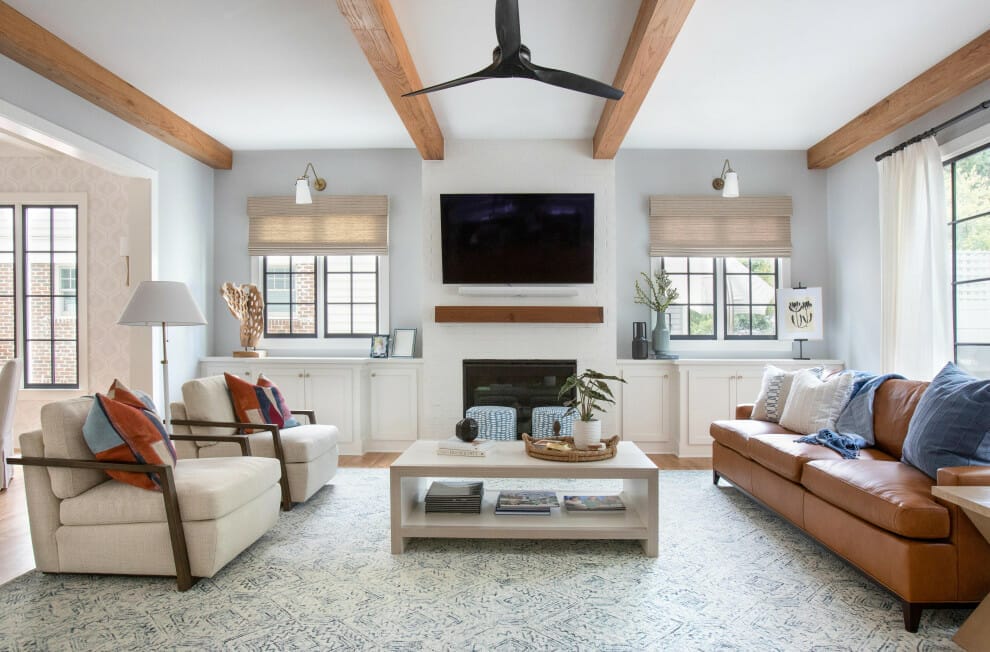 Mounting the television between the two windows is a brilliant move you can make. This layout will help make your room look more balanced and brighter too.
So that when you are watching a movie, your eyes become more relaxed in receiving the brightness of the TV.
15. Wall Mounted TV Ideas Above Fire Place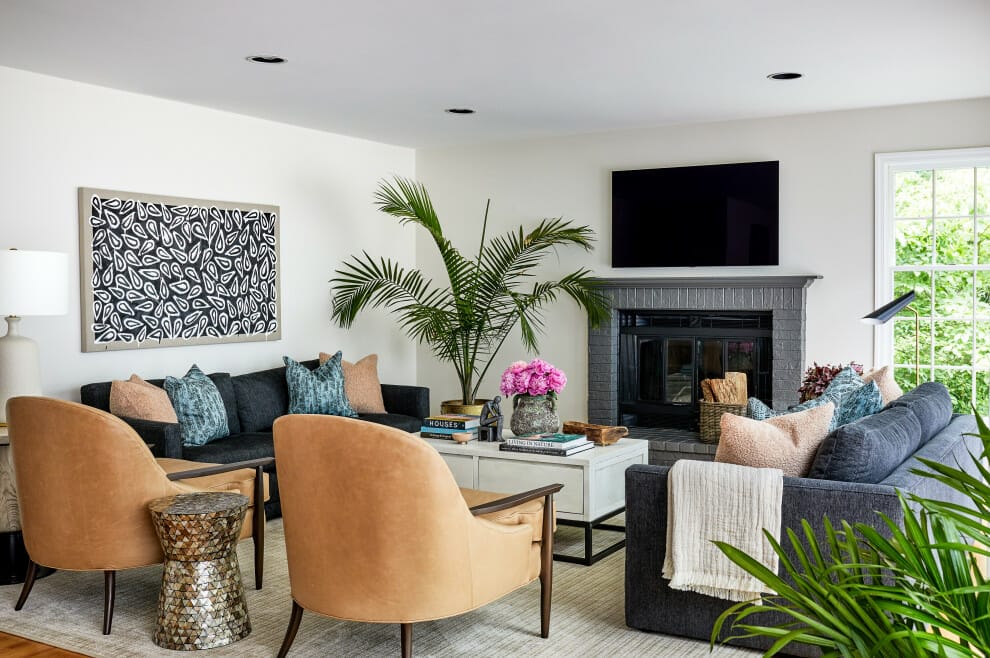 Placing the TV above the fireplace mantle has become a common practice. Therefore, you need a little artistic touch to make it more interesting than others.
The best steps are to carve your fireplace mantle and hang a 2D painting on the wall next to it.
Furthermore, you can also put an indoor plant in the corner of the room to make the space look fresher.
16. Modern TV Wall Design Ideas with Abstract Painting and Display Cabinet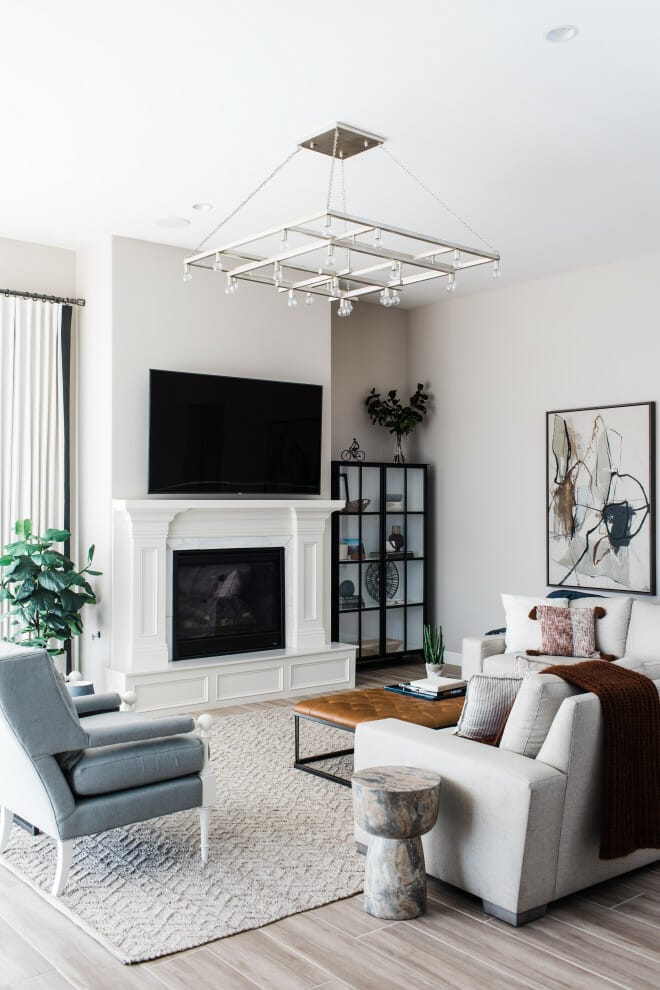 Look how these TV mounted on wall ideas give the room a charming look. It looks classy with some decorative elements without making everything look overwhelming.
It is only about a display cabinet with a black frame in the corner of the room, an abstract painting with a white background, and colored embossed rugs on the floor. They all look good together.
17. White Brick Wall to Spotlight the TV
Suppose you already have a brick wall behind your mounted TV. However, you want to give it a new look. So considering repainting the walls white will be better.
In addition to making the TV well-spotlighted, repainting also makes the room look cleaner and more spacious.
After all, it is also affordable and easy to do yourself.
18. Bring the Earthy Tone In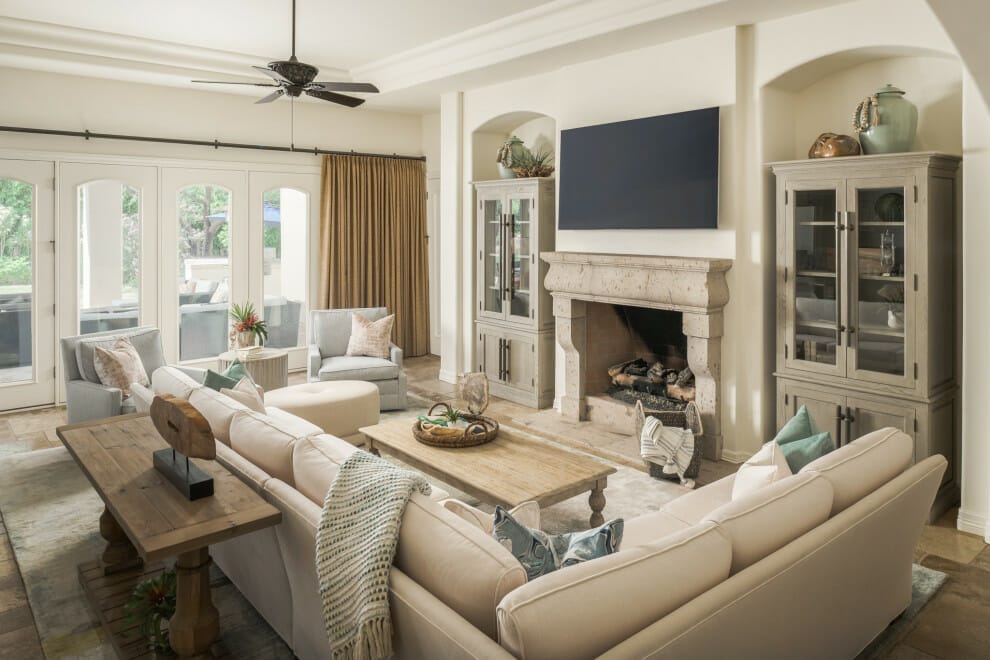 White does make the room look cleaner. But some people may prefer TV mounted on wall ideas in an earthy and subtle tone instead.
If you are one of them, giving a broken white hue to the walls will never fail in any room.
Furthermore, you can provide furniture around the wall-mounted TV in beige or creme. It will look more understated, though.
19. Camouflage with the wall Behind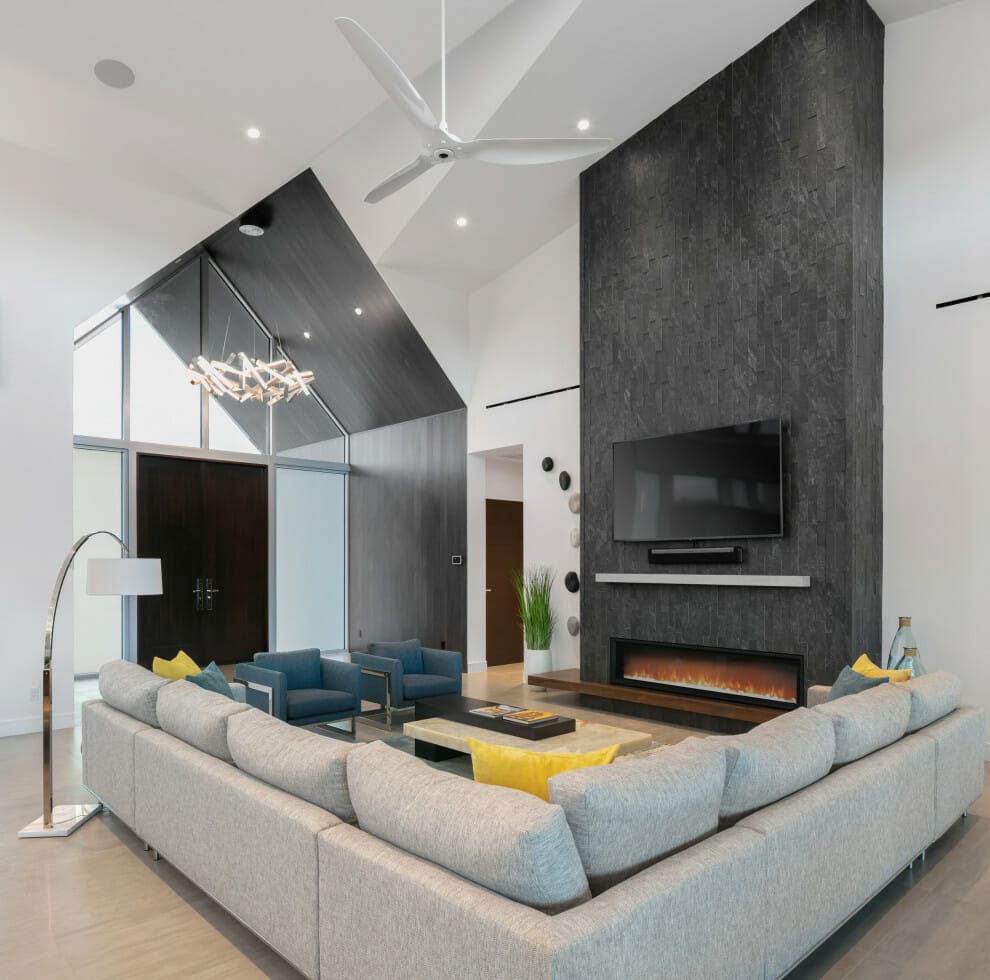 Another way to hide your wall-mounted TV apart from presenting sliding art is to set the wall behind it in black.
That way, this device can camouflage properly.
Giving the walls some texture and a line of contrasting color below the TV would be better than going with plain black.
It is still aesthetically pleasing no matter what.
20. Contemporary TV Mounted on Wall Ideas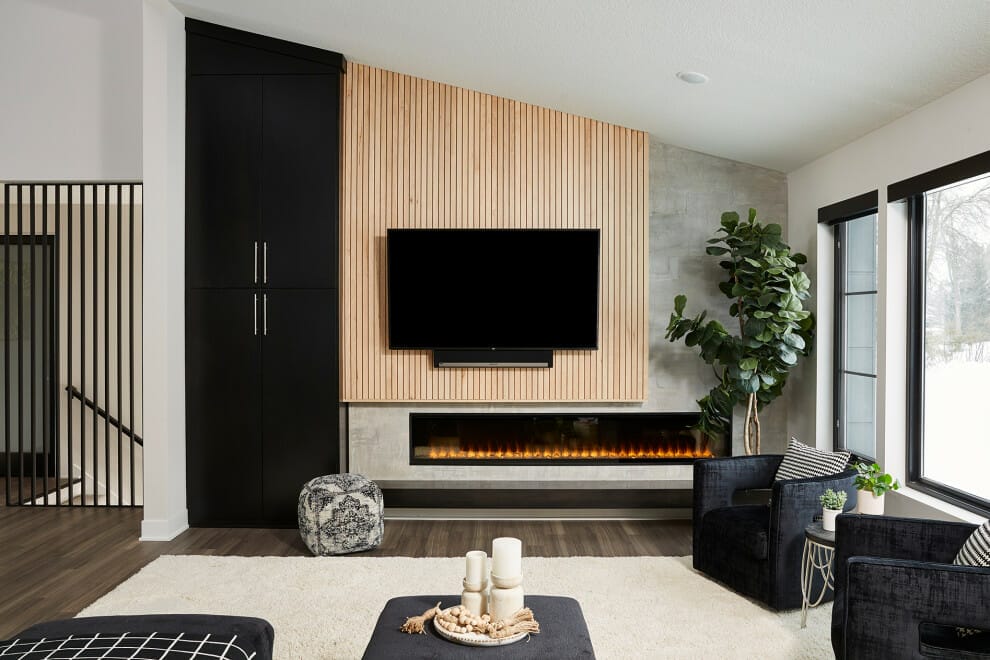 You are free to unite modern elements with rustic objects in a contemporary style. You can provide an additional wood wall to mount your TV without hiding the original architecture like the picture above.
Then add any indoor plant to fill the space and give a touch of freshness. Undoubtedly, this mixing texture will always be timeless and fun to own.
21. Creative TV Wall Mounting Ideas Using Vinyl Decals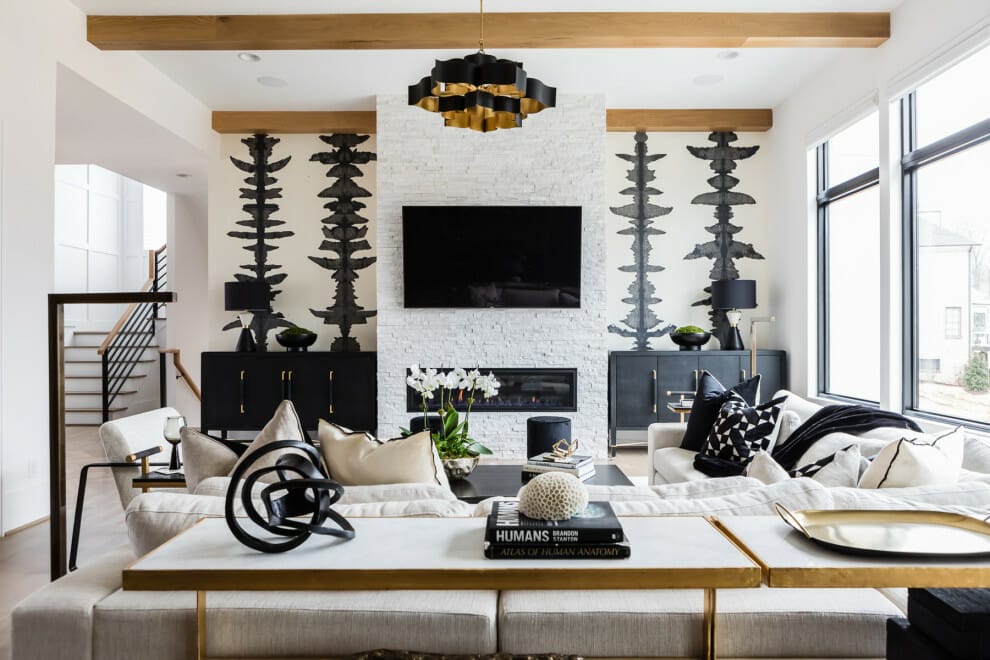 The TV mounted on wall ideas in this article do not come to limit your creativity. On the contrary, it helps you find new inspirations that you have never thought of before.
One way is to place your TV between two walls filled with decals. There are many models of vinyl stickers that you can choose from on the market.
You merely have to select the one that best suits your taste.
22. Wall with the Same Color Patterns as The Curtains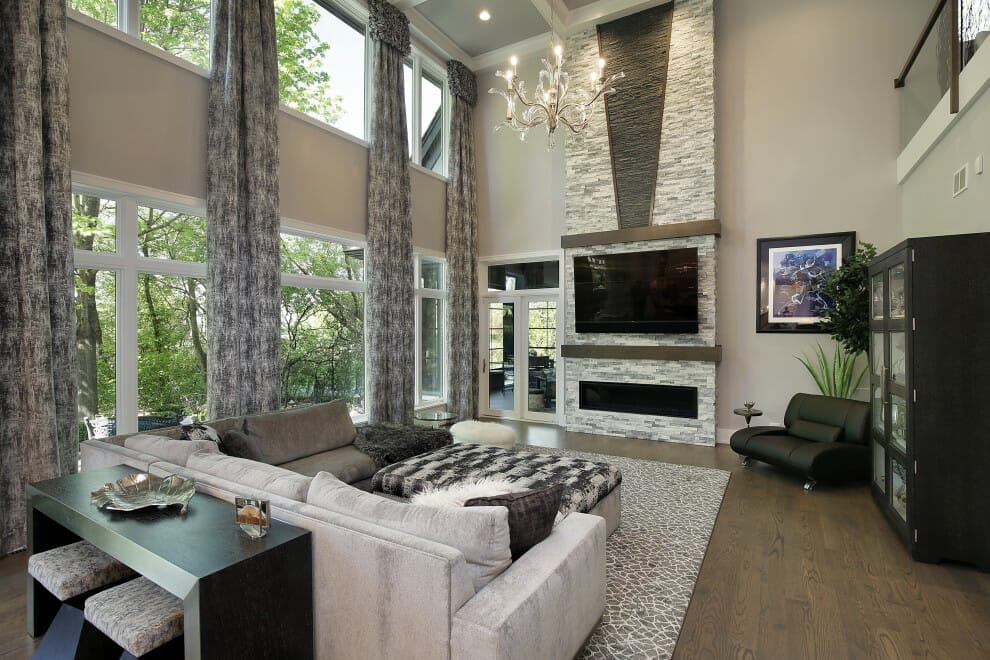 Accented the wall behind the TV by adopting colors similar to the patterns found in several elements in your living room.
As you can see in the picture above, the wall behind the TV has a similar pattern with curtains, rugs, tufted coffee tables, and stools. They all go well together.
23. Outdoor TV Mounted on Wall Ideas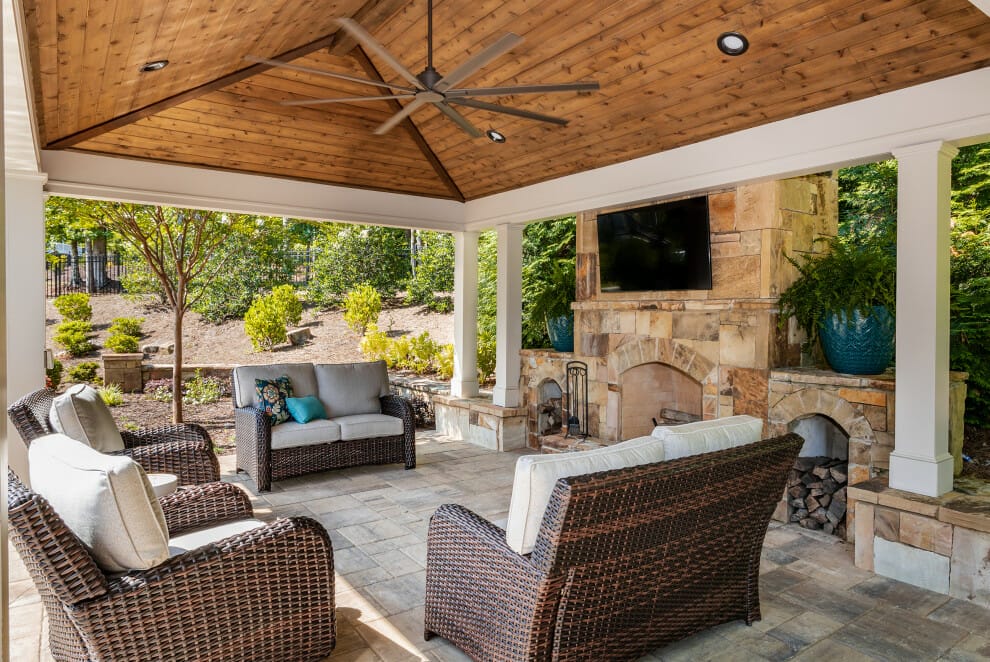 After previously setting a TV in a semi-outdoor space, now is the time for you to consider placing it on your patio.
Mount that flat-screen TV directly above the fireplace, and complete the view with a natural stone wall and some perennials.
Undoubtedly, many visitors will like this place better.
24. State the TV Spot with Coffered Wall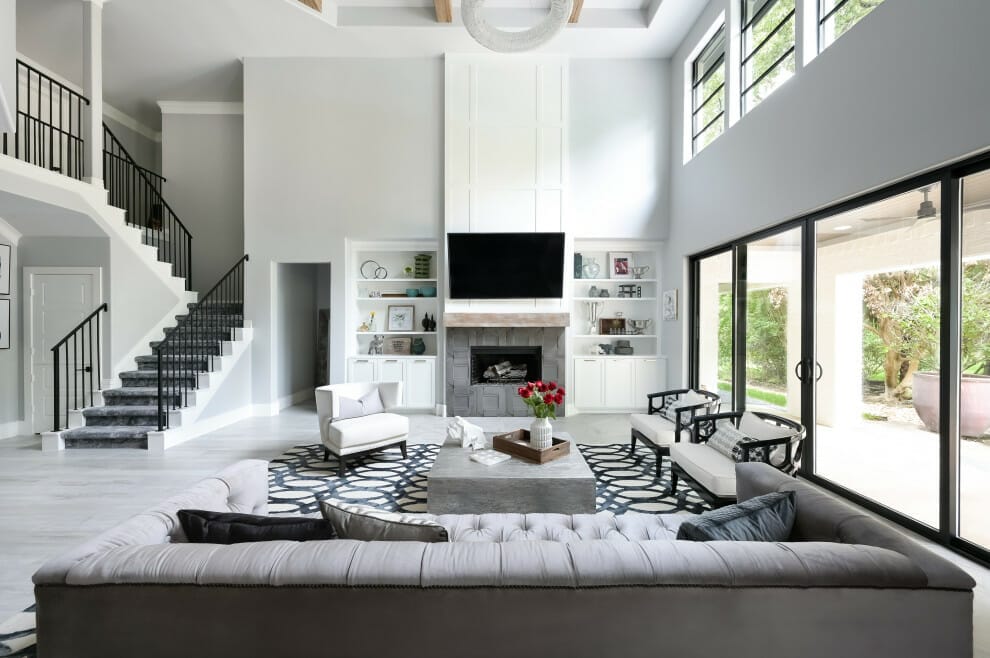 Coffered walls and wainscoting are often found in the area around the stairs. Apart from that, you can also give a similar wall treatment behind your mounted flat-screen TV.
White does look traditional. However, the texture brought makes this wall treatment still stunning and successfully state your TV.
25. Set Slightly to The Edge Instead of In the Middle of The Room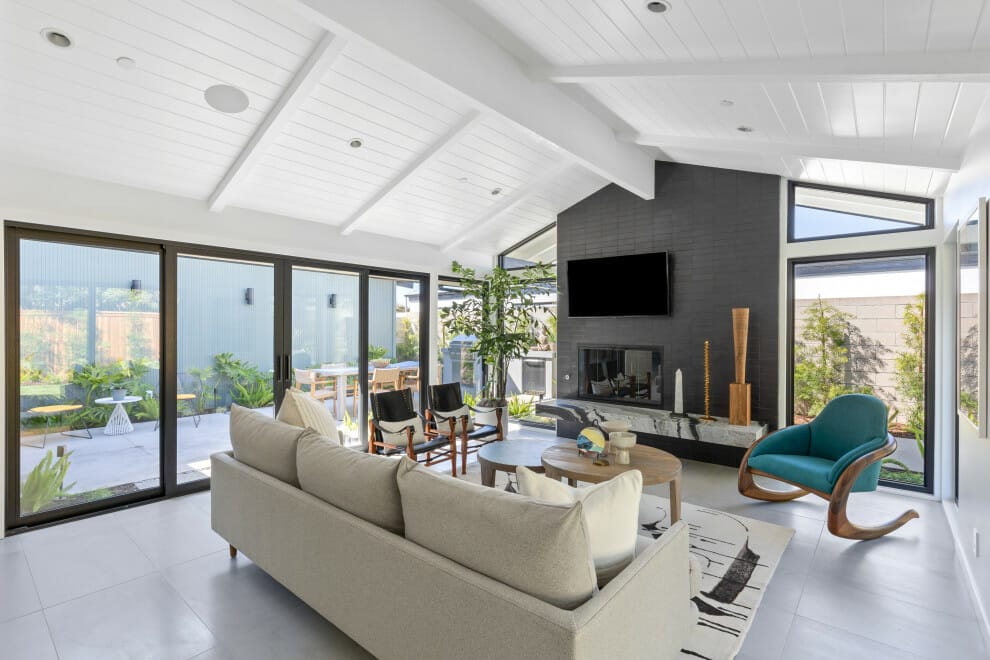 Some of you may think hanging the TV in the center of the room is the rule in all TV mounted on wall ideas.
However, it seems that is not always true. There are no rules that bind an idea in decorating a house.
Of course, you are free to mount the TV slightly over the edge. It is okay if the other decor arrangements provide an aesthetic balance.
26. Glass Wall to Give the Beautiful Landscape to Reflect Off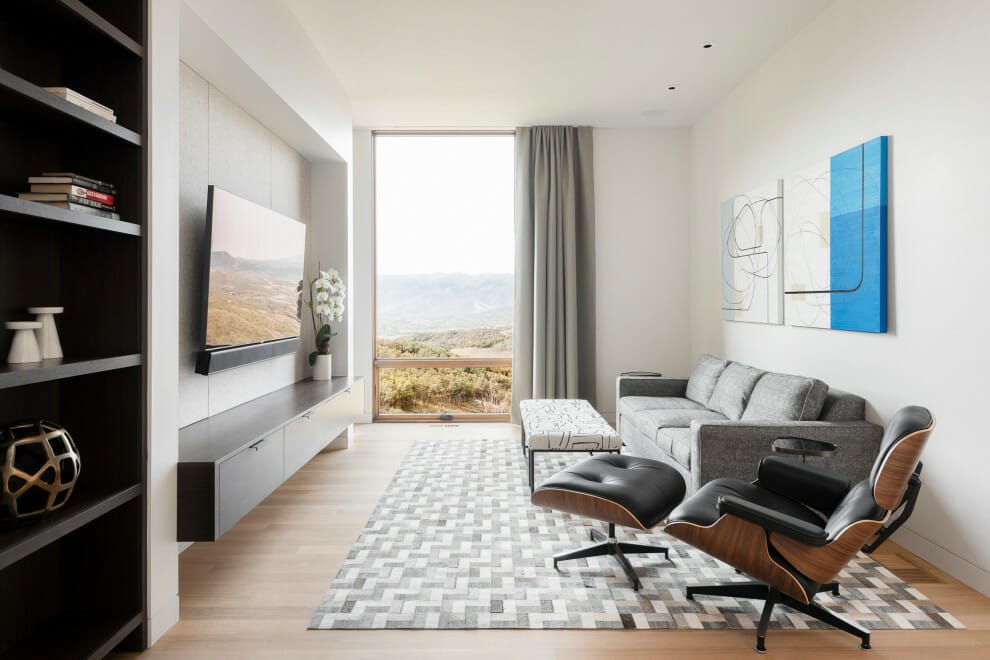 The surface of the TV will always reflect any object in front of it when it is off. You can use that condition as an excuse to have a glass wall or merely a wide glass window with a beautiful landscape behind it.
During the day, this TV will reflect all the landscape beautifully. So it looks like a nature painting instead of a device.
27. TV Mounted on Wall Ideas with Built-in Media Cabinet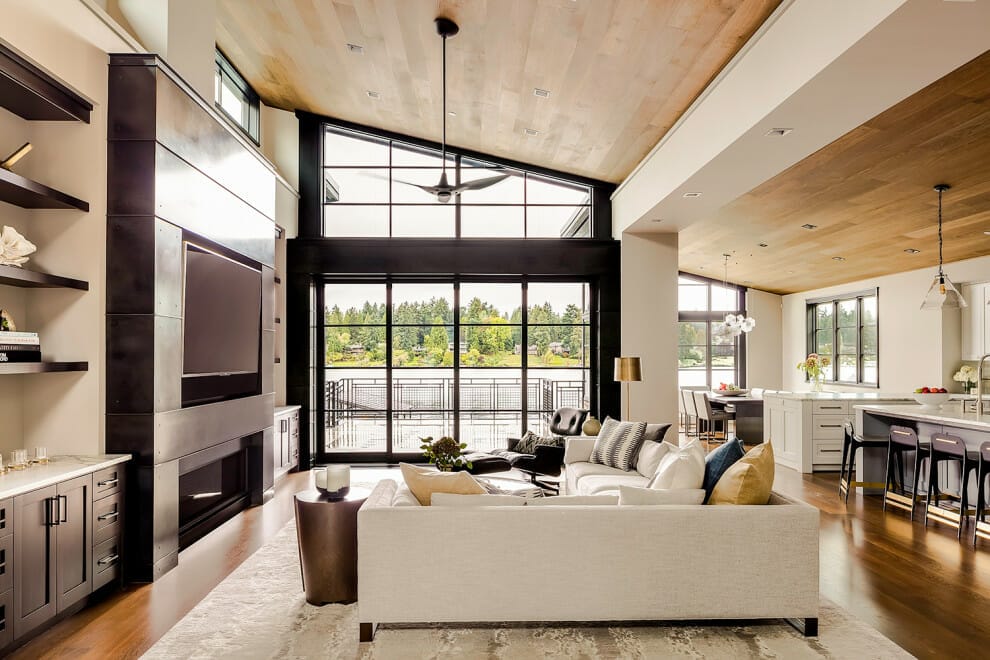 You can merely set up a wall-mounted TV with a built-in media cabinet as above. However, this design will only suit your spacious sitting room.
Otherwise, it will make your small space look cramped.
It is also better to provide your built-in media cabinet with a smooth surface instead of the carving one. That way, it will always match any interior design.
28. Limestone Wall for Pop of Texture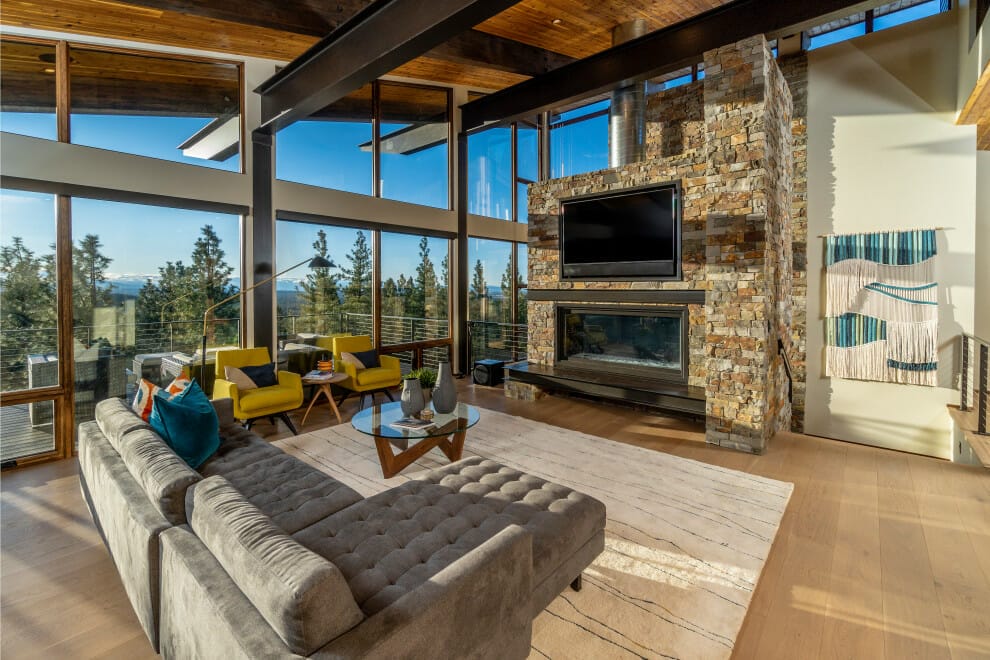 TV mounting on the limestone wall, why not? It is automatically stunning and has character even without any wall art.
However, if you still want to hang some ornaments on the wall next to it, that is still okay.
29. Complete the TV Mounted on Wall Ideas with Tunisian Tapestry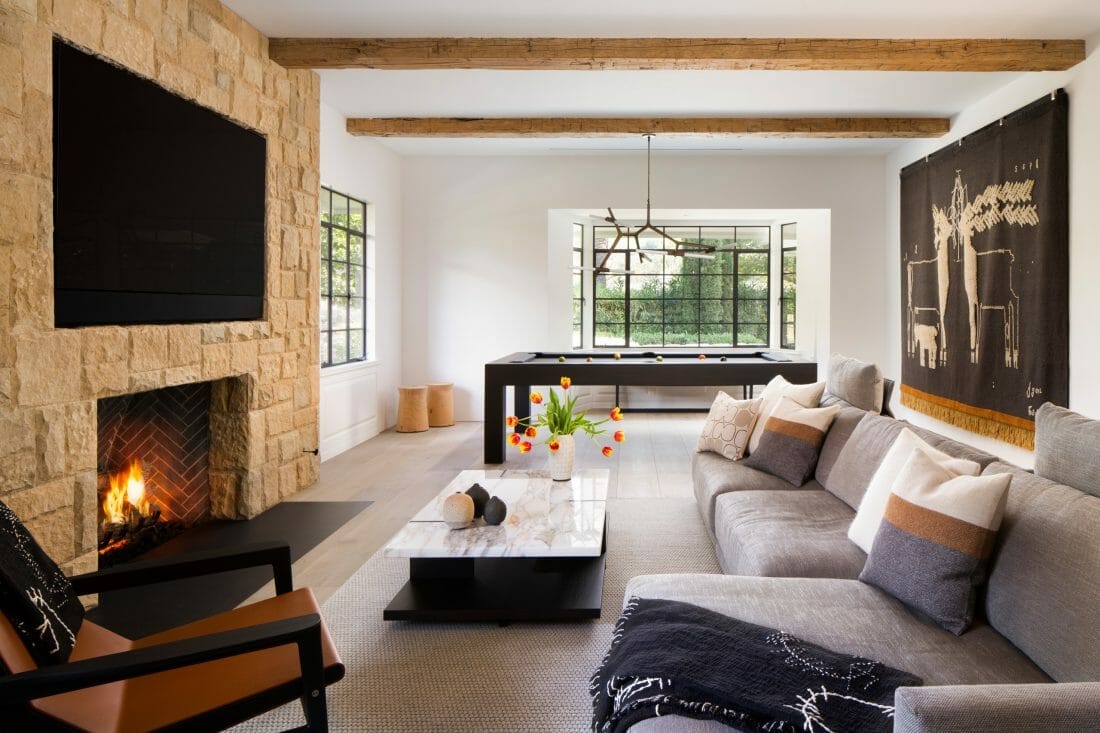 Look at how the TV between the natural stone walls looks like a black hole in a rectangular shape. It seems so honest yet straightforward that it will inherently amaze everyone's eyes.
You can distract the sight by hanging a tapestry with a black background and gold objects on the wall opposite the TV.
After all, whatever TV mounted on wall ideas you will adopt later, make sure you don't set this device too high. It is better to put it by your viewing distance to avoid pain in the neck.