When space is at a premium, triple bunk beds are perfect. Those furniture pieces feature two beds on top of the bottom bunk. They can accommodate three kids in the same footprint. Additionally, they offer fun and great value.
Although you do not have three children sharing a bedchamber, you still need to consider a triple bunk bed. If your little ones host a sleepover, they and their friend can sleep in the bed comfortably.
This video by Mat Mecham will show you how to make triple bunk beds in your home, a perfect solution for any family looking for an inexpensive sleeping arrangement.
Speaking of a triple bunk bed, the first thing that springs to your mind is the triple-decker. Let us discover the other triple bunk bed configurations below.
1. L Shaped Triple Bunk Bed 1 Up 2 Down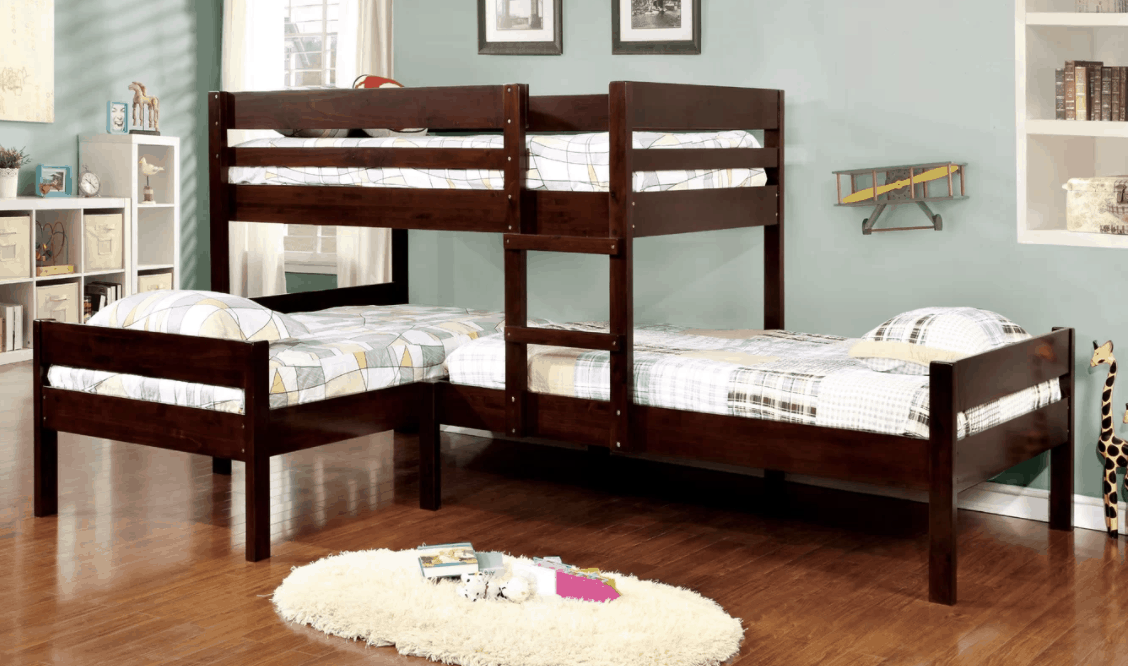 The arrangement of this triple bunk bed is 1 upper bed and 2 lower beds. It would be a perfect addition to a vacation home.
Moreover, the L-shaped triple bunk bed allows the adults to sleep on bottom bunks. Therefore, they do not have to reach the top level. Meanwhile, your kid will be so happy sleeping on the top bunk.
The dark-toned wood triple bunk bed generates a pleasant look and a warm ambiance. Meanwhile, the walls are painted duck egg blue. They carve a restful environment.
2. The Triple Decker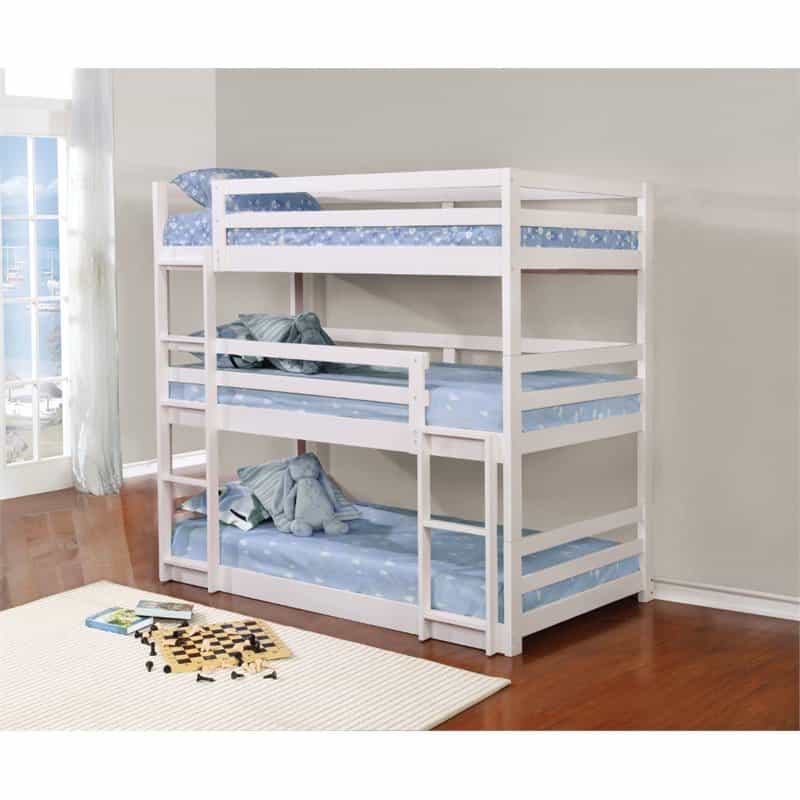 The triple-decker is the most popular type of triple sleeper bunk bed. It is three beds placed on top of each other. It holds three children. Not to mention, the kids will not top and tail with each other.
Furthermore, the triple-deckers fit well into small homes and studio apartments. Although they are space-saving furniture items, they can be risky from their height. Be sure the ceiling is high, so there is ample head clearance.
3. Wood Triple Bunk Bed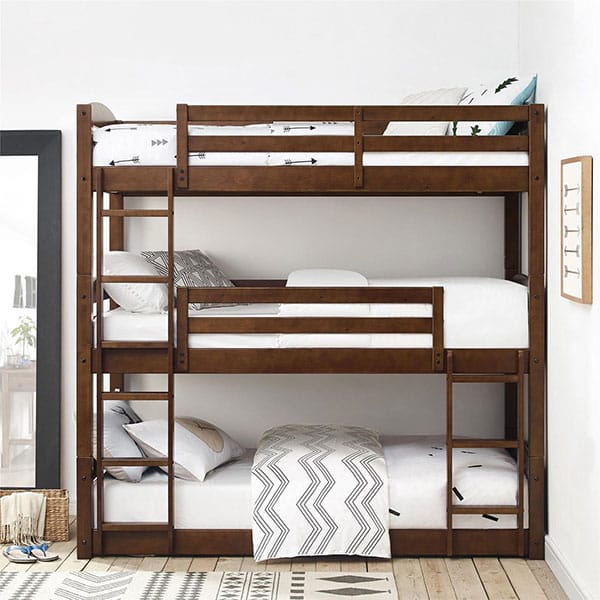 Pictured above is a 3-tier bunk bed. It is constructed from solid pine wood. Moreover, it provides three beds while just occupying the space of one. Since it has a dark finish, it infuses the warmth into the sleepy space.
The walls are painted pure white to open up the room. White patterned bedding and rug add a fun touch as well as a feeling of calm to the bedroom instantly.
4. Triple Bunk Bed with Storage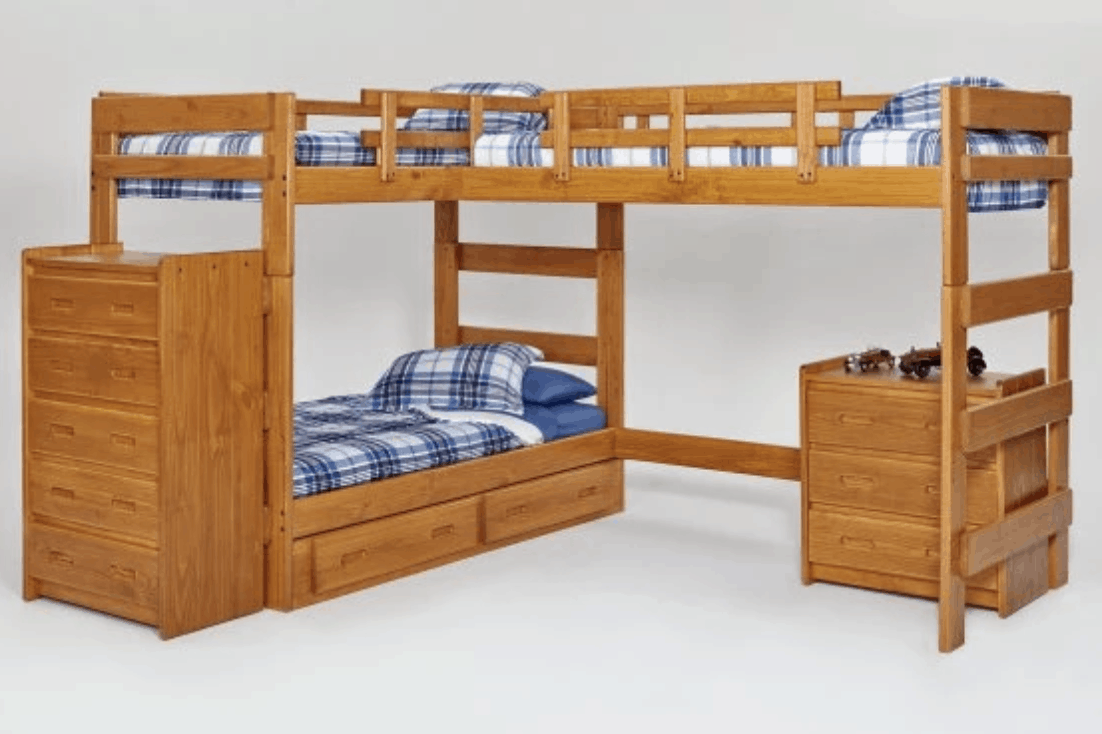 If you are looking to furnish the teenage boys' bedroom, this wood triple bunk bed could be an excellent pick. It generates a classic appeal and offers great stability at the same time.
Moreover, the bedroom employs dressers under the triple bunk bed. They provide a lot of storage space and keep the area clutter-free. White and blue bedding freshens up the room.
5. Triple Bunk Bed Metal
This 3-tiered bunk bed is designed and built to sleep for three twin boys. The three beds are perfectly positioned on top of each other. No doubt, it makes the most out of a compact space.
Additionally, the black frame is crafted from heavy-duty metal. It delivers a modern industrial charm to the bedroom. Lastly, it lends the sleeping space a bit of masculinity and contrasts strikingly with the white wall.
6. L Shaped Triple Bunk Bed 2 Up, 1 Down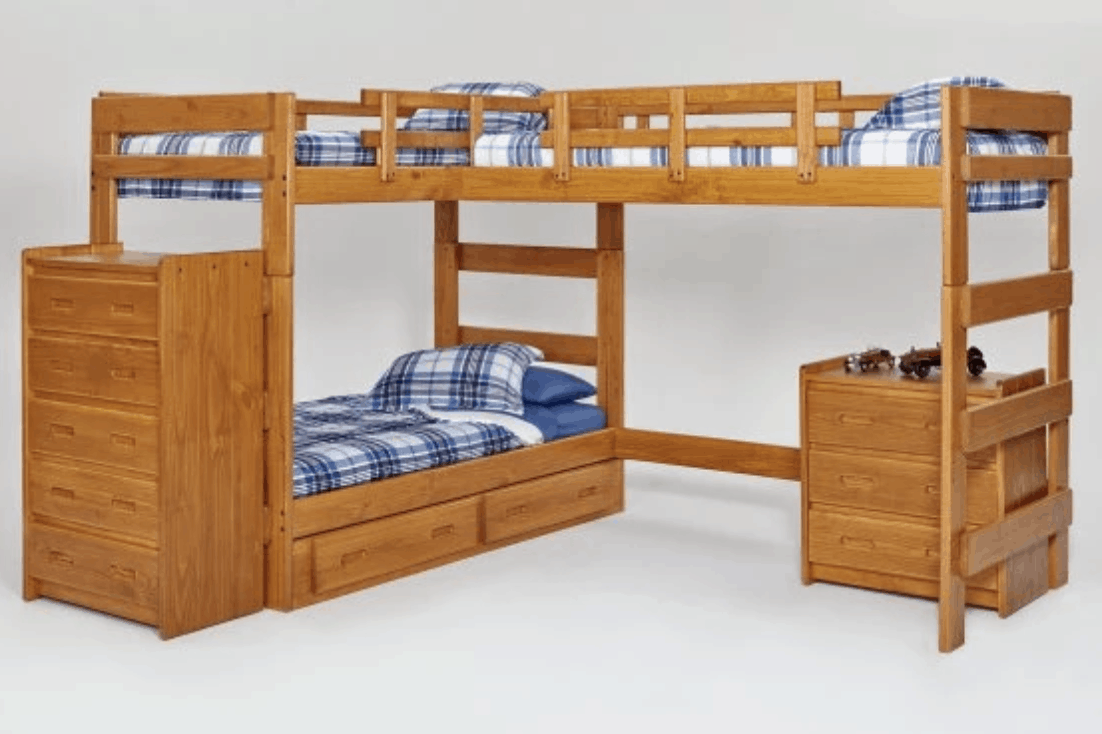 Triple bunk bed is an awesome solution for boys' bedrooms. It accommodates three young people without taking up too much space.
In this example, the storage dressers are placed under the second level of the bed. The bed configuration prevents your kids from fighting over who get the top bunks.
The bed is not only ergonomic but also provides comfort. The honey wood finish warms up the space. Meanwhile, the ladders transform the bedroom into a fun area. They also enable kids to access upper beds safely.
7. Triple Decker Full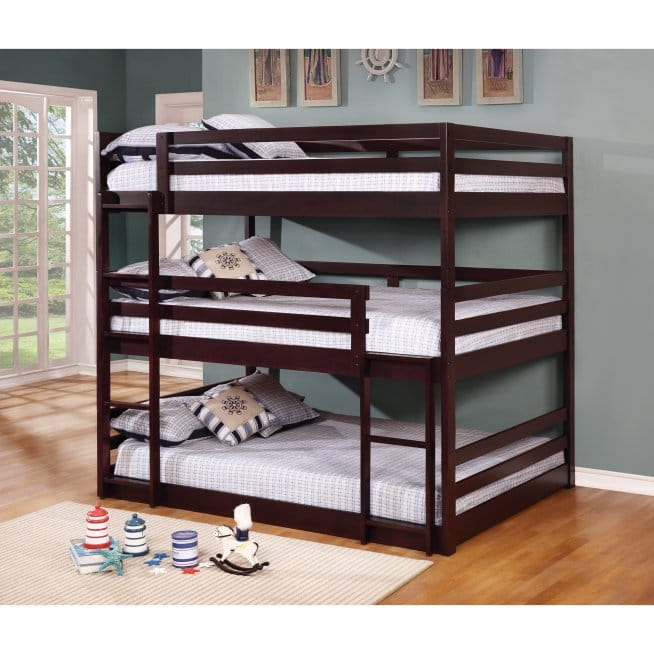 Here is a full-size triple-decker bed. This furniture item ensures that your kids feel comfortable when they sleep in it. Moreover, it celebrates a contemporary style. Since the bed comes in a dark finish, it produces visual drama.
The sky blue walls set a relaxing atmosphere. The wood floor contributes to the bedroom's cozy feel. The bedding, wall ornaments, and pieces on a striped rug carry nautical flavor to the bedroom.
8. Triple Bunk Bed with Partial Ladder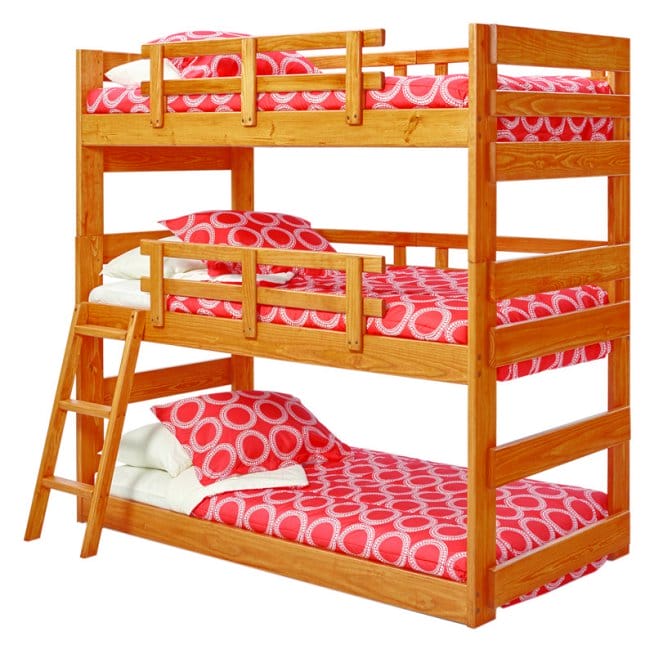 As the picture shows, this triple sleeper bunk bed boasts the partial ladder. It only extends to the second bunk. To reach the third level, kids must climb up the built-in side ladder.
The honey-toned wood triple-decker bed develops an intimate ambiance. Meanwhile, coral patterned bed sheets and throw pillows liven up the space in a moment.
9. Triple Bunk Bed with Extended Ladder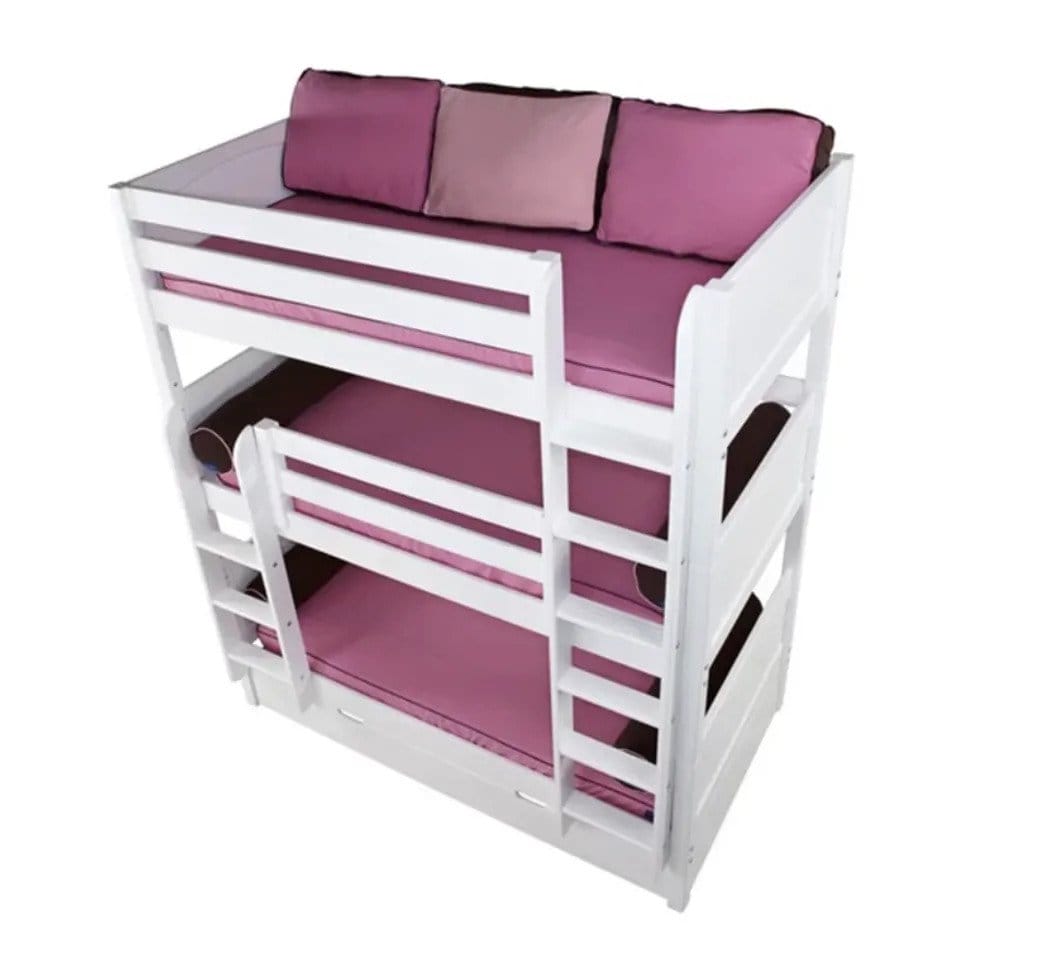 This triple bunk bed can accommodate three small kids. It also features an extended ladder, slatted foundation support system, and top bunk railing. They enable the children to climb out as well as settle down.
A white-painted triple-decker bed conveys a feeling of cleanliness. Different shades of purple give the bedroom a girly touch. Lastly, black bolsters lend the space a dramatic effect.
10. Quadruple Bunk Bed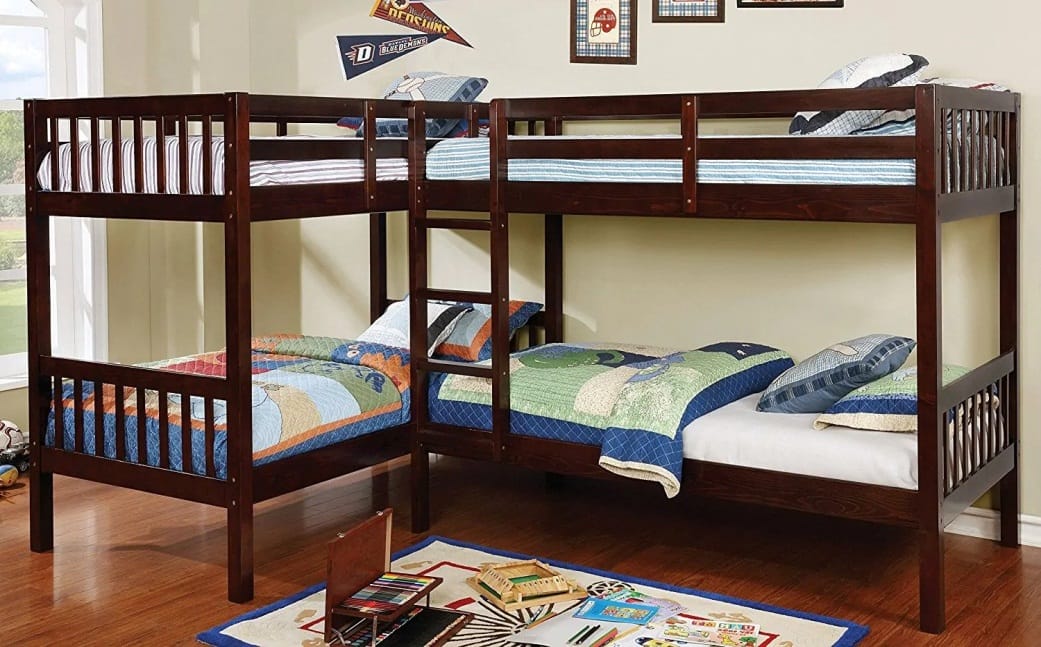 The configuration of this quadruple bed is two up and two down. It provides four beds without eating up too much floor space. Moreover, it allows kids to have sleepovers.
Moreover, the attached ladder and top bunk railing offer safety. The colorful bedding, rug, and wall decorations evoke a sense of playfulness.
11. Pink Triple Bunks
Imagine your kids sleeping in their own custom-designed bunk bed. With the help of this DIY project, you can make it happen! Simply download from Build Your Own Bunk Bed's website and get started on designing a triple bunk bed fit for all three members of your family.
12. Solid Wood Triple Bunk Bed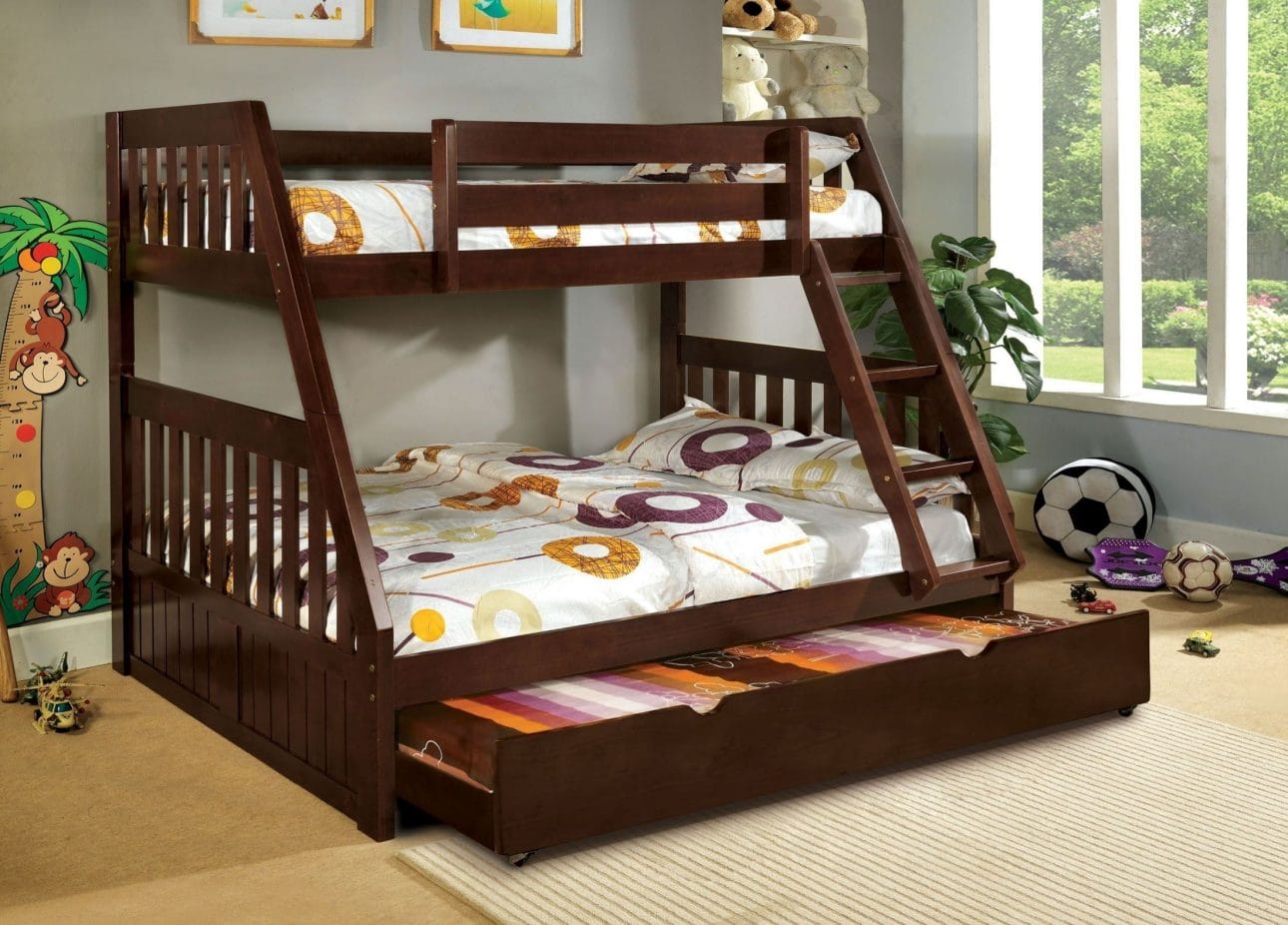 This mission style time over full triple bunk bed has a design that will keep it in your home for years to come. There is no need for an expensive box spring, and the ladder helps ensure safety when climbing up from bottom to top beds.
13. Mocha Solid Wood Twin Over Time Bed
Twin over time bed made of solid wood with a mocha finish for stylish aesthetic and long-lasting durability. Great design accommodates 3 people, perfect functionality for parents who have 2+ kids as well.
14. Space-Saving Triple Bunk Bed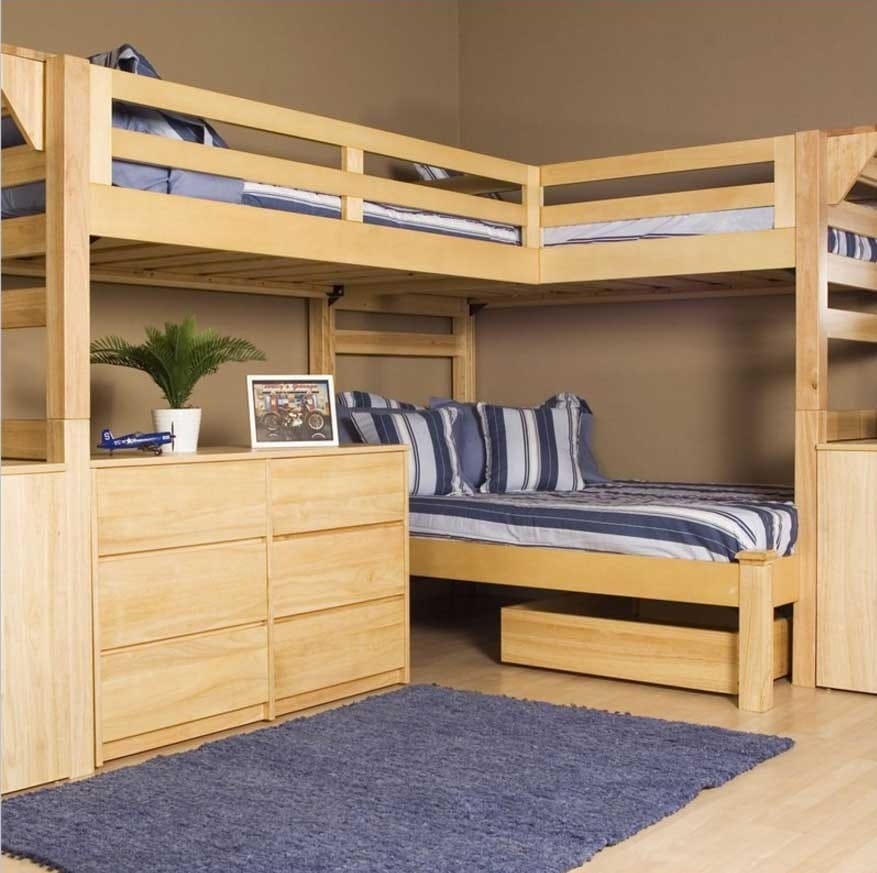 Triple bunk bed with an L-shaped frame of natural wood. The space saving design has square posts and simple horizontal rails, which accommodates a 6 drawer chest that boasts edge pulls on the drawers for easy access to its contents; as well as a lower lofted sleep area – perfect for storage!
15. Bunk Bed with Trundle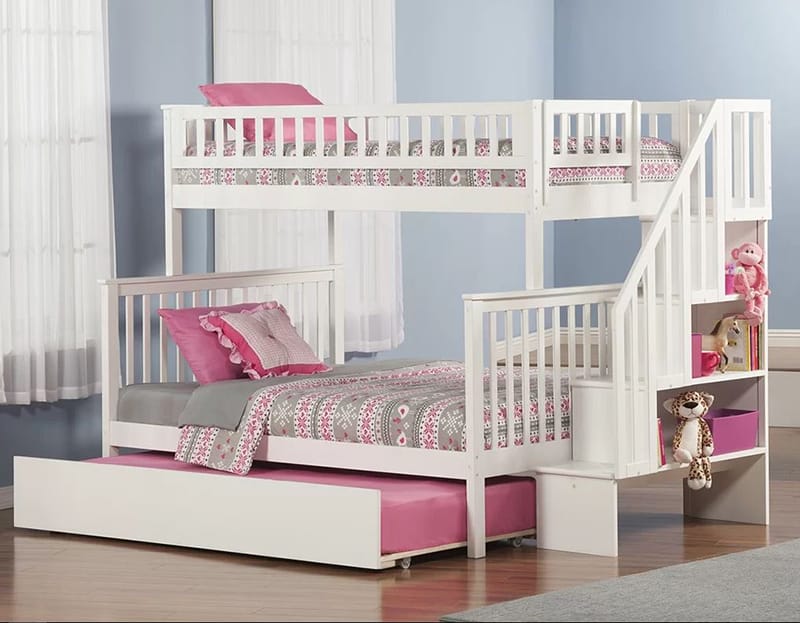 This bunk bed is a beautiful addition to any children's space. It has storage units on the staircase and shelves for your kids to store their favorite things. The white finish will make it easy for you keep clean as well.
16. Rustic Bunk Bed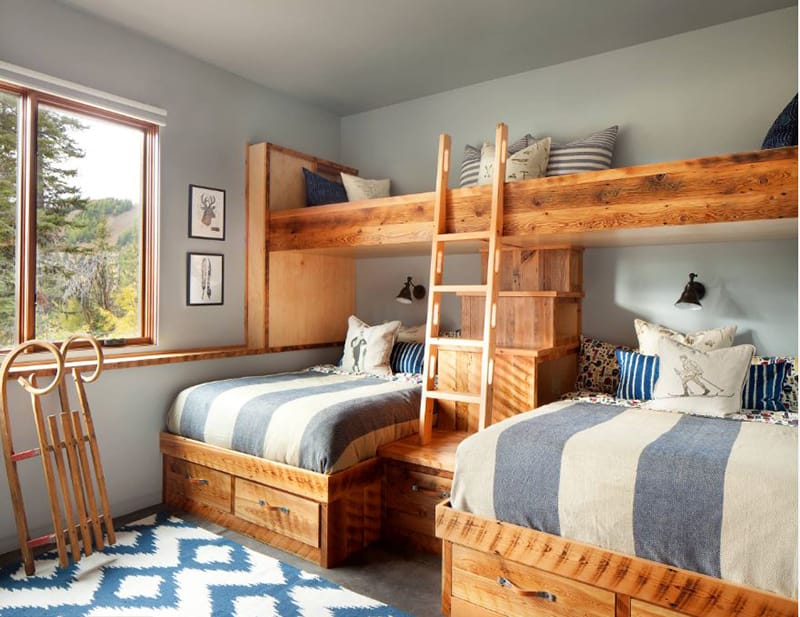 This bed is a triple bunk design, but the top of it consists of two twin beds. The lower bunks are both full-size and will provide ample space for any growing boys in need. Rustic touches add to its appeal while also providing an excellent addition to your child's bedroom with plenty of room still left over!
17. Bold Solid Triple Bunk Bed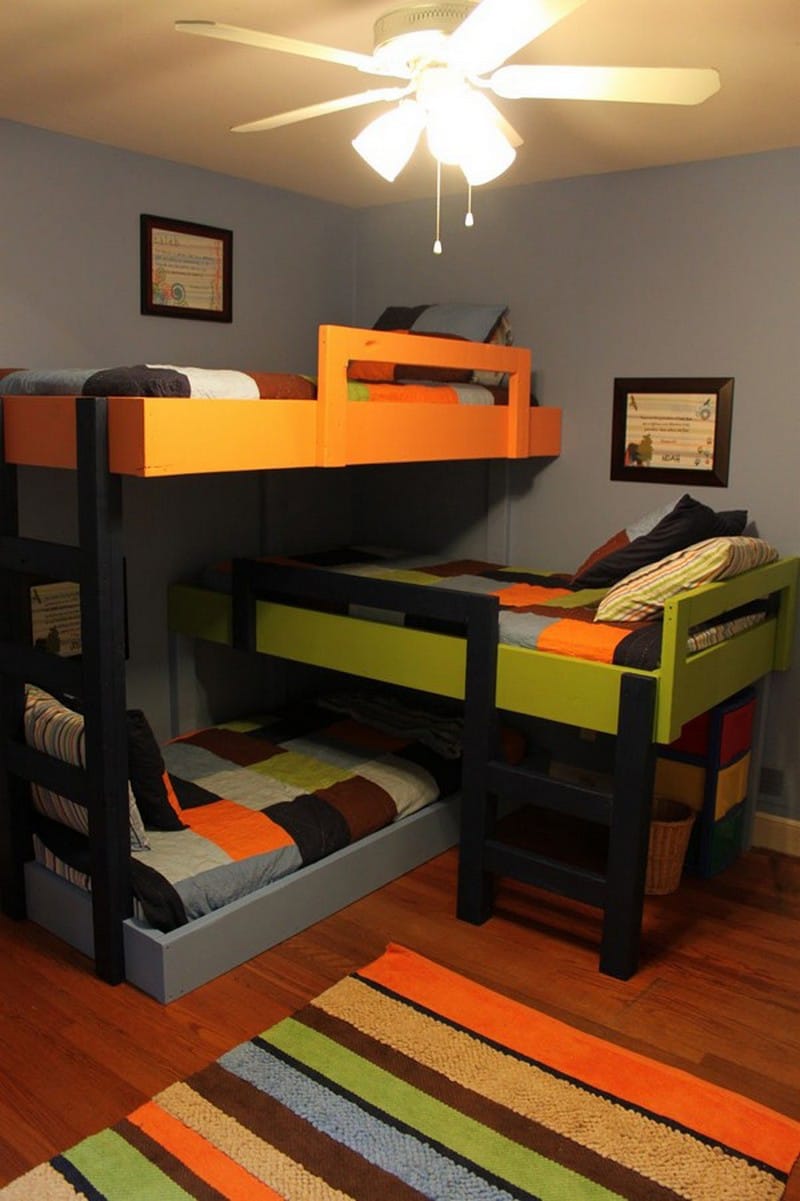 This do-it-yourself triple bunk bed is perfect for the kids who love to have fun. The colors are bright and bold, which will make any room pop with happiness!
Frequently Asked Questions (FAQ)
1. Q: Are triple-decker bunk beds perfect for space with 8-foot ceilings?
A: Yes, they fit into bedrooms with 8-foot ceilings.
2. Q: What is the ideal clearance between triple-decker bunk bed and ceiling?
A: Typically, the head clearance is between 25 inches (63.5 centimeters) and 27.5 inches (69.85 centimeters).
3. Q: Can the homeowners split triple bunk beds into three separate beds?
A: Yes, many triple bunk beds allow the homeowners to divide them into two or three beds.
Triple vs. Regular Bunk Bed – Which One Should Your Purchase?
Most people search for a two-tier bunk bed. This means the regular bunk bed is preferable.
Advantages
Triple bunk beds let families spend vacation at house with their children. The L-shaped ones keep kids from fighting over the top bunk. Lastly, triple bunk beds are a smart solution for families who dwell in two-bedroom apartments.
Disadvantages
Triple bunk beds give less clearance between the ceiling and top bunk. Moreover, they have no fun features.
Those triple bunk beds are amazing, right? They maximize limited space and give the children more freedom to play. So, do not hesitate to furnish your kids' bedroom with a triple sleeper bunk bed.