Kitchen is the hub of your home. That's why you shouldn't overlook the kitchen lighting. Aside from ensuring visibility in the nighttime, it also emphasizes focal points and compliments style of the room.
If you are planning to install new light fixtures, you've come to the right place. I scoped out wonderful lighting ideas for your culinary space. They greatly range from uber-modern to traditional. Pick the one that suits your kitchen the most.
1. Kitchen Lighting Ideas Small Kitchen

Are you tight on space? Worry not. Paint the ceiling, backsplash, cabinetry, island, and countertops white. They open up the room.
Scatter the accent lights around the kitchen. In this example, they came in the form of retro pendant lamps, ventilation hood lights, and downlights.
2. Kitchen Lighting Ideas for Low Ceilings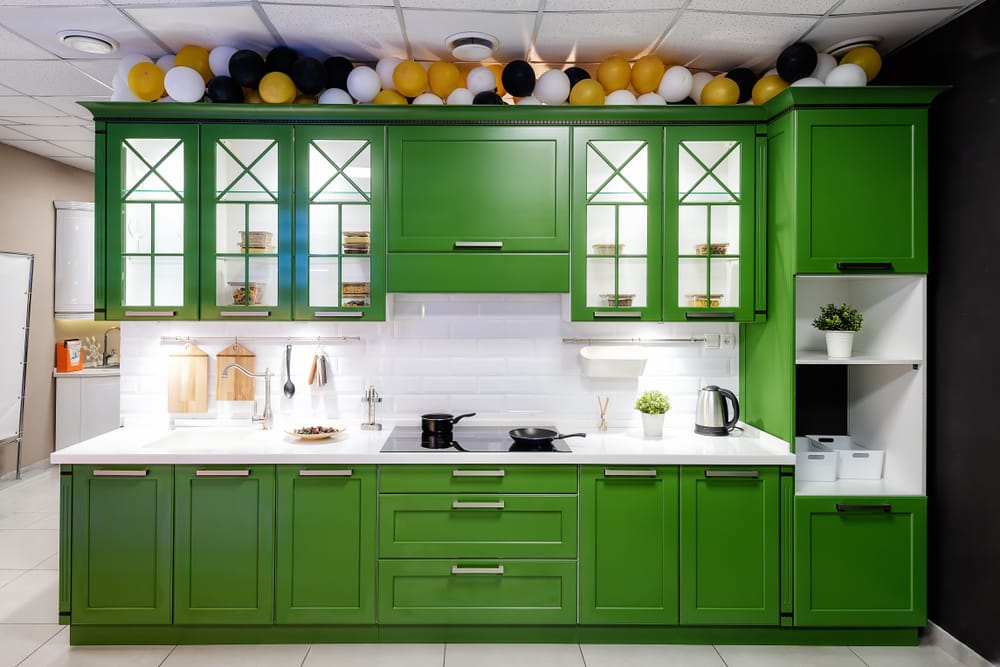 This kitchen features a black accent wall. It creates the illusion of depth and drama in a flash. Green cabinets make a vivid statement.
Multicolor LED ball lights draw the eye upward. Cabinet and pot lights fit in with the rest of the kitchen. They increase the ceiling's height visually.
3. Country Kitchen Lighting Ideas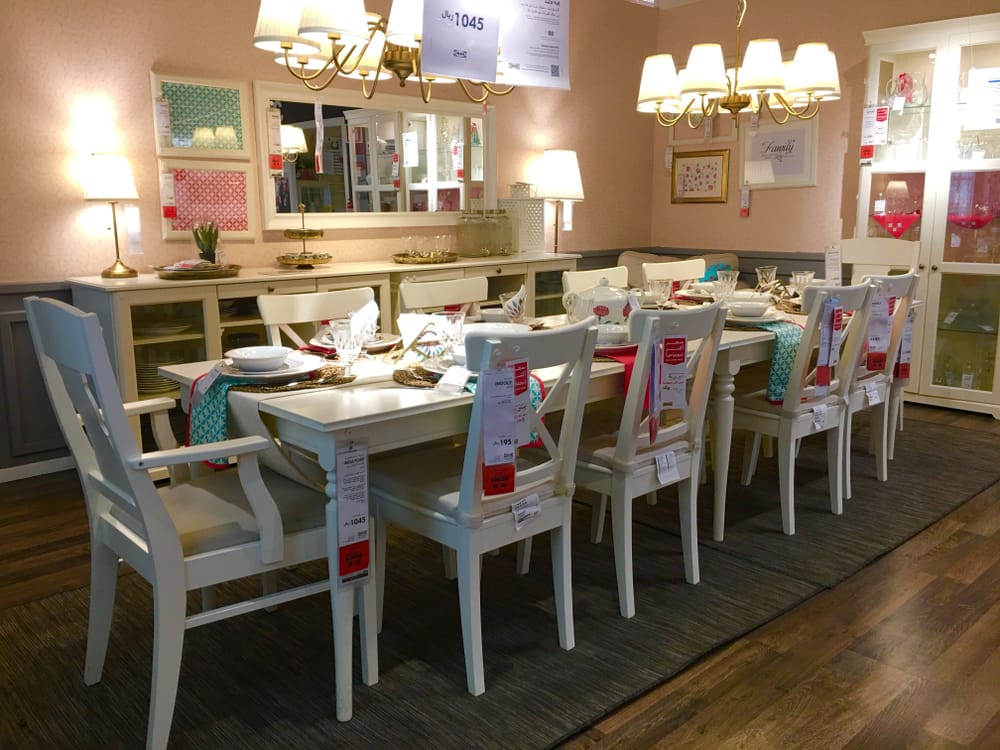 As you can see, the long dining table spans the kitchen. White country dining chairs balance out dark gray rug and wood floor.
A couple of traditional table lamps emit a warm glow. Meanwhile, vintage brass chandeliers infuse opulence and old-world charm into the space.
4. Kitchen Pendant Lights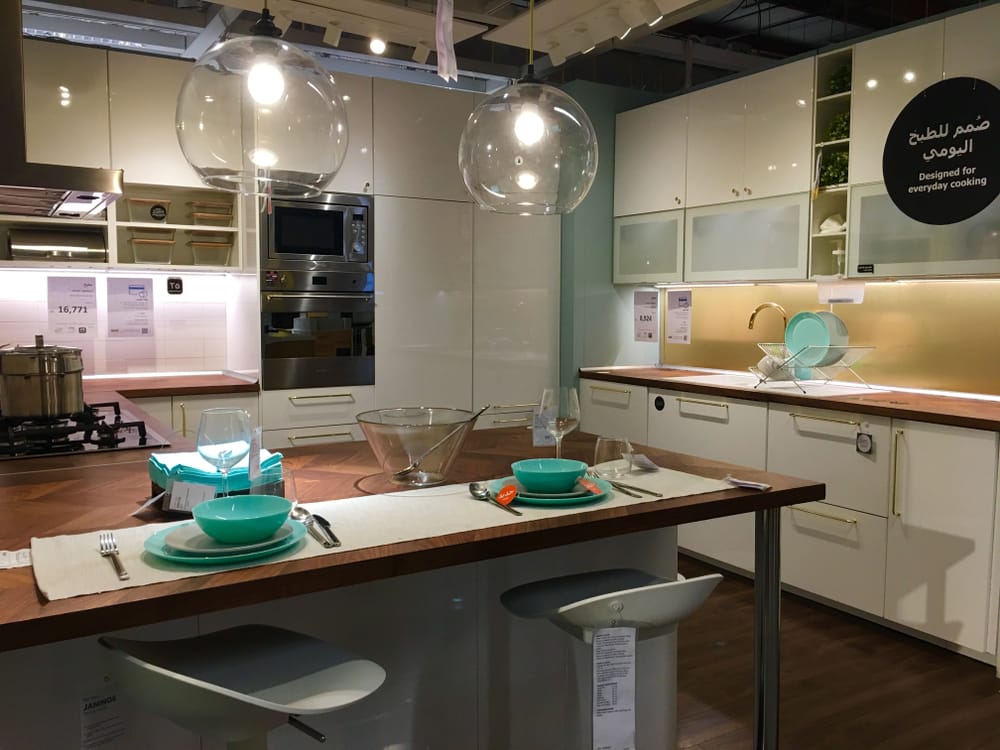 In this contemporary kitchenette, there are two kinds of lighting. Glass shade pendants convey the feeling of openness and stylishness.
LED strip lights under cabinet illuminate the worktop. Lastly, turquoise dishes perk up the otherwise neutral-toned kitchen.
5. Kitchen Ceiling Lighting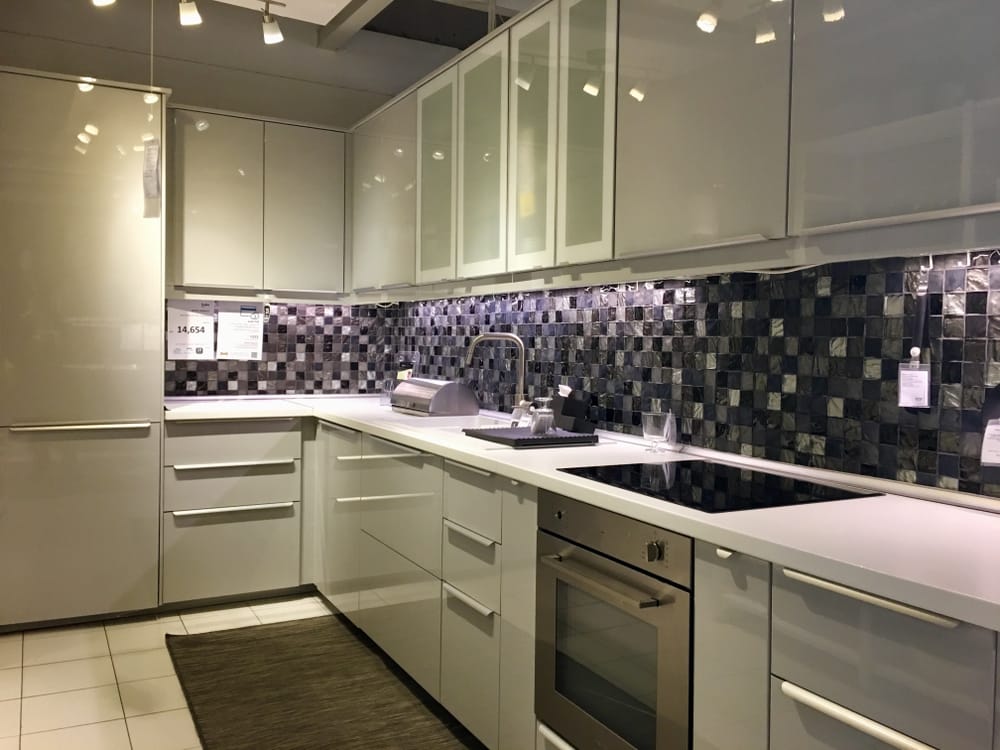 The sharp edges and straight lines constitute a modern kitchen. Gleaming white cabinets bounce the light back into the room.
Simple ceiling light fixtures employ three bulbs. They help to diffuse the light throughout the culinary space.
6. Under Cabinet Lighting Ideas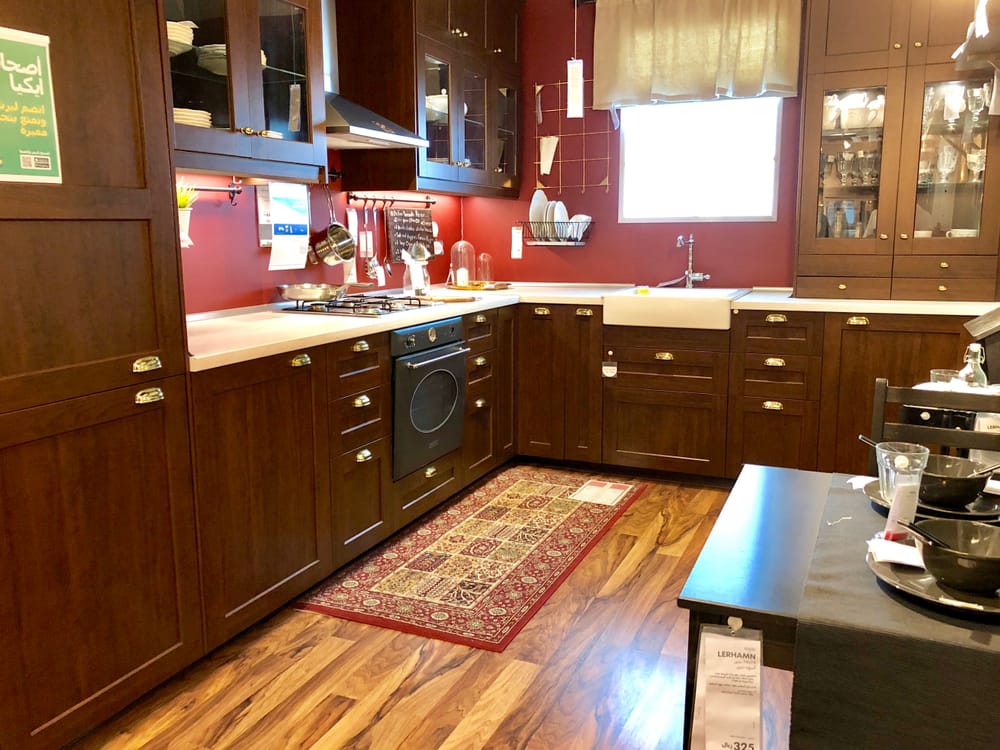 Deep brown wood cabinets and medium-toned hardwood floor deliver warmth to the entire kitchen. Red backsplash and rug conveys vibrancy.
LED strips are installed under the glass-faced cabinets. They light up work surface. The slim pendant light produces an ultra-modern edge.
7. Kitchen Island Lighting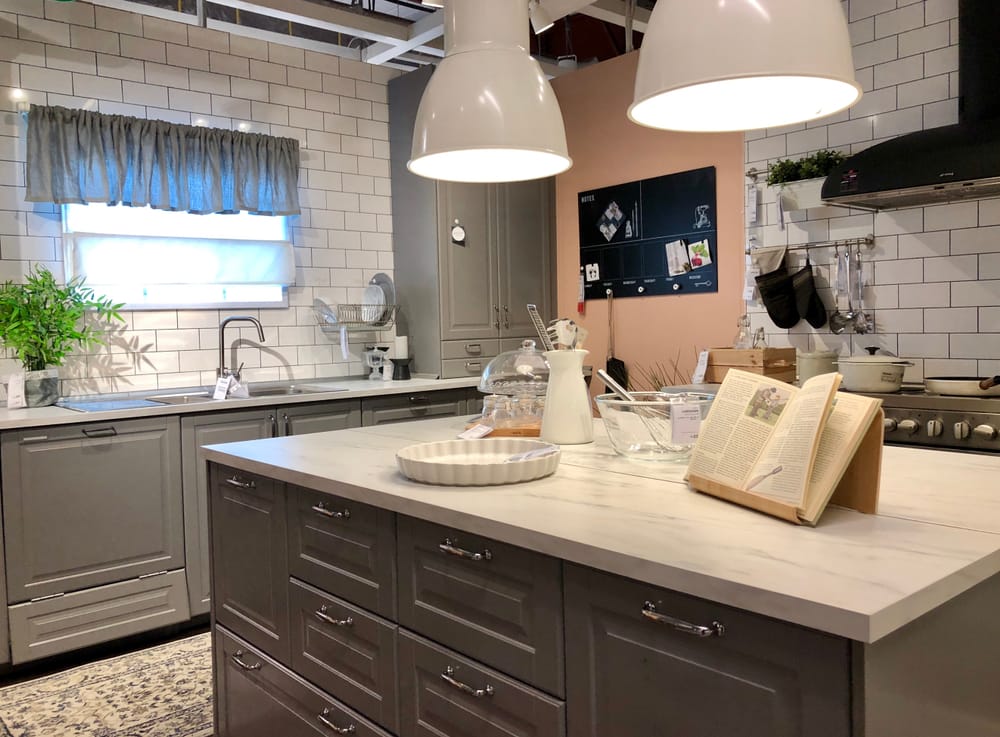 Here, I show you a contemporary culinary space. The backsplashes are clad in white subway tiles. Peach wall leads to the cheery ambience.
Two white studio pendant lamps accentuate gray kitchen island with marble top. Potted plants make the space lively and captivating.
8. Kitchen Lighting Layout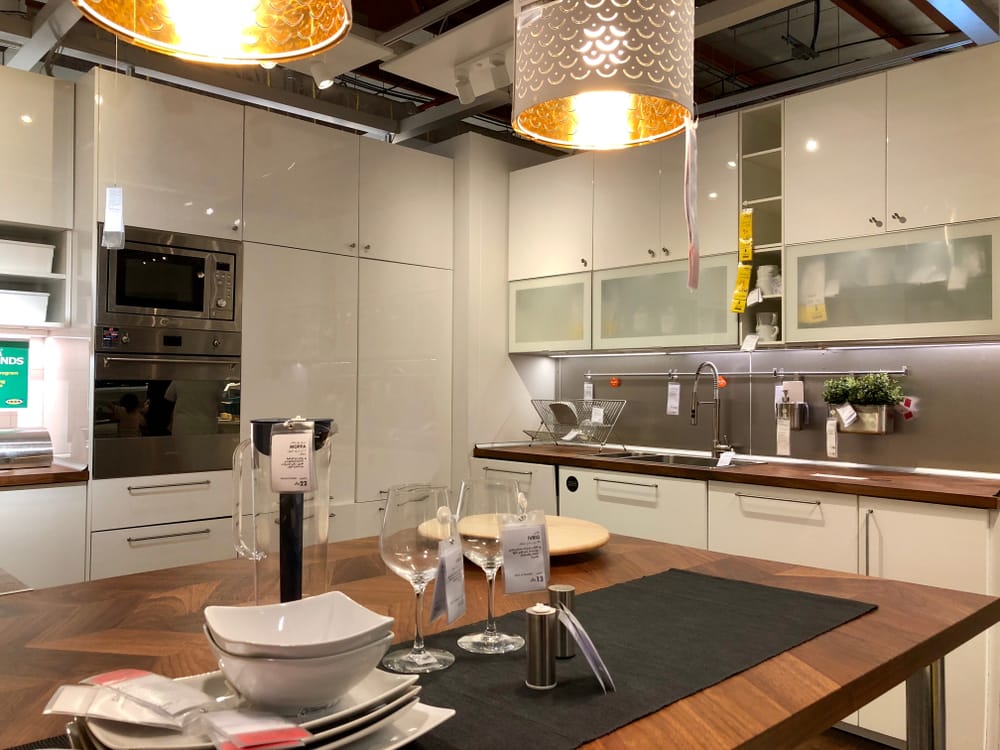 The homeowner installed glossy white cabinets to create the impression of more space. They are paired with metal backsplash and wood countertop.
Scallop pattern pendant lights are strategically hung over the open island. They frame the island and adorn the whole room.
9. Industrial Kitchen Lighting Ideas

Sleek black cabinets, countertops, dining chairs, and subway tiles result in a dramatic look. Wood accents warm up stainless-steel elements.
Track light fixtures provide functional brightness. Geometric pendant lights above small dining table give the kitchen an industrial appeal. Houseplants breathe some life into the area.
10. Modern Kitchen Lighting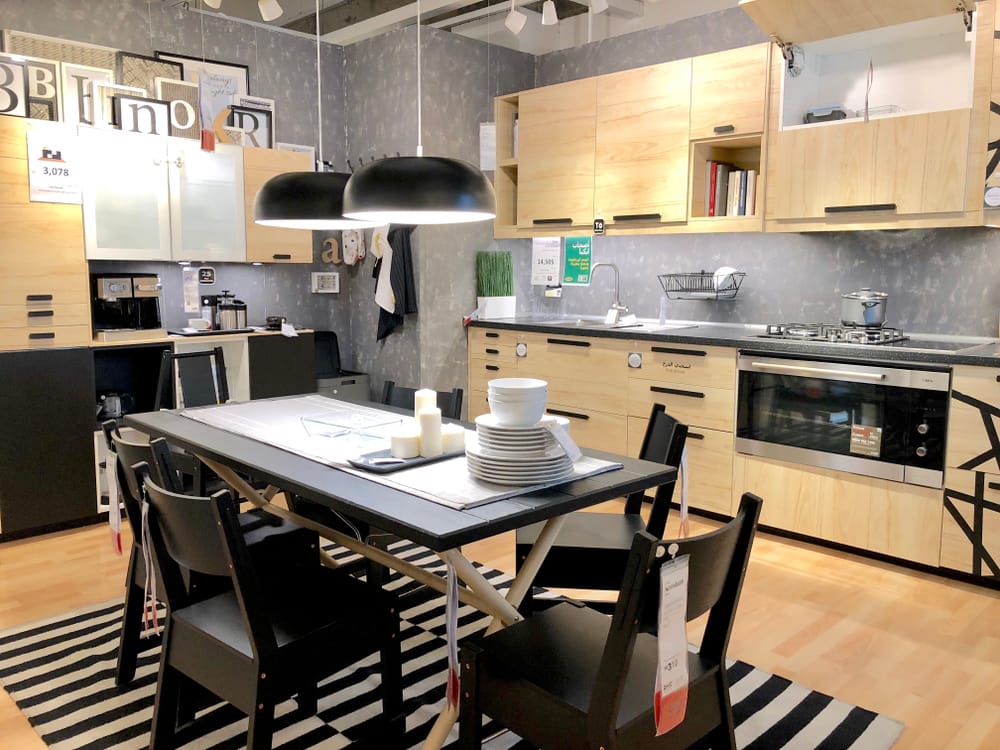 I'm swooning over this culinary space. Unpolished wood and black come together in the kitchen and create a divine contrast.
A couple of modern dome pendant lights over dining table cast a bright glow. Track task lights amplify the brightness, while striped rug on the floor is the star of the room.
11. Kitchen Island Pendant Lighting Ideas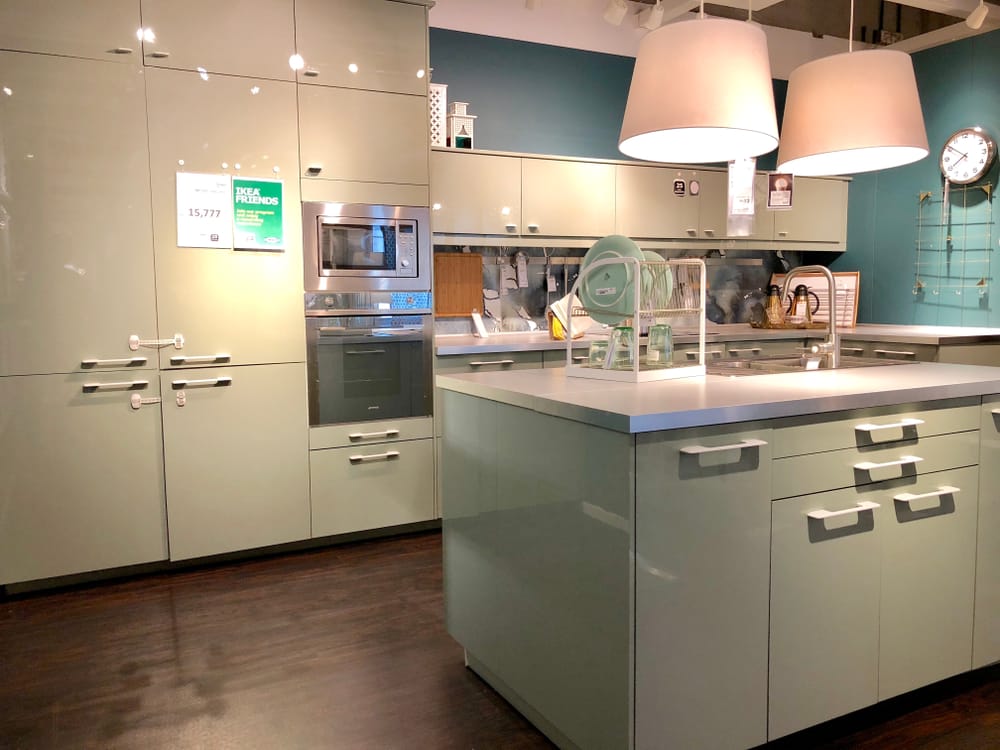 The off-white cabinets, pure white countertops, and pastel blue walls develop a tranquil environment. Dark wood floor carves a homey feel.
Beige fabric pendant lights are not just large, but also illuminate the island in style. An antique wall clock adds strong character to the kitchen.
12. Kitchen Ceiling Light Fixtures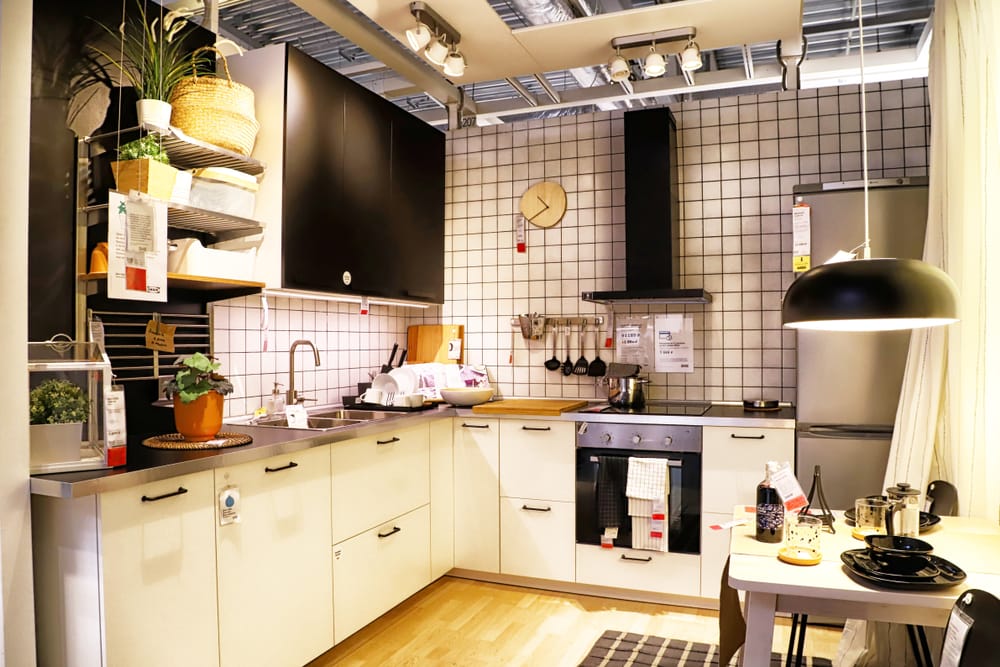 Curved faucet and wrought iron drawer pulls are classic take on a modern kitchen. Grid-like walls add visual appeal to the room.
Track task lights brighten the worktop. Meanwhile, black dome pendant light offers ample lighting to eating nook.
13. Best LED Lights for Kitchen Ceiling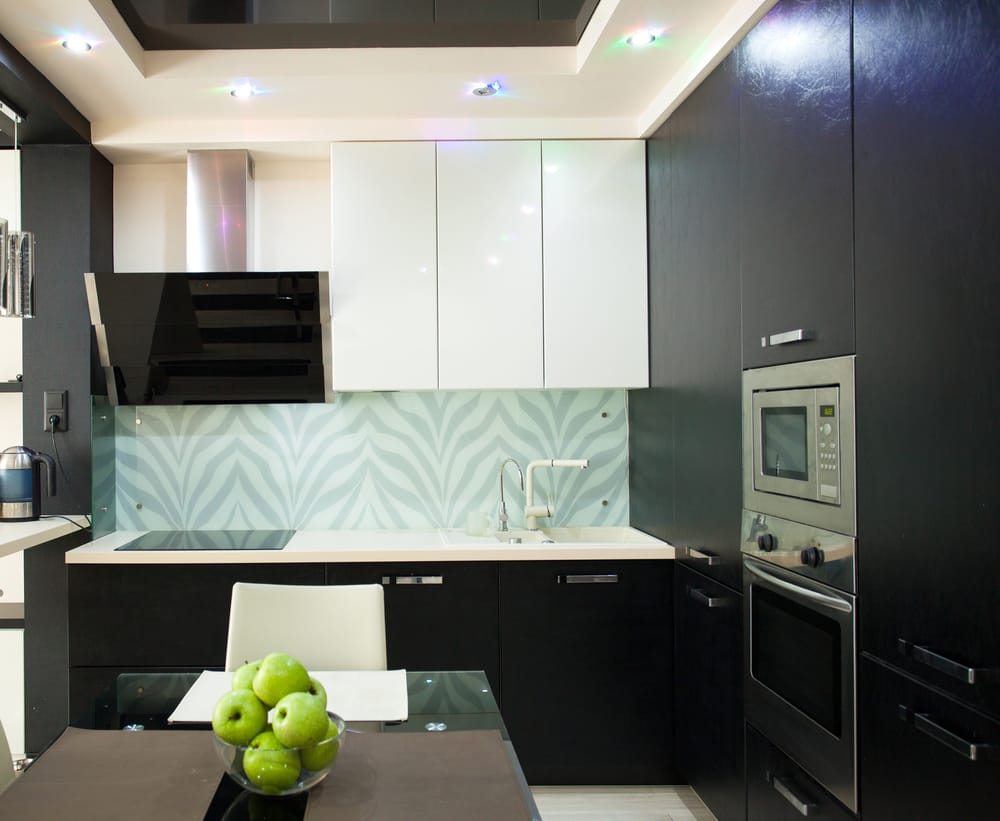 As seen in the picture, sleek cabinets come in black and white. They lend an impressive contrast to the culinary space.
LED downlights look super stylish. They produce much light to rival the moody effect of black cabinetry. Light blue patterned backsplash is a feast for the eyes.
14. Kitchen Recessed Lighting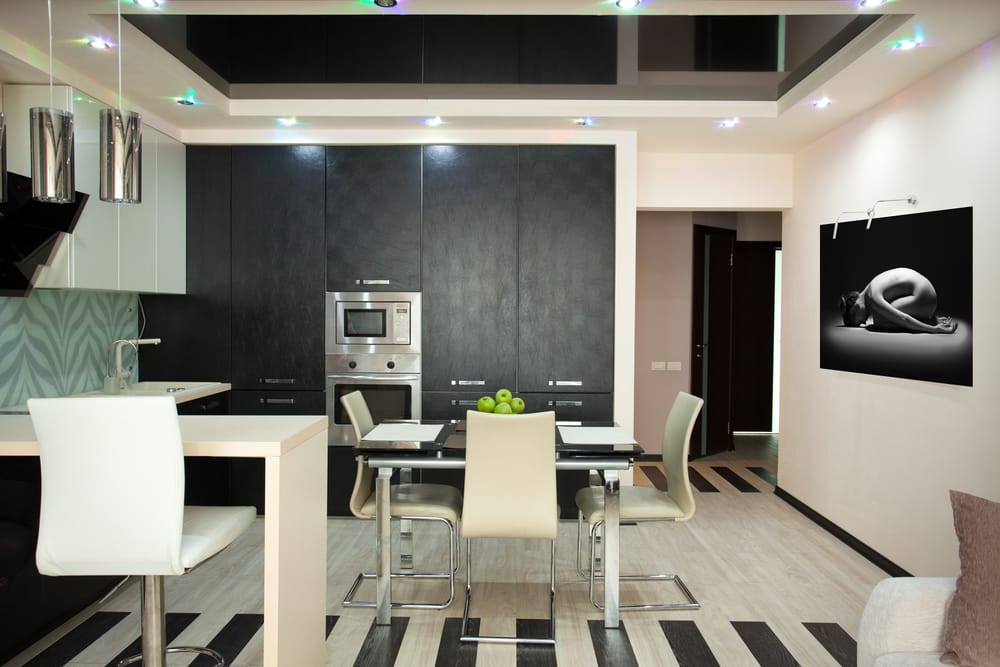 This modern kitchen is adequately lit by recessed lights along the border of false ceiling. There are also two metallic pendants over the kitchen workstation.
Beige walls and furniture pieces generate a soothing atmosphere. Sexy curves offset the clean lines. Monochrome wall art serves as the focal point.
15. Bright Kitchen Light

White foundation helps to maintain an airy and open setting. The timber and concrete touches result in a Nordic look.
Green wire mesh chairs, fruits, and yellow-painted staircase liven up the kitchen. Two chic pendant lights radiate bright glow during evening hours.
16. Flush Mount Kitchen Lighting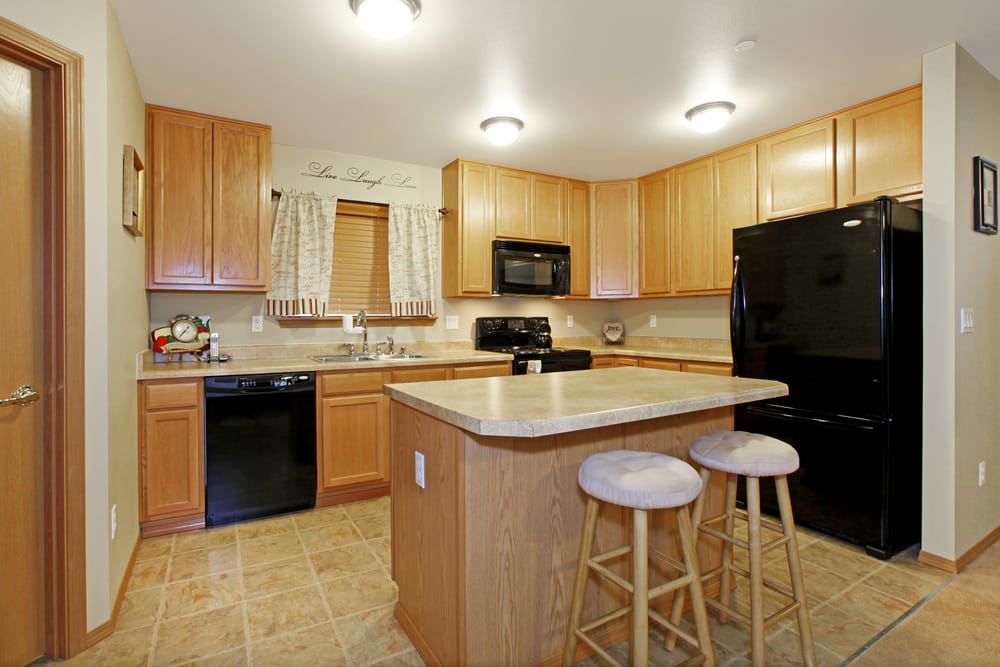 The unfinished wood stools cabinets inject inimitable rustic charm and warmth into the kitchen. Limestone floor tiles and countertops give the area timeless luxe.
A trio of flush ceiling lights elegantly illuminates the room. Not to mention, they save space.
17. Traditional Pendant Lights for Kitchen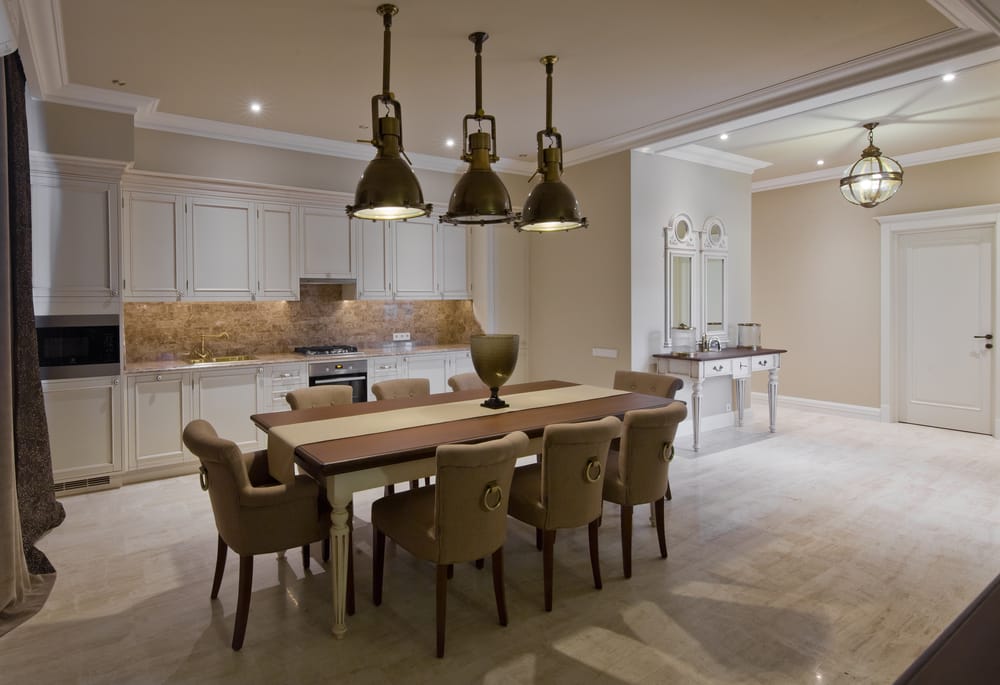 Neutral colors keep this culinary space light and charming. The upholstered dining chairs and classic table add a sense of legacy.
Three antique brass pendant lights bring retro vibes to the area. Globe pendant and downlights provide more brightness.
18. Best Type of Lighting for Kitchen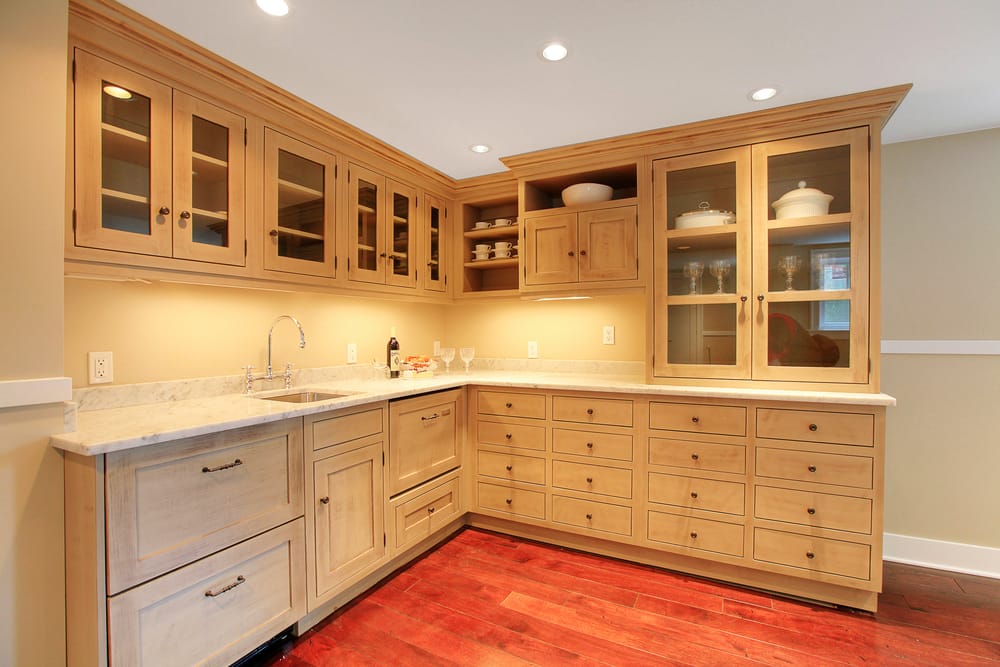 Here, I share an inviting kitchen filled with raw wood cabinets. They meet limestone countertop and cream walls harmoniously.
Cherry wood floor exudes an intimate aura. Two types of lighting; LED strip lights and downlights brighten the whole area.
19. LED Kitchen Lighting

During the day, windows let lots of sunlight in. But in the night time, you need proper lighting, so you can see worktop clearly.
I suggest you to install strips of LED lights under the ventilation hood and cabinets. Place fresh flowers in vase on dining table to revitalize your kitchen.
20. Pendant Lighting Ideas Kitchen Island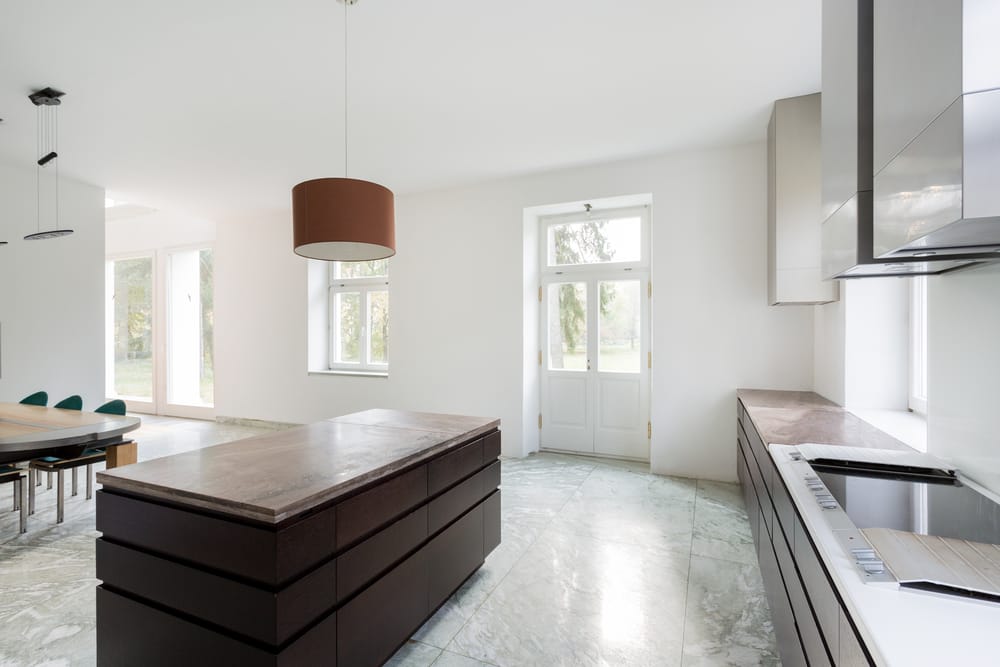 White ceiling and walls enlarge the kitchen. Natural light streams into the area through windows.
Minimalist cabinets make the room neat. Marble floor promotes a posh look. A brown drum pendant light over the island keeps the space from becoming drab.
Great kitchen lighting elevates the kitchen's design. You can either install the light fixtures yourself or hire a professional. Are you ready to create a beautiful lighting system?