Do you want to have a more attractive kitchen? You can consider adding kitchen valance ideas to this space for both functional and decorative purposes.
This small piece of ornament has a big impact on any kitchen as long as you can combine it well.
There are a lot of valance ideas that are perfect for any style as well. Make sure that you choose the right one to get a prettier kitchen.
1. Printed Valance on the Bamboo Curtain for Kitchen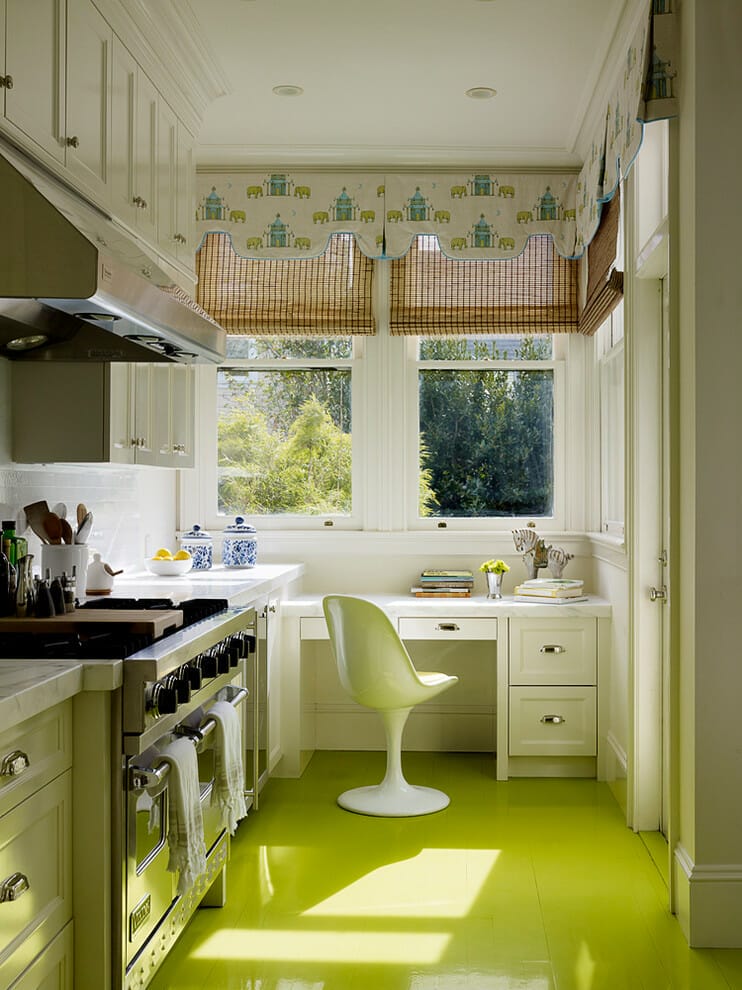 One of the interesting kitchen valance ideas is the printed one. There are a lot of materials that can be used. The key is on the theme printed on it.
If you have a green concept for your kitchen, it is recommended to choose the printed valance in the same colors.
In addition, you may set up the bamboo curtain first to the window. Then, you can install your printed valance on top of it.
2. Roll Up Bamboo Kitchen Valance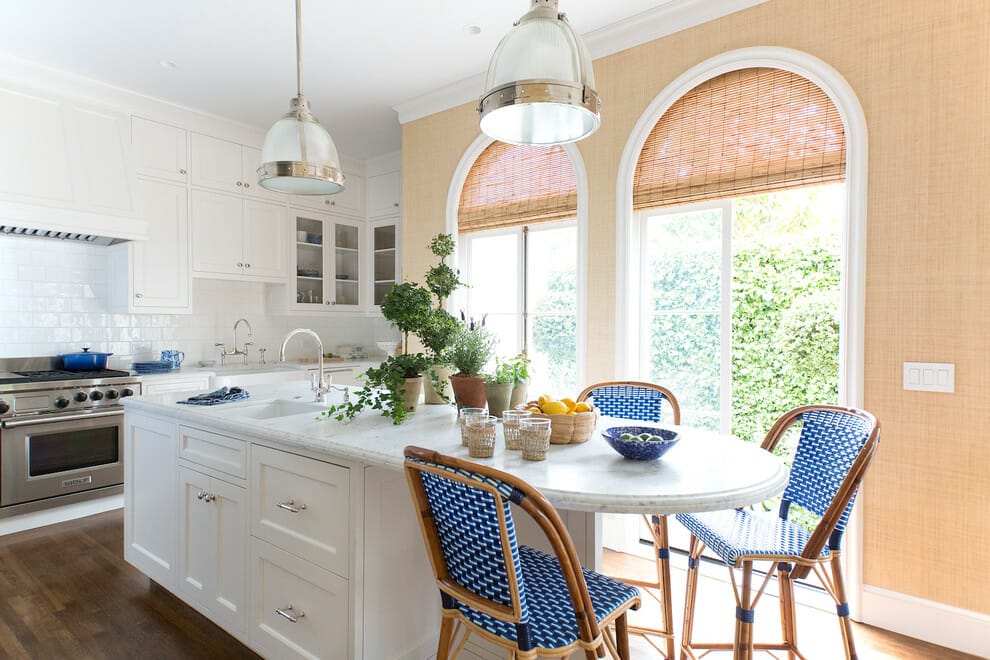 Windows in the kitchen are mostly in small size. However, some people install big windows from their kitchen. Although you also have full-size windows in the kitchen, you still may have valance for your kitchen.
There are also kitchen valance ideas for big windows. One of them is the roll-up bamboo curtain.
It is perfect for large windows since you can roll them up and down whenever you need. When the sun rises, you can roll the curtain up and roll them down when the night comes.
3. Glamorous Black Floral Kitchen Valance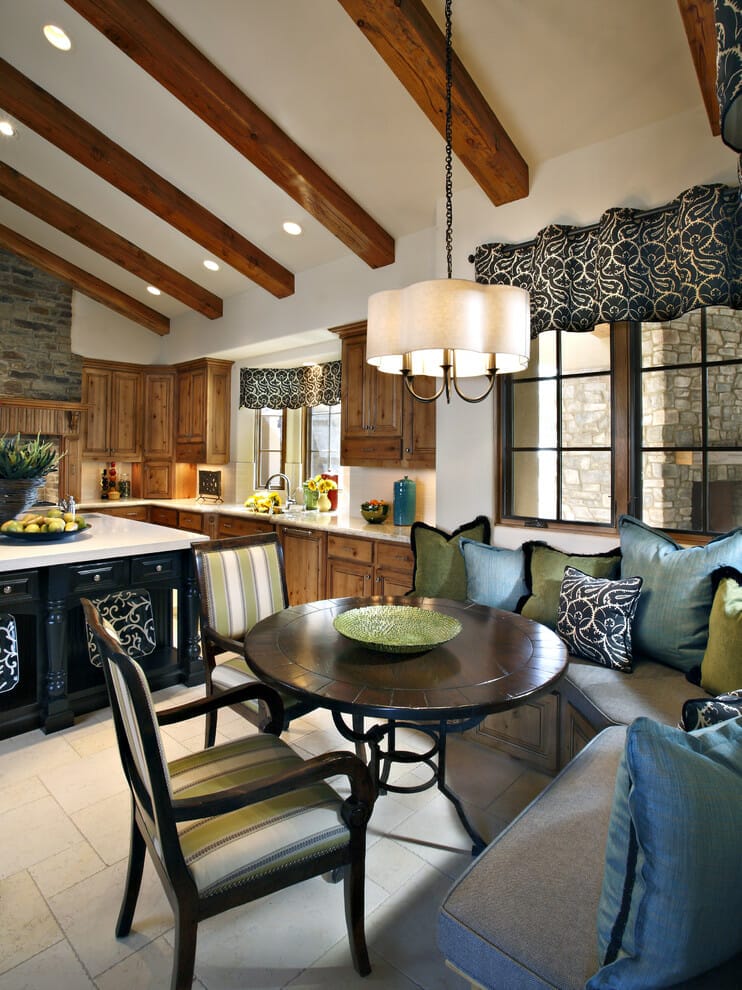 For darker concepts, you may also choose the match valance. For this concept, it is best to choose a black floral kitchen valance.
This is one of the kitchen valance ideas that will liven up the interior. Moreover, you can also choose the same pattern of the valance with your cushion or dining table. So, it will look more natural.
4. Trellis Printed Valance
Kitchen valance ideas for small windows may vary, but the simplest one is using trellis valance. It will be easily and neatly rolled up whenever you need it.
If your kitchen has no accent, use the printed valance one. It will make it look outstanding but still in line with your kitchen's concept.
5. Ruffled Black and White Tartan Valance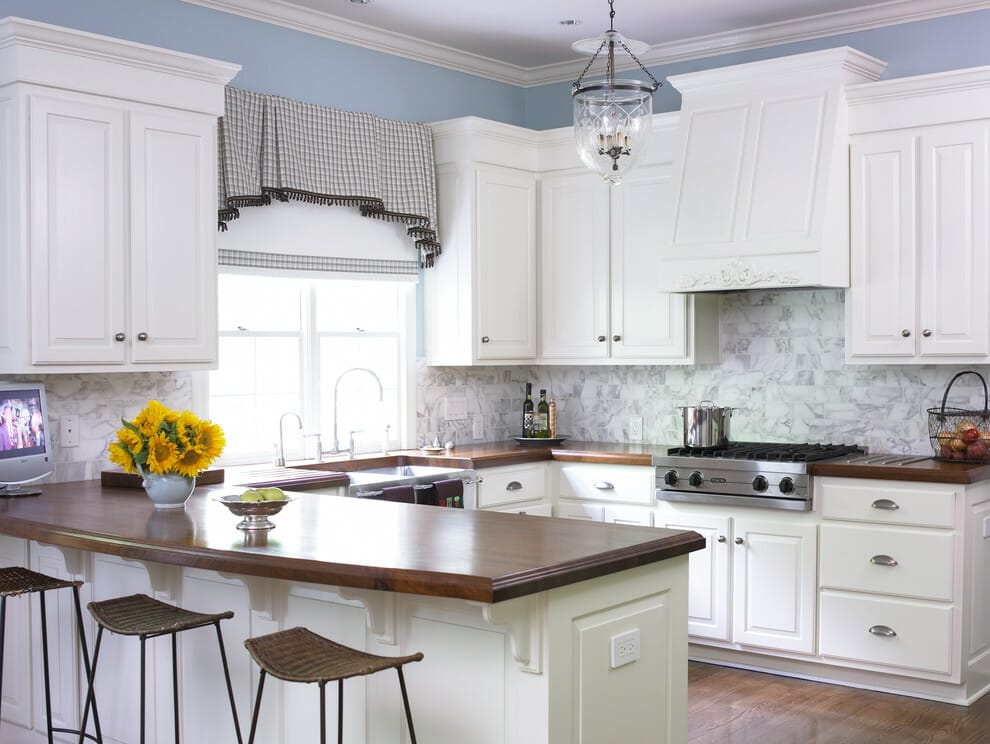 The kitchen in white is the easiest concept to combine with. If you need a valance for your windows, the black and white tartan might be the perfect one.
Ruffled valances will help to make your kitchen look more dynamic. Since mostly your kitchen is covered in white, the ruffled black and white tartan valance comes to balance it.
6. Unique Window Valance Idea for Vintage Kitchen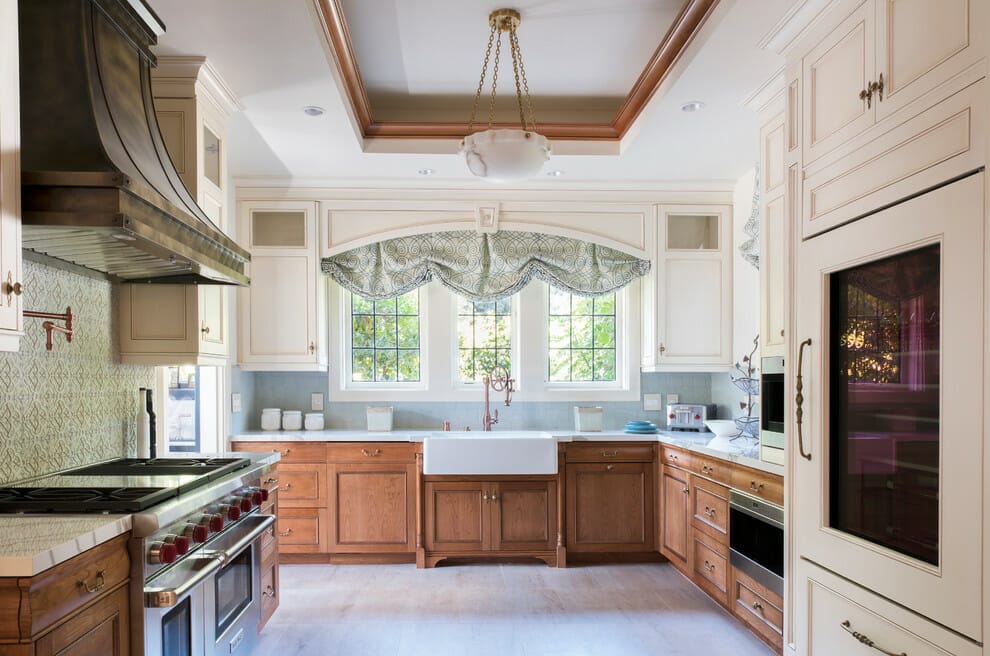 Curved linen valance makes a unique choice for your vintage kitchen. Although it seems contrary, the result is interesting.
When you have mostly all wooden furniture in the kitchen, there is a sophisticated linen valance that brightens up the kitchen.
Moreover, the curved shapes of the valance will make it look even more vintage. That is why the combination might be suited well.
7. Royal Golden Kitchen Valance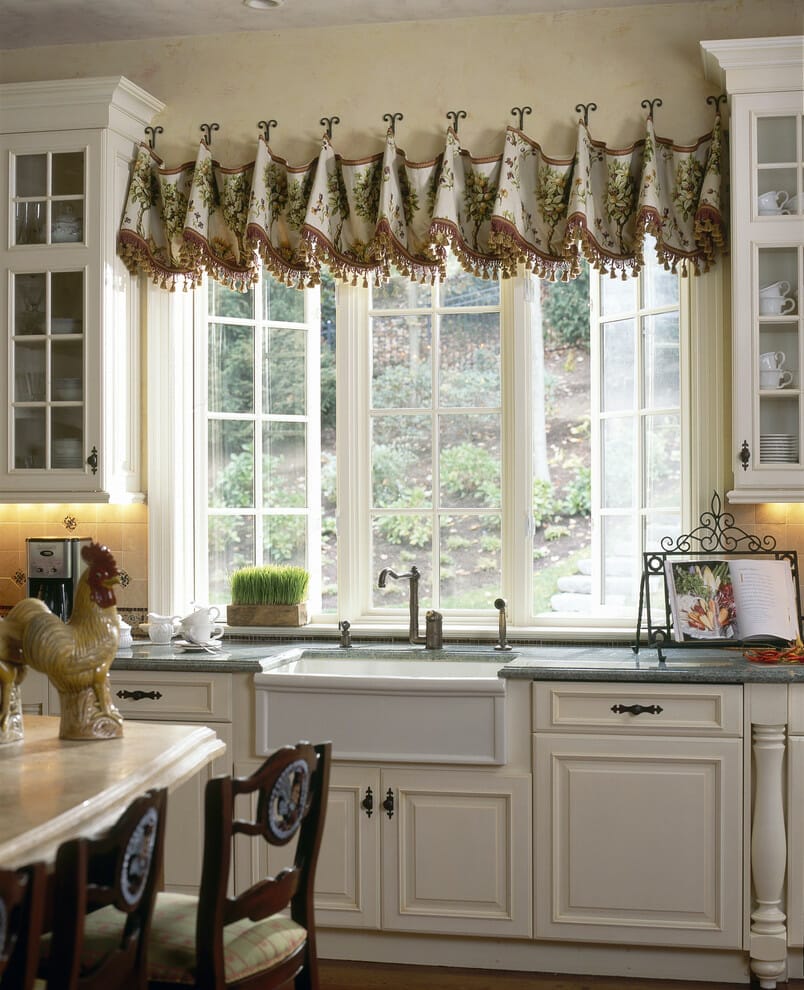 Royal accent is not only perfect for the living room or bedroom. The royal concept is also one of the best kitchen valance ideas.
You may use the short valance which will still expose your windows in the kitchen. The ornament of royal valance will help to build your kitchen vibes. It will turn your plain kitchen into a rich and glamorous kitchen.
8. Printed Green Scrolling Window Valance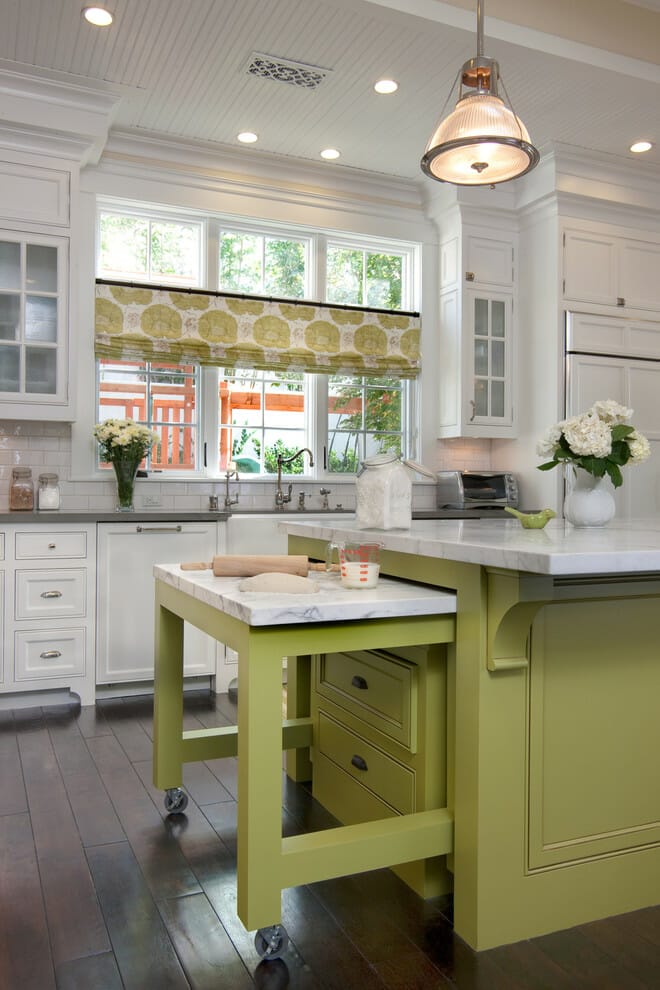 For the minimalist kitchen, you may choose the printed valance. Because there is no ornament in your kitchen, the printed shape on the valance will be outstanding.
You can match the color of the valence with your kitchen table. If you have not chosen the color but most of your things in the kitchen are white, you may choose lime green.
This is one of people's favorite kitchen valance ideas. The valance should be printed lime green that can be scrolled up and down. So, everything is matched and neat.
9. Shabby Chic Kitchen Valance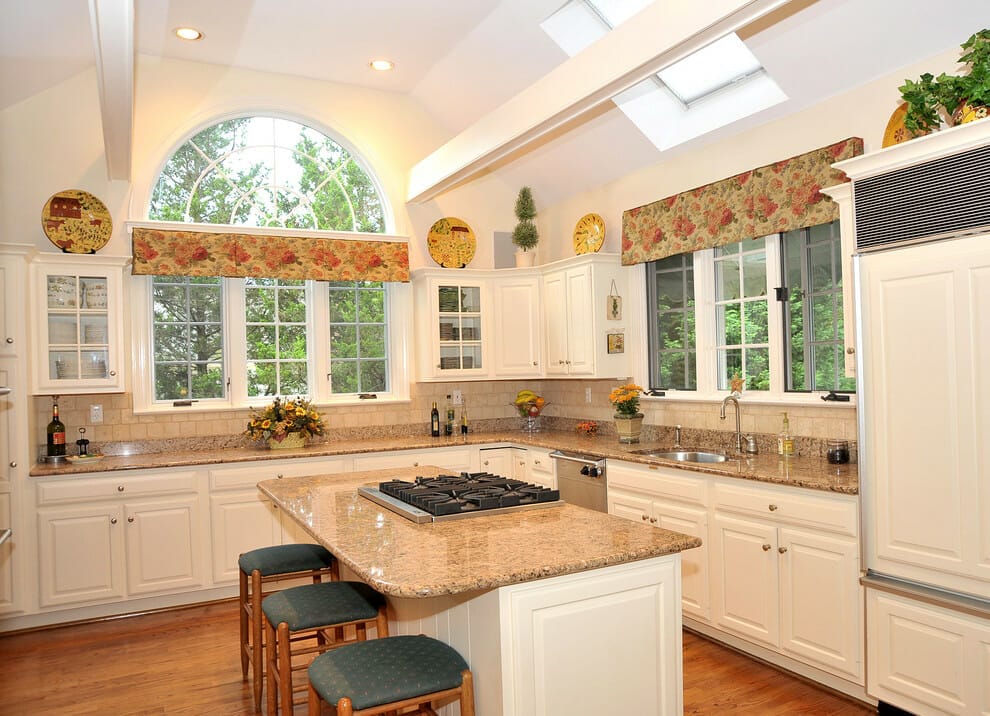 If you have a minimalist and all-white interior for your kitchen, you have everything to choose from. It is not hard to combine each other since they are all plain. The idea for this kitchen is to use shabby chic valance.
Although it has a full printed pattern, it is still applicable for two sides of your window. Moreover, you can also combine it with other types of ornaments.
10. Curved Roman Kitchen Valance Ideas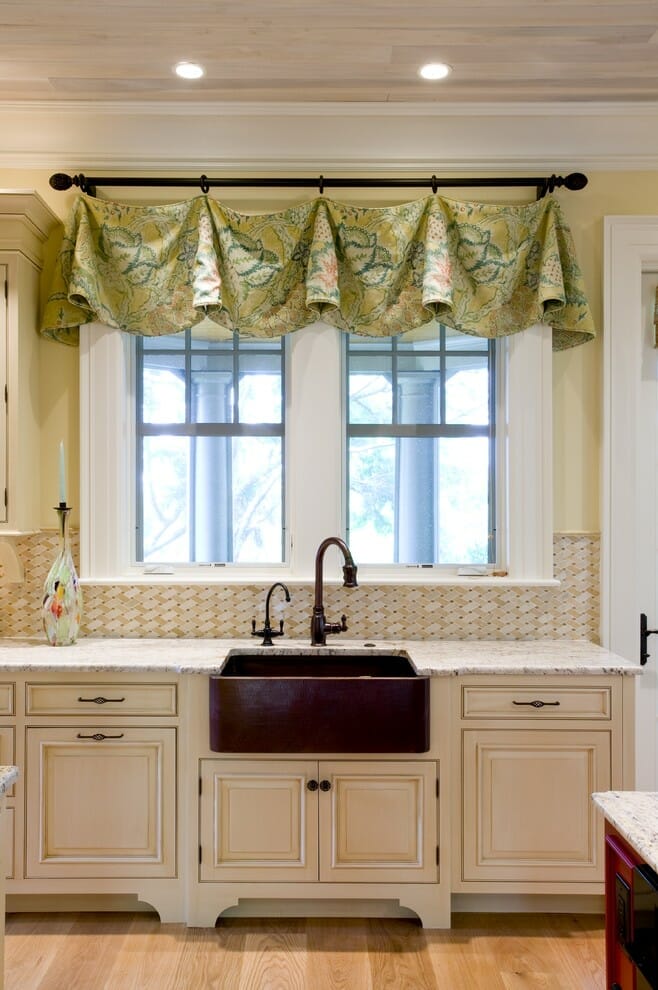 The advantage of having a plain kitchen is you can add any type of ornament easily. You can use the printed valance which is formed by the linen.
This is one of the simplest kitchen valance ideas for those who do not want to take too much effort into it.
11. Bouncy Romantic Kitchen Valance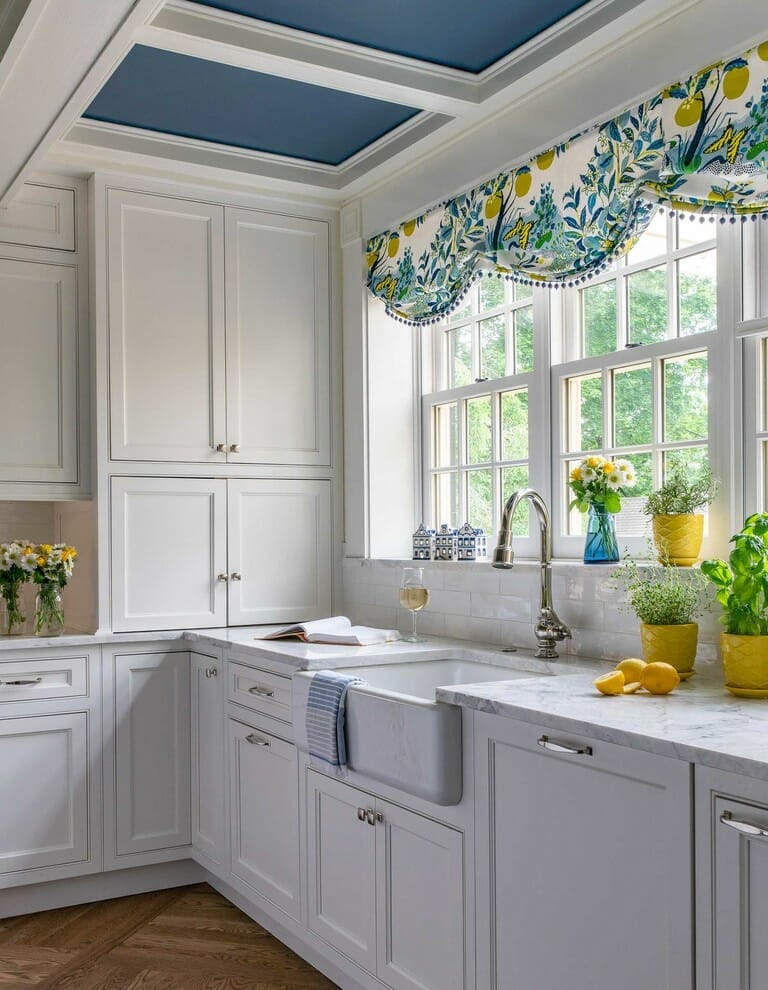 For romantic kitchen valance ideas, you may choose bouncy valance. It is perfect for long windows, so it will show beautifully in every curvature of it.
The floral printed valance is not a bad idea, but make sure that it is not too stormy to make it keep a calm vibe.
12. Floral Farm House Style Valance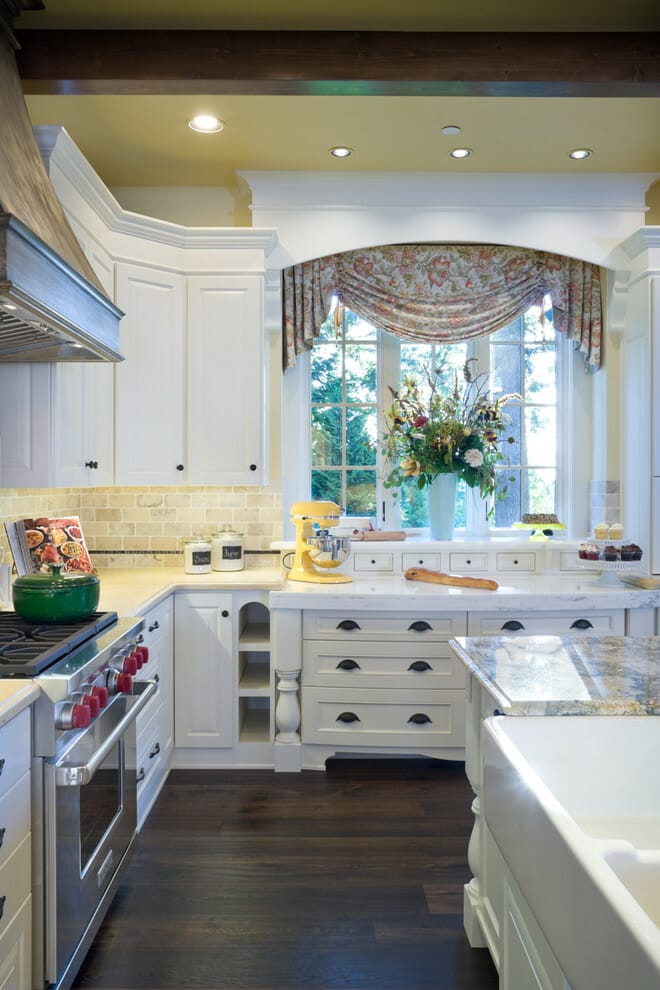 If you want something that looks luxurious, you may choose the curved valance with draped detail. It is perfect for the two to three windows in your kitchen. The motif might be full, so it will be better for the short-wide windows.
13. See-Through Valance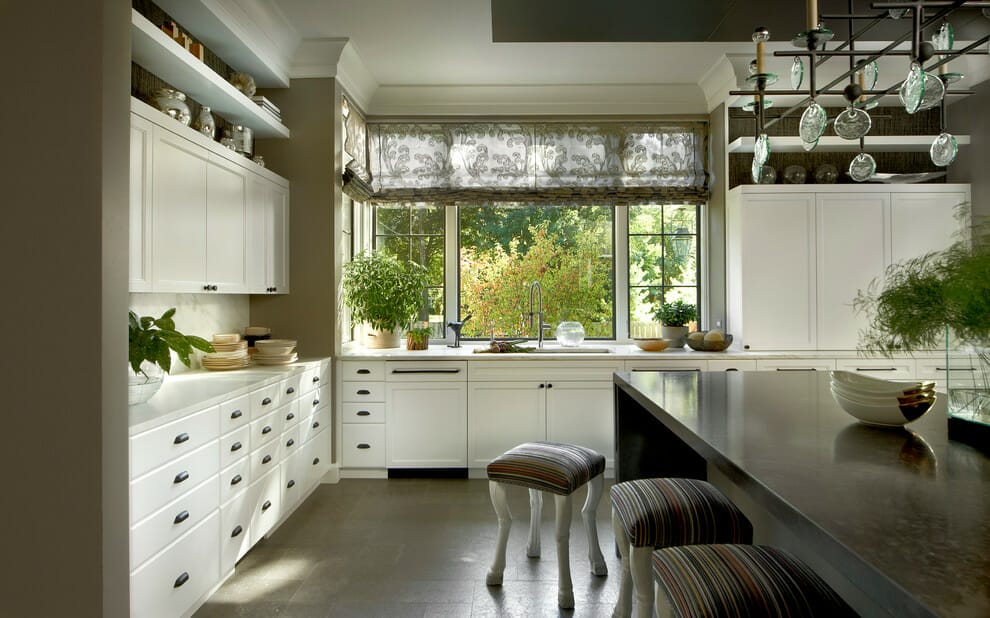 The see-through valance is also one of the best kitchen valance ideas. It will not overshadow your interior but still take an important part of your kitchen. This type of valance also will give a clean and neat look.
14. Outstanding Golden Red Valance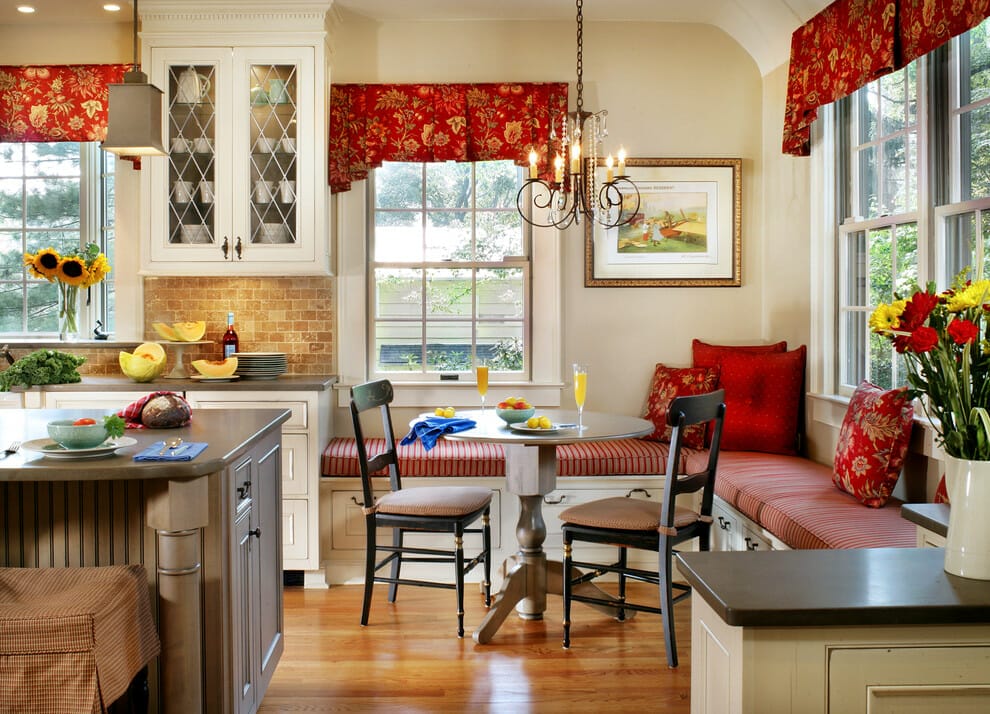 The vibrant color is also perfect for your kitchen. As long as the combination is balanced, any lively hue will be the best choice.
To get a bold concept of your kitchen, you can install the golden-red valance for every window in your kitchen. For the perfect look, it is better to choose the silk valance one since it has a glossy texture that will shine glamorous.
15. Ruffled Silky Valance
If you are looking for kitchen valance ideas for an elegant kitchen, you may choose the silky one. It has a glossy texture which is a natural shine. Moreover, the ruffled shape will make your window look beautiful.
16. Clean Valance Look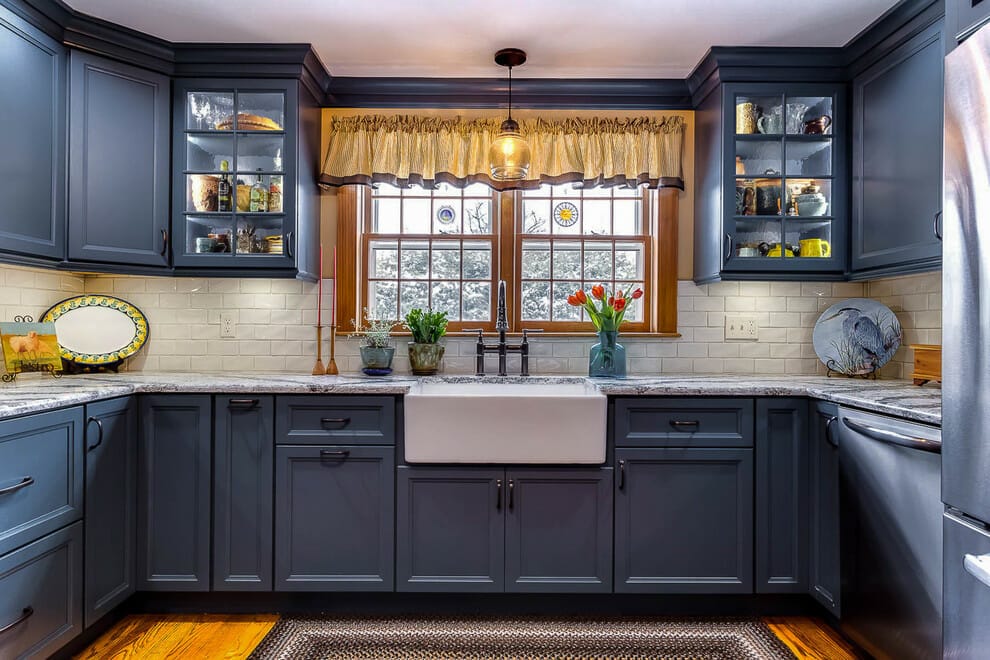 If you only need an additional instrument for your kitchen, the best kitchen valance ideas are using the natural look.
The recommendation is a linen valance that has a rough-hewn texture. Moreover, it is more affordable than other types of valance.
17. Affordable DIY Window Valance Idea
Having a matched ornament is not easy if you do not do it your own way. That is why you can even do DIY for your window valance in the kitchen.
This DIY window valance is using light and thin fabric, so it will be easier to shape. One of the best choices is the cotton material fabric which is also perfect for your valance. Moreover, the printed one is also not a bad choice.
18. Linen Printed Kitchen Valance Ideas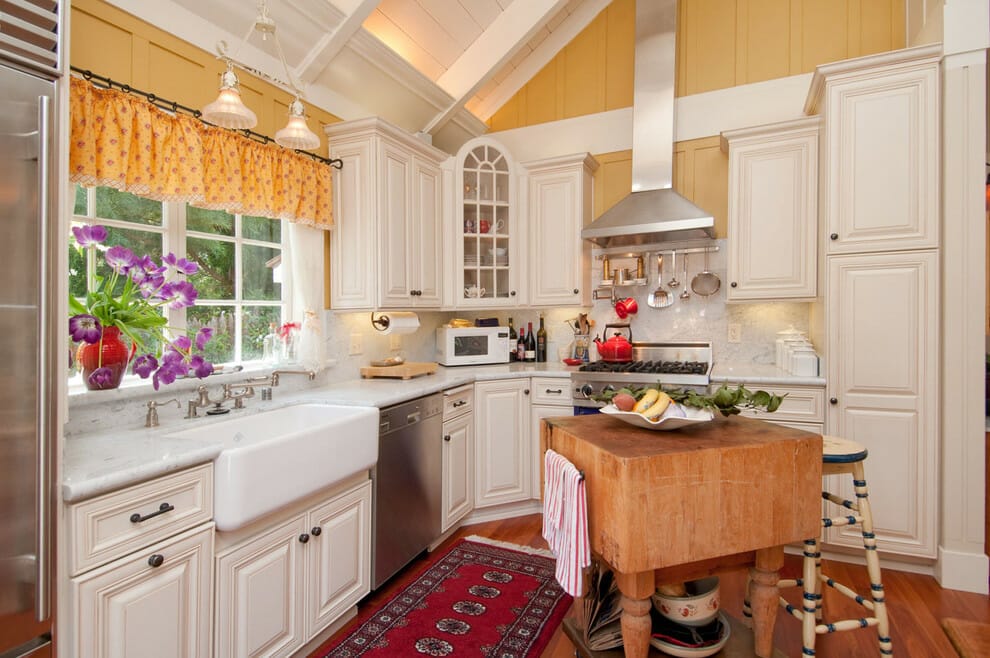 What is the most affordable valance? So far, the linen valance is the cheapest one. It is light but still beautiful with the printed motif on it.
However, make sure that you choose the right printed valance so that it will not distract the interior that you already had.
19. Stripes Kitchen Valance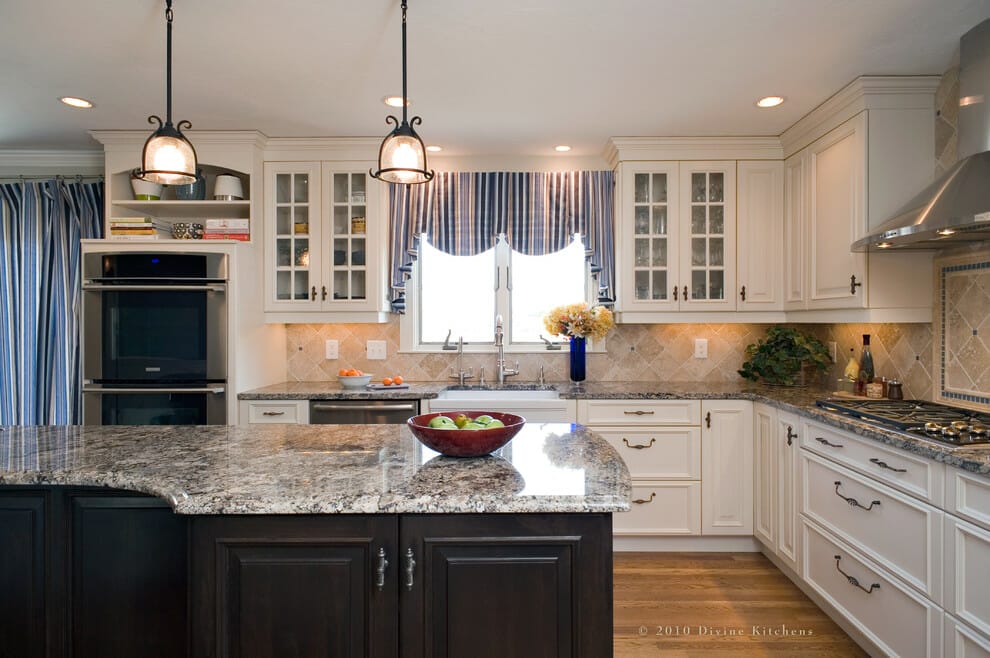 Although stripes printed are sometimes unattractive, they will be the best for your kitchen valance. Choose the small stripes valance, so you will get the most beautiful kitchen valance ideas.
However, this concept is only applied if there are no more ornaments in your kitchen. So, it will not collide with each other.
20. Coffee Top Kitchen Valance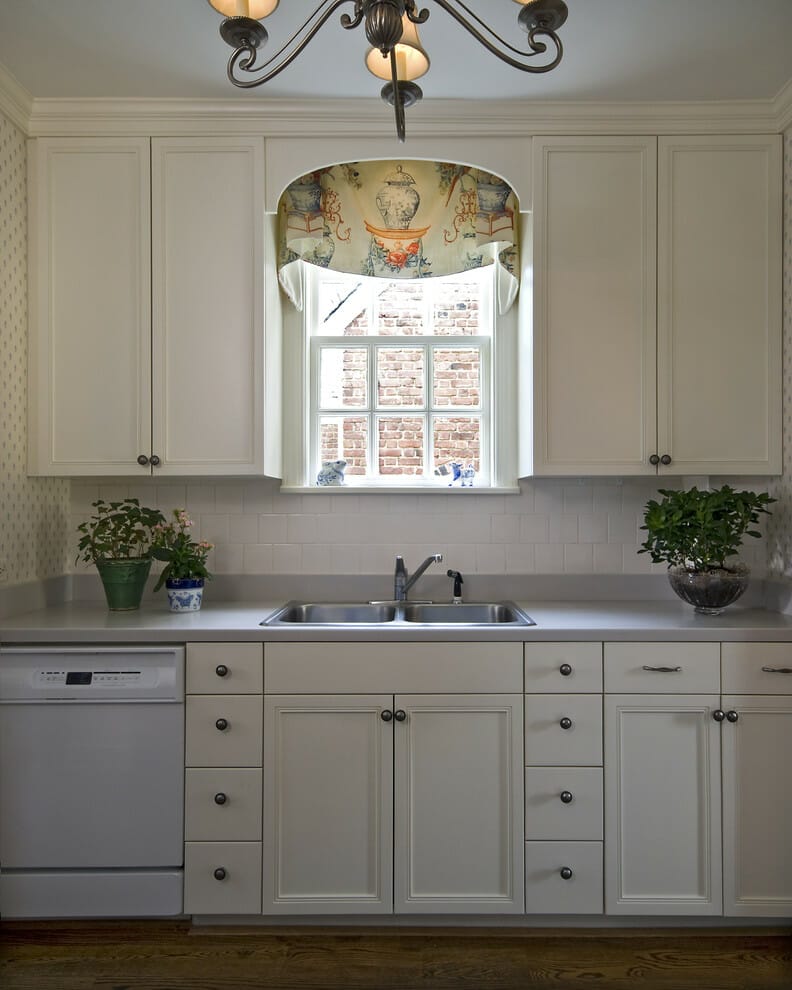 If you need something different, you may choose the coffee top style valance. This look gives a coffee shop topping that looks vintage but trendy at the same time.
Moreover, it is also an affordable valance that will not rip off your budget in decorating your kitchen.
21. Classic Floral Valance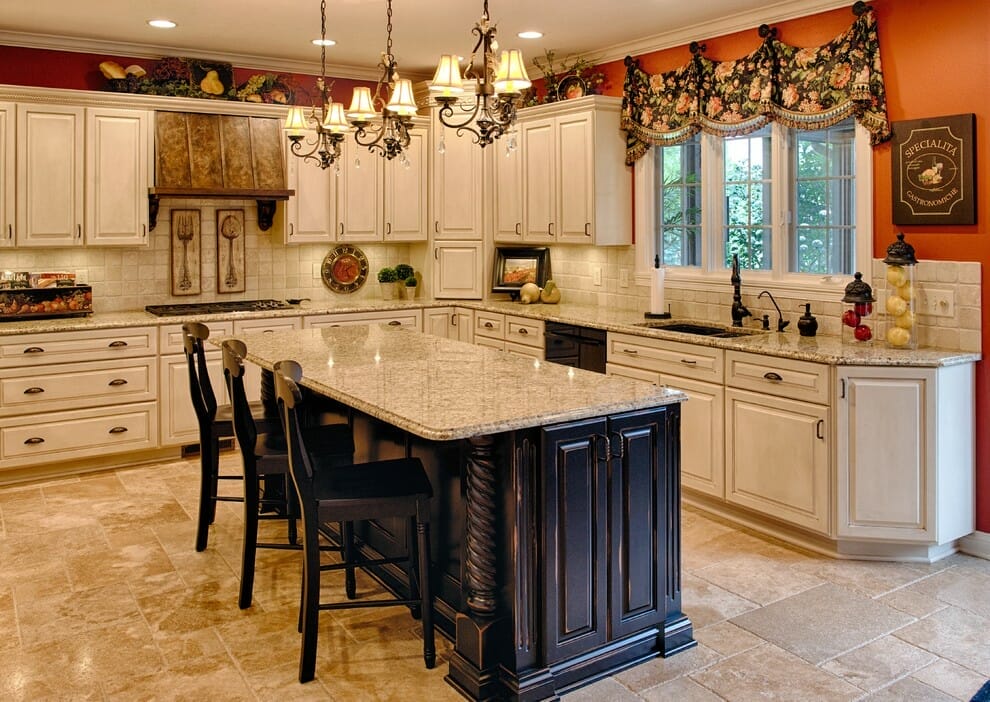 What is the best valance for the classic style kitchen? It is the classic floral valance. You may choose the k or linen.
Both of them are perfect for your classic kitchen. You can also match the printed color with the wallpaper and furniture that you have in the kitchen.
22. Minimalist Printed Valance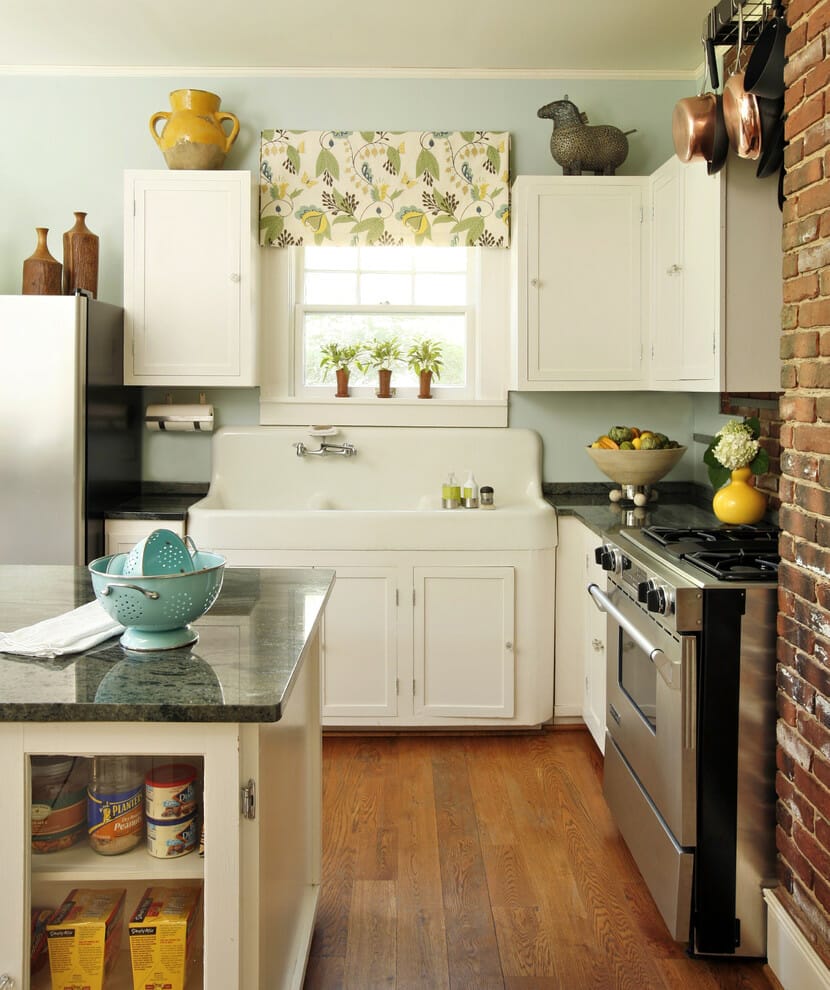 Having a small window in the kitchen does not always mean that you cannot hang the valance there.
Besides, there are also so many small window valance ideas that you can take into account. In some cases, the smaller width is easier to decorate as well.
If your kitchen has not too many ornaments already, you can come with the printed valance. It will not overshadow your kitchen but blend well.
23. Perfect Valance for Vintage Kitchen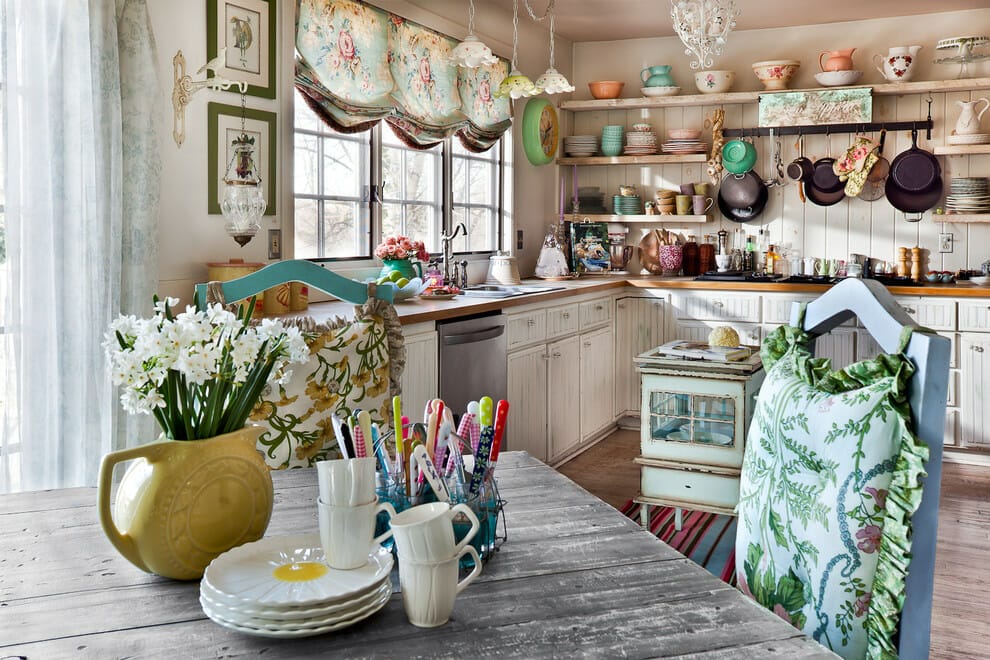 Nowadays, there are a lot of references for interior designs and kitchen valance ideas are not an exception.
To create a dramatic look in your kitchen, the most relatable idea is this roll-up shabby chic valance.
This type of valance will be matched well with a vintage kitchen. As a result, you will find your kitchen as seen on those interior design sites.
24. Pastel Shabby Chic Valance for Warm Kitchen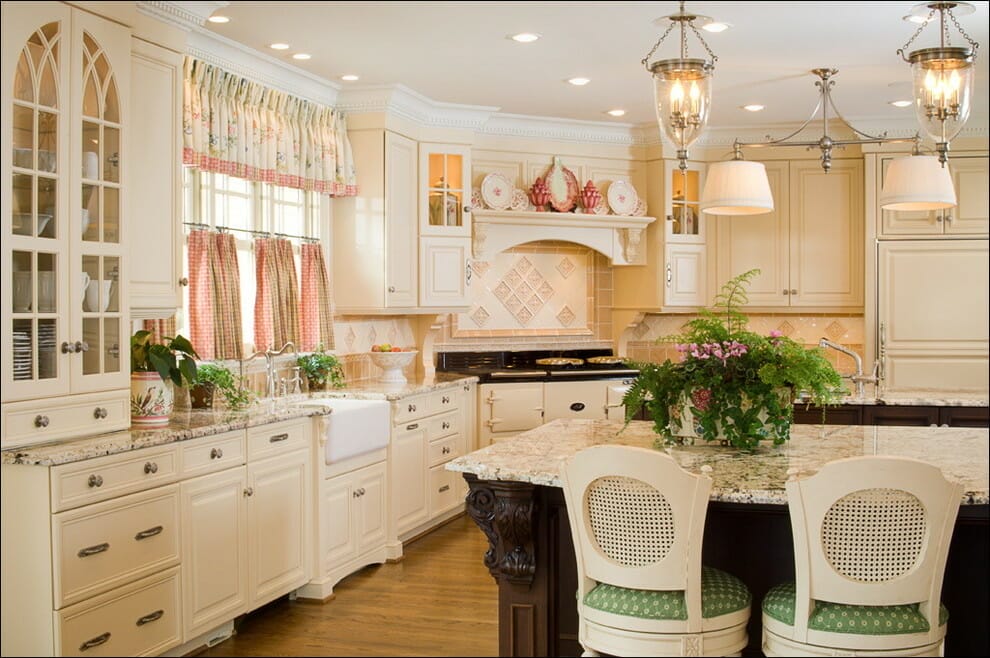 A warm kitchen can be combined with pastel color. Moreover, you may also add shabby chic ornaments. For the valance, you may choose the shabby chic in pink pastel. The valance can be a ruffled one so it will be more fantastic to look at.
Additionally, you can also add the mini curtain under the valance which has pink pastel color. In that way, you will get a beautiful window in the kitchen.
25. Classic Valance in Red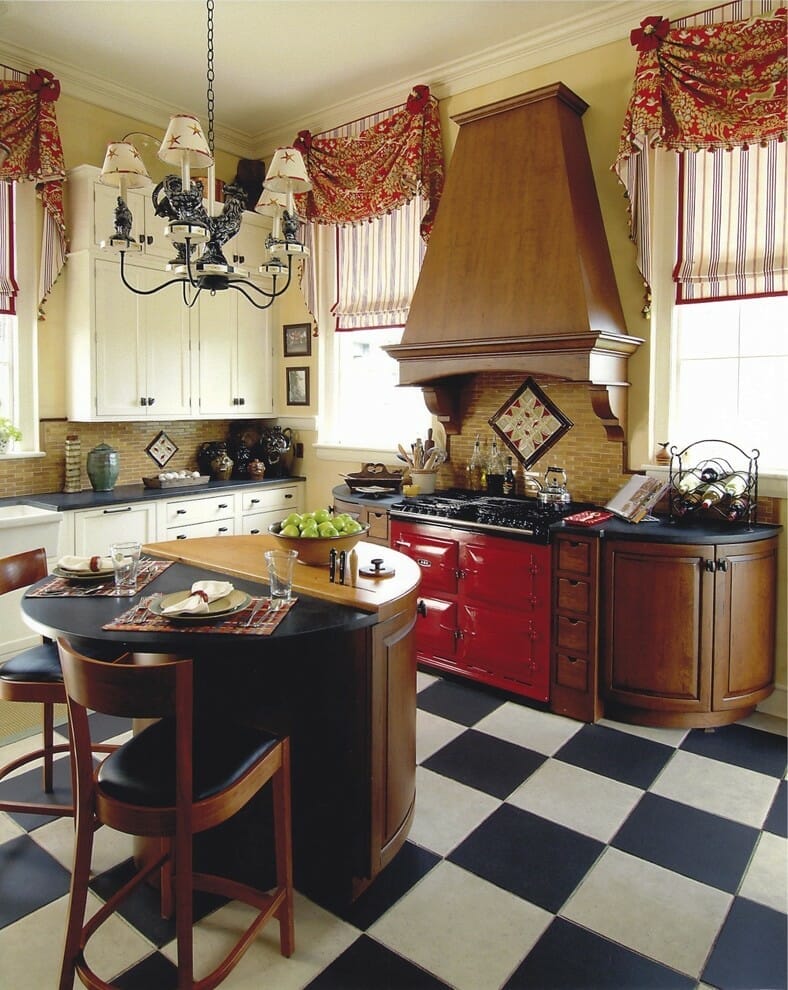 If most kitchen valance ideas have one type of valance to install, now you can get two types of valances. In the first layer, you may install the roll-up stripe curtain. It has a function to block the light. Then, you can install the valance on top of it.
The color choice for both valances should be in line. The best recommendation for the roll-up valance is the stripes pattern dominated by blue and red color. Then, you may choose the all red patterned valance on the top of it.
26. Roll-Up Flowers Valance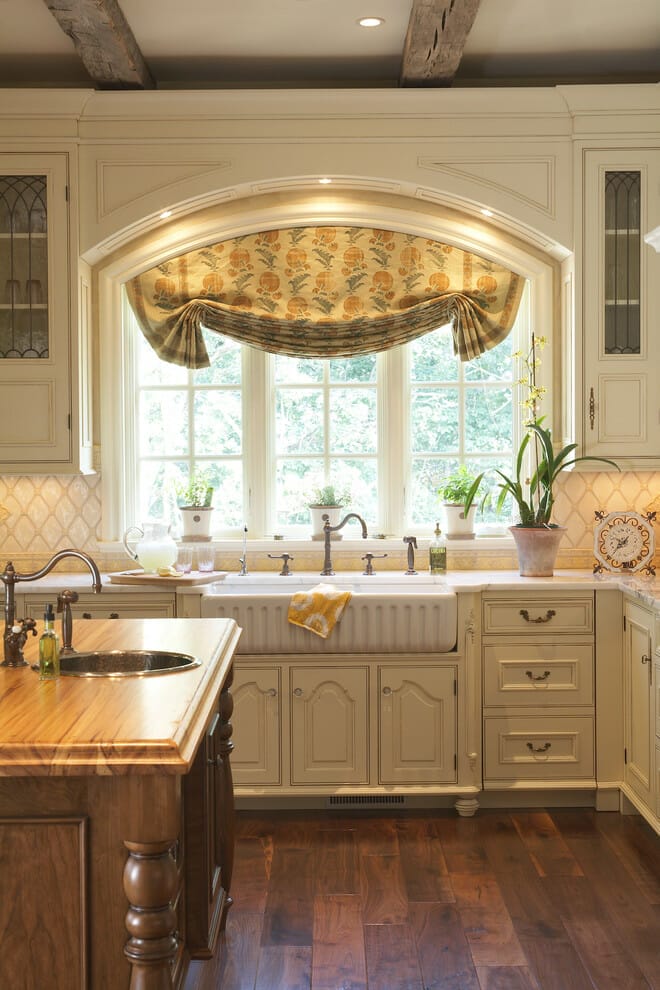 If you have only one window in the kitchen, you can turn it into a focal point. Use the roll-up valance with flowers printed.
Then, make a little roll-up on the right and left sides like a ribbon. This additional ornament will even make your valance eye-catching.
The pattern for this valance should be matched with your kitchen. You can go with the flower pattern if you do not have any additional ornaments around the window. In that way, they will be covering each other.
27. Velvet Valance for Simple Kitchen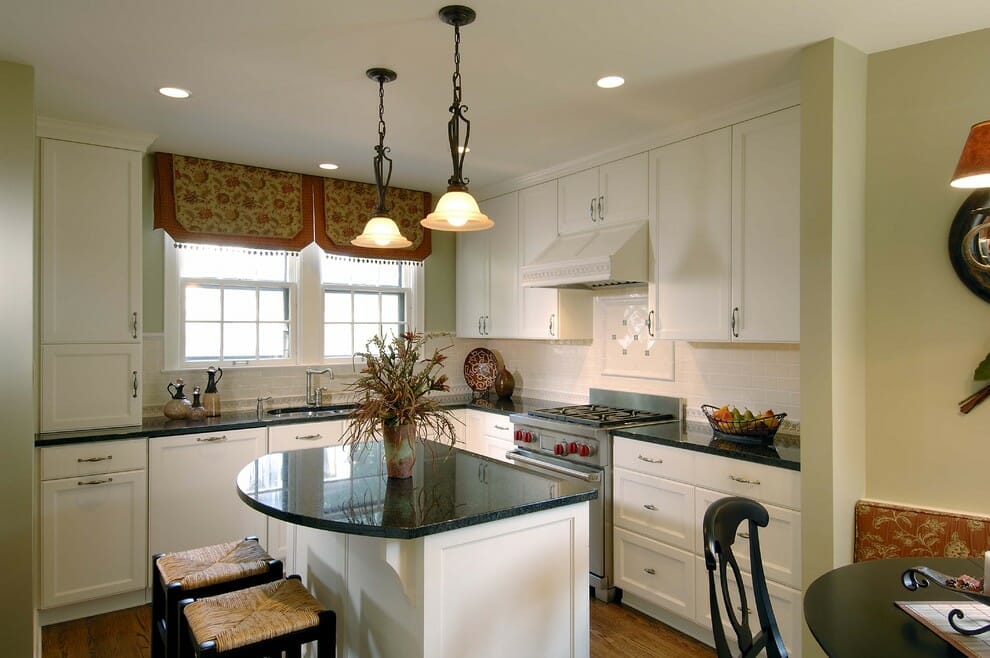 If you want a simple one, this picture has an idea to help you get the valance that suits your style.
Besides linen and silk, you can also choose the velvet fabric for valance. This type of fabric is kind of heavy but enough to be an ornament for your kitchen window.
28. Ruffled Silk Printed Valance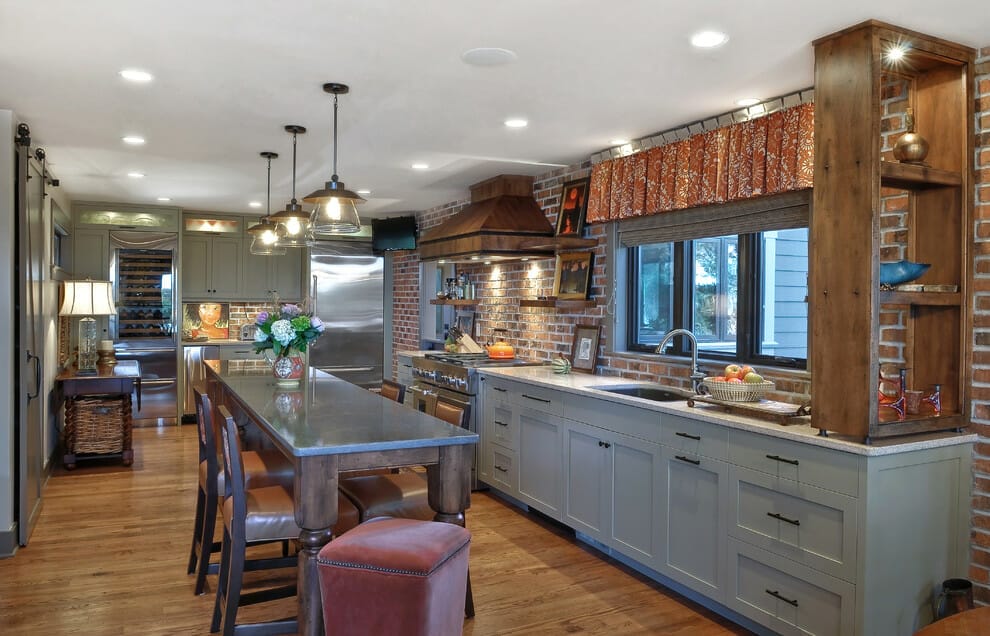 Although you have an exposed wall, it does not matter to add the printed valance. You may choose the silk valance so it will not cover up your wall.
Moreover, you can also make it into a ruffle valance to make it look neat and beautiful. The tip is you need to choose the right one which is the same tone with other furniture and interior that you had.
29. Curved Roll-Up Valance for Clean Look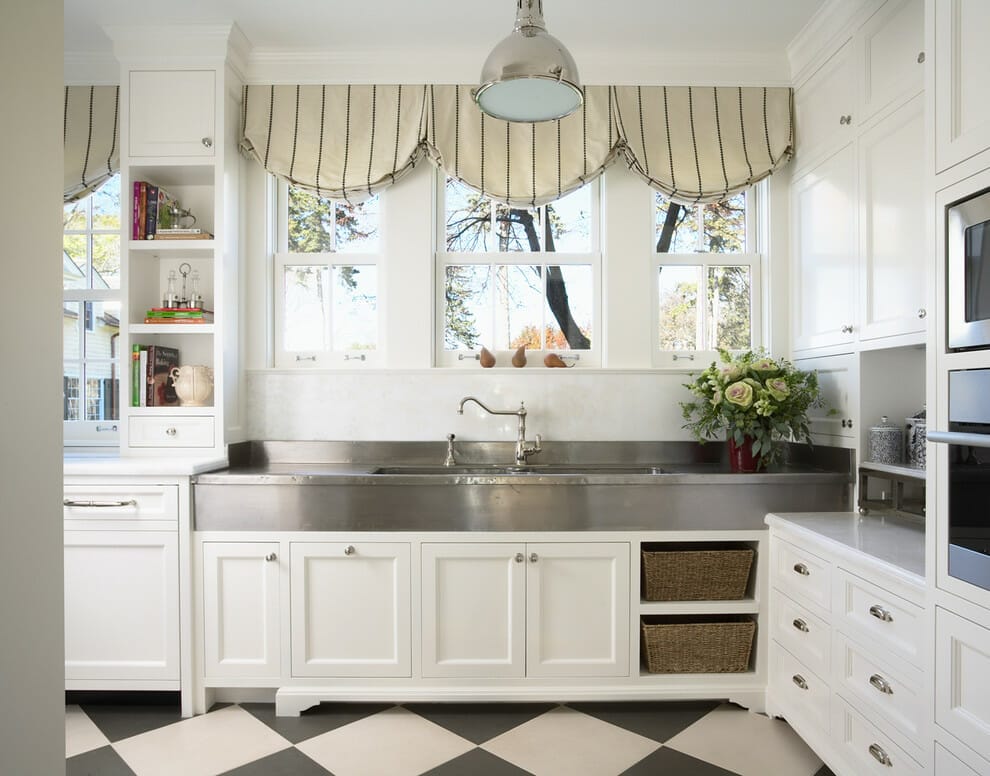 If you need a clean look for your kitchen, avoid the valance with full prints like shabby chic or floral. Instead, opt for a single pattern, like stripes or waves.
This small striped valance allows you to find a simple décor that will look nice along with your kitchen.
Finally, choosing a valance might be a disaster sometimes. To avoid this situation, you have to make sure that the kitchen valance ideas that you have chosen are the correct ones.