A galley kitchen may not be as famous as the standard cook room because of its long-tiny size. But, if you have this kind of style in your apartment, don't fret. Try applying some of the small narrow galley kitchen ideas in this article to make it stand out.
Although this room comes with two walls that limit your movements, it turns out that you can store all your cooking utensils properly by maximizing some storage tricks.
You can even cook freely without feeling pressured because these small narrow galley kitchen ideas are complete with some decorations that will make your tiny cook room cozier and inviting.
Below we have compiled twenty-nine small narrow galley kitchen ideas for you. We hope this inspires you to redecorate!
1. Small Narrow Galley Kitchen Ideas in White and Dark Brown Theme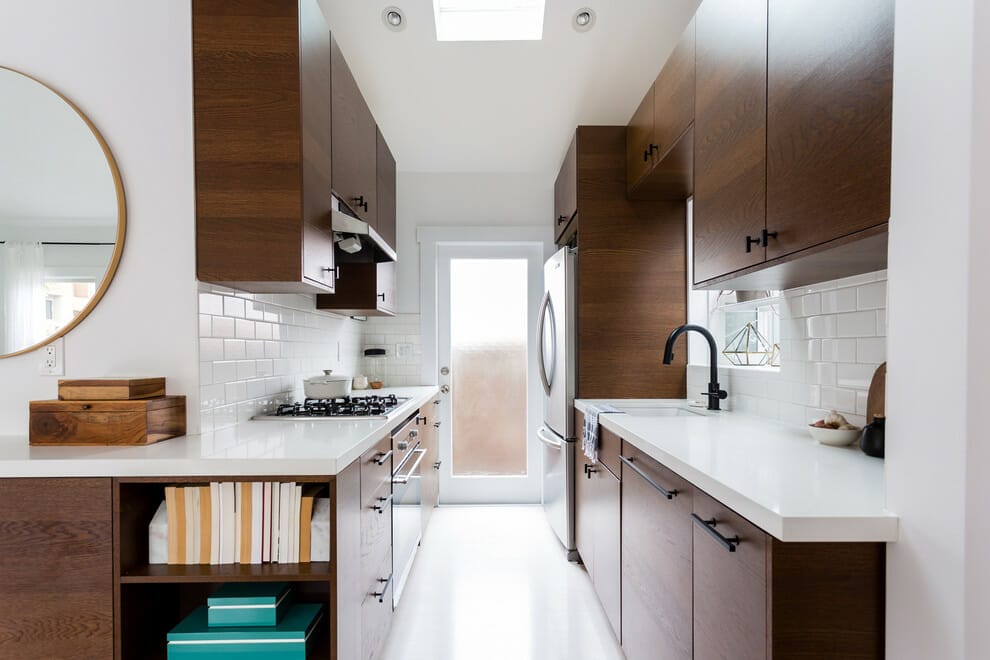 White is the best option for giving a clean look to any kitchen style, including galleys. Combine that hue with a touch of wood in dark tones in the kitchen set to provide it with a pop of color and exciting texture.
You can maximize the empty spot above your refrigerator and build a cabinet on it to save space.
Additionally, it is good to make an L-shaped kitchen island directly connected to other areas next to your galley kitchen to make this spot appear wider.
2. Minty Green with a Bit Touch of Gold to Create a Cozy Ambience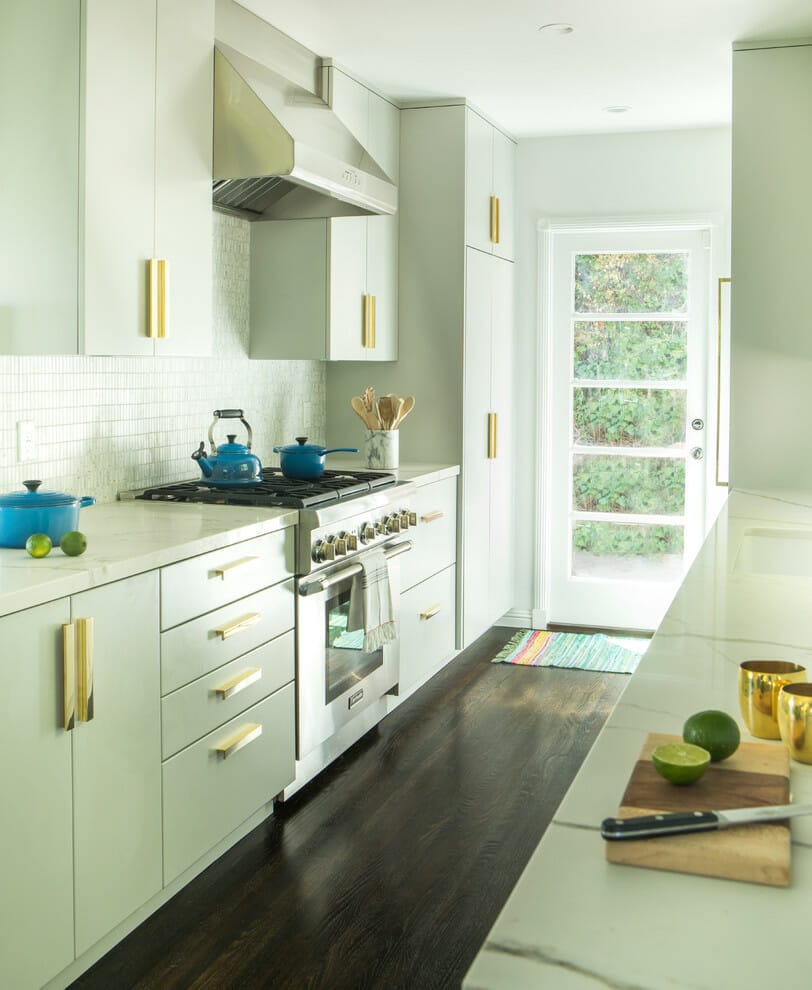 The pastel color of minty green will make your kitchen look more refreshing without having to give it a bold color.
That way, your galley kitchen will remain wider and not overpowering.
However, this hue is relatively calm, so it needs a touch of gold at some point to make it more elegant and classier.
3. One Sided Galley Kitchen with Breakfast Bar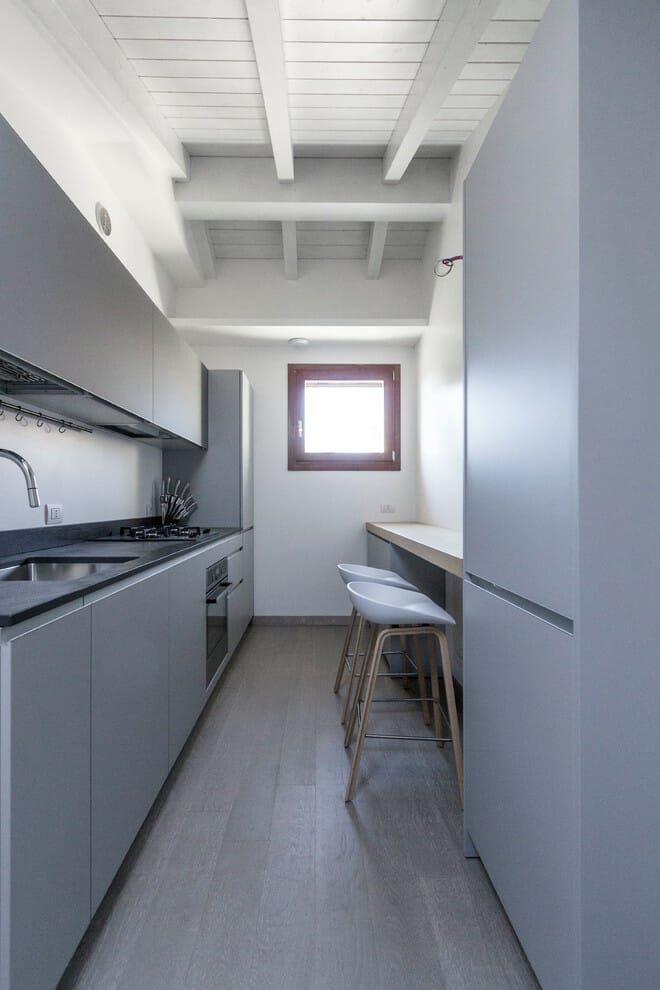 It is the simplest among many small narrow galley kitchen ideas here. You do not need a lot of color mixtures, only a light-tone flooring and exposed beams on the ceiling to add drama.
If you plan to present a breakfast bar there simultaneously, considering installing only one kitchen island will be better.
4. Mini Book Shelves in Small Narrow Galley Kitchen Ideas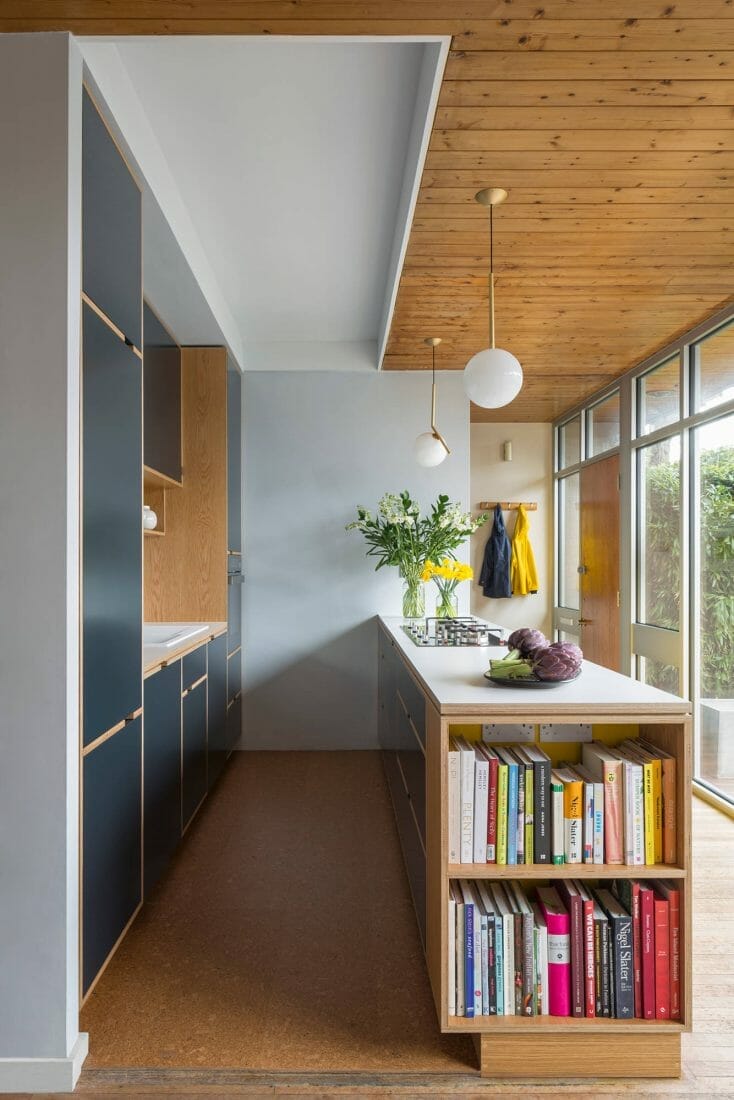 Transform your galley kitchen into a convenient space by providing additional storage to store some of your favorite books on the kitchen counter side.
It can also be a spot to place some cookbooks and make them easy to reach when you need them while cooking.
A glass wall unit will make your narrow kitchen look wider and get adequate natural light during the day.
5. Black and White Flooring and Some Floating Shelves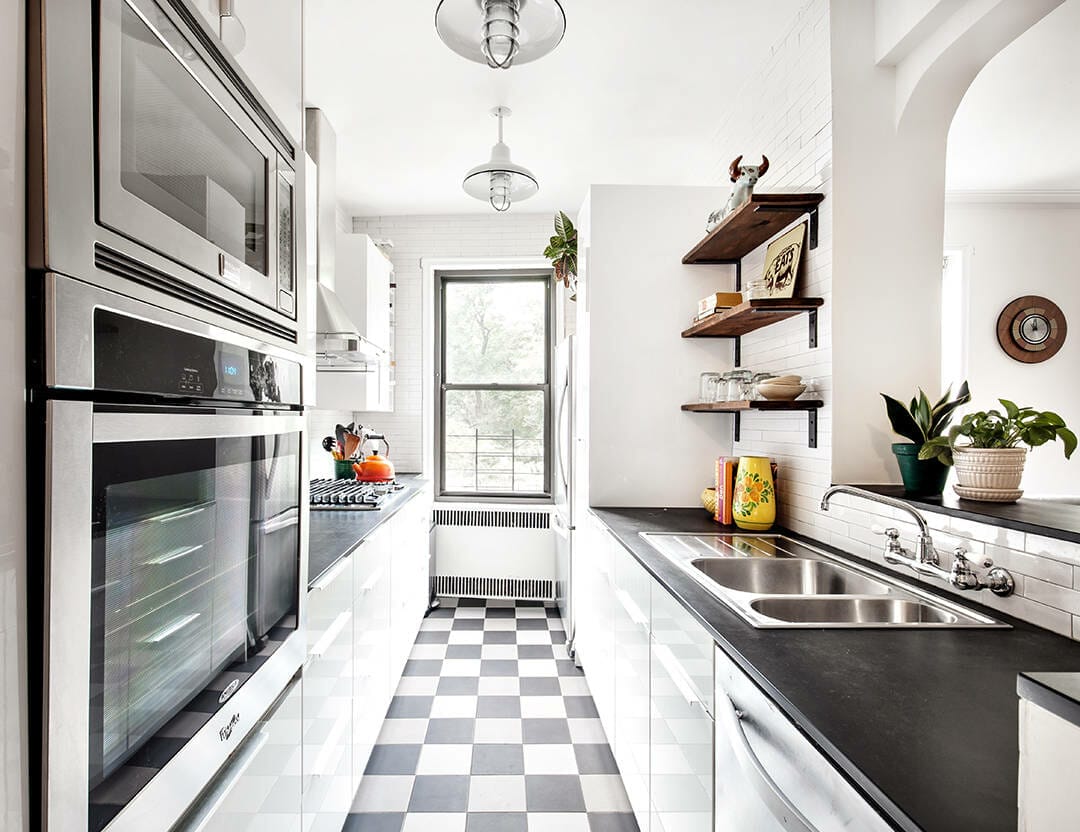 The floor in the galley kitchen that resembles a chessboard will give a quite dramatic and exciting flair.
Avoid passing other bold patterns around the space to prevent a cramped and overwhelming final result.
The most effective trick to save space in this narrow kitchen is to use mounted floating shelves and a built-in oven.
These units will be very profitable because you no longer need to reduce space on the floor.
6. Bring the Natural Light in and Place in Indoor Plant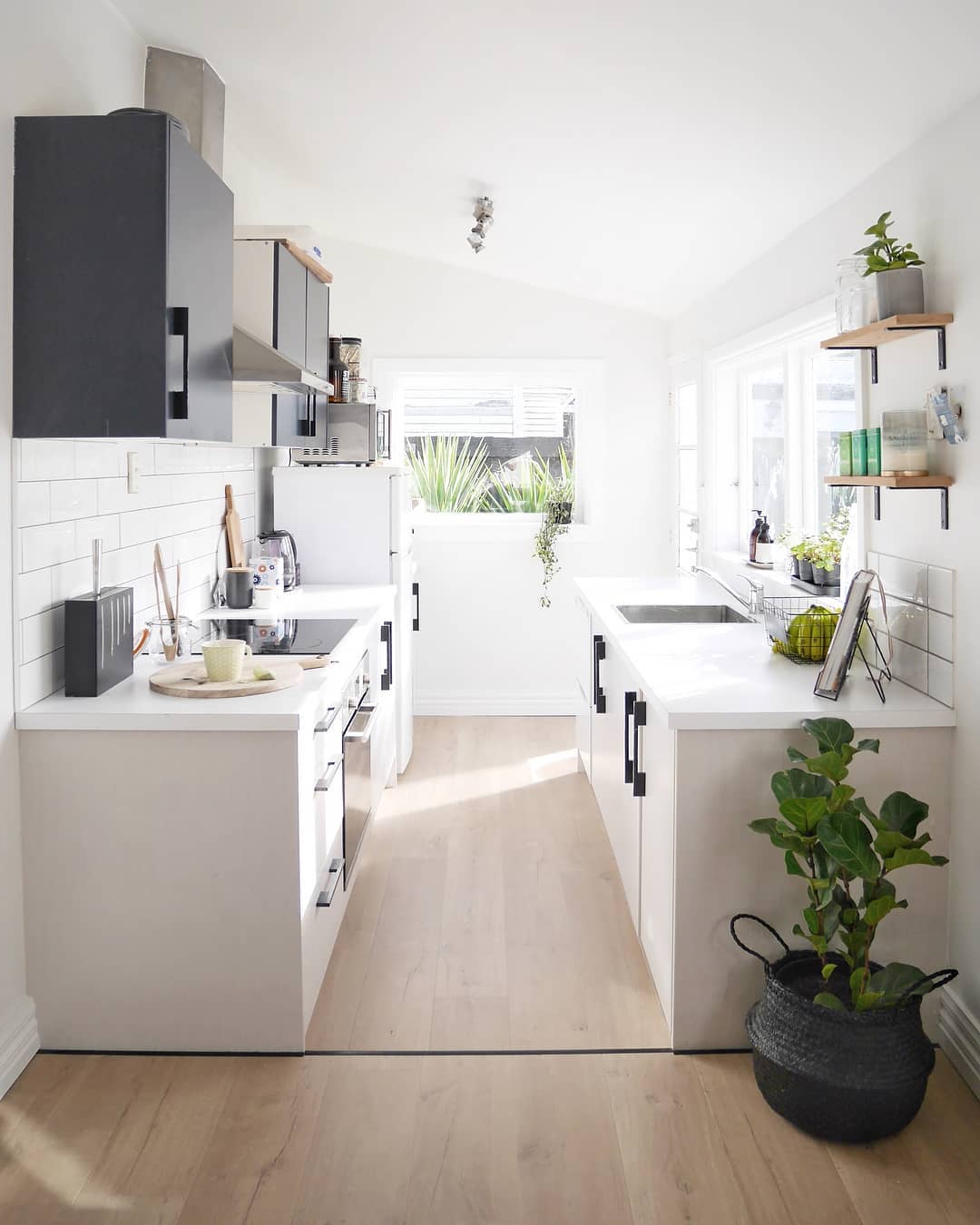 The primary key to good small narrow galley kitchen ideas is adequate lighting during the day and night.
During the day, natural light is the most important of all. Therefore, galleys need at least two windows to make everything pleasing and airy.
To add freshness to the galley kitchen, you can also place indoor plants in some of the best corners. Be it on the floor near the kitchen counter or the windowsills.
7. Hang Your Kitchen Utensils Using Ceiling-Mounted Hooks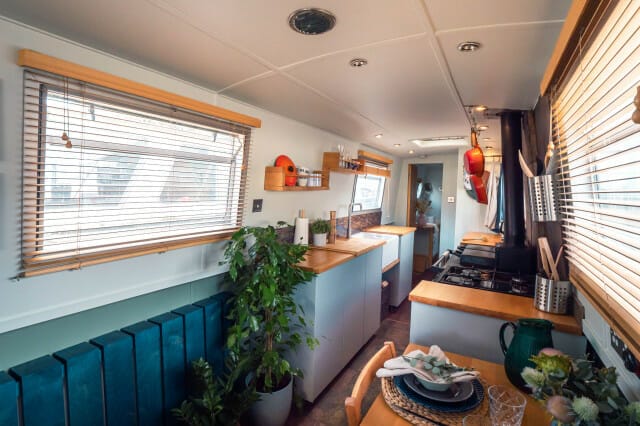 When your wall is filled with some furniture, it is best to consider mounting some hooks on the ceiling. Later, you can use these hooks to hang some of your kitchen utensils, such as pans, pots, and others.
You can find this feature in many marketplaces at a reasonably affordable price. So, it really won't be in vain.
8. Install Mirror Wall to Create Spacious Impression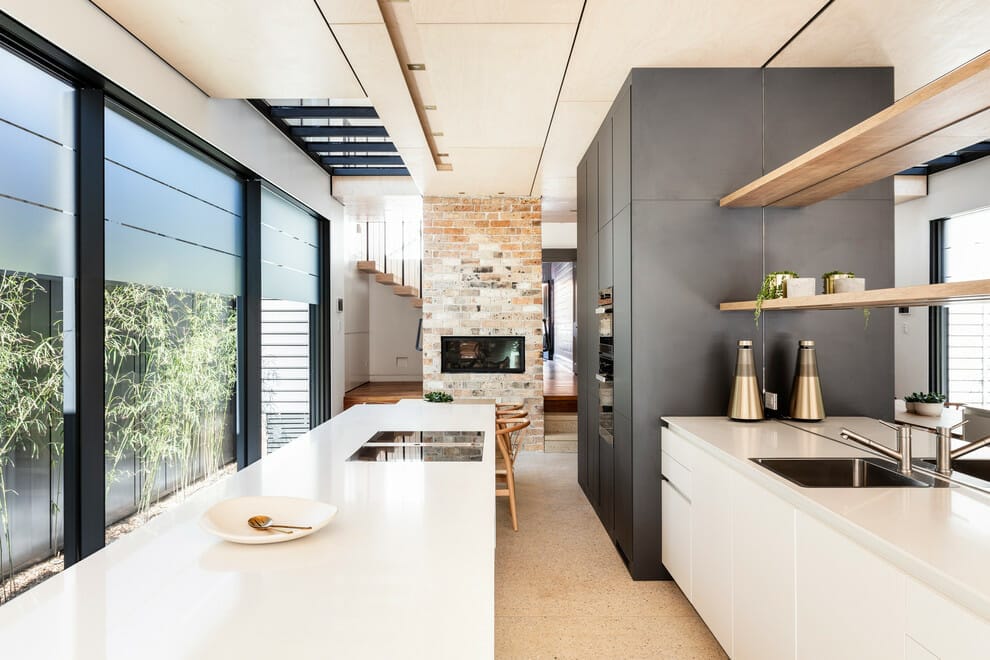 Small narrow galley kitchen ideas with mirror walls above the countertop are the best strategy among others to make your tiny space appear more expansive.
Instead of leaving it blank, it would be better to have some floating shelves mounted on it, too.
So, you will get the perfect double dimension that creates the illusion of a spacious shelving system and kitchen counter.
9. Small Narrow Galley Kitchen Ideas with Built-in Display Cabinet Above The Counter Top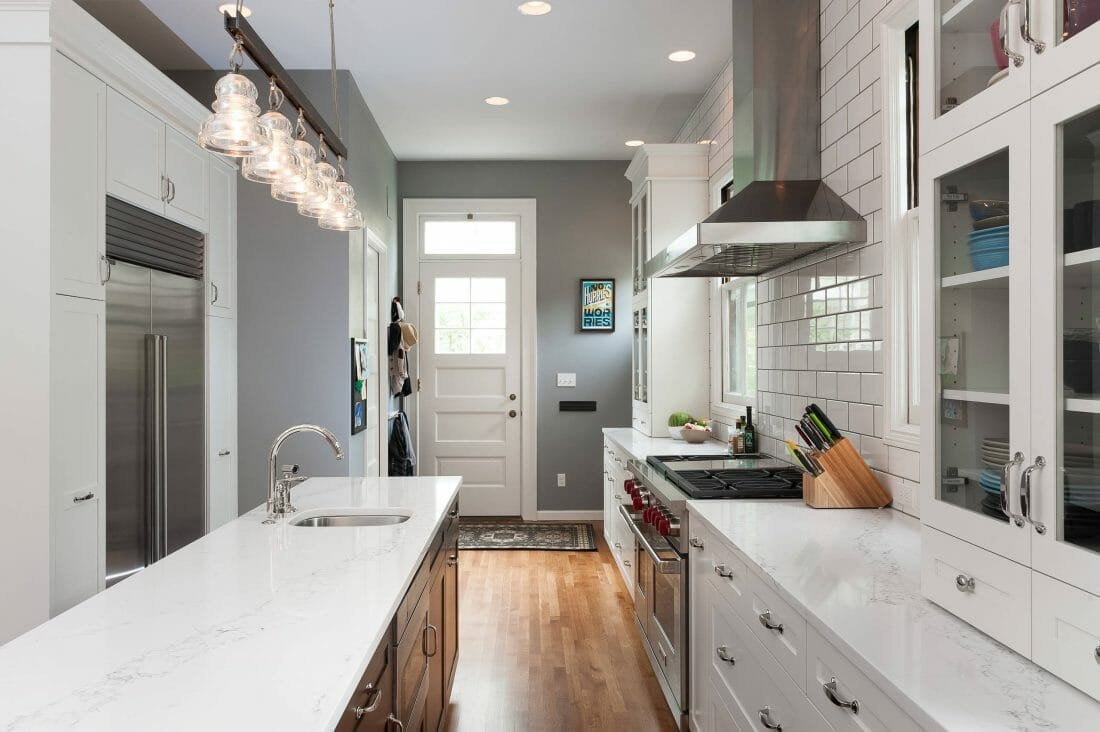 Cooking areas sometimes need several display cabinets to show off cutlery and other kitchen needs. However, many galley kitchens do not provide enough floor space for that.
But you should not run out of ideas and take advantage of the space above the countertop as an area to build your display cabinet.
Consider giving a color that matches your entire kitchen set so that everything looks more cohesive.
10. Give A Little Pop of Color to Prevent Dull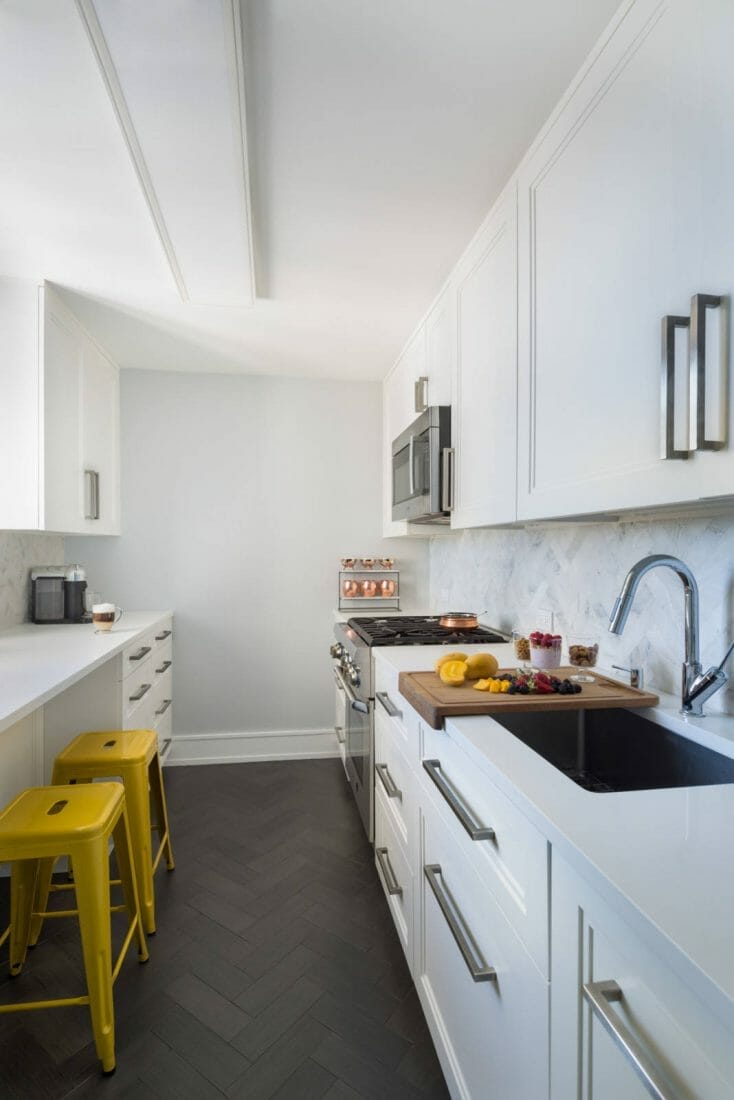 Yellow stools in your galley kitchen breakfast bar will be a cheerful focal point no matter what.
Such a pop of color is essential because leaving the kitchen only in white will make everything boring to look at.
Moreover, yellow is believed to boost your mood better wherever this color is applied.
Since the walls and some elements have come in bright colors, it is nice to give the floors dark brown vinyl flooring in herringbone style to create a balanced look.
11. Distressed Hardwood Flooring to Add Drama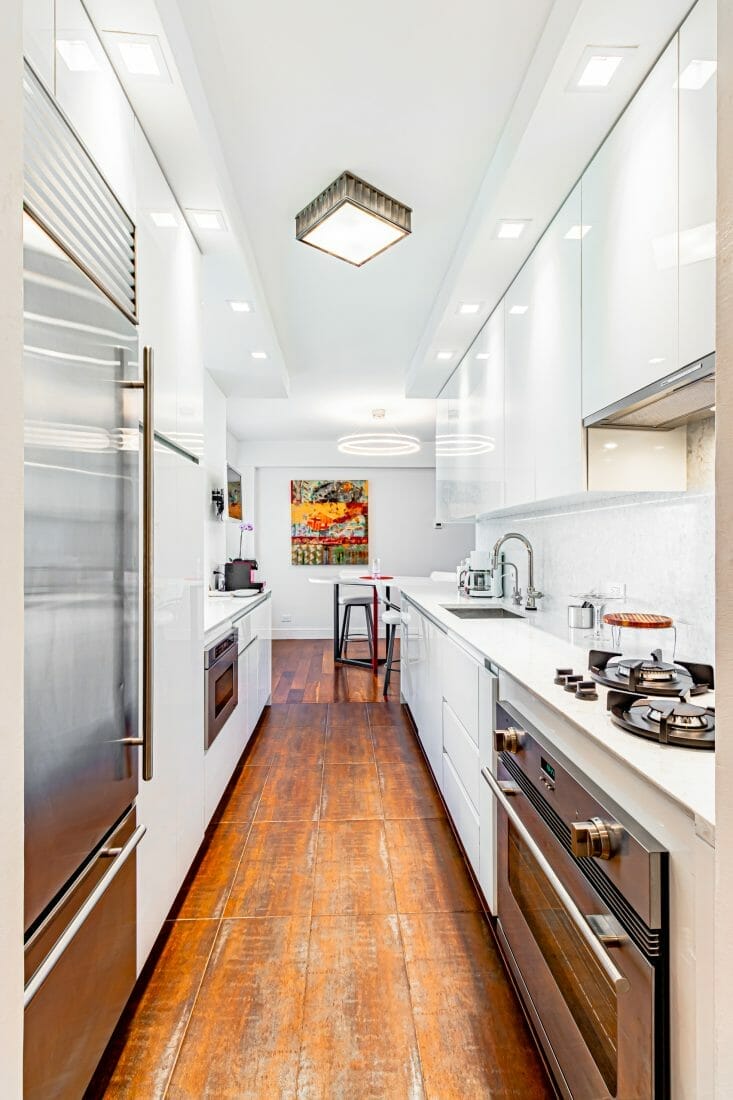 Combining small narrow galley kitchen ideas with hardwood flooring will be tricky for some people. This element has a sturdy surface and a complicated appearance, especially a distressed one.
Hence, this flooring can overpower your small space if you don't embellish it properly.
It is better to set your entire kitchen set in white so that the hardwood texture can still stand out among others.
12. Lay on a Carpet Along with the Galley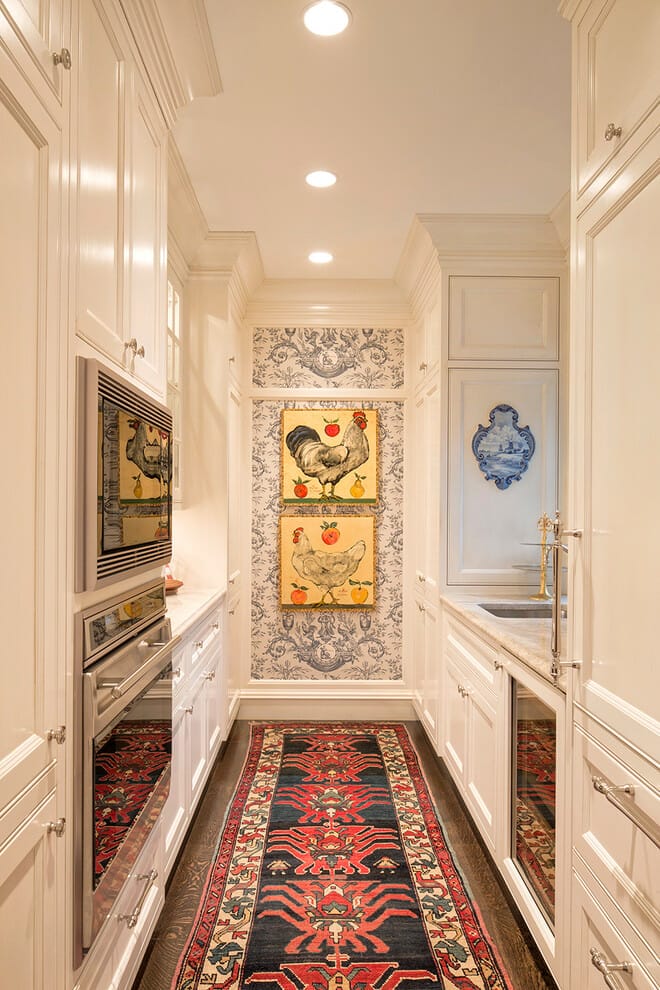 Laying carpet along the galley can be an alternative to hide stains on the floor.
Moreover, the Moroccan one will give a distinctive look that not everyone has. So, this is perfect for presenting personality without spending a lot of energy.
Because most Moroccan rugs come with a lively pattern in bold colors, it is better to give a neutral wall treatment or a muted imprint if you want to install wallpaper on one side.
13. Small Narrow Galley Kitchen Ideas with Coffered Wall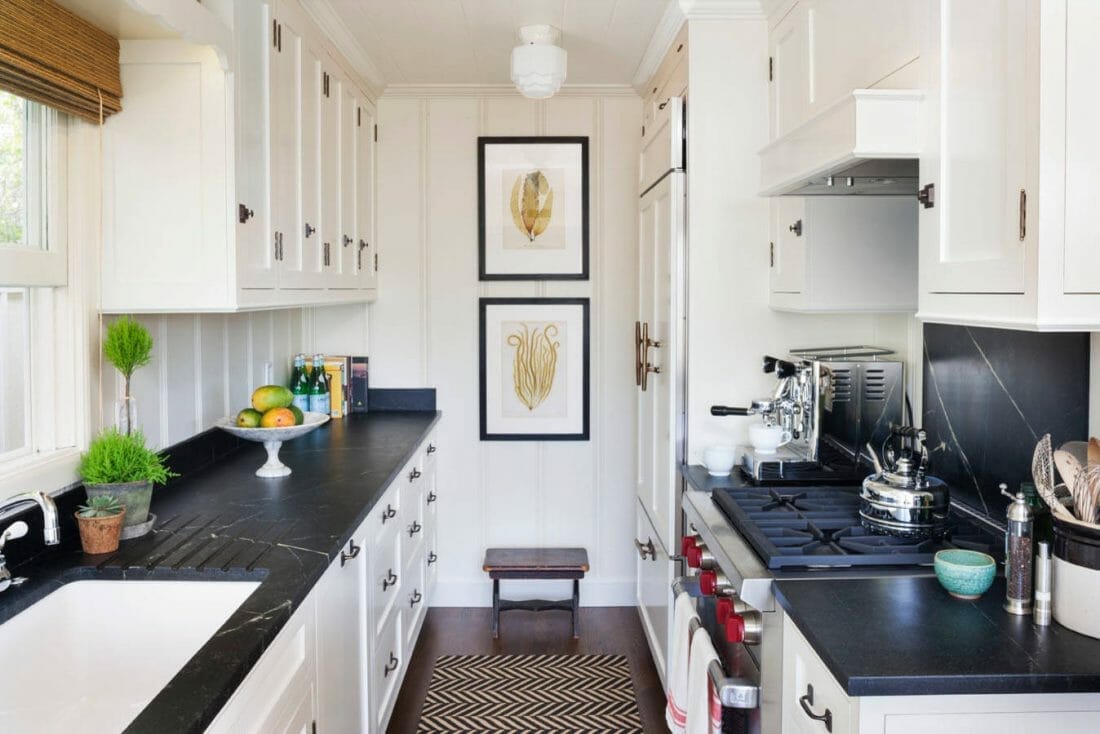 Giving a pop of texture in your galley kitchen is very easy and comes in many ways. One of them is to install coffered walls throughout the room.
This strategy will suit you who do not like to present many colors mixture in your kitchen. You can hang one or two wall art with a white base and gold objects as above to create a focal point.
14. Backsplash in Light Grey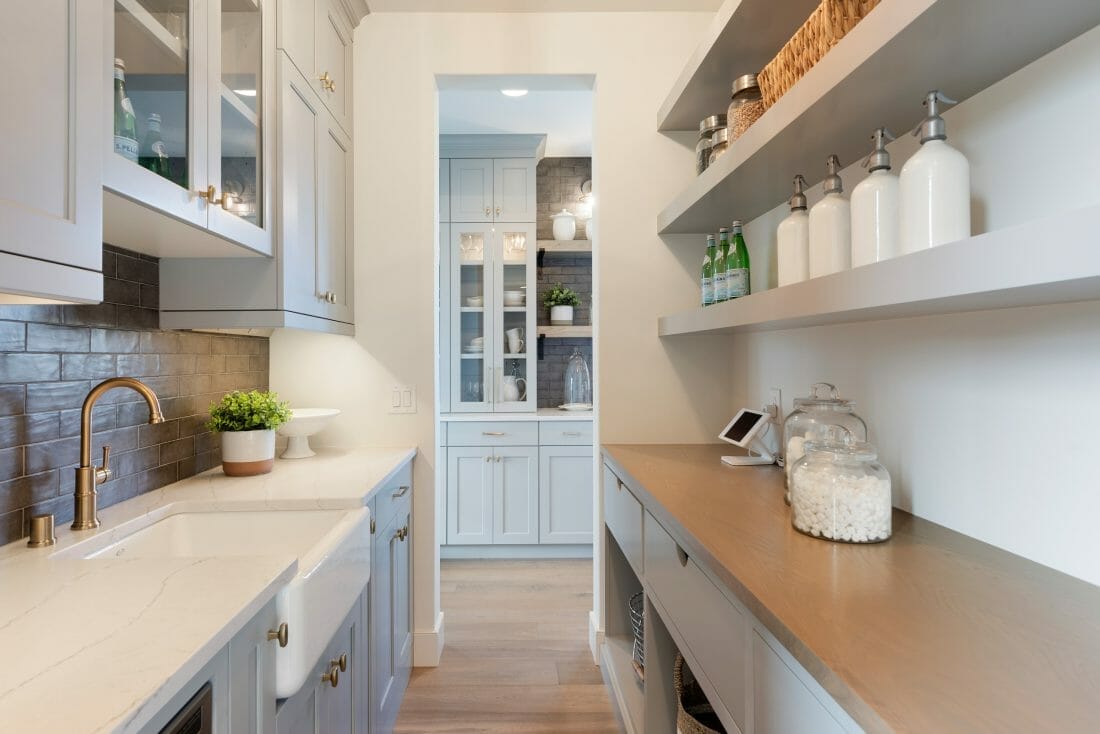 Sometimes, people forget to decorate the backsplash in their galley kitchen. Regardless, this spot is crucial and becomes the most strategic area to present a focal point.
Subtle colors with not many patterns are the key to modern decorating.
If you want to give your backsplash a pop of texture, it would be perfect if you go with light gray stone tiles and a gold faucet as above.
15. Wide Window for Good Air Circulation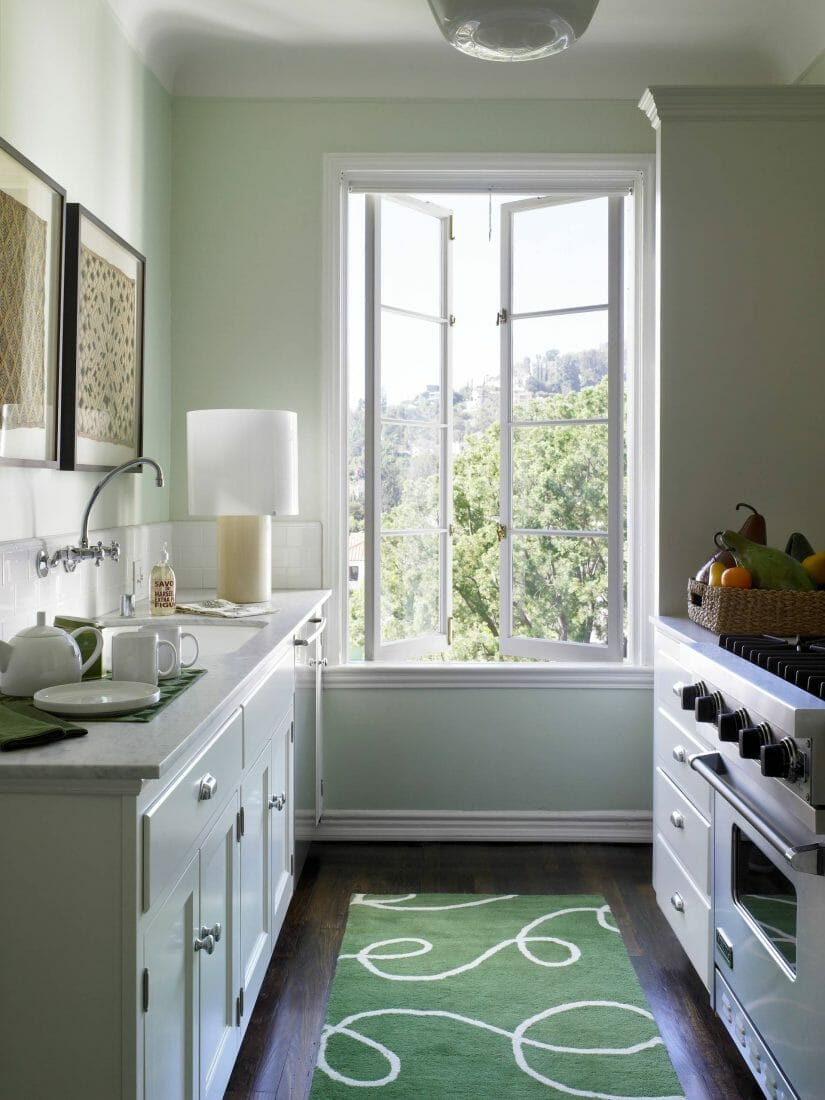 In addition to aesthetic values, small narrow galley kitchen ideas also recommend you have expansive windows.
The goal is to provide good air circulation in your tiny cook room.
With this feature, you will simultaneously be able to overcome unpleasant odors in the kitchen and also give you a more refreshing and airy feeling while cooking.
It is simple but functional to have in your galley.
16. Wallpapered the Wall in Muted Pattern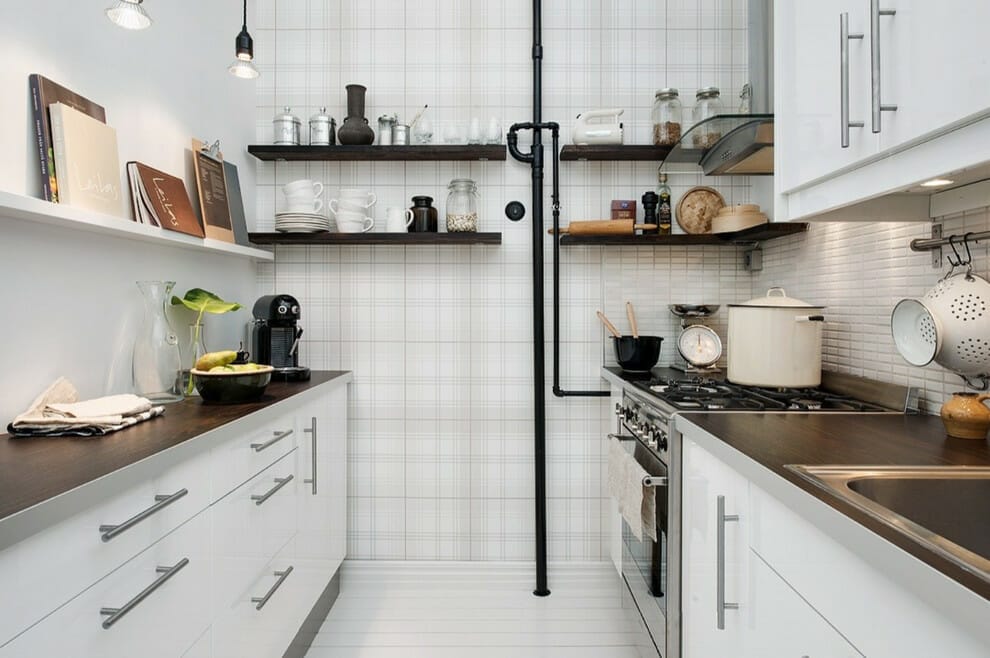 Nothing restricts you from installing pattern wallpaper in your small galley.
You are free to be creative, but you must consider the balance of the look of your decoration later unless you want the cook room to become more cramped.
One trick you should not forget is choosing a wallpaper with a muted pattern. Undoubtedly, it will give a pleasant personality in an understated way.
17. Set a Mini-Bar Near the Window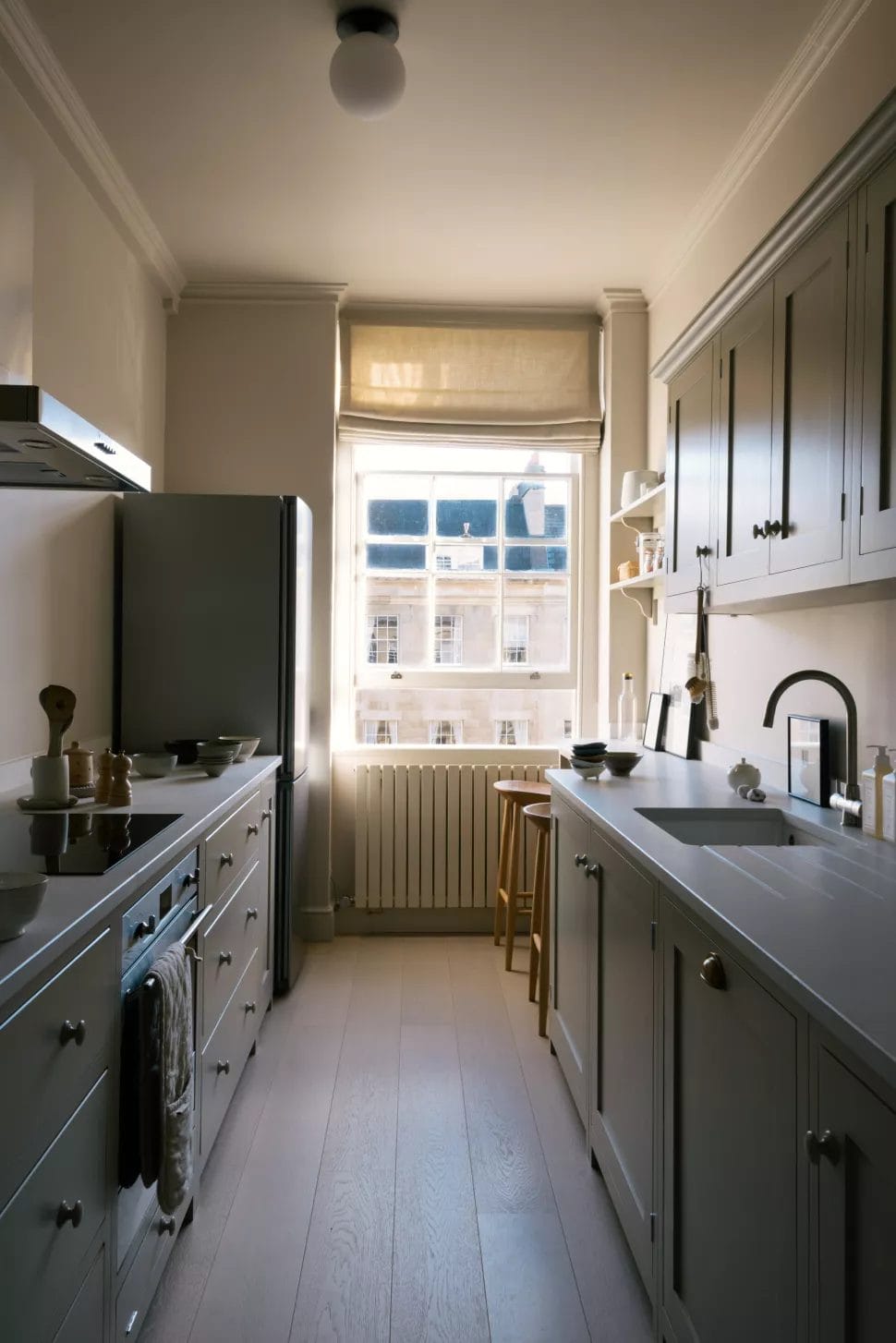 Insufficient space for the breakfast bar becomes an issue that most homeowners often face with galley kitchens in their homes.
But do not worry. These small narrow galley kitchen ideas also show you the application of a minibar near the window.
Even though the space is only enough for one to two people, at least you do not have to miss a crucial spot in your home anymore.
18. Sleek Small Narrow Galley Kitchen Ideas with a Touch of Wood on The Floor and Wall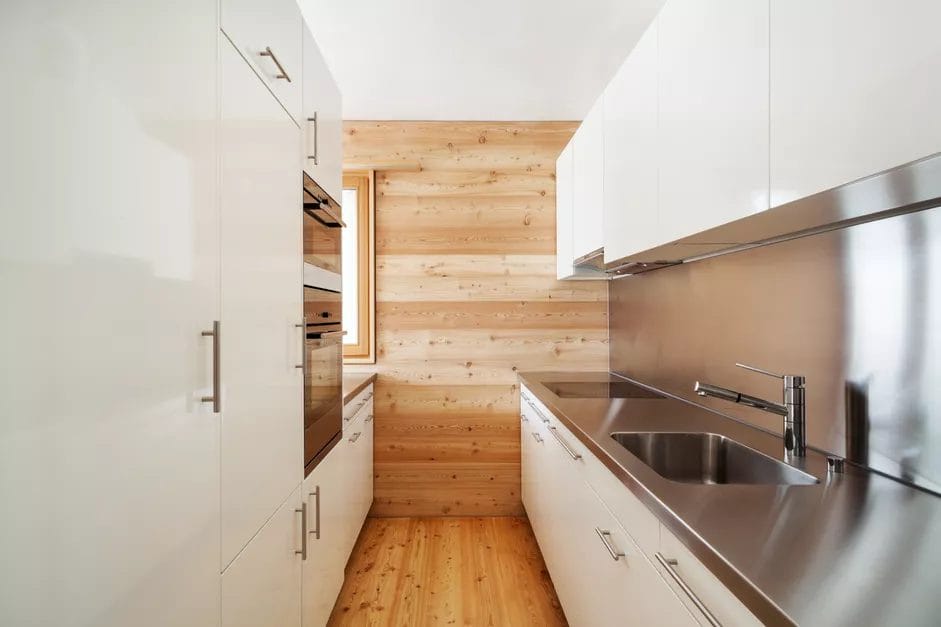 In a contemporary-style house, combining modern elements with a touch of rustic objects has become a hallmark.
As you can see in the picture above, the galley arrangement is quite sleek, attractive, and inviting at the same time.
The white and smooth surface of the kitchen set will make your small cook room look more spacious.
Meanwhile, the wood texture found on some walls and floors will give off a warm rustic vibe.
19. Modern Galley Kitchen with Coffee Corner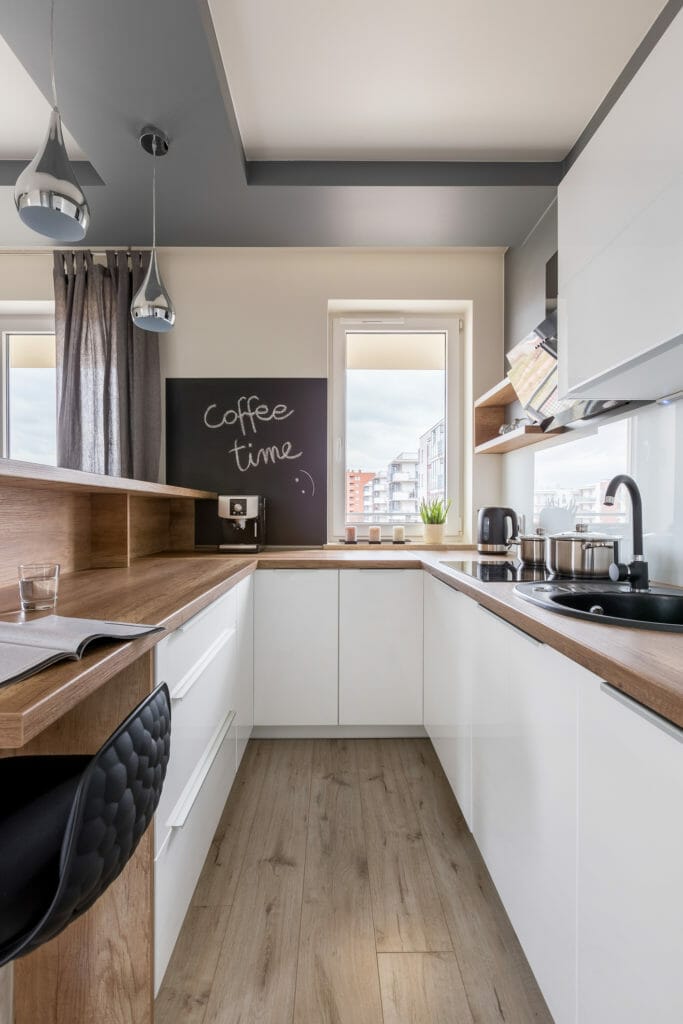 Who would have thought your galley could become a cozy and fun coffee corner? It turns out that it is not challenging to create such a layout.
Instead of presenting a one to two sides kitchen island, it will be more profitable if you have a U-shaped counter like the one above.
This layout is believed to save more space because you also take advantage of the corner spots at once.
Put a square blackboard on the countertop and fill it with a few quotes to create an unmatched cozy ambiance.
20. Small Narrow Galley Kitchen Ideas with Breakfast Nook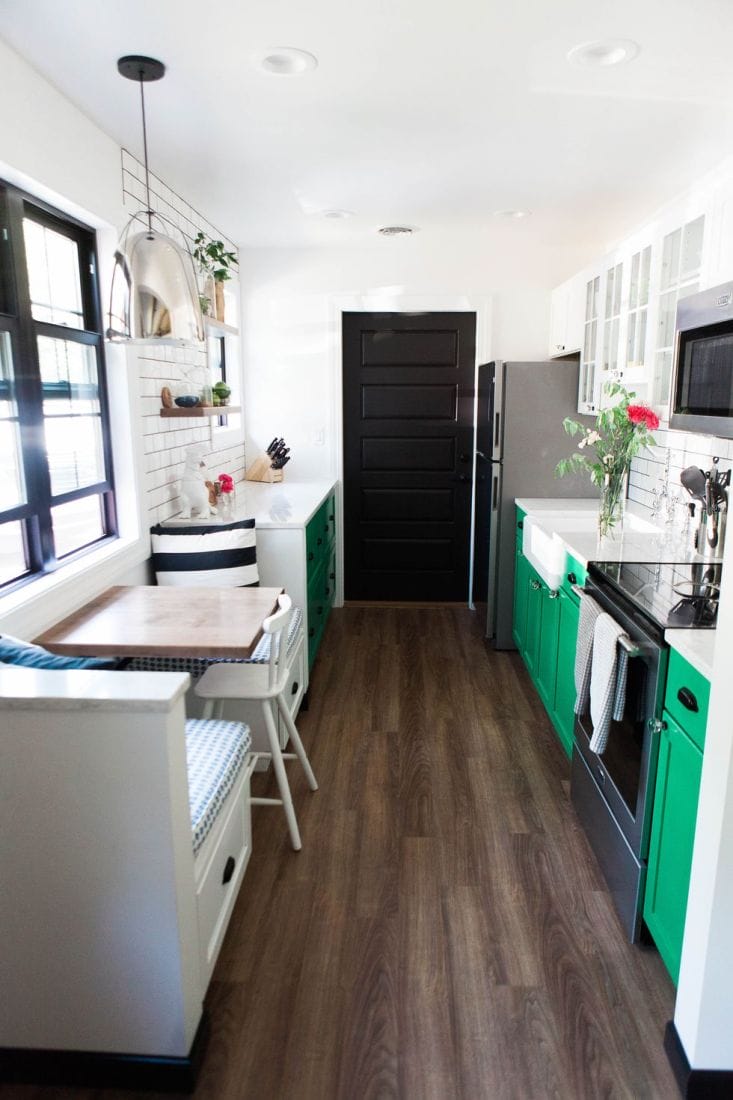 Complete your galley kitchen with a breakfast nook perfect for three people. Take it easy.
It will not make your kitchen look cramped because you already have a countertop with a half size on the other side of the kitchen.
Giving a little green touch to the cabinetry doors will be fine. It will, indeed, become a new focal point in your kitchen.
21. Galley Kitchen with Island and Glass Door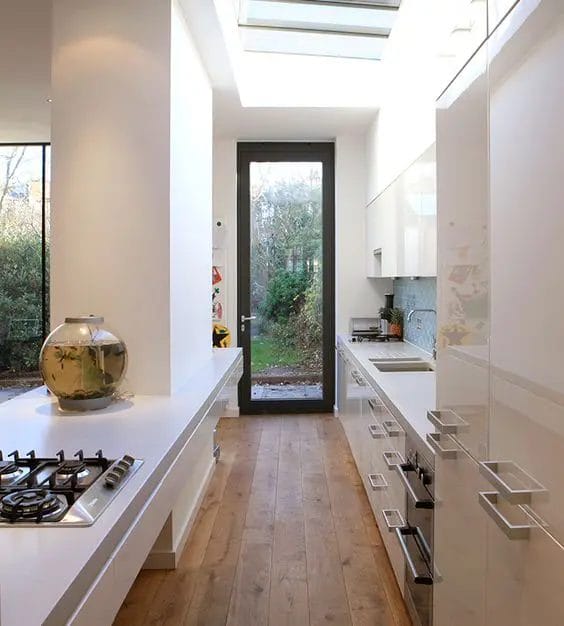 Here are about open galley kitchen ideas. Indeed, not all galleys are always flanked by two walls at once.
Like the design above, it has a built-in island that acts as a barrier between the kitchen and other rooms in front.
This concept will be pretty profitable because you can decorate it with any theme without making it too overcrowded.
However, setting it up with a brighter color and a glass door is preferable to make it appear more spacious.
22. Brick on The Wall and a Large Masterpiece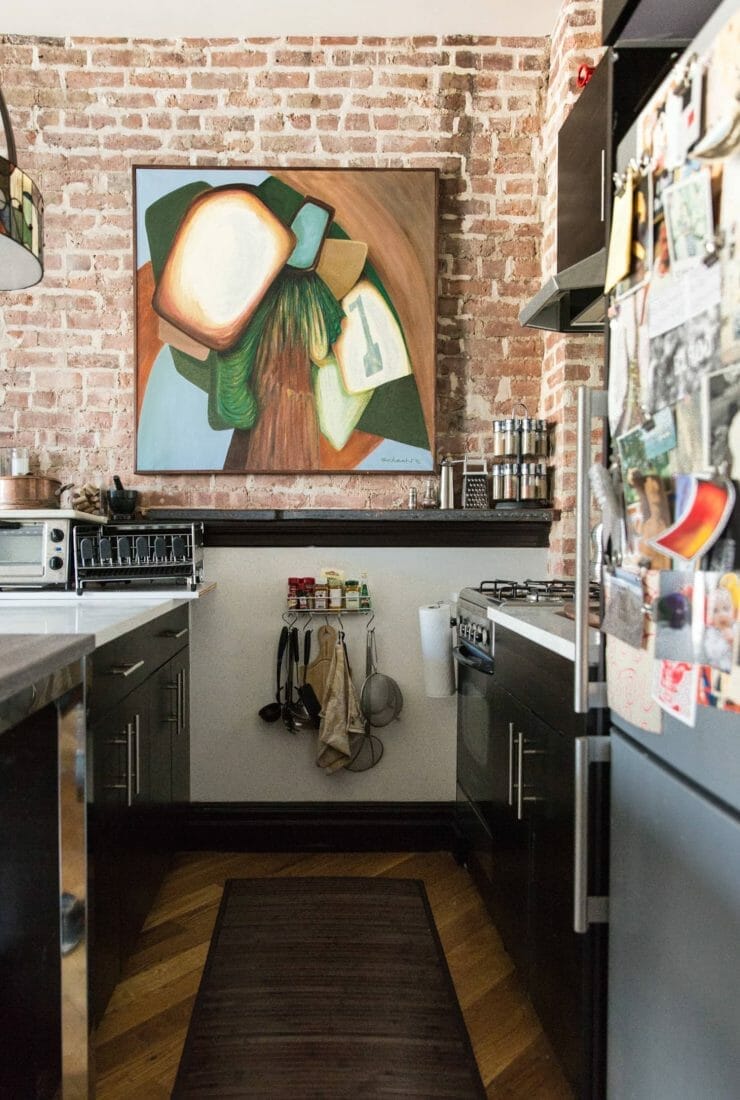 Mediterranean small narrow galley kitchen ideas never disappoint anyone with their pop-of texture.
Consider bricking the walls around the kitchen to bring out that distinctive flair that not all homeowners have.
Next, hang a large painting to add an artistic impression to your cooking spot.
23. Make Use of The Cabinet Top as Additional Storage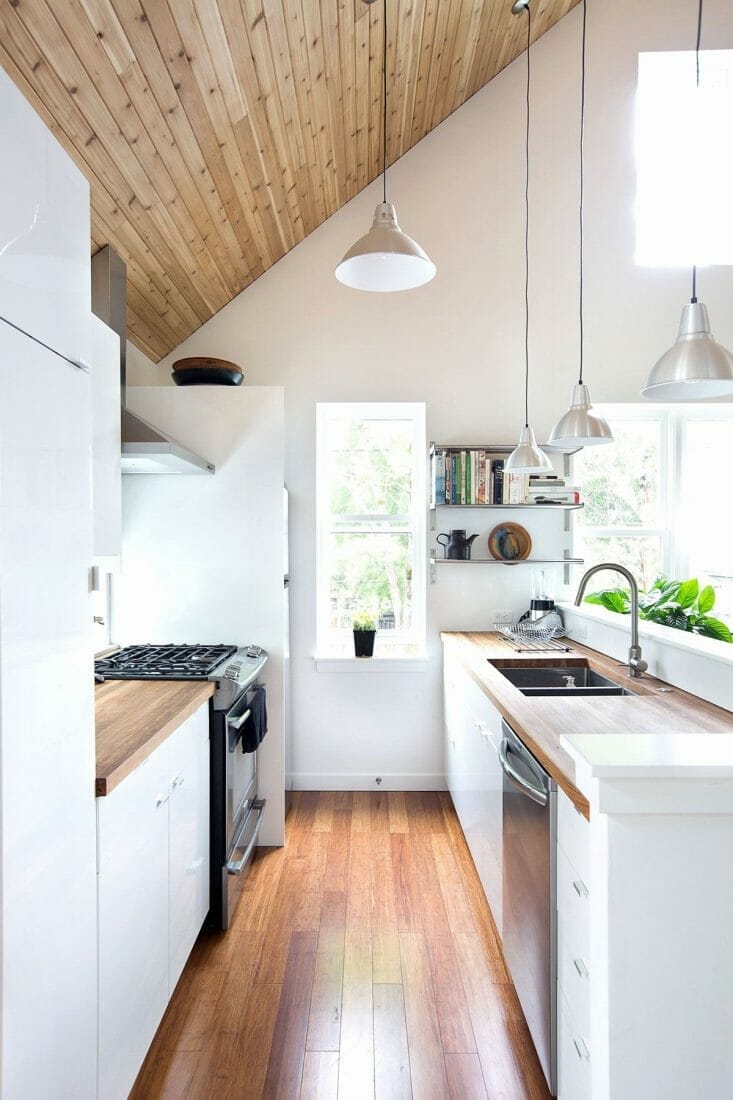 Maximize all the spots in your galley for proper storage, including the top of your cabinetries.
It will be beneficial in saving floor space so that you no longer need to make a fuss with your partner when storing kitchen utensils in a narrow area.
24. Small Narrow Galley Kitchen Ideas with Polished Concrete Flooring and Adequate Lighting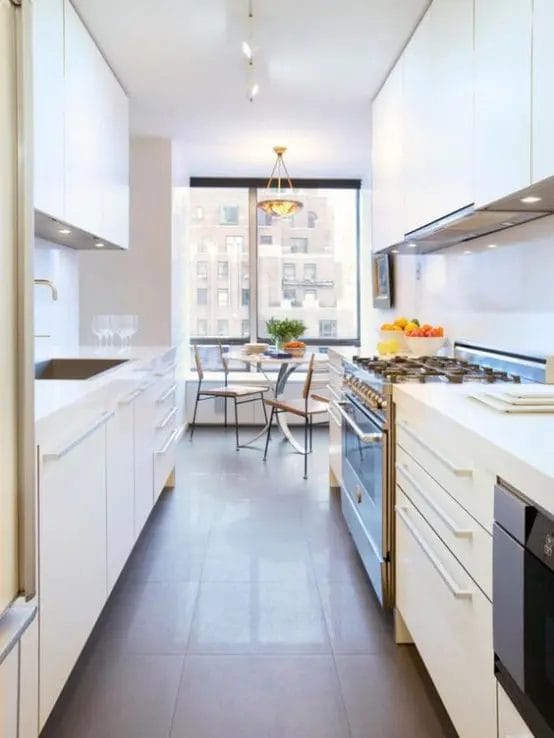 Polished concrete flooring is the best to give your galley a refined look. In addition, this concept will make your kitchen look cleaner and more spacious because the glossy surface can reflect the objects above it.
Also, it is essential to provide sufficient lighting at once, including under your cabinets, to make things appear brighter.
25. Floating Microwave to Save The Space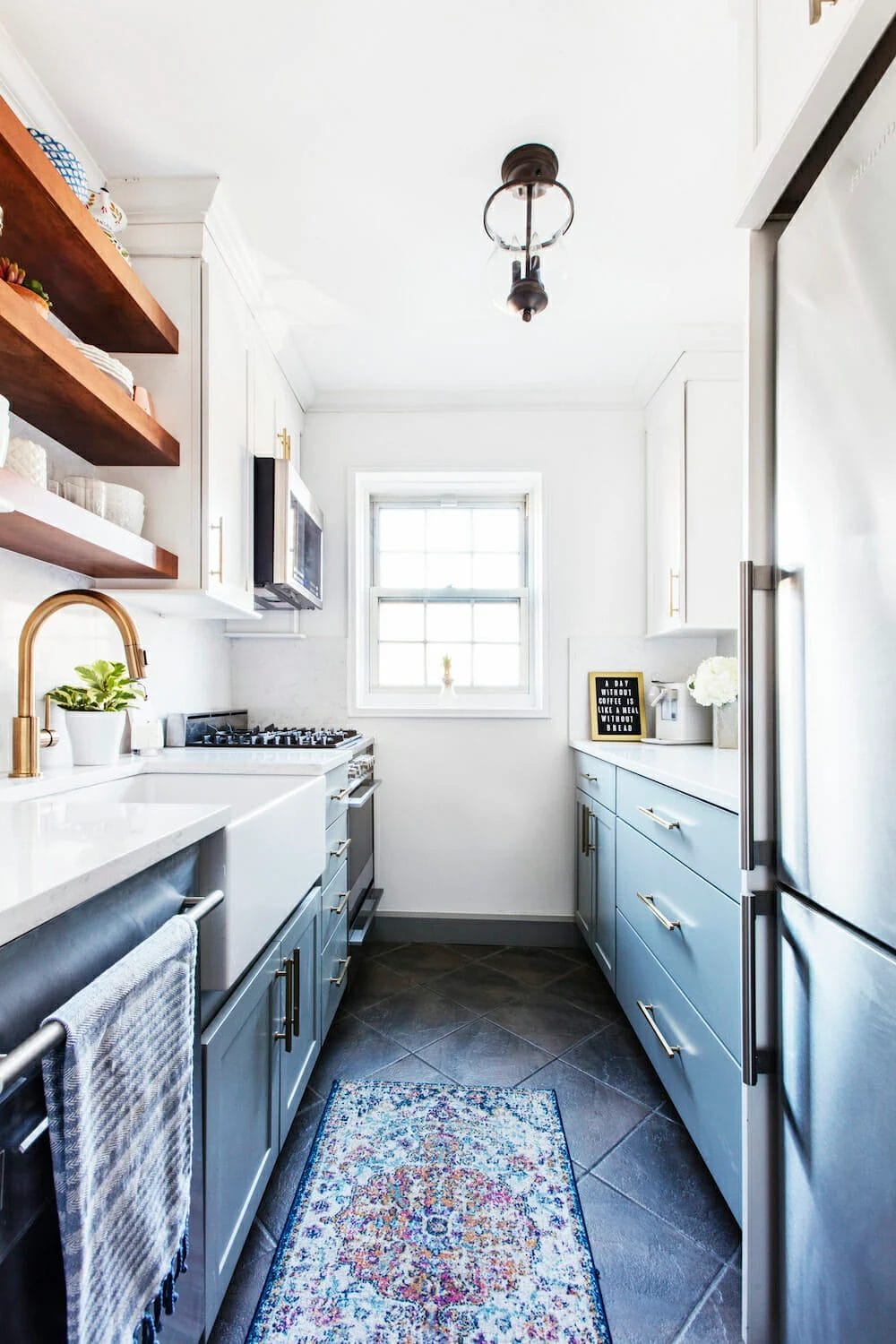 It is common knowledge that the microwave can reduce the space on your countertop. It is better to mount this cooking device on the wall between your cabinetries to overcome this issue.
So, you have a large enough space to work in your galley kitchen.
26. Yellow Tiles to Warm Up the Space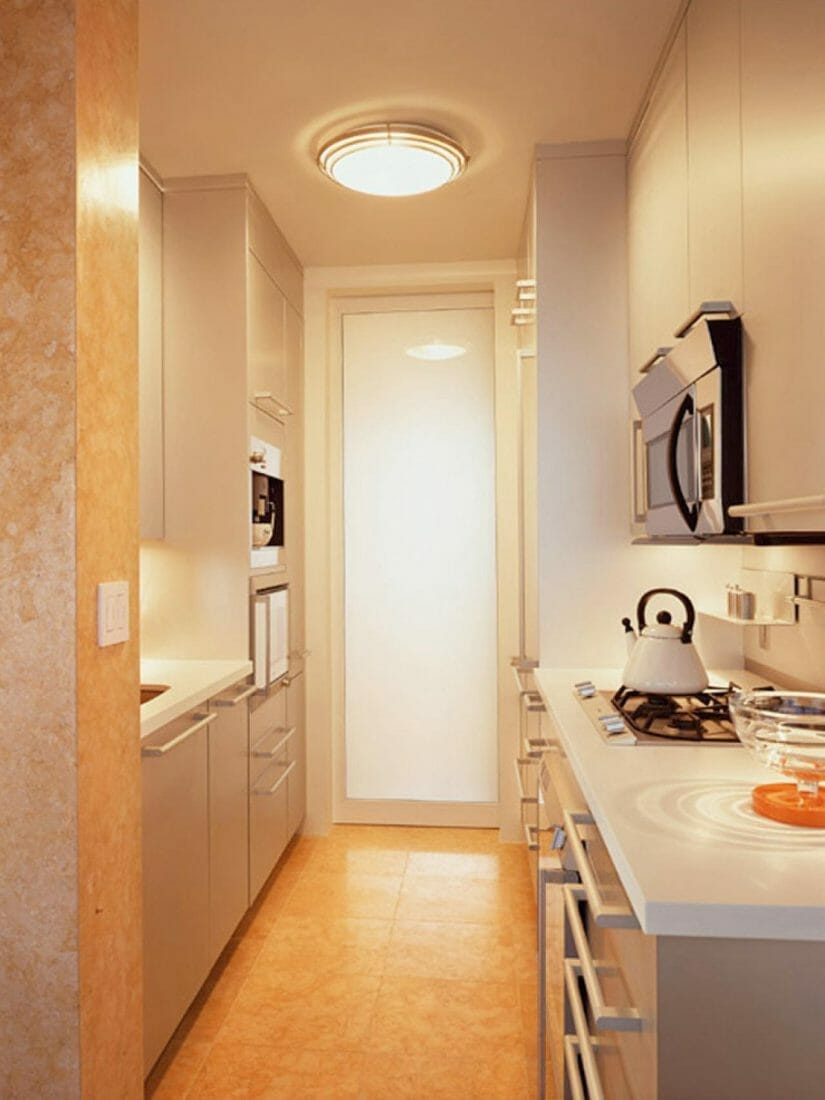 Small narrow galley kitchen ideas with yellow ceramic tiles will perfect your modern style home.
Accompany this decoration with warm white lighting to make your galley kitchen even more hospitable and inviting, both day and night.
27. Black Kitchen Set with Up to The Ceiling Storage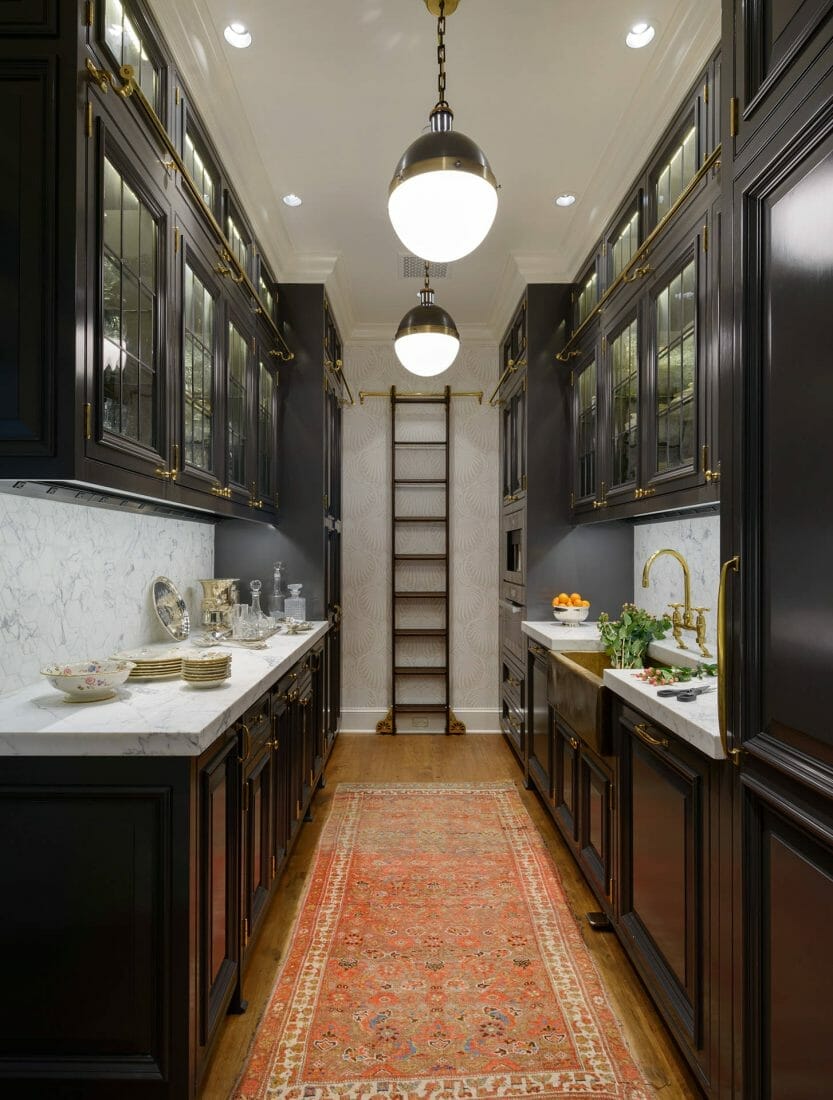 Give all your kitchen sets a black color with a touch of gold at several points to make them look elegant and luxurious at once.
Most importantly, set the cabinets high up to touch the ceiling to provide additional space for storage.
Next, you can provide a sliding ladder to help you take utensils from the cabinet's top.
28. Small Narrow Galley Kitchen Ideas with Dark Grey Granite Tiling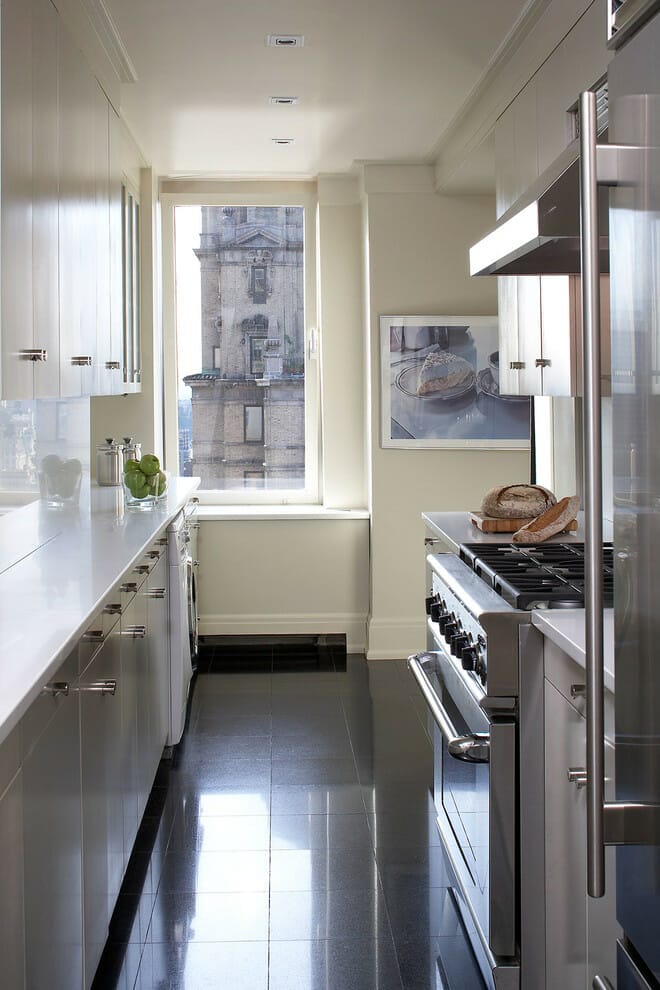 Granite flooring is an alternative option for you to give a luxurious look to your galley kitchen in addition to using marble.
These tiles come in many color options. Ones in dark gray will match your broken white walls perfectly.
Undoubtedly, it will give a balanced look to your small cook room.
29. Install White Subway Tiles on The Booth Sides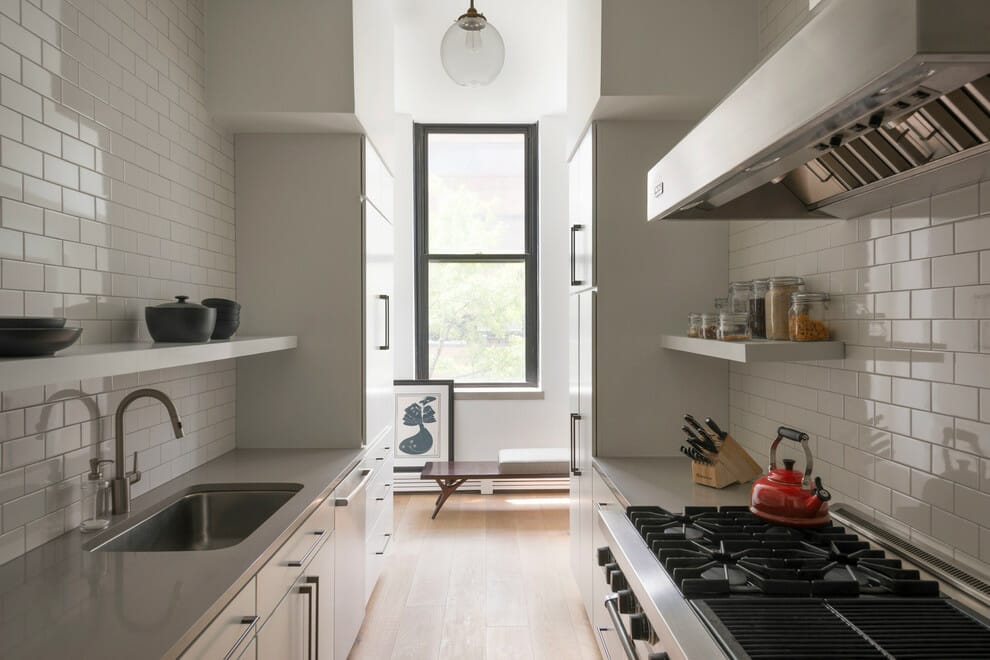 White subway tiles are generally suitable to be installed on your backsplash. However, this is also fine if you want to install it on your entire galley's wall.
Its smooth surface with gaps will give a pop of texture that is not excessive. Subway tile is also easy to clean from stains, so it does not burden you with maintaining your galley.
Last consideration, do not let the small narrow galley kitchen ideas above come in vain. If you have found a sensible design, please implement it immediately and get ready to enjoy your cooking time every day!