A modern culinary space is where aesthetics meets ergonomics. This is why homeowners typically marry storage with smart displays in their kitchens. These ingenious pantry ideas for small kitchen will help expand storage options.
Unfortunately, a kitchen pantry becomes an underestimated space. Although it is not huge, it can provide a lot of storage space.
Therefore, make sure the pantry features drawers, shelves, and space-savvy pieces to fit your needs.
Some luxury homes have large pantries. However, a nifty and small pantry works just fine. It can help you use the otherwise empty vertical space.
So, have a gander at these tiny pantries that completely change the kitchens' appeal.
1. Slim Pantry Design Ideas for Small Kitchens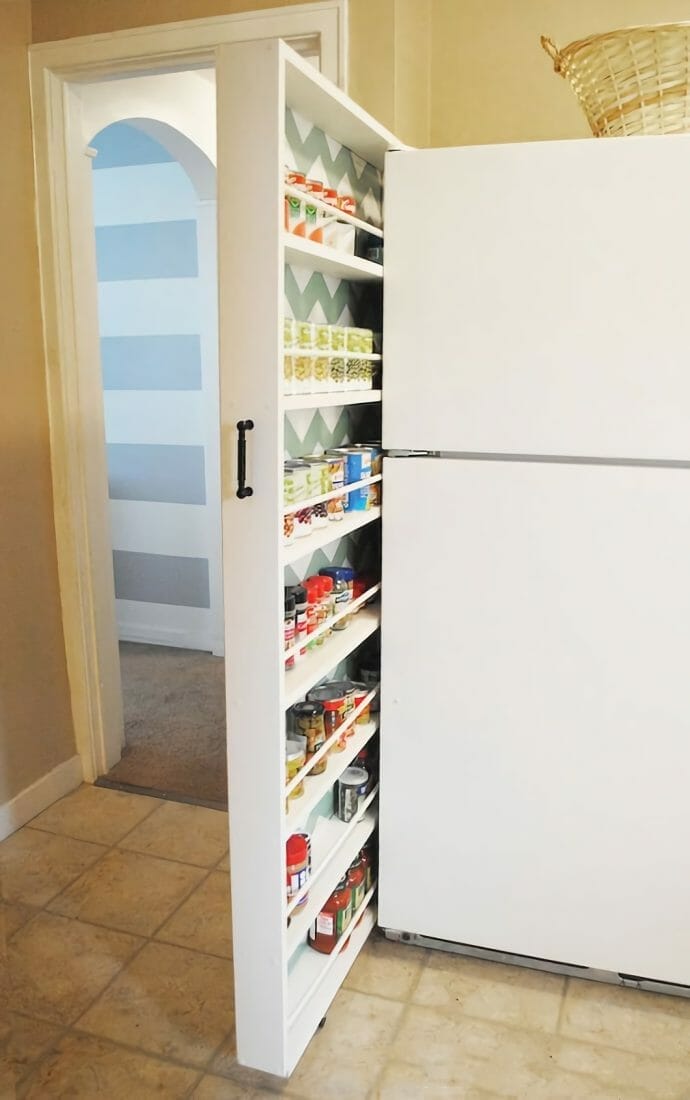 I admire the pull-out design of this slim kitchen pantry. The white paint lets the pantry blend with the adjacent appliance.
As you see, the slim pantry consumes a tiny amount of floor space. However, it can accommodate many canned foods.
The tension rods prevent varying canned foods from falling over. Also, the pantry includes vintage black handles that offer a sharp contrast.
Meanwhile, the duck egg blue-and-white chevron wallpaper adds interest.
2. Kitchen Pantry Ideas for Small Spaces with Drawers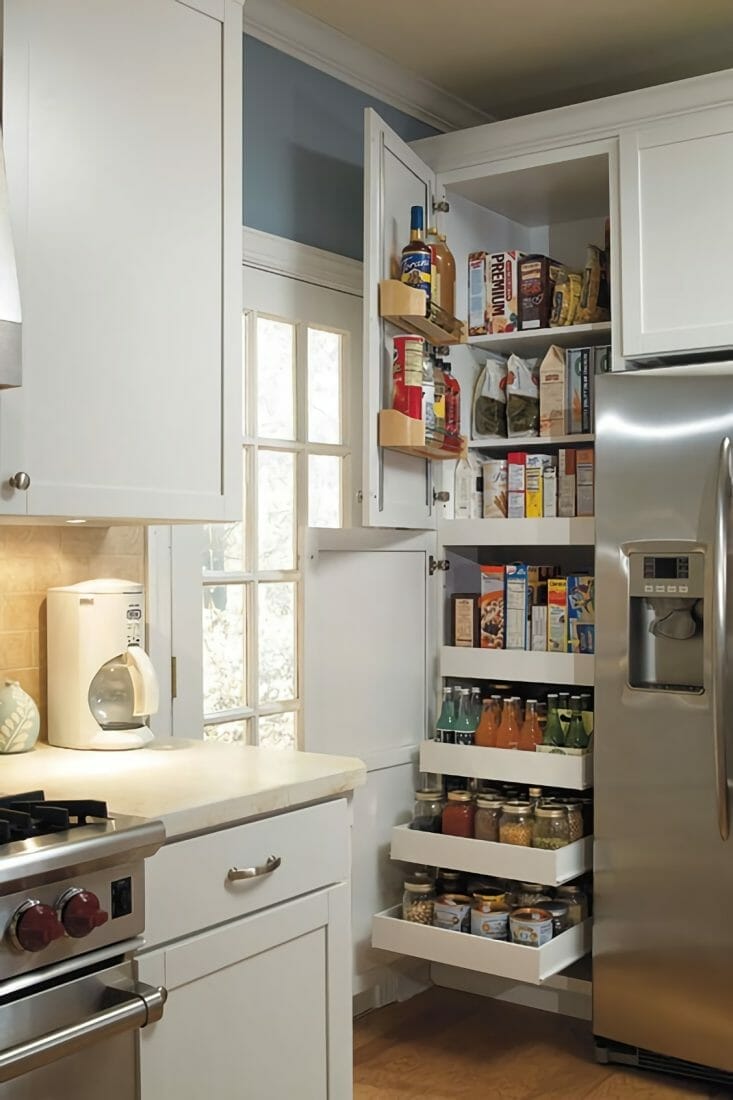 Need brilliant pantry ideas for small kitchen? Duplicate this pantry. Here, the homeowners did not include a separate pantry, but they integrated it into the existing cabinetry.
The pantry becomes one with stark white cabinets. When closed, it appears like a cabinet. However, it boasts plenty of storage space.
This white-painted pantry features a couple of light wood door-mounted racks. The homeowners use them to store bottled drinks.
Slide-out smart drawers house glass bottled sodas and dried foods.
3. Dark Vs. Light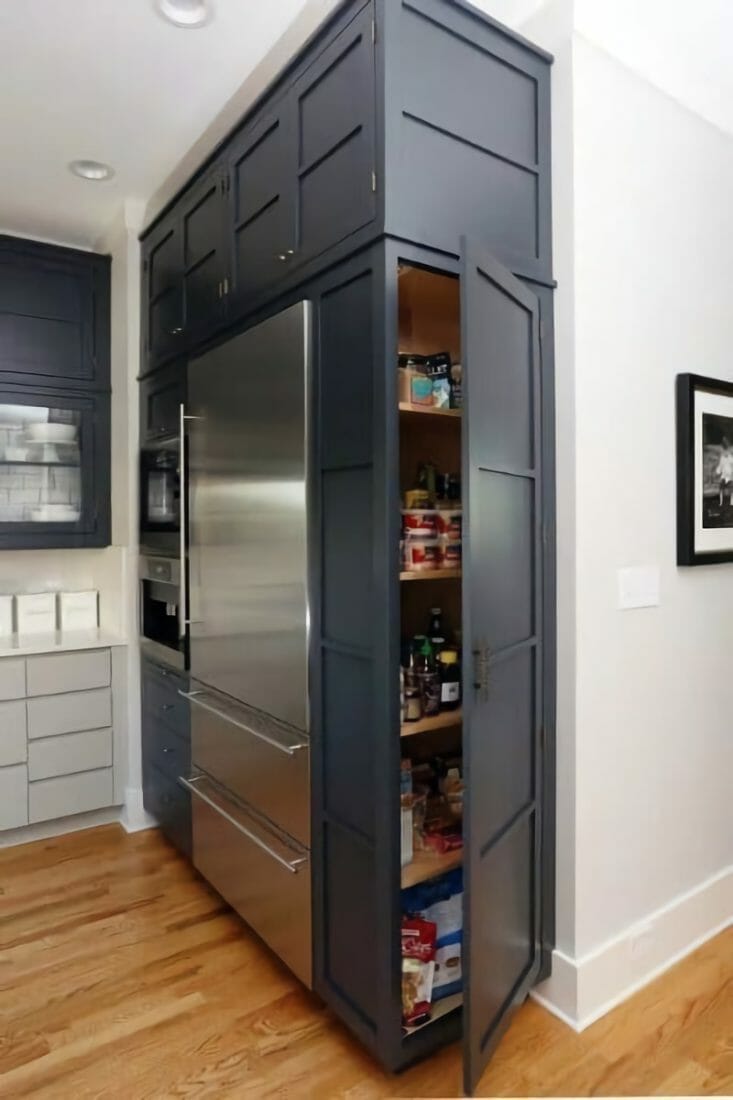 Without a doubt, this is a fabulous pantry design for small kitchens. The homeowners convert a cabinet into a kitchen pantry.
Thus, the slim pantry makes organizing very easy. Due to five blonde wood shelves, it can hold many pieces, from sauces to dried foods.
This small, charcoal gray pantry provides easy access to foods while evoking drama. It lends the predominantly white space an outstanding contrast, too.
4. DIY Pantry Ideas for Small Kitchens with Wheels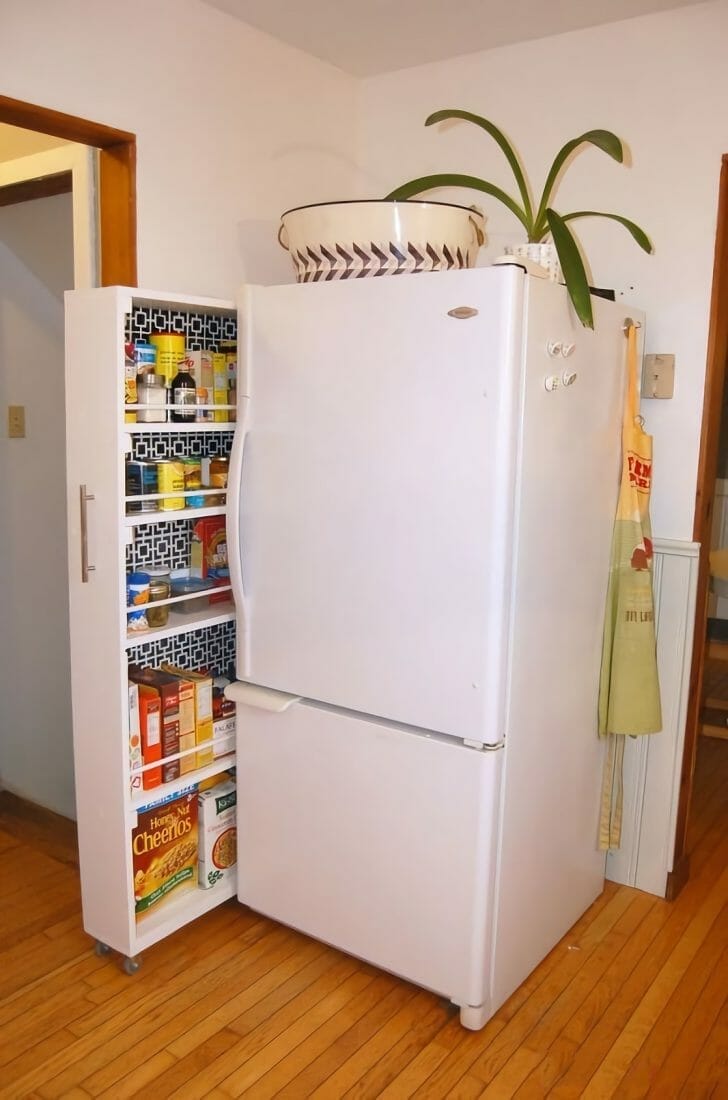 Here is another slide-out pantry. When not needed, it mingles seamlessly with the refrigerator and kitchen wall.
The slim, bright white-painted pantry opens up the kitchen while keeping cereals and canned foods organized.
Furthermore, the streamlined metal handle gives off a contemporary vibe.
The homeowners added wheels to their slide-out pantry for easy movement. Also, they adorned the pantry with striking printed wallpaper.
5. Pantry Ideas for Small Kitchen with Marble Counters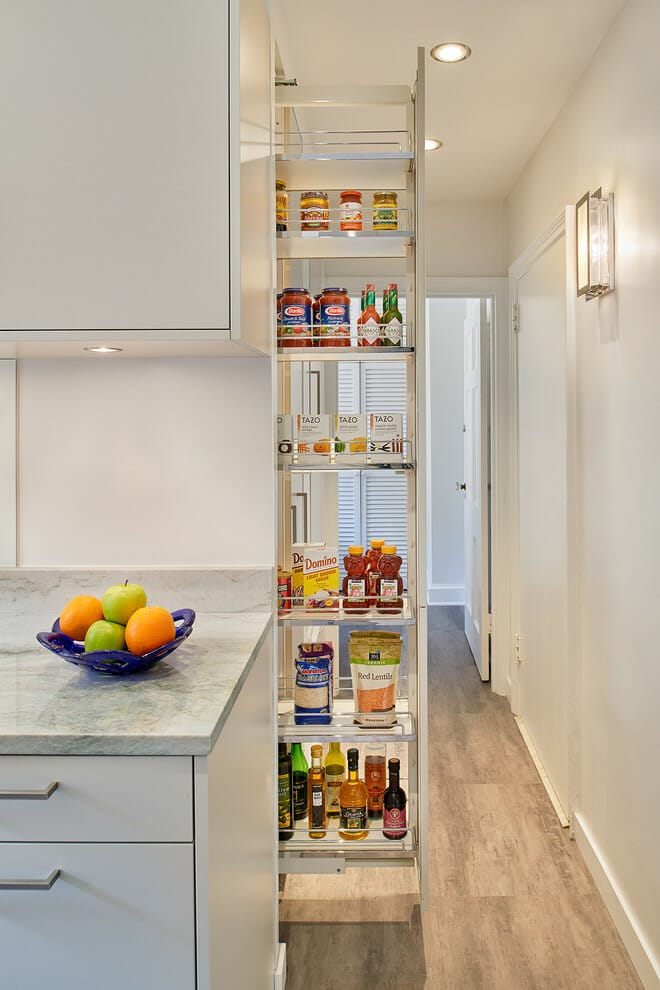 This small luxury kitchen contains a white pull-out pantry. As you see, you can tuck it away into the matching kitchen walls with ease.
Besides, the kitchen pantry optimizes available vertical space. Thanks to its slim design, it helps reduce wasted space in a modern home.
Here, the custom pantry has marble shelves that match the nearby countertop. They keep condiments and dried foods within easy reach too.
6. Kitchen Pantry with Recessed Shelves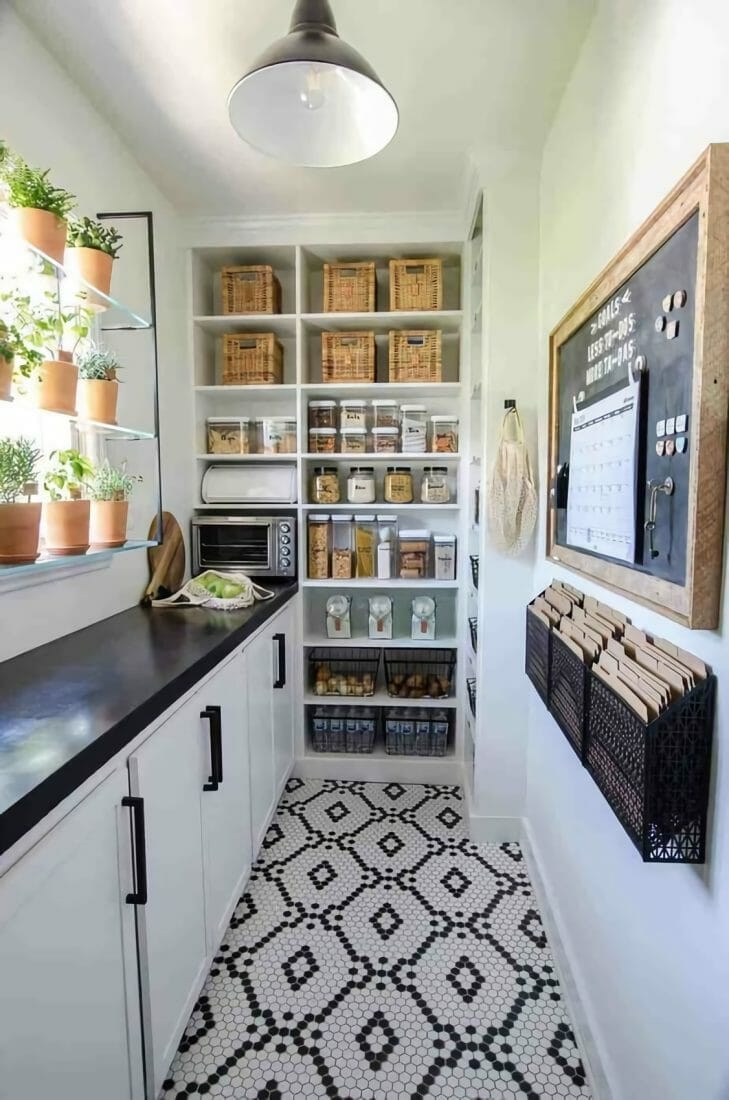 If you are into clever pantry ideas for small kitchen, recreate this functional kitchen. The room teaches you how to maximize storage space in style.
In addition to cramped cabinets, there is a small pantry featuring recessed shelves. Moreover, the open shelving holds spice jars and dried foods.
You should add labels to jars and storage containers. That way, you can find any stuff with ease instead of rummaging through the recessed shelving.
7. Vintage Kitchen Pantry Ideas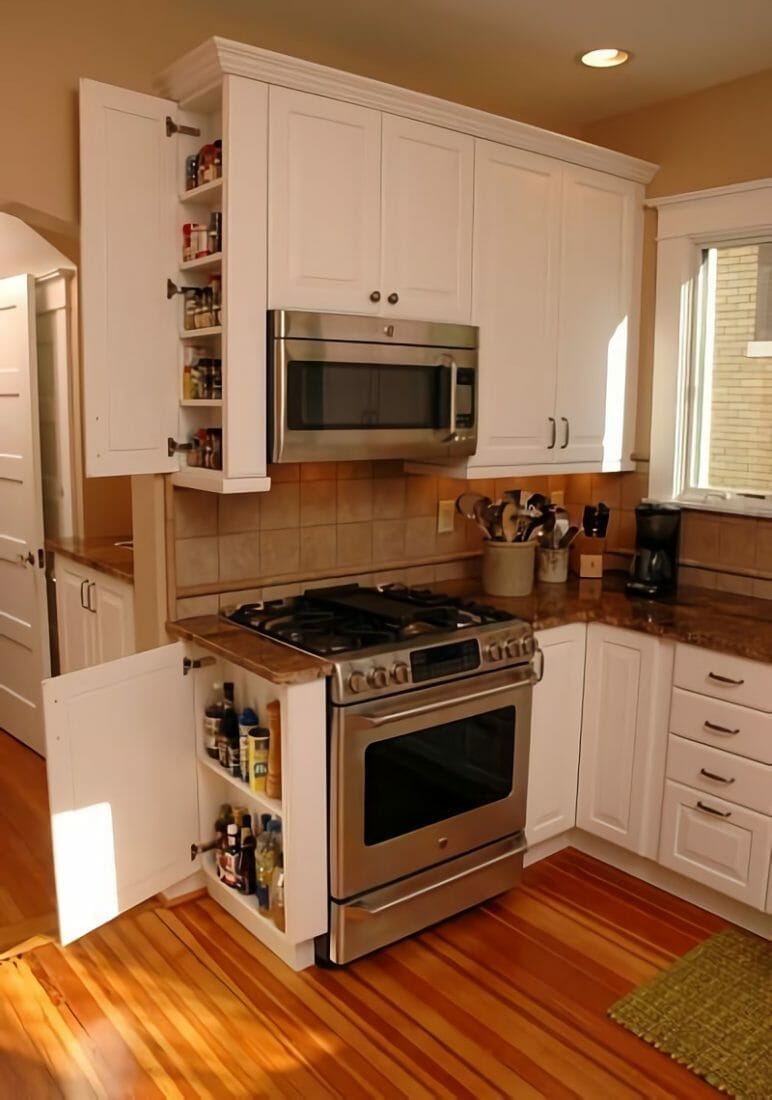 If your vintage kitchen is confined, do not despair! By applying some pantry ideas for small kitchen, you can have your own smart pantry.
In this space, the pantry includes two cabinets that belong to the kitchen cabinetry. The upper cabinet employs 5 shelves for storing tiny spices.
Meanwhile, the lower one houses food condiments.
This kitchen pantry does not eat up floor space. However, it lets you and your family have easy access to commonly-used items.
8. Two Is Better Than One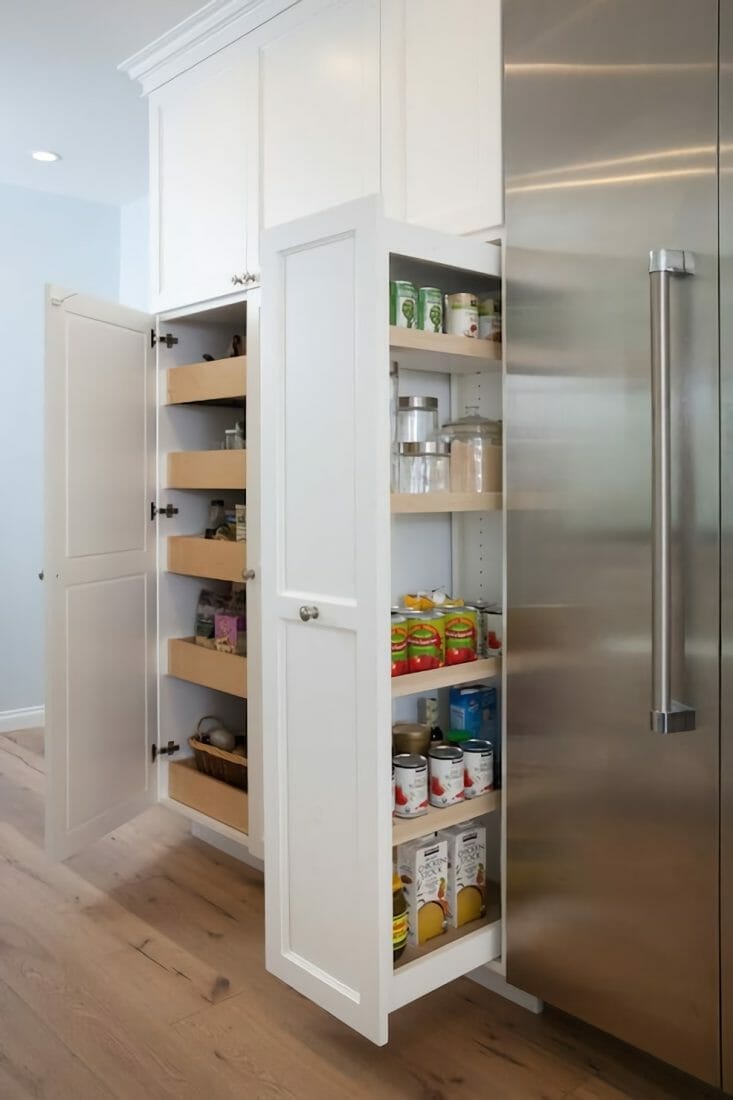 The kitchen above boasts two different slim pantry designs. There is a slide-out unit adjacent to a stainless-steel refrigerator.
Furthermore, it boasts pale wood shelves for canned goods and glass storage containers.
For another slim pantry design, it includes built-in blonde wood drawers. As the photo shows, it becomes the home for an egg basket and packaged staples.
Lastly, metallic cabinet knobs tie the pantry together.
9. Corner Pantry Ideas for Small Kitchens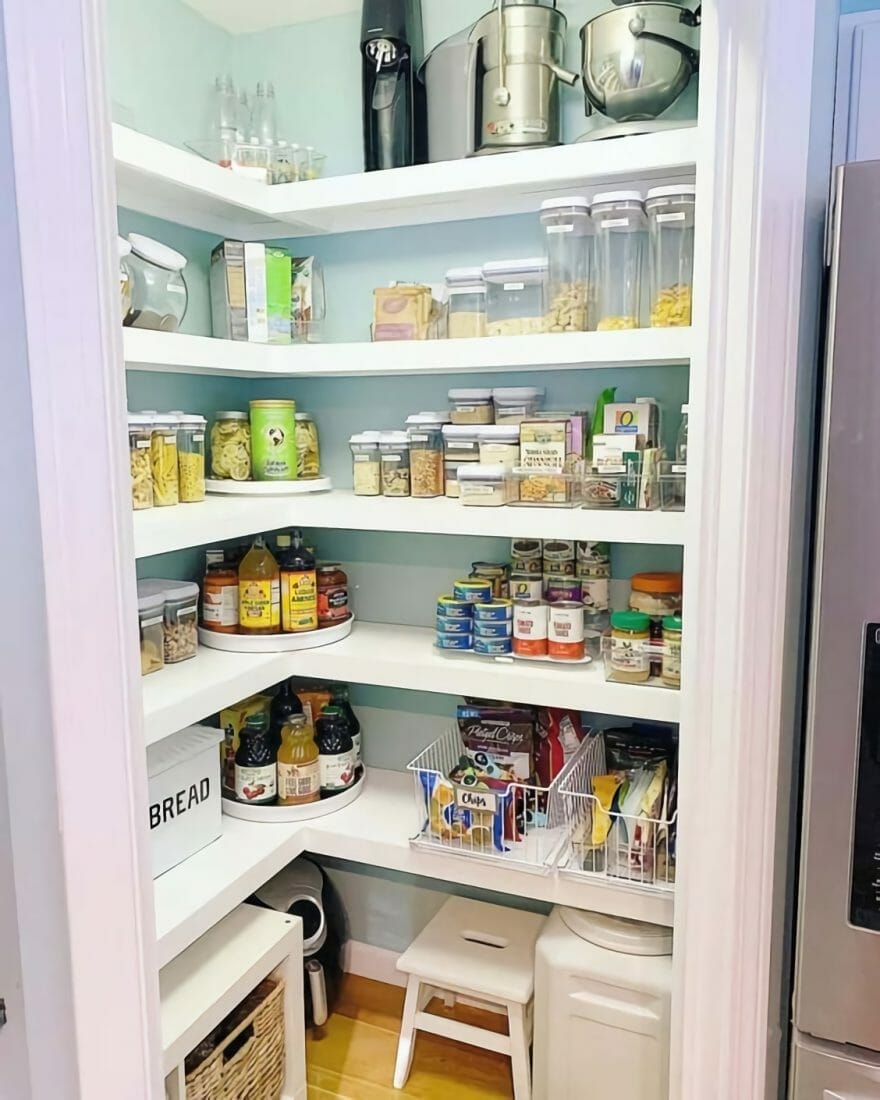 Pantry ideas for small kitchen prove that organization is key. To keep your kitchen nifty, emulate this corner pantry.
Here, pastel blue walls accentuate flat white corner shelves.
The upper shelf displays different kitchen appliances. Meanwhile, other corner shelves allow homeowners to see their storage containers, canned goods, and bottled drinks.
Additionally, bright white metal baskets let homeowners corral their snacks. Thereis a Lazy Susan and a vintage bread bin too.
Hence, this idea truly keeps you from wasting any precious space. It shows that every inch counts.
10. No-Door Pantry Ideas for Small Kitchen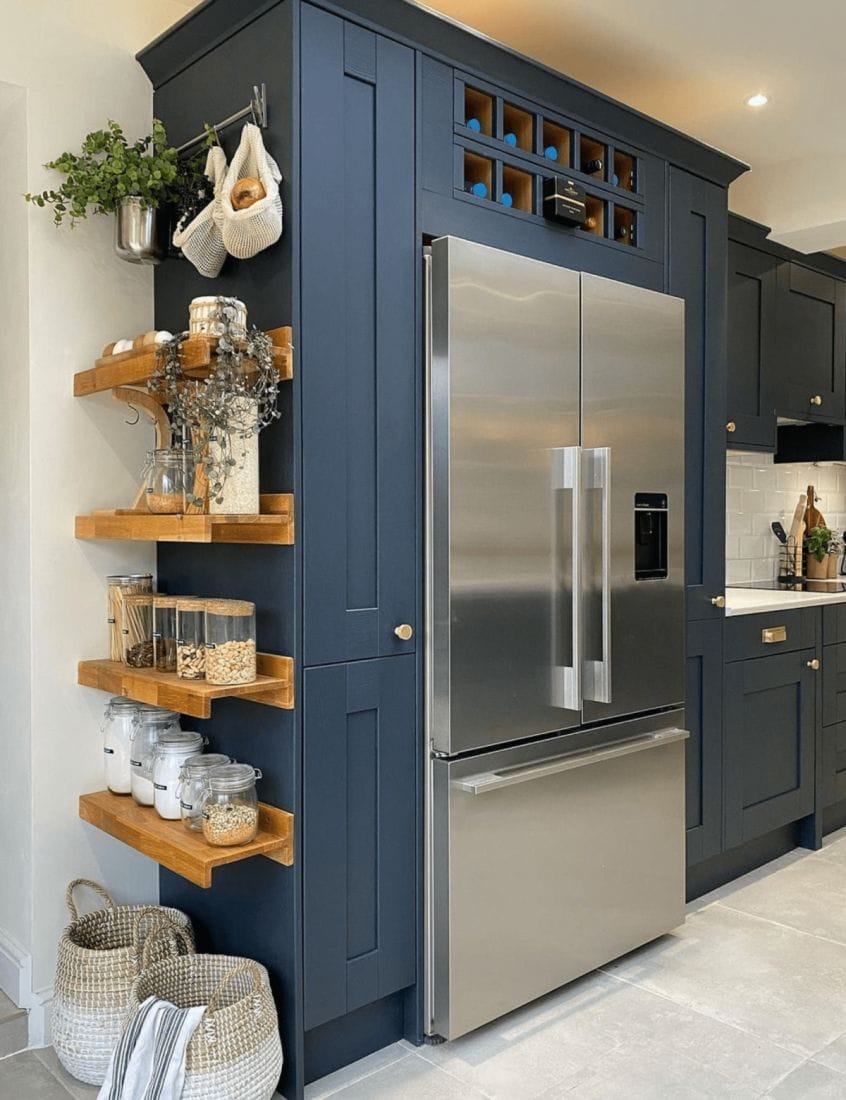 This kitchen is tiny, but it looks super neat and appealing. The muted navy-colored cabinets offer a bold statement to the cooking area.
Aside from mingling with gray tiles, they feature small cubbies.
The homeowners attached natural wood shelves to the end panel of the navy-painted cabinetry. They tone down all things chilly while adding extra textural beauty.
The open shelves make for a marvelous no-door pantry. They display an egg holder and storage containers.
Moreover, the metal rack comes with hooks to support the greenery and reusable mesh produce bags.
11. Food Pantry Ideas for Small Kitchens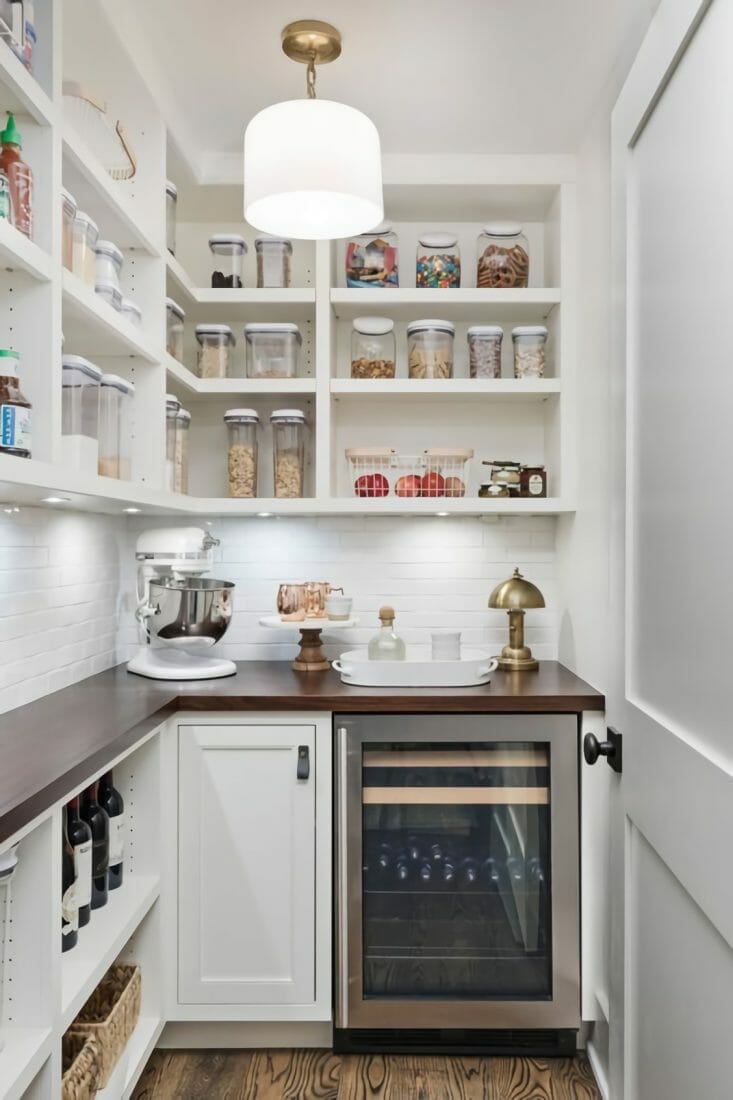 Need simple pantry designs for small kitchens? This kitchen pantry is worth copying. The corner recessed shelves let homeowners take advantage of their empty wall space.
They hold food containers featuring dried goods, from pasta to candies.
The metal basket accommodates tomatoes and onions. Meanwhile, the under-shelf downlights illuminate the rich-toned wood counter.
In addition to upper corner shelves, homeowners incorporated open shelves beneath the wooden counter.
They keep bottled drinks and storage baskets in place.
12. Pantry Cupboard Designs for Small Kitchens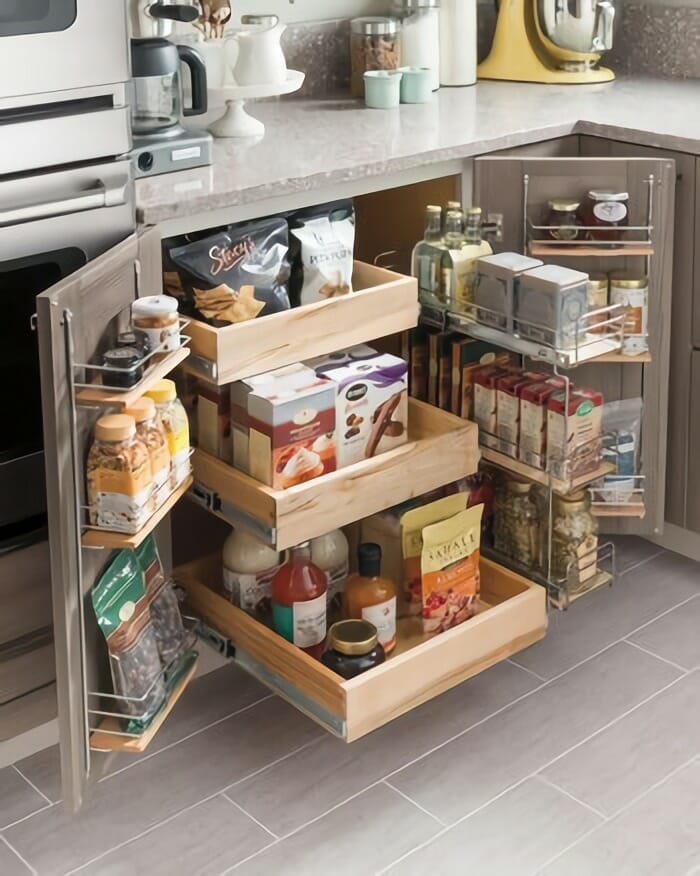 I always adore under-countertop pantry ideas for small kitchen. In this picture, the pantry belongs to gray cabinets.
The pull-out metal racks and blonde wood drawers keep the stuff within easy reach.
Due to the limited space, homeowners also fixed small racks on cabinet doors. Each door accommodates three racks for packaged staples, bottled drinks, and snacks.
When not in use, you cannot spot the pantry. Brilliant, right?
13. Hidden Pantry Ideas for Small Kitchen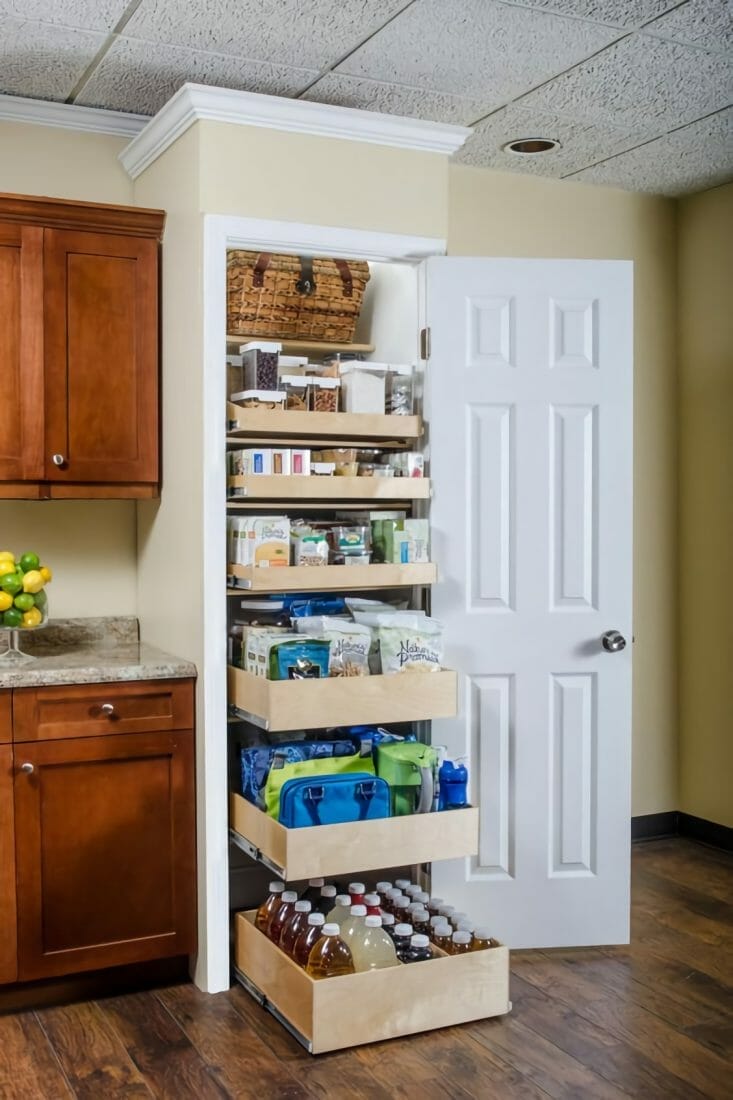 This space-conscious pantry captivates me in an instant. The built-in pantry helps maximize vertical space in this contemporary cooking area.
The homeowners outfitted their pantry with a fixed shelf and light wood pull-out drawers. As you see, the shelf holds a picnic basket.
Meanwhile, the drawers let them organize their packaged staples, picnic supplies, drinks, and food containers.
The hidden pantry features a door and a trim. Furthermore, the homeowners painted it white to create some definition in their kitchen.
14. Corner Pantry with a Door Rack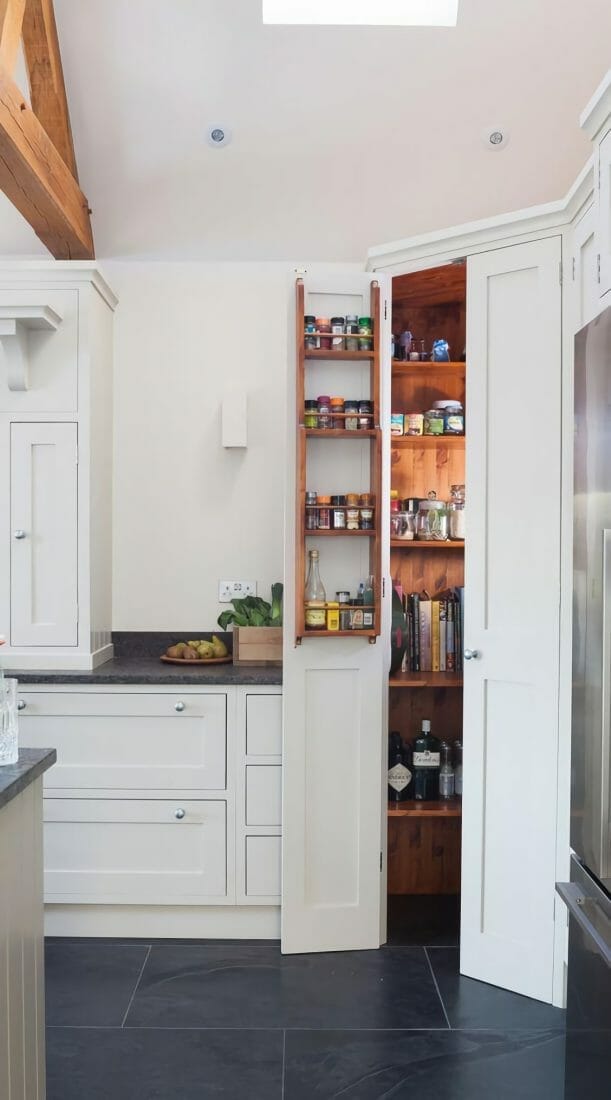 If you fancy adding a corner kitchen pantry, this idea is for you. The pantry helps utilize the vertical area while offering ample storage space.
This corner pantry boasts warm wood shelves for a superb contrast. Here, the shelving houses bottles, cookbooks, and storage containers.
The door-mounted wooden rack keeps spice jars organized without occupying floor space. Aside from being a storage furniture unit, the pantry lends the kitchen a seamless look.
15. Small Yet Smart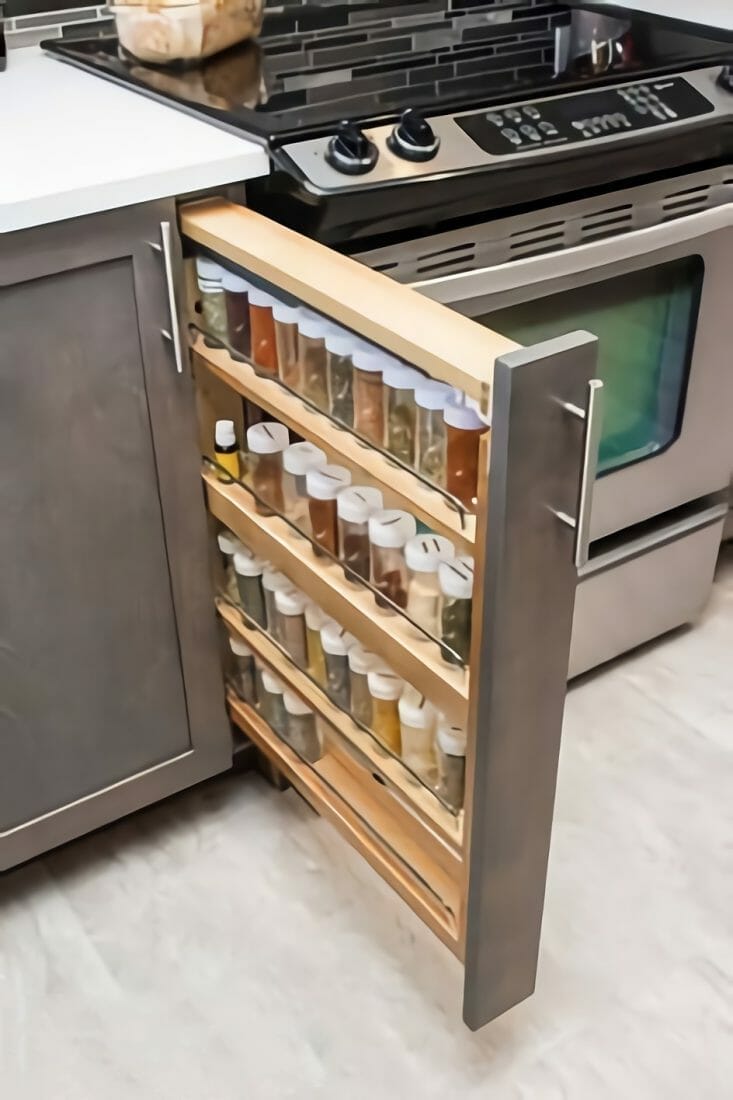 I love this small but smart pantry. As you see, the pantry comes in the form of a slim slide-out unit. When not in use, it is one with the current cabinetry.
The pantry slides out of the kitchen cabinetry easily. In addition, the warm gray pantry and cabinets infuse copious amounts of sophistication.
This slim pantry allows you to tuck away the spice jars with ease. Meanwhile, the sleek metal handle matches the adjoining metallic appliance.
16. Taupe Pantry Ideas for Small Kitchen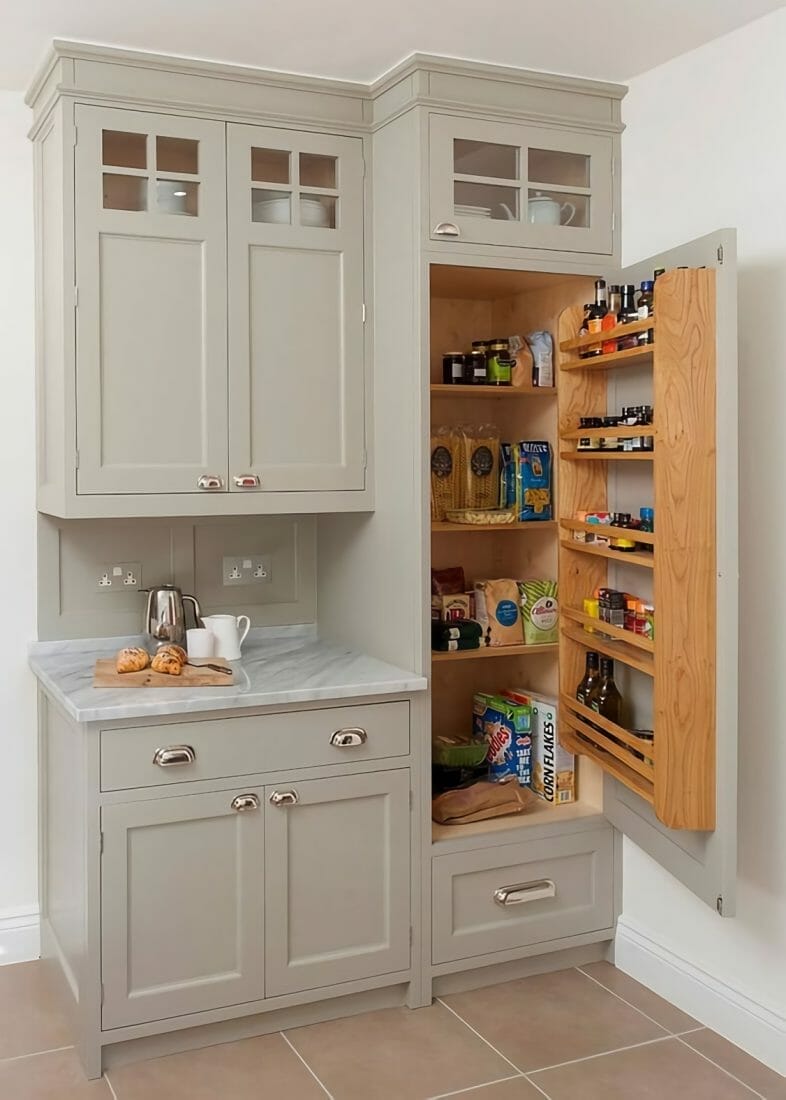 This kitchen has a space-savvy pantry. The homeowners integrated it into their taupe-painted cabinets. As the photo shows, the pantry includes a metallic handle to carve a stylishly luxurious look.
The built-in pantry features a few shelves that accommodate dried goods like flour and cereals. Also, to optimize vertical space, you can install door-mounted racks.
Door-mounted blonde wood racks have slats to keep spice jars and bottles from falling over. When you close the cabinet door, the pantry disappears.
17. Gray Meets White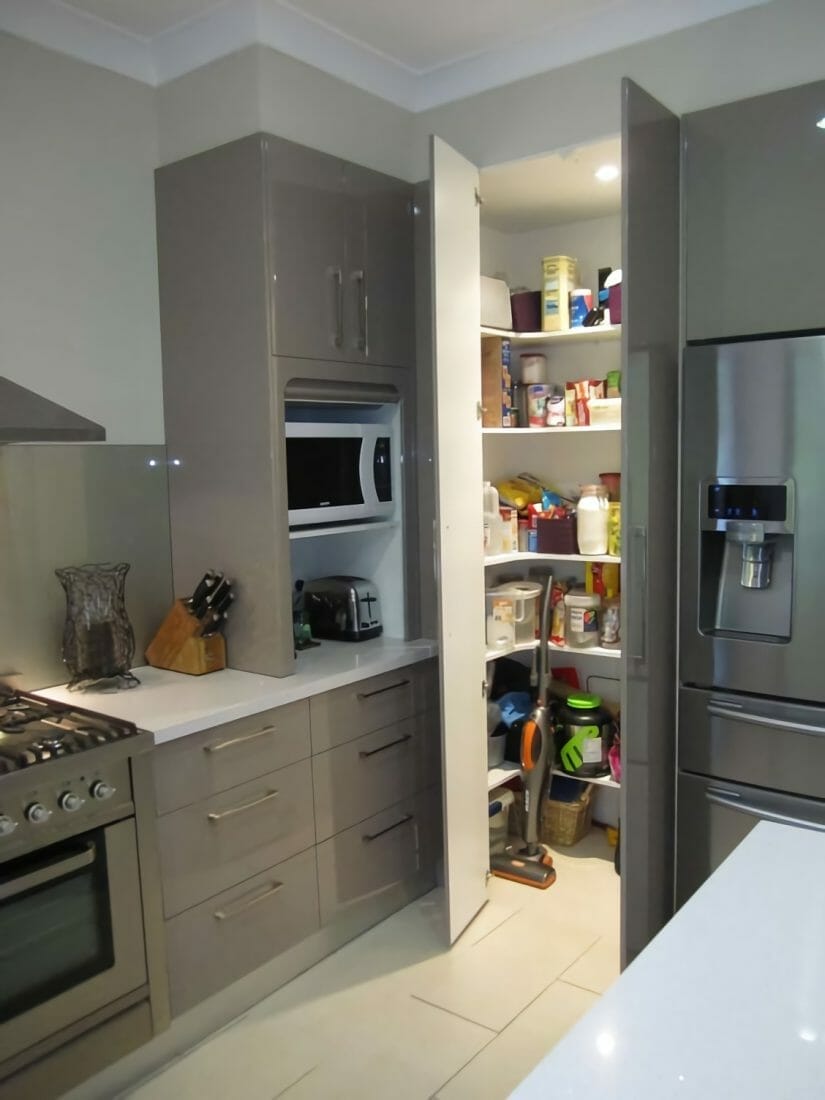 If the homeowner did not open those tall cabinet doors, I guarantee you would not know that there is a pantry.
The gray kitchen pantry and cabinetry generate a sophisticated vibe.
Stark white corner shelves transform the cabinet into a space-conscious pantry. Furthermore, the recessed light illuminates the corner pantry during the nighttime.
18. Modern Farmhouse Kitchen Pantry Ideas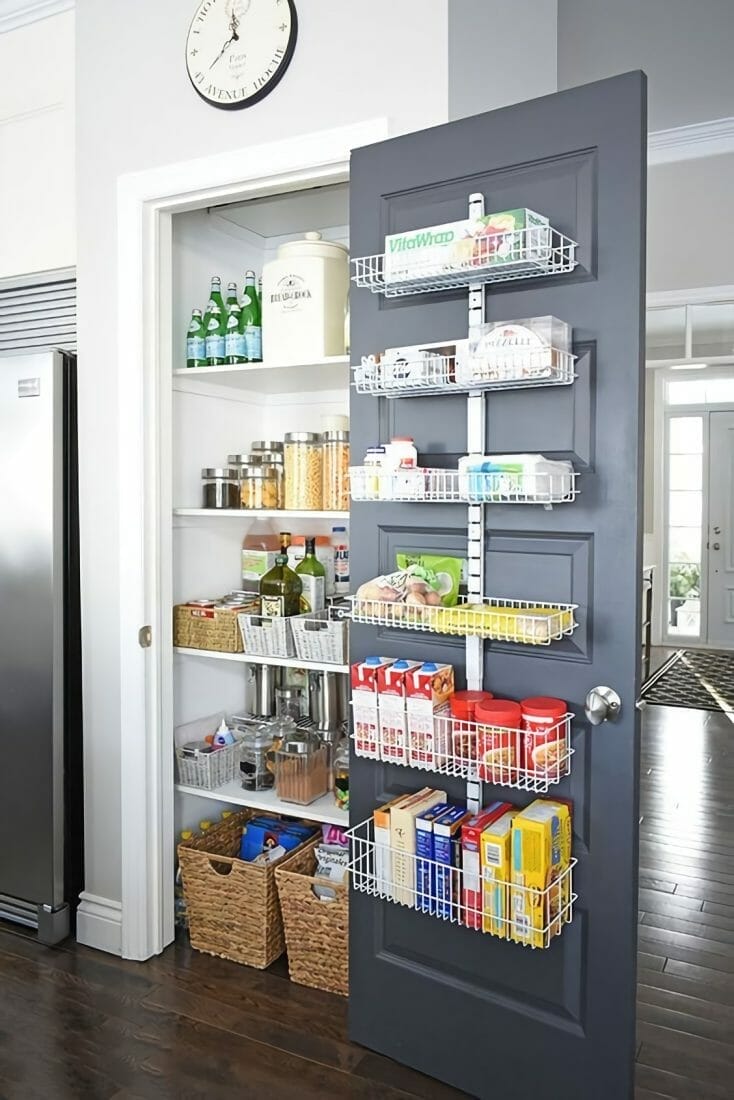 Pantry ideas for small kitchen are numberless. The single-wall pantry boasts a white trim to match the existing base molding perfectly.
The shelves of the pantry keep food storage containers, bottles, and baskets. Meanwhile, the dark gray door-mounted racks accommodate packaged foods and other stuff.
19. Say Yes to Small Space Living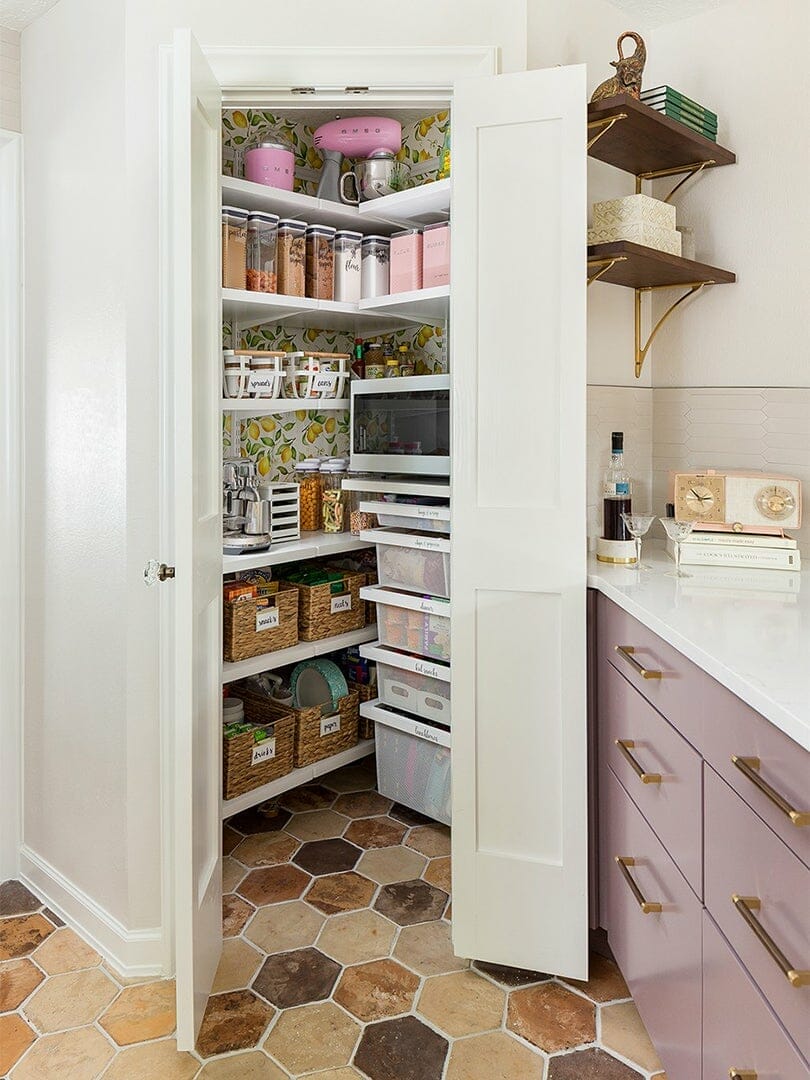 This oddly-shaped kitchen blows my mind away. The lemon wallpaper infuses the corner pantry with a light, cheerful ambiance.
Corner shelves let you stash away your small appliances, condiment jars, storage containers, and seagrass baskets.
Additionally, warm-toned hexagonal tiles balance out the stark white pantry.
20. A Dedicated Kitchen Pantry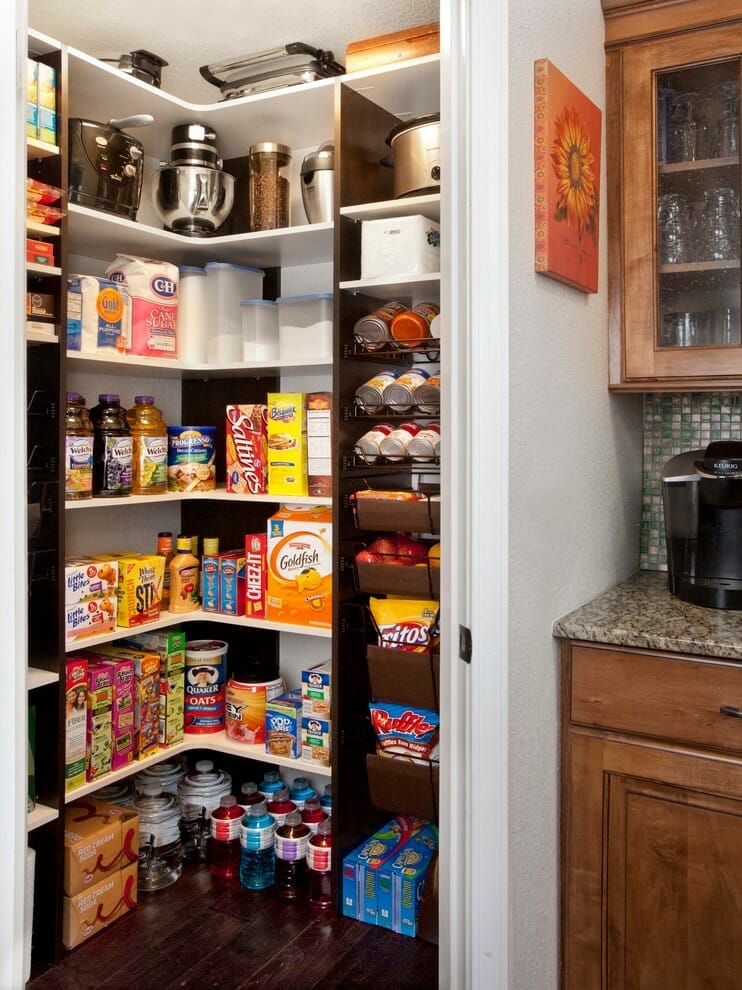 Instead of connecting a pantry with cabinets, you can create a dedicated pantry. Not only is it space-conscious, but also keeps foods within arm's reach.
Black metal racks allow you to access fresh produce, snacks, and canned goods. Meanwhile, white corner shelves display packaged foods, drinks, and storage containers.
21. Green, White, and Gray Pantry
With countless pantry ideas for small kitchen, be sure to pick the right pantry design. This trendy cooking space, for example, contains a secluded pantry.
The tiny pantry includes muted green-painted corner shelves for stacks of bowls and other dinnerware. Lower shelves hold utensils and dishes, while the gray countertop showcases condiments.
22. Hidden Yet Fascinating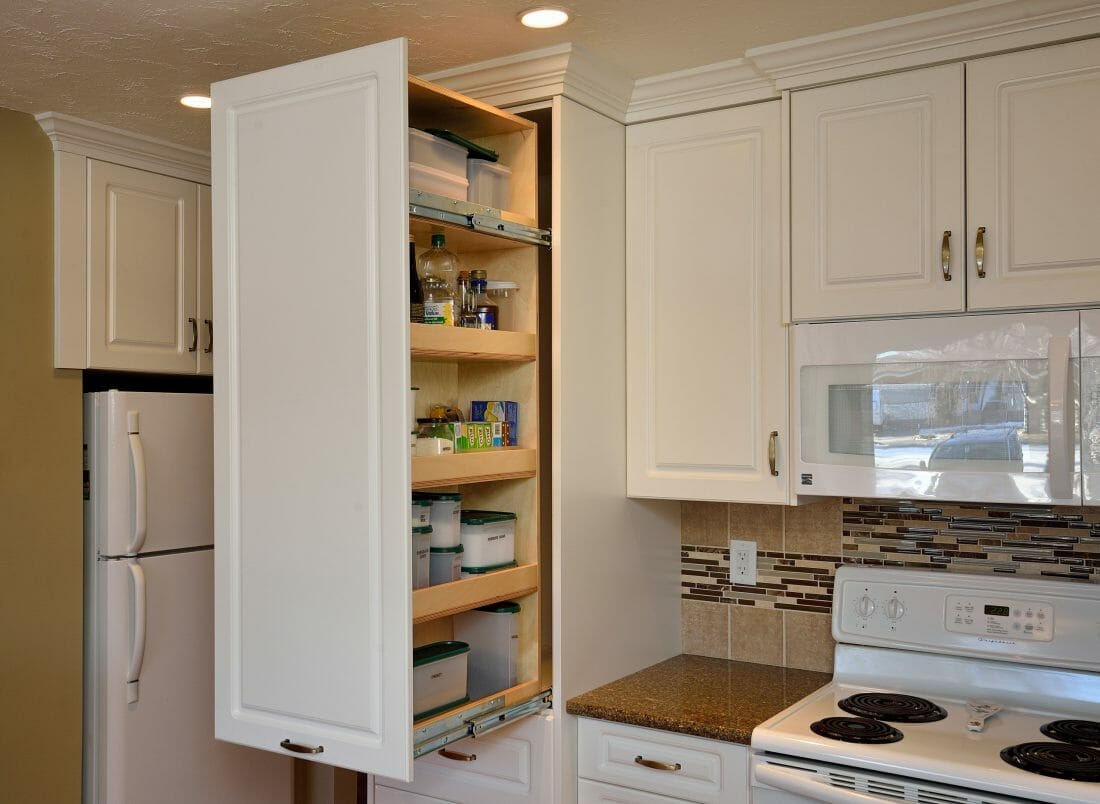 Pantry ideas for small kitchen let people's creativity shine through. This slim pantry is part of the bright white kitchen cabinets.
Undoubtedly, this pantry is ideal for storing things that you do not use frequently. Moreover, its pull-out design enables you to convert a tiny nook into a usable pantry.
23. Minimalist Kitchen Pantry Ideas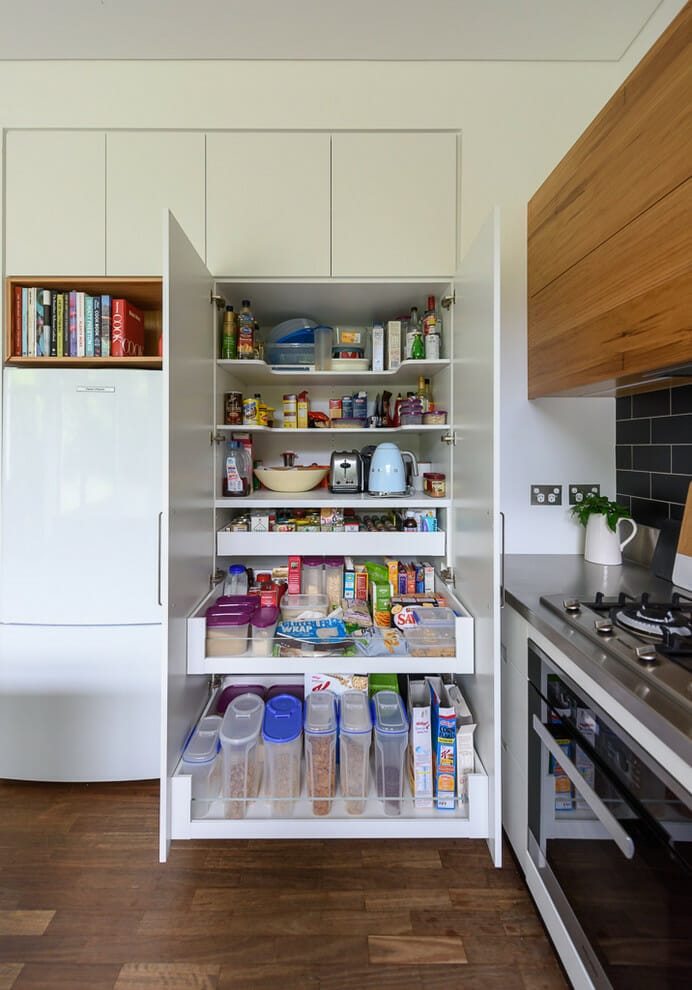 This custom pantry is all you need for a mess-free kitchen. The crisp white-painted pantry belongs to minimalist kitchen cabinets.
The pantry has a couple of cabinet doors with sleek handles. To accommodate varying things, you can include pull-out drawers and shelves.
24. All About Revelation
Since the cooking space is limited, you have to minimize the visual clutter. You can do so by creating a hidden kitchen pantry.
A pair of slim cabinet doors reveal the corner pantry. It is also complete with L-shaped floating shelves that hold packaged staples and food storage containers.
25. Functional and Fabulous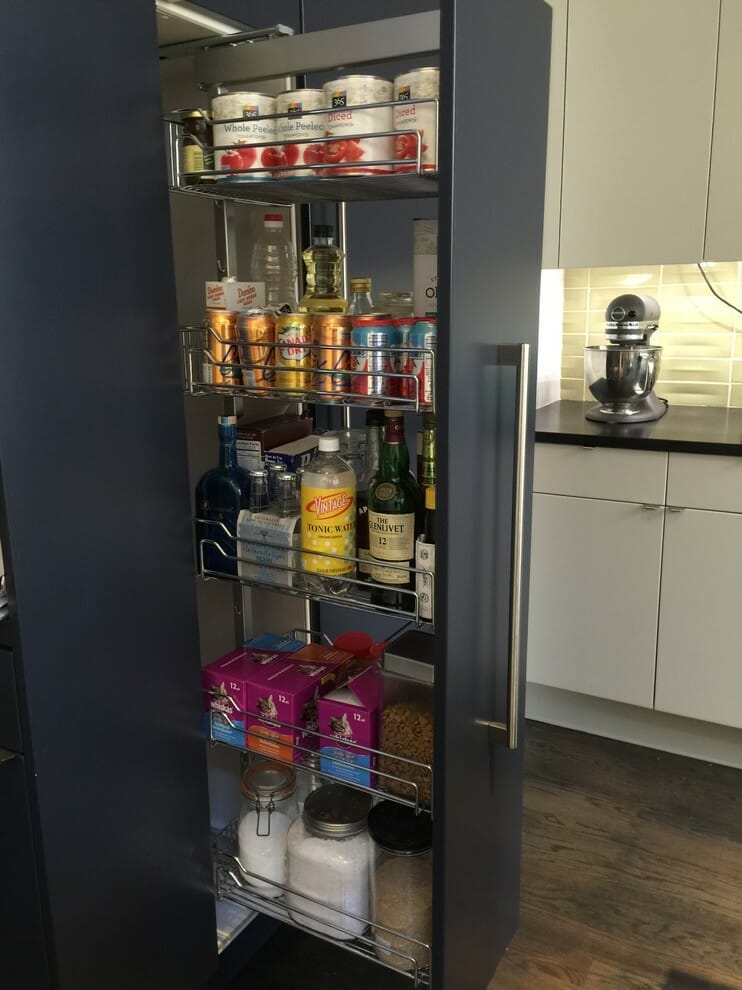 The kitchen cabinets come in flat white, while the custom pantry wears deep navy. I cannot stop admiring the magnificent contrast between the two.
This slide-out pantry makes the most of the vertical area due to its slim design. Moreover, stylish metal racks keep bottles and canned goods of varying sizes in place.
26. White Pantry Ideas for Small Kitchen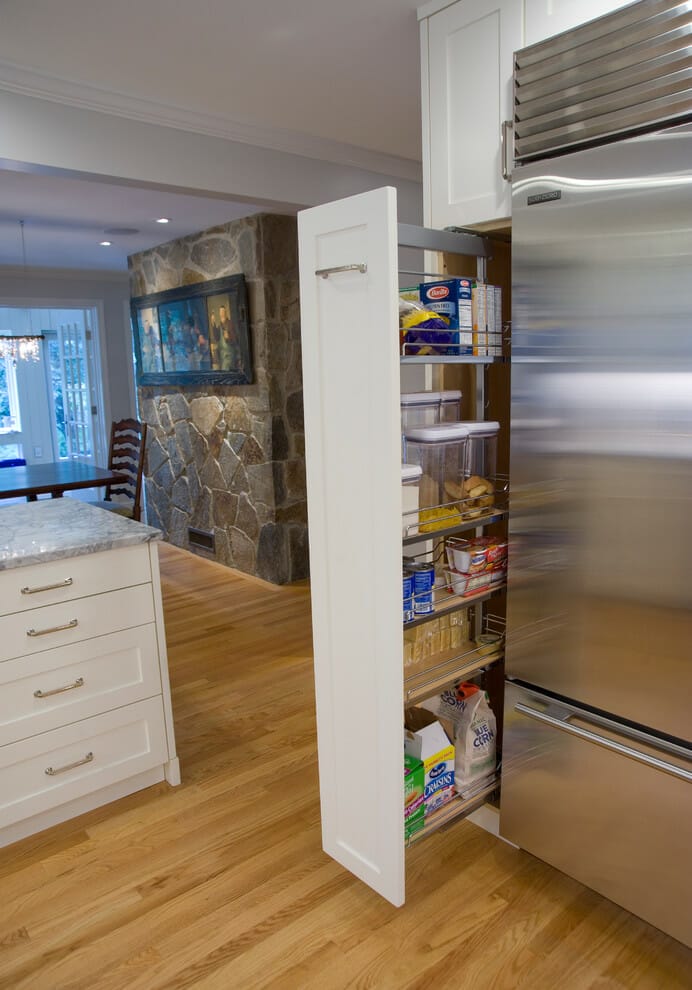 Since the kitchen is tiny, it has no room for a bulky pantry. This is why the homeowners built a slim pantry into the existing cabinets.
Thanks to the slide-out pantry, canned and dried foods are easy to access. It also retains the kitchen's sophisticated and airy vibes.
27. Soaring Kitchen Pantry Ideas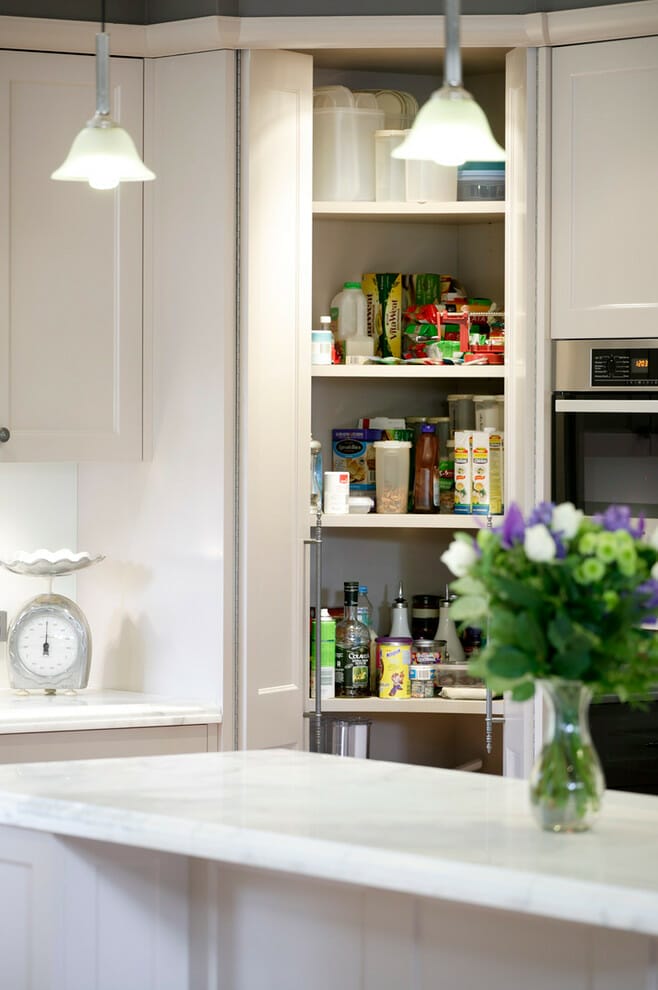 Soaring pantry ideas for small kitchen remain my favorites. Such kitchen pantries optimize vertical space in confined rooms.
Although this pantry does not extend to the ceiling, it is very tall yet narrow. Furthermore, triangle-shaped shelves keep all the goodies organized.
28. Kitchen Pantry with Wooden Elements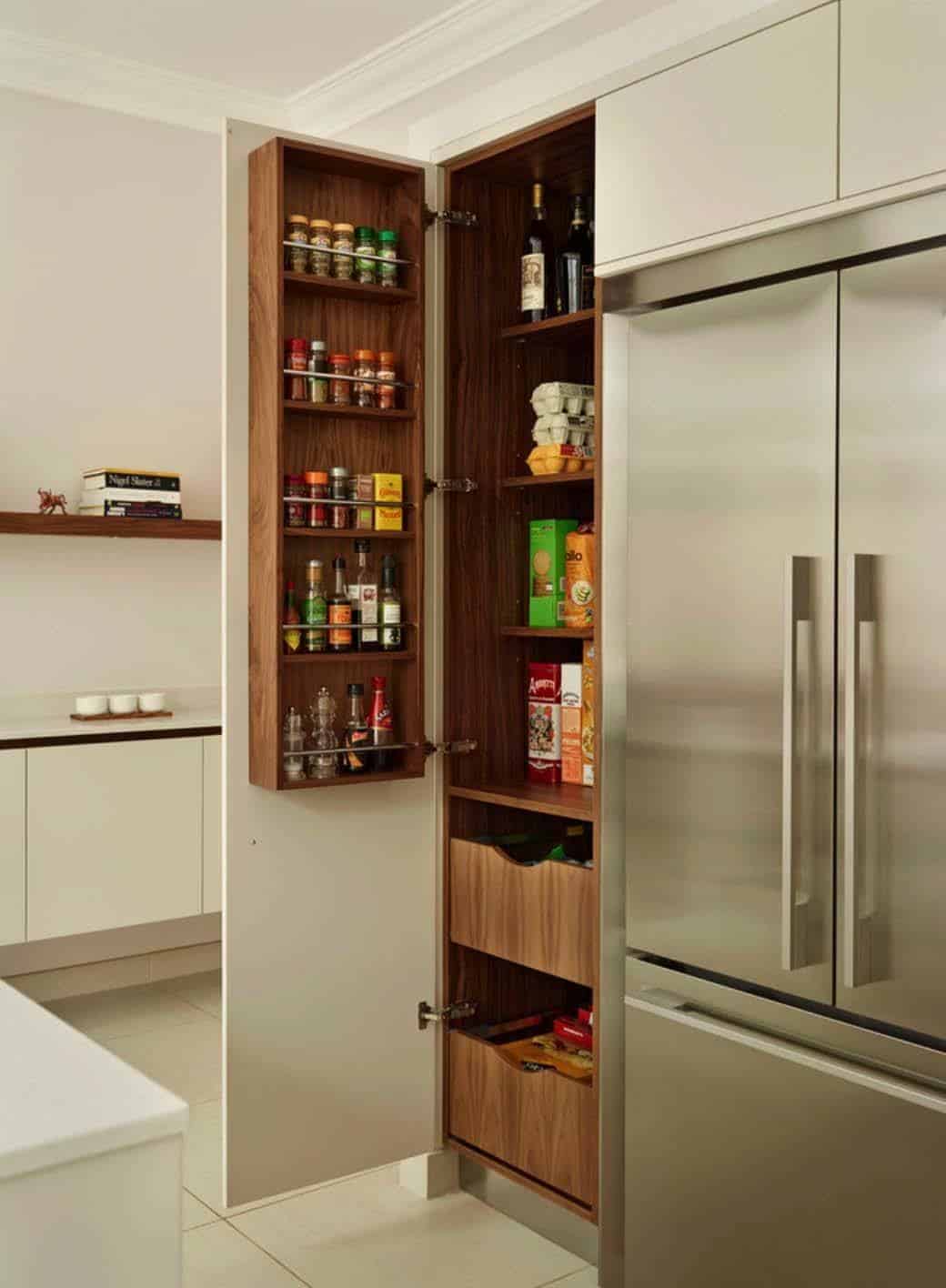 The homeowners installed the pantry between the kitchen wall and the metallic appliance. Because of its slim and sleek design, the kitchen pantry becomes space-conscious.
This soft white pantry blends with the nearby handle-free cabinets nicely. Aside from featuring pull-out drawers, it also contains a door-mounted wooden rack and shelves.
In conclusion, every kitchen deserves outstanding organization. Those pantry ideas for small kitchen help you maintain a tidy and functional culinary space. Choose a kitchen pantry design that speaks to you.