Homeowners typically neglect their washrooms. Since these areas play a significant role in our everyday lives, of course, they deserve our attention. In this post, there are laundry room door ideas to spark your inspiration.
While some people create dedicated laundry rooms, others incorporate them into bathrooms or kitchens.
The latter is perfect for those who become minimalists.
Talking about laundry rooms, you need to select the right door. It should provide easy access to everything in the area while blending with the remaining décor.
Here are some enticing laundry room doors.
1. Frosted Laundry Room Door Ideas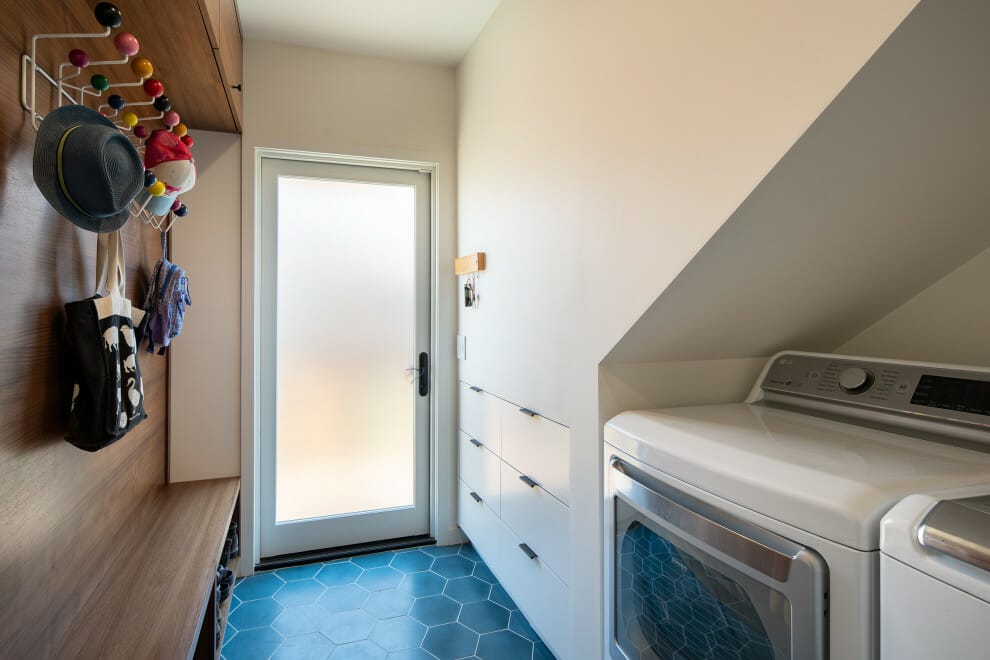 The homeowner included a laundry area in his mudroom. Bright white front-loading machines and walls open up the laundry room in no time.
There is a frosted glass door that evokes airiness. In addition to letting the sunshine in, it balances out the deep gray hexagonal tiles of the mudroom-laundry room.
Meanwhile, the wooden key holder and bench warm things up.
2. Laundry Room Door with Glass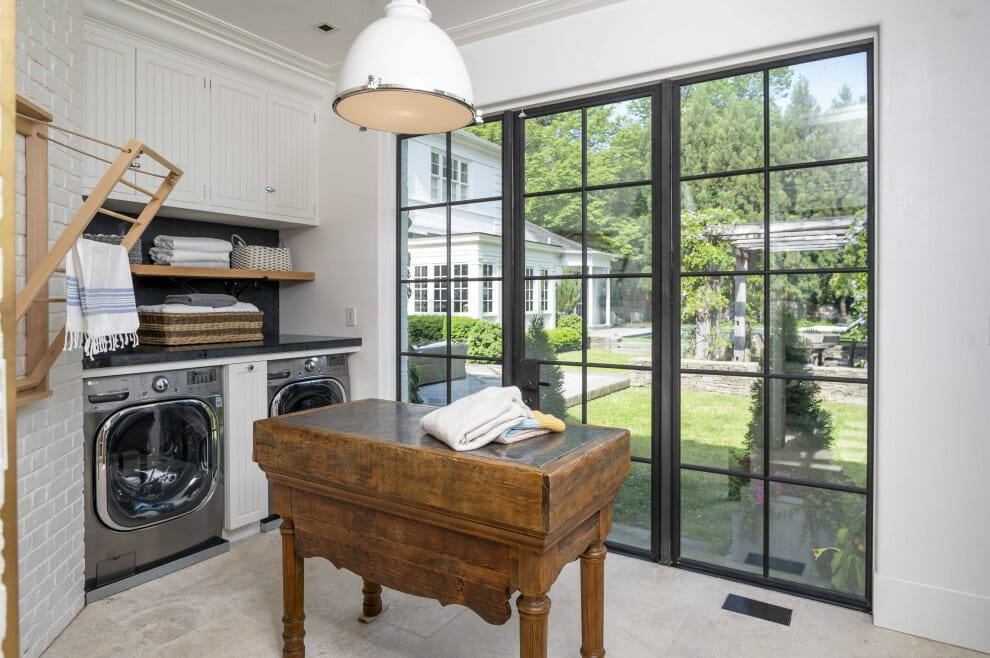 This glass sliding laundry room door makes the space seem bigger. Not only does it eliminate visual barriers but also contains noisy appliances.
The black steel-and-glass door lends the semi-outdoor transitional laundry area an industrial vibe. Moreover, it matches the nearby counter and backsplash.
Due to the glass sliding door, the laundry room feels airy. You can enjoy awesome views of the yard while wrapping gifts or folding clothes on the wooden island.
3. Laundry Room Door Ideas for Small Spaces
Need small laundry room door ideas? This idea undeniably comes in handy. The modern navy sliding door makes a statement in this laundry area.
This modern sliding door is perfect for various design styles. Also, it is an incredible marriage of a space-saving solution and style.
The wall-mounted ironing board allows you to iron your clothes without consuming floor space. Furthermore, the yellow trim and decorative tiles spice up the laundry room.
4. Laundry Room with a Single Pocket Door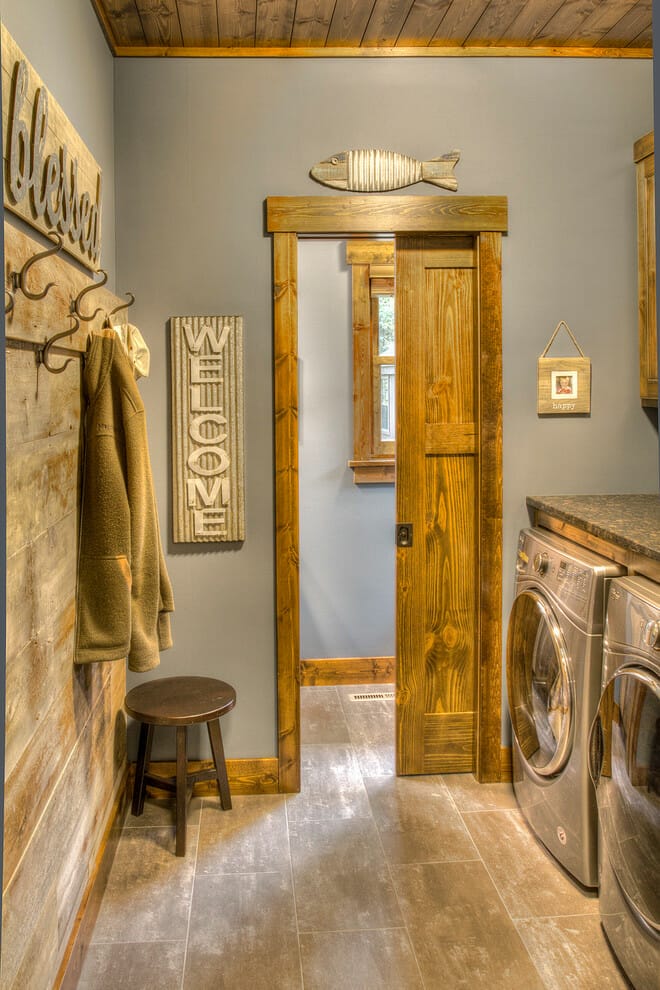 If you are into farmhouse laundry room doors, do not forget this single wooden pocket door. Apart from introducing nature's beauty, it adds customization.
Moreover, it perfectly matches the molding, wall panel, and wood plank ceiling.
The single pocket door above calls attention to the metal fish and welcome sign. Also, it is a remarkable alternative to a sliding door.
It offers access to both sides of the laundry room simultaneously.
5. Single Panel Door for a Laundry Room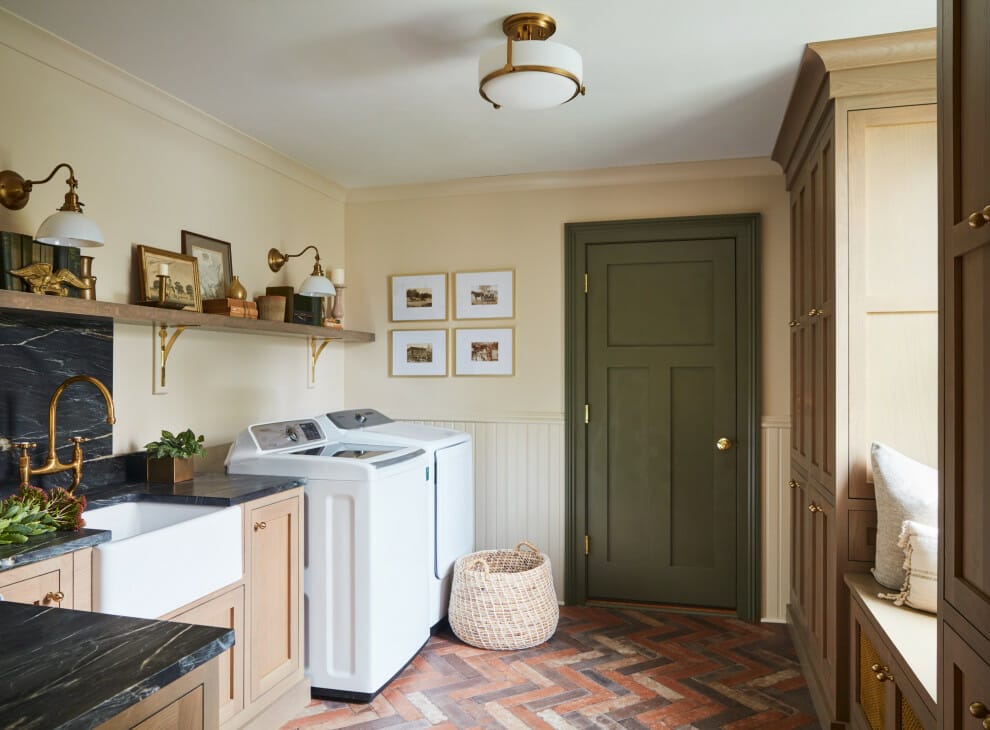 Single panel laundry room door ideas are suited to narrow spaces. Because of their sleek looks, they do not eat up lots of space.
Here, the deep army green door generates a bold statement. It guides the eye to the buttercup-painted beadboard paneling and herringbone brick floor, too.
The single panel door modernizes the laundry room. Meanwhile, the gold doorknob, brackets, artwork frames, lamps, and décor items offer a glamorous accent color.
6. Black Laundry Room Door Ideas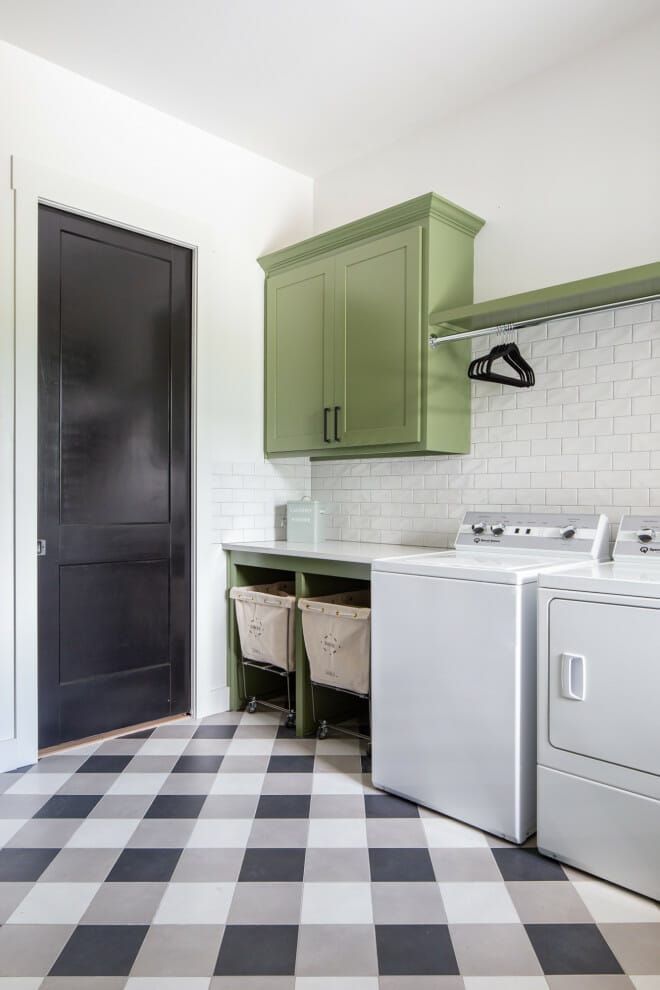 This transitional laundry room calls for a customized door. It contrasts with the adjacent white molding and walls.
Also,the single pocket door picks up the black color in the vinyl flooring. Moreover, it imparts drama and depth in an instant.
The muted green cabinet and shelf liven up the mostly neutral laundry room. Furthermore, the area beneath the countertop lets the homeowner park her rolling laundry carts.
7. Laundry Room Double Door Ideas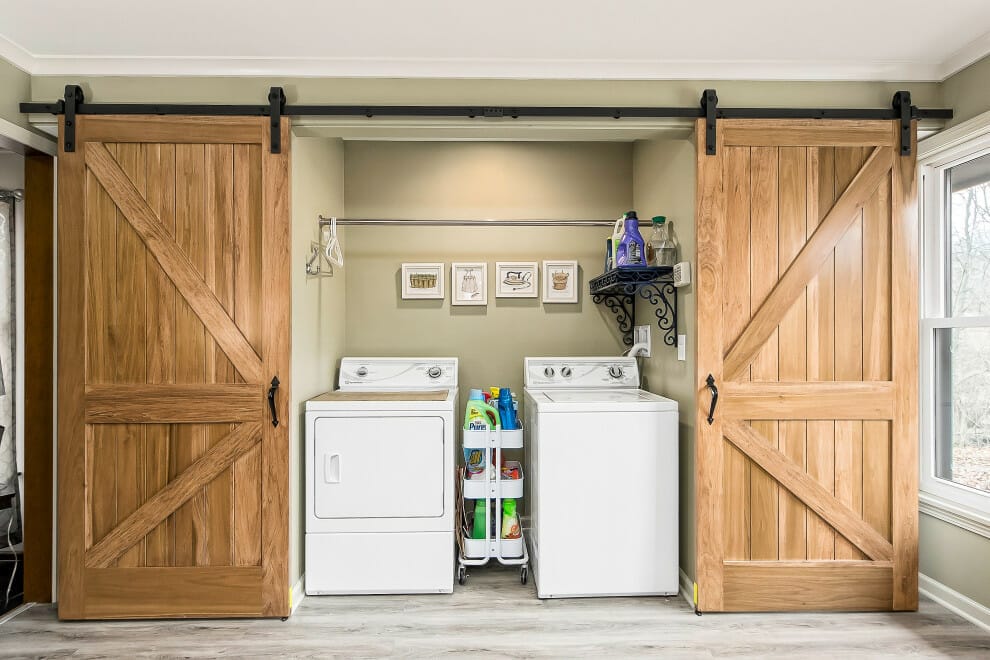 If you adore laundry room double doors, duplicate this laundry area.
Here, the double barn door fits fabulously into the farmhouse laundry room. These sliding barn doors are not only space savers but also add function.
They enable you to reveal and hide stark white machines at any time.
As the photo shows, laundry room barn doors go nicely with taupe walls. Also, the vintage handles and brackets produce a visual appeal.
8. Go for Timeless Colors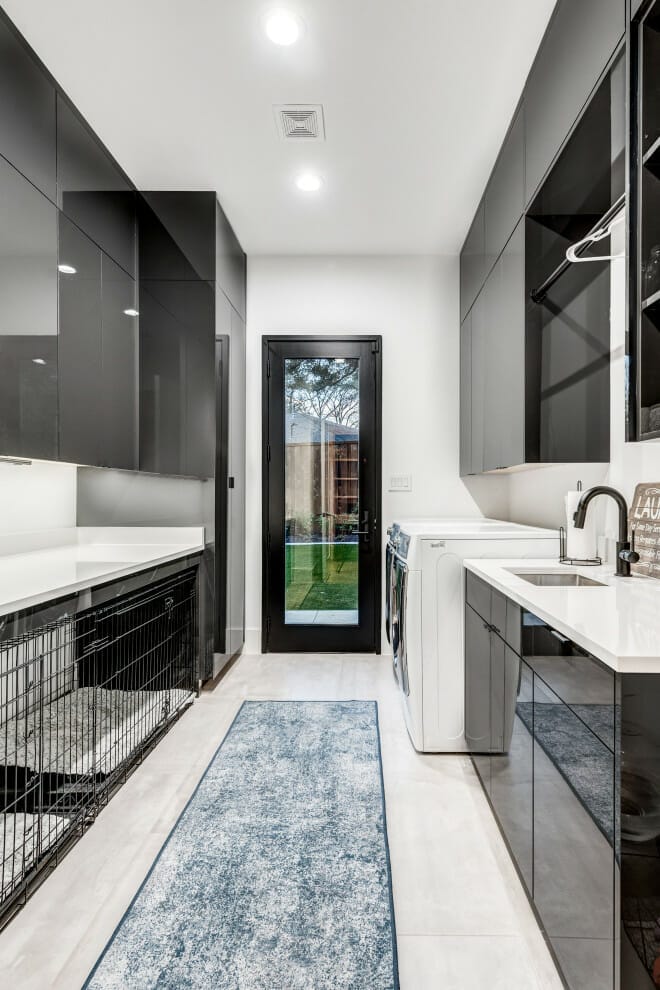 If you adopt a minimalist lifestyle, this is one of the laundry room door ideas to copy. The door comes with a steel frame and a clear glass pane.
Also, the homeowner added black high-gloss cabinets, so things seem cohesive.
The single panel door keeps the laundry area looking light. Here, the laundry room poses as a pet's room too.
It boasts a large pet cage and beds. Meanwhile, the laundry sign and runner rug titivate this multifunctional space.
9. Laundry Room Door Ideas for Modern Log Homes
This wooden door surely works in both modern and rustic homes. It makes the laundry area seem larger. As you see, transparent glass panes remove barriers between the outside and inside.
The laundry room door creates seamless transitions. It blends harmoniously with the adjoining wood plank ceiling and walls.
Moreover, the wallpaper, jute stools, intricate brackets, and grid floor tiles bring the laundry area to completion.
10. Bold is Gold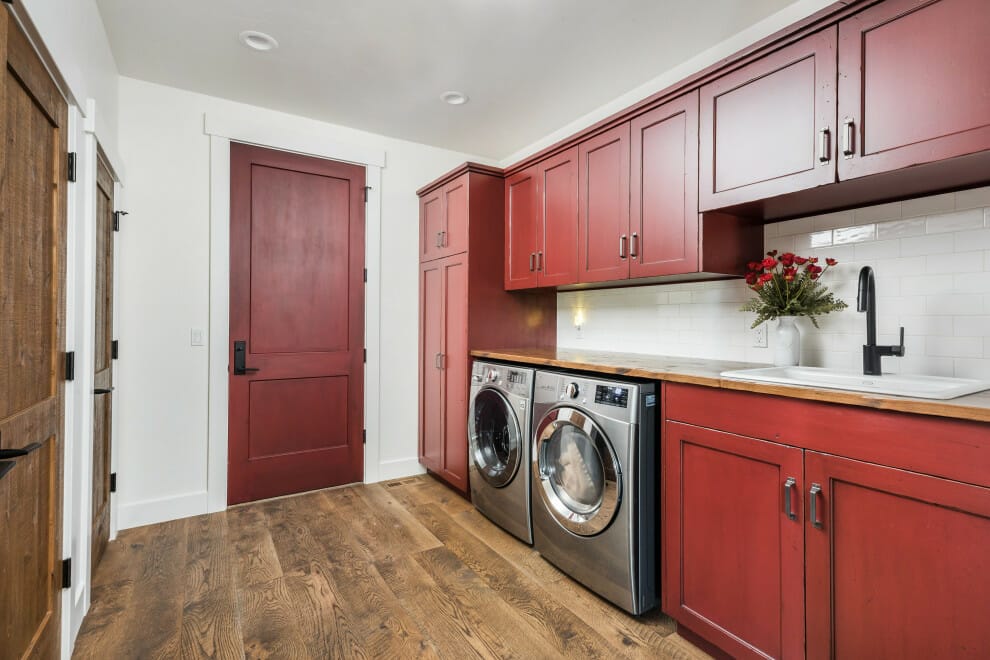 Speaking of laundry room door designs, this single panel contemporary door surely deserves a chance.
Like nearby raw wood doors, it features a simple metal handle.
The red door and cabinetry offer a punch to this otherwise basic laundry area. Red flowers provide more warmth while adding interest.
Furthermore, wooden things balance out metallic gray machines and white walls.
11. Mid-Century Modern Doors for Laundry Rooms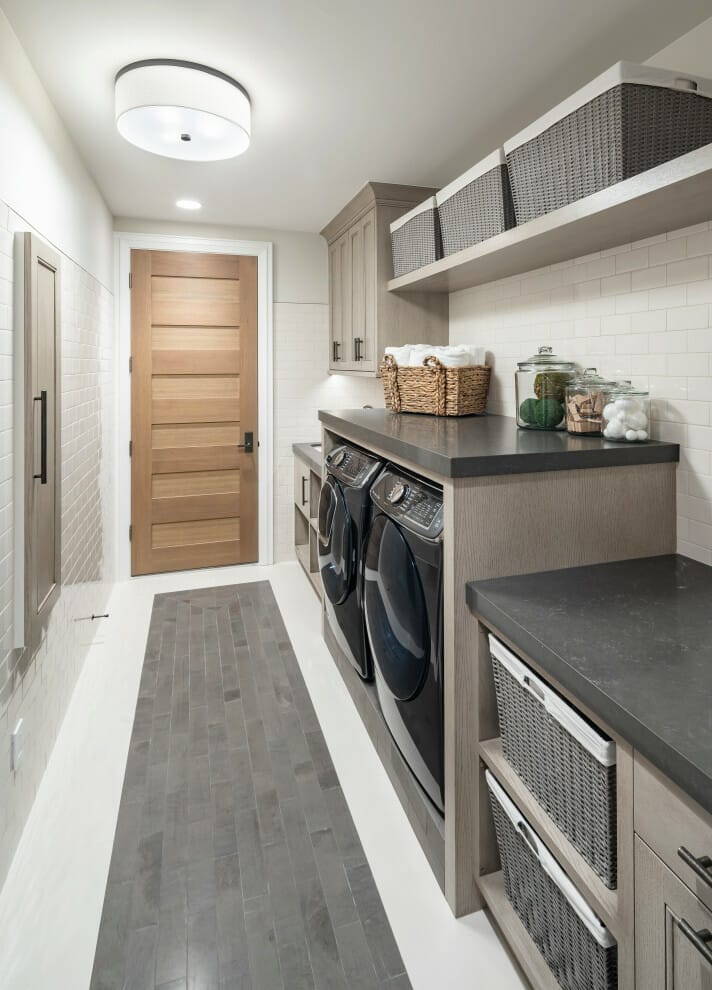 Love trendy laundry room door ideas? Incorporate this mid-century modern door into your laundry area.
Since the door stretches almost to the ceiling, it instantly offers visual height.
The single panel light wood door is perfect for any narrow space. It goes brilliantly with the taupe wooden cabinetry and laundry basket, too.
Gray tiles, woven laundry baskets, front-loading machines, and counters keep the laundry area looking balanced.
Meanwhile, the ceiling light softens the clean lines of the single panel door nicely.
12. Vintage Laundry Room Door Ideas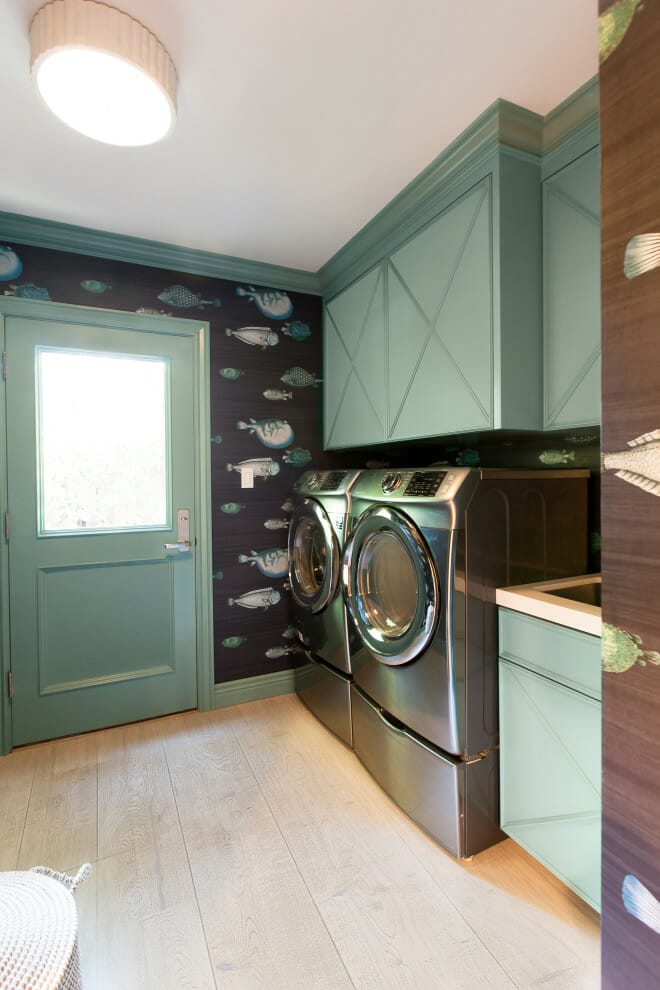 Single panel doors never get out of trend. So why not include one in your laundry area? The vintage laundry room door, molding, and cabinetry wear pastel blue.
No wonder, things appear cohesive and calm here.
The glass pane ensures the laundry area gets enough daylight. Meanwhile, the statement ceiling light, vintage fish wallpaper, and metallic gray machines complete the interior.
13. Laundry Room Bifold Door Ideas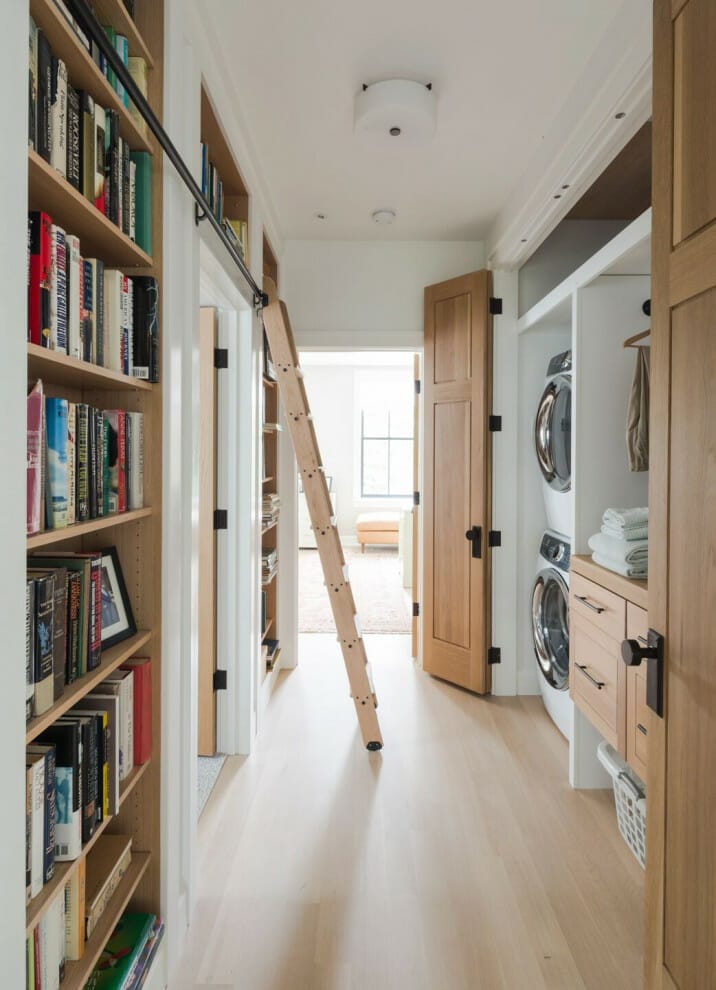 Bifold laundry room door ideas are getting popular nowadays. Apart from providing a more accessible design, bifold doors extend the interior's width.
Here, light wood bifold laundry room doors exactly match the ladder, vanity, and bookshelves. Also, they can hide stacked machines when not in use.
Pure white walls highlight wooden bifold doors while opening up this laundry area. Moreover, there is a plastic laundry basket underneath the vanity.
14. Transitional Laundry Room Door Ideas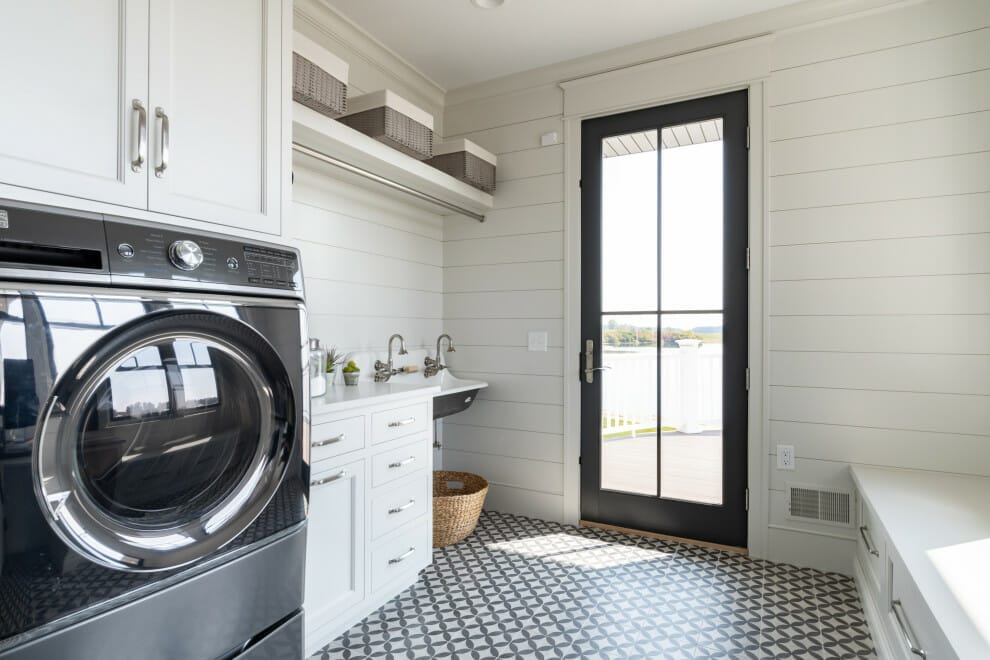 Narrow space? No problem. Just install this industrial laundry room door. The clear glass panes welcome plenty of daylight to help brighten the laundry area.
The black frame of the laundry room door carves drama. Also, it clashes with the bench, shiplap paneling, vanity, and open shelf.
Gray and wicker laundry baskets keep the mess at bay. Meanwhile, the two-tone vintage farmhouse sink instantly unifies the laundry area.
Thanks to the geometric flooring, the room does not appear dismal.
15. Laundry Room Sliding Door Ideas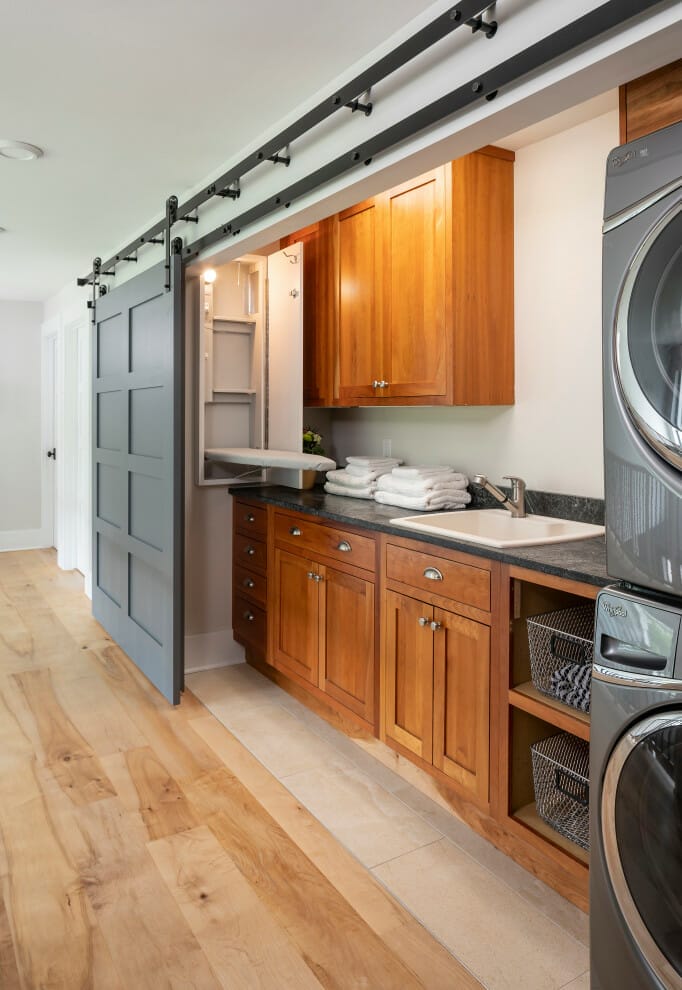 Gray accents and wooden pieces unify this laundry room. This sliding door saves plenty of floor space in the laundry area.
The custom modern sliding door matches the stacked machines. Additionally, its minimal geometric pattern generates visual appeal.
Besides, the light wood floor and stained cabinets balance out the door. Furthermore, the metallic cabinet hardware and wire laundry baskets help up the cool factor.
16. French Doors for Laundry Rooms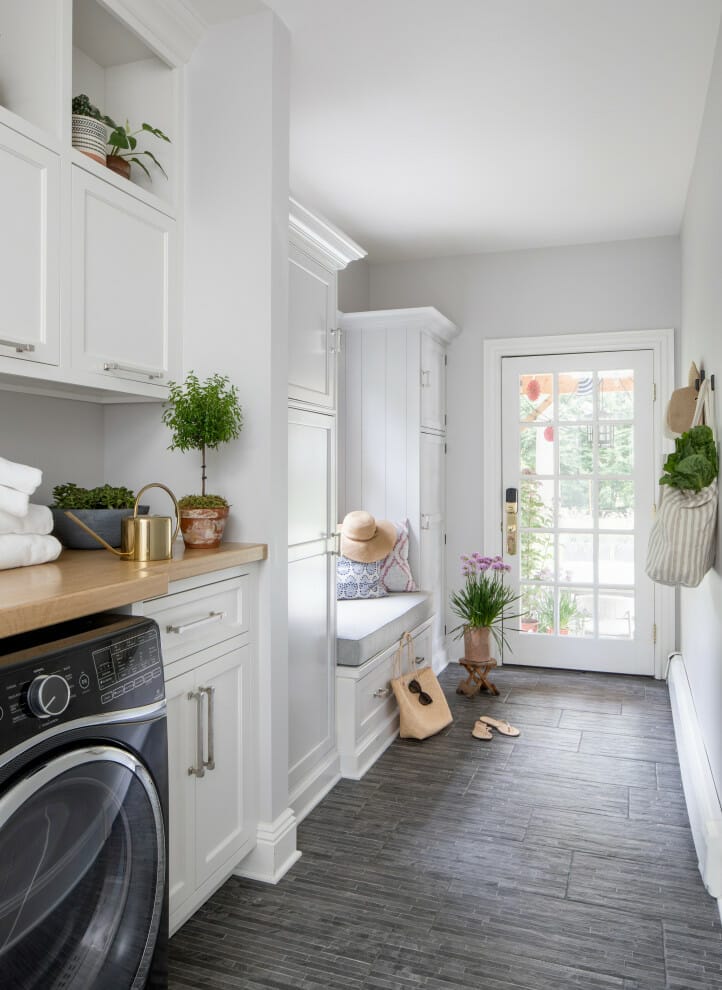 If you cannot resist all things classic, take French-style laundry room door ideas into account. The stark white frame and glass panes expand the laundry area visually.
Different gray tones keep this modern laundry room from looking flat. Moreover, the tiny wooden plant stand and butcher block counter embody warmth.
The window seat makes the laundry area more functional. Because of enticing throw pillows, mismatched planters, and various plants, the laundry room looks appealing.
17. Simple But Significant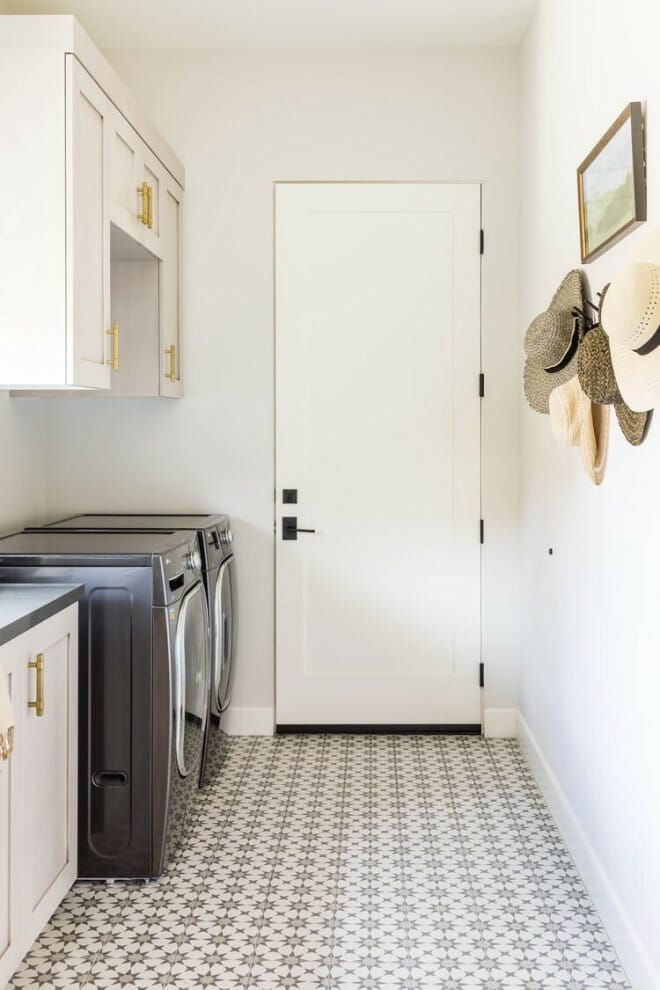 Despite its minimal look, this single panel door reduces the noise coming from machines. Also, it conserves the laundry area's airy look.
The black and gold furniture hardware pieces offer terrific accent colors. Meanwhile, the art and ornamental floor take the laundry room from basic to beautiful.
18. When in Doubt, Choose Both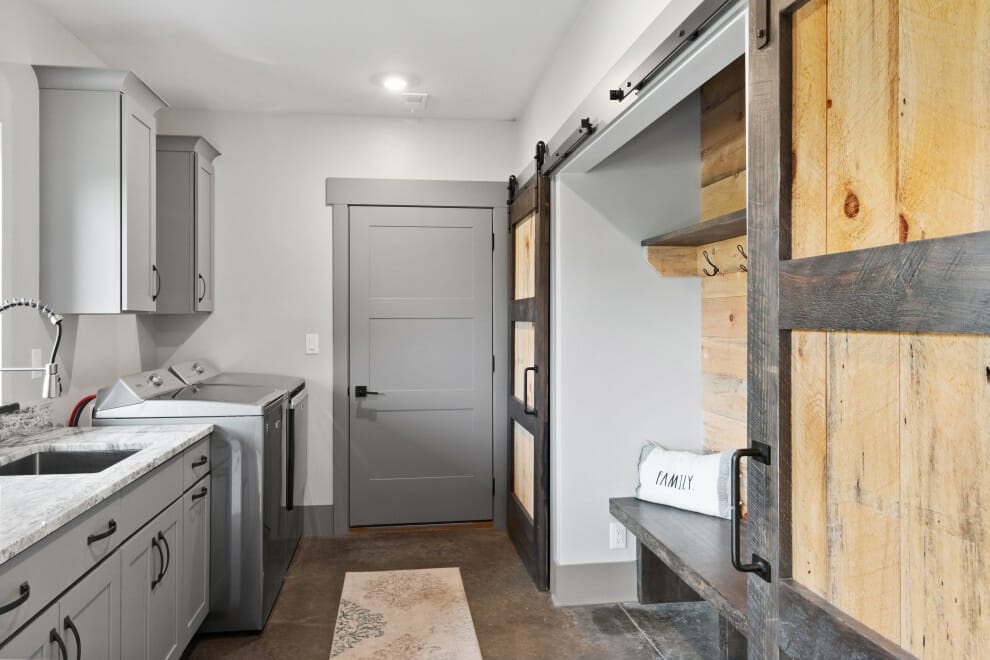 You cannot decide between single panel and sliding doors. Why not install both? Here, the gray door blends seamlessly with the adjacent molding, machines, and cabinets.
Dark-and-light wood sliding doors conceal the built-in bench. They lend the laundry area of this modern barn house rustic vibes, too.
19. Light and Lavish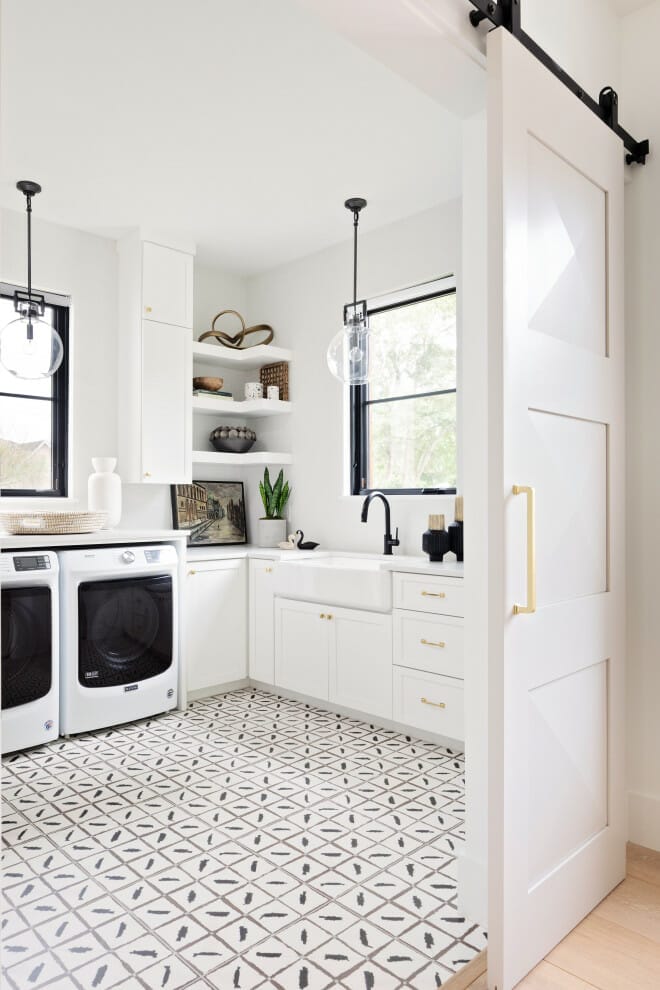 Speaking of laundry room door ideas for narrow areas, consider using sliding doors. The crisp white storage furniture, custom sliding door, machines, and walls open the interior.
Black accents impart some depth. Due to tiny gold accent pieces, the laundry room seems a bit opulent instantly.
20. Large Laundry Room Door Ideas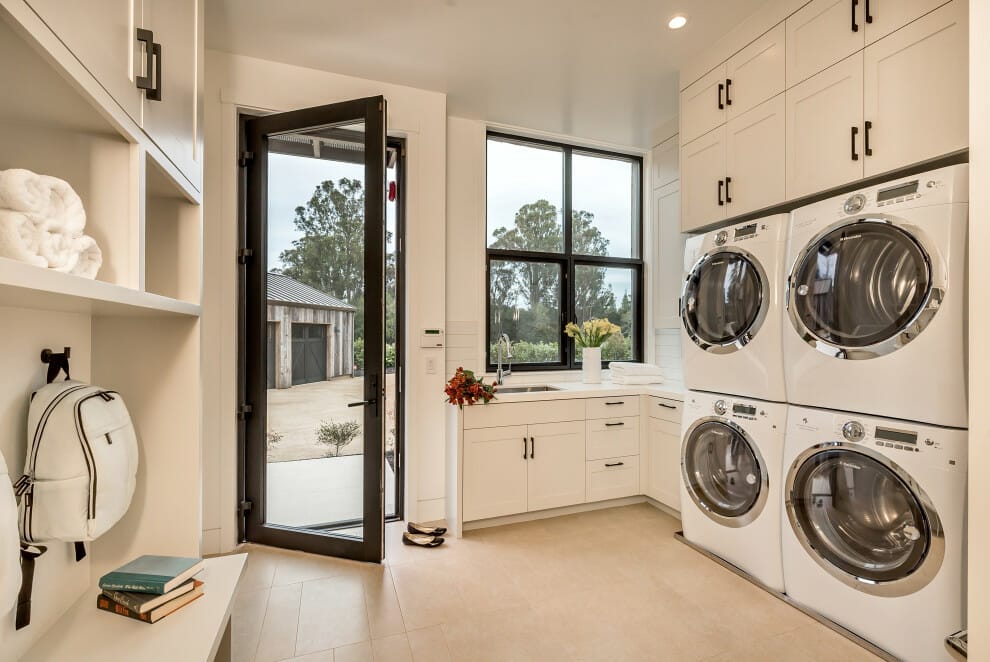 The single panel modern door above combines a steel frame with a glass pane. Also, it mingles with the laundry room window.
Here, the industrial door brings plenty of sunlight into the mudroom-laundry room. The dryers, washers, cabinets, and flowers make the laundry area luxurious.
21. Modern Farmhouse Laundry Room Door
Here is another laundry area that doubles as a mudroom. The white door, walls, and subway tiles help brighten this laundry room in a split second.
Muted navy storage furniture items keep the laundry area from being blah. Meanwhile, the wooden benchtop and countertops effortlessly counteract all things cold.
22. Go Dark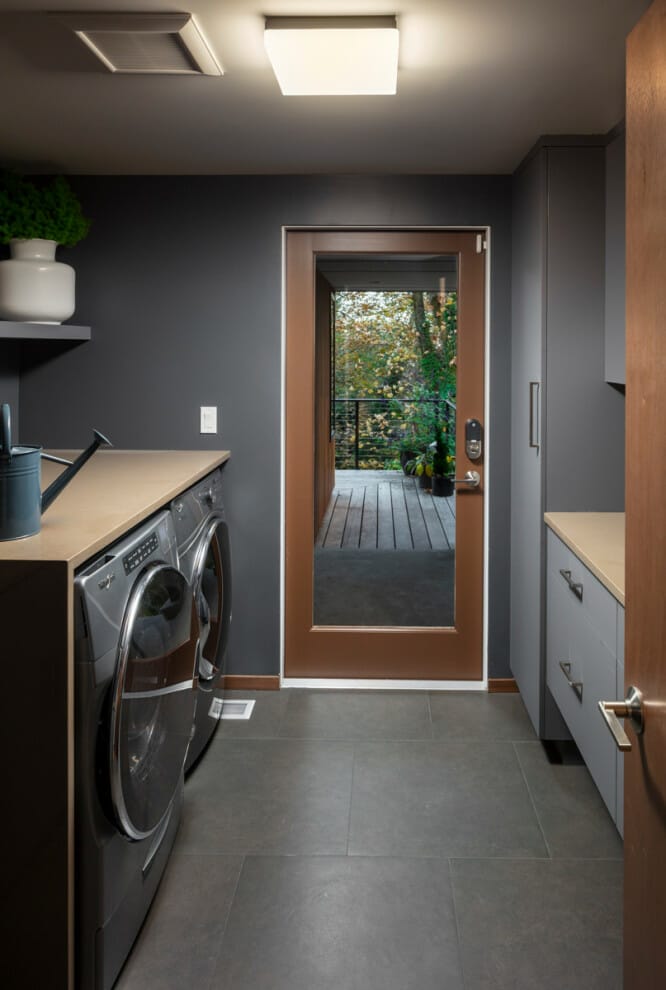 With the existence of deep gray tiles and walls, this laundry area could have appeared gloomy. However, the stylish glass door comes to the rescue.
As you see, the glass door connects the laundry room and deck. Moreover, the jumbo white vase and beige counters make the laundry area brighter.
23. Galley Laundry Room Door Ideas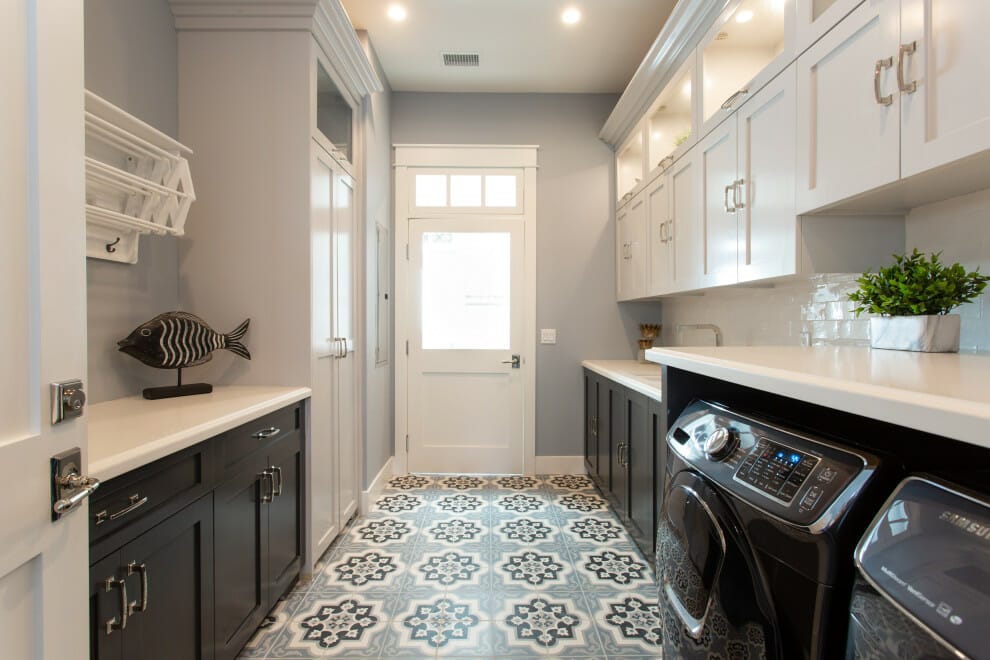 The half-glass door wears stark white, so the laundry area feels light. Also, there are tiny square windows right above it.
Black and white cabinets inject this galley laundry room with contemporary vibes. Underfoot are gorgeous tiles that pick up the interior's main colors.
24. Stick to Classics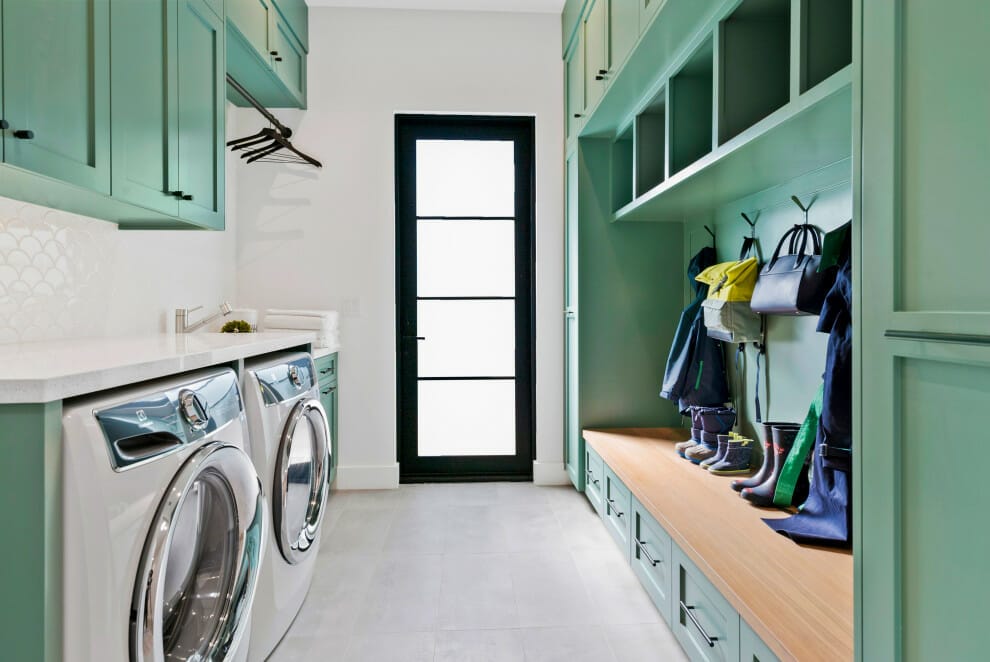 If you don't need a dedicated laundry room, integrate a washroom into your mudroom. Here, the white-and-black door is simple yet stylish.
Built-in storage furniture pieces embrace mint green. Moreover, they energize the narrow but multifunctional space.
Meanwhile, scallop tiles boost the mudroom-laundry room's wow factor.
25. Laundry Room Door Ideas with Blinds
This single-panel white door is elegant. In addition, it boasts transparent glass panels for a tiny yet airy laundry room-mudroom.
The pretty printed blind helps control the daylight while adding visual appeal. Mismatched solid pillows and wicker laundry baskets offer a finished look.
26. Laundry Room Barn Door Ideas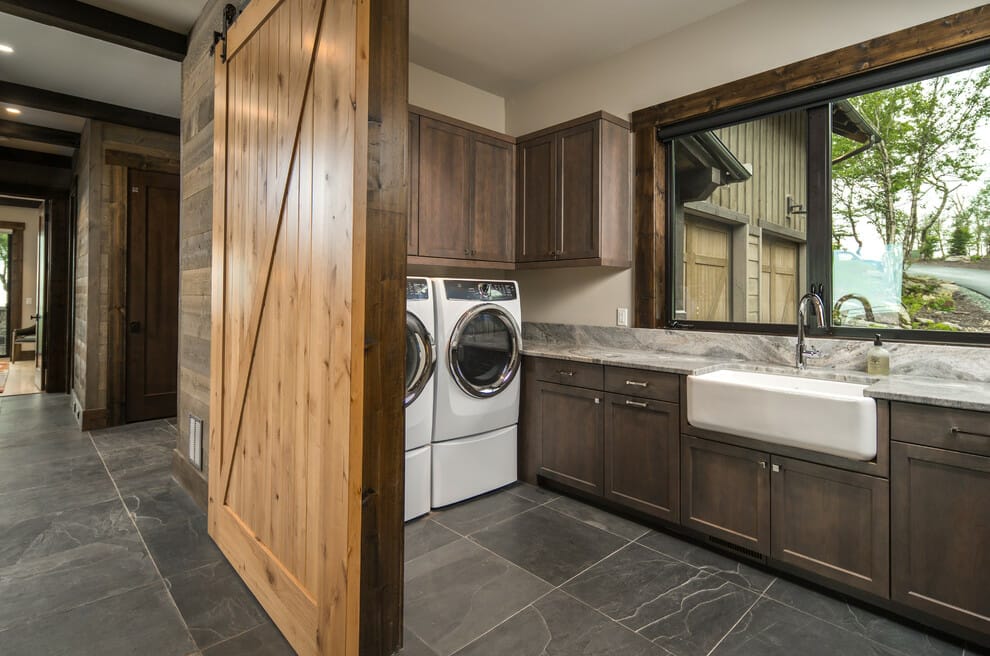 Rustic barn doors are perfect for laundry rooms in modern lodge homes. Here, the raw wood sliding door lets you enter and exit your laundry area without problems.
The barn door imparts a classic flair while infusing character. Meanwhile, gray natural stone tiles and dark wood cabinets accentuate it.
27. Matchy-Matchy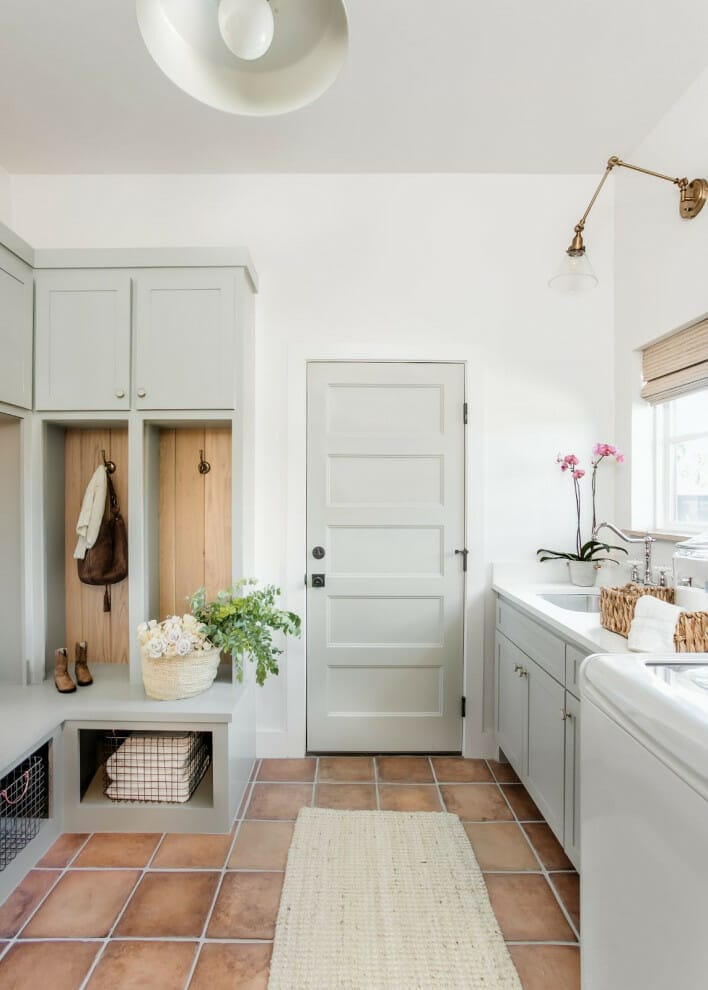 The pale gray single panel door, bench, and cabinets give the laundry area-mudroom visual variety. However, they retain the laundry room's airy vibes.
Natural materials like wood and seagrass warm up this dual-purpose room. Furthermore, the greenery and pink orchids provide a decent amount of interest.
28. Laundry Room with Ventilated Doors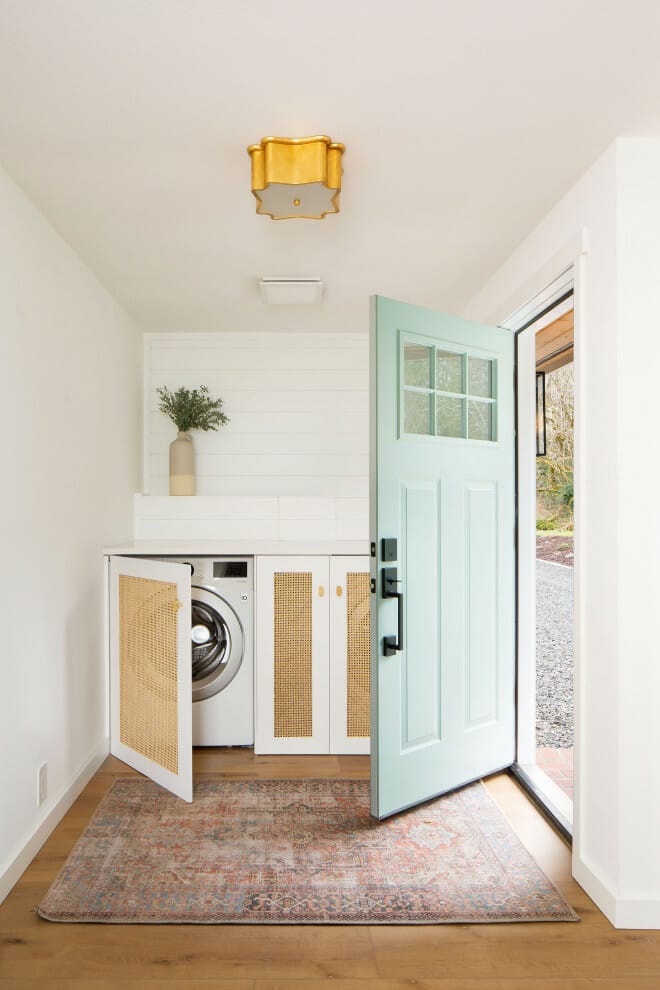 If you need compact laundry room door ideas, emulate this design. The ventilated doors conceal machines while letting hot air circulate.
The single panel mint green door with a black handle freshens up the narrow laundry room.
Thanks to the gold ceiling light, classic rug, and two-tone vase, they improve the laundry area décor.
29. Raw But Remarkable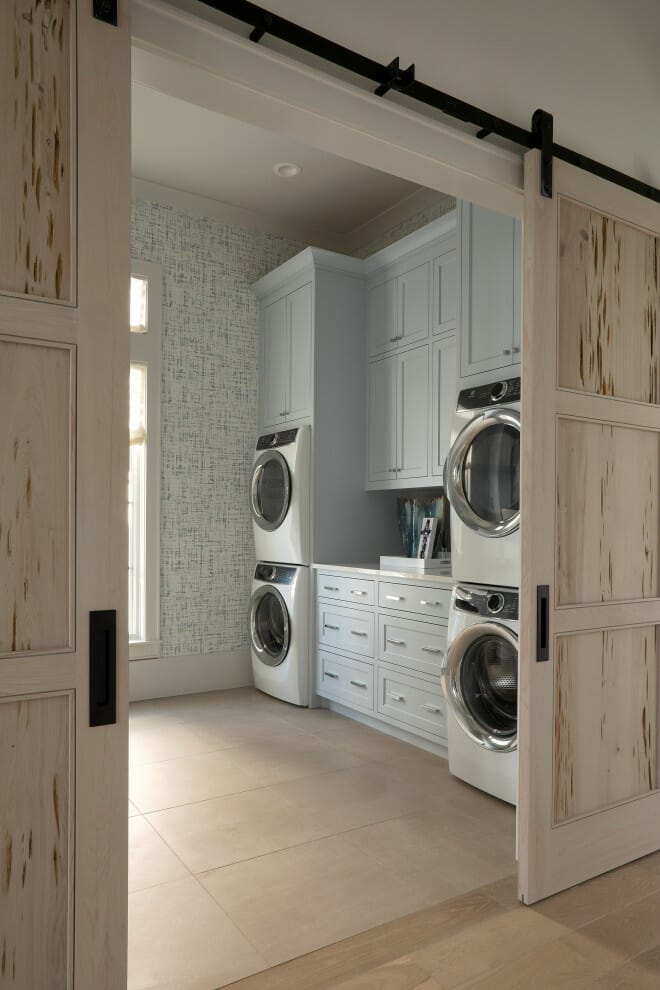 Apart from becoming space-savers, these bare wood sliding doors add modern vibes. Also, they generate a striking visual statement in the laundry area.
Pale blue cabinets and white laundry appliances epitomize airiness. Due to the abstract wallpaper, the laundry area looks cohesive.
30. Windowless Laundry Room Door Ideas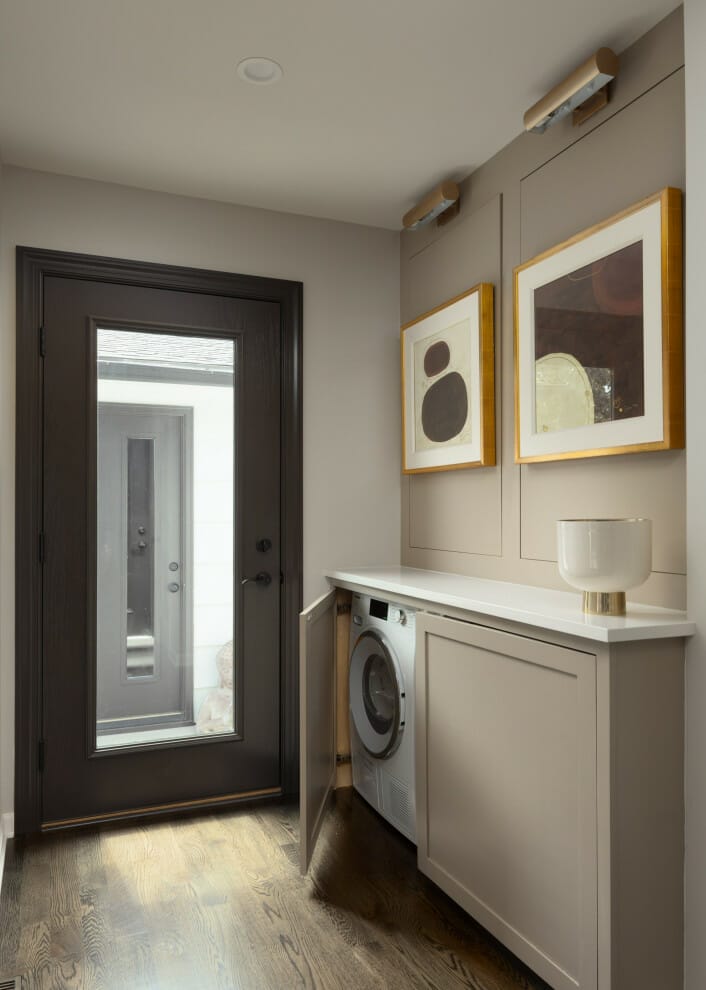 The deep gray glass door floods this windowless laundry area with plenty of daylight. It brings sophistication while creating enough drama.
Solid and sleek taupe cabinet doors hide unsightly laundry appliances. Moreover, the counter and wall panel provide display space for laundry room décor items.
Your portal to washroom does not need to be dull. With those laundry room door ideas, you can take the doors to the next level. Make sure they are attractive, space-saving, and practical at once.