It is undeniable that laundry room shelving ideas have become the most sought-after thing lately. The reason is that the shelf seems to have become a staple element in the washing space.
Whether you go with the floating or the built-in ones, the presence of laundry room shelves, surely, can give your utility room a fresh look.
And obviously, it can also boost your mood while doing an exhausting chore, although it's not so significant.
But after all, providing laundry room shelving ideas that are functional and stylish is the best step you can take. It is certainly a combo to level up your washing area without taking up much floor space.
And, maybe this time, you need inspiration for remodeling. Here are thirty laundry room shelving ideas that you can adopt.
1. Start with the Simple Laundry Shelves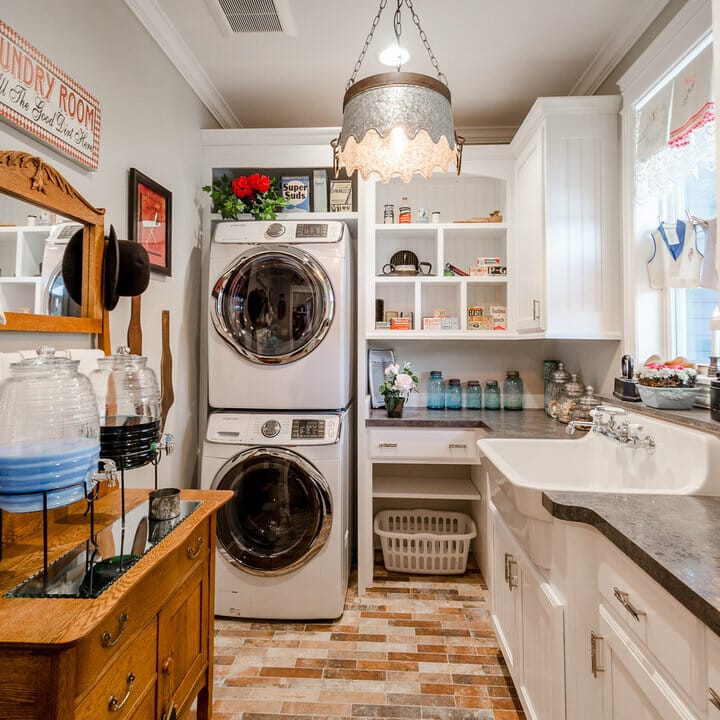 Implementing laundry room shelving ideas is, indeed, not too difficult. You can even start with the most basic designs, like having a built-in shelving unit that comes together with the cabinetries and high gap to place your washer and dryer.
Next, you can fill the shelving system with washing supplies, as in the picture above. As for the rack at the top of the machine, you can fill it with some other decorative elements to beautify your laundry room.
2. Large Shelves with Engraving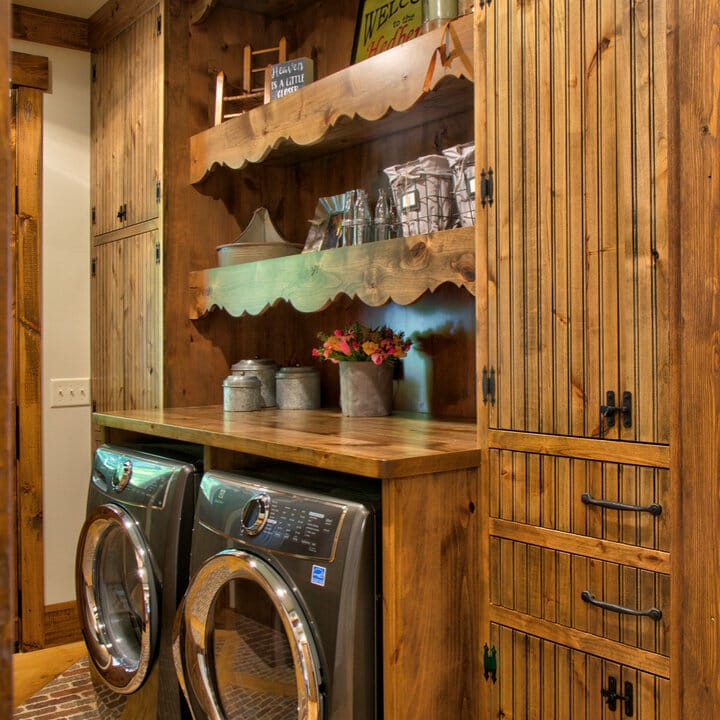 Suppose you prefer a more traditional look. Then you can choose to go with a large built-in cupboard complete with corrugated shelves as above.
These laundry room shelving ideas will suit a large room because it presents a complex look.
But, if you want a design like this, but in a smaller space, consider painting it white instead of varnishing it to hide all the wood texture.
3. Elegant Laundry Room Shelving Ideas with Gold Brackets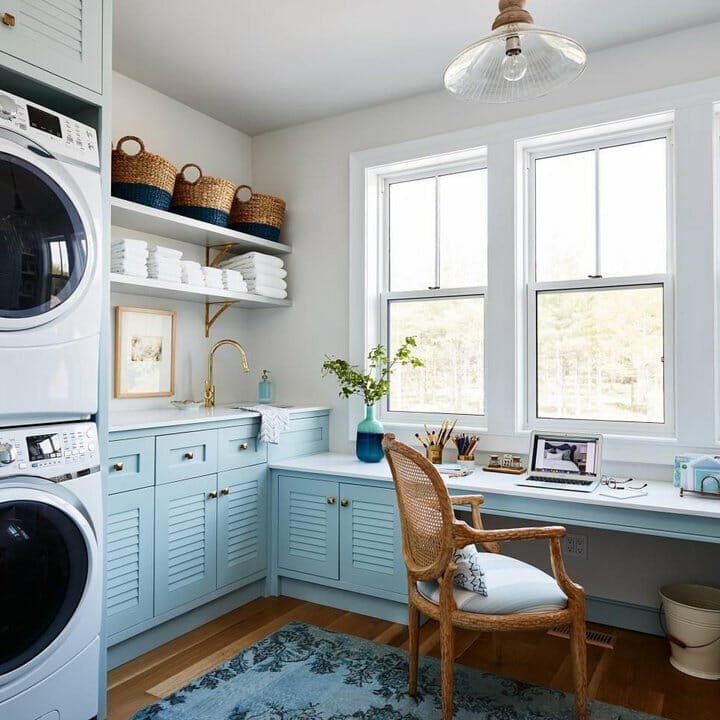 Simple yet elegant is a concept that is much sought after by homeowners. To get this look in your laundry room, you need to replace some elements with gold.
You can start from the shelf's brackets and also your faucet. Hence, you can have an attractive focal point in the utility room and turn the boredom vibe into a more pleasant atmosphere.
4. Come Together with Mud Room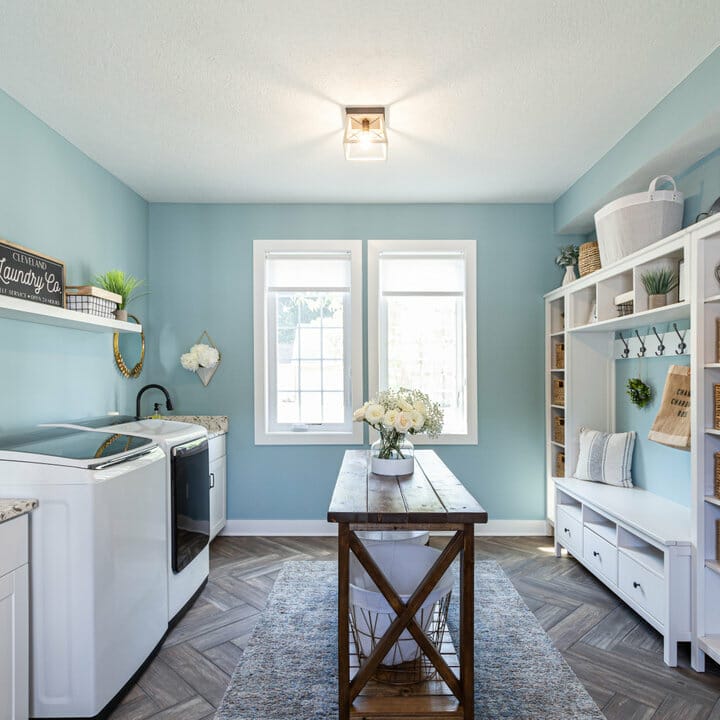 Shelving for laundry rooms comes in various models. One of them is the shelves that have the bench underneath. Assume you want to have a mudroom but are constrained by space. In that case, you can consider this idea.
You can combine the mudroom with the shelving system in your laundry room. That way, now you have a double function unit in one area.
Next, don't forget to add some holders on the wall for more storage space.
5. Shelves Above the Washer and Dryer
Laundry room shelving ideas do not require you to have a particular wide spot. Instead, you can take advantage of the small space above your washer and dryer.
As a result, you already have additional storage to accommodate all your laundry baskets and several other decorative elements with only two levels.
6. L-Shapes in Every Corner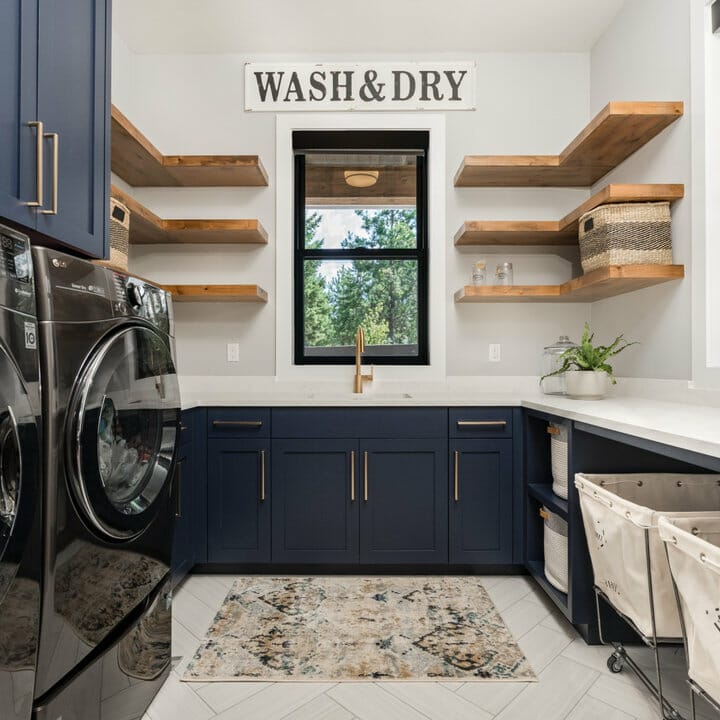 L-shaped floating shelves are the best solution to utilize every corner in your laundry room. Instead of just going with one to two shelving systems, you can try to arrange several levels of shelves on the closest sides to your washing machine and countertop.
Therefore, you can safely store all your washing essentials there and keep them within reach.
7. Many Shelves to Store Much Stuff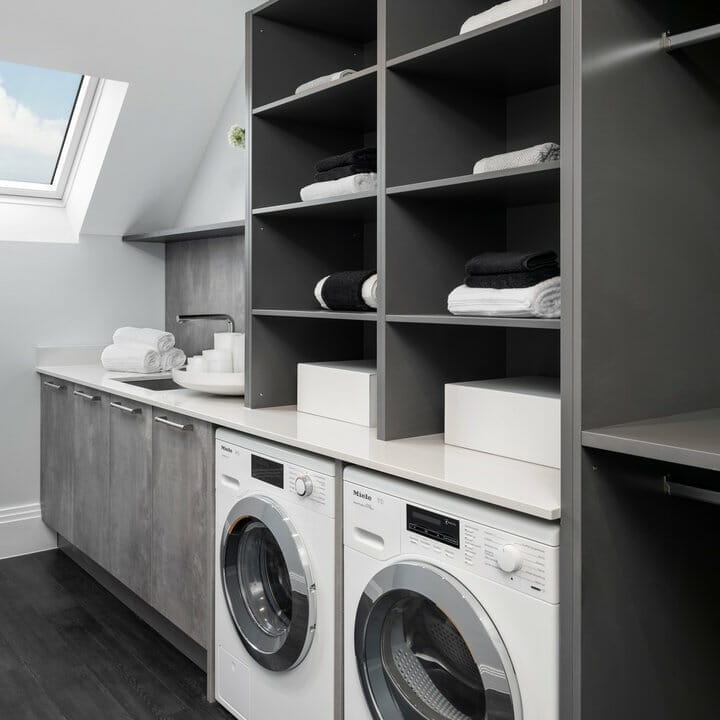 The following laundry room shelving ideas invite you to have one built-in on your countertop. You should set the shelves at a standard depth and in large quantities.
As further, it will help you to keep all your washing necessities, towels, and toilet paper in the same spot. That way, you will immediately find it when needed.
8. Small yet Bold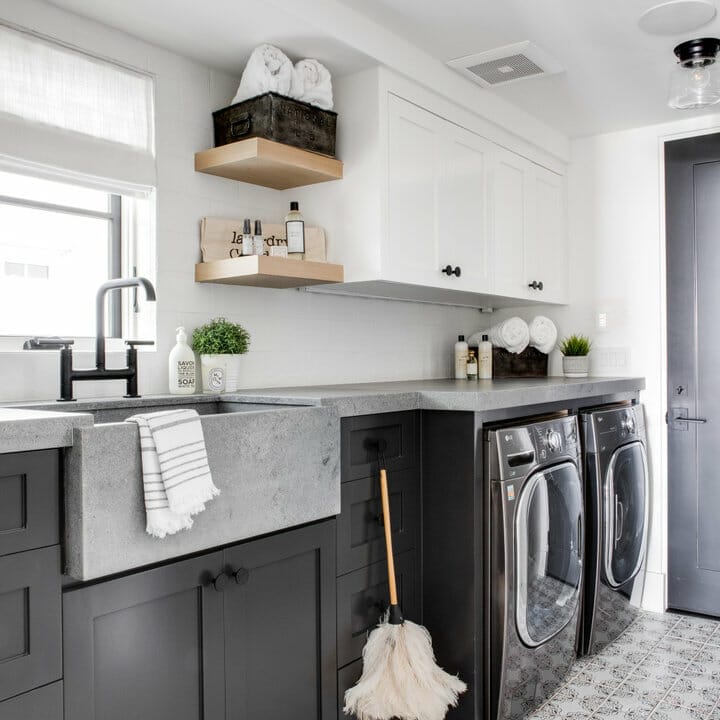 Who says laundry room shelves have to be long and wide? You can go with the small but thick ones. Usually, you can build a unit like this with only pieces of barn wood.
Because of its small size, of course, it is perfect for you who don't have a lot of stuff to store on it. For example, you only need it to display a welcoming board, motivational board, air freshener, or a small basket for rags.
9. Paint Coat with Pastel Colors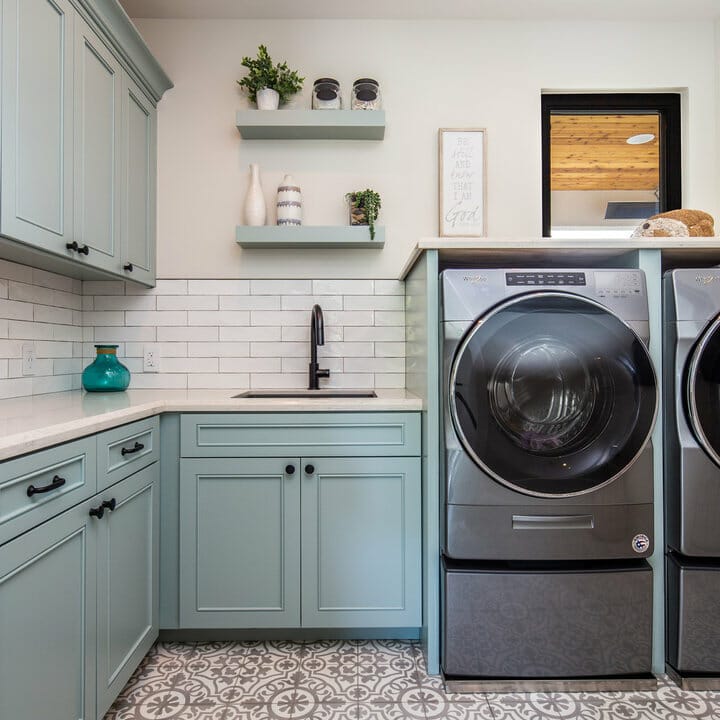 Once you are done with all the shelf measurements, laundry room shelving ideas also encourage you to choose the right colors for your laundry room.
Indeed, this color selection also plays an essential role in giving an inviting, warm, and humble impression. That way, your washing days become more enjoyable than before.
Suppose you asked for a recommendation. Pastel colors will go well with white walls. Besides making your washing space brighter, it also makes it look cleaner.
10. Leave Them Rough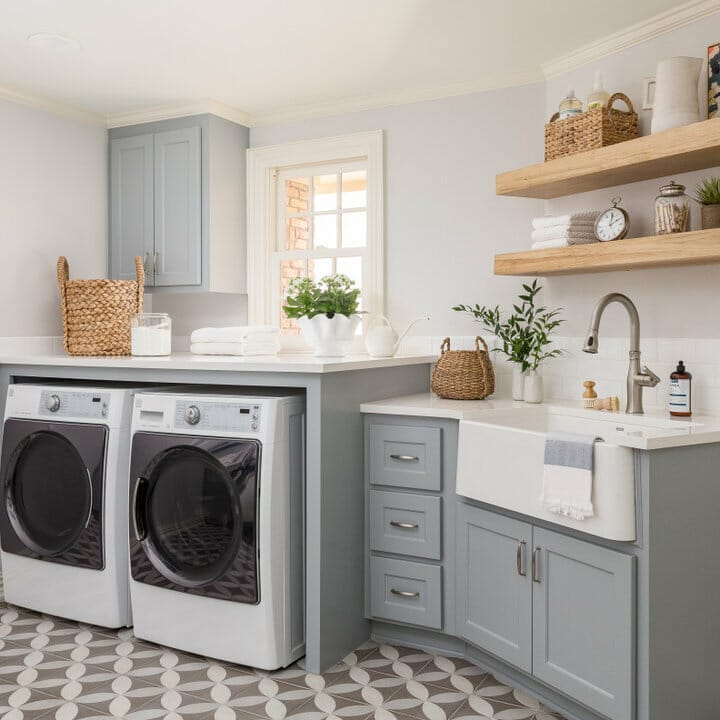 Assume that you prefer a natural vibe in your laundry room. So, leaving the shelves in a rough texture is the best choice.
And of course, this concept is perfect for you who have a modern farmhouse interior design for the home.
11. Go with Contrasting Colors
Let's turn to other laundry room shelving ideas. Sometimes you want to combine retro style with eco-friendly items.
That way, you can leave your whole wall with plain black tiles. As for the shelves, it's better to go with the floating-style in white.
Giving a contrasting color to the shelving system makes this spot a focal point, especially if you put a wicker basket storage with a matching shape.
12. A Shelf Under the Cabinet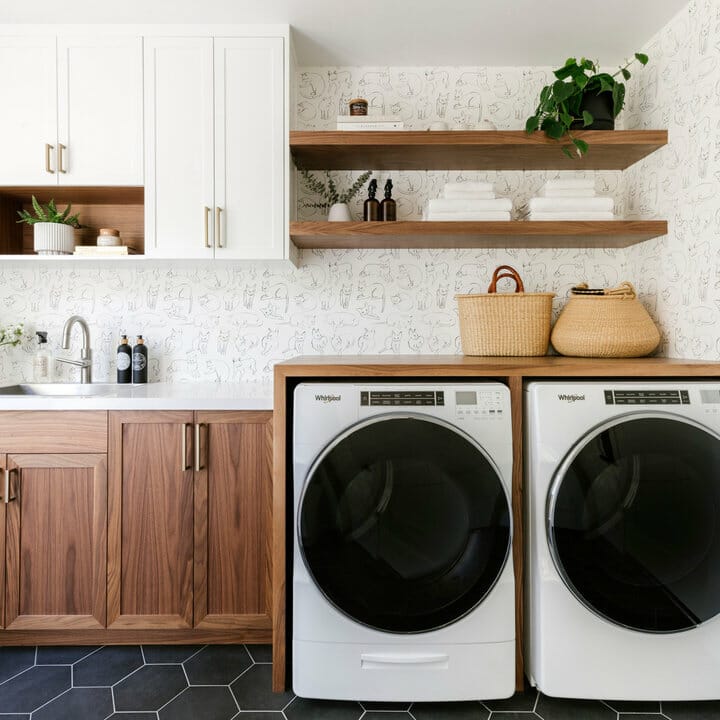 A small shelf under the cabinet is a bonus that would be a pity to miss.
Therefore, instead of leaving it dusty, you can put greenery or succulent in it to enhance the appearance of your laundry room.
13. Laundry Room Shelf with Hanging Rod
Laundry room shelving ideas don't just ask you to fill the shelves with stuff. Instead, you can also install a rod underneath as a place for you to hang and dry clothes.
However, multi-function units like this are usually suitable for those who have a small washing space. Placing a clothes bar under the shelf will save floor space and utilize it for other purposes.
14. Adjustable Wire Shelf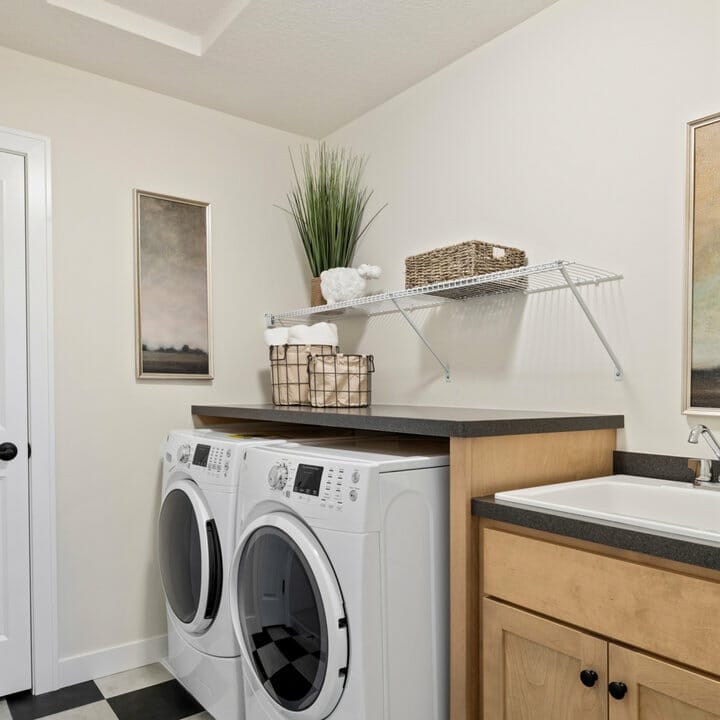 The industrial concept will be straightforward to implement in your laundry room by presenting a shelf made of iron and wire.
Most wire shelving like this is adjustable and follows your needs. Whether you go with one or two, everything is fine. Apart from that, it is also relatively easy to install.
15. Small Laundry Room Shelving Ideas with Woods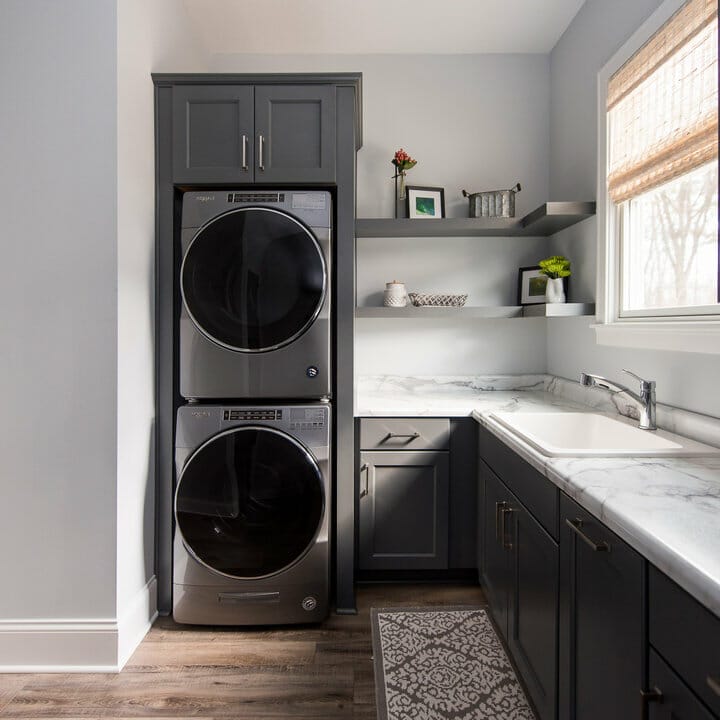 In a small laundry room, insisting on having wide shelving is accurate, not worth it. Instead, it's best if you try to go with an L-shaped one.
Therefore, you'll be able to optimize every space on the wall. Even though it comes in a thin size, you will still be able to provide a proper display space for your decorative ornaments.
16. Open Area for Baskets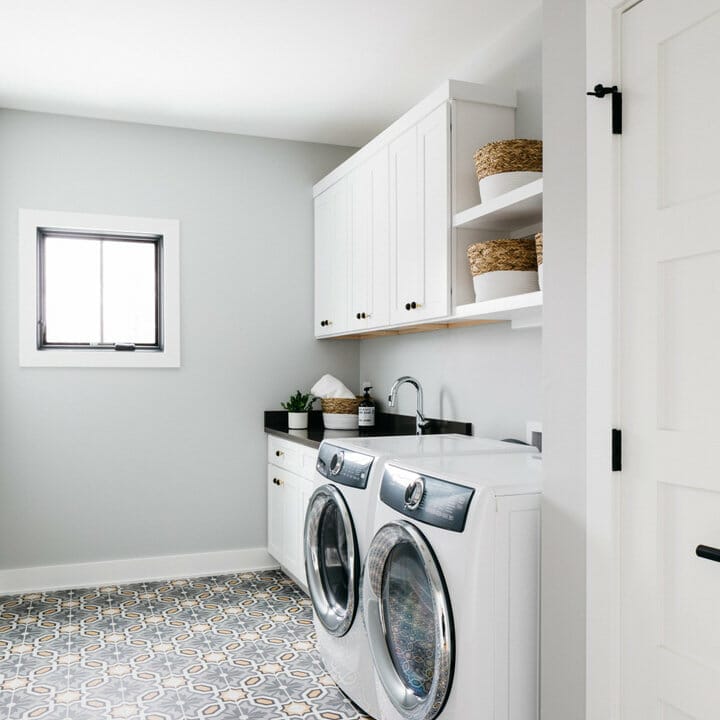 Besides using the shelves to display some ornaments, you can also use them to store baskets containing towels, socks, and rags.
Consequently, your countertop will remain spacious as you place all the washing items on the shelf. And you are also more flexible in doing your laundry.
17. Custom Shelves Made of Pallets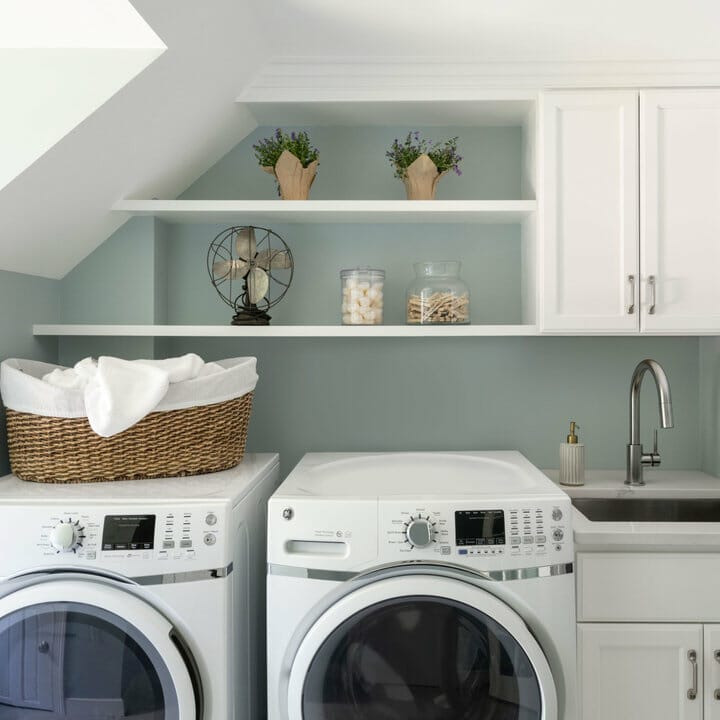 Some laundry rooms may not have high and flat ceilings. It can be like you who set your washing space right under the stairs.
Therefore, the laundry room shelving ideas at this point recommend you to have customizable shelves. That way, you are more accessible in determining the size, shape, and color.
Alternatively, you can do a DIY project from used wooden pallets you find in your barn. That way, you will spend more affordable funds.
18. Classic Style Rack Among Patterned Wall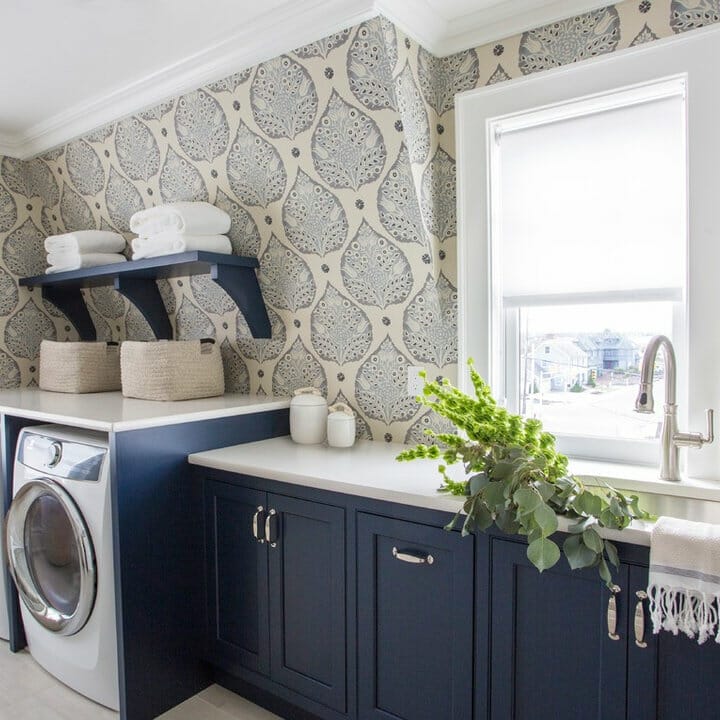 Suppose you have a wallpapered laundry wall with a bold motif. So, it would be better to arrange a simple shelving system with matching colors.
You can also install the classic one like in the picture above to give a factual statement to your washing spot.
19. A Home for Books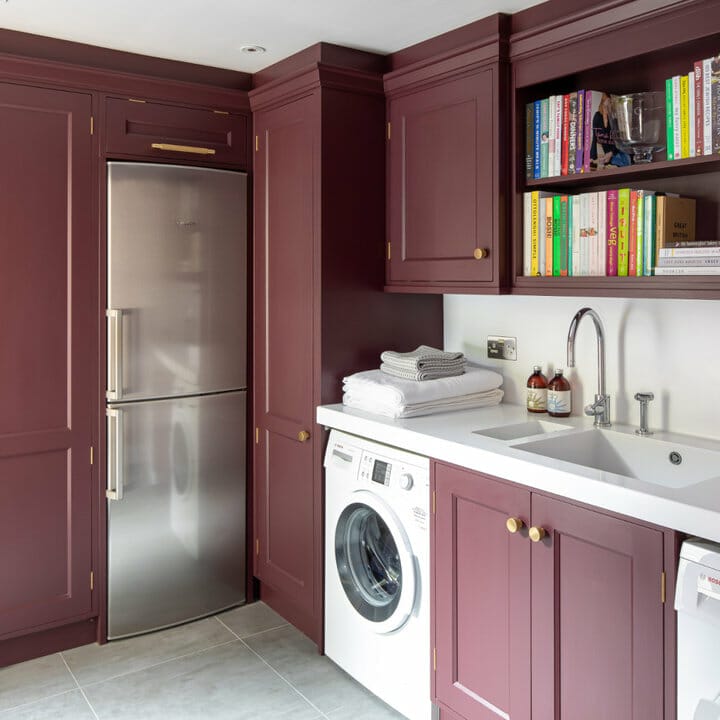 Laundry room shelving ideas don't require filling your shelves with washing supplies or towels. Instead, you can utilize it as a shelter for your books.
Believe it or not, it surely helps a little to refresh the appearance of your laundry room.
20. Up to Ceiling Wall-Mounted Shelves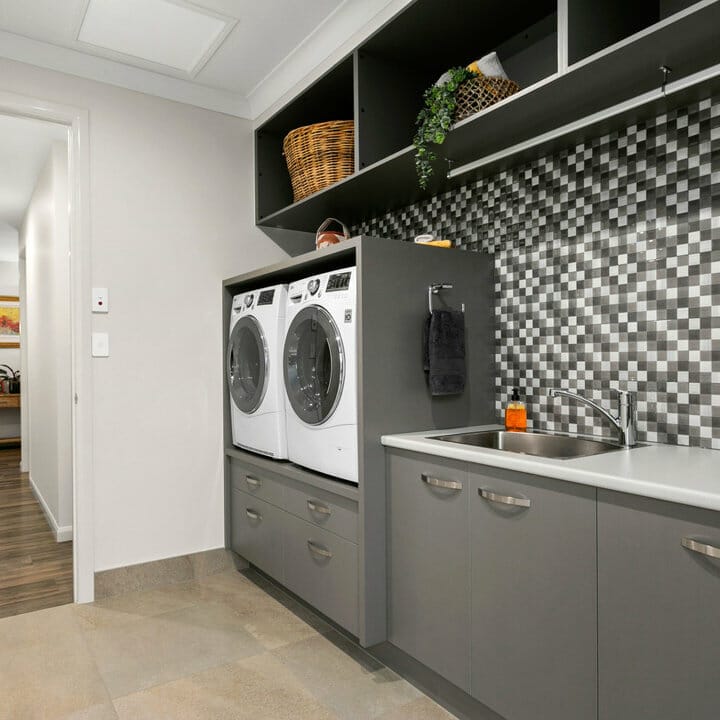 High-setting shelves may be a little challenging for you to reach. Therefore, it would be better to use it to store items that are rarely used and a place to display ornaments.
As for often-used items, you can consider having another shelving system in a more reachable spot.
21. Extended Shelves for Extra Laundry Storage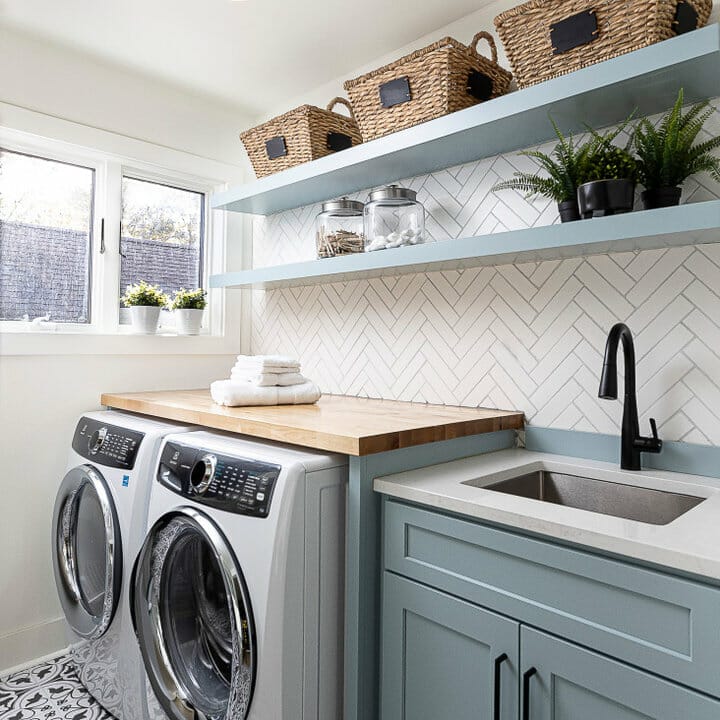 Before, the previous laundry room shelving ideas introduced you to small to medium-sized shelves. And now is the time for you to have a long one for your extra storage.
With an extra-long shelving system, you have more space to accommodate washing needs and decorative items simultaneously. So, you don't spend a lot of your narrow floor space anymore.
22. Double Duty Unit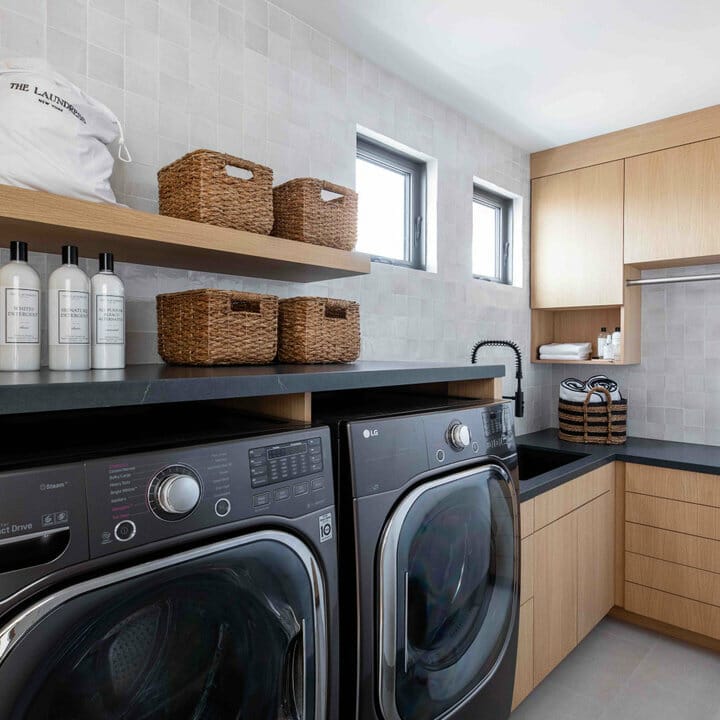 Shelves are not permanently mounted on the wall. Sometimes, it also camouflages into a countertop above your washer and dryer.
However, as the height is not suitable to use as a base for doing laundry, you can turn it into a shelf to store some baskets and cleaning kits.
23. Twin Floating Shelves is Enough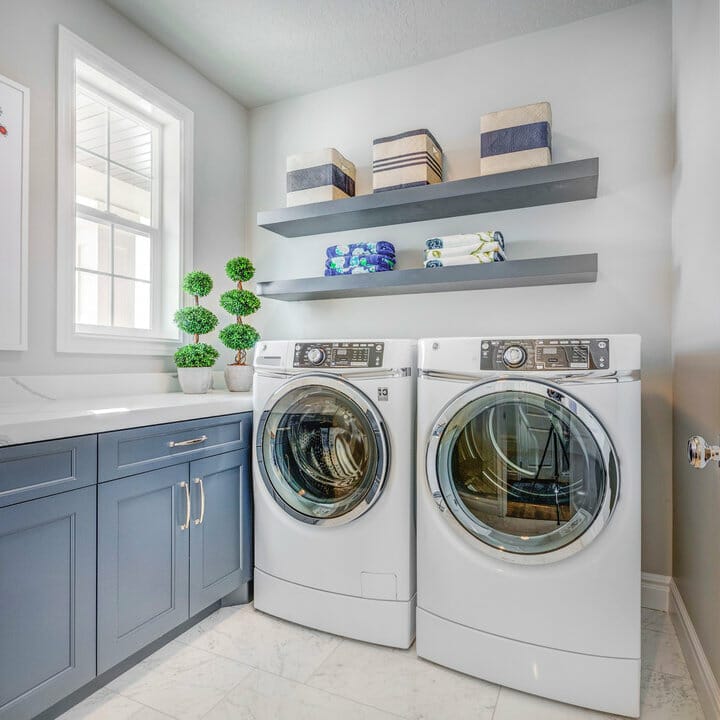 Suppose you don't have a lot of stuff in your laundry area. In that case, laundry room shelving ideas recommend having twin shelves. It is, indeed, enough for storing some washed towels and rags.
Next, you can consider placing the shelves over your washing machine. Even though the laundry supplies are not there, it is expected that the presence of these shelves can emphasize the existence of your washing spot.
24. Modified Shelf Size and Models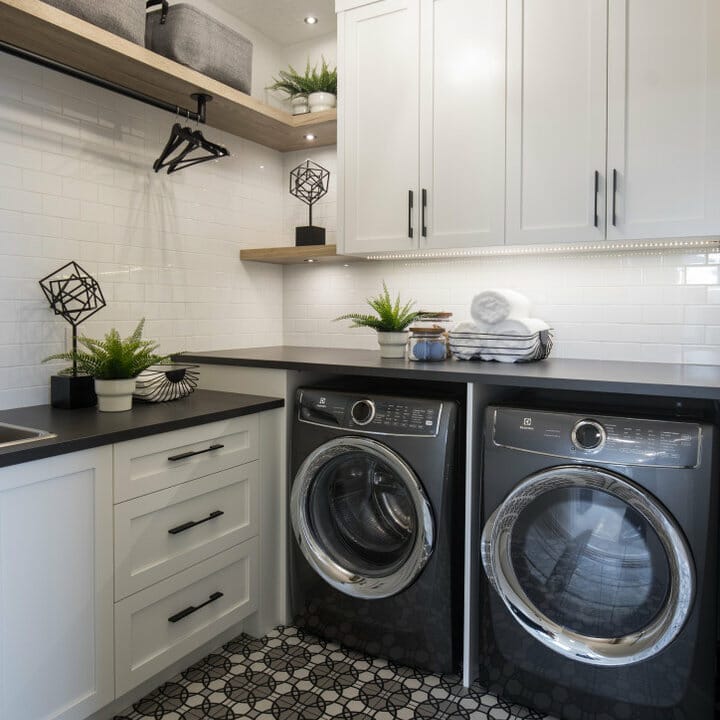 In some cases, you are also allowed to have misaligned laundry shelves. Like the picture above, you can freely go with any shelf design.
As long as it suits your needs and preferences, all will be well.
25. Deep Laundry Room Shelving Ideas Under the Cabinet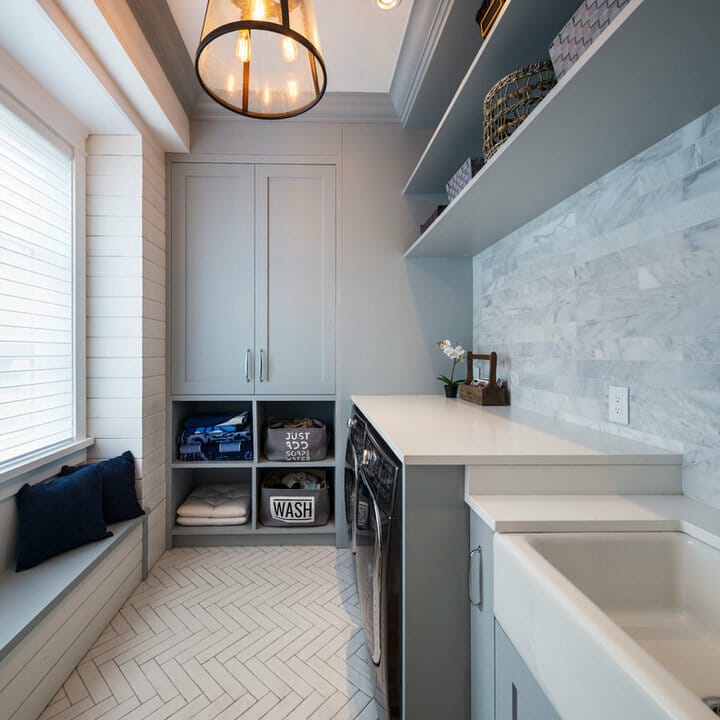 Maybe you've ever wondered, "how deep should laundry shelves be?" So, the answer is that it depends on the purposes and needs.
Suppose you want to build shelves as a place to store your laundry sorter, then you're better off going with a tall and wide one. Meanwhile, making a narrow one will not be a problem if you only need it for decoration.
26. Put Them on The Opposite Side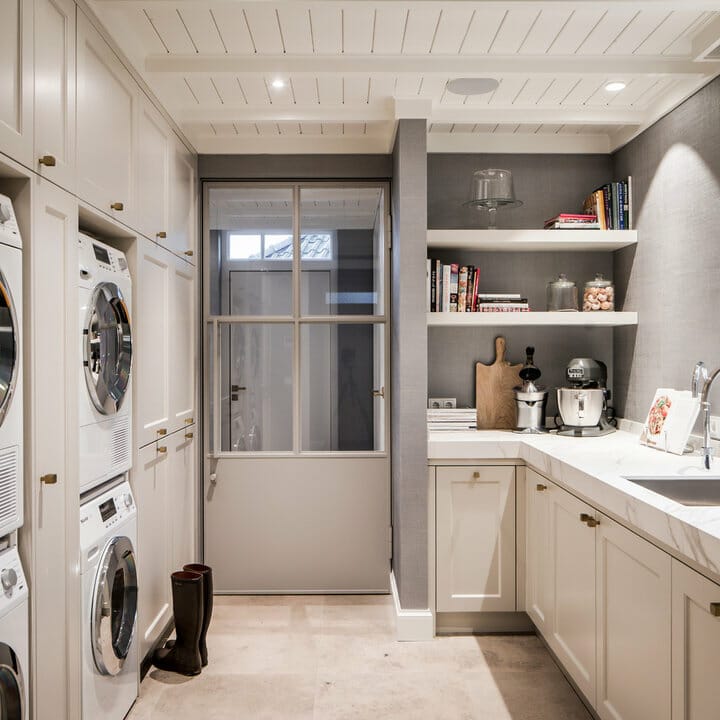 Indeed, having shelves close to the washer and dryer makes it easier for you to keep your washing supplies within reach.
However, it doesn't matter if you choose to put them on the opposite side as long as it doesn't burden you while doing laundry and keeping the room tidy.
27. Various Shelving Models Here and There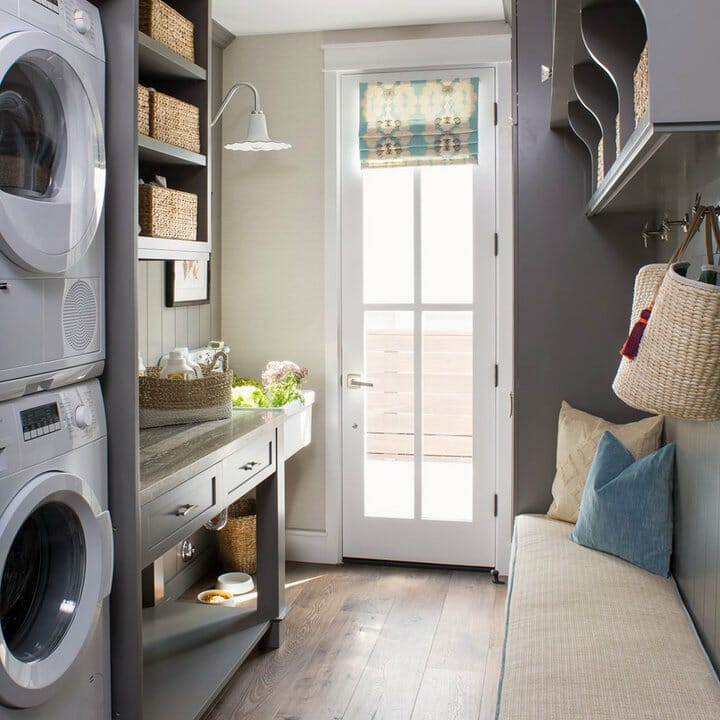 Laundry room shelving ideas always encourage you to be more creative in managing the interior design. By trying many things, including providing many sizes and models of shelves, your laundry room will be far from a monotonous atmosphere.
Even you can freely set shelves under the countertop, above the mudroom bench, or on the side of the washer.
28. Varnished Wooden Shelf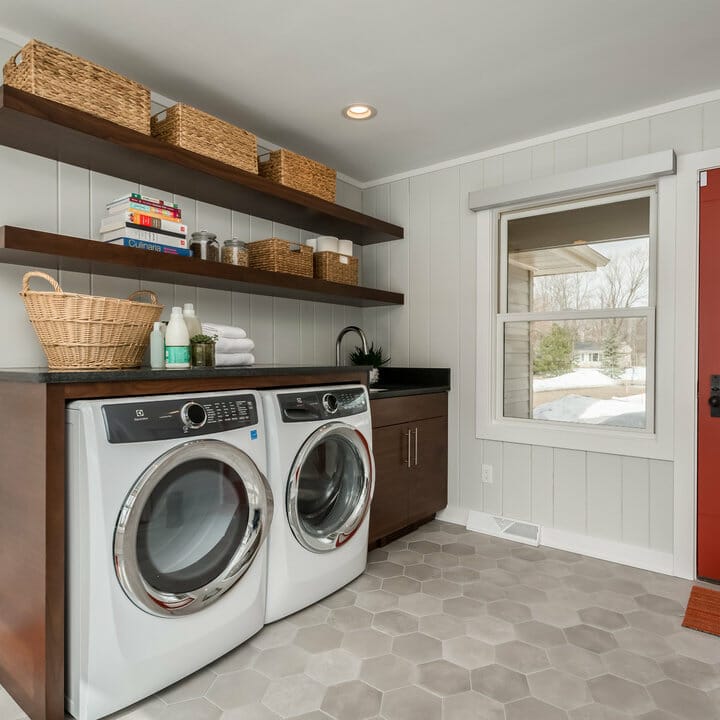 Many laundry room shelving ideas carry a traditional theme without losing the impression of modernity. And this design is one of them.
Presenting a shelving system that matches countertops and cabinetries is undoubtedly a brilliant choice. Especially if it comes with a varnished wooden unit, of course, an understated rustic vibe is inevitable.
29. White Theme with Lights Under the Shelf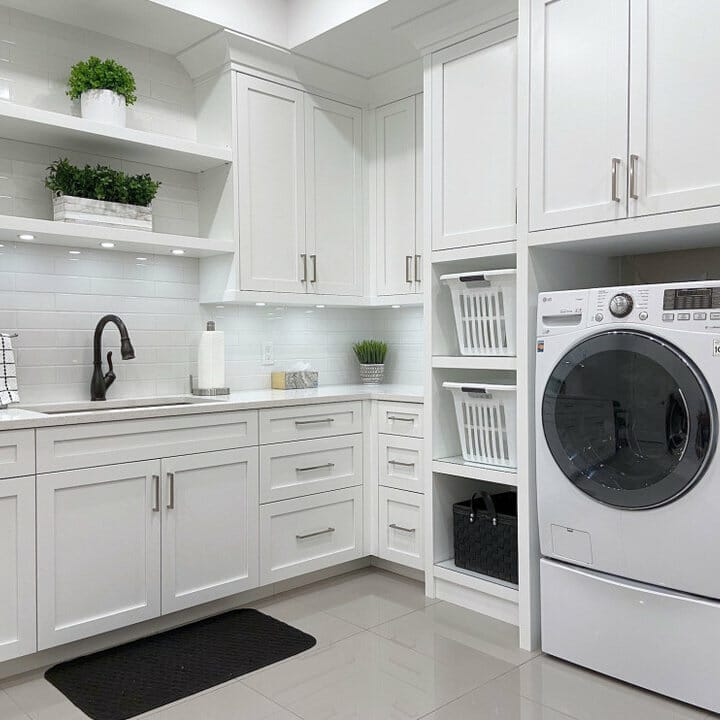 Laundry room shelves complete with lights at the bottom will certainly increase the value of your utility room. Not without reason, this illumination setting has an important double role.
Later this lighting is helpful as a task lamp that makes it easier for you to do the chore. Furthermore, this illumination can also be accent lighting that highlights several spots in your laundry room.
30. Easy to Reach Shelving System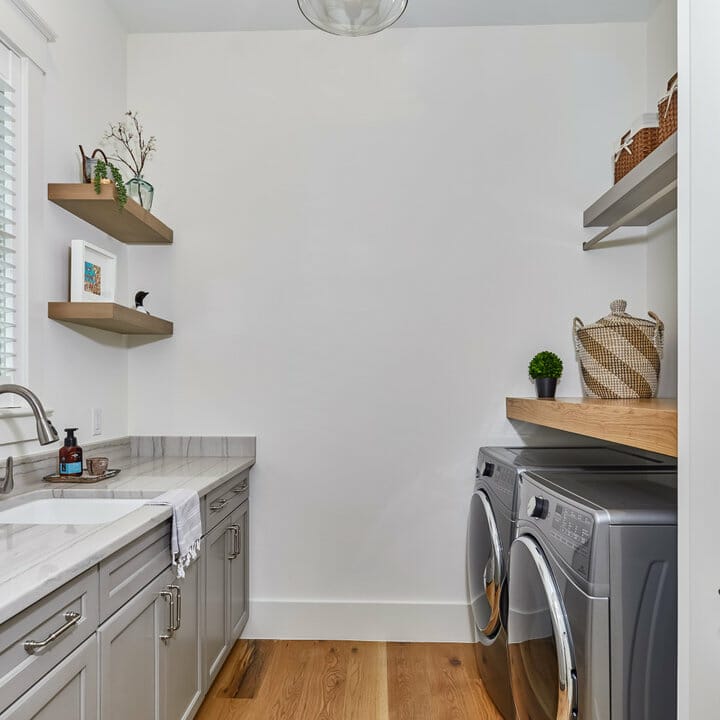 Last but not least, no matter how aesthetically your laundry shelving system is, it would be great if it could help you solve the chore fast and fun.
It would help to implement laundry room shelving ideas in strategic spots not to frustrate you. And keep the washing needs near. That way, your laundry day will be more enjoyable.
And finally, those are all the laundry room shelving ideas that we recommend to you. If you have found a concept that suits you most, don't hesitate to make it happen!