Having a counter surely makes washing clothes much easier. If you plan on installing it, check out these laundry room countertop ideas.
Furthermore, counters in laundry rooms let homeowners fold clothes comfortably, remove stains, and lay flat delicates to dry.
Without a doubt, laundry rooms benefit from counters.
From an aesthetic standpoint, countertops can enhance the appearance of laundry rooms. In addition to completing the look, they boost laundry room organization.
These ideas will help you pick the counter material that perfectly suits your laundry room. Also, this post covers various layouts and styles, so you can optimize your countertop space.
1. Marble Laundry Room Countertop Ideas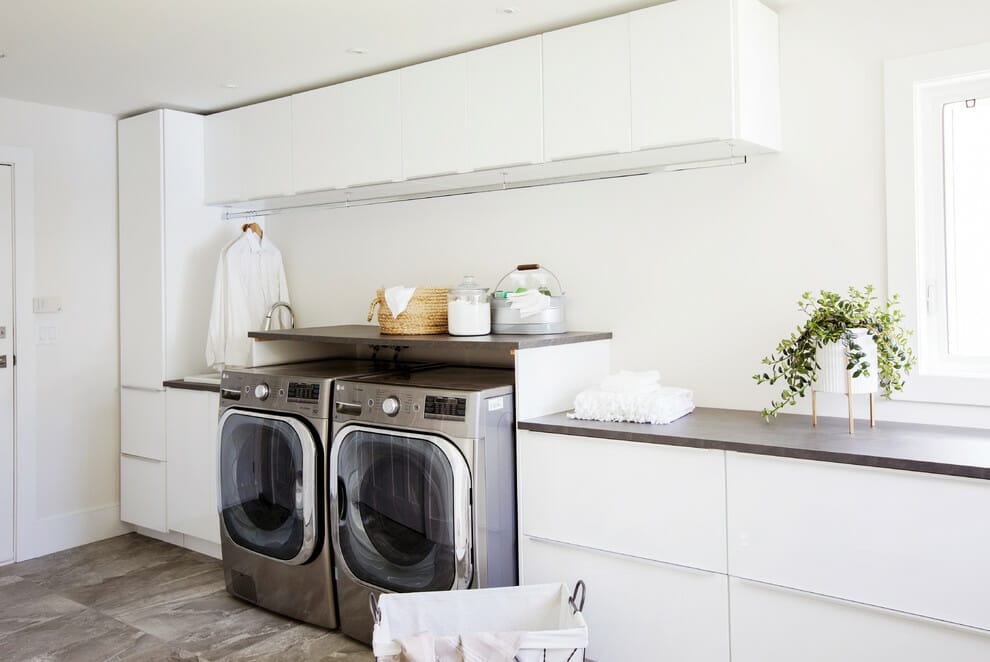 Speaking of lavish laundry room ideas, consider installing a marble counter. It surely helps you enjoy washing dirty clothes since the space looks luxurious.
This laundry room is fantastic. The gray marble counter mingles with the dryer, washer, and floor tiles while providing high-end details.
There is a metallic clothes rack above it, too. Here, the gray marble countertop holds a minimalist plant stand.
Additionally, it enables the homeowner to park a seagrass basket, a detergent glass jar, and a light gray basket.
2. Laundry Room Countertop with Sink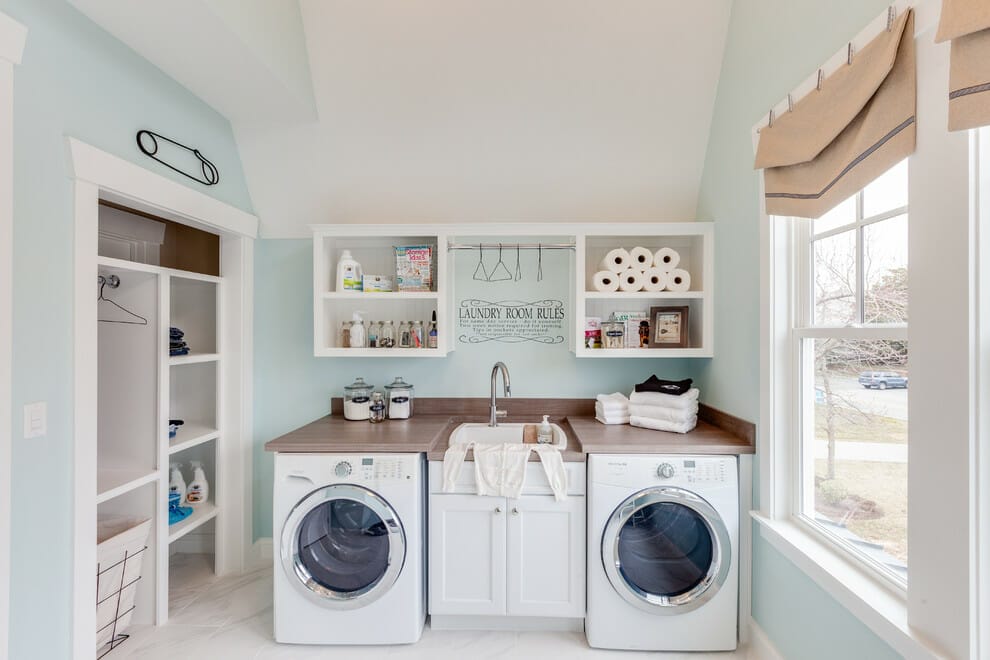 This tiny laundry room is airy because of the blue walls. Meanwhile, the laminate counter warms up the space while becoming a handy place to fold laundry.
The laminate countertop features a bright white sink, so you can spot-treat stains at any time. Furthermore, it offers a surface area to display glass jars of cleaning products.
Over the laminate counter, there is an open cabinet. It provides storage space for toilet paper and other items.
3. Attic Laundry Room Countertop Ideas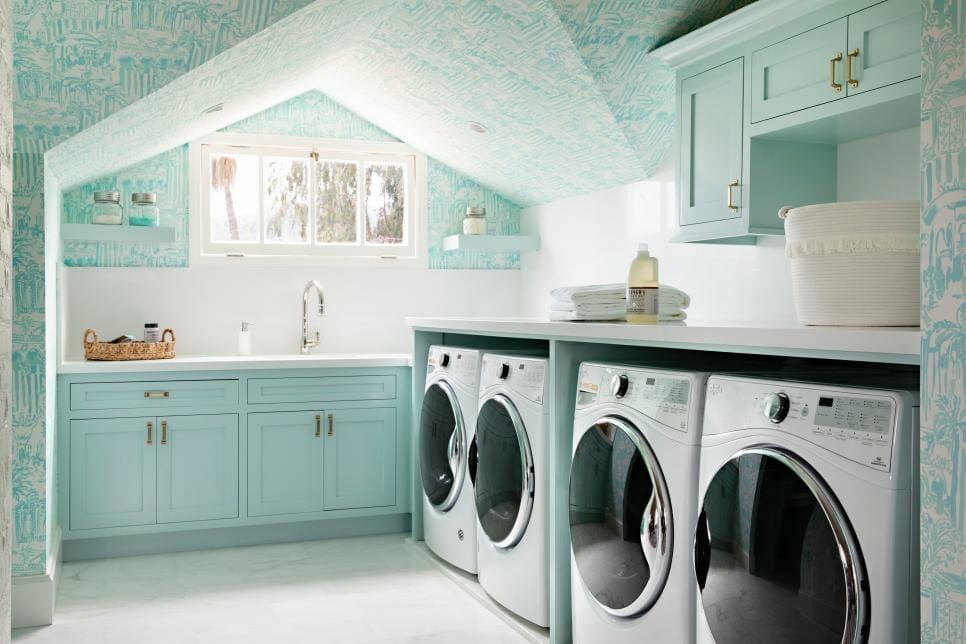 If your family is big, replicate this laundry room. The higher countertop accommodates two pairs of washers and dryers underneath.
It houses other items like a fabric basket, towels, and a cleaning product too.
The lower counter boasts a sink while accentuating a wicker basket. Meanwhile, the light blue cabinetry and open shelving brighten up the laundry room.
Besides, the wallpaper makes the laundry room feel cohesive. Moreover, the gold hardware gives the space a touch of luxury.
4. Small Countertop for Laundry Rooms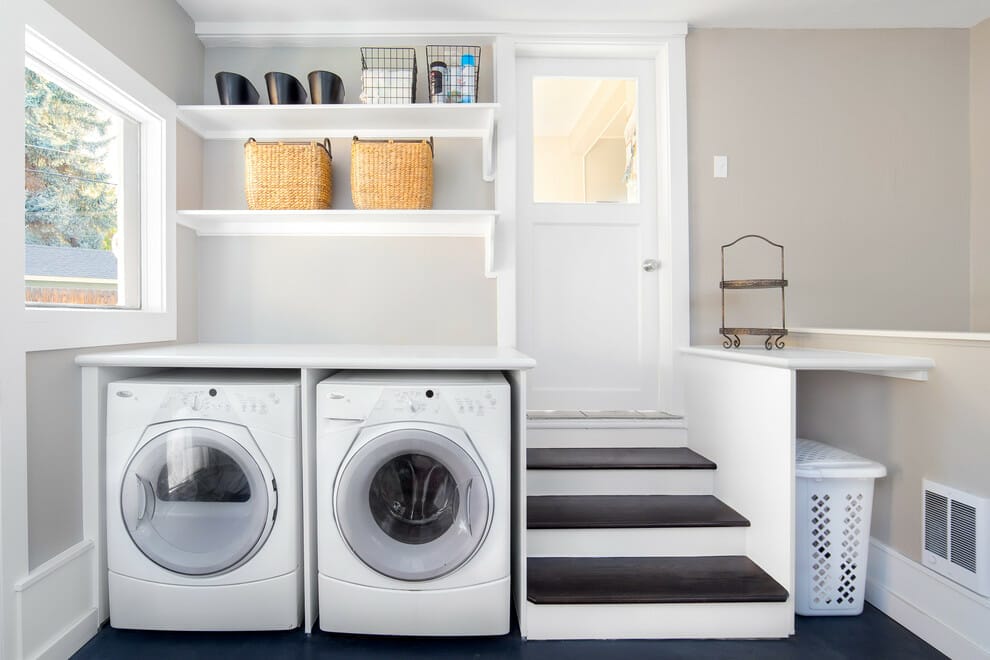 Need laundry room countertop ideas for tiny spaces? You can copy this laundry room. Despite being small, the white counter above the dryer and washer comes in handy.
It lets you fold your clothes before transporting them.
White open shelves over the counter keep wire and wicker baskets within easy reach. Here, you can spot a smaller counter above the plastic laundry basket too.
Meanwhile, the indigo blue flooring and dark gray steps lend the laundry room some drama.
5. Custom Countertops for Laundry Rooms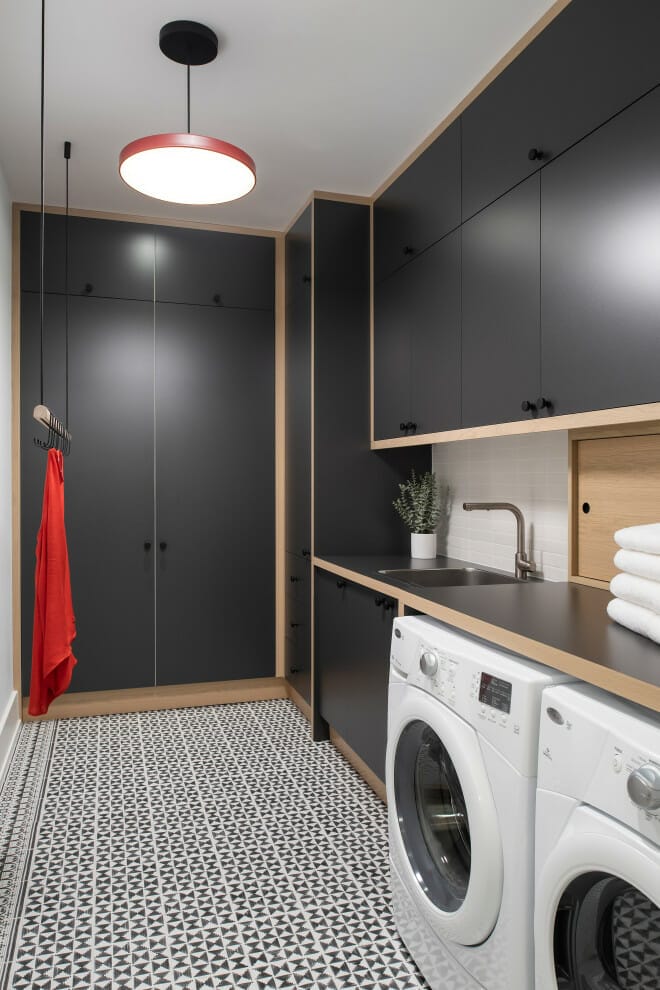 When it comes to laundry room countertop ideas, consider opting for a custom counter. It delivers customization and a wow factor to the interior.
As you see, the black counter over the dryer and washer is smooth and functional. Meanwhile, the sink lets you get rid of stains on your clothes.
The custom black countertop and cabinets infuse the laundry room with sophisticated vibes.
Furthermore, the flooring showcases geometric details, while red accents generate positive energy.
6. Laundry Room Countertop Over Washer-Dryer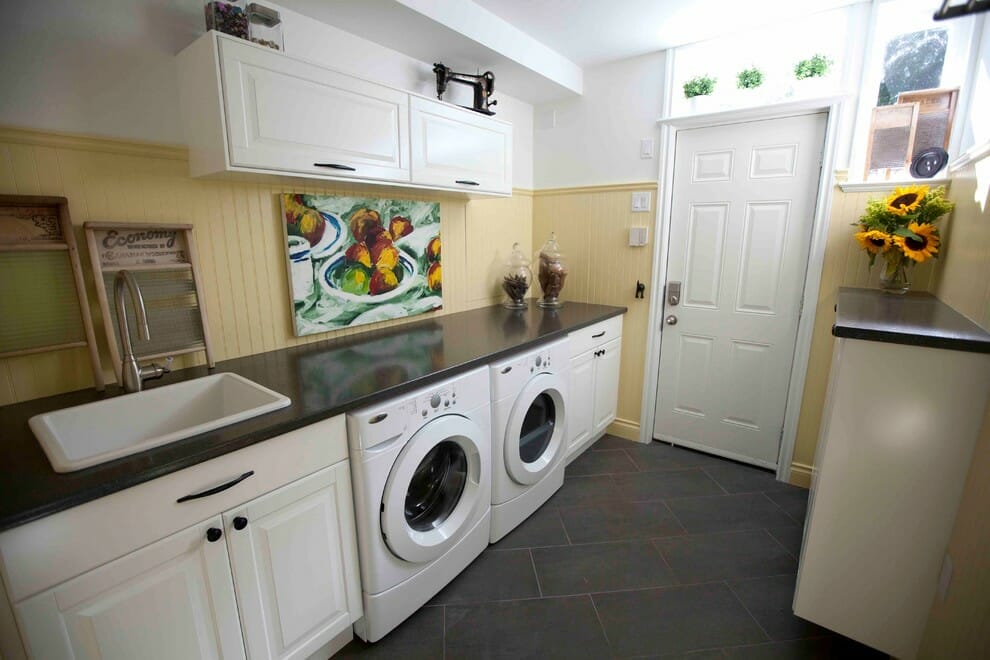 If you adore granite laundry room countertop ideas, try this idea. The homeowner installed the dark gray granite counter right above her dryer and washer.
That way, she has a useful surface to fold her laundry and display glass jars.
As an engineered stone, granite is beautiful yet durable and high-quality. In addition, it needs custom fabrication to fit a laundry room.
In this retro laundry room, the pure white sink contrasts with the granite counter. Meanwhile, the painting, buttercup-painted beadboard paneling, and sunflowers provide some cheer.
7. Affordable Laundry Room Countertop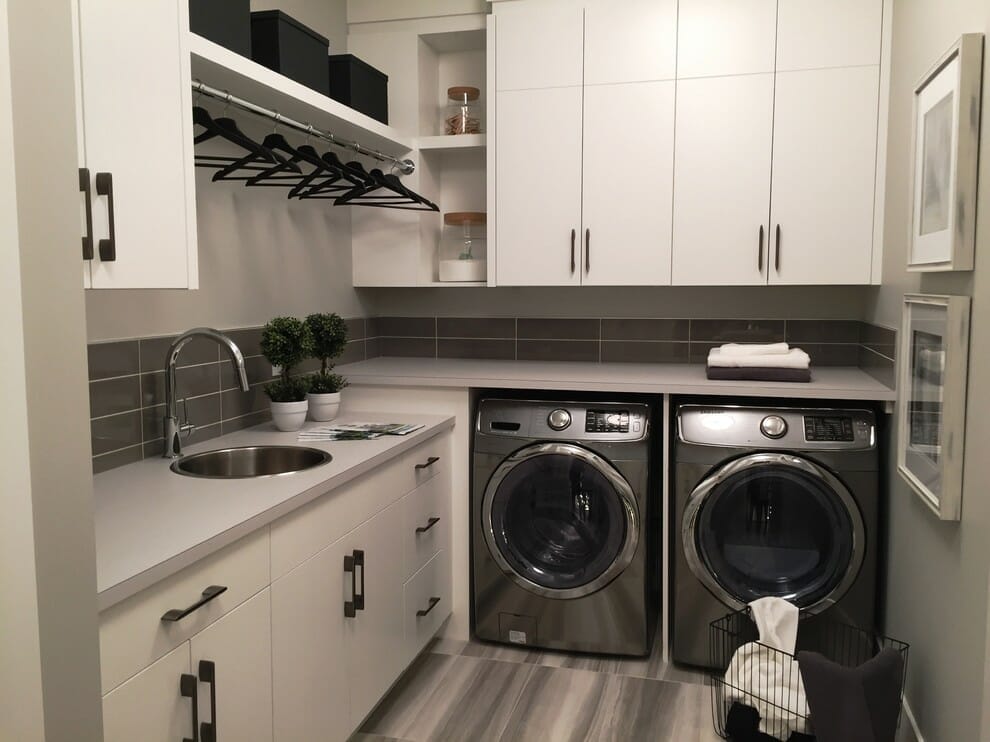 Gray dominates this laundry room. The homeowner included varying shades of it, so the space looks dynamic and stylish.
Speaking of inexpensive laundry room countertops, look no further than solid-surface acrylic. It withstands scratch and stain.
Here, the pale gray acrylic counters add function to the laundry room.
The lower counter has a round metallic sink to remove unwanted stains. Meanwhile, the upper one provides a clean surface to fold laundry.
Also, the wire laundry basket and clothes rack complete the room.
8. All-White Laundry Room Countertop Ideas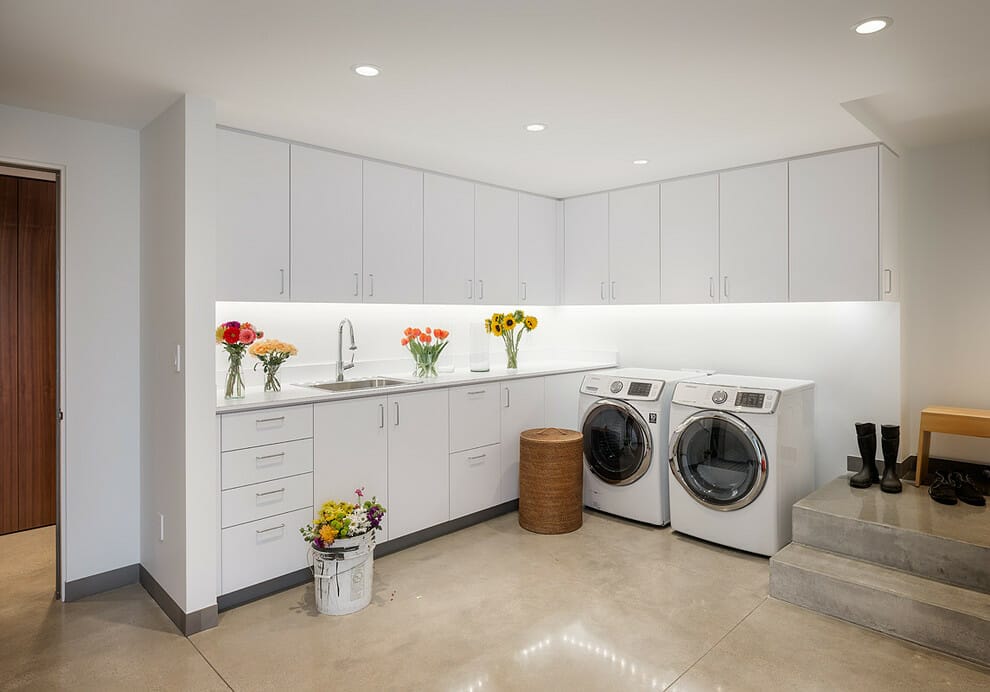 This modern laundry room is not large, yet it feels open. The stark white counter, front-loading appliances, and cabinets keep things airy.
The counter boasts a rectangular sink while keeping wrinkled heaps at bay due to its handy worktop.
In this picture, it is right beside the dryer and washer.
Because of the wicker laundry basket and wooden table, the laundry room does not look cold. Vibrant flowers in a paint bucket and glass vases impart happy vibes to the laundry room.
9. Laminate Countertop for Laundry Rooms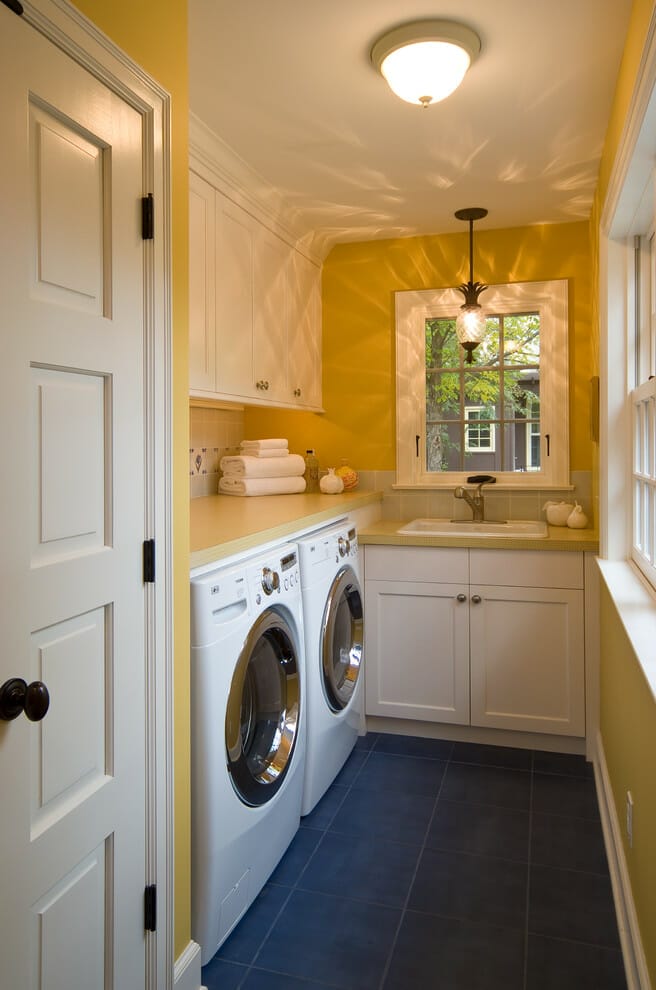 As you see, this retro laundry room is narrow. However, the homeowner doesn't think of it as a restraint. There are upper and lower counters that make the process of doing laundry much smoother.
The laminate counters match muted yellow walls excellently. Windows, white front-loading appliances, and small cabinets open up the laundry room.
Two kinds of ceiling light fixtures illuminate countertops.
10. Luxurious Laundry Room Countertop Ideas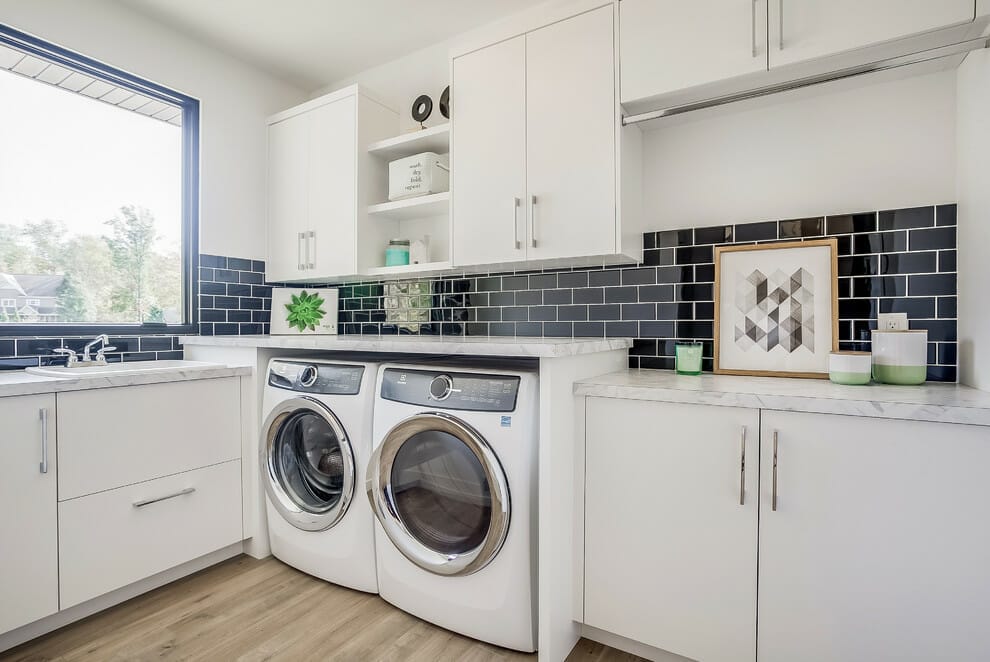 If you hate doing laundry, this room will undeniably change your mind. You can spot marble counters beside and above front-loading appliances.
They produce a sense of opulence.
Apart from injecting sumptuous details, marble counters provide functional worktops. Here, they display artworks and canisters.
Marble counters call attention to glossy black backsplash tiles. Pops of sage green, turquoise, and bright green perk up this laundry room.
11. Stick to Neutral Colors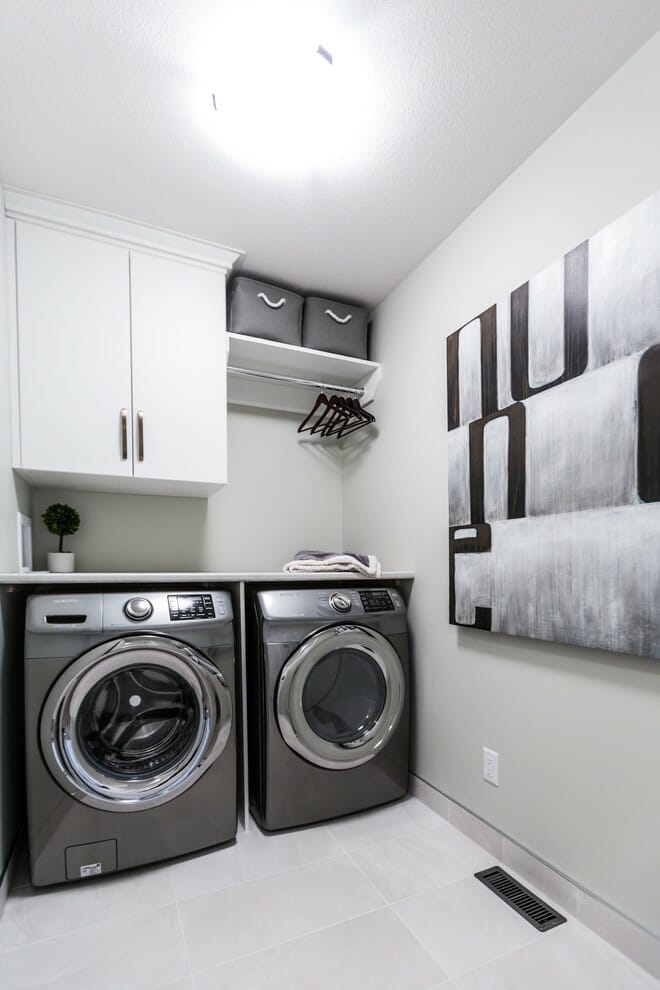 When in doubt, pick neutrals. This small laundry room, for example, features light gray walls and tiles, so it feels bigger.
There is a white countertop over the metallic gray dryer and washer. Not only does it showcase a fake plant, but also offers a handy place to fold clothes.
The custom counter comes with a divider that separates a washer from a dryer. Meanwhile, the baskets and clothes rack produce more storage space.
Lastly, the neutral artwork unifies this pocket-sized laundry room.
12. Laundry Room Counter with Storage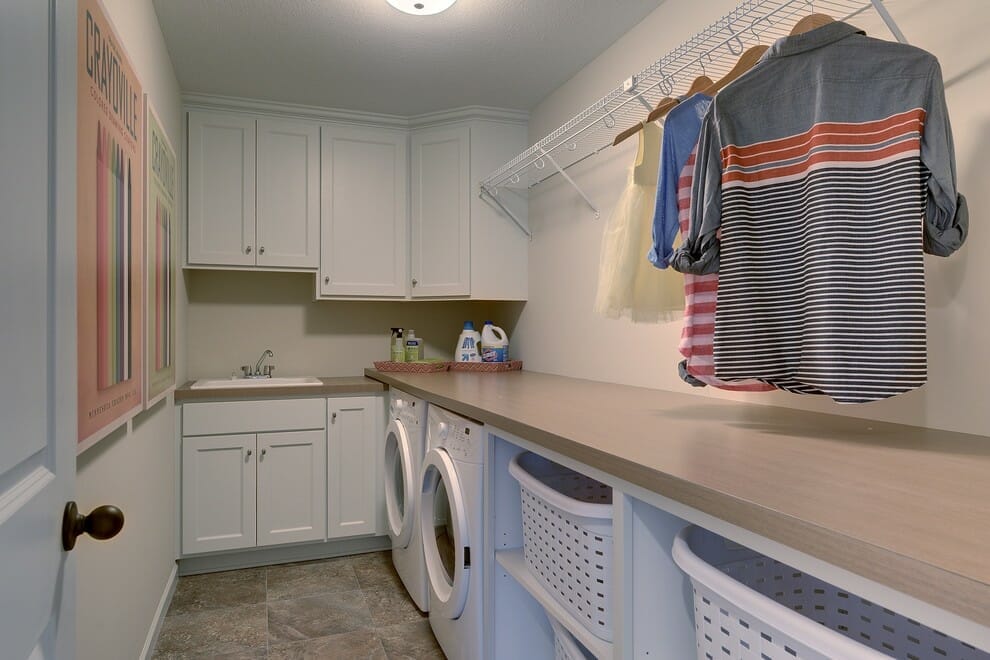 If you need clever laundry room countertop ideas, apply this idea. Here, the homeowner created laundry basket storage beneath the long laminate counter.
Also, it accommodates a dryer and a washer underneath.
The shorter laminate countertop boasts a white sink and cleaning supplies holders. Moreover, the white clothes rack over the long counter keeps laundry wrinkle-free.
Since laundry room counters and walls wear neutrals, artworks come to the rescue.
13. Wood Countertop for Laundry Rooms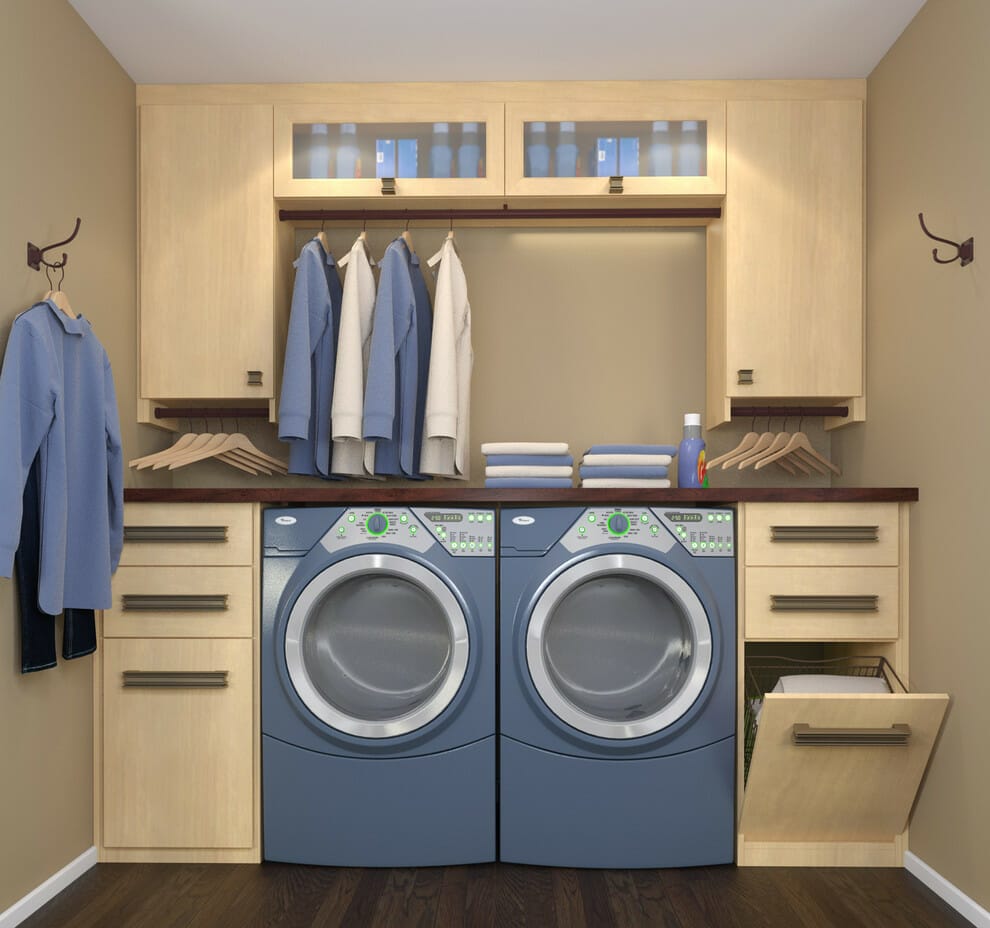 If you immensely love pastels, this is one of the laundry room countertop ideas to steal. The appliances, clothes, and cleaning products embrace pastel gray-blue.
Besides, the dark wood counter adds more warmth to the small laundry room. It lets you fold all your clothing while mingling with taupe walls and blonde wood cabinets.
The homeowner secured the counter to the adjacent cabinets using L-brackets. Moreover, there are clothes racks at different heights above it as well.
14. Double Duty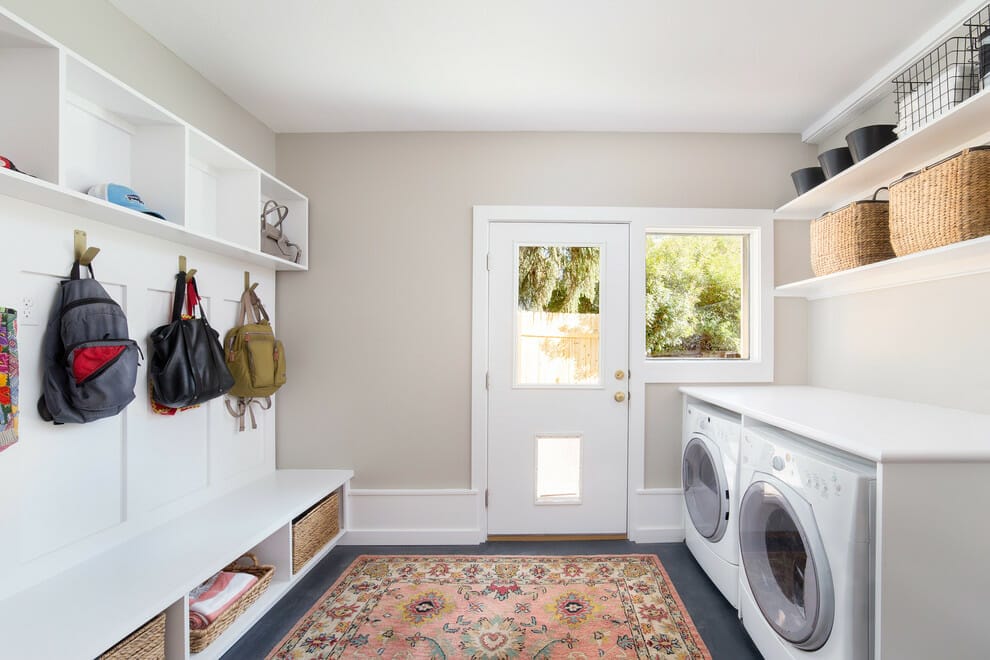 Limited space? You should apply brilliant laundry room countertop ideas. Here, the laundry room also serves as a mudroom.
The stark white countertop frames the washer and dryer while offering a clean worktop. Moreover, open shelves keep baskets of varying materials in place.
You can tuck wicker baskets beneath the bright white bench.
Metallic hooks keep each family member's bag off the floor, while the intricate rug introduces cozy and wow factors.
15. Quartz Laundry Room Countertop Ideas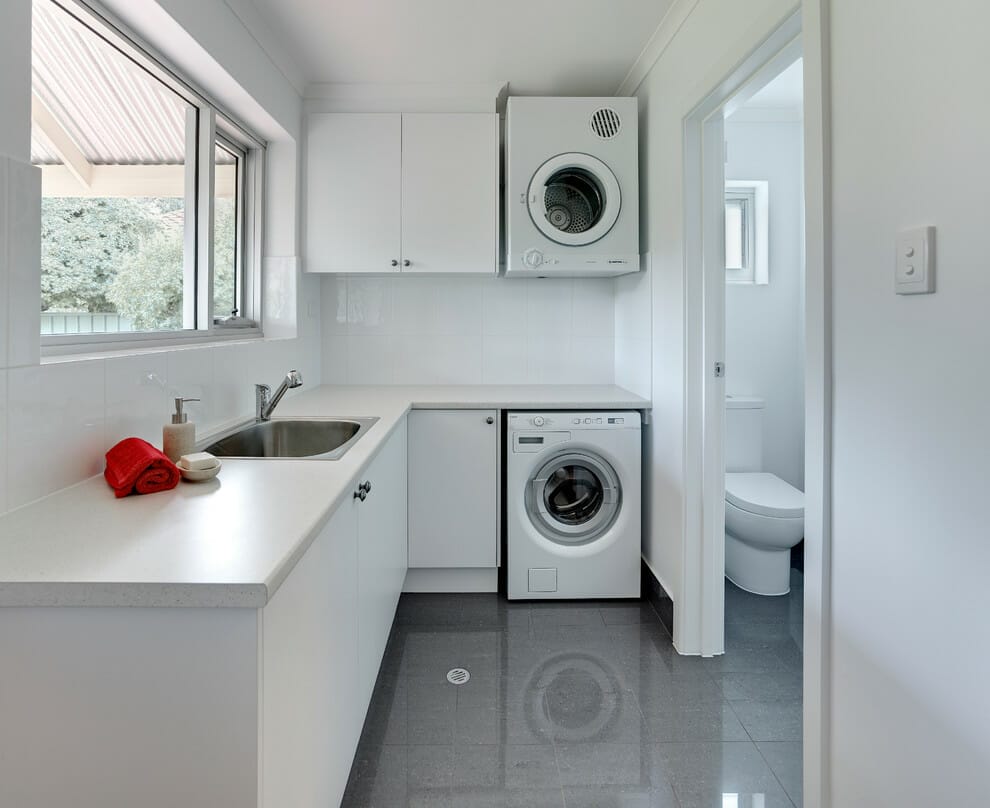 You cannot go wrong with quartz laundry room countertop ideas. This counter provides timeless beauty while offering a durable surface.
Since a quartz countertop is non-porous, it is more low-maintenance than granite and marble ones. However, it requires you to hire a stone fabricator and a professional.
16. Butcher Block Countertop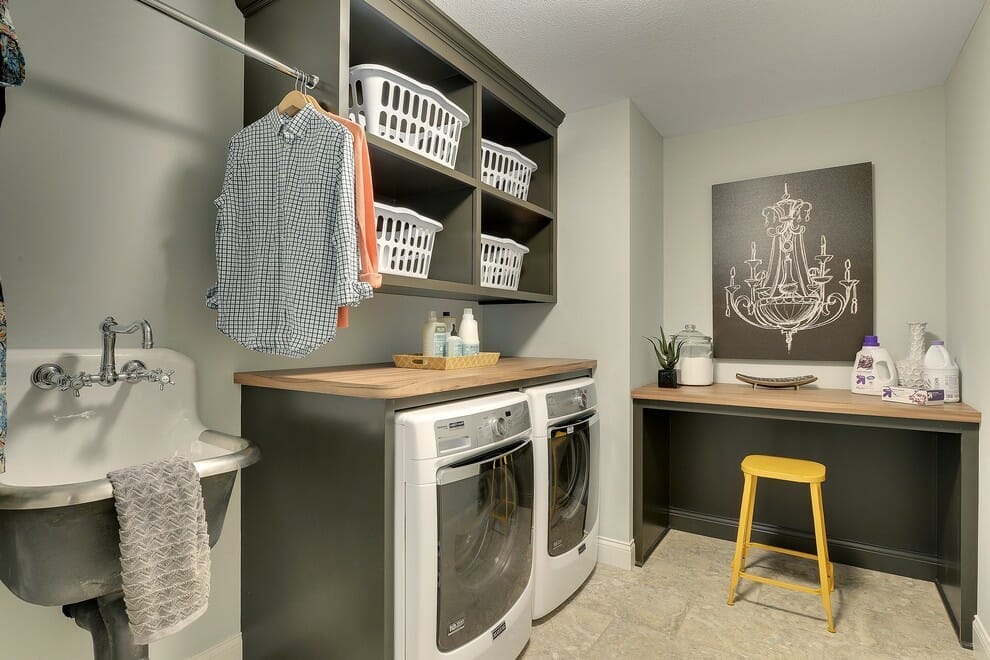 Butcher block counters bring a breath of fresh air to this predominantly gray laundry room. Apart from holding cleaning supplies, they enable you to fold clothes neatly.
Before installing butcher block countertops, consider sealing them to improve their durability. Also, integrate a vivid stool and a vintage sink to impart some character.
17. Dark But Not Dismal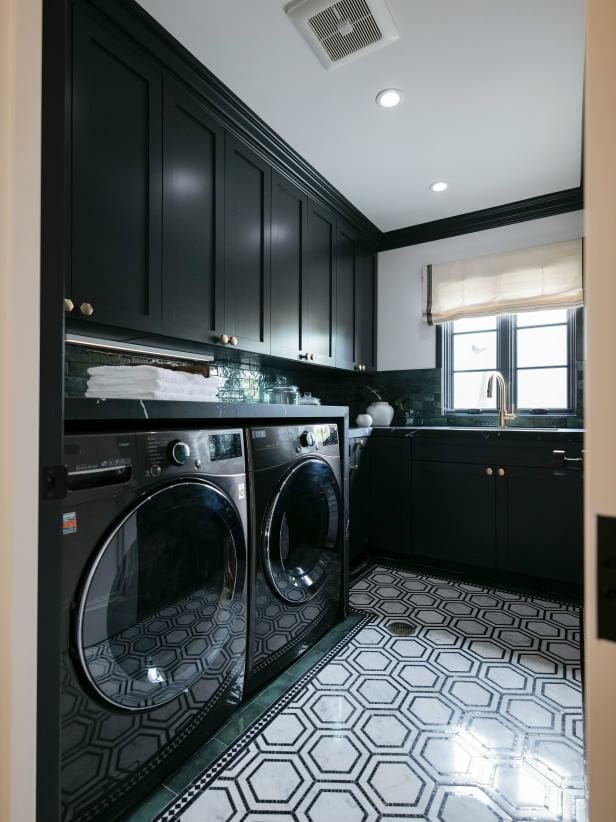 Need the best countertop for laundry rooms? Consider installing a glamorous marble counter along your laundry room's length.
The dramatic black marble countertop lets you stack towels and park detergent jars. Big thanks to hexagonal flooring, the laundry room looks attractive.
18. Marble Madness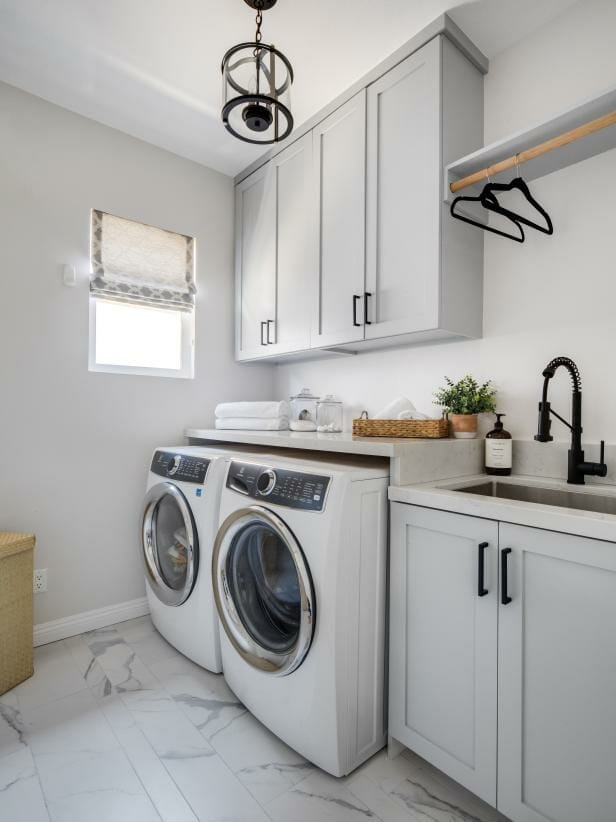 If your laundry room is tiny, then you should make it terrific. The marble flooring and counters speak of beauty, while natural elements add personality.
Sleek marble countertops accommodate a deep sink and two laundry room appliances. All things black lend the pale gray-and-white room drama.
19. Laundry Room Countertop Ideas with a Houseplant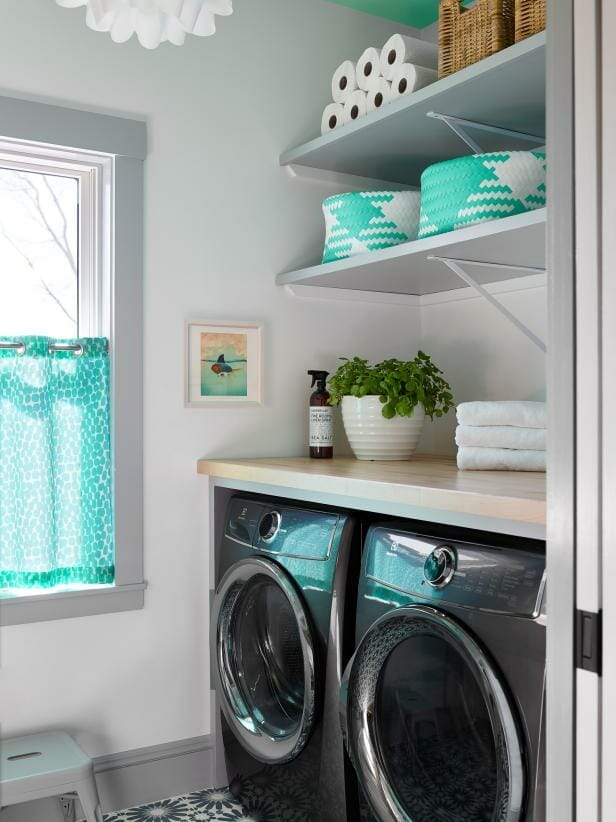 If you want convenience, install a counter over your dryer and washer. This configuration gives you a handy surface to fold clothes at any time.
Here, there is also a robust potted plant sitting on the counter. The artwork, turquoise window shade, and wicker baskets lend this tiny laundry room a coastal feel.
20. Modern Countertops for Laundry Rooms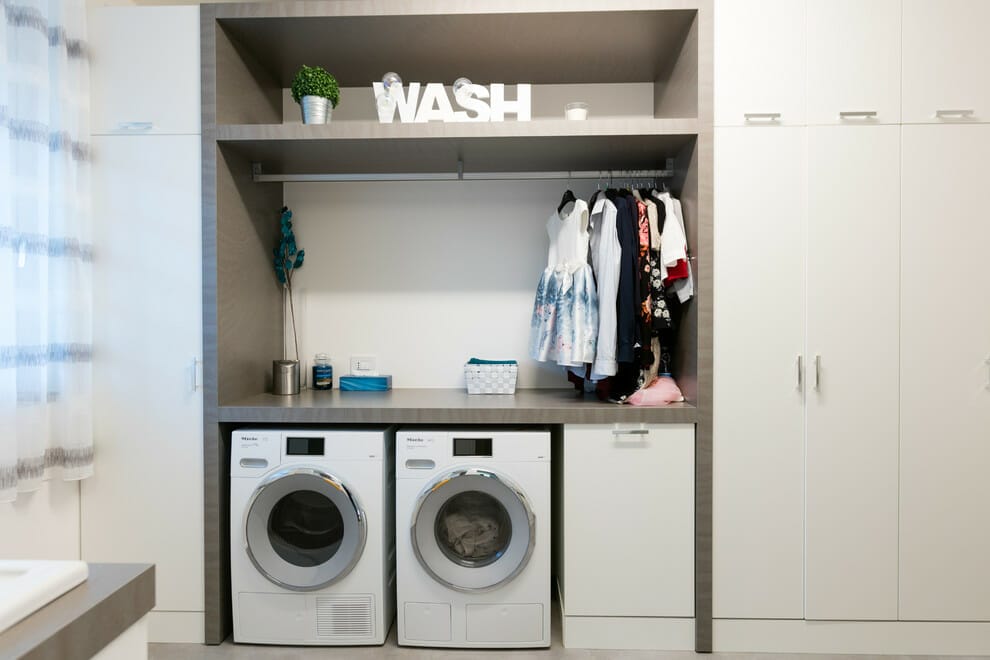 This laundry room looks serene and airy. The solid surface countertop wears gray, so it blends with the open shelf and clothes rack.
The gray counter epitomizes modernity. Meanwhile, the two-tone window shade ties the laundry room together while filtering sunlight.
21. Say Yes to Natural Elements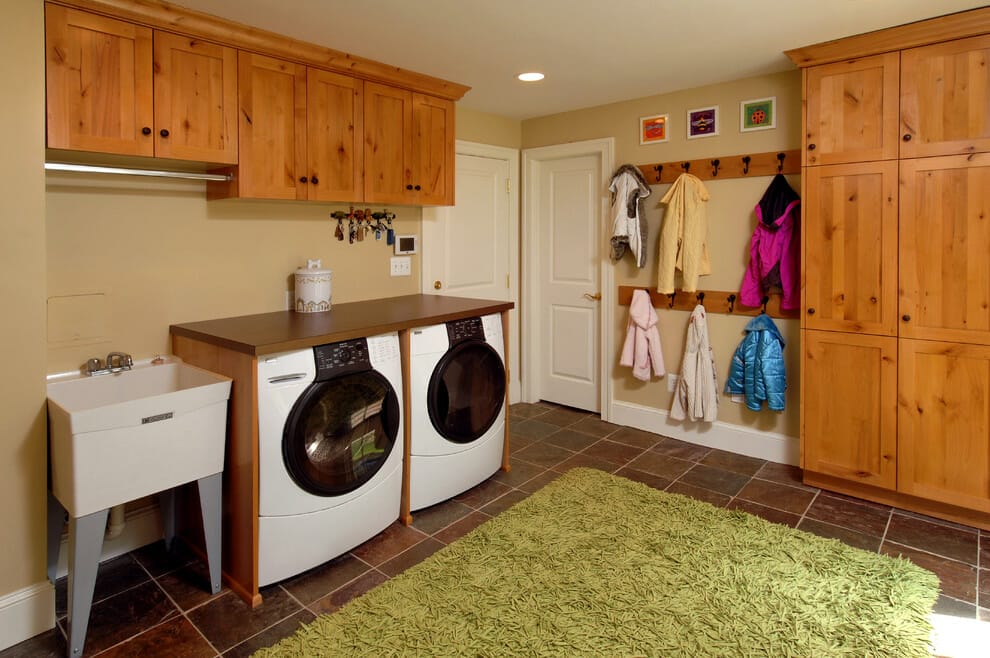 Need incredible laundry room countertop ideas? Opt for a butcher block counter. It suits raw wood clothes racks and cabinets here.
The hardwood counter creates a statement look and refined atmosphere instantly. Moreover, the lime green rug, standalone sink, and natural stone tiles make the laundry room complete.
22. Wood Meets Gray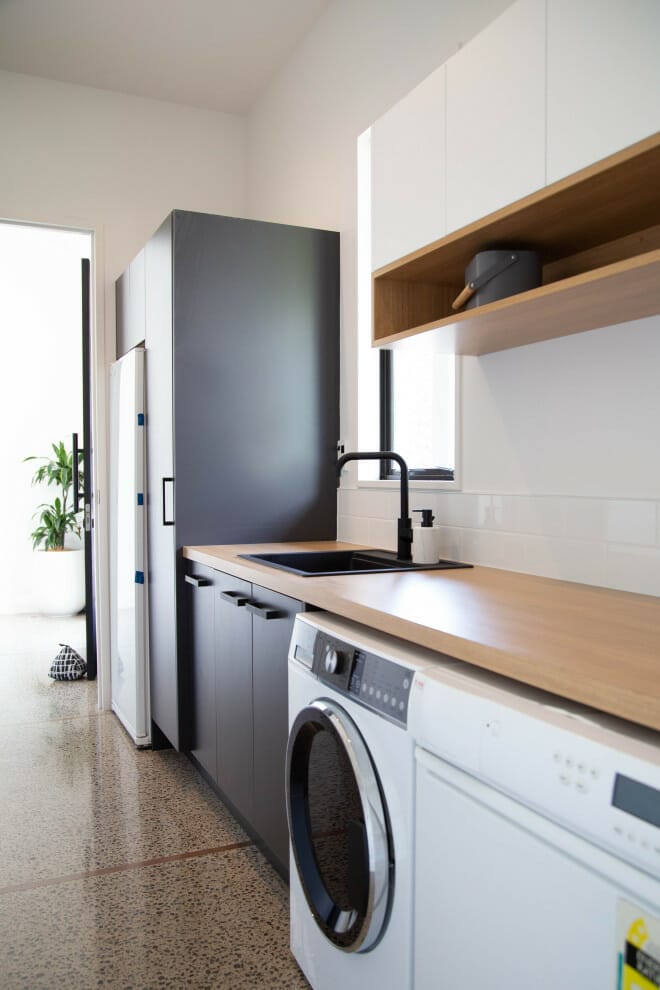 Looking for galley laundry room countertop ideas? Try using a butcher block counter. You only need to fasten it to adjacent cabinets or walls.
Installing a butcher block countertop does not require the help of the pros. The counter itself also accentuates the black sink and lower cabinetry.
23. Narrow But Appealing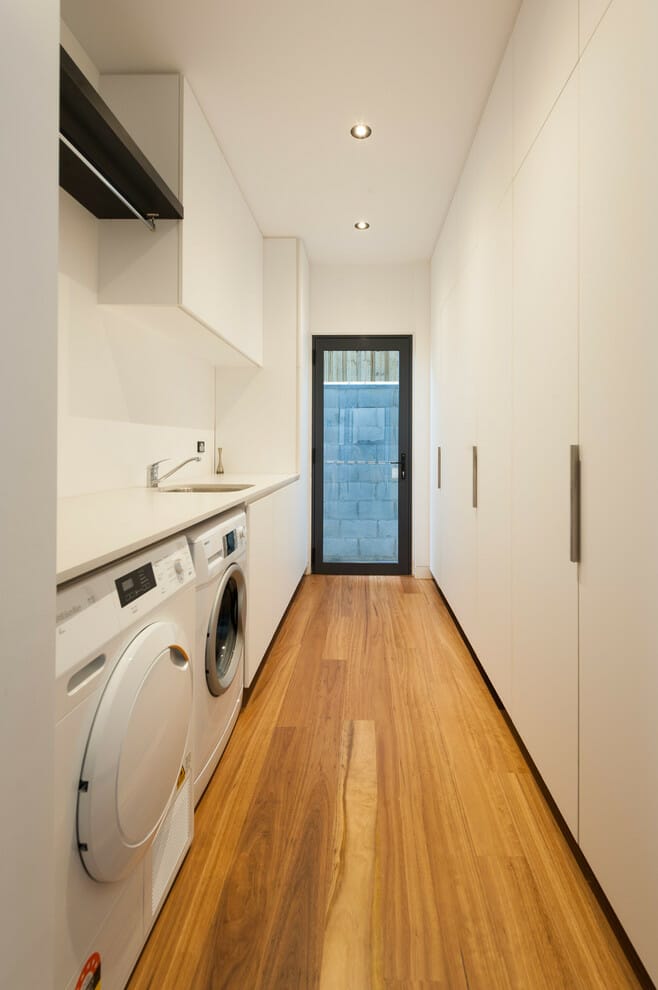 Here is another galley laundry room. The white counter, front-loading appliances, walls, and custom cabinets enlarge it instantly.
The honey wood flooring ensures this laundry room does not appear desolate. Meanwhile, the glass door and deep gray open shelf add an air of sophistication.
24. Simplicity Over Complexity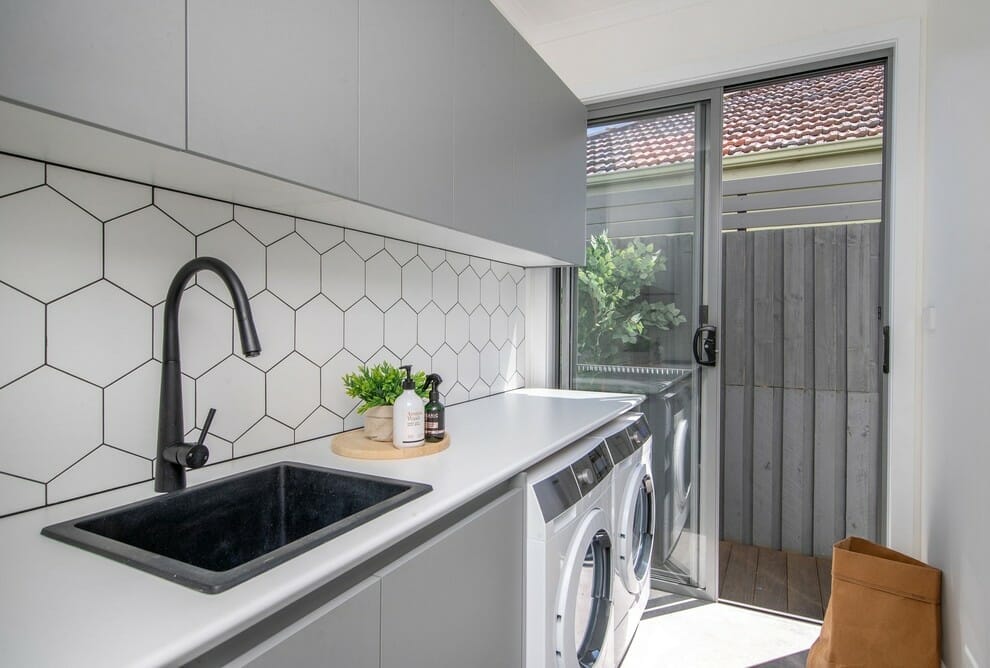 If your laundry room is not expansive, do not allow its size to put you off. Just install a sleek counter over your appliances to get a functional worktop.
The gray sink, textured door, and cabinets frame the white counter. Furthermore, the laundry bag, houseplant, and hexagonal tiles give the laundry room visual appeal.
25. Kitchen-Laundry Room Countertop Ideas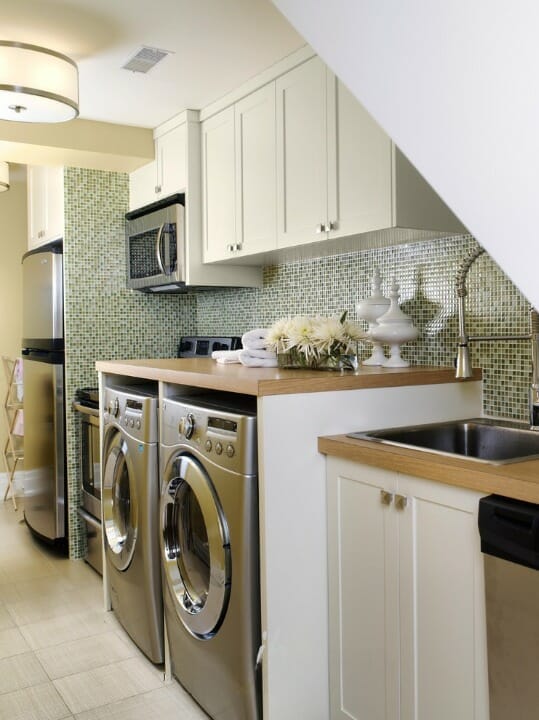 Your beloved home struggles with laundry space. Why not include a laundry area in your kitchen like the one above?
There are a couple of butcher block counters boasting a sink, a washer, and a dryer. Due to their soft color, dainty mosaic tiles become the center of attention.
26. Colors of Happiness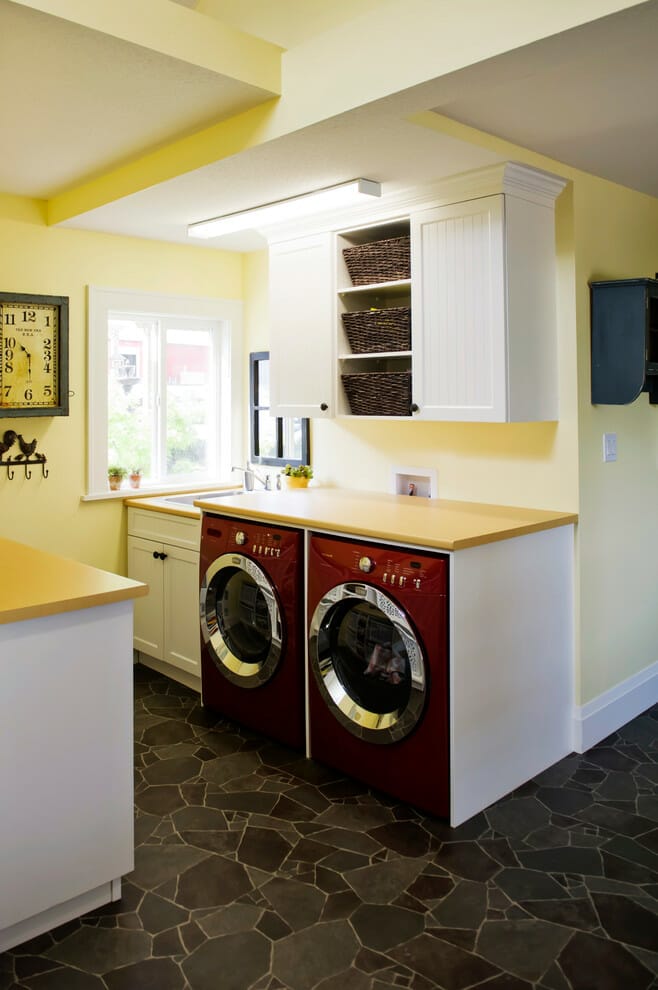 Farmhouse laundry room countertop ideas never stop to wow me. They inject positivity while making the space tranquil.
In addition to featuring a sink, the counter draws attention to deep red appliances. Meanwhile, the flagstone flooring and vintage farmhouse décor items complete the laundry room.
27. Modern Scandinavian Laundry Room Countertop
This L-shaped counter guides the eye to high-gloss backsplash tiles. Moreover, the homeowner installed it right beside the dryer/washer.
Apart from highlighting the sink, the butcher block countertop matches the upper open shelves. Furthermore, the two-tone laundry hampers create a Scandinavian ambiance.
28. Minimalist Countertop for a Laundry Room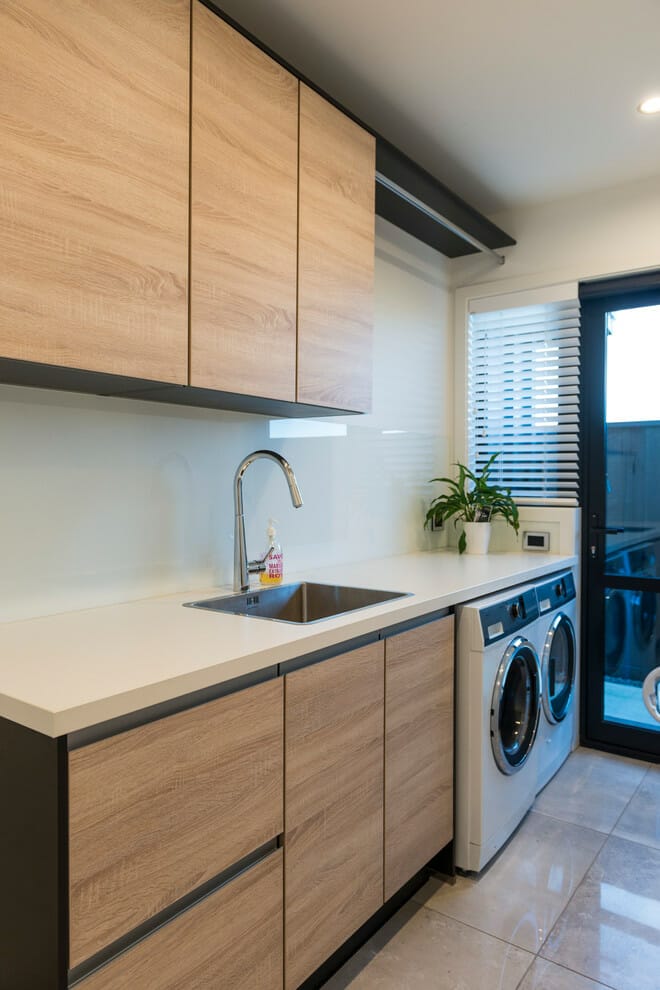 Just because you have a narrow laundry room doesn't mean you can overlook it. Here, the white laminate counter lets black-and-wood cabinets sing.
The countertop enables you to remove laundry stains too. Meanwhile, the sink and houseplant make it feel complete.
29. Cozy and Calm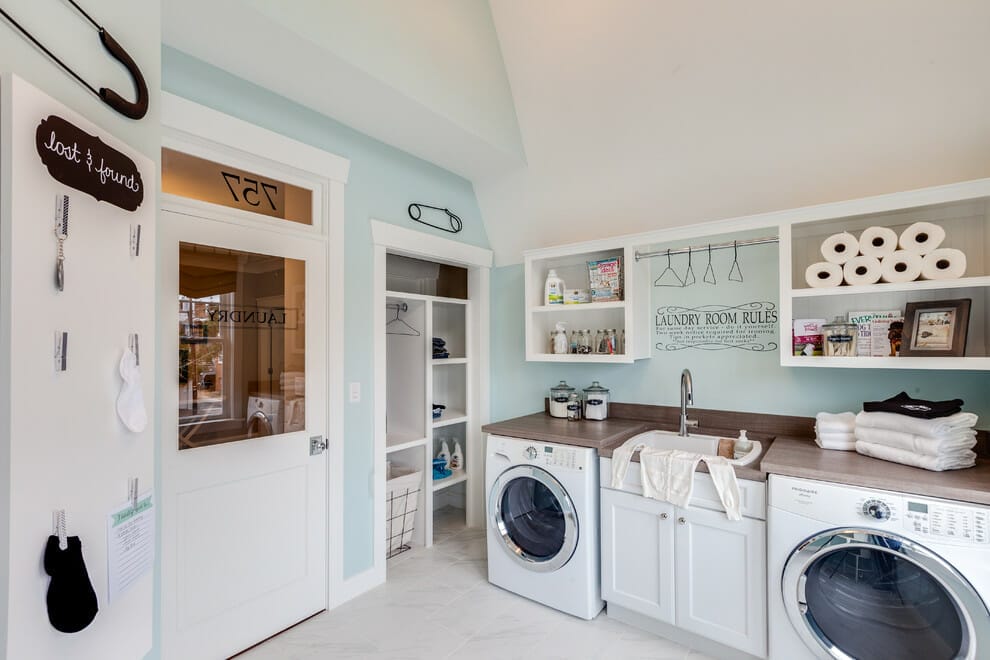 This laminate wood countertop is an ideal place to queue up towels and clothes. With the sink, you can get stains out of your clothing easily.
Baby blue and white live in harmony. In addition to the counter, the laundry room features recessed and wall-mounted shelving for extra storage space.
Hopefully, those laundry room countertop ideas inspired you. When selecting a counter, take the configuration of your laundry room into account. Also, you should see yours from functional and aesthetic standpoints.