A few bulbs might give any yard a glowing nighttime scene. Here, this page has assembled outdoor tree lighting ideas to improve the ambiance of your garden.
Moreover, outdoor lights can convert a tiny garden into a wondrous setting.
Uplights carve some drama and let trees shine at night. Meanwhile, string lights allow you to create a magical outdoor retreat ideal for evening entertaining.
Aside from these two options, there are other lighting choices to select from.
Some people may think outdoor tree lighting sounds a bit festive. However, it is perfect for throughout the entire year.
So, keep reading and let these ideas persuade you.
1. Outdoor Tree Lighting Ideas for Backyard Patios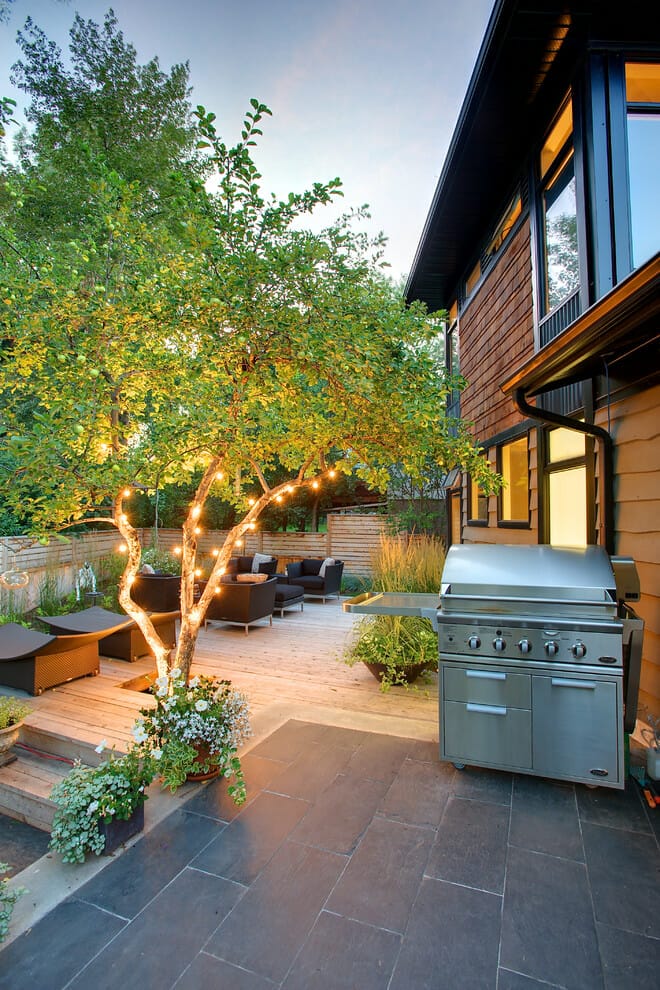 If you are into the outdoor lighting, consider sprucing up your stark tree branches with string lights. Here, they make the ornamental tree a true showstopper in the backyard.
This photo proves simple string lights can change the appearance of a garden tree. Also, the soothing glow generates an alluring vista from nearby windows.
Furthermore, the string lights offer an incredible dose of ambiance. They are such remarkable outdoor tree lights for summer days.
Thus, this space is surely perfect for backyard grilling and entertaining.
2. Oriental Solar Lanterns for Gardens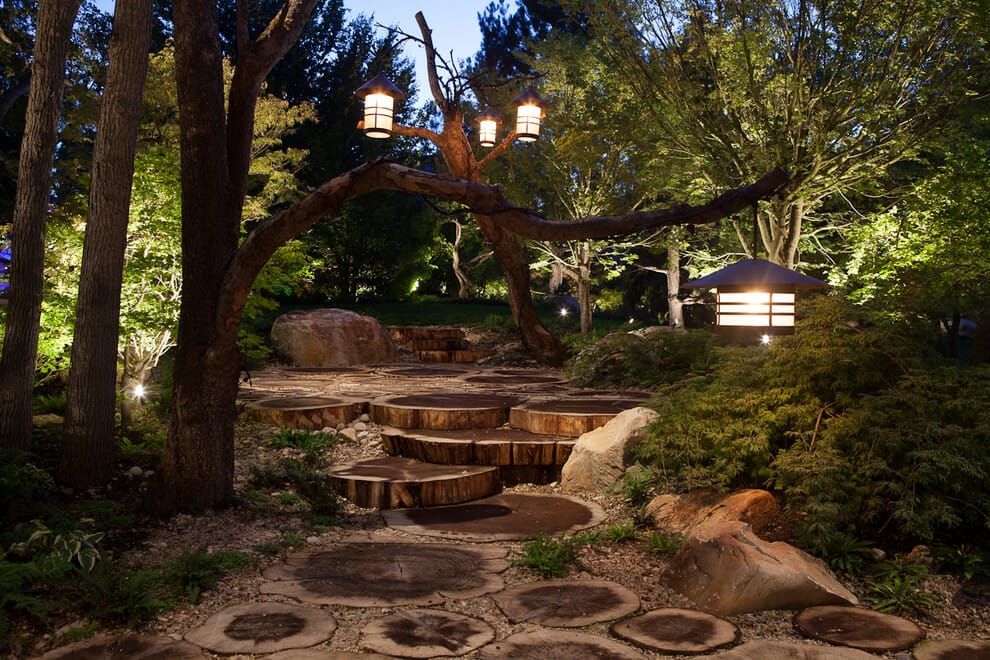 This zen garden includes a wood slice pathway and steps. As you see, they mingle with the robust plants and rugged boulders.
Speaking of outdoor tree lights for year-round, there are Japanese-style solar lanterns here. Likewise, they provide relaxing illumination while embracing minimalism.
Additionally, the uplights beneath ornamental trees complement oriental solar lanterns. Furthermore, they introduce grandeur and drama during the nighttime.
3. Outdoor Lighting Ideas with Moroccan Lanterns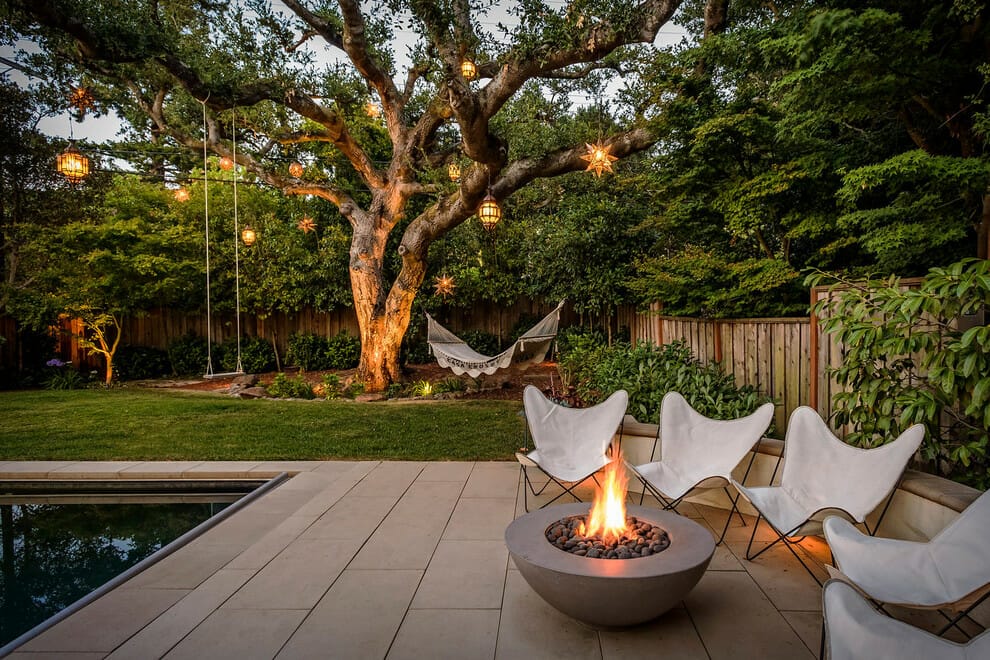 An abundance of outdoor lights can produce an appealing look. For instance, in this picture, you can spot hanging Moroccan lanterns.
They impart an exotic ambiance and create an ethereal scene.
These decorative lanterns bring any plain backyard to life. Furthermore, they make an evening entertaining special.
If you have no plug sockets, opt for solar-powered Moroccan lanterns. Also, consider adding a boho hammock and a cozy swing.
4. Outdoor Tree Lighting Ideas for Living Rooms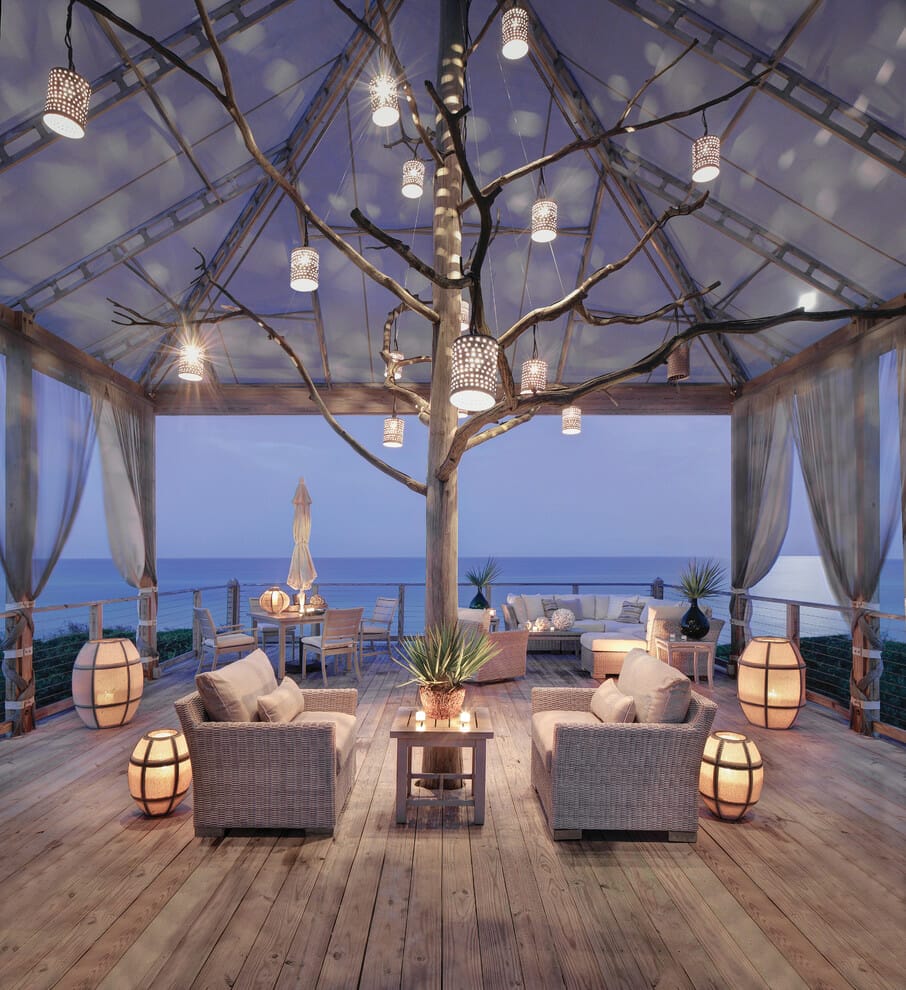 This outdoor living room has contemporary metal lanterns. Aside from delivering artificial lighting, they carve an otherwordly ambiance and perk up a bare tree.
The stylish hanging lanterns make a statement. Meanwhile, freestanding lanterns complement them and retain the area's contemporary vibe.
In addition to versatile lanterns, the outdoor living room has LED candles to prevent unwanted fire hazards.
Moreover, minimalist vases and plants provide a cozy look.
5. Multiple Outdoor Lights for Gardens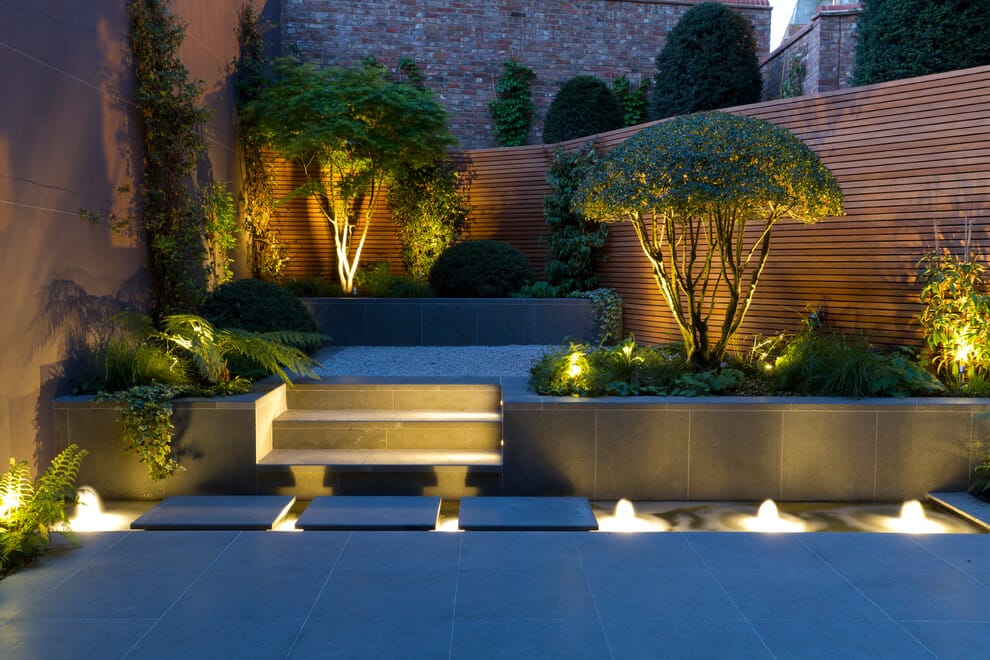 Need impressive outdoor tree lighting ideas? Hence, the spike lights let you admire stunning trees and plants when the night comes.
They emit a sense of grandeur, too.
The accent lighting takes the garden's water feature to the next level. Moreover, you can use recessed spotlights to illuminate your concrete steps.
I highly suggest you recreate this look. Therefore, different kinds of outdoor lights offer a relaxing glow that perfectly cocoons the backyard garden.
6. Outdoor Tree Lighting Ideas with a Daybed Swing
Talking about solar outdoor tree lights, give pared-back solar lanterns a try. Then, homeowners suspended them from tree branches judiciously for even illumination.
Here, trendy lanterns introduce a contemporary feel. Moreover, they complement spike lights that highlight the fresh green foliage.
The curved bench with solid-colored pillows lends the modern garden plenty of seating. Under the stylish lanterns, you can see a daybed swing perfect for taking a nap.
7. Modern Tropical Garden with Uplights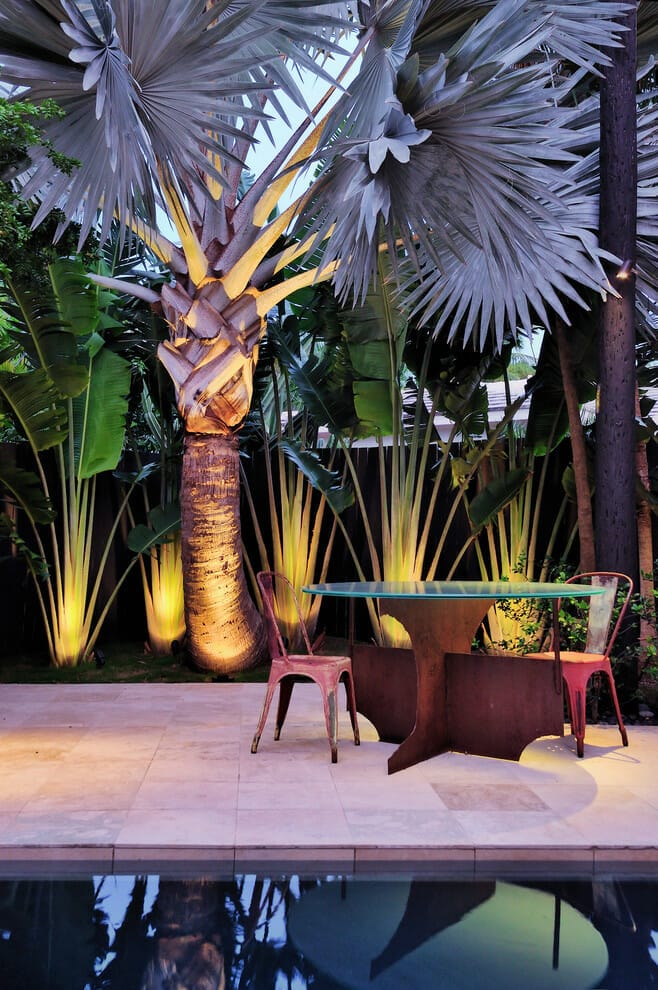 I cannot help but admire this modern tropical garden. The uplights call immediate attention to the Bismarck palm and ornamental banana trees that boast striking broad foliage.
Besides, they accentuate the details and structure of those trees excellently.
The outdoor lights help frame this garden nicely. There is an inviting sitting area next to decorative plants.
Here, the glass-top Corten steel table harmonizes with distressed red chairs well.
8. Outdoor Tree Lighting Ideas for Deck Railings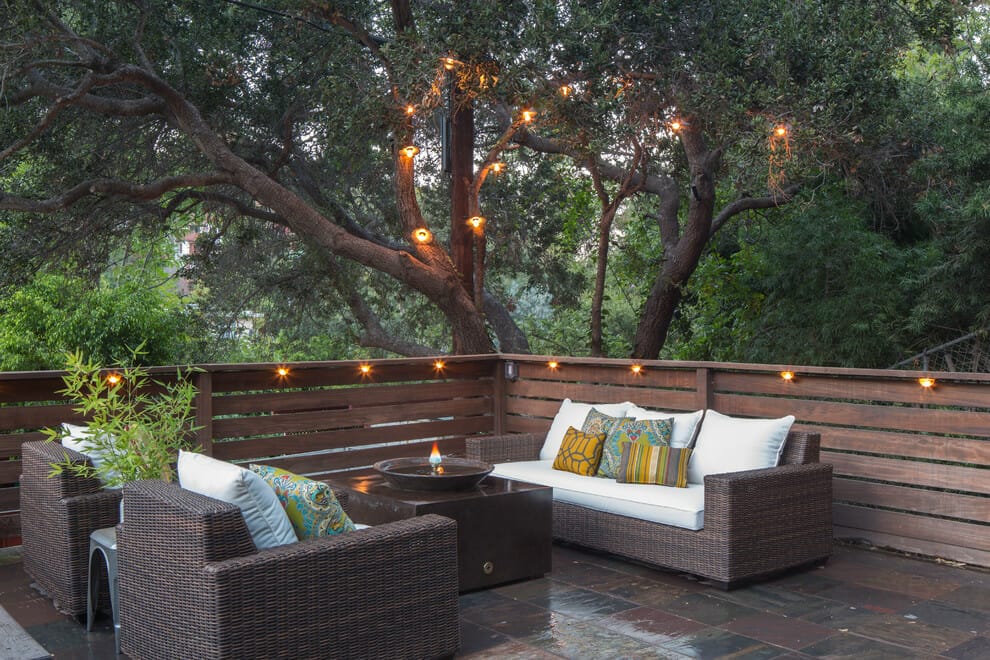 The industrial-style light is possibly one of the best outdoor tree lights. Likewise, multiple industrial lights illuminate the large tree and deck railing.
Due to their warm glow, industrial lights make the outdoor hangout space welcoming. They emphasize the faux wicker furniture, too.
The fire feature retains the outdoor living room's warm atmosphere. Meanwhile, the plant and head-turning pillows enliven the deck.
9. Backyard Patio with String Lights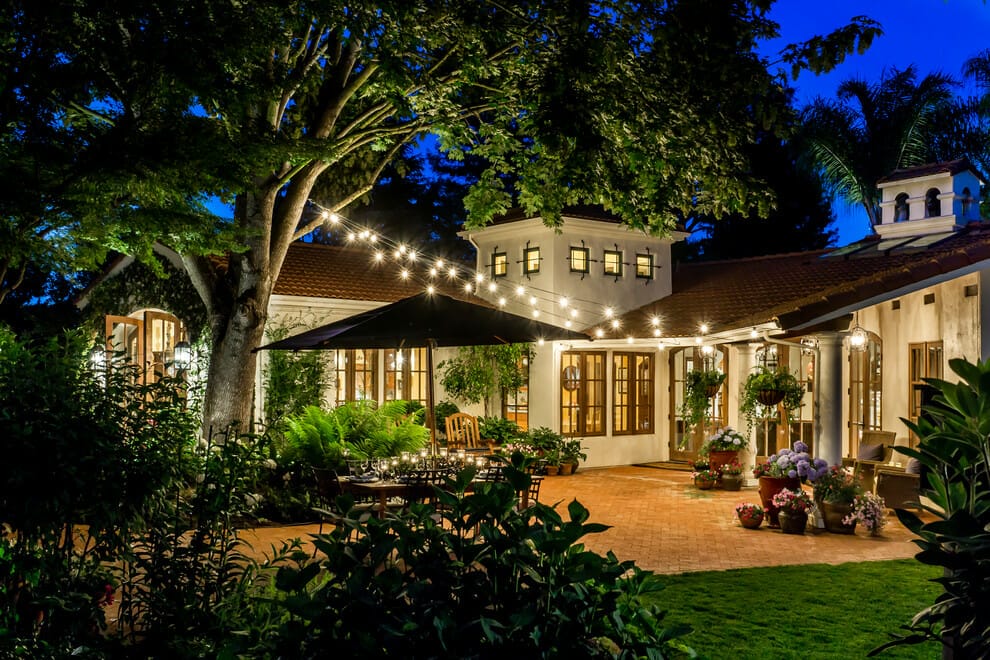 Outdoor tree lighting ideas are numberless. If you get overwhelmed, try installing string lights. In this photo, the big tree accommodates them perfectly.
The string lights turn the patio into a shimmering outdoor retreat. Moreover, they illuminate a few sitting areas.
Additionally, stylish string lights enable colorful flowers and vigorous garden plants to be centerpieces. Also, they inject magical vibes in an instant.
10. Spotlights for Trees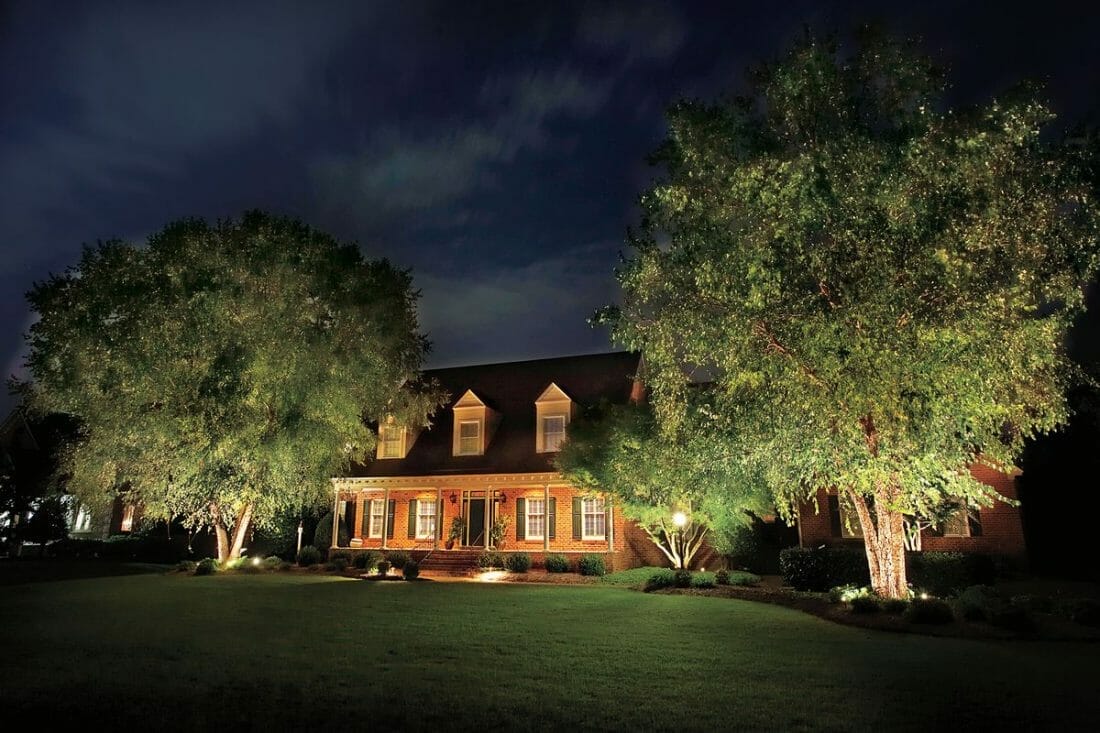 Some outdoor tree lighting ideas can epitomize grandeur. If you admire them, installing spotlights beneath your favorite trees is a smart move.
This idea is suited to large plots. In the photo above, spotlights lead the eye to prominent trees of the front yard garden.
In addition, spotlights generate an architectural impact.
The front yard also employs floodlights and garden post lamps to illuminate dwarf English boxwoods.
11. Outdoor Tree Lighting Ideas with Garden Post Lights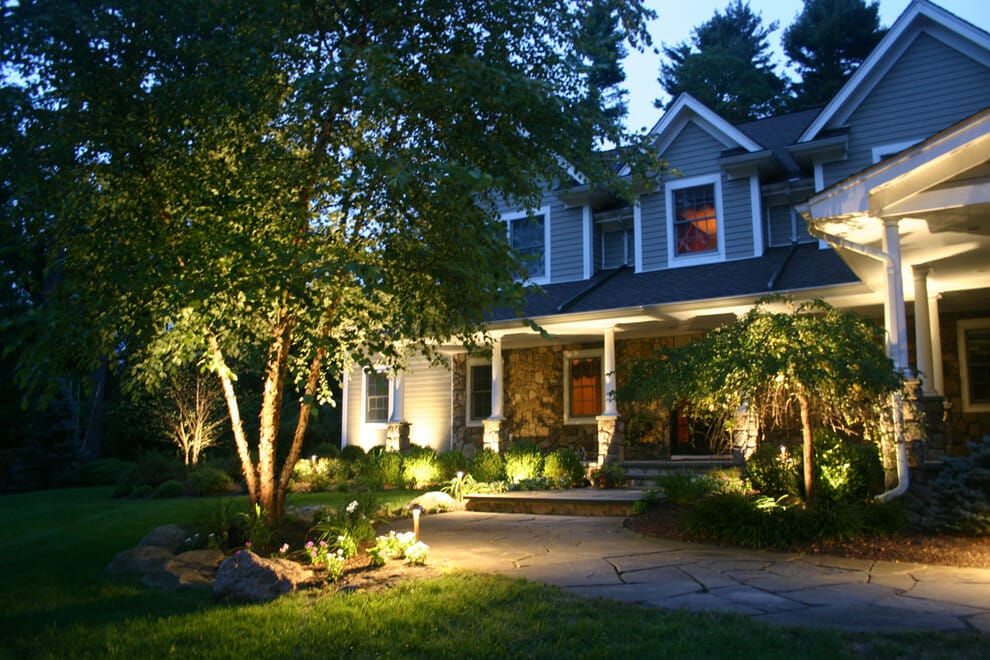 Here is another front yard garden with uplights. Thus, they produce a dramatic yet soothing scene when the night arrives.
As you see, homeowners use uplights for statement trees. Moreover, they brighten up the tiny plants using small garden post lights.
Aside from highlighting ornamental trees, garden post lamps illuminate the flagstone path. Thereupon, the outdoor lights truly add an extra level of wow.
12. Vintage Lanterns for Backyard Gardens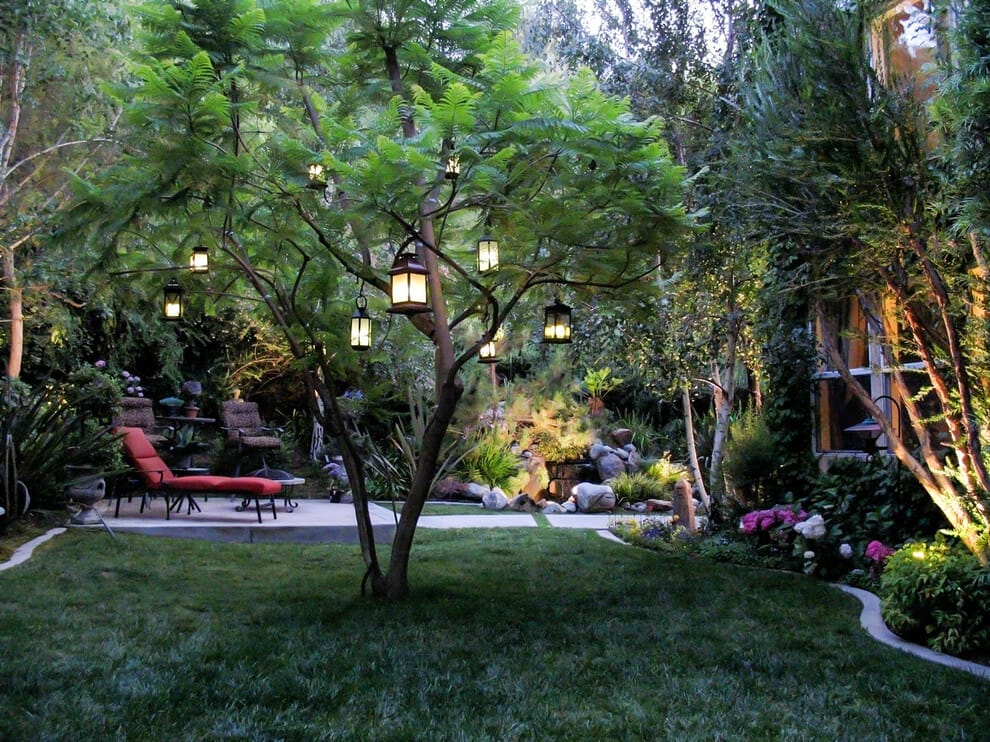 If you adore vintage outdoor tree lighting ideas, try hanging these lanterns en masse. Lanterns of varying heights evoke an ethereal ambiance.
They impart some character instantly too.
Masses of lanterns introduce a stunning scene. In addition, they will create a fabulous evening. Also, I suggest installing battery- or solar-powered lanterns.
Not only does the garden contain vintage lanterns but also employs spike lights. Because of them, the water feature and ornamental grasses become the center of attention.
13. Outdoor Tree Lighting Ideas for Driveways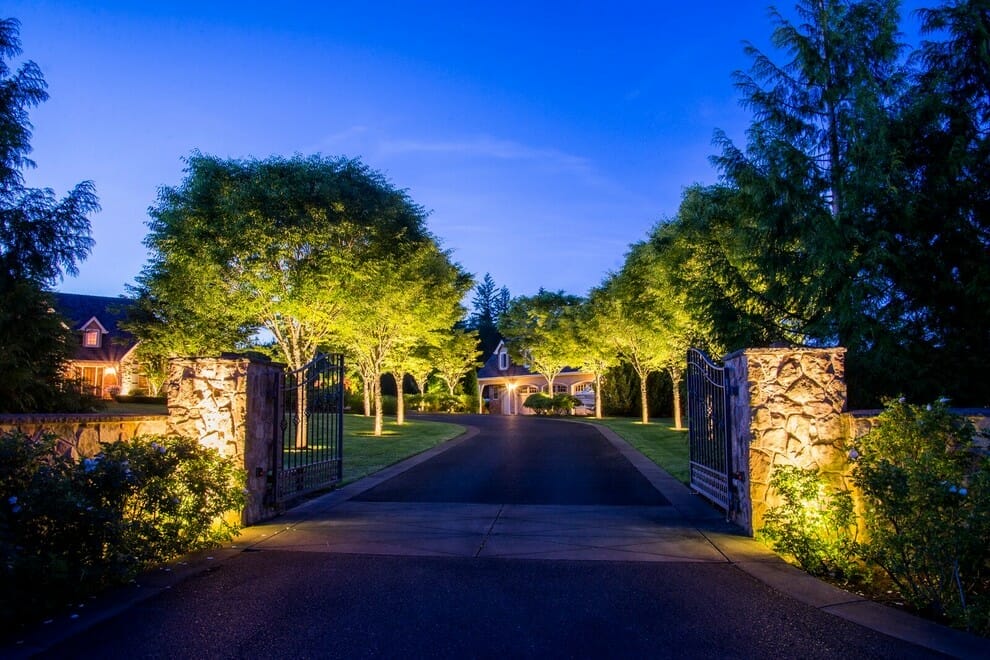 Before applying this idea, you should pick prominent plants and trees in your landscape. Then, use outdoor lights to accentuate them.
Here, spike lights guide the eye to rustic stone gates and bushes. Hence, they encourage you and your visitors to pay attention to their natural textures.
In addition, the uplights liven up trees in the massive yard at night. Thanks to them, the tree-lined driveway can make a lasting first impression.
14. Spike Lights Meet Palm Trees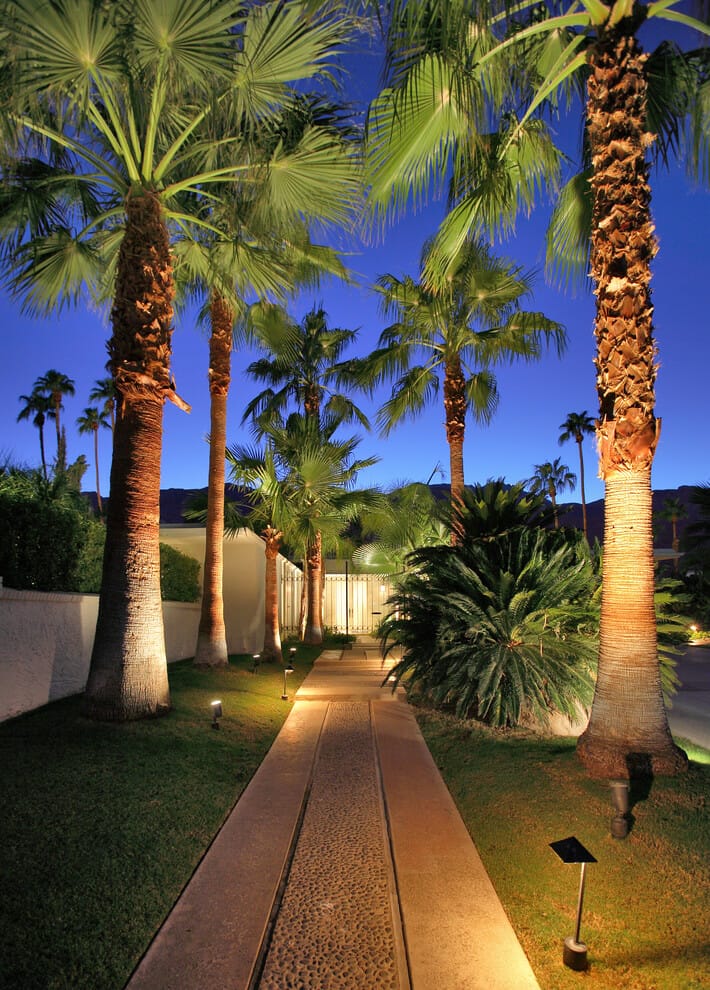 Need outdoor tree lighting ideas for formal gardens? Look no further than spike lights. As you see, they illuminate soaring California palm trees that deliver Palm Springs vibes.
The spike lights let rows of robust California palm trees develop a visual statement.
Meanwhile, modern garden post lights keep the concrete-and-pebble pathway from being dark. In addition to California palms, the formal garden also includes a sago palm.
15. Warm and Wonderful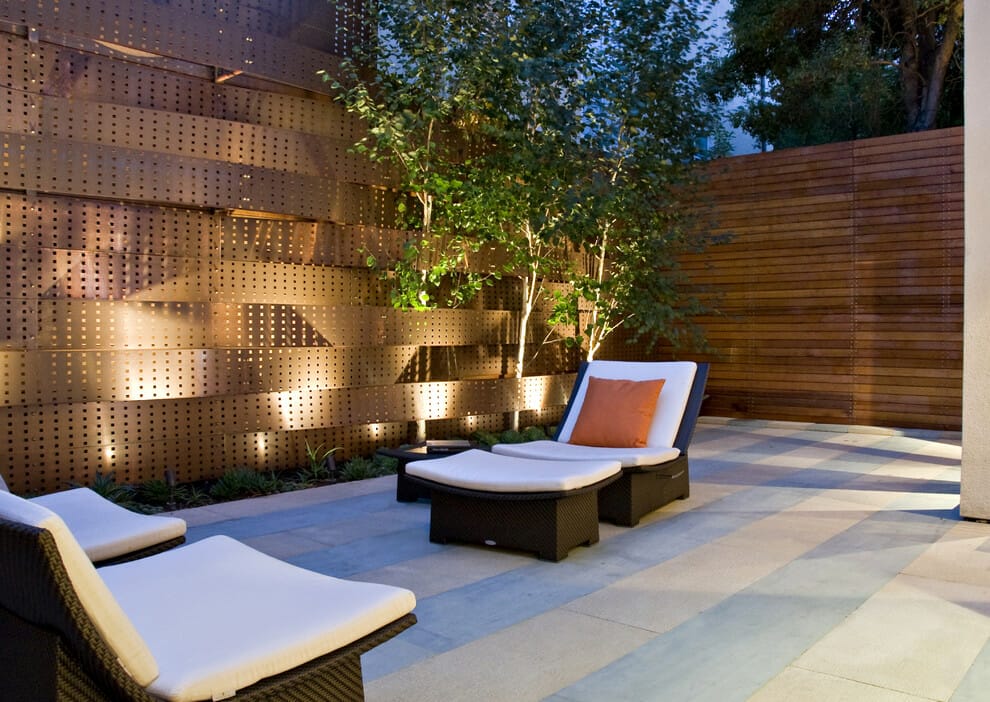 This outdoor space is ideal for lounging around. Wooden and copper screens create privacy while infusing warmth.
The spotlights help cozy up the outdoor sitting area. Furthermore, they emphasize the foliage and branches of the skinny trees.
Homeowners also positioned a few spotlights discreetly to illuminate the striped flooring. The orange pillow balances out the cold white seat cushions.
16. A True Outdoor Oasis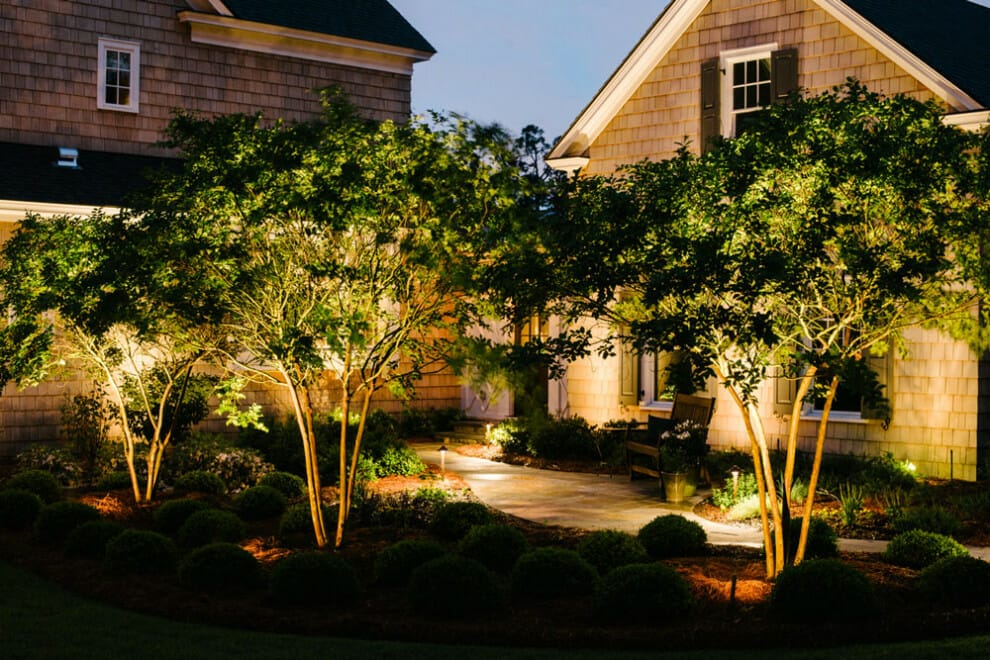 If your garden craves some drama, then uplights are your friend. In this small garden, the uplights enable striking trees to sing when the night falls.
Thus, you have to install uplights underneath your favorites. Not only do they speak of splendor but also provide a decent illumination.
Here, the uplights let guests admire the details of the trees have to offer.
Meanwhile, sleek garden post lamps call attention to low-growing plants like boxwoods. Don't you adore this nighttime scene?
17. Outdoor Lights for Palm Gardens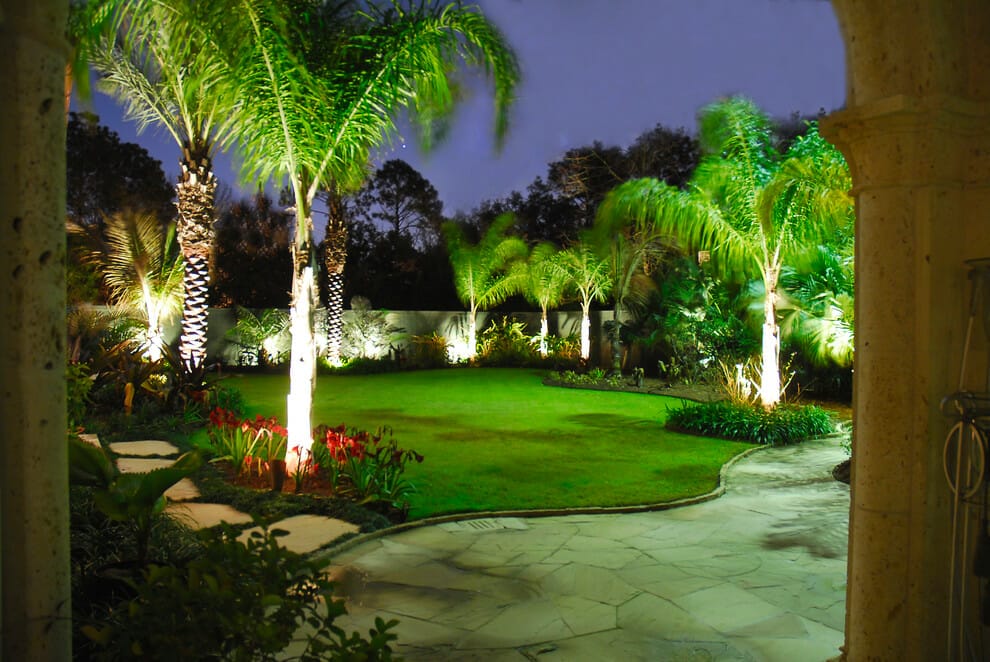 You can generate a long-lasting impact with uplights. In this example, they immediately deliver a sense of drama to the palm garden.
Homeowners added several uplights underneath their different types of palm trees. A combination of palms and uplights creates a glam look.
Because of the uplights, palm trees pose as the center of attention. The uplights also let visitors focus on vibrant plants adjacent to palms.
Prominent palm trees produce a great impression. The stone path, masonry edging, and garden stepping stones highlight the lawn.
If you love everything here, hire a professional lighting designer for your own garden.
18. Backyard Garden with Outdoor Seating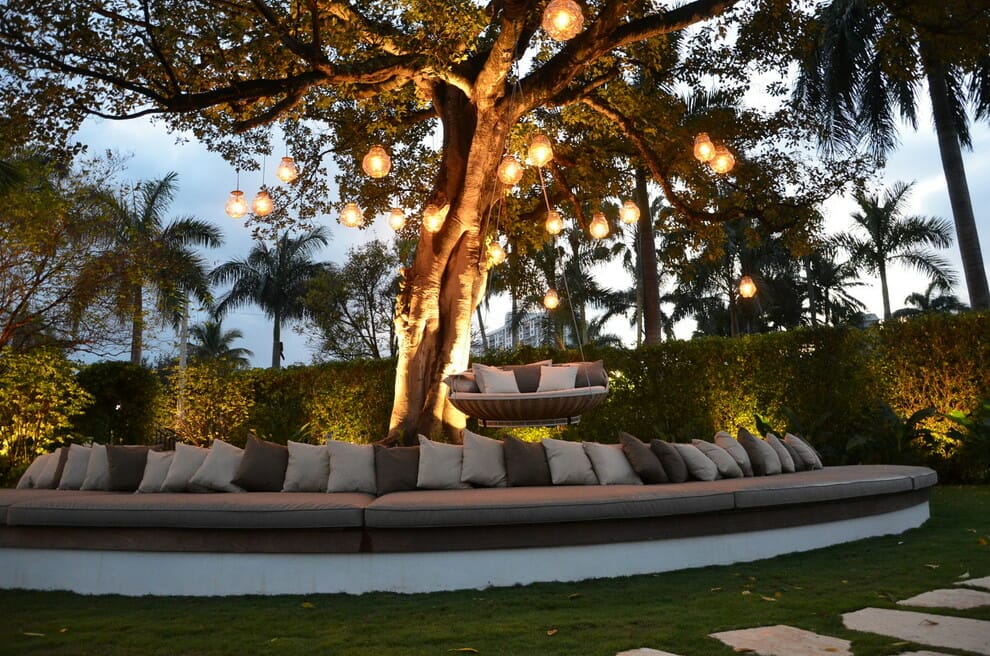 Outdoor tree lighting ideas are endless. For a whimsical scene, you should hang lanterns from tree branches at different heights.
This photo proves how abundant lanterns can develop an effective look.
Therefore, the modern lanterns offer a jaw-dropping scene here. To avoid a fire, refrain from using actual candles because LED candles will work just fine.
The hanging lanterns infuse the backyard with a new lease of life. If you fancy using them, do not forget to include cozy outdoor seating.
Here, the daybed and bench feature lots of gray pillows.
19. Outdoor Tree Lighting Ideas for Mediterranean Backyards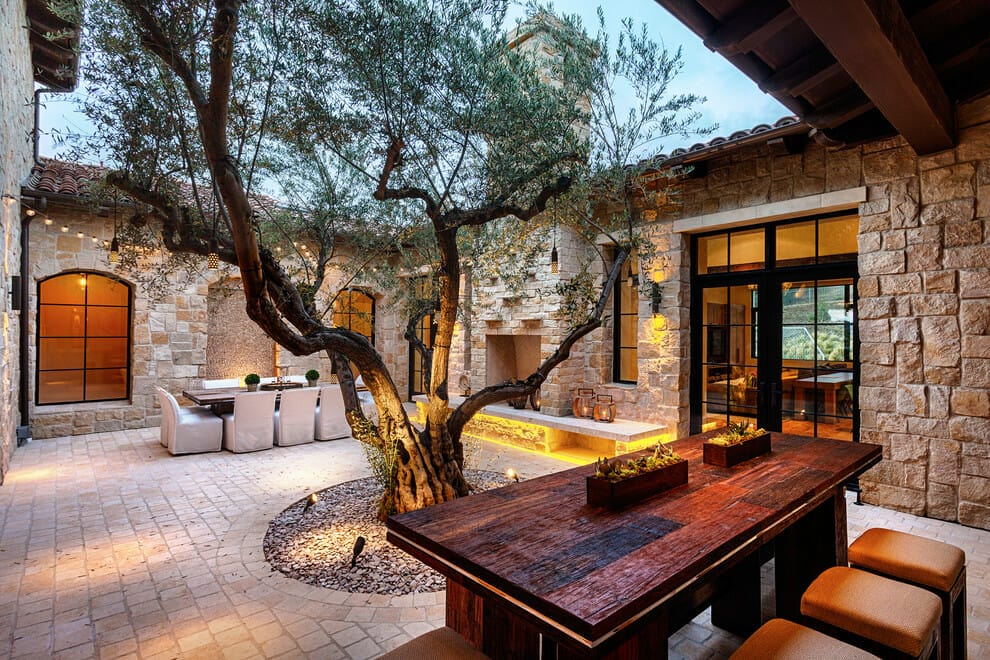 Illuminating a statement tree is a brilliant idea. Here, the black spike lights allow the large olive tree to be the center of attention.
The big olive tree imparts copious amounts of Mediterranean charm. Meanwhile, string lights add a warm welcome and ensure the outdoor dining space does not look dingy.
20. Bright and Beautiful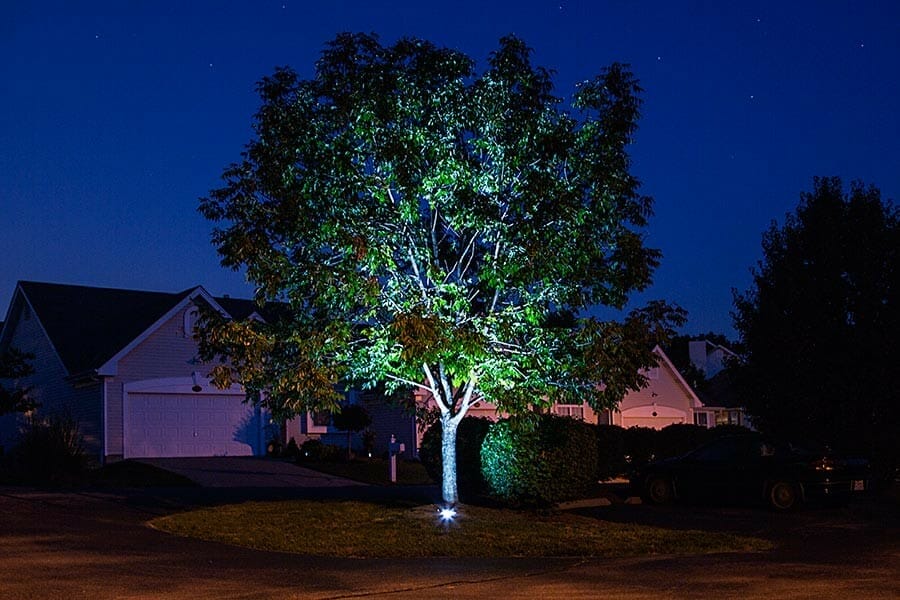 Some homeowners install tree floodlights outdoors. If you want your landscape to create a statement, use a floodlight to brighten up a massive tree.
The floodlight emits a bright illumination while emanating a sense of intrigue. Also, it quickly calls attention to the structure of the tree.
21. Outdoor Tree Lighting Ideas for Large Plots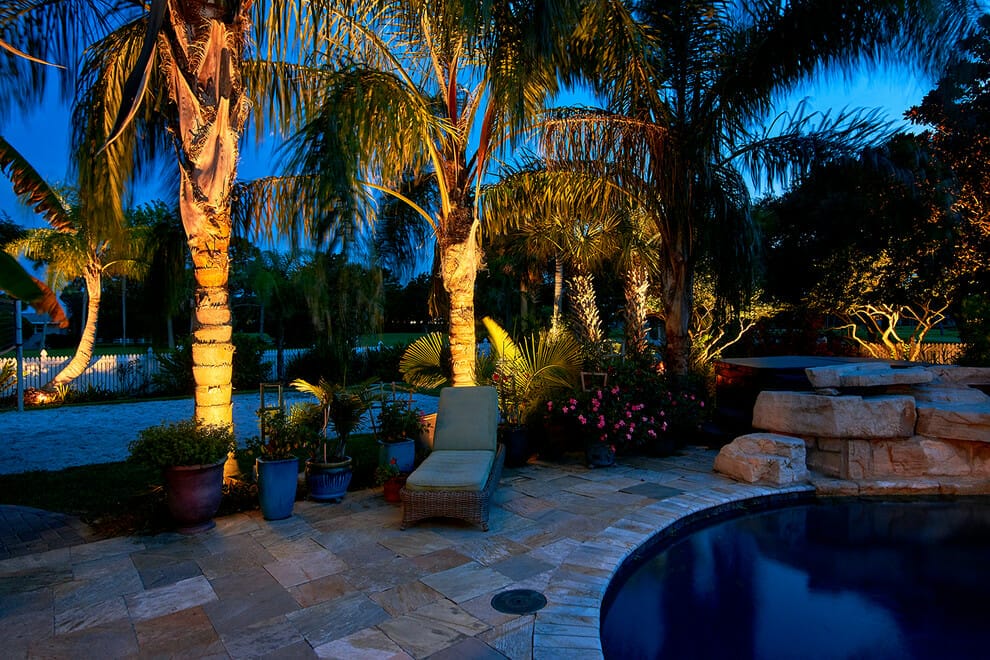 If your yard is expansive, integrate certain things that pay attention to details. Here, homeowners installed uplights, so the noteworthy trees can stand out.
Aside from emitting a warm glow, the uplights inject drama and splendor. Meanwhile, the synthetic wicker lounge chair lets you enjoy a glowing scene comfortably.
22. Incredible Illumination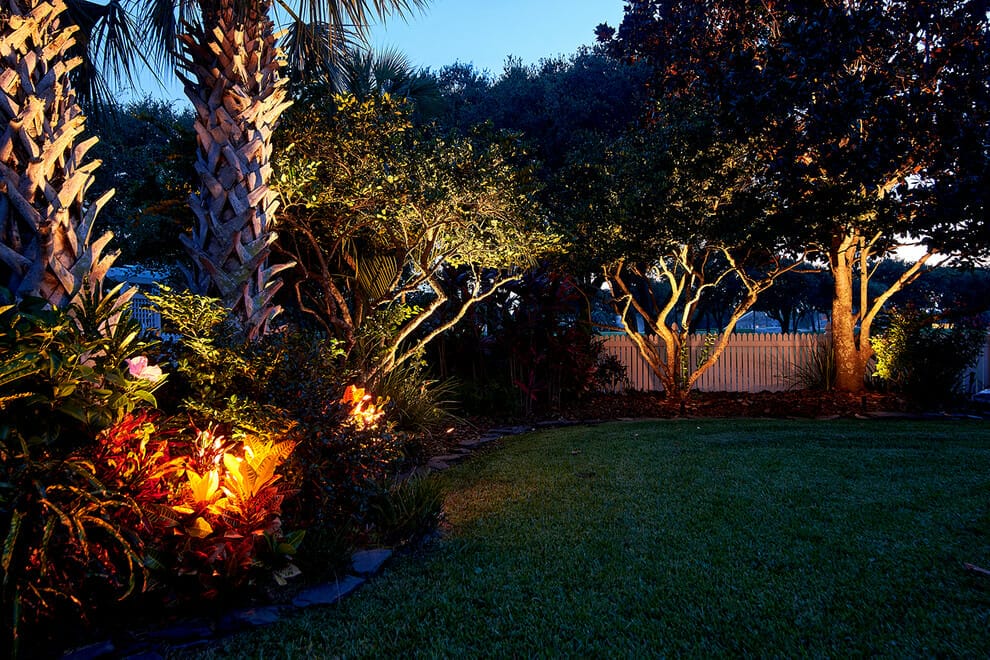 Speaking of outdoor tree lighting ideas, installing spike lights is a safe bet. They let exotic plants act as showstoppers in this lovely backyard garden.
The spike lights accentuate the grandiose palm trees while generating an intriguing look. Also, they allow the vivid foliage of crotons to wow the guests.
23. Outstanding Olive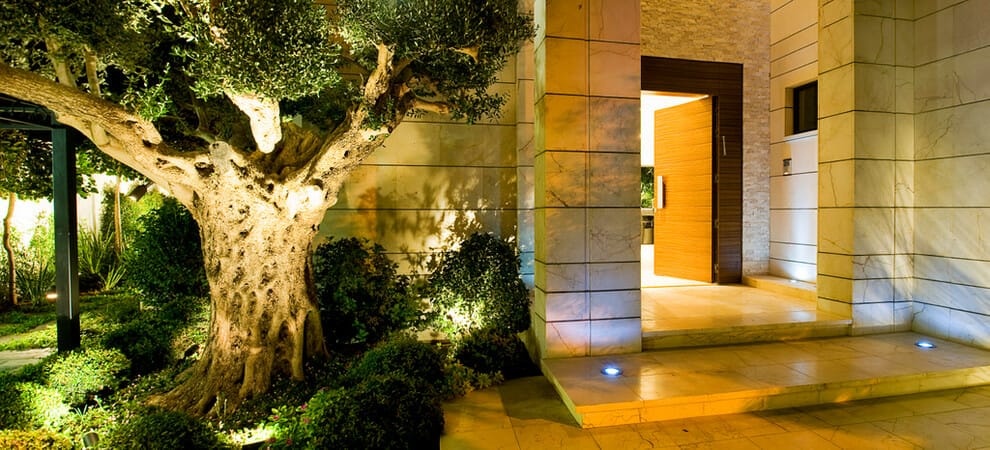 The homeowners gave his modern house façade a glam look by installing marble tiles. As you see, the entrance also boasts recessed spotlights.
For the front yard garden, the homeowners integrated floodlights and spike lights. Aside from highlighting the majestic olive tree, they also illuminate round boxwoods.
24. Exquisite Meets Ethereal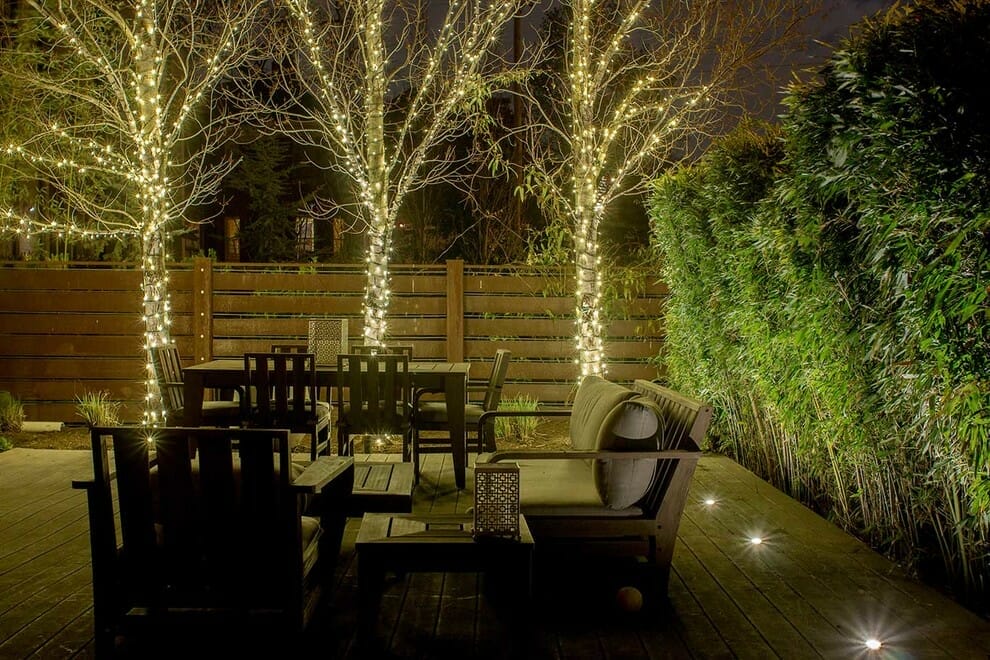 Need outdoor tree lighting ideas for Christmas? String lights are undeniably the way to go. The warm white LED string lights enliven the tree trunk and branches with their festive sparkles.
The string lights offer great lighting and holiday vibes to the outdoor dining area. Meanwhile, recessed spotlights illuminate bamboo trees.
25. Go Big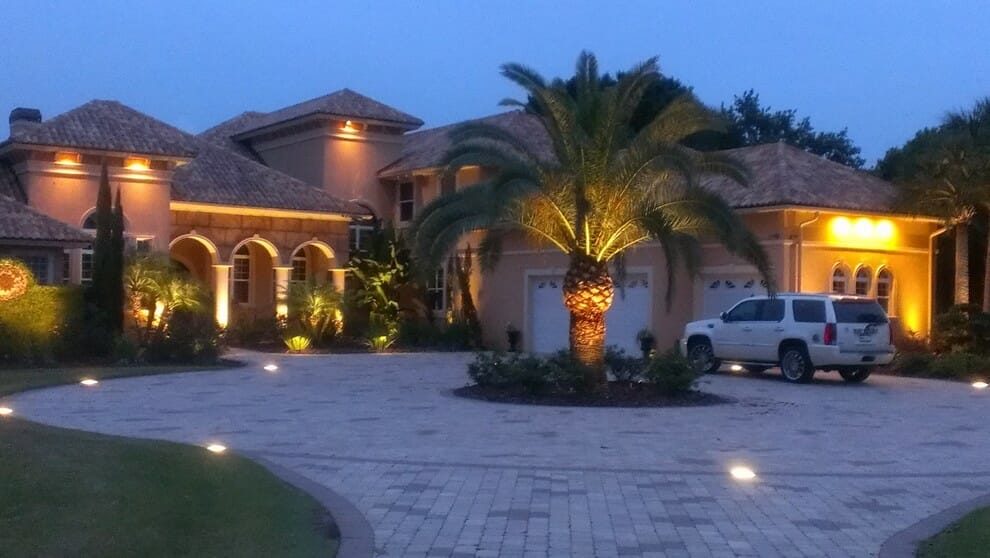 This magnificent driveway marries floodlights with uplights. Moreover, they deliver copious amounts of drama immediately.
As you drive on the driveway, the uplight leads your eye to the Canary Island date palm. In addition, the outdoor lights make other types of palm trees become centerpieces.
26. Zen Garden with Outdoor Lights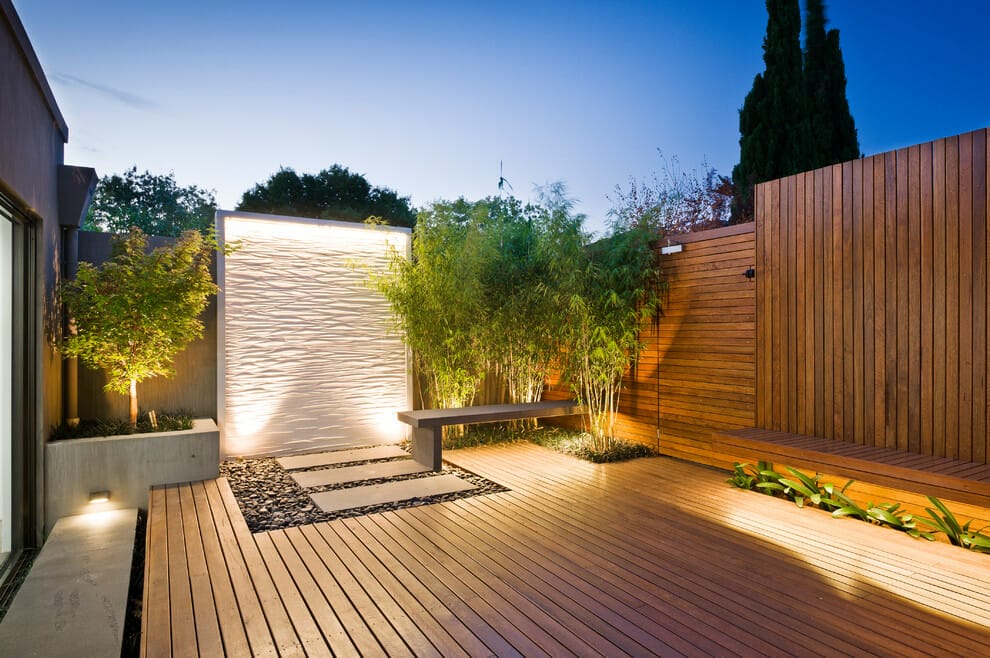 Outdoor tree lighting ideas for zen gardens are innumerable. This garden, for example, employs outdoor wall lamps, spike lights, and floodlights.
The outdoor lights brighten up the ornamental tree, low-growing plants, and bamboo trees. Here, sleek benches and river rocks complete the modern zen garden perfectly.
27. Striking Symmetry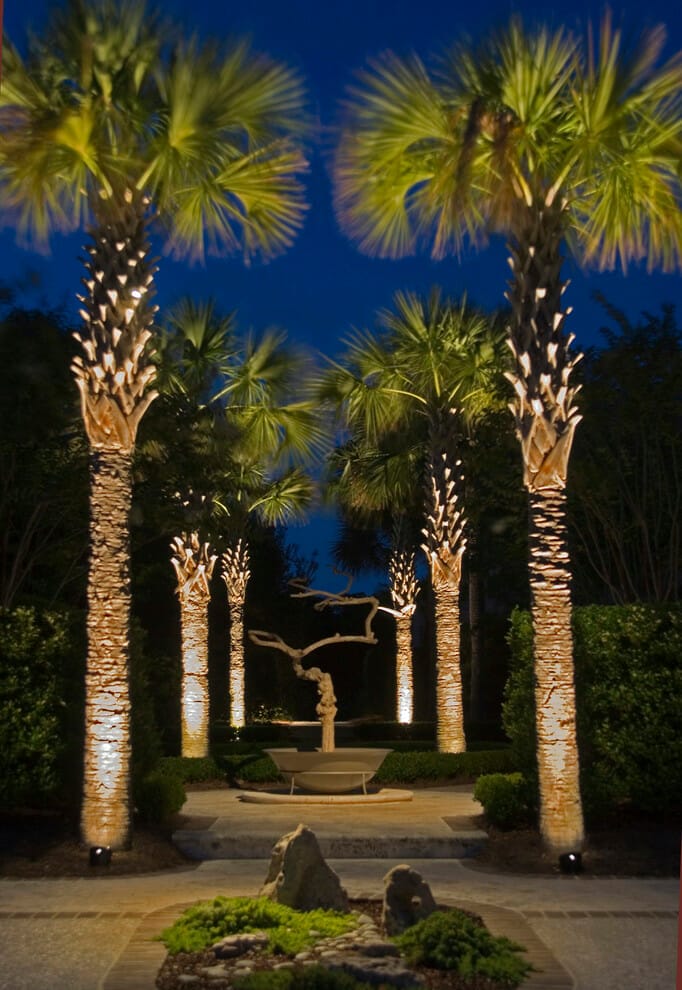 The homeowners created a statement in their formal garden with symmetry. I adore the neat rows of large palm trees.
Meanwhile, spike lights highlight them in style.
There is a tiny oriental garden too. It boasts dwarf Japanese garden plants and rocks. This outdoor space offers an alluring amalgamation of exotic plants.
28. Stylish and Stunning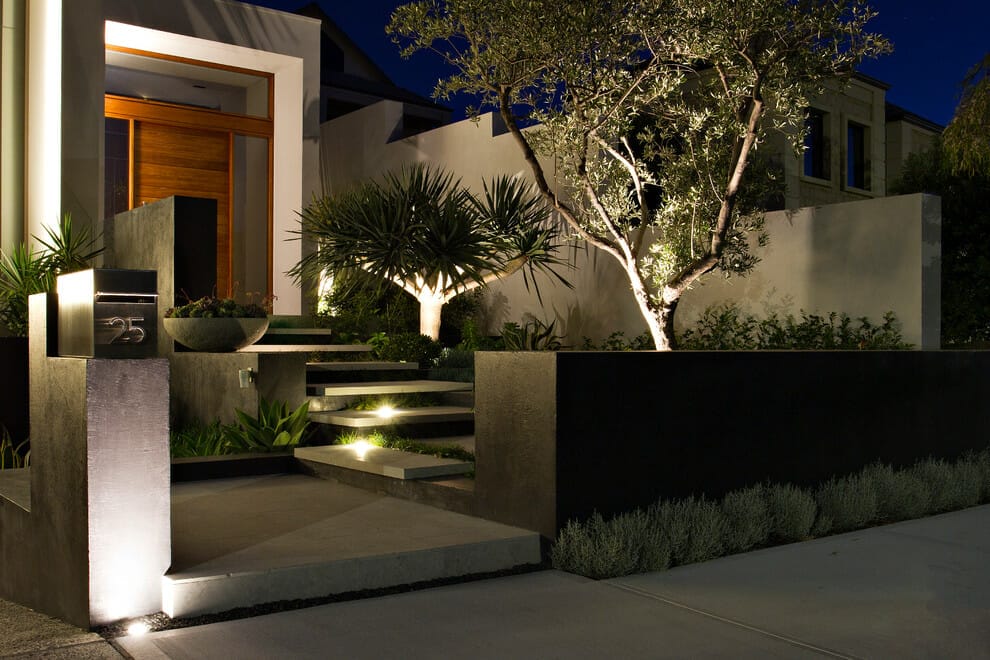 You should not only admire the delightful display of your front garden during the daytime. The uplights emphasize dragon and olive trees after the sunset.
Further, the recessed spotlight makes the house number visible at night. Also, the homeowners use recessed lights to illuminate the moss planter and concrete steps.
You should not overlook the importance of outdoor lighting. They can boost the ambiance of your landscape.
Just implement those outdoor tree lighting ideas. Whether you opt for solar lanterns or string lights, be sure to install them to your heart's content.