Entertaining front yards come up in a variety of ways. In addition to presenting a green lawn, you can also adopt white rock landscaping ideas to create a cleaner look without intensive maintenance.
Moreover, these ideas will fit into any garden concept: Zen, flower, or rock garden.
You can freely arrange white pebbles in any layout in a rock garden. Be it combining them with river rocks, brick chips, granite, and others to add texture.
In this article, you will find twenty-eight white rock landscaping ideas to help you realize your low-maintenance dream yard.
So, read this recommendation to the end to get the best design that fits your preference the most.
1. White Rock Landscaping Ideas with Pop of Color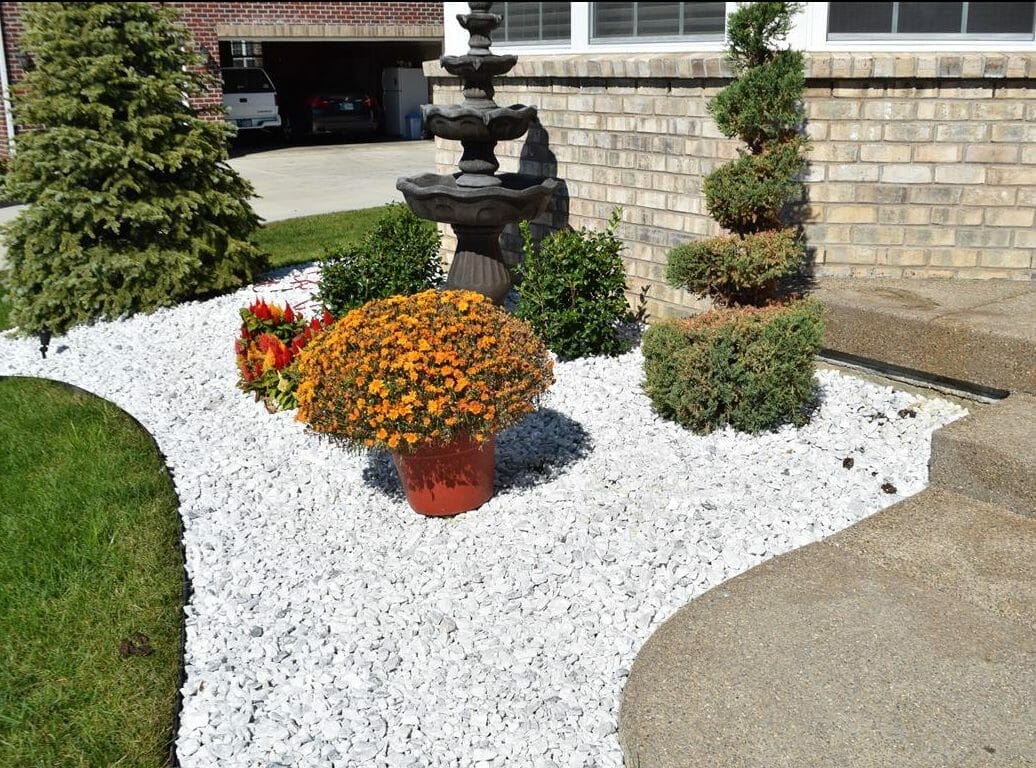 Are white rocks good for landscaping? Of course, yes. These stones will give a bright look to your front yard and make it more spacious.
However, the white landscape will be less appealing if other ornamental objects do not accompany it.
You can give your white rock garden a pop-up of color by planting some colorful flowers. Whether you are going to grow it directly on the ground or put it in a pot, it is still entertaining to look at.
2. Give Concrete Borders and Metal Sculpture as a Focal Point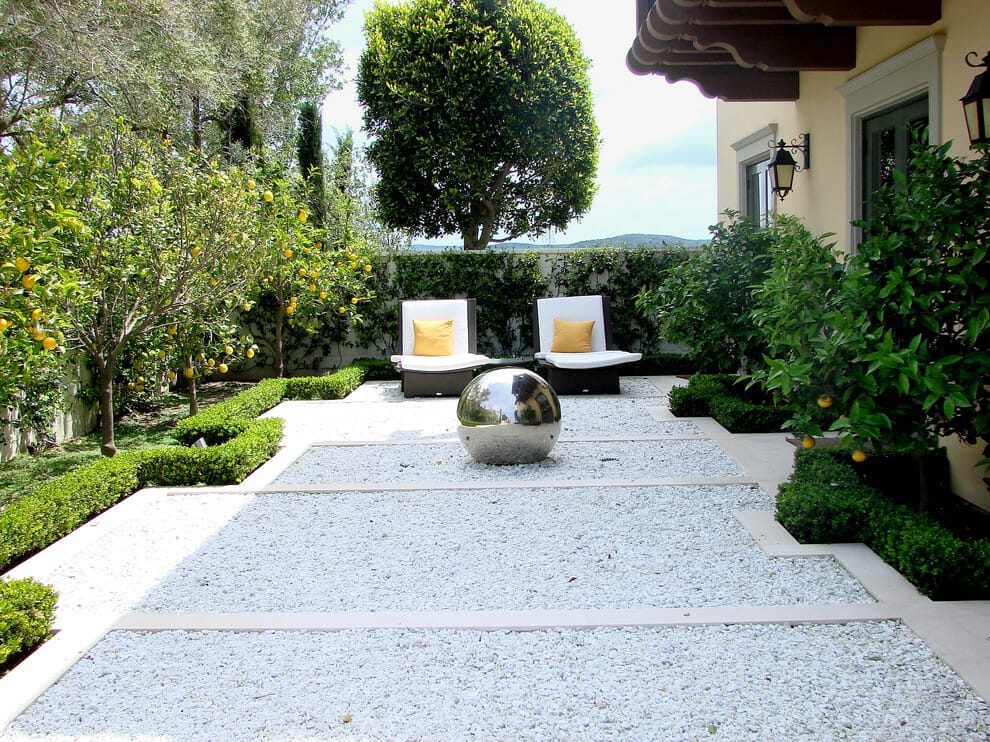 White rock landscaping requires at least one focal point that can steal the attention of every guest who visits your home.
You can set a concrete border in your rock garden to accentuate a different texture.
Next, you can also place a large round metal sculpture right in the center of the yard to draw a distinctive focal point.
3. Black Wooden Dividers Resemble Mini Maze and Beds of Green Grass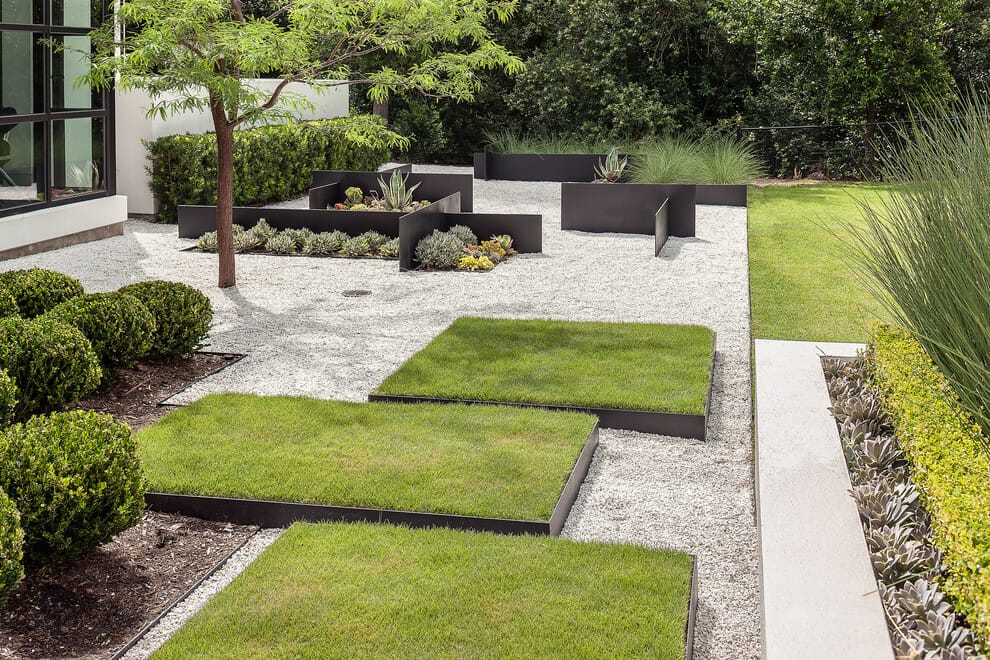 White rock landscaping ideas come in a variety of layouts. One of them has black garden dividers and beds of green grass.
For instance, like the picture above, a design like this can present a cohesive mix of textures in the front yard.
An uneven yet white surface of rock landscaping can highlight other decorative elements above it.
So, the arrangement of your flower garden and green grass becomes more prominent than without gravel landscaping.
4. White Rock Landscaping Ideas with Succulents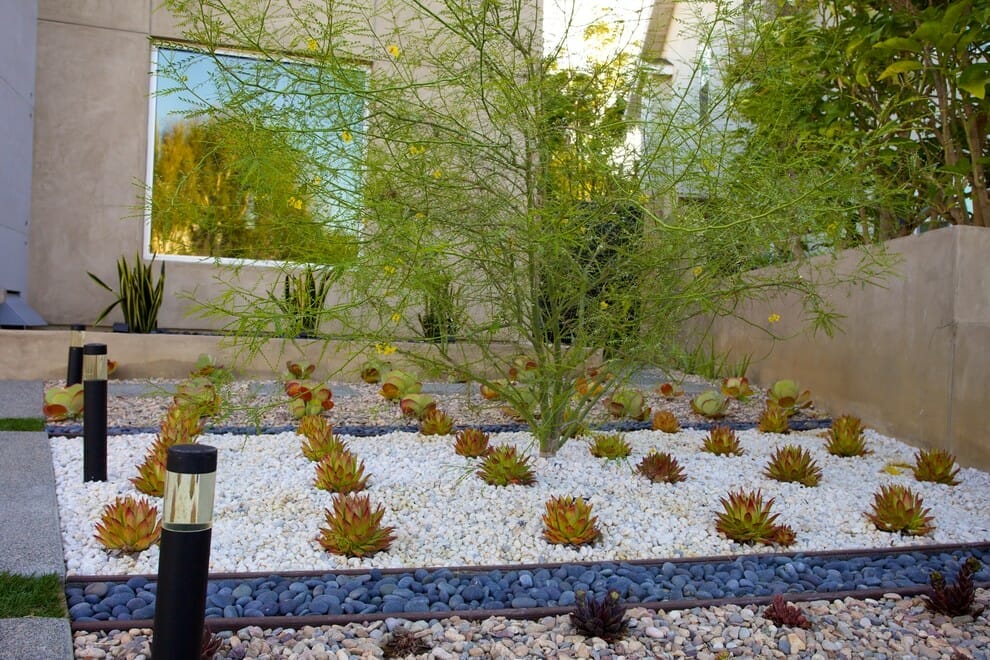 Dramatizing the white rock landscape in your yard is not complicated. You can try planting several succulents in a row to form a neat block of plants.
After that, you can also grow outdoor plants in the center part. No wonder this concept will succeed in making your home yard look more inviting.
5. Small Walkway with White Pebbles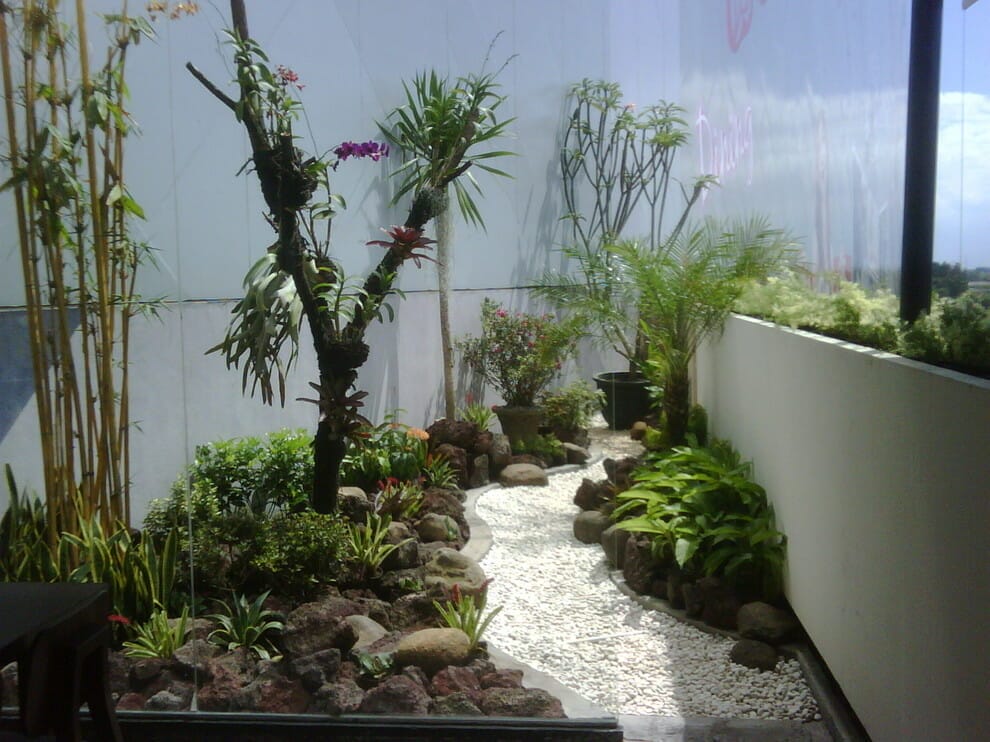 A small walkway showing only the ground would be less pleasing to the eye. Therefore, filling that area with white pebbles like above will be preferable.
Make the path snaking to make it more characterful. Besides, do not forget to embellish the walkway's edges with various more enormous rocks to showcase the diversity of textures in your front yard.
6. Complete Your Flower Garden View with White Rock Landscaping Ideas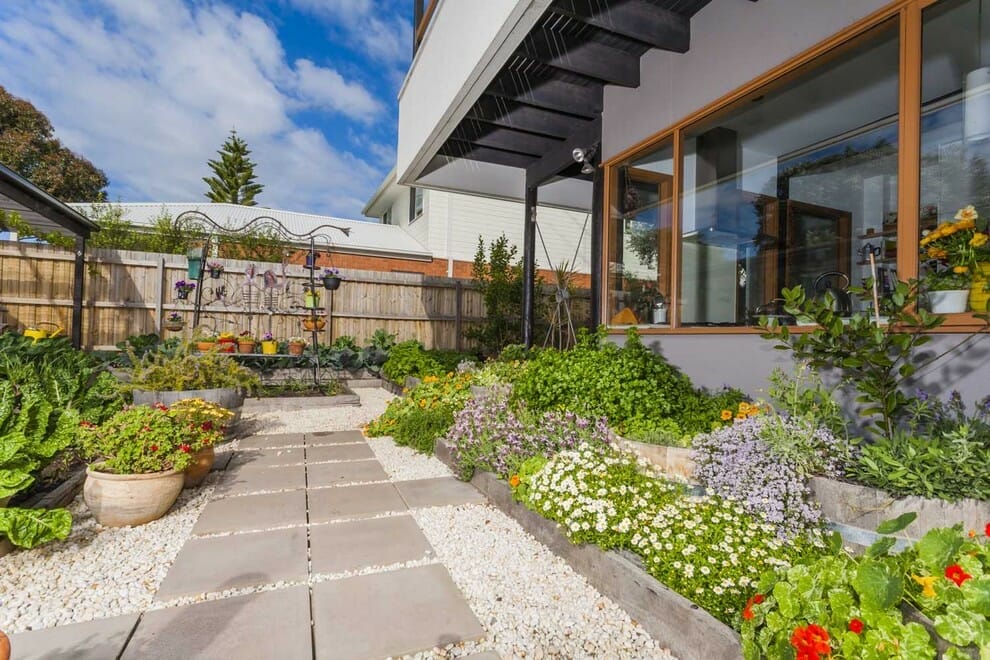 To further revitalize the appearance of your flower garden, you can cover the mulch around it with white stones, as in the picture above.
In addition to beautifying the garden, rocks here can prevent the soil from becoming muddy.
Moreover, you can also add some concrete slabs to form two rows of stepping stones in the middle of the garden.
You have a clear path with a smoother surface to walk on.
7. White Stones as Plantation Borders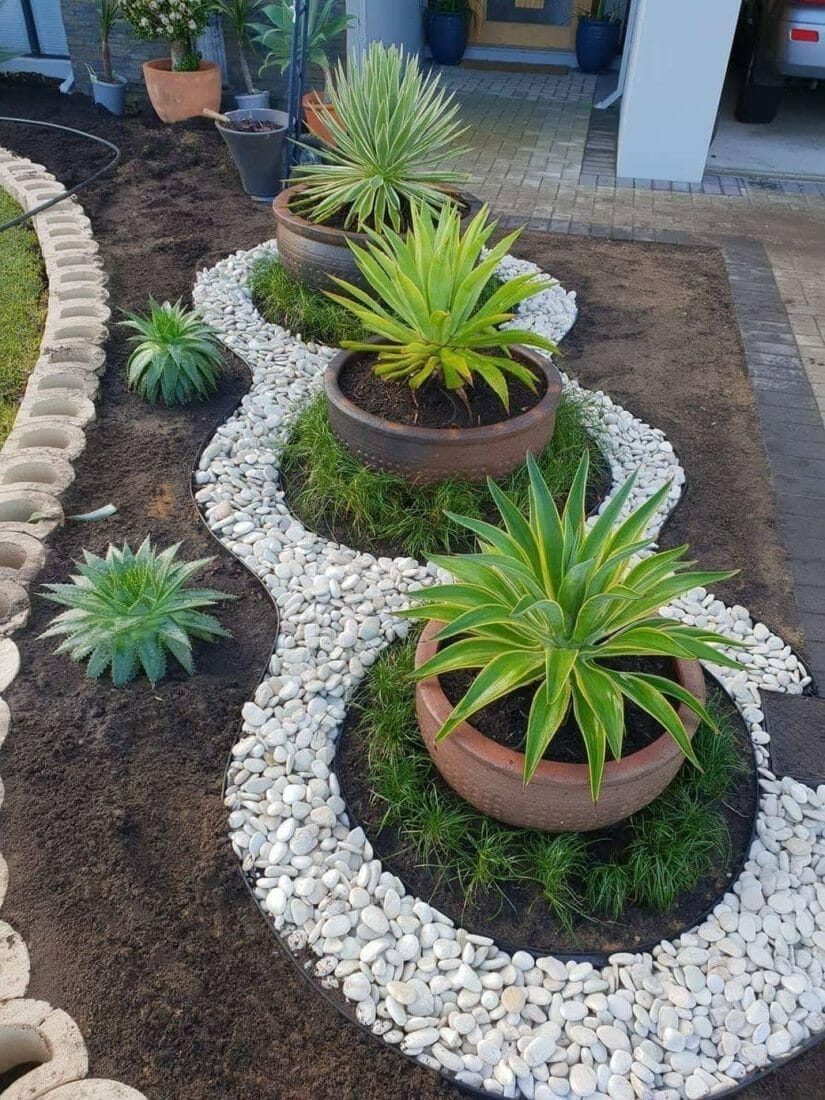 White rock landscaping is not just about spreading gravel over your garden ground. Alternatively, you can also use it as green bed borders.
Likewise, arrange the white rocks around your plantation following the shape of the pot to get a more appealing final result.
8. Come Together with Wooden Pathway to Create a Japanese Style Yard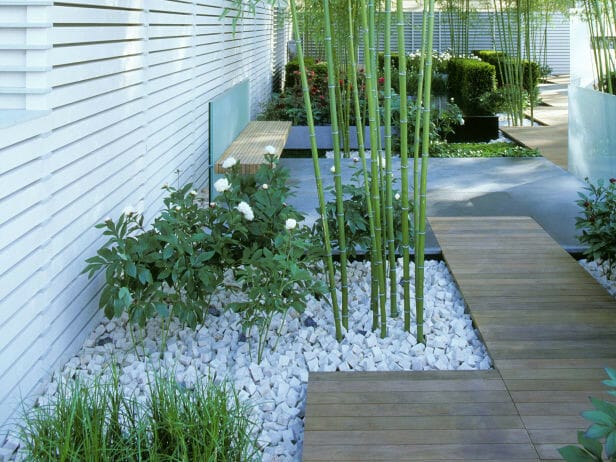 Next, white rock landscaping ideas are also identical to Japanese-themed gardens. You can spread it over the soil where you planted your white roses and bamboos.
No doubt, it will make your garden look cleaner and neater.
Another good news is the uneven surfaces, and the different shapes of this white stone are great to go with your wooden walkway, which has a smooth surface.
9. Cover the Mulch Around Outdoor Plants Using White Rock Landscaping Ideas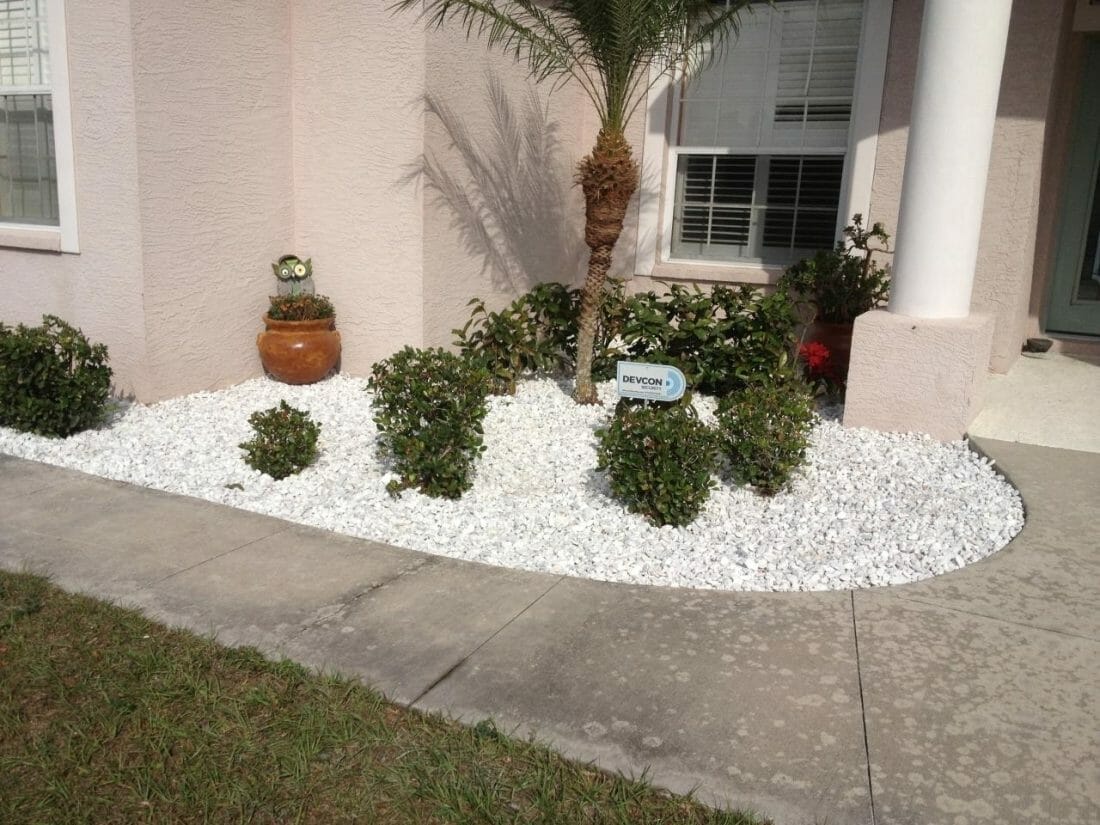 You usually do not need complicated treatments to make it beautiful in a mini garden bed next to the house.
Otherwise, you merely have to cover the mound with white rocks to showcase your greenery well.
Instead of arranging it in squares, giving a curved edge is better to make your mini garden look looser.
10. Come with Metal Trellis on Exterior Wall to Draw a Modern Look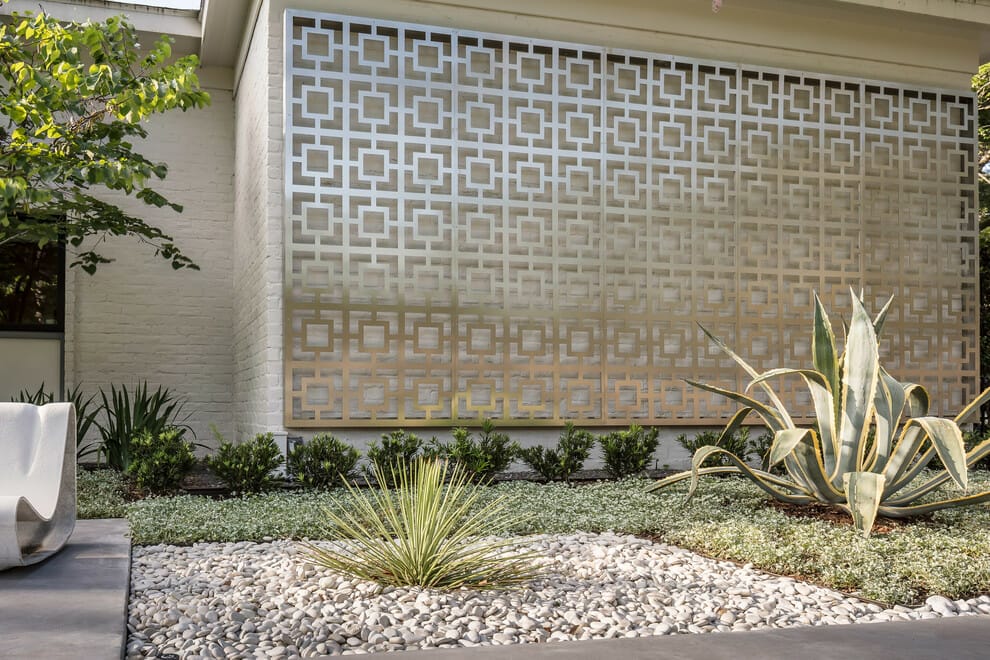 At certain times, presenting a front yard with only white rocks and perennials will not be enough.
It requires additional decoration on the exterior walls of your home, for example, with a metal trellis with an attractive shape as above.
You will have a harmonious, modern, and appealing exterior appearance through an outdoor space arrangement like this.
11. Set the White Stone in Semi-Circle to Highlight Your Palm Garden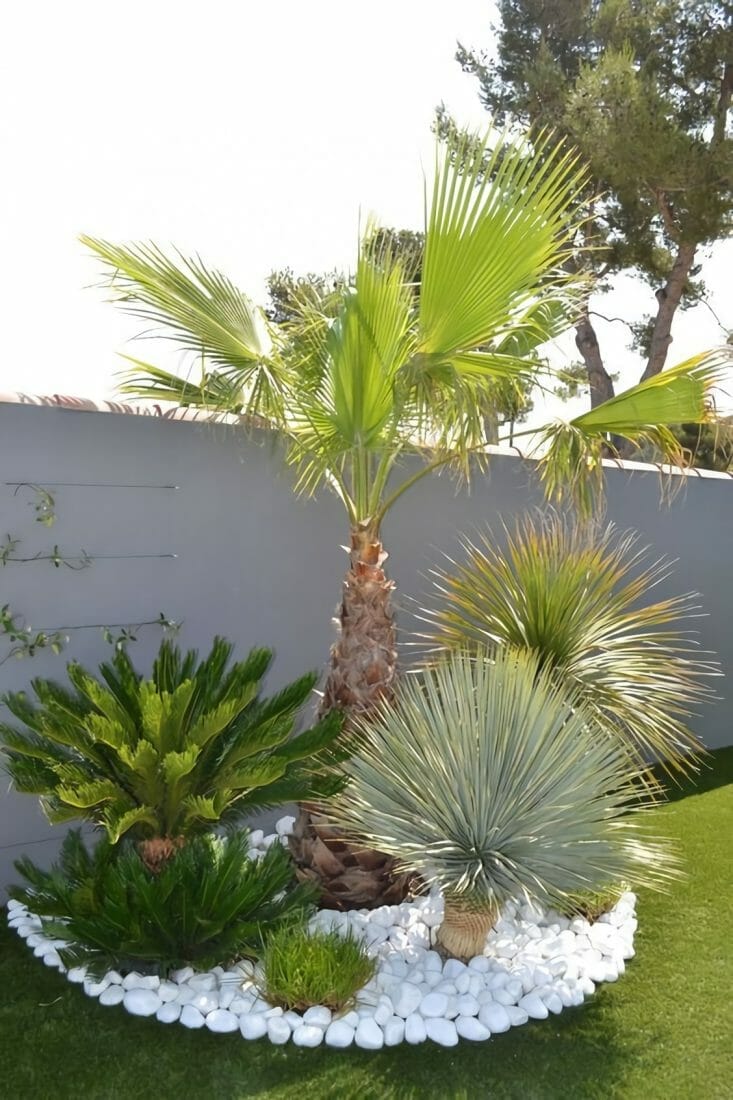 A group of palm gardens on the lawn is sure to be exciting and refreshing. Make it more eye-catching by implementing white rock landscaping ideas with a semi-circle shape like the one above.
Because this mini palm garden is located close to your wall fence, it will become the best treatment in stating your plain border.
12. Yin Yang Front Yard Landscaping Ideas with Rocks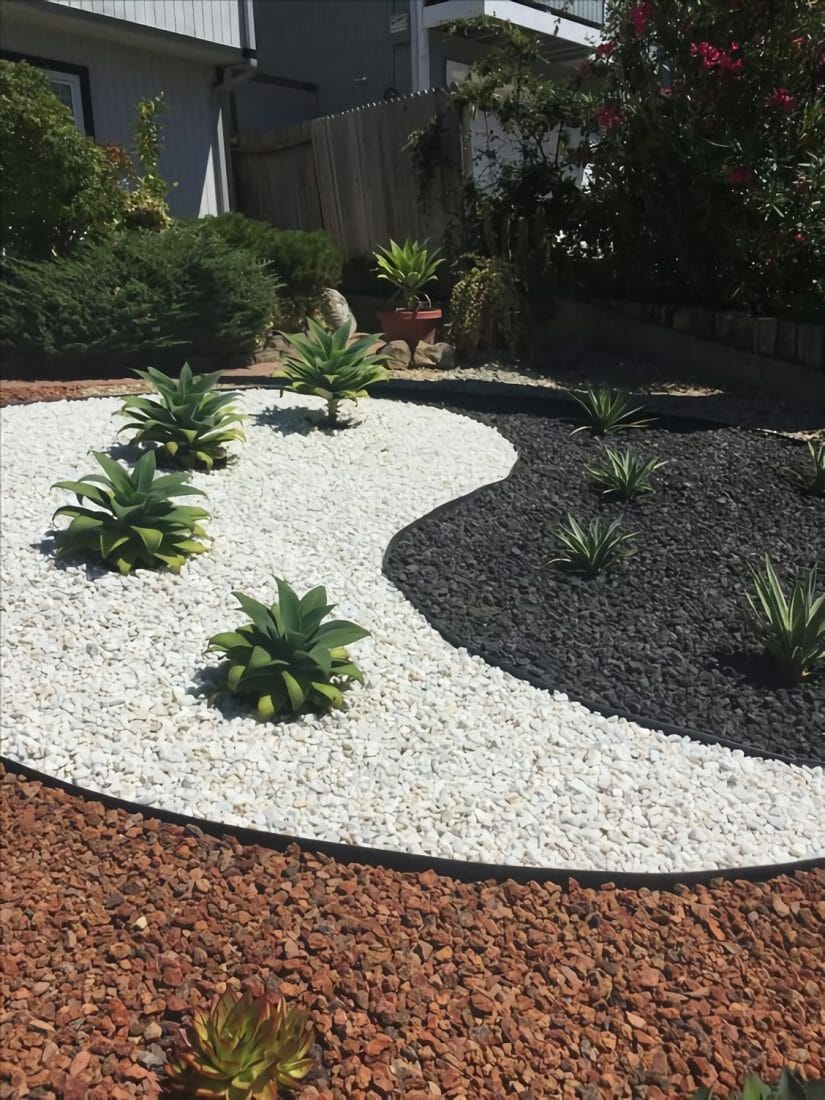 Another unique layout of the application of rock landscaping is to form it like Yin Yang. This concept does not require complicated styling techniques.
You only need to present the white and black stones simultaneously in a big circle. Then, separate them into curvy edges in its central part.
Further, you can also add some succulents or other plants that differ between the white and black areas to personalize your front yard.
13. A Square of Rock Garden with Flower Border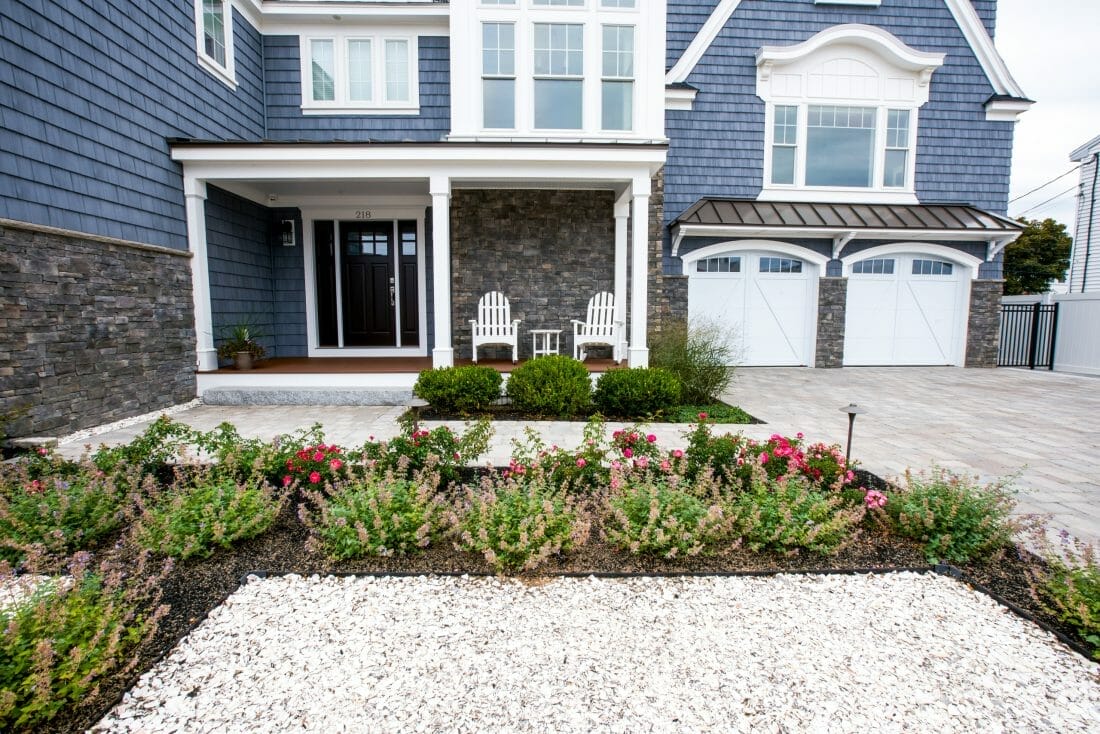 Usually, white rock landscaping ideas suggest you surround your flower bed with stone borders. But let us try to do the opposite today.
Place the white rocks in a box-shaped spot and leave them empty without plants. Afterward, grow flowers around it to give a pop of color in your front yard.
14. Black and White Rock Landscaping Ideas with Lighting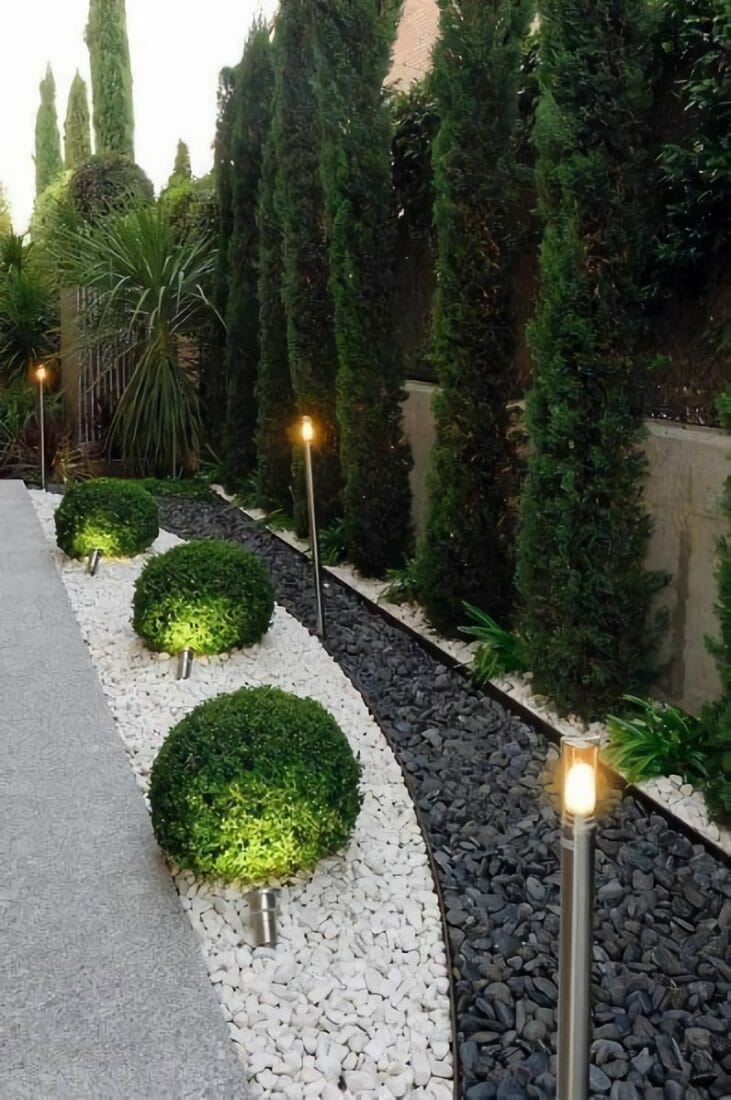 Presenting three different structures and colors on your front yard ground is enough to give it a unique characteristic.
You can achieve this by providing concrete pavers and white and black rock landscaping like above. It would be even better to plant three medium shrubs in a curvy line.
Meanwhile, for the black stone part, you can install some lights to provide illumination and highlight the presence of your landscaping stone.
15. White Gravel with Big Rocks and Brick Chips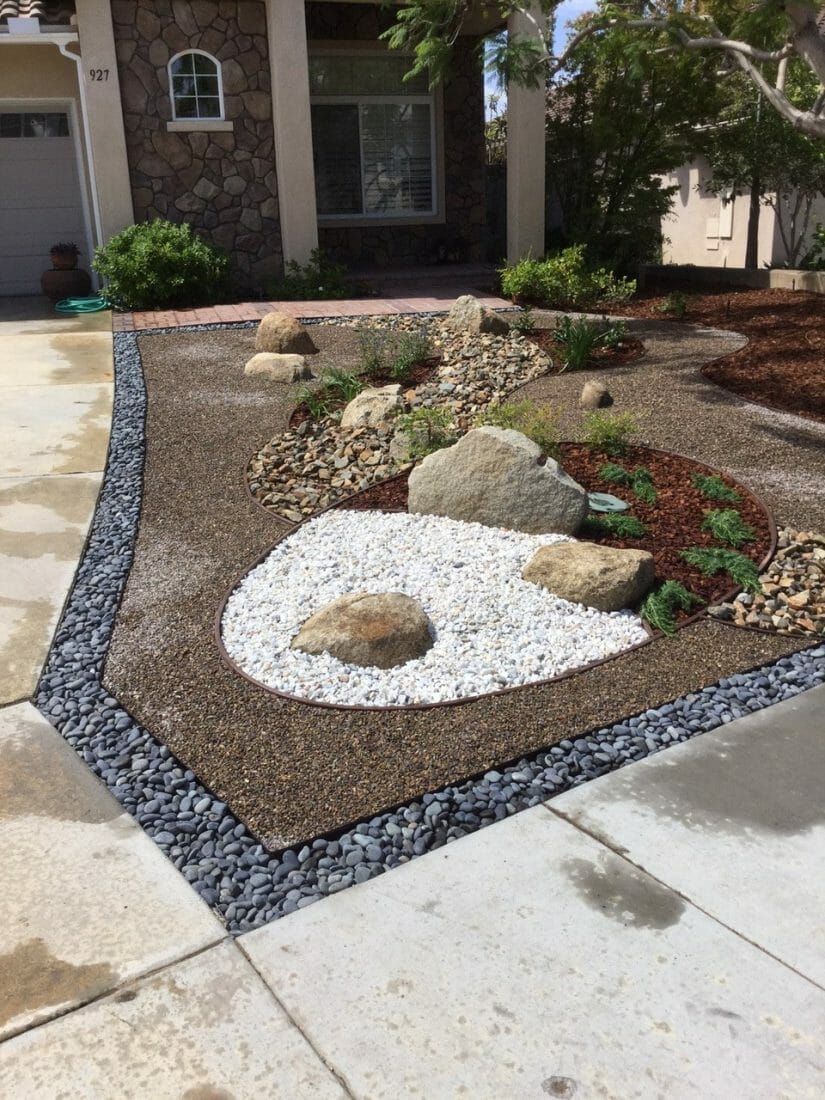 White gravel in the front yard will be compatible with any element, even other stone types. See how brick chips, white gravels, river stones, and huge rocks give a coherent multi-structure appearance.
Even without the lush shrubs, it will still be aesthetically pleasing to the eye.
16. Rock Pathway Between Metal Railing and Glass Wall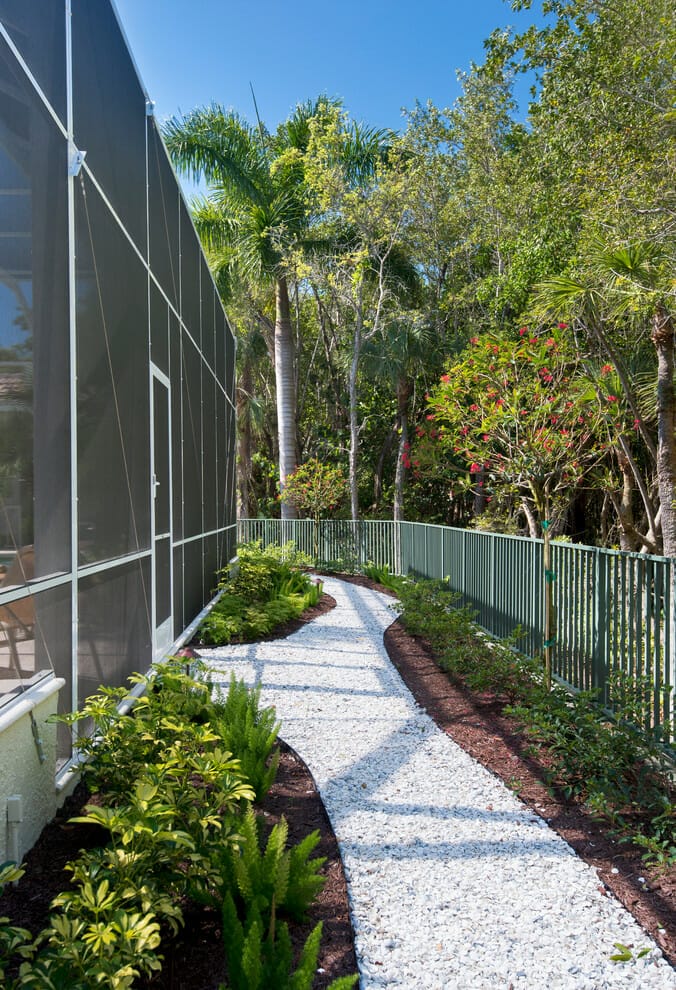 Complete your long pathway between the metal railing and glass wall with white rock landscaping ideas as above.
Combining these three elements is not only suitable for the house's front garden.
Still, it is also good to be implemented in an outdoor office space because it does not require complicated maintenance.
17. Plants Lavender Along the Walkway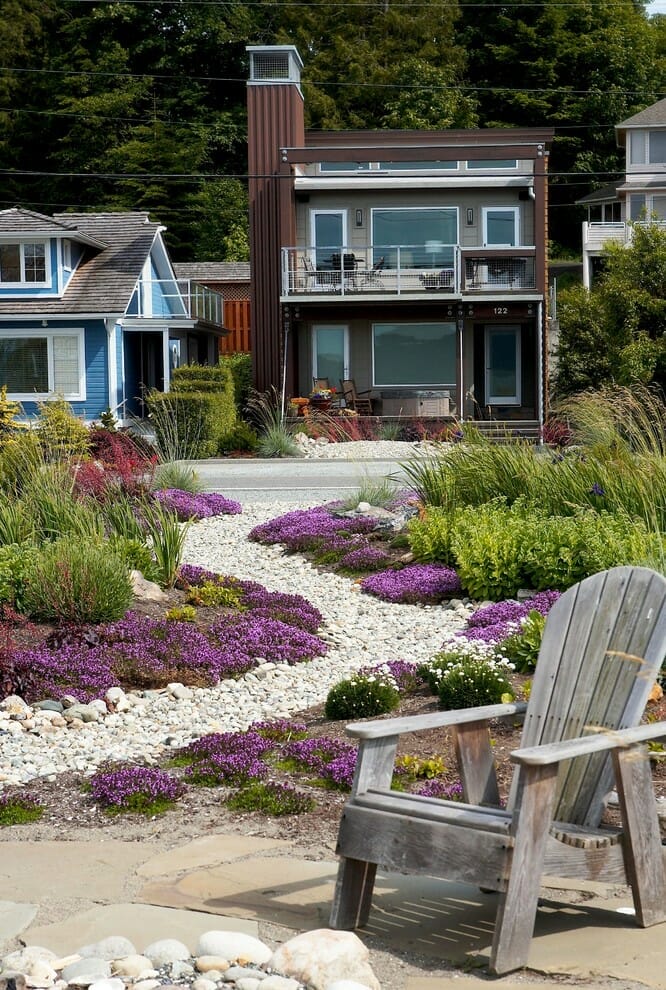 Providing white rocks on the walkway is such a worth-trying strategy in a coastal-themed exterior space.
Instead of only presenting rock landscaping, consider matching it by growing weeds on the right and left sides and lavender along the way to give a pop of color and scent.
It is nice to look at and gives a relaxed serene when you spend the summertime in your front yard.
18. White Pebbles and White Concrete Pavers for Refine Look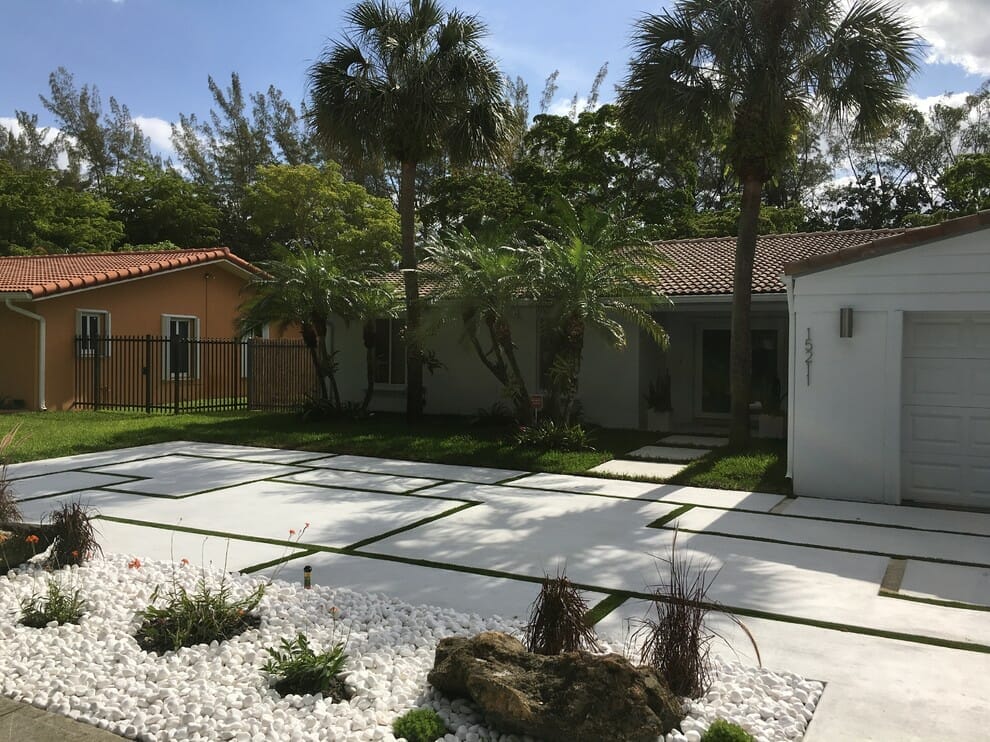 All-white themes in the outdoor space will never go wrong in giving a clean and spacious impression on your front yard.
Consider pairing white rock landscaping ideas with white concrete pavers as above. To give a touch of freshness, fill the gaps between the concrete slabs with green grass.
19. Mix All the Rock Types with Flagstone as a Pathway
Present various types of rocks in one area of your front yard to get an excellent mixing texture.
Arrange them in winding paths separated by thin borders to prevent them from blending into each other and still give each part a distinctive look.
As a recommendation, you can plant different succulents for each rock landscaping. After that, set the stepping stone in the center area.
20. Create Island in Your Front Yard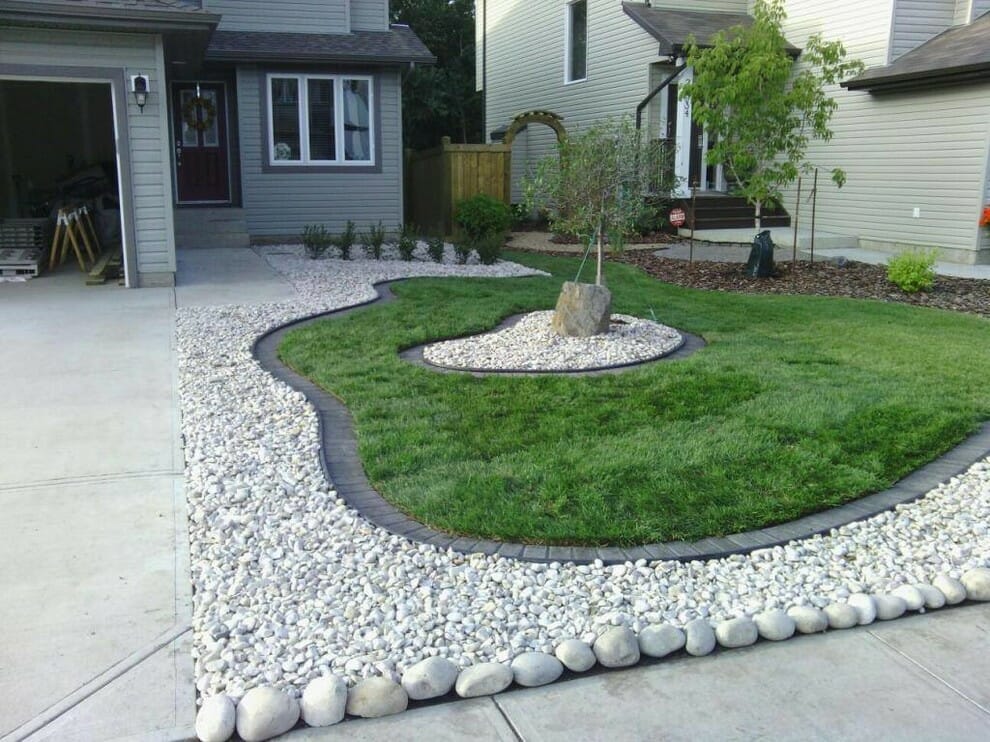 Green lawn and white rock landscaping ideas are the best combinations you can display in your outdoor space.
Spread white gravel over most of your front yard, then create a smaller green lawn that resembles an island in the middle part.
Last, do not miss the larger white stone to be a barrier on the outer part of your garden. This layout will amaze everyone who passes your yard.
21. White Gravel to Fill the Gaps Between The Stepping Stones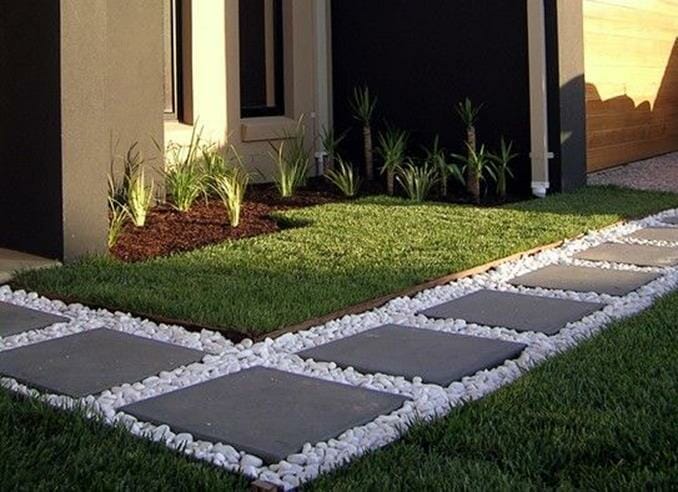 A good layout is vital in a narrow front yard to make everything well-arranged and avoid cramped.
Suppose you want to have a lawn and white rock landscaping simultaneously, then consider the outdoor space design as above.
Set most of the land with a green lawn. After that, make white gravel as a filler between your stepping stones.
This minimalist display still has an aesthetic value that deserves thumbs up.
22. White Rock Landscaping Ideas for Lawn Edging
Flagstones as flower bed border and white rocks as lawn edging; this is a medley that you cannot resist. It has a relatively rough texture transition but still exudes a distinctive charm.
Moreover, the white stones themselves will be a neutral background to better showcase any plants in your front yard.
23. Rock Garden in White and Gray Concrete Roster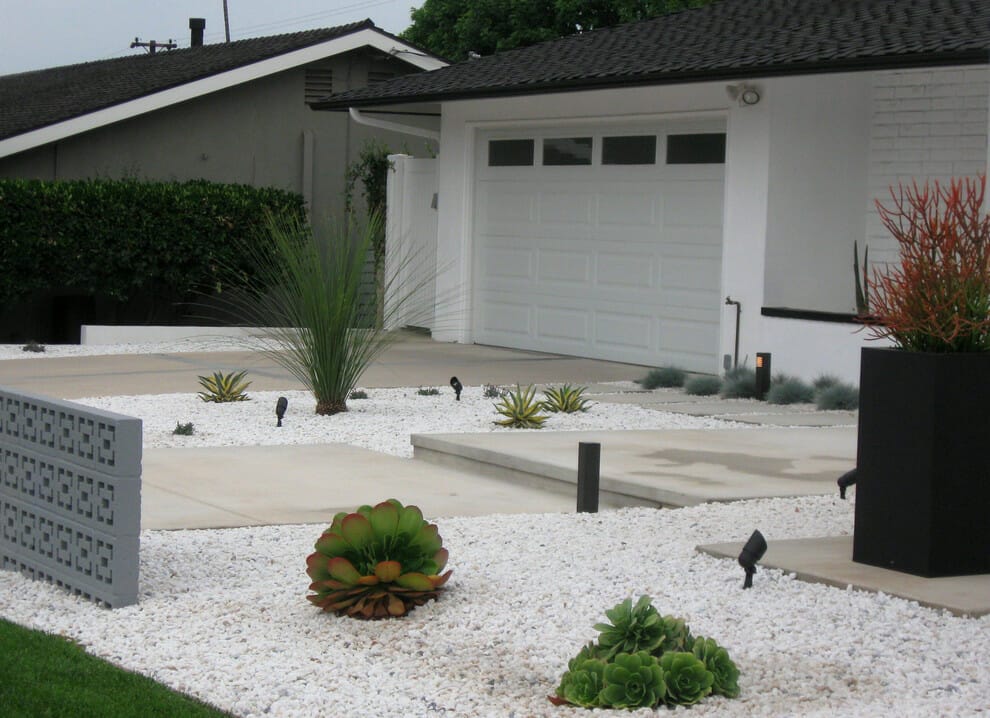 The refined appearance will be perfect for your outdoor area with a modern to the contemporary theme. It is also easy to get this look, though.
Combining white rock landscaping ideas with white pavers for driveways and walkways would be best. Plus, you can install the concrete roster in gray to give it a subtle color mixture.
24. Shrubs and Small White Rocks for Landscaping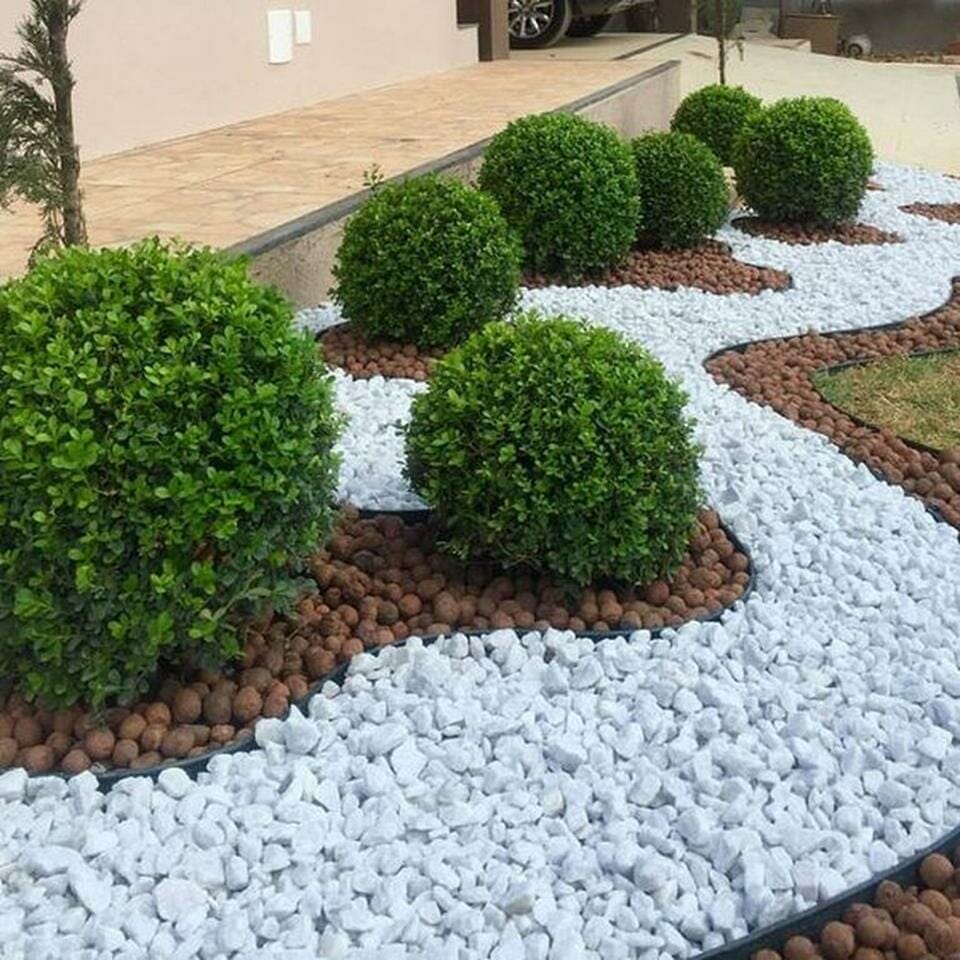 White gravel is the best object to give your front yard a pop of color and texture previously filled with dark-colored stones.
Instead of setting them at the edges, try to create a convex line in the middle that directly connects to the shrubs.
This layout is quite artistic without giving the impression of being excessive in your narrow front yard.
25. White Rock Landscaping Ideas with Composite Decking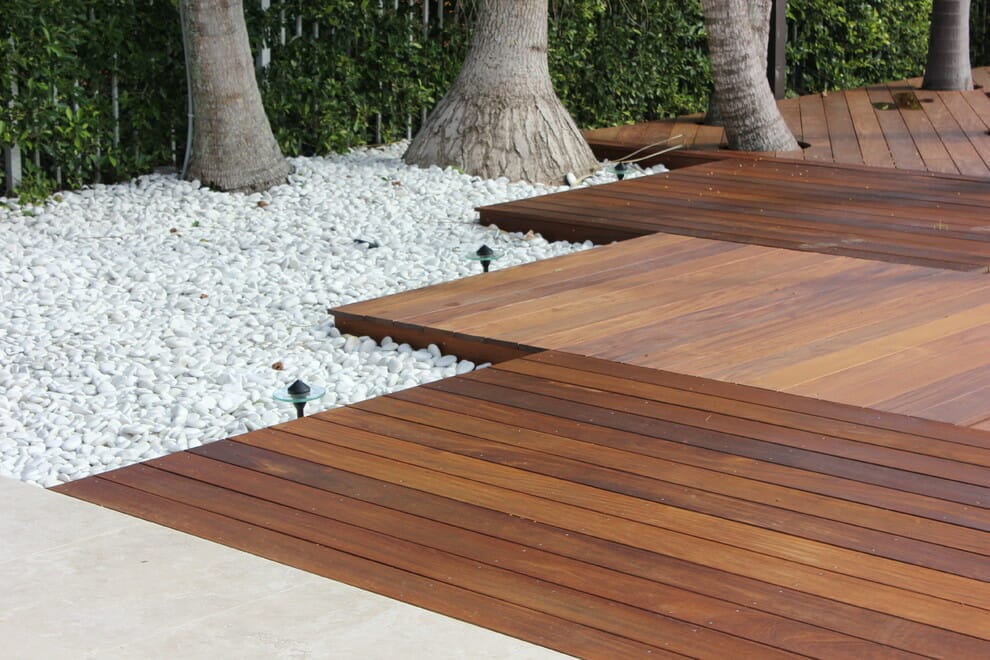 There is no limit to decorating your front yard with white gravel and composite decking. This concept is perfect for you who want to increase the aesthetic value by staying in your low-maintenance yard mode.
The contrasting colors are presented to make this front yard more pleasing to the eye.
26. Stones, Perennials, and Dark Pavers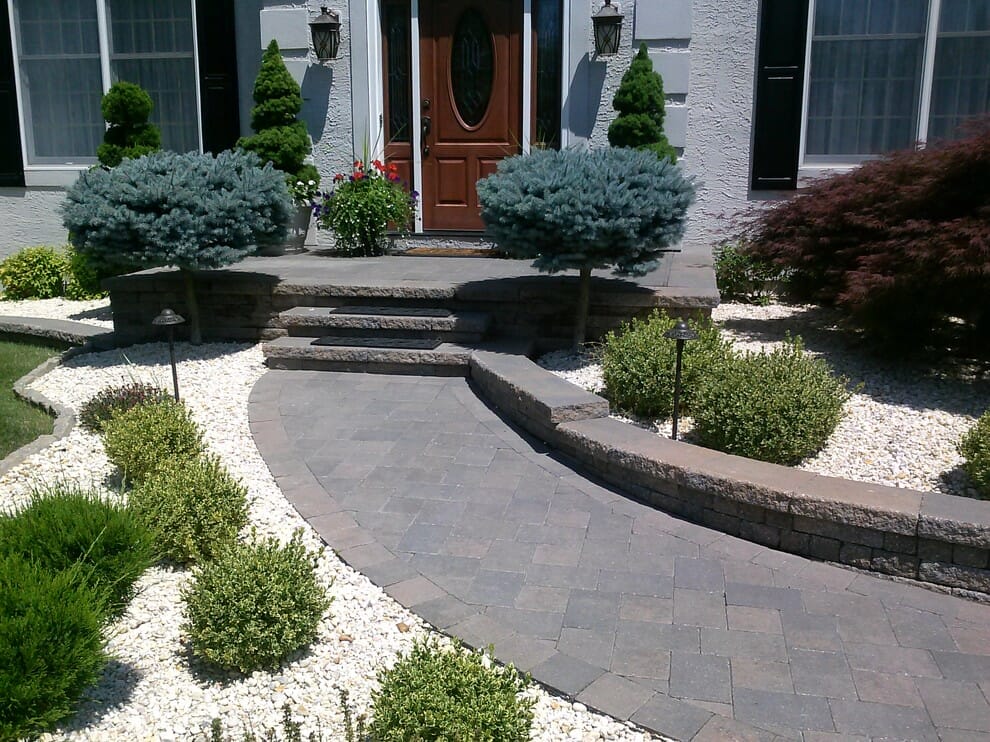 Showcase the existence of dark pavers and patio by spreading white pebbles in the garden on the right and left sides of your house.
The bright colors make the ruggedness of your walkway and leveled porch even more appealing to look at.
Plant some dense and colorful perennials further to unite your home with the freshness of nature.
27. White Rock Landscaping Ideas to Highlight the Walkway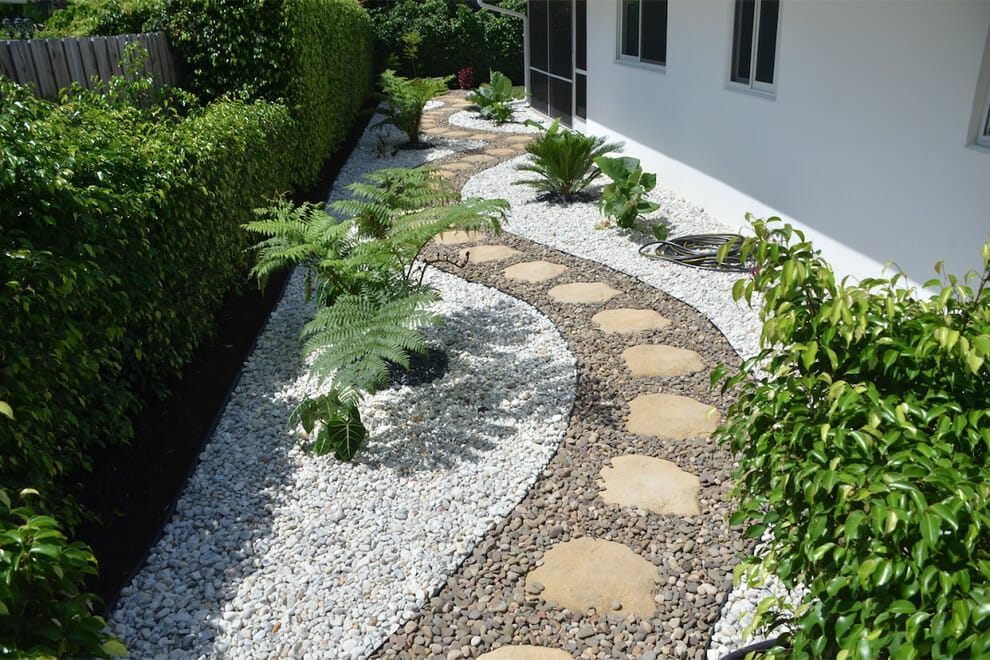 Generally, white gravels play a role in highlighting the pathways in your front yard. As you can see in the image above, the bright brown stepping stones are more accessible to recognize.
It is because of the presence of this rock landscaping layout. Also, look at how the white rocks arranged close to the house's walls provide an inseparable whole.
28. Wood Step Stones and Raised Garden Beds Among White Gravel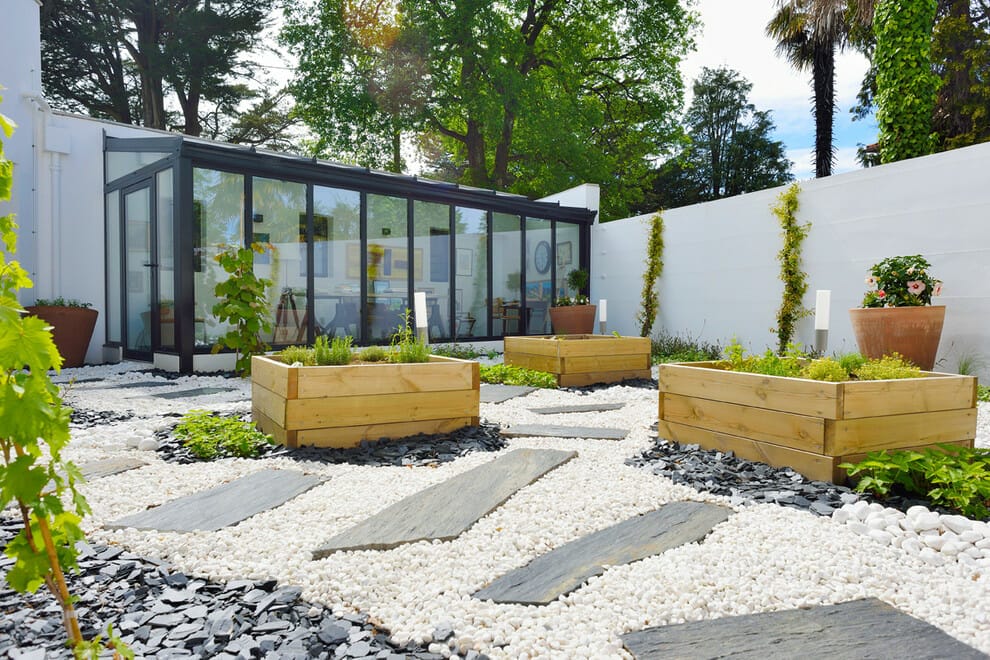 In this last concept, you can present a white rock landscape with several raised green grass beds. It will be better to add wooden borders in light tones to increase the brightness of your front yard.
To make all the elements come together in harmony, you can also consider choosing stamped concrete stepping stones with a texture like wood planks.
After exploring all the white rock landscaping ideas above, it is time to execute them in your front yard. Arrange the layout as unique and attractive as possible to draw the attention of many people.