In this post, you will read up on 28 incredible men's living room ideas that offer some oomph. Without a doubt, a stylish bachelor pad represents the greatness of a self-determining man.
Also, the sitting area is surely crucial to generating first impressions.
Typically, bachelor pads symbolize exquisite refinement and excellent grandeur. Furthermore, they exude serious sophistication.
Moreover, a showcase for any masculine flair certainly begins in the man's living room which boasts classy furnishings.
No men's living rooms are complete without leather furniture items. Such sitting areas usually embrace artistic minimalism and feature automated technology too.
They also give off a balanced, cozy look. Have a gander at living rooms with masculine designs below.
1. Rustic Men's Apartment Living Room Ideas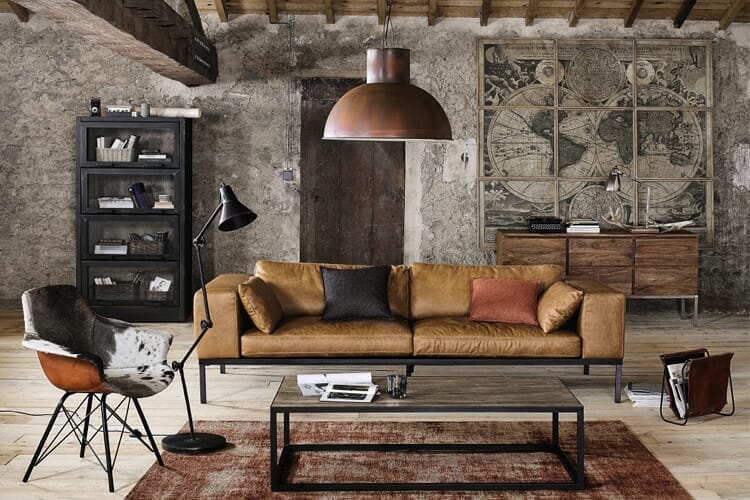 If you are an outdoorsman, try applying rustic men's living room ideas. This sitting area makes any man feel at home while unleashing his personality.
Also, the light wood flooring and heavy beam bring nature indoors.
The rough wall, bare wood sideboard, and metal lamps allow this apartment living room to feel manly. Meanwhile, the cowhide chair and sleek tan leather sofa epitomize coziness.
The distressed rug softens the sharp angles of the coffee table. Moreover, the black display case showcases man's belongings and maintains order.
Aside from a vintage map wall art, the room also has complementary pillows.
2. Contemporary Men's Living Room Ideas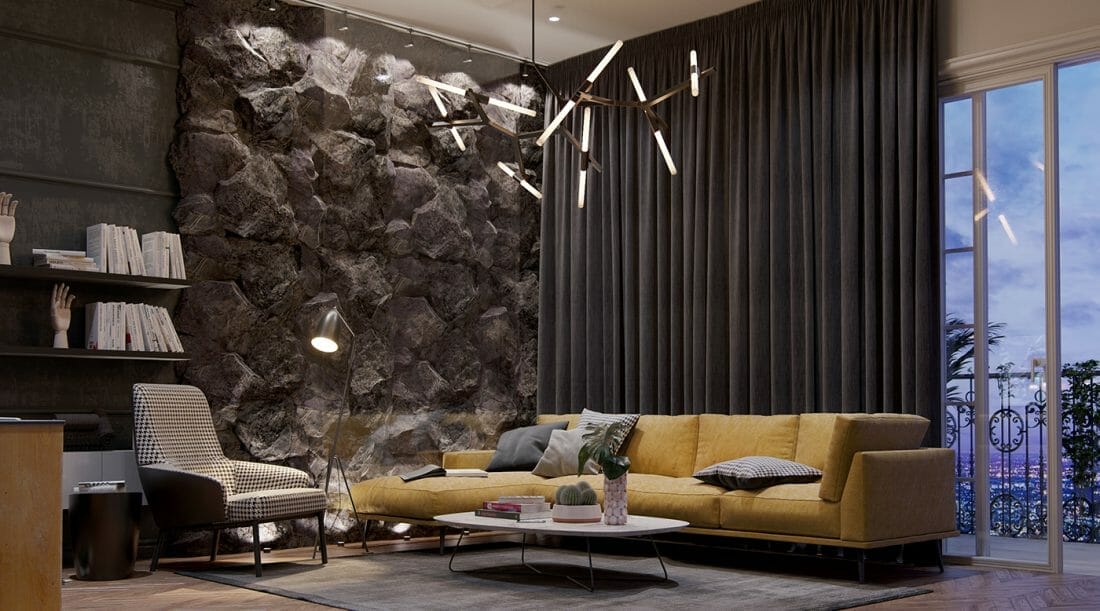 Speaking of bachelor living room ideas, many men adore modern and contemporary sitting areas.
For instance, such spaces require very little extra care, so they are perfect for busy bachelors.
Floor-to-ceiling curtains wear dark gray. Also, they lend the bachelor pad sitting area a mature and sophisticated ambiance.
The stone accent wall adds dimension and rustic appeal. Moreover, it highlights a mustard yellow couch and a monochromatic accent chair.
Additionally, shelves display hand sculptures and books, while accent pillows and simple plants keep the room from being sterile.
3. Men's Living Room Ideas with Plants
Some bachelors have massive entertaining areas, while others do not. If your bachelor pad living room is confined, why not make it look masculine yet inviting?
The modern room above features custom furniture items. It seems so stylish due to the streamlined TV console, warm gray chair, and gray linen sofa.
Besides, the chevron rug, solid color pillows, fake topiaries, and snake plants ensure this man's living room does not feel cold.
Recessed shelves keep things clutter-free.
4. Young Man Apartment Decorating Ideas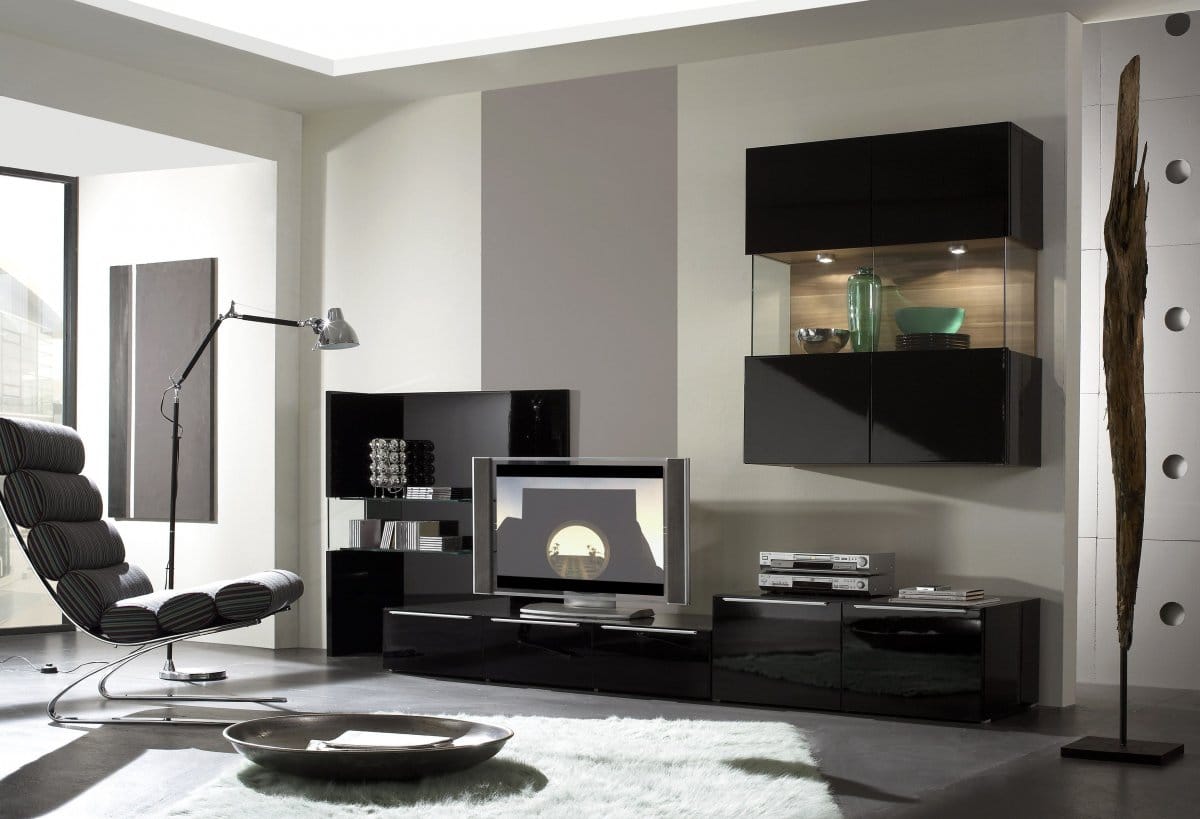 Need tiny men's living room ideas? Duplicate this masculine sitting area. Likewise, simple straight lines lend this space a manly appeal and modern vibes.
Since the bachelor pad living room is not large, the dweller scaled down his furniture's size. Here, the area contains a low TV stand and a round tray.
The driftwood art, industrial floor lamp, and monochromatic art also offer character. Moreover, the wall-mounted black display case complements the furnishings.
Lastly, the furry rug and lounge chair balance out sleek lines.
5. Men's Living Room Ideas with Oversized Windows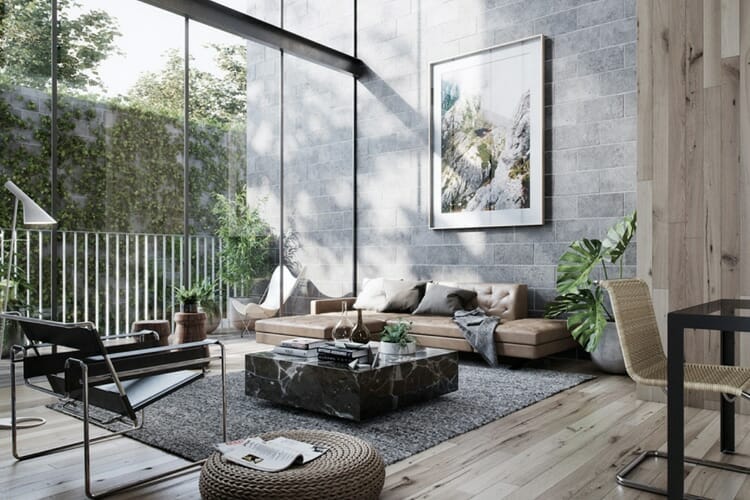 Single man home decorating ideas are so much more than sitting. This space, for example, has tasteful details.
Furthermore, the indoor plants, vases, and trendy lamps help get rid of visual gaps.
Window walls bring mama nature into this single man's living room. The statement art and black marble coffee table deliver copious amounts of sophistication.
Besides, the pouf, leather sectional couch, and flooring wear soft colors. They warm up gray stone tiles that make for an astonishing feature wall, too.
6. Warm Masculine Living Room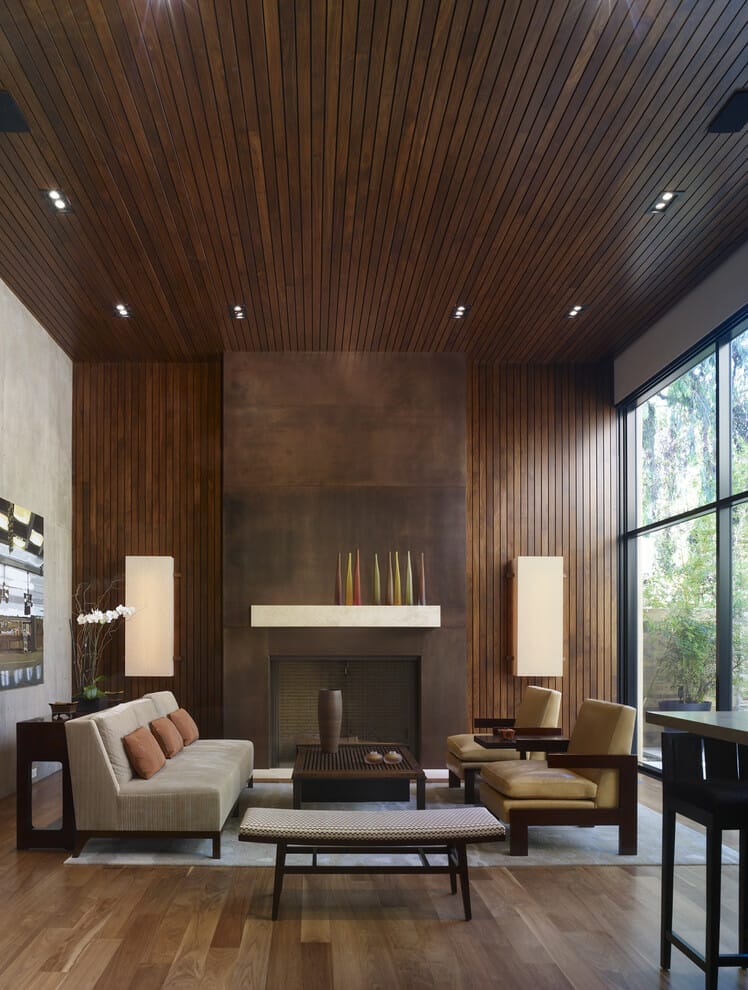 If you love masculine home décor, recreate this man's sitting area. Clean lines of the mantel, furniture, and wall hangings give off a mature atmosphere.
Further, the dark beadboard paneling makes the ceiling taller. It epitomizes natural warmth as well.
Here, the taupe sofa, gray rug, burnt orange pillows, and sand-colored chairs keep the room from feeling harsh.
The brown fireplace wall accentuates slim vases of varying earth tones. Meanwhile, the bench, tall vase, and orchids impart Asian vibes.
7. Men's Living Room Wall Décor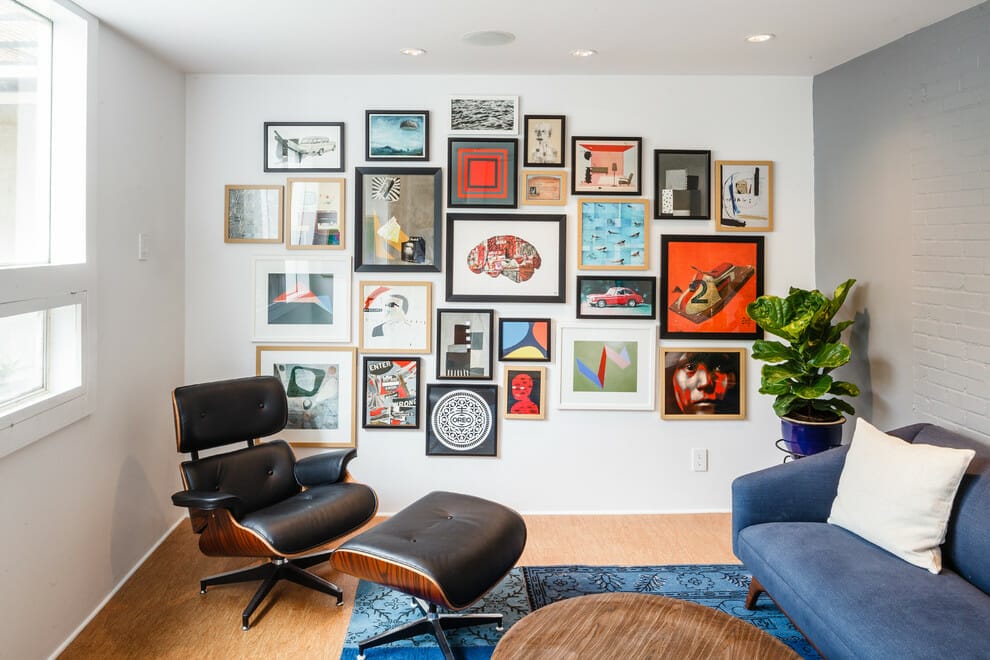 Not every man has a grandiose living room. The crisp white paint enables this sitting area to feel bigger. Meanwhile, the light wood flooring makes the hangout space more homey and open.
The black leather footstool and rolling chair introduce a masculine flair. As you see, the gray brick accent wall mingles with the muted navy sofa.
This living room embraces artistic wall décor. Artworks include wooden, white, and black frames, so the entertaining area seems cohesive.
The blue floral rug and large foliage indoor plant ensure the masculine space is not cold.
8. Men's Living Room Ideas with Open Concepts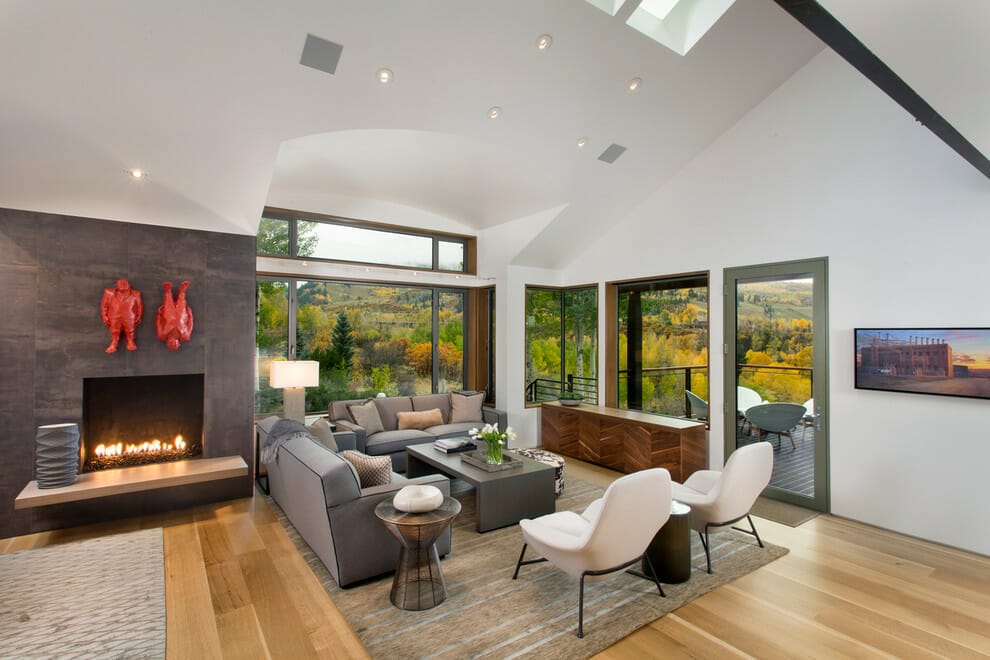 This open-layout sitting area was once cold and stark. However, it now becomes a softer and more inviting living room.
In addition, the dark gray fireplace wall provides contrast and depth.
Custom sofas help delineate two different areas. For a cohesive feel, homeowners incorporated an architectural lamp and white chairs.
The chevron credenza and light wood flooring warm this man's entertaining area up, whereas clear glass panes offer great views.
Moreover, red men-shaped decorations over the fireplace inject whimsy, humor, and intrigue at once.
9. Industrial Living Rooms for Men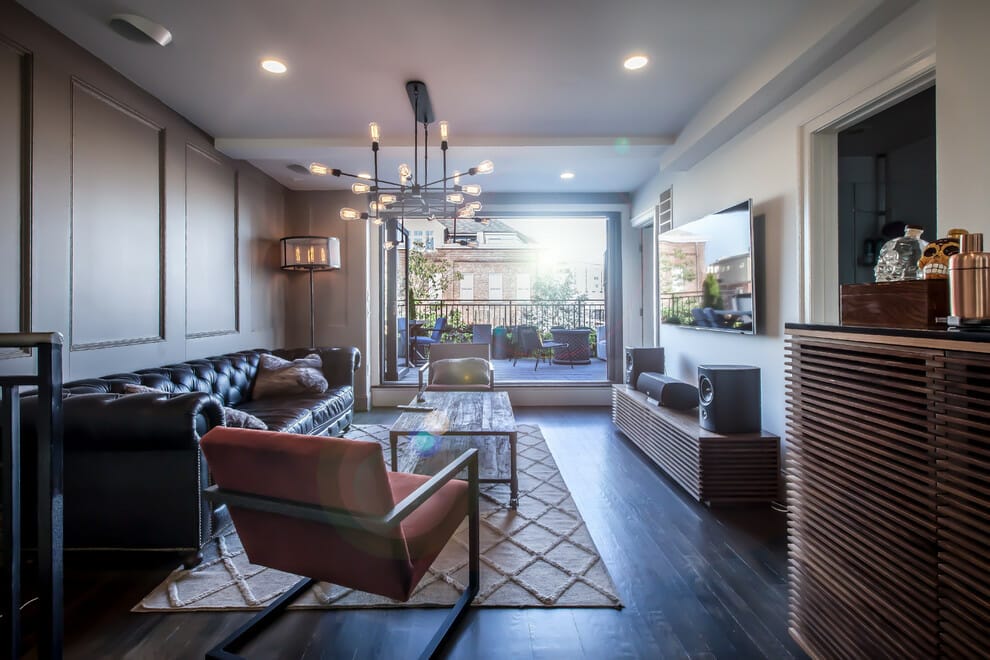 Talking about cool men's living room ideas, opt for industrial design. Here, the metal armchair, floor lamp, and industrial cluster pendant light introduce a manly aesthetic.
The chesterfield leather sofa embodies grandeur. Meanwhile, the textured geometric rug softens the angles of the table.
Slatted wooden furniture pieces keep the man's entertaining area organized. Additionally, red and gold elements break up the chilly ambiance.
10. Men's Living Room Ideas with Black Walls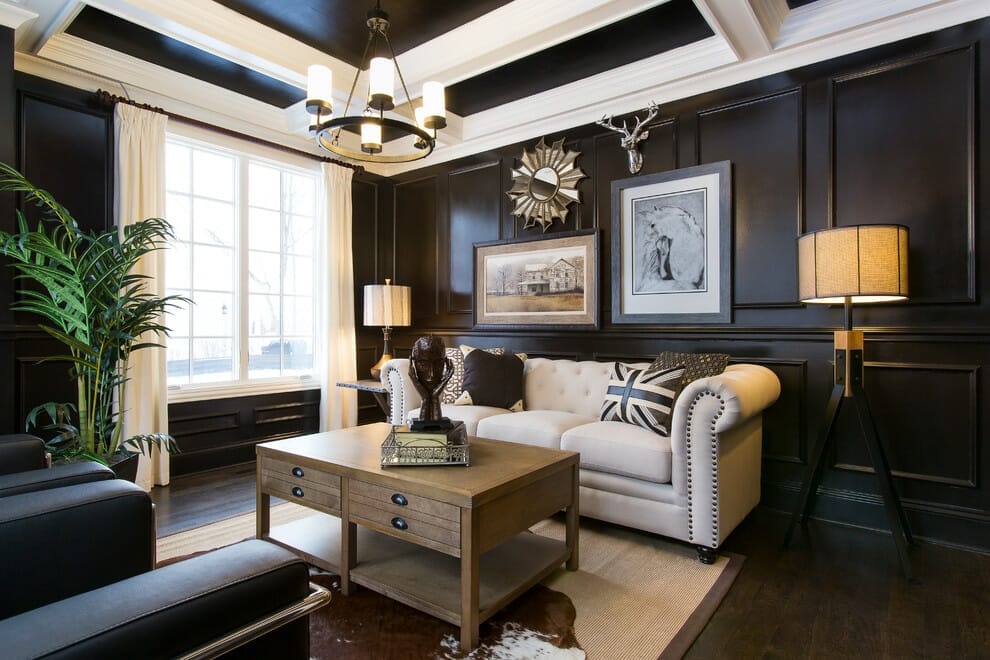 Black ceiling and wall panels bring maximum magnetism. In addition, they embody drama while generating a mature atmosphere.
The warm white chesterfield sofa, plant, and mixed patterned pillows stop the room from being dreary. Meanwhile, curtains and windows balance out black furnishings.
Cowhide and neutral rugs make the space uber-comfy. The wooden table keeps clutter away, while lamps and unique pieces round out this dramatic yet artistic space.
11. Traditional Living Rooms for Men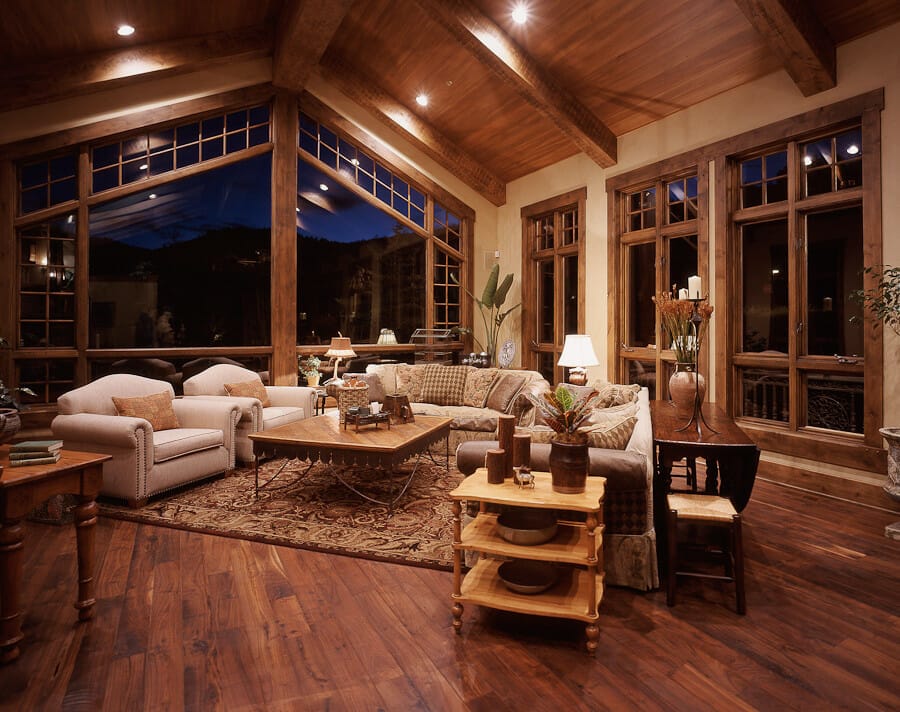 Men's living room ideas are undoubtedly countless. This traditional masculine hangout space lets you become a modern man while paying a tribute to your home's history.
The room above has timeless wooden furnishings. Moreover, comfy couches and sofa chairs soften all things metal up.
Light neutral shades of the upholstered furniture and walls brighten the space, whereas multiple plants and windows bring nature into the hangout space.
12. Minimalist Men's Living Room Ideas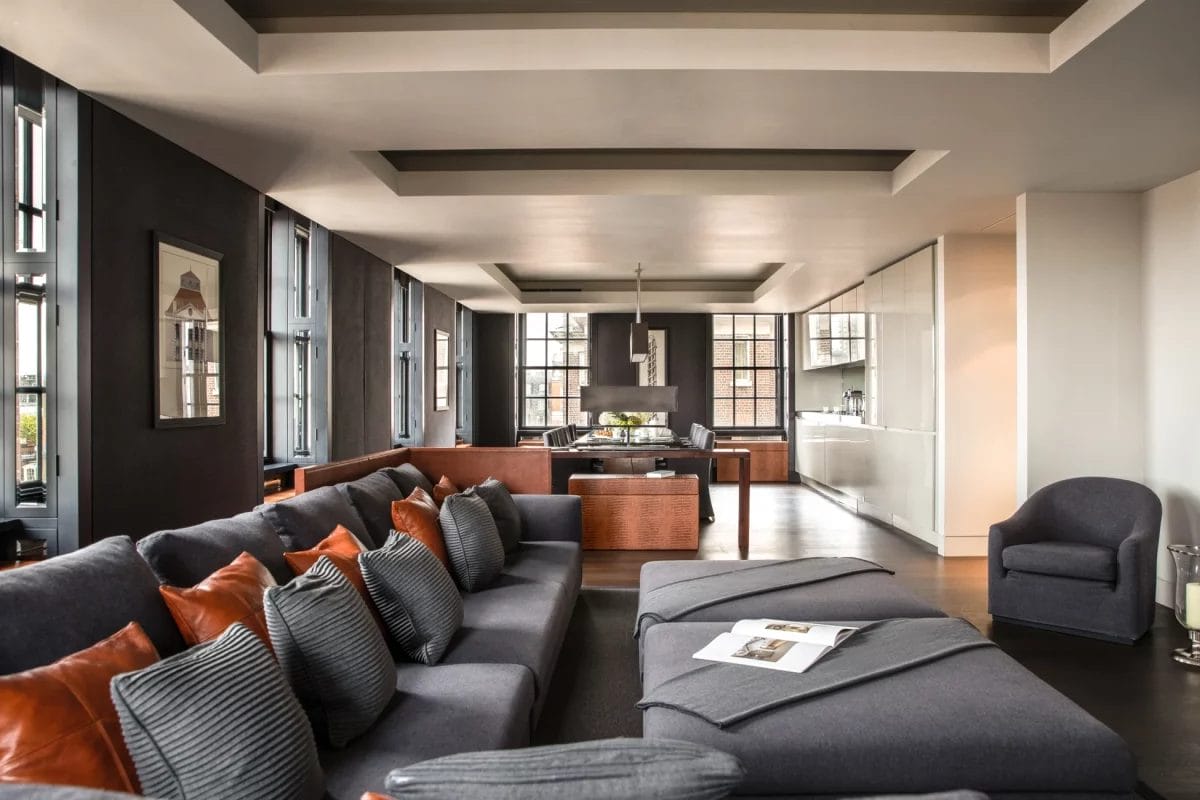 This open-plan room belongs to an apartment. The dweller equipped it with a gray sofa and two extra-large ottomans.
Here, the sofa chair matches the solid gray rug.
Gray striped and cognac brown leather pillows line the otherwise bleak sofa. Due to them, this clean man's living room gets stylishly inviting.
Deep-toned gray walls and tray ceilings add depth. Meanwhile, artworks and windows lighten up the sitting area.
13. Embrace Dark Shades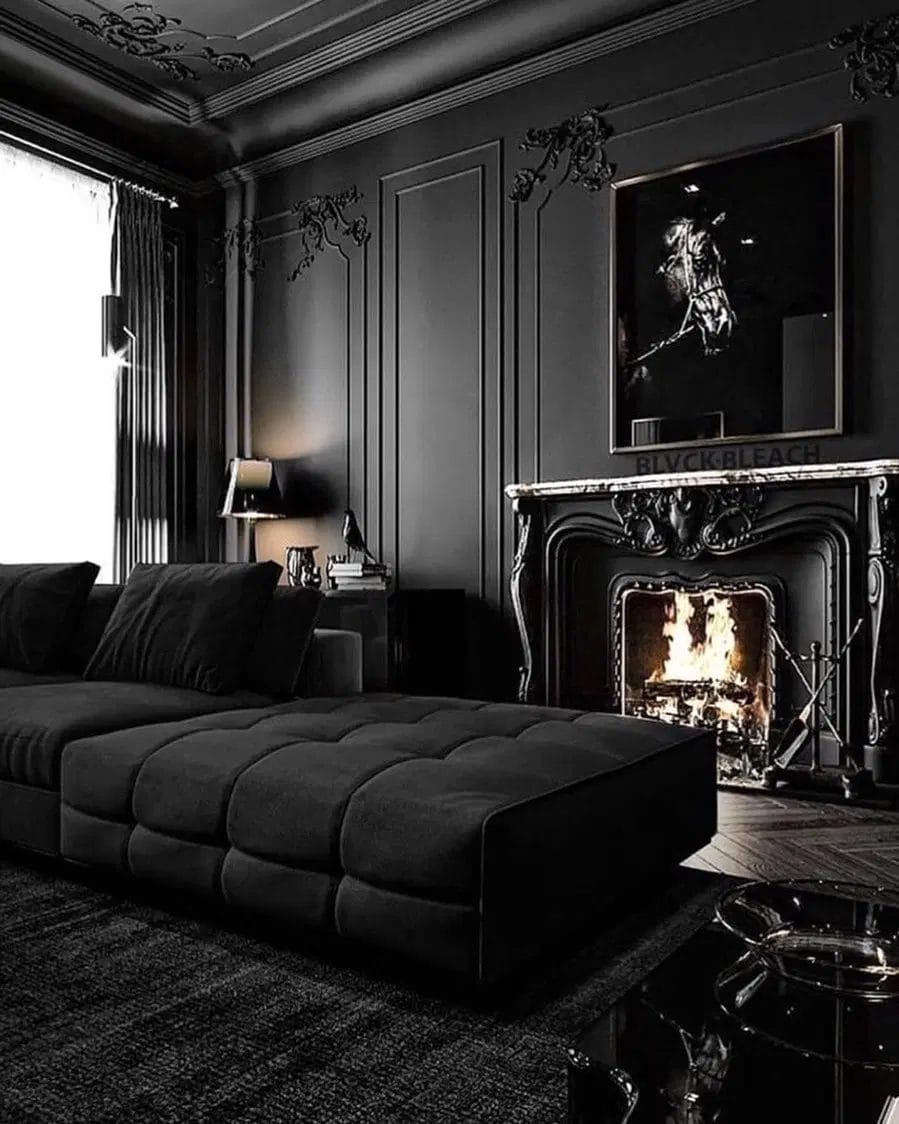 This modern luxury interior is one of the things any man will be proud of. The black ceiling, fireplace, paneling, moldings, and ornaments make a mature space.
Additionally, they infuse a sophisticated nuance.
Intricate black details convey luxury and splendor. Meanwhile, black pillows complement the sofa and textured rug.
The fireplace warms up this masculine sitting area. Further, gray curtains and windows keep this classy hangout space from feeling too moody.
14. Airy and Astonishing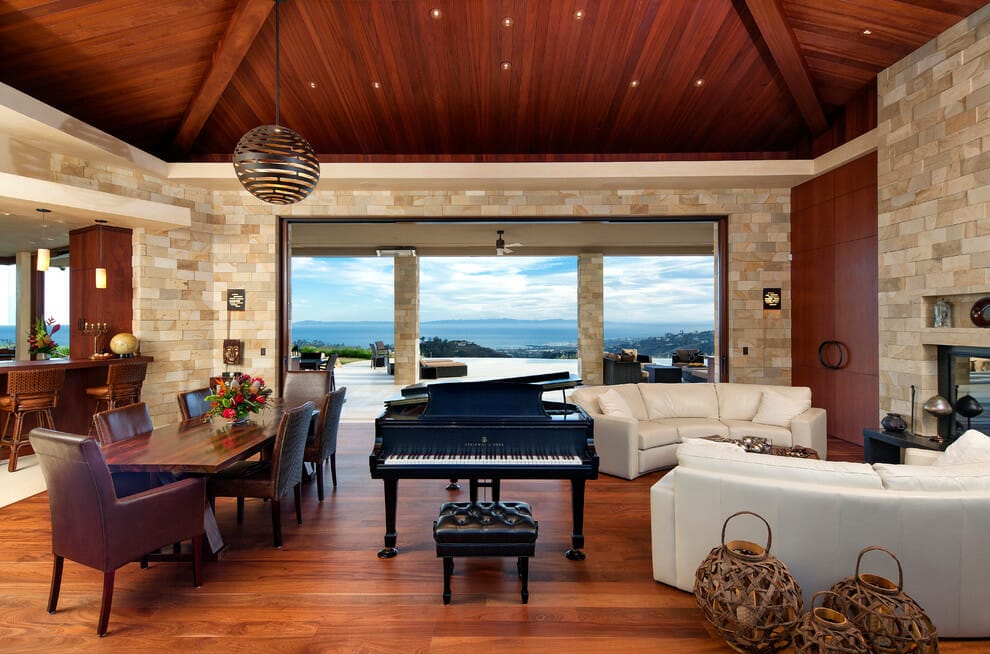 Love airy living room? Emulate the space above. Windows, glass doors, and wooden vaulted ceilings speak of openness.
The keyboard and black leather stool distinguish the man's living room from the elegant dining area. Natural stone tiles harmonize with the mahogany flooring.
In addition, curved sofas act as conversational furniture items. Not only do they facilitate conversation, but also soften sharp angles.
15. Modern Living Room for Men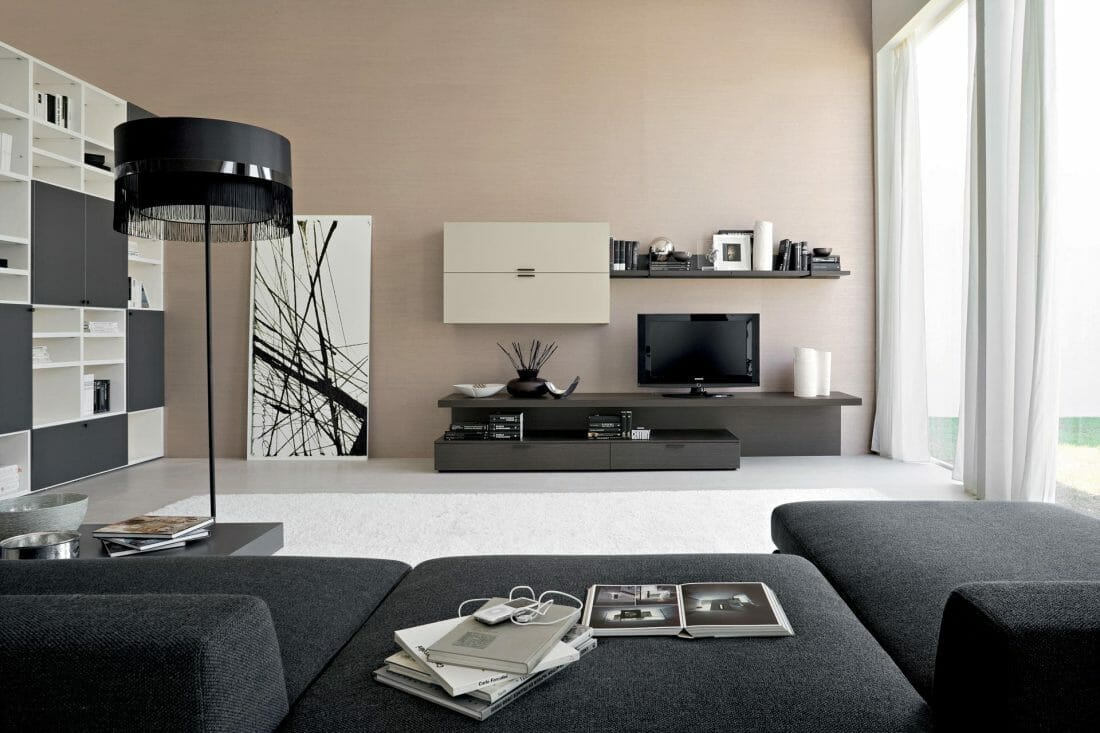 This informal living room will delight any man for sure. The metal floor lamp and dark furniture embrace masculinity while bringing some drama.
Light-toned fabrics counteract modern hard angles.
Meanwhile, the warm taupe paint lets the casual sitting area feels super inviting. The wall art makes the interior design.
16. Mid-Century Living Rooms for Men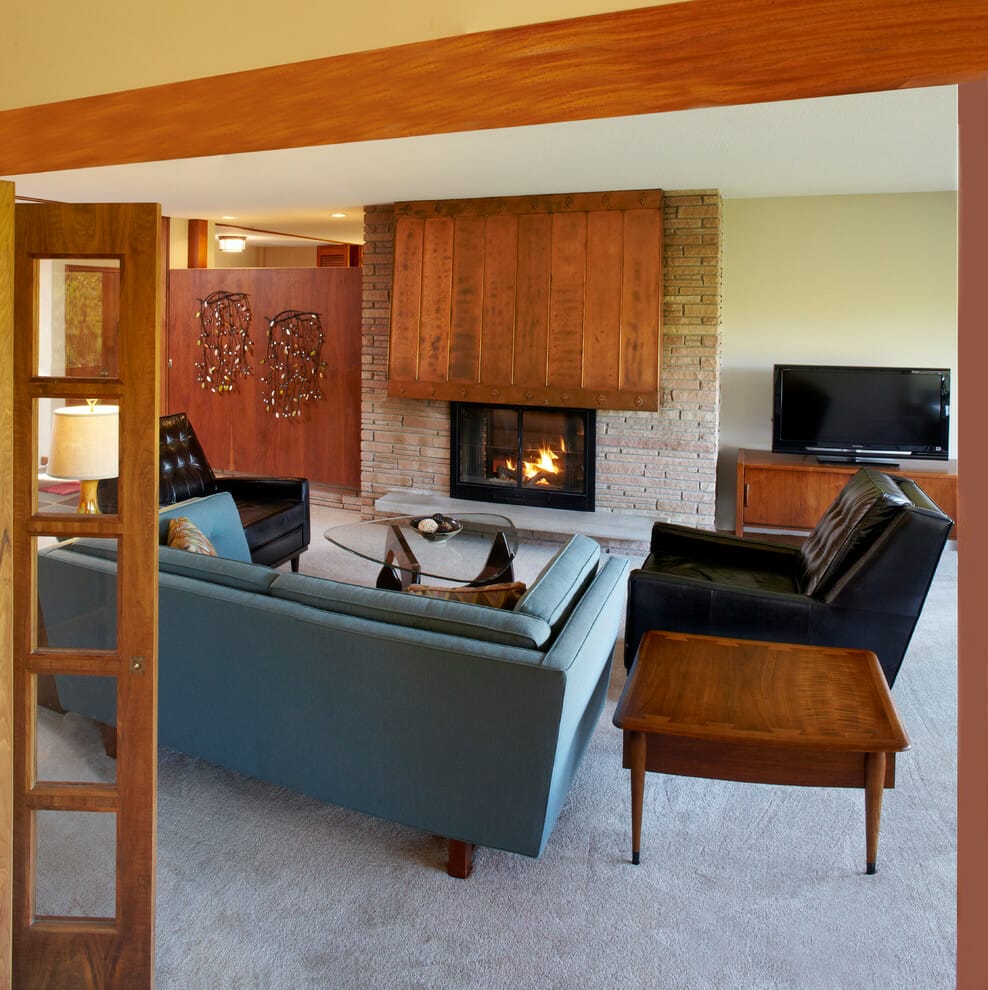 This man's living room is full of mid-century charm. The warm wood panel, furniture, and door frames radiate timeless beauty.
Also, the metal fireplace and black leather chairs carry a masculine feel. Different gray tones help balance this mid-century sitting area.
Moreover, the glass triangle table, two-tone lamp, and wall-hung accessories complete the room.
17. Round Fireplaces
Open-concept spaces are very popular. This fabulous example boasts an open layout with a white vaulted ceiling and dark gray flooring.
The round communal fireplace evokes conviviality and becomes a center of attention. Since this man's living room contains warm accents, it feels welcoming.
18. Natural Chalet Living Room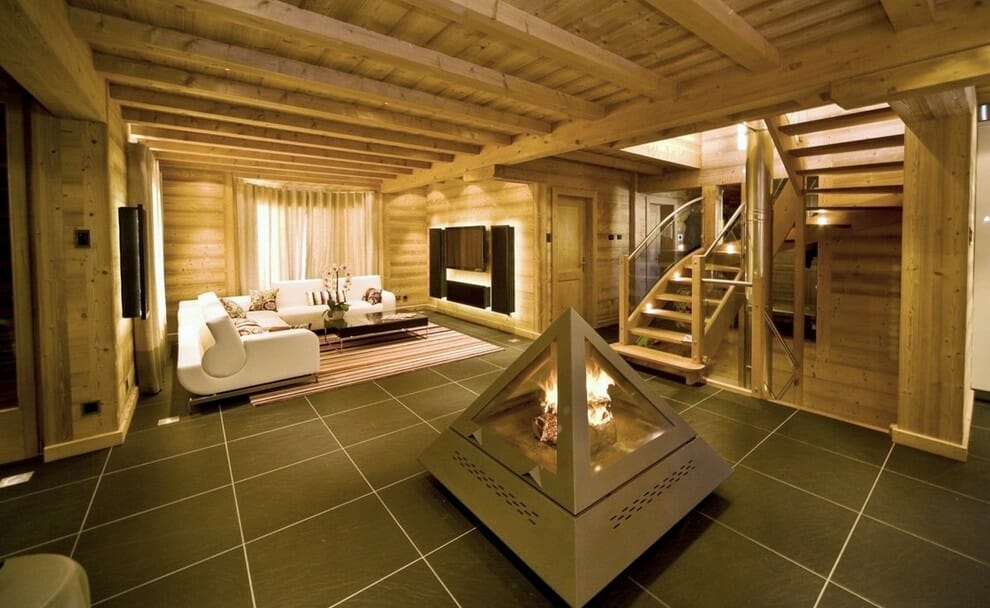 Do you drool over chalet men's living room ideas? This cozy contemporary sitting area is worth emulating.
It belongs to an Alpine chalet that provides mesmerizing mountain views.
The slate flooring invites drama. Meanwhile, the pyramid fireplace delivers interest and warmth, too.
This space champions clean lines via black furnishings.
White sofas impart a clean look. They generate a comfy ambiance as well. Plain wood beams and paneling emanate naturalness.
19. Manly Gray Living Room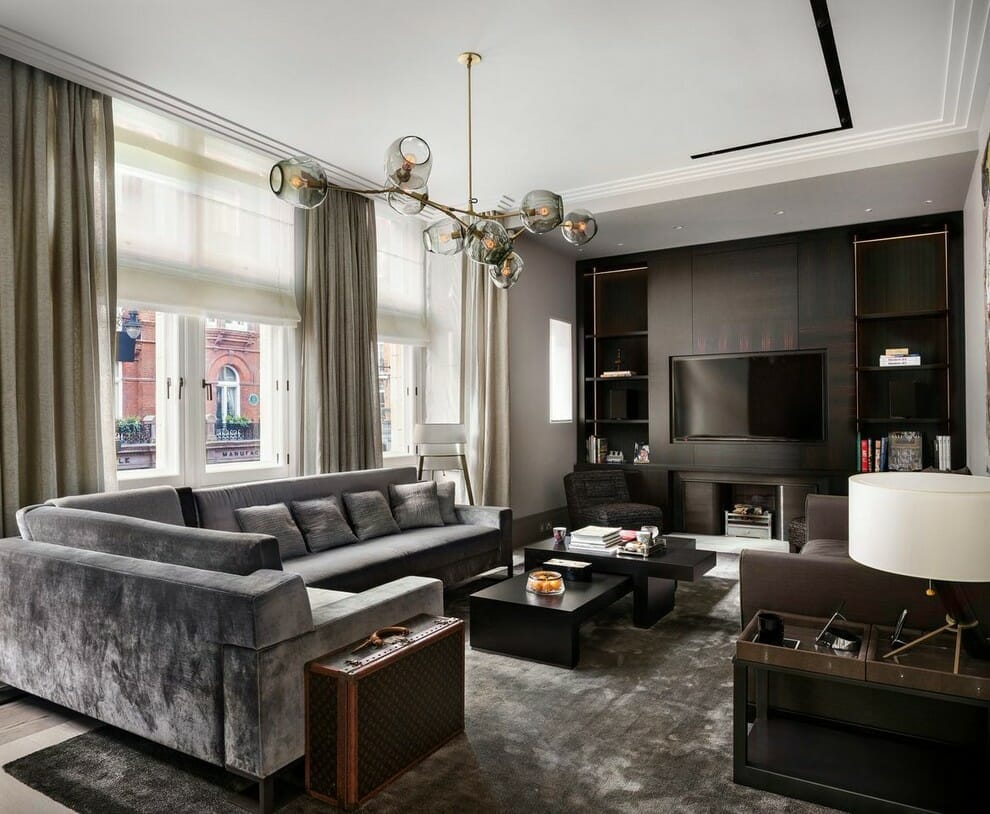 This London apartment's living room is lavish and trendy. The gray sectional sofa and accent pillows produce a seamless appeal.
The vintage suitcase, modern chandelier, and oversized table lamps add character. Meanwhile, black furnishings embrace manliness.
20. Complex Simplicity Meets Masculinity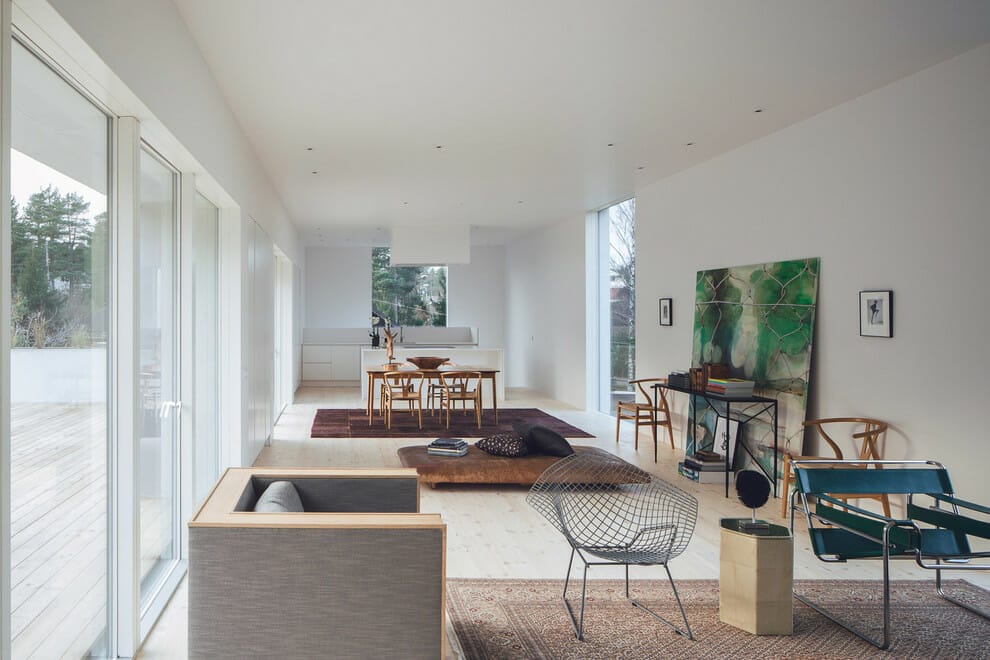 The low-key color palette effortlessly makes this open-plan space airy. Furthermore, massive windows ensure generous light flow.
Earthy hues like green and brown produce a pleasant living room.
Metal furniture items mingle harmoniously with natural materials. Moreover, the rug and hexagonal side table give character.
21. Charming Living Rooms for Men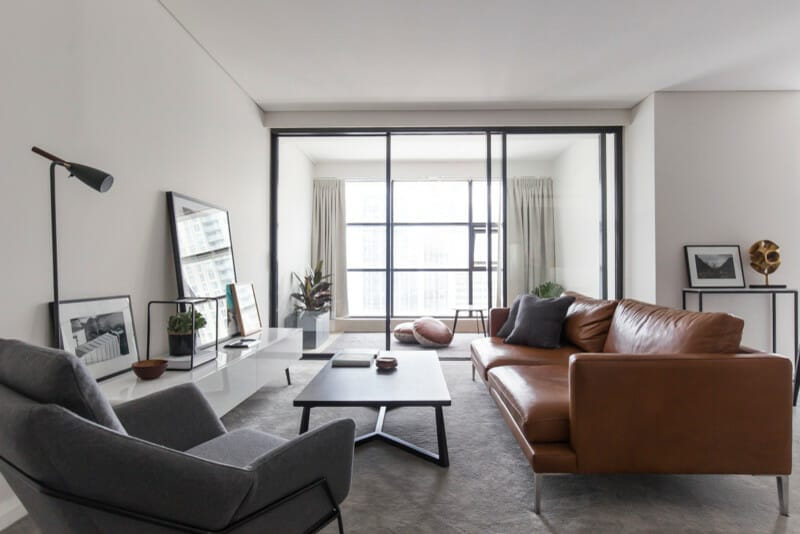 Small bachelor pad living room ideas spark creativity. All things steel generate a mature and masculine ambiance in an instant.
This Sydney CBD apartment living room is far from sterile, big thanks to the cognac brown couch and red floor seats.
Meanwhile, houseplants introduce a vibrant feel.
22. Masculine Minimalist Luxury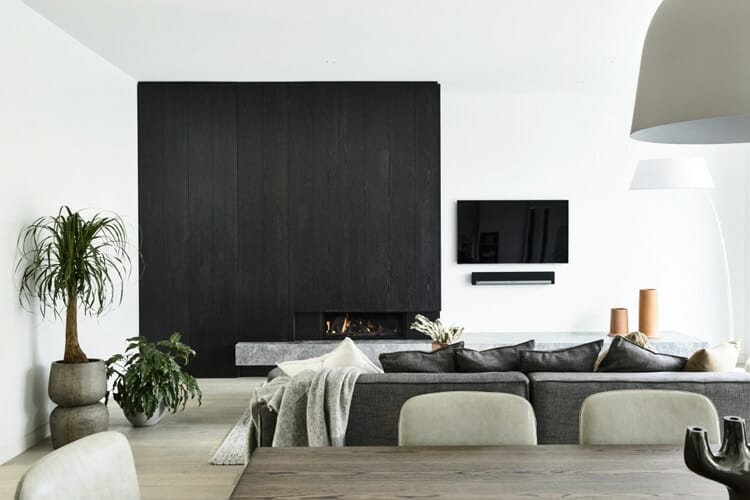 If your space craves minimalist luxury, take simple ideas into account. Likewise, white walls call attention to houseplants that impart a cool feeling.
I adore the free-flowing layout of this room. Homeowners can integrate dark gray and black units since the sitting area is sun-drenched.
23. Masculine Living Room with Monochrome Interiors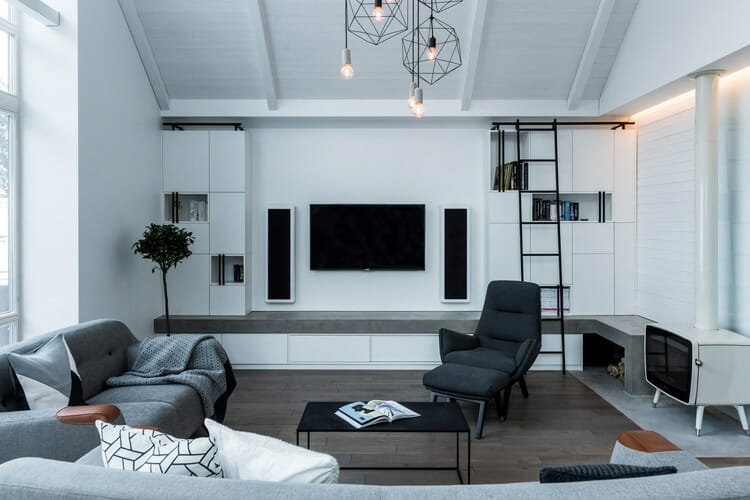 I admit this monochromatic man's living room is superb. It belongs to a stilted house. Moreover, it boasts concrete surfaces under the TV that also house firewood.
Steel units, geometric pendants, and gray upholstered furniture items radiate masculine energy. Due to brown leather accents, the room is not uninviting.
24. Cabin-Style Living Rooms for Men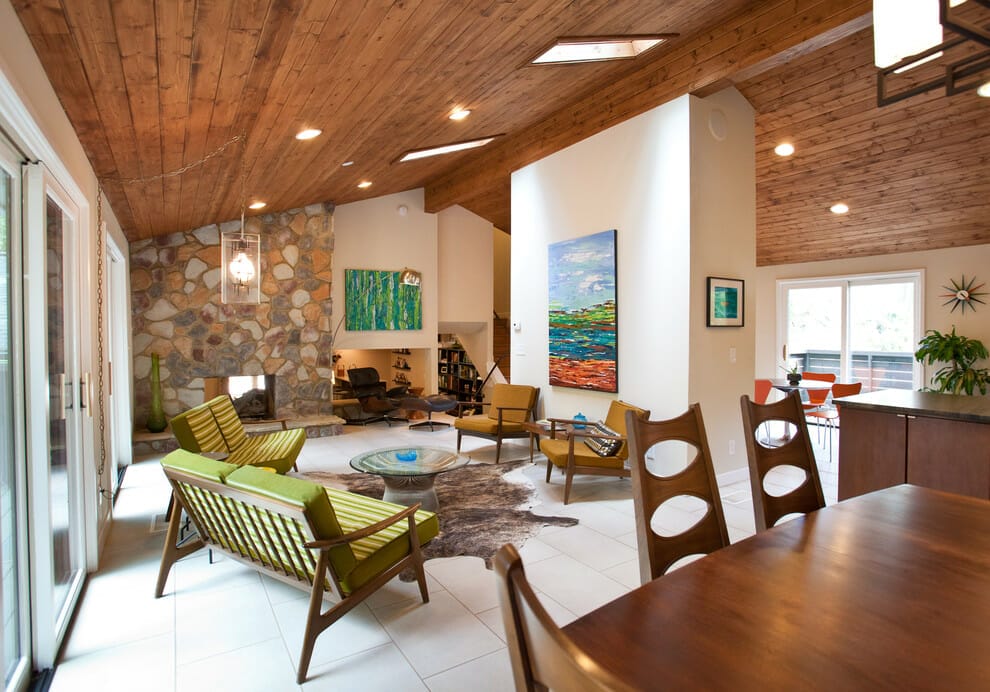 Men's living rooms with wooden ceilings are fantastic. The wooden vaulted ceiling offers an untouched appearance.
Besides, the stone fireplace converts this open-plan space into a log cabin retreat. Here, the animal hide rug, vivid artworks, and earth-toned furniture pieces embody homeliness.
25. Transitional Men's Living Room Ideas
This transitional living room stays neutral while exuding cleanliness. Here, warm white, brown, and cream invite tranquility.
The classic chandelier is dramatic and lavish. Upholstered furnishings soften the lines of the table and steel windows.
Furthermore, the white orchid, traditional rug, and head sculpture make this transitional space complete.
26. Dark Side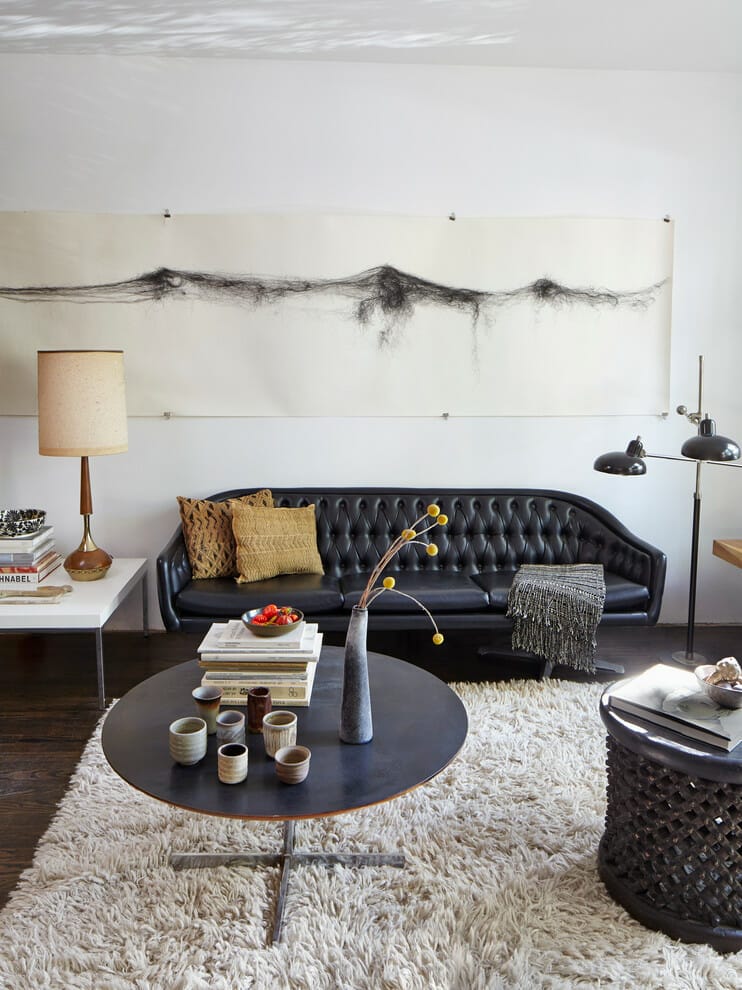 Black furnishings are your cup of tea. So why not weave them into your sitting area? The black leather couch enables mustard yellow pillows to shine.
Here, the floor lamp and art complement the leather sofa. Not only does the sleek table hold modern ceramic vases but also books.
The white rug and dark gray side table provide a high-contrast appeal.
27. Simplicity Speaks Volumes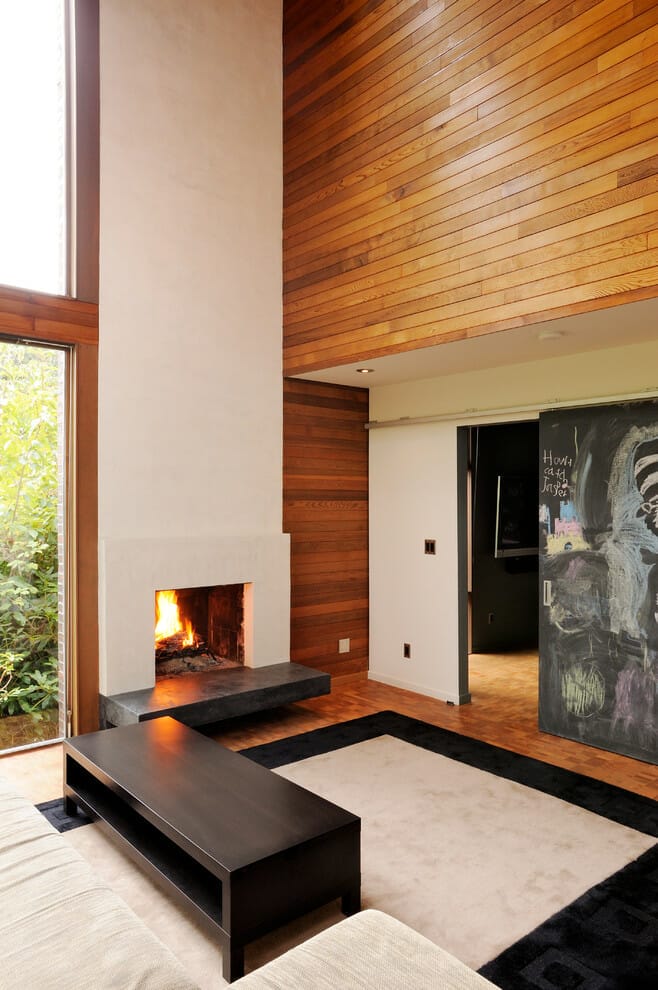 This man's living room undoubtedly supports spontaneous creativity. The sliding door doubles as a chalkboard.
It helps uncover your family's inner artists while creating a fresh vibe.
The wooden flooring and feature wall keep the vibe of this space welcoming. Meanwhile, the concrete hearth and dark-toned table symbolize masculinity.
28. Modern Ranch Living Room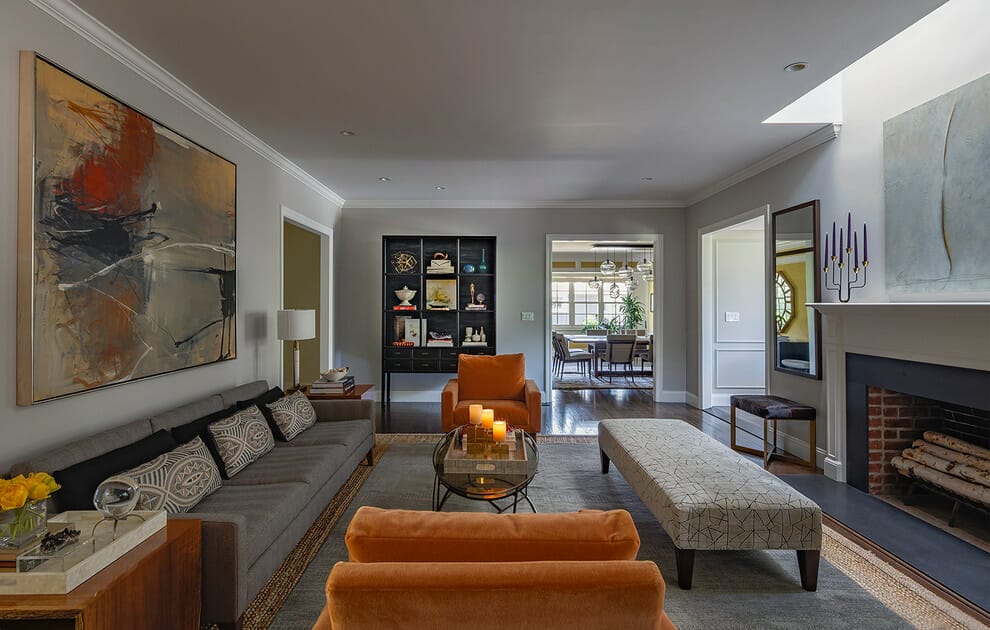 I admire this stylish ranch living room. The extra-long gray sofa highlights printed and black rectangular pillows.
In addition, benches let homeowners get more comfy seating. Yellow flowers and orange accent chairs keep coldness out.
The oversized art unifies this masculine space.
Men's living room ideas should not be synonymous with stark and cold spaces. Thus, try doing a lot with it. Choose the right furnishing, so your masculine sitting area stays inviting.
How should you decorate a masculine living room?
Here are some more casual decorating tips for a masculine living room:
Use neutral colors as a base, like shades of gray or beige, and add pops of color with accessories like pillows or artwork.
Incorporate comfortable seating, such as a plush sofa or oversized armchairs, that invite relaxation and lounging.
Hang framed photos or artwork that reflect your personal interests, like sports, music, or travel.
Include natural textures and materials, like a woven rug or a wooden coffee table, to add warmth and texture to the space.
Display books or magazines on a bookshelf or coffee table, giving the room a lived-in, casual feel.
Add some greenery with plants or succulents to bring life and freshness to the space.
Use soft lighting with floor lamps or table lamps to create a cozy atmosphere.
Remember, the key to a casual masculine living room is to make it feel comfortable, approachable, and reflective of your personal style and interests.