Whether you own an extensive or limited utility space, sprucing it up is a must. That way, you don't feel too bored to spend your day there. Thus, you may need to look for laundry room organizer ideas due to this urgency.
It is expected that you can also find the motivation to keep the laundry room away from the mess of dirty clothes and the like.
More than that, the laundry room organizer ideas in this article also invite you to utilize every corner of your washing space so that no area is present in vain.
Well, once you're ready to see more, here are twenty-eight laundry room organizer ideas that you can immediately follow. So, get inspired!
1. Create Three Room in One Area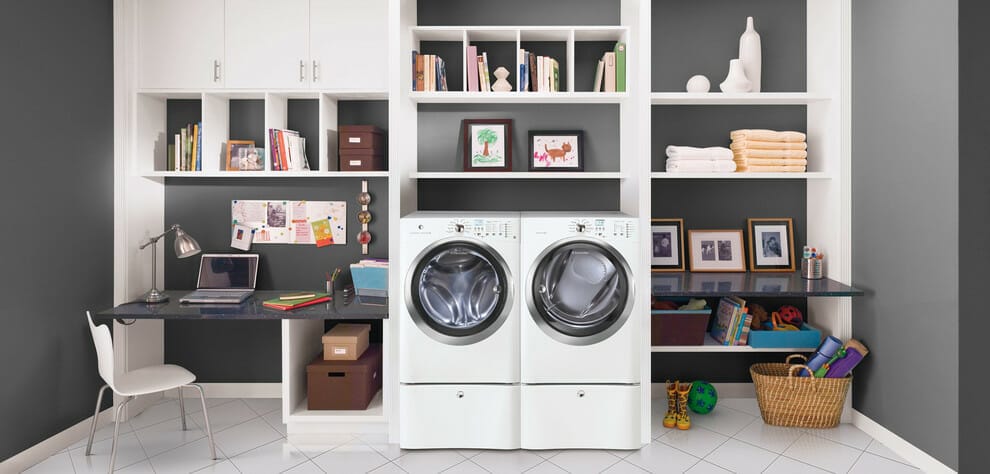 Having limited space doesn't mean you can't have a decent laundry room. You can be more creative by combining at least two to three areas together.
For example, you can arrange your laundry room close to your home office or your children's playroom. That way, you can finish your chore well without ignoring your child and keep them under protection.
2. Arrange Toilet Paper Far from The Sink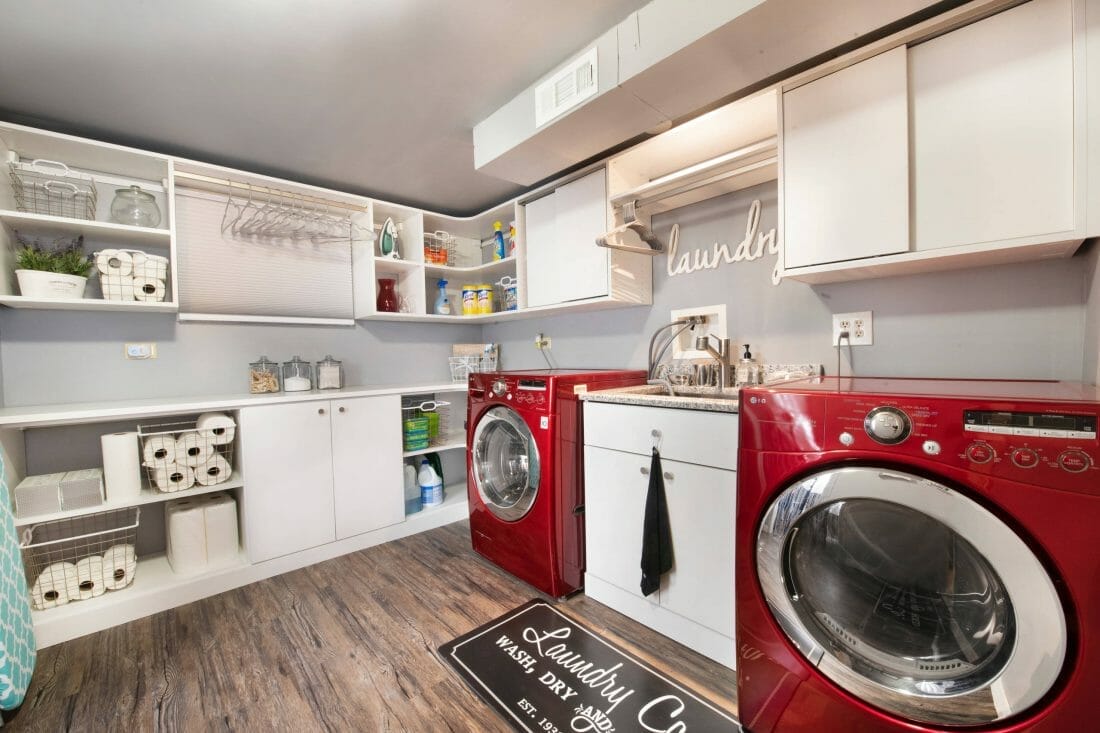 Besides good spatial planning, laundry room organizer ideas also require you to place your washing supplies in order safely.
You can begin with the toilet paper first. It would be best to store it in a basket away from the sink to keep it dry and far from moisture.
Further, it's also okay to keep it on the open shelf at the bottom of your countertop. It's not a dangerous item anyway, and your kids can pick it up themselves when they need it.
3. Create Welcoming Vibes into Your Laundry Room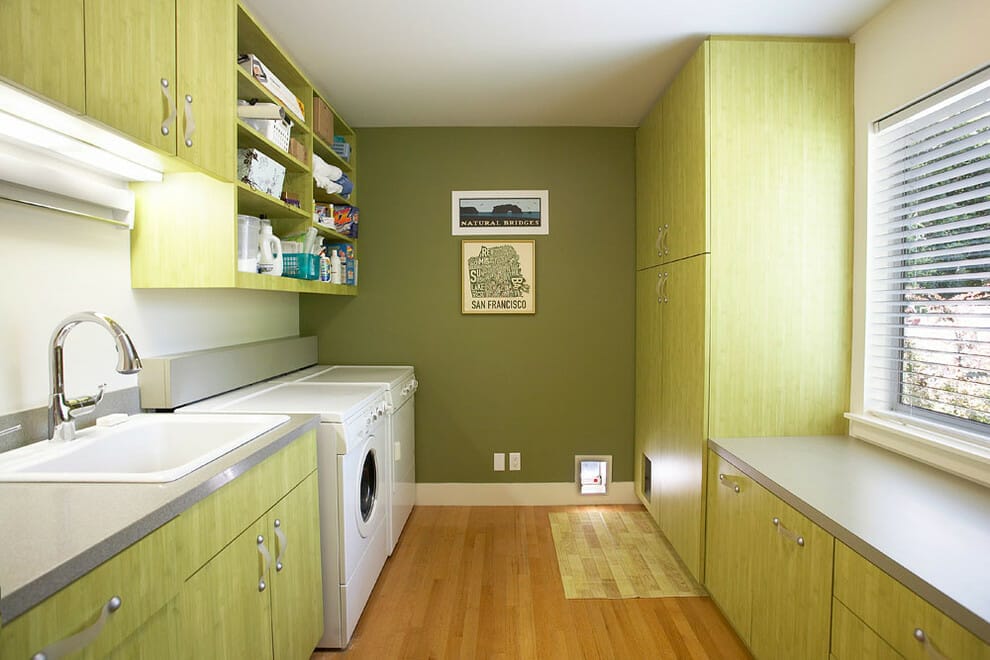 Having an attractively decorated utility room is also a key to making your washing days enjoyable. Once you come up with many laundry room organizer ideas, you also have to complete them with inviting decor.
Therefore, applying your favorite colors in your washing area sometimes is needed. As the picture shows, the green theme can be the most recommended so that your laundry room looks brighter, cleaner, and fresher.
4. Laundry Room Organizer Ideas with Walk-in Shelves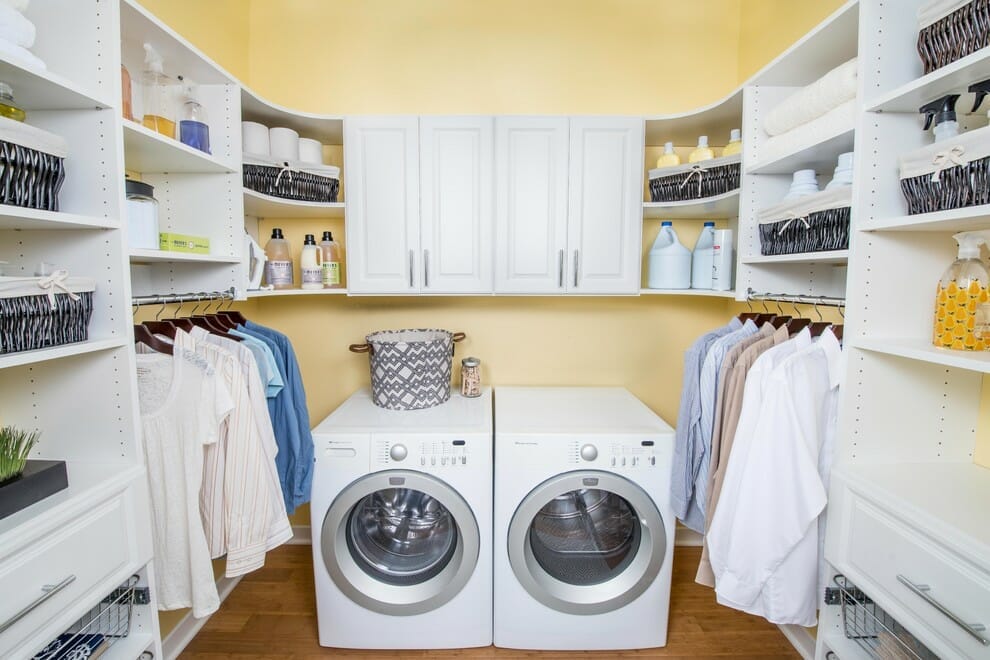 Some people may prefer to have many cabinets in their laundry room. That way, all washing kits will be stored more safely and out of reach of children. However, that doesn't mean walk-in shelves are the worst choice ever.
Instead, a laundry room organization system like this makes it easier for you to reach anything without the hassle of opening and closing the cabinet door.
Moreover, since the arrangement of the shelving system is mainly mounted on the wall, it helps you save more floor space and make better use of the room's corners.
5. Utilize the Higher Spot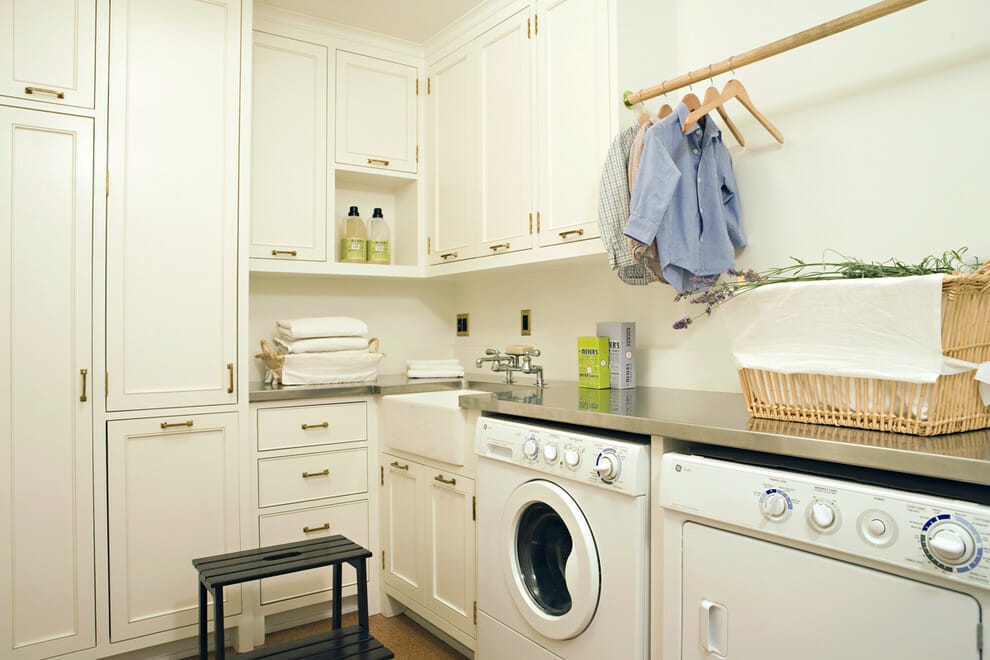 Many people think that laundry room design with high setting storage is very inconvenient. Whereas, by utilizing every corner of the room, even on a higher wall spot, you can adequately save more floor space.
You merely need to set your wall cabinetries to reach the ceiling to give a spacious impression to your laundry room. Further, you can provide a portable ladder in your laundry room to help you reach the higher spot.
6. Practical Drying Racks to Save The Space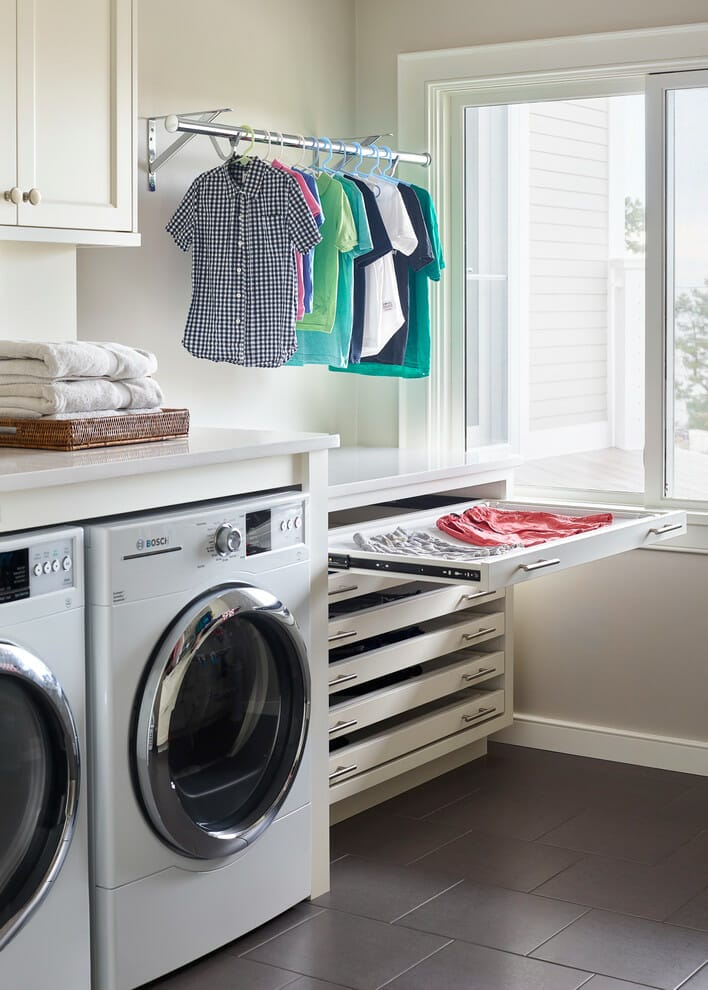 Next are the practical laundry room organizer ideas you must implement once in your life. As many people know, you cannot dry several clothes by hanging them, as it may make them saggy.
Therefore, providing pull-out drying racks like above is more considerable to overcome this problem.
This furniture is quite space-savvy with its design that resembles stackable trays in one unit. Also, it can help hide all the mess of your wet clothes in the laundry room day and night.
7. Keep the Ironing Board Out of Sight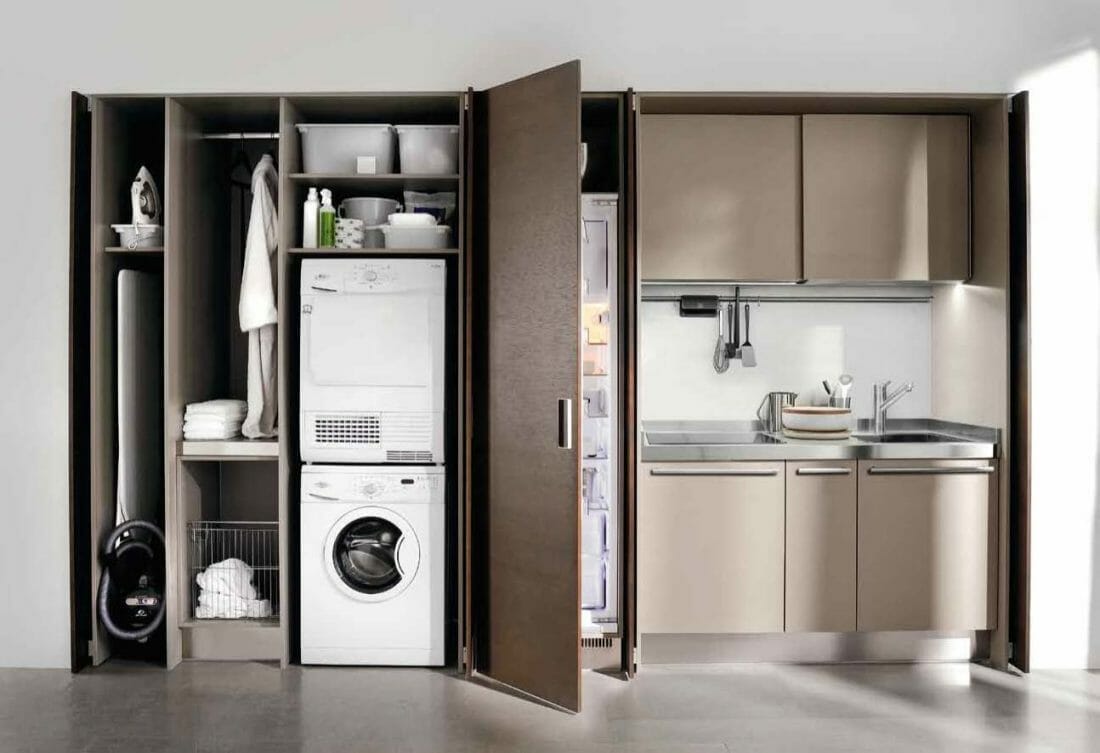 Another issue that lots of people encounter is when the laundry space is narrow but has too much furniture. Even the ironing board can take up most of the floor space more than you've ever expected.
For this cause, you ought to pick an ironing board that can be folded and moved quickly. That way, you can store it in a cabinet or other invisible spot when it's not in use.
8. Hide the Washing Supplies Behind the Door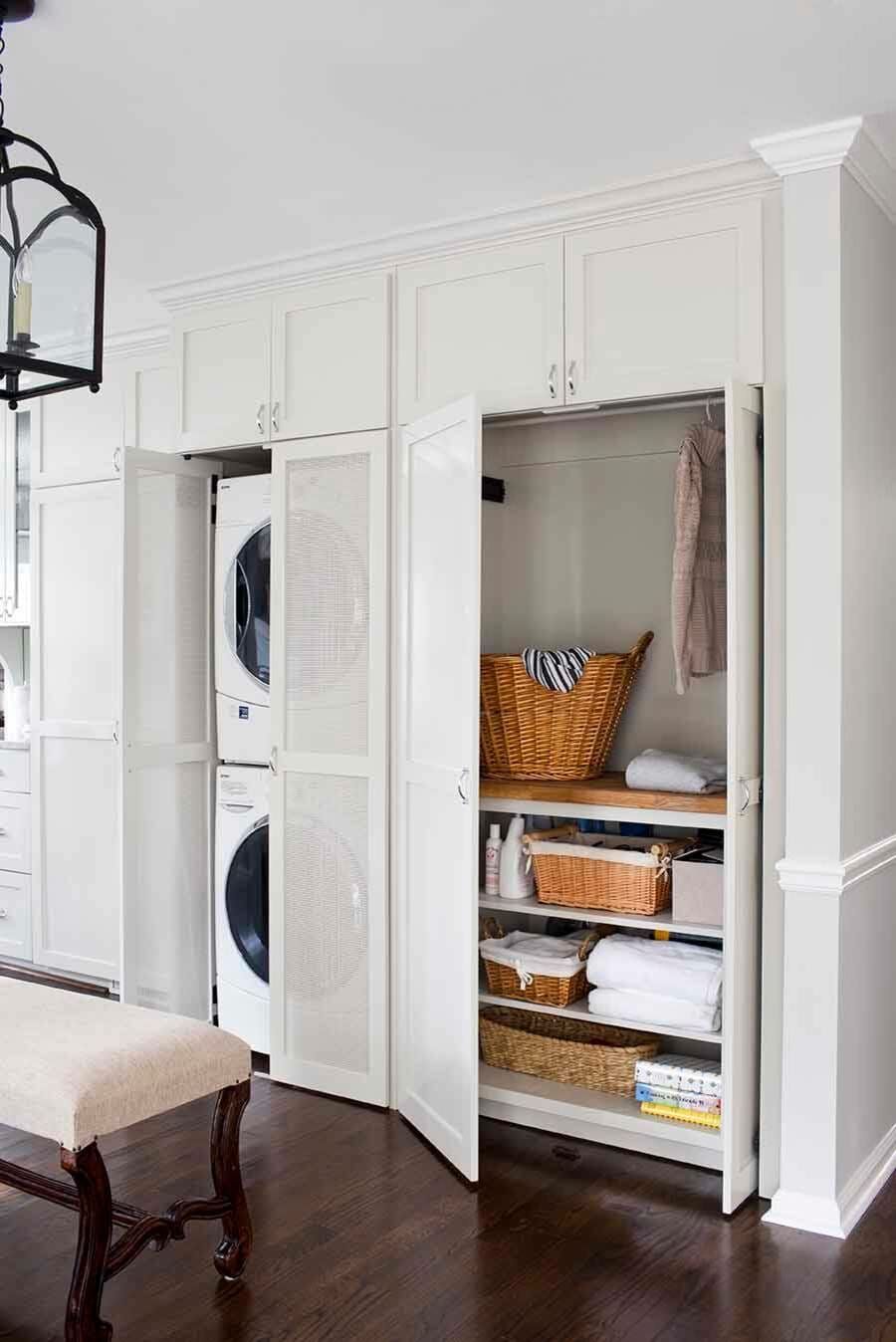 Suppose you are looking for small laundry room organization ideas. In that case, it's good to follow the strategy in this section.
It is about providing a built-in cabinet with doors like above. This laundry storage system later helps you hide all your washing equipment, including the washer, dryer, and ironing board.
Plus, assist you in saving more space in your tiny home. That way, you don't have to think about complicated laundry room cleaning strategies anymore.
9. Stackable Machines and Display Case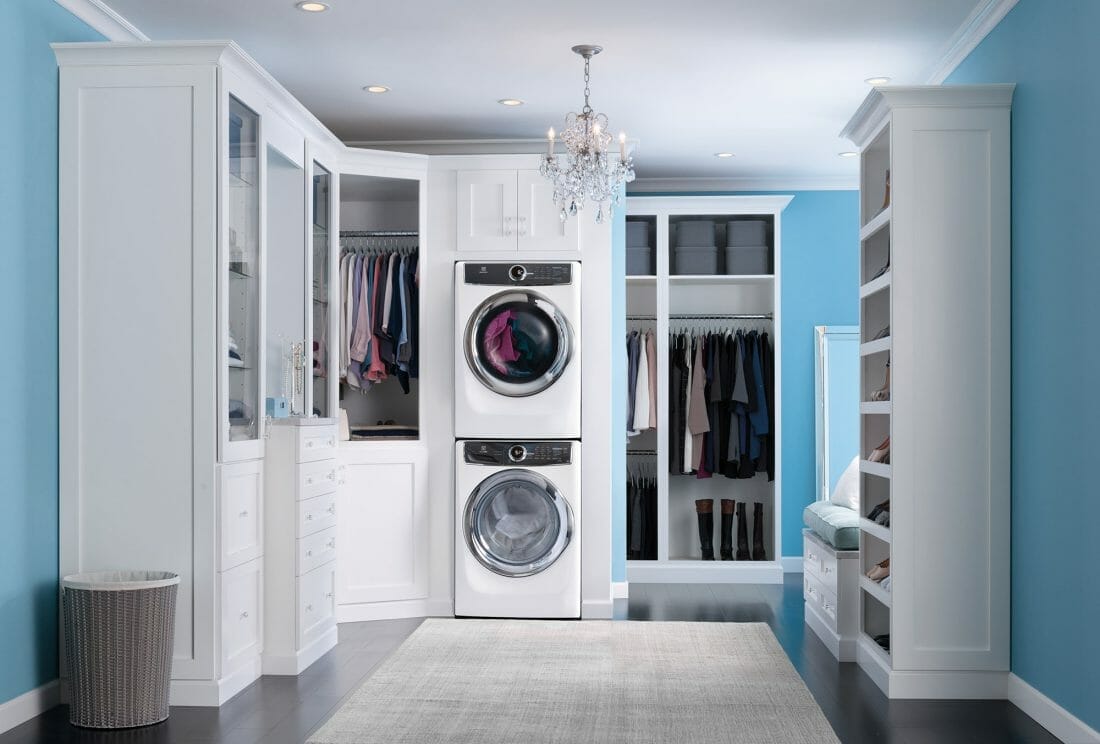 Instead of hiding, laundry room organizer ideas also suggest having a display cabinet in your utility space. Not without reason, this helps you to be more diligent in cleaning up all the clothes you have washed.
Later, you can try hanging the washed clothes in the display case according to the color order to enhance the aesthetic value of your laundry room.
Further, since most display cases require quite a lot of space, you can save floor space by arranging your washer and dryer stack on one another as above.
10. Built-in Washing Space with Sliding Doors
Many laundry room organizer ideas carry the concept of a built-in washing space. One of them is by having sliding doors as above.
Instead of using the standard door design, sliding and folding ones can be the best solution to save a lot of space in your home.
Hence, you no longer need to build an independent space for your laundry room. Alternatively, you can present it along with your kitchen.
And luckily, now you can have a washing spot complete with the countertop and top-bottom shelves simultaneously in minimal space. Isn't it fun?
11. Fold-Up Ironing Board inside a Drawer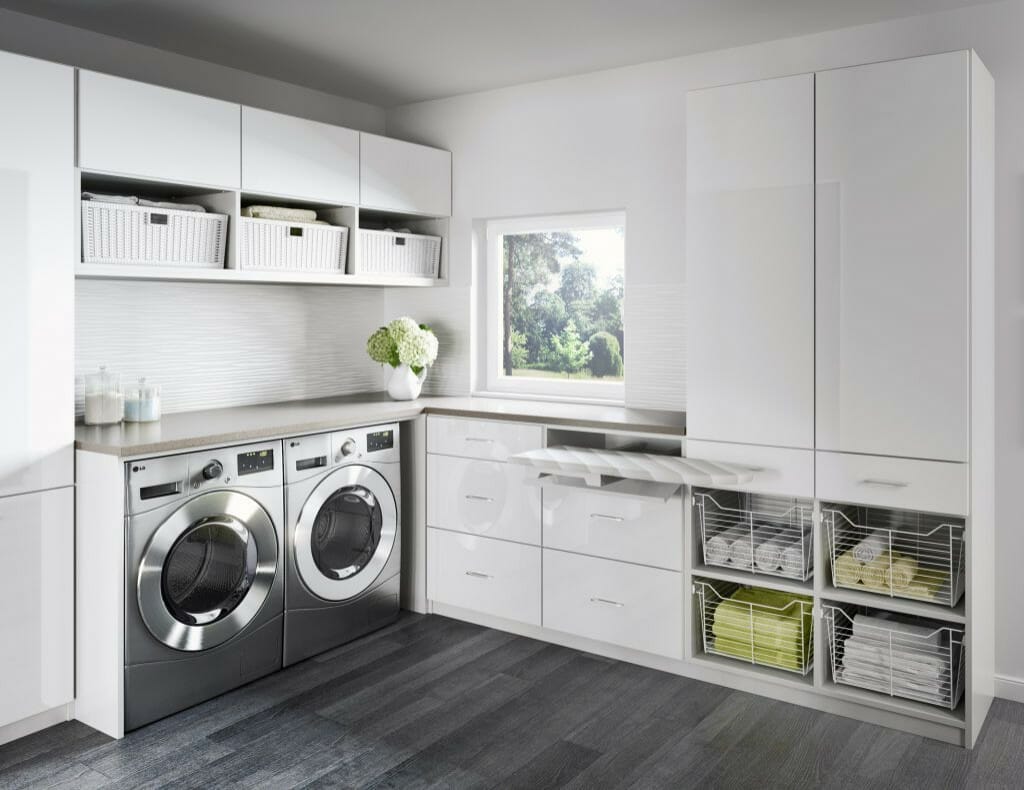 If you pay close attention, applying good laundry room organizer ideas is not just having lots of storage to store your washing supplies. But it's also about having versatile furniture at the same time.
The first step you can take is to have a set of drawers with an ironing board in it. So, you only have to pull it out when you're about to iron and push it back in after all the work is done.
12. Keep All the Needs within Reach
Wall cabinets above the washer and dryer, as well as vertical shelves, are the best solution to keep your washing utensils within reach.
More than that, you can also store shoes and bags in the same area. That way you can more easily find them in one place and time.
It would be even better if you consider having a built-in unit of cabinets and shelves to save on your narrow floor space.
13. Laundry Room Organizer Ideas with Centre Island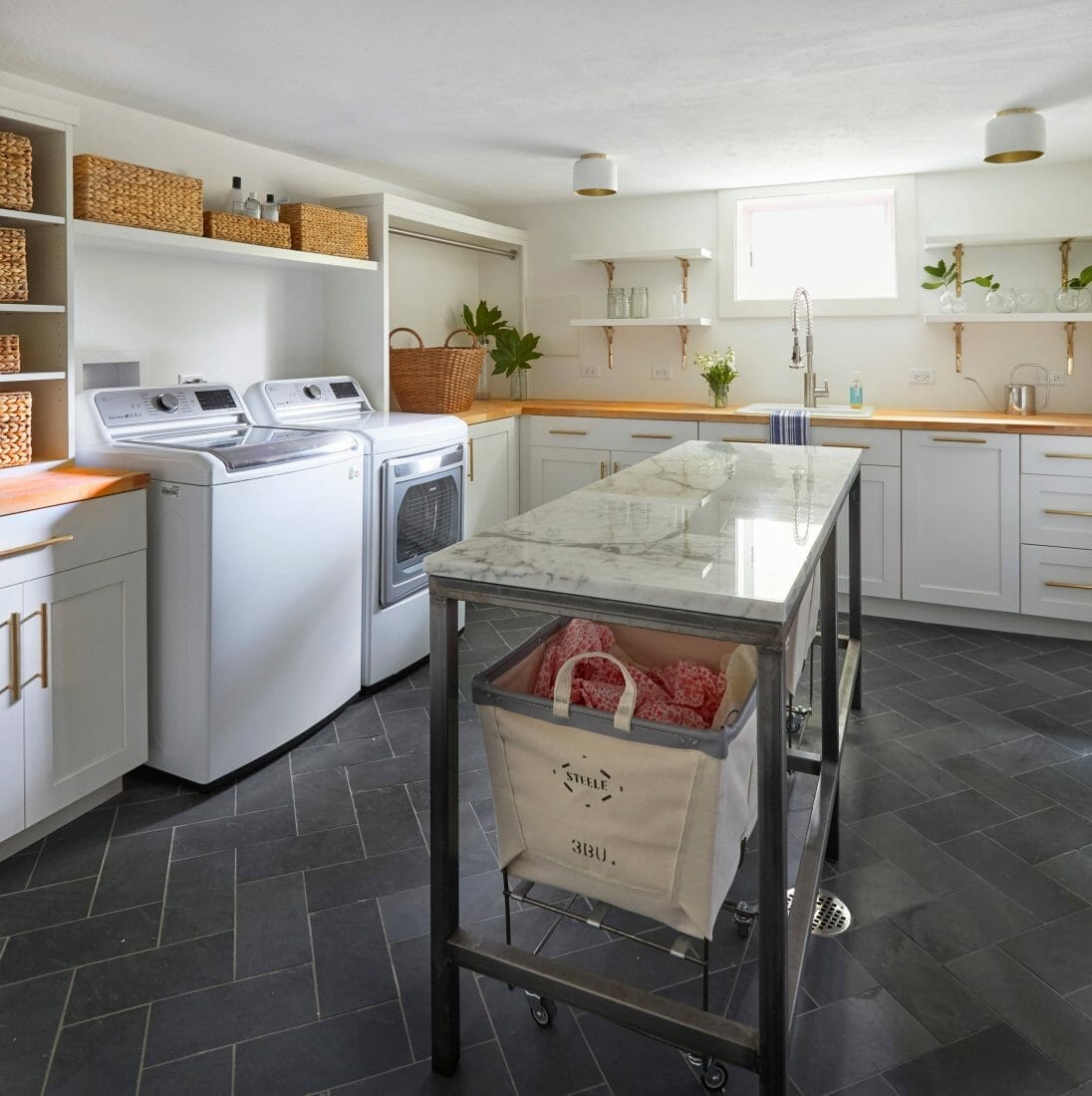 Factually, the laundry room also needs a center island. It happens because this furniture can be a multifunctional unit, especially when you are folding and ironing the clothes.
Asunder from that, you can also use the repository underneath as a place for you to sort dirty clothes. That way, you no longer need extra space on the floor to keep your laundry baskets.
14. Hide the Clutter Behind the Curtains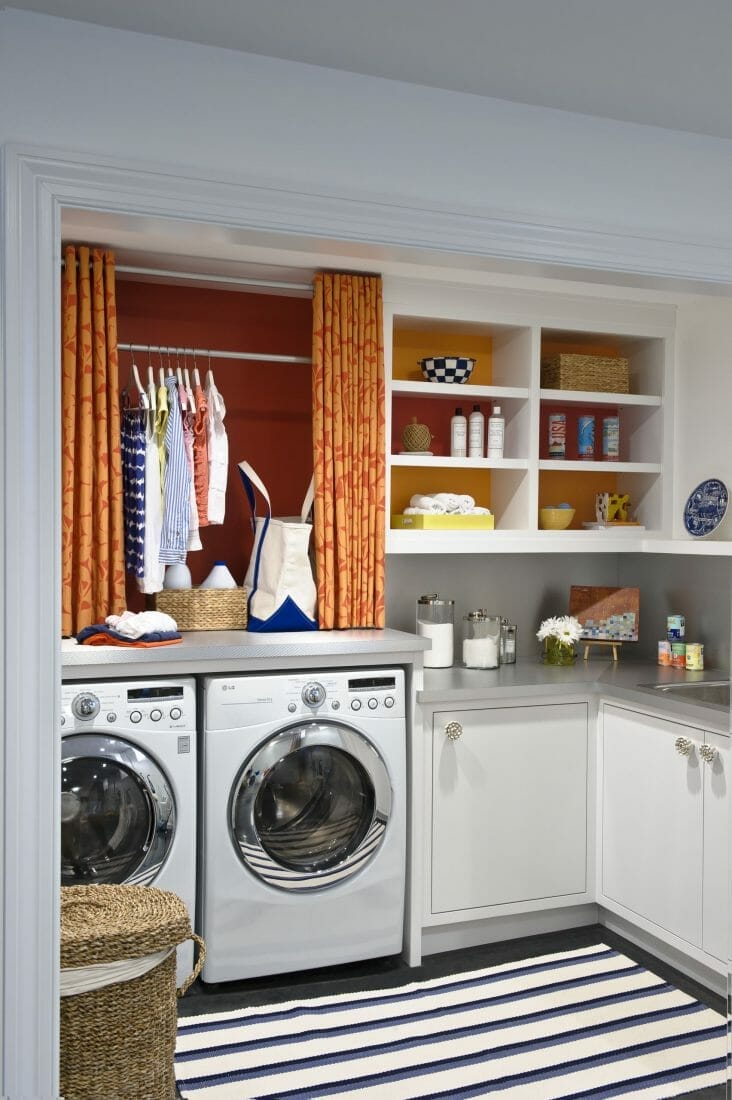 After exploring a lot of laundry room organizer ideas, there is one more trick that you can apply to hide all the clutter in your laundry room. It is by installing mini curtains.
This curtain is the best alternative solution besides doors to keep your laundry room neat and aesthetic at the same time. Even you can go with patterned or plain curtains, and your laundry room will remain trendy.
15. Set Laundry Room Accessories in Striking Colors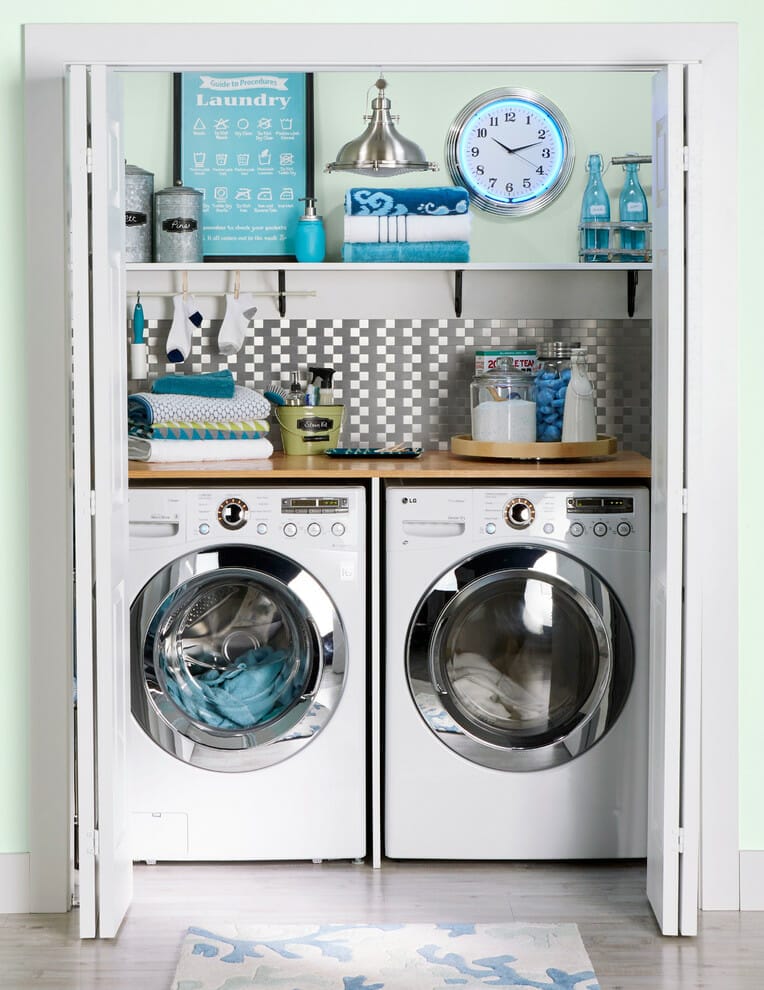 Having a narrow laundry room storage sometimes does make some people frustrated. However, you can solve all issues with a neat arrangement and exciting decorations.
For instance, you can go with the lazy susan on the countertop to store all your washing kits containers. That way, you can easily take the detergent once needed without hassling other items.
Furthermore, you can also decorate the wall with bright colors like blue. Besides representing the color of water, blue can also boost your mood in facing your busy washing day.
16. Use All in One Laundry Room Furniture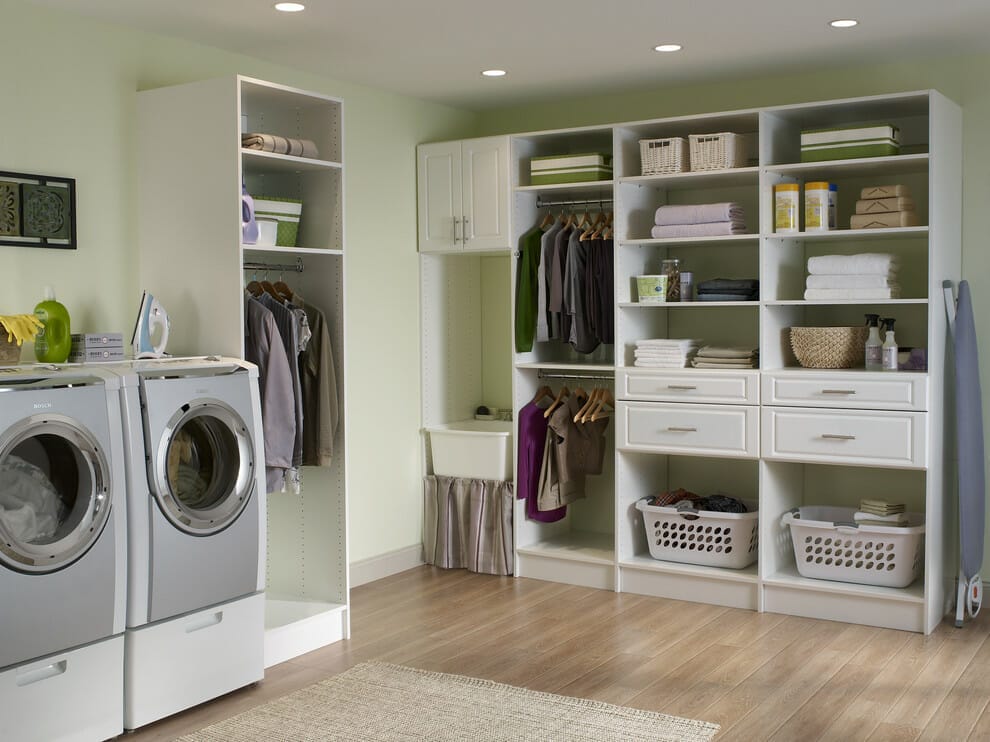 Providing a multifunctional cupboard in your washing area should be the brilliant laundry room organizer ideas you will ever have.
Indeed, having this unit makes it easier for you to store everything in only one place, from clothes, towels, and washing kits.
Above all, you can also customize the number of drawers, shelves, cabinets, and rods according to your needs. Therefore, no storage presents in vain.
17. Install A Rod Above the Sink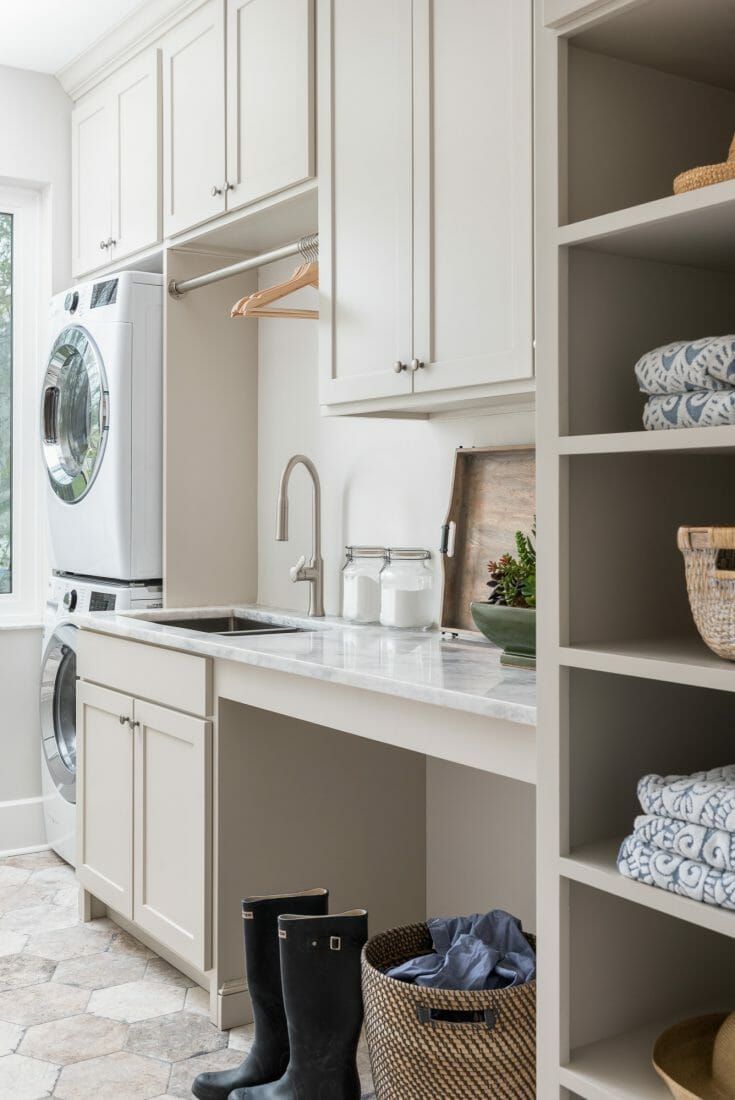 Wet clothes sometimes leave a lot of water droplets that flood your utility room. Therefore, you have to rearrange the location of your drying bar.
Ensure to install the rod above the sink so that the remaining water that seeps from the clothes will go down to the sink.
And are not wetting other areas. Of course, this is one of the laundry room organizer ideas worth trying.
18. Go with Eco-Friendly Baskets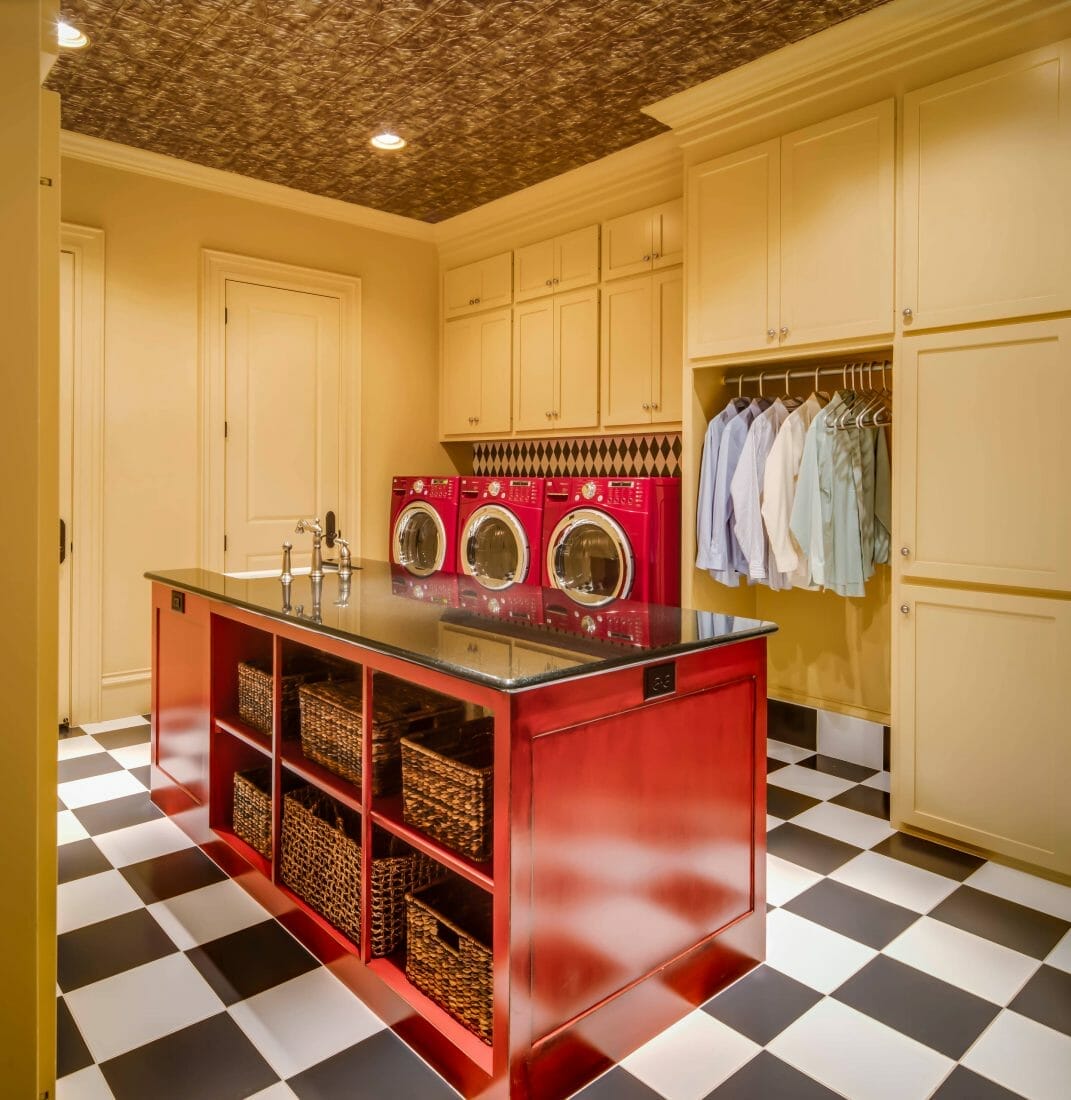 Suppose you have a contemporary-style laundry room and like eco-friendly items. In that case, you can consider having lots of wicker baskets for your extra storage.
Later, you can go with different sizes and models according to your needs. Then put them under your laundry island. And look at how the wicker baskets go well with the elegant interior design.
19. Laundry Carts Are Perfect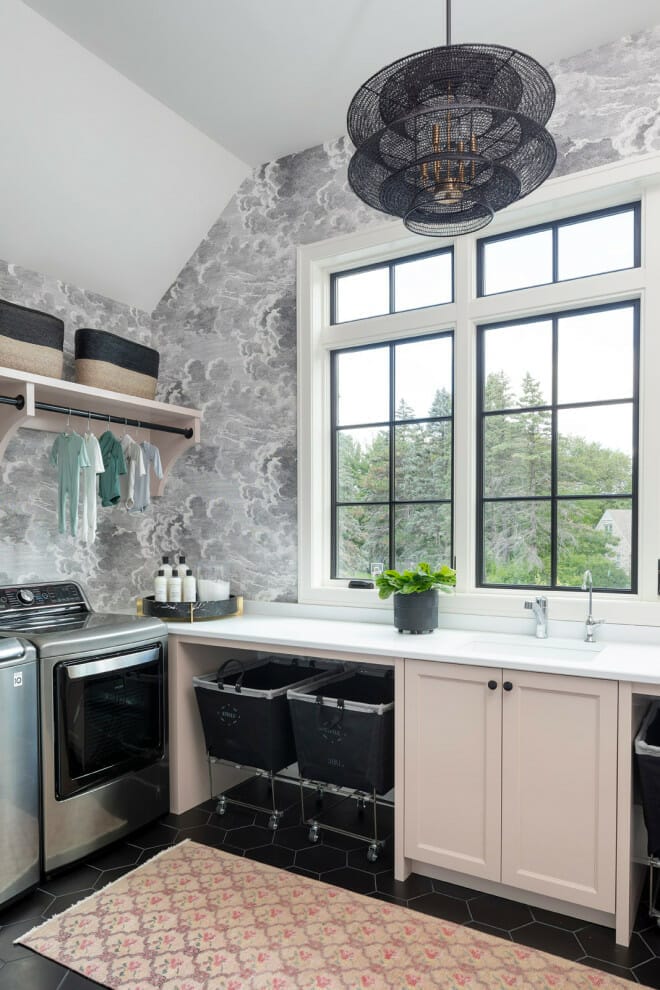 One of the many laundry room organizer ideas also introduces you to the use of carts. Besides being a good choice as a clothes sorter, this item is also easy to move.
That way, you will have no trouble carrying mountains of dirty clothes to put in the washing machine.
20. Floating Shelves and Corner Desk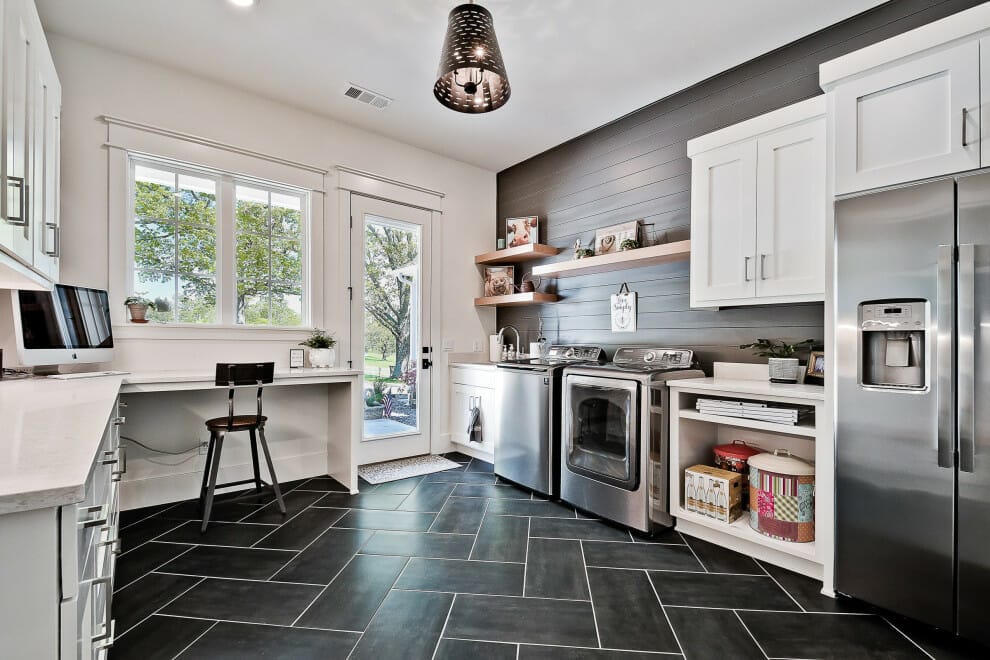 Utilizing almost all existing wall space is the most effective option to save floor area. Instead of leaving the wall above your washing machine empty, it's a good idea to install some floating shelves on it.
Because its position is quite challenging to reach, you can use it as a place to display your decorative elements such as greenery and so on.
Meanwhile, for the corner of the room, you can provide a built-in corner table that can be your work spot simultaneously.
21. Under Sink Storage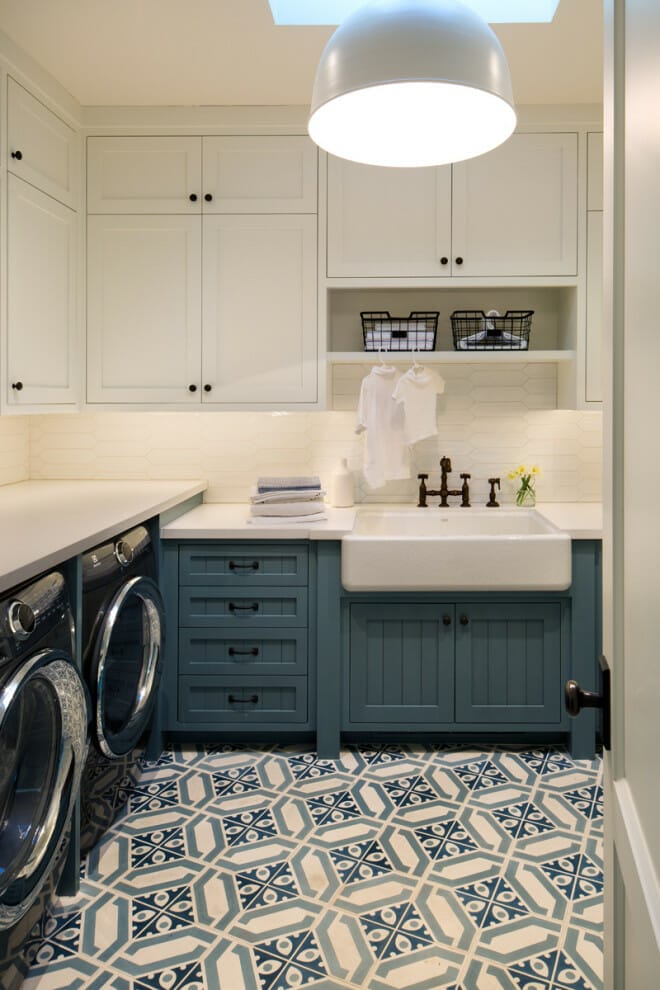 Laundry room organizer ideas don't just ask you to use baskets for additional storage. Alternatively, suppose you prefer a closed storage area. In that case, you can take advantage of the bottom of your sink.
Later, ask for professional help to build a cabinet under your sink. Or you can also go with a weekend DIY project for a more affordable cost.
22. Use Laundry Sorter is Better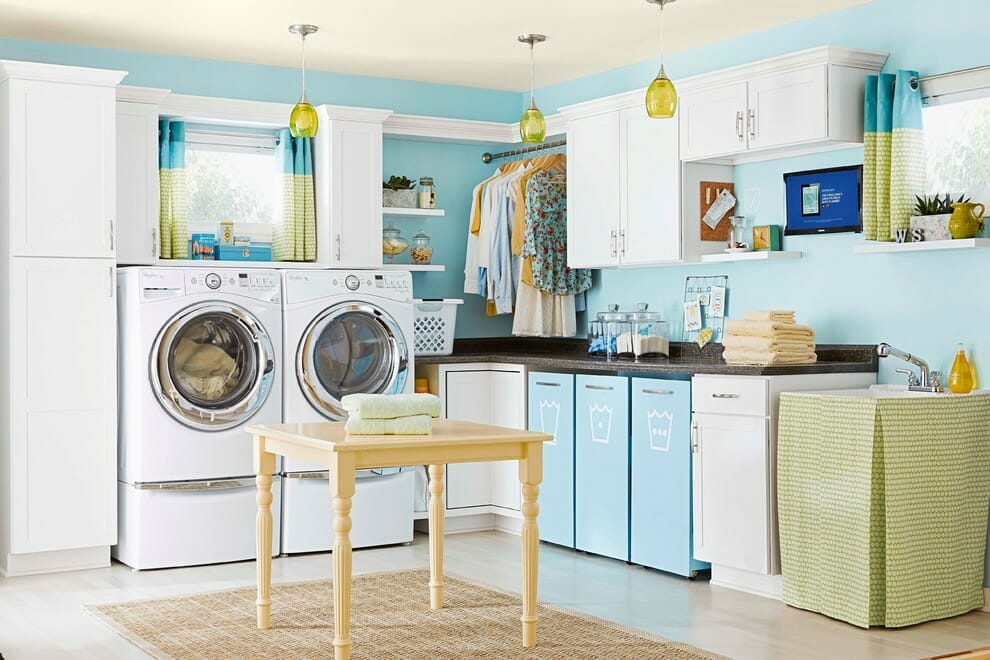 One thing that is no less essential that you must have in your washing room is a laundry sorter.
Whether you're going with wire baskets, wicker baskets, or carts, as long as it makes it easier for you to sort your dirty clothes, then all is well.
Plus, it's a good idea to label it so that anyone can put dirty clothes in the right place.
23. Farmhouse Style with High Wicker Baskets, Table Tray, and Saying Board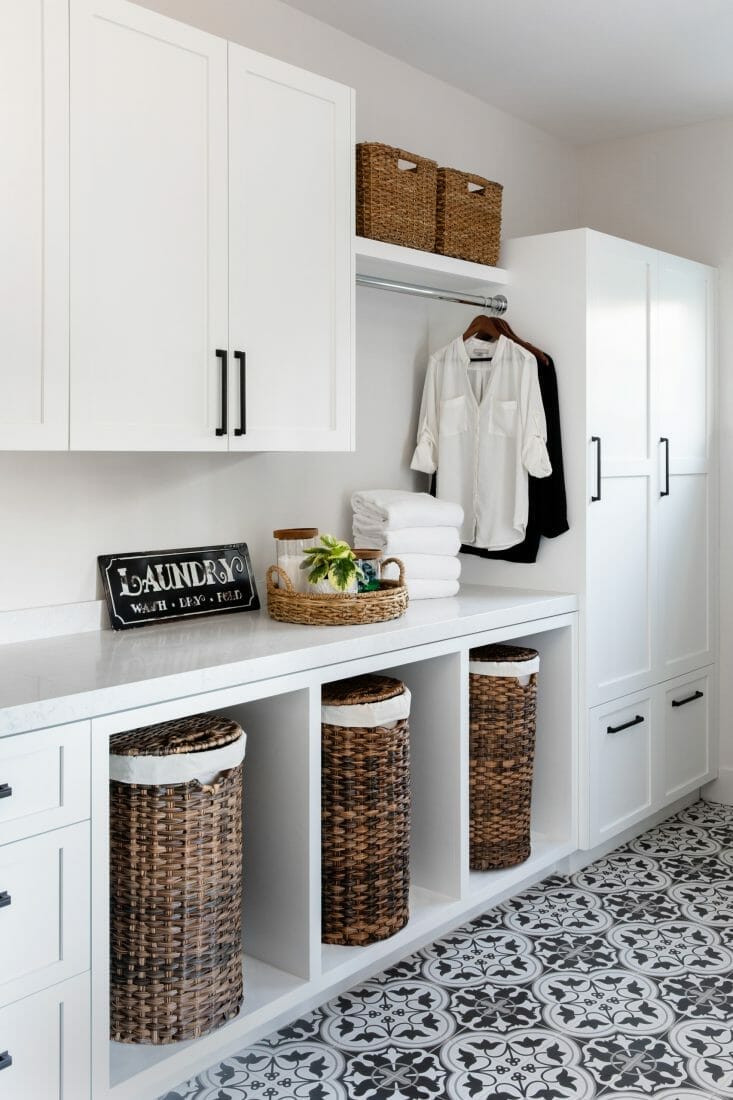 Suppose you are looking for warmer laundry room organizer ideas. So, it never hurts to adopt a farmhouse theme that is full of modesty.
It's not difficult to make it happen. You only need to replace your laundry sorter with high wicker baskets and a wooden tray.
In addition, you can also provide a saying board to strengthen the farmhouse vibe in your laundry room.
24. Large Storage Set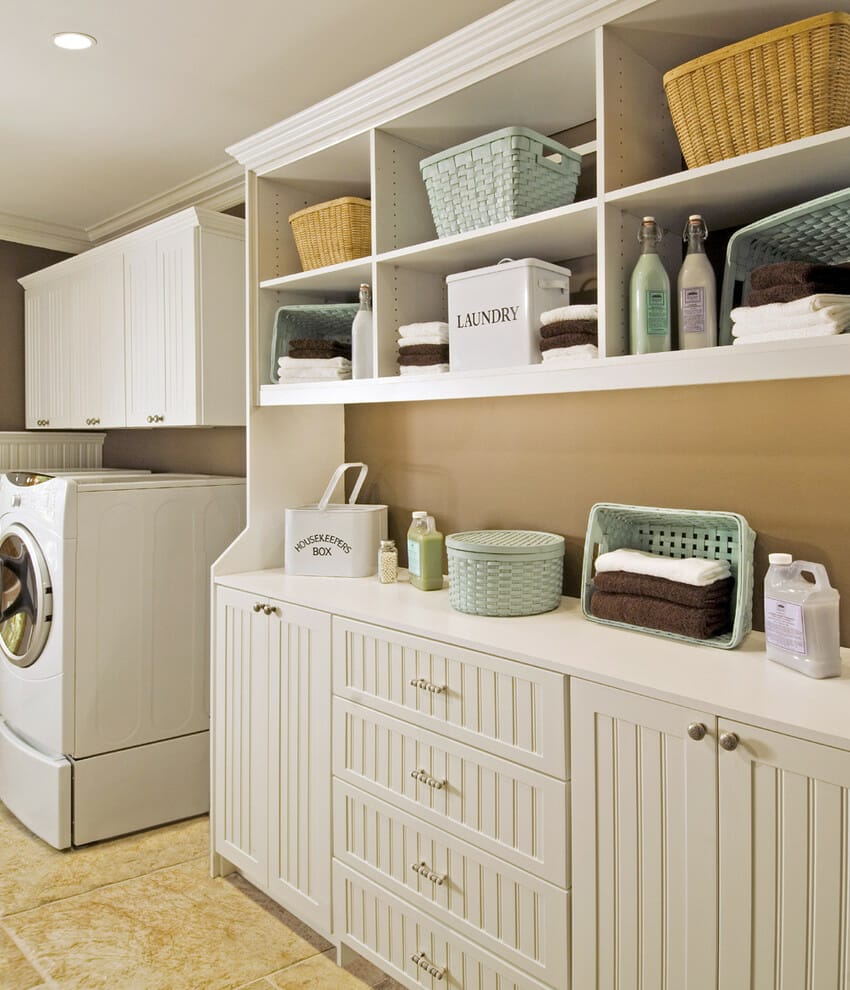 Having a large laundry area is certainly not too difficult for you to arrange your storage location.
You can freely choose a large cupboard complete with a shelving system, countertop, and cabinetries at the bottom. Then place it side by side with the washer and dryer to make everything within reach.
25. Glass Containers for Detergent Storage and High Chair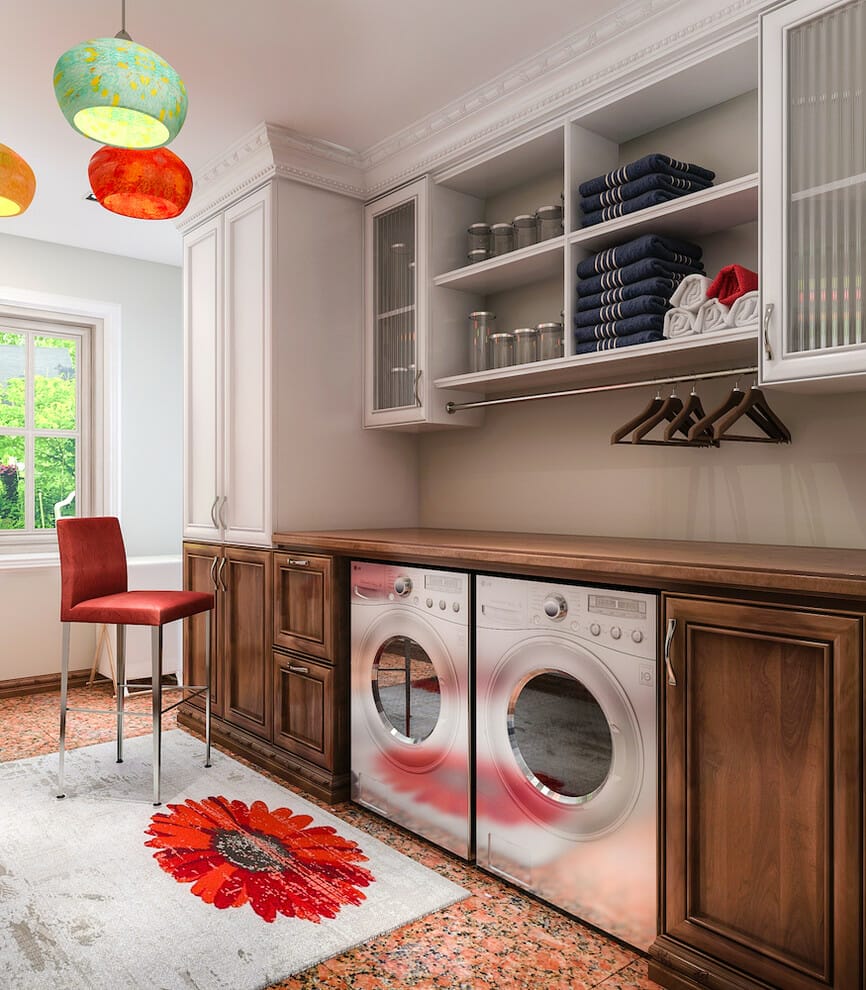 Often, detergents come in cumbersome packaging. Even occasionally easy to spill and clot when exposed to air. Therefore, it would be better to permanently restore your detergent in a closed container, such as a glass container.
Furthermore, you can also provide a high chair that you can use at any time. So, you no longer need to stand all day while doing laundry.
26. Industrial Laundry Room Organizer Ideas with Wire Baskets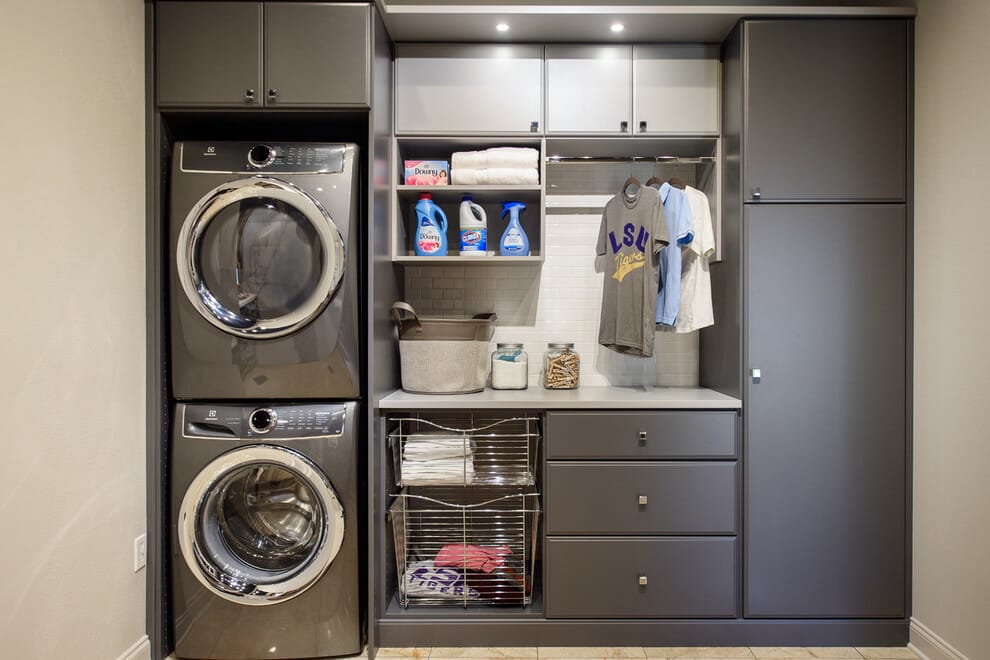 Utilizing durable items such as wire baskets is also a good strategy in implementing laundry room organizer ideas.
Besides fitting with all interior designs, the wire basket also has enough holes to remove musty odors from your dirty clothes. So, don't miss this one item!
27. Arrange the Clean Towel Neatly on The Shelves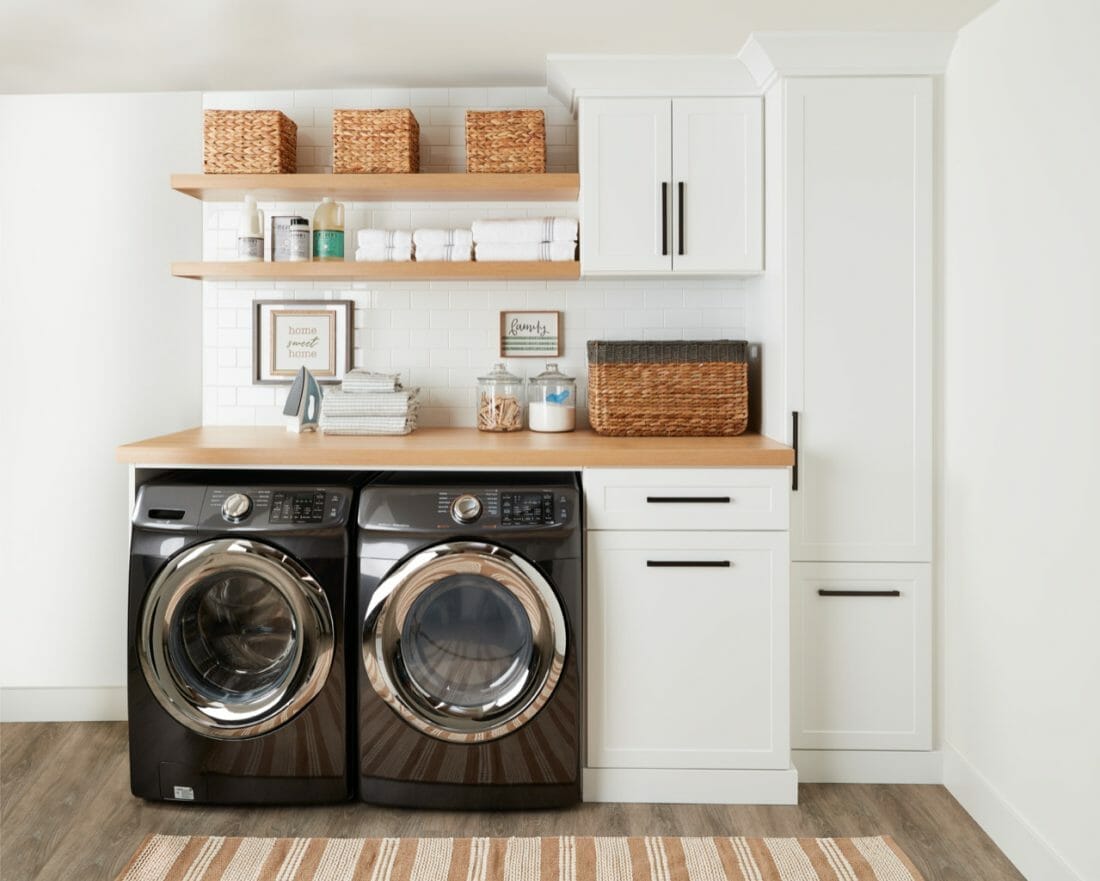 It doesn't matter if you plan to arrange all your clean towels on a floating shelf. However, you should always ensure that the spot is clean and dust-free.
As the shelves come with no doors and are in the open air, making your washed towels dirty faster is possible.
28. Adjustable Racks and Hanging Laundry Hamper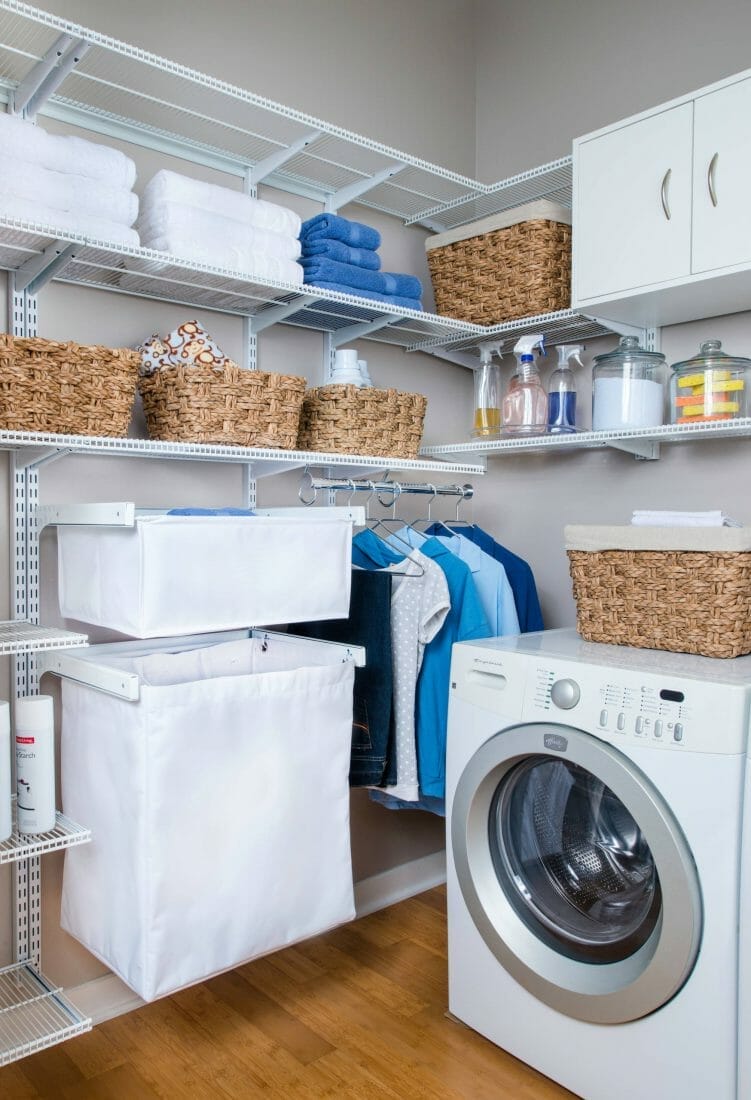 Washing is a chore that no one can avoid. But it is also frustrating, indeed. Both the dirty clothes and messy room affect your mood while working. Therefore, periodically sprucing up and finding some laundry organizer ideas you need is a perfect choice.
29. Keep The Washing Supply Within Reach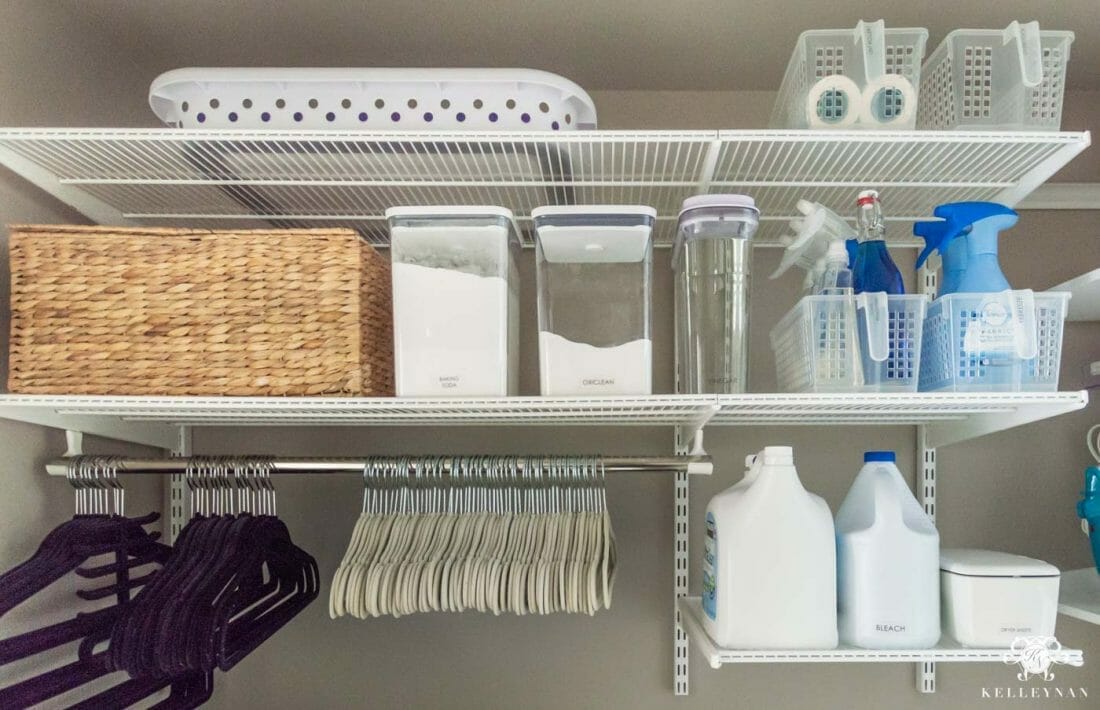 The point of all the laundry organizer ideas mentioned here is how you can keep all your washing supplies within reach.
Additionally, you also need to be aware of the neatness in the arrangement of your laundry needs.
For example, you place the detergent in a closed container to prevent it from clumping, collect hangers in one rod to make it easier to pick up when needed, and so on.
30. Set Single Cabinet Above The Countertop
The last laundry organizer ideas you can follow is to install a single cabinet above your washing machine. Later, this furniture will help you arrange your washing supplies in more straightforward and safer ways.
31. Adjustable Hanging Shelves with Matching Baskets
The first among many laundry organizer ideas to inspire you is having adjustable shelving. Owning one like this would make it effortless to install it everywhere. Like, in the corner of the room.
On top of that, most of these shelves come of metal. Therefore, no need to be concerned regarding its durability.
Additionally, you can also complete it with matching baskets storage so that the arrangement of your washing supplies is neater than before.
32. Large Wooden Cupboard with Many Storage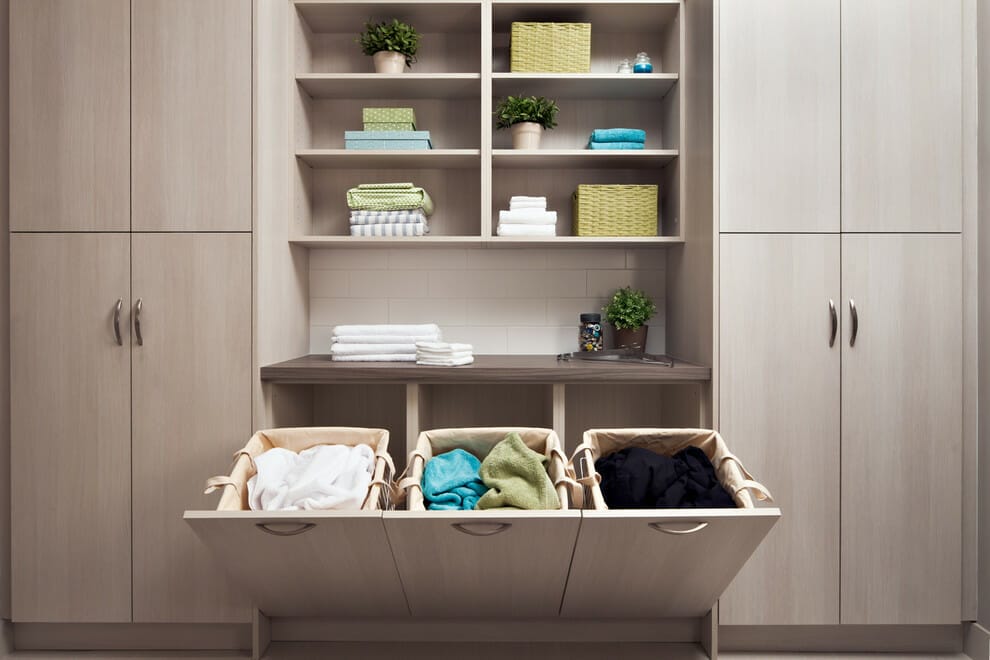 A built-in cupboard is the best option for a large utility room. Without the need to mess around with scattered dirty clothes, you can hide them in the drop-down door cabinet as above.
Also, you can store washing supplies in other sections. As for the open shelving, you can use it to arrange decorative elements and store some clean towels.
33. Laundry Organizer Ideas with Sorter Carts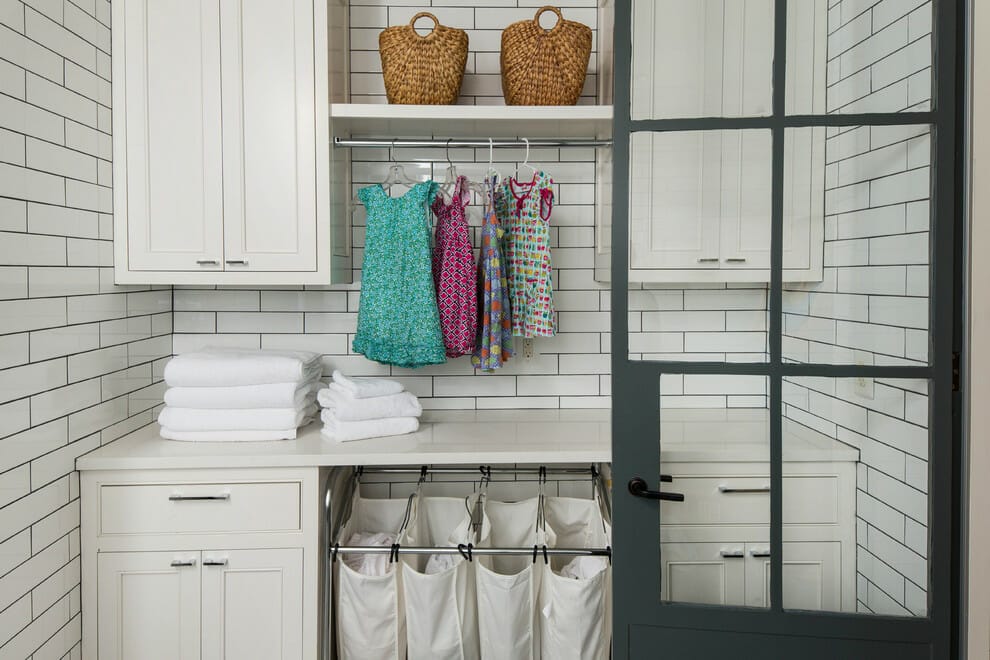 Besides the cupboard, you can also apply to another laundry room organization that uses sorter carts as above.
There are numerous styles in the market, including two or three dividers. Next, you merely need to adjust to your needs.
Moreover, as these laundry hampers usually come with wheels, it is easier for you to move them near the washing machine when needed. And can store it back neatly under your countertop.
34. Free-Standing Drop-Down Door Cabinet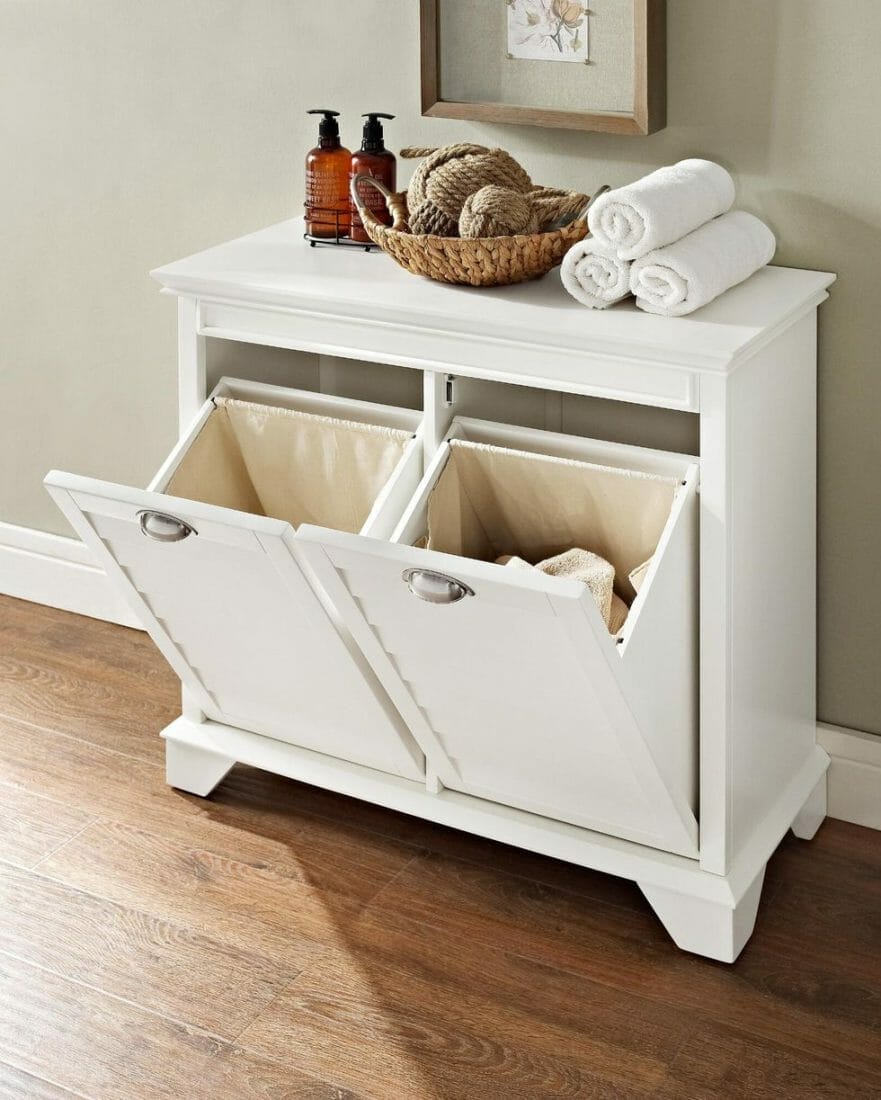 It doesn't matter if you go with single furniture as above. The important thing is that you can sort dirty clothes without looking messy. And your utility room remains space-savvy with its drop-down door design.
35. Rolling Laundry Storage with Clothes Hanger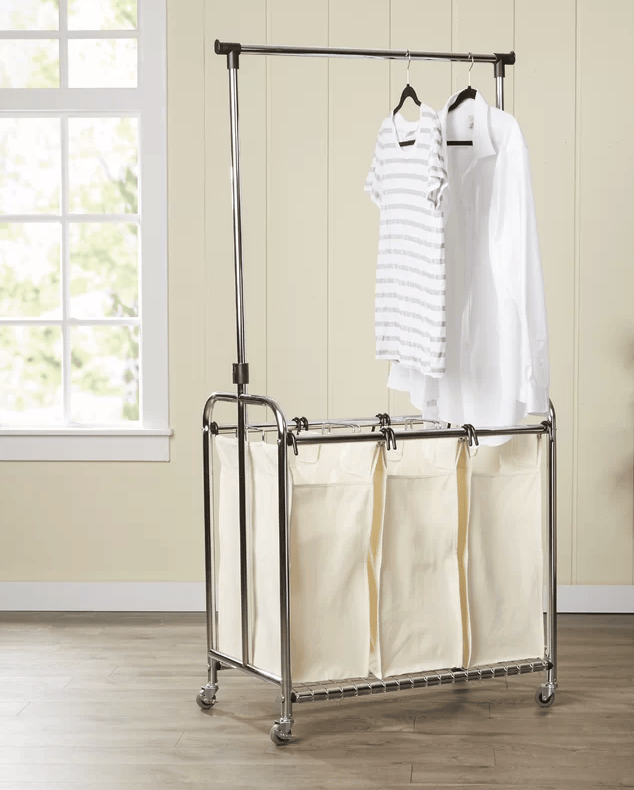 Other laundry organizer ideas also introduce you to the versatile heavy-duty. By having this rolling storage, you will have space to hang your clothes at once.
On top of that, because this object also has wheels, you can freely move it wherever you want.
36. Multipurpose Standing Shelves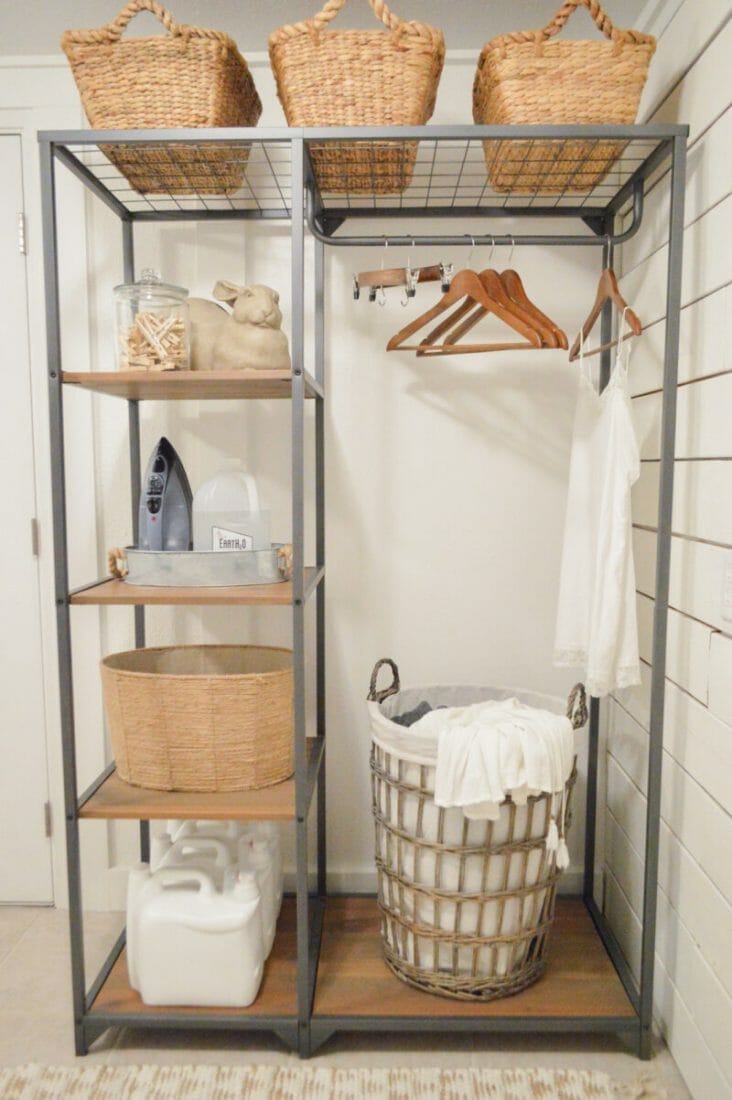 Standing shelves are also widely recommended furniture in various laundry organizer ideas. One of the grounds is because of its ability to accommodate a lot of stuff in just one place.
As you saw, this standing organizer comes with a rod, shelves, and a spot to store your laundry basket safely.
37. Hide The Dirty Clothes in The Pull Out Basket Storages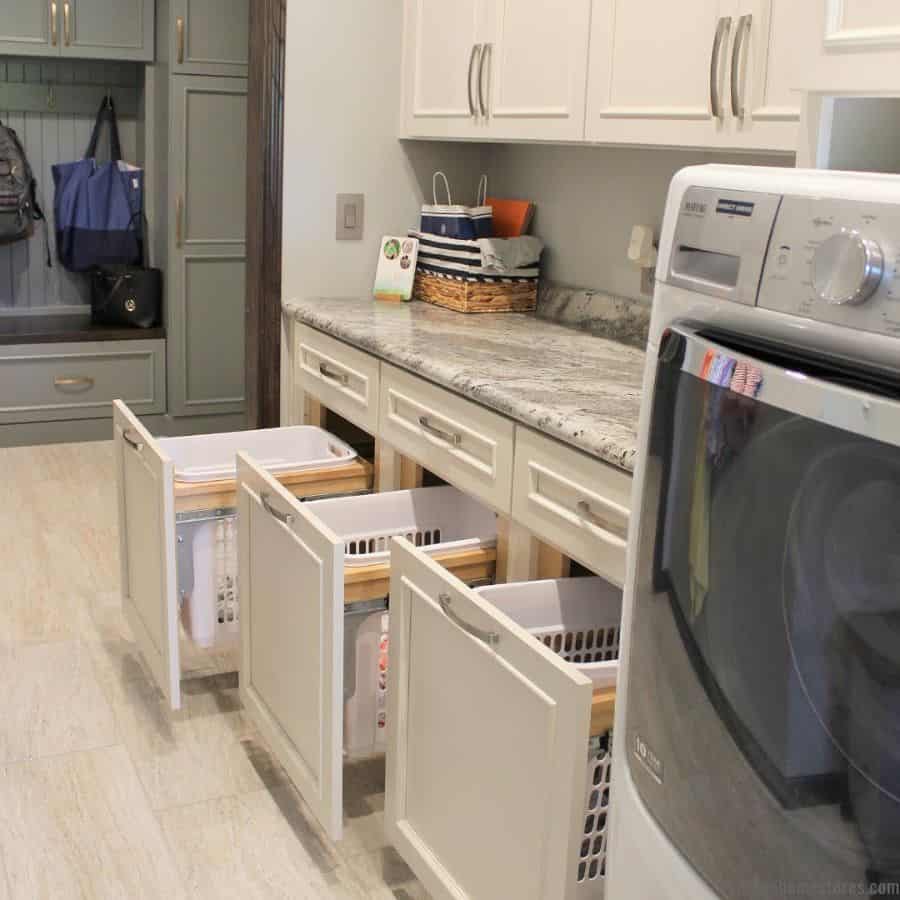 Instead of leaving your laundry baskets in the open areas, why don't you build some drawers to hide them?
It doesn't need to be full drawers. Instead, you can merely go with frames that have the same width and height as your laundry baskets.
And it's all done by putting the plastic laundry storage in it.
38. Laundry Detergent Storage Ideas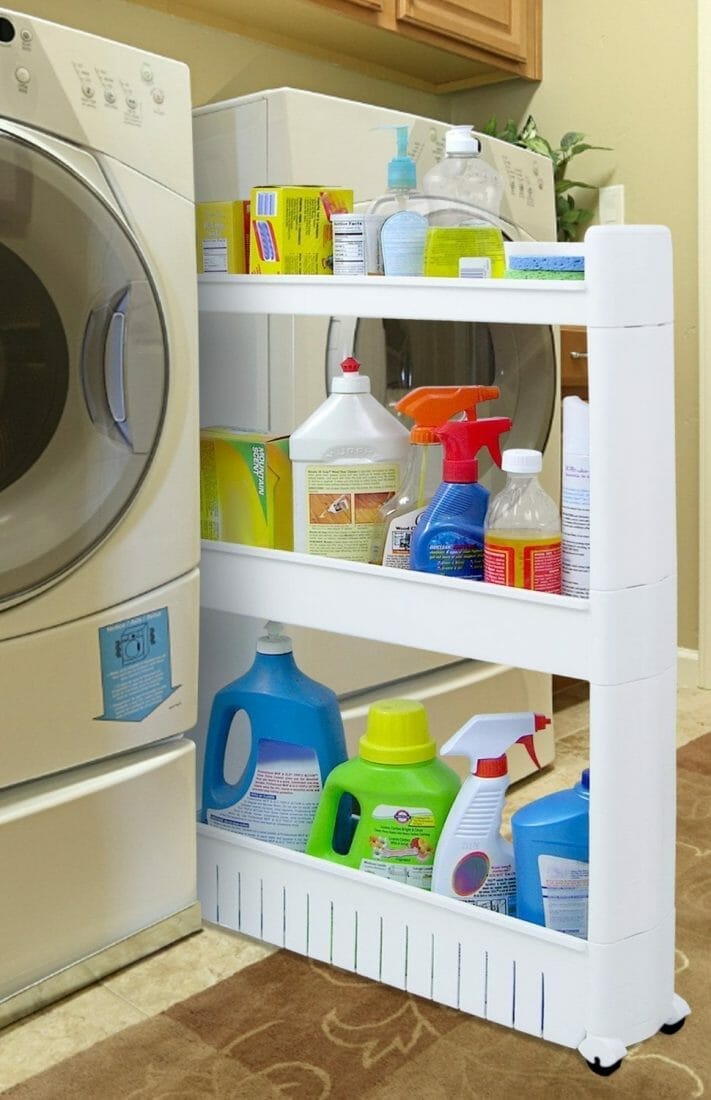 Besides clothes hamper, you should also think about a place to store detergent and other washing supplies.
The laundry organizer ideas in this article also recommend you to have space-savvy pull-out racks on wheels as above. That way, everything will be within reach.
If you don't want to buy it, try doing a more affordable weekend DIY.
You can use some wooden pallets, wheels, paint, and screws to make it. Then, everything is ready to set between your machines.
39. Sort The Clothes by The Colors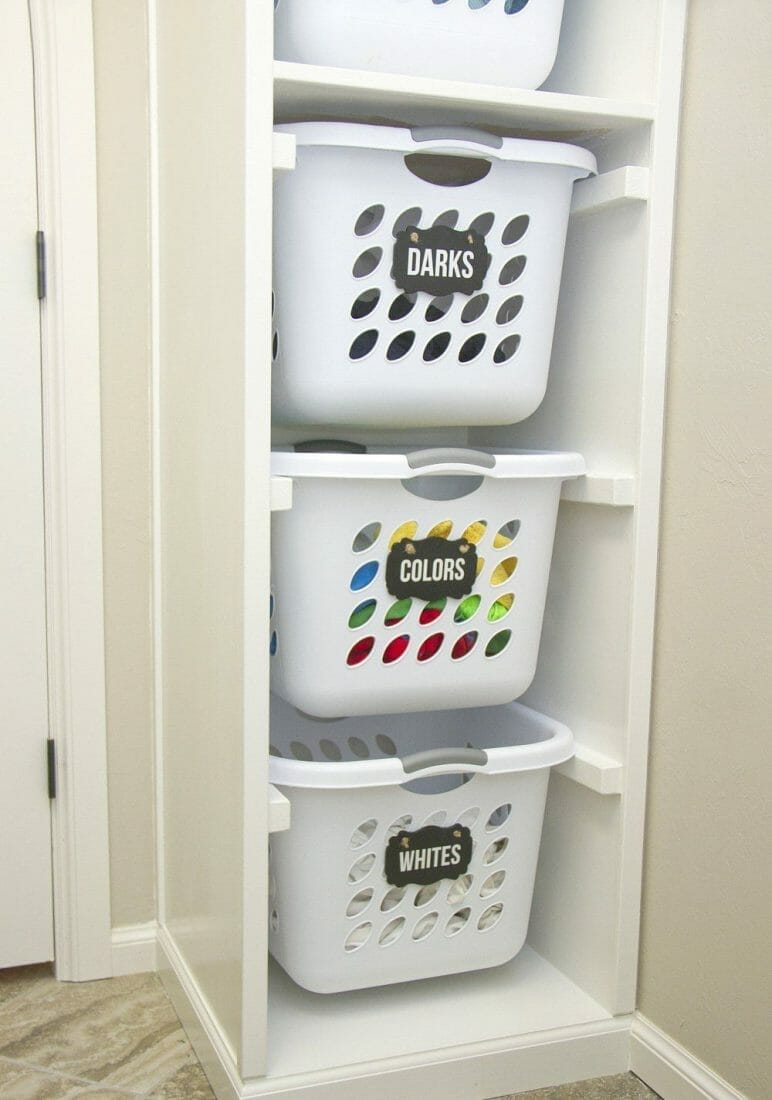 Next, about laundry basket storage ideas, invite the different hampers in a room. The goal is to sort the dirty clothes by color, so you don't create another stubborn stain while washing.
Indeed, this is not a must. However, it would be better to get a neater and more pleasing arrangement of the utility space.
Moreover, you might also consider putting a label on each basket. That way, it is easier for you and your family to sort the dirty clothes properly.
40. Corner Shelving System for Washing Needs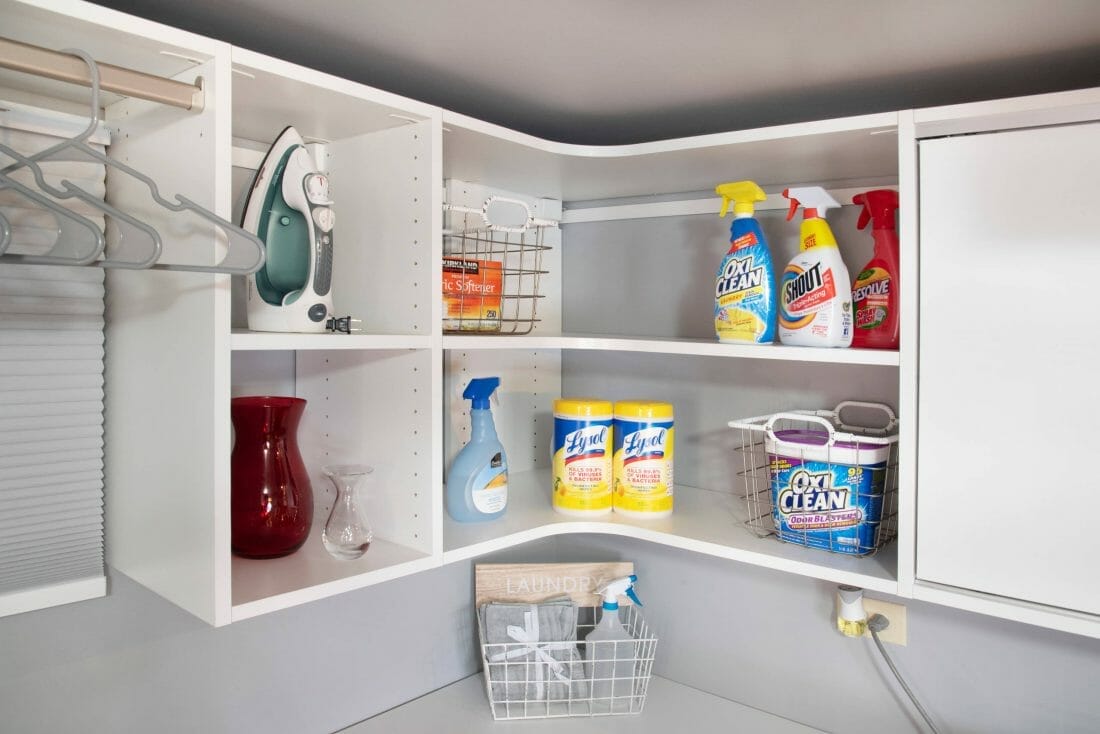 Having a cramped space is no excuse for all the clutter in your utility room. Rather, it ought to drive you to become more inventive in utilizing every available spot.
One of them is by providing corner shelving as above. Later, it helps you neatly store all washing utensils such as detergent, bleach, and iron.
41. Countertop and Canvas Storages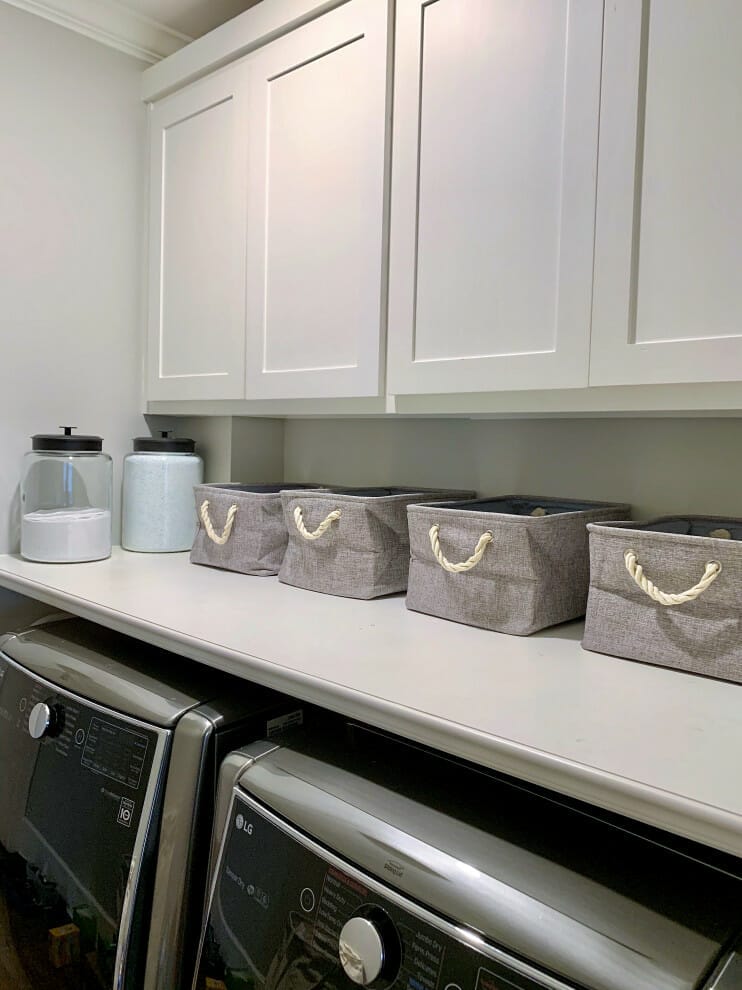 Adding a countertop above the machines will, indeed, help you to save space. More than that, you will be able to complete all laundry processes more effectively without having to walk around here and there.
Of course, these laundry organizer ideas save you more energy, right? Apart from that, you can also put canvas baskets on the countertop as a place to store your washed socks and rags.
42. Pull Out Wicker Basket Drawers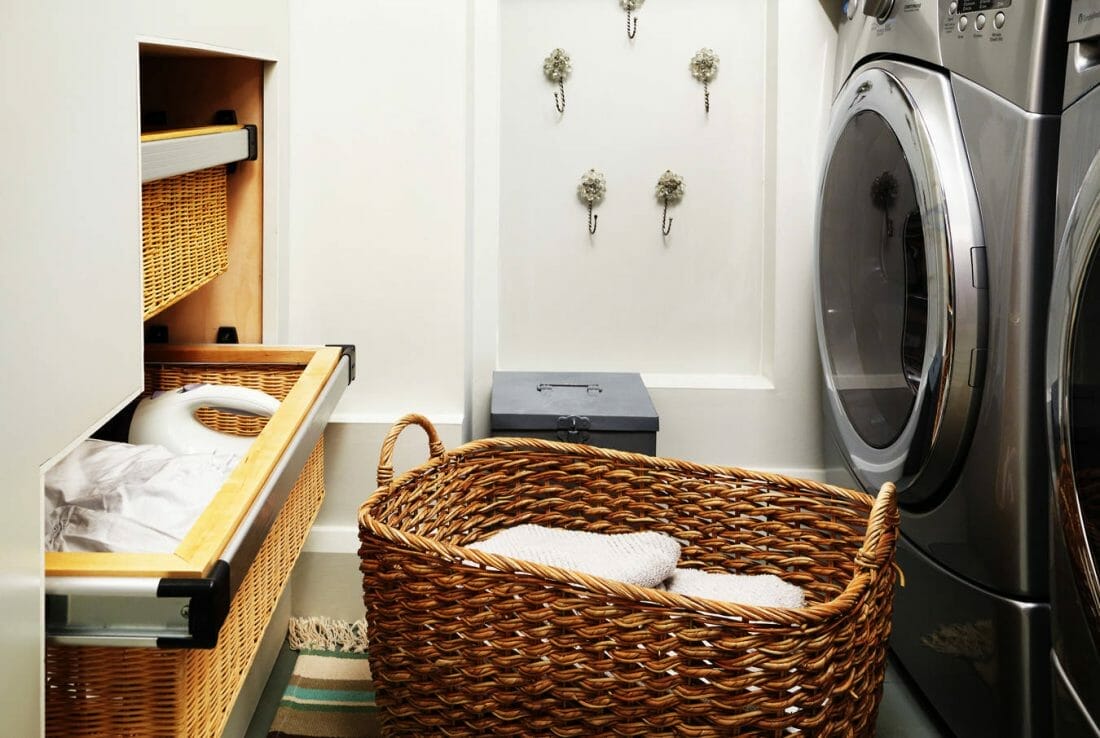 Suppose you like rustic themes and are more interested in eco-friendly items. In that case, you can use a wicker basket as your laundry storage.
Later, transform them into drawers as above. And, see how versatile they are. Its ability to absorb moisture can help you reduce the odor emanating from a pile of dirty clothes.
43. Laundry Organizer Ideas without Countertop
If previous laundry organizer ideas introduced you to wooden countertops, now is the time to merely go with the washer and dryer tops close together.
Even so, you also need to provide at least a cloth with a soft surface on the top of it. That way, your machines are not scratched by the items above.
44. Rod Between Cabinets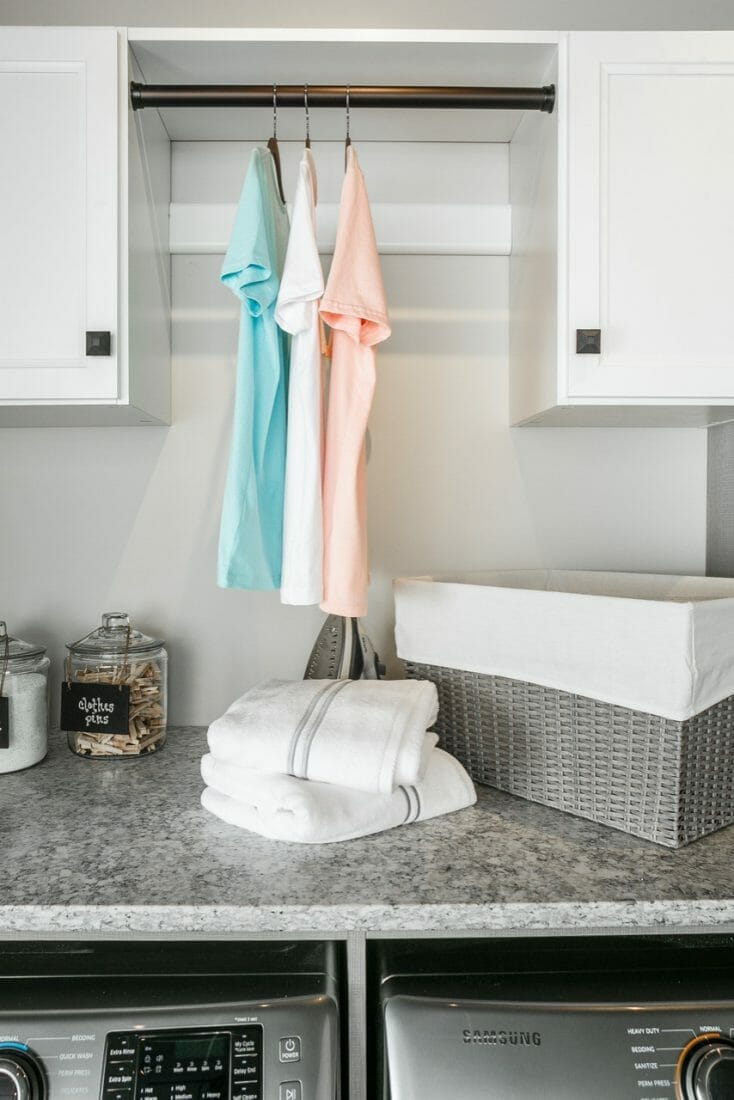 Generally, a small utility room frustrates some people because there is no spot for a clothes hanger. However, you can make a simple hanging space.
To create it, you merely need to add a rod between your two cabinets, and everything is clear. Now, you can easily hang the clothes that you have ironed there.
45. Make it Neat with Slide Out Laundry Hampers.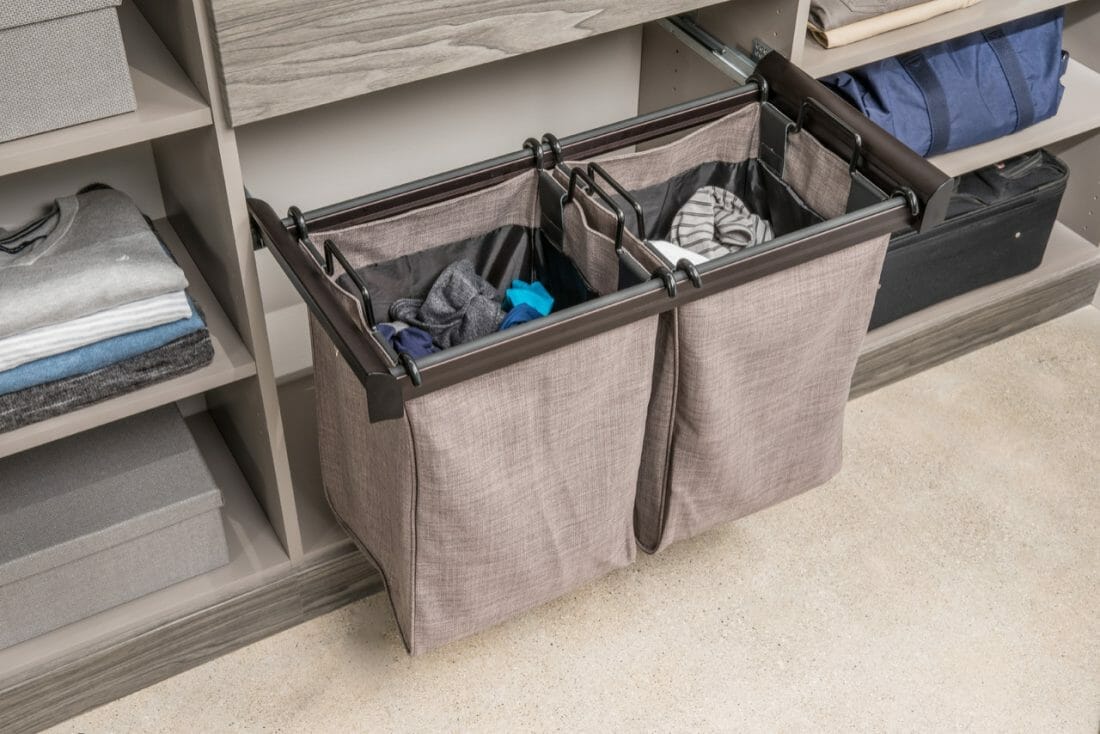 Laundry bags are the most appropriate solution for those who don't want to use too many plastic baskets in the utility room.
Besides being more flexible in the shape, this hamper can also help you have lots of slots for sorting dirty clothes without taking up much floor space.
46. White Pull Out Racks Between The Machines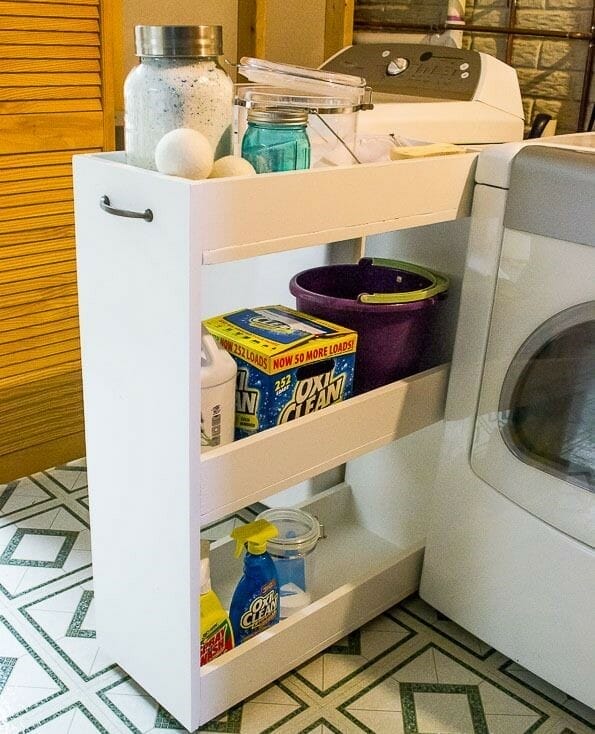 Certainly, slide-out racks are a brilliant option to save a lot of space on walls or floors. Its sleek design yet can accommodate many washing supplies makes this furniture loved by many homeowners, especially once it comes in white.
Indeed, you'll get a cleaner, neutral look for any interior decor, including patterned tiles.
47. Deep Drawers to Hide Washing Bins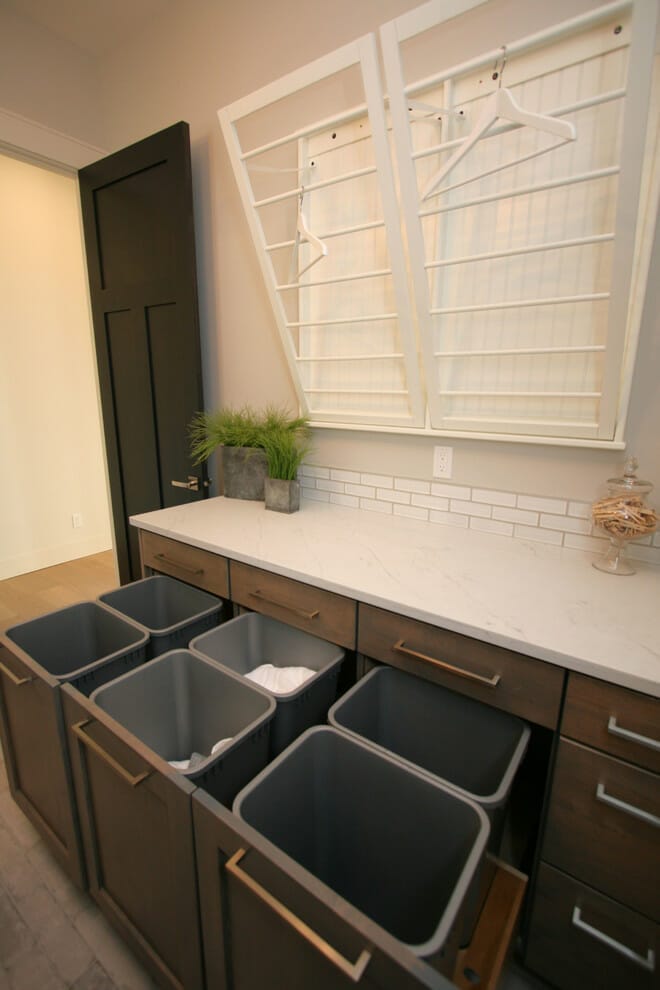 Are you looking for laundry organizer ideas that can hide the mess of dirty clothes in an instant? So, try going with a custom built-in countertop complete with its deep drawers.
Later, the drawers are capable of storing one or two baskets. Still, you can simultaneously have six laundry bins in one piece of furniture as above. And, last, don't forget to mount the fold-up hanger either.
48. Simple Fold-up Hanger from Wooden Ladder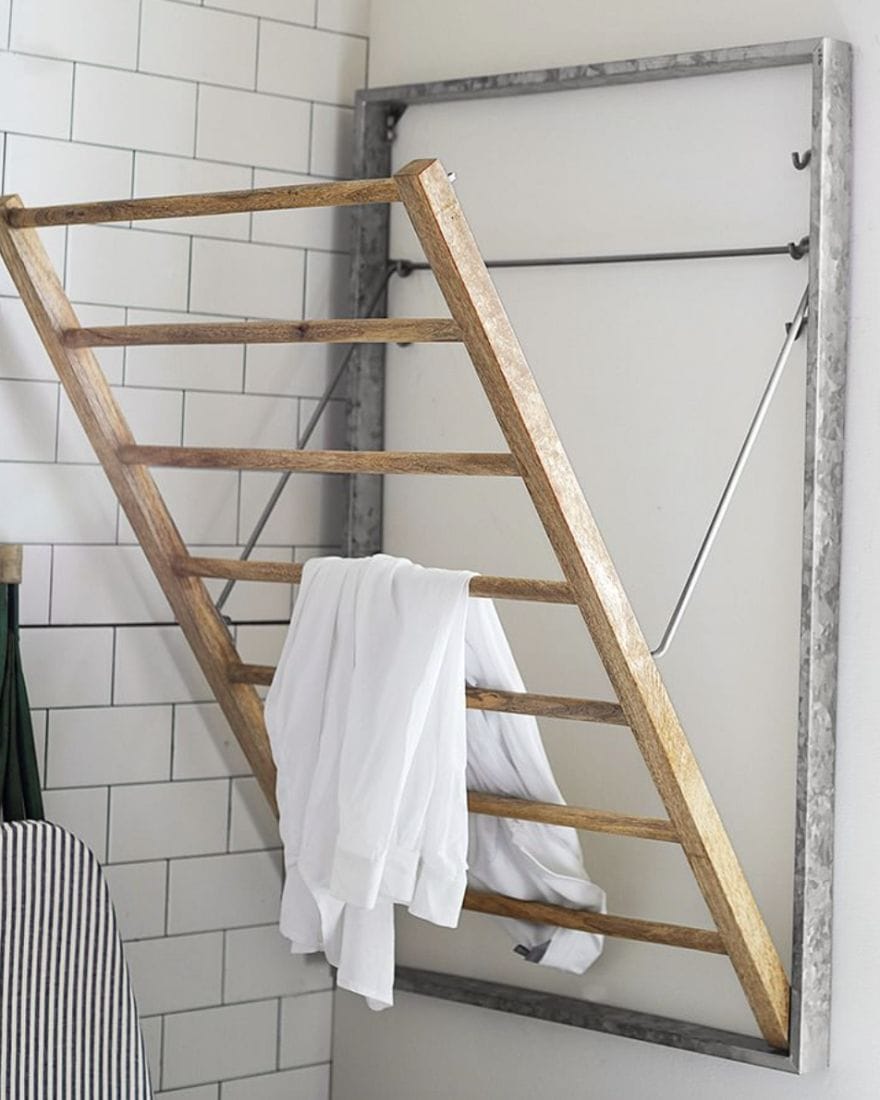 Talking about fold-up hangers, today, you can quickly get them in many stores with various designs, colors, and prices.
However, suppose you want one at a more affordable cost. In that case, you can consider the DIY project from ladders you have in your barn.
49. Set Hangers above The Fireplace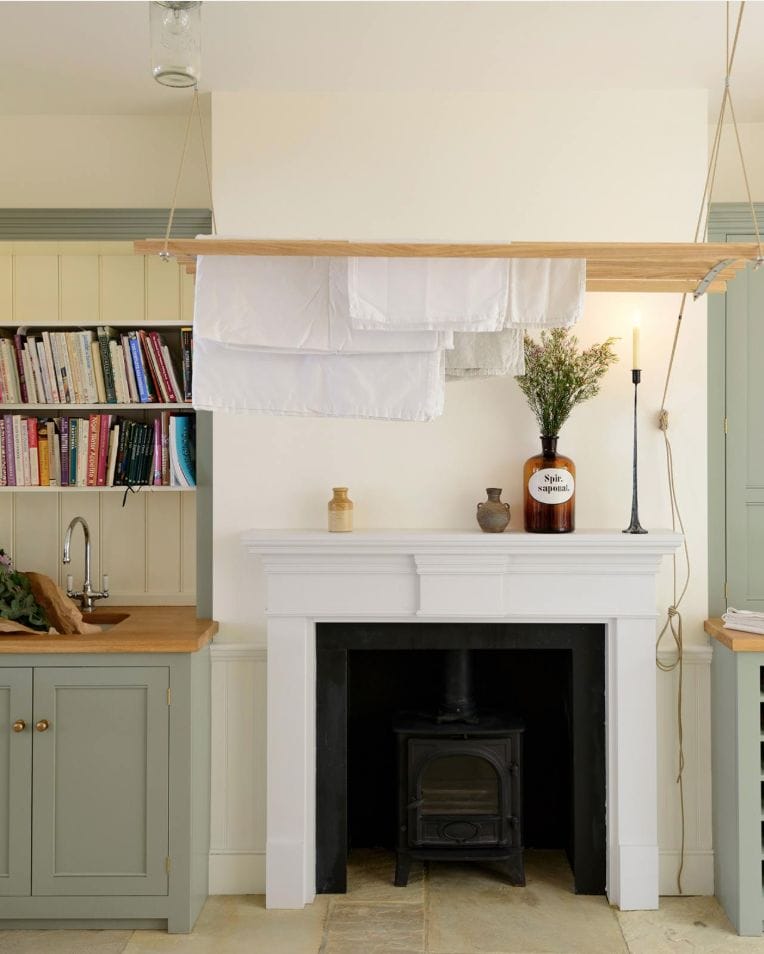 Is your utility room close to the kitchen? If so, you can consider applying laundry organizer ideas with hangers between the two areas.
Like the picture above, installing clothes holders right above the fireplace is the best solution to save floor space. However, you still have to be careful in placing the material to prevent everything from burning.
50. Built-in Countertop with Open Shelving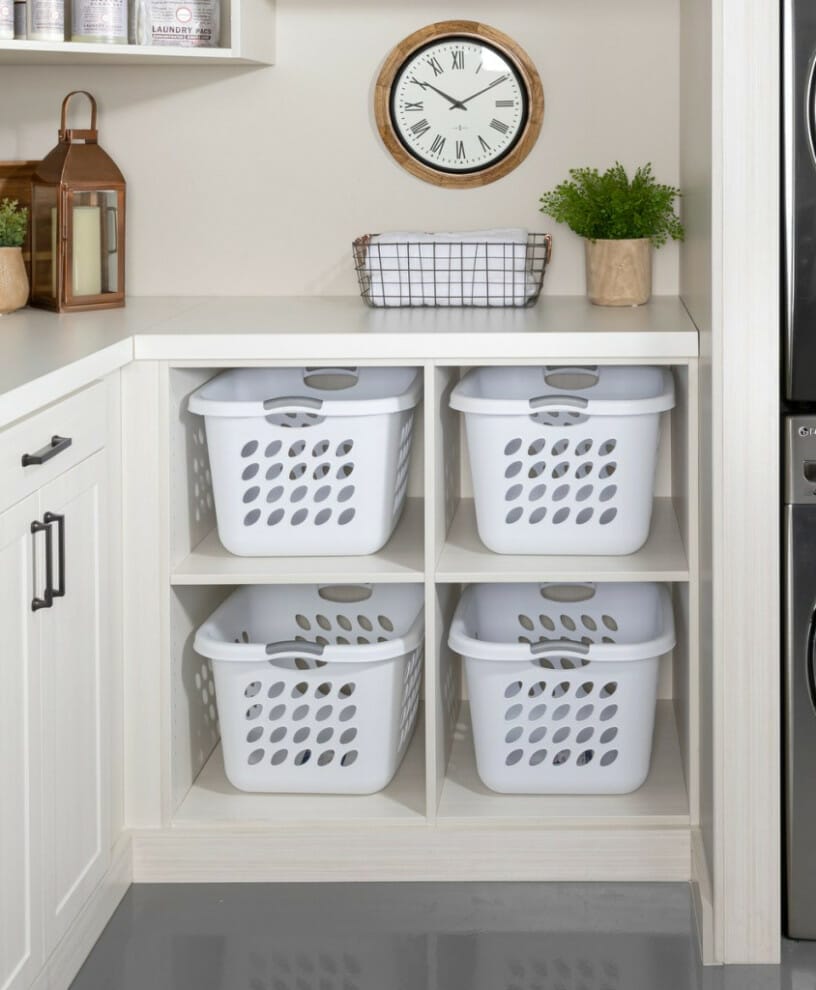 A small utility space will also be good with built-in furniture. First of all, you can go with a wall-mounted countertop as above.
It is presuming that you still have to go with a minimalist concept and pick white as the room's primary color.
That way, your laundry room will remain spacious mainly once you give it an open shelving system. Further, try to go with medium-size shelves that fit your laundry basket perfectly.
51. Double Duty Laundry Cabinet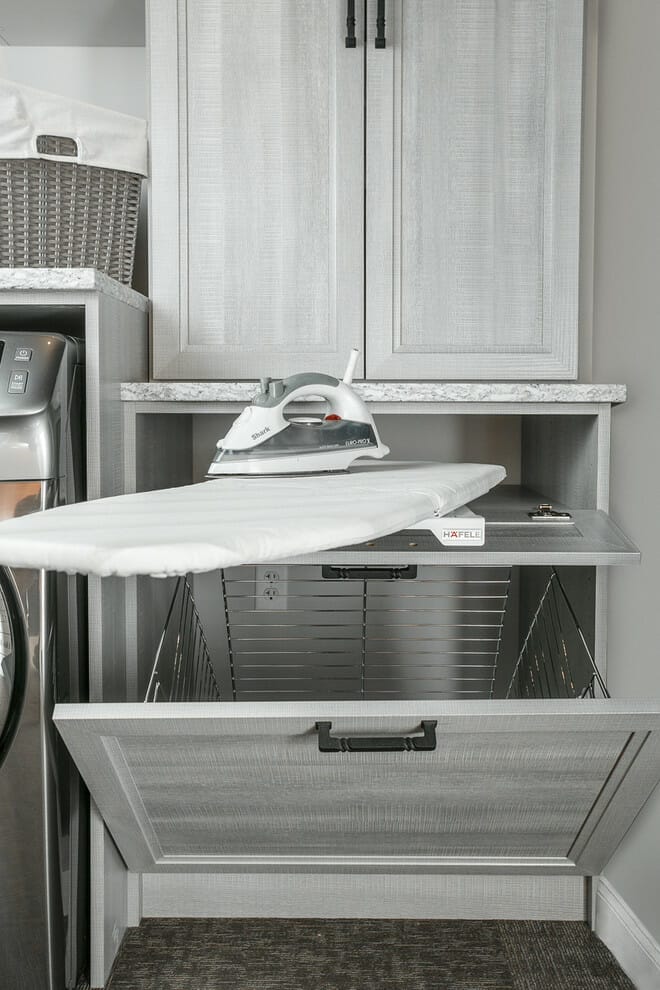 Apart from the aesthetics aspect, you also must pay attention to multifunctionality, especially if you have a small washing spot.
You can consider ordering a versatile, customizable cabinet to deal with these issues. One example is the cupboard with a pull-out ironing board and basket storage underneath as above.
52. Barn Wood Shelves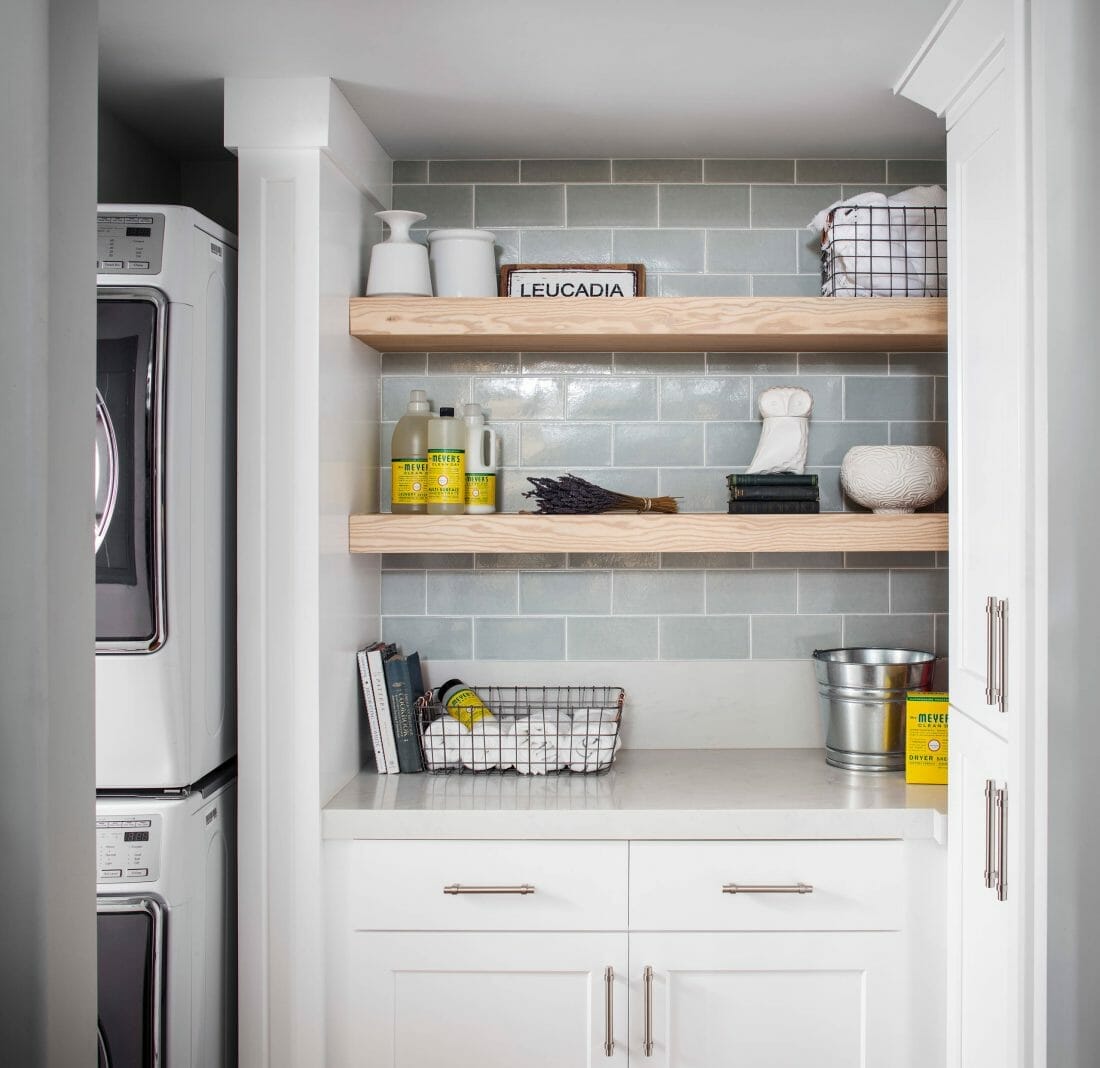 You don't need to spend a lot of money to apply laundry organizer ideas in your home. Instead, doing DIY projects with barn wood turns out to give you outstanding results.
As seen in the picture above, wall-mounted shelves with natural colors and textures go well with the minimalist interior arrangement of your laundry room. So, don't you want to try to make it?
53. Slide The Wire Basket Out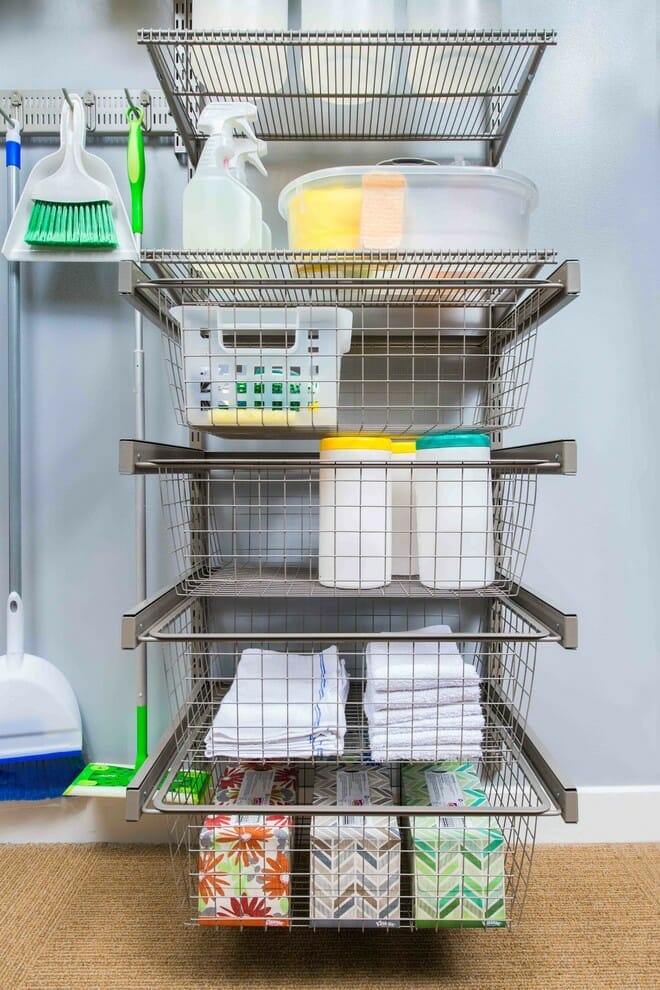 After so many laundry organizer ideas that adopt plastic baskets and wickers, now is the time for you to pay more attention to the durability of wire baskets.
Everyone knows that the cavities provided by this wire basket are very helpful in releasing the air out that comes from the laundry pile. As a result, there will be no musty odors from your dirty clothes.
54. Keep the Cleaning Kit in Different Counters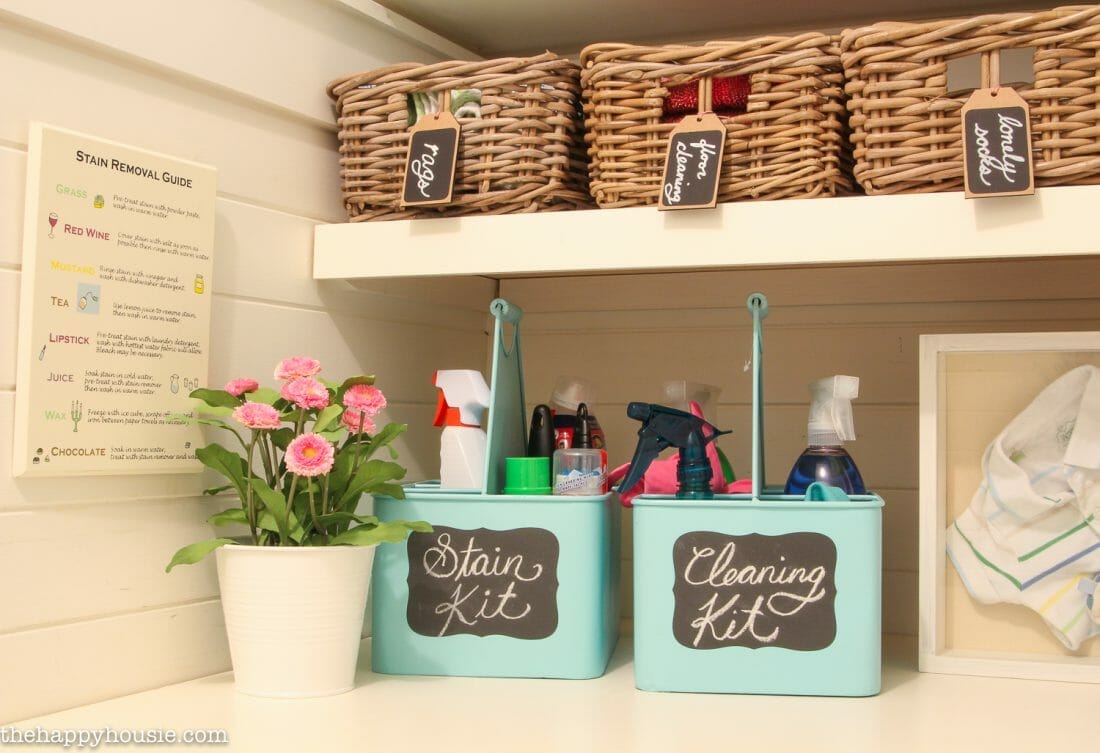 Another problem you may encounter during the washing process is finding the cleaning kit you need right away.
Thus, separating the stain and cleaning kits on different counters is good to overcome this problem. Hence, you'll save your time from a rummage through the entire cabinet.
Furthermore, it would be better to put a label on each container to prevent you from putting your washing supplies in the wrong place.
What's more, you can also hang the cleaning guide in the frame to become a great wall decor at the same time.
55. Large Built-in Cupboard to Accommodate Everything
That's okay if you want to go with laundry organizer ideas with an extra-large built-in cupboard. With a note, you must have a large washing area either.
Instead, once you force to have the vast furniture while there is not enough space in your home, it only makes your laundry room look cramped.
Above all, having a cupboard that can accommodate many items like this is a great strategy, indeed. Soon it will keep you far from clutter.
56. Simple Laundry Organizer Ideas Using Wire Racks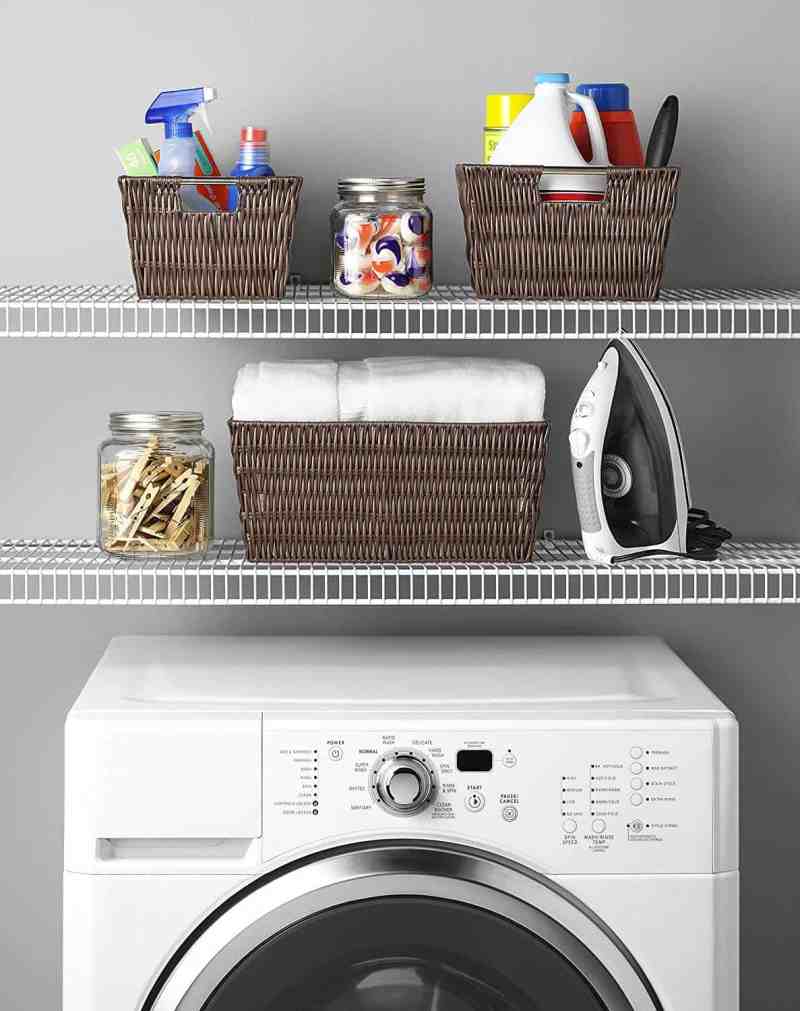 Assume that you do not like the hassle of doing DIY projects. In that case, you can also go with laundry organizer ideas that use wire racks as above.
Besides being easy to install, wire shelving can also match any interior décor. And interestingly, you also don't need to spend a lot of money to have this one in your laundry area.
57. Cheerful Design to Create Joyful Vibes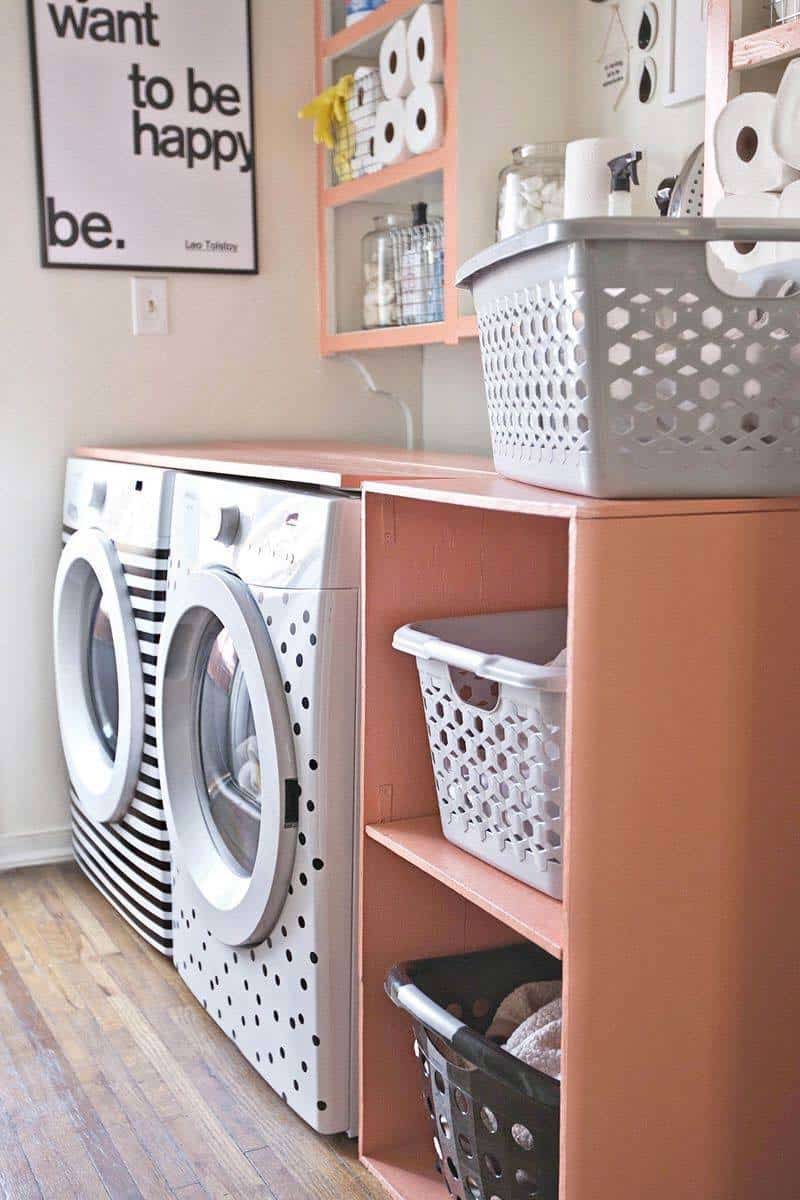 After you are done with all forms of versatile storage, now is time to consider the appearance aspect.
And, suppose you are bored with primary colors like white, black and brown. So, try to paint your laundry storage with your favorite color.
Because in the end, you will spend a lot of time in this room, then it should also have an understated and inviting decor. Don't you agree with us?
Apart from all that, it doesn't matter which laundry organizer ideas you will choose soon. The most important thing is that having versatile furniture and inviting vibes in your washing area is essential. Indeed, it will help you complete your chore adequately.
Does the narrow space constrain you from having a proper laundry room? Don't worry. You can install adjustable wire racks like above to surround the walls.
Then, set several levels to suit your needs. After that, you can also hang your laundry sorter there. That way, you don't reduce the floor space under it at all so that your laundry room can look more spacious than before.
And finally, the laundry room organizer ideas have reached the end. Once you get the inspiration, immediately update your utility room to make your washing day more enjoyable!