Are you looking for small space shoe storage ideas to make the best of your compact place? Here, you can find not only one or two insights, but twenty-nine!
Certainly, practical inspirations to house all of your boots, loafers, sneakers, high heels, and any other kinds of footwear are coming up. So, scroll down!
1. Small Space Shoe Storage Ideas: Wall-Mounting Everything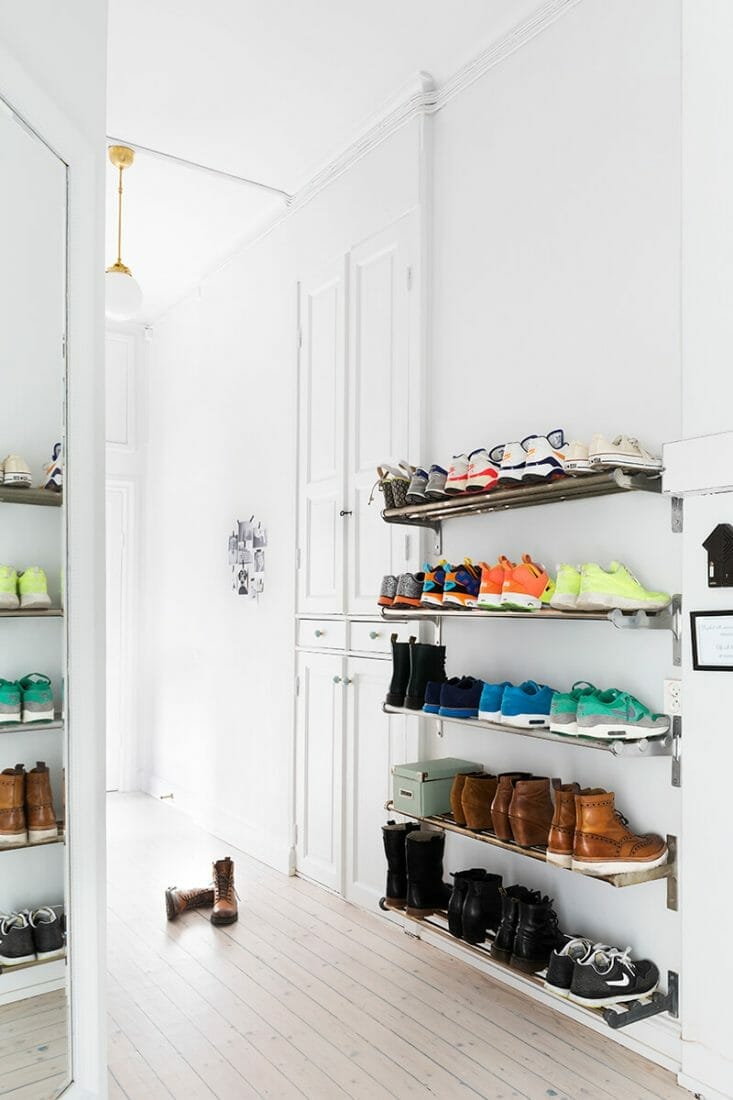 Hanging the furniture on the wall is always be a hack for a small area. Of course, a more visible floor surface means an airier place on the whole scale. Equally important, a light tone helps brighten the atmosphere.
So, mounting the racks and painting the surrounding interior in white as seen in the picture will be your first two small space shoe storage ideas.
2. Coat and Shoe Storage for Small Spaces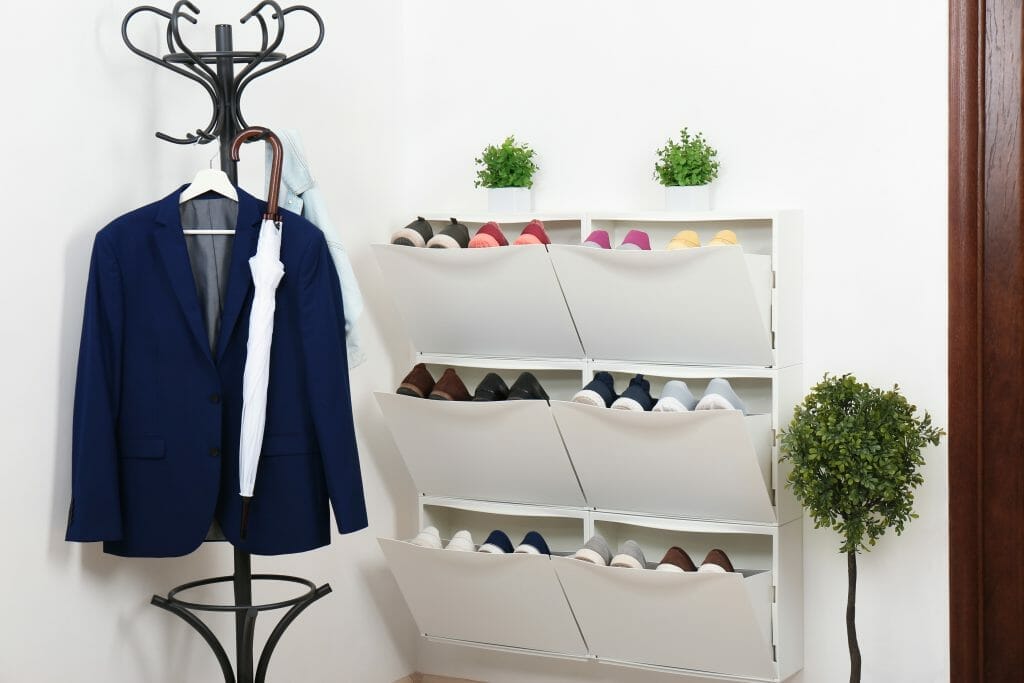 You will see a lot of mounting footwear rack ideas on this page, as it is indeed one of the most effective small space shoe storage ideas.
Similarly, the deal here is also to mount the shelf. Only, it shares someplace also for a stand to hang a blazer coat and an umbrella.
3. Uncomplicated and Unruffled Shoe Storage Solution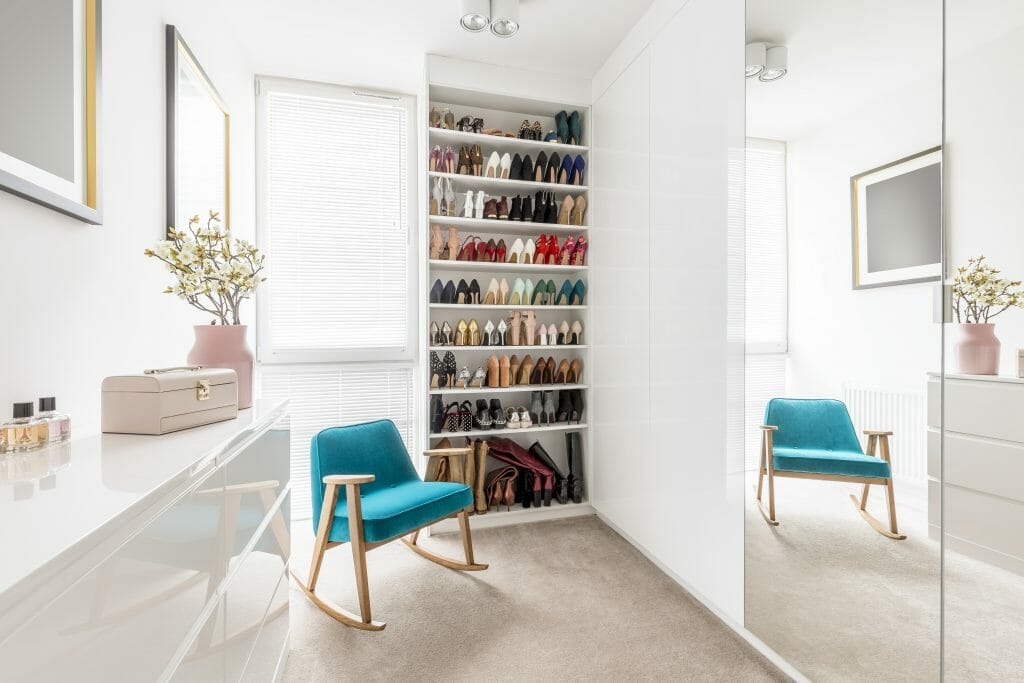 The solution is to maximize the little corner space in your walk-in closet by building a ceiling-height wooden shoe rack. Notwithstanding, bear the following details in mind.
First, there must be a shelf that fits your boots, so make one or two shelves with a higher gap than the rest. Second, the finishing must follow the whole room concept for consistency. And lastly, complete the set with a chair and a mirror for a comfortable dress-up session.
4. Stylish Ladder Shoe Rack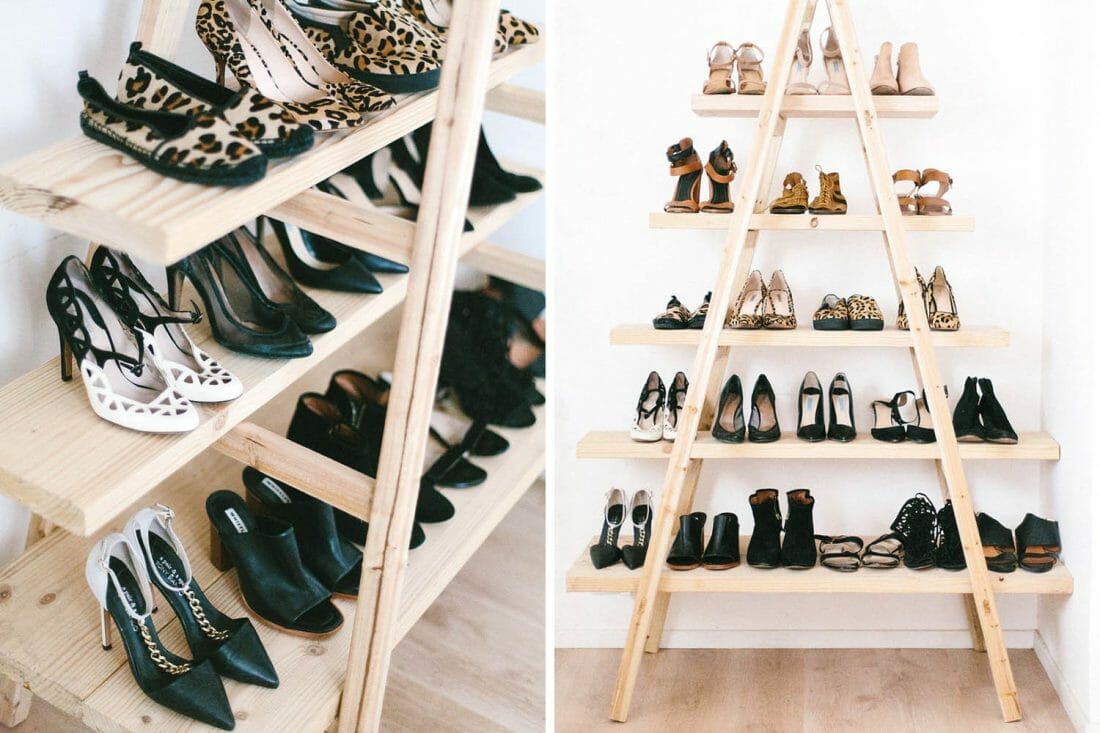 It is a store-bought product, designed in a ladder shape. Even so, it could be a project of DIY shoe storage ideas for small spaces.
To make one, the requirements are a construction ladder, five wood planks of various lengths, and tools. After yours stands, finish it in the same coat as the floor for aesthetic.
5. Small Space Shoe Storage Ideas under the Bed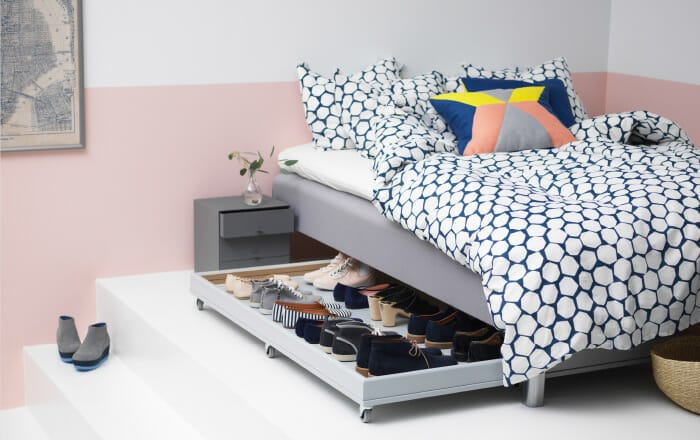 Outsmarting a small space often needs creativity and full attention to chances. Here, someone sees a potential to store the shoes under the bed by affording some kind of large metal drawer with castors.
This way, a lot of situations are avoidable.
6. Hooking the Shoes under the Stairs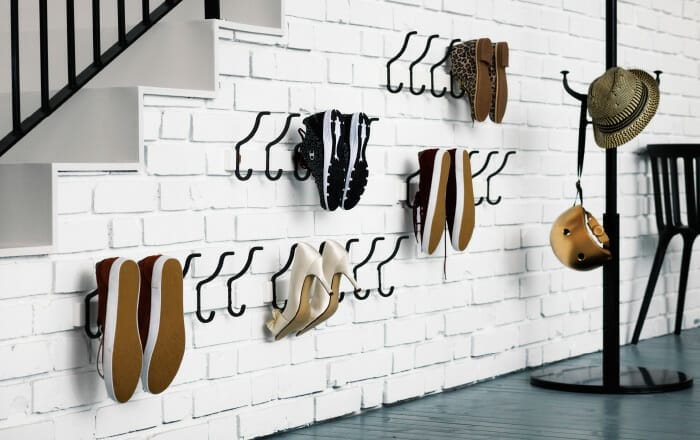 The small space shoe storage ideas here come from a footwear store called Hook's Shoes. As the name implies, it uses hooks to promote a new way of storing shoes. Its products look like the usual clothes hanger but with a longer upper part to fit the shoe depth.
Next, the idea is about where you could hang the hooks. The store exemplifies one by maximizing that idle wall below the stairs.
7. Nail-Less Hanging Shoe Rack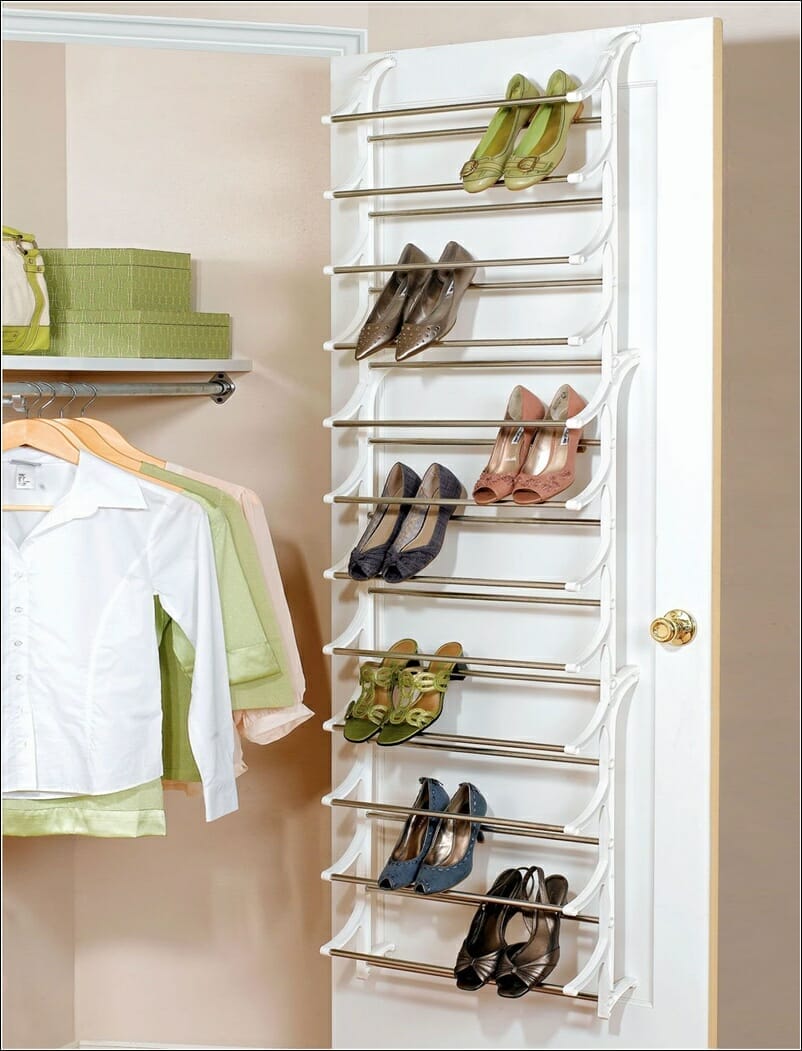 With such small space shoe storage ideas, you could save yourself from the effort of knocking some nails to install effective footwear storage, of course, because it hangs over the door.
In addition, you could flexibly choose whether to have it face inward or outward.
8. Nook Shoe Storage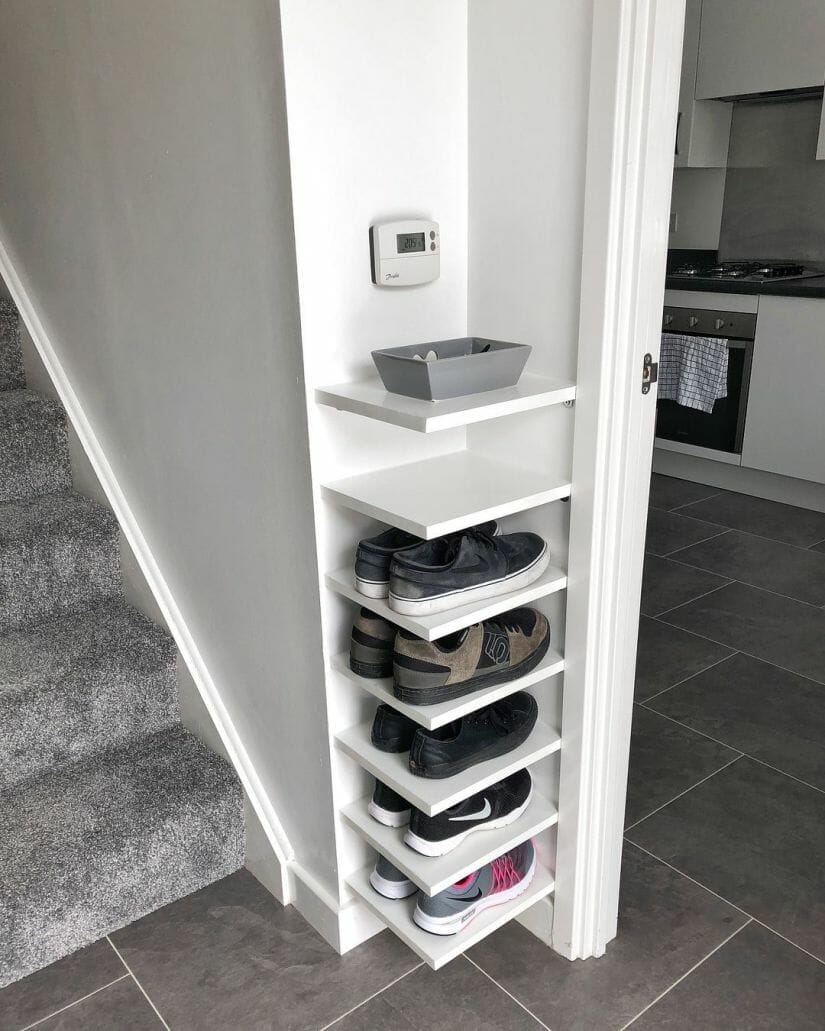 As mentioned, you need to see changes to maximize small space. Here, someone makes one of the best small space shoe storage ideas. Simply use a nook in the house to store the shoes by securing some square planks.
Strategically, it takes place in the hallway, a transitional area where you pass through before and after mobilizing outdoor. So, it is also a perfect spot for the key bowl.
9. Shoe Storage Ideas for Entryway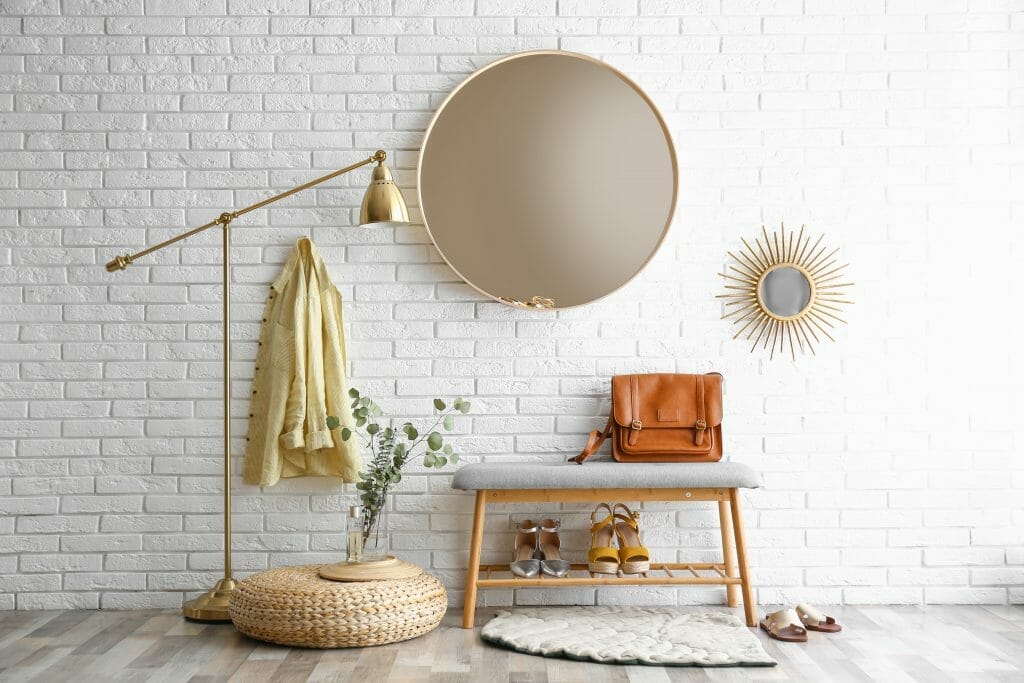 Aesthetically speaking, it is one of the most satisfying views than other small space shoe storage ideas. Look at the decorations, arrangement, and complementing color selections.
However, the storage under the bench only fits for three to four pairs of shoes. So, it is presumably to store your most used footwear.
10. Shoe Storage Ideas for Bedroom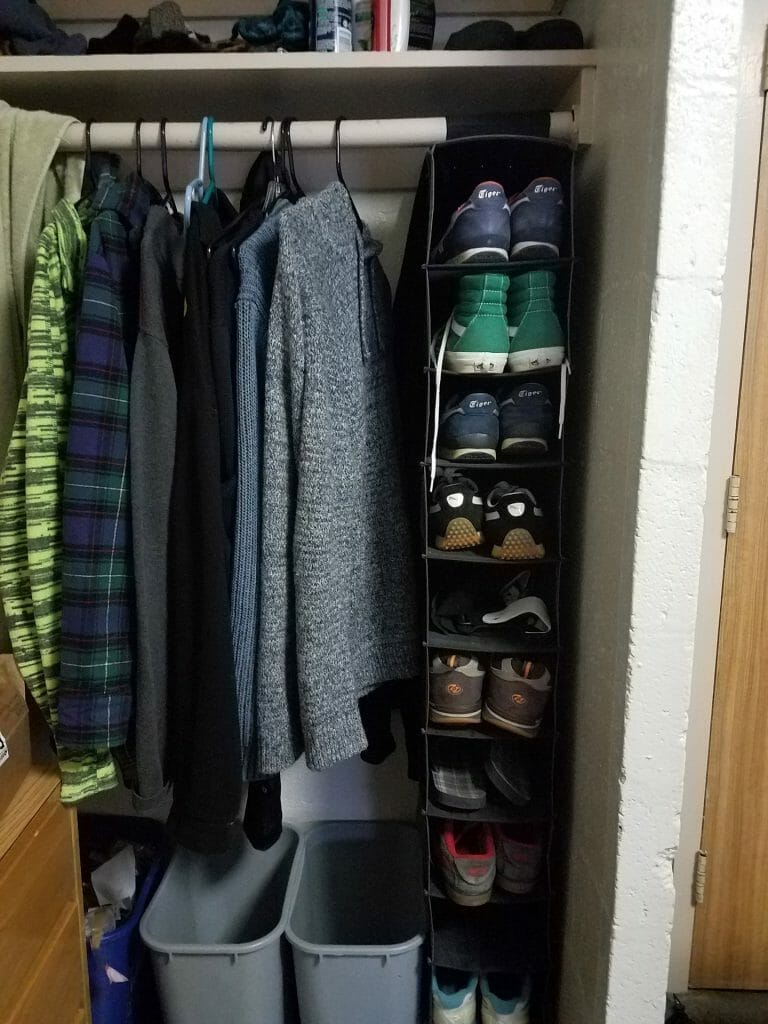 Specifically, it is an idea for dormitories where your space only consists of a bed, cupboard, and a study desk. There are some dorms, indeed, that afford an extra place to store the shoes, like in the hallway, but not so many.
Hence, you must seek a way for shoes storing. It should be inside your possession as not to disturb the other dwellers.
That is why this kind of storage system is born. If you own one, be sure to put in only the nicely smelled ones.
11. Easily Assembled Small Space Shoe Storage Ideas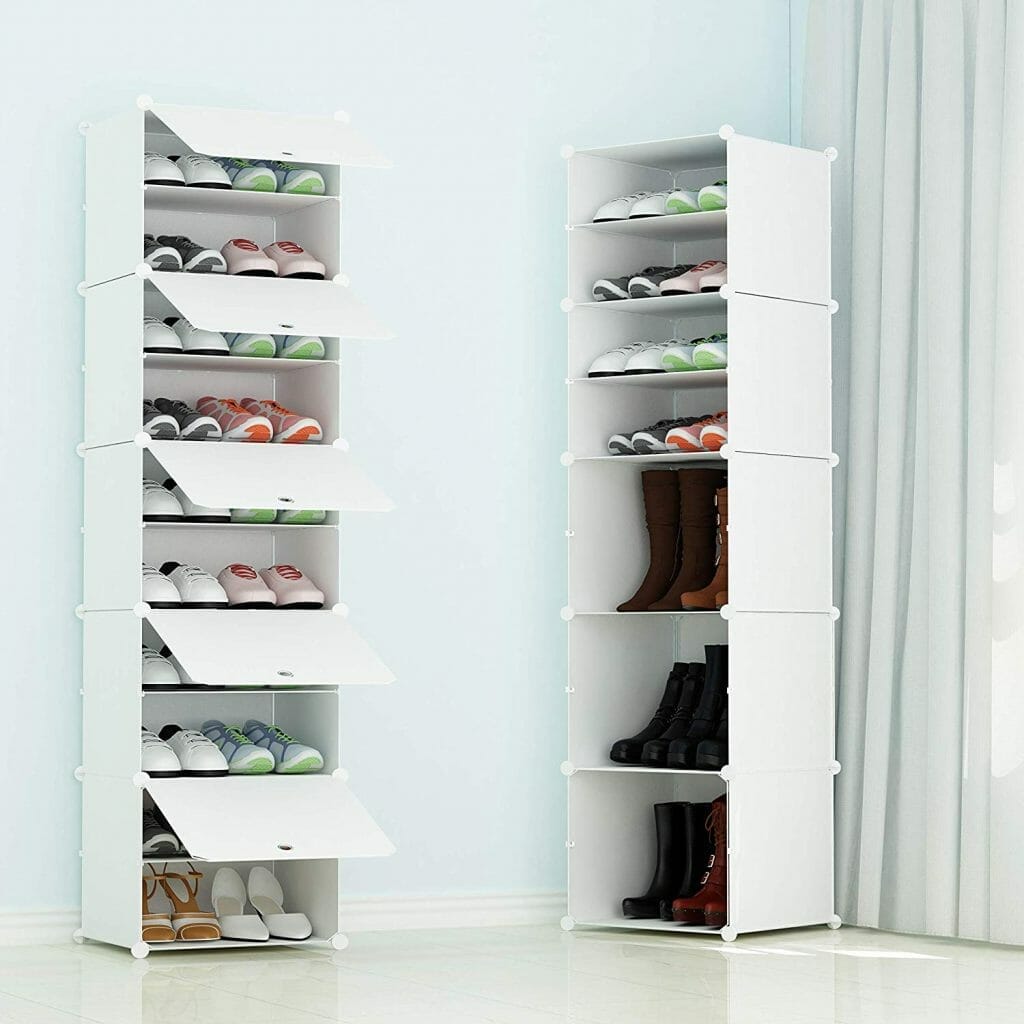 There are so many products like this pair available for purchase. It is inexpensive, easy to assemble, and flexible.
In case you need to store high boots, you could take off a partition and merge two shelves so that a higher shelf is obtainable. Further, it only takes some inches of your valuable floor surface.
12. Ingenious Small Space Shoe Storage Ideas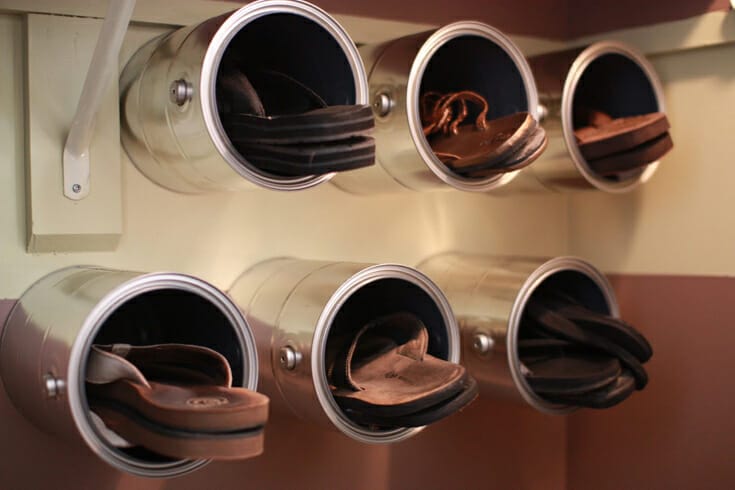 It does not have to be a rack, shelf, or drawer to store your footwear practically because our small space shoe storage ideas could take advantage of anything.
Here, someone repurposes some kind of tins, smaller than the paint buckets but thicker than the sardine cans, to do the honor.
13. Shoe Storage Ideas for Small Entryway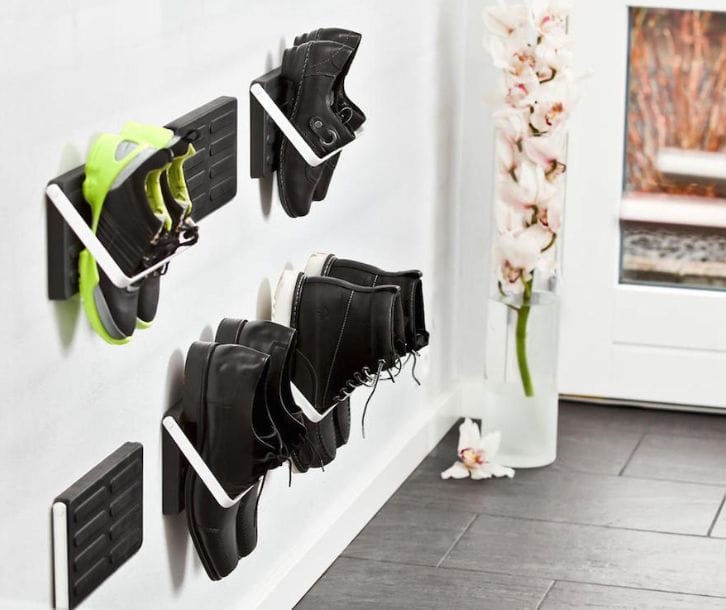 Luckily, more storage manufacturers produce practical shoe racks now, and you see one of the products. Using metal material, it has a special mounting system at the back, strong enough to hold a pair of boots.
This idea permits you to arrange them behind the entrance door. So, when the door opens, your hanging shoes will not be visible.
14. Towel Holders for High Heels Storage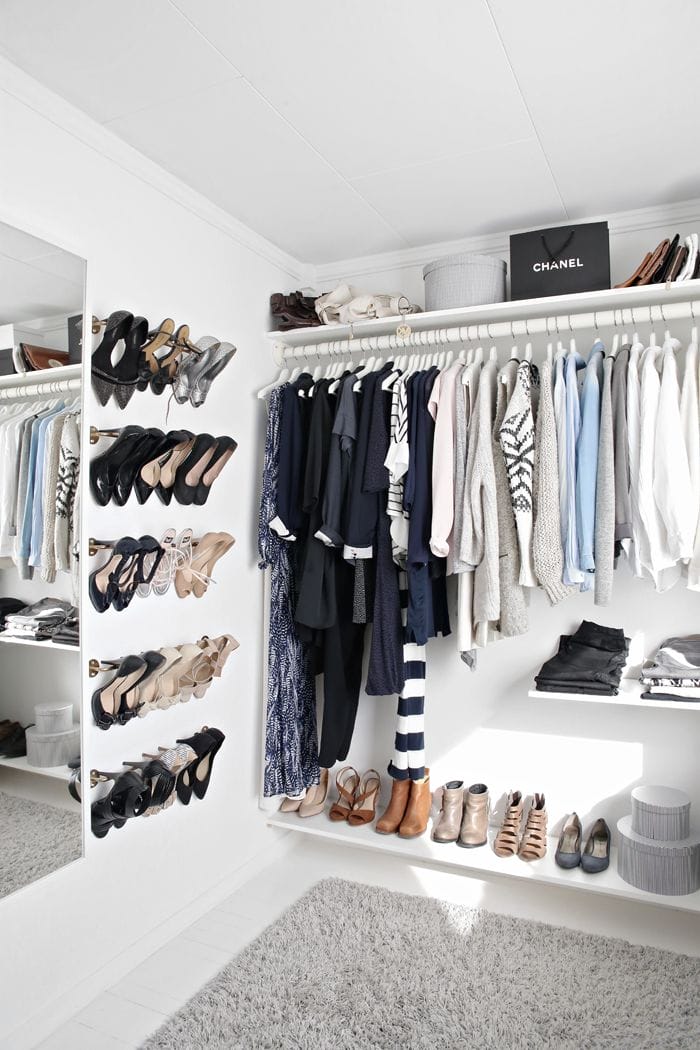 It is such an invention. The inventors, whoever they are, must take credit and get a royalty from it. They use the common towel holders you see in the bathroom and re-function.
This way, everyone could save a lot of space by setting some on any idle wall surfaces. Moreover, every stiletto lover will fall in love with this ingenious idea.
15. Wall Shoe Storage on A Shrewder Level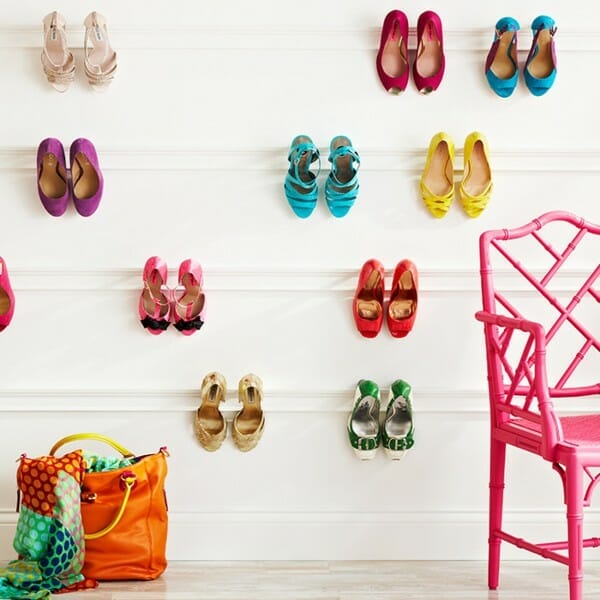 Think outside the box is a common phrase to state a creative and unusual way to explore new small space shoe storage ideas. Now, you could make a shrewder expression by looking at this picture: think along the wall. Why?
Of course, somebody really brain-racks a way to use wall molding for a shoe store. With this idea, you will have footwear storage inside your small dwelling space as long as the walls are. In a word: limitless.
16. Cube Shoe Organizers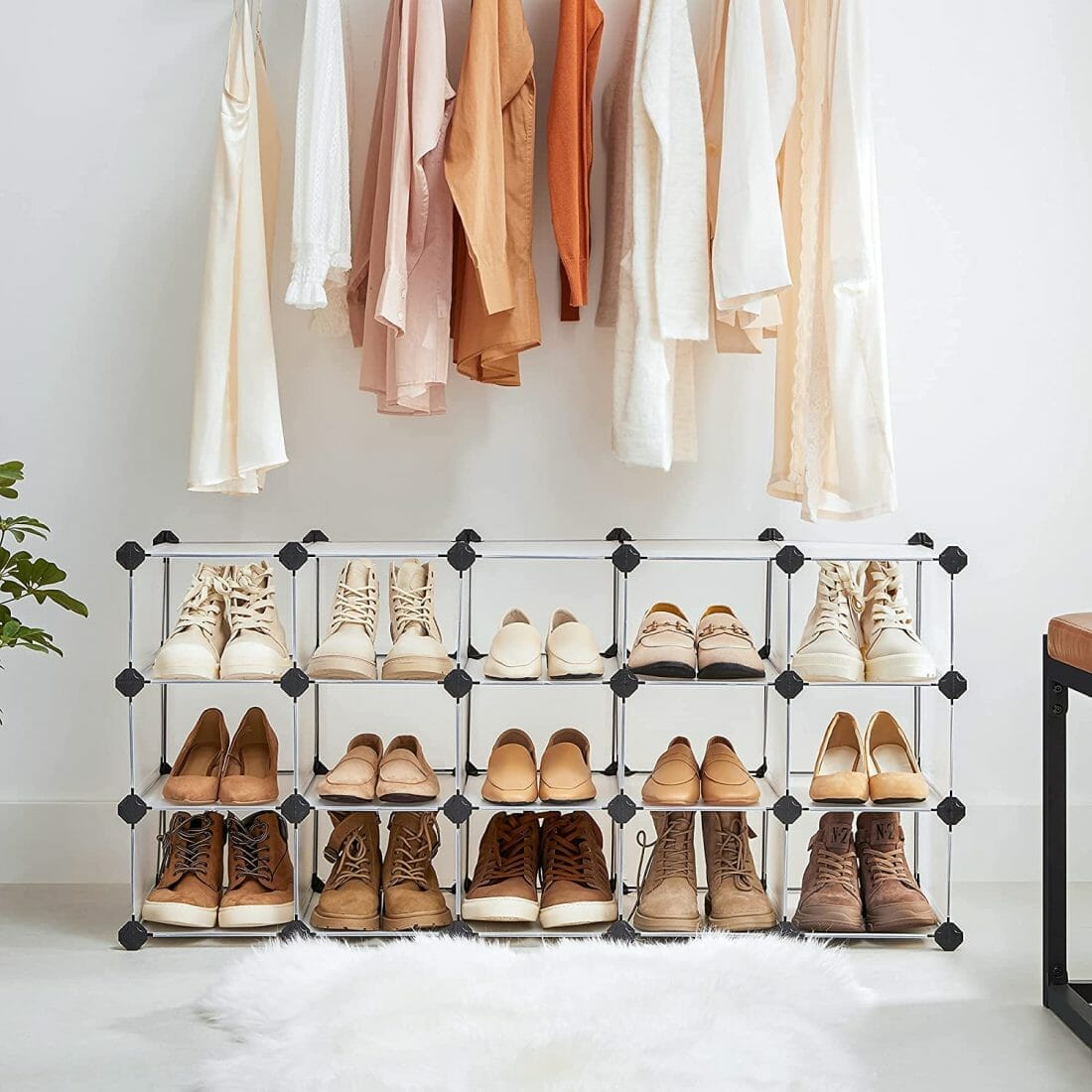 Aesthetic hashtag users on Instagram must love the color arrangement in this picture. Only, we also look at a function and possible idea it brings. Here, the floor space is utilizable by 15-slot ETA (easy-to-assemble) cube organizers made of plastic.
Somehow, it is a nice idea to have them stand under the hanging clothes, especially inside the walk-in closet. You could judge whether the above outfits match the under footwear by setting them at each post.
17. Small Space Shoe Storage Ideas for Boots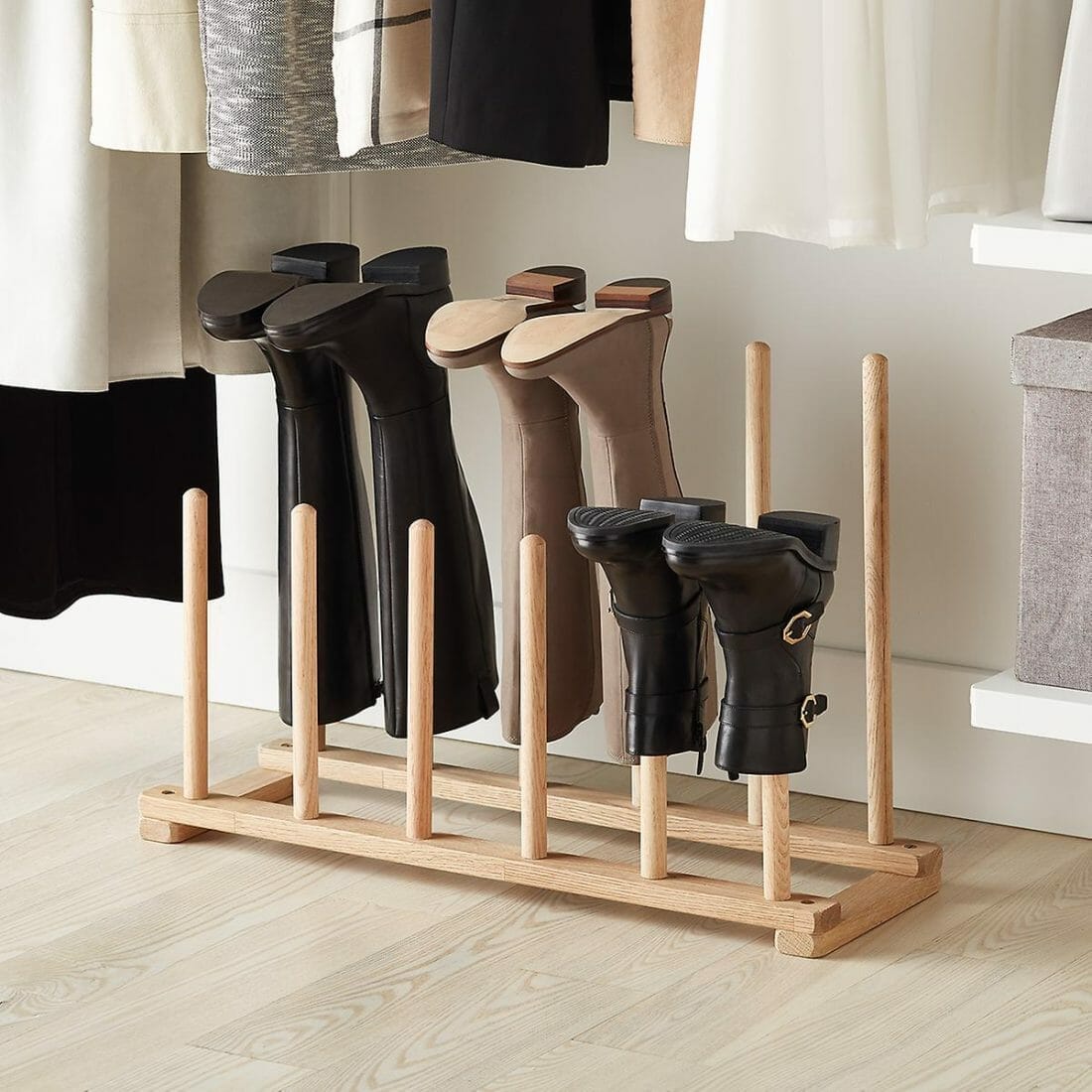 Organizing your footwear upside down with this boot rack gives you an extra advantage besides keeping them tidy. It ensures nothing whatsoever is inside your shoes.
Thus, you could directly wear the boots without the urge of checking the inner part. Further, not like other small space shoe storage ideas, this one only takes a little floor space.
18. 10-Tier Movable Shoe Rack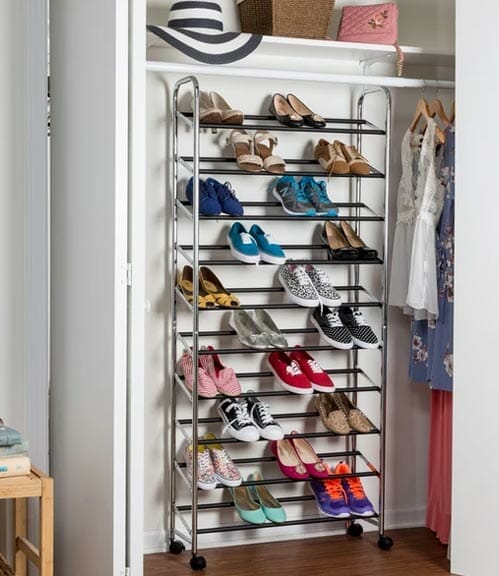 A vertical rack becomes one of the undeniably practical small space shoe storage ideas, especially if it has ten tiers and castors for flexible movement.
However, unless it is out of sturdy material and strong base, as seen in the picture, a tall organizer will not last long. Some cases with the involvement of plastic will only end up disappointing.
19. Shoe Storage under Floating Cabinets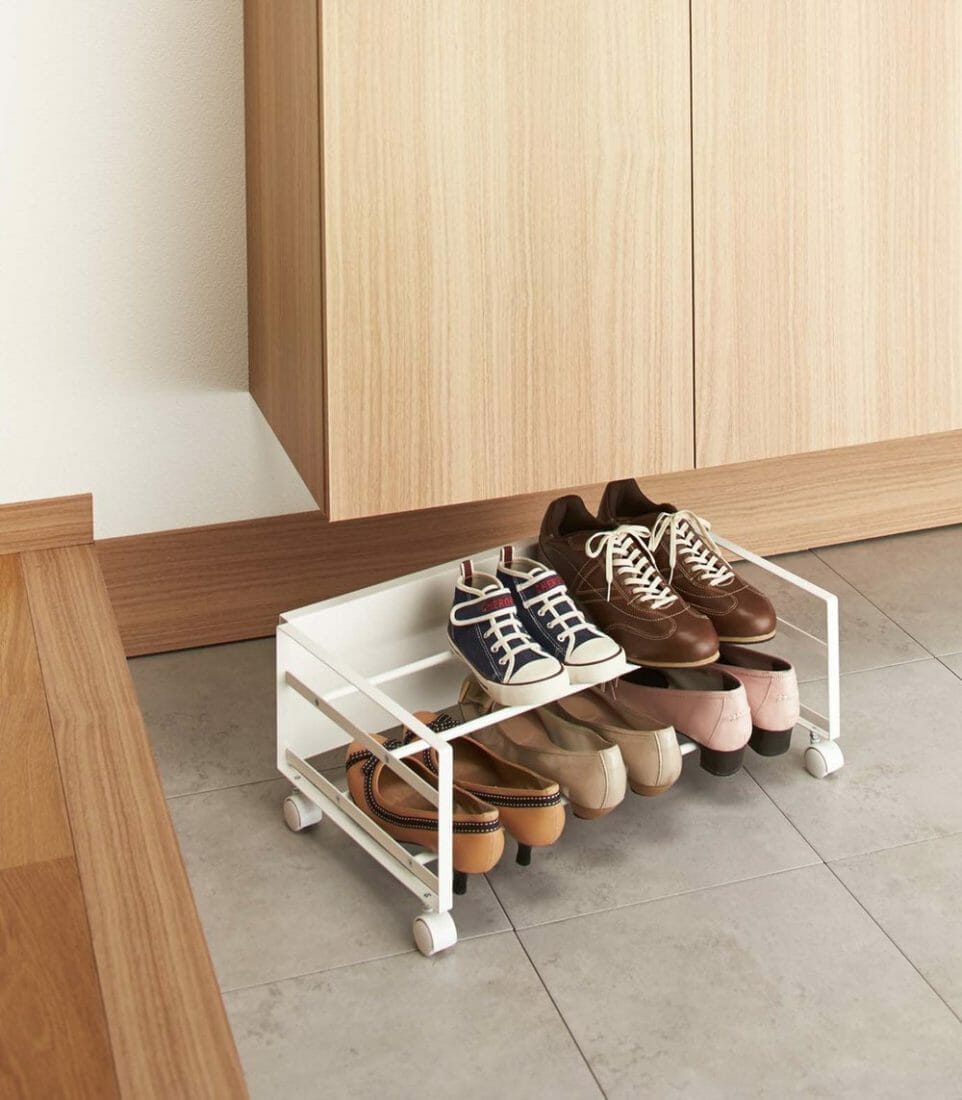 Whether you want to make the room seems wider or to use the unoccupied space above the floor, there is always a reason to float the furniture. As for this one, it is the latter option.
Floating cabinets leave unemployed space, and you are always free to maximize it. One of the ways is by placing several shoe racks. Oh, use the movable ones with castors for effortless pull and push.
20. Shoe Tower Organizer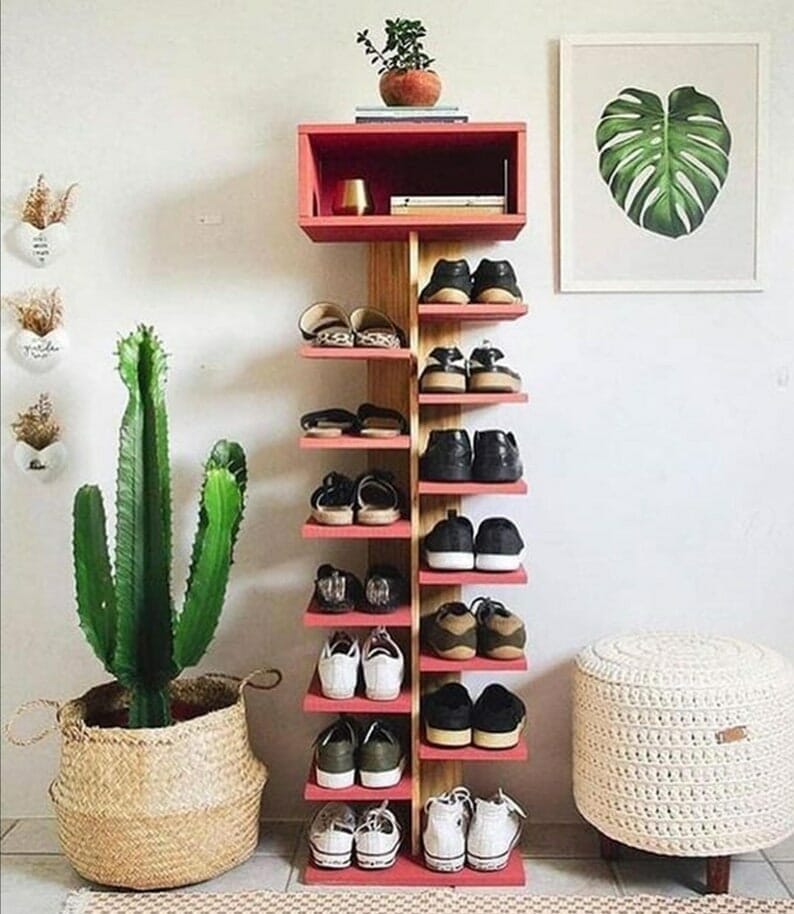 The tower is presentable in the title since this rack is really like one. The design is catchy with upper shelving to keep any book collections or tabloids. It could do for some room decoration.
But with pink paint finishing, it fits a girl's space.
21. DIY PVC Pipes Shoe Rack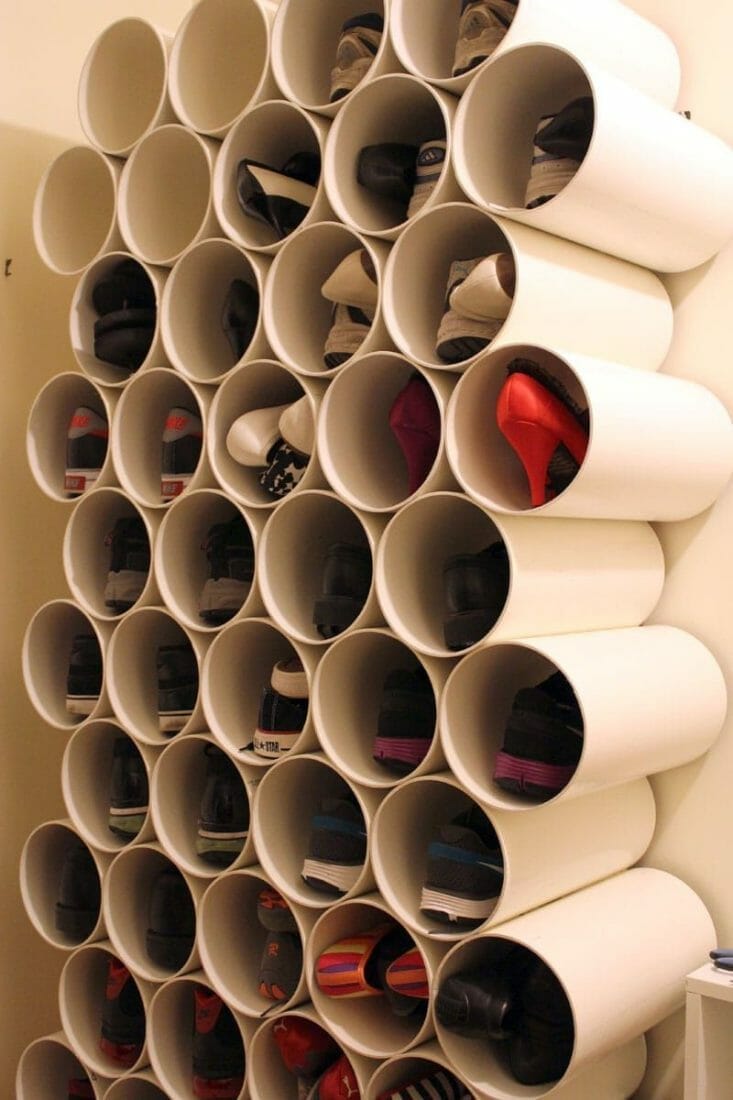 It is a crafty idea to use PVC pipes as shoe storage. Practically, it functions the same as the other type of footwear shelves.
Besides, you participate as a part of a go-green campaign in terms of repurposing some kind of building waste.
But, on the other hand, its cylindrical shape brings unavoidable downsides. First, one hole of this rack could only fit for a small pair, while bigger pairs need to be separated.
Second, this PVC pipe shoe rack is impossible to use by someone with acute trypophobia, a fear of clusters of small holes or bumps. It will be aggravating
22. Vertical Organizer for Single Pairs of Sneakers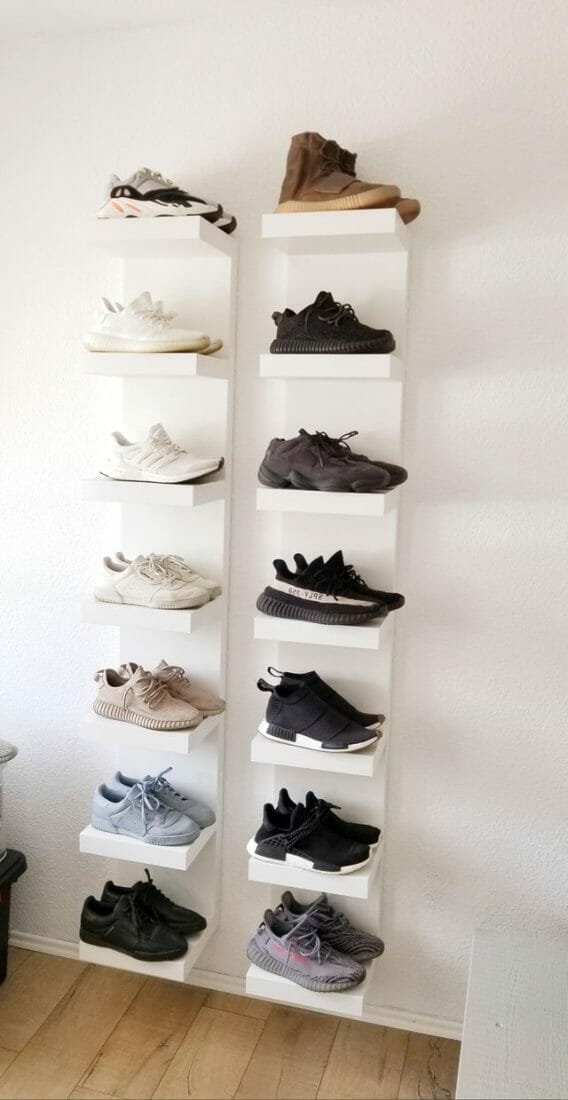 An idea comes from a shoe store named Sneaker Room. It uses vertical organizers with seven levels of shelves, each for a single pair only, just like how a shop of footwear displays its products originally.
In a single-aperson household, this kind of arrangement is always enough, unless that person is a footwear collector.
23. Swing Shoe Storage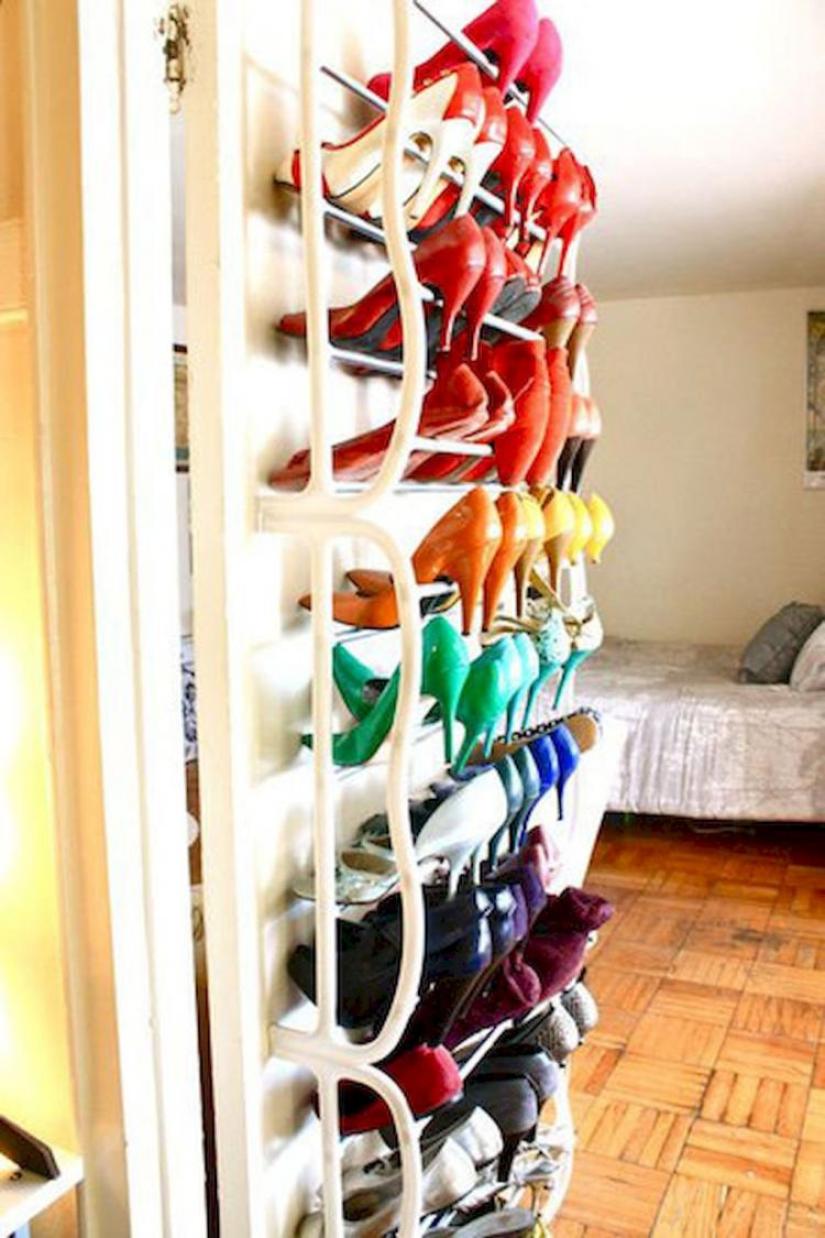 It presumably has the same shoe organizing system with a nail-less hanging rack in picture number 7. You do not need any nails as it works by hanging over the door.
Because of that, this footwear organizer will disappear when you close the door, making the space free of clutter and a cramped feel. It only appears when needed.
24. Wired-Mesh Look-Alike Organizer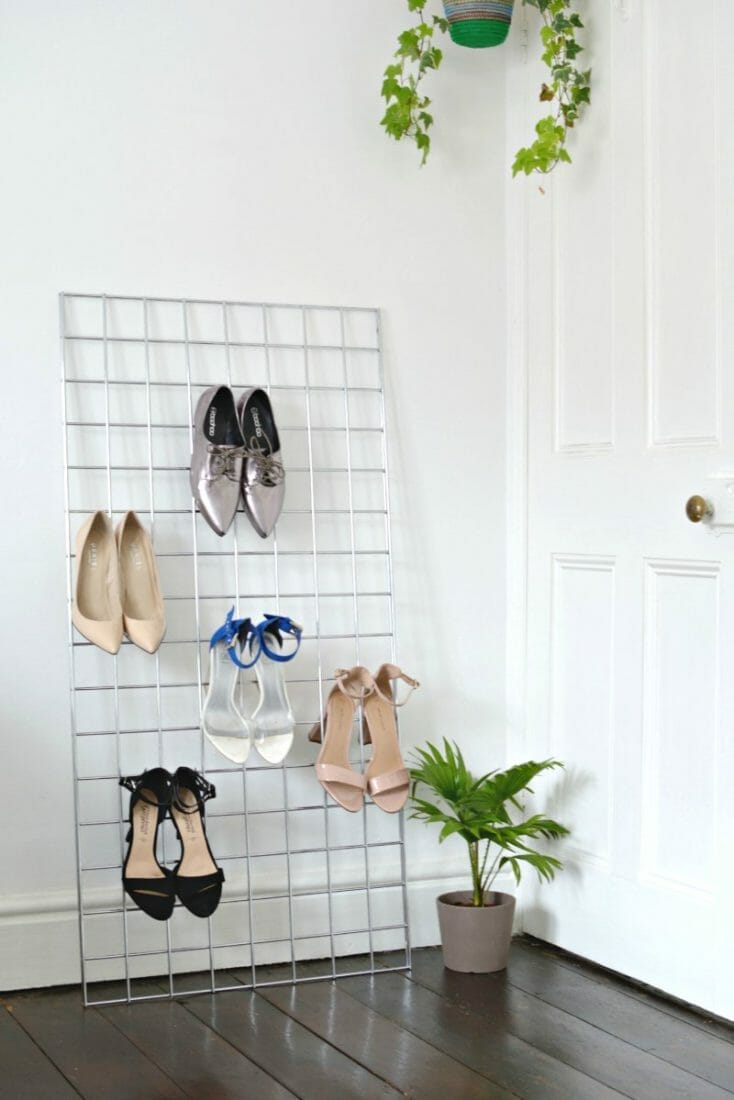 This design reminds you of the wired mesh commonly used for decoration above a table, does not it? Usually, it is mountable on the wall by a pair of nails.
However, when mounted, it does not leave any space between itself and the wall. Hence, it is impossible to keep any shoes.
The best position would be as exemplified in the picture. You need to lean one side against the wall. However, hold the bottom side with some weight as not to let it slide down and ruin the organized shoes.
25. Additional Shelves on A Closet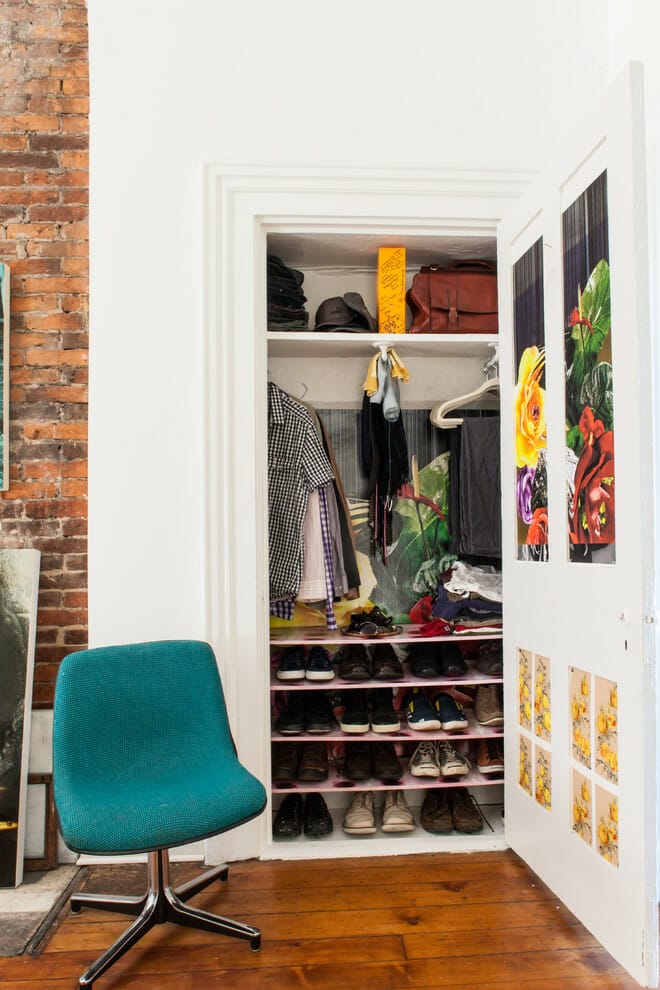 Apparently, it is a part of a fashion accessories store called Eclectic Closet. Even so, to us, it looks like someone's private closet, offering some small space shoe storage ideas.
The deal goes by adding some shoe shelves inside a closet. By doing that, you increase its storing capacity. Thus, you save more space and do not need to stand in front of different places to get the required outfit pieces
26. Compelling Shoebox Cabinet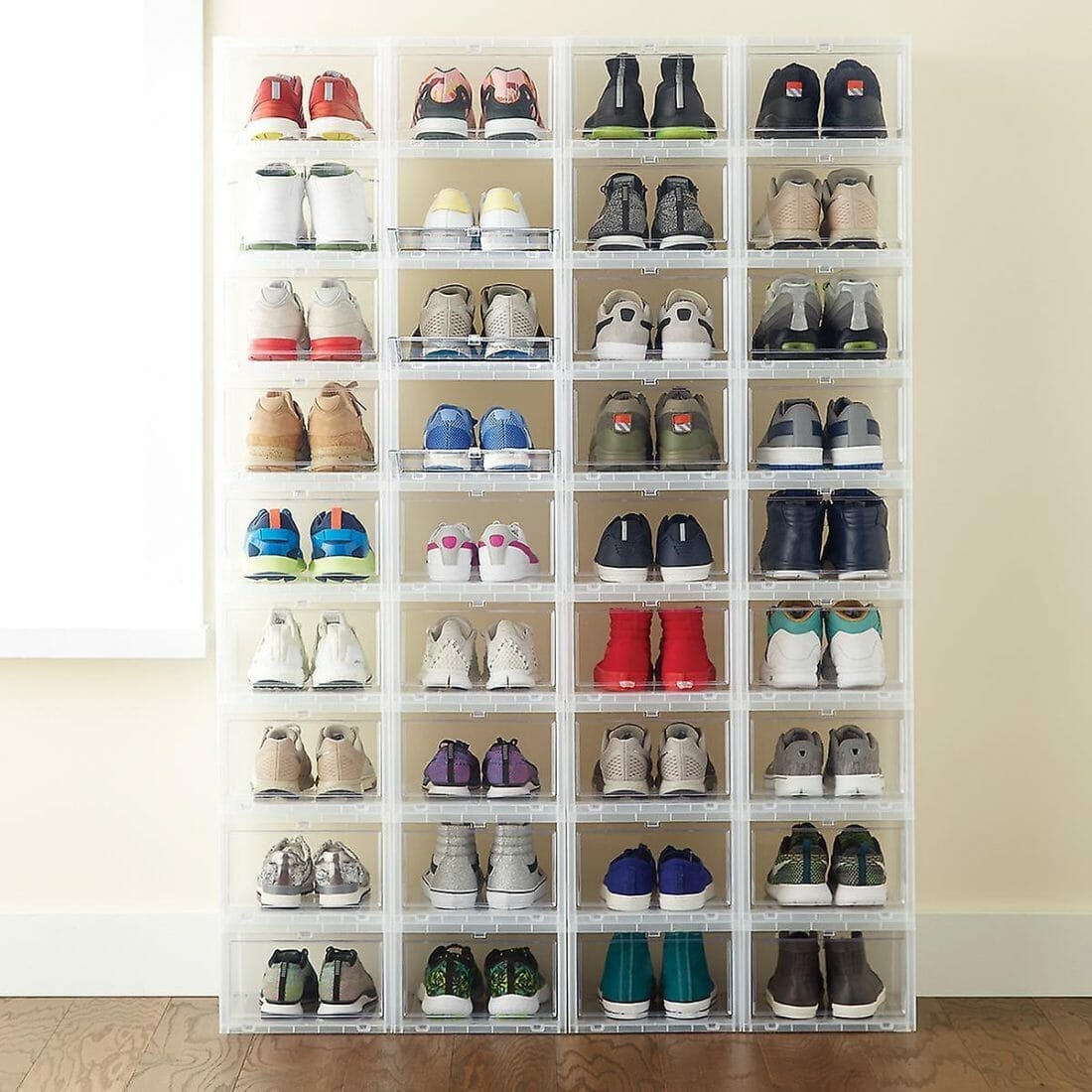 It is different from the cube shoe organizers in picture number 16. The former rack does not have any enclosure, whereas this one has.
Nonetheless, you could still see which pair of shoes is inside since the opening is clear. Seemingly, this shoebox cabinet is firmer due to its thicker material.
27. Entryway Shoe Shelf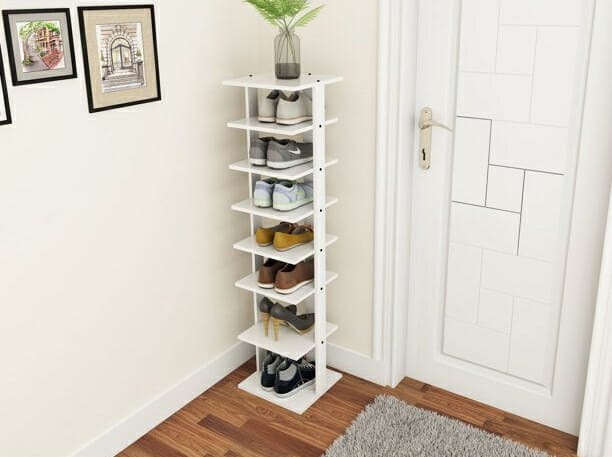 With its design, this shoe shelf will be an applicable and helpful idea for dormitories or households with many members.
It is more practical than having shared racks, however big they are. Also, in front of every room might be the best position to place this shelf.
28. Copper Wall Shoe Rack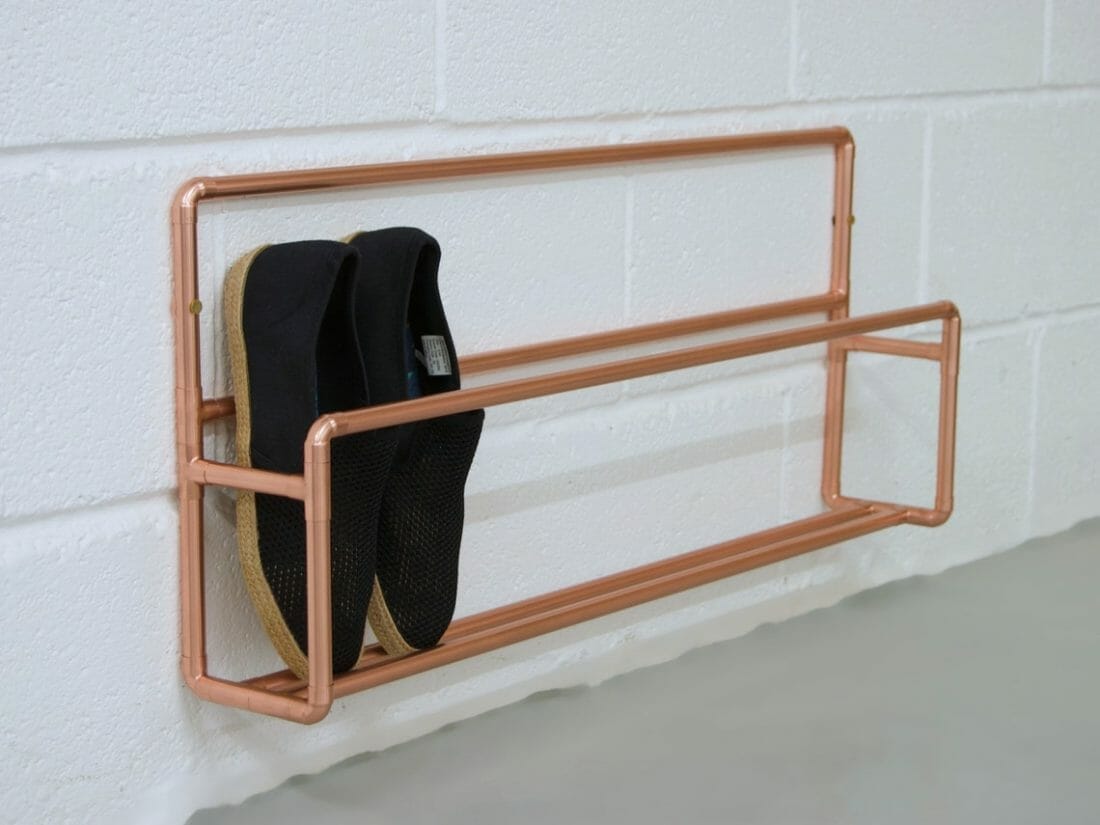 It allows for a unique storing position. Instead of lying them flat with the soles fronting the ground, this wall shoe rack has the shoes stand vertically with the toe part facing down. Of course, the front bar makes it possible.
Also, it is neater and securer that way. No shoes will fall even when someone bumps the rack unintentionally.
29. White Shoe Organizer for Closet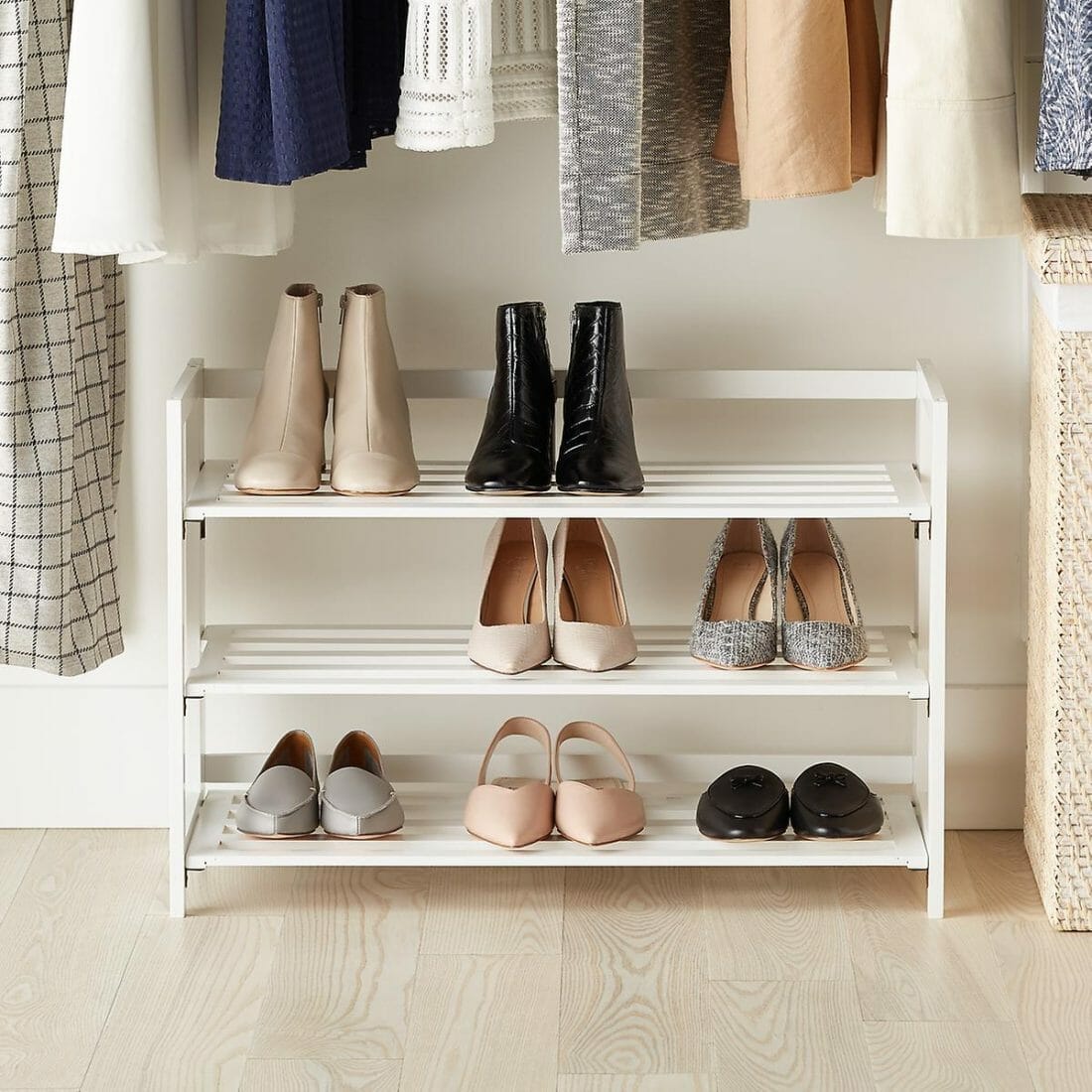 The classic one is always versatile and timeless. Similarly, it also applies to this model white shoe rack for the closet. Whatever the surrounding theme is, it will always match.
Moreover, with its three tiers, it fits twelve pairs of shoes at most, a perfect number for single-person use.
Finally, you have reached the end of this page. Among the twenty-nine small space shoe storage ideas above, you must find one that best suited your place. Which one is it?