Necklaces, bracelets, earrings, brooches, and rings need a specific organizer to keep them protected and free from getting tangled. You must not let them stash somewhere unorganized. Due to their various shapes and sizes, you need the following thirty storing jewelry ideas to organize diverse types of jewels.
1. Standing Jewelry Frame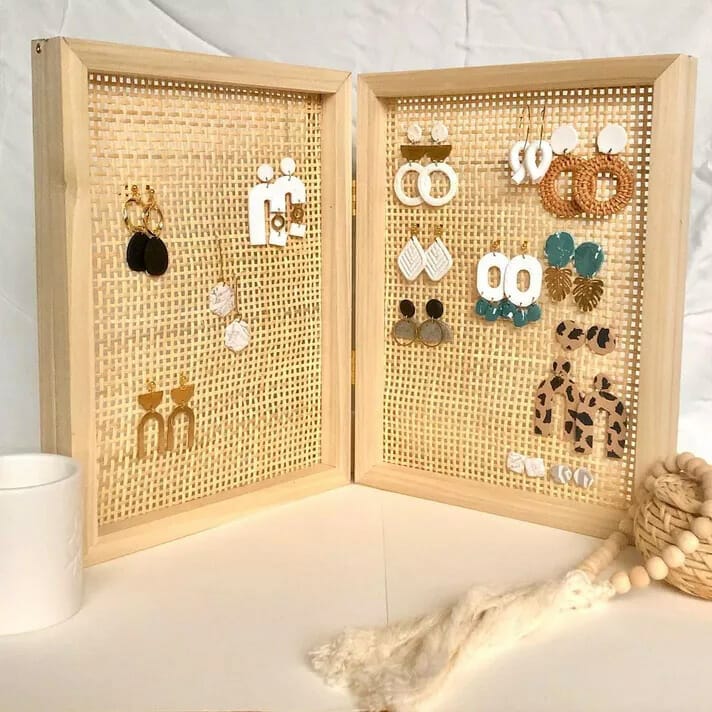 Elevating your jewelry will make them stand out, especially for earrings. What you see is one of these storing jewelry ideas that take advantage of the woven rattan. Uniquely, it has mini-grids as holes to secure your pairs of pieces of jewelry.
Finished in a light tone, the material lets yours show up, particularly those with bold colors, such as black and turquoise. Hence, you could place it above the counter or the dresser for display purposes.
2. Jewelry Storage Ideas for Small Spaces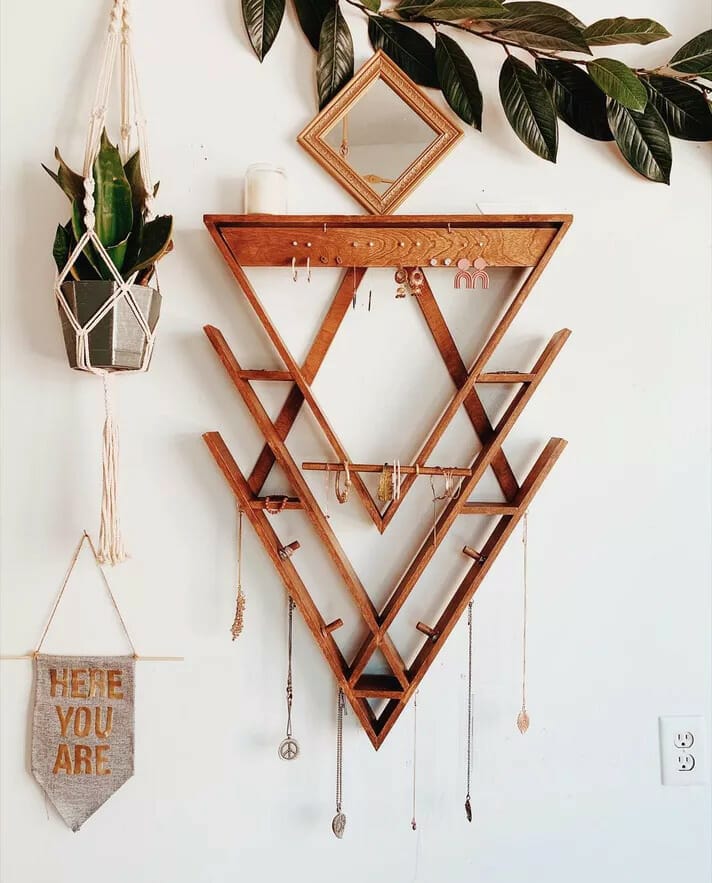 This tricky design jewelry holder could do for some wall decoration as it is, indeed, mountable. Utilizing your walls is a hack for small spaces.
Anyway, this store has a lot of protruding parts, which are useable to hang the jewelry. For example, the topmost area is for hooking the earrings using needle size nails.
Then, a stick is attached in the middle to hold bracelets while some pegs are present at the bottom to be the necklaces' holder.
This design also allows storing some accessories without hooks, like brooches. Lastly, a mirror sets it to completion.
3. DIY Jewelry Storage Ideas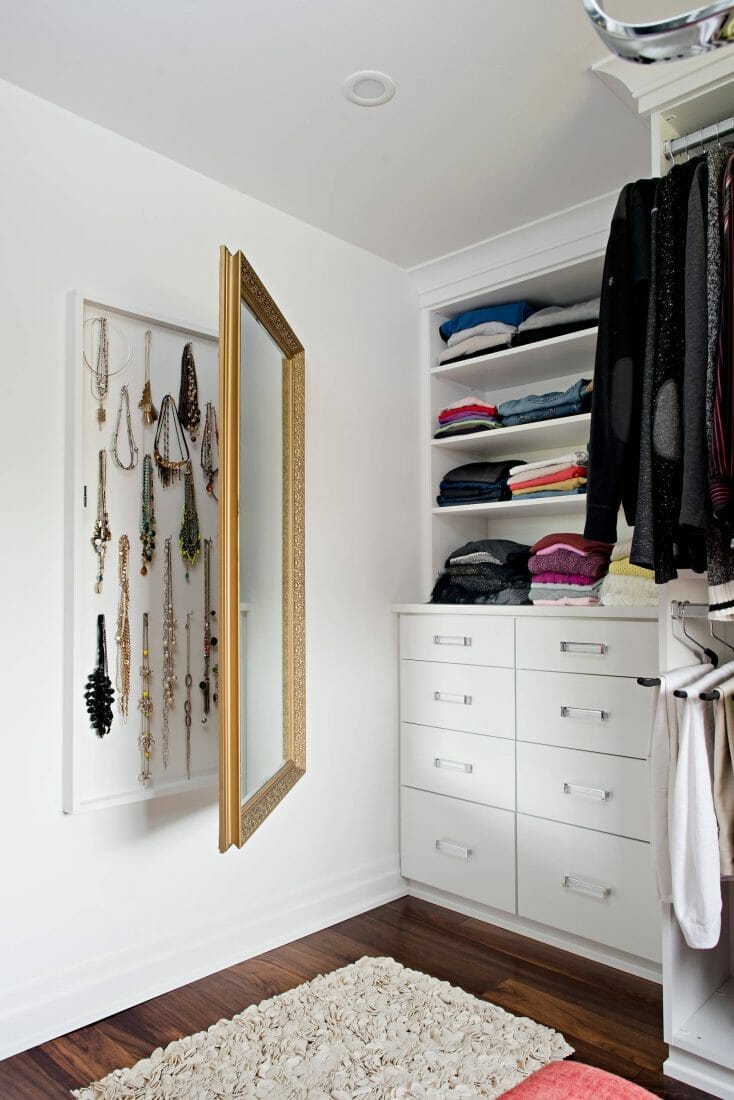 This necklace storage could do for an easy DIY project. Firstly, build the frame, mount it on the wall, and finish it in the same paint as the surrounding walls. Note that the frame size must follow the mirror dimensions.
Secondly, knock a lot of hooks or nails to be the hanging system. Then, secure a pair of hinges to be the opening system. Lastly, hang all of your necklaces there, and you have a hidden necklace organizer.
4. White Jewelry Stand for Your Storing Jewelry Ideas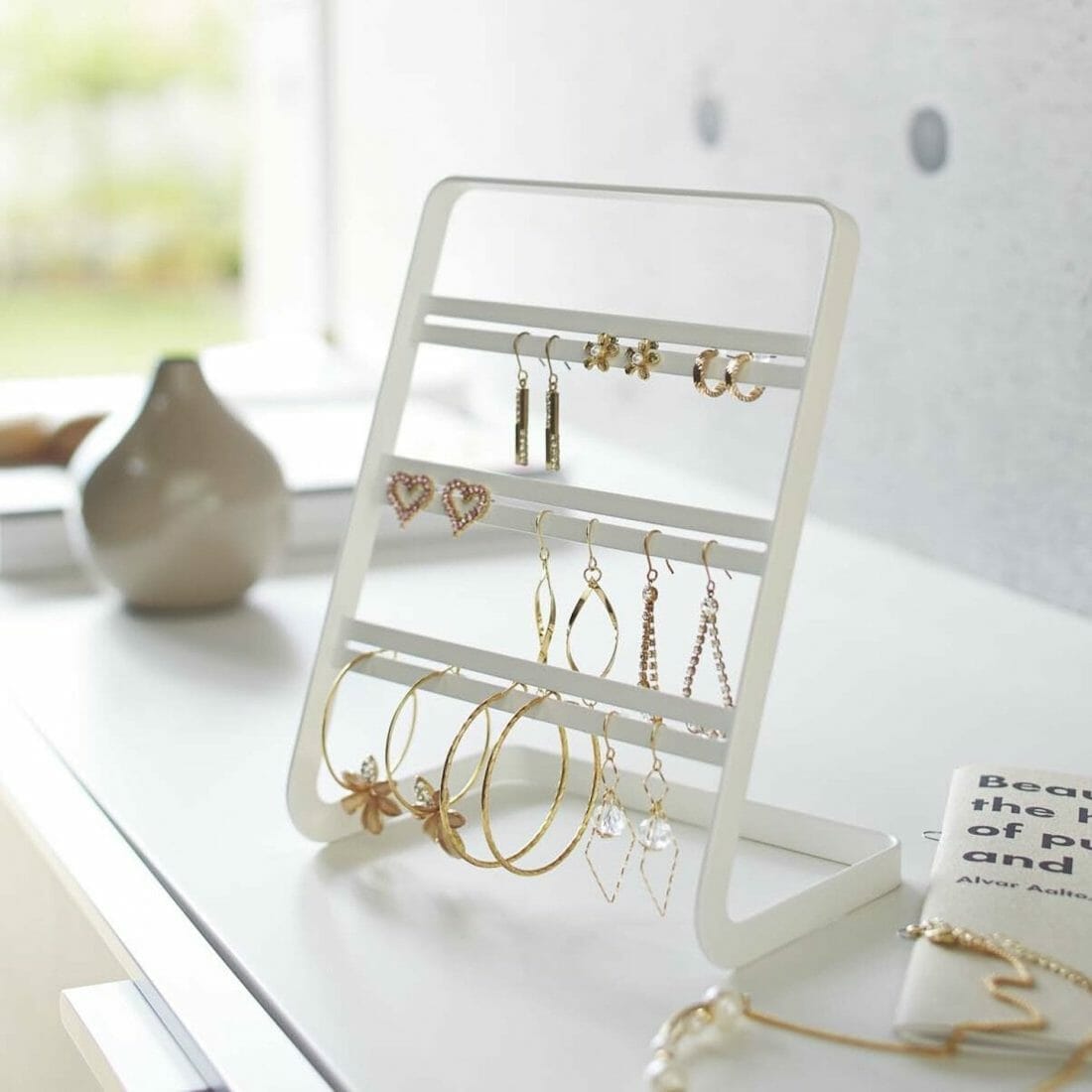 It is a store-bought product, went by the name of Yamazaki Home Tower Earring Stand. This item has no sharp edge, thus safe to place above the dressing table without worrying you of any curious little hands reaching out.
Moreover, its three tiers of double bars let pairs of earrings hang there, making an elegant little display just like some stores have.
5. Jewelry Storage Containers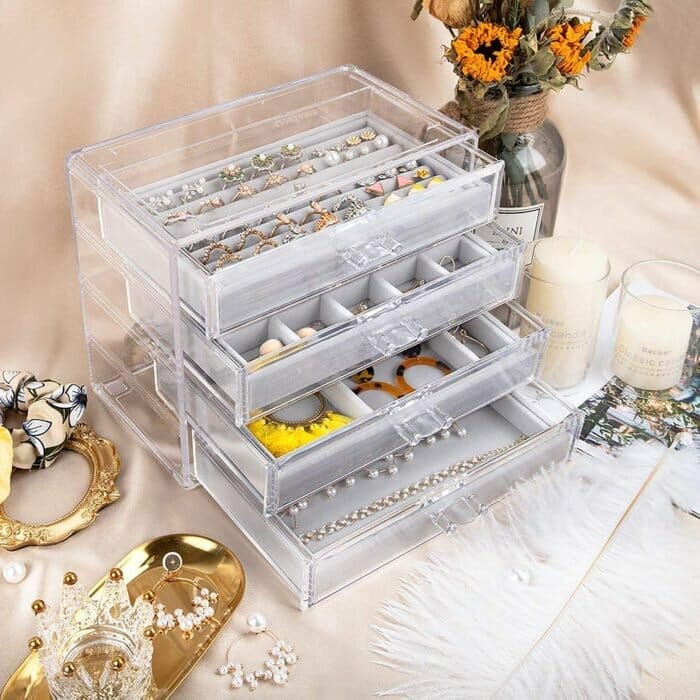 This box has multilayer drawers, each with different slots for storing diverse jewelry shapes. The topmost layer is the soft organizer with inserts to put in rings.
Then, the second one is full of mini squares to store your small to medium-sized earrings. Next, larger squares are there to organize your bigger or longer earrings. And, the last one is a drawer for necklaces.
6. Three-Piece Wall Jewelry Organizer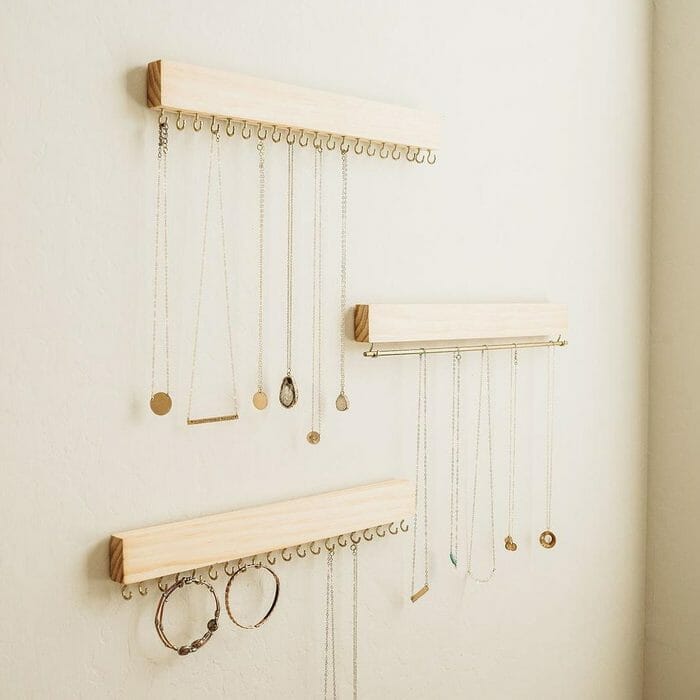 Two pieces of the pack are settable with mini hooks while the other one comes with a small removable rod to adjust the storing of necklaces. Simplicity is the key to these storing jewelry ideas.
Further, their light tone finishes are intentional to match the most gold color of jewelry.
7. Natural Driftwood Jewelry Organizers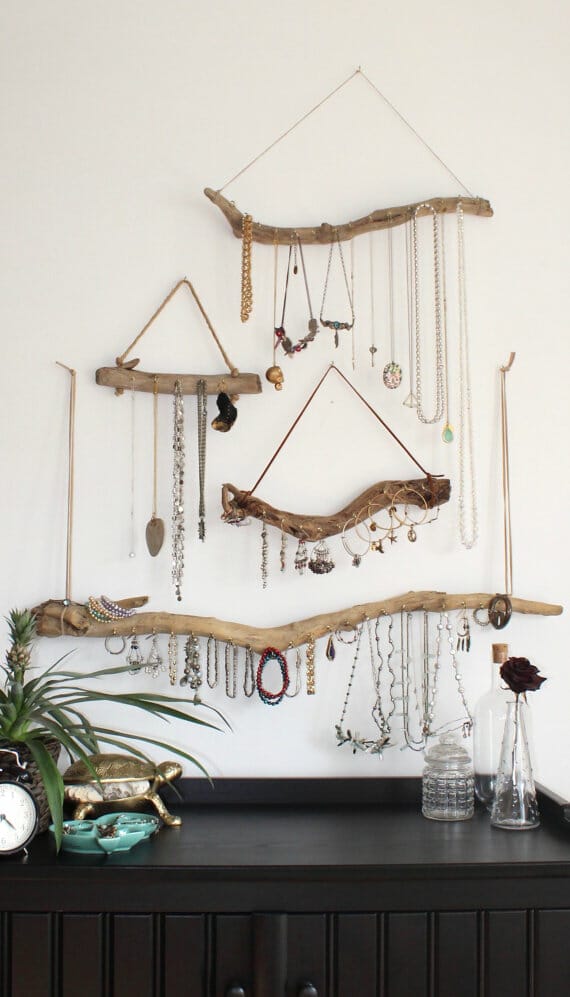 These organizers are actually some purchasable products. Well-known online stores, like Etsy and Amazon, have them on the list.
However, it does not mean you could not make several into your next DIY projects. Of course, they seem easy enough to make. Isn't only driftwood, mini hooks, strings, and nails all you require?
8. Four-Tier Swiveling Earrings Rack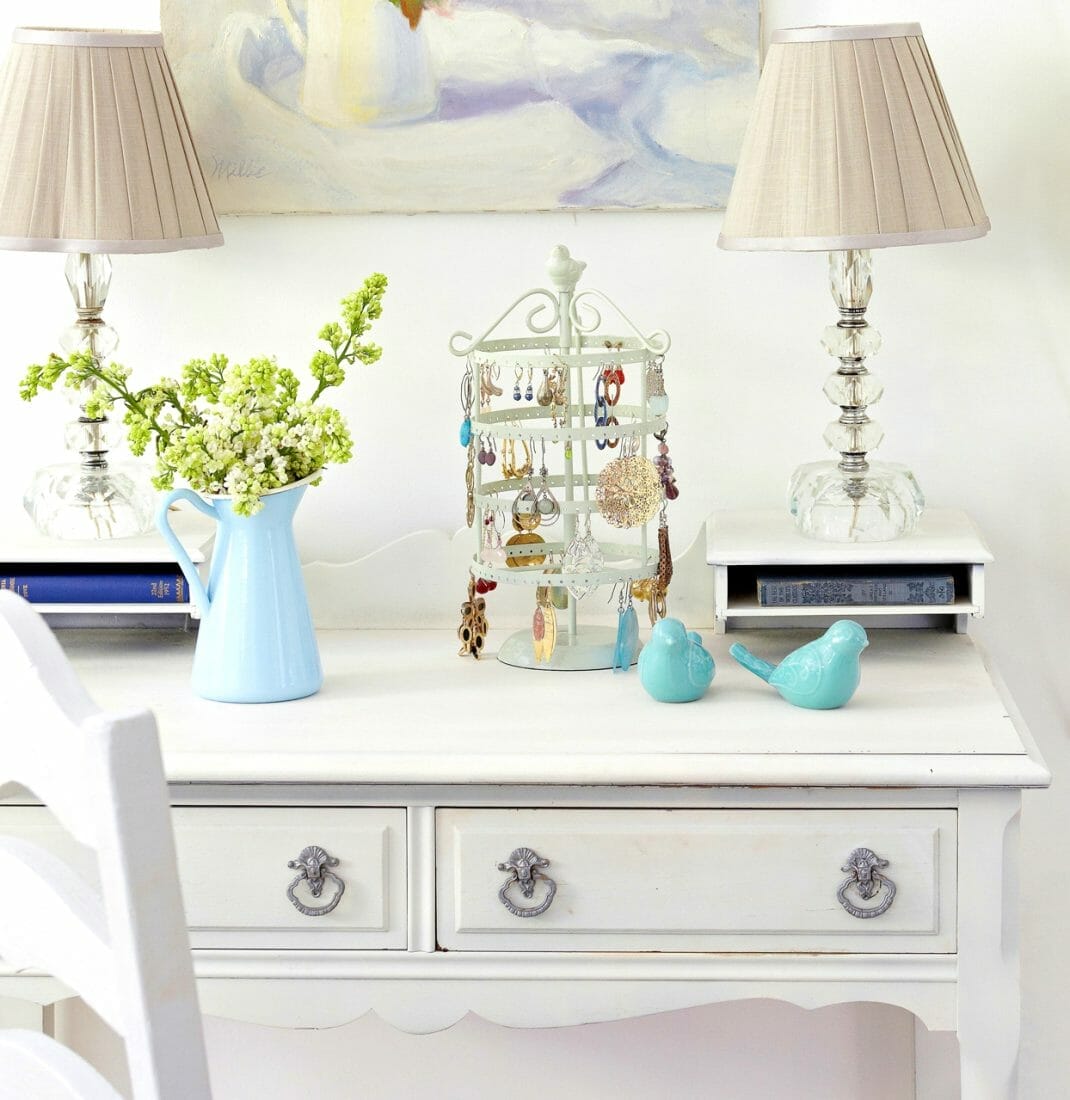 This earring round holder is rotatable. Its flexible feature eases you in looking for the pair you want to wear.
Moreover, it has a white finish that makes your jewelry stand out, thus giving you a better view of finding what you need.
9. Storing Jewelry Ideas Using Frames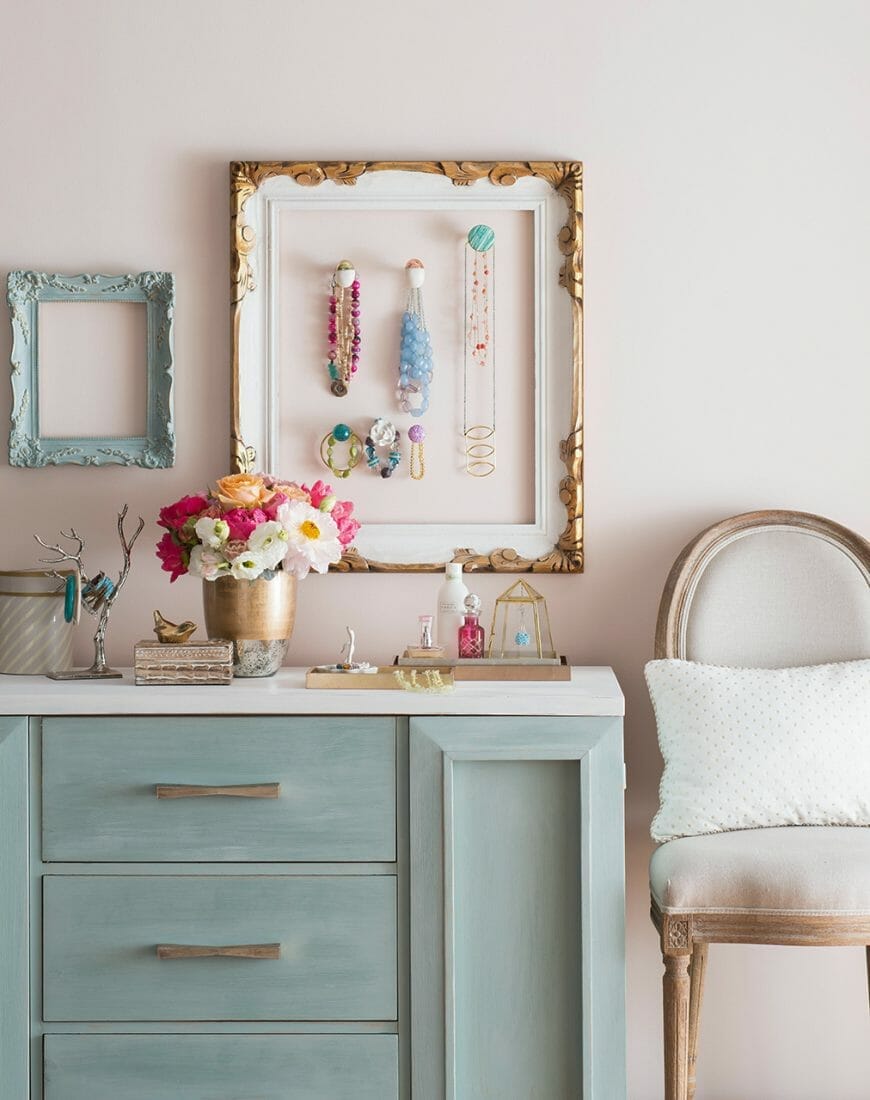 When you want to decorate your walls, but the only decorations you have are your precious jewelry, just go for this idea.
This one of the simplest storing jewelry ideas uses only your accessories and empty frames. To illustrate, hang your necklaces and earrings on the wall neatly, then frame them, and game overs.
10. Jewelry Storage Sectionals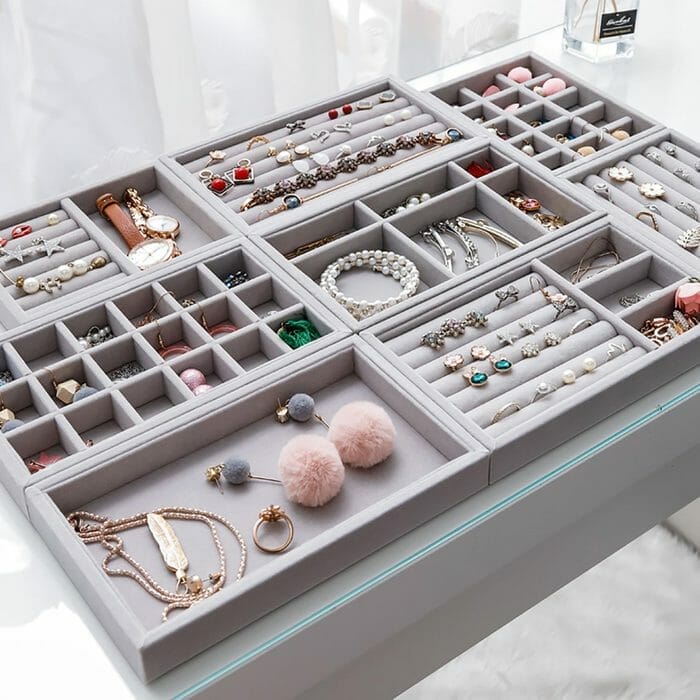 A small local shop, or a jeweler they call themselves, provides some nice storing jewelry ideas. It utilizes some sectionals within a box to organize the jewelry.
There are slots for earrings, watches, rings, hairpins, and bracelets. Even, there is a corner section to mix and match your set of the day.
11. Jewelry Nook Storing Jewelry Ideas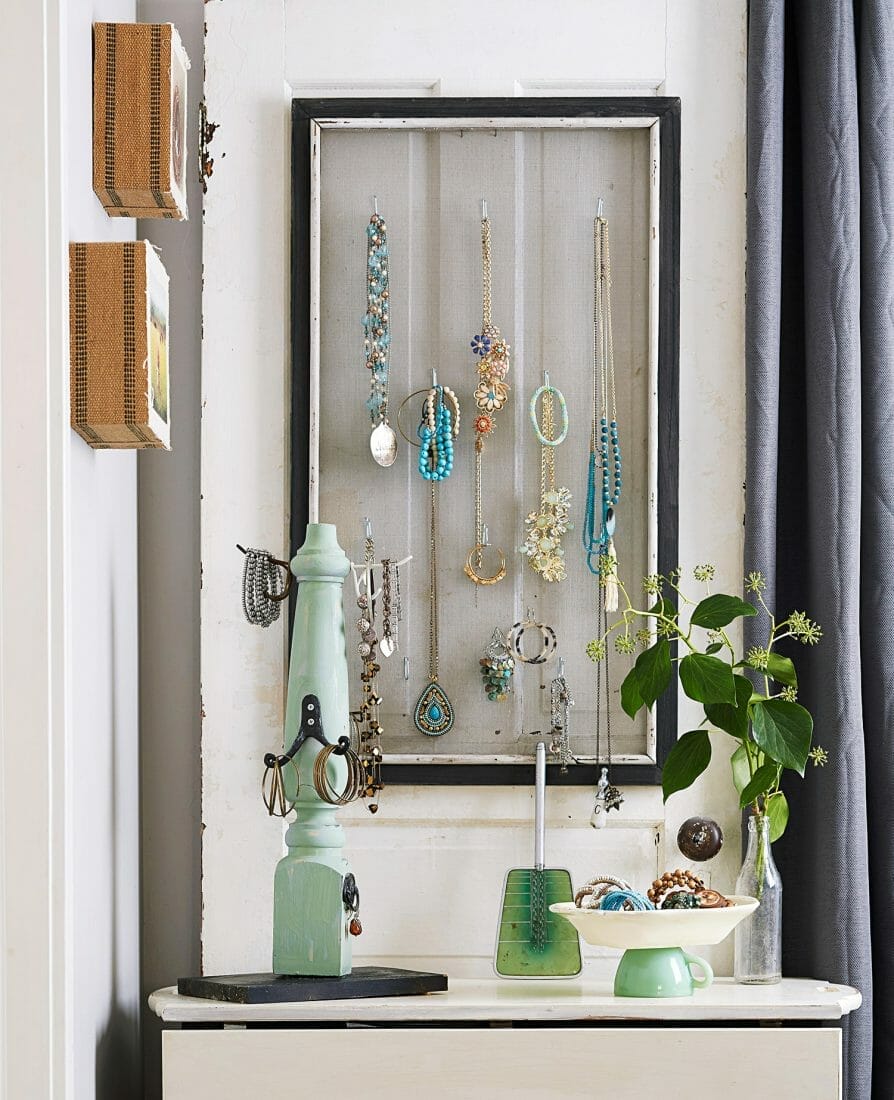 When you collect too many accessories without realizing they are just piling up somewhere in your drawers, take them all out, and execute these storing jewelry ideas here. For a starter, you need an empty frame for your necklaces.
Then, you also need a stand and a bowl to hold all of your bracelets. Lastly, arrange the mentioned items at a nook in your walk-in closet or bedroom.
12. Over-the-Door Accessory Organizer
Innovative storing jewelry ideas come from this organizer that is mountable over the door. Yes, you do not need to make holes on the walls to hang them in place.
Moreover, as this storage appears in a complete set of holders, all of your accessories will fit. Even, it has some kind of metal mesh for pairs of earrings.
On top of that, it does not take any of your valuable dressing table surfaces. Let the vanity comfortably bear the weight of your skincare only.
13. Storing Jewelry Ideas with The Unused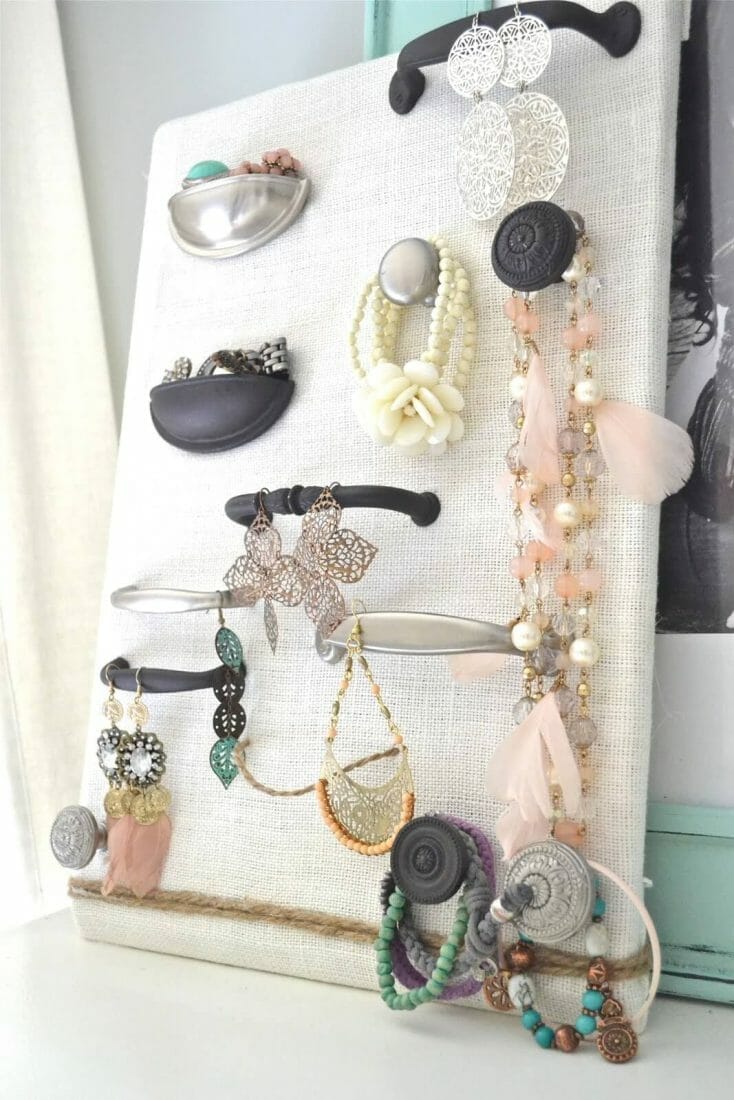 What crafty storing jewelry ideas have you've got here. It uses a thin burlap cloth to cover a plank of wood or metal. Also, it involves the unused doorknobs and drawer handles for the holder system.
You could obtain them from a local dollar store. Then, they are ready to hold your accessories after you secure them with screws.
14. Grid Boxes in the Drawer of Accessories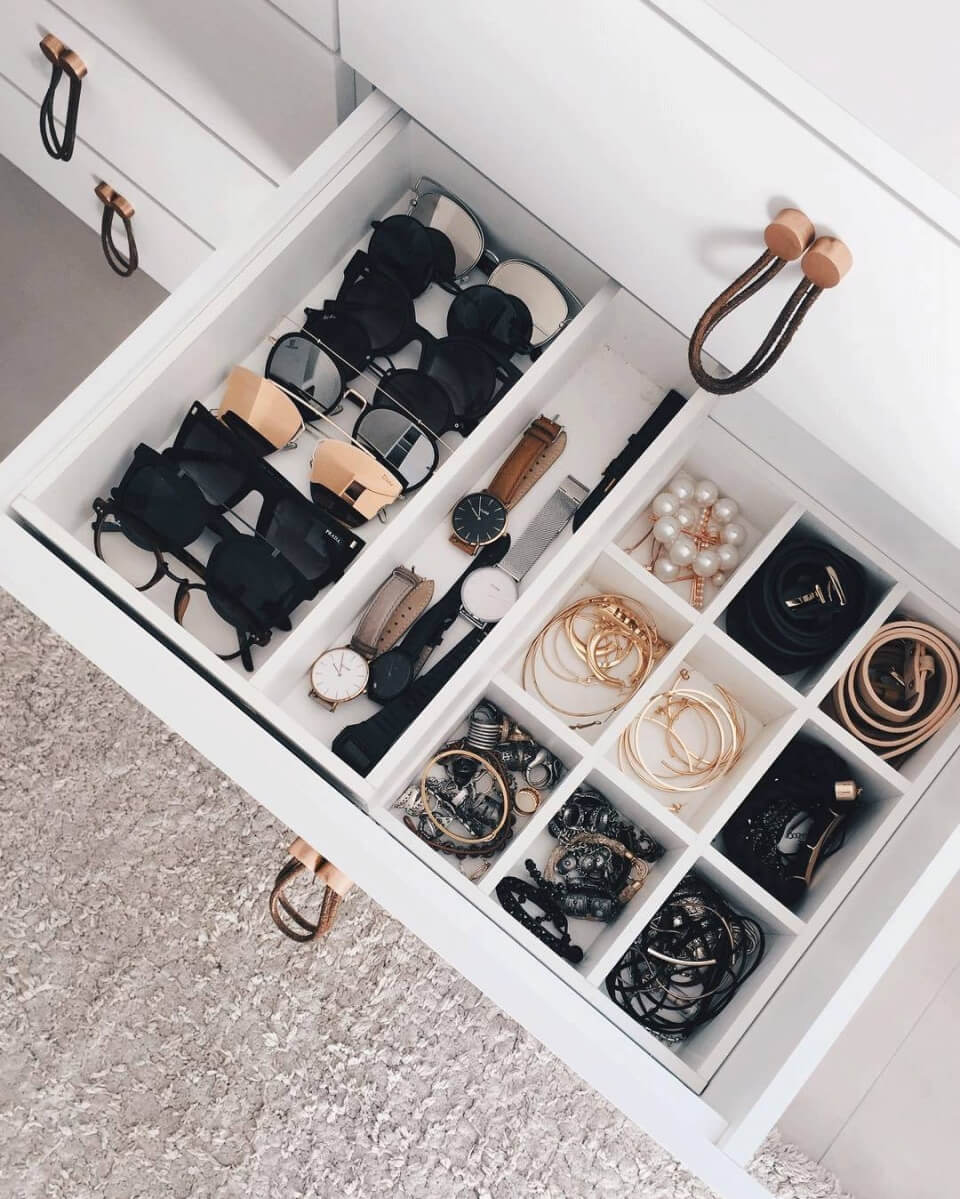 How to organize jewelry in a drawer? The answer is by utilizing grid boxes as seen in the picture. In some cases, simple plastic partitions could also be alternatives.
Each option has its upside and downside. However, they function the same. When there are sections, you can even neatly and cleanly store sunglasses without their cases and watches with no pads.
15. Jewelry Drawer in A Closet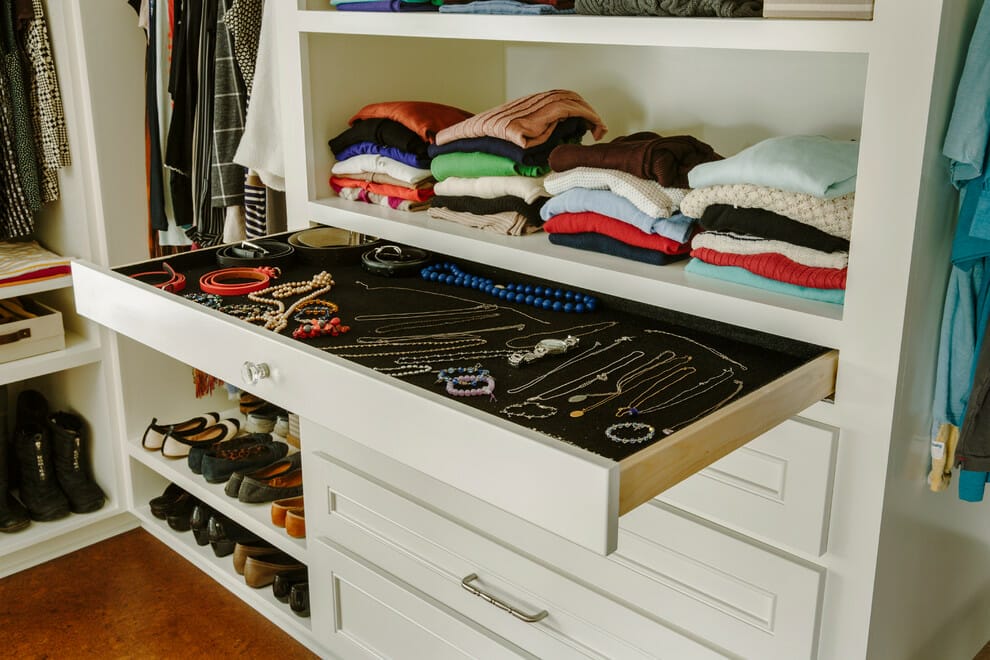 Whether you have it customized or pre-configured, a closet usually comes with a drawer to store the jewelry and accessories.
It is a narrow shaping one under the clothes and above the drawer sections.
16. Customized Closet with Luxurious Jewelry Cabinet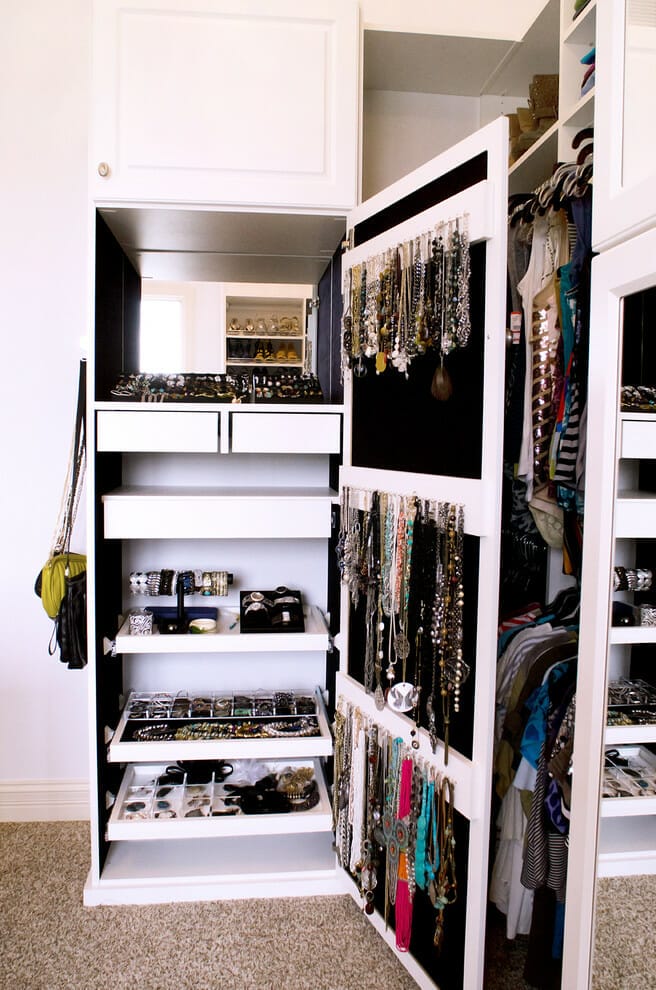 When stands, drawers, boxes, and other small storage can't keep all of your jewelry and accessories safe, use a cabinet instead. Such as our next storing jewelry ideas.
You should get it customized to satisfy your need. That way, you could decide how many and how big the shelves, drawers, trays, and hooks are.
17. Spacious Jewelry Safe with Grid Trays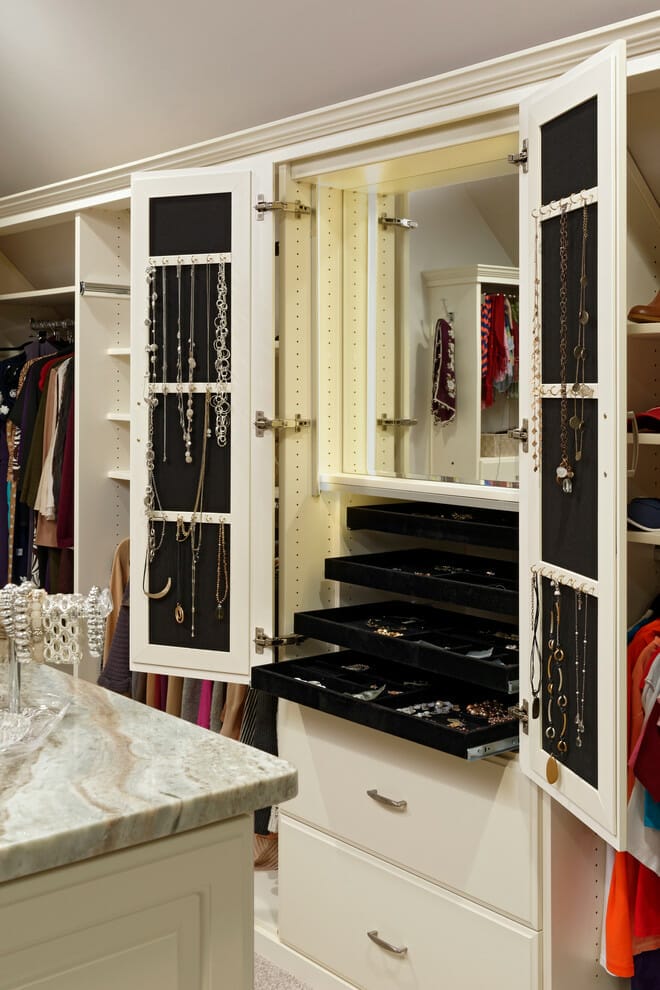 Indeed, a customized product is satisfying. Here, somebody has spacious storing space for her collections.
Besides the four-tier trays, hooks are also present as door storage. Even, a mirror for appearance checking completes the set.
18. Hanging Accessories Organization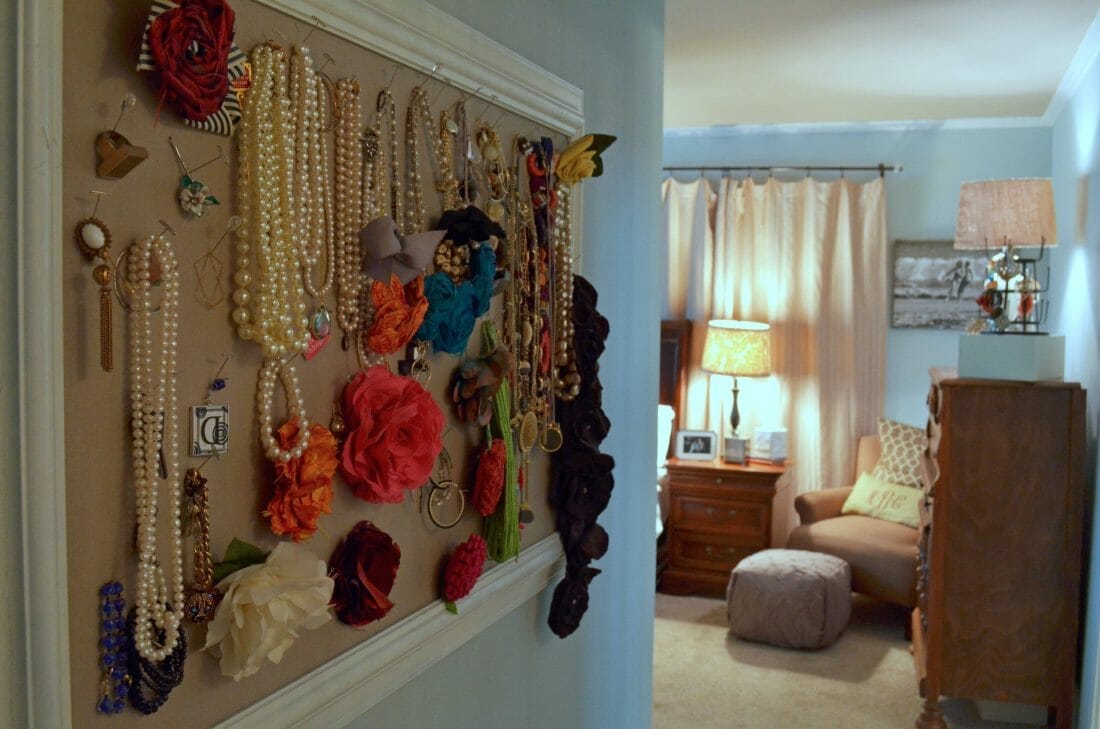 You have seen two storing jewelry ideas using empty frames. This time, a frame makes a comeback but with a board of wood. It is effortless to make.
After affording the framed board, all you get to do is hook loads of fashionable pins, which each is strong enough to bear the weight of dangling necklaces.
19. Stackable Jewelry Organizer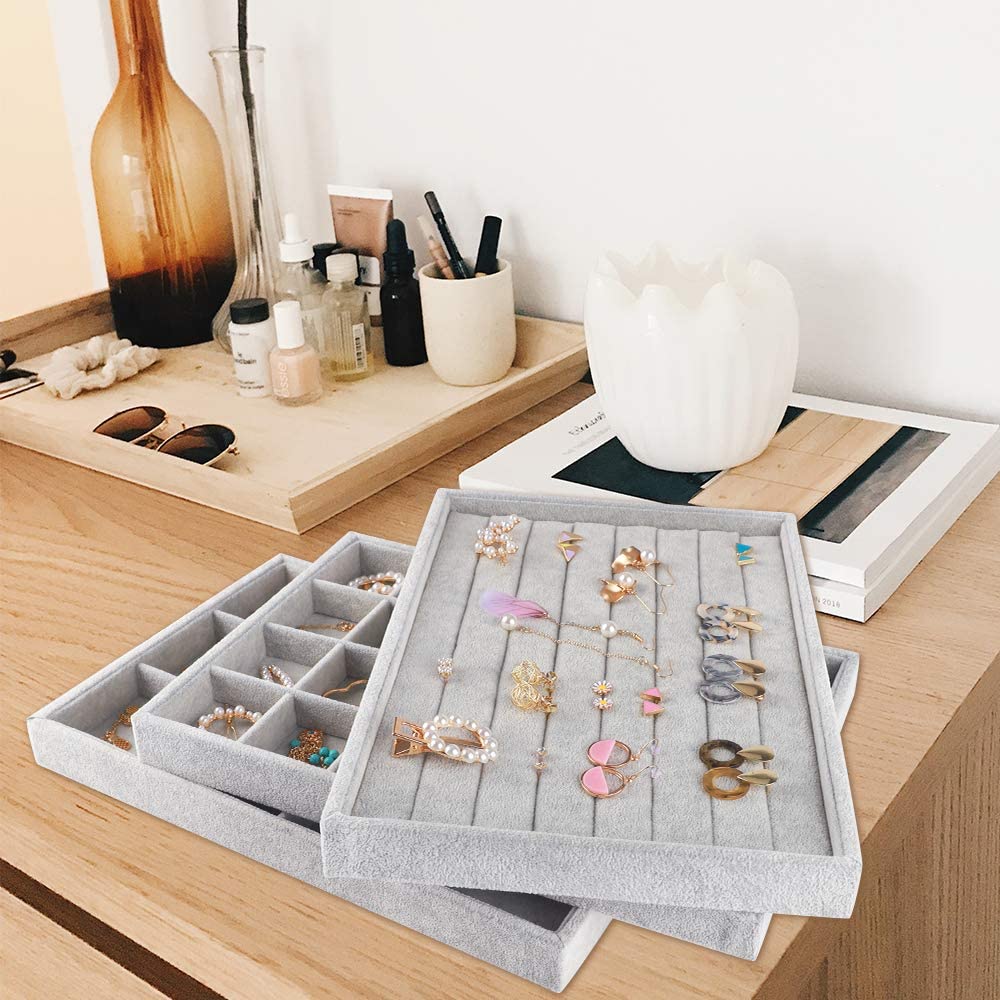 These stackable trays look the same as the ones in the stores. Covered with velvet, these organizers could also help in storing jewelry in the drawers.
They will get all your accessories to stay in place, no matter how quick or strong you pull and push the cases.
20. Jewelry Wall Display Slash Wall Décor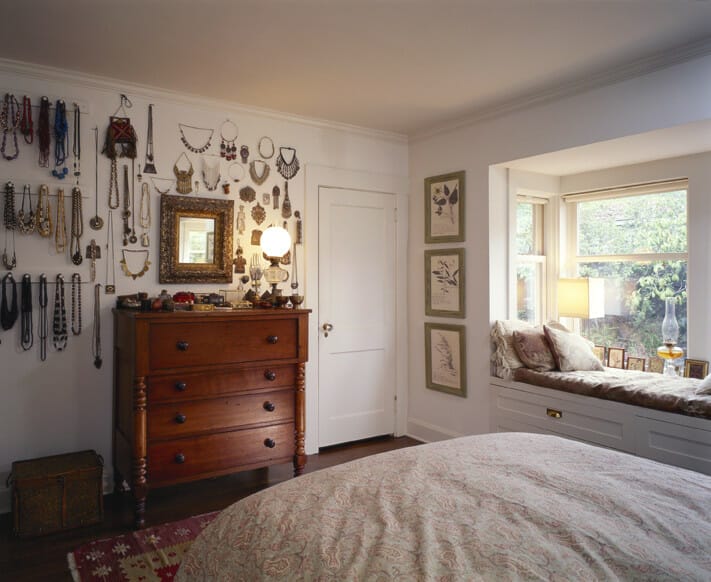 Storing jewelry ideas shown here call for unintentional vintage decorations. Of course, why not? You have seen an insight of doubling the accessories as wall décors, anyway.
Even though it is not her intention, functionally speaking, it works.
21. Acrylic Partitions inside Medium Tone Wood Cabinet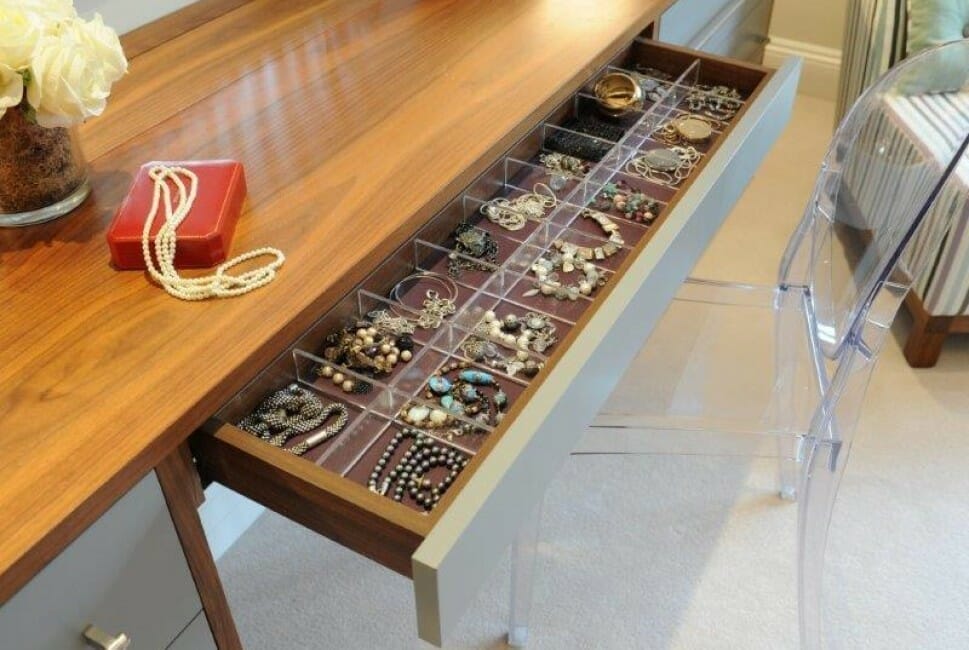 It is a stylish way to organize your jewelry. Using acrylic partitions, your long-chained necklaces will not make chaos inside the drawers.
However, the fascinating aspect is not only the partitioned drawer but also the gray cabinet with a medium-tone wood top. The muted color makes the natural material, even more, stand out.
22. Recessed Accessories Storage with Inside Mirror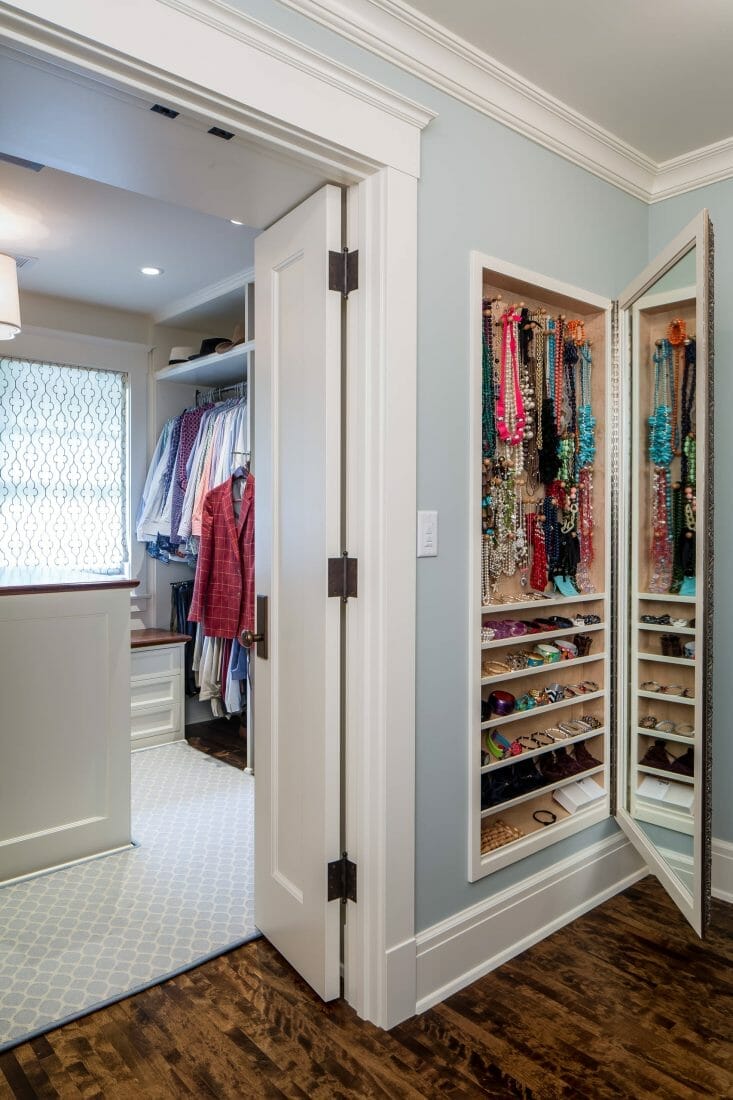 This picture delivers some rare, thus unique, storing jewelry ideas for you. One, the storage is outside the walk-in closet.
It is rarely visible because most people would have it inside. Two, it is not the usual shelving cabinet but a recessed one. That is a shrewd way to own shelved organizers.
Three, and lastly, the recessed shelving cabinet comes with an inside mirror. The additional amenity eases you in checking your appearance without opening and closing the storage back and forth.
23. Wall-Mounted Jewelry Organizer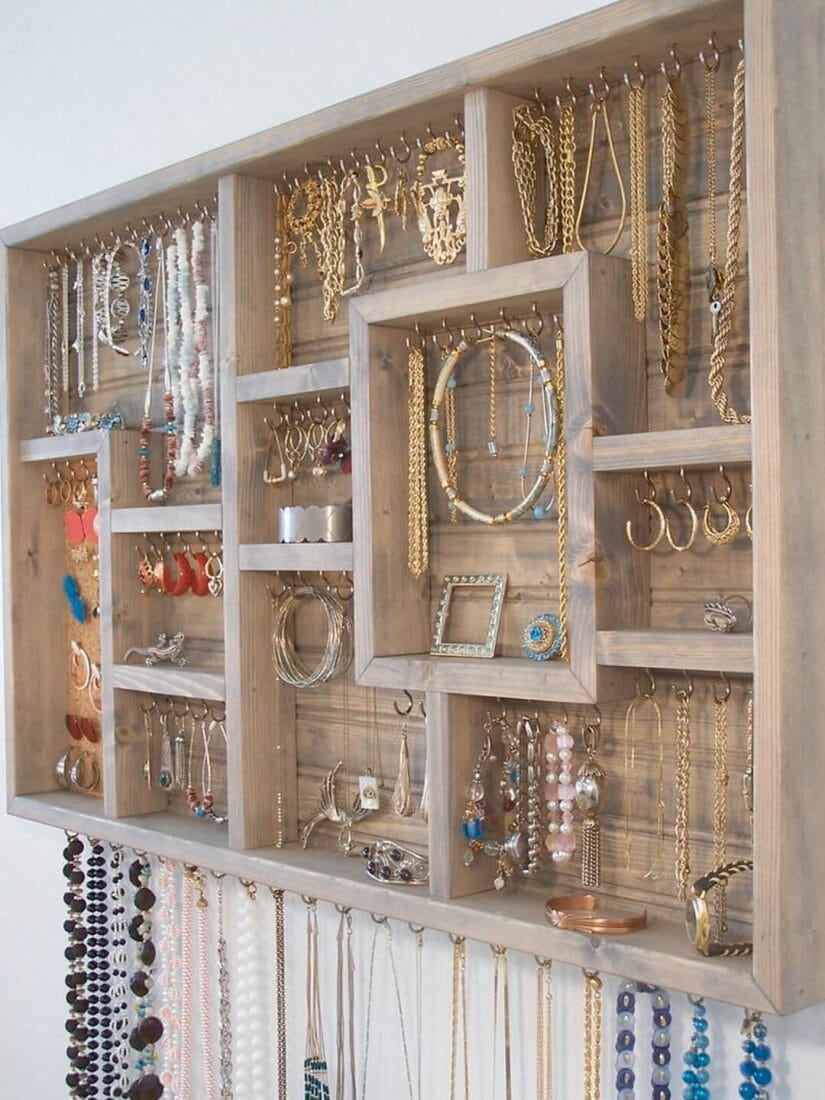 Jewelry boxes come in varying sizes, designs, and materials. Here, it is designable in a pretty big wooden box with numerous shapes of shelving. Every shelf is full of hooks, and there are more under the bottom frame.
Moreover, the various shelving shapes give you room to decide which piece to hang.
24. Framed Earring Holder Using Lattice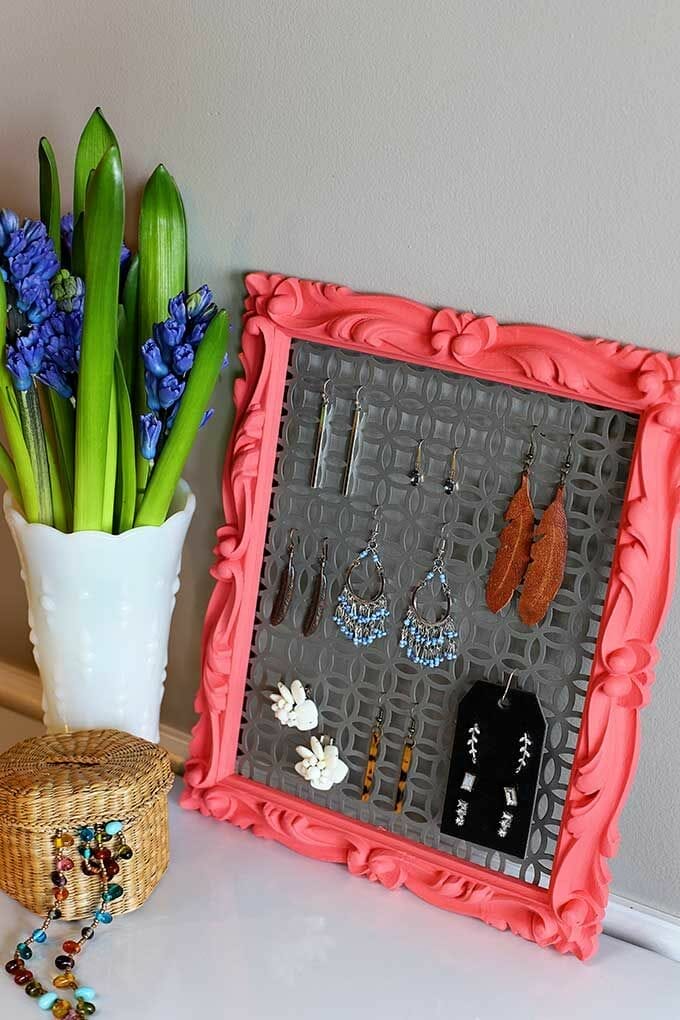 It is a way to go green by repurposing things. Specifically, this earrings holder makes use of a stylish lattice and an unused empty frame.
Both of storing jewelry ideas above have different finishes for contrast.
25. Ultra Simple Jewelry Organization
Some traditional Mandarin ceramic teacups are apparently useable as drawer partitions. They are all for the aesthetic look. In addition, there will be no need to afford sectional trays or acrylic grids if you do not have them.
However, such an organization is breakable since they are from easily broken material. So, be careful in opening and closing the drawer.
26. Advanced Accessory Storage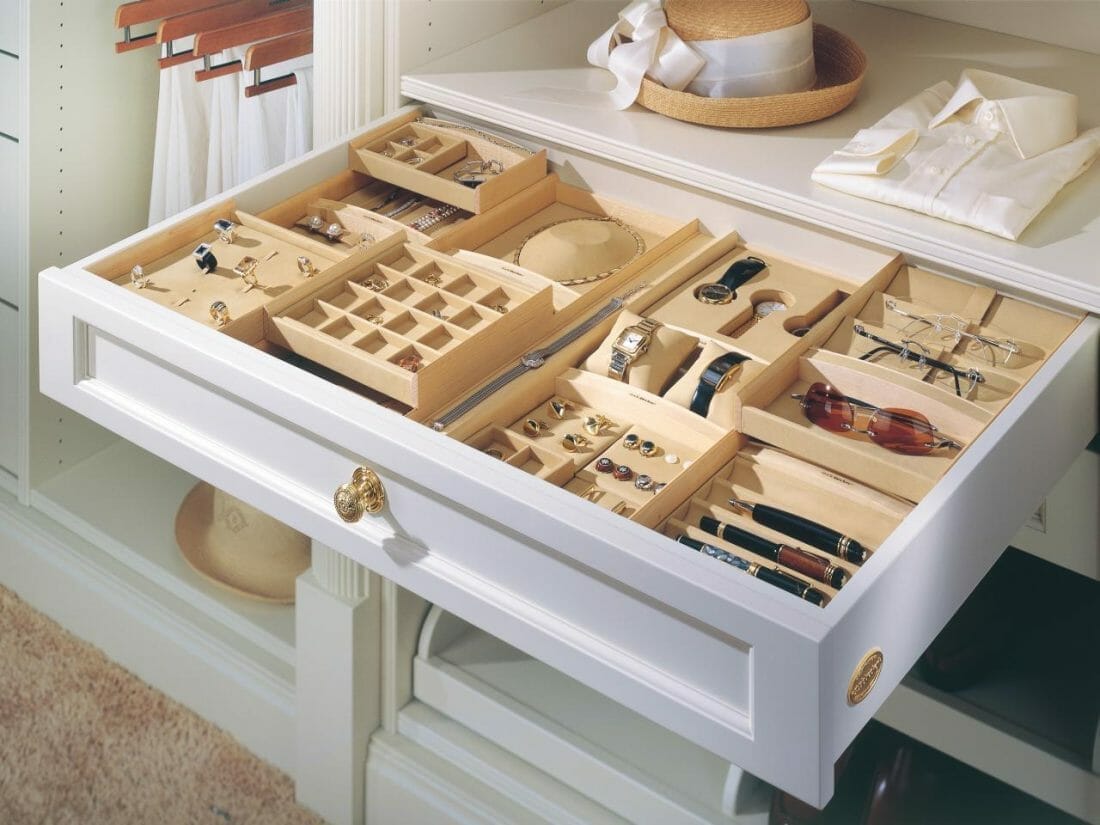 It is really, truly a complete set of accessory storage. There are trays for everything. Even, it has a specific tray for fountain pens, for glasses with a belt to withstand the temples, for watches with pads and shaped inset.
Also, for a single necklace with a special mount in the middle.
27. Accessory Organization above Drawer Chest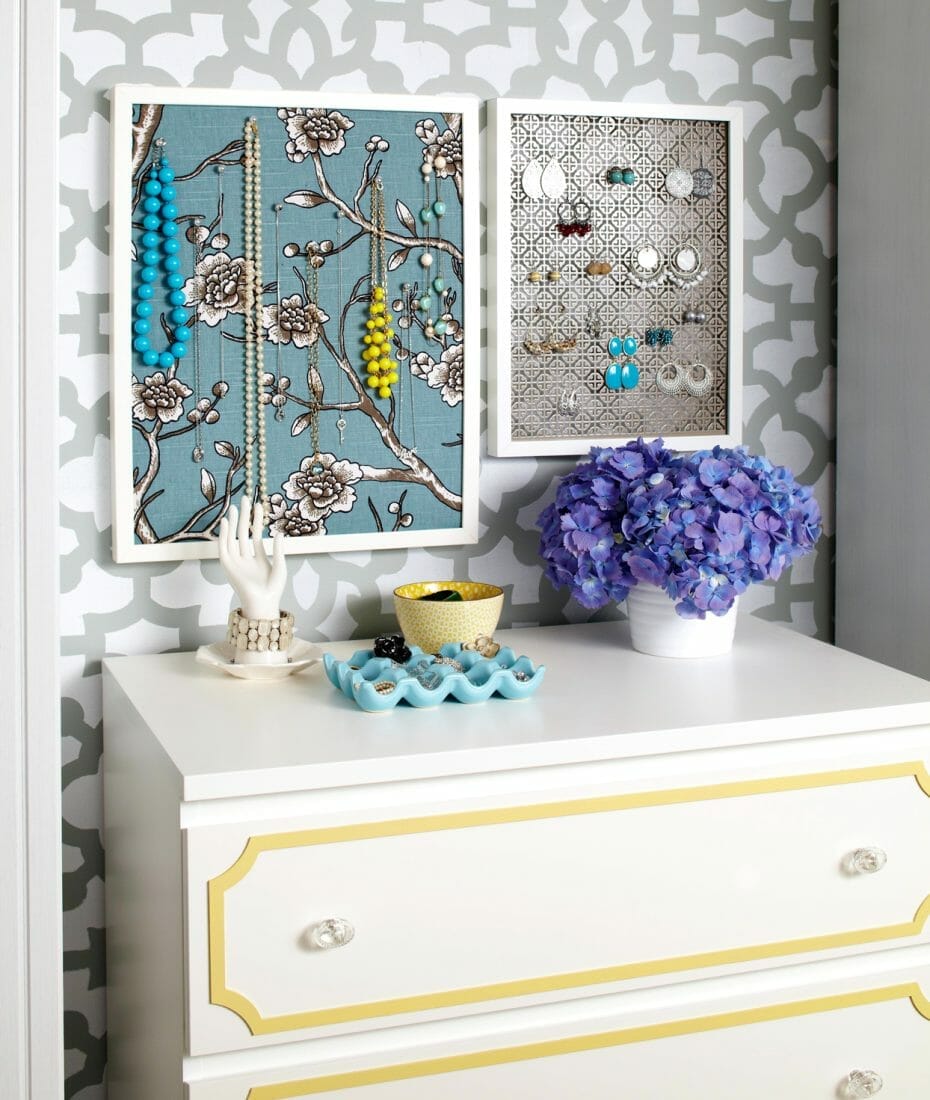 One of the storing jewelry ideas here is similar to hanging accessories organization earlier. Only, it is executable a little differently with additional patterned background.
So, before setting the crisp white frame, you need to afford some patterned wallpapers, papers, or fabrics to cover the board. Only then that they are ready to hold stud your earrings and necklaces.
The other organizers are the blue wavy trays to store some rings and the white hand model to display the shiny bracelet. Also, the finger parts of the display are useable to hold your rings.
28. Acrylic Necklace Wall Storage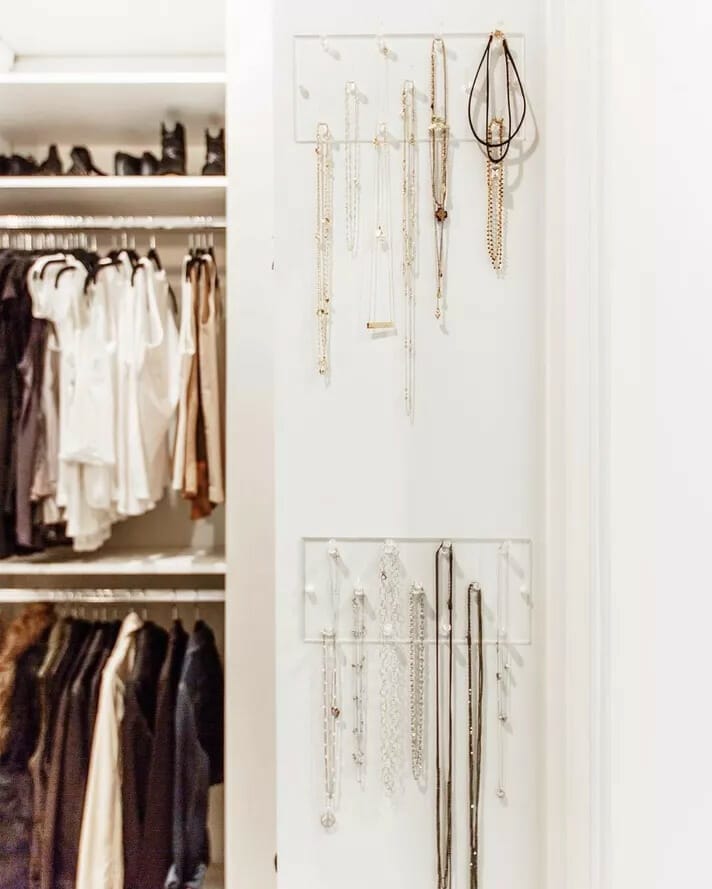 It is yet another way to store and décor at the same time. You can get both storages to hold your necklaces and wall decoration by benefitting the dangling appearance of the trinkets.
Here, a clear acrylic plate full of pegs is mountable on the wall beside the closet. This placement makes an easy necklace grab after wearing the clothes.
29. Round Stud Holder for Pottery Earrings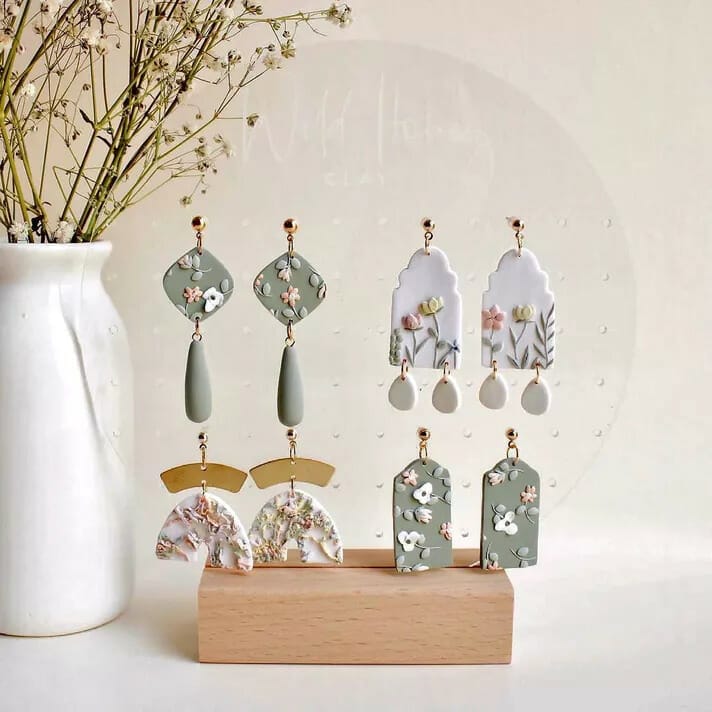 For beautiful pairs of pottery earrings, you cannot provide them with a common-looking stud holder, can you?
So, afford this clear round organizer with mini holes and a light tone wooden base, instead. That way, you do not only store but also showcase them.
30. Burlap Necklace Storage and Bangles Stands
Someone is so savvy that she uses burlap as her storing jewelry ideas. This material has a textured surface with small gaps that could serve you as a necklet holder.
Having one is the same as spending none. In a word, it is inexpensive. A few inches front stands a multilevel bangles and bracelets holder out of clear acrylic.
Here is a bonus tip for you. It will be best to have the storage around your dressing area, be it in the bedroom, near the closet, inside the walk-in closet, or outside the bathroom. This way, you simplify the preparation routines hustle and bustle by dressing and wearing accessories in one area.
Well, what do you think after scanning our storing jewelry ideas? Absolutely, the easiest would be the unintentional wall decoration because you only need to knock on some nails on the walls to hang the accessories, right.