You are a blessed person to have extra space in the backyard, even if it is not spacious. It means you could hold more occasions, entertain more guests, and have an additional area to take advantage of. Now, you will need these thirty small back yard patio ideas to make yourself comfortable to do activities there.
The ideas will include seating set arrangement, decorative plants addition, design application, colors selection, landscape, lighting fixtures, and other cozy elements to make the space conducive. You will find yourself a new place to hang out at home with the following suggestions.
1. Small Back Yard Patio Ideas for Double-Height Apartment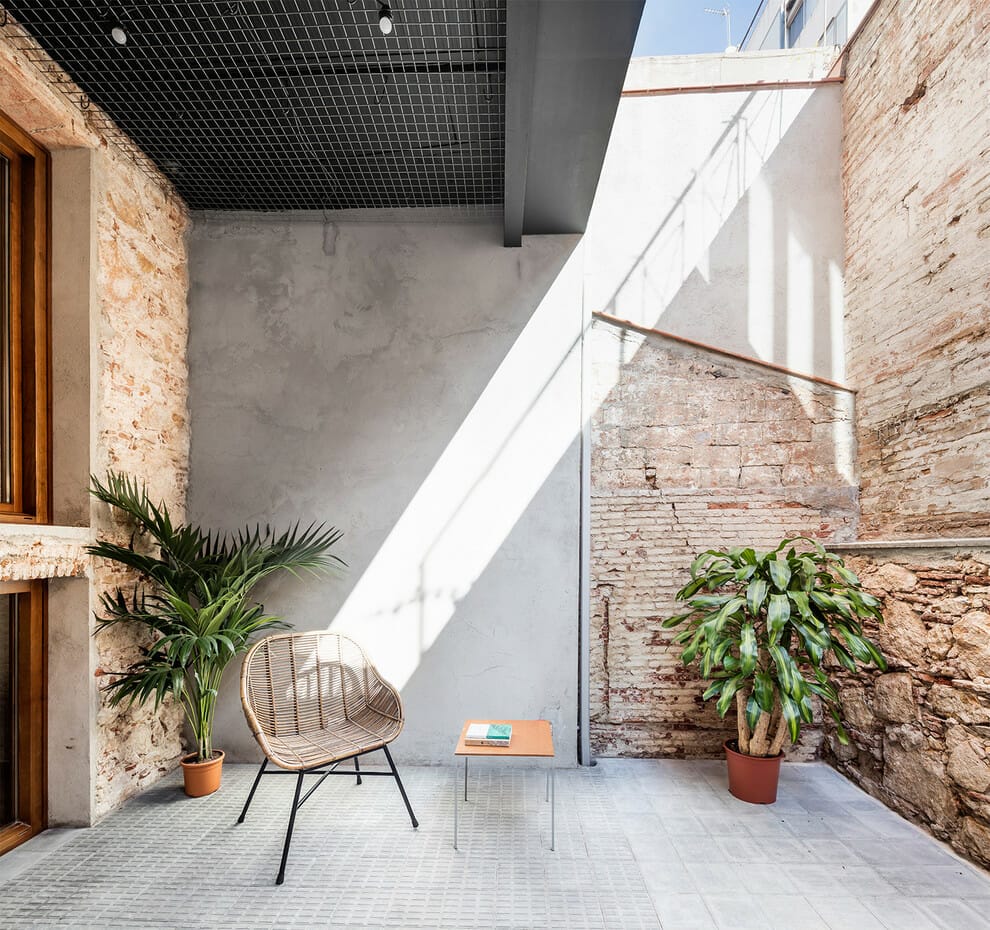 A double-height apartment in the heart of Barcelona features minimalist elements but appears in great design. The space, surrounded by stone, brick, and concrete walls, consists of only a wicker armchair and a cute coffee table. It is a nice little setting provided by small back yard patio ideas.
This house interior uses a lot of metal net as staircase railing and as a platform between the two stories. Here, it also makes its appearance under the black ceiling, covering half of the area.
Also, this semi-shaded patio gives you inspiration for flooring combinations. Additionally, the covered area uses different floor finishing from the uncovered one.
There, you could sip a morning cup of warm coffee, accompanied by potted Dracaena fragrans and palm.
2. Boxed Garden Design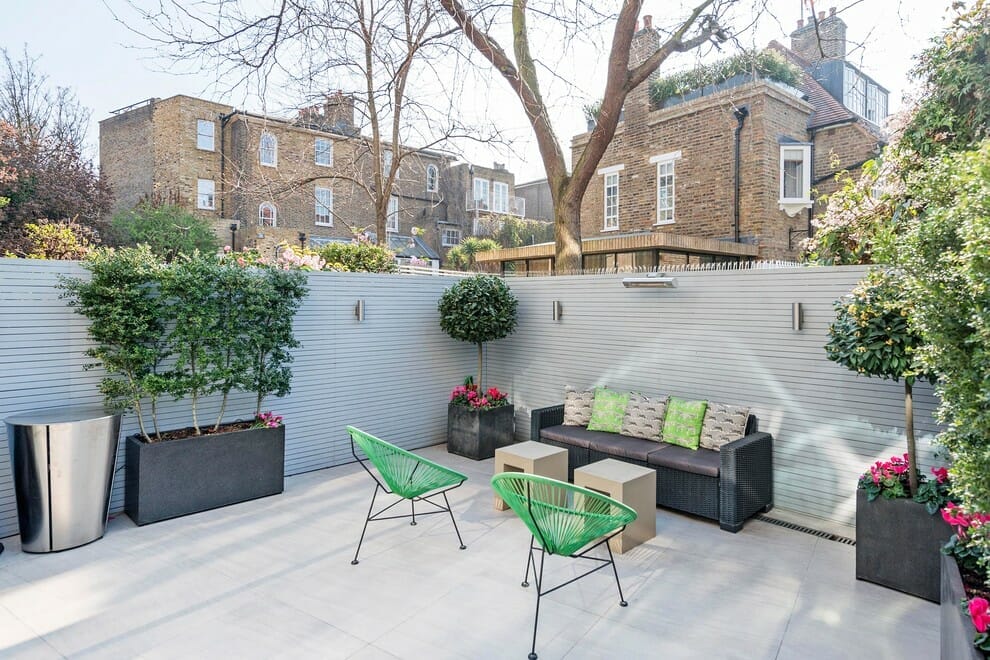 A contemporary London patio, fenced by modern gray fencing with horizontal slim-line strips, features black boxes to house all of the plants and black wicker outdoor sofa with cushions. It sets a pair of concrete coffee tables and two cushion-less chairs to hold nice evening chitchat.
Evergreens and pink flower plants are present to liven up the dull atmosphere caused by muted gray. Lastly, a stainless steel litter bin appears for a little bit of sleekness and gloss among the mostly matte surface.
3. Warm and Cozy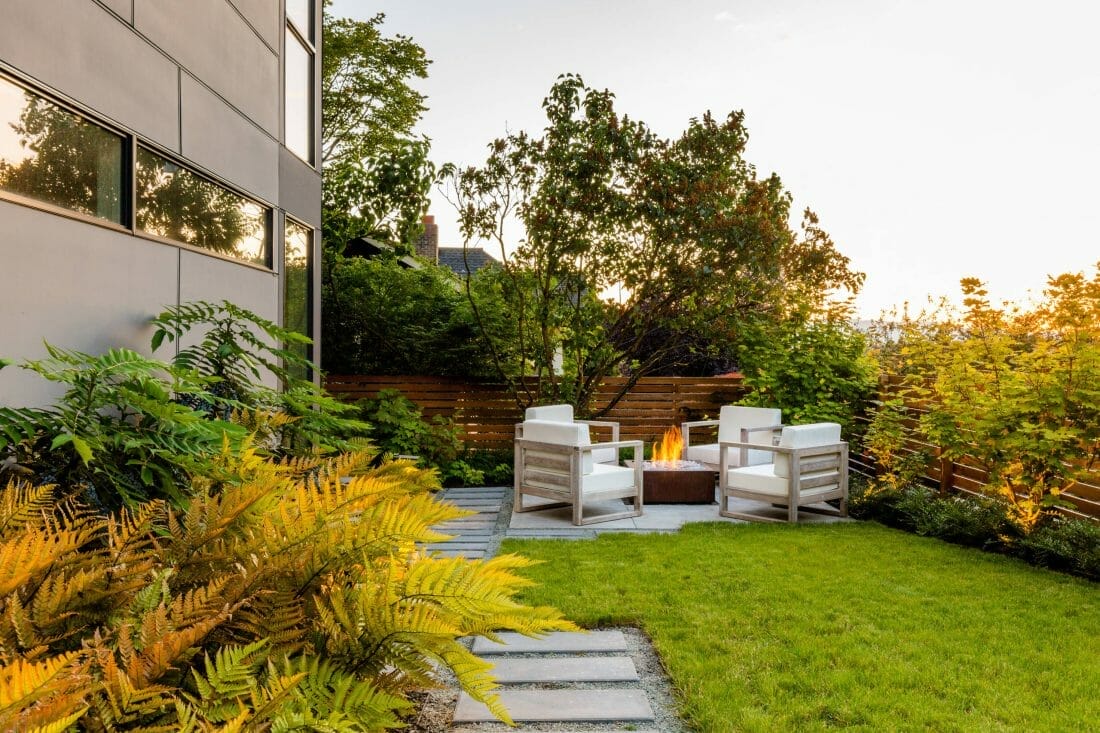 Small backyard patio ideas to come are a walkway, green lawn, yellow-green gradation landscape, and a fire pit surrounded by a seating arrangement.
The pathway involves pavers and pebbles to lead your way to an evening group conversation at the yard corner. If you are interested in the gradation landscape, start by growing various species of ferns.
They will end up in numerous colors from green to yellow to reddish. Around the fire pit are four weathered wood outdoor lounge chairs with white cushions.
4. Outdoor Seating Formation Idea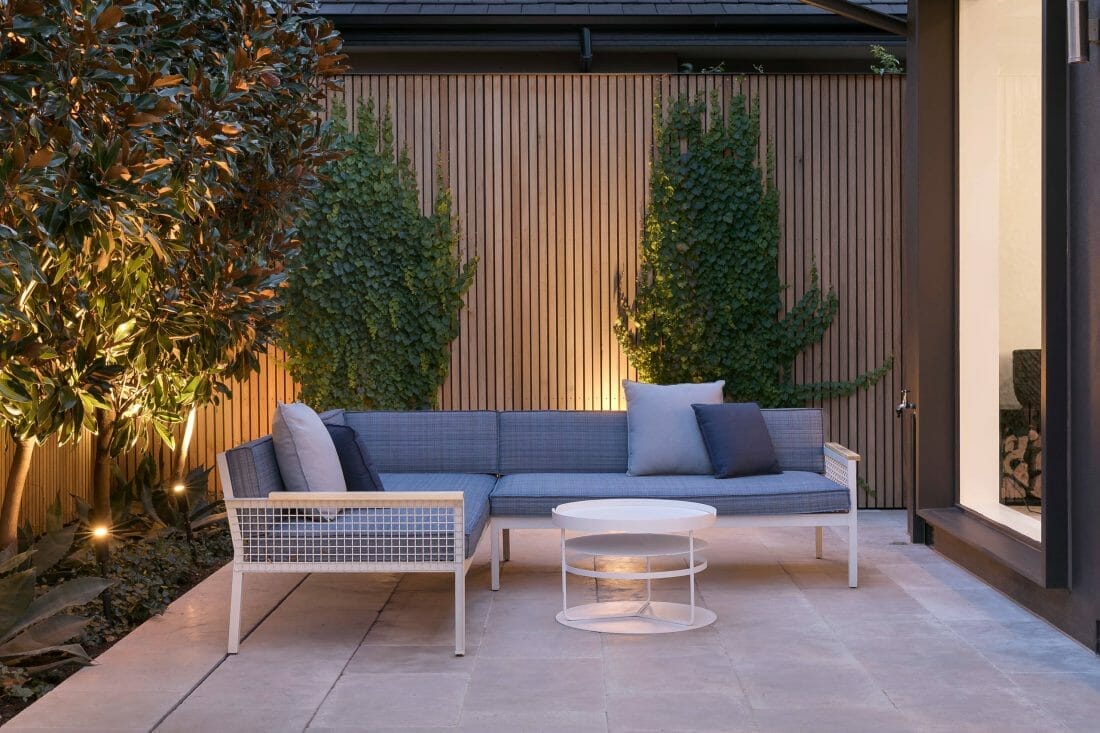 The next small back yard patio ideas come from an outdoor area in Malvern, Victoria, Australia. A modular sofa is a top choice to enjoy the best potential of your small patio.
In front of the seating, a round coffee table could give some shape. Choose metal as the material to match the outside use.
Complete the landscape with southern magnolias and climbing figs as the surrounding. Under the plants, garden lighting could exude some romantic illumination in yellowish light.
5. Backyard Pergola Idea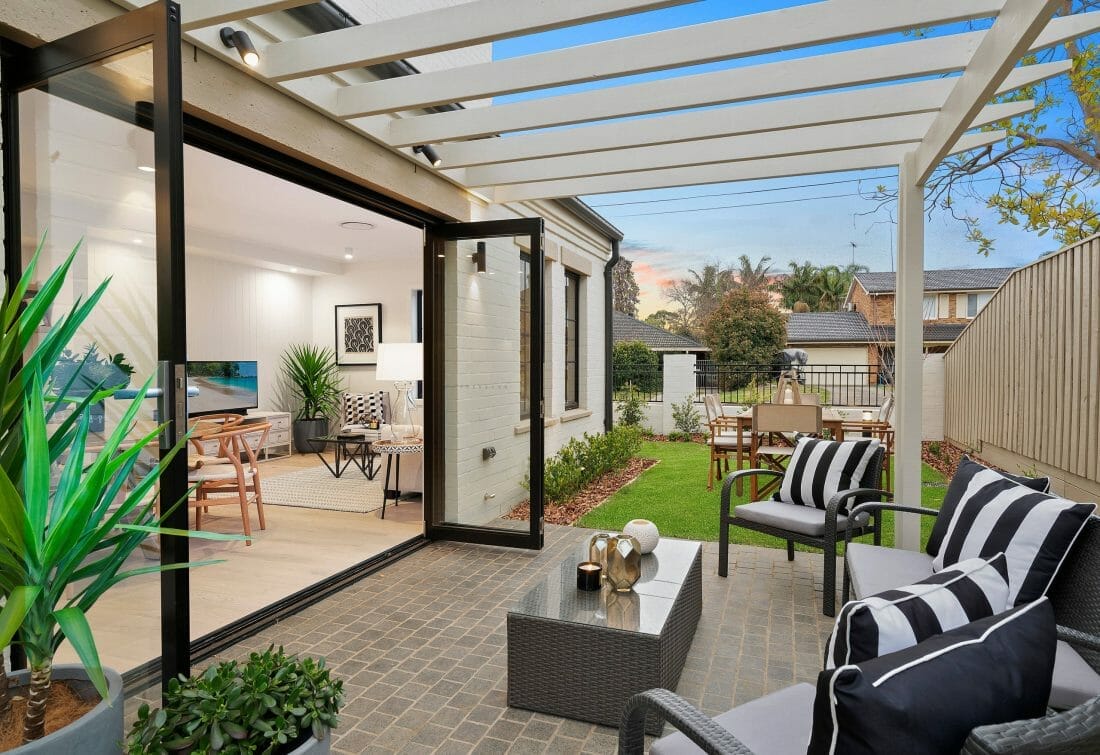 A Sidney transitional patio turns into a pergola area, where it defines perfection by providing a spot to spend the whole summer. It holds a wicker set of seating and a coffee table, facing toward the indoor area.
Black and white stripes in the right amount are pleasant to see among the solid colors and textures. Moreover, gray subway tile flooring, black opening frame, and white pergola are the mentioned solid elements. Throw in greeneries, such as yucca and jade plant, to freshen up the natural shades.
6. Gold Award Winner in Eco-Design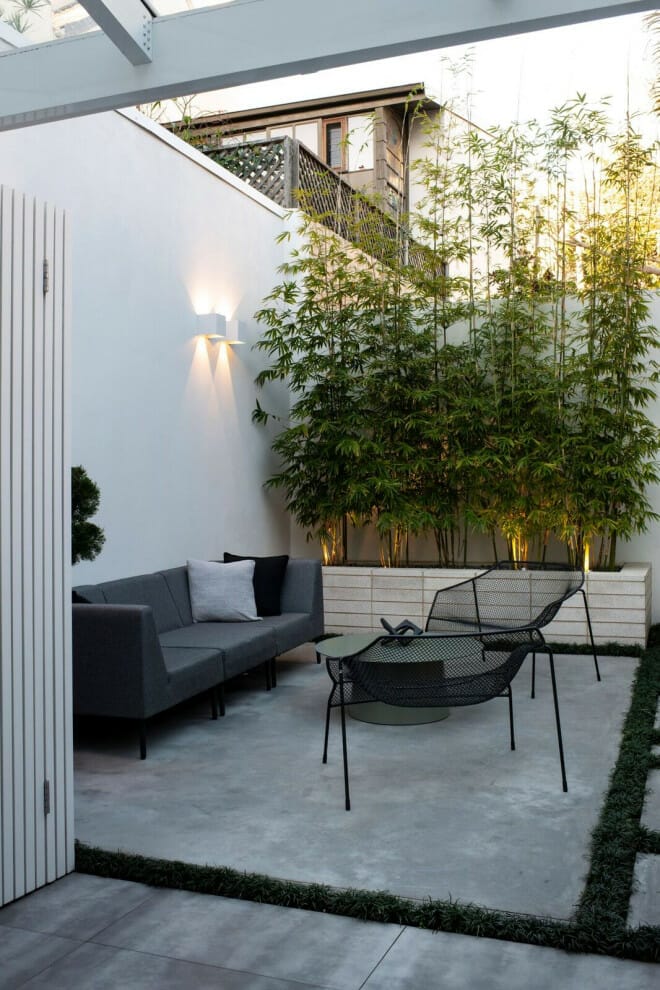 At the deepest side of a Paddington house, Sydney, Australia, lies an enclosed courtyard pursuing minimalist style. It won a gold award in the category of eco-design, a design considering eco-friendly elements for the entire building process.
This backyard existence intends to provide a retreat for privacy, relaxation, and entertaining. It is achievable with a sofa, two metal chairs, and a round green coffee table. Bamboo growing in a concrete planter and thyme between pavers strengthen the eco-design naturally.
Lastly, wall sconces and garden lighting call it perfection. It truly deserved an award for delivering small back yard patio ideas nicely.
7. Townhouse Transitional Patio Idea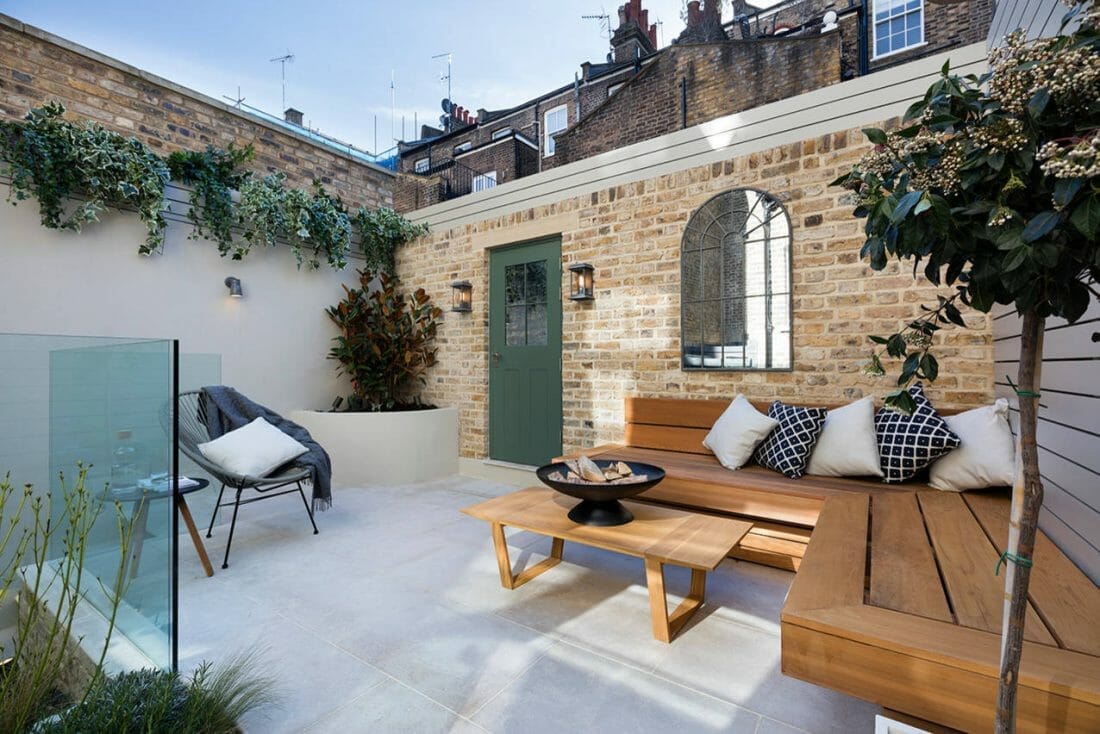 Concrete paver and brick wall becomes the exterior of this London transitional patio. It features an L-shaped bench, coffee table, metal chair, and an end table, all of them come in materials for outdoor use. For a coverless backyard like this one, weather-proof furniture is necessary.
A fire pit is also present, inviting a warm and nice little chitchat. Indeed, growing potted plants and climbers on your small back yard patio ideas makes a lovely surrounding.
8. Mid-Century Patio with Thick Garden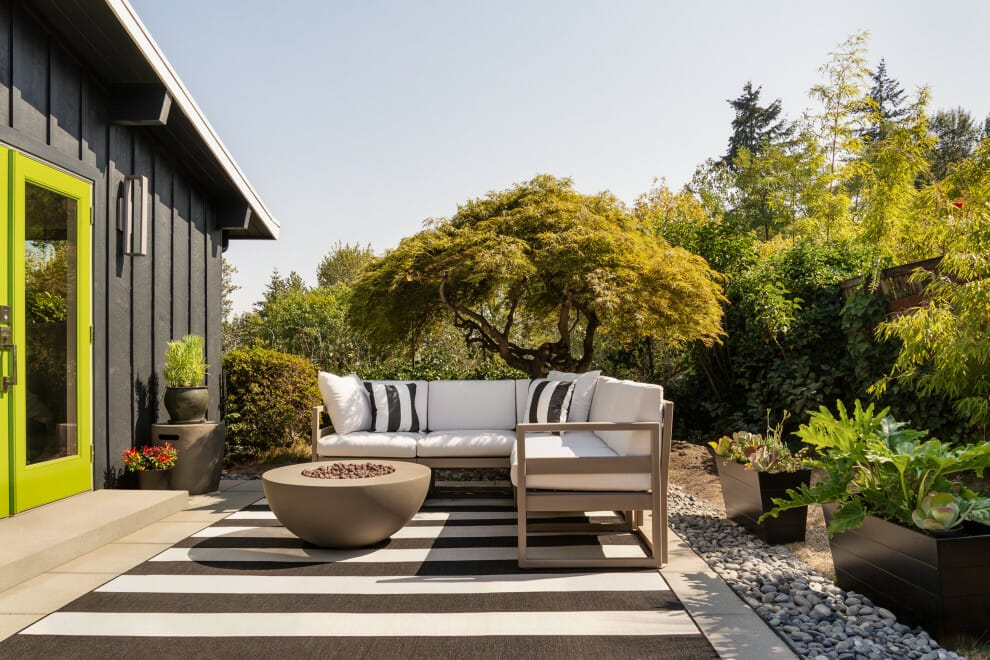 A patio in Seattle, built amid a thick garden landscape, features a rug area. Hence, black and white colors are visibly accentuating the space above and under a modular outdoor sofa.
Then, halfway, stands a round concrete fire pit in a similar color as the furniture frame. In addition, black planters are present as houses for several greeneries and flower plants.
Yet, they are not all. Growing a little bit further directly above the ground is a group of tall trees, stamping an impression of a forest due to their thick leaves.
9. Festive Vibe in the Air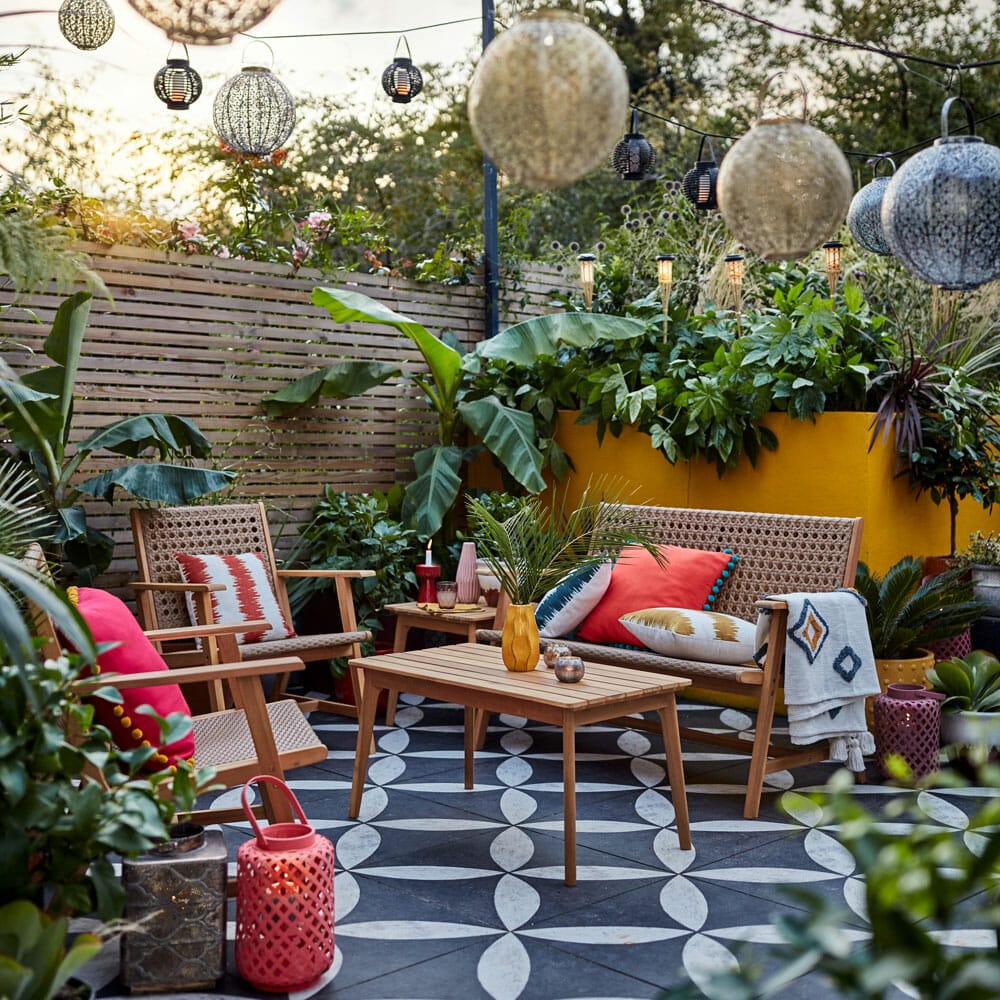 A lot of colors participate in the setting from one of these small back yard patio ideas, from the wall to the floor to the cushions and other accessories.
However, they are not the only reason why it is pleasurably hectic. Also, the existence of many plants becomes another wowing source.
There are weeping figs, banana trees, Schefflera, and other species. It seems cramped due to the irregular grouping of plants, but that is the charm. What gives off the festive vibe strongly are the hanging solar lanterns.
10. Single Bench to Admire the Garden Beauty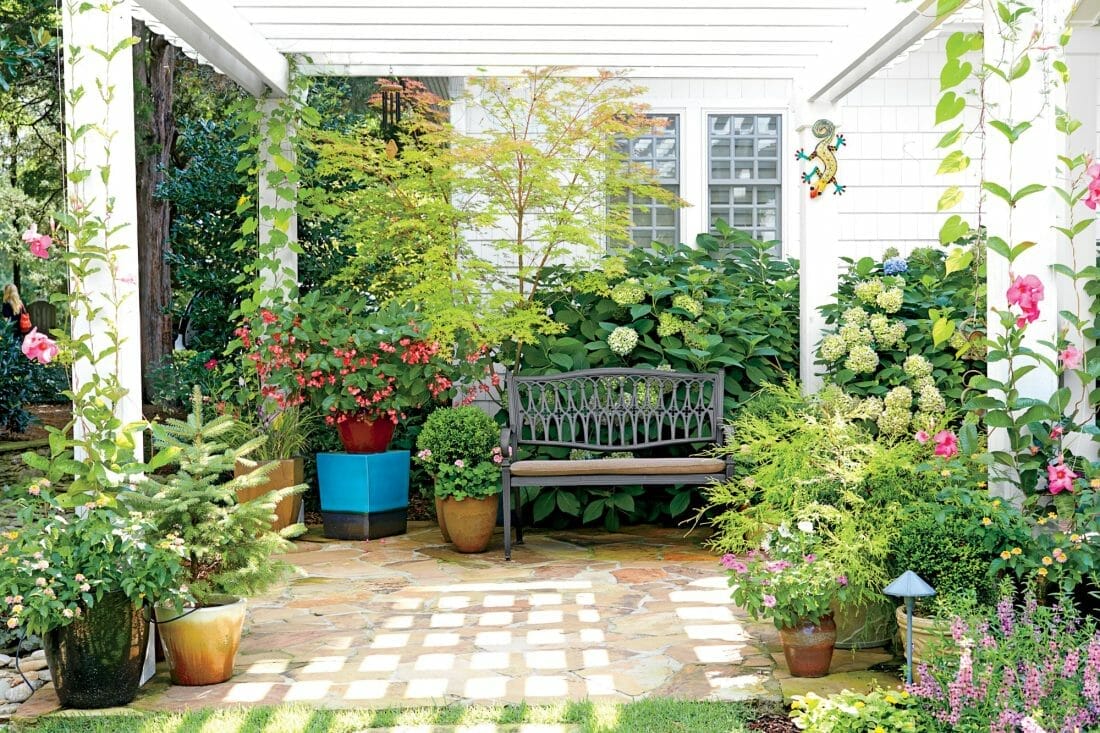 Pergola makes its appearance once again as one of the long-lasting small back yard patio ideas. Under the cover, a single metal bench is present to let anyone admire the garden beauty comfortably.
There are a hundred numbers on the list to adore. Willowleaf angelon, Mandeville, hydrangeas, arborvitae, Japanese maple, and fuchsia are only a few of them.
It is also a nice idea to let some creepers climb the pergola posts. With good nurture, the climbers might cover all of the white surfaces.
11. Impression of Bigger Area for Your Small Back Yard Patio Ideas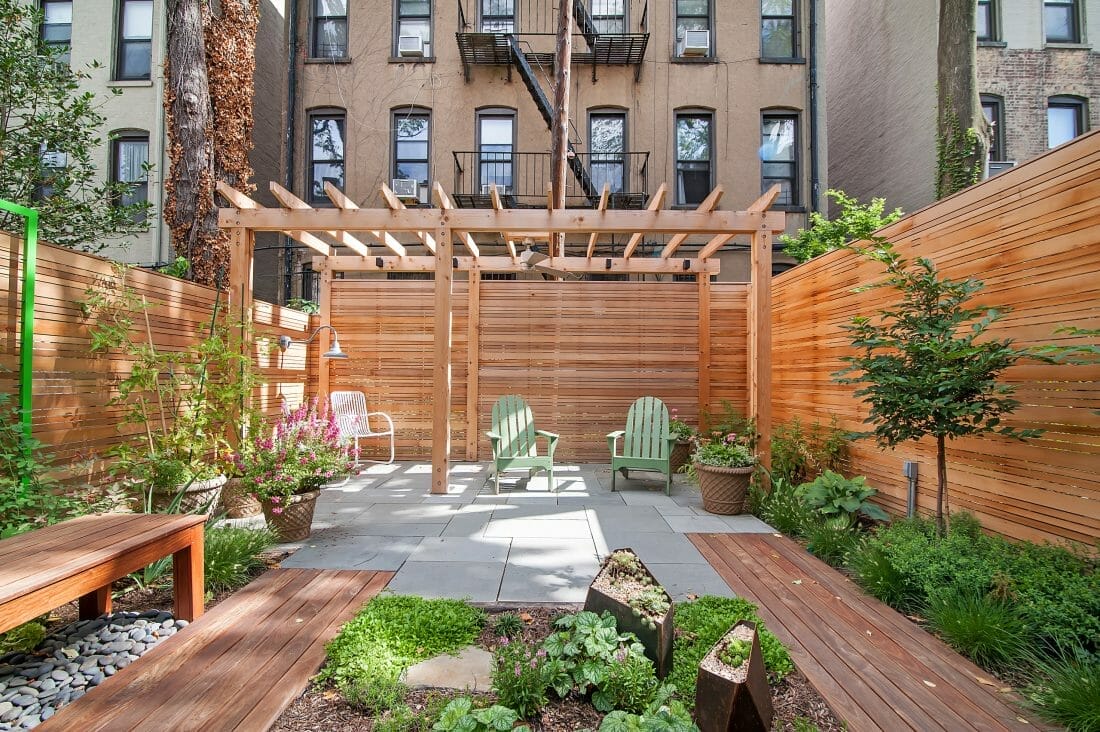 When people said not to wear clothes with horizontal lines, believe them because the stripes will make you look plumper.
Now, it is not a superstition but a part of spatial tricks usually used for the interior. It applies the same to an open area and could be one of the best small back yard patio ideas.
This backyard with a pergola exemplifies it by setting horizontal planked fences. They lead you to think that the space is bigger than it is.
12. Concrete Patio Idea for Small Backyard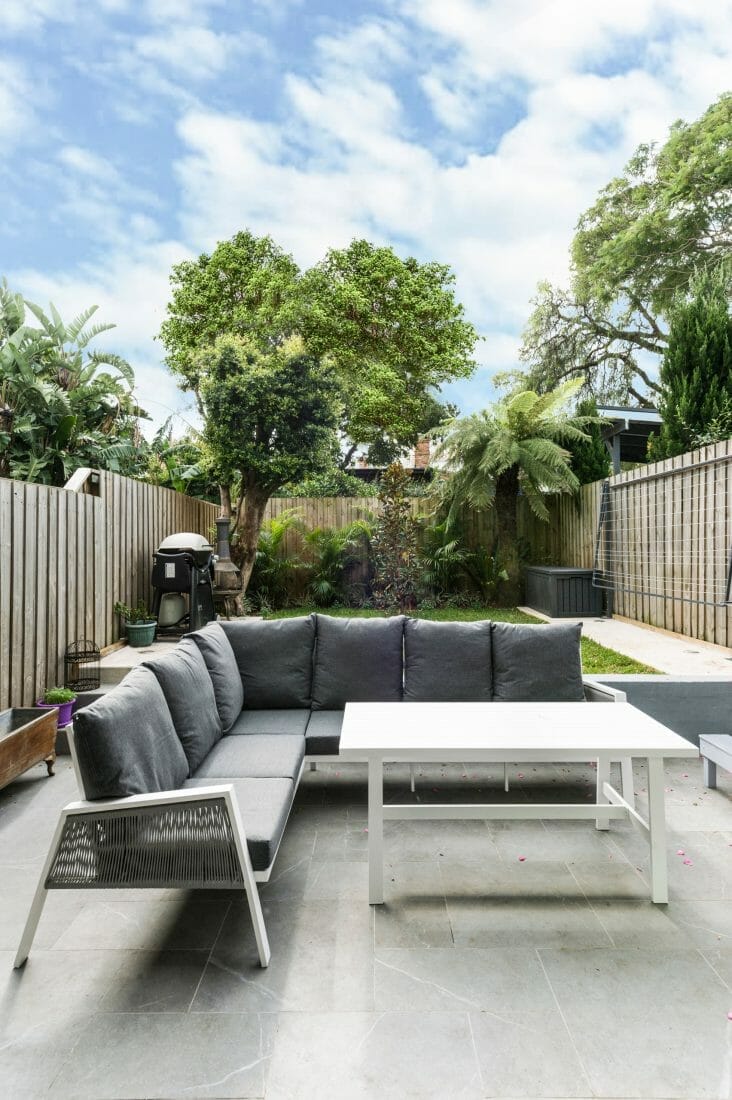 This backyard patio, located in Newtown, Sydney, Australia, has two different sides separated by an ankle-height partition.
One side is the seating area using concrete pavers as the flooring. It also features a gray modular sofa and a white coffee table.
Meanwhile, the other area is landscaped garden with walkway edging, a grilling corner, and an arrangement of tropical plants and tall trees. Certainly, it is such a setting that calls for barbecue parties during weekends.
13. Stone Patio in Model Garden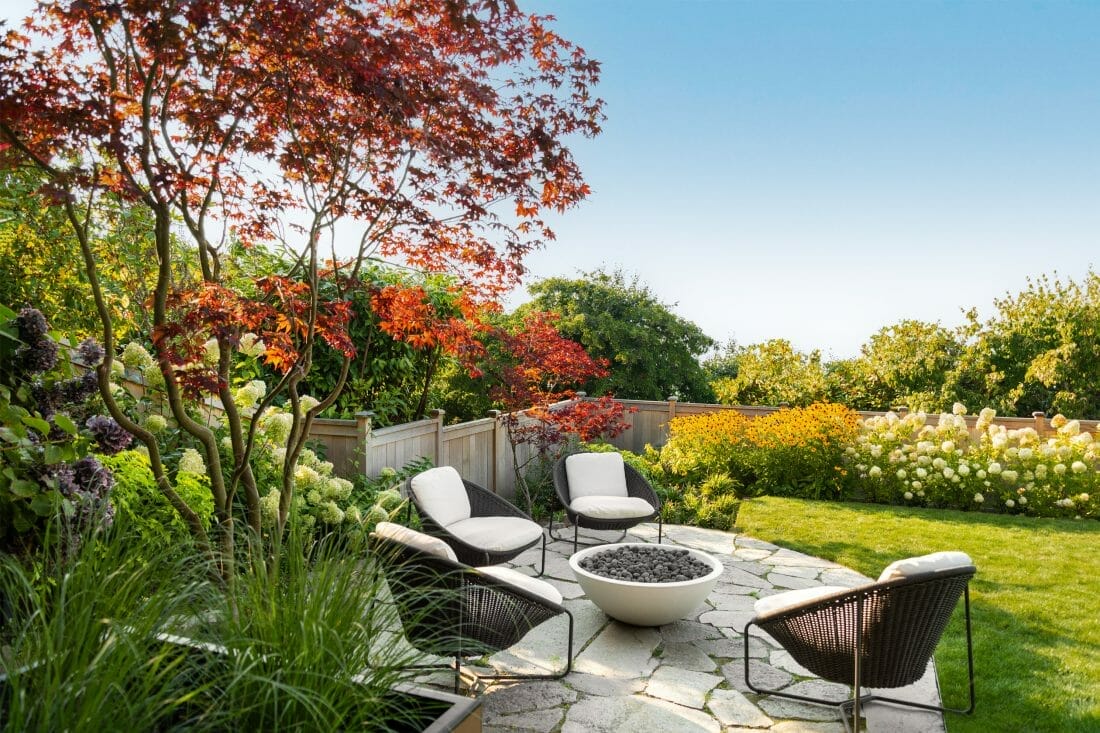 Seattle has this model garden at one of its residences. It features a stone patio at the corner with four oval lounge chairs and a fire pit.
The rest of the area is a garden with grass ground and plantation edging. As a result, white, yellow, red, and purple color, the entire space.
If you want to mimic the combination, the options are Acer tree, China maple tree, Morgan arboretum, Japanese maple, Japanese forest grass, black-eyed Susan, coneflower, tickseed, solidago, willow, and hydrangeas.
14. Private and Comfortable Small Back Yard Patio Ideas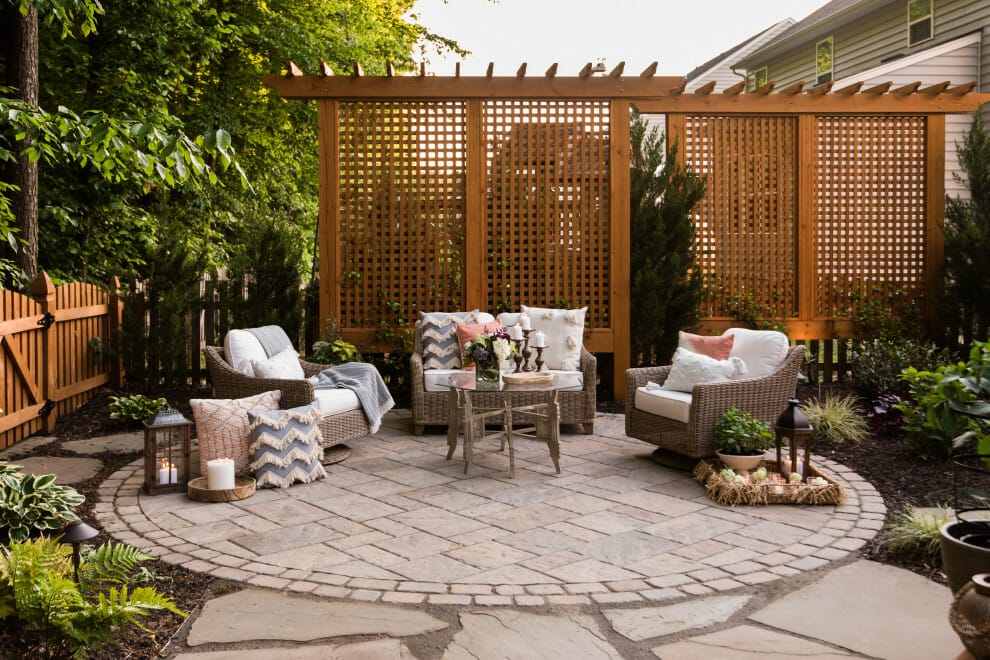 Hanover, Virginia, USA, has this compact backyard space turned into a private and comfortable patio. This area, bordered by a wood fence, is so textural with lavish plantations and hardscape. The seating zone utilizes BLU 60 slabs for the landing, edged with Villagio in two courses.
In addition, irregular bluestones are visible contrasting the patio set. While at the back part, wood screens with fragrant jasmines growing through the square holes create privacy.
15. Bohemian Modish Patio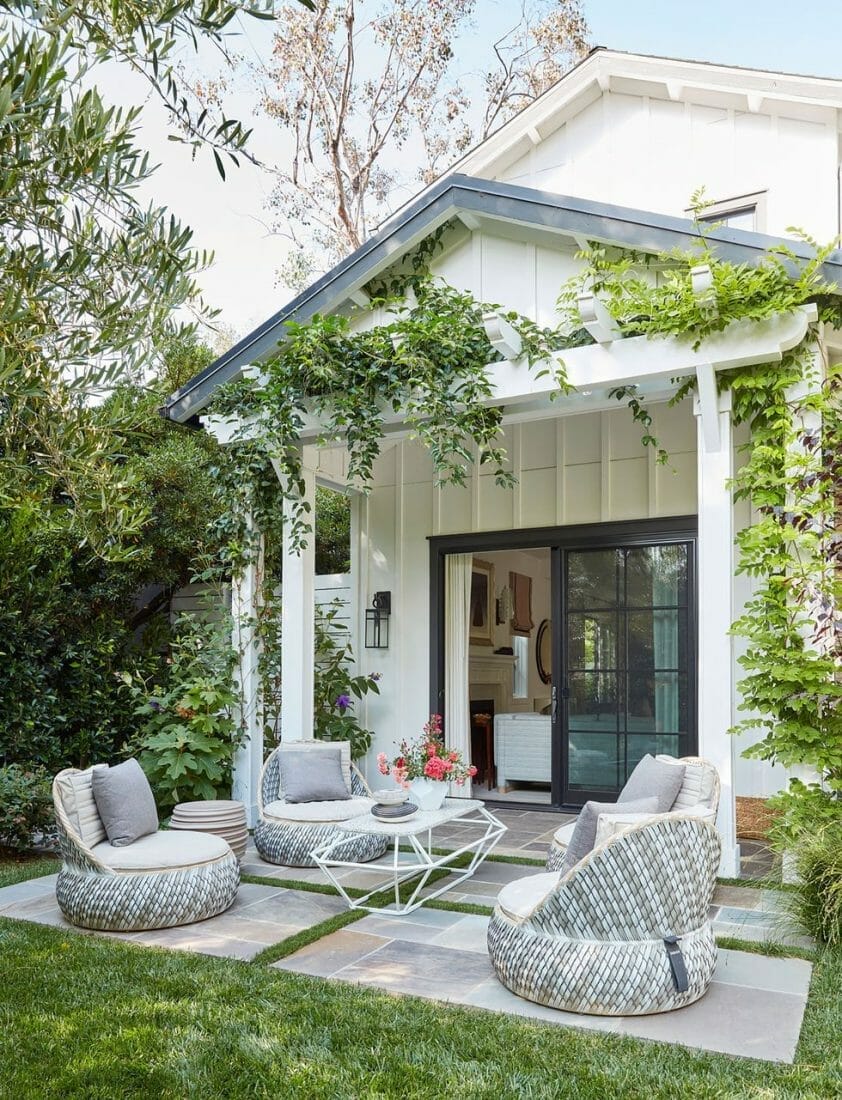 A home in Santa Monica, California, has this bohemian outdoor space in the backyard. The exterior designer designs it with a small pergola, where greeneries grow covering it.
If you want a similar look but with additional colors, the best plants would be nasturtium, clematis, honeysuckle, or wisteria.
16. Simple Small Backyard Landscaping Idea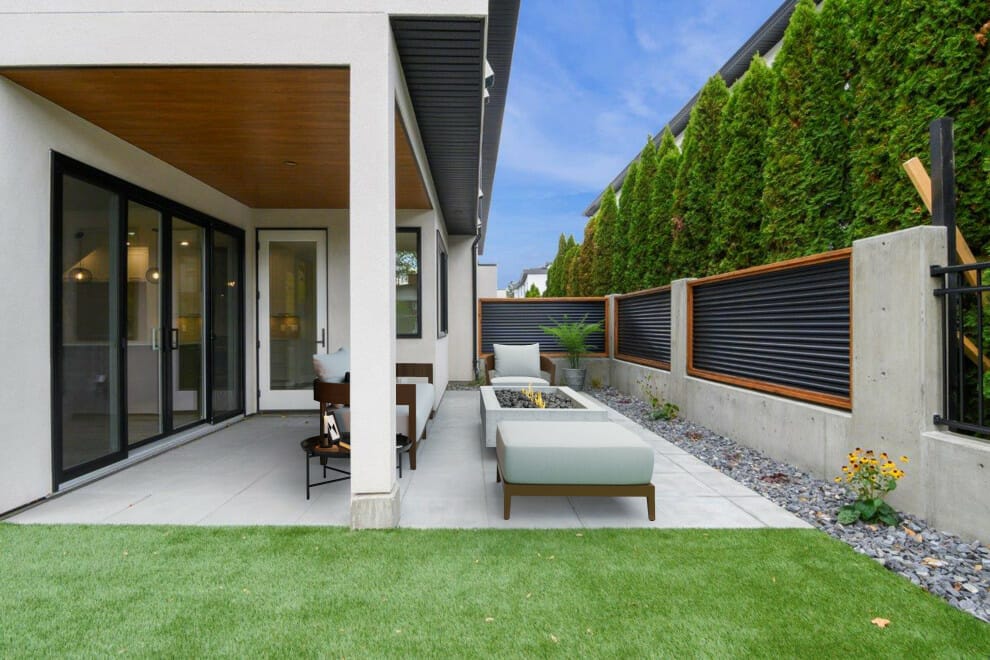 It suggests small back yard patio ideas involving a simple landscape. The semi-shaded area consists of a cozy seating arrangement around a fire pit.
Moreover, it continues with a green grass lawn at the side and multiple layers of edging. You see French drainage first, concrete and metal fence combination next, plus green hedge last.
17. Small Back Yard Patio Idea with Lush Foliage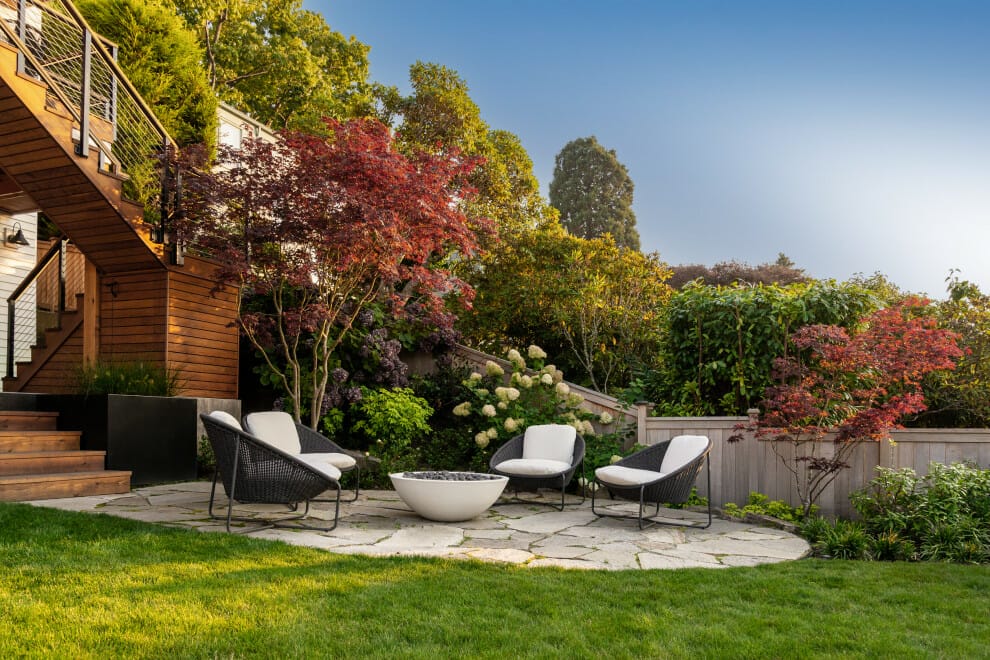 Growing colorful plants will be the most practical idea to decorate your small backyard patio. Such as these particular small back yard patio ideas.
Among the options, you could go with maple, willow shrubs and trees, boxwood, spindle tree, and smoke bush flowering plant.
18. Dine-in Nature
Different small back yard patio ideas come from this beautiful setting of an open feasting room.
As a result, candlelight dinner or other mealtime is now an effortless routine with this dining set. Hence, you could find romance created by the string lights, herb garden, and stair illumination.
19. Styling with an Outdoor Rug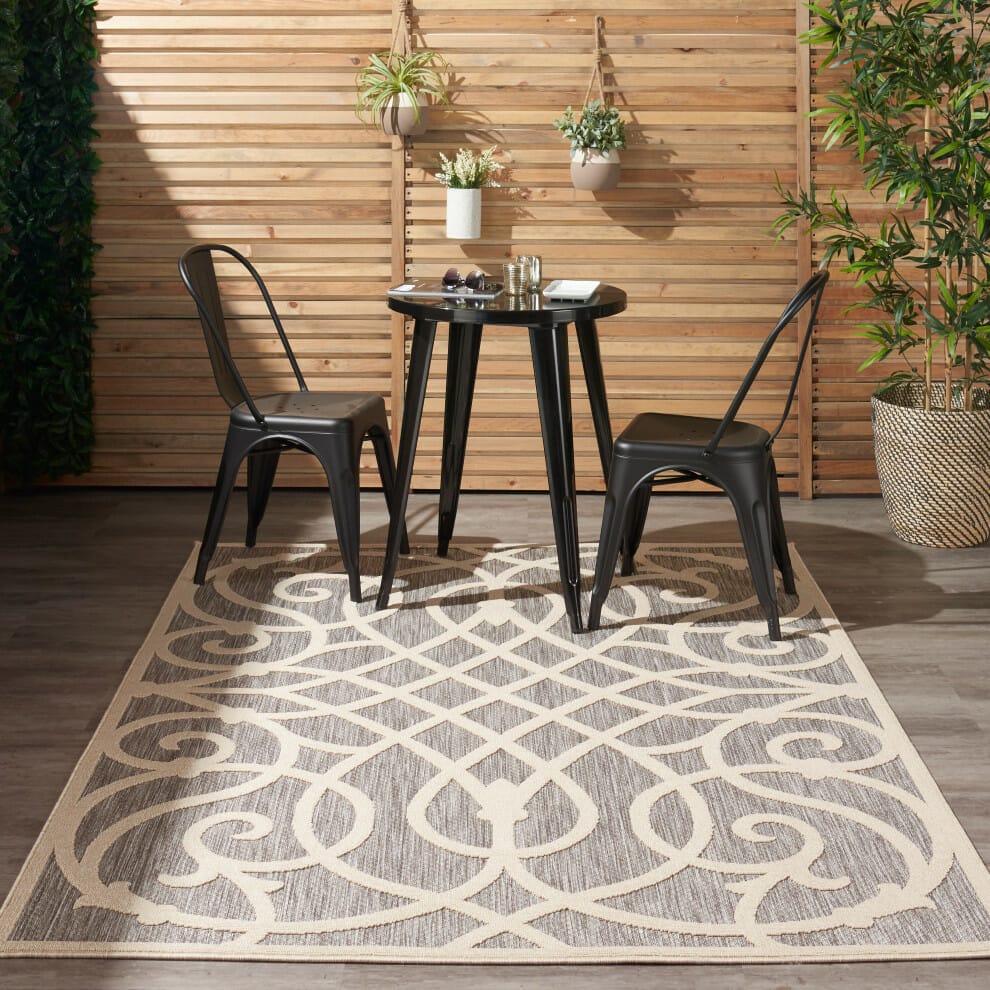 This intimate space is designable with an outdoor rug. Potted bamboo, hanging planters, as well as, a mat of the vertical garden only act as a backdrop of the already gorgeous setting.
Then, they accentuate a black coffee table set with two chairs for private dialogue at the center.
20. Bold Enough with Red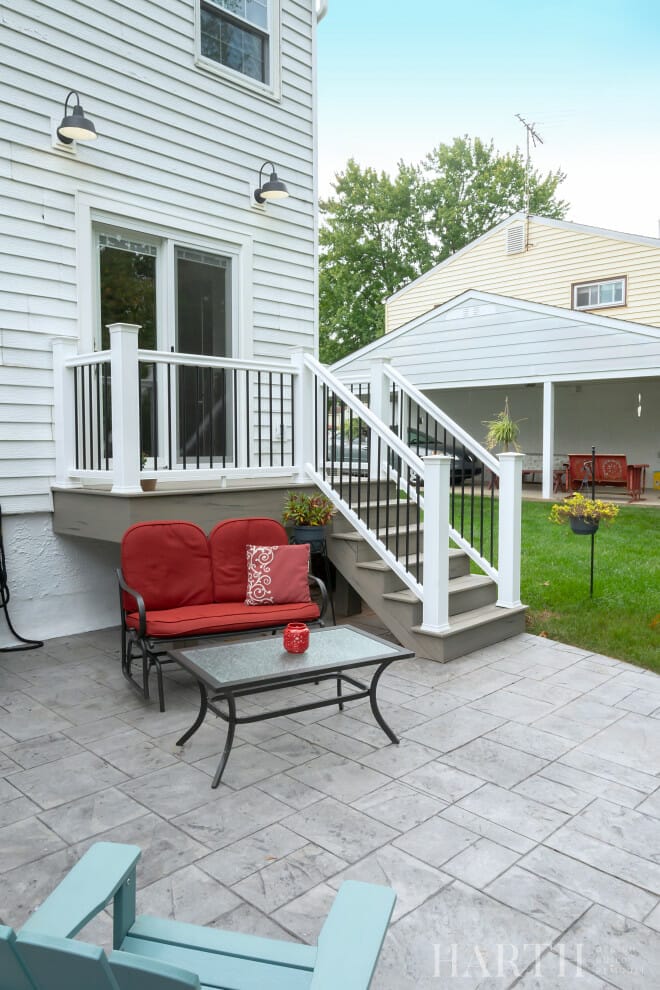 If you require small backyard design ideas on a budget at the moment, this patio would do.
As the houses designed in the housing complex appear the same, you will need some statements to make yours different from the rest of the neighbors. Thus, red elements are necessary.
21. Patio to Admire from English Garden Room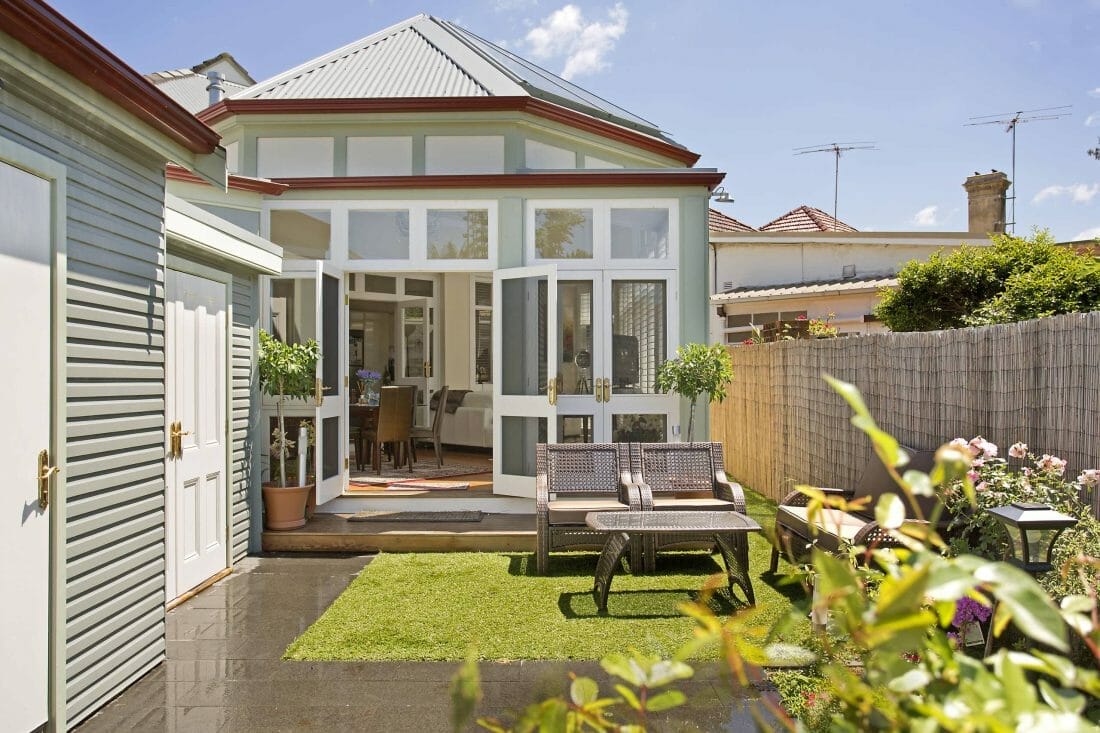 This patio, located in Marrickville, New South Wales, Australia, stands in front of an English garden room.
It benefits from a mat of artificial green grass and bamboo fencing. Moreover, the synthetic lawn could be a good idea for a small backyard space as it does not need as much maintenance as the real one.
22. Green and Purple Are Lovable Together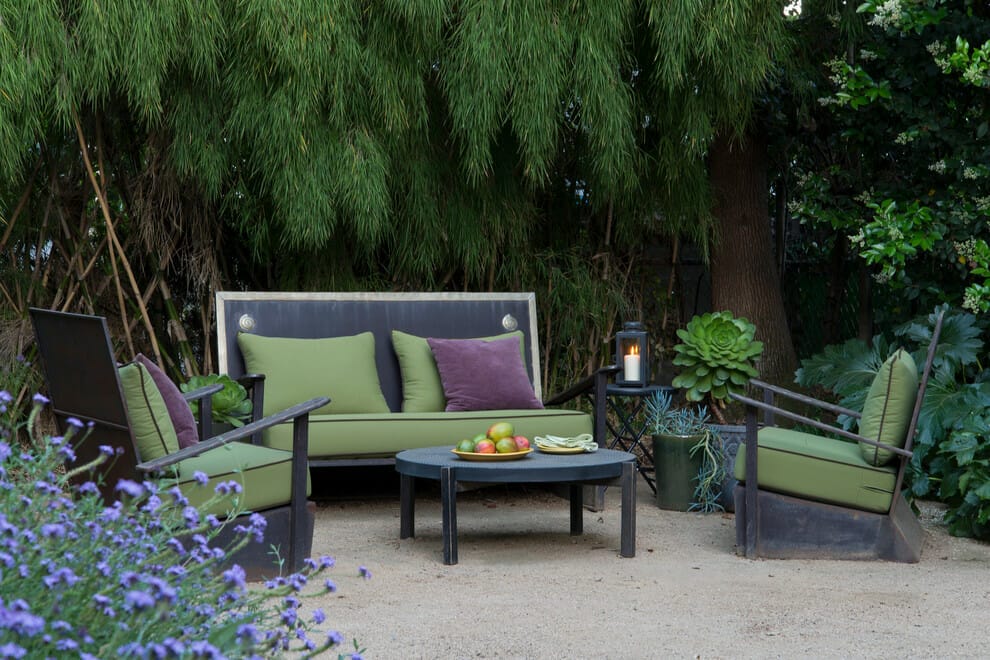 The shade selection here presumably represents the surrounding plants in similar colors, like verbena you see at the very front.
It is agreeable to say such a combination is captivating. There are more options for you to grow, such as sage, lavender, echeveria, coleus, rhoeo oysters, or Crassula pellucida.
23. Advanced Grilling Appliance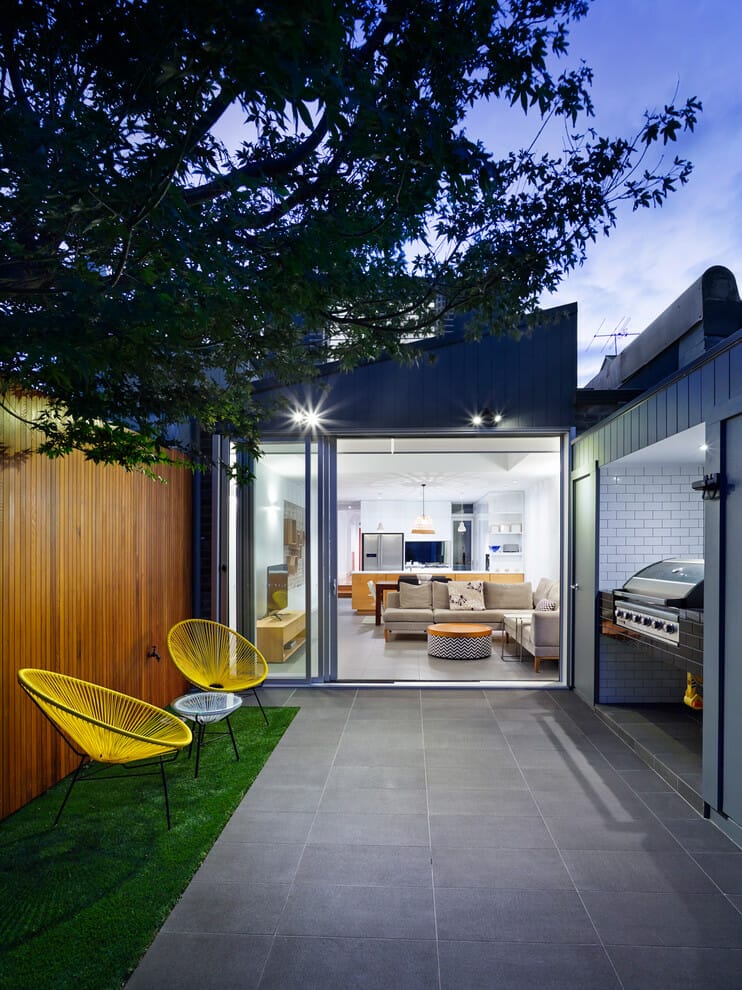 Your backyard patio might be limited, but the size would not be a matter anymore if it could accommodate your barbecue party with the latest grilling appliance.
Indeed, anyone would want one in their back garden as well.
24. Pergola with Green Cover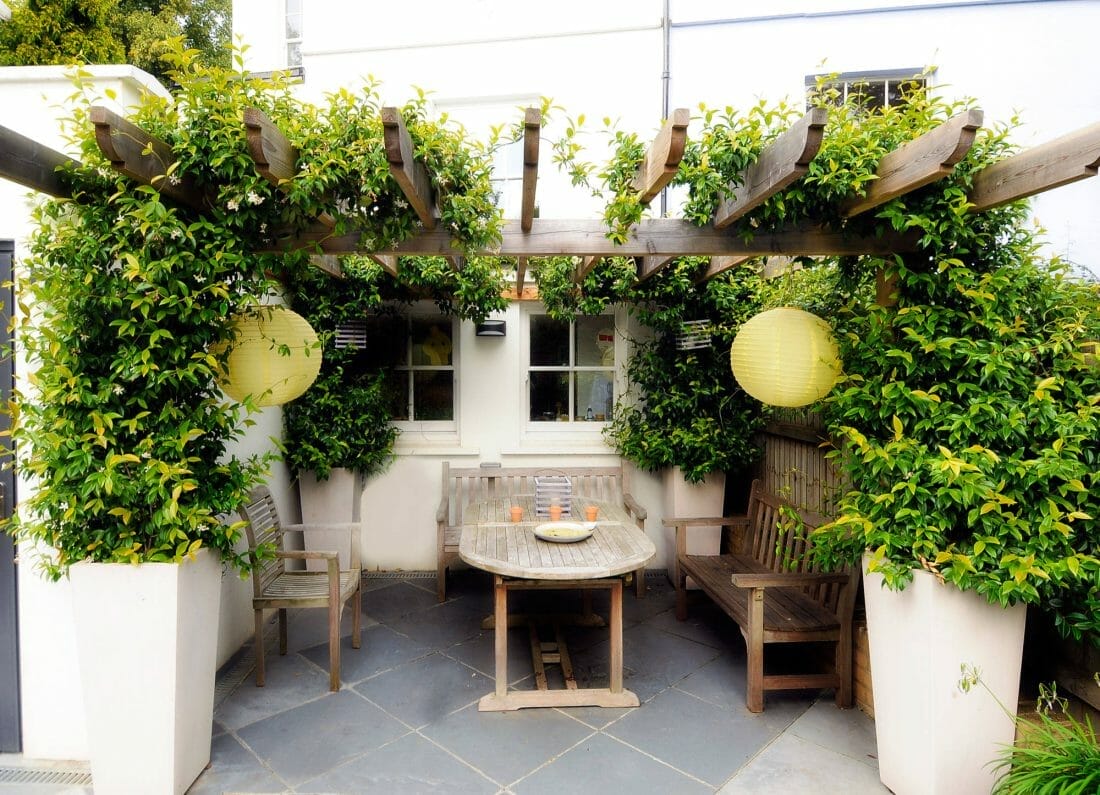 In the aforementioned small back yard patio ideas, we have listed some choices of flower climbers to grow on a pergola.
Yet, if you prefer more green color, the list would consist of grapevines, crimson glory vine, or star jasmine as seen in the image.
25. Sunbathing with Sun Lounger
Invite a few people to sunbathe in your backyard. They could wait for their turn on the single-seater while you face the sun on a lounger first.
Moreover, the fire pit could substitute radiating warmth during cold nights or chilly seasons.
26. Multiple Colors to Accentuate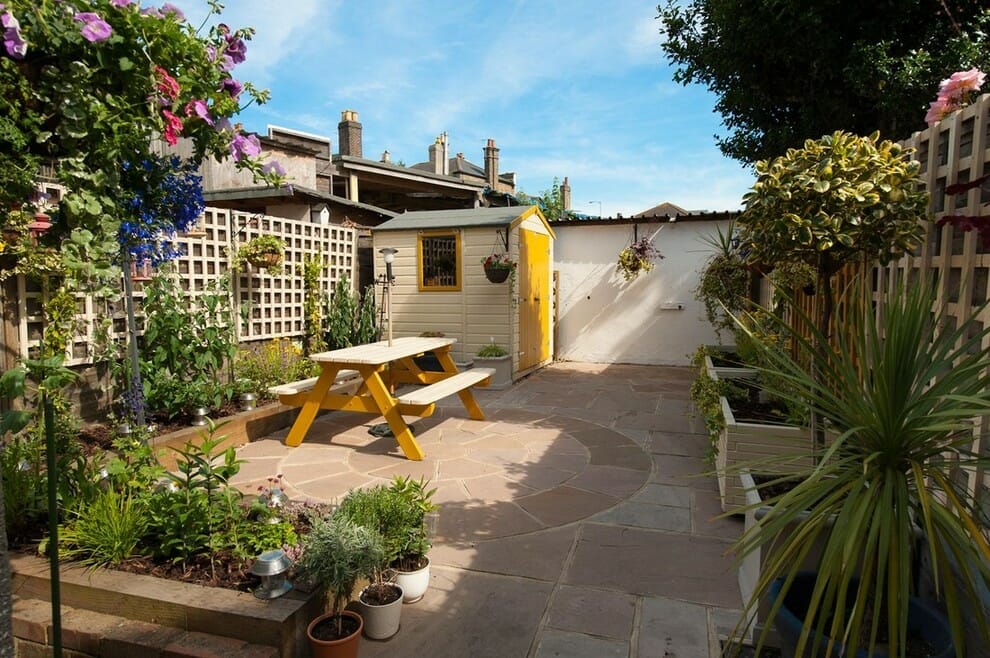 Bright tones are visible coloring this small space, but they are not the major attractions.
This neutral-shaded garden is adorable enough with a yellow picnic table and multiple color flower plants. There are various options to grow but try petunia to get all blue, red, and purple at once.
27. Small Backyard Pool Idea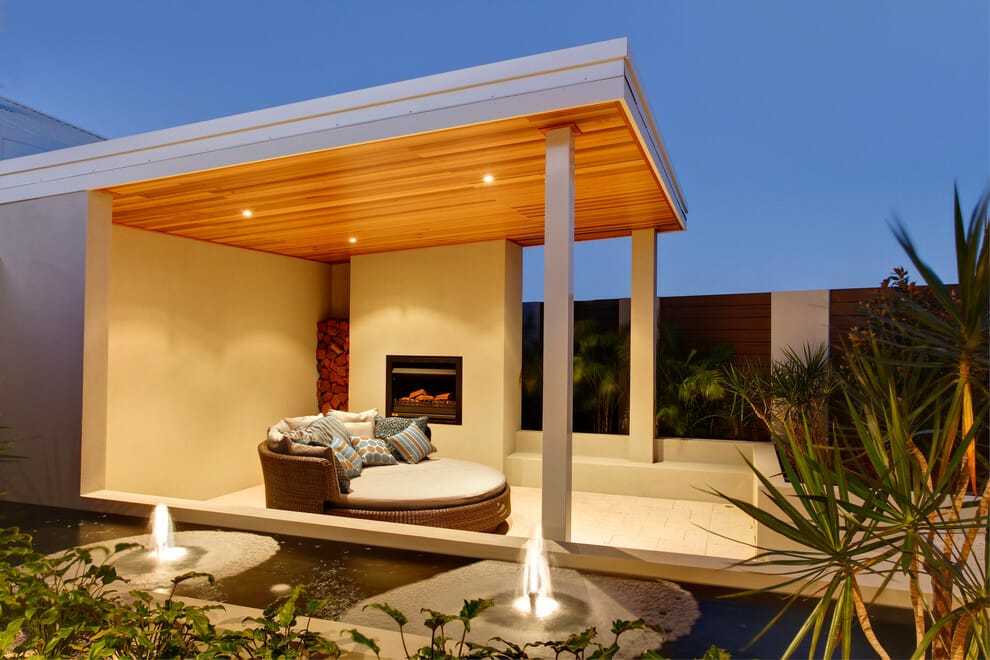 This covered patio presents a large rattan round sofa doubled as a poolside daybed. Certainly, the image of someone lying on top of it while listening to the splash sound from the lighted water feature is envious.
Also, shivering weather would not be a problem since the fireplace is ready to make it snuggly.
28. Involving Black Gravels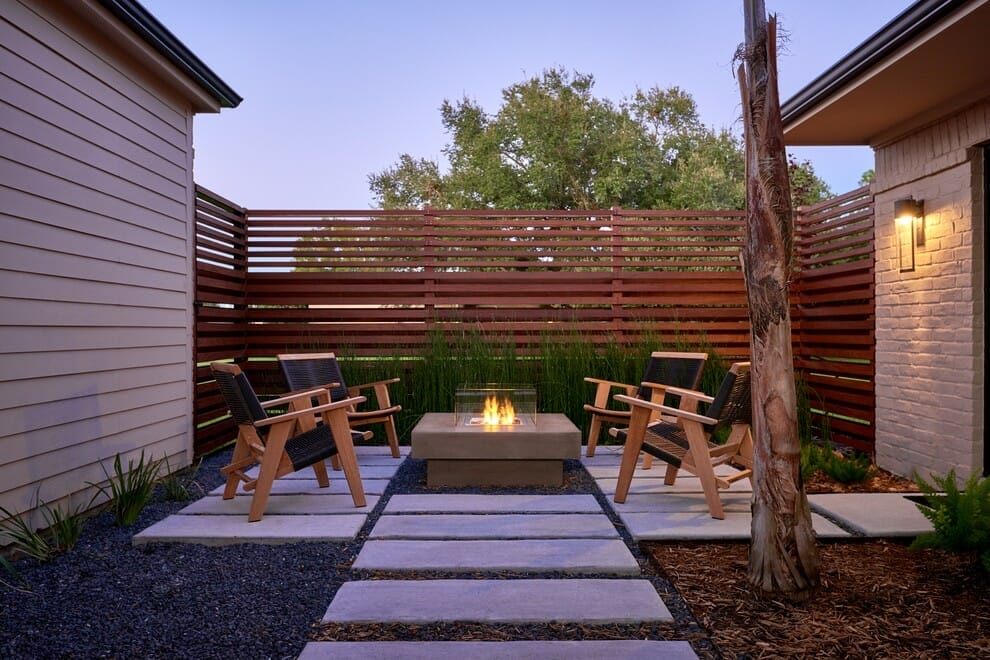 A contemporary courtyard in Houston, Texas, offers some small back yard patio ideas.
It incorporates stepping stones and black gravels to roll out a walkway toward the well-arranged gathering around the concrete fire pit.
29. Victorian Small Backyard Design Idea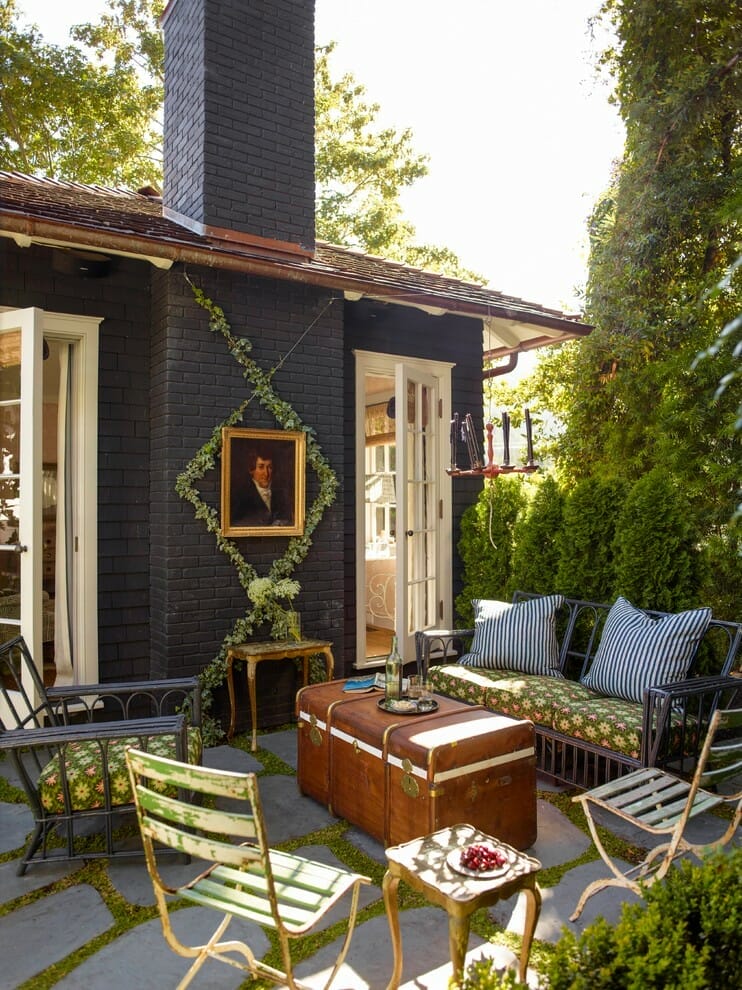 An eclectic home lived by a family in San Francisco, California, presents a Victorian patio at the back of the building.
They pursue vintage elements, visible from the treasure chest turned into a coffee table, weathered garden chairs, shabby-chic daybed, and a pair of old side tables. Definitely, this one pops out than other small back yard patio ideas earlier.
30. Get it Cool with Growing Green Decorations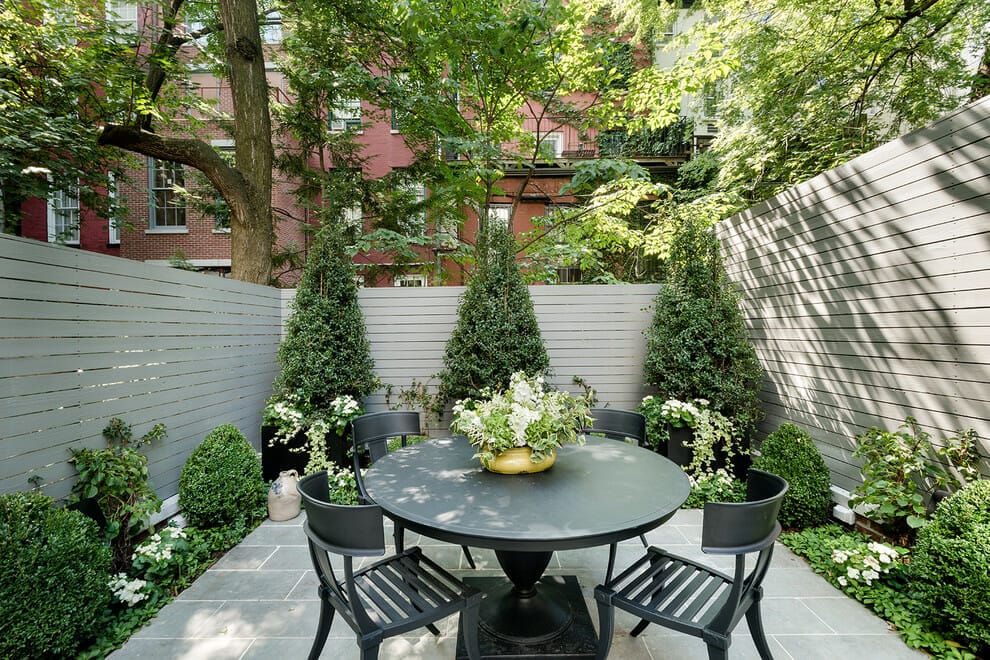 Certainly, the symmetrical arrangement is visible in these small back yard patio ideas. The boxwoods planted on the right side are identical with the opposite, both in the amount, as well as, shape.
A few steps further are potted trees looking like English yew or arborvitae. It is imaginable how cool it feels to get breezed here.
Now, have you gotten inspired by those small back yard patio ideas? Apply some and obtain the feel-like-new upgraded piazza of yours.