When deciding to eat out, people expect to get not only scrumptious food but also superb service and interior design.
If you plan to run your culinary business and want to impress your customers, check out these inviting restaurant decoration ideas.
1. Classic-Inspired Restaurant Decoration Ideas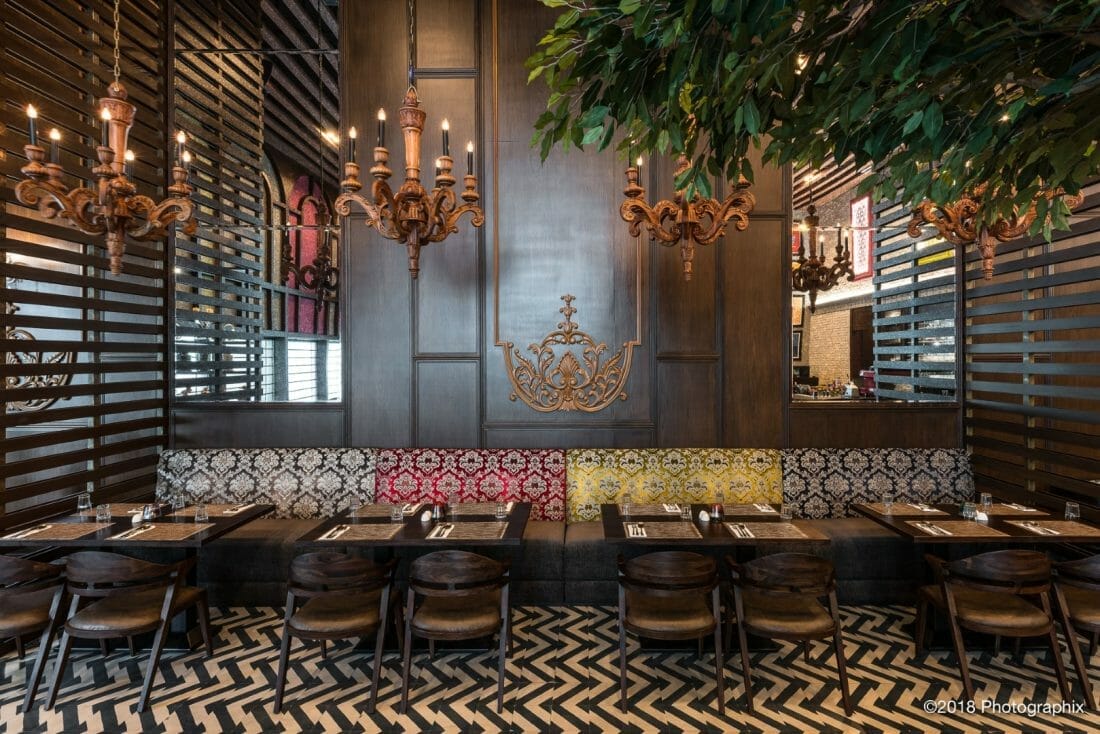 When designing the interior of your restaurant, you need to decide the theme. Go ask yourself what kind of impression that you want your customers to remember.
If you want something classic, give these restaurant decoration ideas a try.
It features dark wood paneling that matches the seating nicely because keeping things united is essential in the classic style.
The wood paneling also has decorative paneling flanked by two large mirrors on both sides. Another matching thing that you can notice is the chandeliers that look pretty much the same as the accent on the wall.
2. Wrap up the Beauty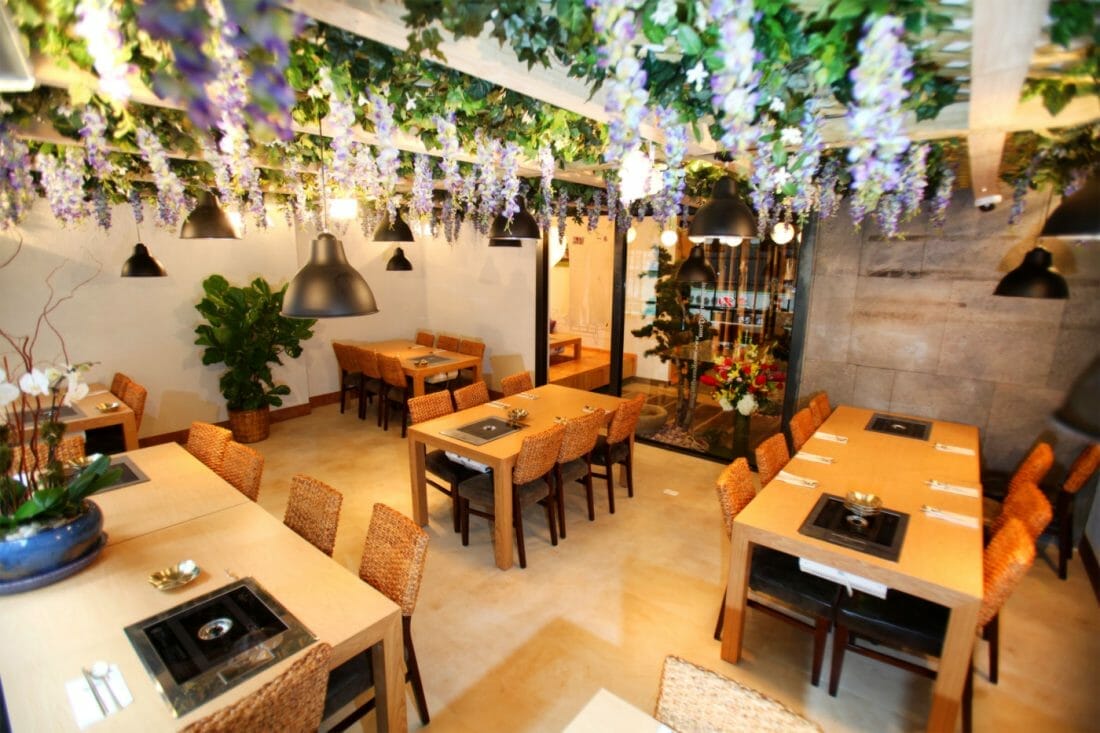 You might not want to add too many accessories in a modest restaurant. If you do this, you will be likely to overwhelm the space and customers.
It does not mean your restaurant has to be void of accessories, either. You just need to be wise in selecting the one that can impress the customers immensely.
This restaurant, for example, lacks wall art. However, you will see the spectacular view when looking up.
Above the floor is latticework that holds an abundance of wisteria. Look at how the flowers dangle. It is mesmerizing and romantic.
3. Be Creative with Lighting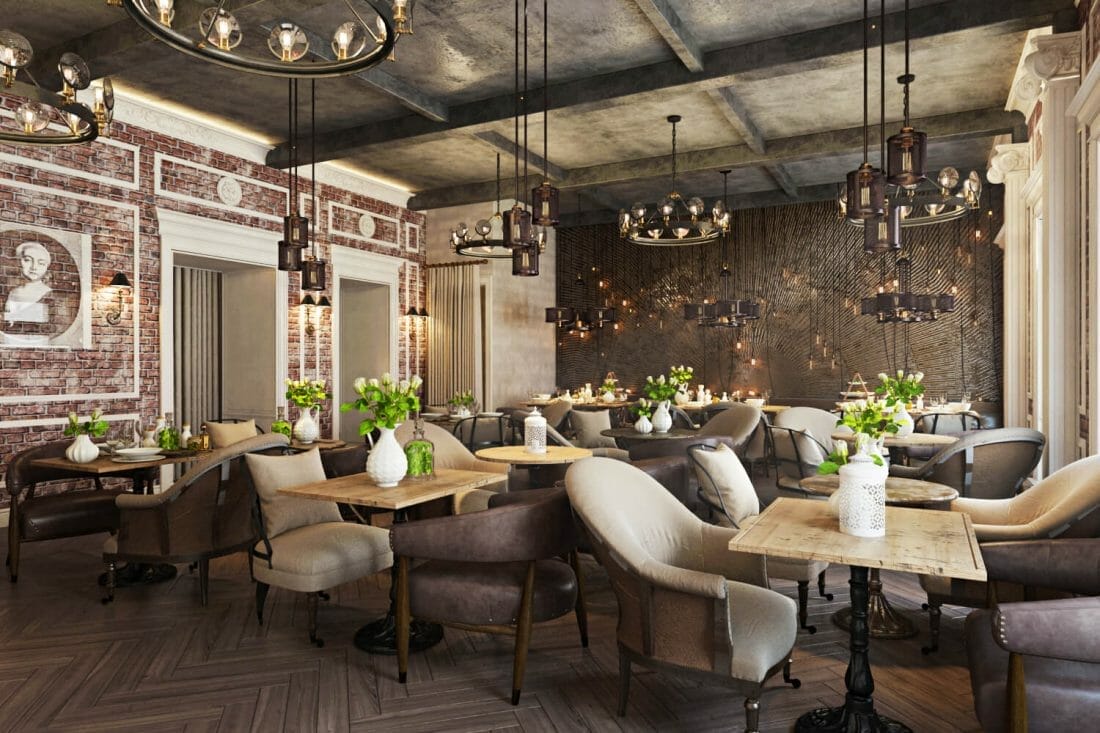 Lighting plays an essential role in restaurant decoration ideas. In fact, it can create certain ambiances that you are trying to carve out.
This industrial restaurant has successfully awed the customers with the lights. Instead of installing recessed LED lights that denote modern style, it opts for wrought-iron chandeliers made of repurposed vintage camera flash for a more classic ambiance.
4. Do Not Let the Walls Left Untouched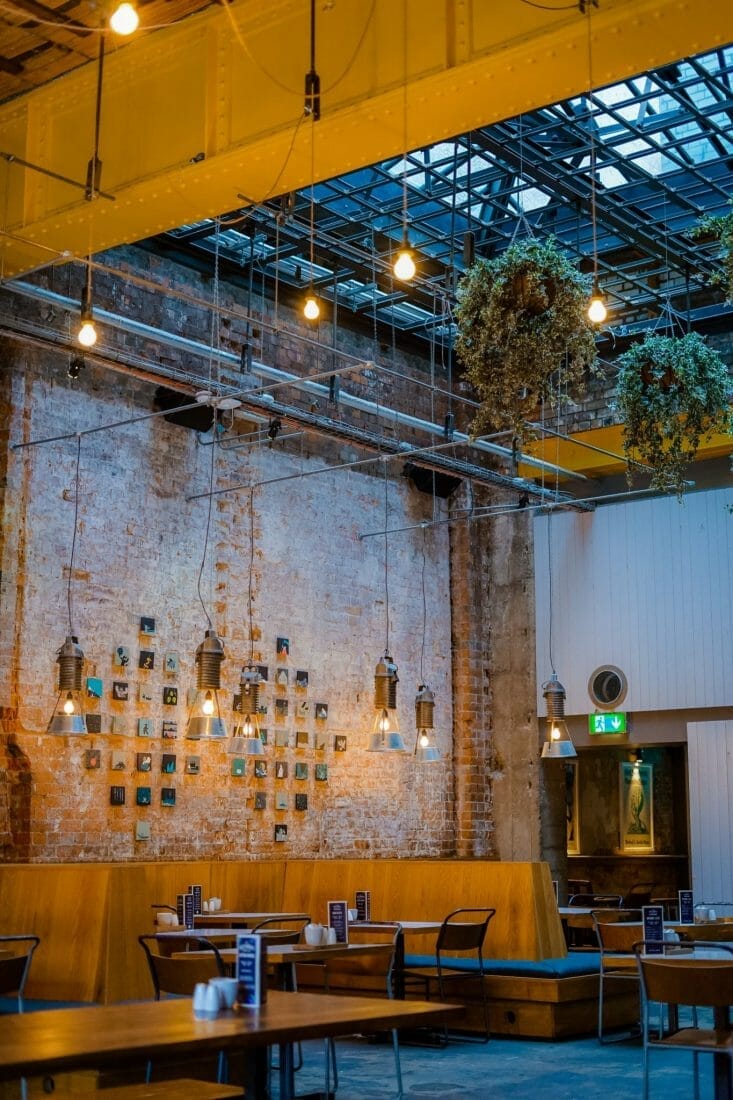 If you want to create a café or traditional Italian restaurant, a casual look will be preferable. It usually features exposed ceiling fixtures and brick walls.
Exposed brick has already had its charm through the pattern and texture. Still, you may need to kick it up a notch with the artwork.
You might think to fill in a large blank space with an oversized painting or photograph. It will not happen to an exposed brick wall because the artwork will just conceal the existing texture and pattern.
Thus, you need to go subtle. You can do this by creating a minimalist mural or hanging several small-sized photos.
5. Divide the Space Strategically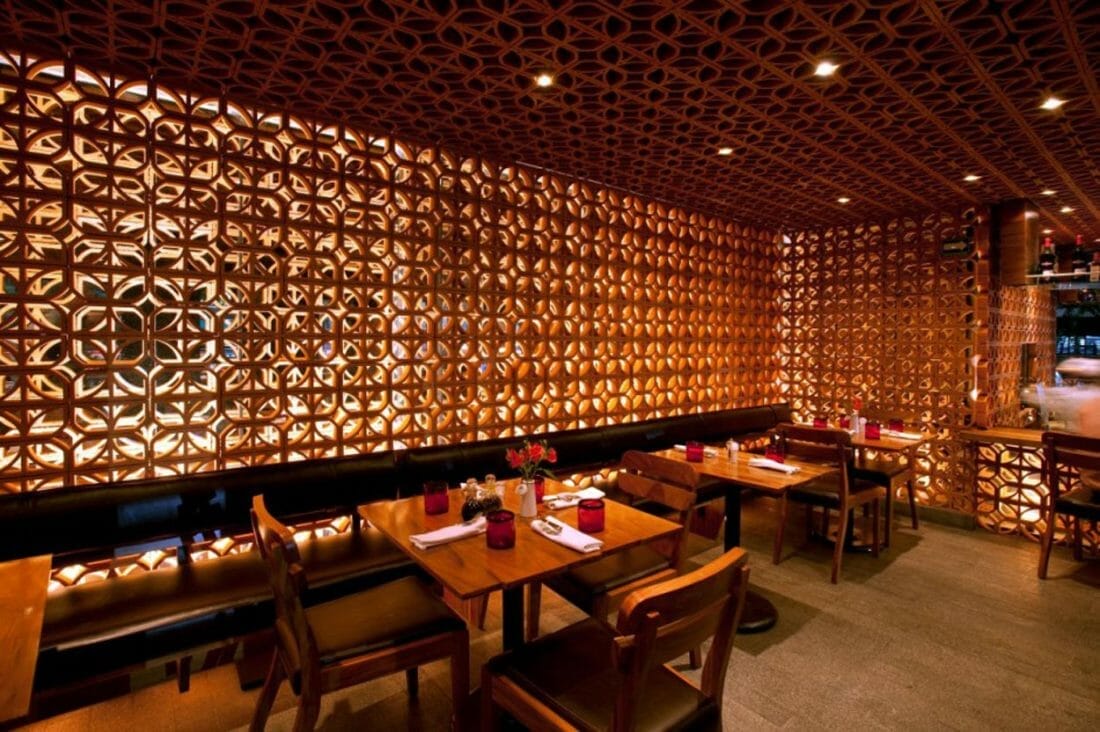 Some people rent space in a mall or any other shopping center to run a culinary business. They usually use clear glass walls to define the area and separate the restaurant from the adjacent stores.
The customers might find this design uncomfortable because they do not want people to stare at them when they eat.
These restaurant decoration ideas are worth the try. Instead of clear glass walls, it uses a carved partition screen to define the dining area. Besides, it offers a beautiful pattern.
6. Bring in Asian Vibes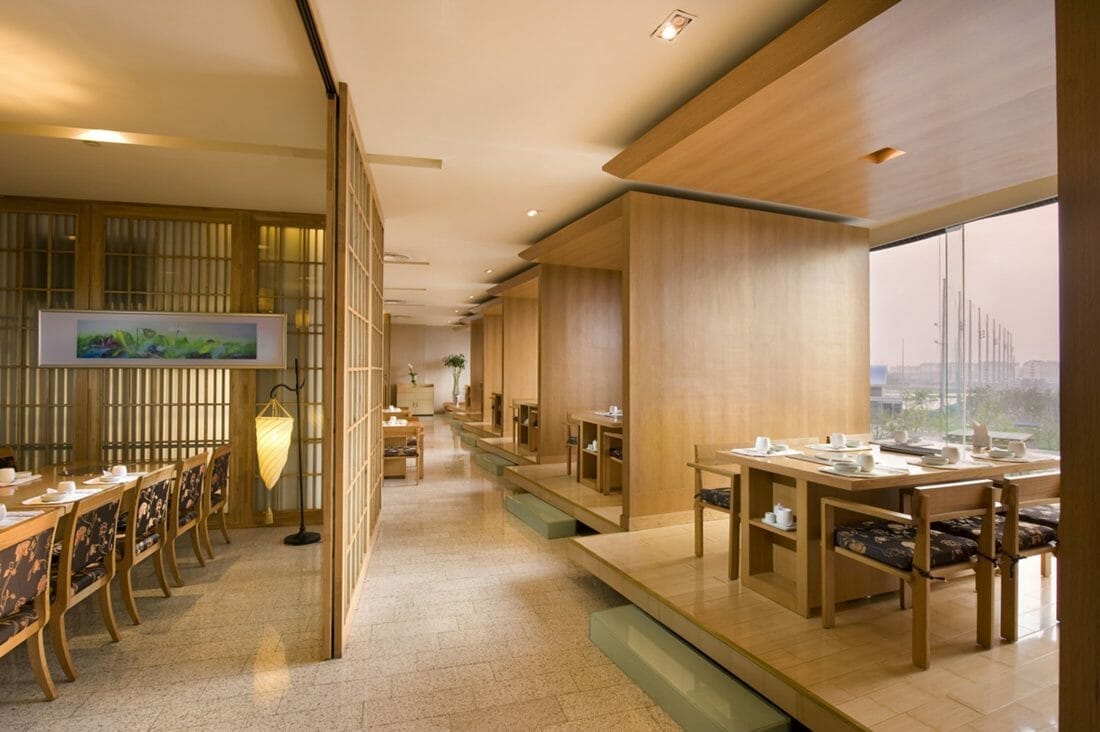 This restaurant implements the minimalist style by keeping down on accessories. Still, it looks elegant and denotes Asian vibes.
The key to creating a Japanese-style restaurant is by sticking to wood for the interior design. Keeping things simple is crucial.
Accentuate the Asian vibes with shoji, translucent folding screens that you can find in many Japanese houses.
7. Add the Wow Factor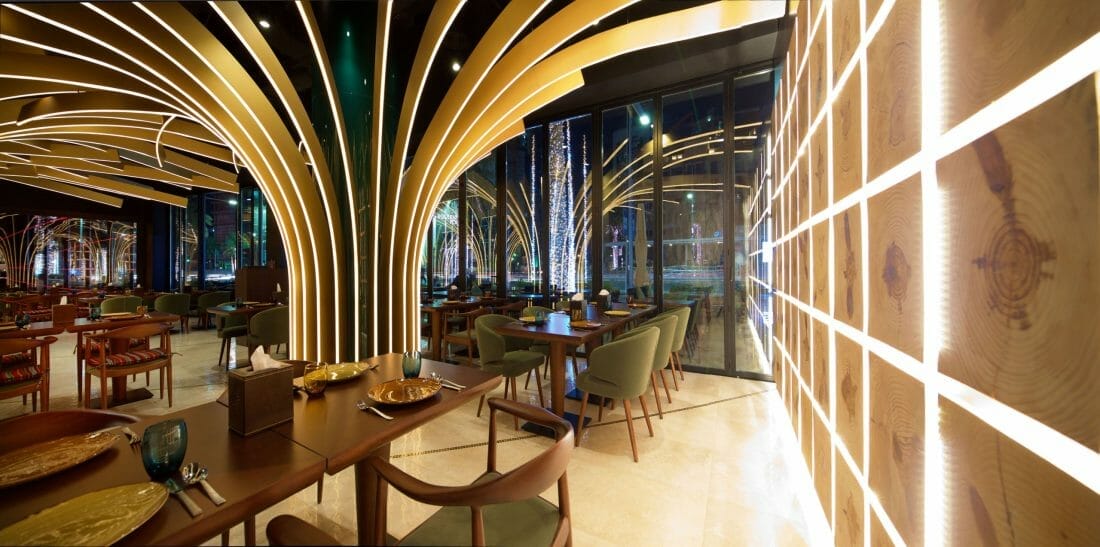 Something that you need for your restaurant can be peculiar. It has to be bizarrely attractive, just like this centerpiece.
This centerpiece acts like a post that supports the ceiling while housing LED lights. It is quite bizarre, yet it manages to level up the look of the restaurant.
8. Cozy Restaurant Decoration Ideas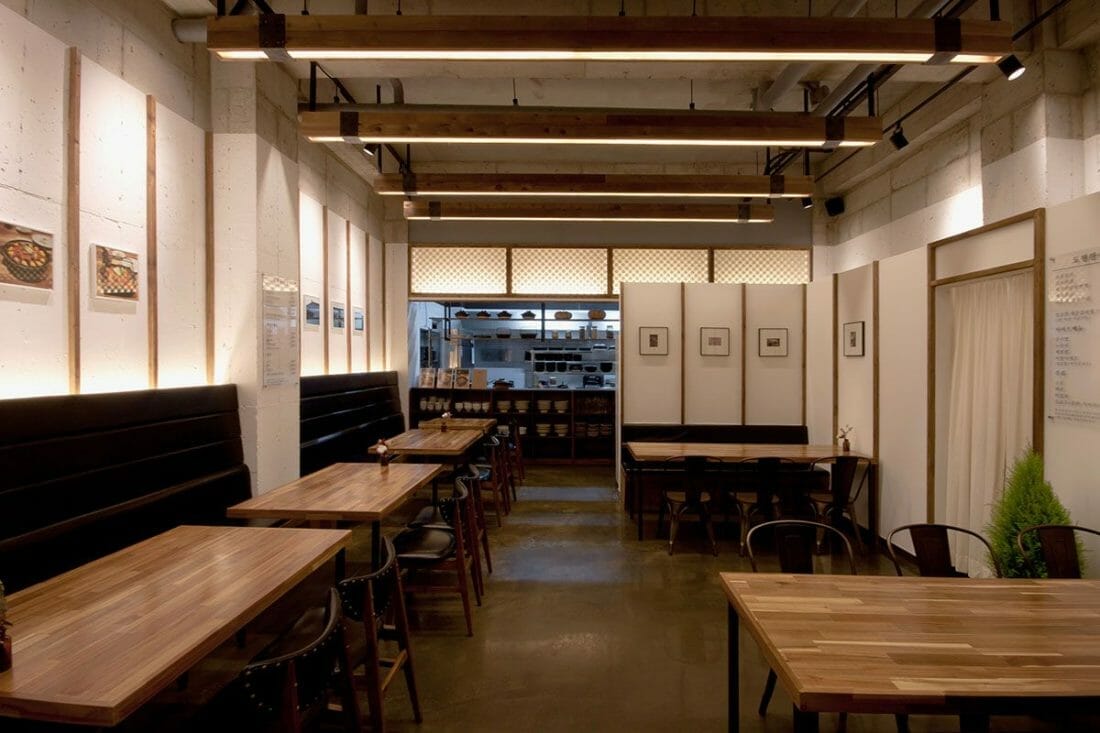 If you do not want anything fancy, these restaurant decoration ideas are for you.
This restaurant looks serene and decent with minimal accessories. All you can see are white walls white simple photographs, exposed wooden beams, and a sleek concrete floor.
This decent combination will suit those who are seeking tranquility and just want to escape from the hurly-burly of city life.
9. Hang the Pendant Light at the Appropriate Height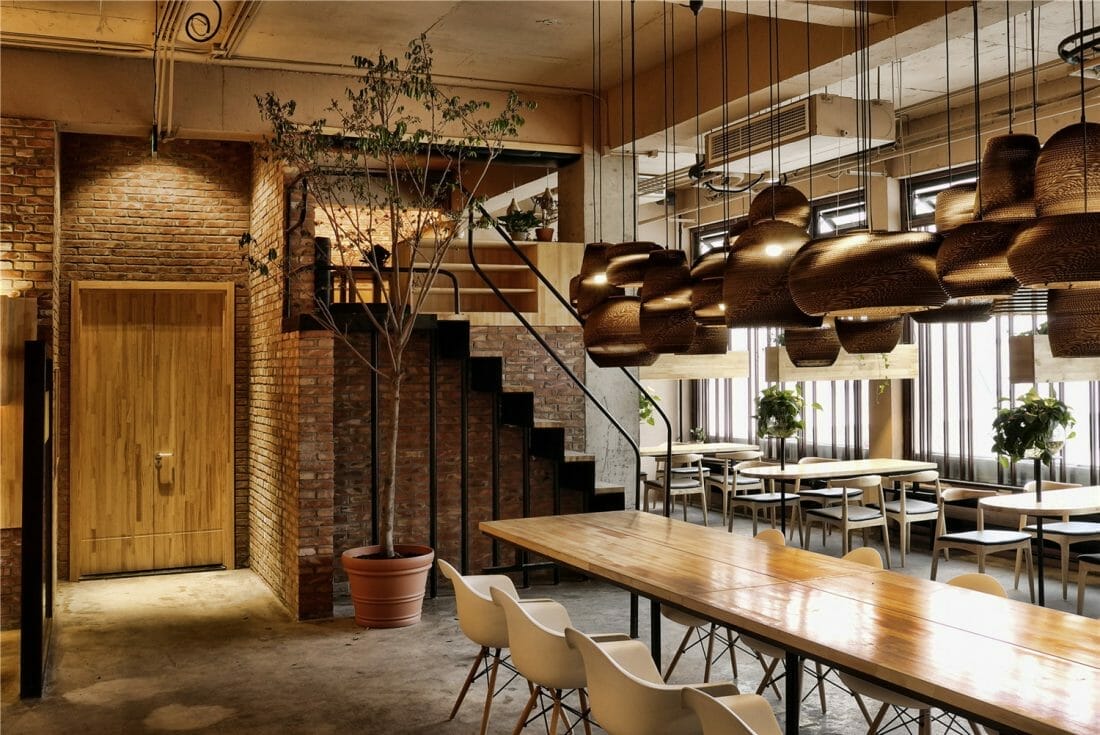 Pendant lights can do more than just illuminate space. Besides, they come in a wide array of designs that will accentuate your restaurant style immensely.
Thus, it is imperative to hang them at the appropriate height to make the most of them.
Suspend the pendant lights right above the table because they are a part of task lighting that illuminates certain essential places.
Just make sure you do not hang them too high because your customers will not notice them. You cannot suspend them too close to the table either because the guests may bump their heads on them.
10. Think What the Customer Needs
Some people are addicted to cigarettes. They are even chain smokers that cannot stay calm without smoking.
Your customers might be active smokers. You are committed to serving any guest with the utmost care. However, you cannot let a chain smoker enjoy a cigarette inside your restaurant, can you? Other people will find it annoying.
If that is the case, you can expand your restaurant and divide it into smoking and non-smoking area. A win-win solution, right? More importantly, everyone is happy.
11. Restaurant Wall Decoration Ideas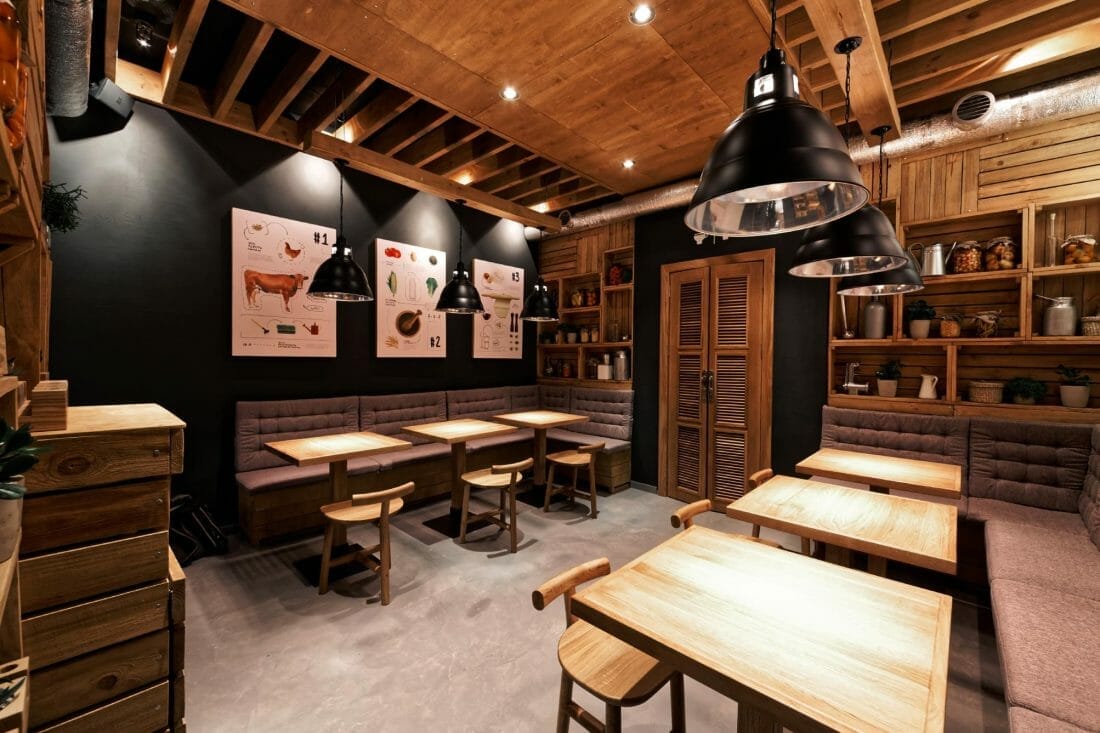 This restaurant feels like a home. It is modest, yet stylish, thanks to the chalkboard wall, wooden furniture, and ambient lighting.
To jazz up the black wall, try hanging your favorite pictures. They can be something informative that your customers might find useful.
For the final touch, install accent lighting that focuses on the pictures so that your customers will spend some time looking at them while you are preparing for the meal.
12. Less is Always More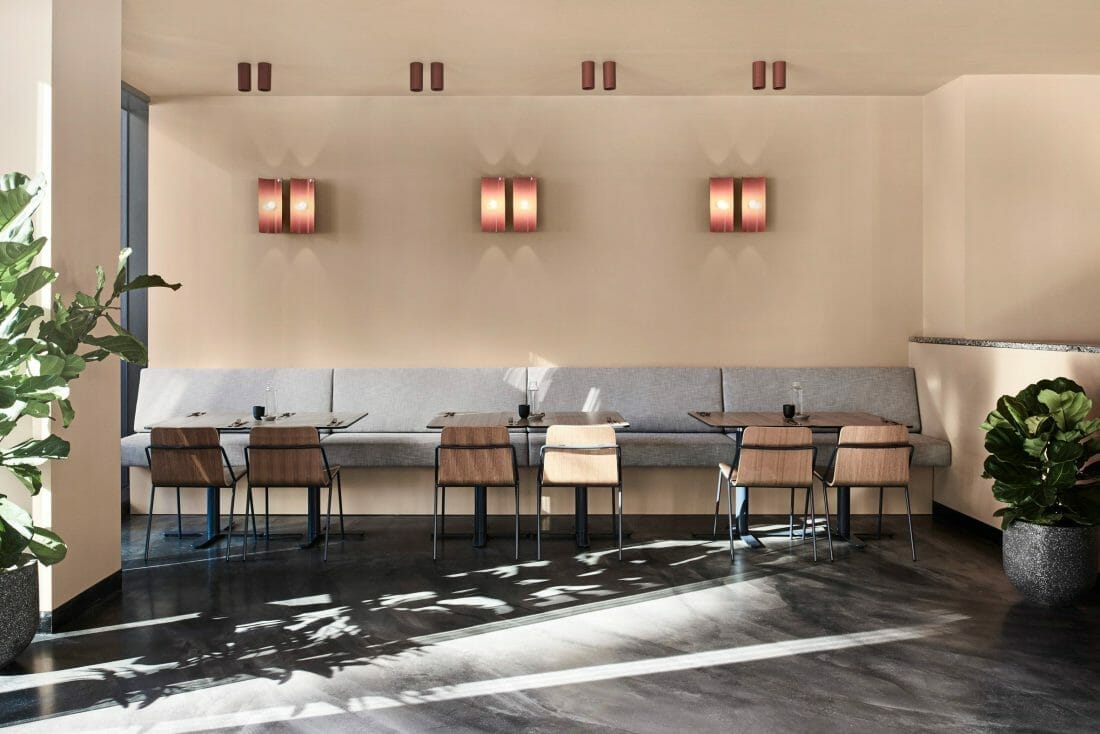 Keeping things down to a minimum is not always bad, especially if you are a big fan of modern style.
This restaurant still looks great although it is void of artwork. The wall-mounted lights are enough because they illuminate the space while embellishing the wall.
13. A Fun Place to Hang Out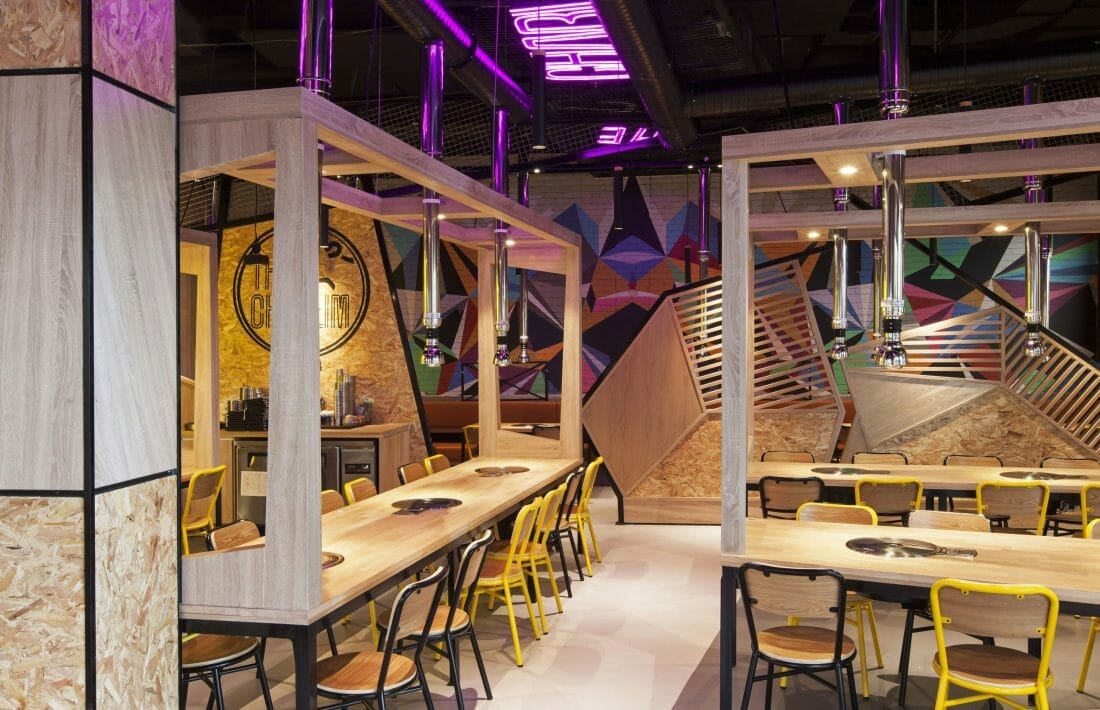 Some people prefer to eat in a casual restaurant to a luxurious one because they just want to be laid-back after the stressful days at work.
If that is the case, these restaurant decoration ideas will be your top-notch choice.
Look at that funky mural on the wall! It embodies freedom of style. People will also find it attractive.
The design of the tables is intriguing. They even have built-in task lighting and grill pans that allow the guests to cook their meal, which has been quite popular lately.
14. Incorporate 3D Art
3D artwork has never failed to impress anyone who sees it. Therefore, you have to put it on your list.
This restaurant features wooden triangles that cover a wall up to the ceiling. The geometric shapes lend a modern look while adding a pattern to the space.
15. Bring the Outside in
Many people enjoy eating in an outdoor area because they can enjoy the beautiful view. Unfortunately, the weather can be the primary obstacle to this idea.
These restaurant decoration ideas are the solutions to that aforementioned problem.
You can let your guests enjoy the delicious meals while staring at the stars without worrying about the rain or snow. Just install glass or polycarbonate paneling, and you are good to go.
To make the space look more natural, build raised beds surrounding the dining area, and grow some plants in them.
16. Steampunk Restaurant Decoration Ideas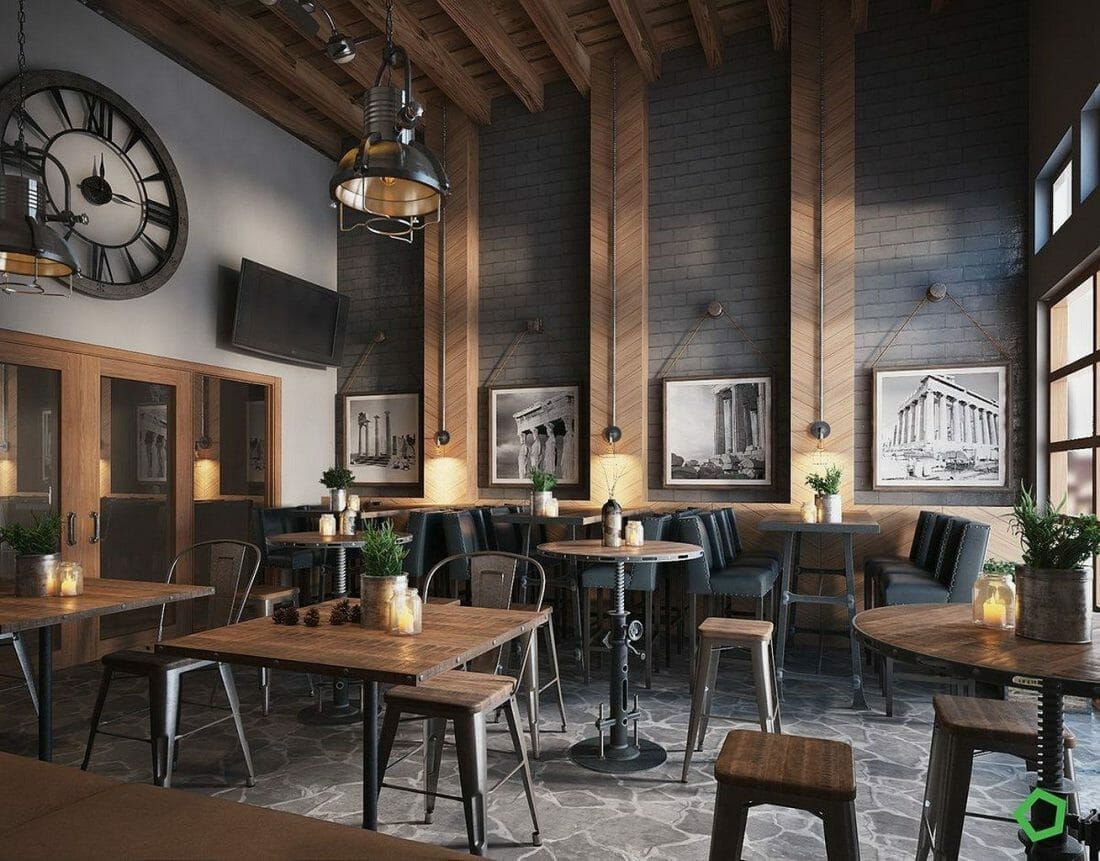 If you want to carve out a bit of masculinity while introducing the charm of old-time trends, these restaurant decoration ideas are your greatest bet.
A large ancient clock makes a statement piece that pays tribute to the past. Each table features an unusual leg that belongs to the industrial style.
17. Layer up the Lighting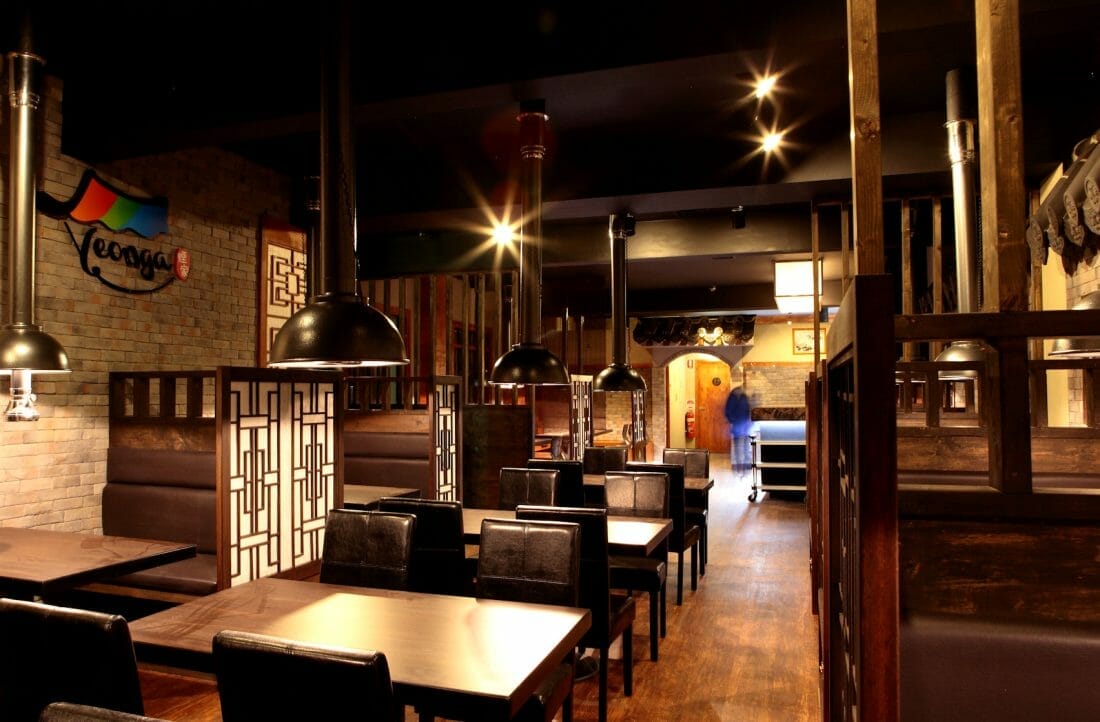 It is not a new thing to use more than just one type of lighting, especially in a restaurant.
Ambient lighting is a must because it illuminates the entire space well without giving your guests an eyesore.
Consider adding task lighting, like a pendant light, over each table for a better view.
18. Lavish Decoration for Luxury
If you plan to build a fine dining restaurant, in which the guests have to dress up, you might want it to look lavish.
You can create a luxurious look by sticking to earthy tones, like beige or brown. Adding some gold can boost the extravagant look.
19. Outdoor Restaurant Decoration Ideas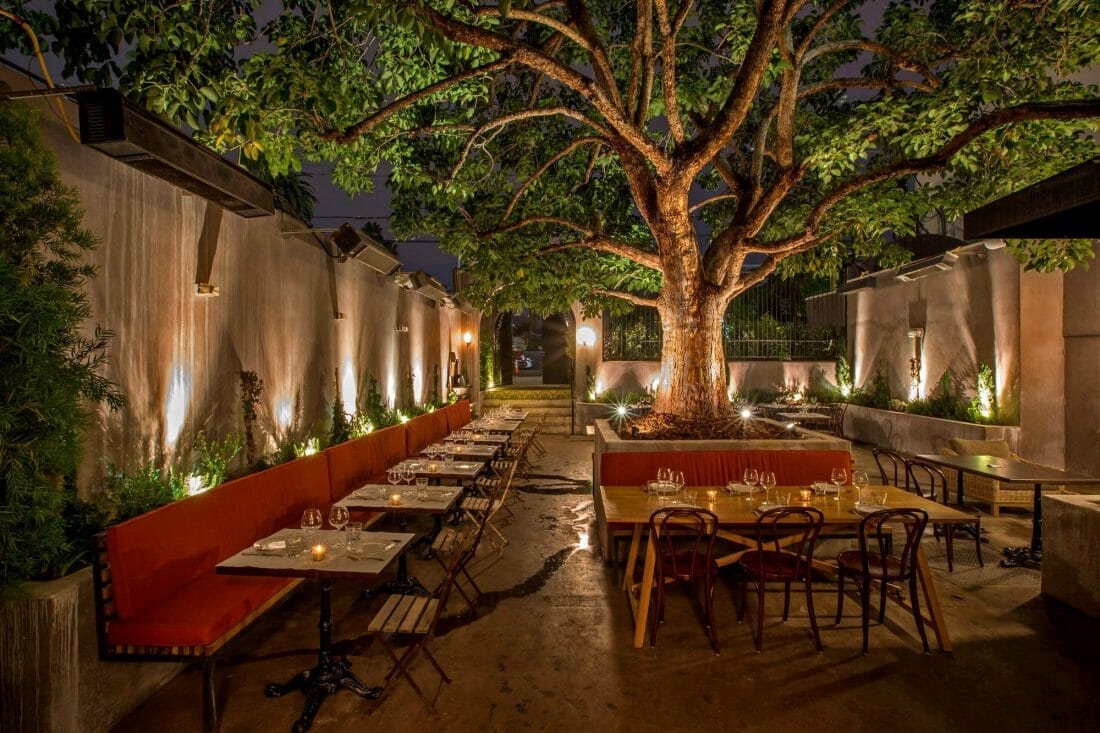 Eating a tasty meal while enjoying the natural scenery outdoors is priceless. You can better it by investing in comfortable seating and task lighting that creates a dramatic look.
20. Set Some Privacy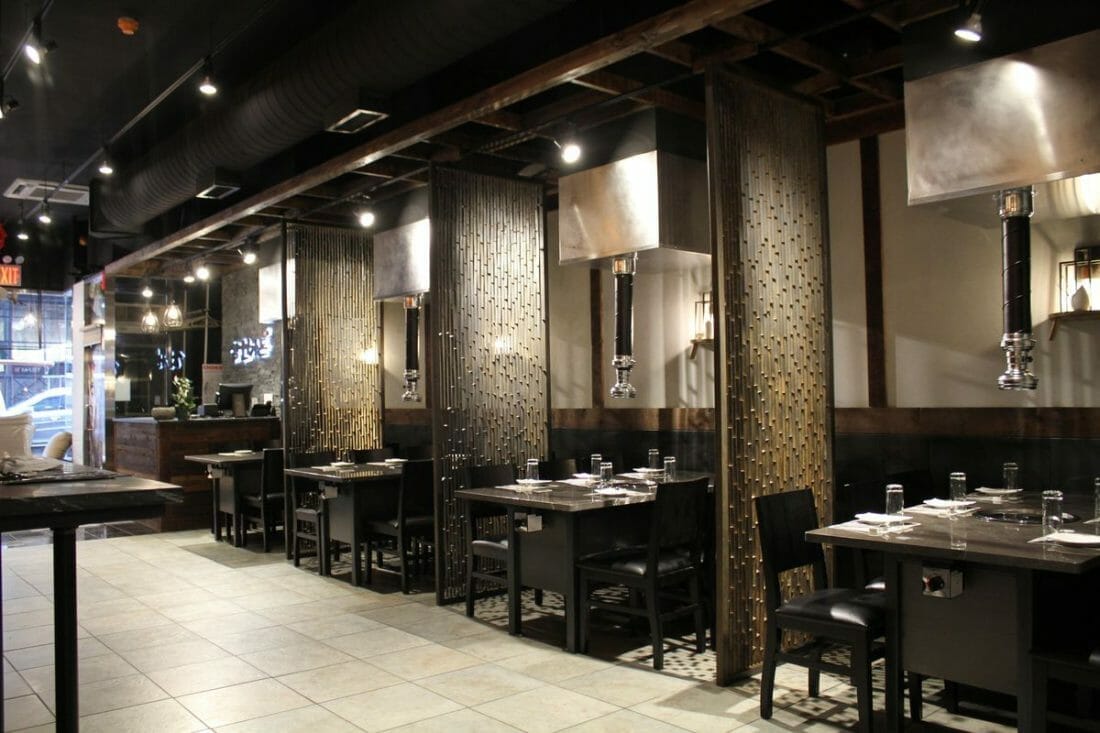 Some customers might enjoy some sort of privacy. Give them what they need by investing in room dividers and installing them between each dining table.
The room divider will not only give your customers privacy but also incorporate more patterns into your restaurant.
21. Modern Restaurant with Rustic Accent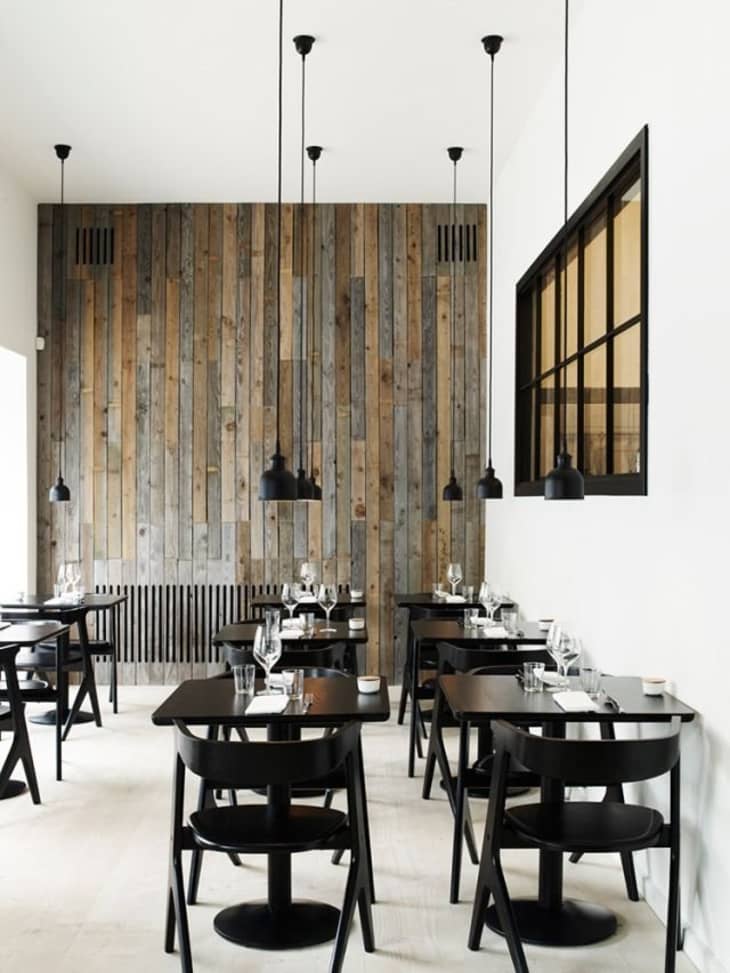 The use of a monochromatic color scheme tells you that this restaurant adopts a modern style. To make it look more attractive, you can add a bit of rustic touch by installing pallet wood to create an accent wall.
22. Checkered Floor for Retro Style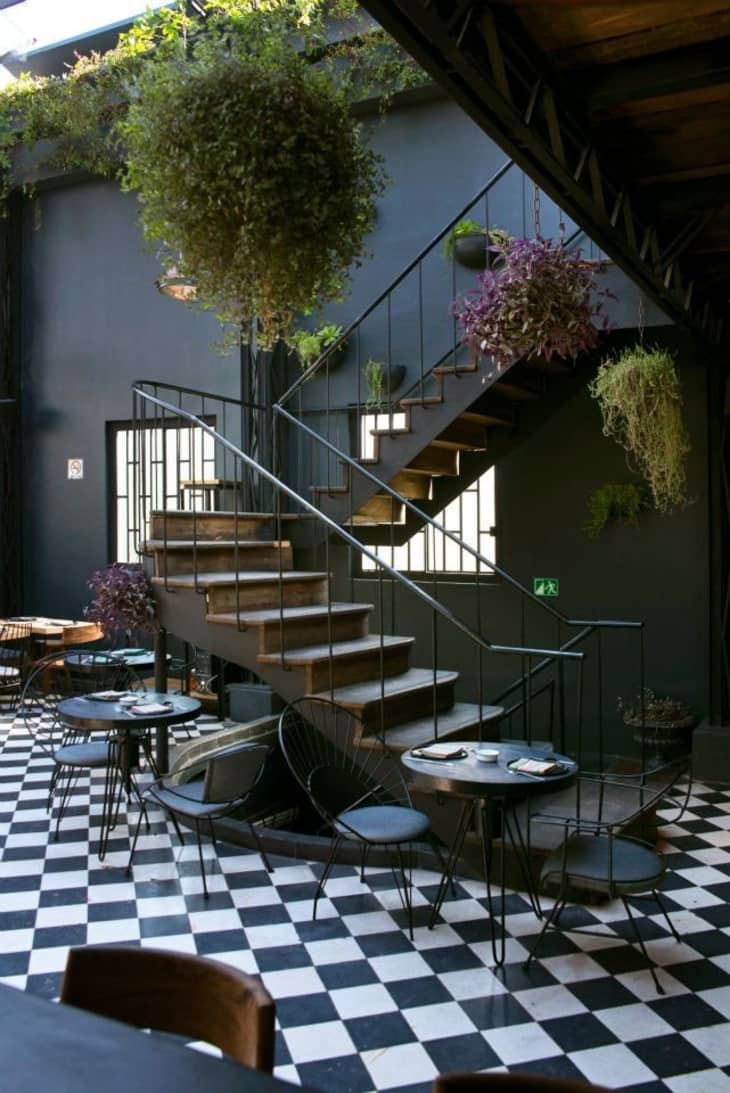 For a laid-back feel that all people can enjoy despite their ages and social status, you can adopt retro restaurant decoration ideas.
Installing a checkered floor is an instant way to create the style because it pays tribute to the past. Then, spruce up the space with some plants.
23. Tap into the Ceiling Creatively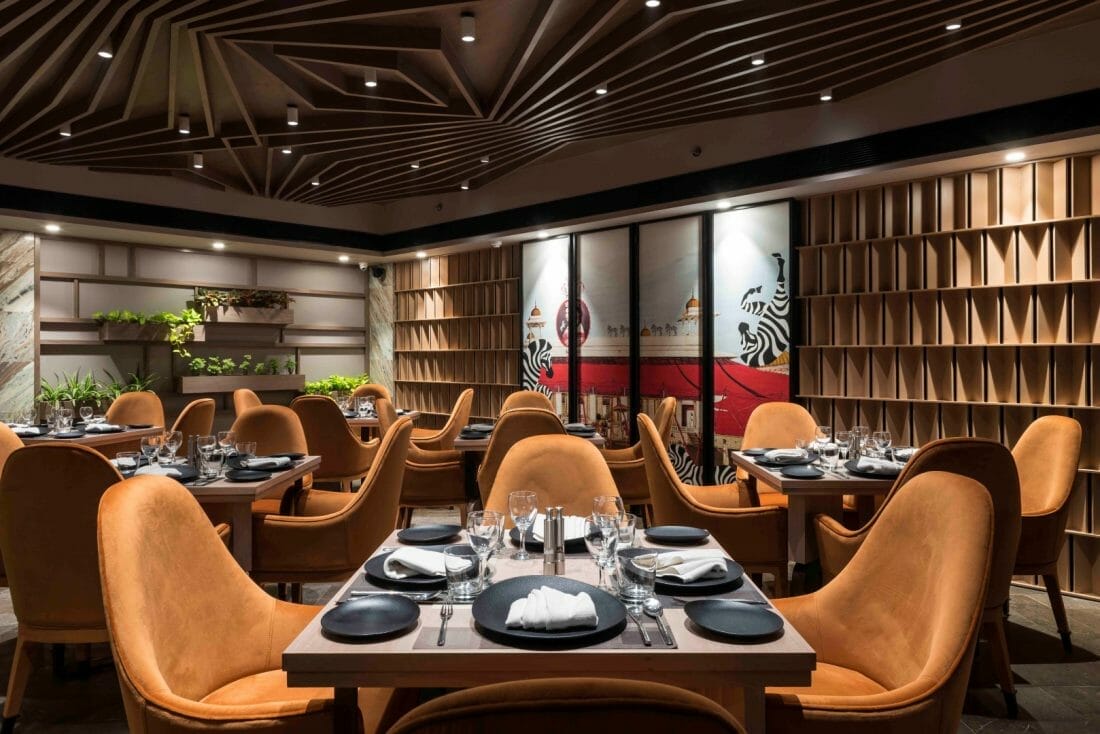 Besides the walls, you also need to consider embellishing the ceiling. You can do this by installing paneling or a geometric accent, like the one that you can see here.
24. Modern Restaurant Decoration Ideas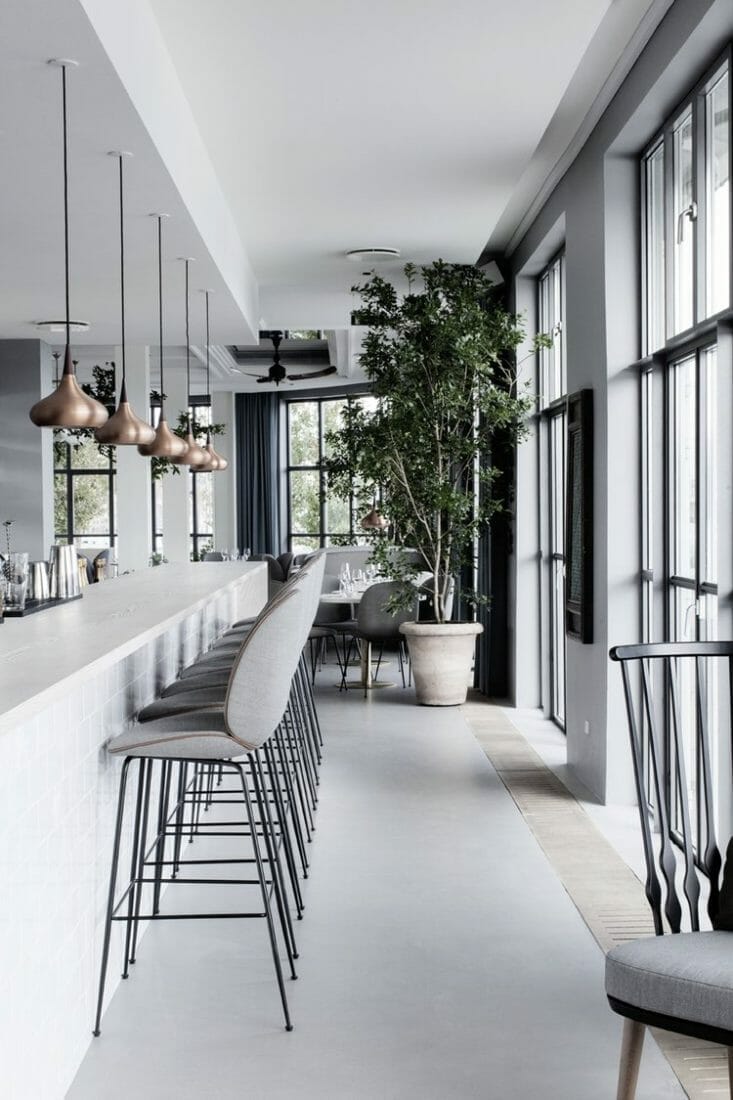 The modern style entails a minimalist look and simple decorations that feature geometric shapes. Sticking to a neutral color palette, like white, black, and gray is your safe bet.
25. Travel through Time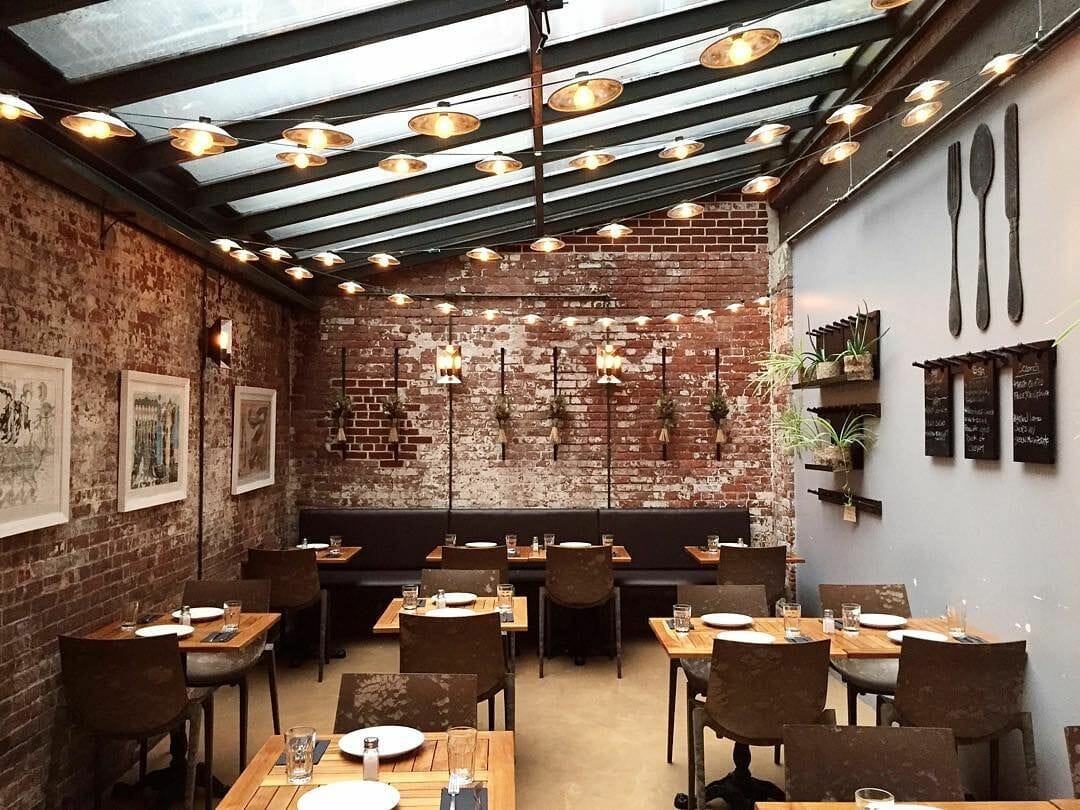 This restaurant connects the present and past extremely well. You can find a splash of contemporary style among the rustic charm.
Exposed brick walls have never failed to amaze people. They already have their pattern and texture. Still, you need to improve the look with wall art and vintage lighting.
26. Industrial Minimalist Restaurant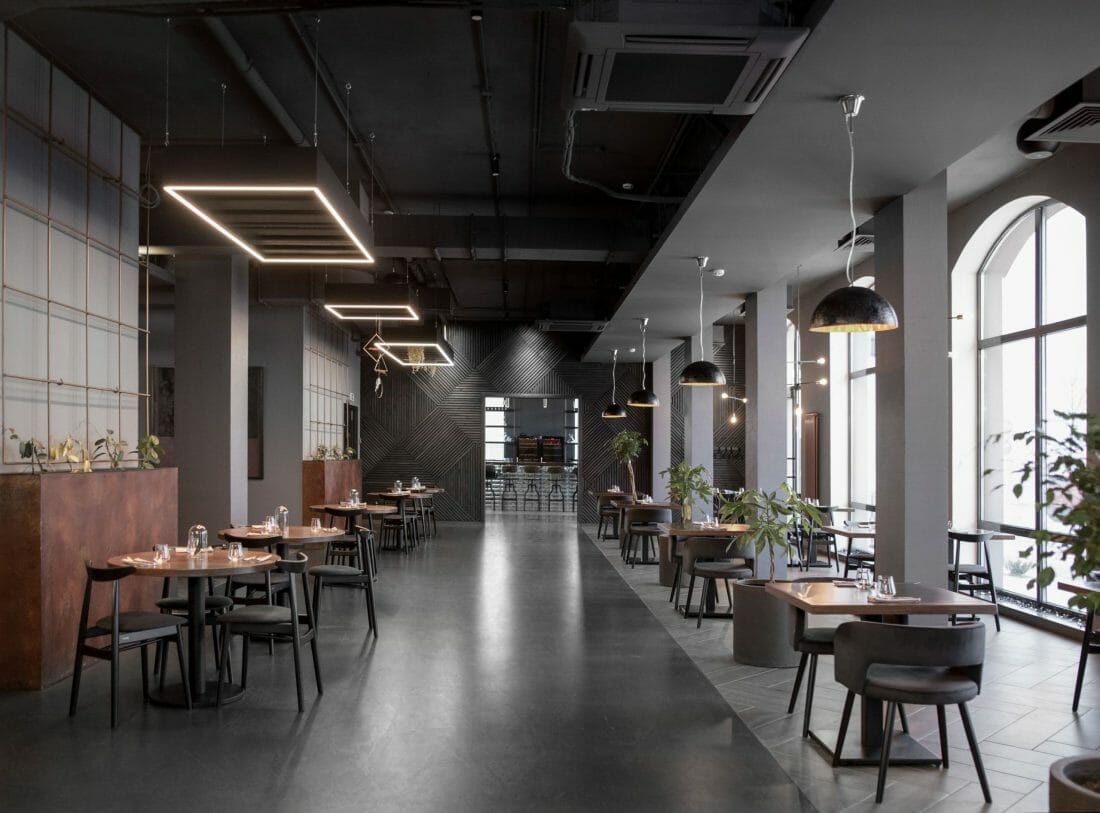 The minimalist concept is always thrilling. When combined with an industrial concept, you will get a stylish restaurant.
You can see the sleek concrete floor here, which is inviting. The most interesting things are the pendant lights and rustic planter.
27. Simple Restaurant Decoration Ideas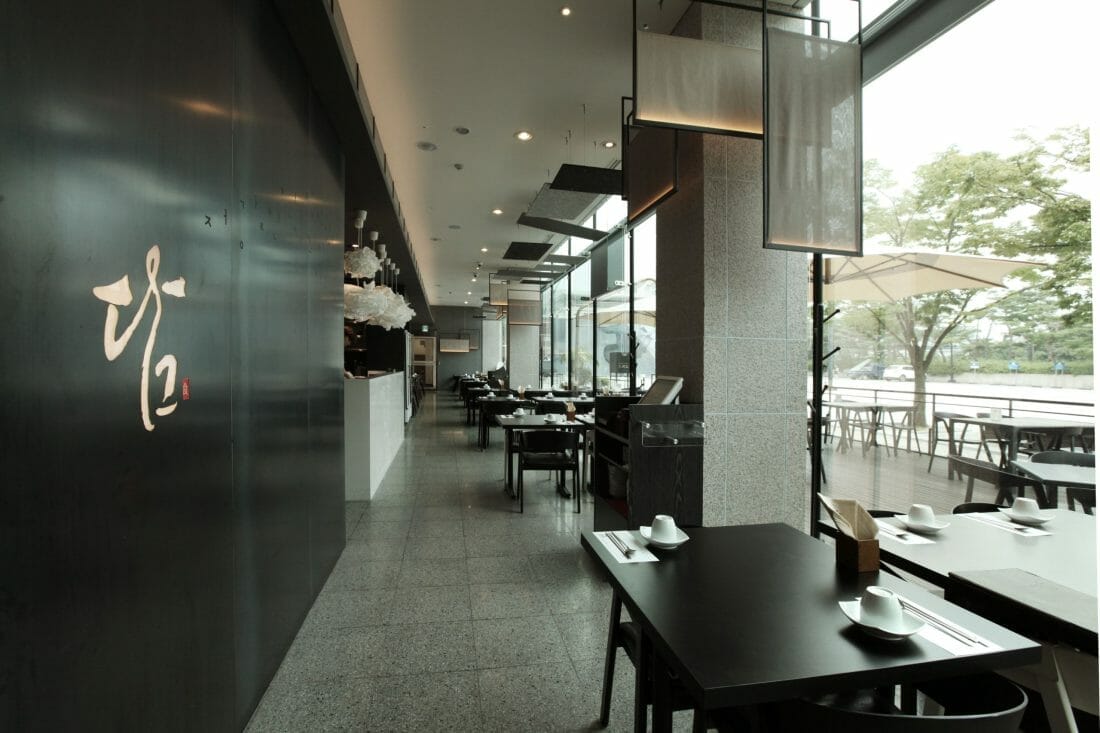 A chic restaurant does not always have to entail sophisticated accessories. Simple decorations like Japanese typography on the wall will work like a charm.
28. Go for Unusual Wall Art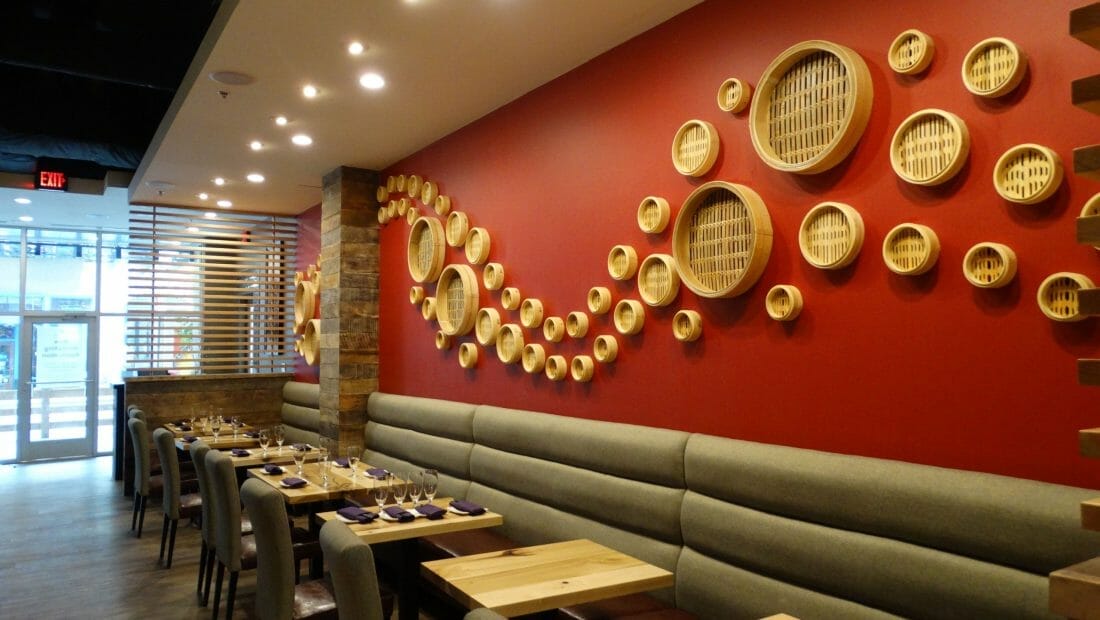 The idea of repurposing things is always amazing, especially if it is something that you use daily.
This restaurant features a vibrant red wall. You can also see artwork made of bamboo steamers coming in various sizes. It is such a brilliant way to give a second life to unused things.
29. Be Mindful with the Seating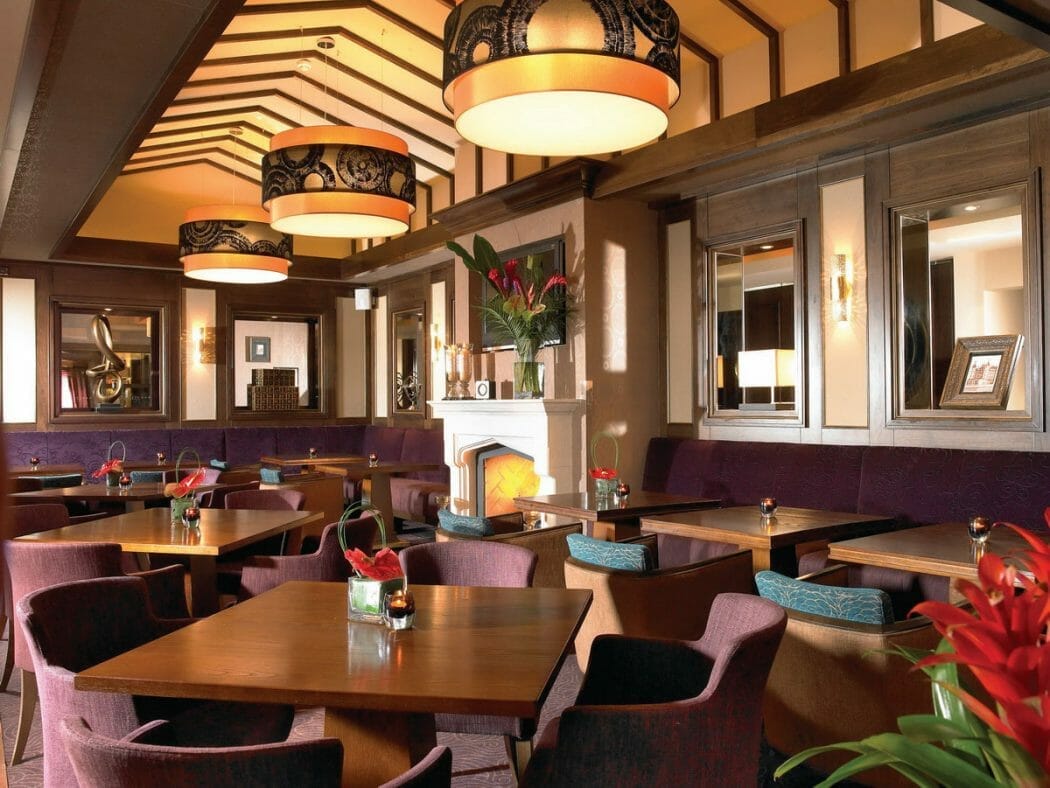 Seating is another element that plays a crucial role in any restaurant. It has to be comfortable so that people can linger over the scrumptious food.
You will also have to think about the arrangement meticulously. Just make sure you leave plenty of floor space for foot traffic.
30. Restaurant Decoration Ideas for Birthday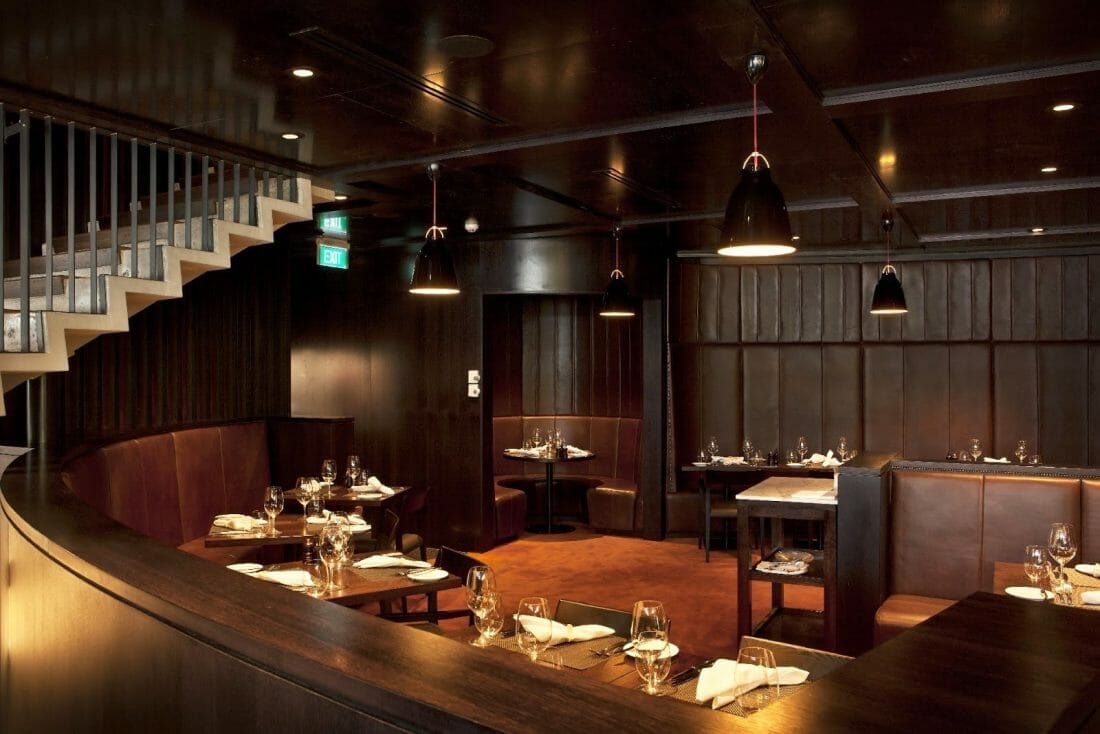 In some cases, your customers may ask you to do them a favor, especially on their special day.
They are likely to invite friends and act as a host. If it happens, you might need to rearrange the seating.
What about the decorations? It is not a party for a 7-year-old princess wannabe. So, keeping things simple is good.
31. Restaurant Decoration Ideas for Small Space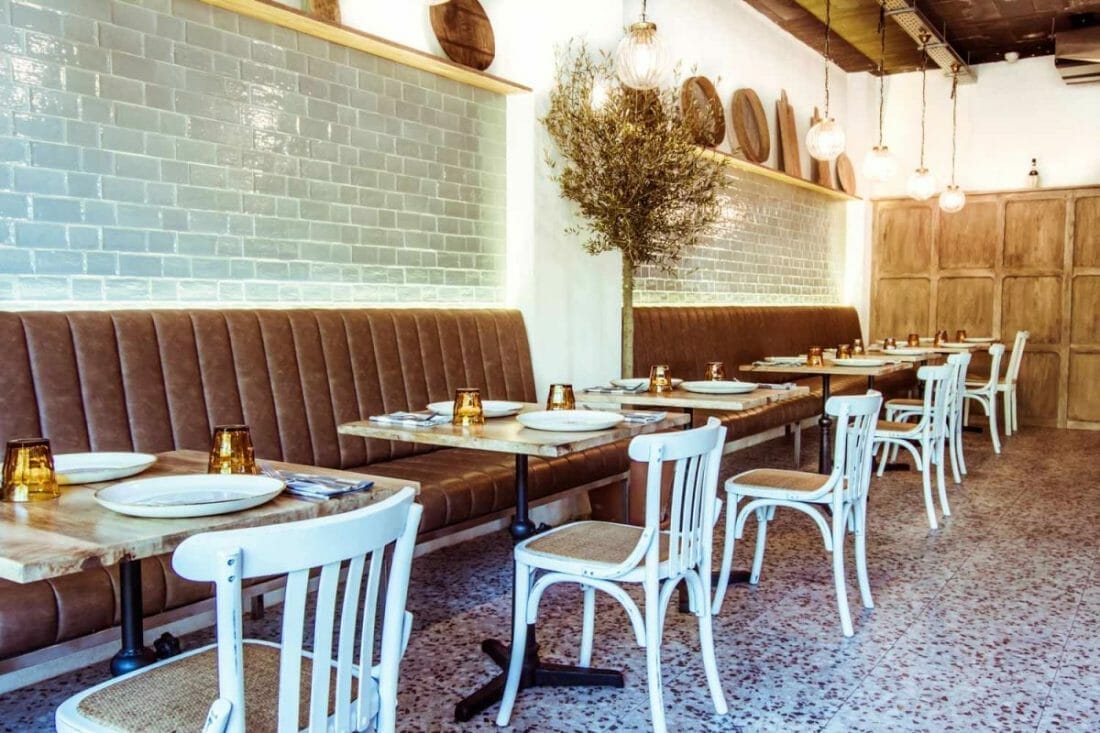 Who says you need a large building to run a culinary business? A small restaurant will be sufficient if you can arrange them well.
Try shoving the seating against the walls. This way, you can leave much space in the middle for foot traffic.
Add some interest with glass subway tiles that reflect lights, and shelves housing some cutting boards and bamboo steamers.
32. Glamorous Restaurant Decoration Ideas with Gold Accent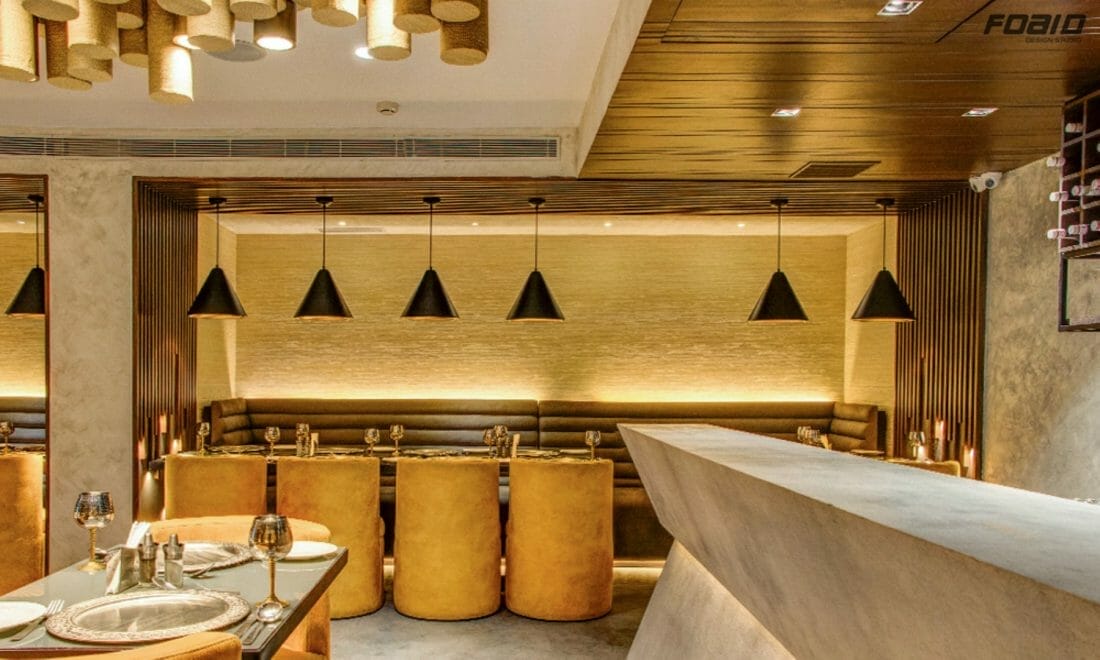 If you want to add a touch of glam, gold accents are your greatest bet.
This restaurant looks glamorous with gold walls and a super comfy seat. As a result, those combinations create luxury instantly.
Earning positive remarks from customers is not only about serving tasty food. Restaurant decoration ideas also play a crucial role in making them satisfied. So, do not underestimate it.