The bathtub and shower are supposed to help you reinvigorate your body. However, limited space might not give you a chance to refresh your mind.
If that is the case, you should try these cozy small master bathroom ideas.
1. Small Master Bathroom Ideas Shower Only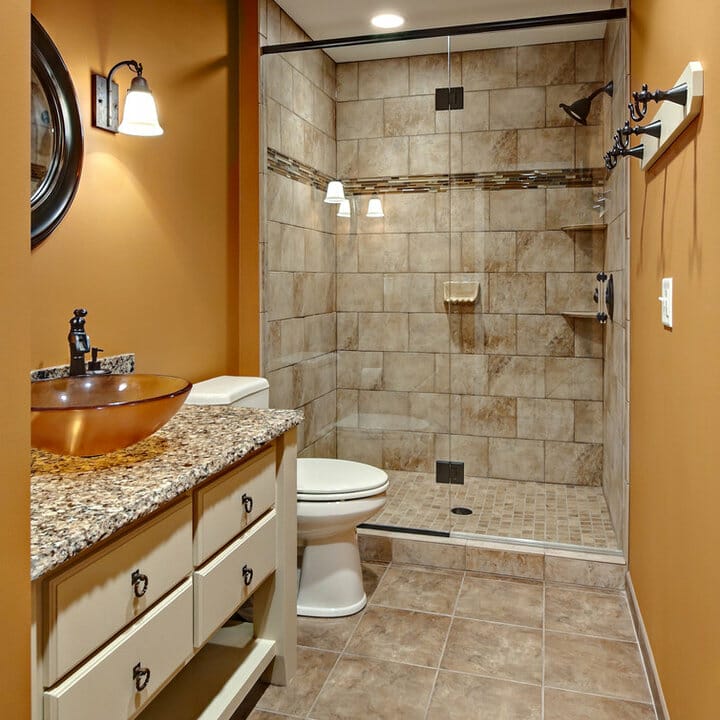 Limited space does not give you the privilege of shoving a comfortable bathtub into your bathroom. Subsequently, you are only able to put a shower, which is just fine.
These small master bathroom ideas show you how to turn this drawback into something beneficial and stylish.
For a narrow, long bathroom, your safe bet is to place the shower at the end of the room. Then, arrange the vanity and toilet on the same side, which is usually the wall opposite the door.
Consider installing the same tiles you use for the flooring to the shower enclosure to create the effect of continuity.
2. Consider Built-In Storage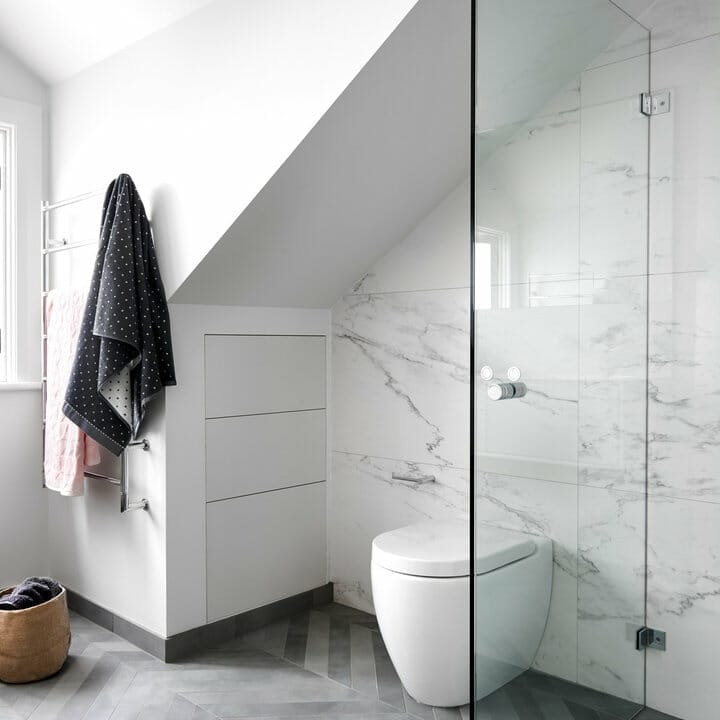 Some people have to build a bathroom in the attic because they do not have any other space. It indicates they have to keep up with a small room.
You can find many small master bathroom ideas to deal with it. One of which is to use every nook and cranny, including the knee wall.
The knee wall is the one that meets the slant of a loft roof. You can install built-in drawers in it to incorporate more storage solutions without conquering more floor space.
3. Remove Any Bulky Cabinet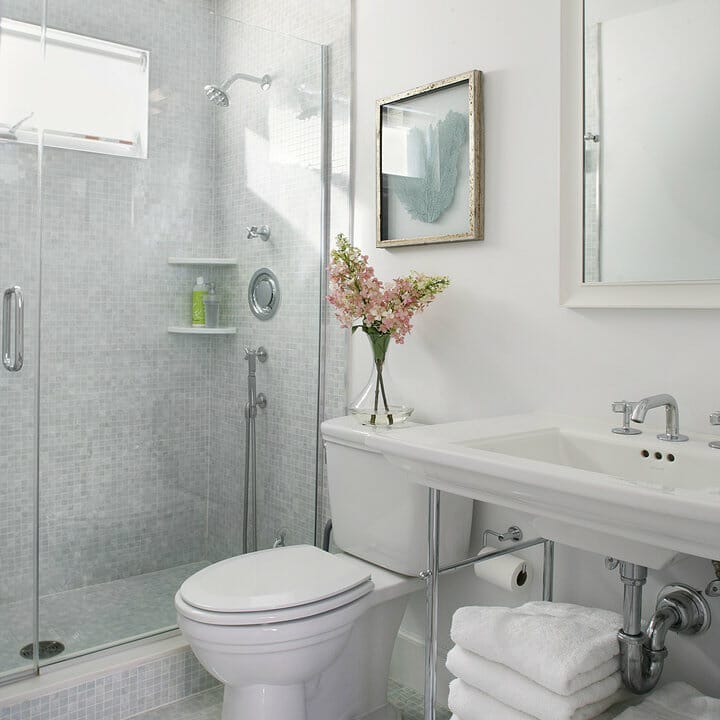 You will typically find cabinets under a bathroom sink, which helps you store towels and toilet papers while stashing away clutter.
The cabinets will work in a spacious bathroom. However, if you lack space, you can forgo them whatsoever and install shelves, instead.
4. Be Cool with Earthy Tones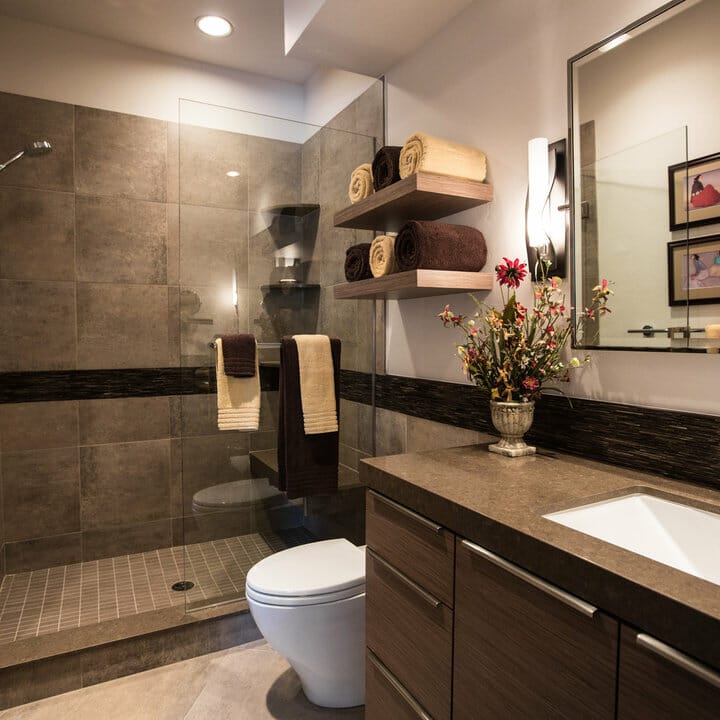 If you like to count a touch of classiness, you can try these small master bathroom ideas.
This bathroom comes in earthy tones combined with a sleek design. As a result, you get a classy and chic space despite being undersized.
Consider learning how to roll towels. Besides providing more space, this folding technique also lends visual appeal, like in a hotel bathroom setup.
5. Small Master Bathroom Ideas with Tub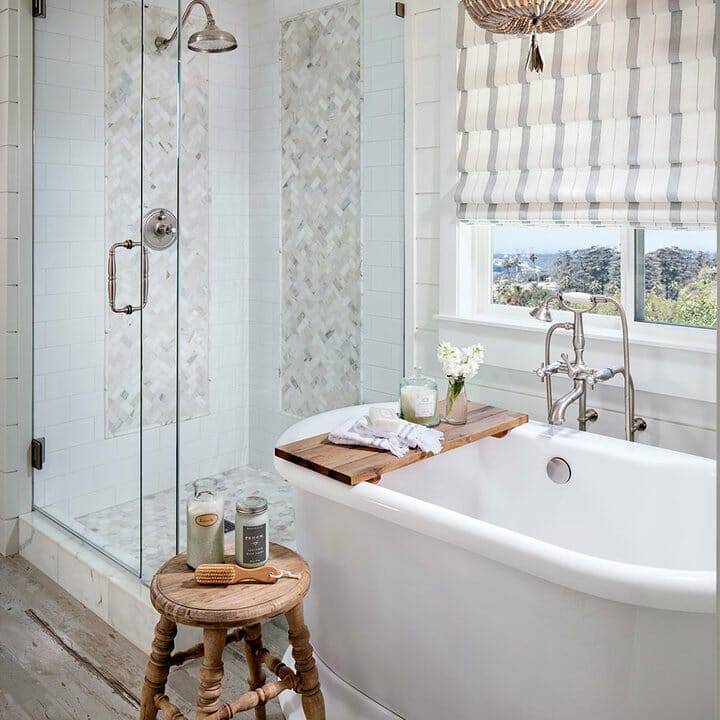 Small master bathrooms typically have one common problem – clutter. They tend to look messy because of the restricted room and shortage of storage. To overcome this problem, try investing in more shelves, like this bath tray.
A bath tray does wonders when it comes to incorporating flexible storage into a small bathroom.
Besides, this tray can give you the luxury that you have been longing for during your relaxing bath time. You can set down food and drinks – or even a scented candle – on it.
6. Incorporate Wooden Elements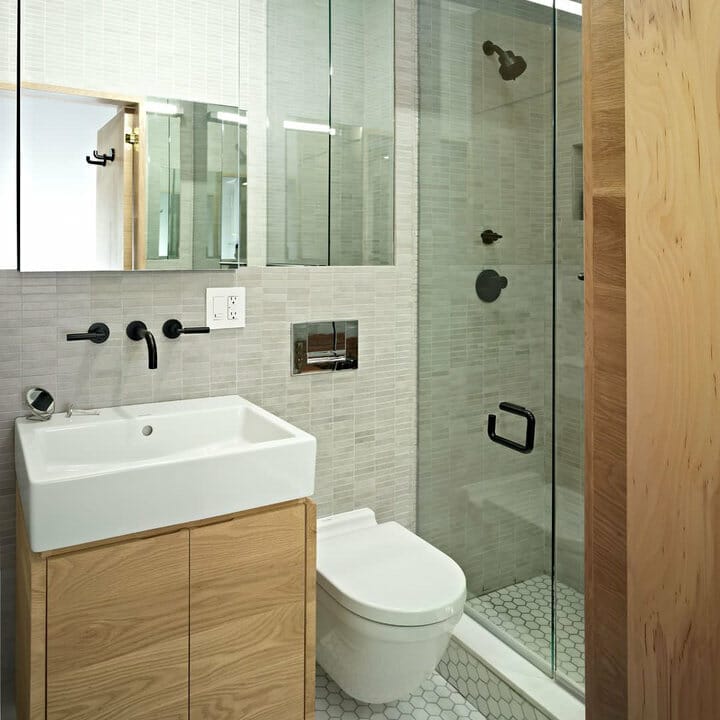 The wooden element always becomes a part of the minimalist look. Therefore, you should include it if you want to carve out the modern style.
Since the bathroom is prone to moisture, make sure you apply a clear coating or water-resistant paint to your wooden vanity and shelves.
That way, you can make the woodwork waterproof, so it will not be likely to warp, swell, or discolor.
7. Try Mosaic Accent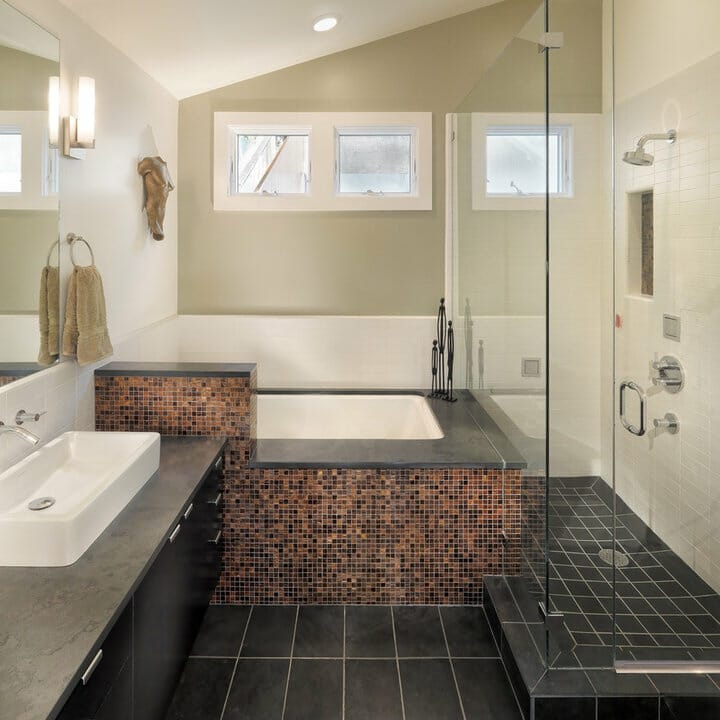 Applying different tiles on a certain area in a bathroom is a common way to accentuate it while adding more interest to the space, just like this bathtub.
The bathtub is the main interest in this bathroom, thanks to the mosaic tiles that have made it look standout among the black vanity and floor.
8. When Traditional Meets Modern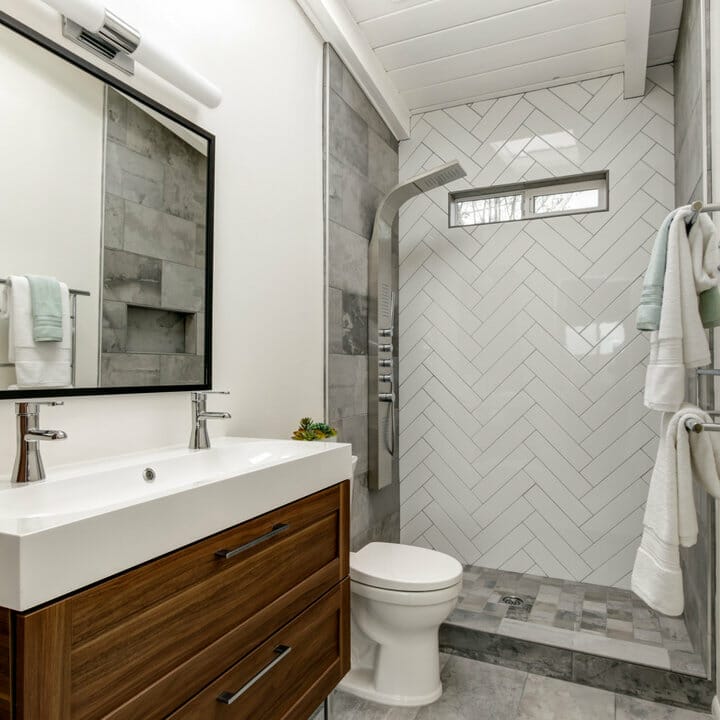 Combining two different styles is not impossible. You just need to know to put them together so that you will get a harmonious look rather than a haphazard appearance.
These small master bathroom ideas show you how to make it tangible. You can bring modern style to the space by investing in sleek furniture and fixture featuring clean-lined edges, like this shower, vanity, and mirror.
Using a neutral color palette can also help you bring modern style to the space.
As for the traditional look, you can try investing in a wooden vanity. You can also use shiplap wood paneling to cover the ceiling.
Last but not least are the subway tiles arranged in a herringbone pattern.
9. Small Master Bathroom Ideas in Farmhouse Style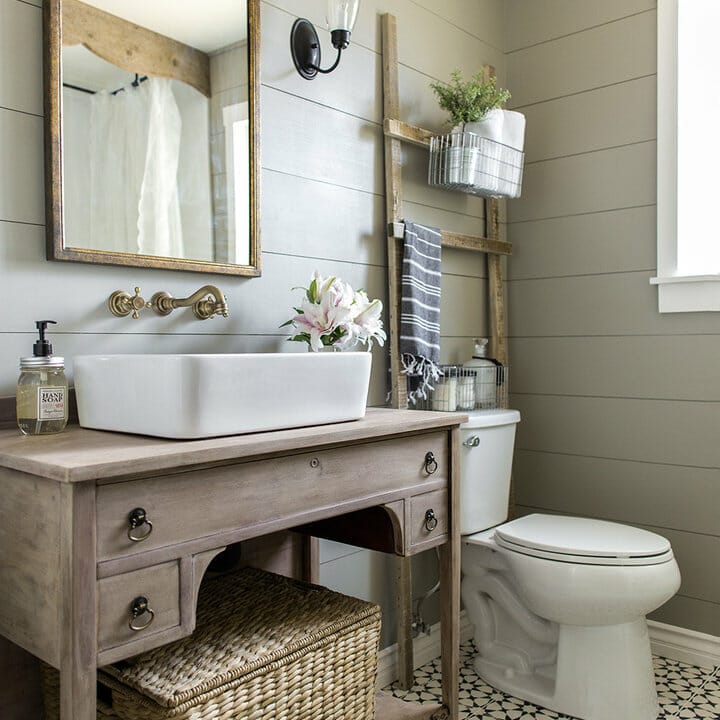 If you want to create a traditional look, these small master bathroom ideas should be on your list.
Shiplap wall or tongue-and-groove paneling is the hallmark of the farmhouse style. Thus, you can begin with it if you like to make a conventional look.
Adding more well-worn accents, like this ladder, vanity, and mirror frame will accentuate the style. Then, opt for wrought-iron sconces for the lighting.
10. Let Natural Light In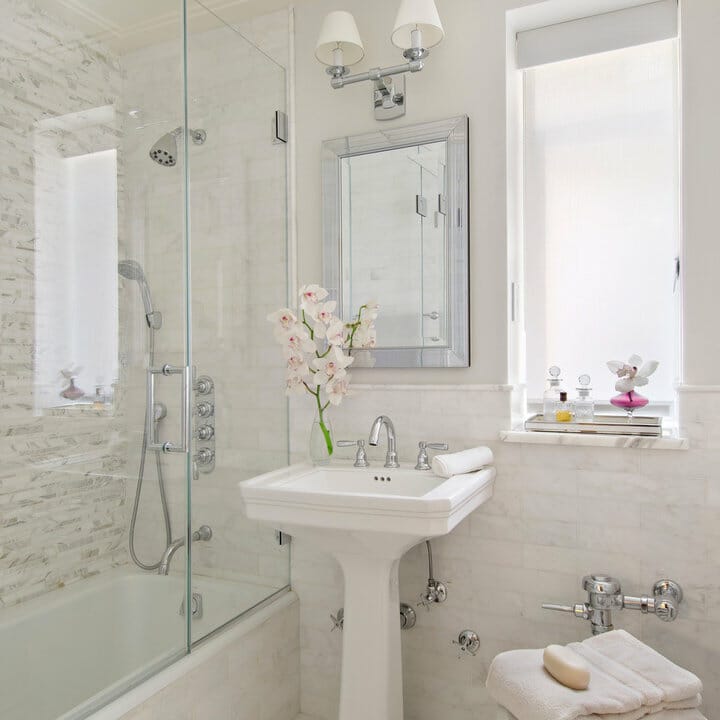 One of the most effective ways to tackle a small room is by earning as much natural light as possible. You can do this by lodging windows or skylight.
Do not worry! You can still get your privacy by installing opaque glass or privacy window films.
If your bathroom is in the basement, meaning it is impossible to get natural light, you can always install the artificial ones.
11. More Mirrors, More Space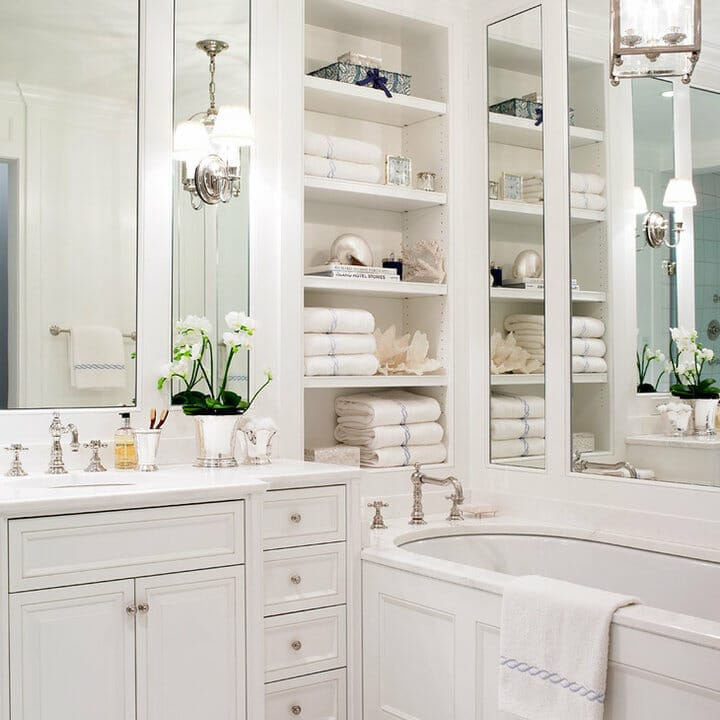 Aside from natural light, another trick you can use to tackle small space is by hanging large mirrors.
These small master bathroom ideas demonstrate to you how mirrors do their charm. They reflect light, which makes petite space seem larger than it actually is.
Combine the mirrors with a white color scheme. Then, you get a cozy bathroom.
12. Traditional Small Master Bathroom Ideas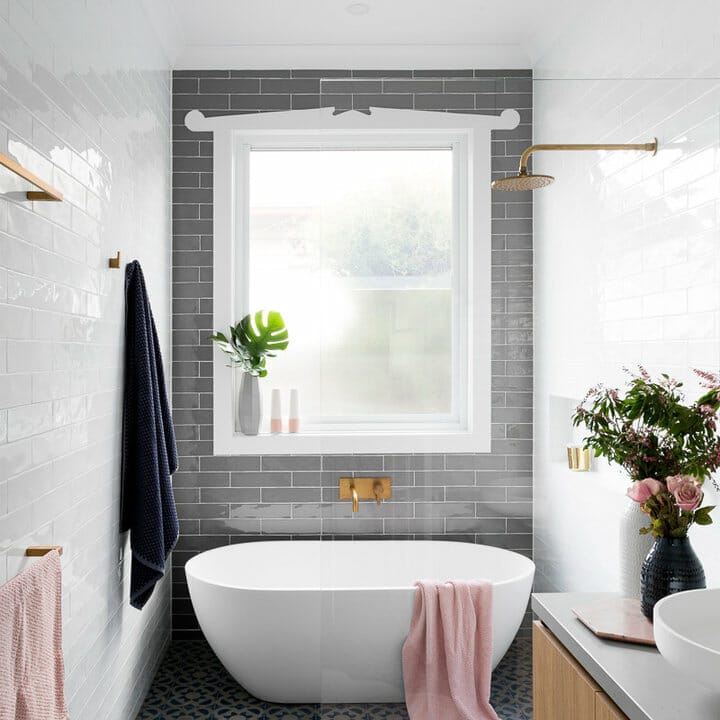 Another way you can use to carve out a traditional look is by installing subway tiles in your bathroom.
This small bathroom looks stunning with sleek white subway tiles installed on the left and right walls.
Gray subway tiles with white grout make a great backdrop for the bathtub.
13. Match the Wall and Ceiling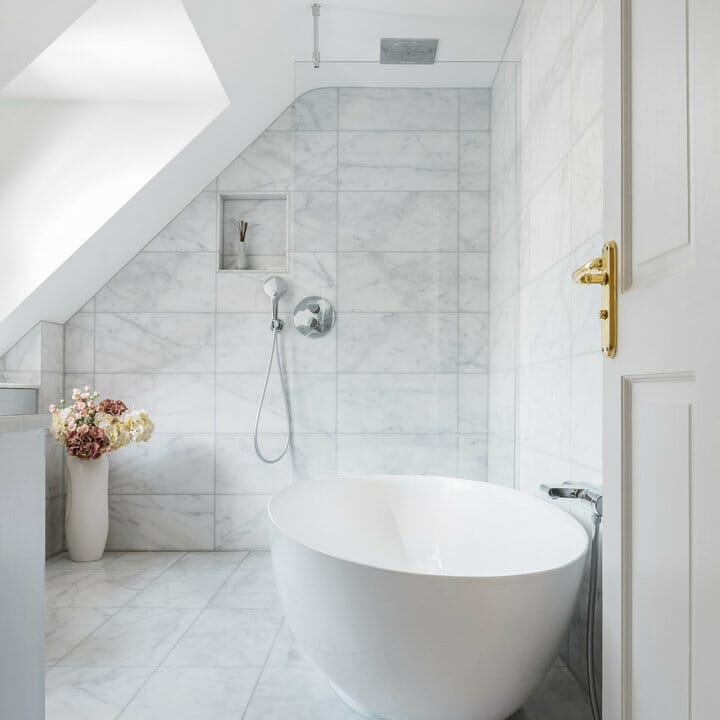 Creating a united look is essential when it comes to small spaces.
Instead of applying different colors for the floor, walls, and ceiling, which creates clear boundaries between them, you had better implement the same hue and pattern to the entire surface.
The walls and floor share the same tiles, which makes them flow into one being. You can also notice the elegant look from the vines.
14. Add a Bit of Coastal Theme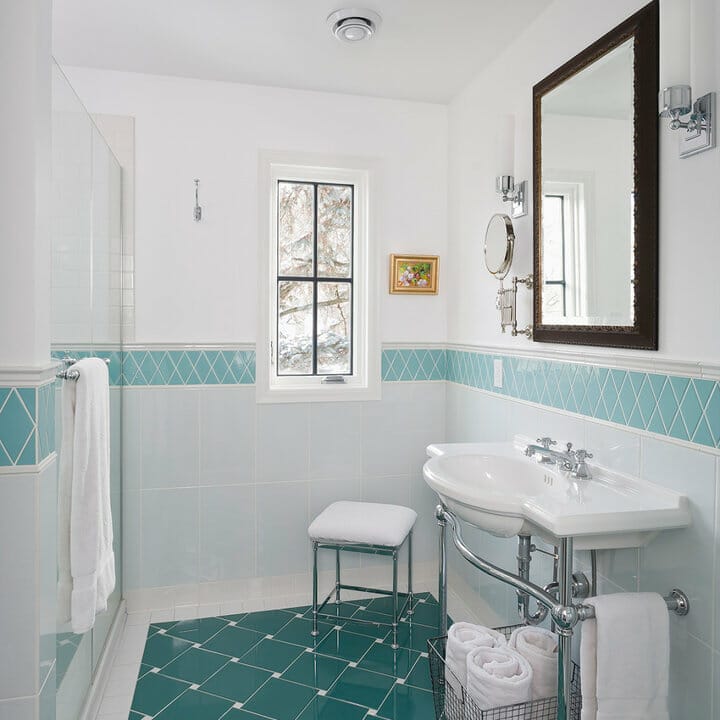 Applying colors is one of the convenient and effective ways to create a certain style.
As for a coastal theme, you can apply crisp white to the entire space in your bathroom. Then, you can add a bit of accent using teal or turquoise tiles on the wall and floor.
You can also add some coastal accessories, like jute rope, seashells, and starfish.
15. Stick to Neutral Color Scheme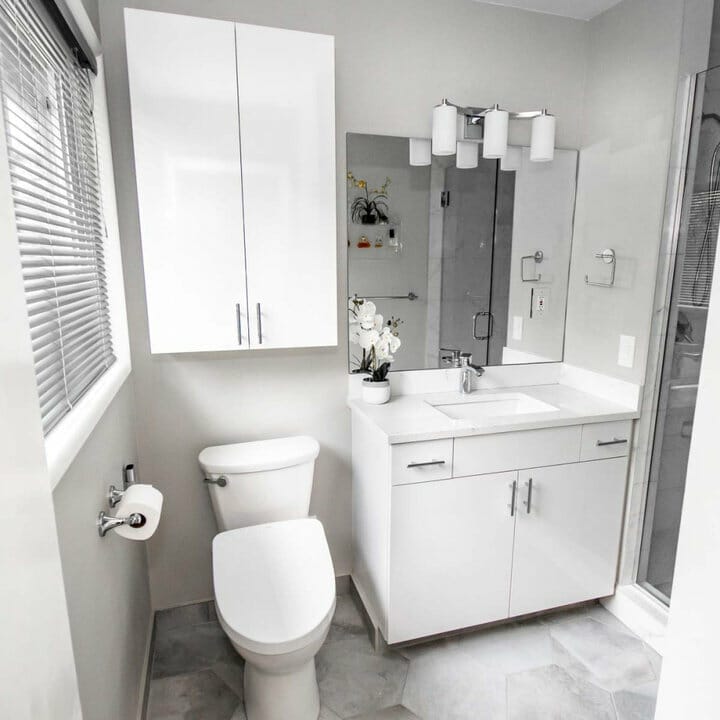 Although you can apply any color you like to your bathroom due to your taste, it is always good to stick to a neutral color palette.
White and gray conquer this small bathroom, which makes it look larger. You can take this idea to the next level by investing in sleek cabinets and forgoing the mirror frame. This way, you can get the trendy style.
16. Be Glamorous with Gold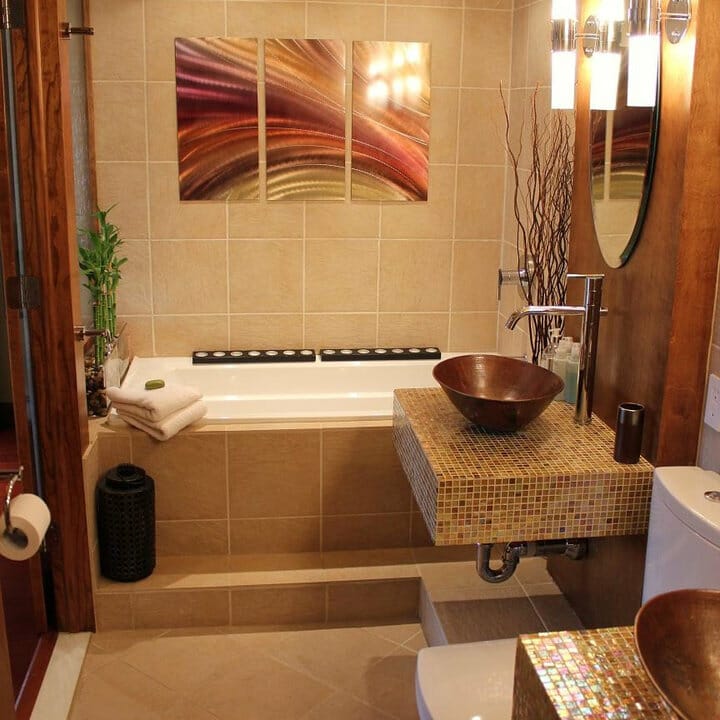 These small master bathroom ideas will lend a glamorous look to the space, thanks to the gold accent that you can find on the entire surface.
Golden beige tiles create an elegant base that houses various fabulous accessories. Mosaic tiles found in the vanities make great accents. Two round bronze vessel sinks complete the luxury.
Although it is a bathroom, it deserves decorating. Thus, hanging wall art over the bathtub will jazz up the space immensely.
17. Double Vanity for Multiple Users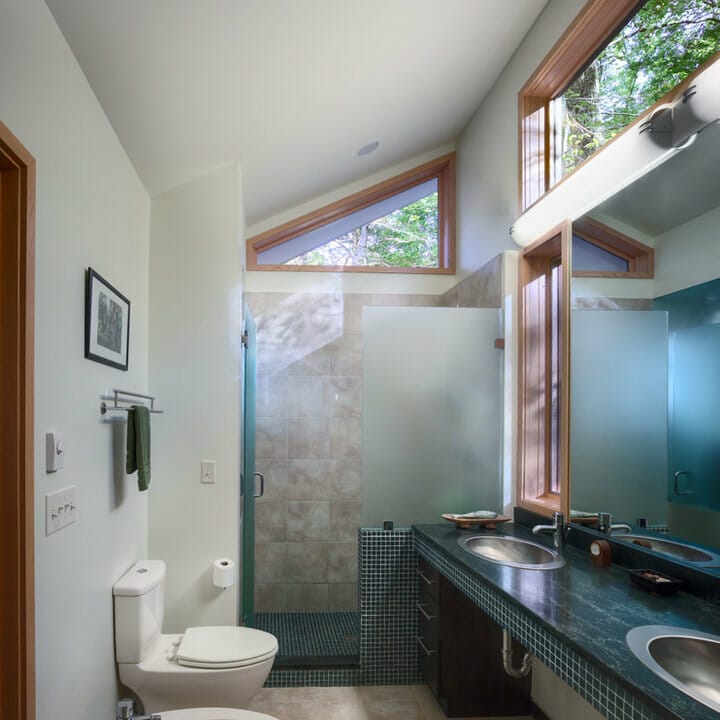 It is quite irritating to queue for a bathroom when you are in a rush. You would not find this problem if you installed a double-sink vanity.
This bathroom is small yet efficient. It features a double-sink vanity that accommodates multiple users. Thus, you do not need to queue just because you want to brush your teeth.
18. Play with Dark Hues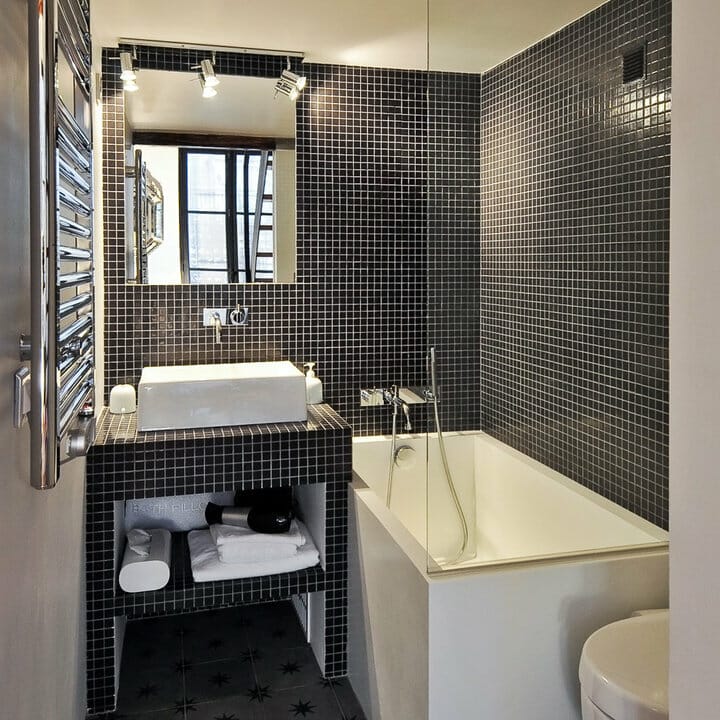 As a good rule of thumb, white is the go-to color when it comes to adorning limited space. These small master bathroom ideas, however, tell you otherwise.
This bathroom uses mosaic black tiles on the walls and vanity. However, it still looks perfect.
Black is synonymous with boldness. Thus, to alleviate it, you need to avoid any sophisticated details. A clean-lined white bathtub and sink are good examples. Forgoing the mirror frame will round out the look.
19. Install a Mesmerizing Light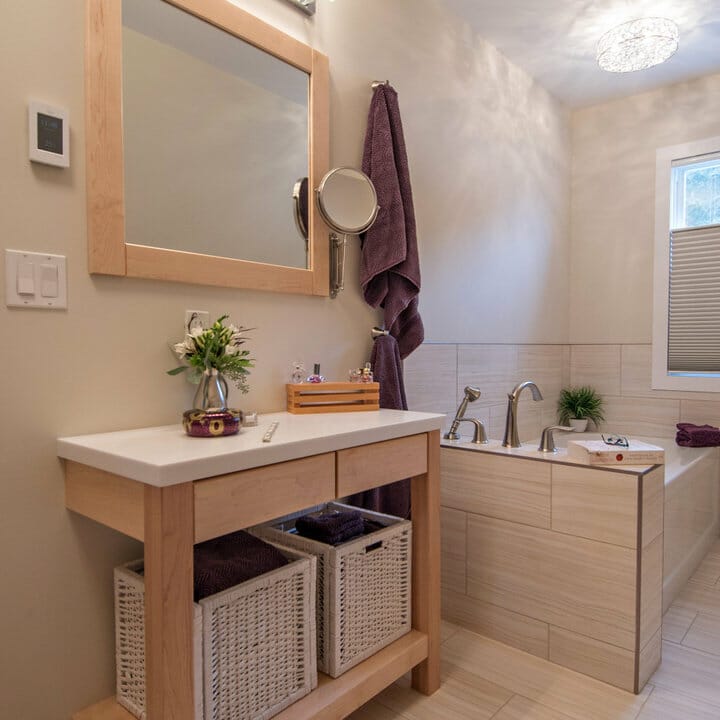 Choosing the right lighting can give a significant impact on small spaces. It not only illuminates your bathroom but also carves out a bit of style.
This small bathroom looks great with light brown hues that infuse calming effect. A unique lampshade rounds out the look while boosting the soothing ambiance.
20. Minimalist Small Master Bathroom Ideas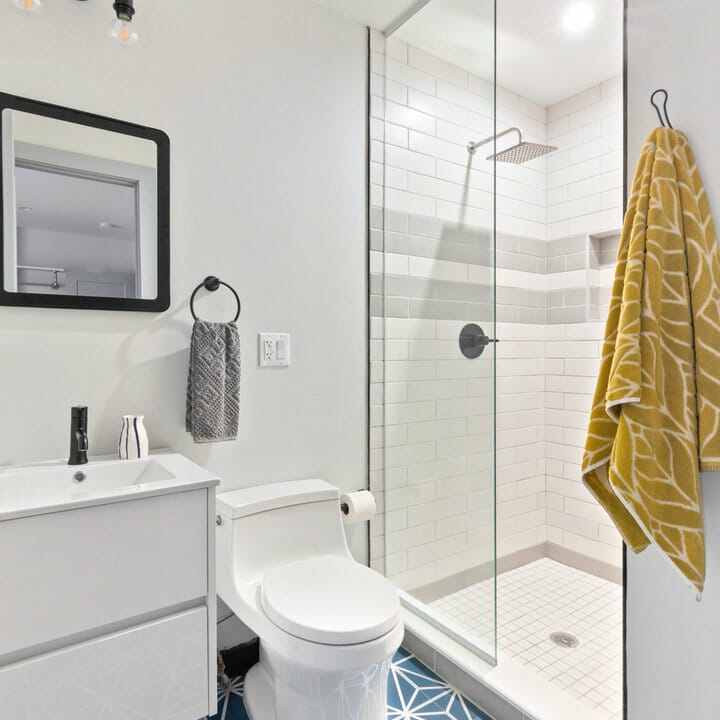 Many small master bathroom ideas advise you to downsize the furniture. You should take this suggestion with utmost care without compromising the stylish look.
You can give the minimalist style a try. The most essential thing that you must remember is to keep the essentials only.
Vanity with storage will be a top-notch choice because they help you clean up and shave while getting rid of clutter. Then, hang a mirror with minor to no sophisticated details. Remember! The fewer, the better.
21. Rustic and Contemporary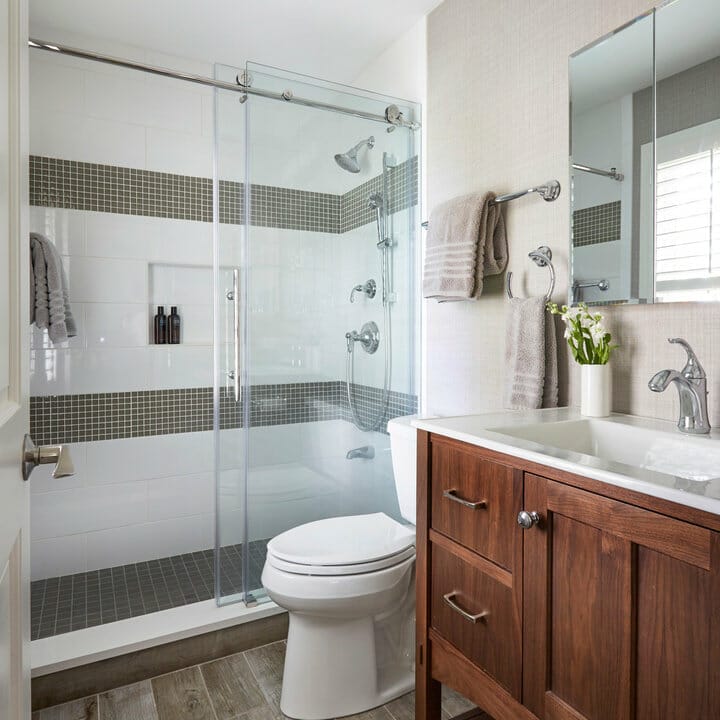 Marrying the contemporary charm with a traditional look can be a good idea if you do it right, just like these small master bathroom ideas.
The sleek white shower enclosure belongs to the contemporary style. It also has gray mosaic accents running in the middle that matches the floor immensely.
When stepping out from the shower chamber, the rustic charm will welcome you merrily. You can see it from the wooden floor and vanity.
22. Monochromatic Small Master Bathroom Ideas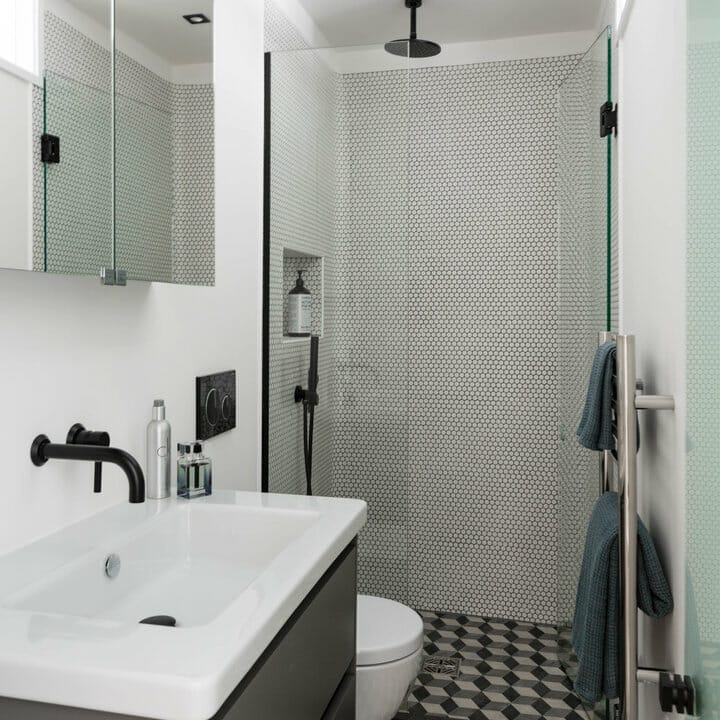 If you are a huge fan of the masculine look but do not want to overwhelm the bathroom with boldness either, you can opt for this idea.
This small bathroom sticks to two color hues – black and white – that embody a monochromatic look. Round out the appearance by hanging an undressed mirror.
23. Small Master Bathroom Ideas with Walk-In Shower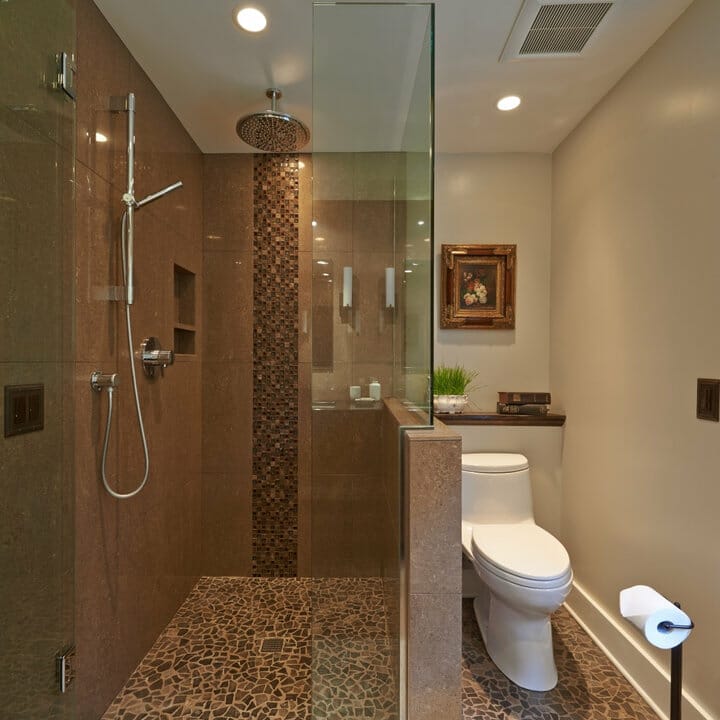 This bathroom may be small. Still, it is big in style. It comes in off-white and dark beige, which makes it look calm and elegant.
Many designers will advise you to lay large tiles to make the space seem bigger. This bathroom, however, applies mosaic flooring that adds pattern.
You can also find another mosaic pattern running on the wall. It accentuates the shower enclosure immensely.
24. Do not Forgo the Artistic Effect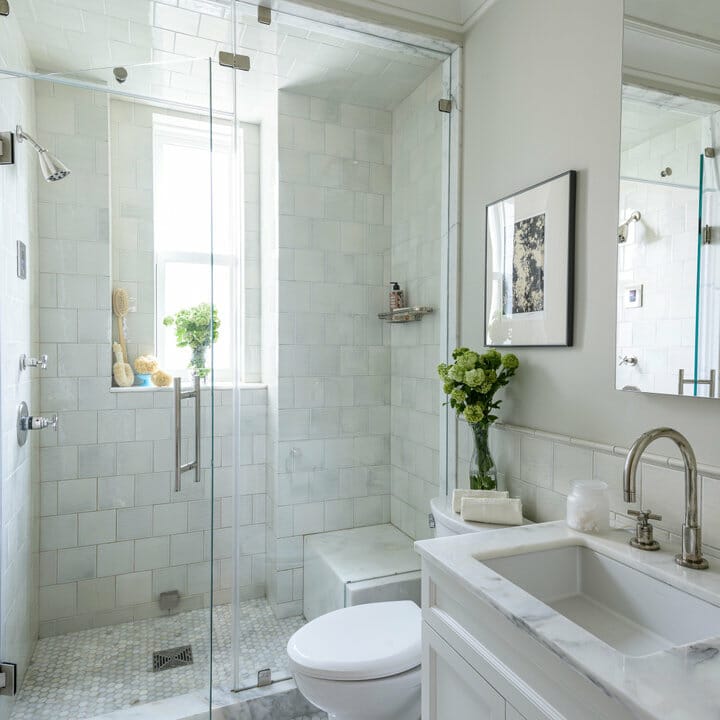 You might think it is just an itty-bitty bathroom. It does not deserve extra care.
Well, think again. The truth is you spend some time in it doing your stuff. Thus, you need to make sure your bathroom is visually pleasing and offers you comfort.
To make it more attractive, you can opt to hang artwork over the toilet. You might be the only person who notices it, but you deserve it.
25. Bring In Nature Charm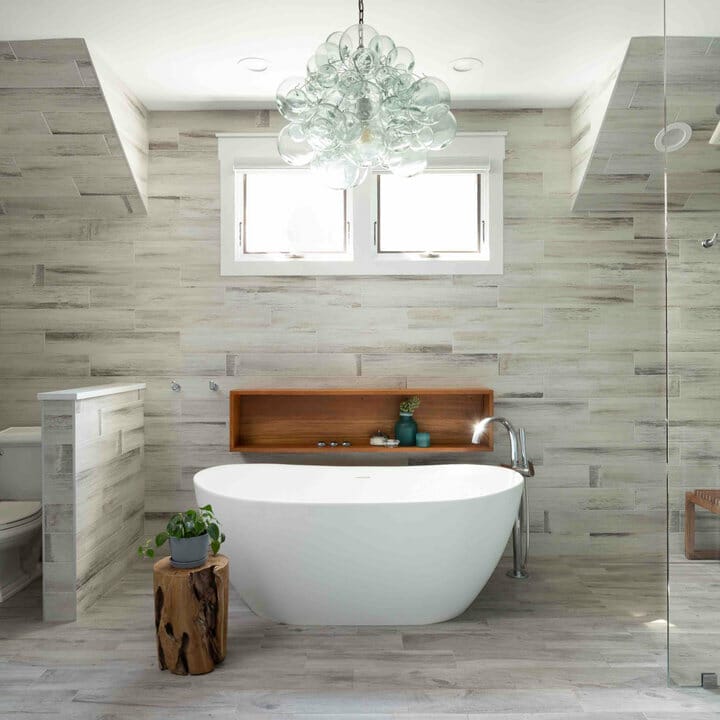 Nature has never failed to awe you with its charm. You can bring in the vibes to your bathroom by investing in this wood log used as a plant stand or additional storage.
26. Small Master Bathroom Ideas in French Country Modern Style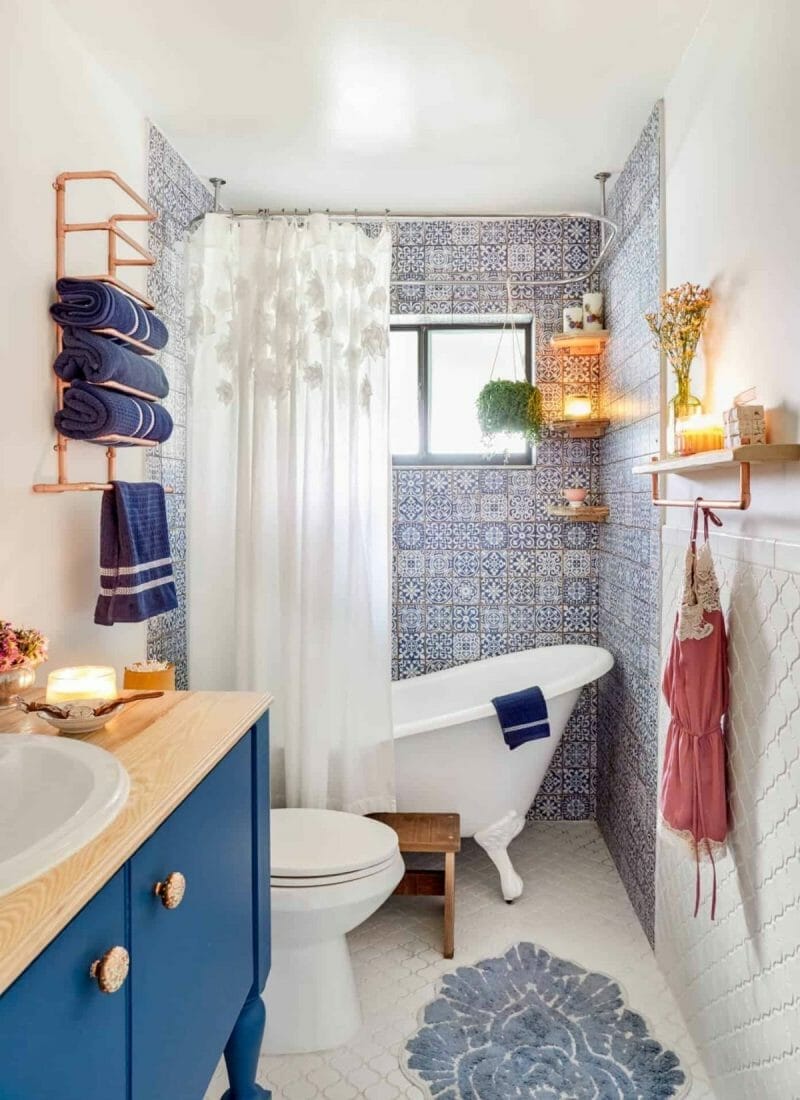 The French country modern will lend a distinctive charm to your bathroom. You can carve out this style by installing floral patchwork tiles and filling in the space with cobalt blue.
You can also add some classic details, like a claw-foot tub and embroidery sheer curtain.
27. Add a Lively Lift with Greenery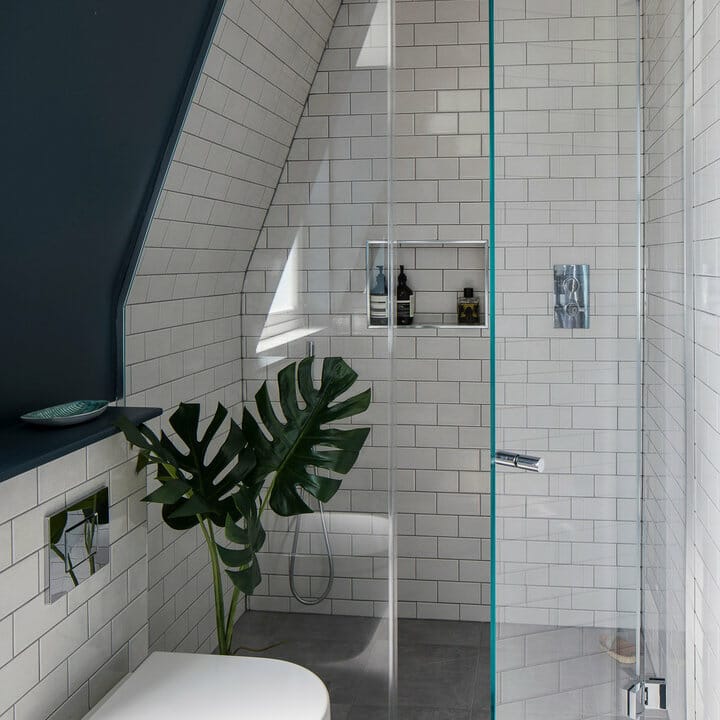 Adding greenery to your bathroom is always good. Not only does it beautify the space but also purifies the air.
Monstera is one of the most prominent greenery. You can also try Peace Lily or Snake Plant that is renowned for being an air purifier.
28. Tame Awkward Space with Custom-Made Furniture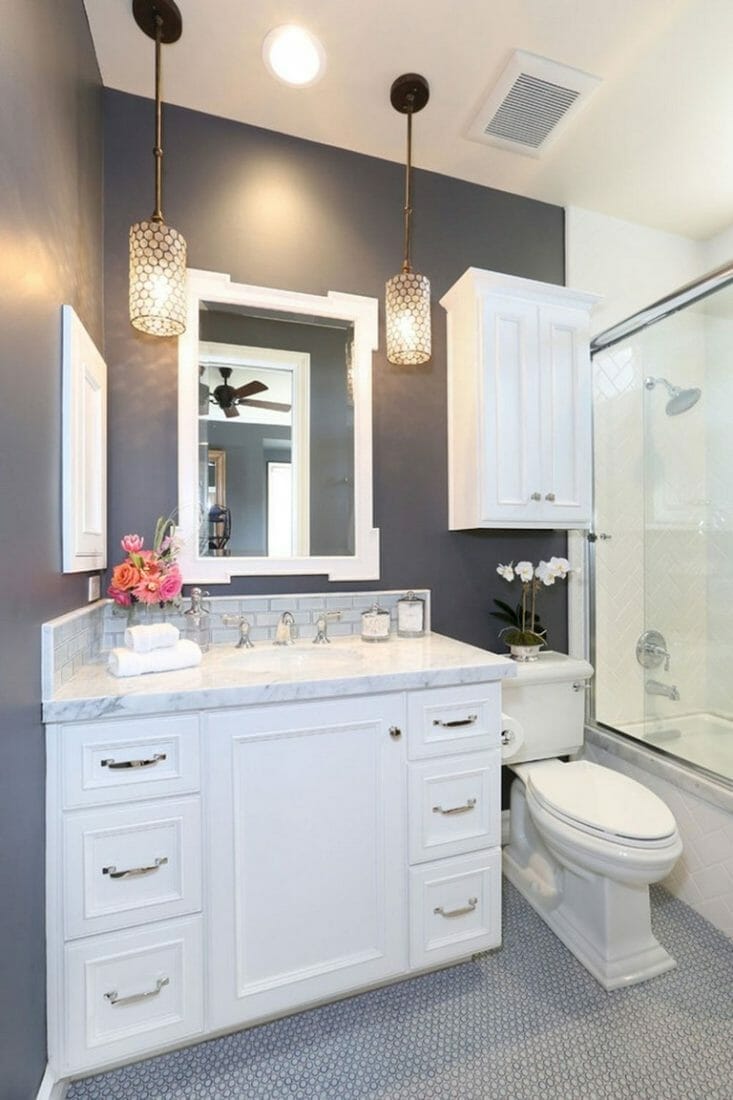 Sometimes it is hard to find the best vanity that fits snugly in the corner of your bathroom. If this is your problem, you might want to try making customized furniture.
However, if you are not an avid carpenter, do not hesitate to ask for some assistance from an expert.
Just because you only have limited space, it does not mean you do not deserve a stylish look. Thus, these small master bathroom ideas will help you carve out coziness and style.