A counter is an essential element that you must have in the cook room. Besides considering its functional aspects, pay attention to the aesthetic value. Therefore, we bring these unique kitchen island ideas to you.
So. you can display a remarkable flair in this space. Interestingly, all of the kitchen islands in this article come in shapes that you may never have thought of before.
Even some options may seem pricey. However, these designs are worth having. Before you get even more curious, here are thirty unique kitchen island ideas to inspire you.
1. Unique Kitchen Island Ideas Resemble a Ship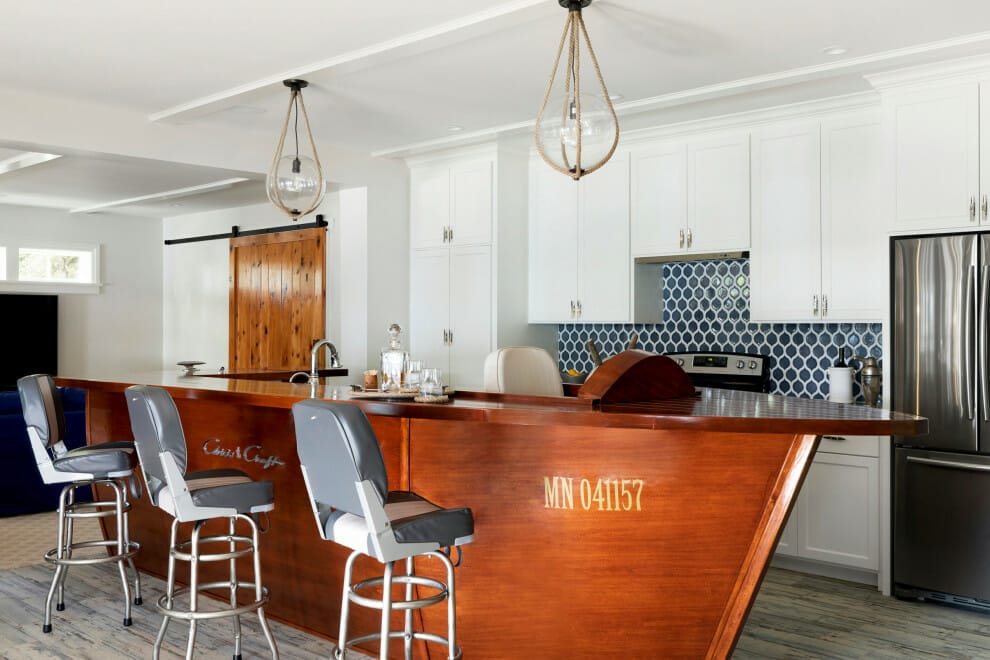 This kitchen island immediately attracted everyone's attention, even without many decorative elements. Likewise, it has a striking shape that resembles a ship you rarely meet in most dwellings.
Moreover, this unit features the original wooden structure between the white walls, so it is easy to catch the eye.
Then, look at the surname graving details at the bottom of this center island. It is pretty enough to give personality, though.
2. Black Marble Kitchen Island with Fake Cracks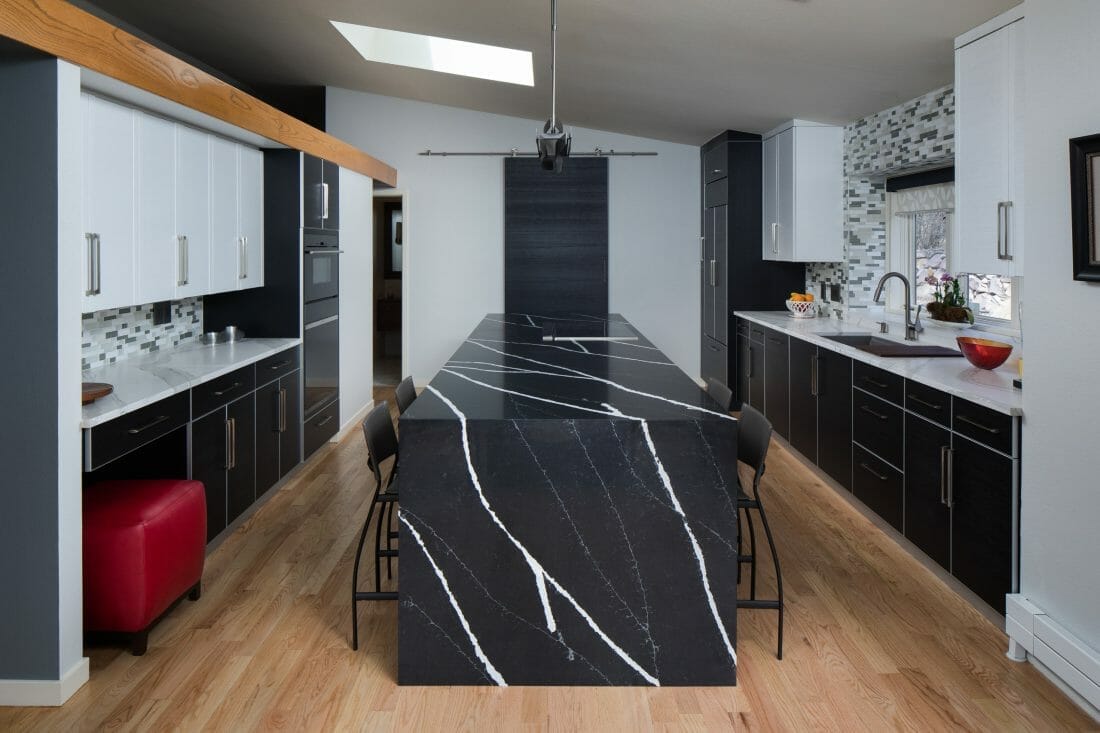 Customize a kitchen island that has a cracking accent as above. It is better to pick one of black marble to get a more elegant look.
No need to worry; this abstract pattern can correctly state the existence of a counter no matter what.
Otherwise, to give a distinctive flair, you can arrange the floor with tiles with a wooden structure and furniture in striking colors, like a red stool.
3. Futuristic Kitchen Counter with Strip Light Underneath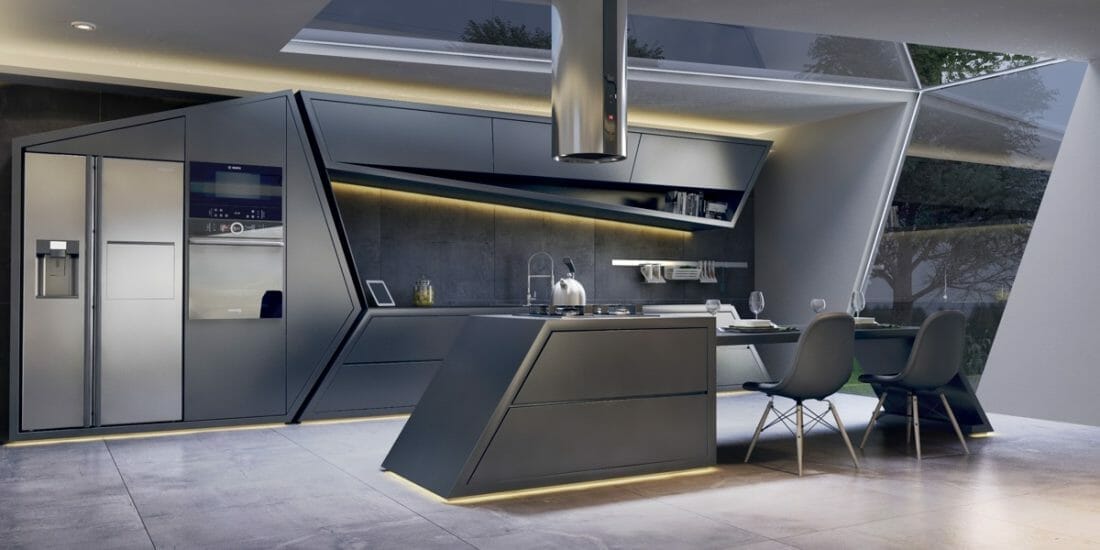 Most of this article's unique kitchen island ideas lead you to modern designs. In this part, you will see the futuristic one pictured above.
The shape is like a semi-parallelogram seen on one side. Also, it has a tabletop that extends to form a kitchen bar.
The presence of yellow light under this center island makes it look as if it is floating. Besides, this counter has almost the same length and width as the skylight above it.
4. Neon Details in Kitchen Counter and Cabinet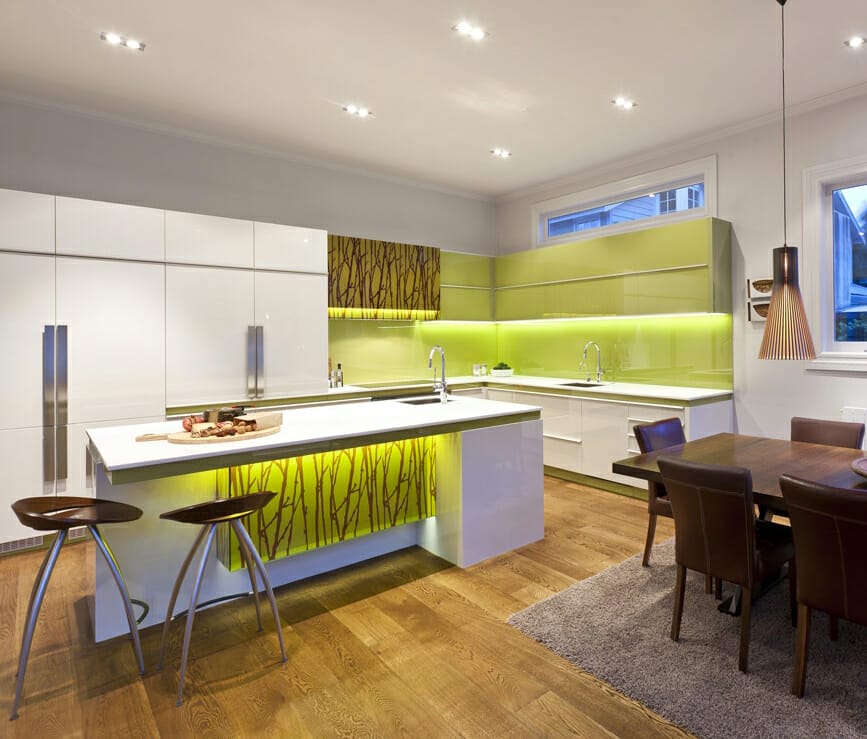 The safest color to make the kitchen look cleaner is white. But, of course, this hue will not attract enough attention.
Therefore, you need to give a touch of neon detail to some parts of your counter. Pick one in yellow to provide a fantastic illumination.
Next, you can also give a similar neon design to one of the cabinets to indicate that they are a uniform unit.
5. Unique Kitchen Island Ideas with Bar for Four People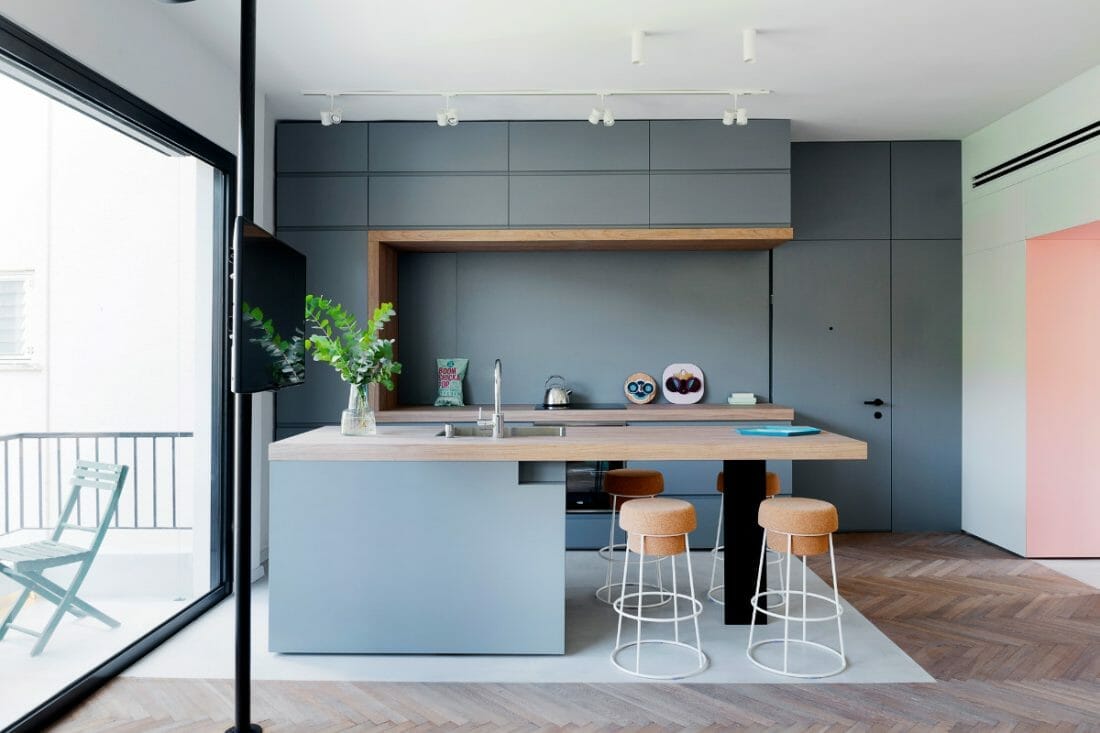 There is nothing complicated about this central island design. You only need to add an extended top to create a uniform model with your cabinetry system.
It looks like the letter L that is arranged vertically. You can put a vase of greenery on your kitchen island to give it a little freshness.
6. Round Table Top with Tornado Leg and Storages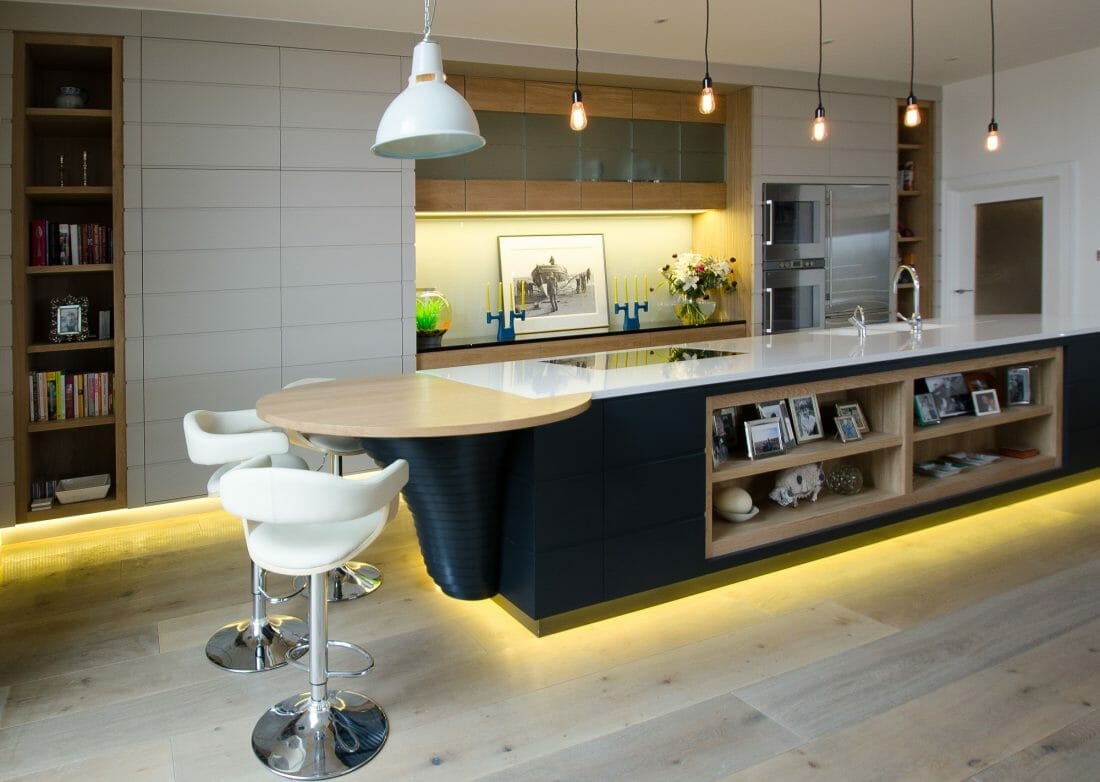 It looks like an ordinary long kitchen island unit with additional storage from the front. However, once you look at the side, this counter set has a round bar tabletop with a bottom part that resembles a tornado.
It will be even more eye-catching when you hang some bulbs along the kitchen island and attach a strip light at the bottom.
So, it looks like you own a floating island in your kitchen.
7. Illuminated Glass Bar Counter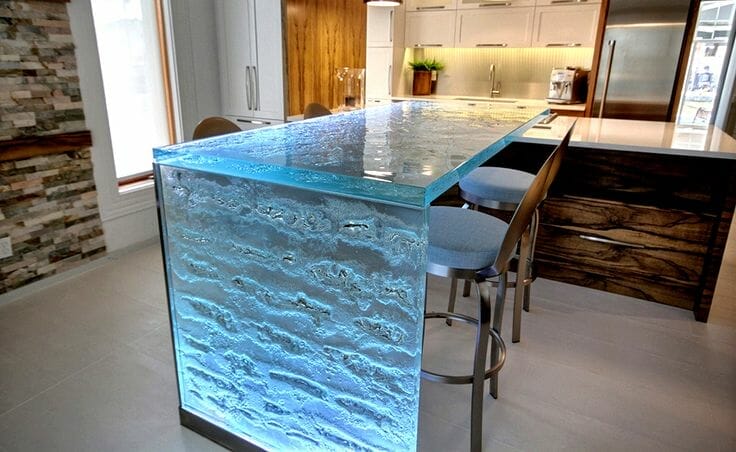 Of the many unique kitchen island ideas, this design is the most thriving in attracting attention. An illuminated glass bar counter does not require a lot of ornamentation to make it stunning.
Likewise, it already has built-in LED lamps that emit light directly without hurting the eyes.
There are various options for kitchen counters like this on the market. You can even customize the one that best suits your taste.
8. Semi-Circle Island with "UFO-like" Storage for Kitchen Appliances
Have you ever imagined having a flying kitchen appliance storage? However, do not ever think that this concept is unattainable because it is possible to own, though.
Providing a semi-circle kitchen island is unique and can reduce the stiffness in your kitchen. Hence, it will be even more interesting if you also have additional storage like the UFO above.
Undoubtedly, these two units will succeed in providing an anti-mainstream flair in your kitchen.
9. Modern Kitchen Island Ideas in Origami Style and Red Lights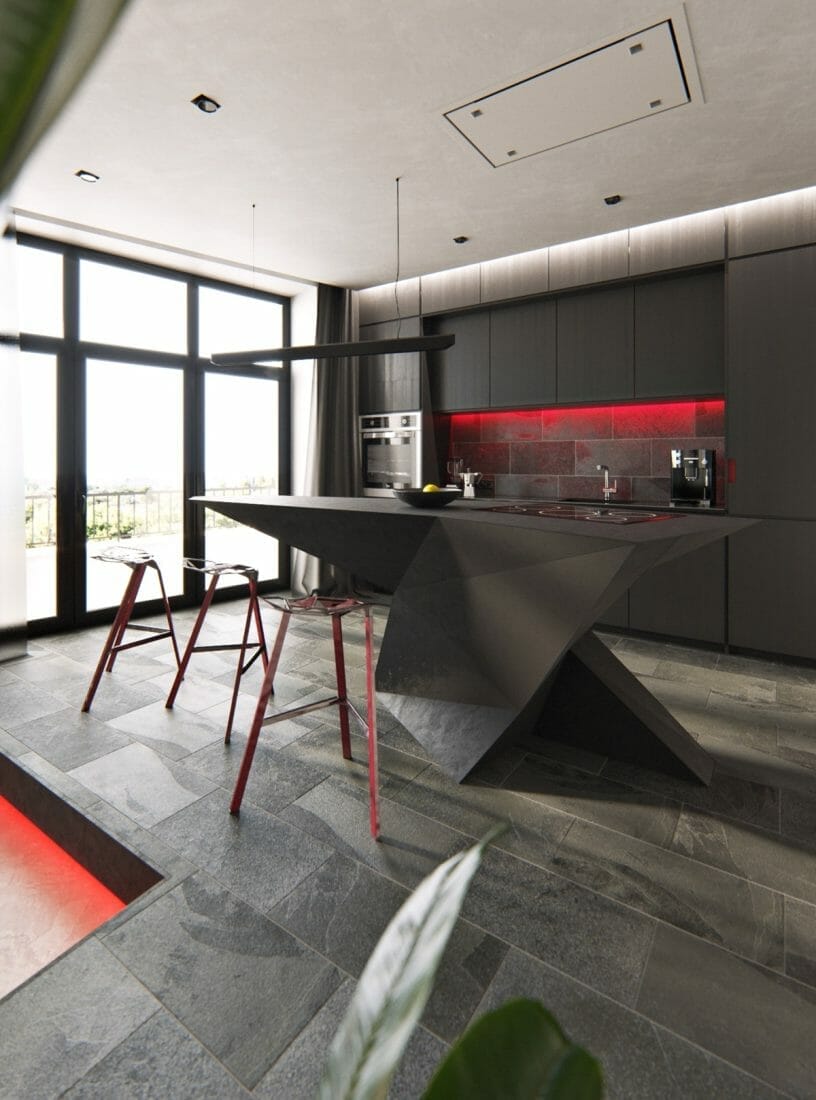 The following unique kitchen island ideas are pretty easy to implement. It is only by combining an all-black interior design with red lighting in several spots and red stools.
Do not forget about an iconic kitchen island unit resembling origami. Seeing this design, you seem to have a luxurious bar in your home.
10. White L-Shaped Kitchen Island with Industrial Brass Lights
The white L-shaped kitchen island may be typical for homeowners. But, you can embellish it to be more exciting.
Besides, you can exude distinctive charm by placing an ornamental plant of dried cherry blossom twigs in a glass jar near the window.
Additionally, you can also set industrial brass lamps parallelly on the top of the window to make the kitchen counter appealing.
11. Extended Central Island with Golden Cage Seat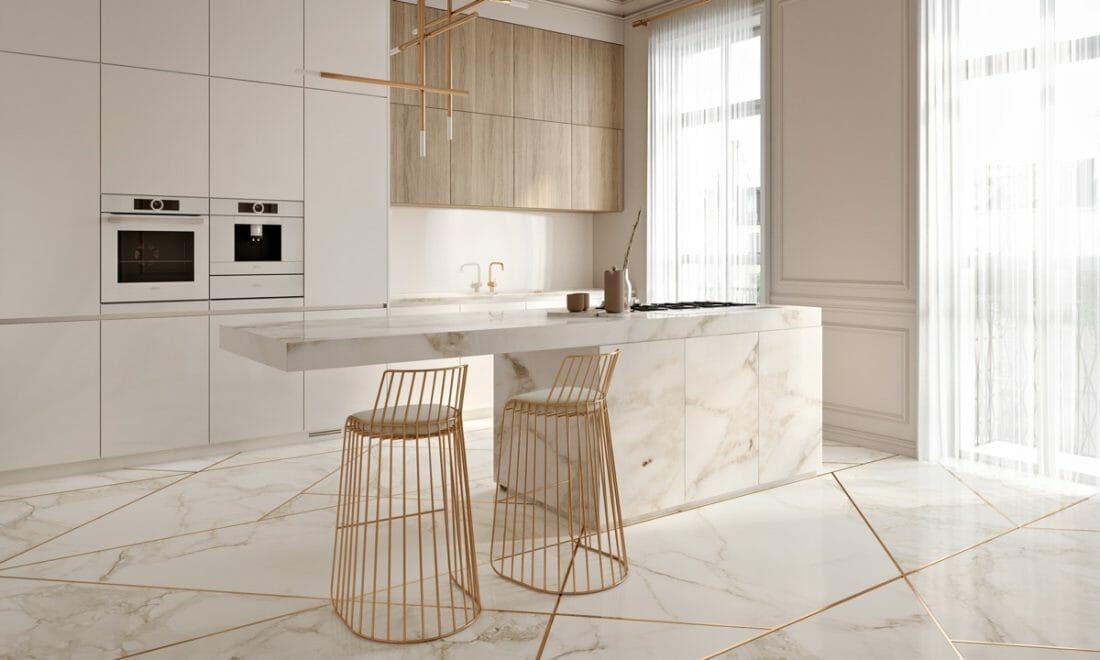 Unique kitchen island ideas do not just focus on the shape of the counter. But this also gives a trick in choosing bar stools or chairs to accompany it.
As in the picture above, you can find a marble kitchen island with an extended top to form a bar. Visually, this already looks luxurious but still needs an artistic touch to make it more stunning.
Therefore, it would be best to come with stools resembling a golden cage and a brass light fixture like the above.
12. Unique Kitchen Island Ideas Like a Giant Beam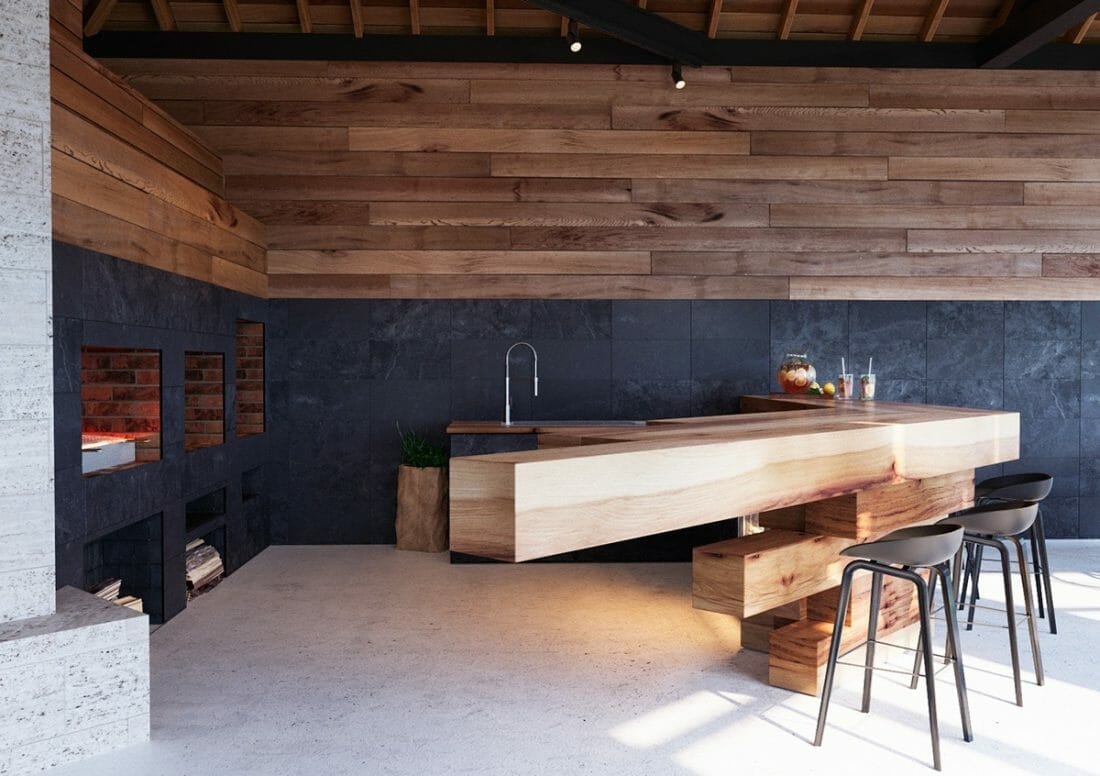 In an industrial-themed kitchen, combining elements of wood with metal is critical. In this concept, you find an impressive cook room counter made of giant wood beams.
Its sturdiness is perfectly exposed in line with its asymmetrical shape. It becomes even more coherent with the presence of three metal stools in front of the bar table.
13. Central Island Connected to Dining Nook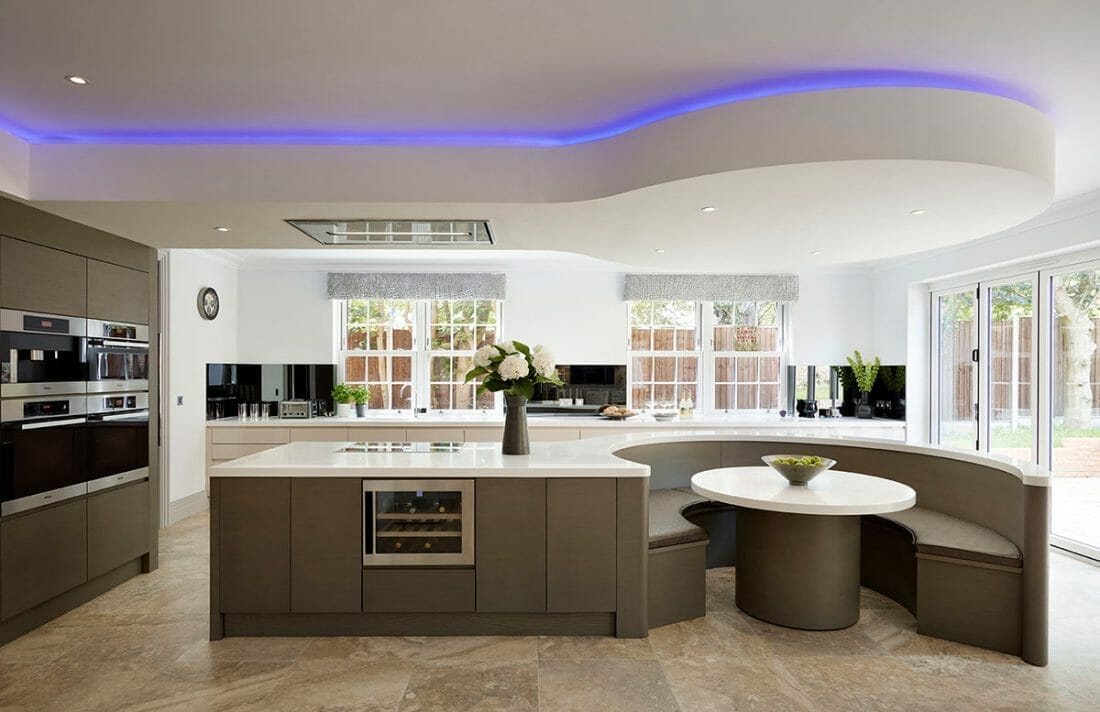 You commonly find a dining nook in the corner of the room. However, have you ever thought about combining it with a kitchen island?
Yup, this design is quite eye-catching and convenient to own.
You only need to pass the cooked food to whoever is sitting in this dining nook without having to walk far to the corner of the room to set the meals.
Besides being practical, this kitchen island is also aesthetically pleasing.
14. Future-Retro Kitchen with Curvy Edges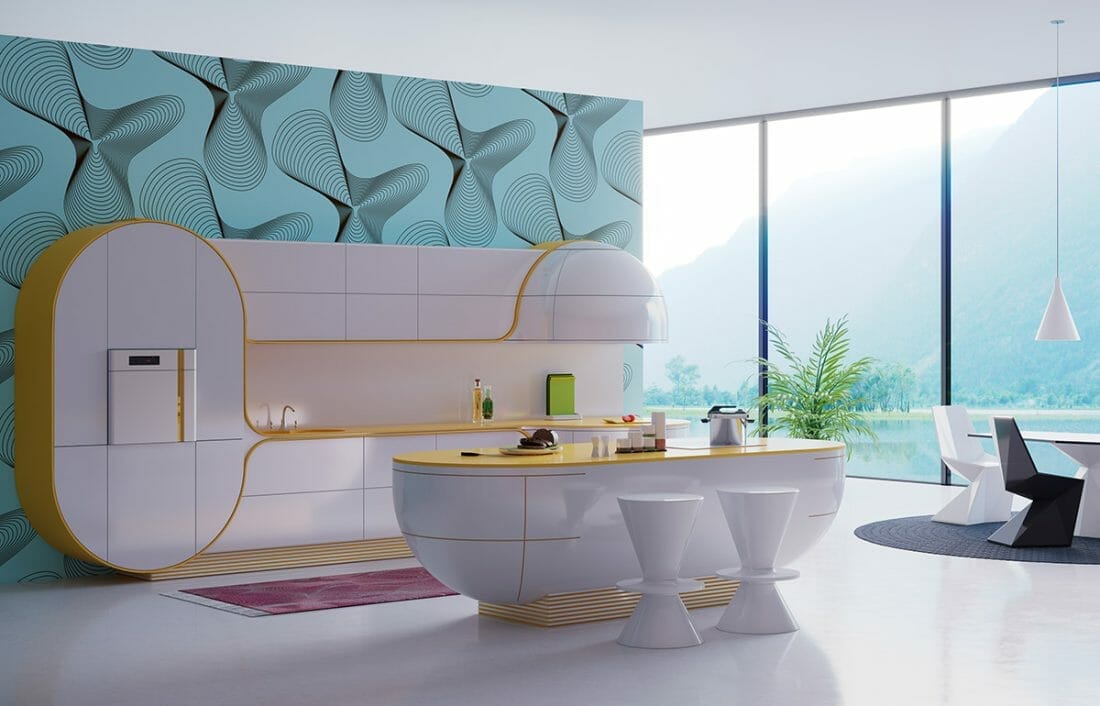 Curvy edges here and there. Subsequently, you can find those obtuse angles on the walls and kitchen island.
The bright color combination makes this kitchen setting look artistic and futuristic at the same time. It is a future-retro style that would be a pity to refuse.
Choosing to go with these unique kitchen island ideas means that you have succeeded in removing the stiffness in your kitchen.
15. Modernize Your Cook Room with Unique Kitchen Island Ideas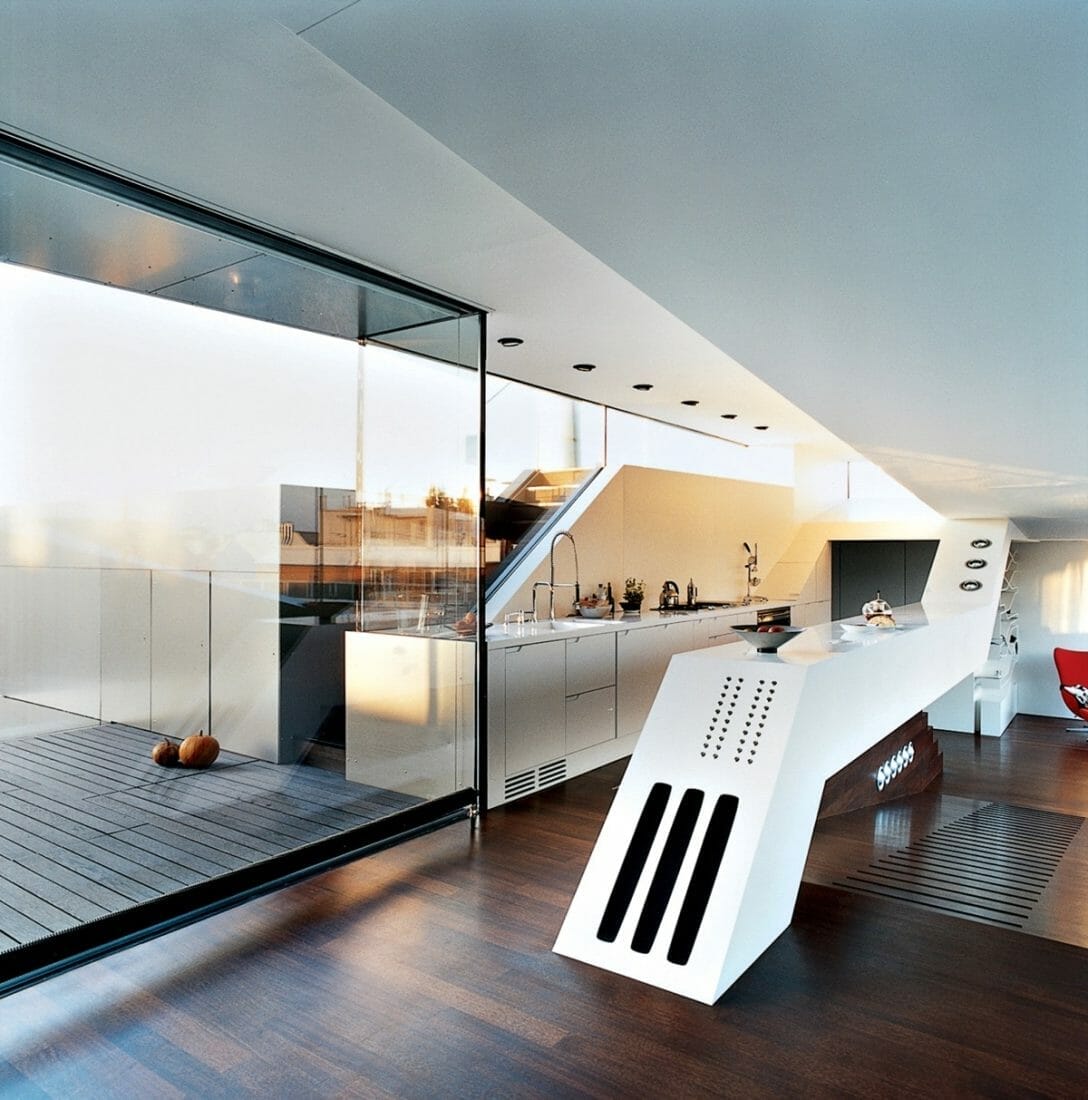 After previously connecting the kitchen island with the dining nook. Now is the time for you to unite it with the ceiling.
Kitchen counters like this are artistic and stunning and also space-savvy at the same time.
Through its sloping design with a high section near the wall, you have additional space to build a shelf without taking up other slots in your kitchen.
16. Black Asymmetrical Center Island Among Subtle Colors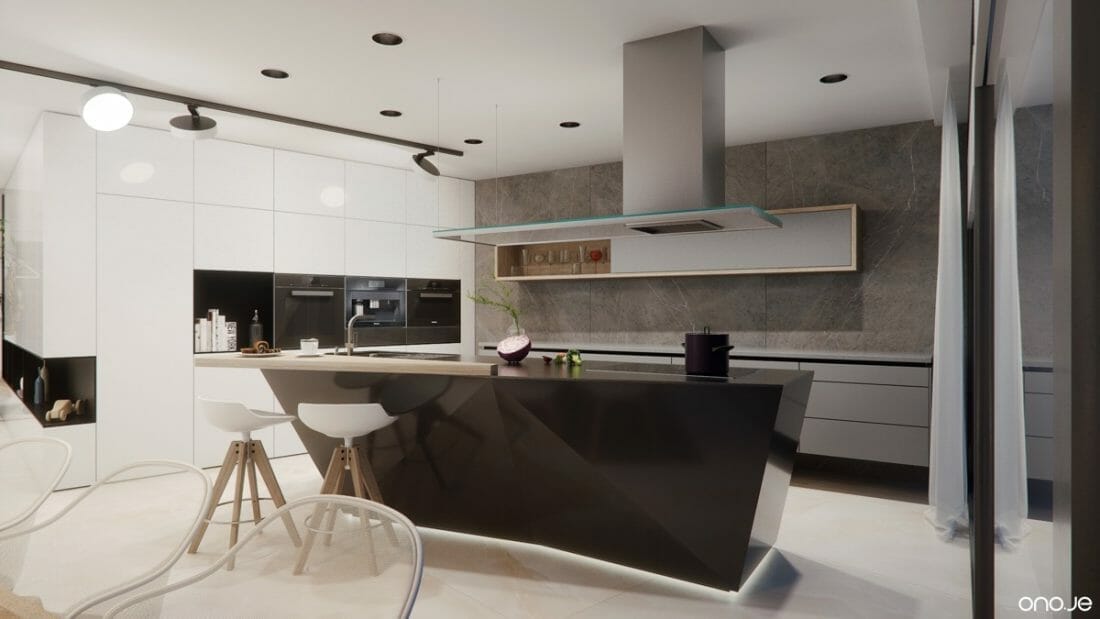 If you already have a modern kitchen with subtle hues on the walls, floor, and ceiling, it would be better to choose a black kitchen island to make it more well-spotlighted.
Take one that has an asymmetrical design to make it anti-mainstream. Next, add a white string light to make it look shimmering and floating.
17. Square Island with Additional L-Shaped Bar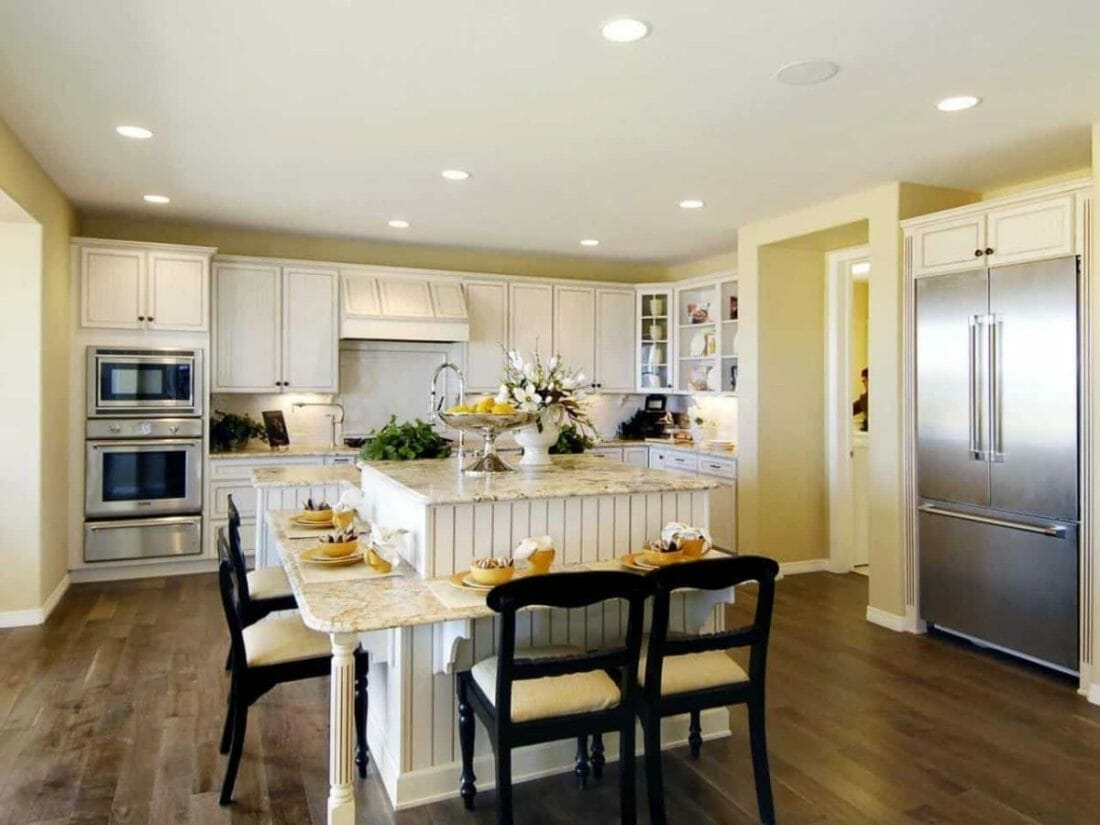 Check out these elevated, unique kitchen island ideas. This unit has an additional bar installed separately from the prominent architecture of the kitchen island.
This model provides vast cooking space for you without directly integrating with the dining table.
Look at it in detail. It turns out that the kitchen island has not only one L-shaped bar but two. They protrude in different directions to make them distinctive.
18. Kitchen Island with Sink and Pastel Chairs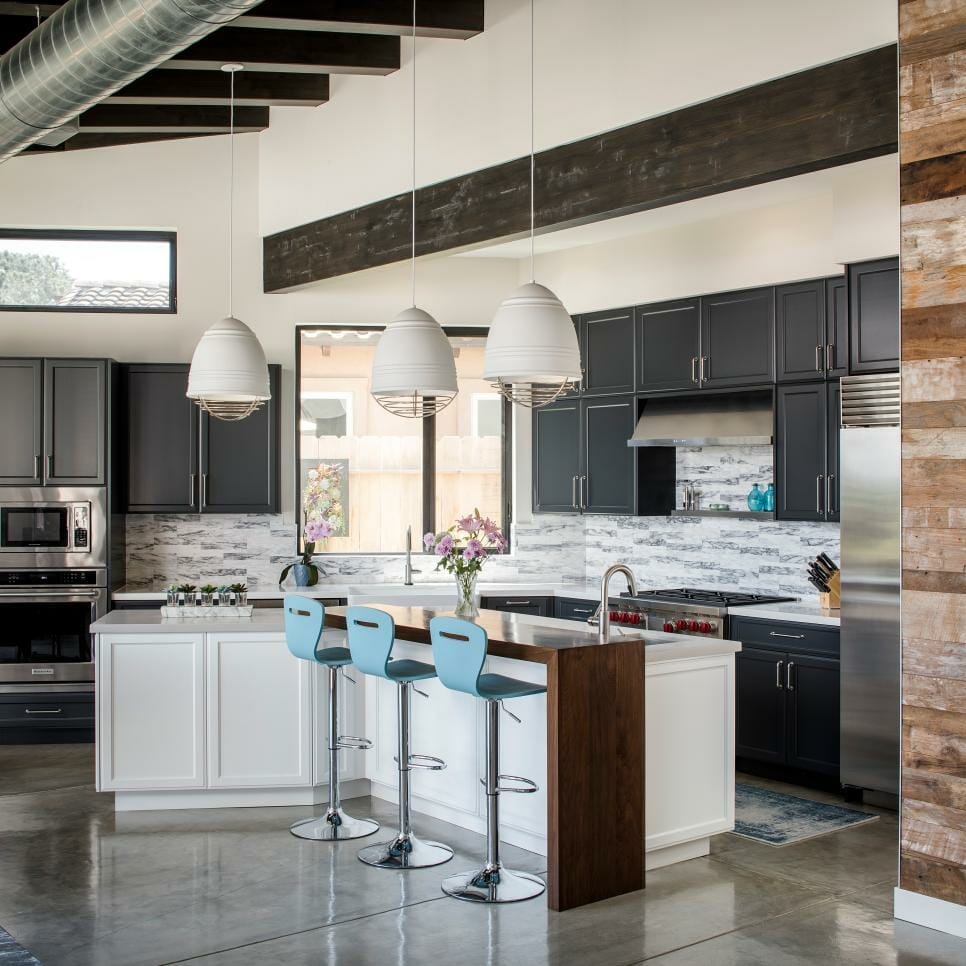 Bar stools do not always have to have the same colors and materials as most of your kitchen interior. In fact, it will be more aesthetic if it has a contrasting color with some other furniture.
As in the picture above, pastel blue bar chairs will still go well with the room's overall decor, which is dominated by black and white.
Even this can highlight your kitchen island more distinctively.
19. Unique Kitchen Island Ideas with Mini Herbs Plantation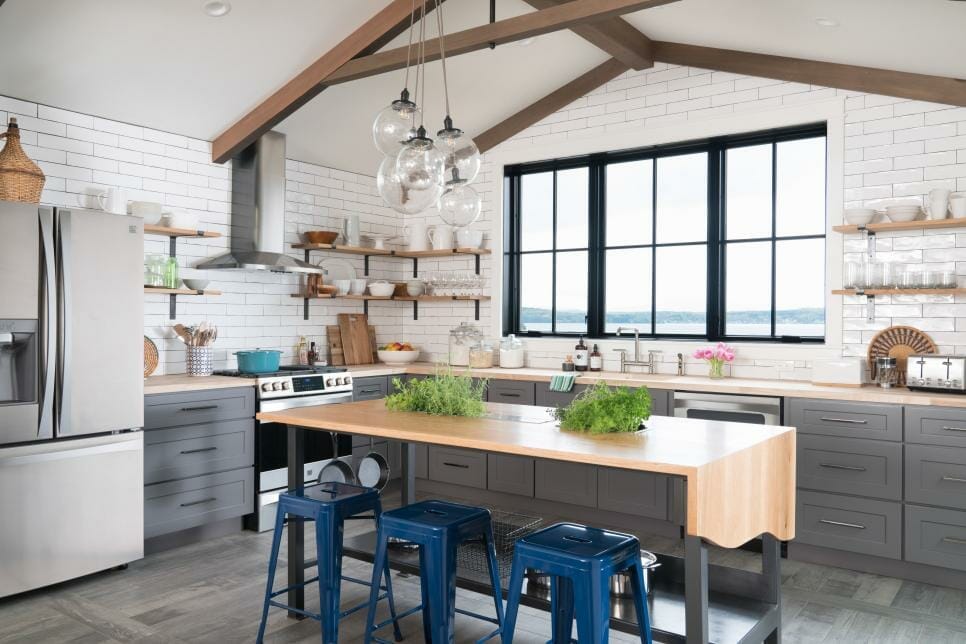 A built-in herbs plantation in the middle of the kitchen island might sound weird. But it is very convenient, though.
Thereupon, you do not have to go back and forth to the garden when you need herbs while cooking.
Instead of building a standard kitchen island, try to make one side have an edge that resembles a liquid spill.
It will fit your farmhouse-themed kitchen, no matter what.
20. Extensive Counter with Black Stools and Hanging Lamps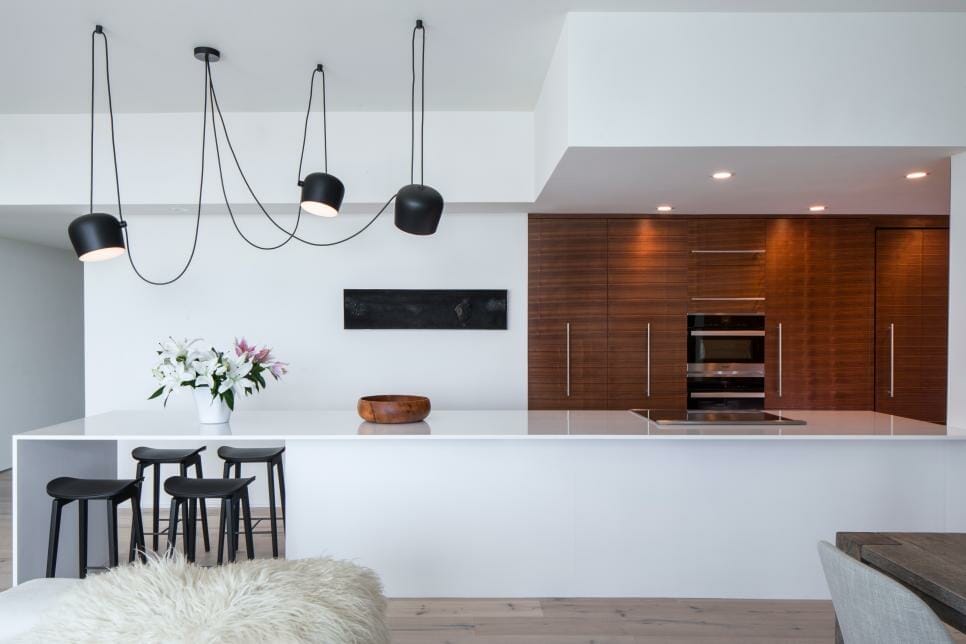 Changing the kitchen island model at any time is not a trivial thing. It requires a significant improvement that will cost a lot of effort, time, and money.
For that, build a kitchen island that will match any decoration. For example, a long counter that is directly attached to the bar. Then set it in white.
You can recreate it with removable hanging lamps and seasonal objects to make it unique. So you will still have a fresh kitchen counter every season.
21. Kitchen Island Has the Same Pattern as Backsplash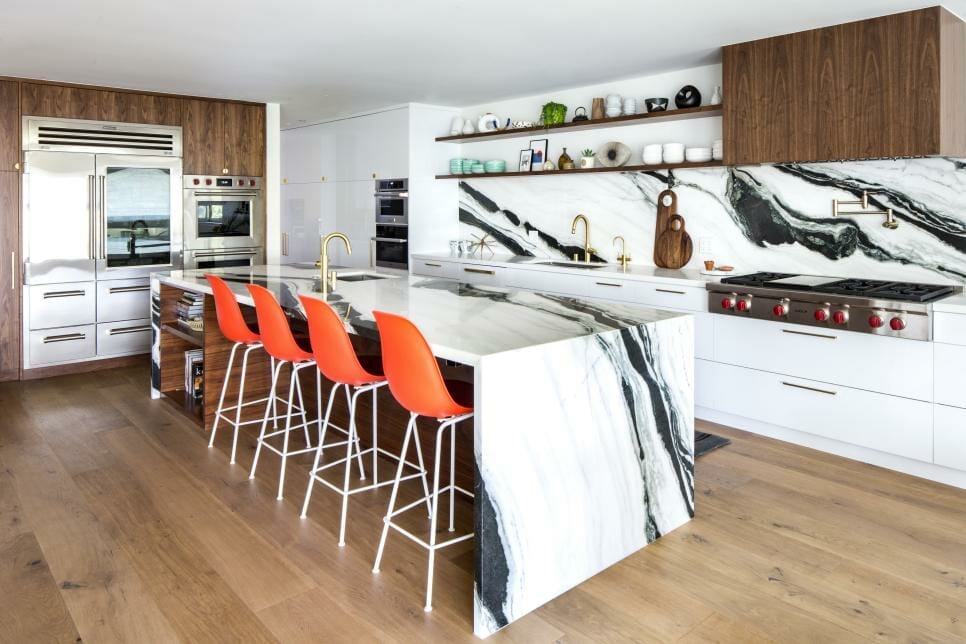 Let us move to other unique kitchen island ideas. Here is a set with the same bold abstract pattern as the backsplash. Both of these spaces have faucets made of gold.
To give a pop of color so that your kitchen does not look monotonous, try providing bar chairs in bright shades of orange.
22. Brick Accent Tiles for Strong Contemporary Vibes
Showcasing a brick accent on your kitchen island will indeed be able to give a distinctive flair directly. And to create this, you do not need to install the tiles manually.
Alternatively, choose a waterproof wallpaper with a pattern like the original brick. Then install it on the front of your central island.
Apply a similar treatment to the backsplash wall to make everything coherent.
23. Unique Kitchen Island Ideas with Seating and Storage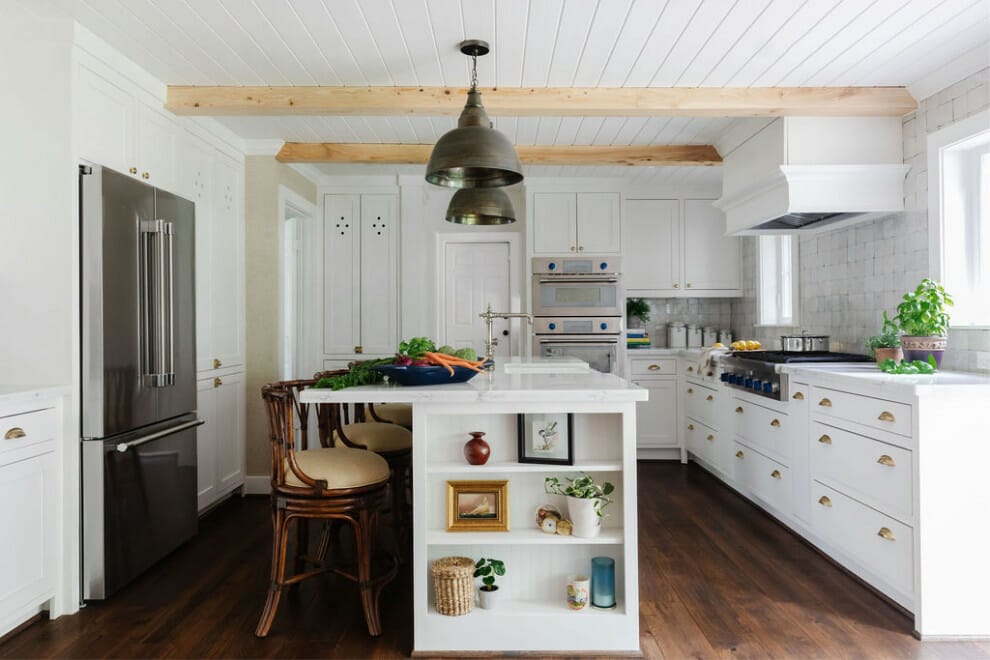 This unit has a refined design that is simple but still attractive with its extended top, which simultaneously acts as a bar table.
In addition, it also has a sink right in the middle and additional shelves on the sides.
You can display several ornamental objects and photo frames in this storage to give a remarkable personality to your kitchen.
Further, as the island comes in white, it will be better to place chairs made of rattan to exude the natural charm.
24. Elegant Kitchen Counter in Pastel Blue and Touch of Gold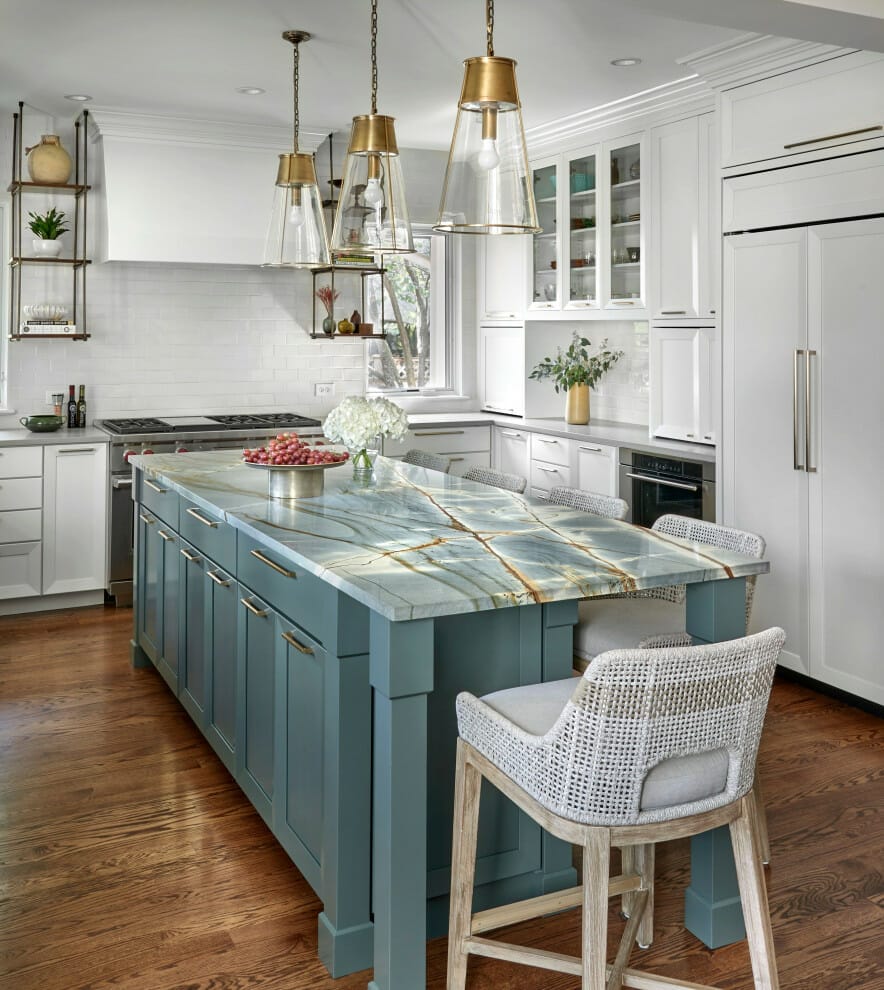 Look at that kitchen island. It is classy and homely at the same time.
The combination of pastel blue and gold makes the cook room counter exude a subtle uniqueness without overwhelming the decor in the kitchen.
25. Wooden Bottom Cabinet, White Granite Top, and Chandelier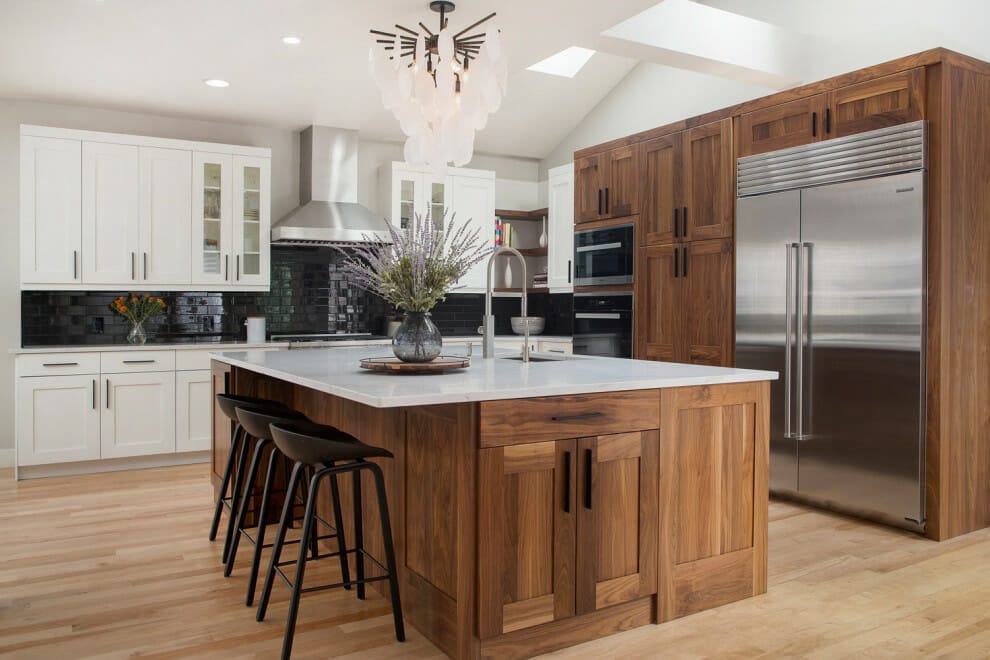 Unique kitchen island ideas that adopt the contemporary style will not go wrong anyway. Your kitchen island's rough wood bottom cabinet matches the smooth white granite countertop.
It is a balanced mix that should be present in your kitchen. Embellish it with a unique light fixture or chandelier to add drama.
26. Unique Kitchen Island Ideas in Eclectic Style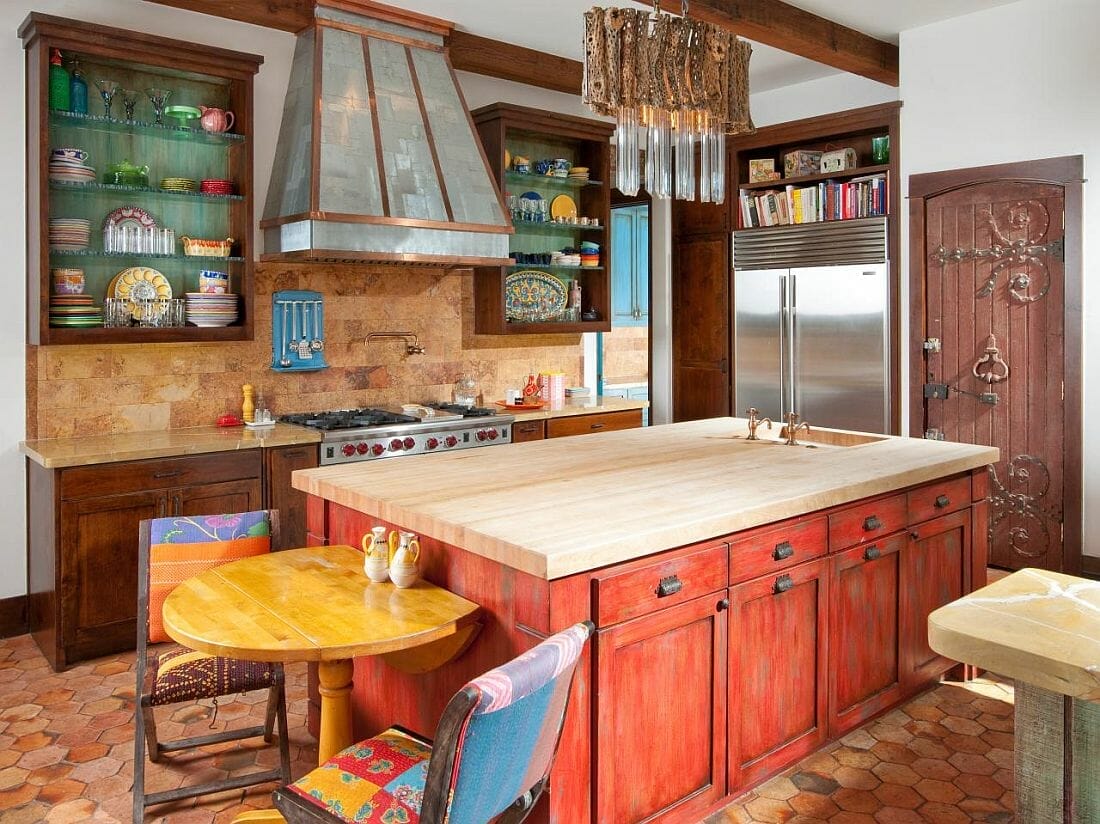 Designing a room does not bind you to the rules. Especially when you decide to adopt an eclectic theme in your kitchen, presenting a unique kitchen island is very easy.
It would be best to give the distressed painting on your rustic wooden counter. Then put a single semi-circle table on the side of the island as an additional bar.
27. Different Levels of Central Island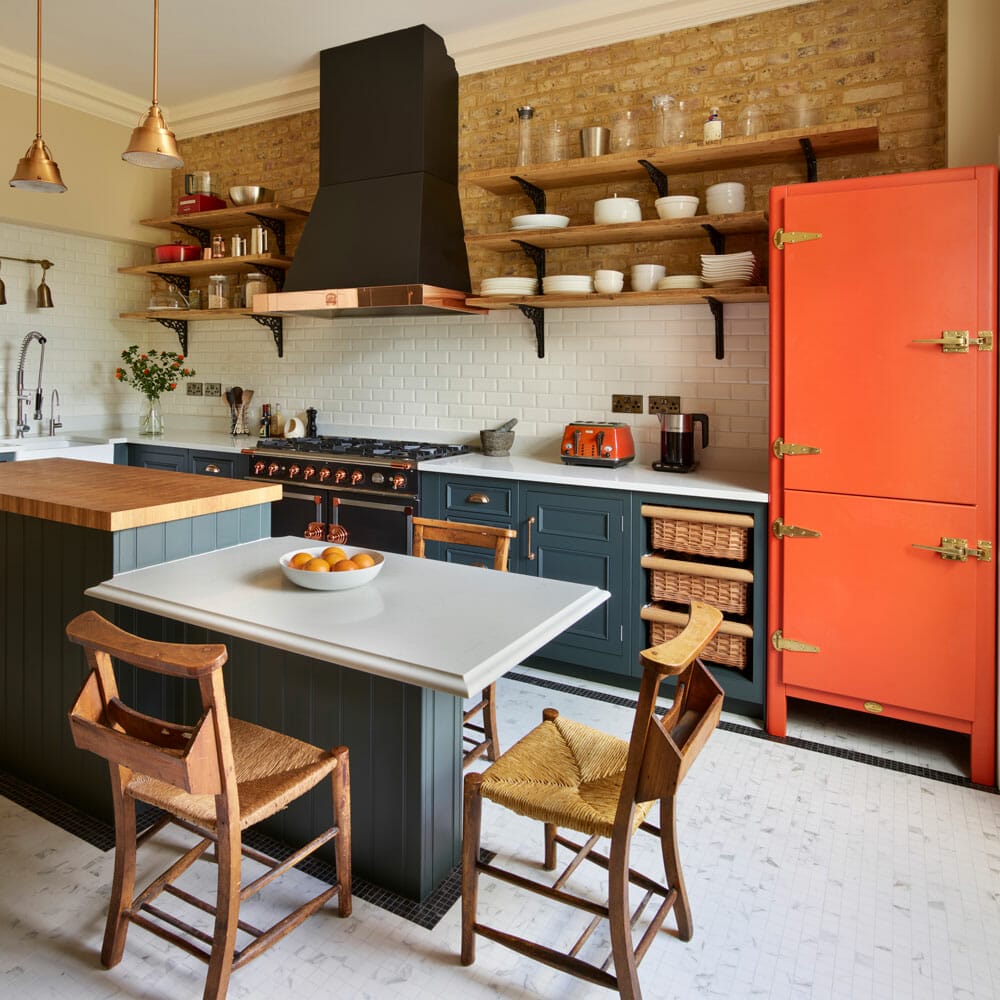 Besides extending your kitchen island and becoming one with the bar, you can make it smaller and taller than your dining table.
This design is quite distinctive because both tabletops come with different surfaces.
One showcases the natural structure of the wood, and the other appears in a refined white color. Apart from that, it looks good together.
28. Built-in Unit to Save the Space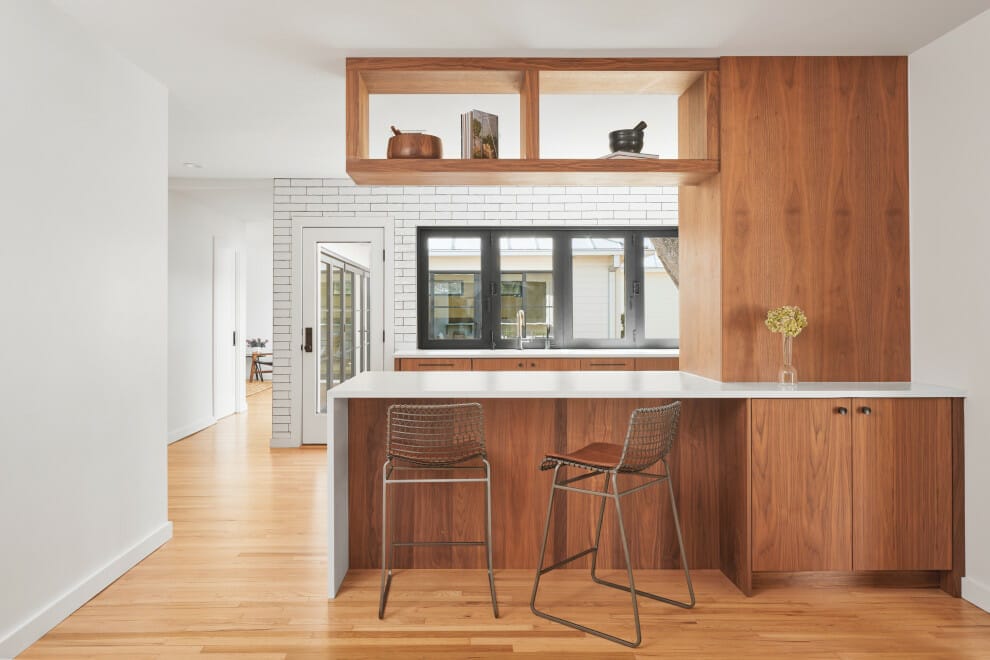 Several unique kitchen island ideas above come with the central counter. But here, you will find the built-in one.
It is perfect for those who have a small kitchen.
Building one that attaches to the wall will make it more space-savvy. Custom the kitchen counter that is united with the cabinetry to make everything more practical.
29. Stainless Steel Countertop with Built-in Stoves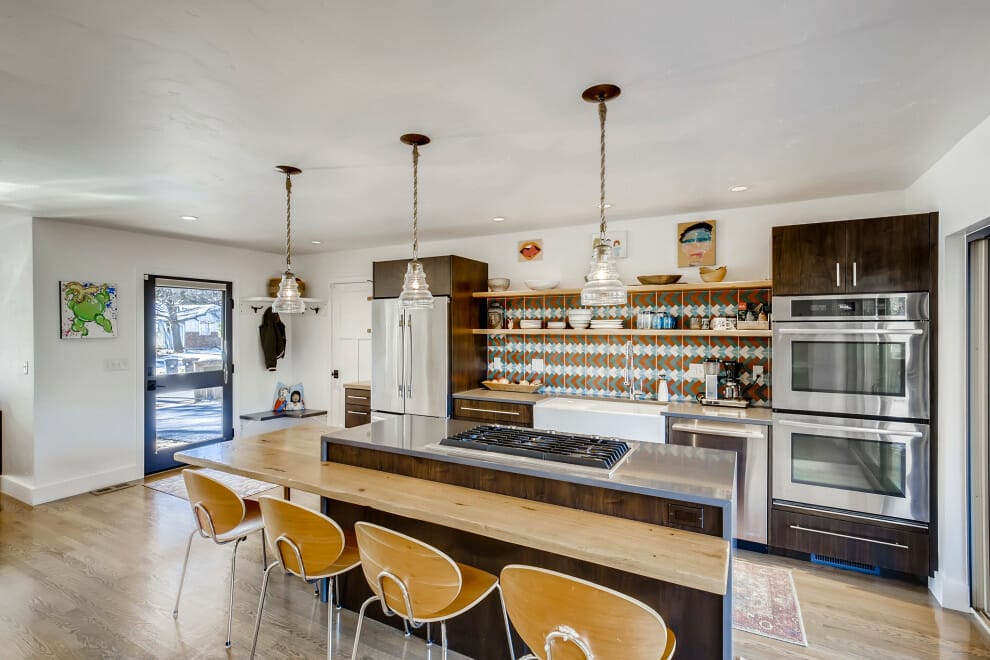 Counter with stainless steel top is preferred because it is easy to clean from stains.
However, instead of giving the same material to the bar, providing it with a wooden top is better. This transition will inherently make your kitchen island look more characterful than before.
30. Assemble Triple Chairs and Hanging Lamps for Unique Kitchen Island Ideas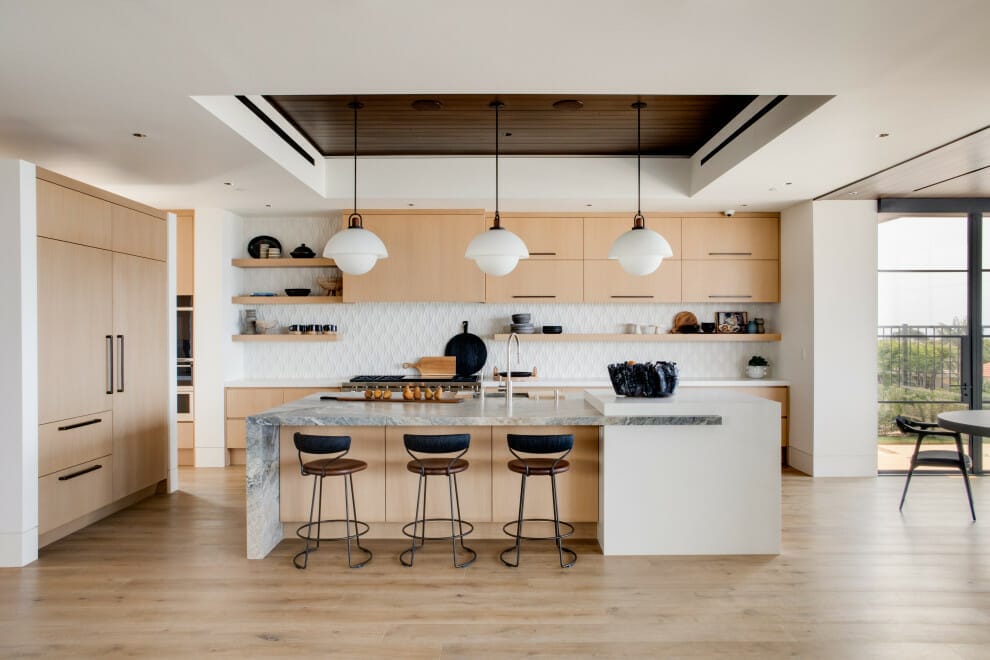 No matter how hard you try to make the kitchen island look unique, all of that will not be very sensible without the presence of balanced decorative elements.
Therefore, besides considering the design, better to also think about the precise number of chairs and chandeliers that accompany the kitchen island.
So that your cook room counter does not look overcrowded. After all, there is nothing wrong with learning various strategies to spruce up a cook room.
Moreover, these unique kitchen island ideas are very aesthetically pleasing and modern to own. So that you no longer use your counter only for slicing veggies but also alter it into an artistic object that everyone will adore.