Living room ideas with black couch are undeniably suited to families who have kids or pets. Therefore, furniture items with this hue are getting more popular.
Furthermore, many homeowners admire black leather and fabric sofas since they conceal stains.
Surely, a couch becomes any living room's centerpiece. Moreover, black represents magnitude, drama, and depth.
If you want visual contrasts, consider picking lighter paint colors. Thus, they make the space instantly less dingy while softening up the interior.
When decorating with black couches, homeowners should integrate complementary ornaments that match other hues in the space.
Also, black harmonizes with cognac brown, pink, deep green, and gold. Here are 28 living rooms that seem spectacular due to the black couches.
1. Lavish Living Room Ideas with Black Couch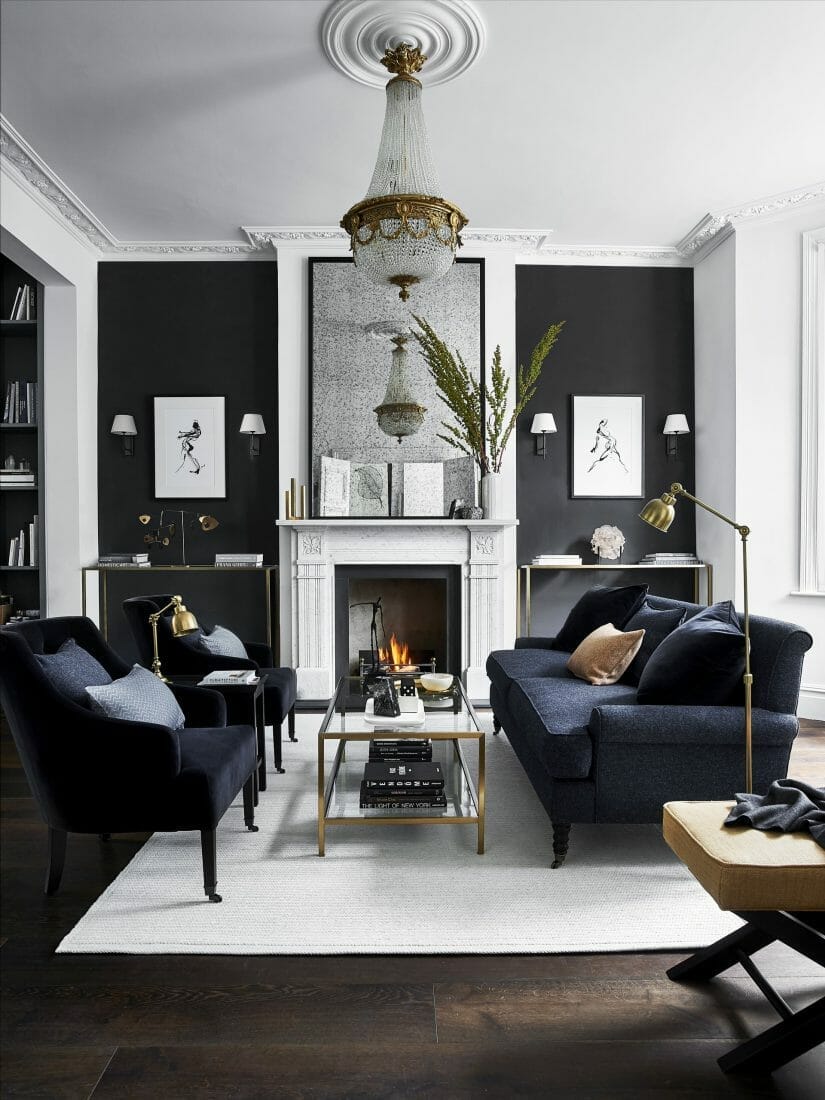 The homeowners made this living room sumptuous. Likewise, they adorned their black couch with plush pillows featuring black, charcoal gray, and muted coral covers.
Here, the vintage black couch mingles with modern sofa chairs. In addition, light and medium gray pillows provide more comfort.
The large white rug balances out the charcoal gray statement wall and dark wood flooring.
Also, the crystal chandelier, two-tier coffee table, and metallic lamps boost the living room's glam factor.
2. Modern Black Couch Living Room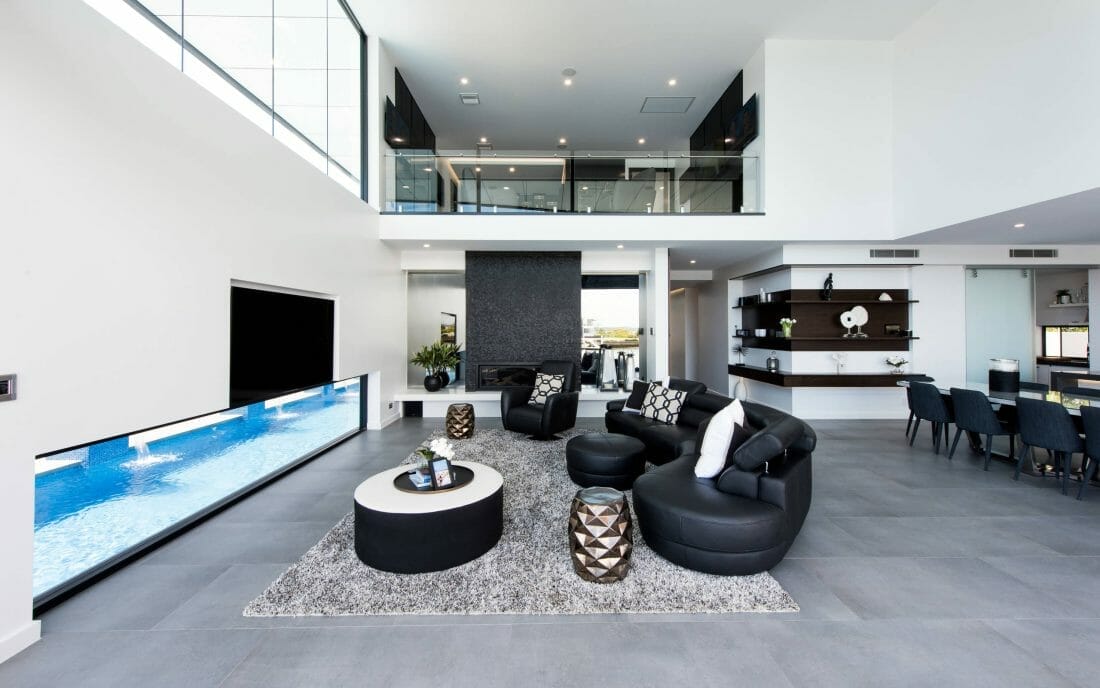 If black modern living room ideas are right up your alley, replicate this room. The black curved couch makes lounging seem glamorously chic.
The black ottoman and sofa chair introduce more drama to the open-layout home. Meanwhile, metallic geometric stools infuse an extra dose of luxury.
Further, the rug, white walls, and gray tiles bring contrast. Also, they lighten this modern living room up. With the two-tone ottoman, water feature, and décor pieces, the space does not feel stark.
3. Living Room Ideas with Black Couch and Wooden Accents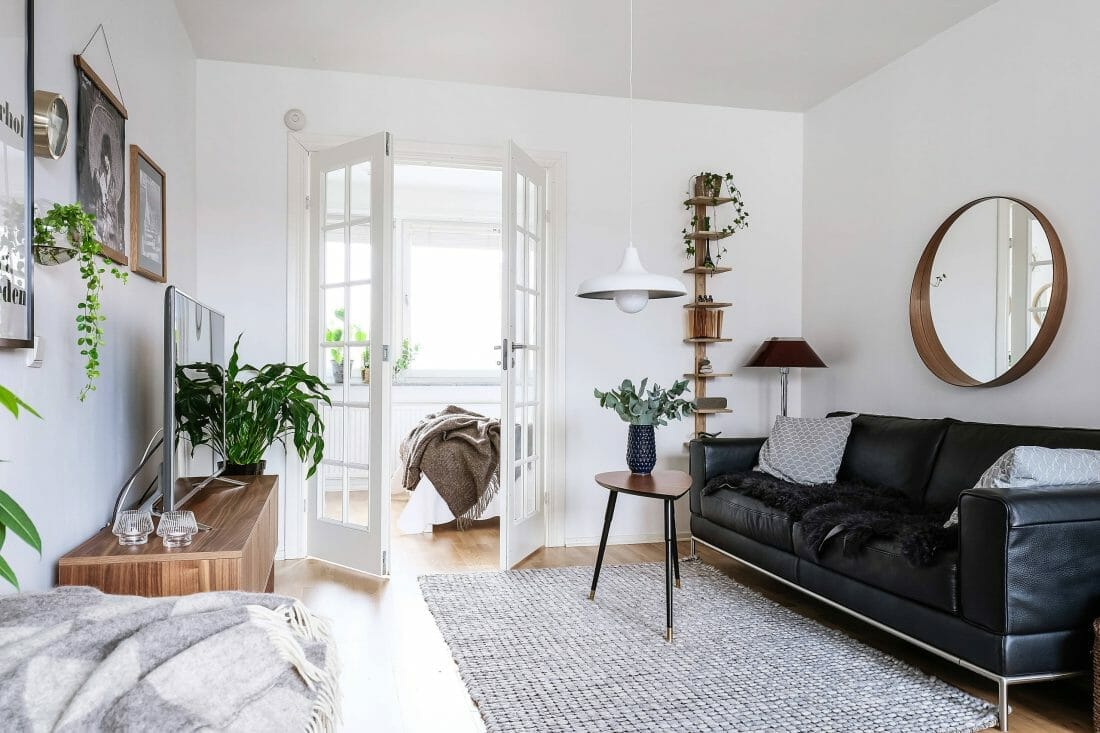 Here, the black leather couch speaks of glamor and casual comfort. Moreover, the black furry blanket and gray scallop throw pillows generate a comfortable look.
Besides, the sleek three-legged table balances out the bulky couch and TV stand. Due to the circular mirror, this confined living room feels more open.
Wooden accents harmonize with nearby indoor plants while adding inviting vibes. In addition, the pale gray rug, black textured vase, and white Scandinavian pendant round things out.
4. Tons of Black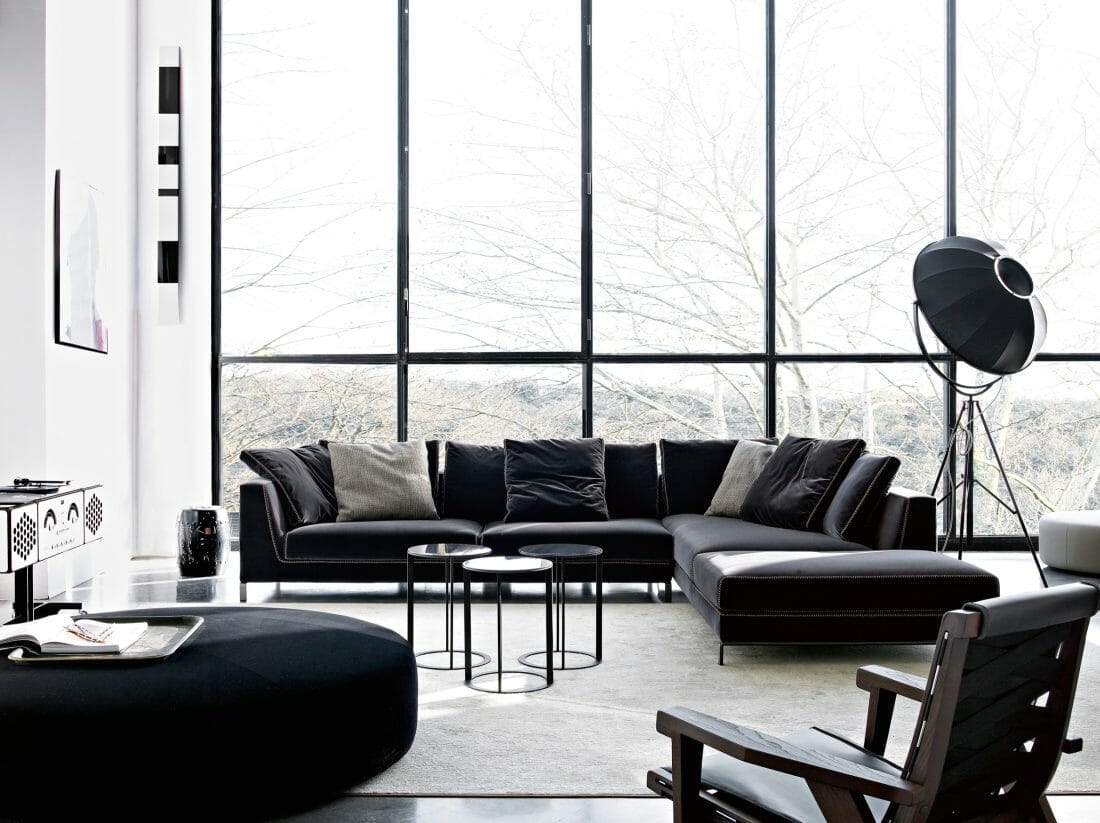 If you adore all things that come in a dark tone, try copying living room ideas with black couch.
I swoon over the L-shaped black sofa design in this photo. As you see, the studio floor lamp, vintage garden stool, and stylish tables embrace black.
Also, they convert the living room into a dramatic showstopper.
The wooden-and-leather armchair provides an additional seat. With the help of the rounded rectangle tray, an extra-large black ottoman becomes a statement table.
Furthermore, thanks to the art, rug, and industrial window wall, the space does not look dismal.
5. Black Living Room Ideas with Marble Accents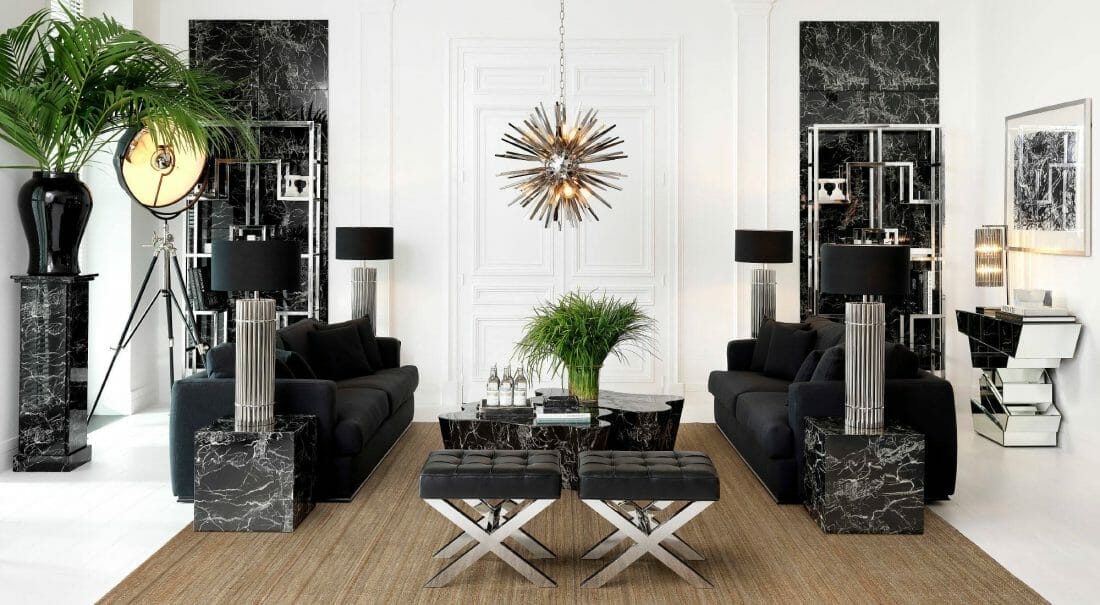 Living room ideas with black couch never cease to amaze us. The couches face each other and introduce comfort.
Furthermore, this contemporary living room with black sofa comes with black tufted leather stools that feature metal legs while providing a little extra seating.
Besides, the sunburst pendant lamp, mirrored sideboard, and black marble accents glam the interior up.
Meanwhile, the large brown rug and lush plants make things more welcoming. Cylinder table lamps intensify the room's dramatic atmosphere.
6. Gray and Black Sofa Living Room Ideas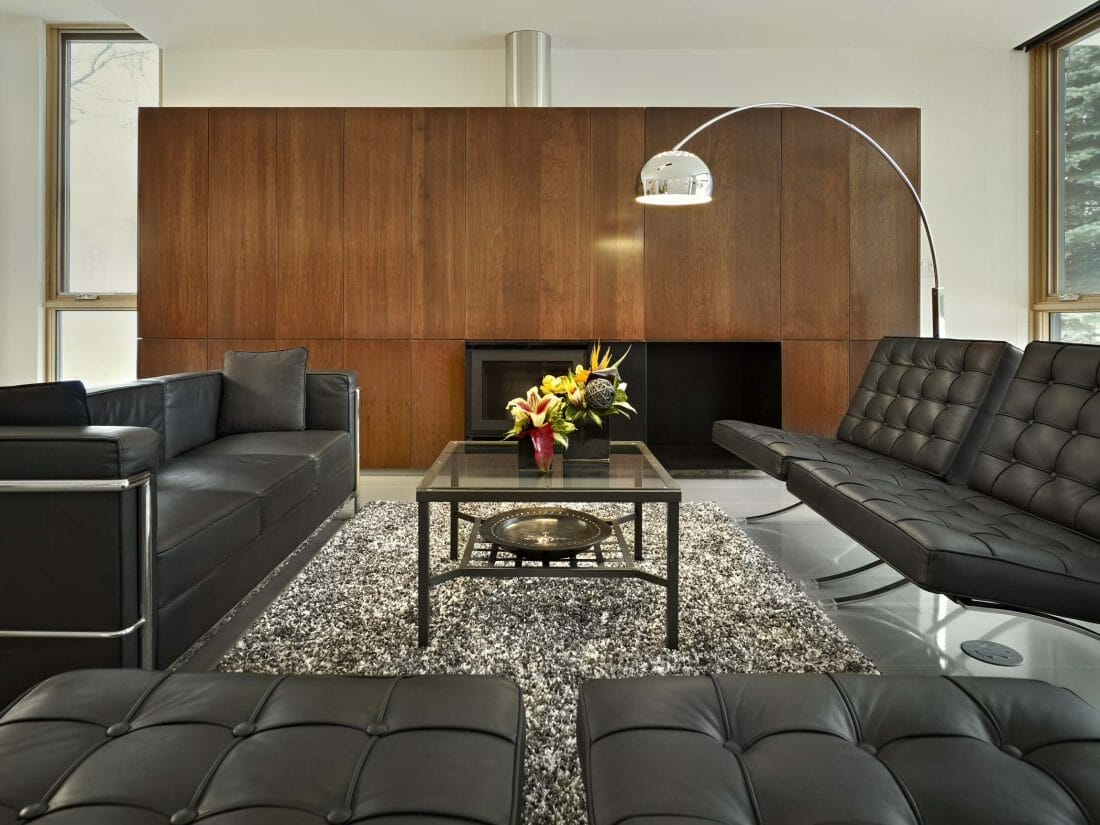 In this picture, the contemporary design surely shines through. The black leather couch and tufted chairs generate depth.
Meanwhile, deep gray and black throw pillows blend seamlessly with the sofa.
The arch floor lamp, square glass coffee table, and windows ensure the space feels brighter. Moreover, flat wooden panels balance out high-gloss gray tiles.
Additionally, the cozy rug features varying gray shades, so the room looks more dynamic. Simple black vases accentuate décor pieces that carry vivid splashes of color.
7. Eclectic Living Room Ideas with Black Couch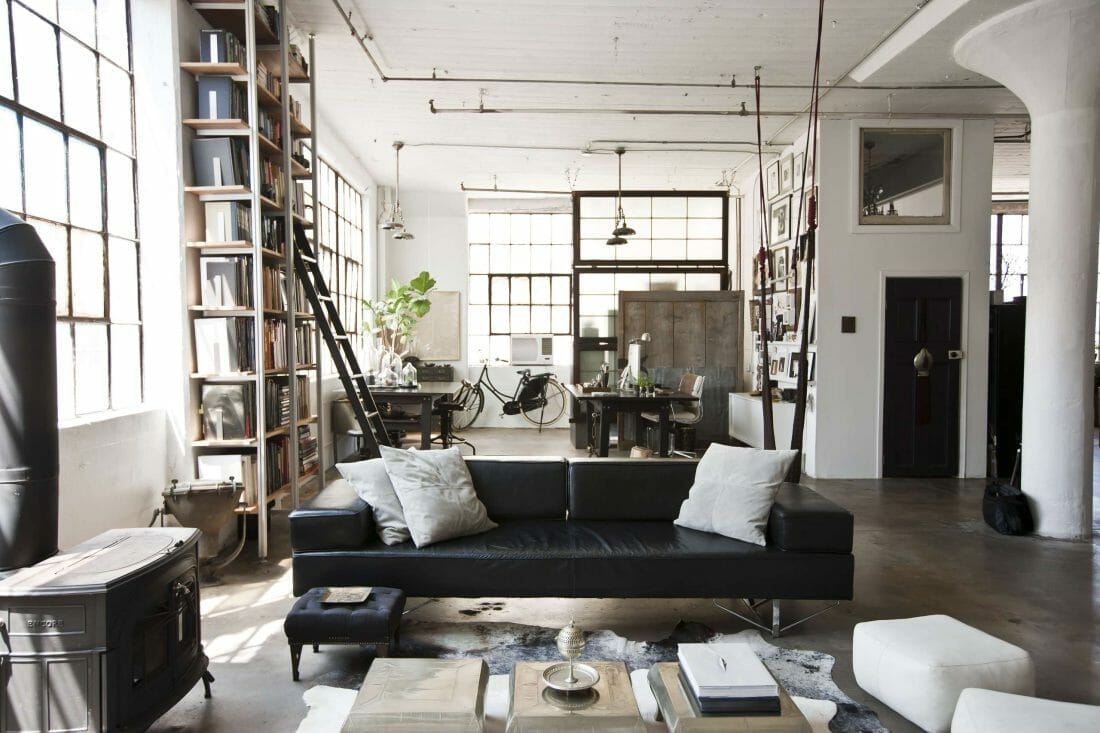 The homeowners obtained an eclectic look with furniture pieces. Apart from wearing different neutrals, they introduce varying styles, from industrial to contemporary to vintage.
For instance, this loft living room is where industrial meets international. The metal bookcase, windows, and pendant lamps add some masculine chic.
Also, the Moroccan décor piece spices up the coffee table. Meanwhile, white ottomans and pale gray pillows counteract the black leather couch nicely.
8. Loft Living Room with a Black Couch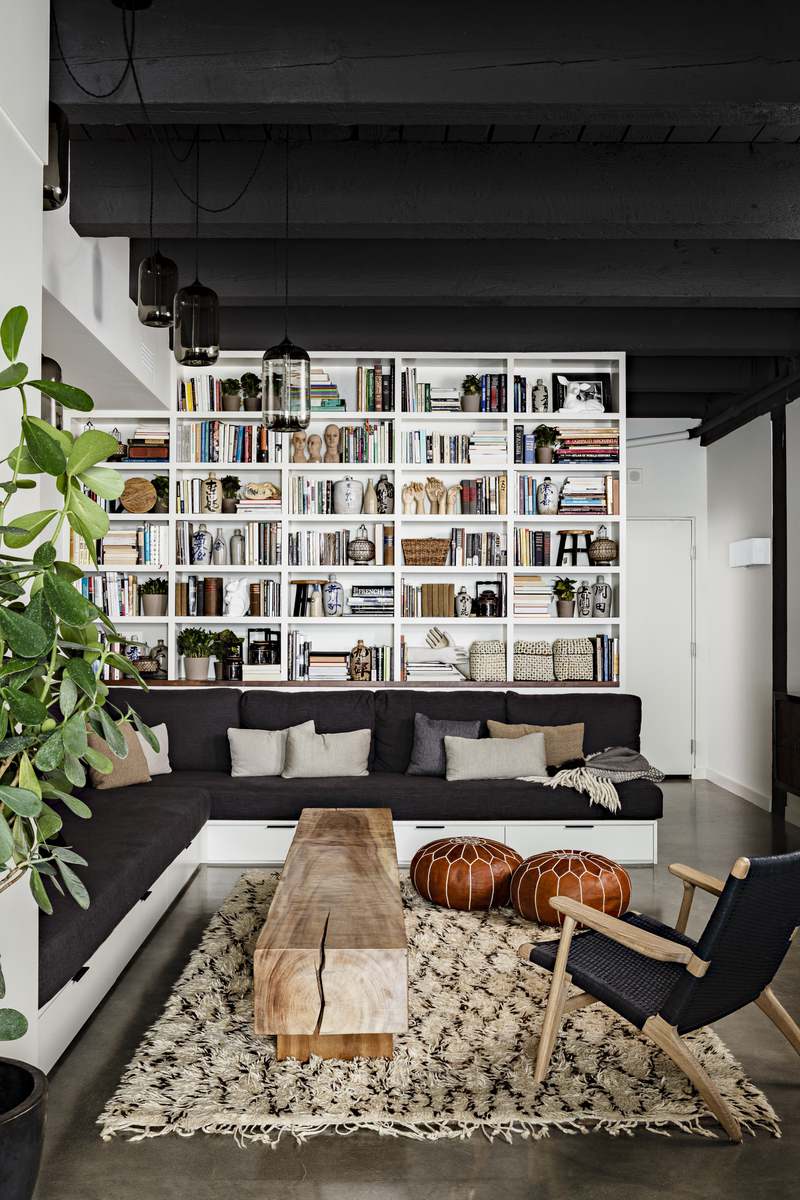 Need loft living room ideas with black couch? Just recreate this space. Black seat cushions and white drawers underneath create a drastic contrast.
Further, the crisp white bookcase highlights stunning oriental jars, sculptures, and neat arrangements of books.
Hence, it offers an aesthetically pleasing backdrop to the built-in black couch, too.
The geometric rug guides the eye to the raw wood coffee table, accent chair, and cognac brown Moroccan poufs.
Homeowners also included a robust plant and multiple neutral throw pillows to finish their living room off.
9. Minimalist Living Room Ideas with Black Couch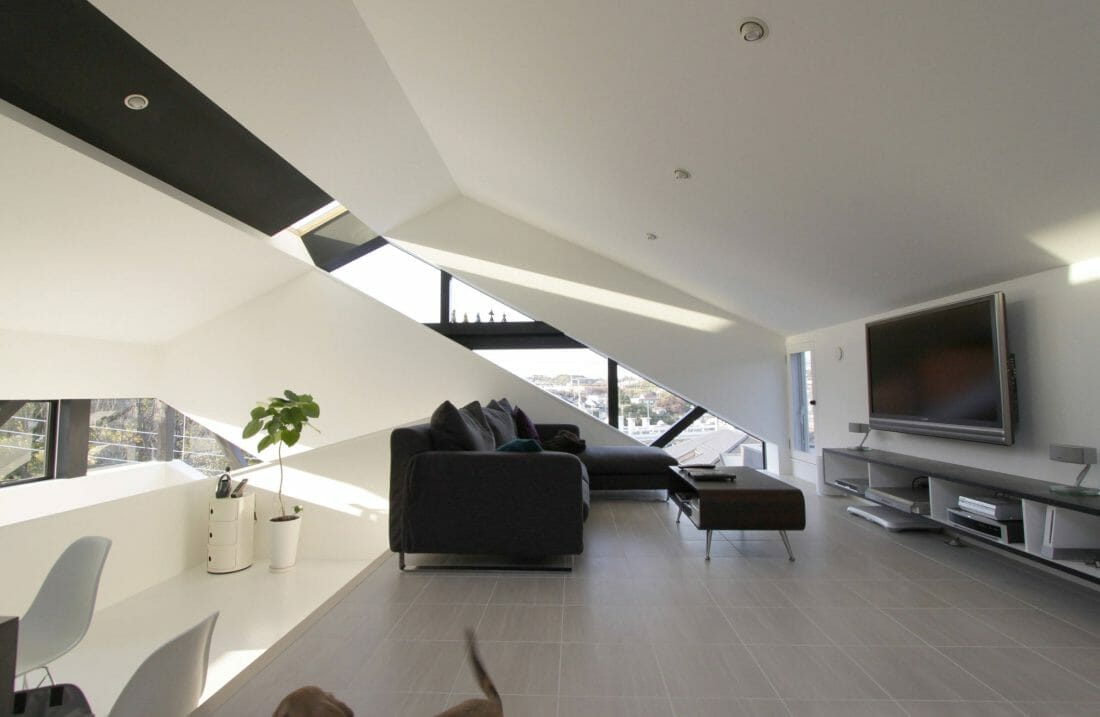 If you are a fan of any minimalist décor, duplicate this incredibly trendy living room. The black sectional couch, coffee table, and throw pillows deliver enough drama.
In addition, white walls and gray tiles brighten things up. Because of the black-and-white TV console, the attic living room feels cohesive.
Moreover, curves and angles make this space look more interesting. With the existence of the leafy plant, the living room becomes less minimalist and bland.
10. Luxurious and Lively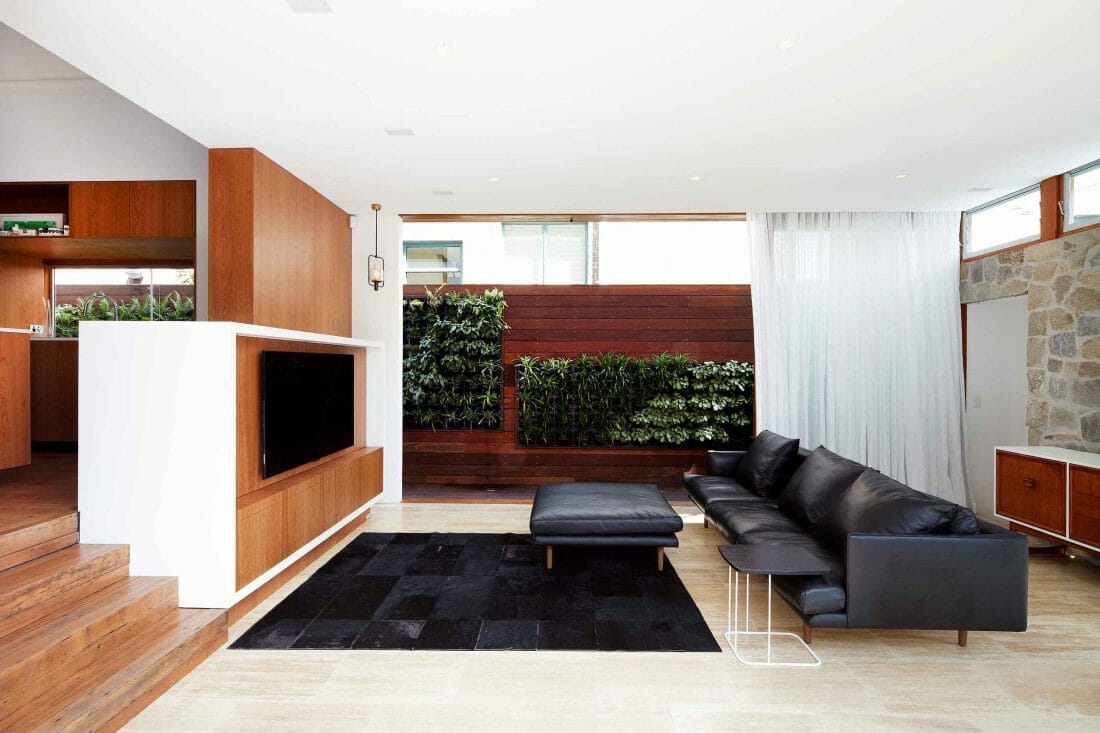 This is one of the welcoming and stylish living room ideas with black couch. The leather black leather ottoman, couch, and throw pillows impart glamor while hiding blemishes.
Meanwhile, the black rug and light wood flooring produce an enticing visual contrast. Furthermore, sheer white curtains add height while softening up the living room.
Here, the stone accent wall and raw wood steps epitomize naturalness. Meanwhile, dark wood planks introduce warmth and call attention to indoor plant walls.
11. Trendy and Terrific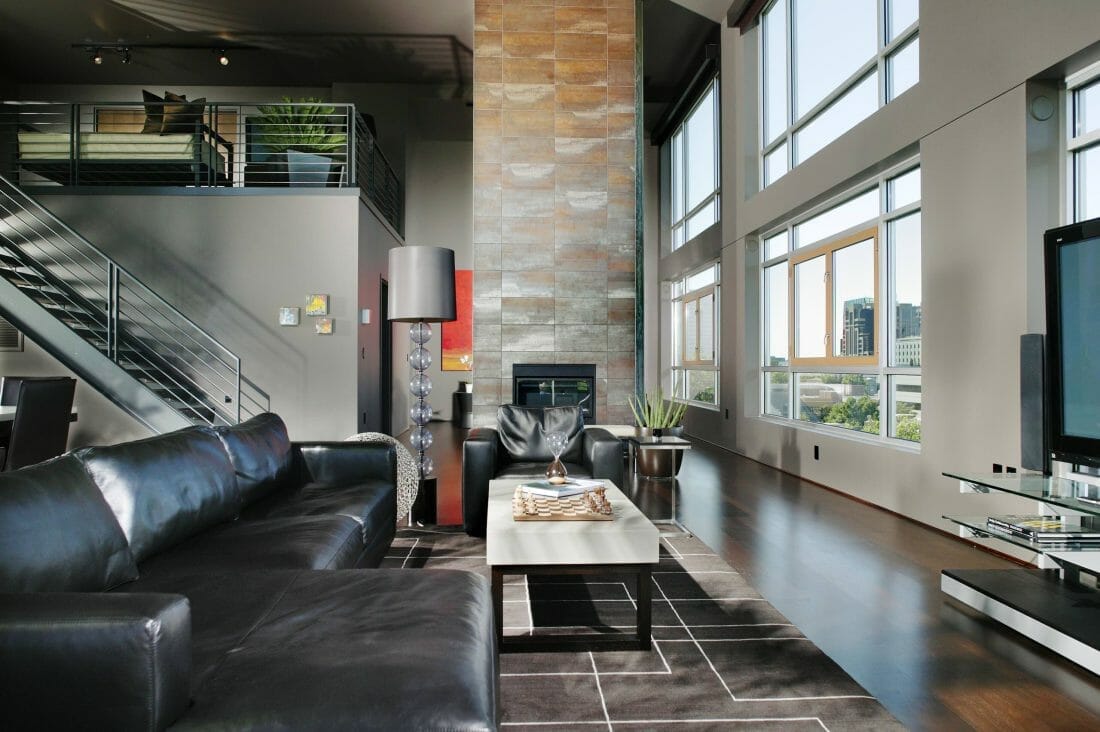 Living room ideas with black couch never get out of trend. This room, for example, seems stylishly elegant due to the black leather sofa chair and couch.
Light gray walls and multiple windows make the space brighter. Meanwhile, the modern eclectic floor lamp offers interest, height, and illumination.
The black-and-white table sits atop the minimalist rug while tying the room together. It boasts a chessboard and an hourglass too.
Lastly, a giant intricate orb softens this space a little bit.
12. Perky Pops of Color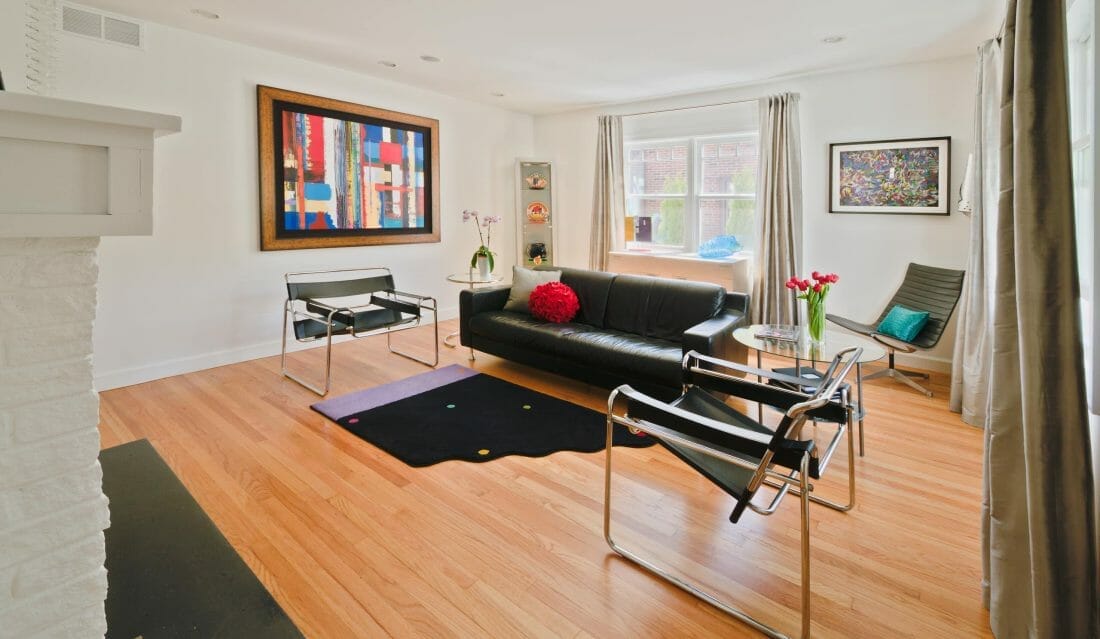 The pure white paint color opens up this eclectic room. Meanwhile, the light wood flooring and gray curtains keep everything balanced.
Homeowners also integrated a black couch, a long chair, and three accent chairs. They help produce a dramatic sitting area.
Besides, their metal legs offer a minimalist feel.
As you see, homeowners knew how to brighten a black sofa. The bright red ball and gray pillows spruce the couch up.
Moreover, the playful rug and artworks produce a cohesive yet fun living room.
13. Contemporary Living Room Ideas with Black Couch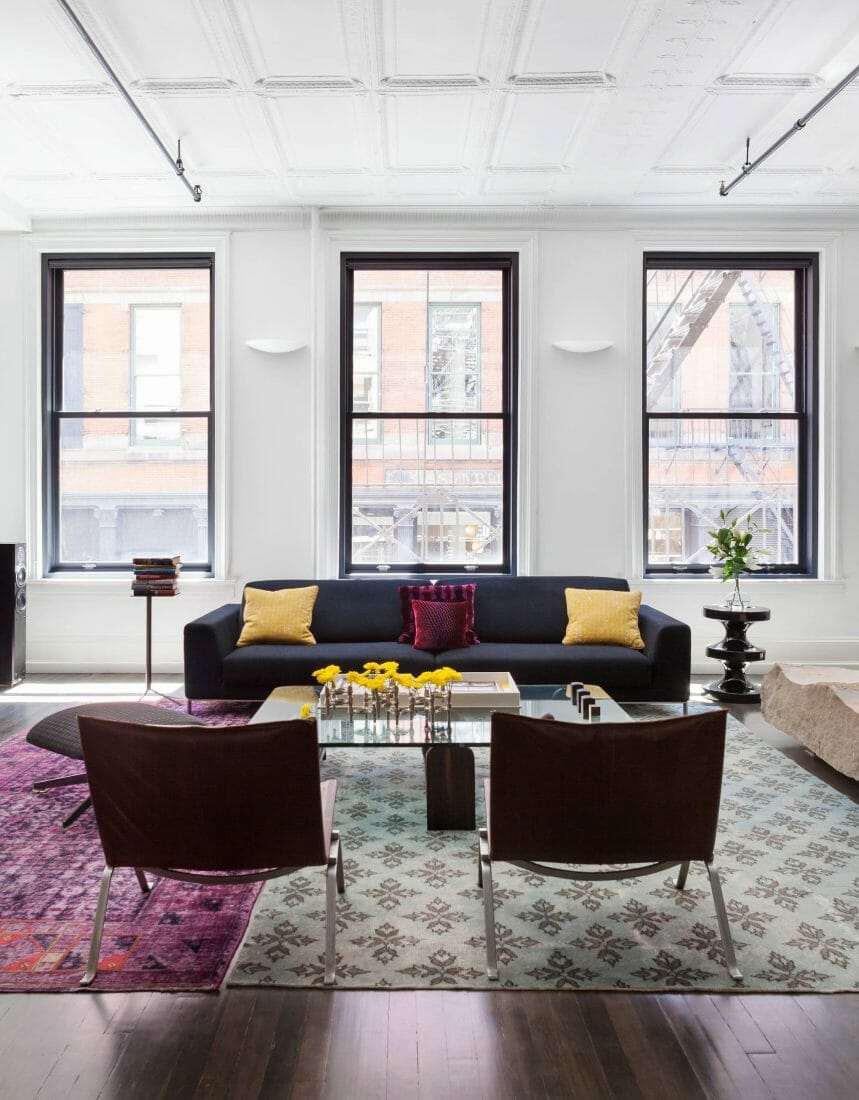 I adore the contemporary setup of the loft living room above. Red, yellow, and magenta throw pillows take the black couch from dreary to delightful.
The textured ceiling and white walls highlight industrial-style windows. A couple of brown accent chairs face the stylish black couch.
They impart some warmth, too.
Mismatched side tables provide interest while holding décor items. Also, there is a rustic stone bench that offers more seating.
Moreover, yellow blooms jazz up the sleek table, while purple and light gray printed rugs keep things exciting.
14. Industrial Meets Modern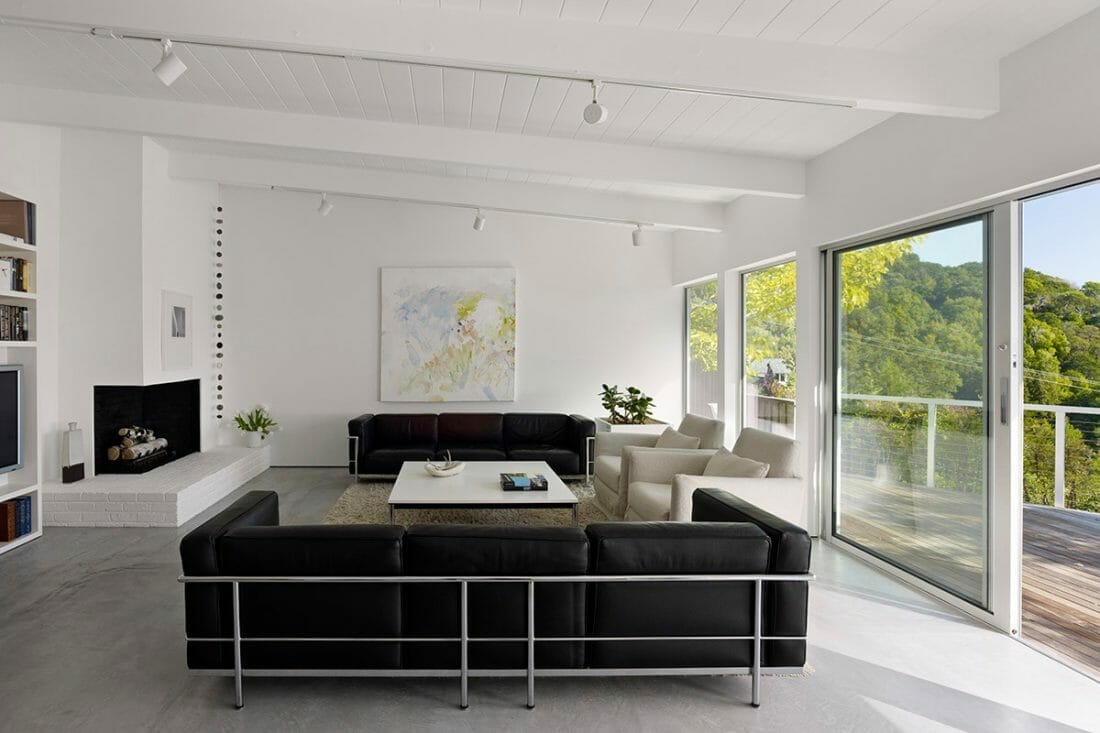 There are living room ideas with black couches for modern design lovers. If you truly admire modernity, copy this configuration.
Here, black leather couches face each other. They allow homeowners to achieve a modern look. Furthermore, their metallic frames and legs create industrial vibes.
The rug, throw pillows, and sofa chairs introduce lighter neutrals. Moreover, they up the cozy factor. Additionally, extra-large windows, bright white walls, and ornaments produce a dimensional space.
15. Open-Concept Living Room Ideas with Black Couch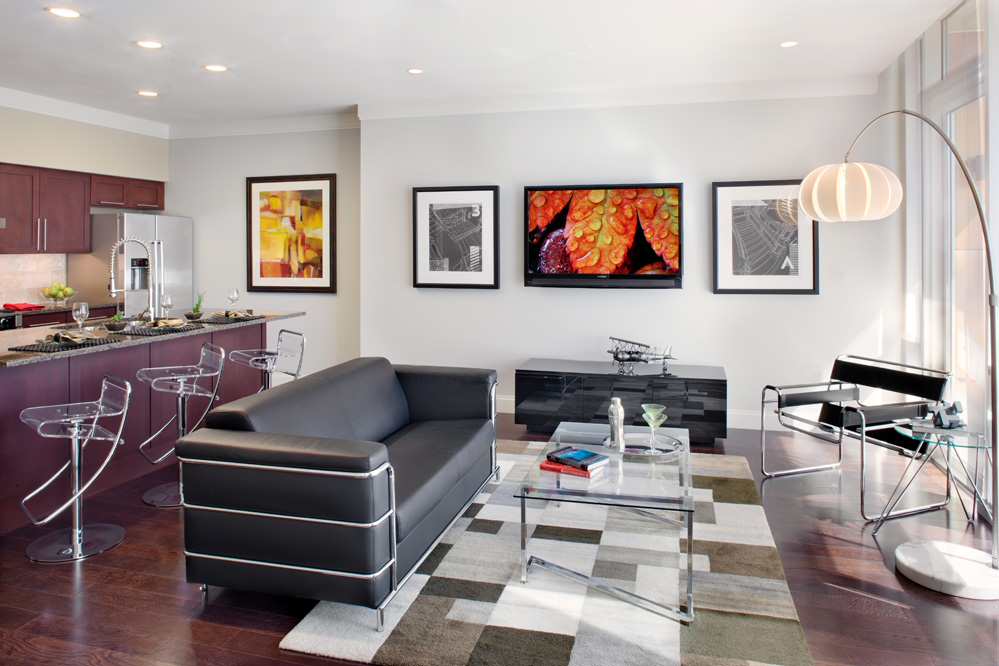 This open-plan living room lets the contemporary design sing. The black armchair and couch boast similar metal frames for a cohesive look.
Besides, the arch floor lamp and neutral color block rug bring personality. Contemporary artworks give this living room visual balance.
Since the flooring embraces reddish-brown, the space becomes inviting.
16. Funky and Fabulous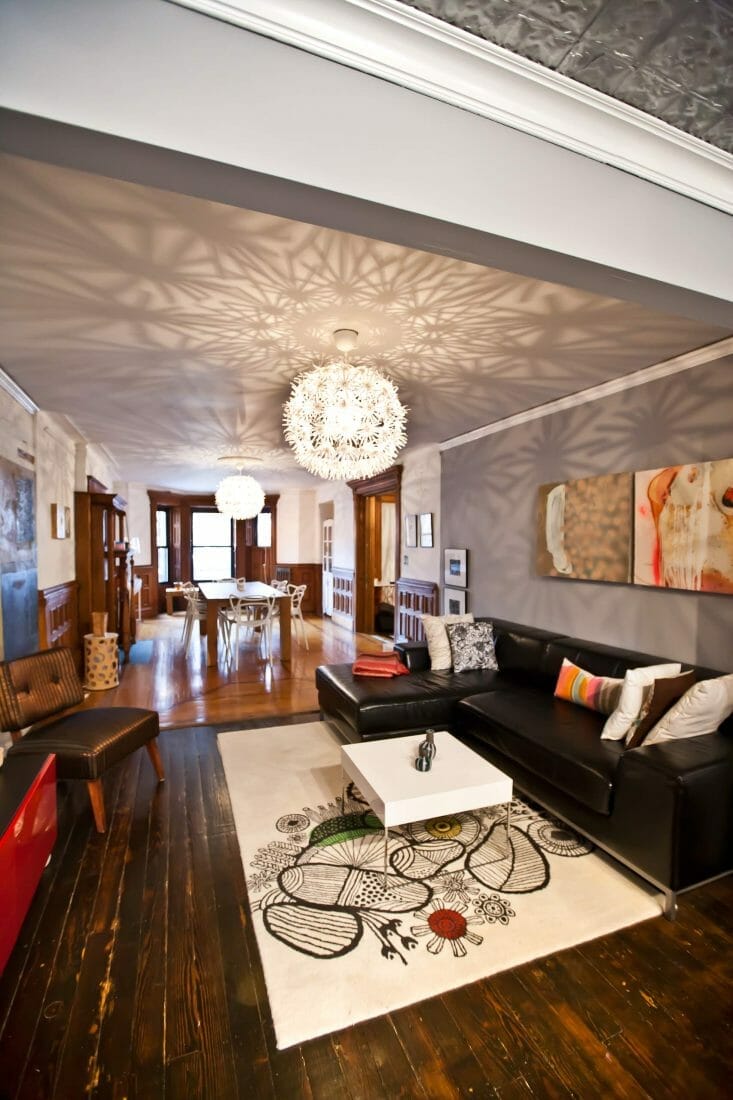 If you are after a fun and eclectic look, integrate a black leather sectional couch. Then, liven it up with multiple accent pillows.
Here, abstract artworks above the black leather couch titivate the gray wall.
The artistic rug, red sideboard, whimsical orb chandelier, and cute striped vases complete the room.
17. Transitional Living Room Ideas with Black Couches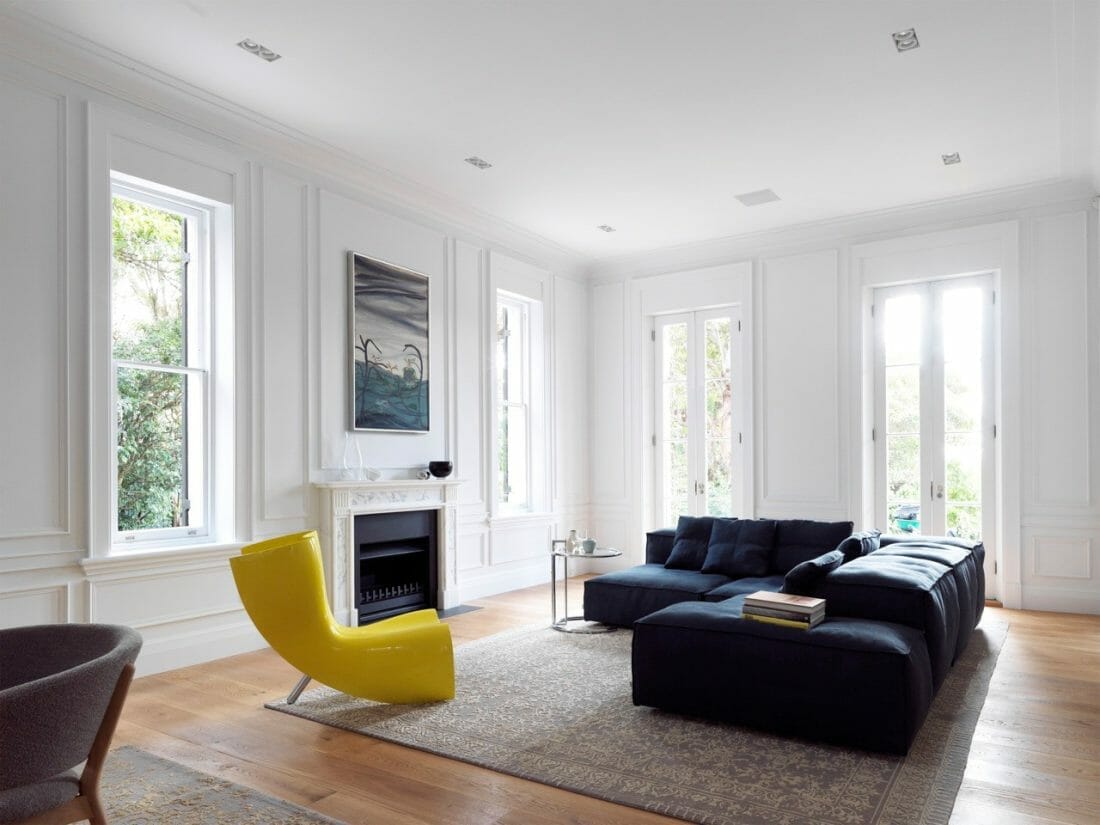 Black couches suit many decor styles, including transitional. Here, the black fabric sectional sofa and throw pillows ensure this room has enough dimension and drama.
The intricate fireplace surround and traditional rugs bring the open-plan space to the next level. Meanwhile, the yellow accent chair and artwork create a statement.
18. Elegant Meets Eclectic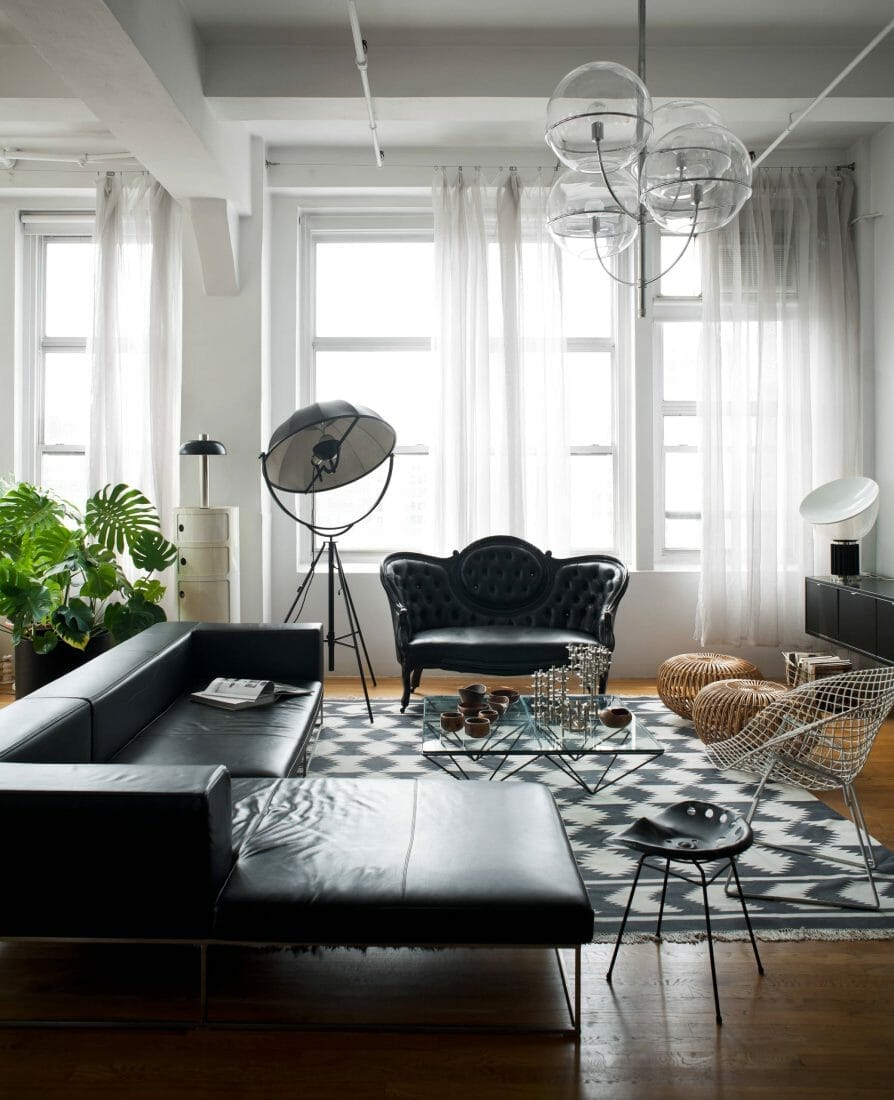 Homeowners successfully have made this living room inviting. Likewise, it has a minimalist black leather couch, a vintage tufted loveseat, and a low stool.
The wire mesh chair and rattan poufs sit atop the stylish geometric rug. Meanwhile, monstera plants and rounded lamps soften things up.
19. Black Sofa Living Room Color Scheme with Fake Plants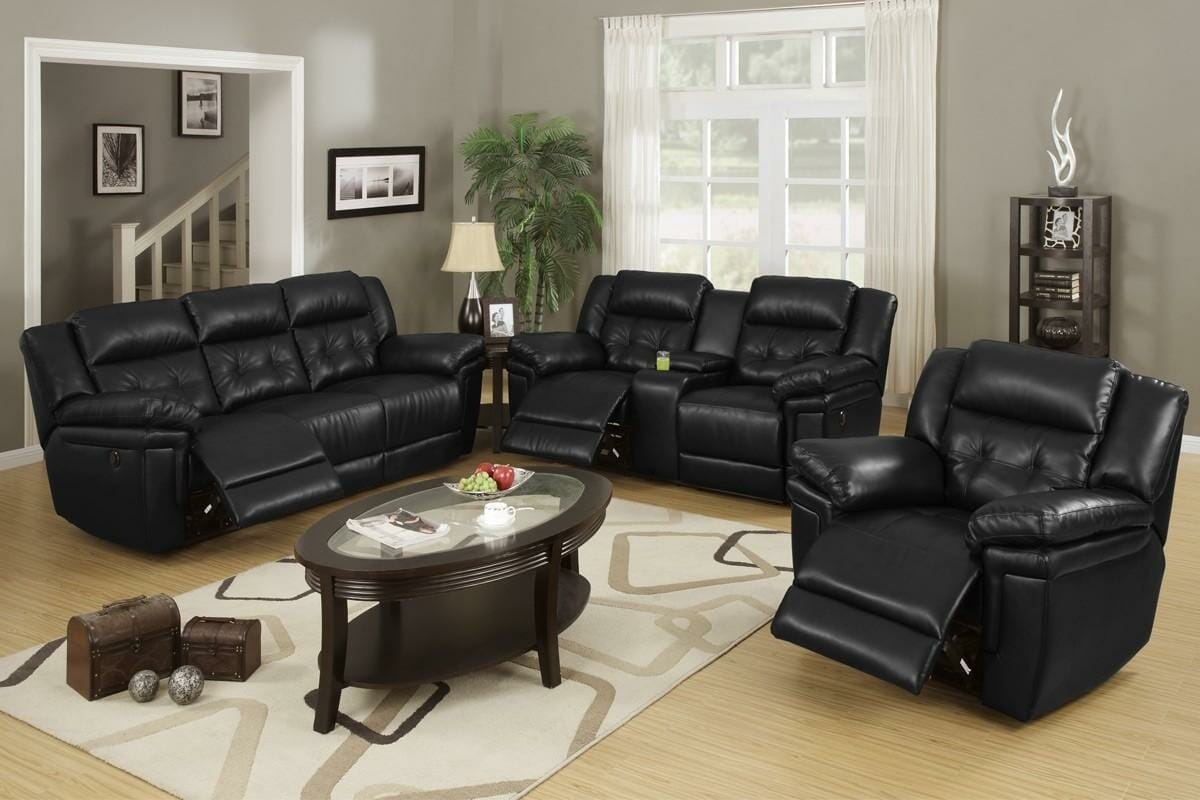 Nothing defeats living room ideas with black couch. They provide fantastic versatility. Here, the black leather couch, sofa chair, and loveseat epitomize timeless elegance.
Curtains and walls wear lighter colors to balance out the black furniture. The oval table, eye-catching rug, orbs, antique treasure boxes, and fake palm trees round things out.
20. Black Couches for Mid-Century Modern Living Rooms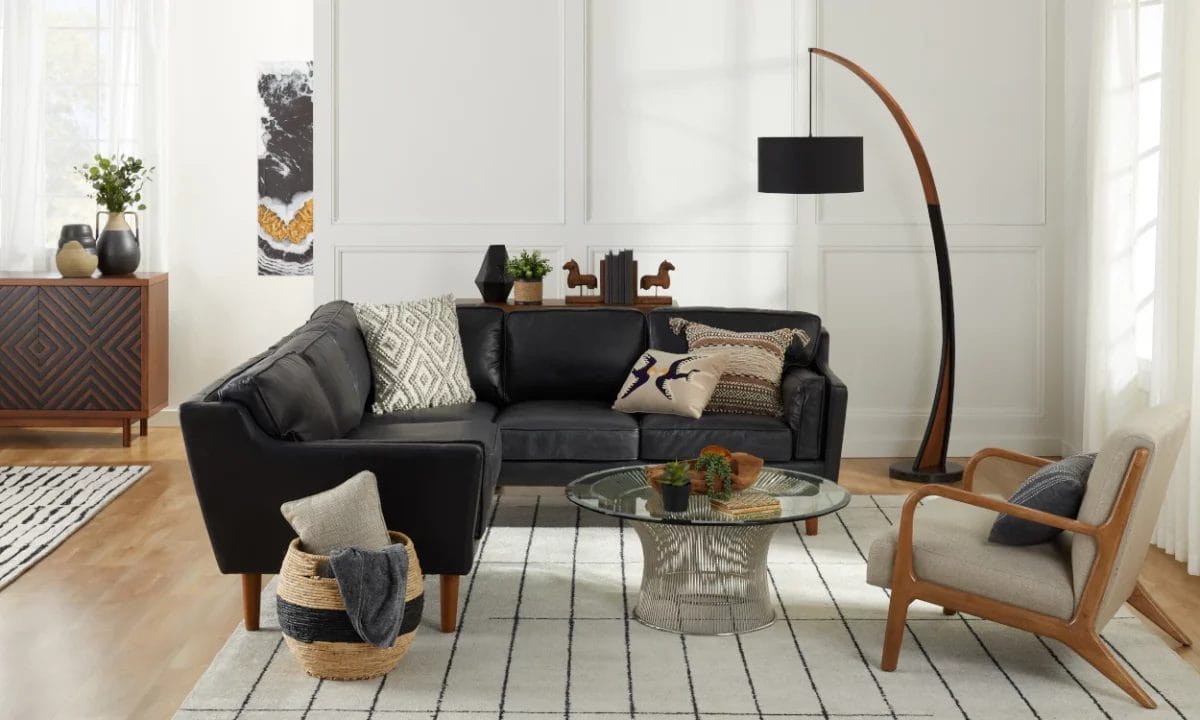 This living room is not super large, yet it feels modern, airy, and welcoming. Varying geometric patterns impart tons of interest.
The black leather couch gives the white-and-wood room drama, whereas the geometric vase, wicker basket, and floor lamp repeat the black.
21. Black on Black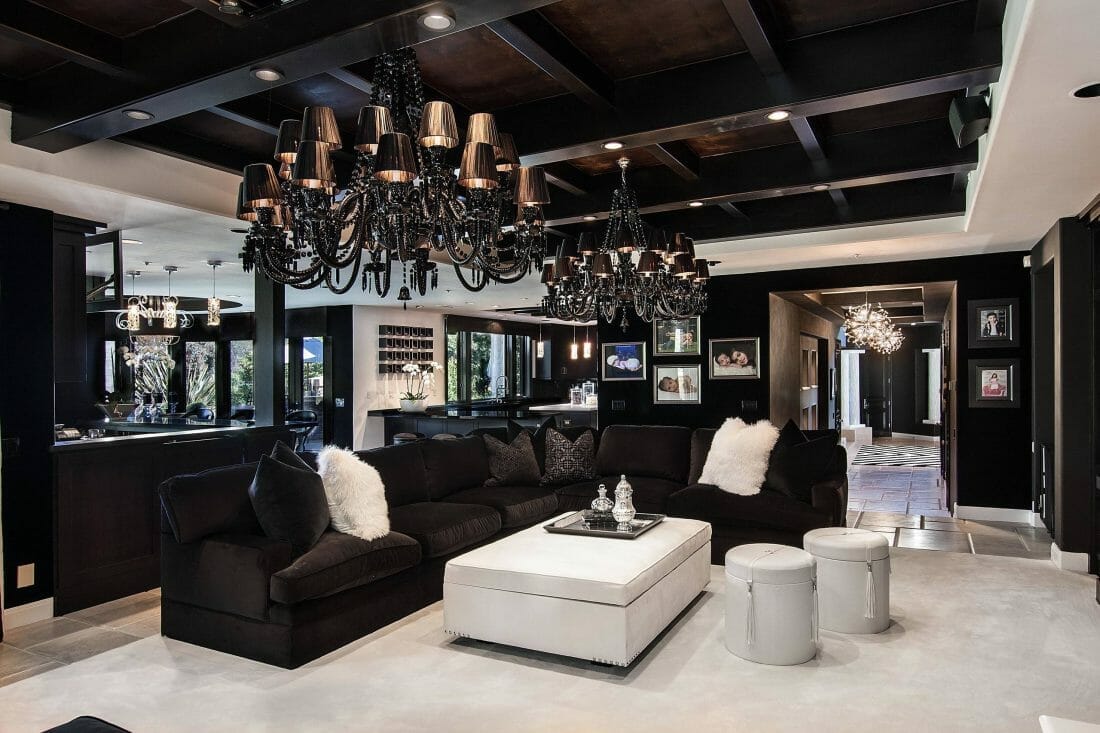 For those who adore all things dark, they will love living room ideas with black couch. The plush black couch goes harmoniously with gray, black, and furry white pillows.
The black coffered ceiling and crystal chandeliers produce a classy Gothic vibe. Lighter neutrals save this open-plan room from being moody.
22. Beauty in Simplicity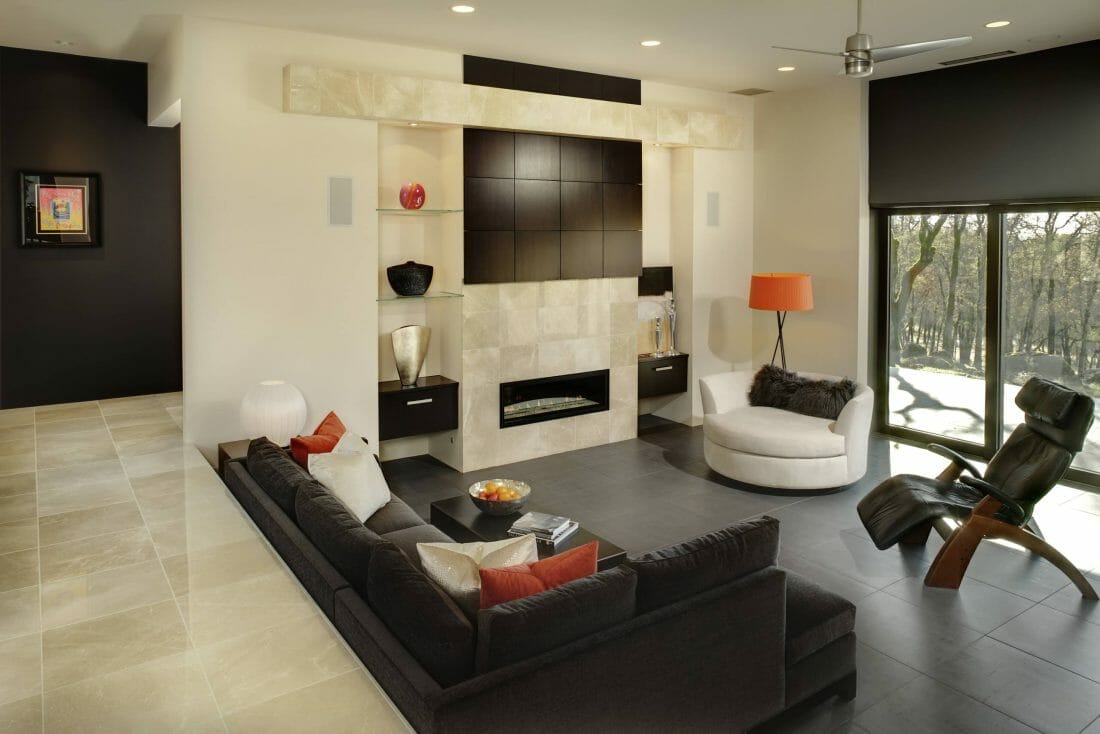 Homeowners wanted a sophisticated living room. It is achievable because they added an L-shaped black couch, an accent chair, a rectangular table, and floating side tables.
The curved back chair, walls, and marble tiles introduce lighter neutrals. Furthermore, orange and gold accessories balance out the inky units.
23. Traditional But Terrific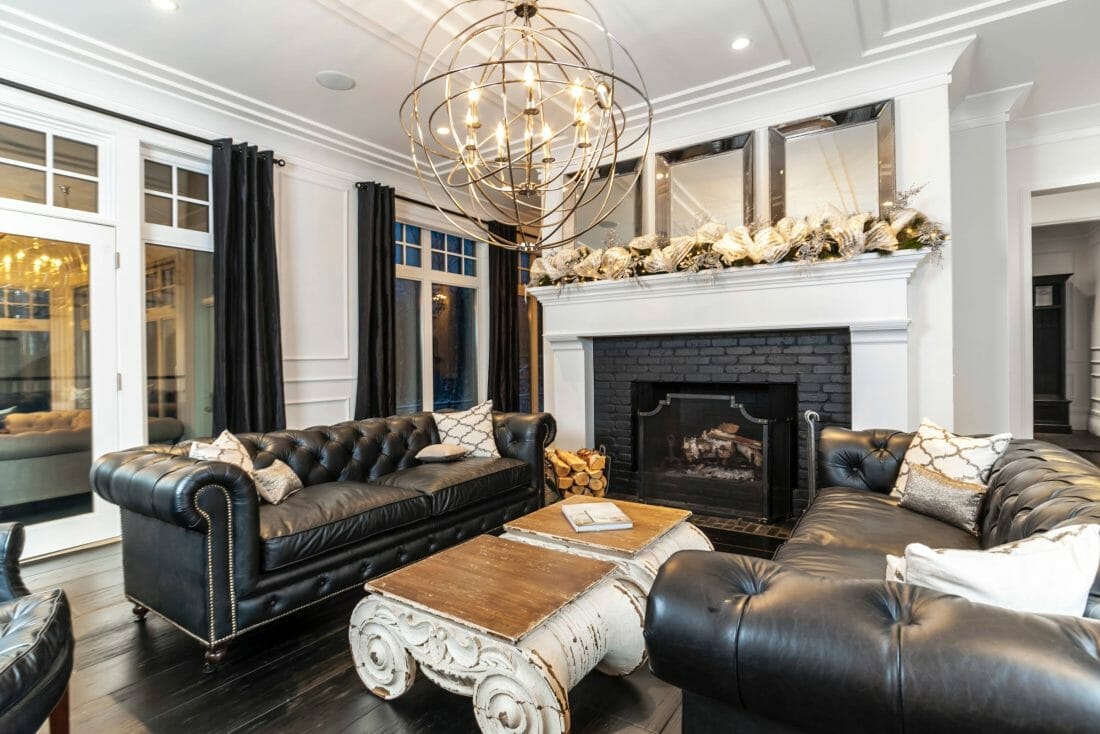 If you are in search of unmatched elegance, duplicate traditional living room ideas with black couch. Here, black curtains, chesterfield sofas, bricks, and fireplace tiles scream drama.
Distressed wood tables produce a lived-in look. The rustic orb chandelier, glamorous mantel decorations, and plush accent pillows are finishing touches.
24. Living Room Ideas with Black Couch and Coffered Ceilings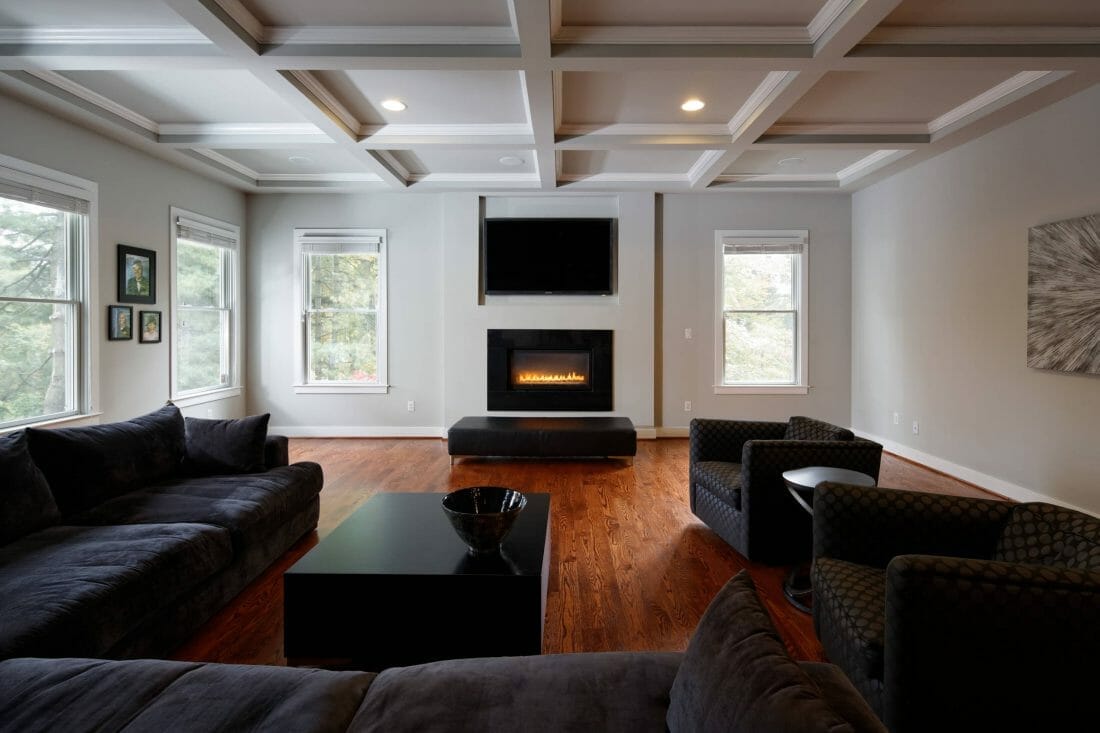 Who says black is always bleak? This space fabulously embraces the moody hue via the bench, couch, sofa chairs, and tables.
The abstract art and portrait paintings spice up otherwise blah walls. Moreover, the warm wood flooring and coffered ceiling bring dimension.
25. Awesomely Artsy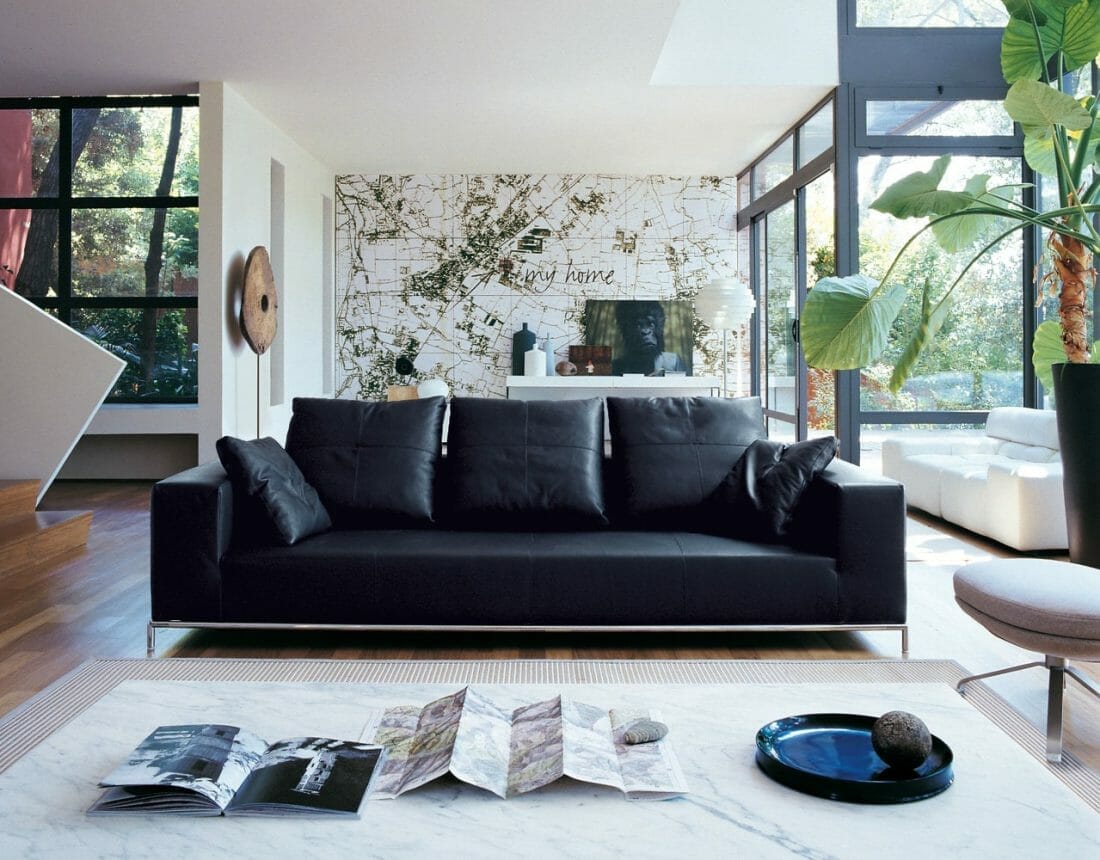 Homeowners undoubtedly love all things leather. They integrated the material via the black couch, tray, and pillows of different sizes.
The world map accent wall, marble table, decorative vases, and lamps create an artistic space. Due to the large foliage plant and wooden flooring, things suddenly appear inviting.
26. Coastal Meets Contemporary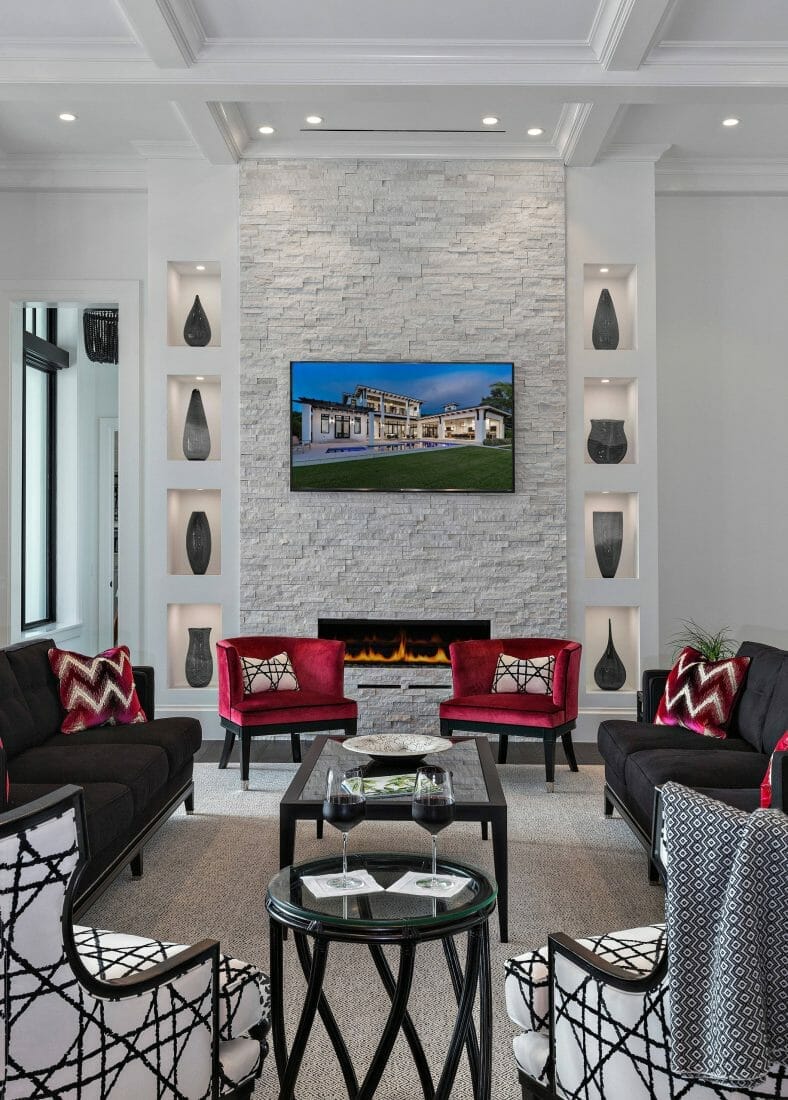 This is one of the glam and gorgeous spaces with black couches. Hot pink velvet chairs balance out nearby inky sofas.
Varying patterns and decorative gray vases add interest. Meanwhile, the trendy plant, mirrored table, and textured fireplace wall up the room's wow factors.
27. Pops of Pink and Gold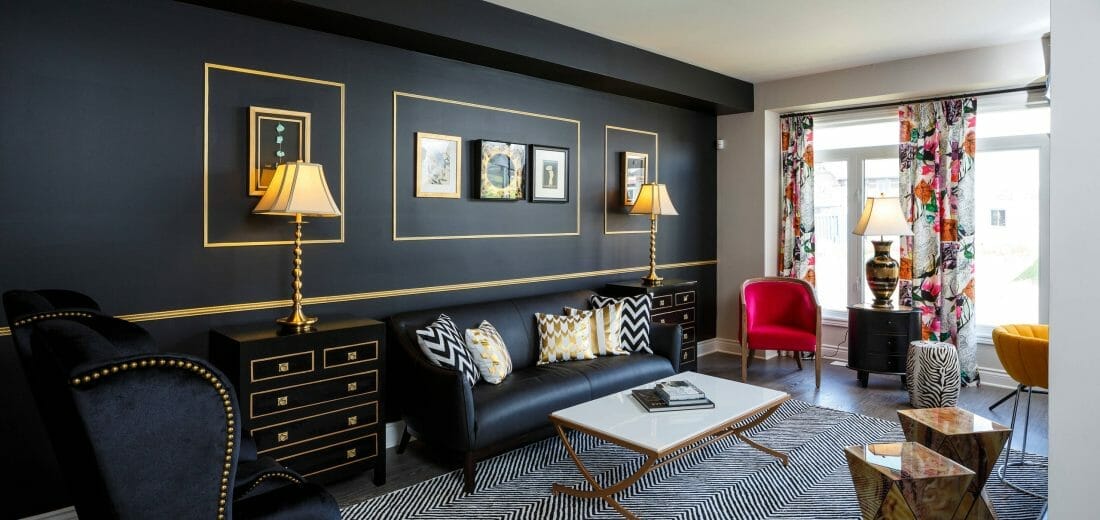 As you see, the space is eclectic yet enticing. The black couch, table, wingback chair, and chests of drawers scream sophistication.
Marble stools and gold accents lend the room a glamorous boost. Furthermore, different modern patterns and vivid colors add fun vibes.
28. Blacks and Bricks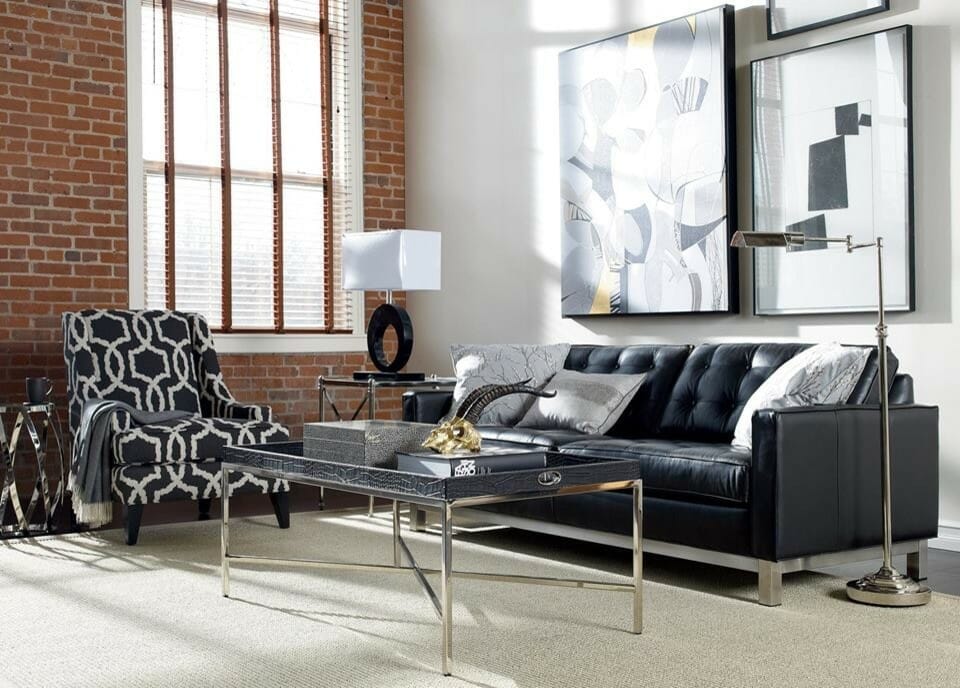 This family room gives off a masculine flair. Moreover, it has a brick wall, industrial lamp, and metallic tables.
The tufted couch perfectly matches art frames while featuring gray accent pillows. Here, the throw blanket, rug, and printed sofa chair help balance masculine and feminine energies.
Hopefully, you have enjoyed this post. Living room ideas with black couch above provide limitless possibilities. You can pair your black couch with neutrals or lively shades.