Many people assume that a tiny bathroom will work better with large tiles. It is due to the fewer grout joints, the more the illusion of spaciousness is drawn in your narrow bath. However, did you know that small tiled shower ideas can provide distinctive flairs in your bathing area?
Indeed, installing small tiles in the narrow bathroom won't always make your walk-in shower look narrower.
Instead, it will present a beautiful flourish in everyone's eyes.
With the condition, it does not appear overly and still comes in a matching color combination to obtain a remarkable final result.
After exploring the twenty-nine small tiled shower ideas below, you can prove it for yourself.
1. Corner Shower Ideas for Small Bathrooms in Green Mosaic Tiles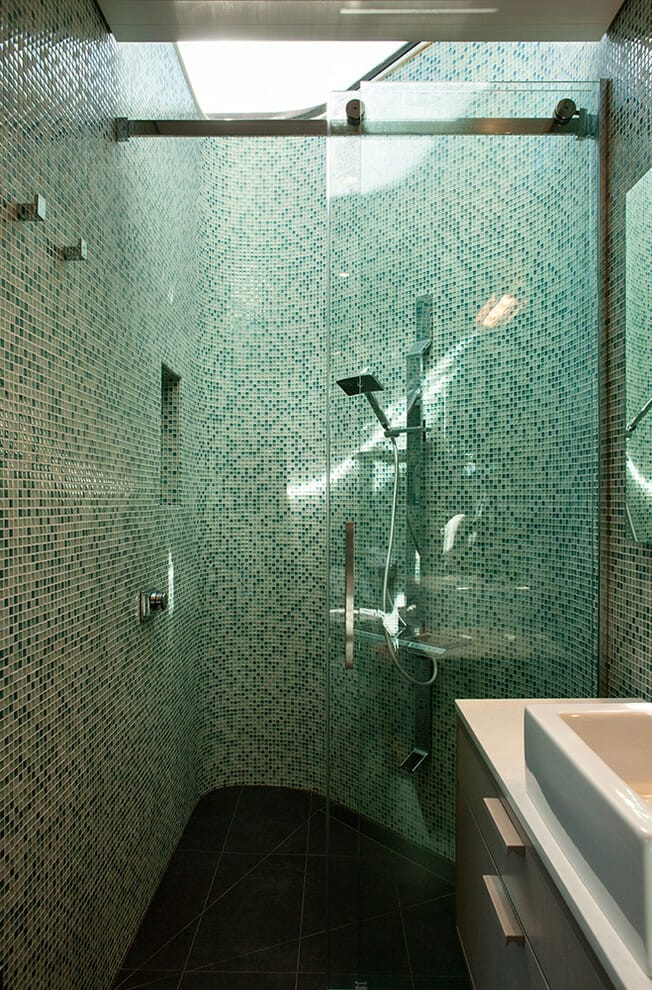 A corner shower is perfect for those with tiny bathroom space. Then, to embellish this spot, you can install mosaic tiles in green to draw a refreshing atmosphere inside the enclosure.
Next, give the flooring a charcoal hue and install a skylight on the ceiling to balance the brightness in that space.
Furthermore, it would be better if your corner shower came with a curved angle to reduce the existing stiffness.
2. Small Tiled Shower Ideas in Light Blue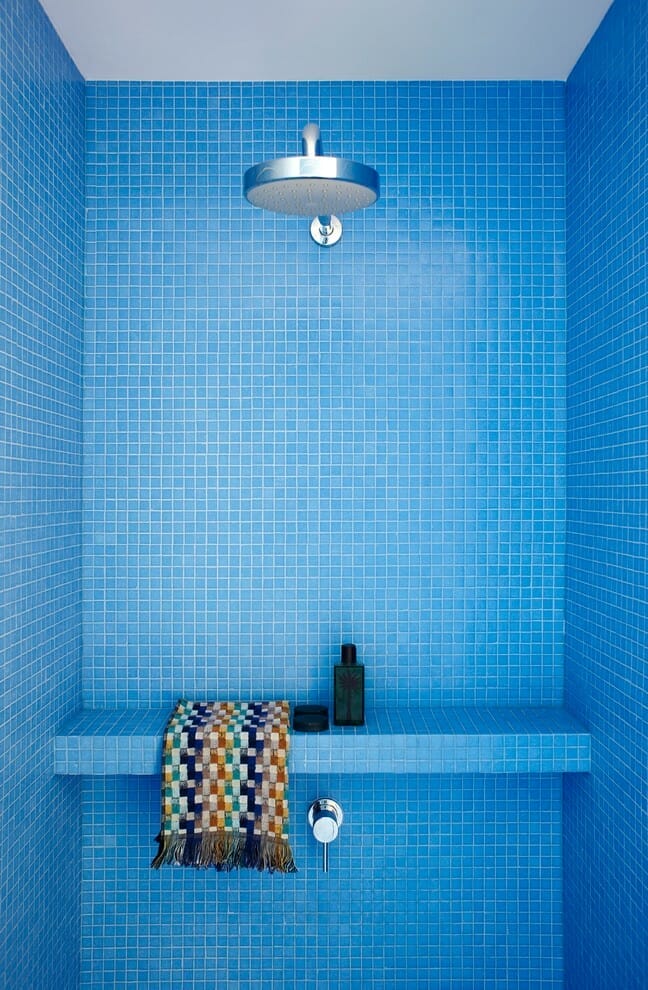 Apart from mosaics, you can also go with standard mini square tiles as above. The bright blue color is an option to symbolize the refreshing shade of the water.
Suppose blue is not your style. You can replace it with any color that suits your taste. Whether green, pink, or yellow, everything will remain attractive.
However, avoid using red and other bold hues alone to prevent a gloomy atmosphere and cramped.
Meanwhile, a single built-in shelf under the shower will be handy for storing your bath utilities so that everything is within reach.
3. White Triangle Tiles on The Wall and Porcelain Plank Floor in Black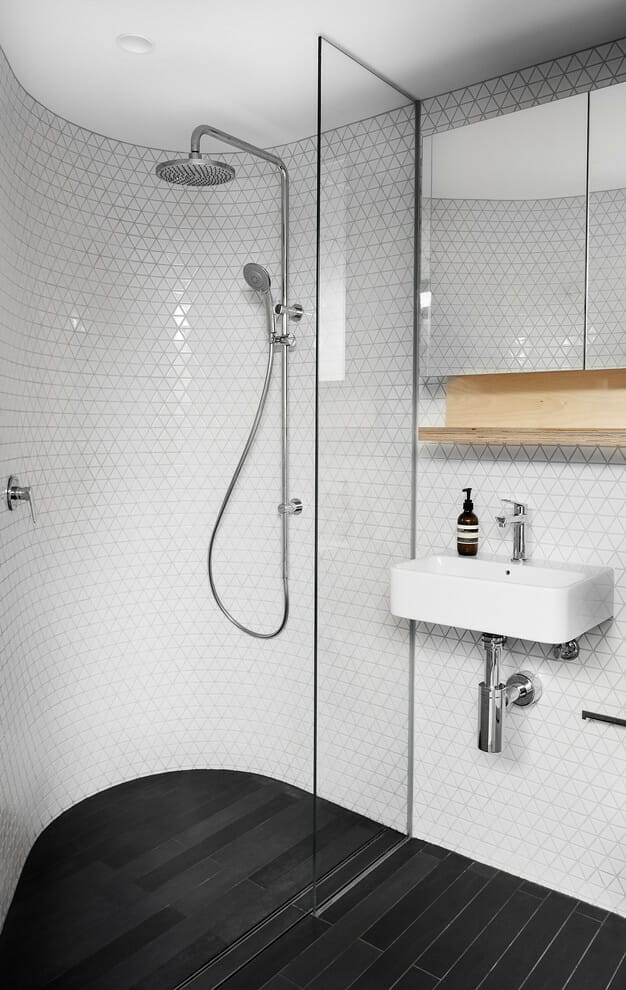 Black and white are the best options for those with a narrow bathroom. These two color combinations will match any decor, especially the modern minimalist theme.
Besides, the small triangular pattern on the wall is quite tight and requires a combination of other tiles with wider dimensions to avoid overcrowded.
Therefore, you choose the porcelain plank tiles for flooring.
4. Pastel Blue Mini Honeycomb Tiling and White Flooring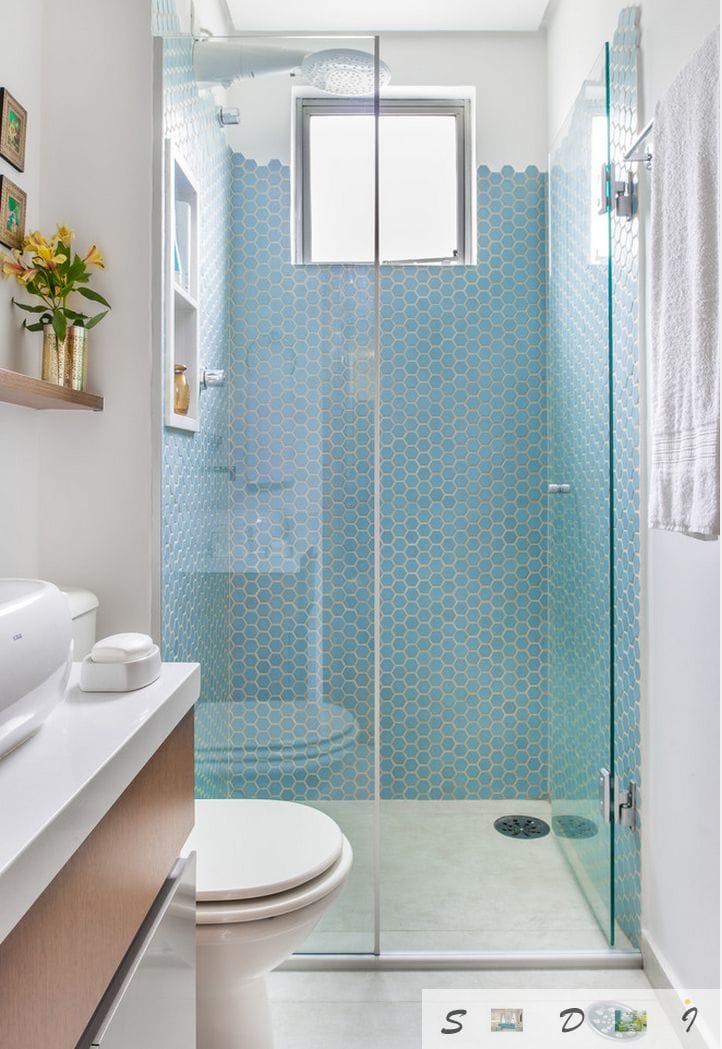 These small tiled shower ideas have a bit of uniqueness. Look at the top edge of the wall tiling inside the enclosure.
The edges are uneven and follow the natural shape of the honeycomb tiling to display an authentic and artistic décor in your bathroom.
Also, the pastel blue color makes everything pleasing to the eye and not too flashy. It looks even better when combined with white walls on the upper part.
5. Install Porcelain Tiles Vertically to Create a High Impression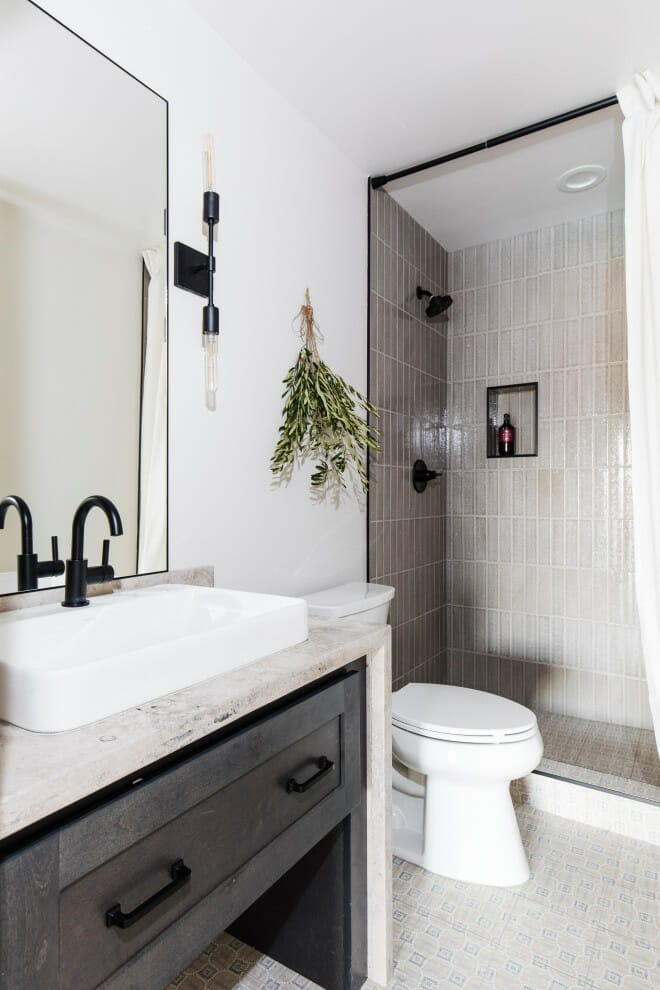 Porcelain tiles come in a variety of colors and shapes. The one in the picture above is a mini-sized rectangular in dark beige color.
Instead of installing it horizontally, try to arrange it vertically so that your small shower looks taller.
6. Tiny Square Tiles in Grey to Spotlight Shower Space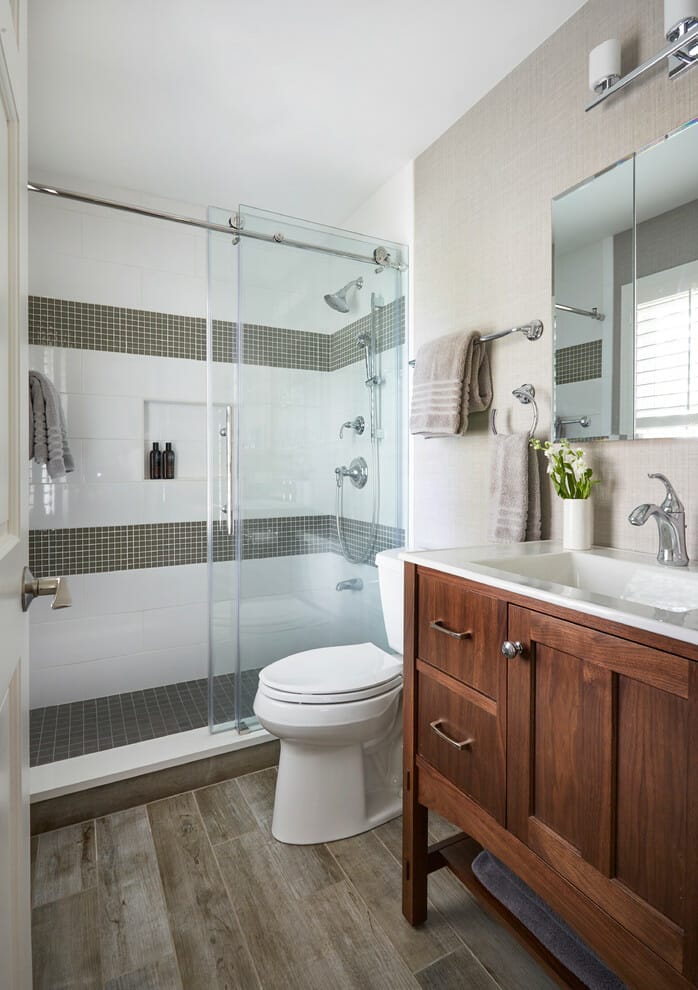 Unite small and large tiling in your narrow bathroom to give a remarkable personality. Then, consider placing tiny square tiles in gray forming trimming lines between all the white.
Further, you can also arrange the gray tiles on the floor to create a cohesive decoration. Do not fret. These small tiled shower ideas will not make your bathroom look outdated.
7. Small Tiled Shower Ideas in Royal Blue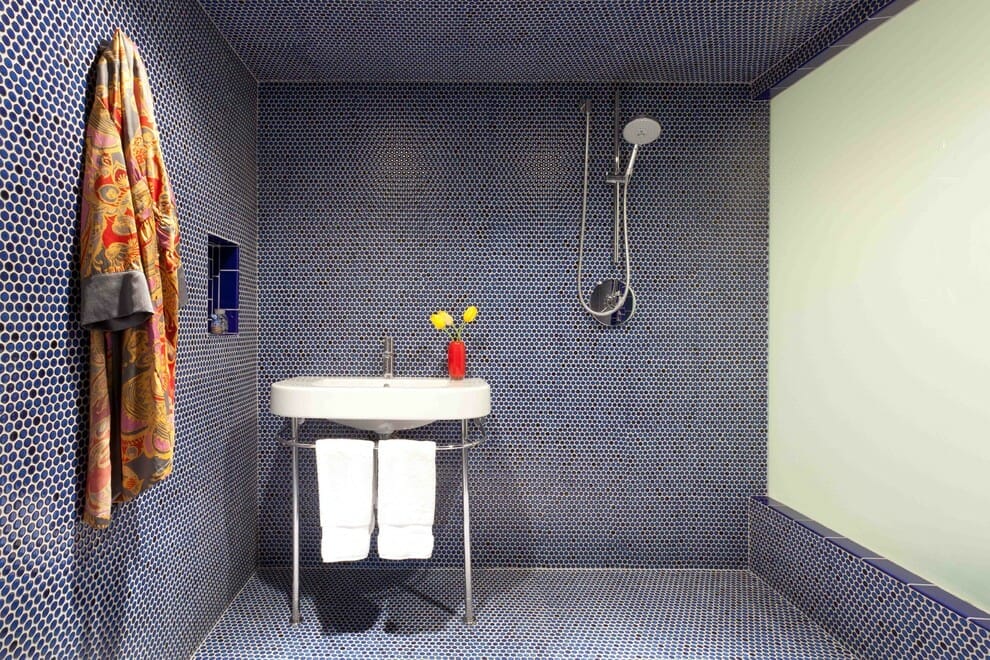 Royal blue is a powerful color to apply in your small walk-in shower.
So, instead of installing the entire wall, ceiling, and floor with this kind of penny tiles, it is better to leave one spot on the wall to be painted white.
It is essential so that the appearance of your bathroom becomes more balanced.
8. Penny Tiles on One Side to Add Drama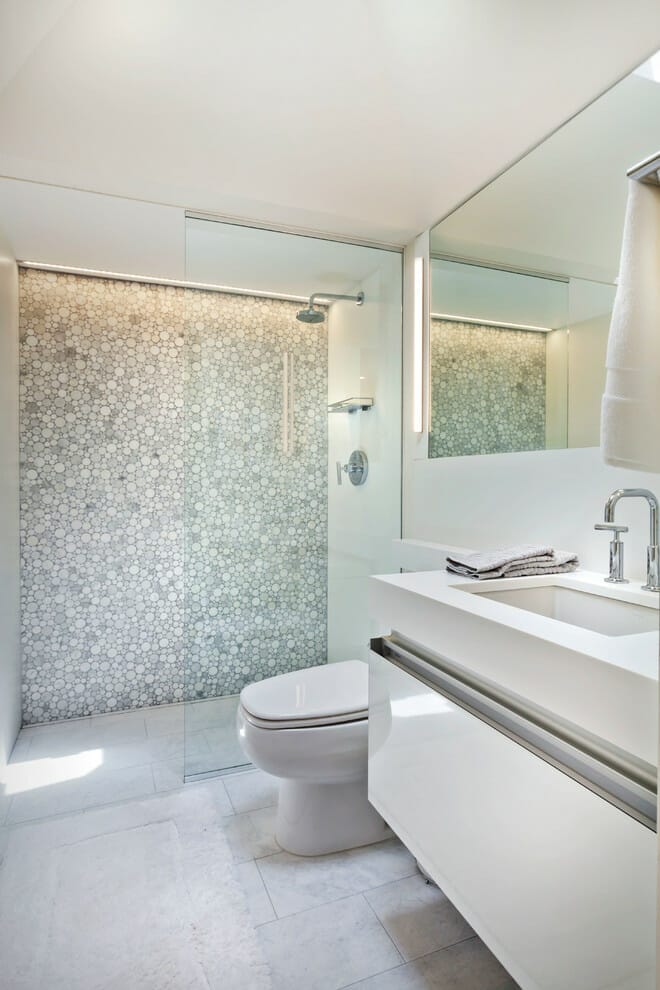 Penny tiles never lose their charm in any area, even in the bathroom. They look attractive because they come in a variety of shapes.
Consider choosing one with subtle color to install on one wall in your shower is the best way to give a pop of pattern without making the area look overpowering.
You can even install a strip light above it to better highlight its pattern.
9. Accented Ceramic Tiles in Grey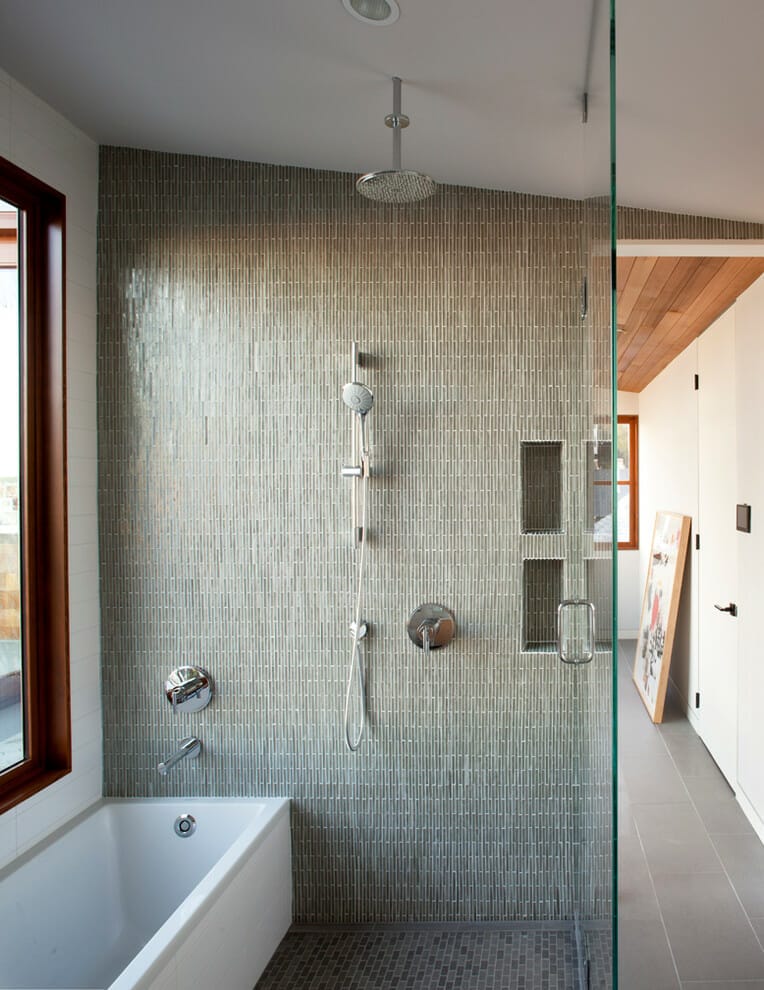 Among many small tiled shower ideas, one with accented ceramic tiles representing wood structure on the wall is such a smart move to give a pop of texture to your small bathroom.
Moreover, you can add patterns on the flooring with mosaic tiles in the same tone. To make it look cleaner and sleeker, complement this design with glass partitions and a white ceiling.
10. Small Walk-in Shower Ideas with Blue Mosaic Tiling and Some Indoor Plants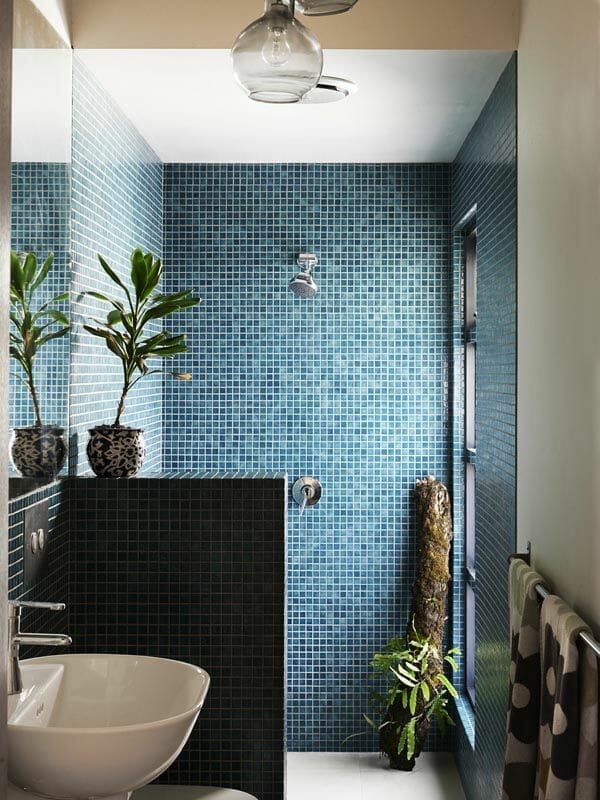 Blue mosaic tiles can make your small bathroom look darker. However, that will not happen anymore if you equip it with a window next to the shower space to let natural light in during the day.
Simultaneously, it will keep the excellent air circulation every day.
Afterward, you can adjust the ceiling and flooring in white to give a balanced appearance. Also, put some indoor plants to make it more refreshing.
11. Tiny Chevron Tiles Among Light Gray Porcelain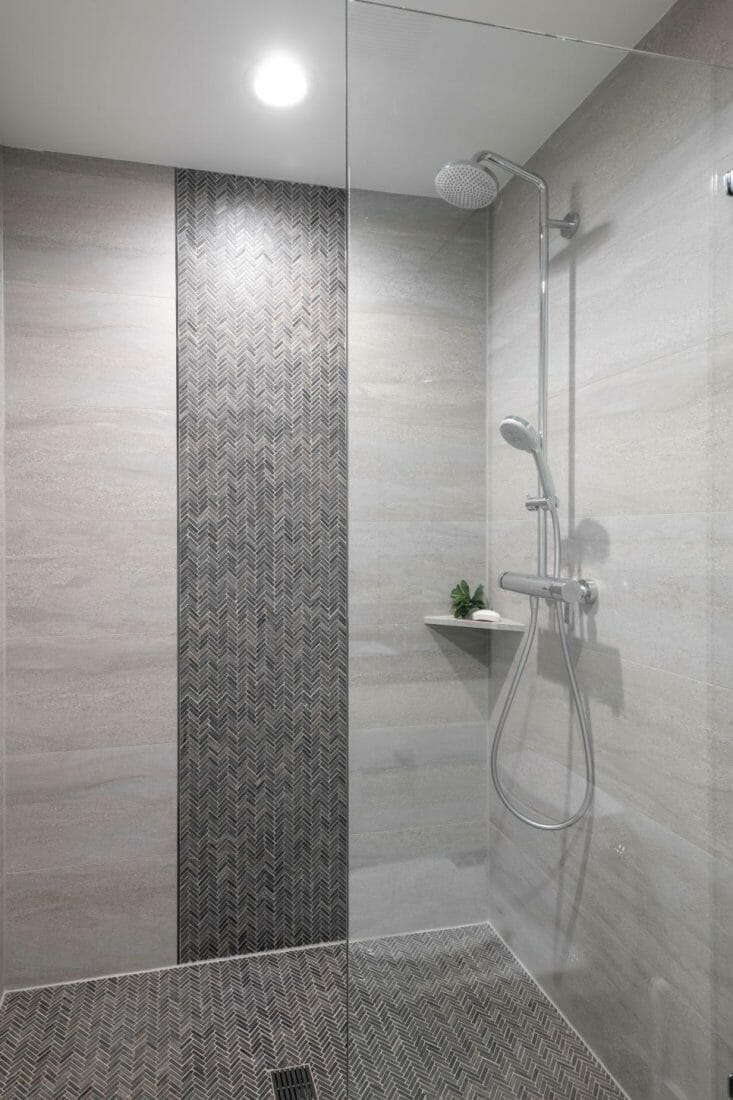 Small tiled shower ideas with tiny chevron tiles in gray tones will be enough to give a distinctive personality to your small bathroom.
Instead of installing it all over the space, it is better to arrange it vertically at one spot in the middle and also on the floor.
As for the rest, you can leave it with light gray porcelain to keep the ideal luminance inside the bathroom.
12. Green Mosaic inside The Enclosure and on The Vanity Edges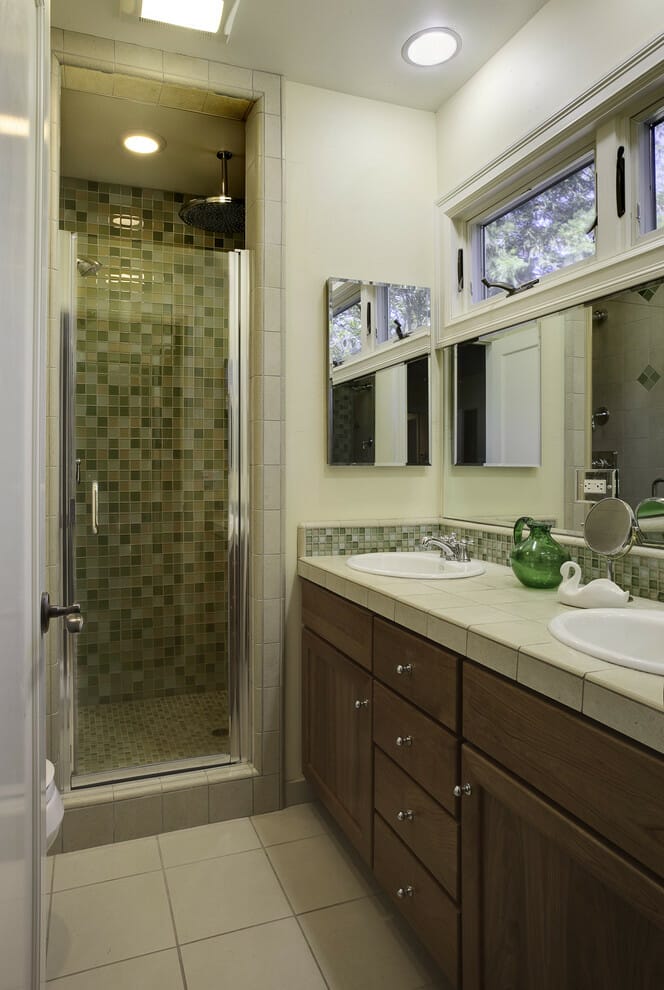 Mosaic tiles become the star among the many small tiled shower ideas in this article.
Besides installing it on the wall inside the shower enclosure, you can also arrange it to form a trimming line on the top of your vanity.
Moreover, this embellishment will give a coherent impression of your bathroom's inner and outer parts.
13. White and Gray and a Bit of Golden Touch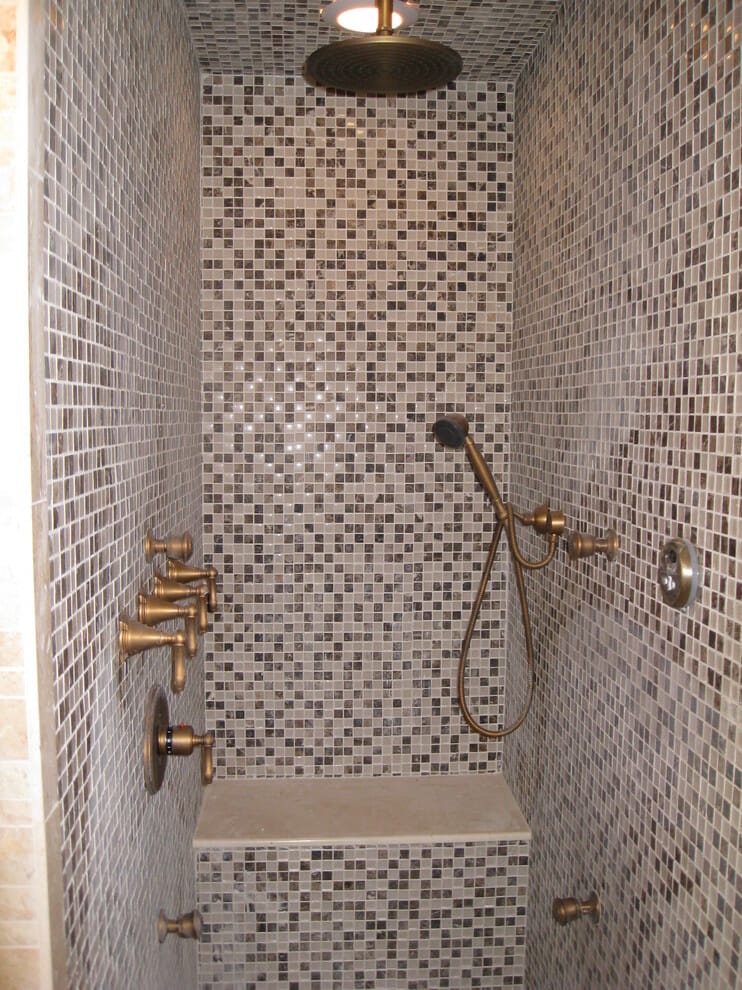 Tiny square tiles in white and gray can reduce the stiffness that usually fills your small walk-in shower. To make it far from dull, you can give a touch of gold to some parts, especially the showerhead.
Without a doubt, this element will become an elegant focal point in your bathroom.
14. Small Tiled Shower Ideas with Mosaic Inside and Honeycomb Outside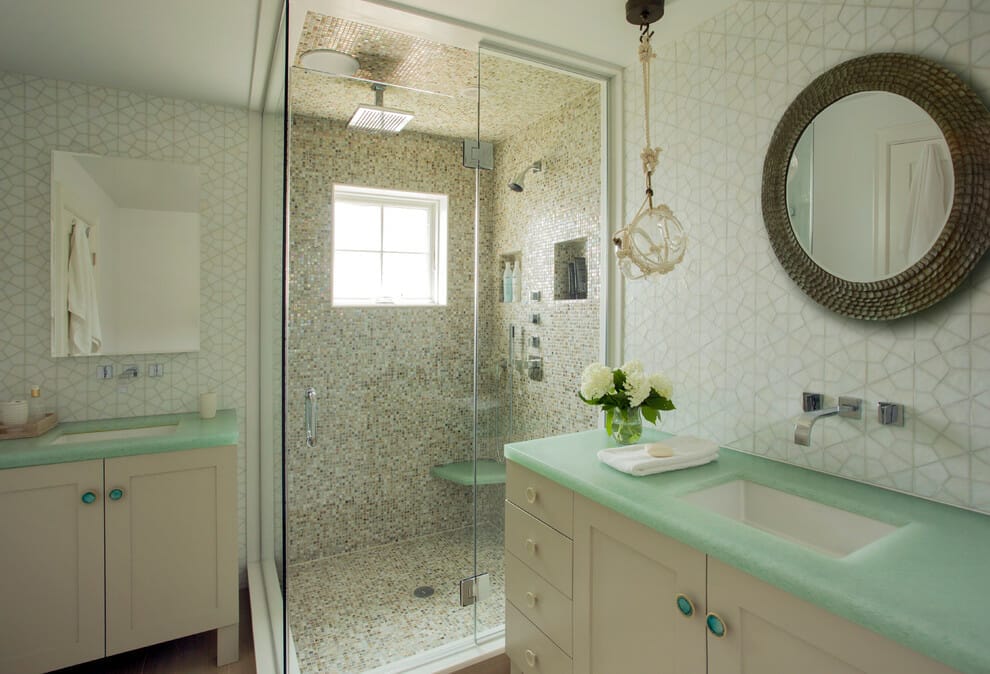 This idea discusses decorating the inside and outside parts of the shower enclosure. Presenting small tiles in these two areas will not make your bathroom look cramped as long as they do not come in a bold tone.
As in the picture above, the muted pattern tiles in hexagonal shape on the outside will help highlight the presence of the mosaic tiling in beige inside your shower enclosure.
The two of them look good together without intimidating each other. You can even mount a round mirror with a complicated frame, and your bathroom remains aesthetic.
15. Tiny Square Tiles as a Focal Point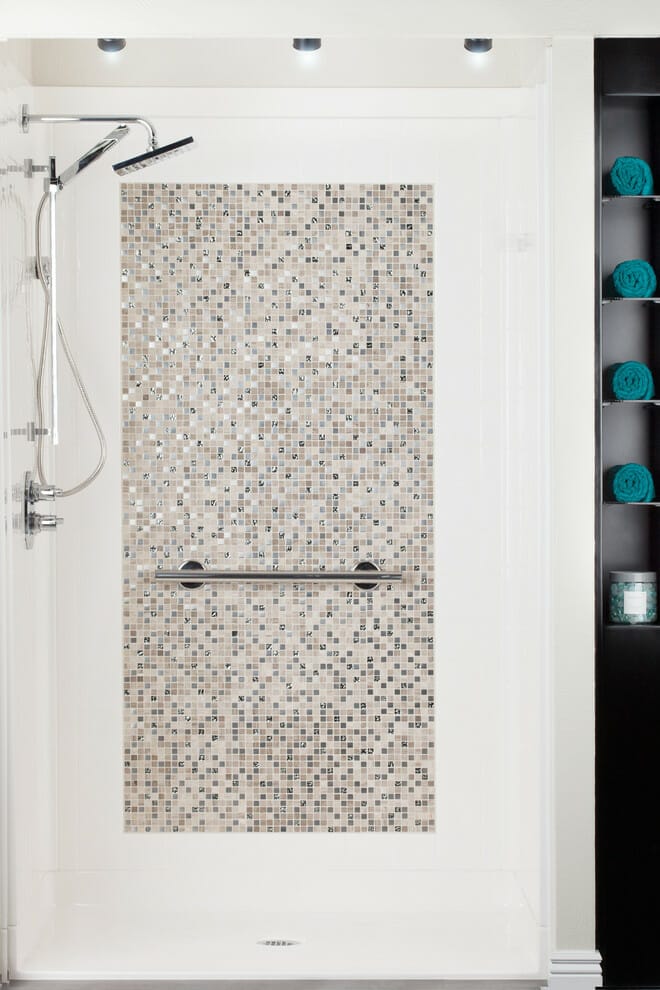 Mosaic tiles installed in the center of one side of the wall and surrounded by whites are the best for maintaining a balanced texture in your small walk-in shower.
Consider giving accent lamps on the upper side between the wall and ceiling to highlight the presence of your bathroom embellishment further.
16. Mini Glass Shower Tiles and Large Porcelain in White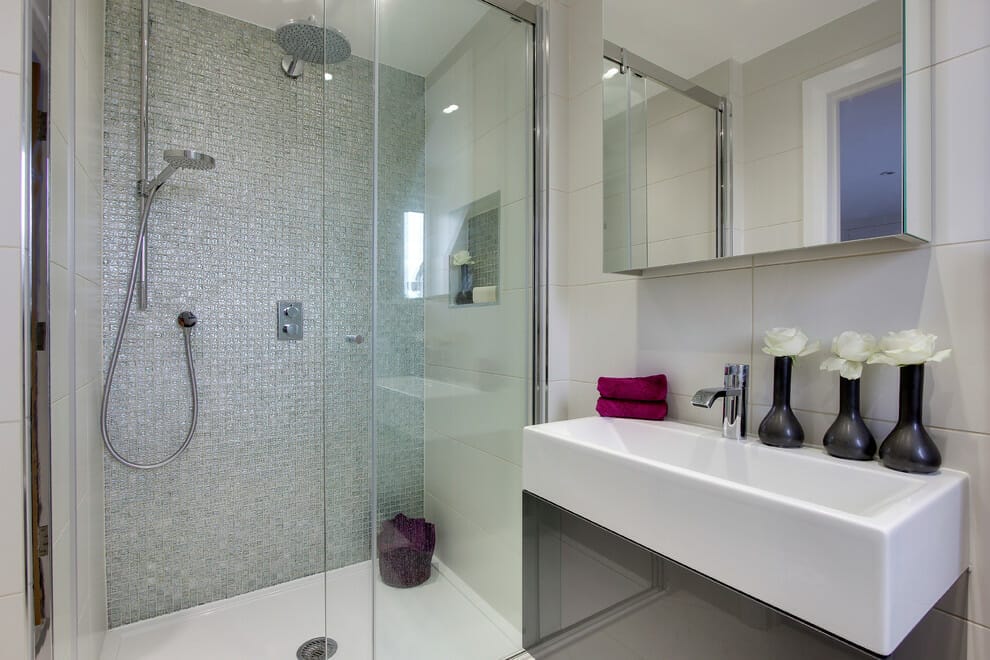 Glass tiles in small tiled shower ideas are popular because of their dazzling surface when exposed to light. It is excellent for giving the impression of luxury and elevating your tiny bathroom.
To avoid an overwhelming impression, install the glass tiles only on one side of the wall, and leave the other with larger porcelain tiles as above.
17. Dazzling Turquoise and Granite for Classy Small Tiled Shower Ideas
Mosaic in turquoise is already very characterful. Therefore, only install this tiling on one wall and floor inside the shower enclosure.
As for the rest, you can give them granite tiling in white. No wonder your shower space will be well-highlighted through this layout.
Do not forget to install a glass partition instead of a standard wall to divide your bathroom while maintaining a spacious impression inside the space.
18. Mix Size Ceramic Tiles for Pop of Texture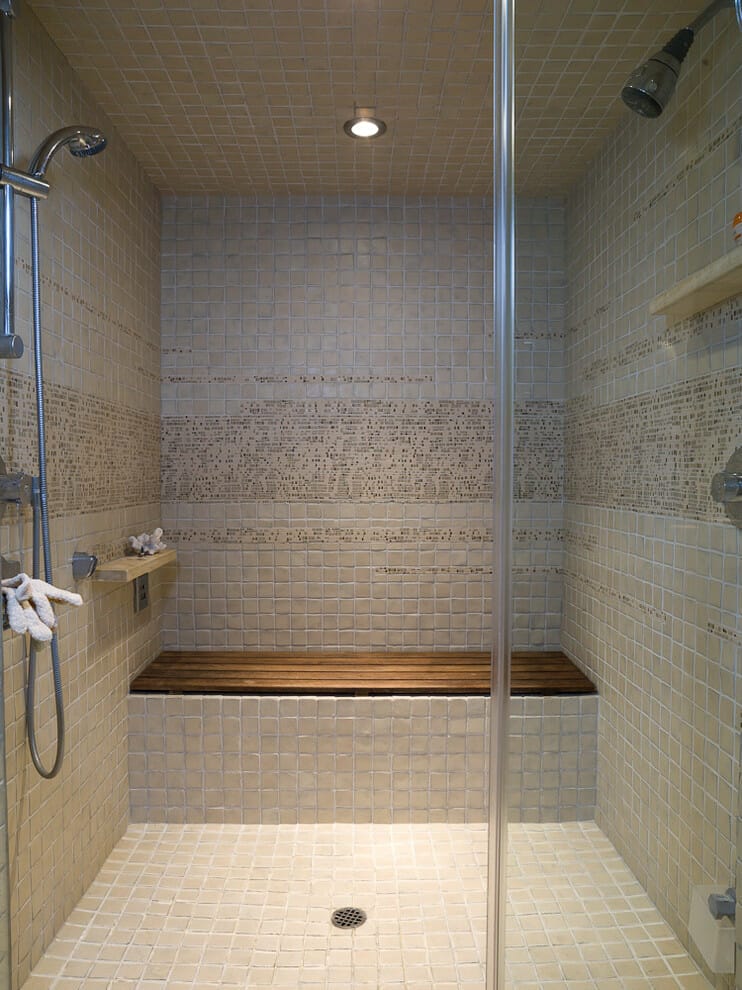 It is easy to add personality to your doorless walk-in shower. If bold colors are not your style, go with a more subtle tone like cream or beige.
To give an understated pop of texture, you can combine several sizes of mosaic tiles and install them as shown above.
Furthermore, complete this look with a wooden bench to get pleasant earthy vibes.
19. Luxurious Style with Golden Tiles on The Floor and Wall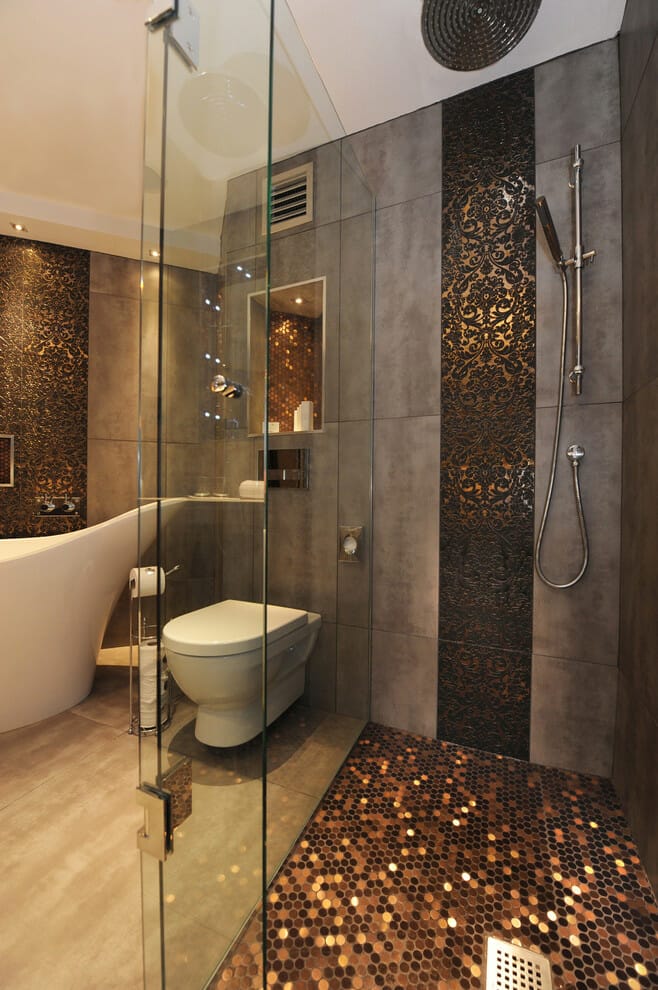 If you are looking for small tiled shower ideas with a luxurious theme, penny tiles and accent tiles in metal and gold will be the perfect option for you to adopt.
Install penny tiles on the shower floor while set accent tiles in several spots on your bathroom wall. This design will not be overwhelming because you have filled other areas with plain gray porcelain tiles.
20. Small Tiled Shower Ideas with Trellis Pattern Tiles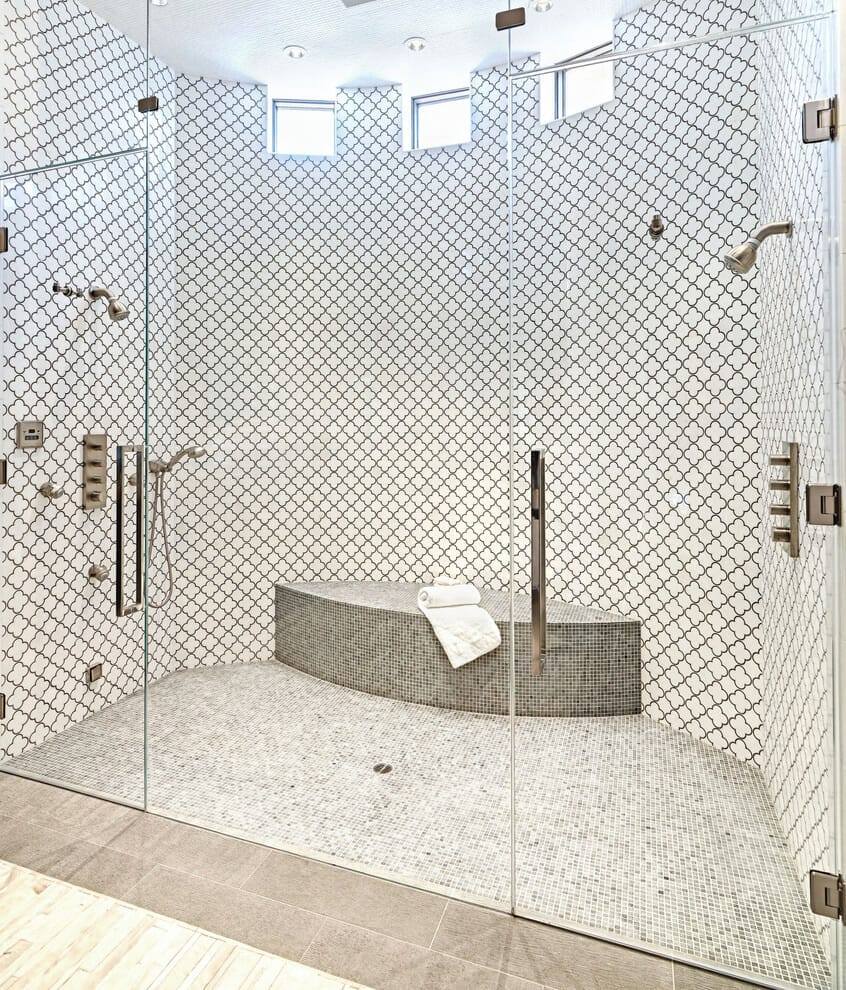 Small tiles in trellis style will give a powerful drama in your bay bathroom.
Moreover, everything can become overpowering when you decide to provide mosaic flooring and checkered pattern tiles on the bench.
Therefore, you need to install glass partitions to balance your bathroom layout and make it still look spacious.
21. Combine Mosaic and Ceramic Tiles in Earthy Tone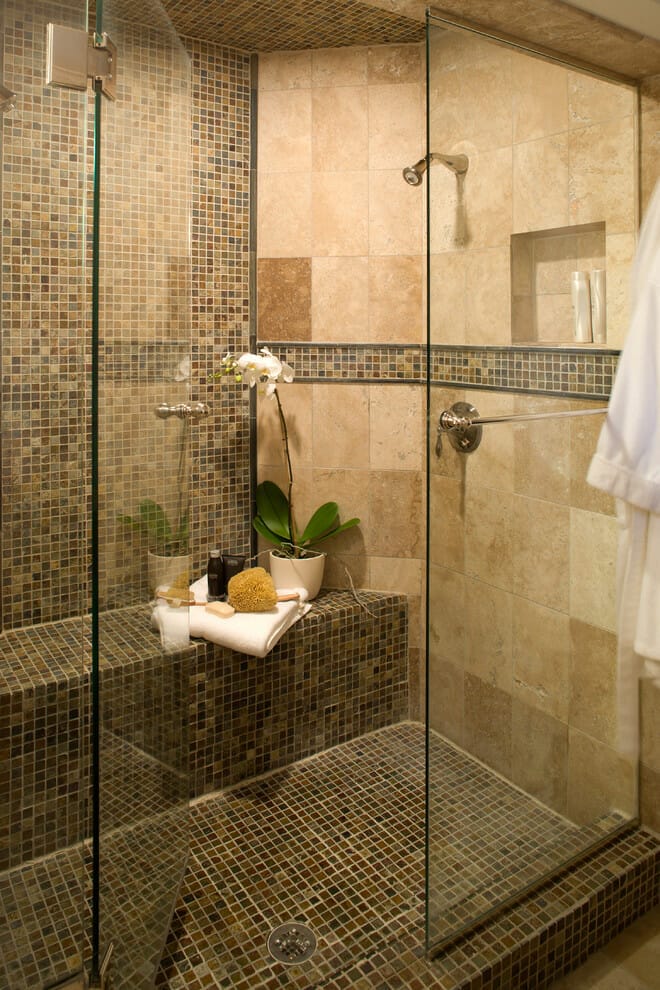 Earthy tones will provide unmatched comfort in your shower space.
Add drama to the spot by combining plain ceramic tiles with mosaic ones on the walls, floors, and the built-in bench.
Additionally, as a final touch, place indoor plants to give a spa-style freshness to your mini bathroom.
22. Walk-in Shower Tile Ideas with Subway Tiling in Pastel Blue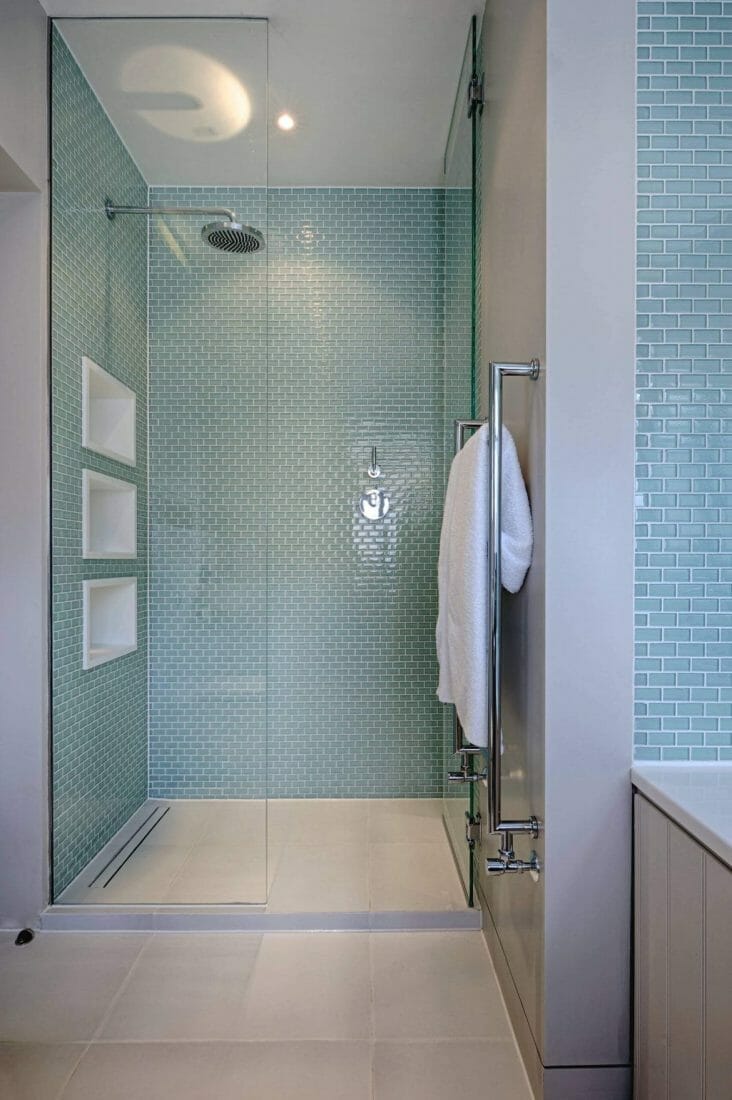 Bright small tiled shower ideas are the ultimate strategy to bring a seaside vibe to your modern bathroom, especially those that adopt pastel blue tiles.
Visually, this is already interesting because the small subway tiles provide a great pop of texture on the shower walls.
Furthermore, complete it with some built-in white shelves to make everything look cohesive.
23. Rectangular Ceramic in Grey and White Hexagon Tiles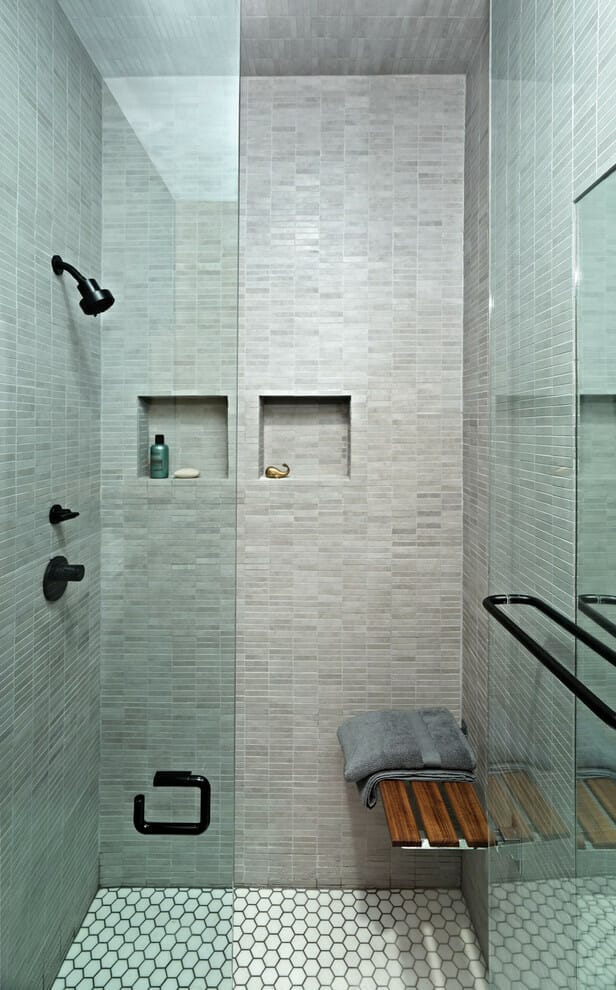 A minimalist-style bathroom usually does not be far from gray because this tone is quite subtle and perfect to be combined with some other primary colors.
Set the walls and ceiling of your walk-in shower with ceramic tiles in rectangular shapes and hexagonal tiles in black and white for the flooring.
Interestingly, it becomes the best mix of styles you will ever take.
24. Mix Size Small Tiled Shower Ideas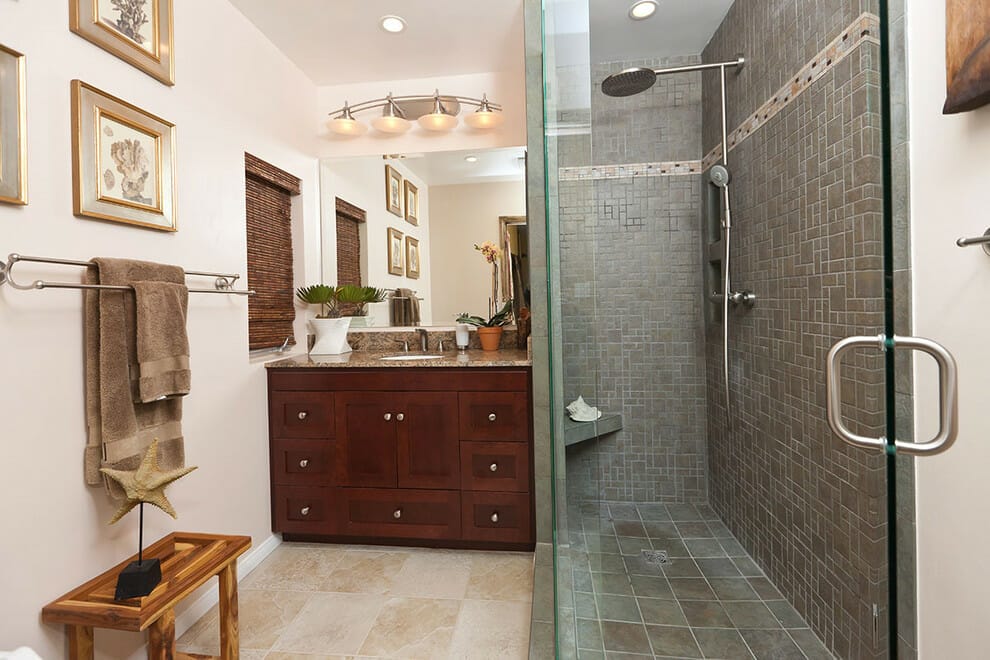 Look at how the tiling arrangement on the enclosure wall provides distinctive flairs that would be too good to miss.
The combination of many sizes and exposed grout joints draw a clear texture in your bathroom. You can consider giving a trimming line from the mosaic tiles to avoid it from being monotonous.
25. Pebble accent Tile in Blue on The Vanity Top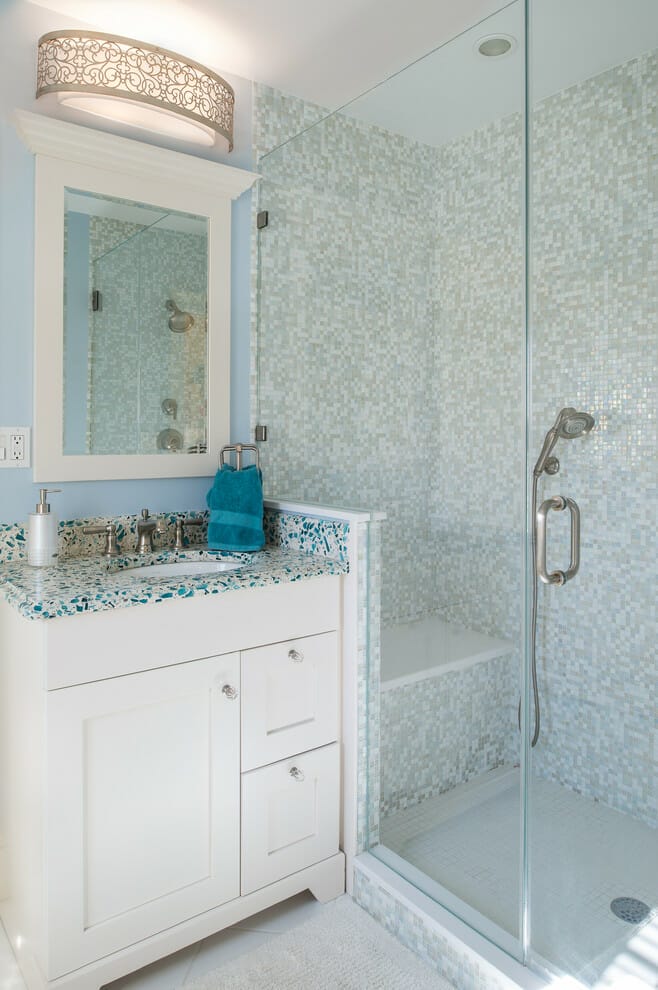 Presents mosaic tiles in muted tones to spotlight your shower enclosure without overpowering it. Keep it understated so that your bathroom still looks bright and spacious.
When you still want something interesting as a focal point, install pebble tiles in blue on your vanity top.
26. Small Tiled Shower Ideas in Olive Tones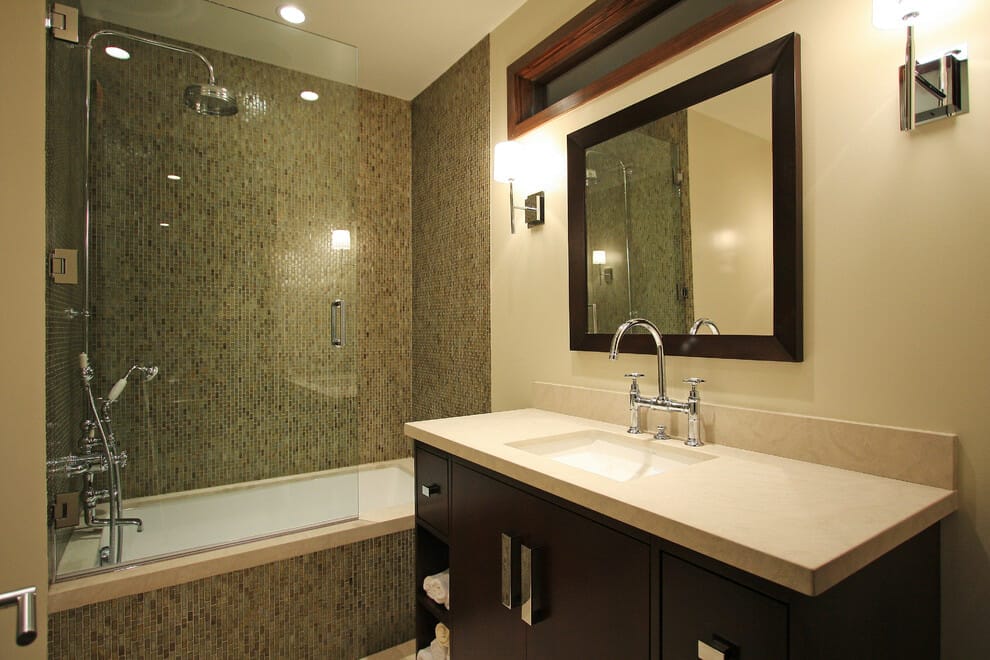 Fulfilling the traditional bathroom with earthy tones seems to have become a must. It is not just about brown, cream, or beige to embellish every element.
But you can also go with tiny tiles in olive to give your bathroom a pop of texture and hue at the same time.
27. The Same Tiles for The Wall, Floor, and Ceiling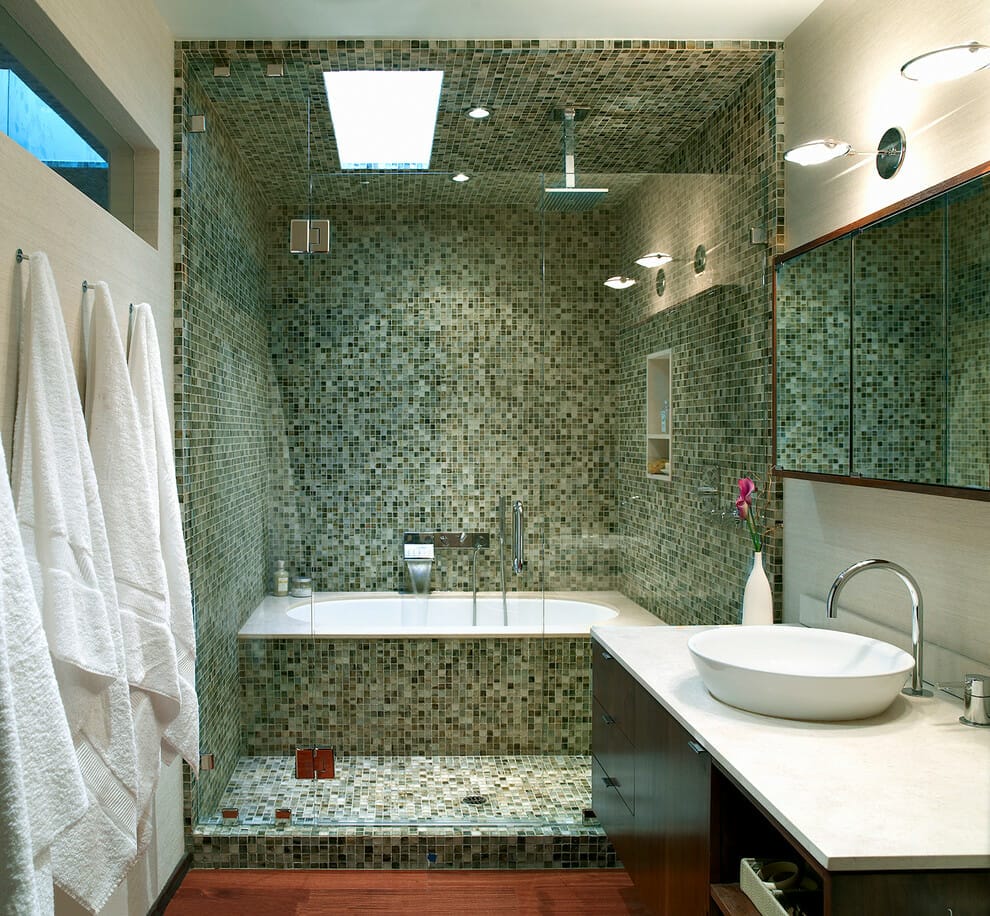 Here is a distinctive flair that deserves your adoption. Arrange all the parts in your shower enclosure with mosaic tiles in army green while leaving the outer space with white walls.
This design will be beneficial in highlighting your shower space.
Next, you can mount a wide frameless mirror to reflect the uniqueness of the mosaic tiles in your bathroom.
You can see this object from afar as if a mosaic painting hung above your vanity sink.
28. All-Gold Small Tiled Shower Ideas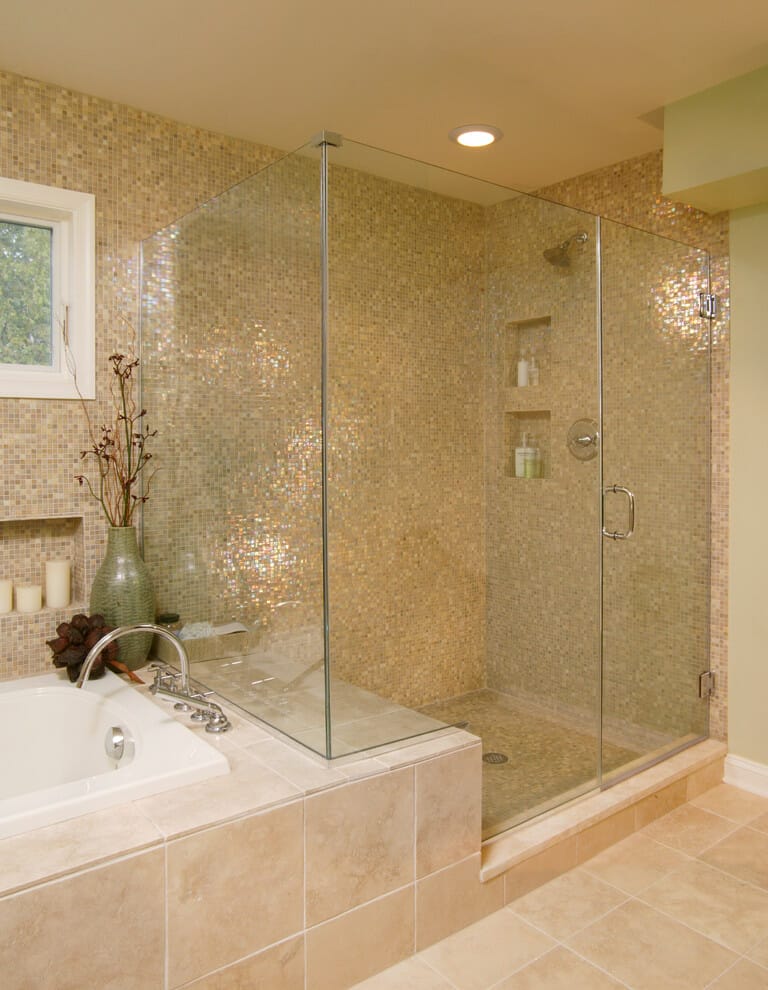 Glass mosaic tiles in gold will make your entire bathroom feel like it belongs to the royal family. It is remarkably luxurious even without any decorative elements in it.
These gold mosaic tiles will exude their charm even better when combined with warm white illumination.
29. Set the Black for Floor and White for Walls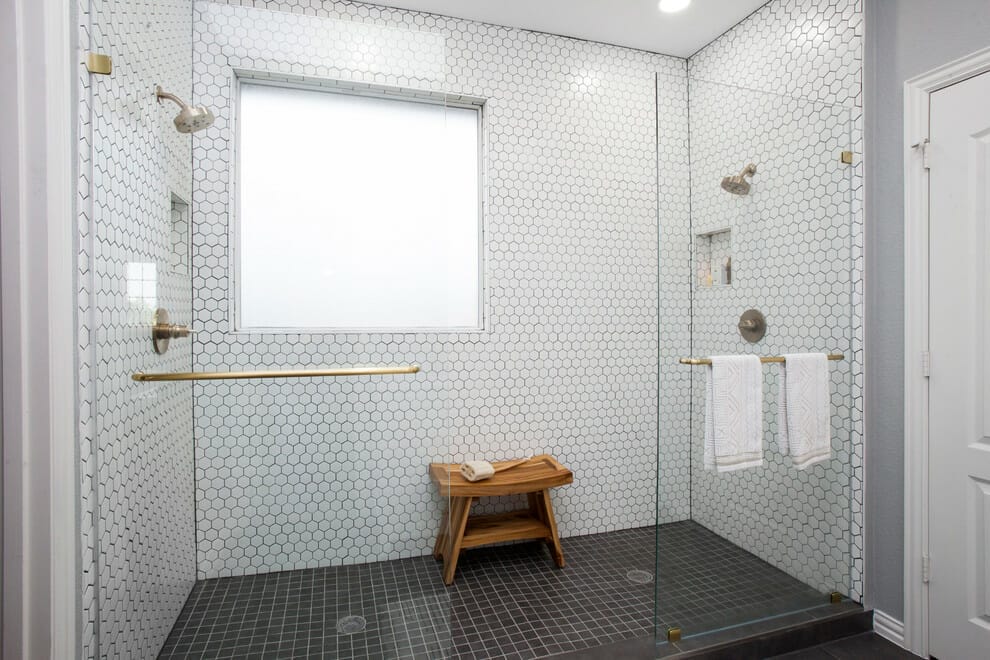 Penny tiles in white for the wall and checkered flooring in black will perfect your retro-style bathroom. Make a large square window on the side of the shower space to provide adequate lighting during the day.
Double golden showerheads and towel holders on both sides are worth having for those who appreciate a convenient area that minimizes obstacles while bathing during rush hours.
For the last thought, never hesitate to apply small tiled shower ideas in your undersized bathroom. All decorations that you adopt come from your imagination that deserves to be realized and appreciated.