With some small backyard putting green ideas, you do not need to join a popular golf club to enhance your skills.
Thus, by following one of these ideas, you will be able to develop your golf game in the comfort of your backyard.
Whether you are planning to buy a premade one or build a dedicated backyard putting green, you will need to take several things into account.
For instance, they include the type of turf, weed prevention, maintenance requirement, and location.
Moreover, for some inspiration before getting started, you can check the following 30 small backyard putting green ideas.
1. Unique Putting Green in a Small Backyard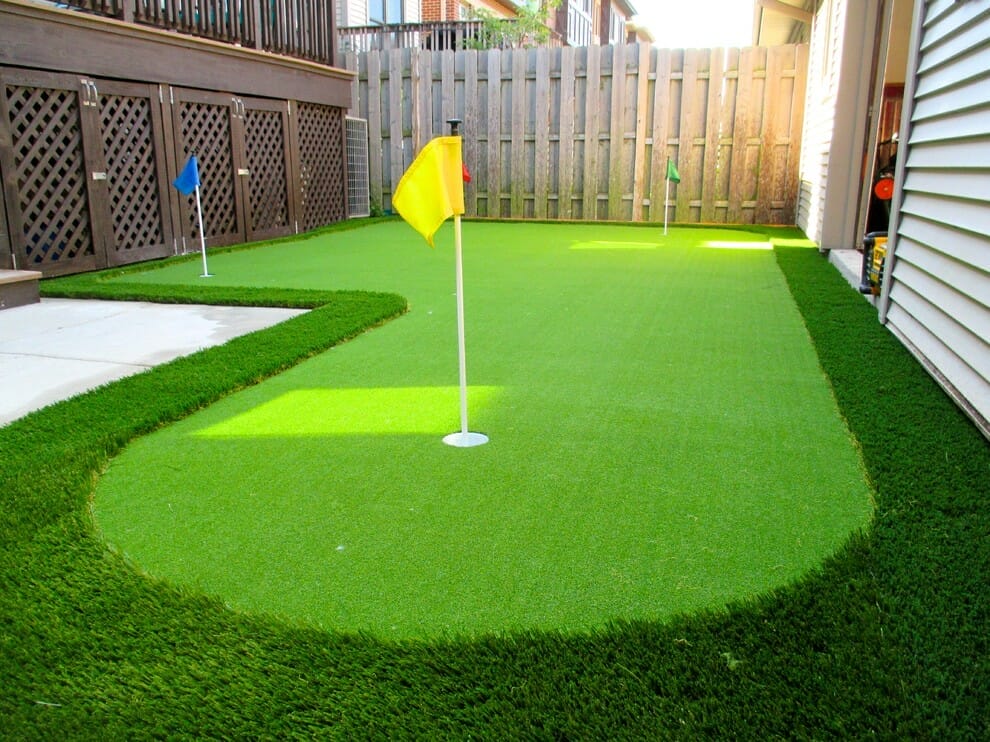 This putting green showcases the preference of the homeowner. Built in a small backyard, the design is still eye-catching and enough to make your neighbors jealous.
You will love the visual of this putting green that combines darker and lighter shades of green.
Additionally, the colorful flags lend some colors to the space while making your game even more interesting.
2. Straightforward Design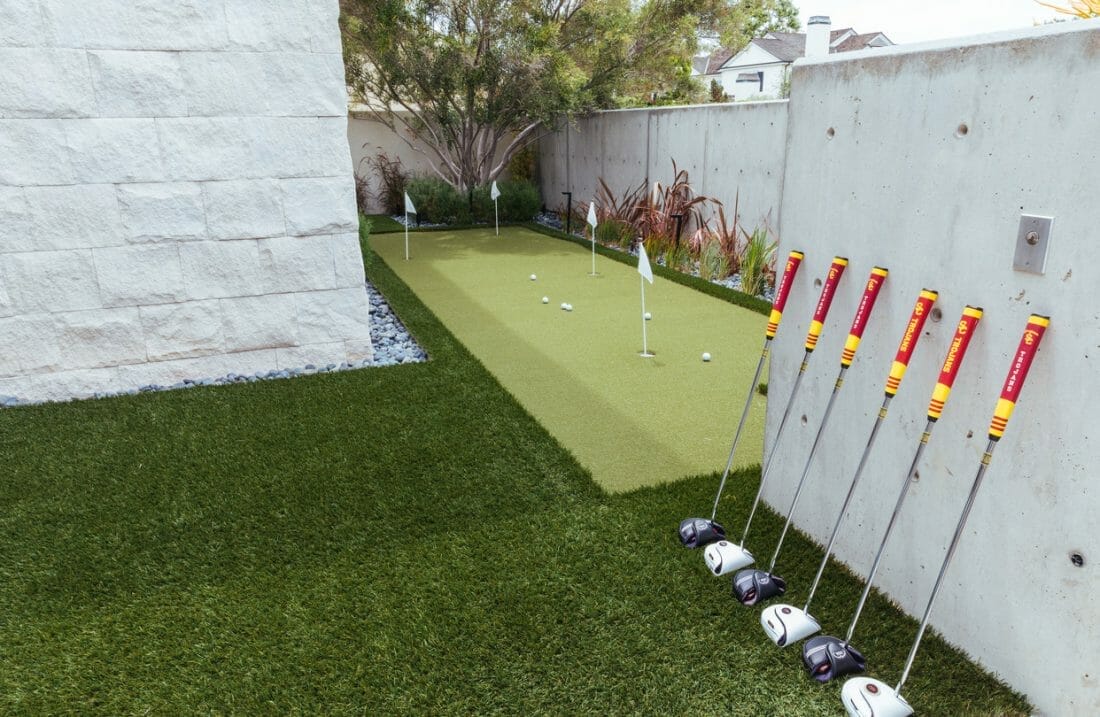 If you prefer the simplest look, this backyard putting green comes with a straightforward design that will suit your taste.
With a lighter turf tone, the putting green contrasts the rest of the lawn. Thus, you can easily tell the space apart while landscaping the backyard.
Furthermore, to enhance the aesthetic appeal, you can surround the putting green with some flowering perennials or colorful ferns.
3. Small Backyard Putting Green Ideas with a Unique Shape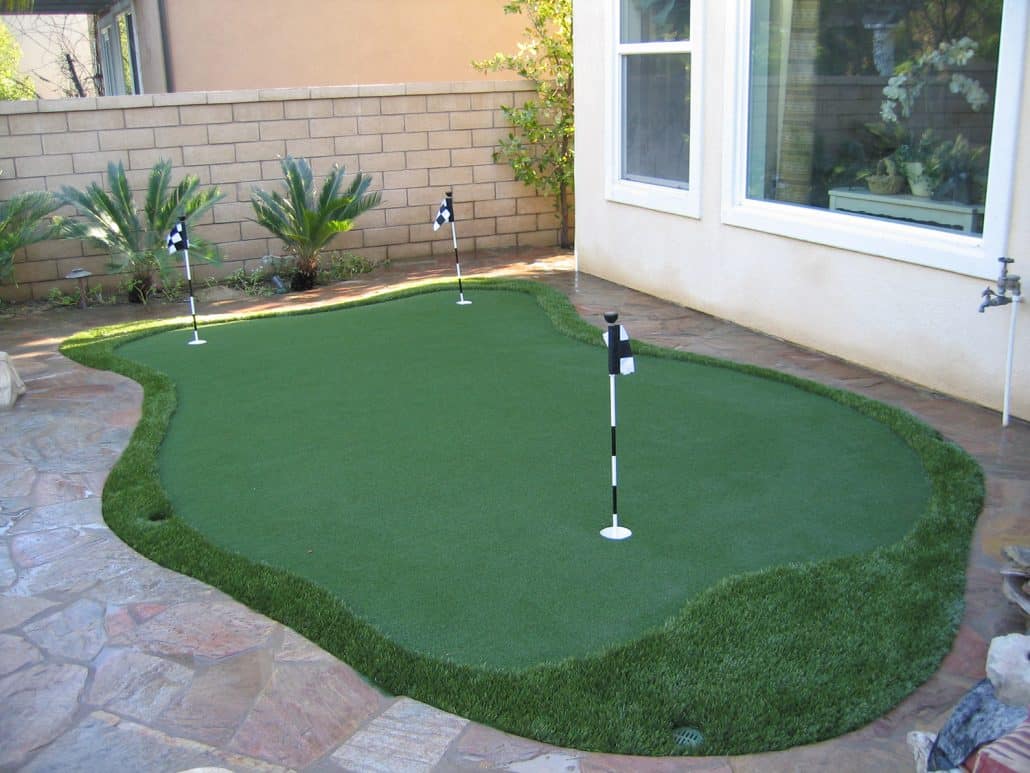 Instead of a traditional rectangular or oval shape, this small backyard putting green comes with a random form that keeps it exceptional.
Likewise, this idea does not take much space but will keep you entertained with the challenge. It makes a good choice for a leisure golfer that plays for fun.
4. Hidden Putting Green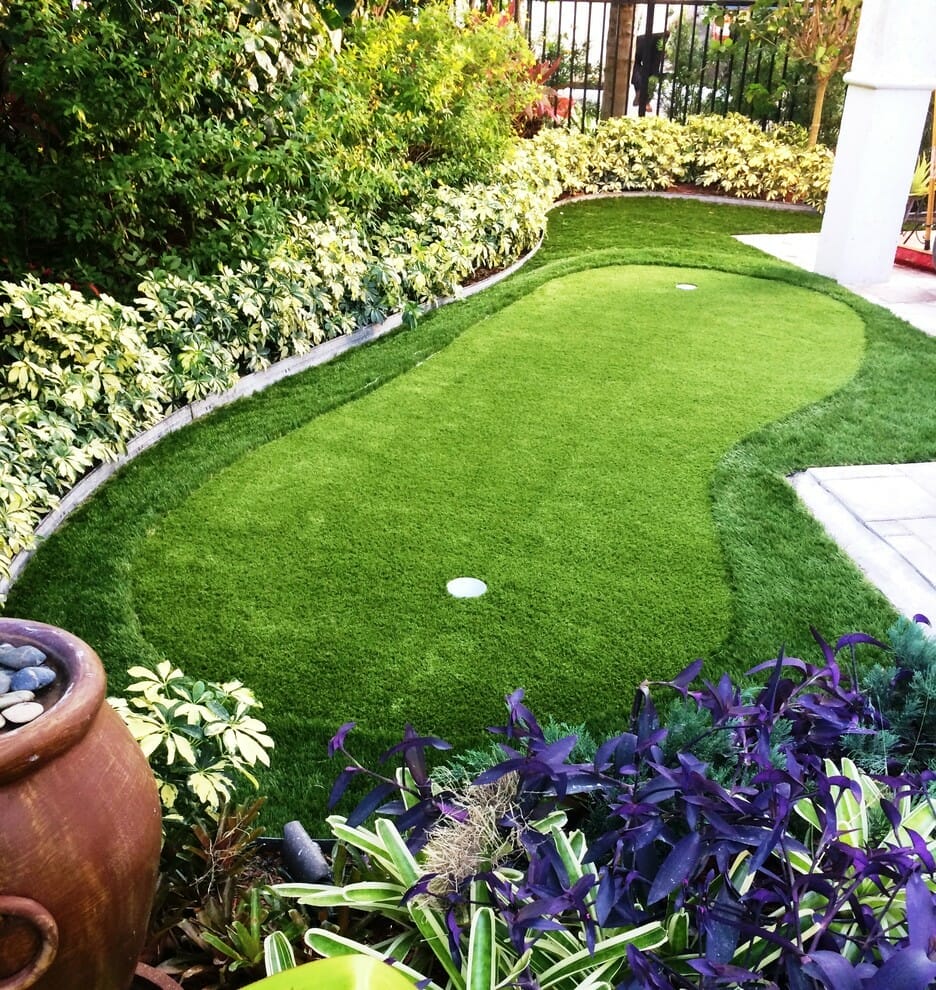 If you wish to have a backyard putting green that camouflages well with your garden, try to copy this idea.
With a similar tone to the rest of the lawn, your guests will not notice this to be a dedicated putting green.
Hence, the design perfectly utilizes the available space.
Meanwhile, the surrounding garden bed turns this area into a beautiful outdoor feature with its colors.
5. A Functional Narrow Space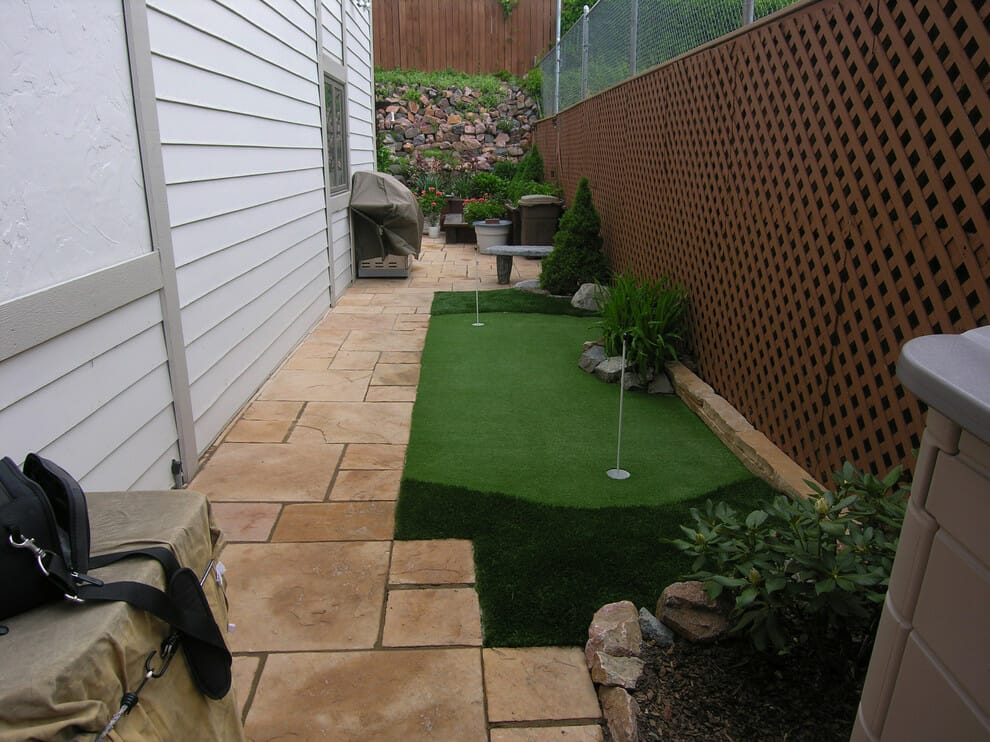 This putting green idea proves that even the narrowest backyard can accommodate space for functional and entertainment purposes.
Using a small part of the narrow backyard, this tiny putting green is enough to keep your game interesting with the added golf pin flags and small trees.
6. Putting Green for Practicing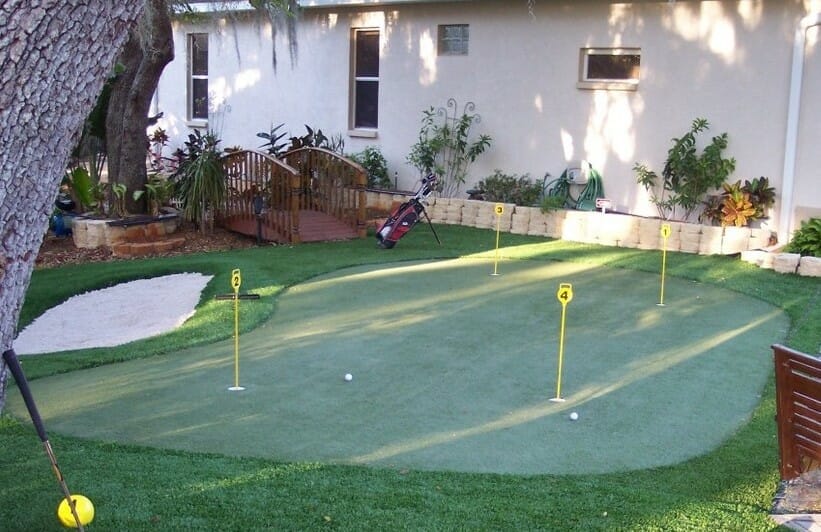 If you are more of an avid golfer, you will need small backyard putting green ideas that can help to practice various types of shots.
To achieve this goal, you can consider taking up the most part of the backyard for putting green. Then, utilize the narrow space on your side of the house to align a flower bed.
You can also consider adding some features like breaks, bunkers, speed, and elevations into your backyard putting green for visual interest and extra challenge.
7. Narrow Backyard Putting Green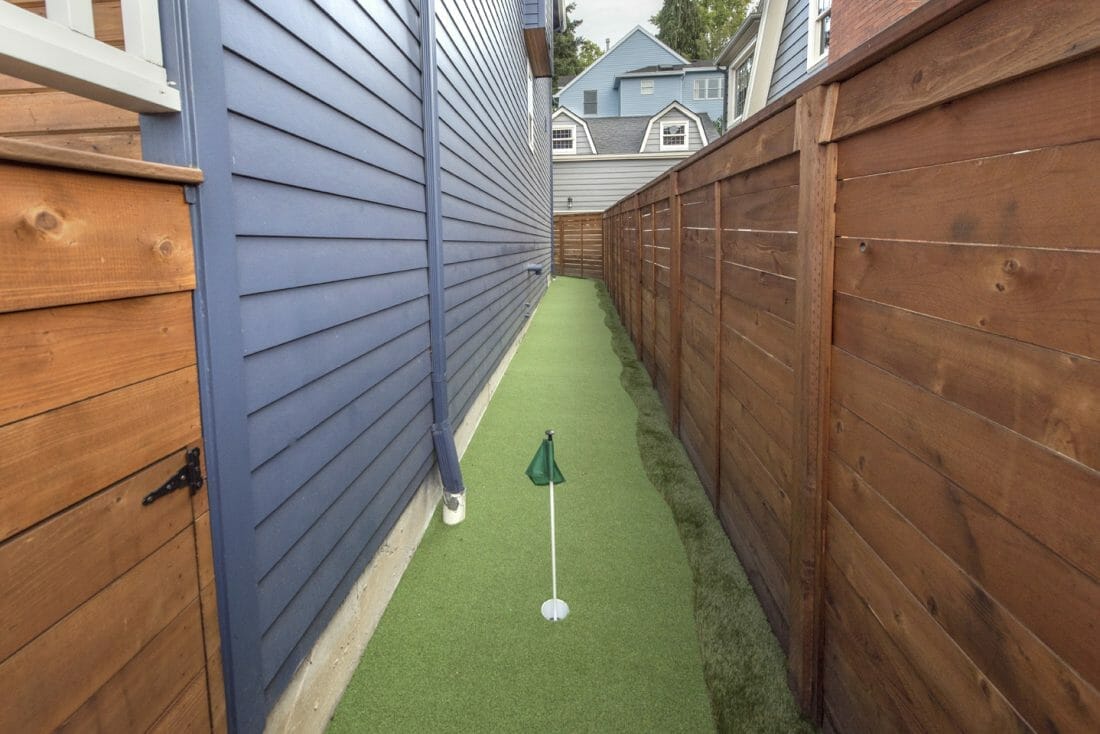 If you do not have the luxury of a spacious backyard, using a narrow space between your exterior wall and fences can be the best solution.
For example, the above picture shows how to use the entire space for installing the artificial turf. You can refrain from planting some trees or shrubs to have more room for the game.
8. Square Putting Green with a Raised Bed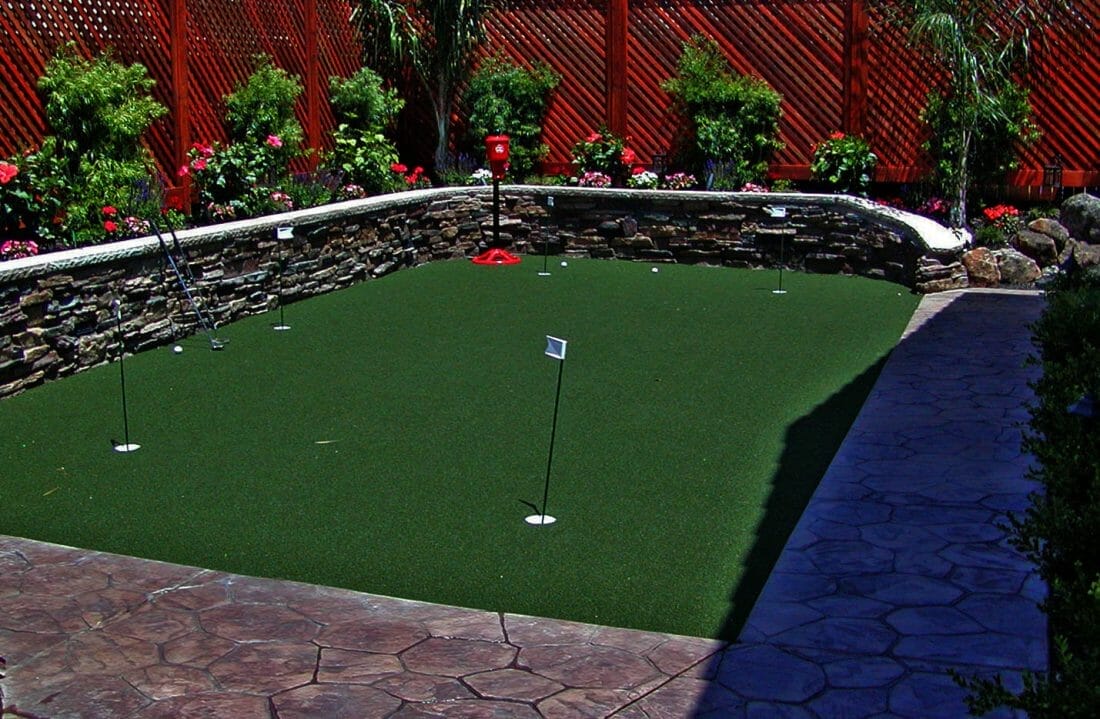 A raised flower bed surrounds the square putting green in this backyard. It doubles as a barrier for the playing area as well.
Thanks to the bigger space, you can add multiple holes on the putting green for a more interesting game. Therefore, this gives you enough choices for positioning them at different angles.
9. Cozy Space for Hanging Out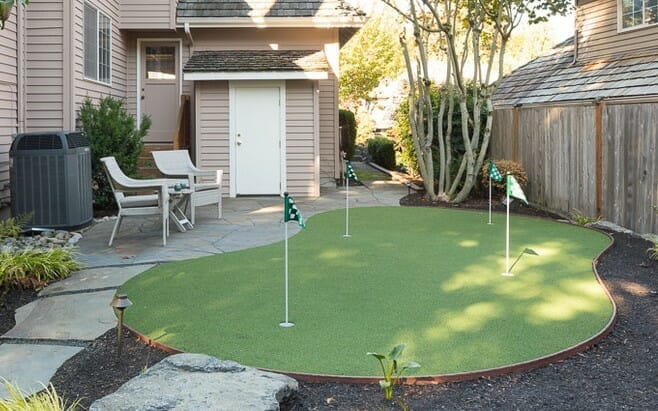 Featuring four holes, this small backyard putting green comes with a unique design that can make your practice time even more exciting.
Around the putting green, you can find a cozy seating area that can be your favorite spot to enjoy the outdoor view or take a rest after a golf game.
10. Putting Green with Simple Landscaping
You should not be afraid to include some landscaping to the edges of your small backyard putting green ideas.
Incorporate small trees, colorful shrubs, or a simple flower bed around the putting green for visual interest.
You can also create a concrete border to set the turf apart from the garden.
11. Putting Green with Tiled Border
Despite its small size, this backyard putting green comes with two holes and an interesting field shape.
The raised tiled border helps your golf balls to stay on the field while creating a neat look. Thereupon, it will make a great spot for practicing your short stroke or for teaching your kids to play the game.
12. Lavish Surrounding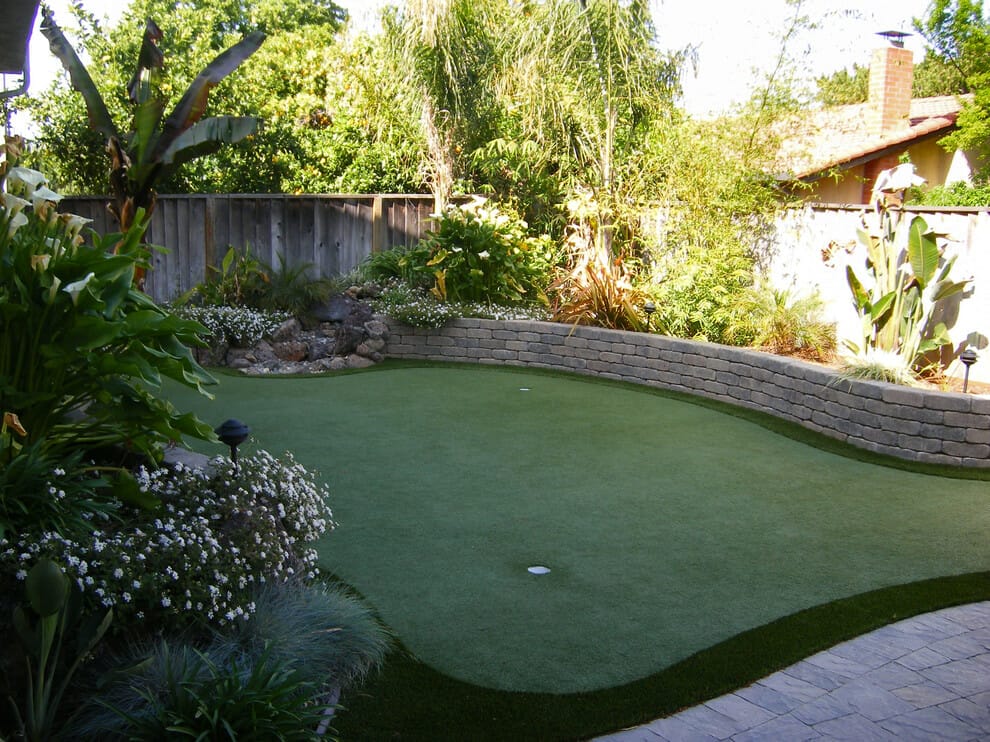 The landscaping options for a backyard putting green are endless. You can copy the look of this photo to have a lavish garden with a bunch variety of plants.
Although this putting green is not the narrowest idea on the list, it comes with a single hole that is situated on one of its corners.
In addition, rocks placed on the corner create a natural border that complements the stone brick retaining wall.
For added privacy and a more finished look, this backyard also features a wooden fence.
13. Gravel and Stepping Stones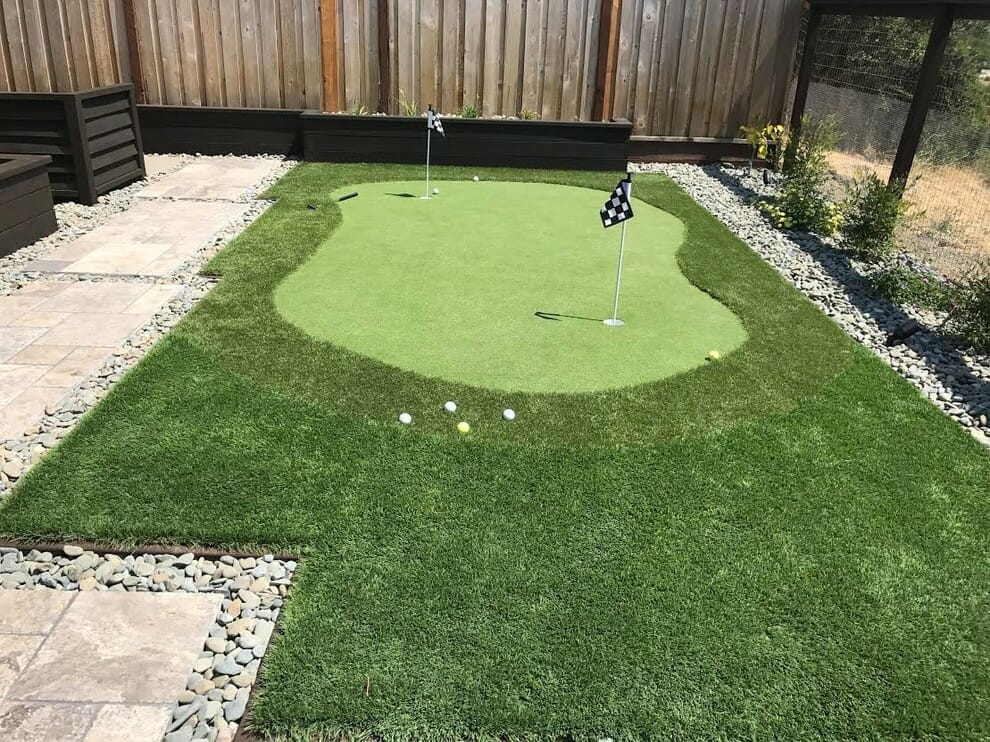 Instead of a retaining wall, this is one of small backyard putting green ideas that uses gravel as a natural border.
Stepping stones are also in the landscape for easy access to this space.
Besides, a wooden fence with some small trees completes the landscape. Meanwhile, the two-toned putting green lends some colors to this outdoor area.
14. Wooden Border and Garden Lamps
This backyard putting green utilizes artificial turf that looks neat with its straight edges and corners. A wooden border works well against the graveled area while lending a color.
A few garden lamps are installed beside the wooden border to allow you to play golf during the night. You can also incorporate other lighting fixtures for better illumination.
15. Wooden Fence and Trees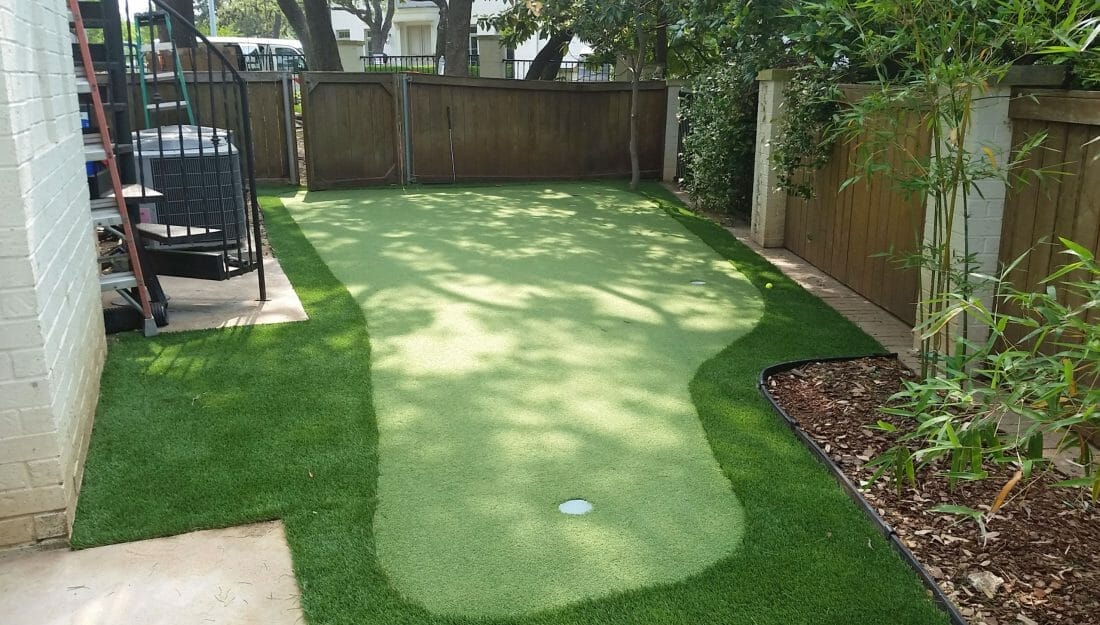 Taking up the entire backyard space, this small putting green shows that functionality is a key. Its random shape turns it into a unique outdoor element.
Completing the design of this backyard putting green is the wooden fence. A small part of the space is left to allow the owner to grow some bamboo trees.
16. Seamless Backyard Putting Green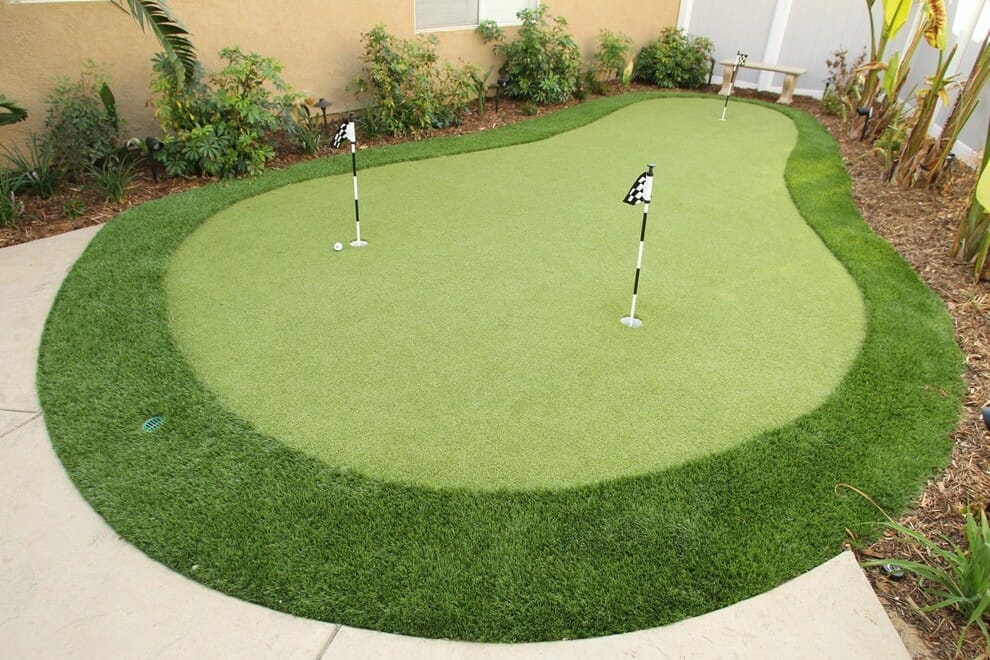 If you are looking for small backyard putting green ideas that have a seamless design, this picture will give a perfect example.
Thanks to the extra space on the fringes, you can practice chipping without sacrificing the landscaping features.
At the end of the yard, you can see a small bench that offers a seating area for break time within practices.
17. Elevated Golfing Area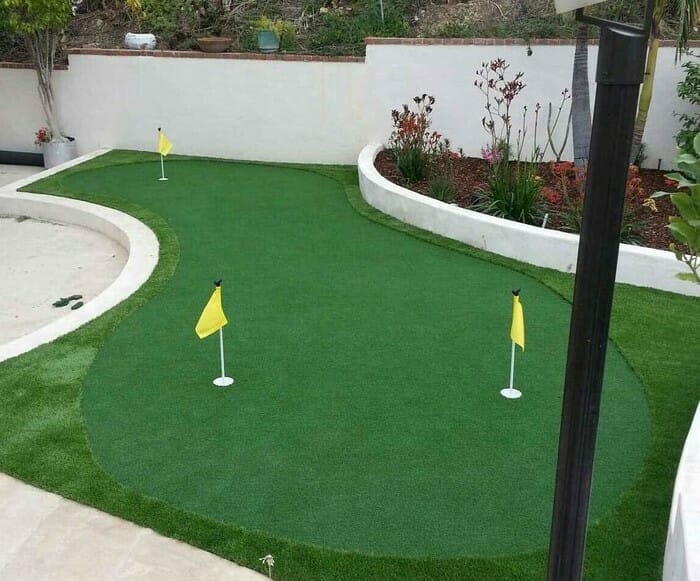 If you worry about getting bored as your practice space always looks the same, consider having an artificial turf mat instead of growing your lawn.
An artificial turf mat does not require much maintenance and you can easily roll it out to store when needed.
You can find this mat in different sizes ranging from 1 ft to 13 ft. Then, simply measure your area to find the right dimension.
18. Putting Green at the Backyard Corner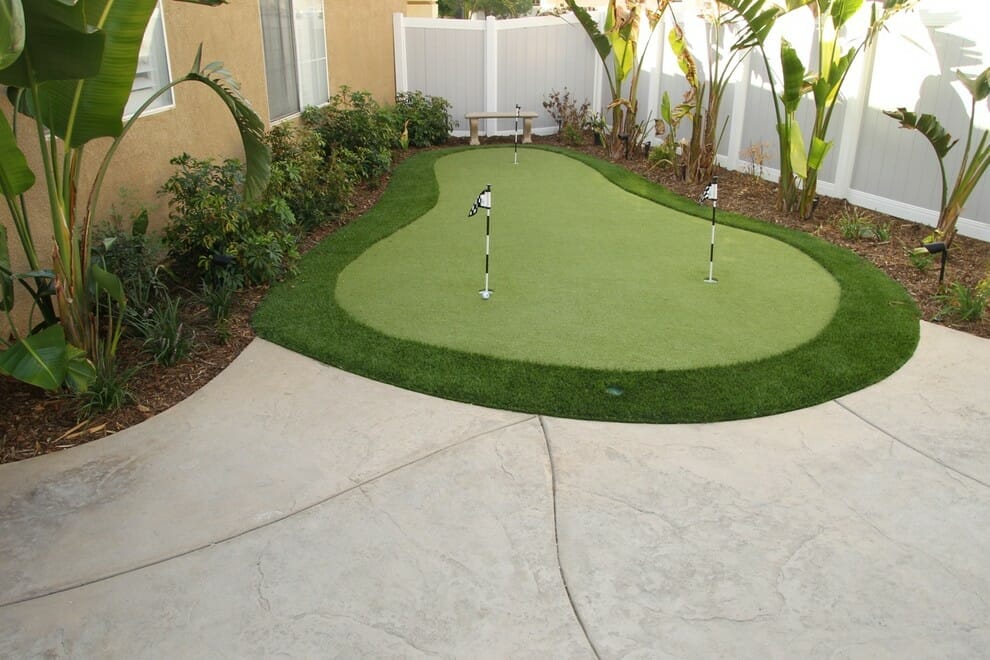 With this idea, you can repurpose an empty corner in your backyard for a recreational value. Use this leftover space to create a small putting green for performing short game practices.
Copy the look by surrounding the curvy backyard putting green with tropical trees and shrubs. Then, you can incorporate brown mulch to cover the ground beautifully.
19. Added Contour for a Challenge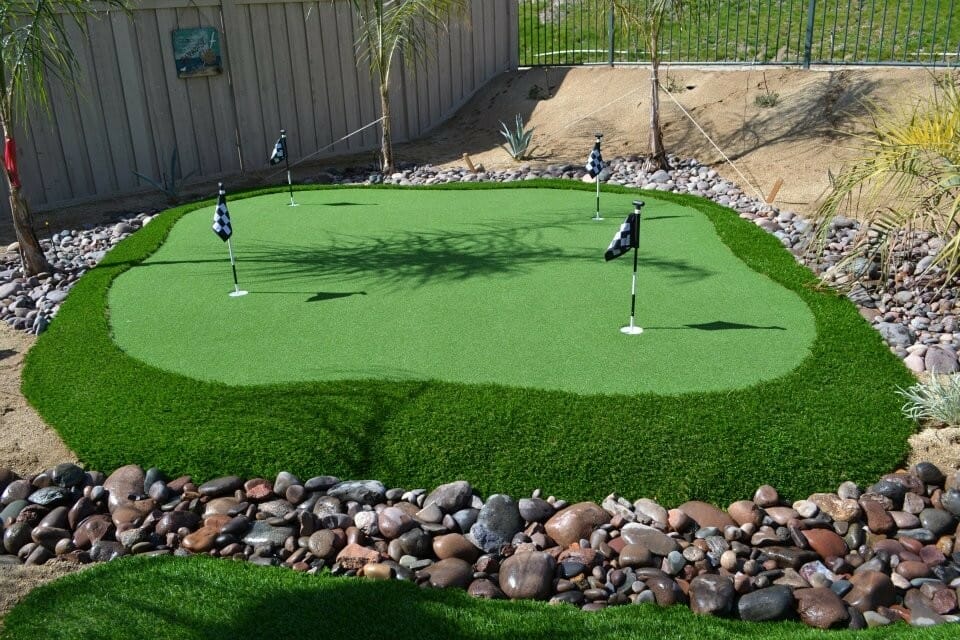 Your small backyard putting green does not have to appear like it is a premier golf course, but you can consider adding some contour around it for a more challenging game.
Add a difficulty level to your putting green by incorporating some tiny bumps into the terrain. You can also create a slope section on it.
You can also have multiple holes in different angles on your putting green to test your skills.
20. Next to the Swimming Pool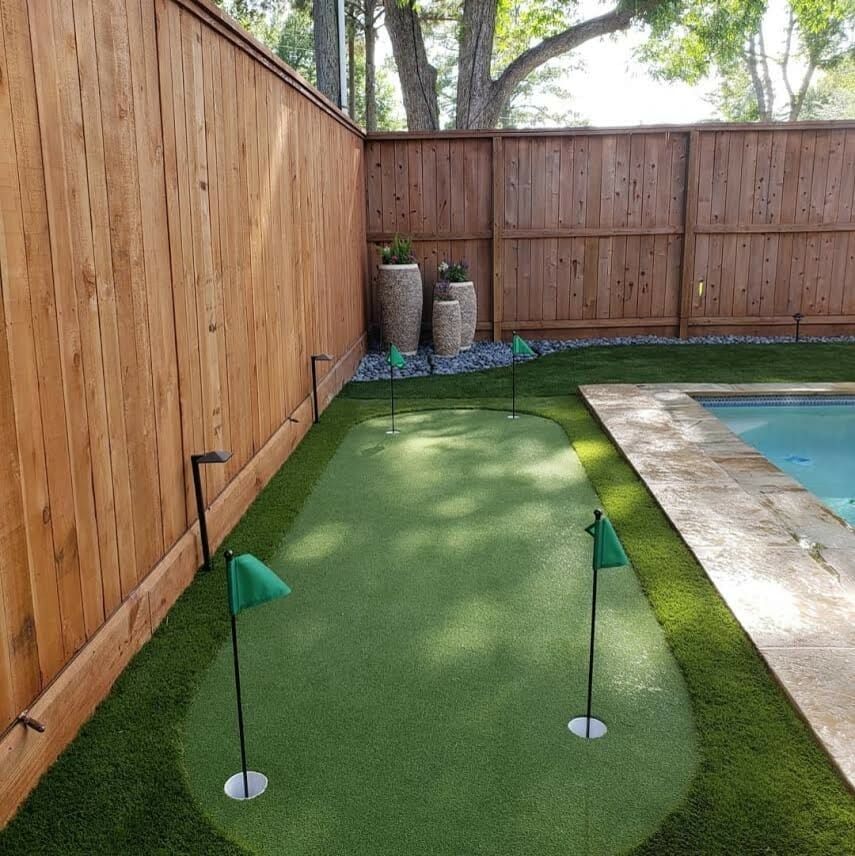 Turn one side of your pool deck into a functional putting green for leisure golf practices. This smart option is perfect for those who do not have a big backyard to create this feature.
Besides, this is one of the small backyard putting green ideas that fits the rest of the landscape perfectly. A few potted plants are placed in the corner for visual interest.
21. Blend-In Seamlessly
The artificial turf mat connects perfectly to the grass of the surrounding area in this backyard. The putting green layout offers a polished look that does not dray the eye too much.
If you wish to have a backyard putting green design that lets the golfing area blend in naturally with the rest of the outdoor elements, this will be a great example.
22. Second-Floor Putting Green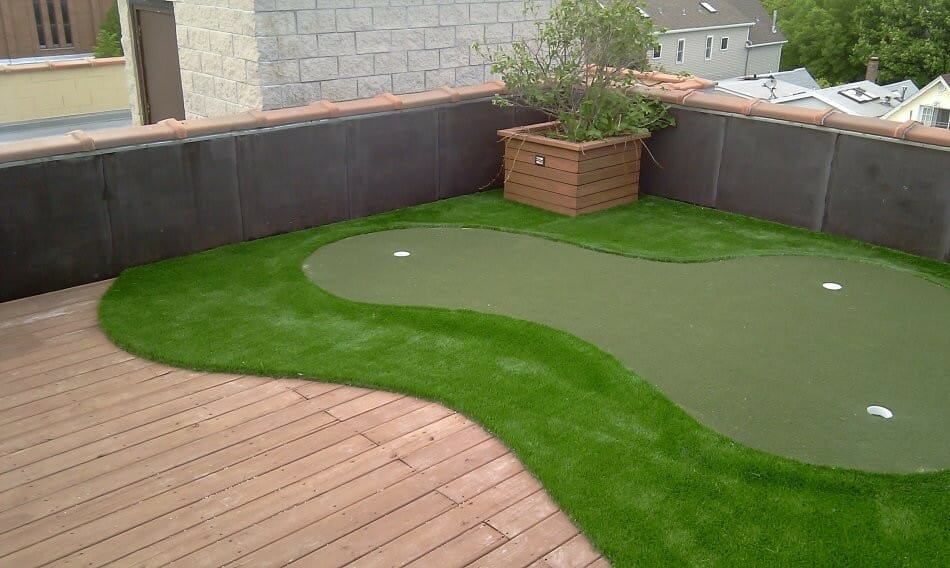 Although most small backyard putting green ideas are on the ground, it does not mean you cannot create this outdoor feature on the second-floor or roofing area.
It makes a perfect example for urban dwellers that want to improve their skills but do not have any backyard to install a putting green.
23. Shady Golfing Area
This is another seamless backyard putting green layout that allows the golfing area to complement the rest of the yard naturally.
A couple of trees give the golfing area enough shade so that you can enjoy your practice without the glaring sun.
The backyard also features stepping stones that contrast the green for easy access.
24. Putting Green with a Natural Charm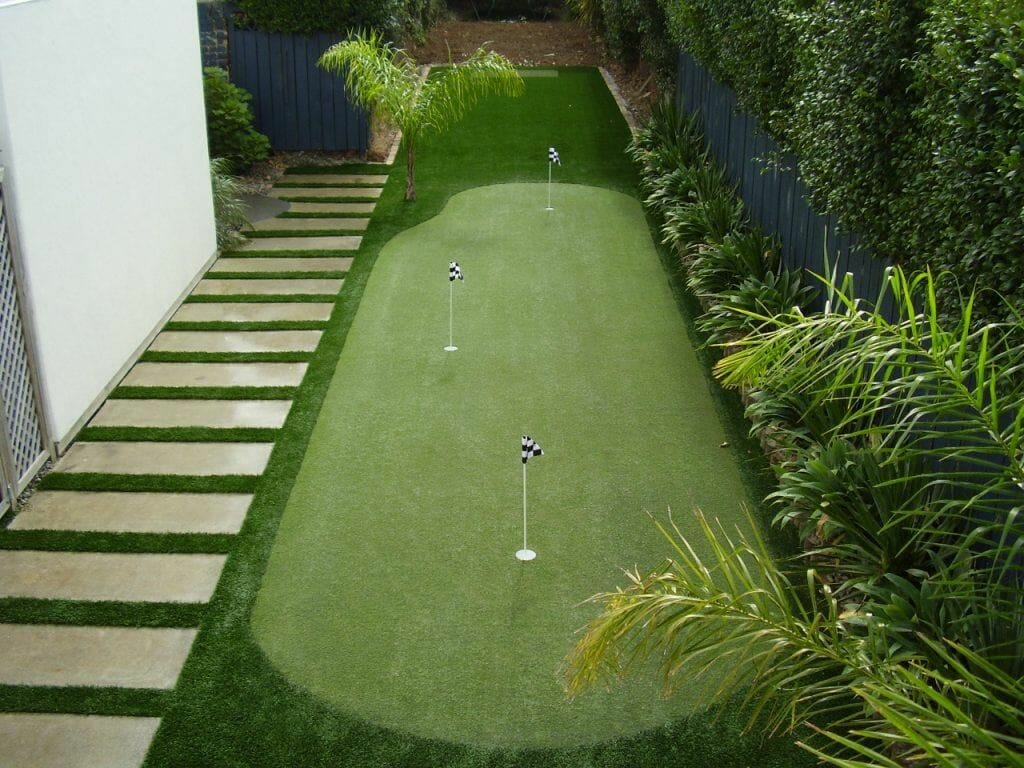 You do not need a giant backyard to create a practical putting green that also adds a natural charm to the space.
Even some of the most elegant backyard putting greens are in the narrowest spaces. If you need an example, this golfer area fits in naturally with the adjacent greenery garden.
Moreover, the growing turf between the pavers on the pathway completes the look of this outdoor landscaping.
25. Added Sand Trap for a Challenge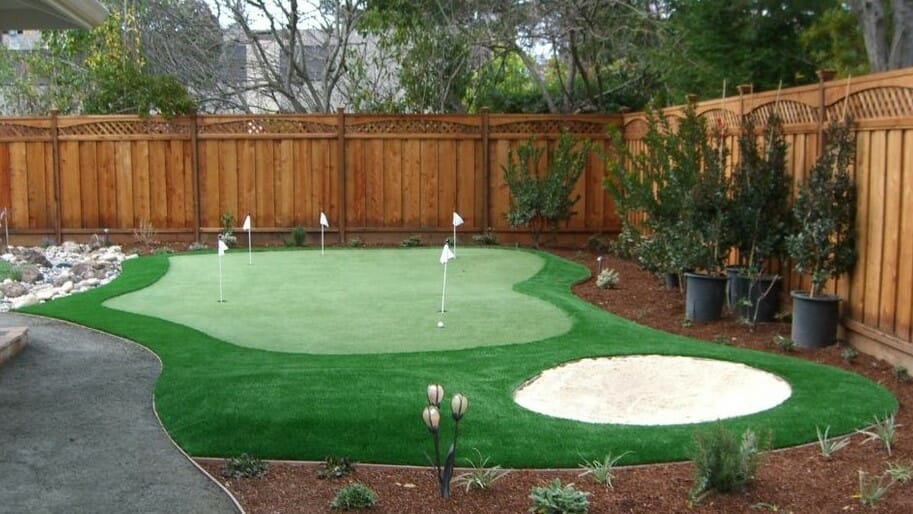 Take your small backyard putting green ideas to the next level by incorporating a sand trap to test your putting proficiency.
You can also add some contour around the putting green or a tiny water feature that can make your golf course even more exciting.
26. A Small Space with Big Functionality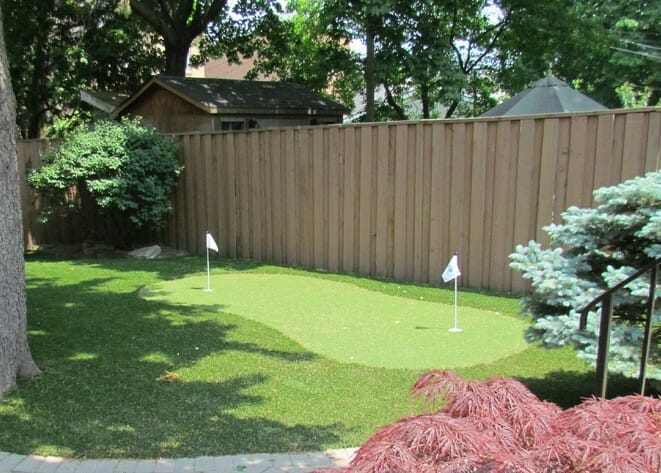 A shady backyard always makes a great spot to get relax or do your favorite things. If you like playing golf, do not hesitate to use an available area in this outdoor space for a putting green.
For example, create a simple small putting green as shown in this photo. Otherwise, you can get rid of the pin flags to make this putting green go unnoticed in the first place.
27. More Opportunities for Hole Placements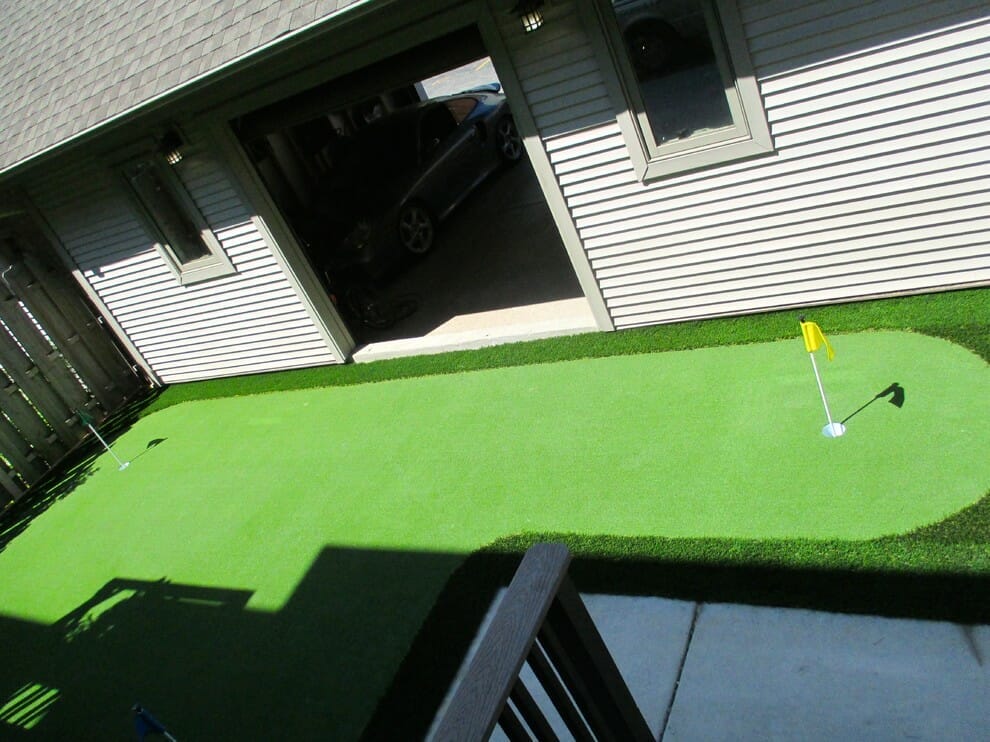 Using the entire backyard, this small putting green idea reflects the shape and size of the available outdoor space.
With a simple design and fewer landscaping features, this backyard putting green gives you more opportunities for placement of the holes.
28. Multi-tiered Golfing Area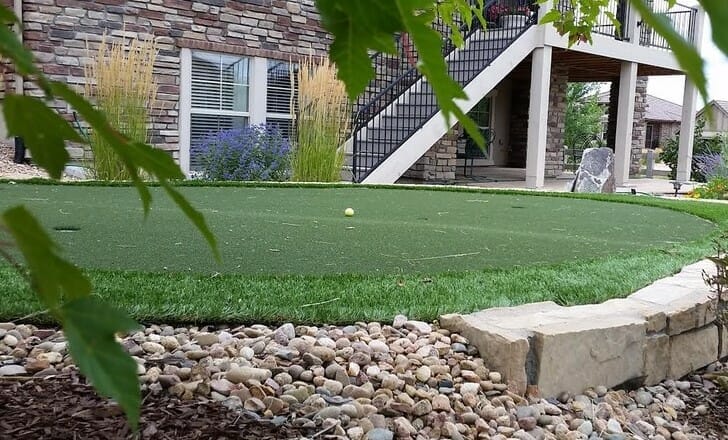 If you have a larger backyard for your putting green, creating a multi-tiered surface will be a perfect idea.
Doing so allows you to practice various kinds of putts.
To make the golfing area even more perfect, you can consider incorporating some chipping and sand traps around the putting green.
29. Beautiful Putting Green with Multiple Holes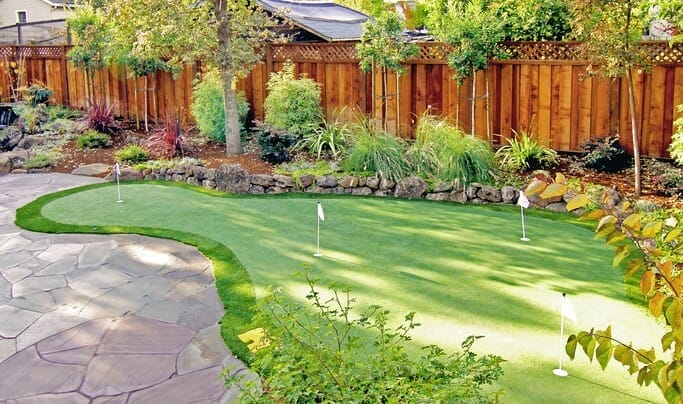 This small backyard putting green has everything from multiple holes, rock landscaping, and contour that surrounds the space.
Besides, it comes with four holes to allow you to practice different angles. To improve your short chip shots, you can put the ball outside the green.
30. White Gravel Barrier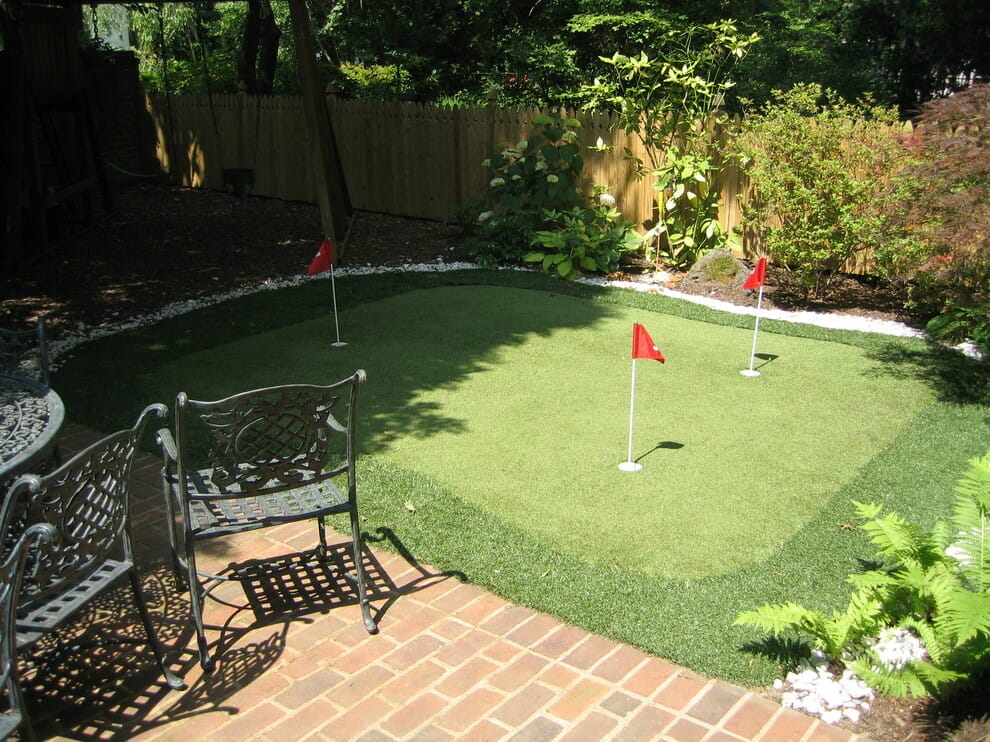 This two-toned putting green looks amazing against the red brick flooring. White gravels that surround the edges of the field create a natural barrier.
Red pin flags on each of the holes lend a color. Meanwhile, a set of black steel chairs complete this outdoor space.
Remember that practice makes remember, so the size of your backyard putting green should not be an issue. Even with a small space, you can still work on that swing.
Therefore, do not hesitate to apply one of these small backyard putting green ideas in your outdoor space for added functionality.