The basement is an often-forgotten area in the house. It gives you bonus space for lots of purposes, from home office to the bathroom. If you want to make your downstairs functional, take a gander at basement bathroom ideas below.
Whether you would like to create a full bathroom or a walk-in shower in the underground space, there is at least one design that fits your taste. Without further ado, let's get into these bathrooms!
1. Moroccan Basement Bathroom Tiles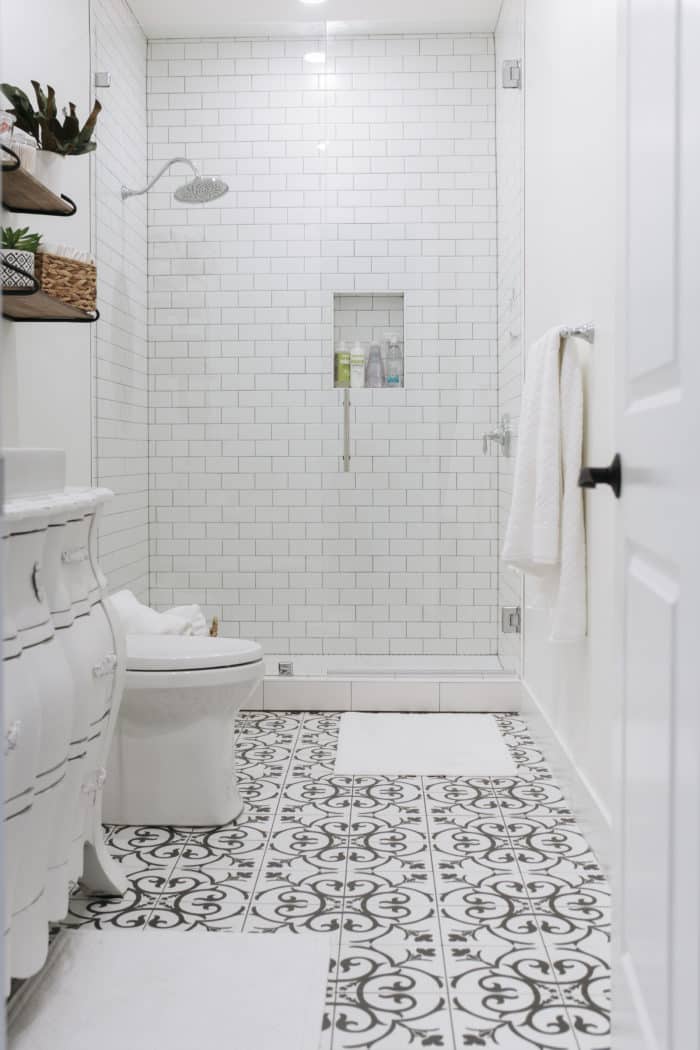 White foundation visually expands the room. The frameless glass enclosure offers a clean, open environment.
Moroccan floor tiles catch the eye in no time. Curvy vanity lends the bathroom traditional flair, while potted plants bring some life to the space.
2. Basement Bathroom Paint Colors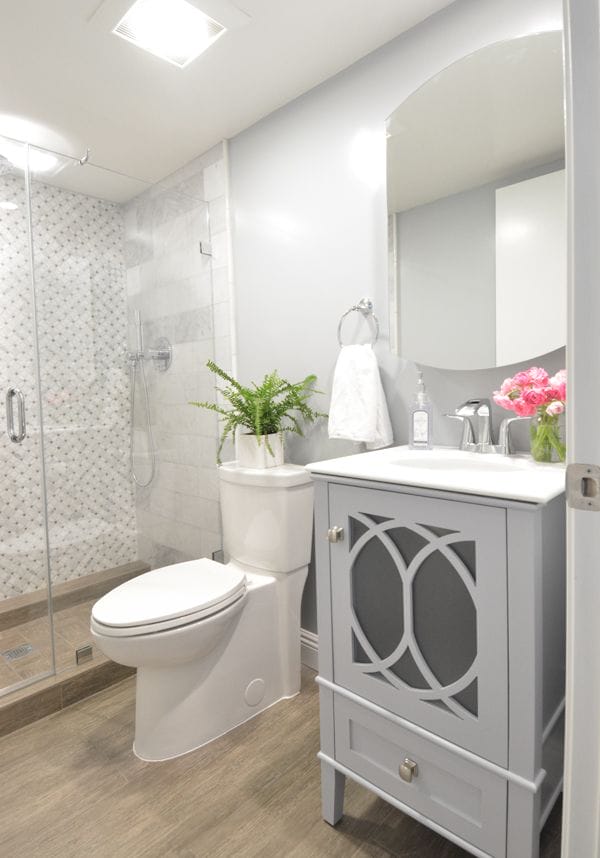 The wall and vanity are painted light gray. They generate a sophisticated and inviting space.
Wooden floor injects timeless warmth into the area. The tile work looks so captivating. Flowers and plant naturally add pops of color to the otherwise neutral bathroom.
3. Basement Bathroom Light Fixtures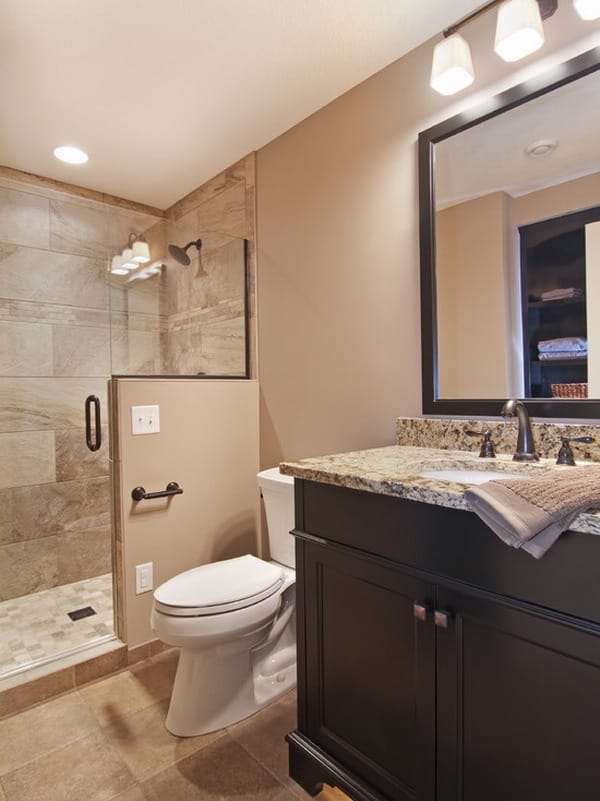 Black-framed mirror and vanity infuse the bathroom with instant drama. Beige wall and sand-colored shower tiles lead to a serene oasis.
Granite vanity top represents luxury and elegance. The downlight and wall sconces keep the room from feeling gloomy.
4. Contemporary Basement Bathroom Ideas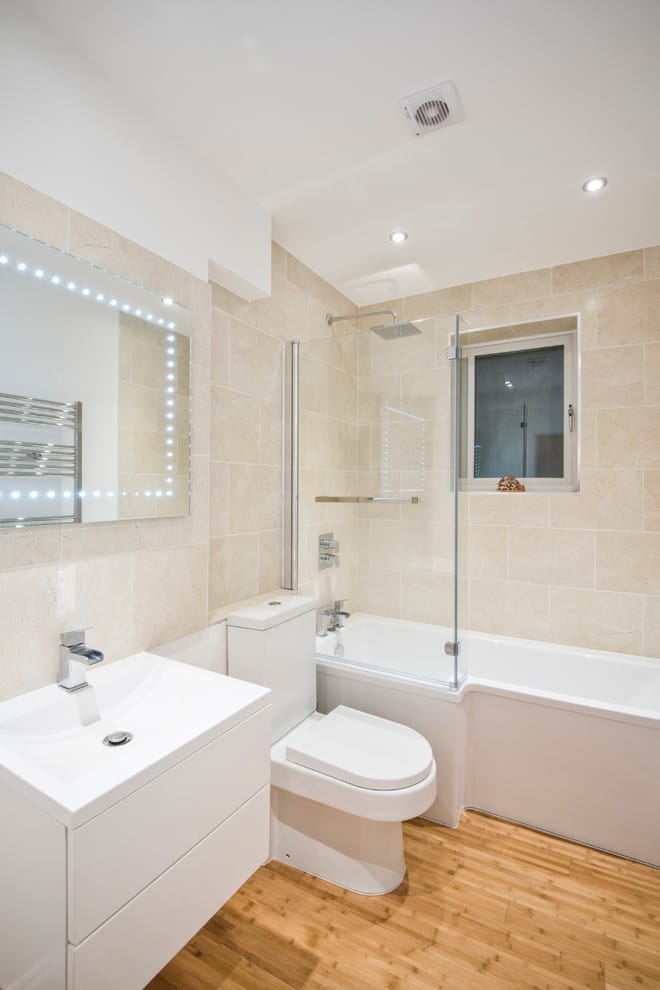 White ceiling, toilet, bathtub, and floating vanity make the bathroom appear bigger than it is. Cream wall tiles evoke an aura of tranquility.
The unfinished wood floor is a nature-inspired accent. Clean lines and curves embrace contemporary aesthetic.
5. Low Ceiling Shower Head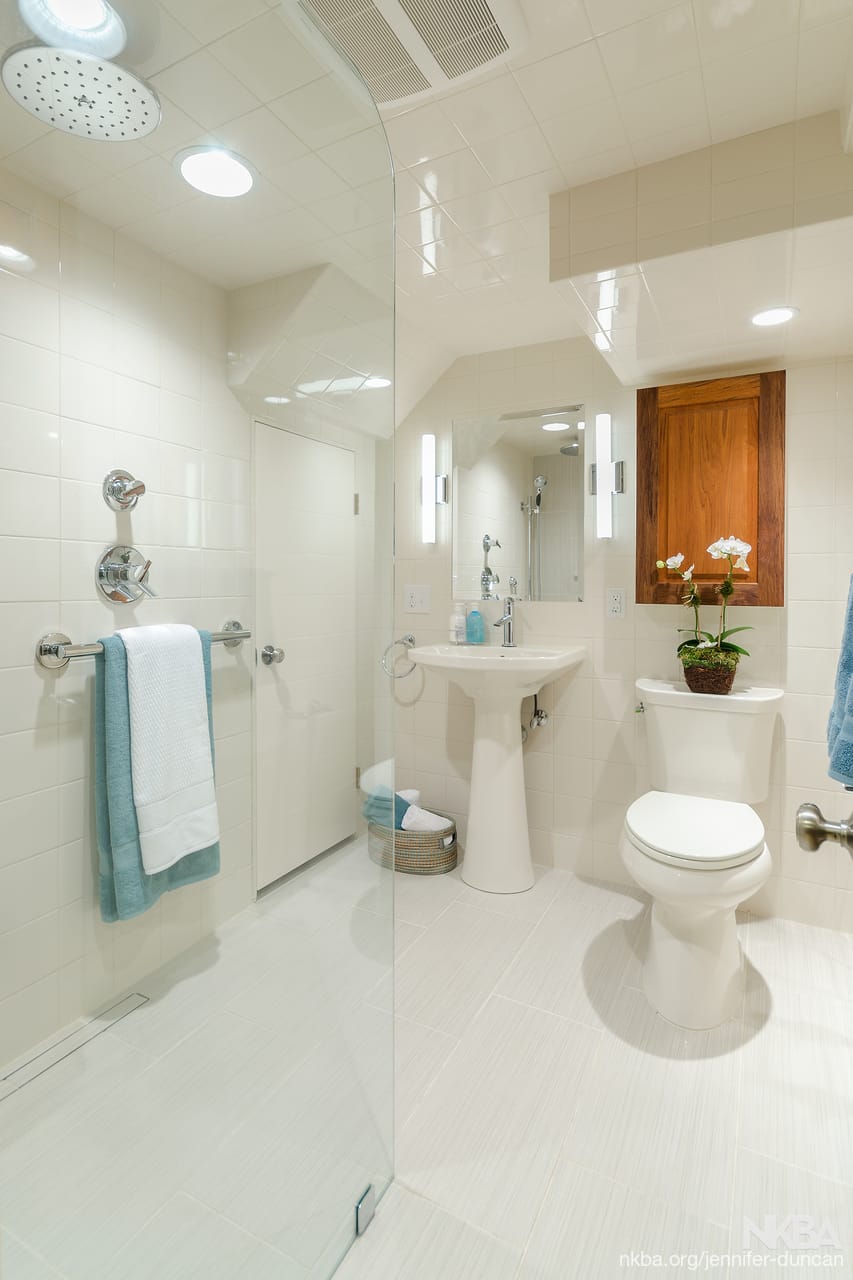 The off-white ceiling and wall tiles offer a polished look. Glass half wall separates the shower area from the toilet and sink.
Fixed showerhead complements the low ceiling. Pops of light blue exudes a beach ambiance. Wood basket and window take the chill off metal hardware.
6. Industrial Basement Bathroom Ideas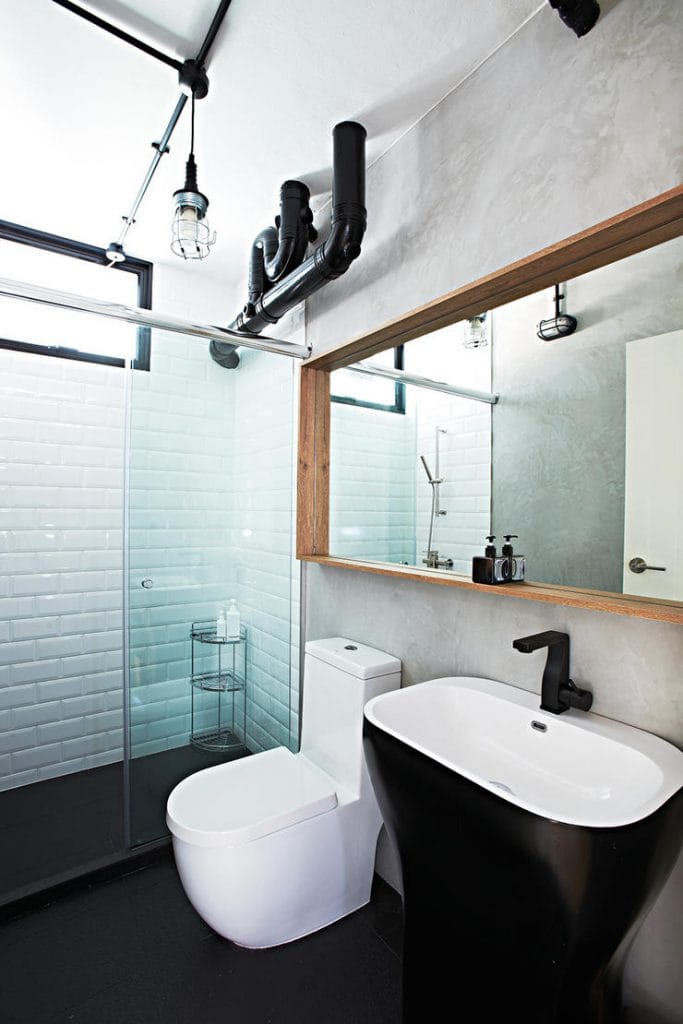 Black floor, vanity, and faucet bring a masculine vibe to the space. The white toilet, sink, and subway wall tiles contrast with them nicely.
Exposed pipe, metal ceiling light, and concrete wall project industrial aesthetic. Wooden-framed mirror gives the area a bit of warmth.
7. Monochrome Basement Bathroom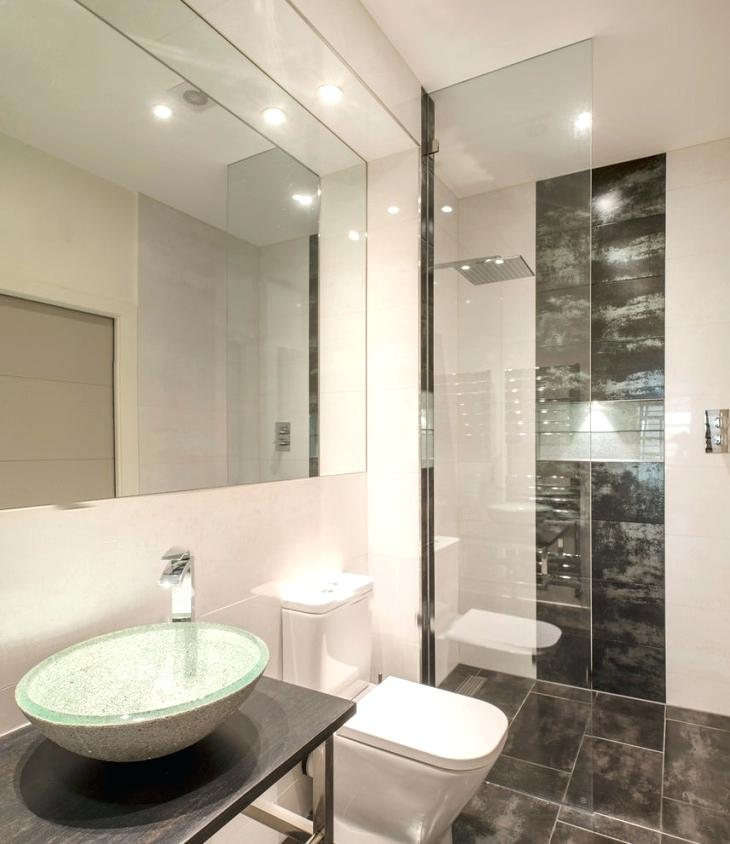 You won't go wrong with a monochrome color scheme. This bathroom is the real proof. Black tiles and white walls convey a feeling of sophistication.
Frameless full-width mirror enhances the bathroom's attractiveness. Pedestal sink and partial wall develop an airy setting.
8. Basement Bathroom Ceiling Ideas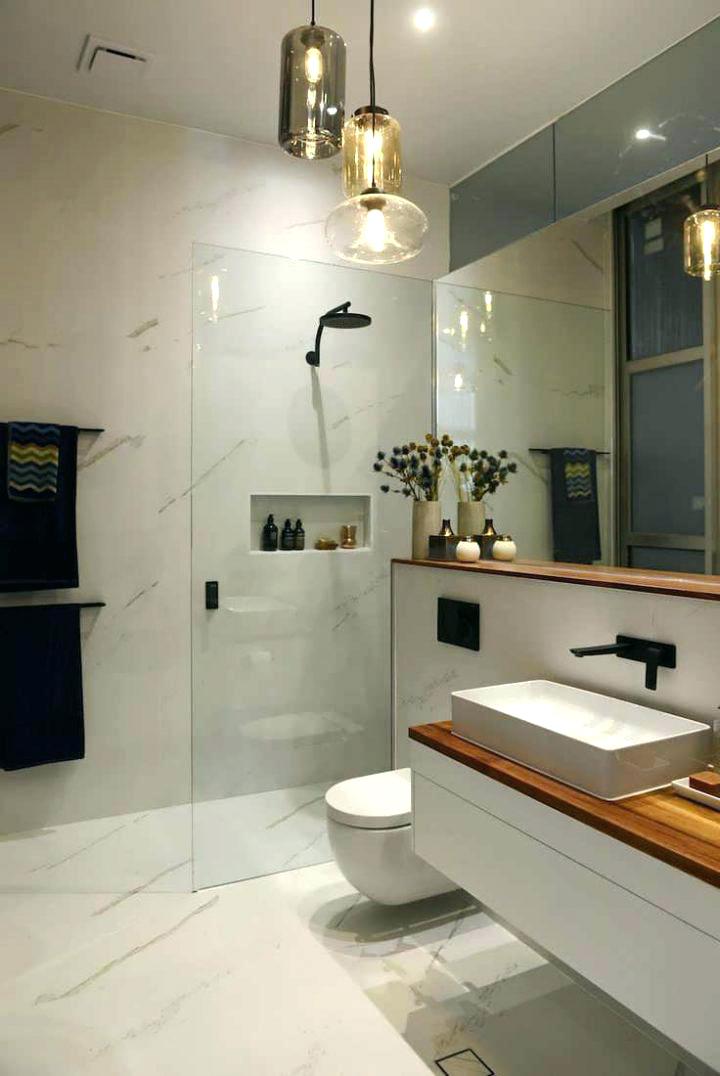 Marble floor and wall exude unparalleled beauty as well as splendor. The mirror creates the perception of a larger space.
Black and yellow glass pendant lights are suspended from the ceiling. Flowers in a vase and curvy toilet soften the sharp edges.
9. Small Basement Bathroom Ideas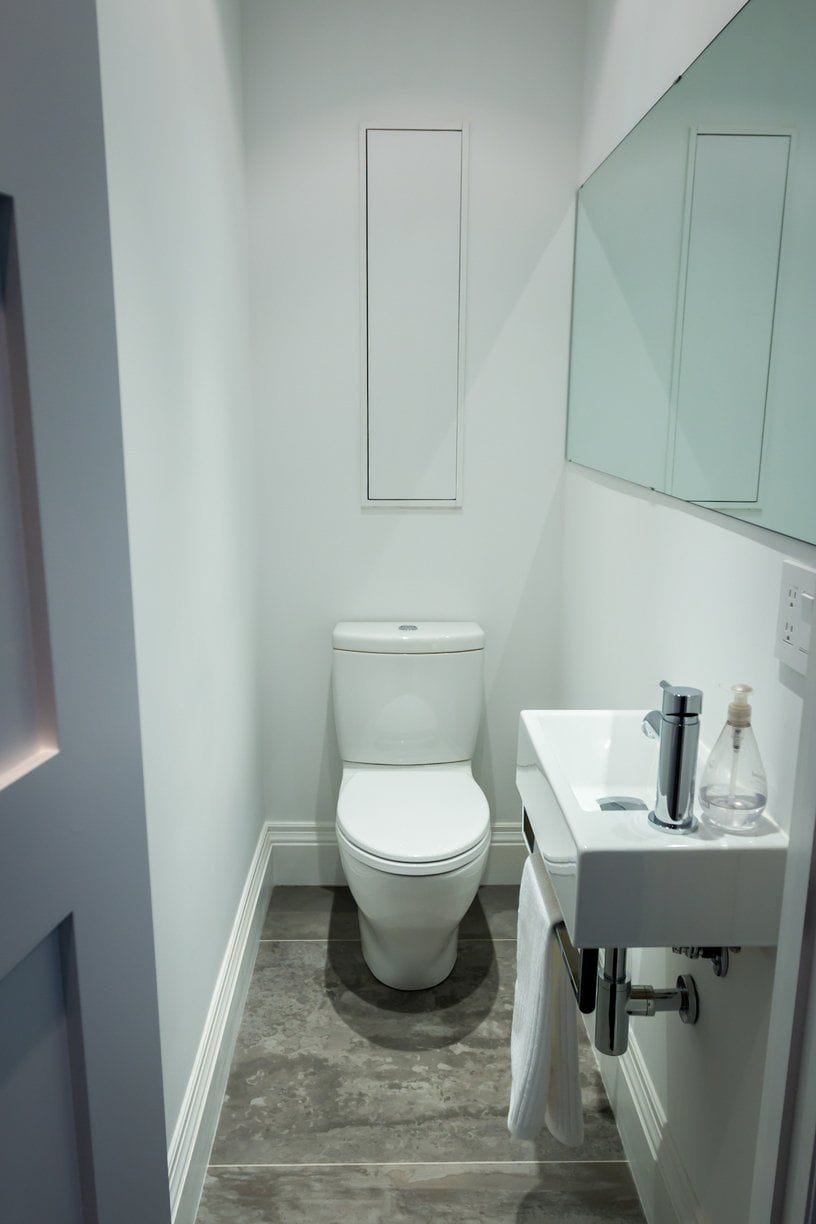 This half bathroom is narrow, but it doesn't look cramped, thanks to the white color palette. The mirror helps enlarge the area.
Floating sink saves valuable space. White artwork fills the empty wall. The under sink rack stores spare towel.
10. Small Bathroom Designs with Shower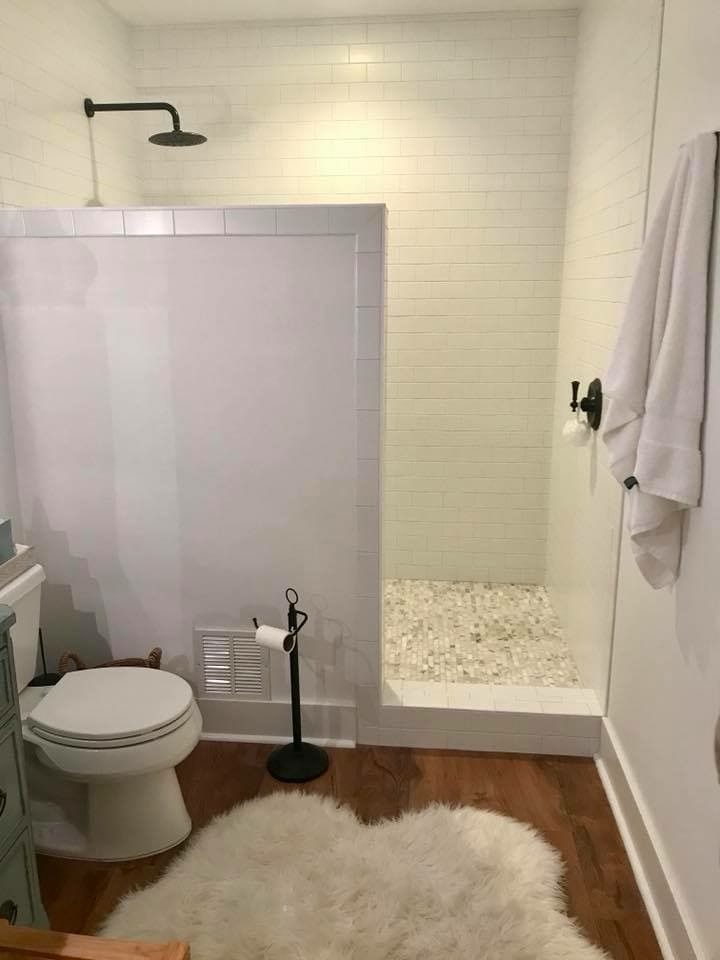 The partial white wall provides privacy. Meanwhile, subway and mosaic tiles in small wet room add visual interest.
Wood floor balances out black metal accents. A white shag rug offers maximum comfort underfoot.
11. Rustic Basement Bathroom Ideas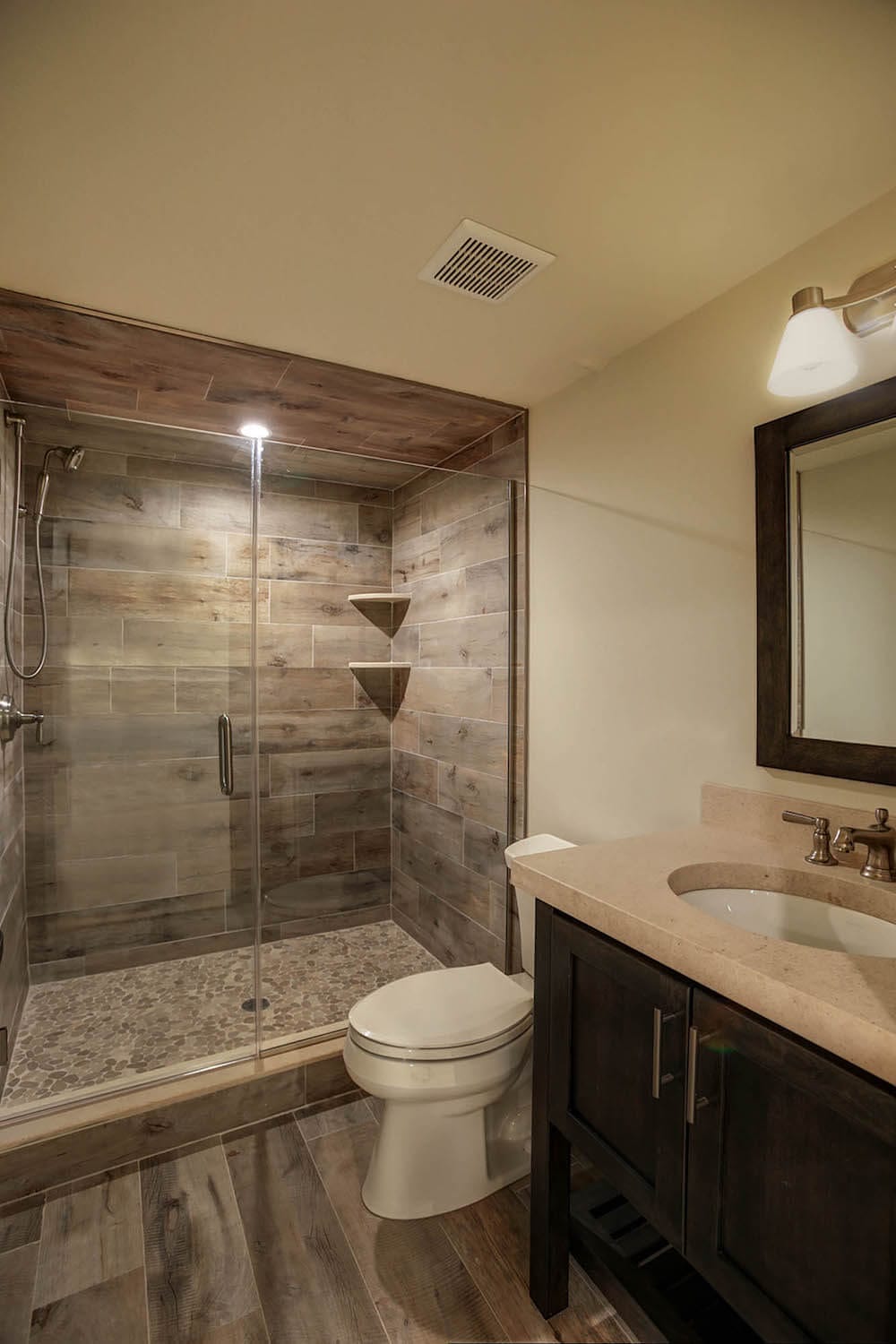 Wood-look tiles and river stones lend the basement bathroom a rustic feel. Frameless enclosure conveys cleanliness.
Cream ceiling and wall exhibit a relaxing atmosphere. Dark wood-framed mirror and vanity make the whole bathroom homey.
12. Basement Bathroom Ideas Pictures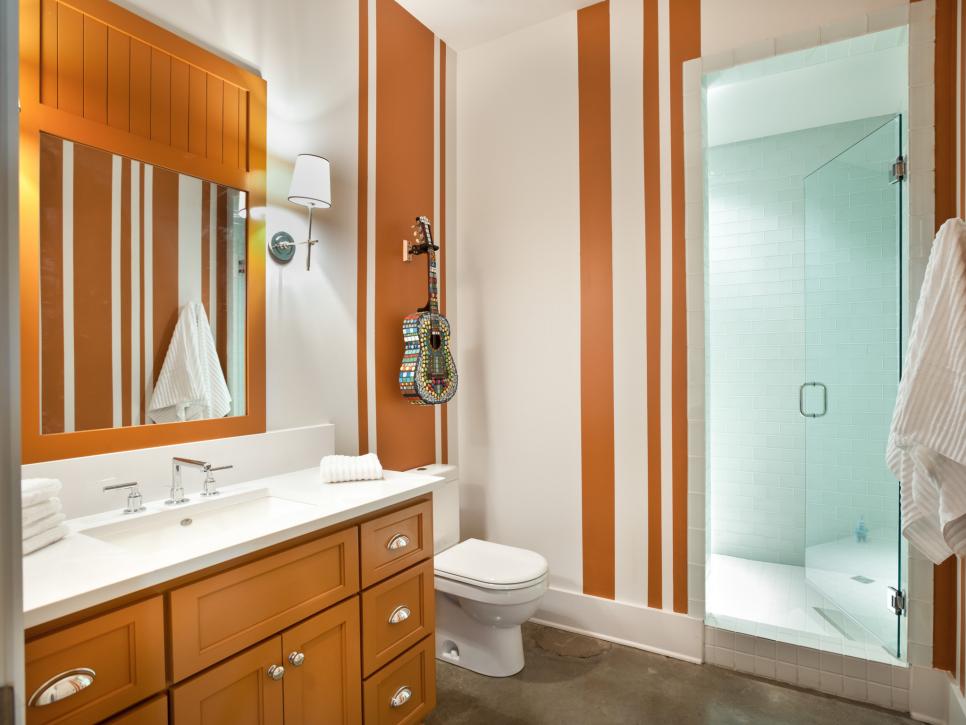 This full bathroom utilized white wall, floor, vanity top, and toilet. They introduce an open setting.
Caramel mirror and vanity result in a calm neutral space. White and caramel stripes produce a collected look.
13. Basement Bathroom Layout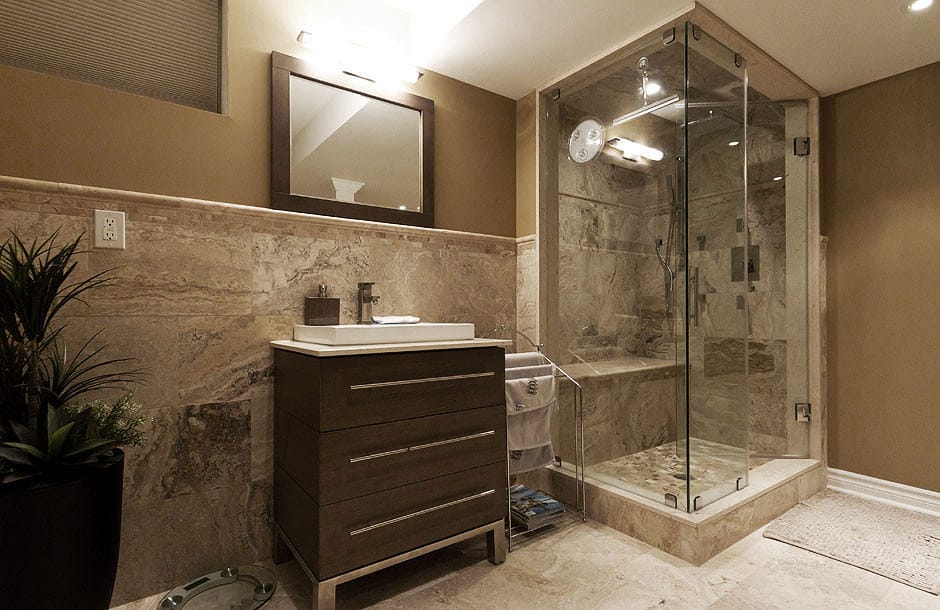 The sleek dark wood vanity is placed next to the glass-enclosed shower room. A mirror over the vanity introduces a light space.
Wall tiles are beyond stunning. Meanwhile, the potted plant rejuvenates the basement bathroom instantly.
14. Mosaic Tiles for Basement Bathroom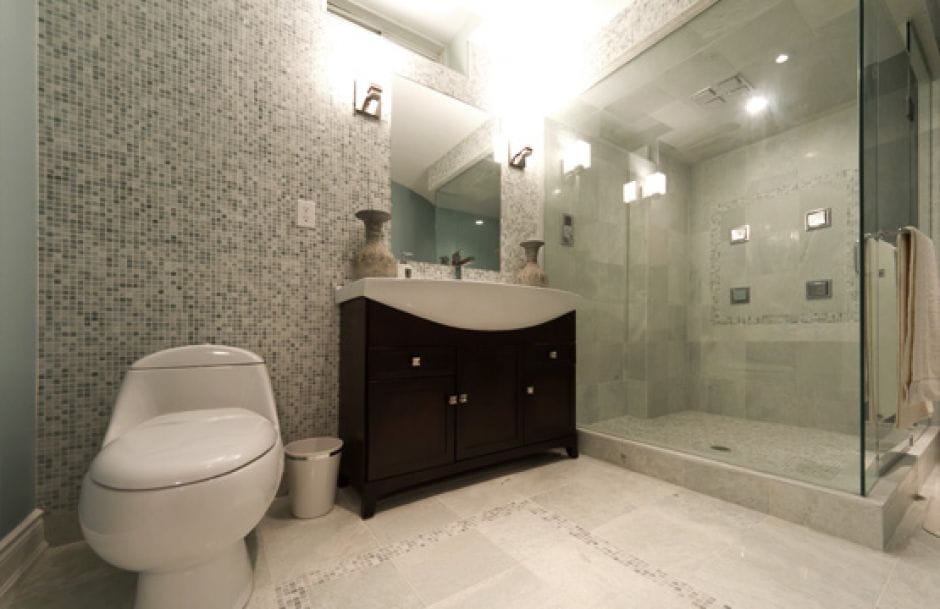 Pictured here is a glass-enclosed shower area with toilet and sink. Textured mosaic tiles add character and depth to the space.
Wall sconces and stoneware jugs offer visual balance. Dark wood vanity leads to an intimate and polished bathroom.
15. Spa-Like Basement Bathroom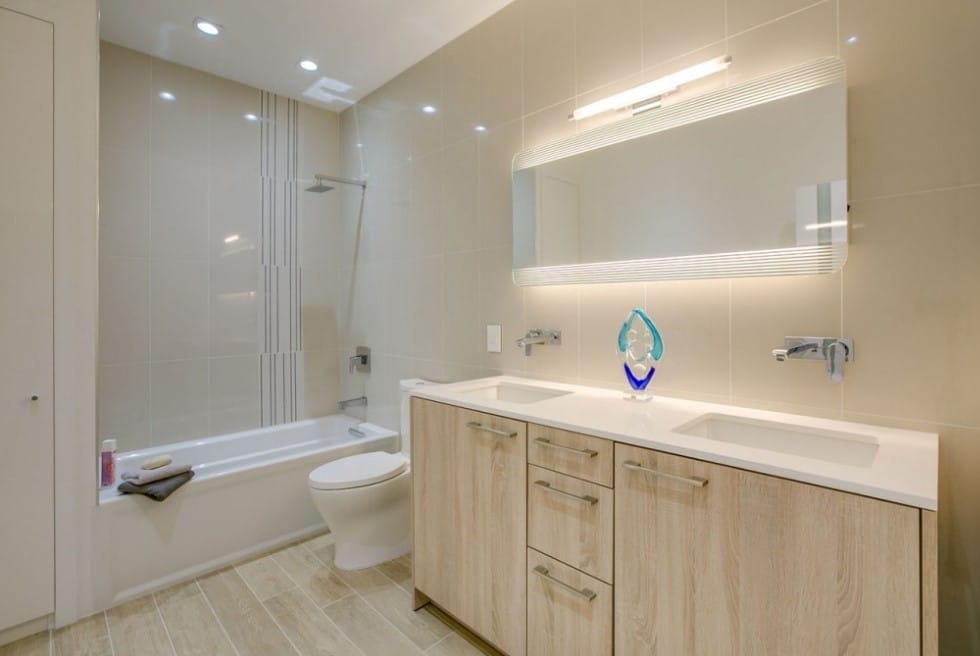 This spa bathroom is such an ideal place to de-stress. It lets you take a bubble bath and a relaxing shower.
The soft neutral colors preserve a tranquil environment. Raw wood vanity brings out your inner Zen.
16. Basement Bathroom Ideas on a Budget
Varying shades of gray add dimension to this bathroom. The white curtains maintain privacy in a budget-friendly way.
Round mirror over sleek vanity softens the straight lines. Greenery enlivens the space, while shag bath towel offers cozy texture.
17. Basement Bathroom with Mirrored Cabinetry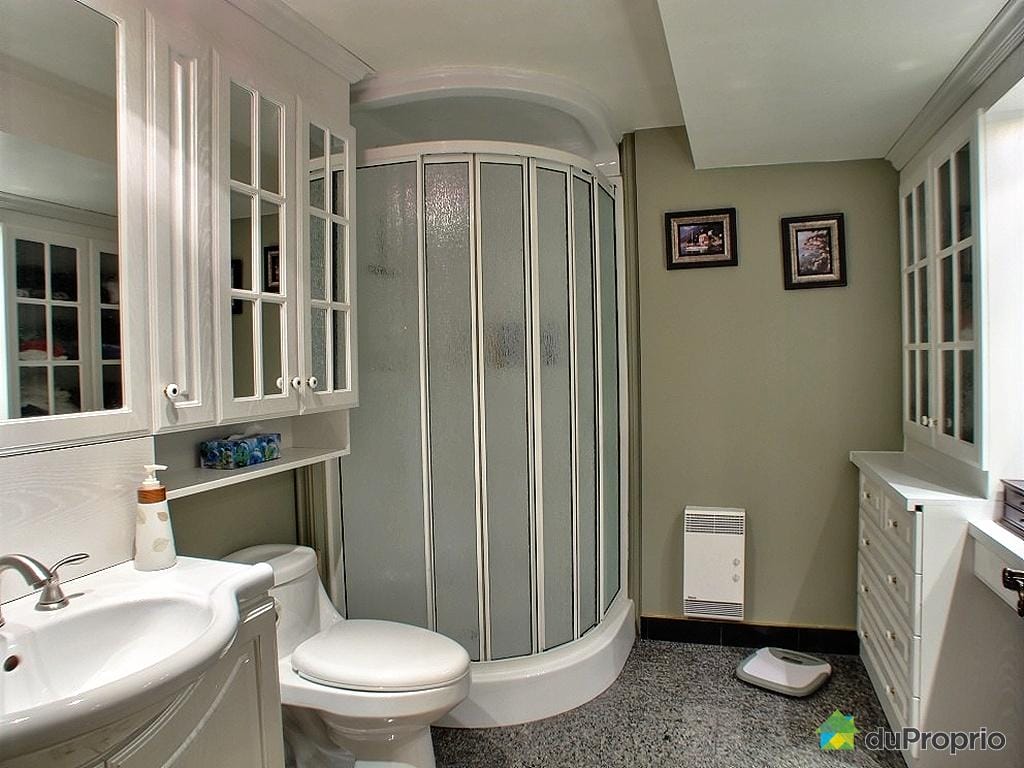 Frosted glass shower doors convey a sense of concealment. Mirrored white cabinets provide reflection and storage.
Framed works of art are the stars of the room. Granite floor makes the bathroom convenient.
18. Luxurious Basement Bathroom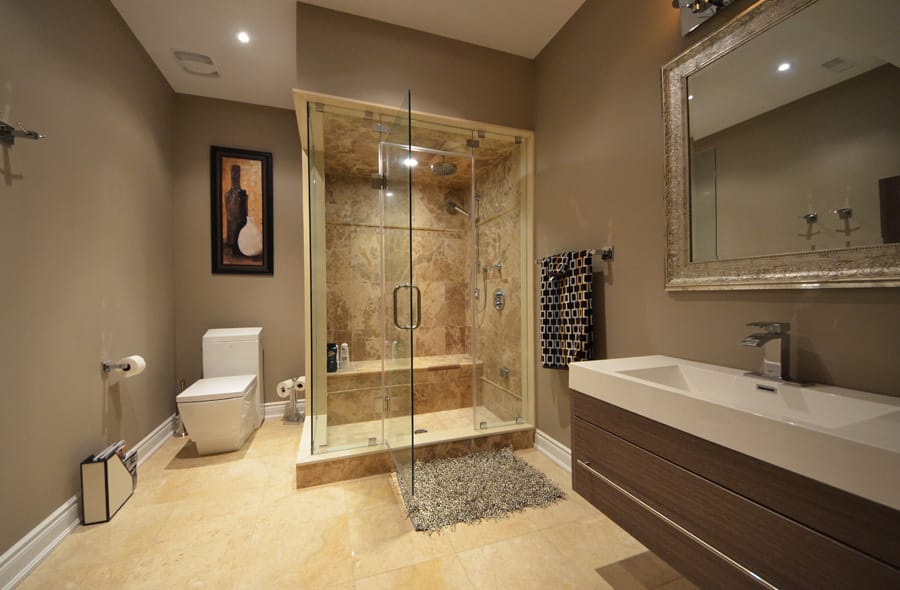 Tan walls contrast pleasantly with the white ceiling and base molding. Beige marble tiles in the shower area exude an air of luxury.
Curb-less shower keeps the space feel airy and open. Wooden vanity, shag rug, and towel exemplify a snug bathroom.
19. Basement Full Bathroom Ideas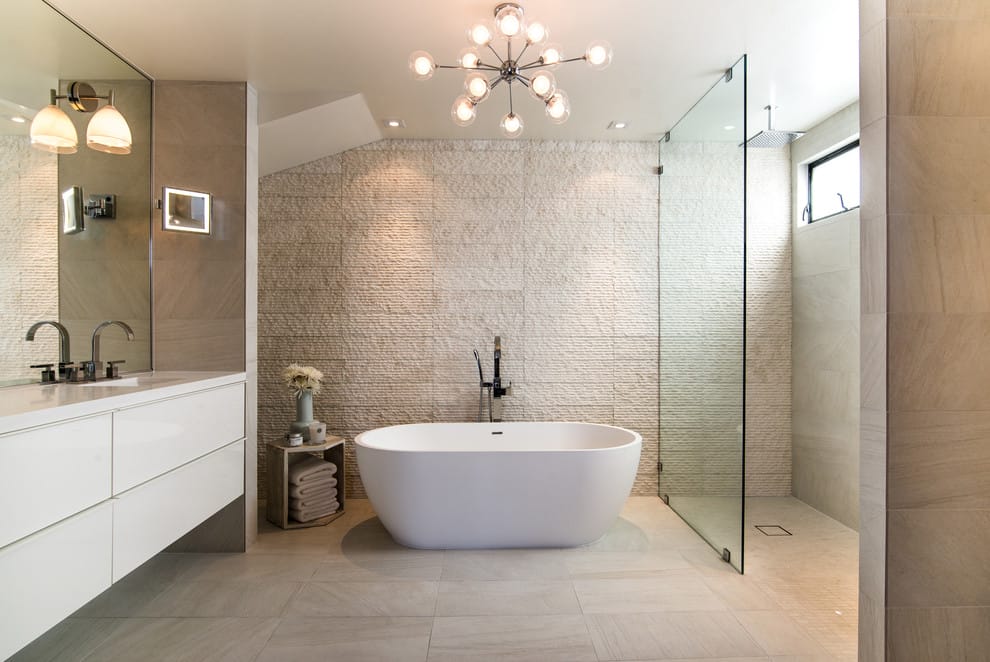 The accent wall is covered in concrete tiles. They deliver rustic charm to the full bathroom. Side table works as a towel holder.
Freestanding tub, wall sconce, and sputnik chandelier turn the room into a classy retreat. Glass door and sleek vanity embrace minimalism.
20. Modern Basement Bathroom Ideas
Light blue walls along with white vanity and toilet set a coastal atmosphere. Herringbone wood floor exhibits warmth throughout the bathroom.
Sharp edges and well-defined lines demonstrate modern design. Marble and mosaic tiles draw attention without overwhelming the space.
21. How to Tile Basement Bathroom Floor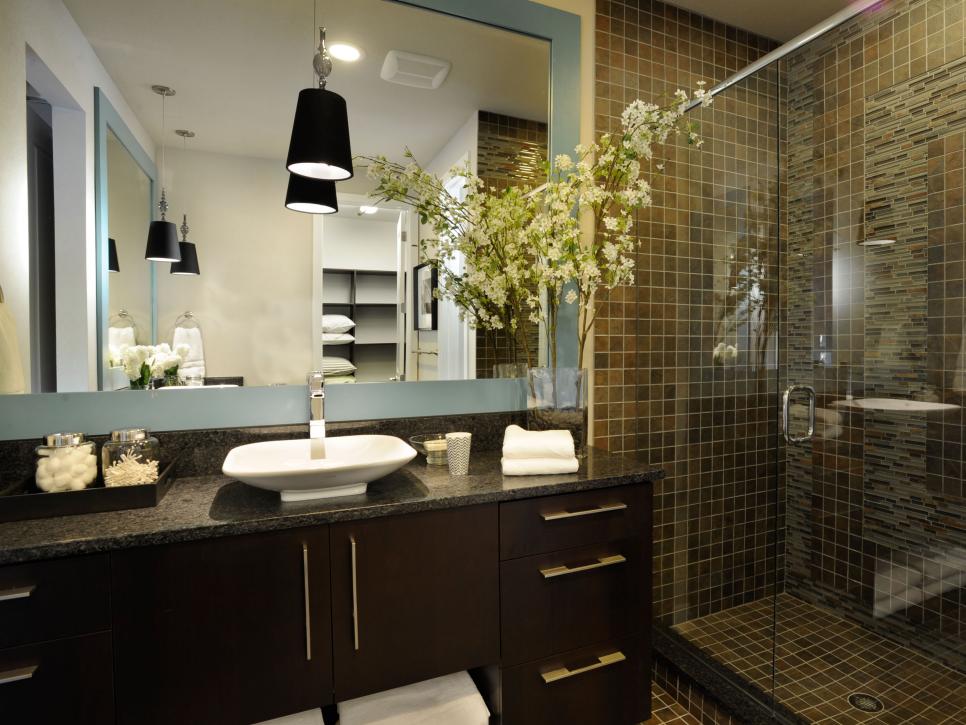 Brown mosaic floor and wall tiles develop a cozy yet moody bathroom. Dark-toned wooden vanity and black granite top up the homey vibes.
Mirror bounces the light back into the space. Downlight and pendant lights keep the area from becoming drab.
22. Traditional Basement Bathroom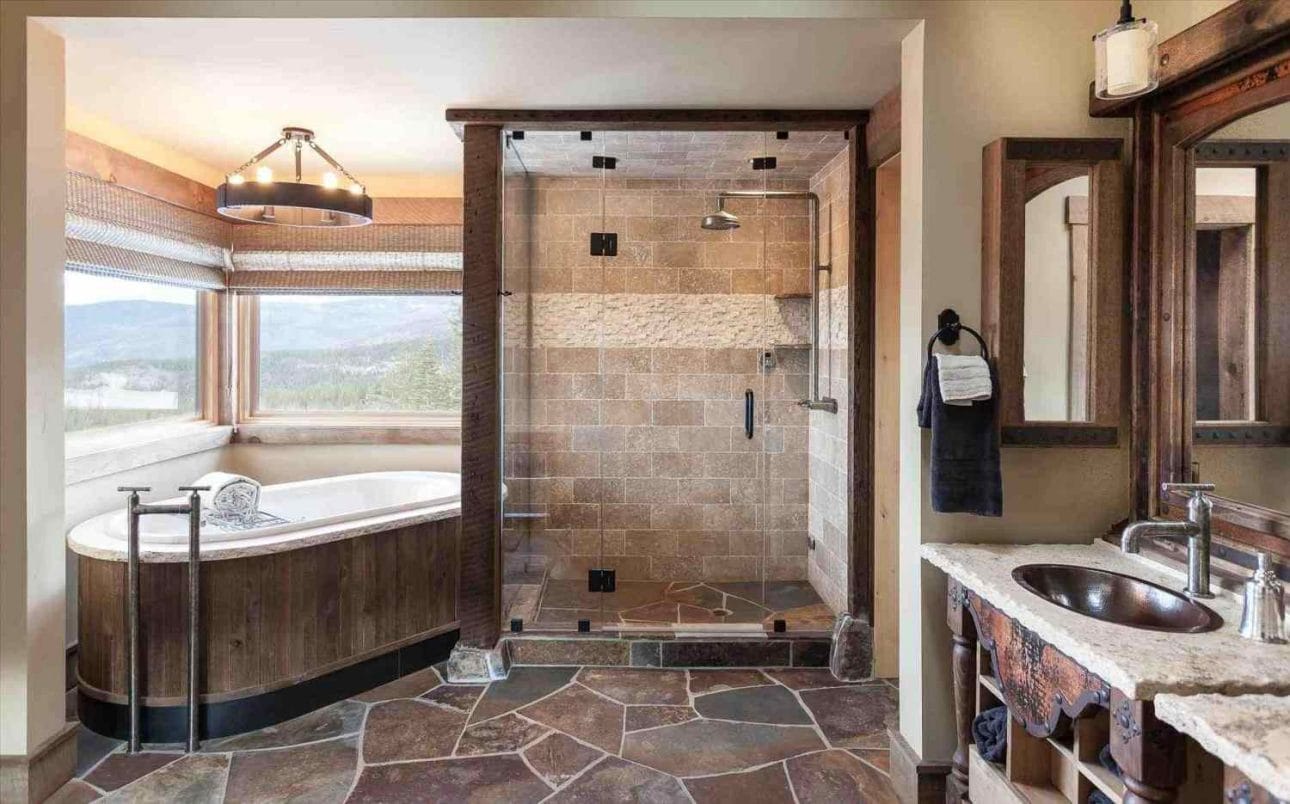 The wrought iron chandelier and vintage pedestal sinks celebrate traditional design. Mirrors visually increase the room size.
Oval wooden bathtub, flagstone floor tiles, limestone vanity tops, stone subway tiles pull off a rustic look. Windows allow the homeowner to see a scenic view while being inside.
Adding a bathroom to subterranean infrastructure is a complicated job. However, that does not mean it is unachievable. Use any of those basement bathroom ideas to help you build your oasis.