It is an open secret that decorating a house with stripes pattern will give drama and a strong statement to your room, especially by adopting a blue striped wall design.
Besides being suitable for men's rooms, many people also apply this concept to other spaces such as the entry hall, dining room, playroom, and bathroom. It happens because the blue striped wall can make your modern home even more classy and give all guests the best impression.
It does not mean that the blue striped wall design does not go well with other home themes such as coastal, industrial, and contemporary styles.
Indeed, this concept would suit all of them entirely as long as you choose the right shades that fit the vibes you want to highlight.
In addition, there are tons of shades for blues you can pick, and for a classy and elegant look, usually choosing the deep ones is the best solution.
However, if you want a more cheerful atmosphere, you can go with a brighter one instead.
That is why we collect twenty-four blue striped wall design ideas that will give you the inspiration to redecorate your home. So, let's take a look!
1. Lassy Spruce and Stone Blue Striped Wall Design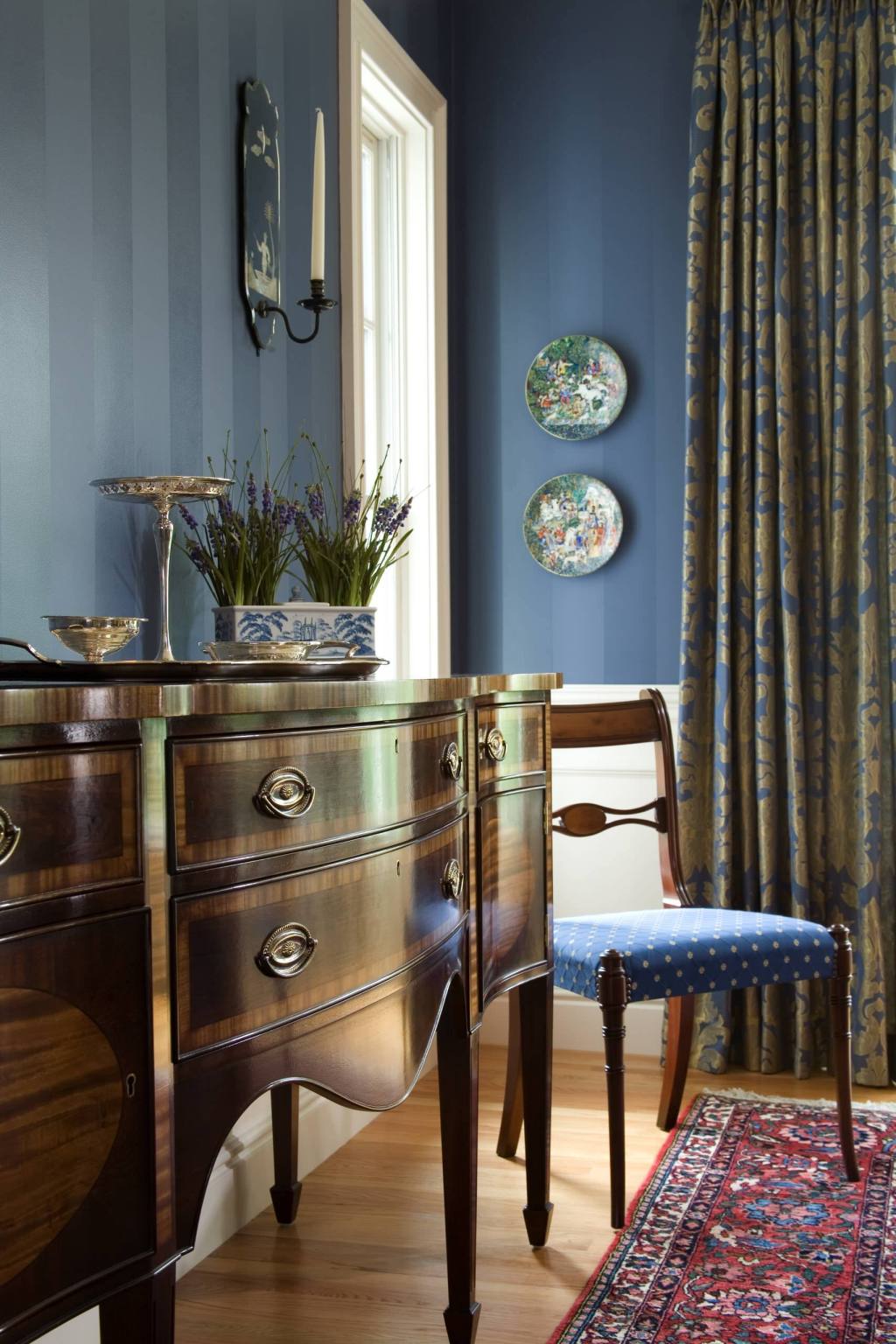 Out of the many vertical striped wall paint ideas that existed, the one that works best for making your entry hall looks luxurious is by applying spruce as well as stone colors.
You can go either by installing the wallpaper or painting it yourself for a more cost-saving project.
Once the walls are already covered with the blue stripes pattern, you can complete it with several decorative items such as antique hanging platers and classic wall candle holders.
Further, you could also consider replacing your curtains with one that has gold embossed colors. As a result, your entry hall now has a luxurious vibe that many people desire.
2. Blue and White Striped Wallpaper with Dots Pattern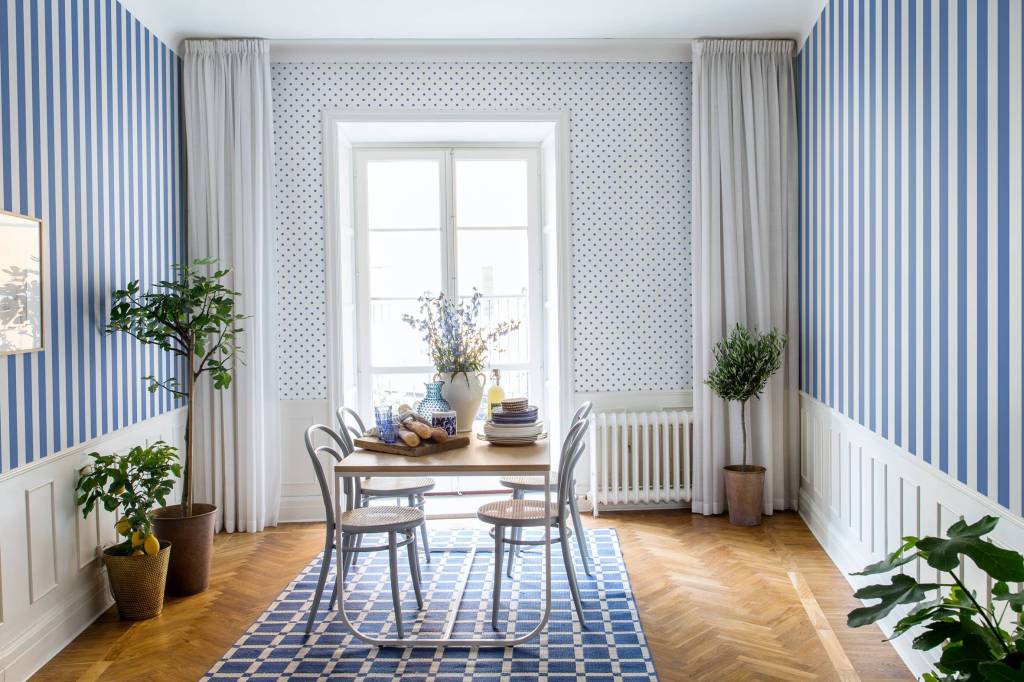 Lately, the stripe pattern with dots has become a popular marriage among many modern homeowners.
Therefore, combining all the patterned elements, including a carpet with a checkered design in your dining room, is the best idea to give this space a powerful statement.
You can also try to choose the blue and white color combination for the stripes and dots accents. After that, couple it with wood textured flooring. That way, your dining room will soon look even more impressive.
3. Pastel Blue and Cream Stripes Pattern for Contemporary Bedroom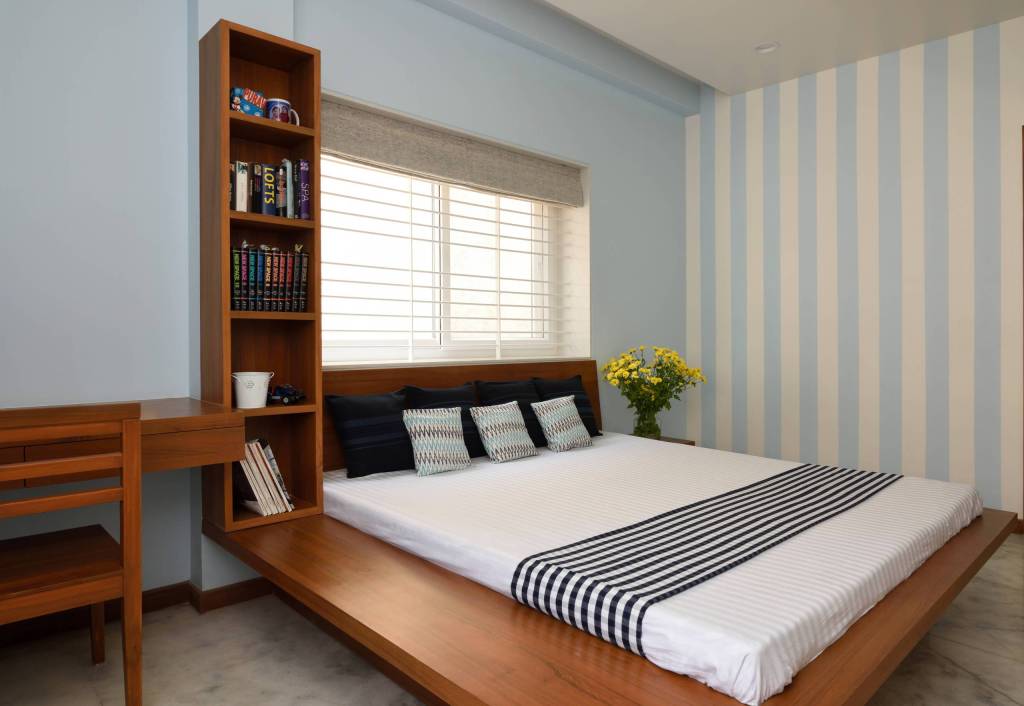 The next idea of applying the blue striped wall design will motivate you to redecorate your contemporary bedroom.
First, you can consider to mix and match the pastel blue and cream shades for a brighter look in your personal space.
Then, complete the interior decoration with a light brown wooden floating low platform bed and also simple striped bedding with a matching color. That way, your room will look cleaner and warmer than before.
4. Multi-Sized Blue Striped Wall and Ceiling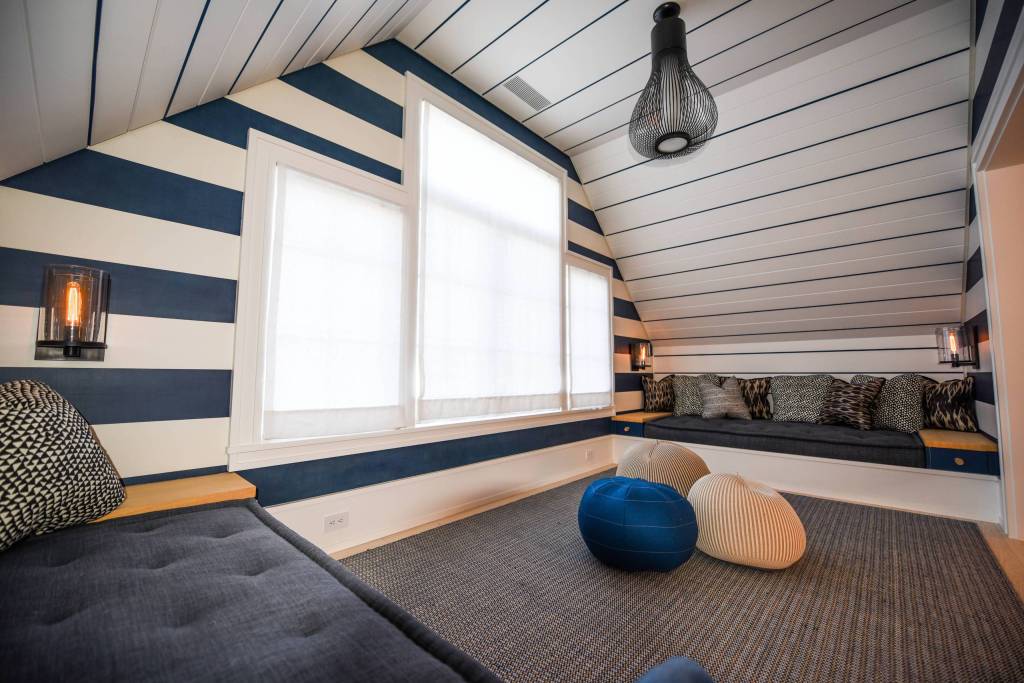 Factually, the attic that was previously dirty and neglected can be transformed into a trendy and also impressive bedroom.
To make it happen, you need to decorate it in blue and white stripes accent then give it several large windows for better lighting.
Then, paint the entire wall in white and blue horizontal broad stripes accents. As for the ceiling, you can go with the pinstripe patterns dominated by white coupled with denim as thin trims.
5. Spruce and White Tile for Bathroom Wall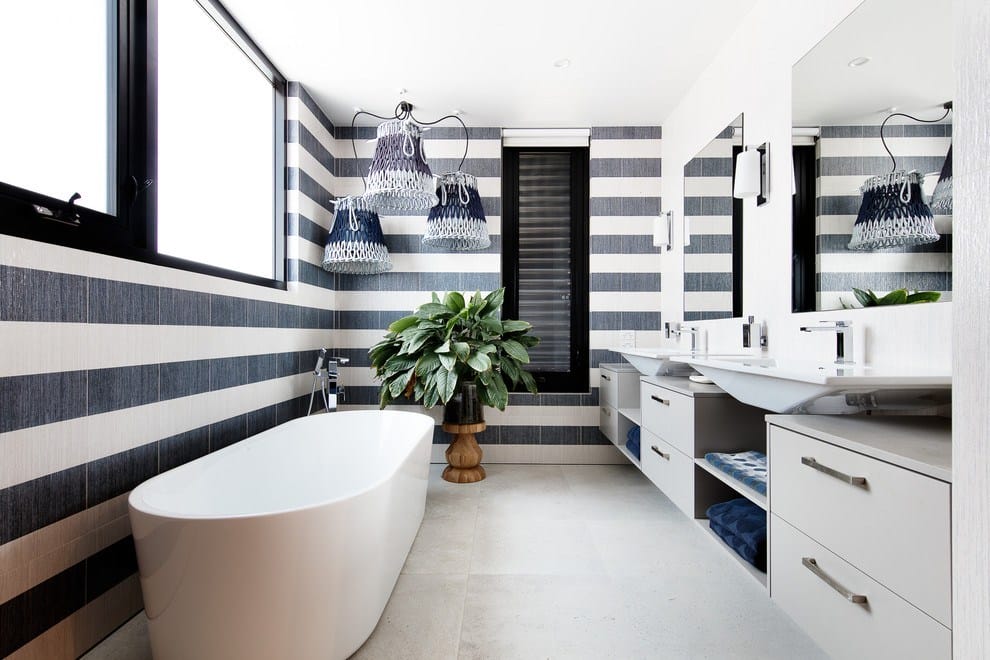 You can also apply the blue horizontal striped walls design to your master bathroom. Instead of installing wallpaper, it would be great to use tiles that resemble a classy blue striped wall accent.
Besides, the tiles will make it much easier for you to clean up your bathroom. Furthermore, it also makes your bathroom look cleaner and sleek all day.
6. One Side Blue and White Horizontal Striped Accent Wall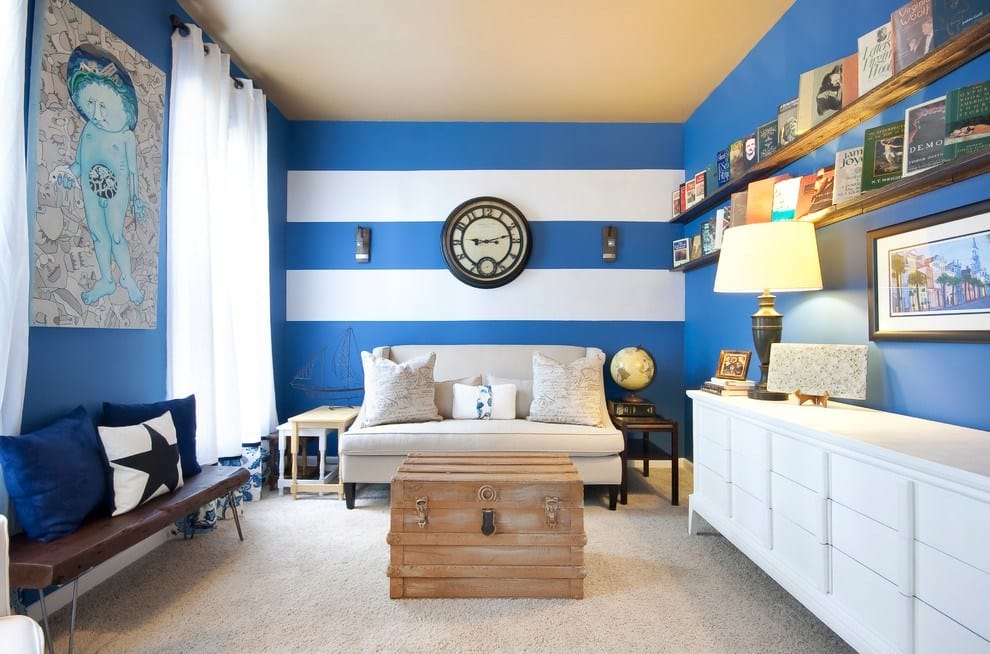 Who says blue striped wall design is not suitable for industrial home themes? Certainly, the picture above has proven everything.
To avoid an overpowering impression, you can paint the striped pattern only on one part. Consider white, as well as ocean blue, is better.
Meanwhile, for the remaining walls, give pain-blocking in all-blue. Subsequently, you can hang a few decorative items from metal and wood freely.
7. Bahama and Pattens Blue Striped Wall with Patterned Bedding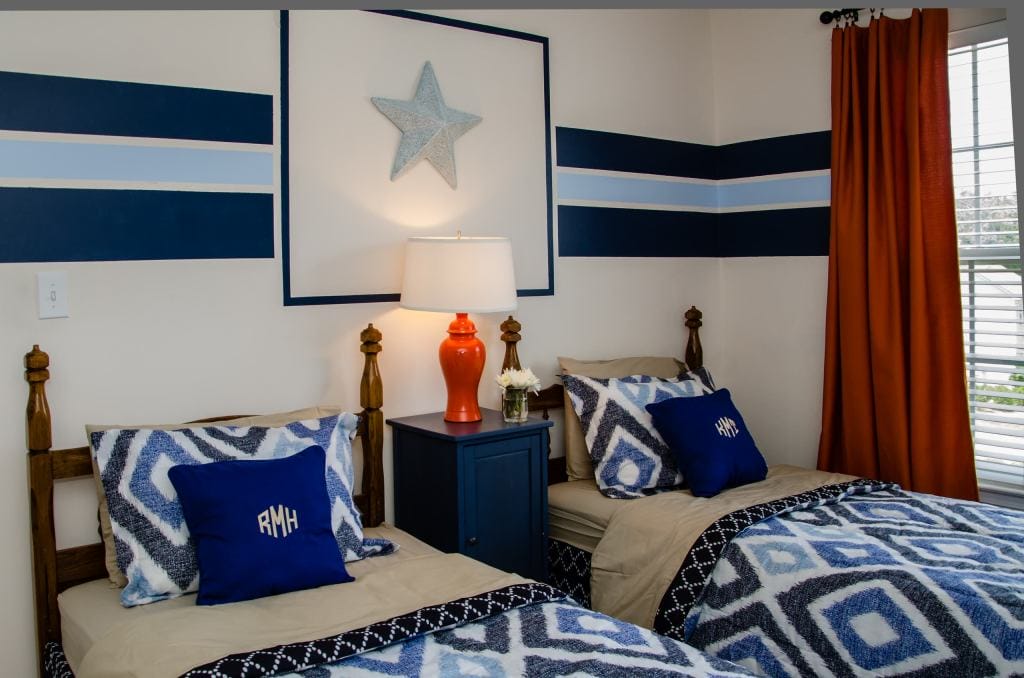 The Bahama and pattens blue is another best combination of shades that you can use to decorate your room. But, it's, if you are reluctant to make a lot of pinstripes.
In that case, you can go with three simple horizontal stripes that stretch around your space. That is one way to make your room appear more spacious. Furthermore, by applying this concept, you can freely provide geometric bedding with matching colors for your bed.
8. Royal Blue and Cool White Horizontal Striped Walls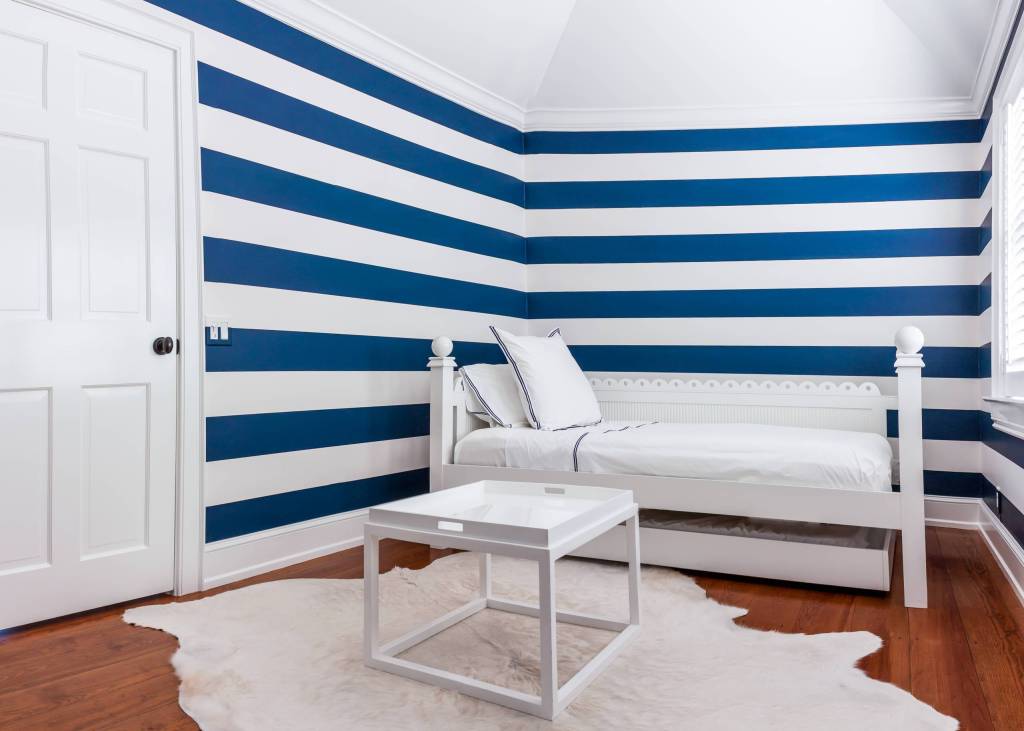 Do you want a simple as well as a classy interior concept for your guest room? Then, deciding to have a blue striped wall design will never go wrong.
You should certainly go for royal blue and cool white for a trendy and bright final look. Next, you can consider arranging all the furniture in white so that this space looks cleaner.
9. Denim Horizontal Striped Wall Paint Ideas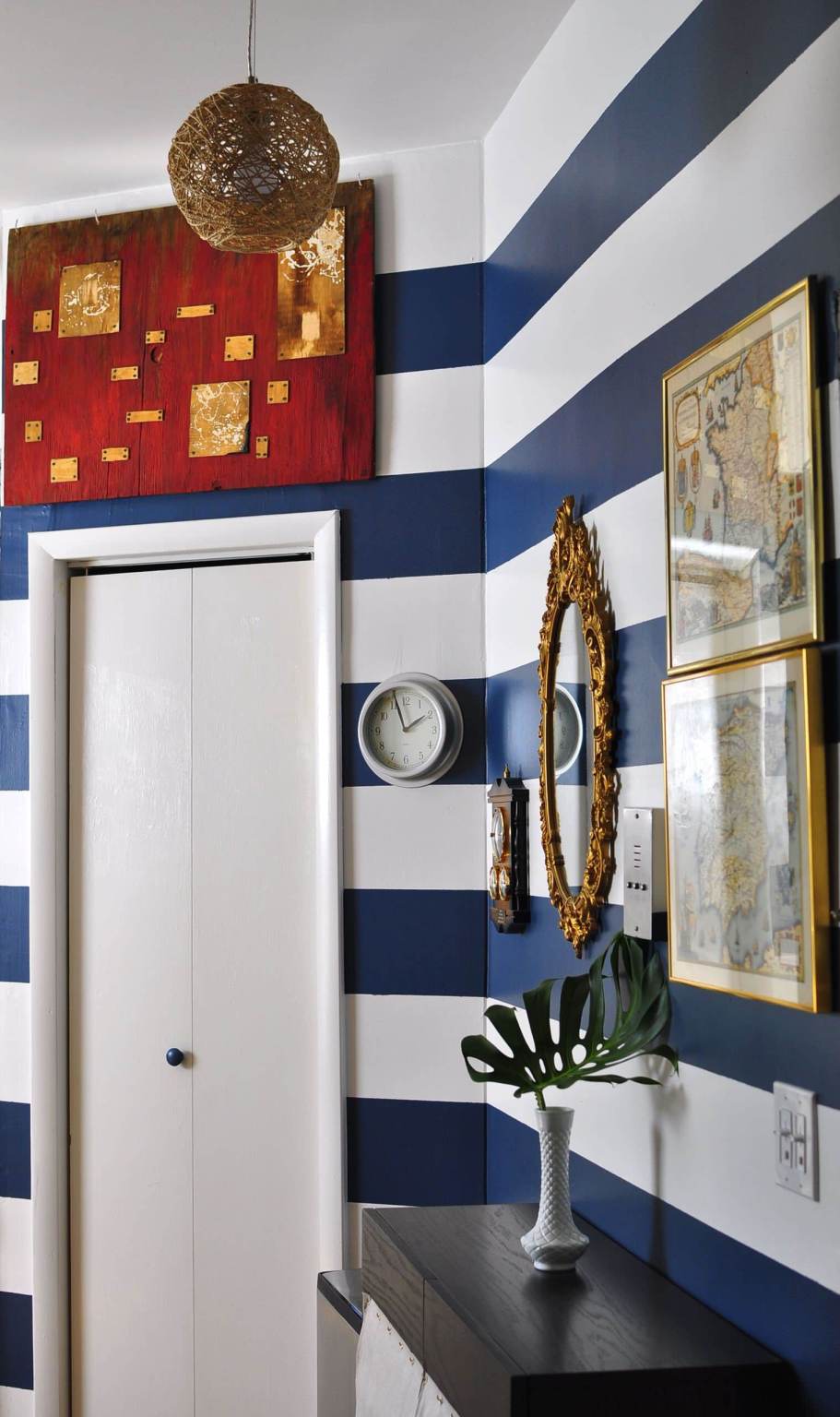 Another way to make a statement to your entry hall is by adopting a horizontal stripes design in denim and white colors, as shown above.
But, if you like a little classic touch, try complementing your walls with oval gold mirrors with ornate frames and some other antique pieces of artwork.
10. Blue Vertical Pinstripes for Classy Bathroom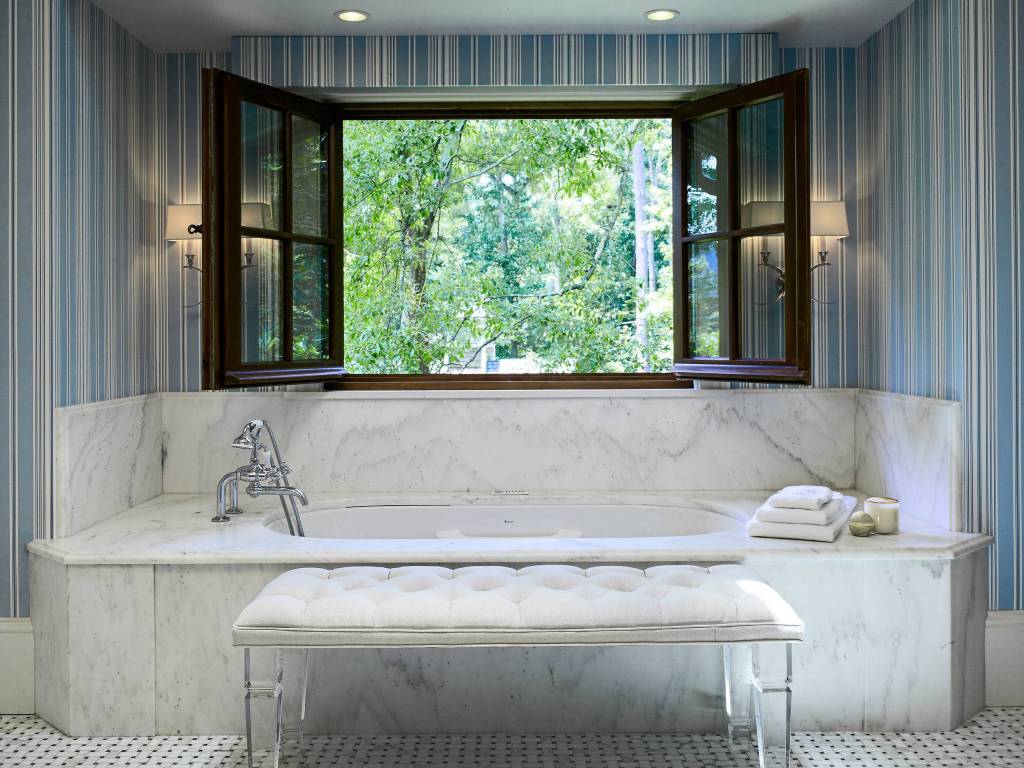 Take it easy; pinstripe accents applied thoroughly to the wall will certainly not make your bathroom look cramped.
On the contrary, it will make your shower space classier and more attractive instead, especially if you choose a combination of bright shades like the pastel blue and gray color palette.
To make it even more impressive, considering the marble bathtub and white tufted bench that sits right next to it is the best opt.
11. Teal Blue and White Stripes Pattern for Cozy Reading Space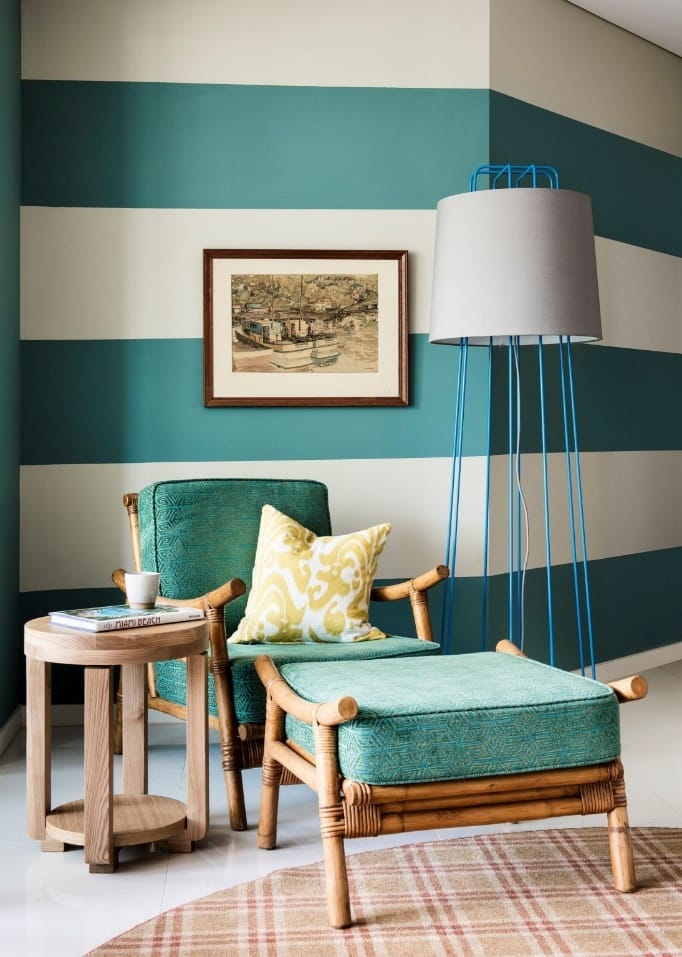 As you know, blue doesn't just come with cool shades. But, it's, got teal, which will make your reading space warmer and more comfortable.
So, try pairing it with white and arrange the broad stripes horizontally. That way, your room will appear more expansive and brighter than before.
12. Blue Striped Ceiling and Carpet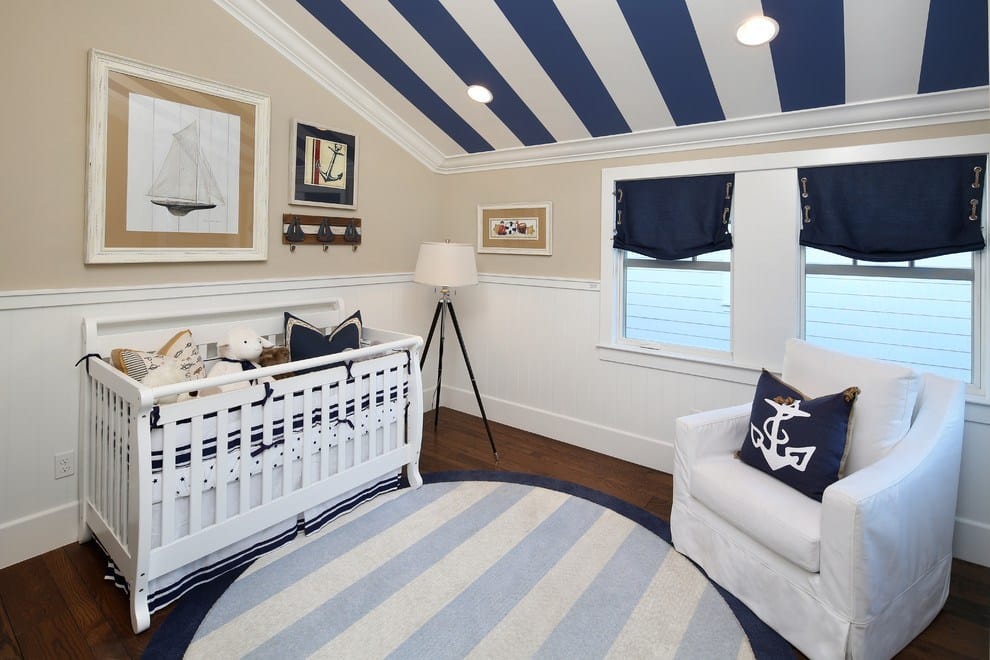 Instead of applying a blue striped wall to your nursery room, try another alternative way by focusing on the floor and ceiling decoration project.
You can consider making stripes on the ceiling with bold denim and white accent and also arranging the carpet with a matching pastel pattern on the wood floor. As a result, your nursery room will look trendy and attractive.
13. Air Force Blue and Cream Striped Wall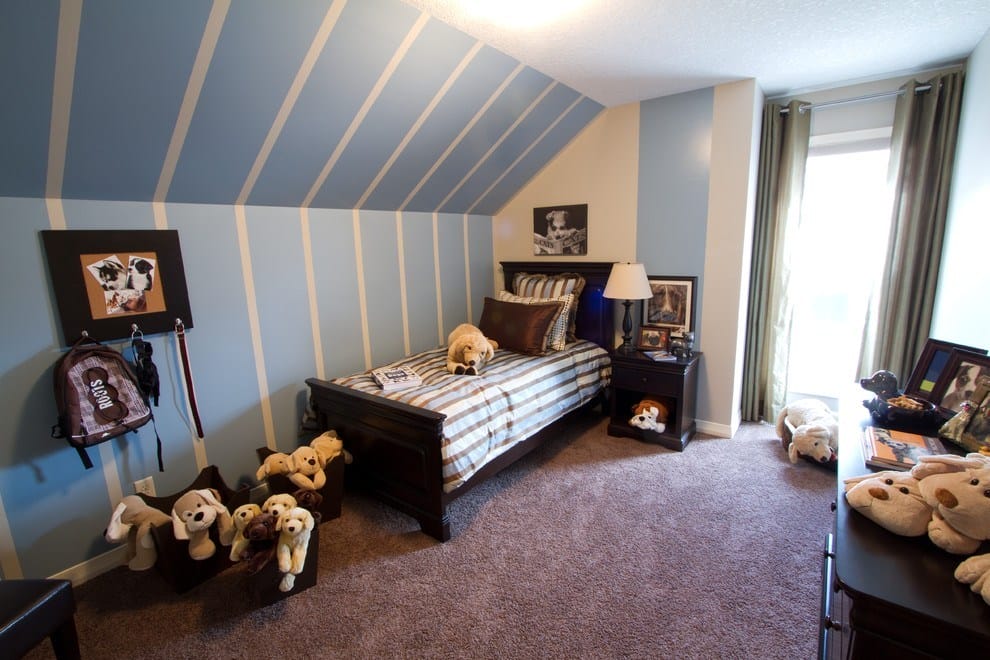 The combination of air force blue coupled with cream that forms accent stripes on the walls will make your little one's room warmer, pleasant, and more comfortable.
Also, you can add a touch of soil and beige shades to some furniture and other decorative items.
Coupled with bedding stripes of the same color, it would be perfect! Besides being suitable for a boy's room, it would also look great on a girl.
14. Sporty Sapphire Blue Striped Wall Ideas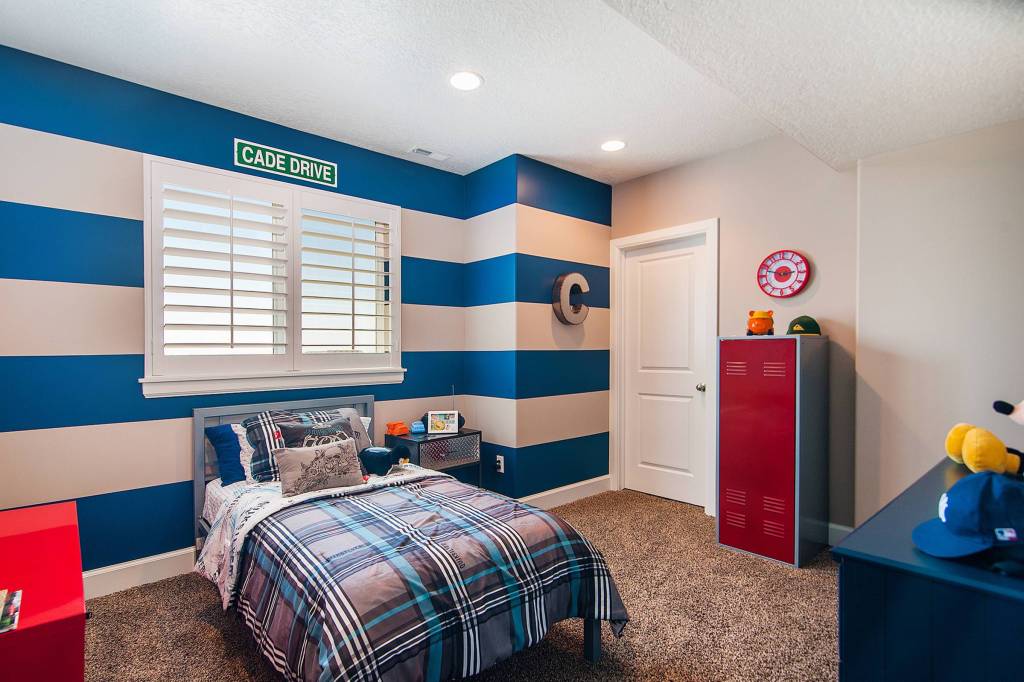 A white-sapphire blue striped wall design coupled with some red furniture will help you create a sporty look for your son's bedroom.
Consider setting the stripes accent on only one part of the wall, while you can leave the remaining wall in plain white. So, you can prevent the room from looking stuffy.
Next, you can also pair the bedding with the checkered pattern to give a more emphatic statement to the room.
15. Vertical Striped Accent Wall with Azure Color Scheme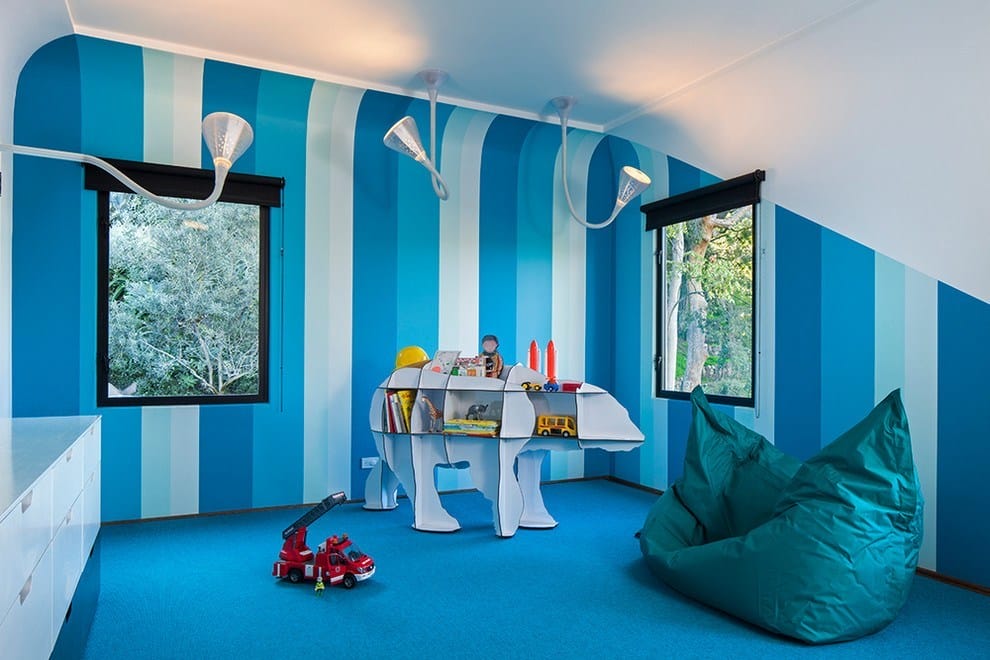 It's time to decorate the playroom for your boy! providing bright colors is key to making this space look fun. One way you can adopt is by applying the Azure color scheme to create an eye-catching stripe pattern.
Arrange it vertically instead of horizontally so that your son's playing space will appear higher.
16. Yale and White Horizontal Pinstripes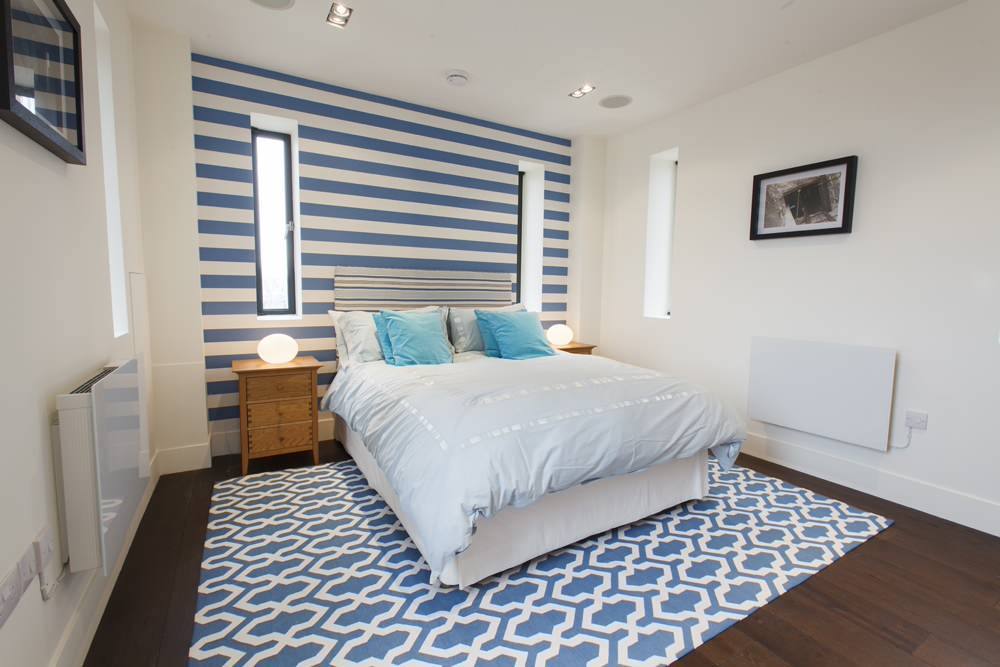 To get a more straightforward yet stylish decoration, you can try combining Yale and white to accent the stripes.
Just like before, to set this blue striped wall on only one side close to your headboard is a trick to incorporate other patterns in your decorating project.
By leaving most of the walls plain white, you can give your rug a geometric accent. Plus, the headboard with the more pastel pinstripes keeps it from colliding with the wall's color behind it.
17. Blue Vertical Striped Walls in the Toilet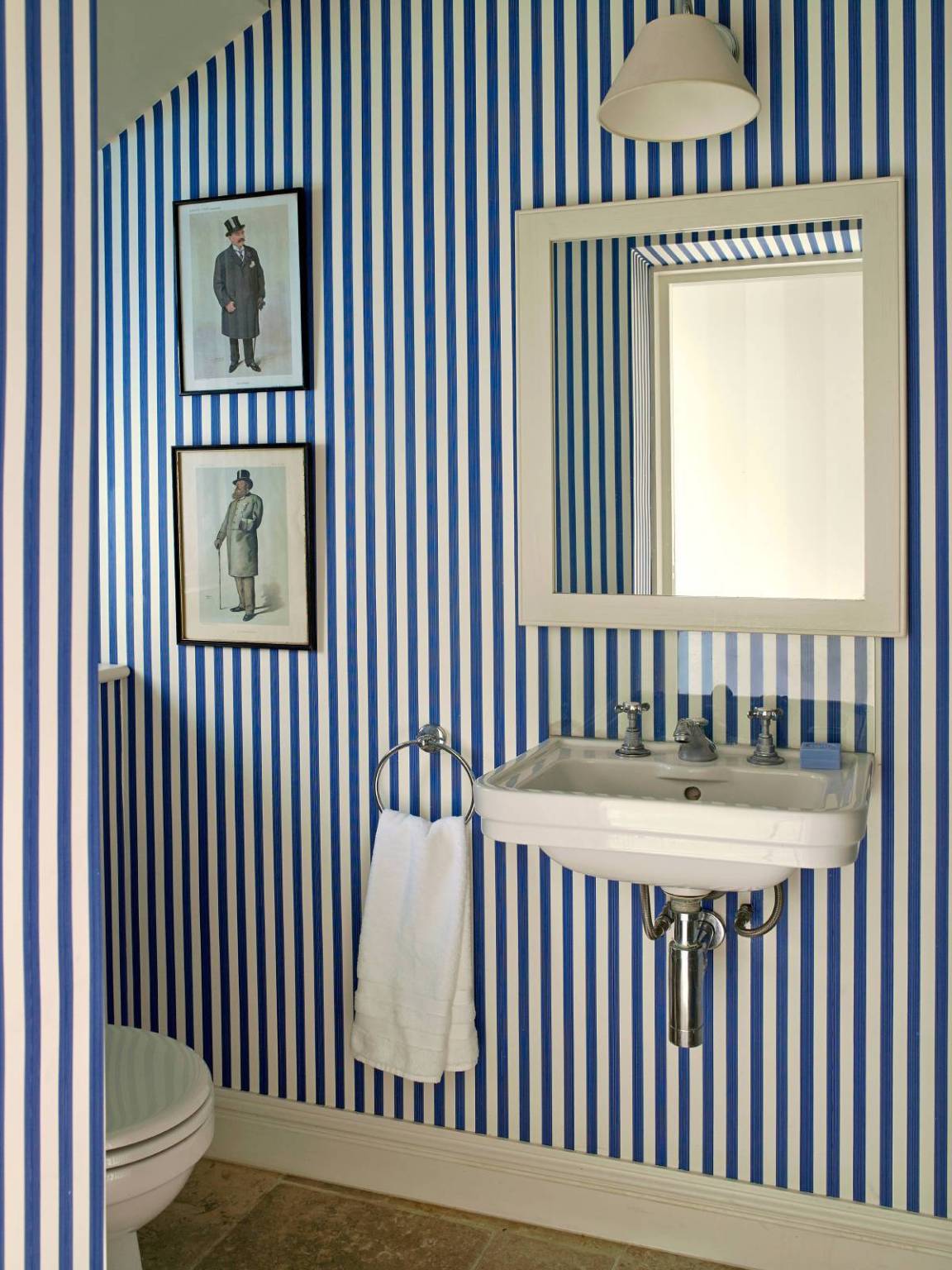 A toilet with a low ceiling would be a little uncomfortable. Therefore, you need to give it a visual illusion by installing blue vertical striped wallpaper on the entire wall.
Instead of leaving it bare, it would be great to hang up some framed black and white artworks. Moreover, you can also add some of the bathroom furniture made of metal to give it a more stylish look.
18. Blue Stripes, Plain Beige, and Dots Accent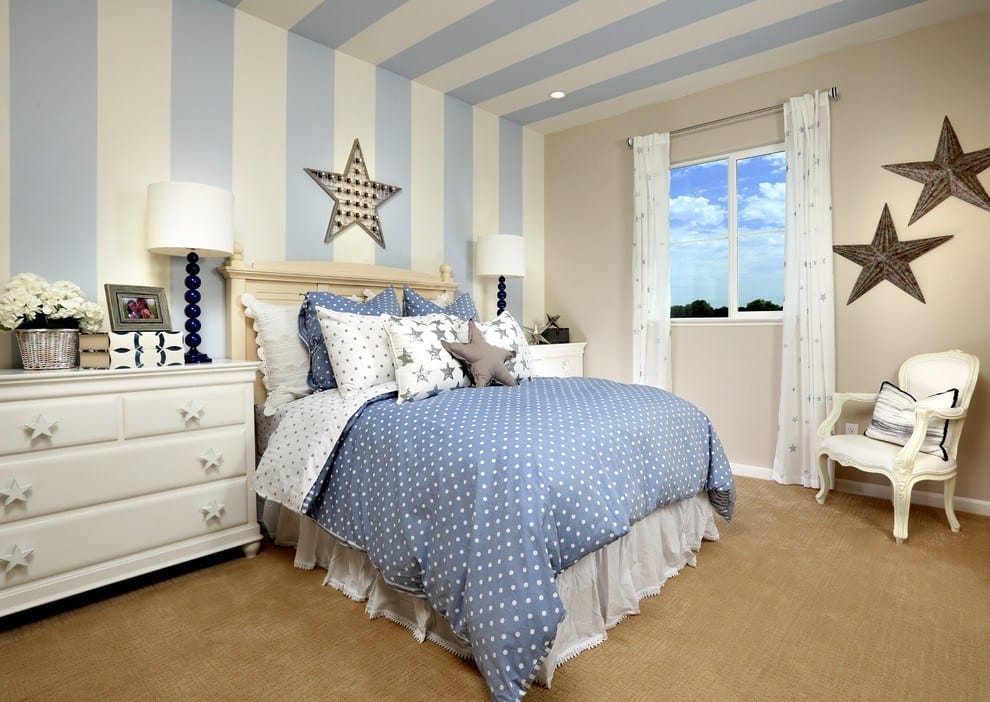 Suppose you have a coastal home theme and want to bring a blue striped wall design to decorate your room. In that case, you can consider putting together pastel blue, white, and beige for a warm seaside vibe.
Paint the vertical striped accent to the wall close to the headboard. Draw it vertically that covers your ceiling too. Meanwhile, you can leave the rest of the wall with a beige sand color.
To further enhance the visual appeal, complete your room with blue dots patterned bedding set and straight white curtains made of linen.
19. Midnight Blue and Cool White Stripes Pattern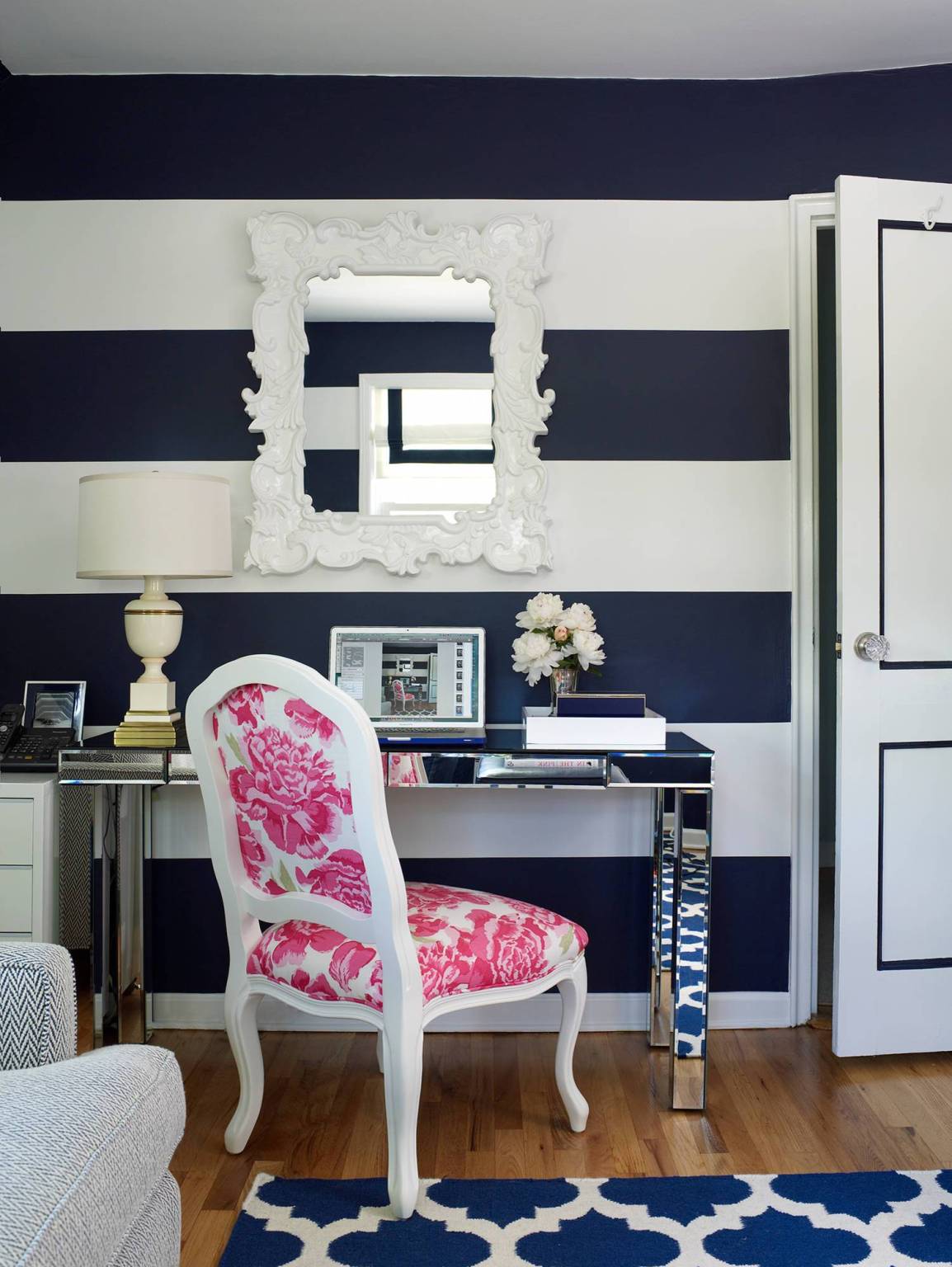 Most people choose to leave their working space with plain neutral colors. Factually, suppose you can give this spot a classy and stylish color. In that case, it will undoubtedly be more able to motivate you to do your job quickly.
As a recommendation, you can try to make a wide blue striped wall in a horizontal way to cover your room's partition. Furthermore, you can hang a big square mirror with an ornate frame to add a more flexible impression.
20. Marine Concept with Denim Stripes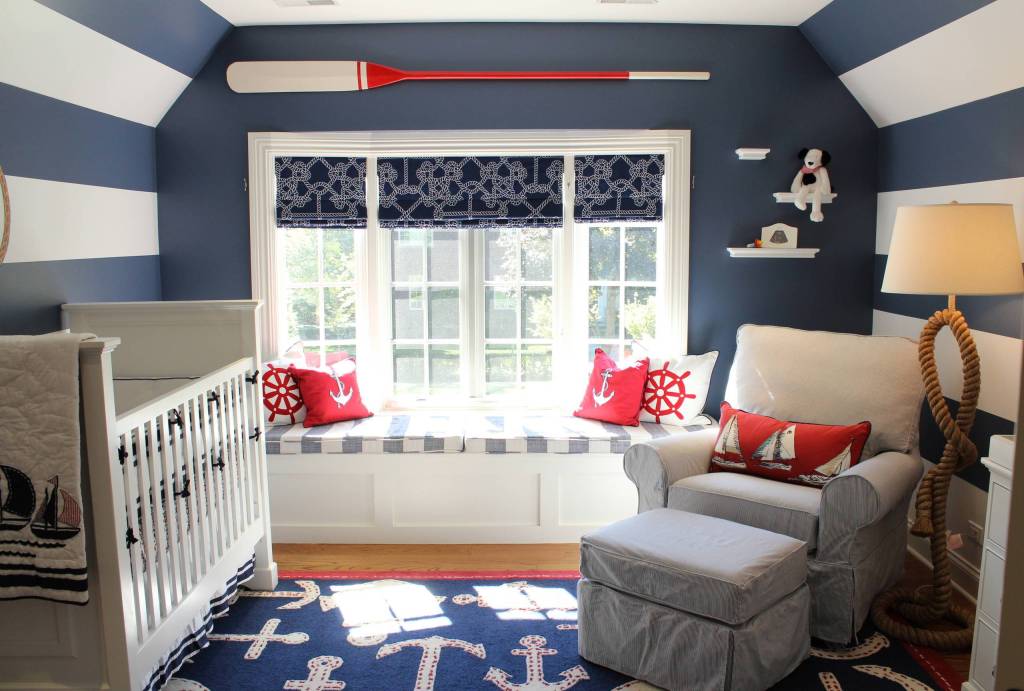 If you have a baby boy, the most suitable nursery room decoration is the blue striped wall concept like the picture above.
By combining denim and white as an element to accent the stripes, you will get a stylish and modern impression.
To make it unique, also add some furniture or wall ornaments that symbolize marine life, from carpets, cushions, to standing lights that resemble anchor ropes.
21. Wide Horizontal Blue Stripes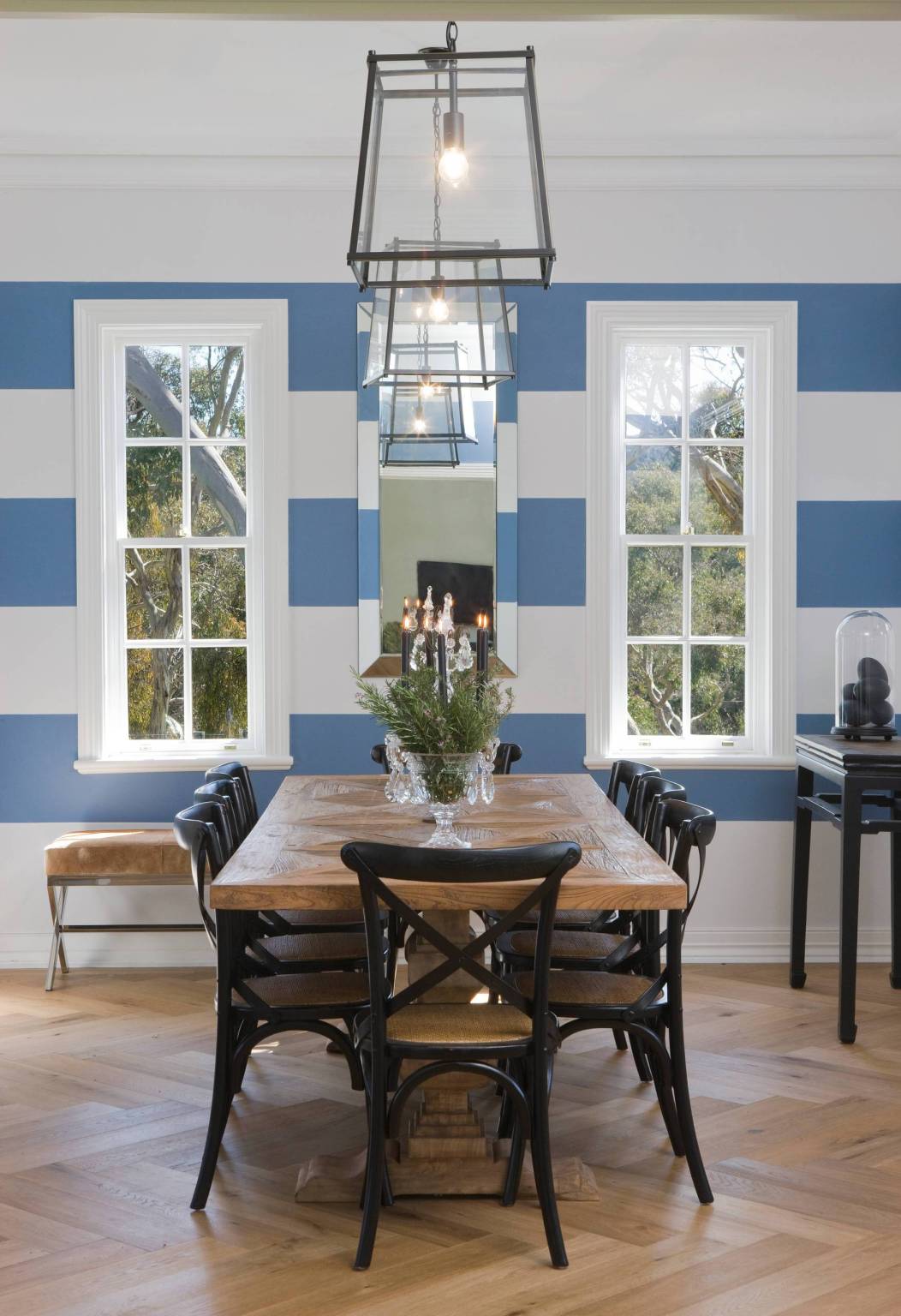 The broad horizontal blue striped wall accents will also look great in your dining room.
You can combine blue and white, as shown above. Or, if you want another color, go with pastel shades for a warmer, brighter feel.
22. Blue Striped Wall and Black-White Zig-Zag Curtains
To get a funky look, put all your creativity into applying this blue striped wall design without any restrictions.
For example, you can combine lots of bold accents for your living room. Then try to put together these horizontal striped walls with the black and white curtains in a chevron pattern.
23. Shabby Chic Bedroom with Blue Color Palette Accent Wall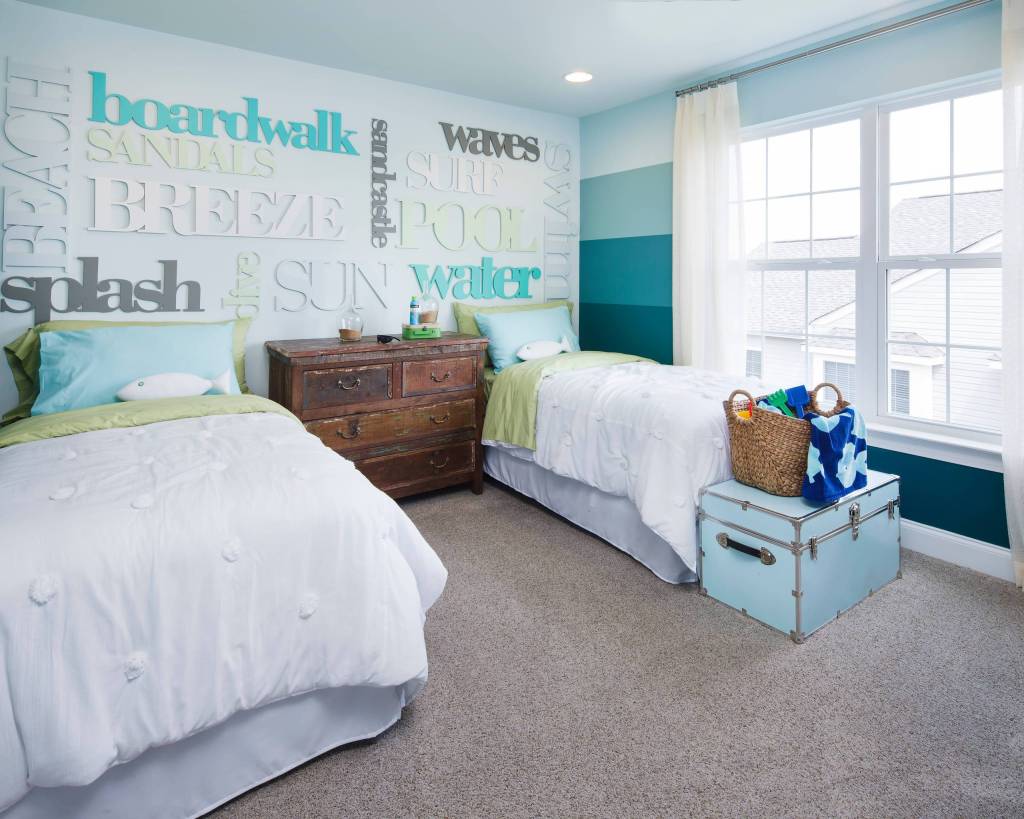 Suppose a two-color combination is not your style.
In that case, you can immediately bring all the blue shades palette into your shabby themed bedroom—no need to apply the striped patterns to all parts. Just pick one spot you want to be the focal point. It can be near a window, then put it there horizontally.
As for the rest of the walls, do a paint coat with the blue palette's most pastel shade. Then complete it with various kinds of wall word art decor.
24. The Marriage of Horizontal White-Blue Striped Wall and Gold Accent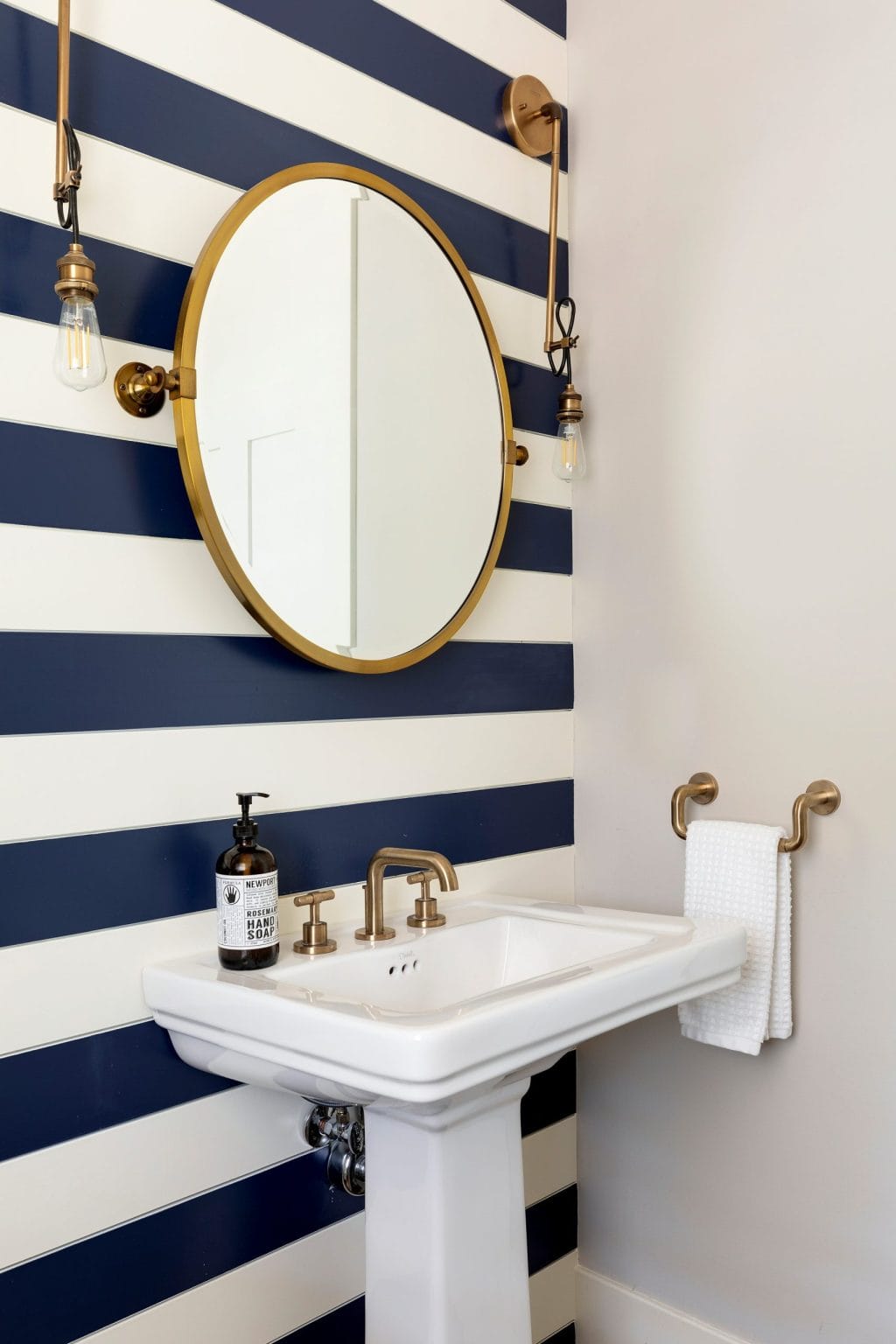 The final idea to create a bathroom with a classy blue striped wall design leads you to apply gold as a complement to the decoration.
It doesn't take much effort for this. You only need to install horizontal blue striped wallpaper on the part of the wall near the sink. Then hang a rounded mirror with a gold frame right above it.
For the perfect final look, add gold accents to faucets, towel holders, and light fixtures too.
After observing all the blue striped wall designs mentioned above, have you met one that perfectly fits your preference? If so, you can quickly redecorate your home to get a fresh and classy new look immediately!