Of the many decorating ideas to increase the visual appeal of your home, the pink striped wall design is one that is in great demand.
Besides giving a brighter look, this theme can also bring your home to a more fashionable and fabulous level.
Generally, the use of pink striped wall design will be identical to girls' bedrooms. However, you can also bring this feminine nuance to other rooms in your home. It can be in the playroom, entryway, or even your bathroom.
Plus, this pink striped wall is also not limited to just one home style. This design will certainly fit almost all dwelling concepts, from farmhouses to coastal and modern ones.
You don't even need to put in too much effort to create it. Because there are many pink striped wallpapers that you can get in stores if you think the wall painting technique is a bit of a hassle.
So, here are twenty-five pink striped wall designs that you can use as a reference for redecorating your home.
1. Large Pink Striped Wall Accent with Dots Pattern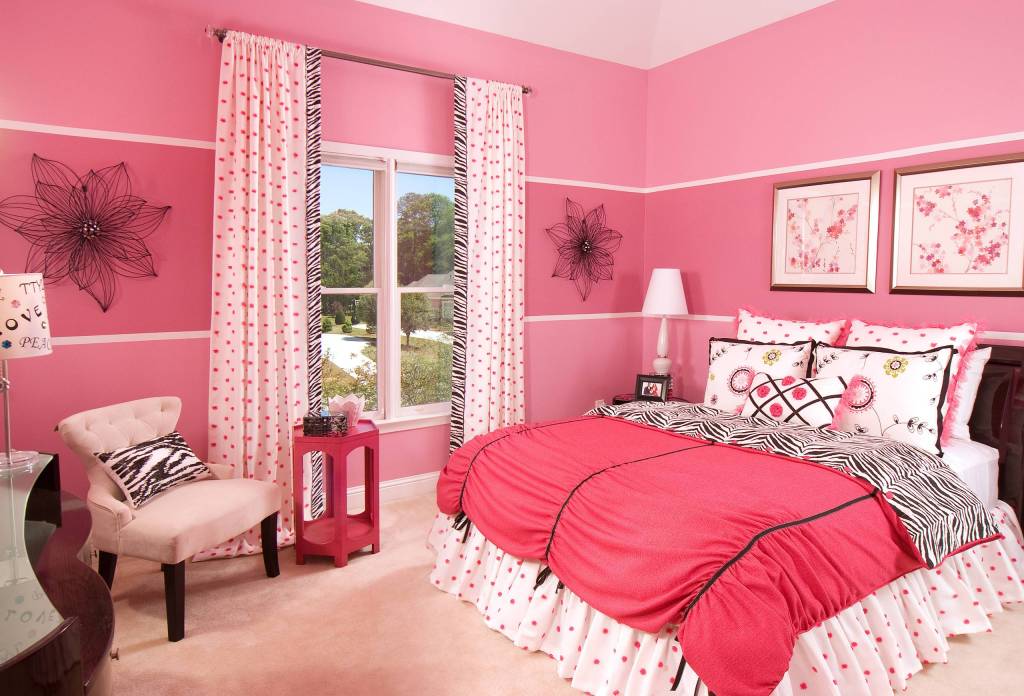 The first pink stripes design that you can apply to your daughter's bedroom is a sizeable striped wall painting that combines French rose and flamingo colors.
Coupled with some white pinstripes that resemble each different color's trim, now your room has a new, more exciting decoration.
To further enhance your room's visual appeal, you can arrange the bedding and curtain in neutral dots patterns.
Next, you can also consider hanging decorative wire floral ornaments and some artwork in the frame like above. That way, your personal space will soon look more aesthetics.
2. Pink and White Striped Wall Paint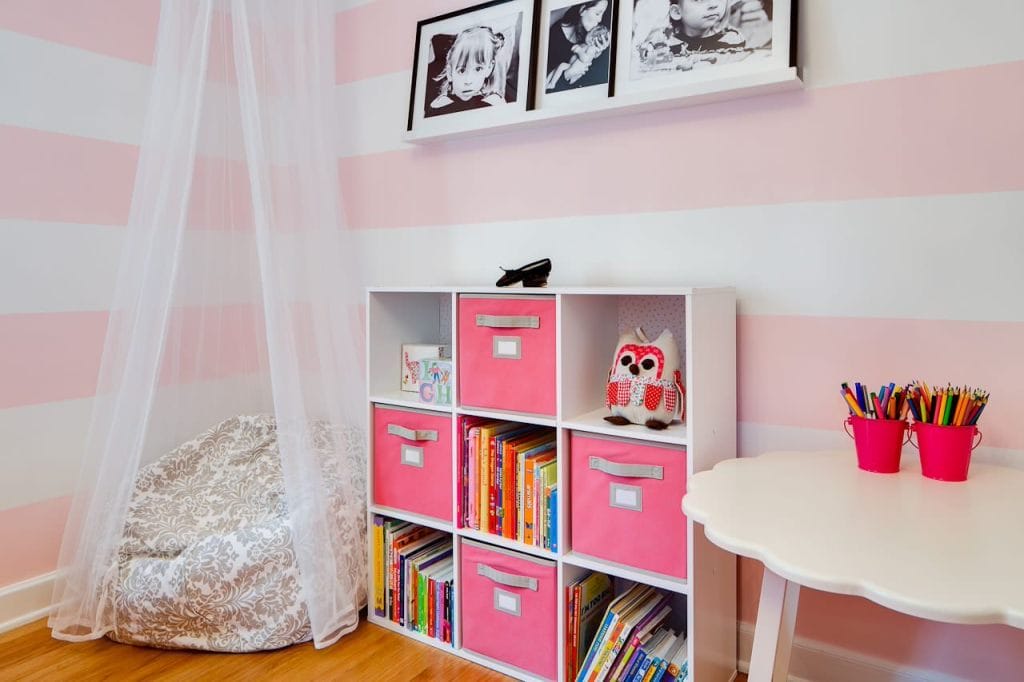 Besides the bedroom, a pink striped wall design will also be great for your daughter's reading room.
Complete this interior concept with some framed black and white photos showing you also your child's portrait and a bookshelf in matching colors.
Furthermore, to make your child's reading time more comfortable and enjoyable, you can arrange a white patterned seat in the corner of the room, complete with the mosquito net over it.
3. Pastel Pink Stripes with Plain Beige Combination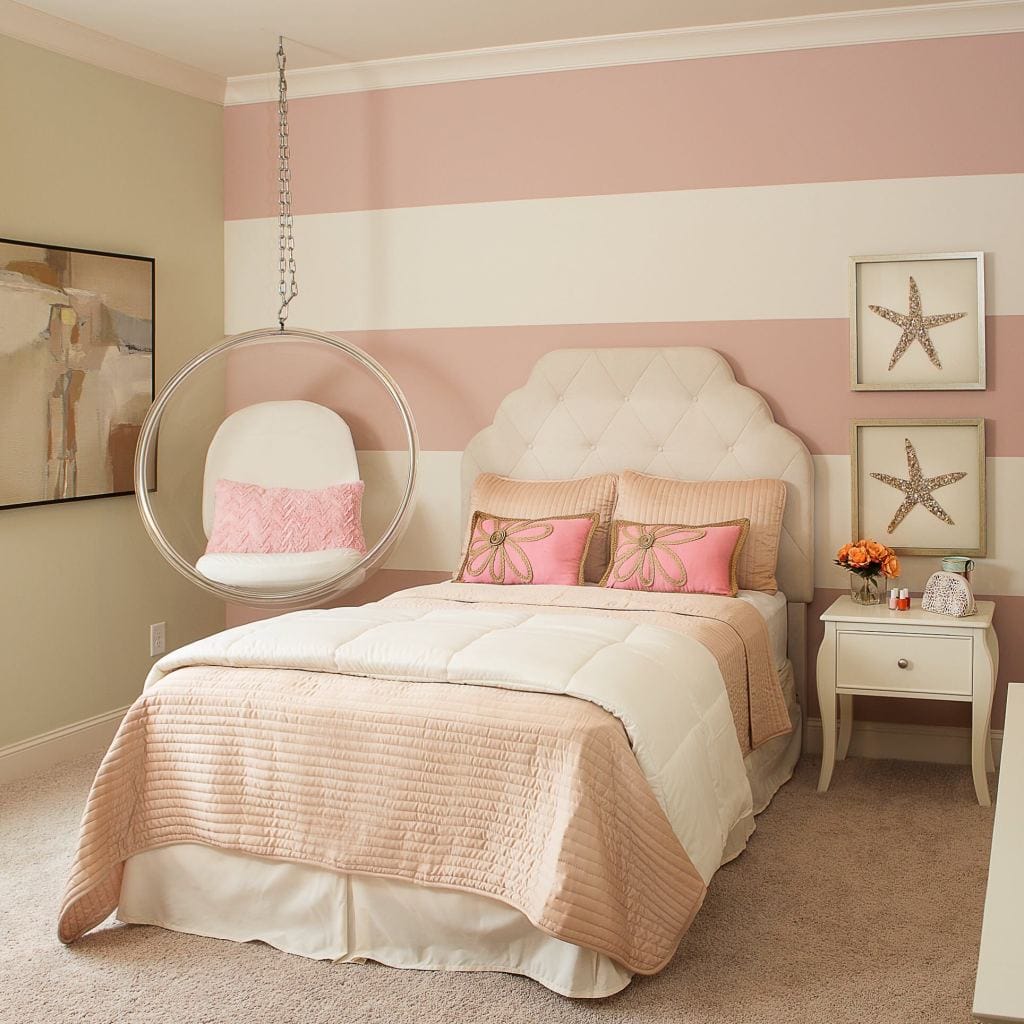 To get an elegant as well as luxurious design in the bedroom, you can try combining pastel pink, white, and beige for coloring the walls.
Firstly, apply the pastel pink and white shades for the stripe patterns. Set this design horizontally on one side of the wall close to the headboard. Meanwhile, you can merely do paint blocking on the remaining walls with beige color.
Moreover, to reinforce the elegant vibe, choose some decorative items in gold and metal colors. Further, pick a blanket with pink pinstripes accents so that your bedroom looks more impressive.
4. Vertical White and Pink Striped Wall with Beadboard Ceiling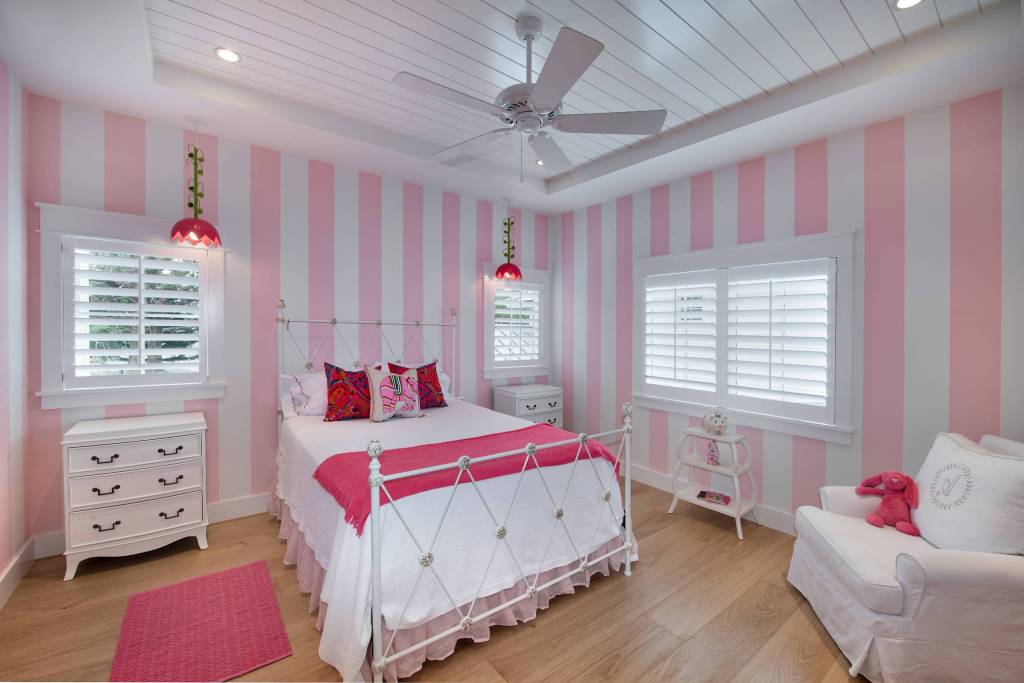 Who says striped wall design doesn't go well when it's coupled with textured beadboard ceilings? As a matter of fact, this combination will provide a more relaxed and cheerful atmosphere in your bedroom.
But, you can leave your beadboard ceiling white. Then start to make a stripe pattern in watermelon and white colors. Moreover, creating it vertically is the best way to make your ceiling looks higher.
5. Deep Salmon with Cream Vertical Stripes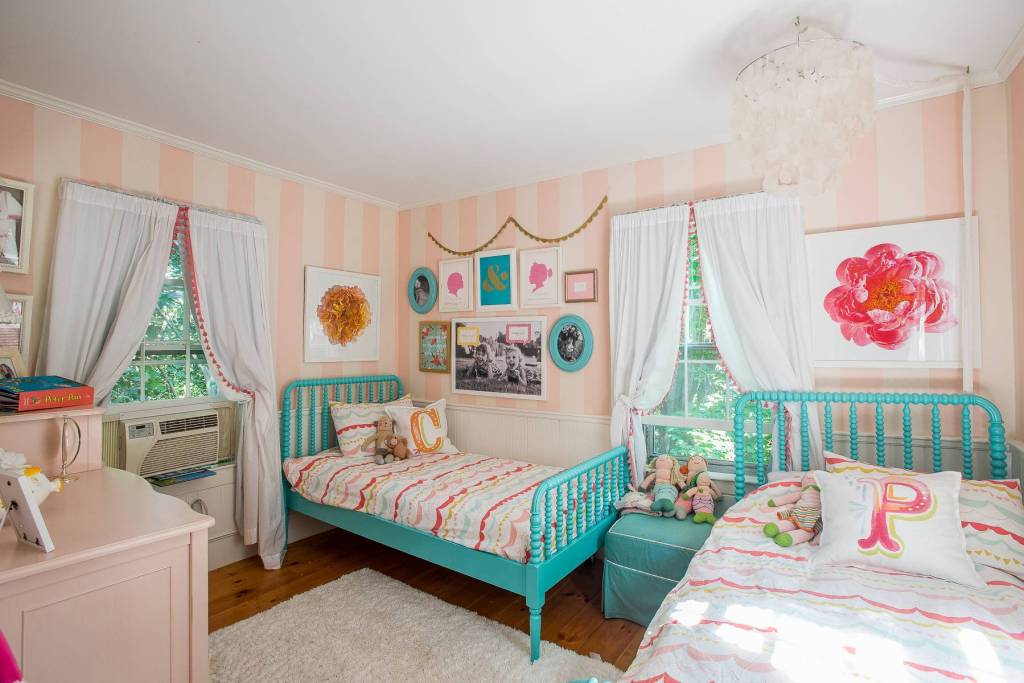 You can also get a brighter and more cheerful atmosphere in your bedroom by combining salmon and beige to create the pink striped wall design. Meanwhile, for the ceiling, please leave it in white.
Because the wall design is enough to provide a statement for your room, for that reason, if you want to hang some artwork or photos, it's better to choose a simple frame in white.
As for the bed, you can certainly go with a contrasting color like blue. Subsequently, it will help you give this space a cute focal point.
6. Veiled Rose and White Medium Stripes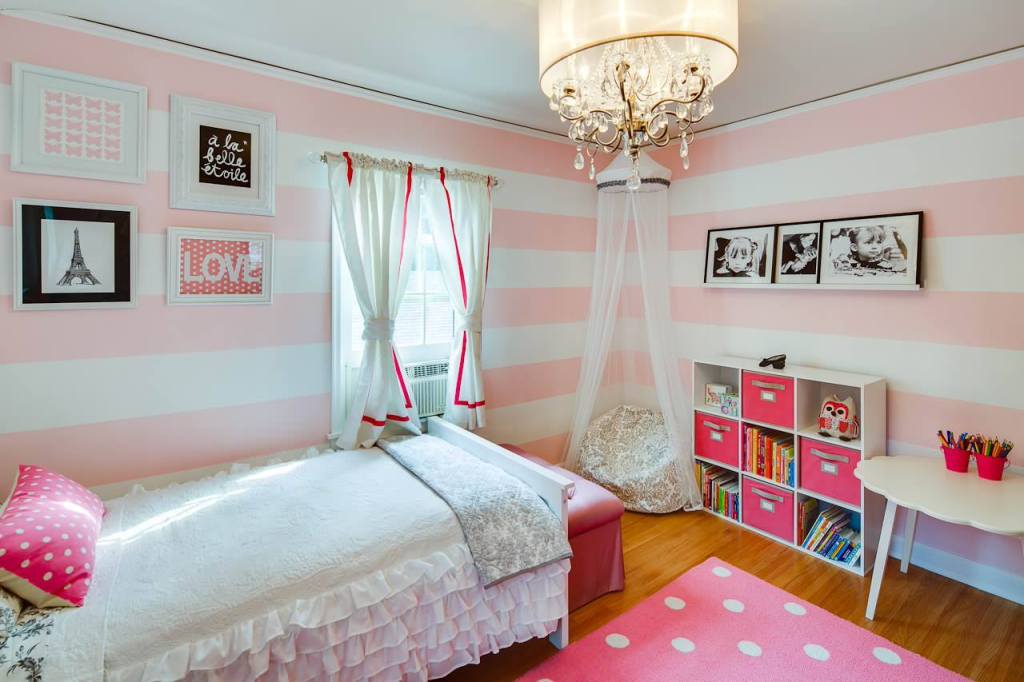 Of the many shades in pink, veiled rose can give you a softer as well as sweeter impression. So, you can simply pair this color with white to create a medium-sized horizontal stripe pattern.
The reason for making it medium and horizontal is so that your room looks more expansive than its actual size.
7. Cream and Coral Sand Pinstripes for Coastal Home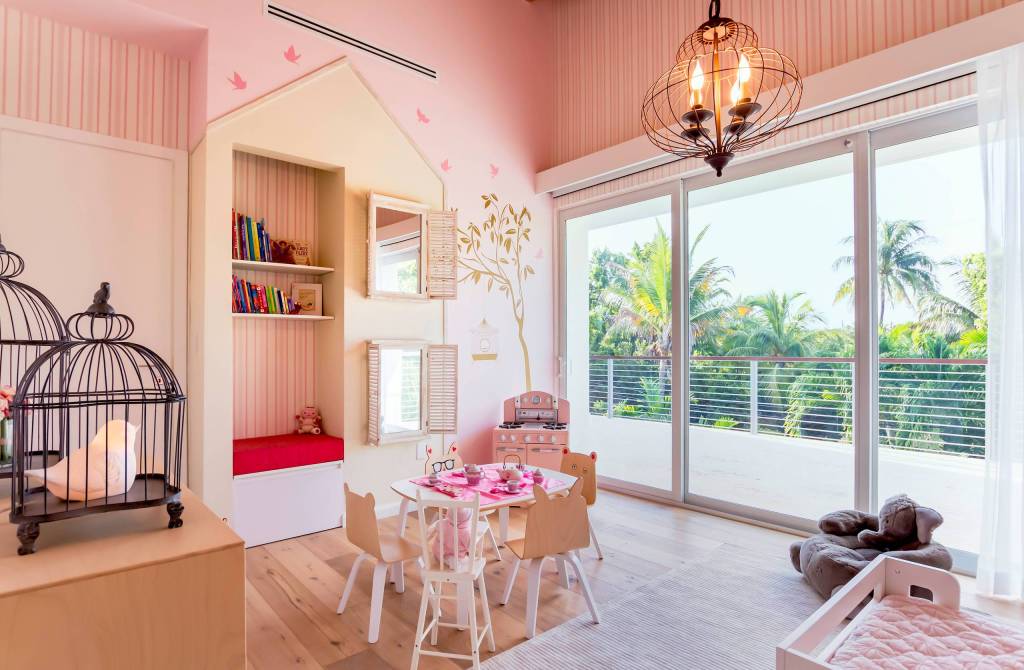 When the medium and horizontal pink striped walls are the solution to making your room look spacious, then choosing a theme with pinstripes and verticals is the best choice to make your ceiling higher.
Considering a combination of cream and coral sand for your child's playroom will be very suitable, especially for you who have a coastal home concept.
Instead of applying a pink striped wall design to all sides of the room, it's good to arrange it in a few different spots like above. Meanwhile, for the rest part, do paint blocking with pastel flamingos.
8. Hot Pink and White Vertical Stripes for The Entryway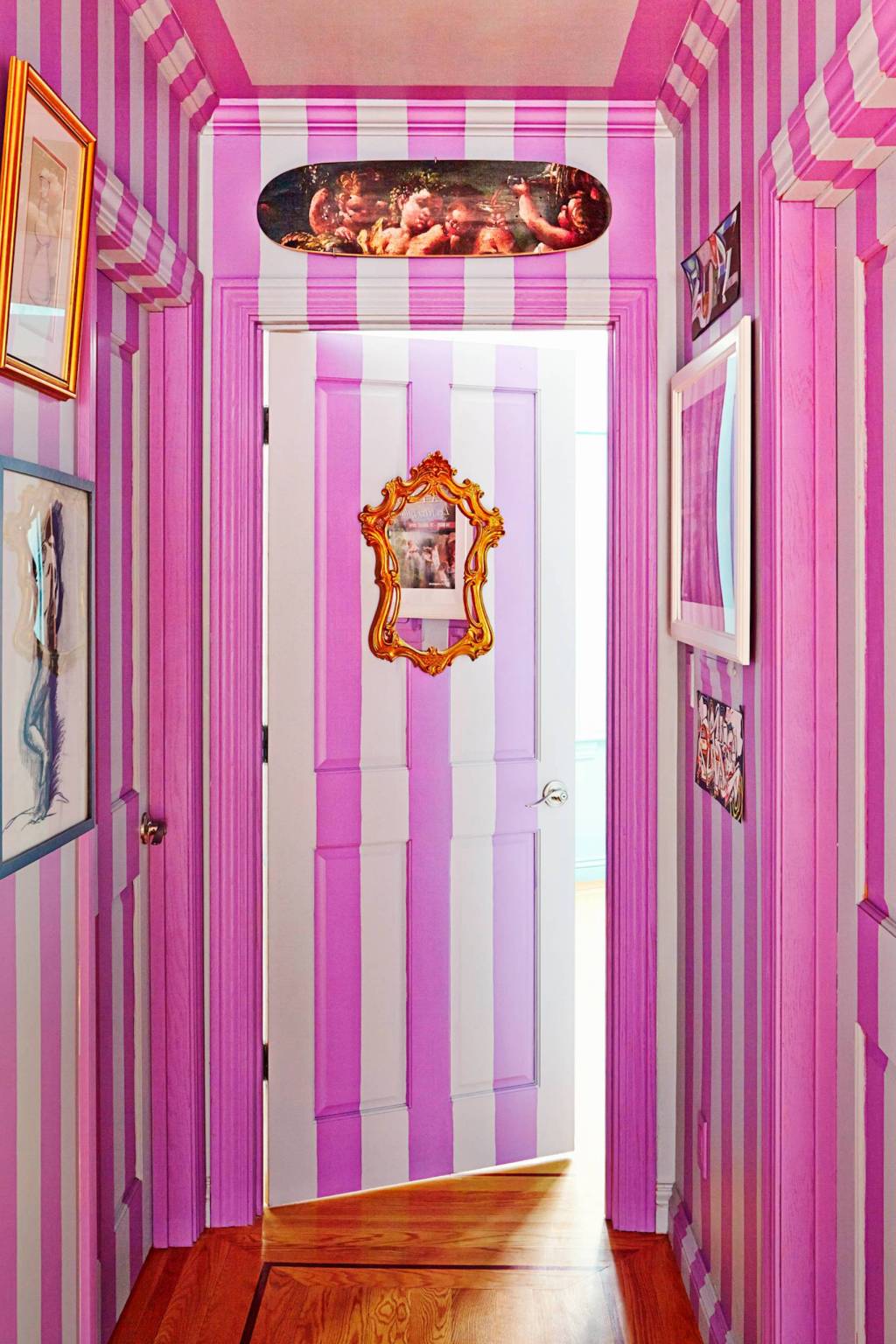 If you want something funky and also anti-mainstream for your entryway, try painting it with a hot pink striped wall design.
Don't be afraid it will ruin your interior decor. On the contrary, this idea will be the most successful spot to impress your guests.
Consider hanging some framed artwork along your hallway so that you can simultaneously have a unique and fantastic gallery spot.
9. One-Sided Flamingo Palette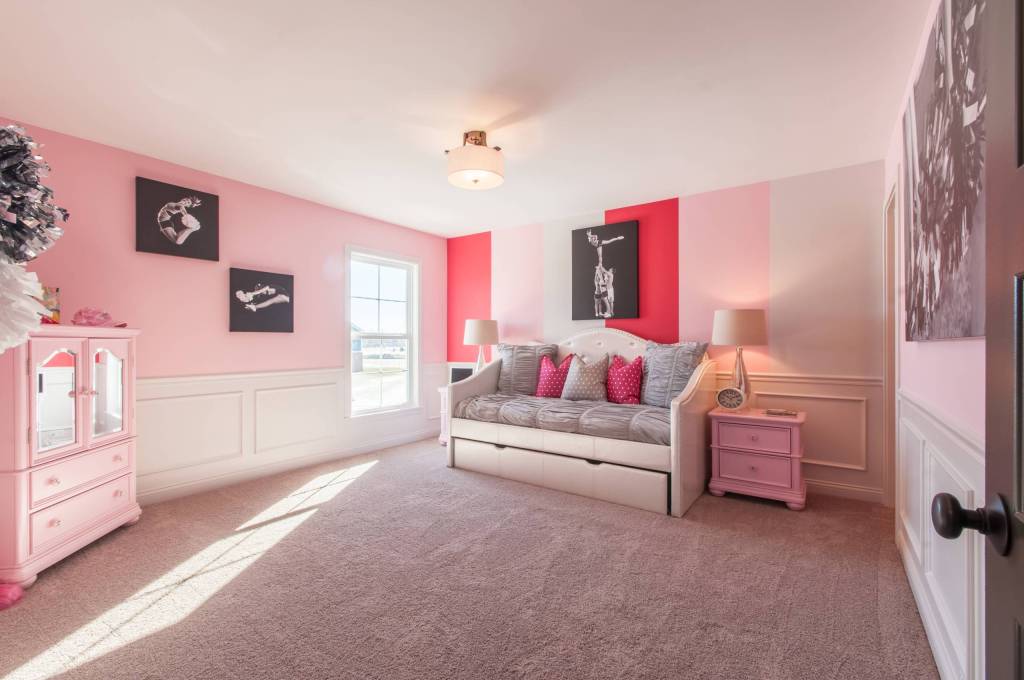 If you are a pink lover, you can also consider applying this pink striped wall design in your living room.
Therefore, one of the best ways is to make a flamingo pinks palette pattern on one side of the room close to your day bed couch. While for the rest wall parts, give it the pastel coloring.
As a result, the wall side with the flamingo pinks' palette pattern can become an impressive focal point for everyone who enters this room.
10. Cerise Pink and White Horizontal Striped Wall Paint Ideas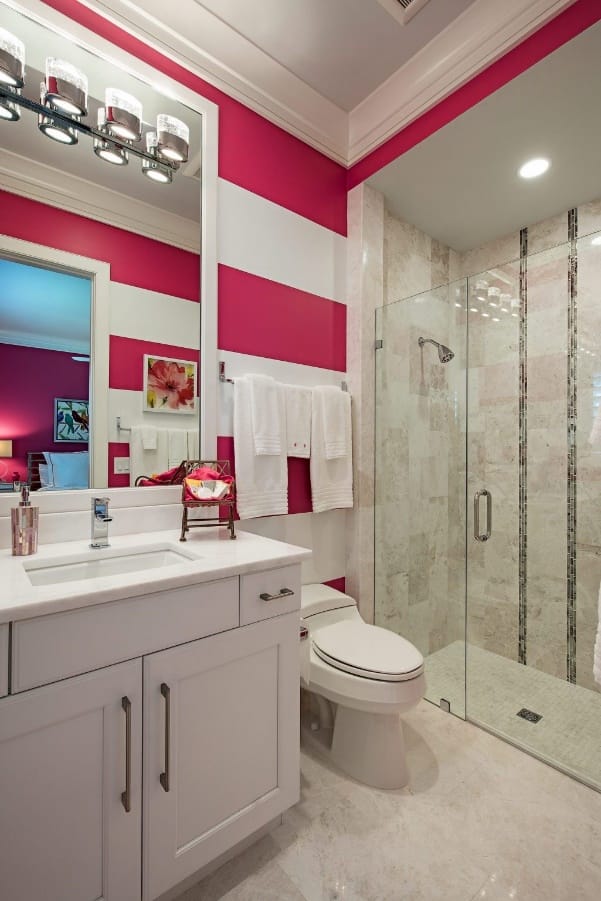 Another area in your home that you can decorate with pink stripes accents is the bathroom. Be it a private toilet or the master one, both of them will certainly look good in this concept.
By following the design above, you don't need to give a pattern to this entire space. Instead, you can leave your shower spot with the white marble walls.
Besides, you can choose the waterproof pink striped wallpaper instead of wall painting for the dressing room.
11. Punch and Baby Pink Wide Vertical Stripes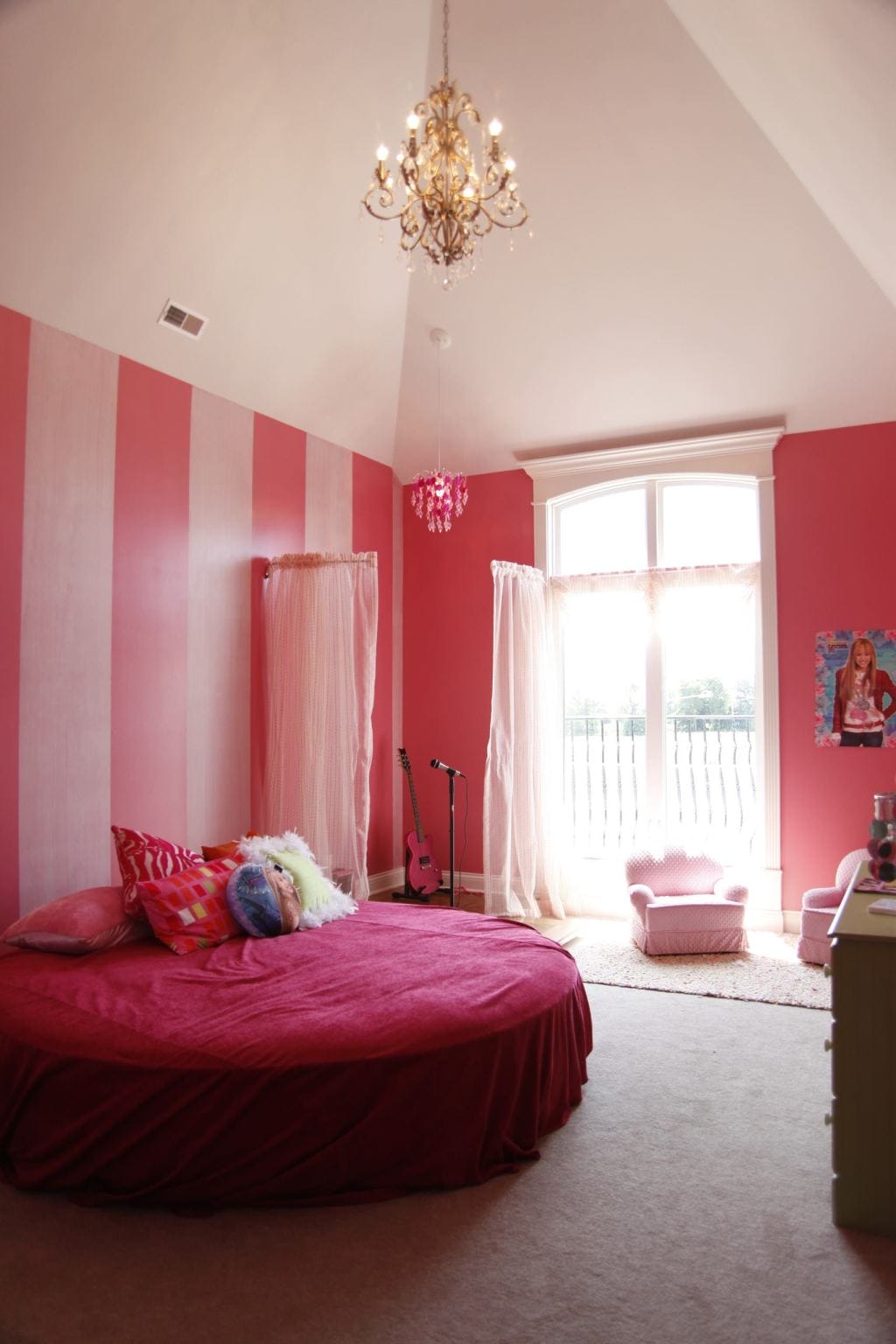 Instead of leaving your playroom with bland plain coloring, you can try redecorating it with this pink striped wall design to make it look more comfortable and impressive.
Then, combine the punch color with baby pink for a slightly colorful, feminine, and fresh look.
Further, make vertical and broad stripe accents so that your playroom looks higher and more expansive.
12. One-Sided Baby Pink and White Striped Wall
The one-side pattern on the pink striped wall design is one of the most popular among others. Besides making your room brighter, it can also be a less overpowering statement in that space yet still impressive.
By choosing to decorate only one wall, you can freely give a pattern to the other spot and items in your room, such as floors and bedding.
Moreover, you also don't need to be afraid anymore to hang some colorful framed artworks on the walls.
13. Pink Striped Wall and Pastel Green Accents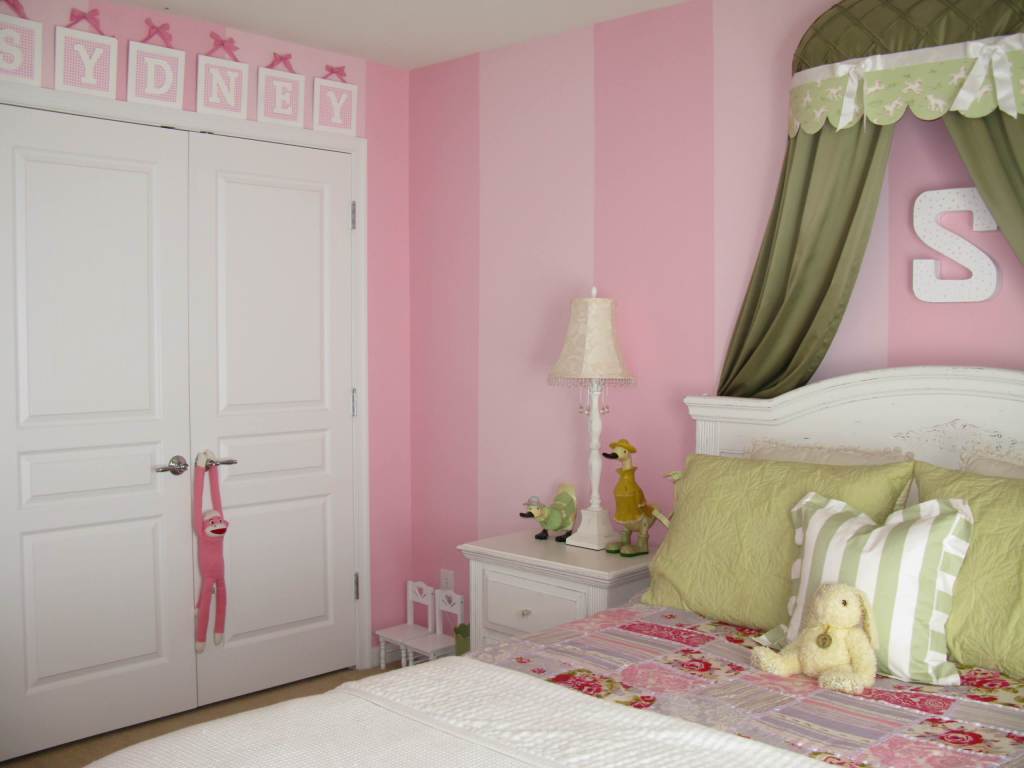 If you are the one who likes to mix as well as match colors, you can consider using pastel green to enrich your bedroom decor.
But, don't worry! It will go well with the pink striped wall design and still keep your personal space warm.
14. Pink Striped Wall Design with Gold Light Fixture for Modern Look
Generally, the striped wall design is indeed suitable for a modern home.
However, to make your room's interior design achieves a fantastic whole new look, try installing a light fixture with gold floral accents like the one above.
15. The Marriage of Pink Striped Wall and Black-White Dots Flooring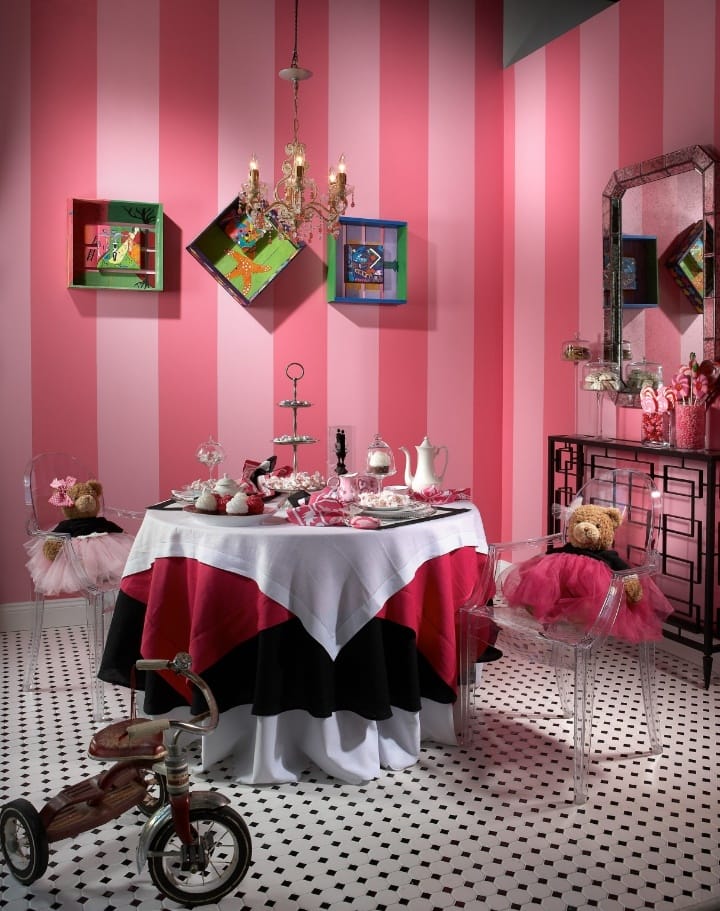 Mixing and also matching patterns is no longer a strange thing in modern home designs.
Therefore, you don't need to worry about expressing your creativity in combining a pink striped wall concept with neutral dots flooring like this.
Instead of making your child's playroom look stuffy, choosing the right color combination and a reasonably wide stripe size will make this space feel comfortable and fun.
16. All-Pink Concept with One-Sided Horizontal Stripes Design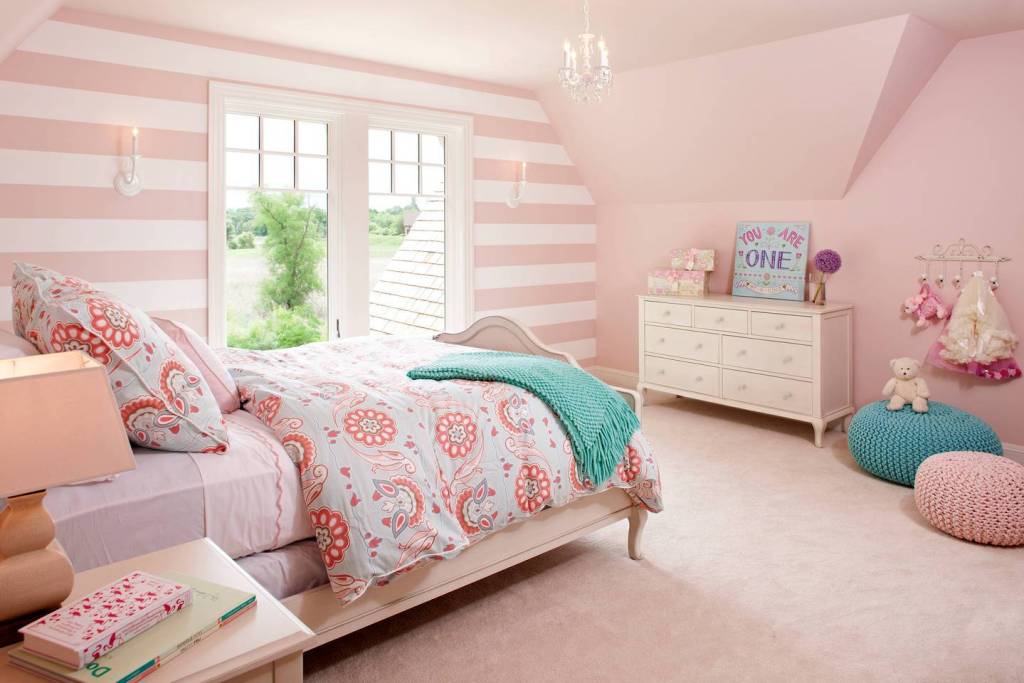 What's wrong with an all-pink theme for your daughter's bedroom? It will be very nice, though.
Furthermore, by applying this all-pink concept, your child's personal space will look cute.
It would also be best to try to make a horizontal stripes pattern on the one side wall close to the bed and window to avoid boringness due to straightforward paint blocking.
17. Ruby Pink Stripes and Purple Bedding Set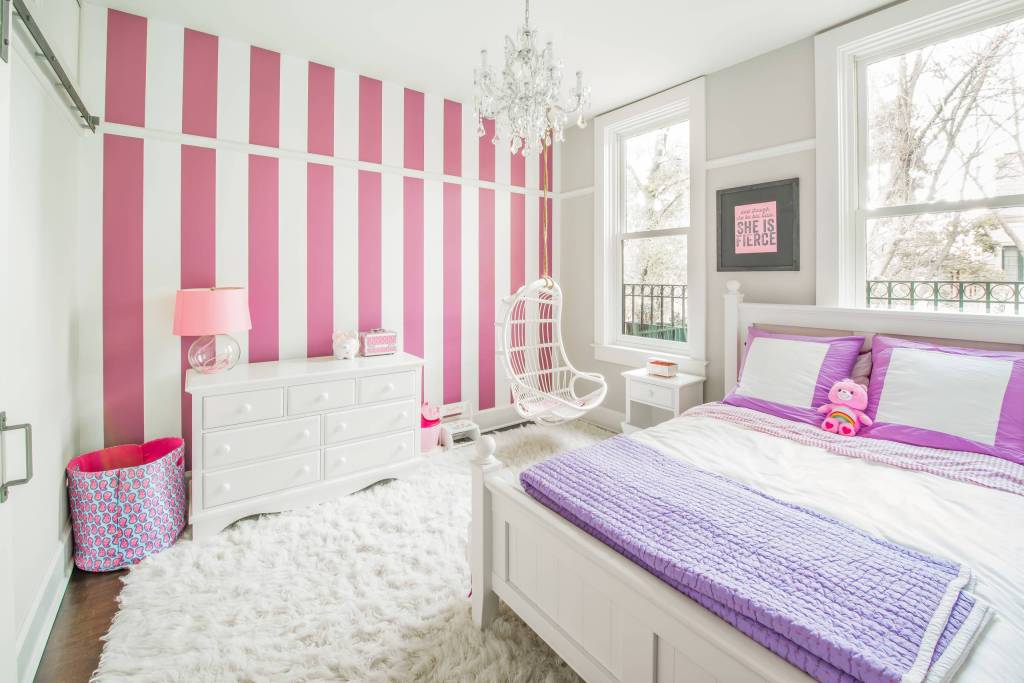 Pink as well as purple are some of the recommended color combinations that are perfect for decorating girls' bedrooms.
Simply bring the pink and white striped wall paint pattern above, then complement them with purple bedding, you will get the most exciting final result in the decorating project.
Moreover, this design also suits your daughter's preference for all ages. So, are you interested in bringing this pink striped wall design to your home?
18. Single Horizontal Stripe on Wall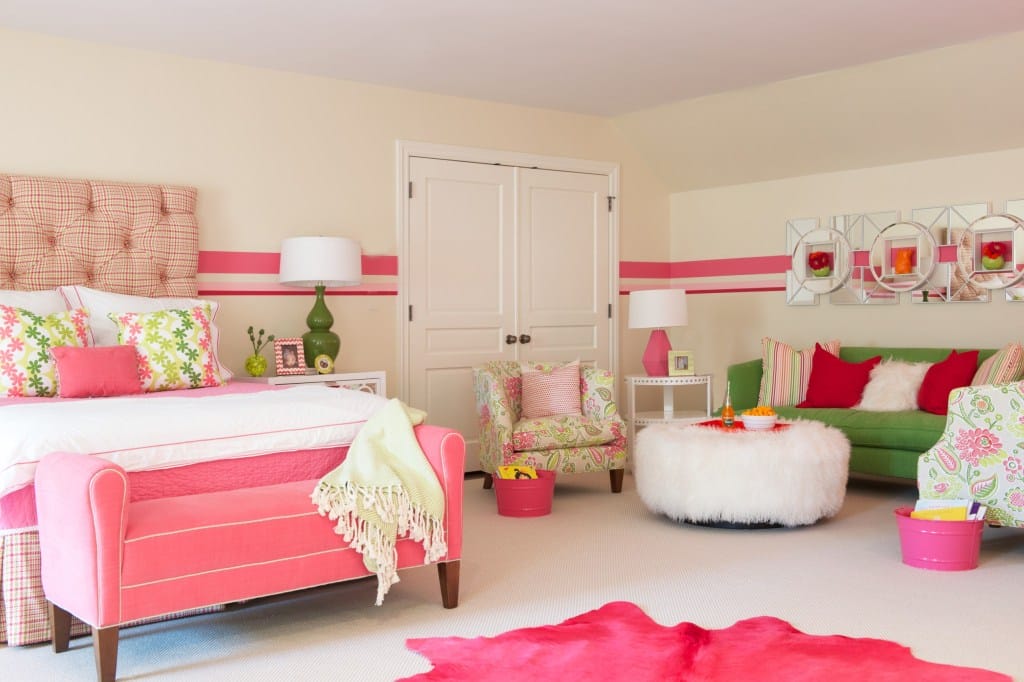 Suppose you are bored with an overpowering stripes pattern in your bedroom. In that case, try to make only a single horizontal stripe that surrounds the entire wall in your space.
As a result, your bedroom will appear more expansive and fresher.
It is not a single stripe, though, because you can still see a white pinstripe beneath the pink one as the trim. However, if you want to apply just one shade of pink as the line pattern, that's fine too.
19. Plain Pink Wall with Striped Ceiling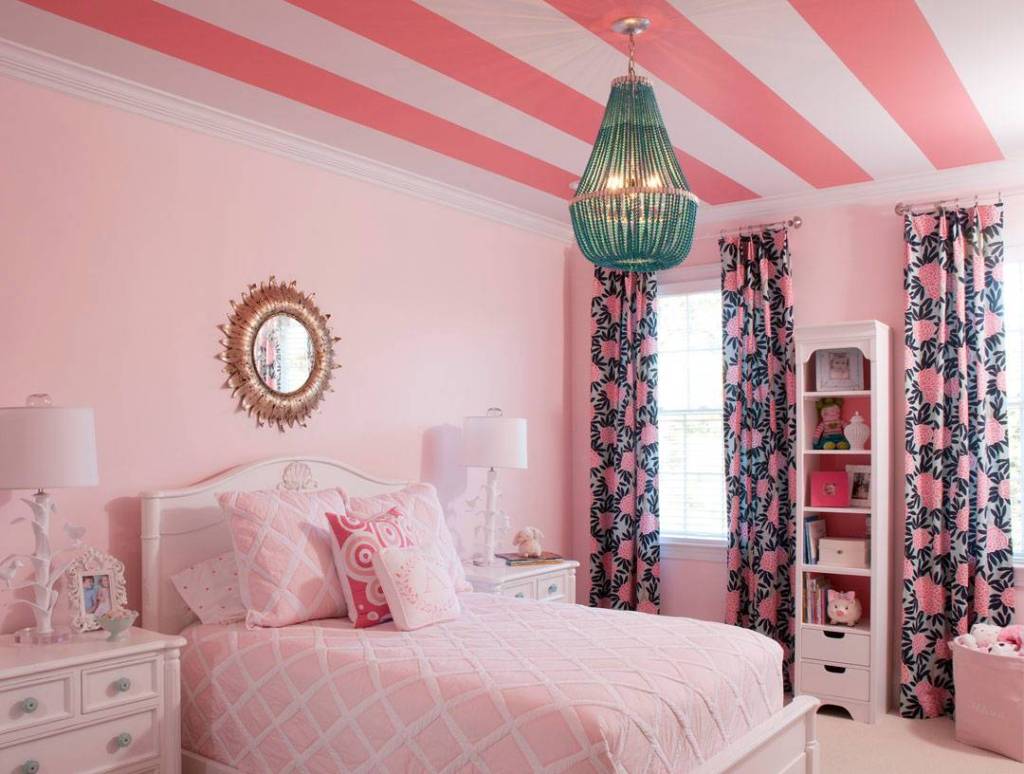 Suppose you want to leave your bedroom wall in plain pink but still want the accent stripes as the statement in this room. In that case, try to apply the pink striped wall design to the ceiling.
There is nothing wrong with going like this. Indeed, this concept will make your bedroom more unique and fun.
20. Multi-Size Punch and Watermelon Stripes
No rules limit you in implementing pink striped walls, both in terms of size and place to decorate. For that, you can try to mix sizes on the accent lines like the picture above.
To avoid the eye-popping decorations in your bathroom, choose two pink shades that go well together, such as punch and watermelon. Next, add deep gray and white pinstripes as the trim between them.
21. All-White Nursery Room with Pink Striped Flooring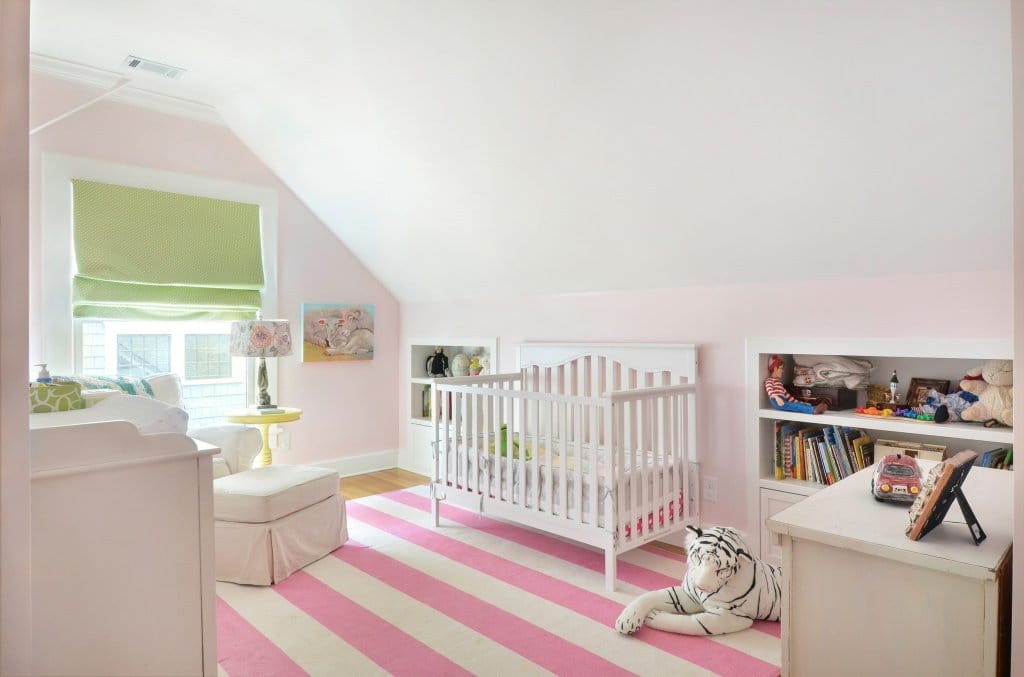 After experimenting with the pink striped ceiling, you can also try other unique things by implementing stripe accents on your floor.
There's not much effort to put into this design, just set the pink striped carpet to your flooring, and it's all done!
22. Peach and Coral Striped Wall for Bathroom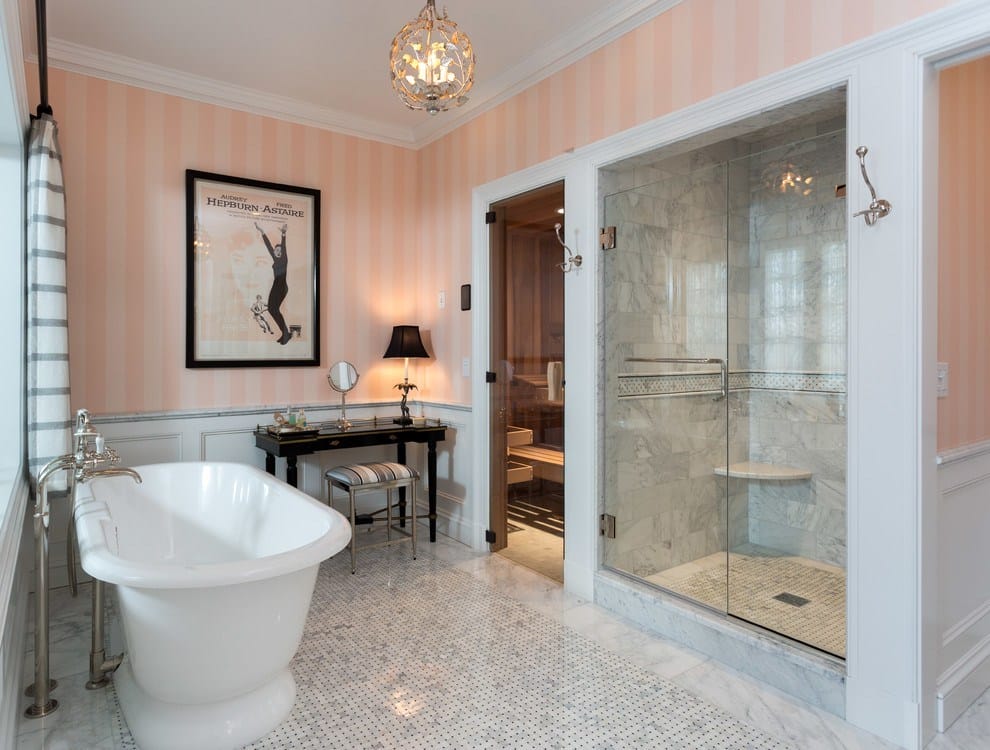 There are tons of shades for pink.
Therefore, you must be able to choose whichever one will work in harmony, presenting a perfect pink striped wall design that suits your preferences.
You can combine some bold pink colors to decorate your bathroom; indeed, it will create a strong impression. Conversely, if you want something a little warm and sweet, try combining coral and light peach as above.
23. Pink and Blush Horizontal Stripes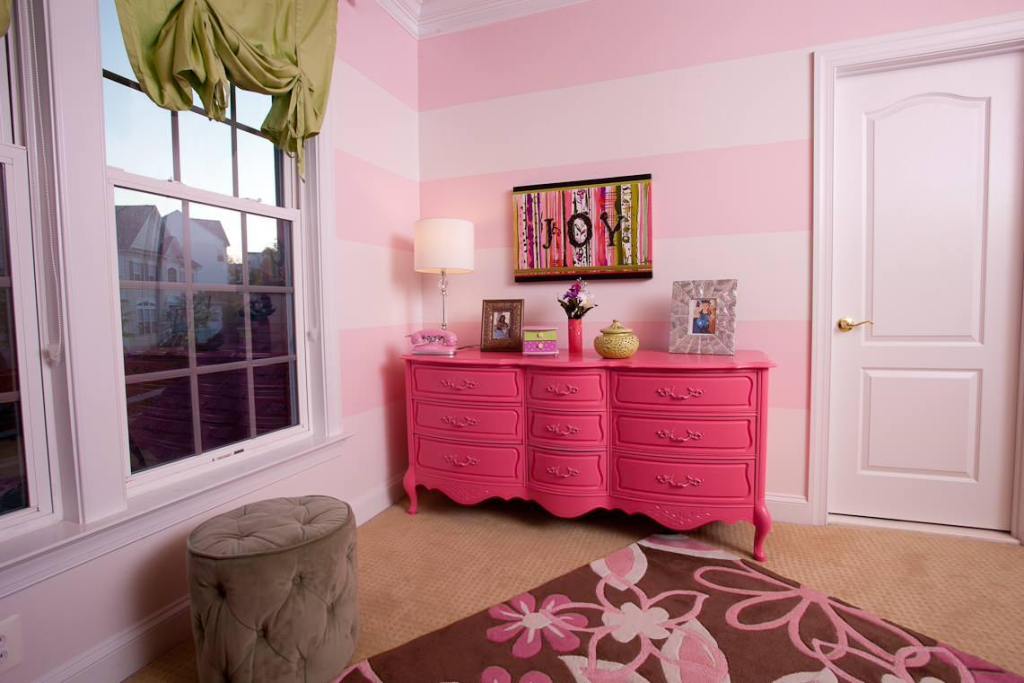 If you want to have a pink striped wall design that can perfectly showcase your furniture, you can go with soft pastel colors.
Pink and blush are the ones that are suitable to support the presence of your bold punch dresser.
24. Plain Light Gray Wall and Pink Striped Ceiling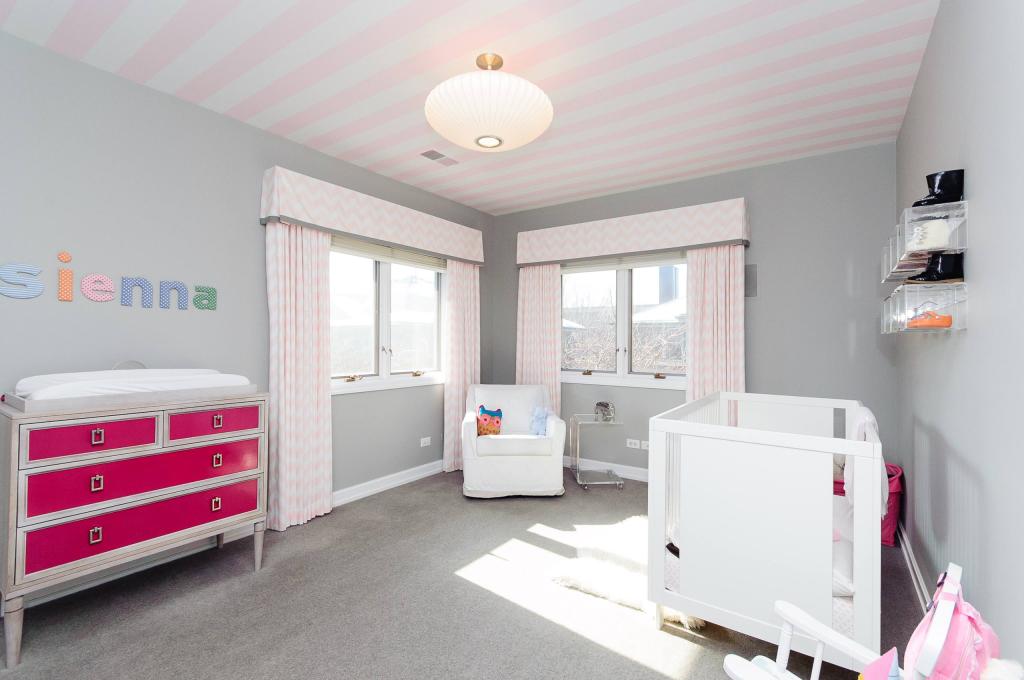 Suppose you have been looking for many pink and grey striped wallpaper ideas, but none of them match your preferences. In that case, try again to accent stripes on the ceiling instead of the walls.
Merely give the ceiling striped pattern in white and pink and paint the wall light gray on all sides. To give it a final touch, you can hang some decorative ornaments on it.
25. Horizontal Pink and White Striped Wallpaper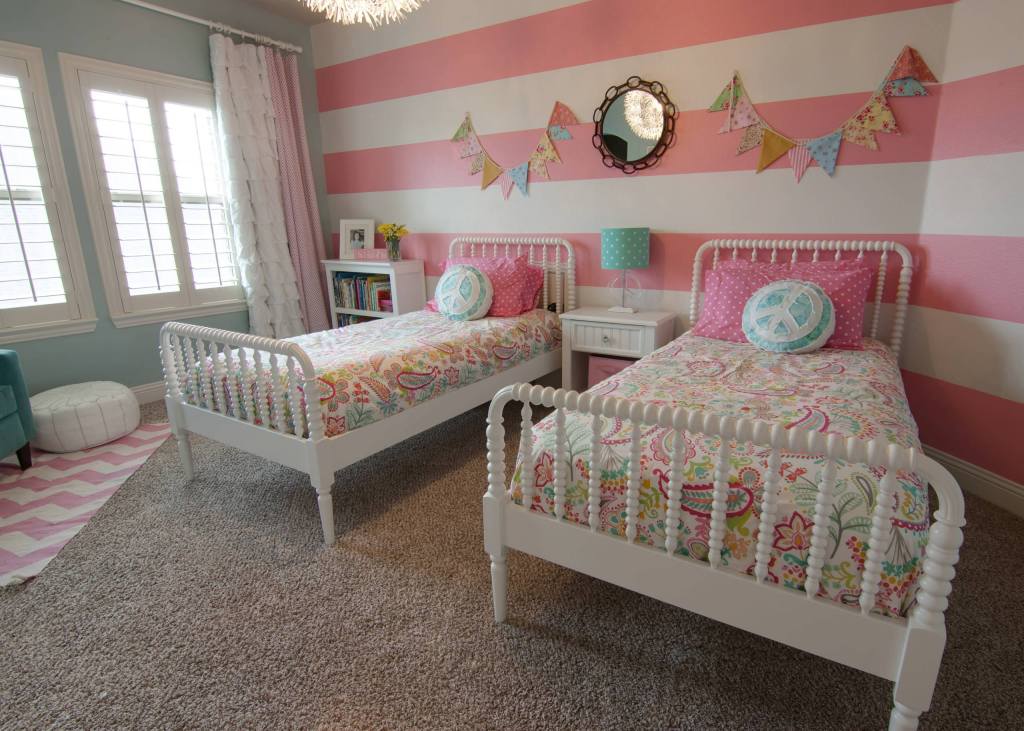 You don't need to be confused about giving your twin daughters a room with a sweet and impressive decoration because this white and pink striped wall design has given you the best solution.
Merely install a horizontal striped wallpaper to make the room look wider. Then complete the floor with a beige carpet and bedding with floral accents. Doesn't this look cute?
Finally, the recommendation for pink striped wall designs has reached the ultimate part. If you've found a theme that suits your tastes perfectly, immediately consider redecorating your room in your weekend. Good luck!