Your sweetheart is not so little anymore. Now, she becomes a kid. Moreover, the baby's nursery that you created isn't suitable for her. Then, it is time to apply one of our splendid toddler girl bedroom ideas.
Creating a bedroom for your little darling certainly requires a lot of effort and dedication. The space should represent her personality and encourage playtime. Essentially, it is not only fun but also comfortable and soothing.
Furthermore, your little's lady bedroom shouldn't be boring. You must find the right theme or motif first.
We also suggest looking for things that she really loves and then picks a color palette. Without further ado, let's dive into our gallery!
1. Toddler Girl Bedroom Ideas with Vintage Decorations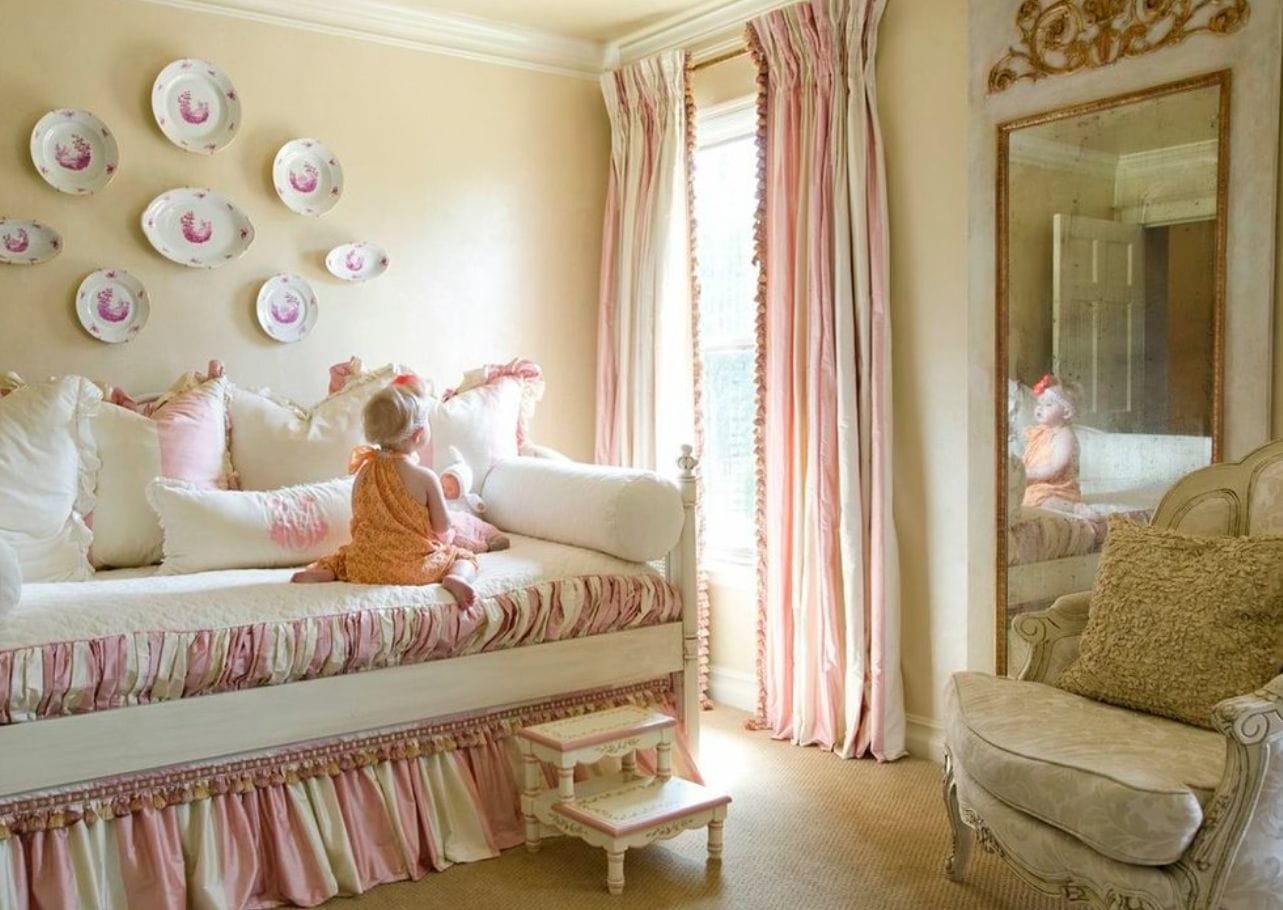 If you and your beloved daughter have classic tastes, then try this shabby chic bedroom design. First of all, paint the walls beige. The color will effortlessly carve a restful atmosphere.
We suggest choosing furniture and mirror with golden accents for a glamorous vibe. Meanwhile, bed skirts, pillows, and curtains wear light gold as well as pink. They produce a girly appeal in no time.
Pink and white French dinner plates adorn the wall over the daybed. They deliver vintage elegance to the bedroom.
2. Cute Toddler Girl Bedroom Ideas
This little girl's sleepy space boasts a neutral color scheme. It provides lots of room for both vibrant and cheerful colors. The white ceiling and walls generate an open ambiance as well as a light feeling.
Moreover, the furnishings and decorations come in bright colors. They bring a fun atmosphere to the interior instantly. The bold patterns lend the bedroom visual interest.
Shag stool and area rug give off a cozy vibe. Despite having the unexpected blend of vibrant patterns and colors, this traditional bedroom still feels cohesive.
3. Toddler Girl Bedroom with Ceiling Mural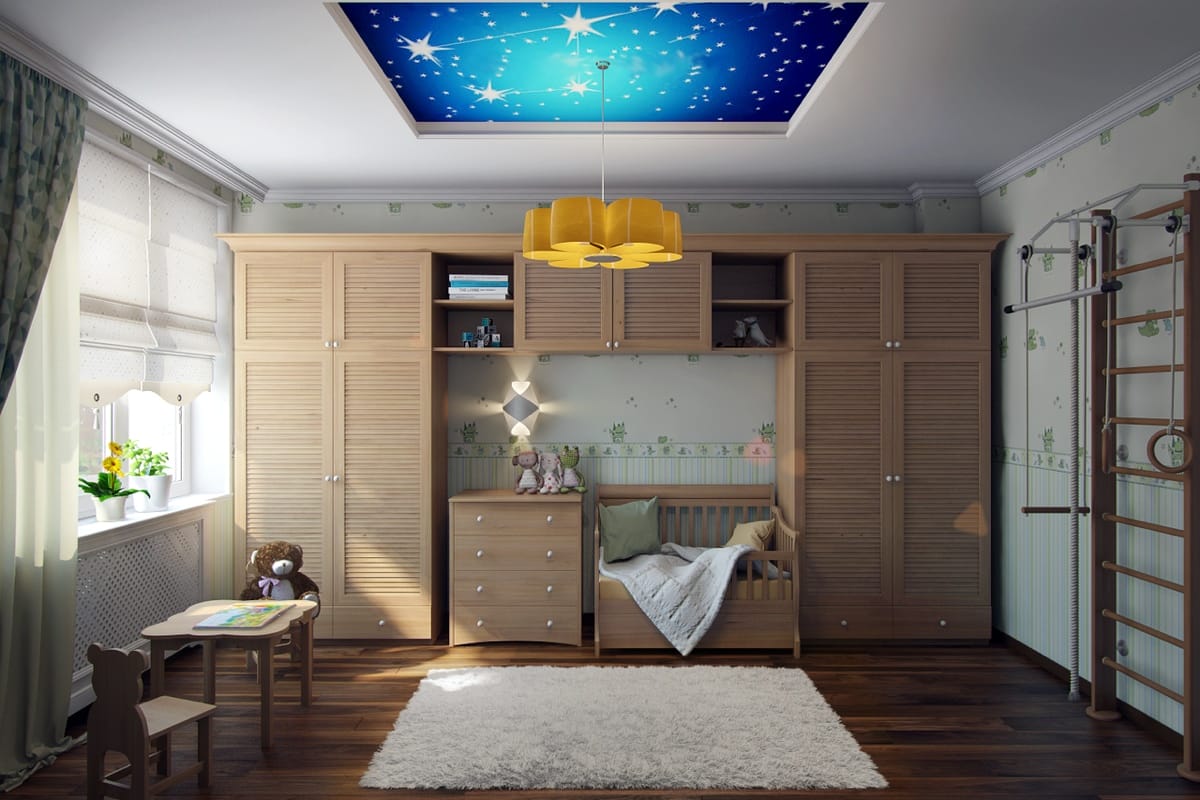 In this case, the bedroom features a wood floor and furniture units. They send out an inviting vibe and a restful ambiance. The place itself allows your little darling to get plenty of rest as well as sleep.
Bear wooden children's chairs definitely encourage playtime. Meanwhile, the yellow ceiling light carries instant cheer to the bedroom. The plush toys convey a sense of youthfulness.
The stunning ceiling treatment employs a dark blue night sky and lots of twinkling little stars. We believe it will appeal to your toddler girl's senses and let her imagination run free.
4. Purple Bedroom Ideas for Little Girls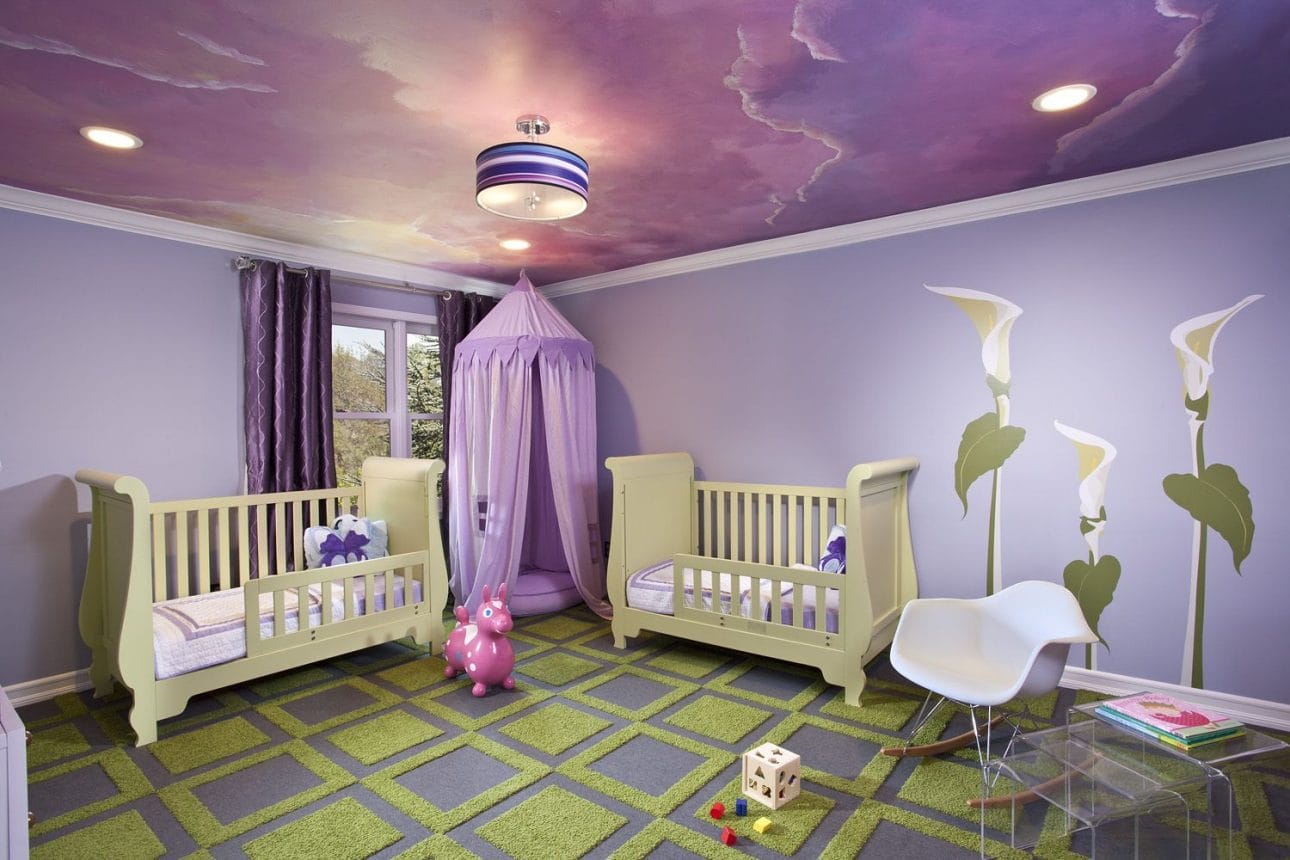 Do you have two daughters? If so, then this is one of the twin lovely baby girl bedroom ideas to try. The colors for both ceiling and walls are already intense. That's why the homeowner chose accessories with subtle patterns.
This bedroom for toddler girls will spark your children's imagination. Moreover, the ceiling looks surreal. Not only does it wear varying purple shades, but also evokes a sense of fantasy.
Geometric patterned area carpet makes your little girls feel like they walk barefoot on grass. Meanwhile, the calla lily wall mural turns the bedroom into a magical retreat. This space is whimsical and calming.
5. Paper World Themed Toddler Girl Bedroom
Speaking of toddler girl bedroom ideas, you should choose a specific theme first. In this example, the homeowner opted for a paper world. It transports her little sweetheart to a world with cheerful colors and imaginings.
Yellow pastel, pink, and sherbet green come together in this sleepy space. Moreover, various playful patterns add a youthful personality to the bedroom.
Round rug, throw pillows, and plush toys cozy up the room instantly. Taupes, grays, and beiges tone bright colors down. They also exhibit a soothing ambiance.
6. Lovely Toddler Girl Bedroom Ideas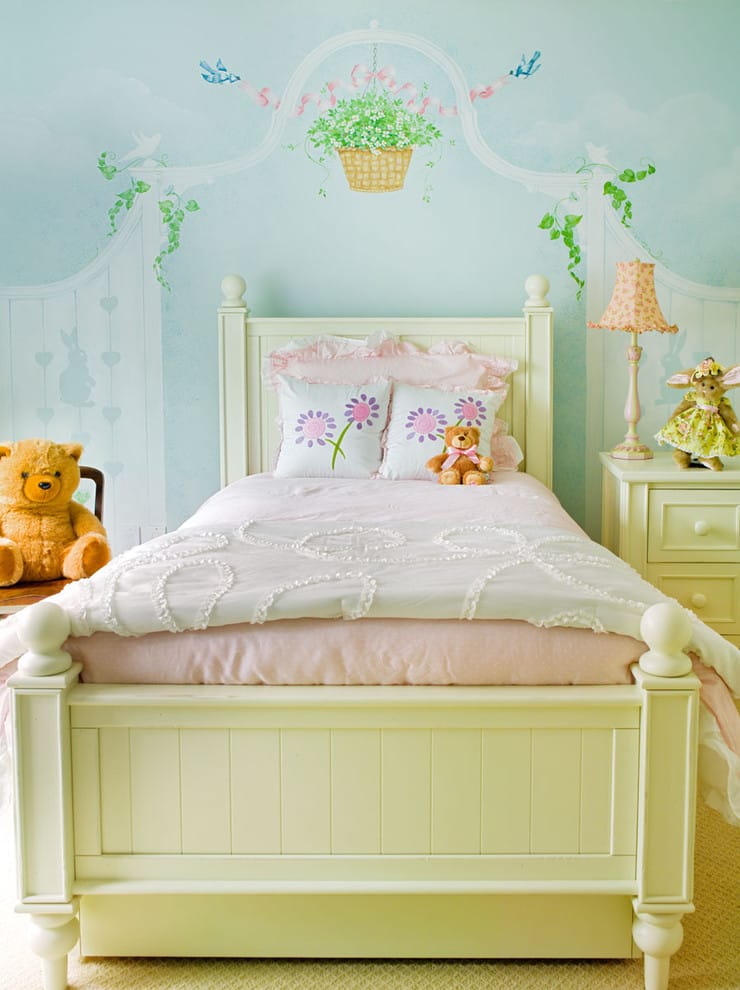 If your little darling is interested in plants, then try this bedroom design. Here, the wall features a fun garden gate mural. The soft, delicate colors will make her feel relaxed and calm for certain.
Furthermore, the adorable garden gate mural gives the bedroom a playful vibe. It delivers a touch of whimsy to the sleepy space too. French country furnishings ooze vintage appeal in a jiffy.
Light pink bedsheet carves a girly feel. Meanwhile, floral throw pillows complement the wall mural. Lastly, plush toys round out the interior.
7. Small Toddler Girl Bedroom Ideas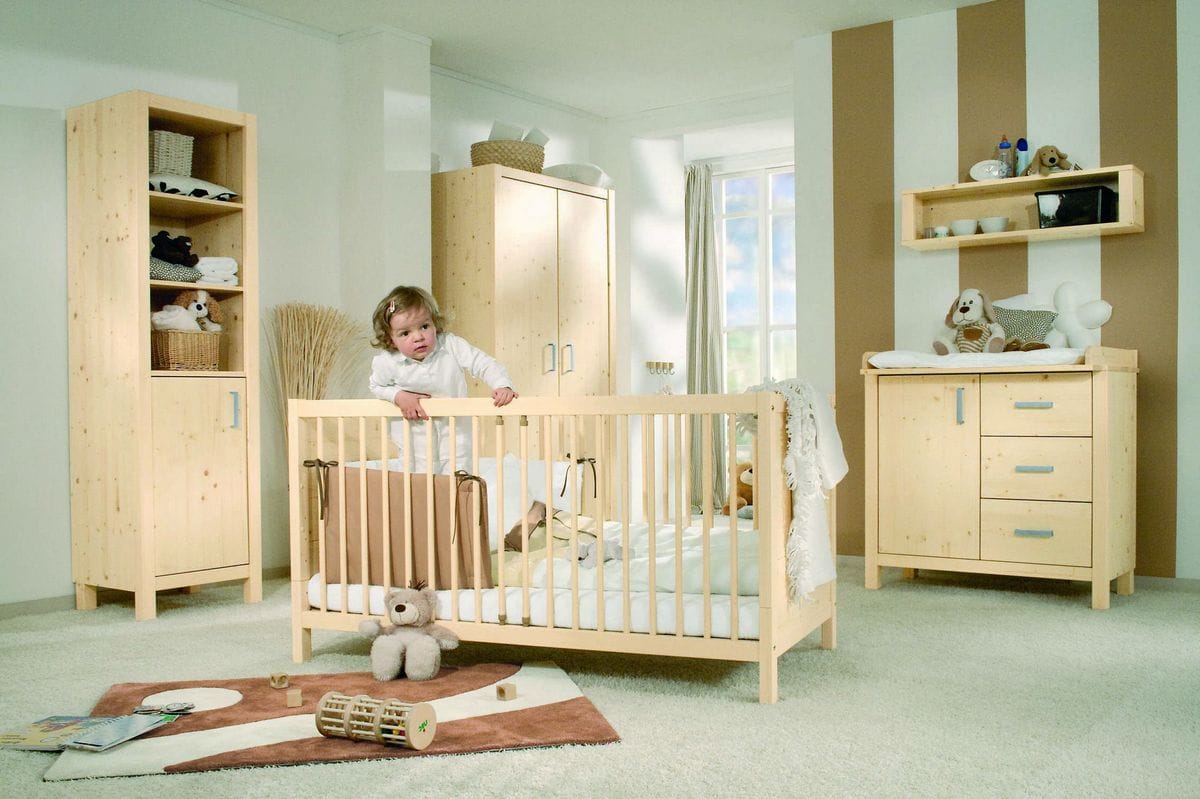 Talking about toddler girl bedroom ideas, you can't go wrong with a neutral color scheme. It does not only have lots of room for bright colors but also makes space feel bigger and airier.
In this case, muted neutrals wrap the bedroom from the wall to the floor. They quickly infuse a sophisticated vibe and an elegant feeling into the interior.
The striped wall wears calming soft browns. Meanwhile, the furniture units come in a pale woodsy tone. They make a nice serene accent in the space. Lastly, the area carpet will cushion your toddler girl's fall.
8. Storage Solutions for Toddler Girl Bedroom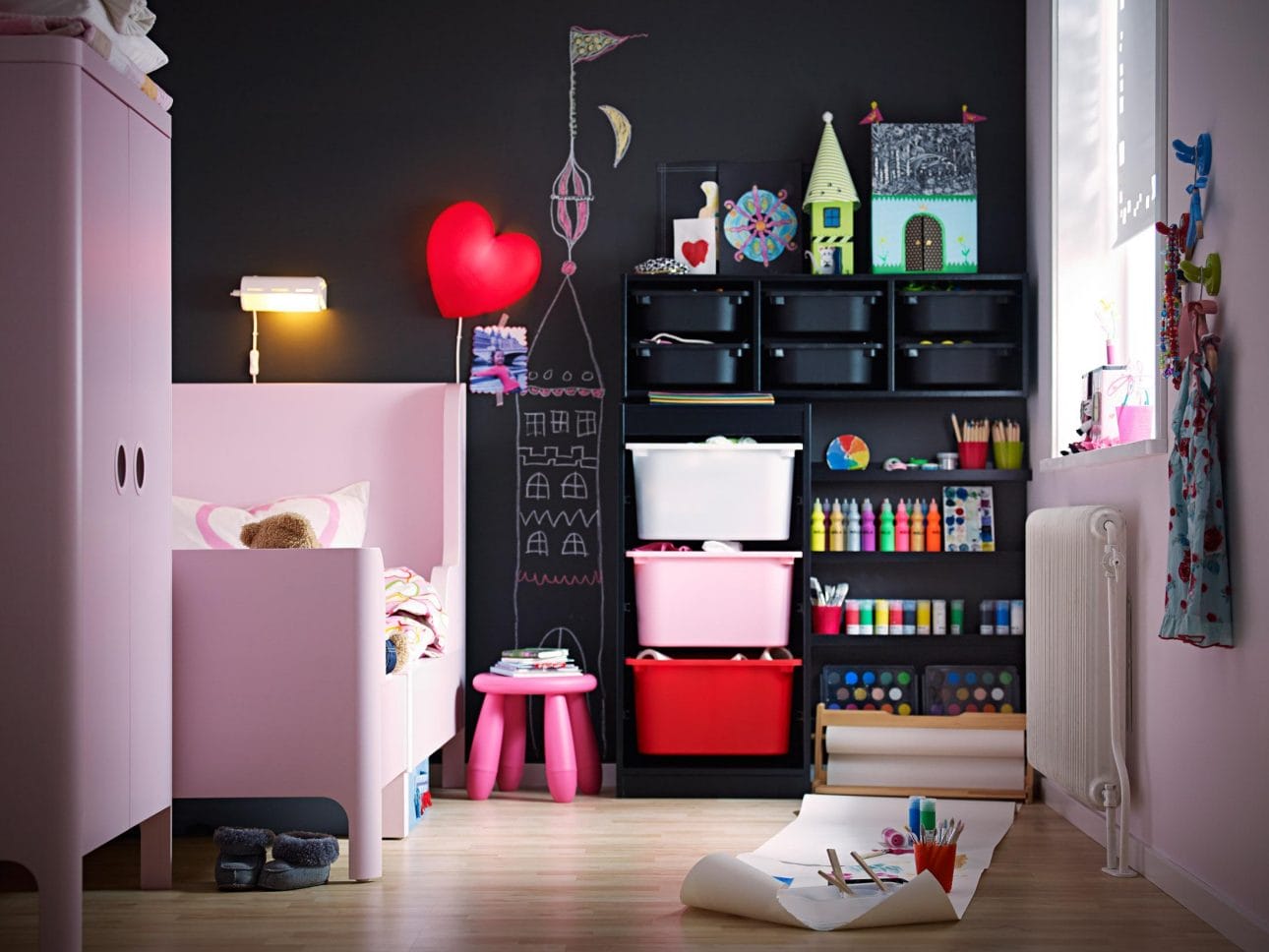 As we said before, a toddler girl's bedroom should encourage playtime. It's important to keep the area clutter-free. That way, there are more fun activities in the sleeping space.
For storage solutions, you can use wall-hung rails and ledges. They can accommodate your little girl's toys and art supplies. The units also work as a nice colorful display.
We recommend choosing vibrant bin baskets. In a flash, they inject a playful element into the bedroom. The pieces evoke a fun ambiance as well.
The chalkboard wall helps unleash your little girl's inner artist. Meanwhile, the pink bed and cupboard create a girly appeal.
9. Dollhouse Themed Toddler Girl Bedroom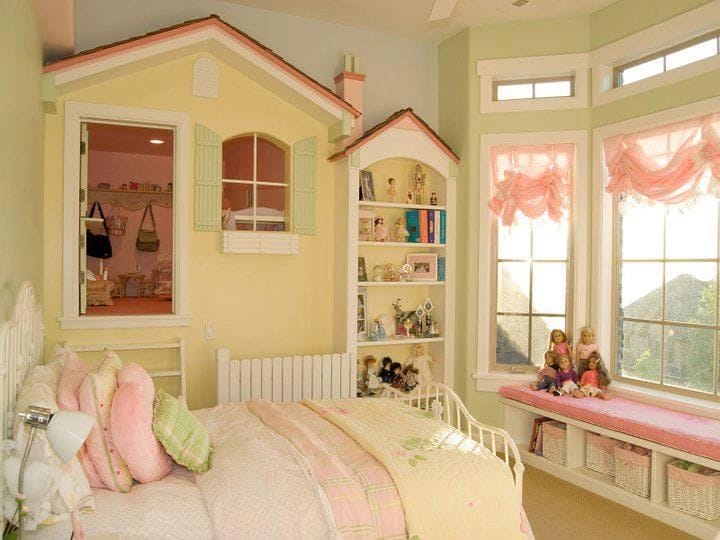 Does your little sweetheart love dolls? If so, then implement this dollhouse inspired bedroom design.
Without a doubt, the theme is a perfect fit for her. Speaking of color scheme, you should use pink, pastel yellow, and mint green.
The custom-made playhouse is certainly a terrific treat. However, if you aren't willing to spend a lot of money, no worries. We have toddler girl bedroom ideas on a budget. Be sure to use the same color palette.
Furthermore, we suggest including furnishings with different subtle patterns in the room. Then, give the space dollhouse elements. You could use your little darling's dolls. They will personalize her bedroom.
10. Toddler Girl Bedroom Ideas with Monkey Bar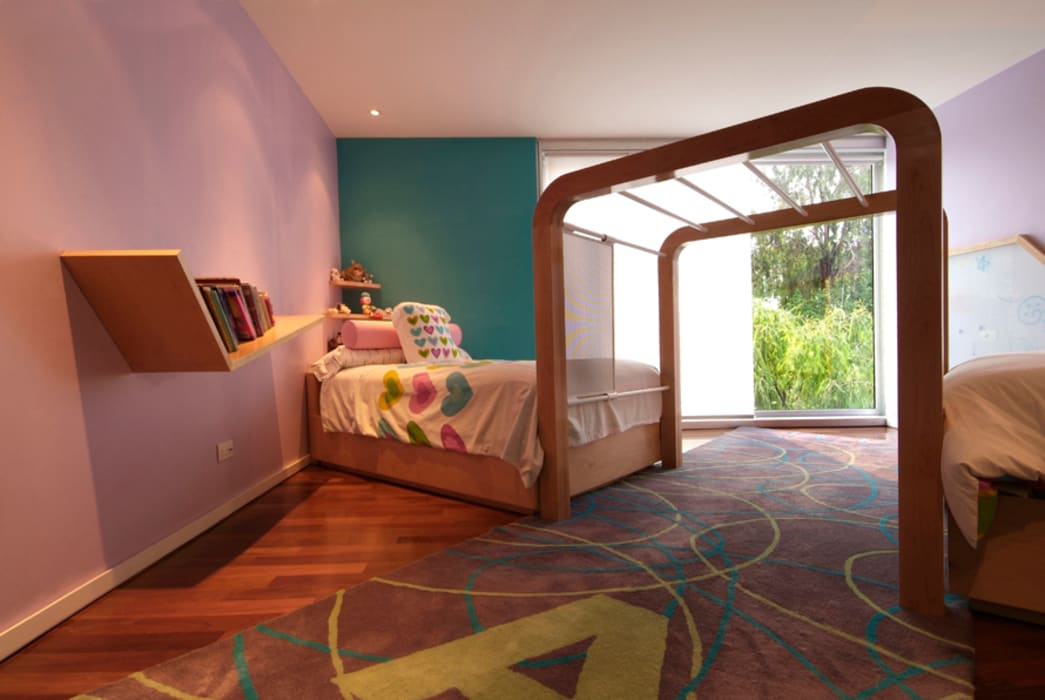 This bedroom lets your toddler girls enjoy an indoor play area. It definitely encourages both playtime and bedtime.
Moreover, these custom beds are a cool addition to the bedroom. They come with wood and metal monkey bar. It will keep your active kids busy for certain.
The walls sport pastel hues. Meanwhile, beddings and rug boast playful patterns as well as bright colors. They all develop a fun atmosphere. Warm lighting exudes a relaxing ambiance.
11. White and Wood Toddler Girl Bedroom Ideas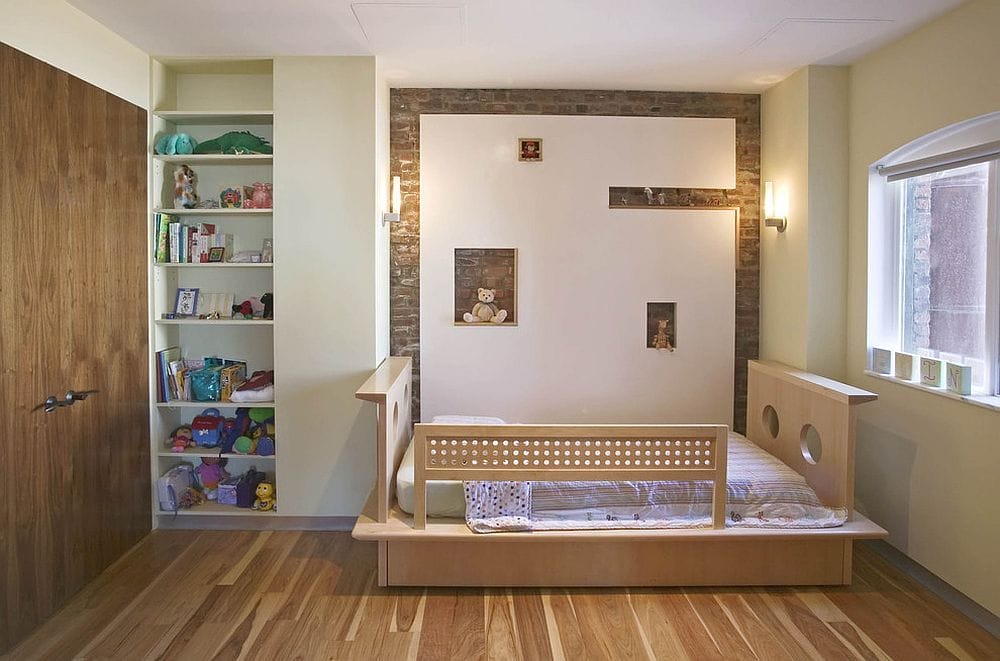 We recommend buying convertible furniture. Make sure it grows with the toddler girl of yours. The unit does not only add practicality to the space, but also helps save some money.
In this example, the baby crib can convert into a toddler girl's full bed. It would be a wonderful complement to the teen's bedroom, too.
Adorning your little girl's bedroom is certainly important. However, you have to spend money wisely. Furthermore, investing in furniture pieces that can accommodate her teens is a great choice.
12. Toddler Girl Bedroom Ideas with Small Tent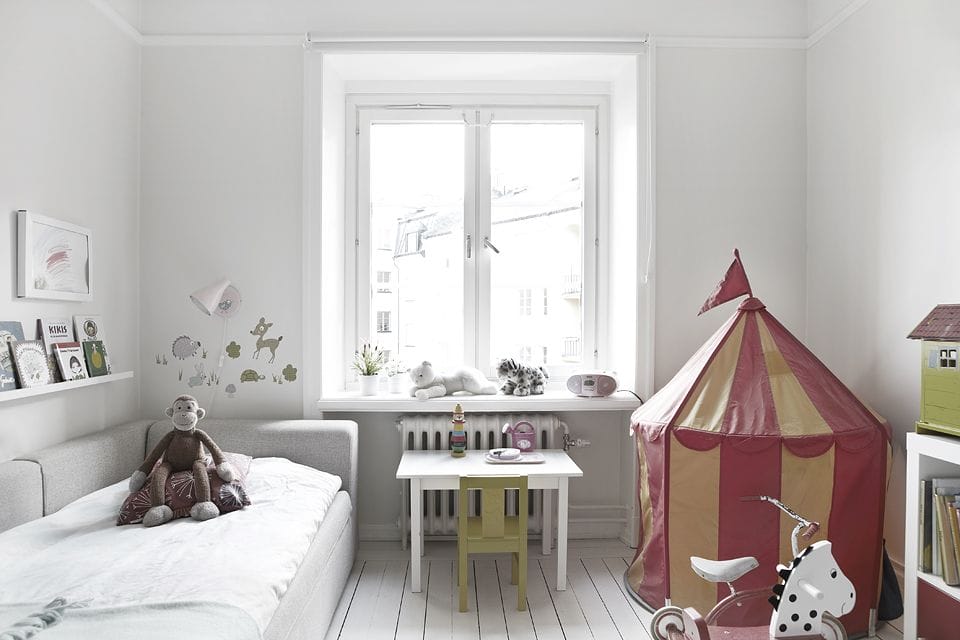 As you see, the bedroom features a crisp white ceiling, floor, and walls. They make a nice neutral background and carve an open vibe. Furthermore, it offers plenty of room for intense colors and bold patterns.
The small tent lets any toddler girl go to the indoor circus or just camping out regardless of the weather. It can also work as a reading spot for your sweetheart. She could snuggle up and play her favorite character.
Moreover, the colorful tent in this bedroom will create a focal point. It helps encourage your little girl's imagination during playtime as well.
13. Eclectic Toddler Girl Bedroom Ideas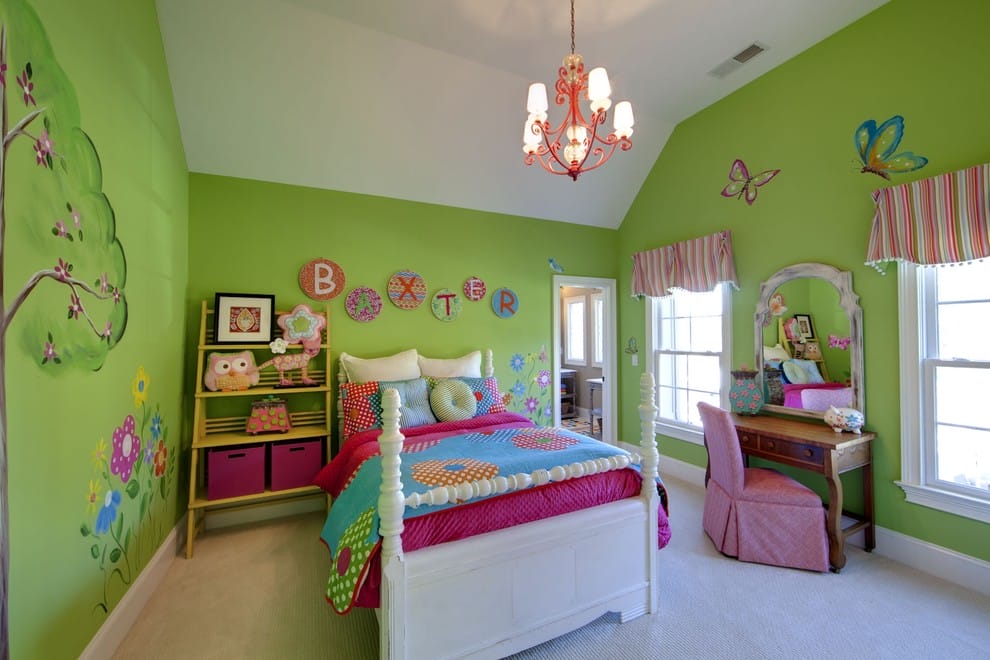 Pops of cheerful colors lend the bedroom an eclectic flavor. Meanwhile, rich textures and different patterns deliver style as well as character to the sleepy space.
We suggest repeating the hues or patterns throughout the toddler girl's bedroom. They produce a cohesive feel and fun ambiance without overwhelming the interior.
Since you opt for intense shades and striking patterns, keep the ceiling as well as flooring neutral colored. Moreover, the vintage chandelier and spindle bed evoke a royal ambiance.
14. Princess Themed Bedroom Ideas for Toddler Girls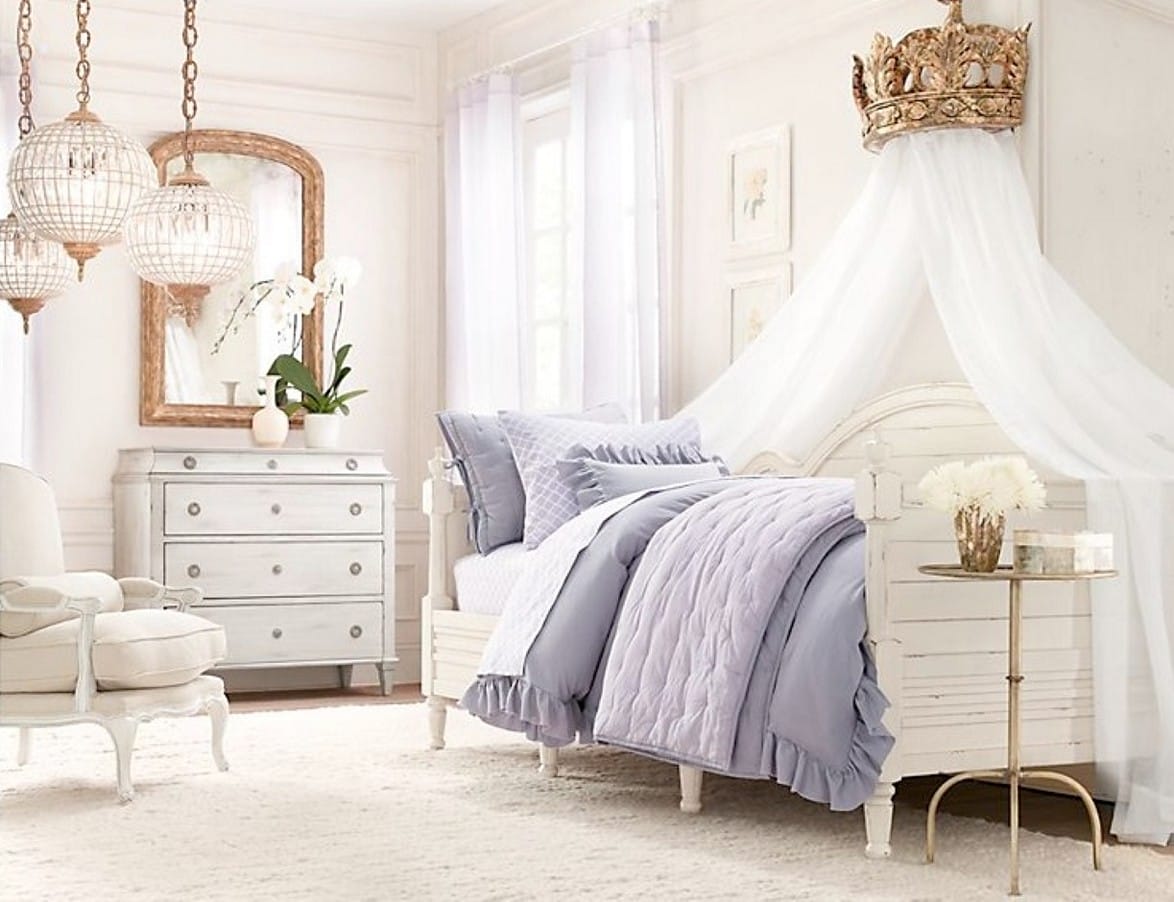 If you are not into pink, then this is one of toddler girl bedroom ideas to steal. Here, the space has stylish design and wears less obvious shades. Although the interior doesn't boast sugary colors, it still looks fabulous.
The off white color scheme lends the bedroom sophistication and drama. Meanwhile, purple accents convey elegance and femininity. The antique decorations and furnishings add glamor to the space.
Medium-toned wood flooring makes this bedroom restful and welcoming. The flowers and potted plants instantly titivate the interior. This space will excite your toddler girl's imagination.
15. DIY Toddler Girl Bedroom Ideas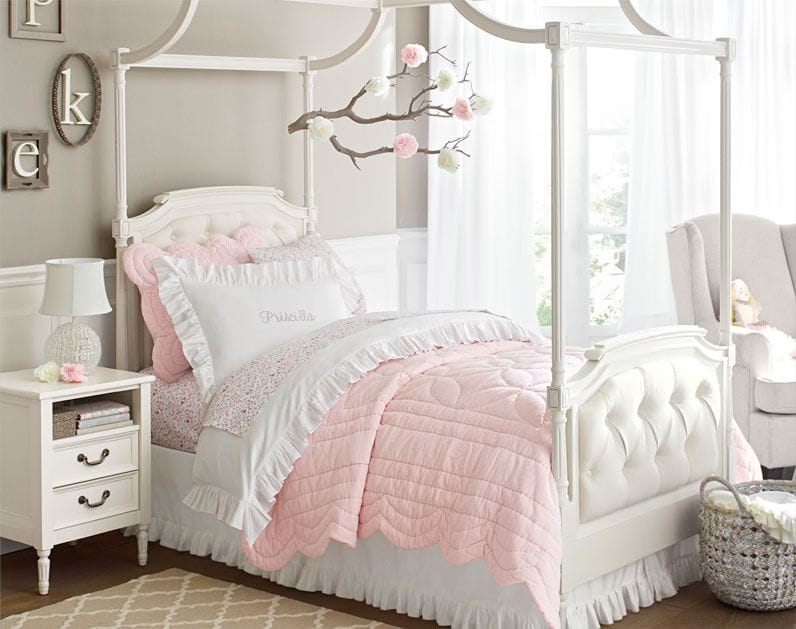 As you see, this stylish bedroom has a neutral background. It provides ample room for bright hues. Moreover, the space features white and gray walls. They partner nicely with pastel pink accents.
The handmade tree branch with paper flowers looks stunning on the wall. It hangs right over the tufted headboard. Additionally, the decorative piece delivers visual interest and whimsy to the bedroom.
White four-poster bed employs soft pink comforter and throw pillow. The ruffle sheeting injects comfort as well as elegance into the room. Meanwhile, metallic storage basket adds luxury to the interior effortlessly.
16. Fabulous Toddler Girl Bedroom Ideas
As a parent, you should create a terrific bedroom for your stylish little girl. Picking a gray and white color palette is surely an excellent option. The combination will undoubtedly grow with the kid of yours.
Moreover, this is one of the great modern toddler girl bedroom ideas. The striped area rug and star wallpaper produce a unified look. They carry a whimsy and fun luxury to the interior too.
Pure white furniture units keep the space feeling trendy. Pink accents instantly bring girly touches to the bedroom.
17. Pink Toddler Girl Bedroom Ideas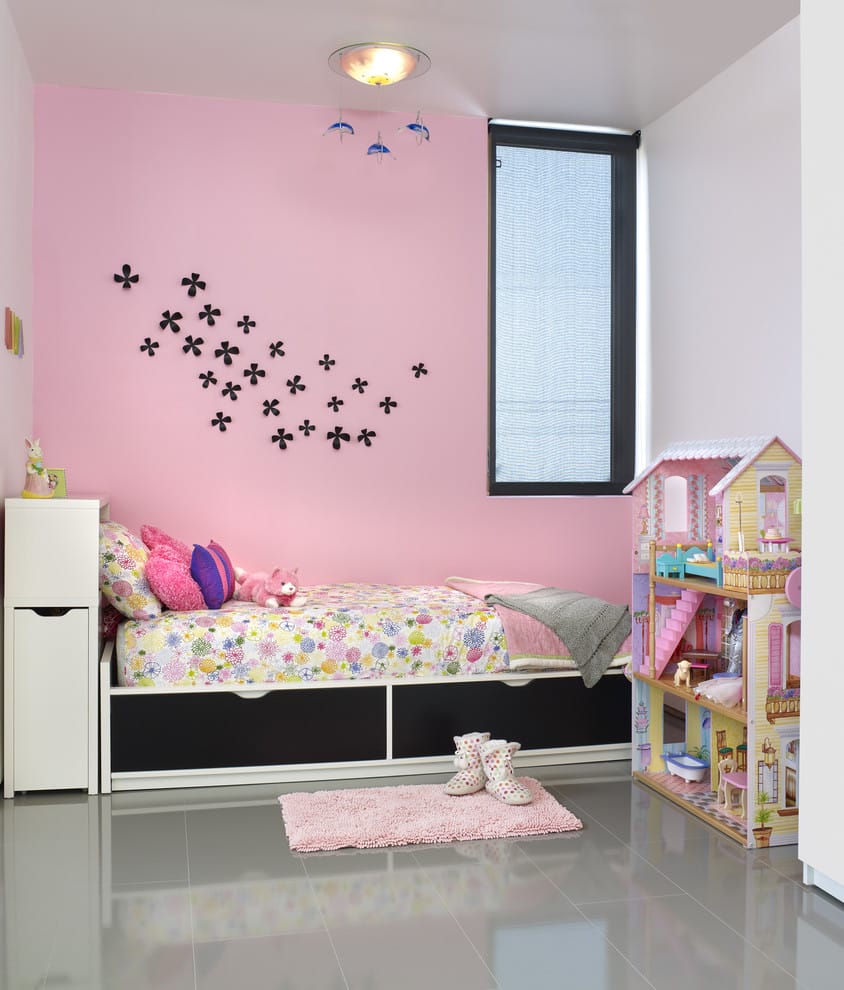 Needless to say, sweet pastel pink is definitely a go-to hue for any girl. You can add an elegant twist to it by using the 3D floral decals. Be sure they are graphic, so your little darling's bedroom looks trendy.
Furthermore, the fashionable miniature house allows your little girl to have fun. It will spark her creativity as well.
The black drawers under the bed keep small items and clothes in place. Meanwhile, flush mount ceiling light emits a warm glow. Gray floor and white walls balance bright colors out.
18. Classic Little Girl Bedroom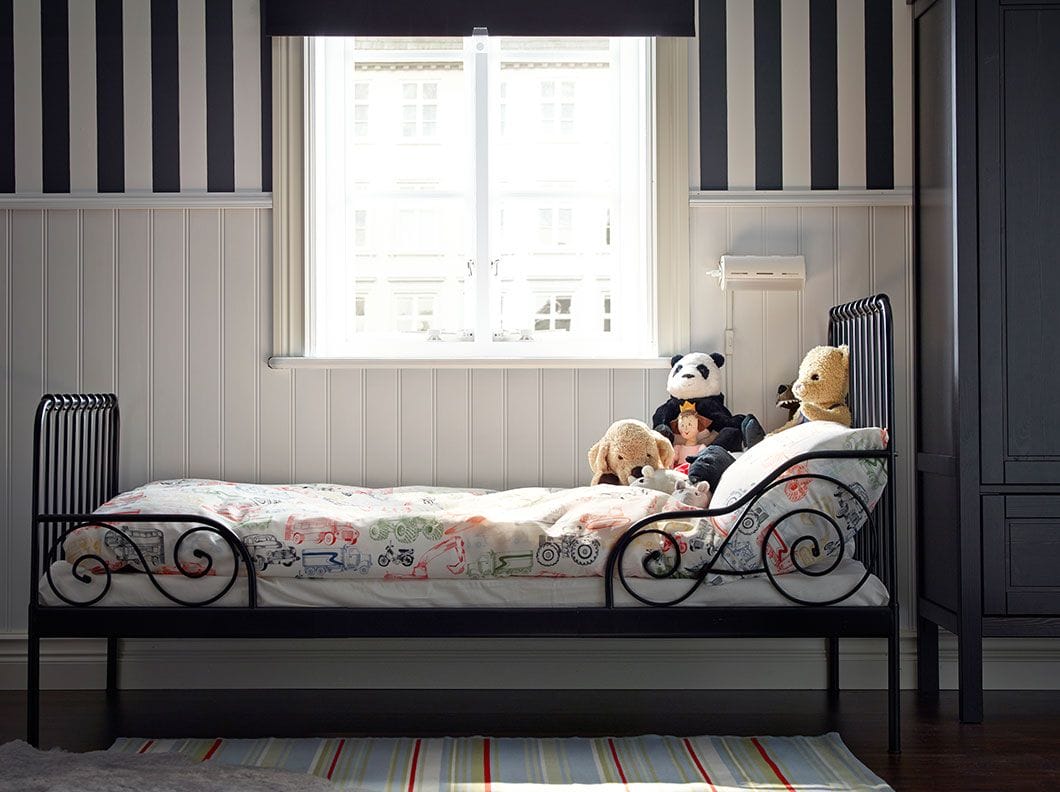 Bedrooms for toddler girls don't always employ intense colors or pastels. If you want to take a more sophisticated route, choose a timeless scheme of white and black. Then, incorporate geometric patterns into space.
Here, the monochrome stripes lend a playful ambiance to the interior. The patterns continue to the white mattress and black bed frame.
The quilt, rug, and pillowcases boast striking colors and patterns. They add a theme and instant visual interest to space. You can change the units when your kid gets bored with them.
19. Tea Party Inspired Toddler Girl Bedroom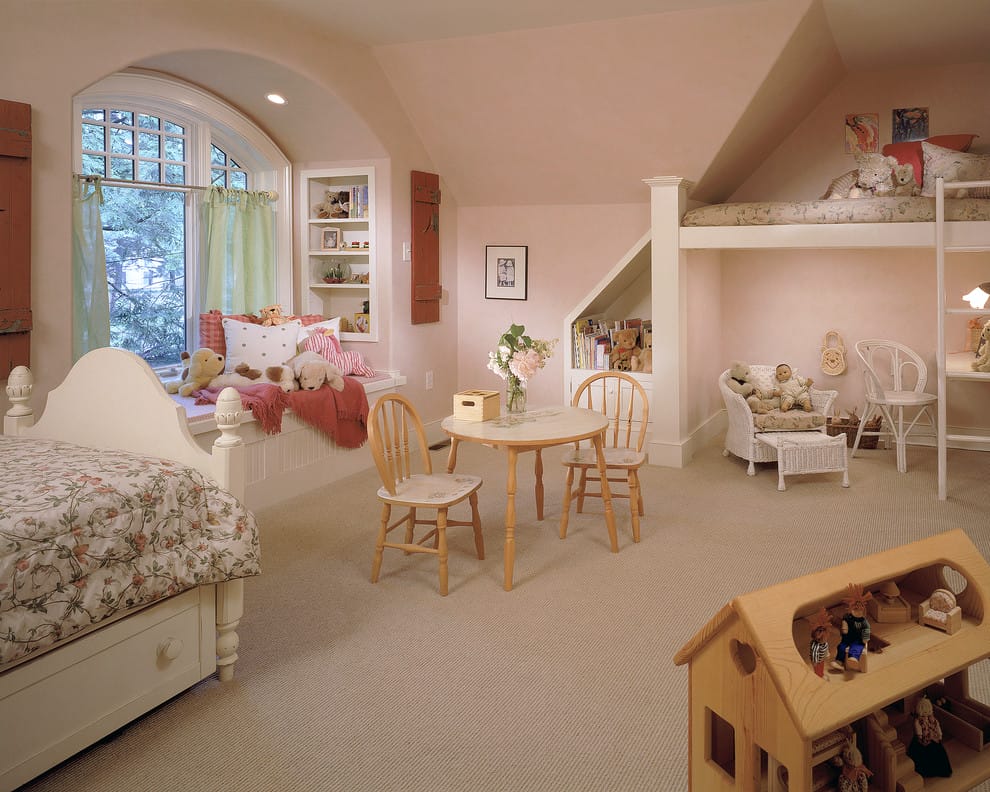 Hone your little lady's social skills by picking this tea party themed bedroom design. Here, there's plenty of space to encourage creativity.
She could read great books under the white loft bed or enjoy outdoor views in the window seat.
This pretty, large bedroom will certainly steal your beloved girl's heart. Varying pink shades come together in the space.
They quickly generate a girly ambiance without making the interior feel flat. Lastly, flowers embellish the area.
20. Toddler Girl Bedroom Ideas with Jungle Decals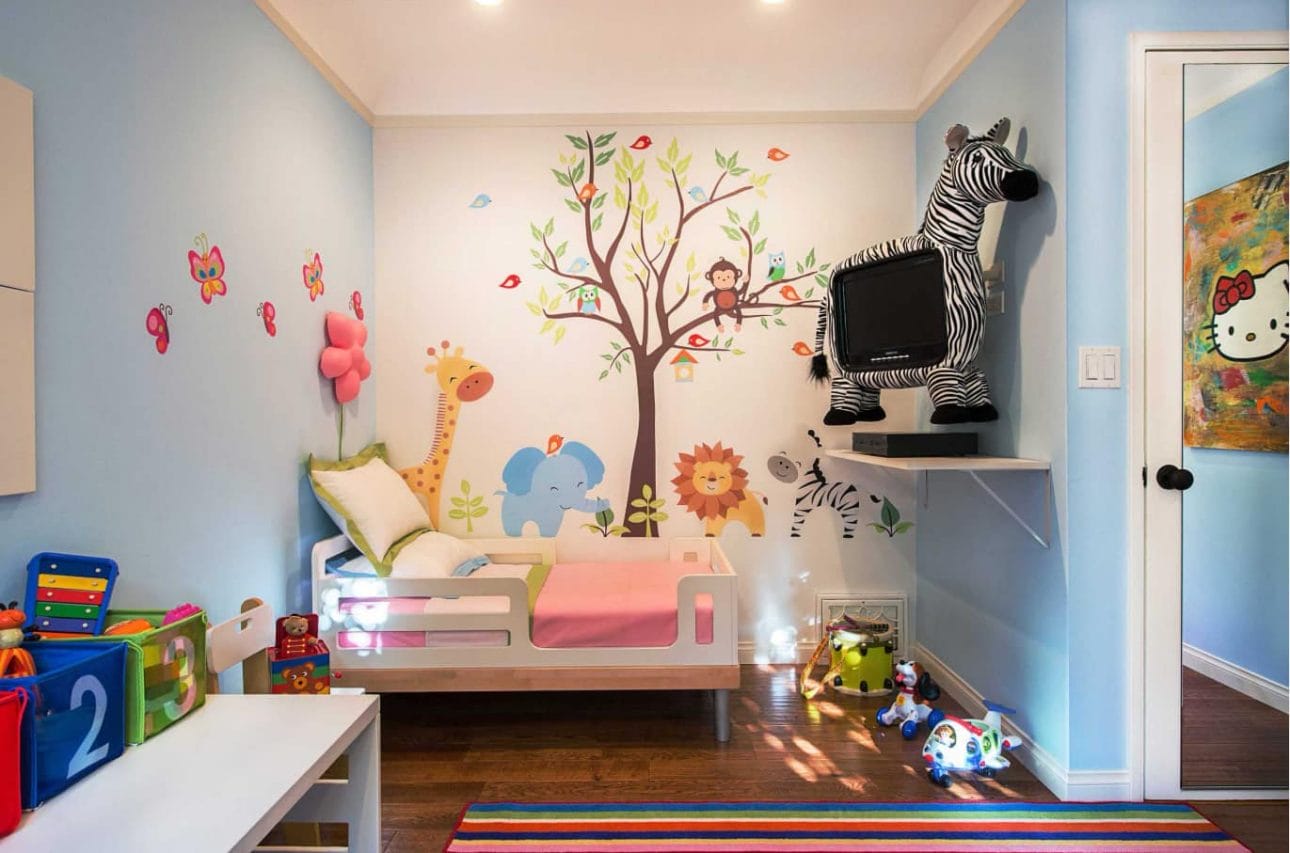 The jungle themed bedroom is so adorable and welcoming. It will bring out your little girl's inner explorer.
Both white and blue walls make a captivating background. Meanwhile, baby animal decals set a playful atmosphere.
Furthermore, the stuffed animals perfectly complement wall decals. Striped area rug and vibrant storage boxes deliver a touch of fun to space.
Designing your kid's sleeping space is a challenging yet rewarding task. With those toddler girl bedroom ideas, you can create her personal retreat. Remember, do not sacrifice comfort for style.