Foyer tables can determine how to adorn the entrances. So, if you are looking to dress your hallway up, check these terrific entry table decor ideas out.
Decorating the entrance can be challenging. However, choosing a modern hall table offers a good starting point.
You could pick the classic one too. Moreover, the right decorations make your foyer practical and pretty.
1. Symmetrical Hall Table Decor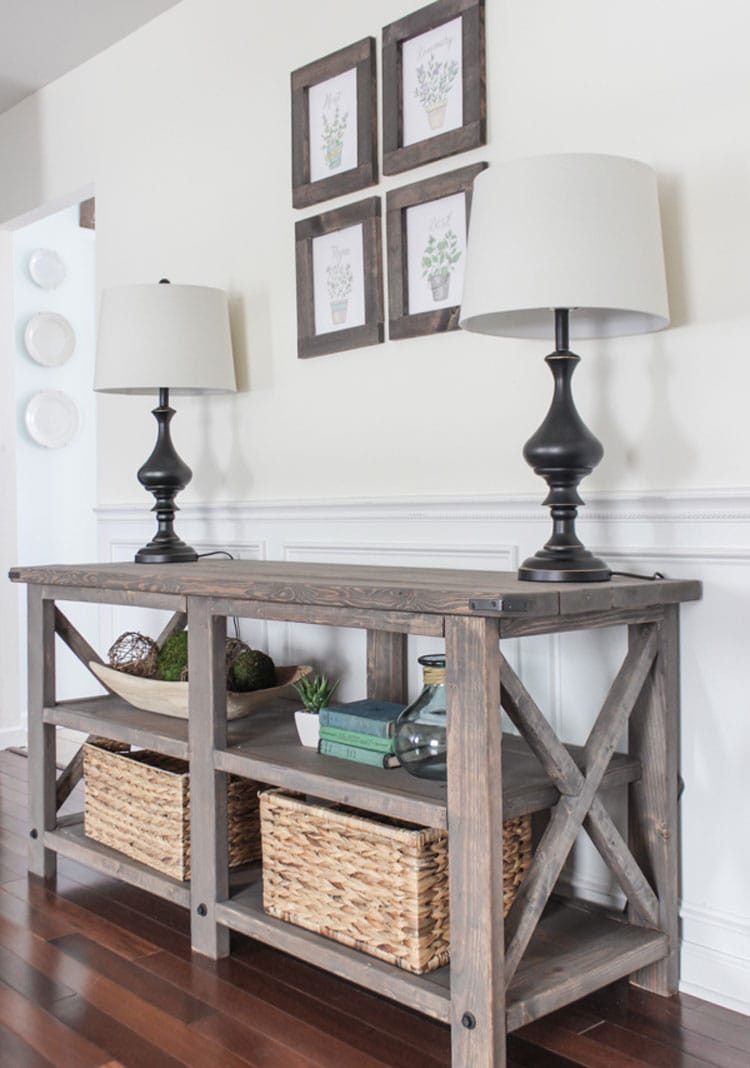 This foyer is stunning and stylish. It also features a wooden entry table. Moreover, the wicker baskets, lamps, and framed artworks gussy up the area.
They provide symmetry and visual balance too.
2. Entry Table Decor with Mirror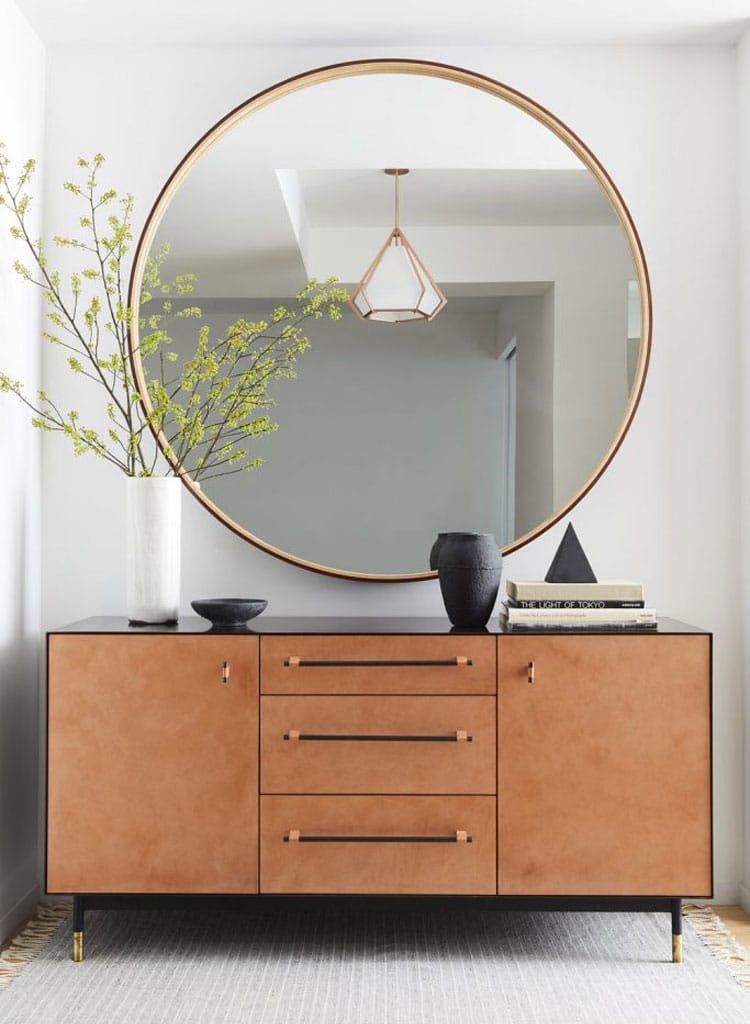 Pictured above is a cabinet-style entrance table. It has a classy design. The oversized large mirror completes the look.
Meanwhile, greenery in the white vase lends the space a bit of color.
3. Modern Blue Table with Minimal Decor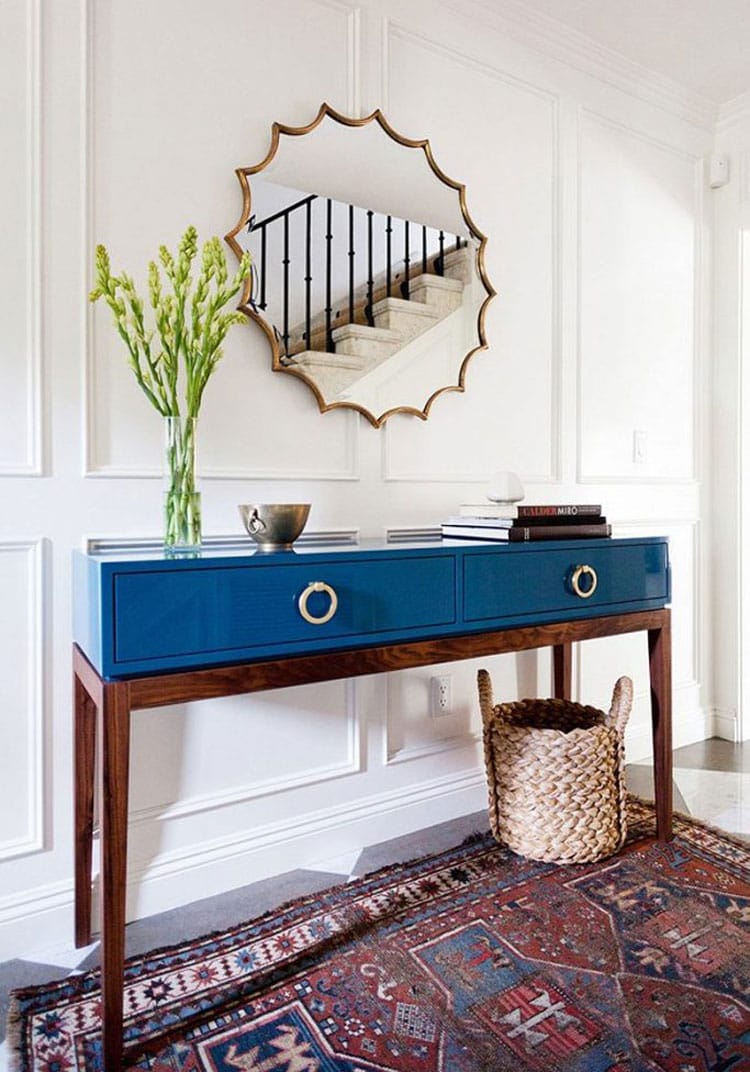 Do you have an old entry table? If so, paint it cobalt blue. The unit will certainly make a bold statement in the hallway. Additionally, the project won't break your bank.
4. Entrance Table with Wall Art and Candles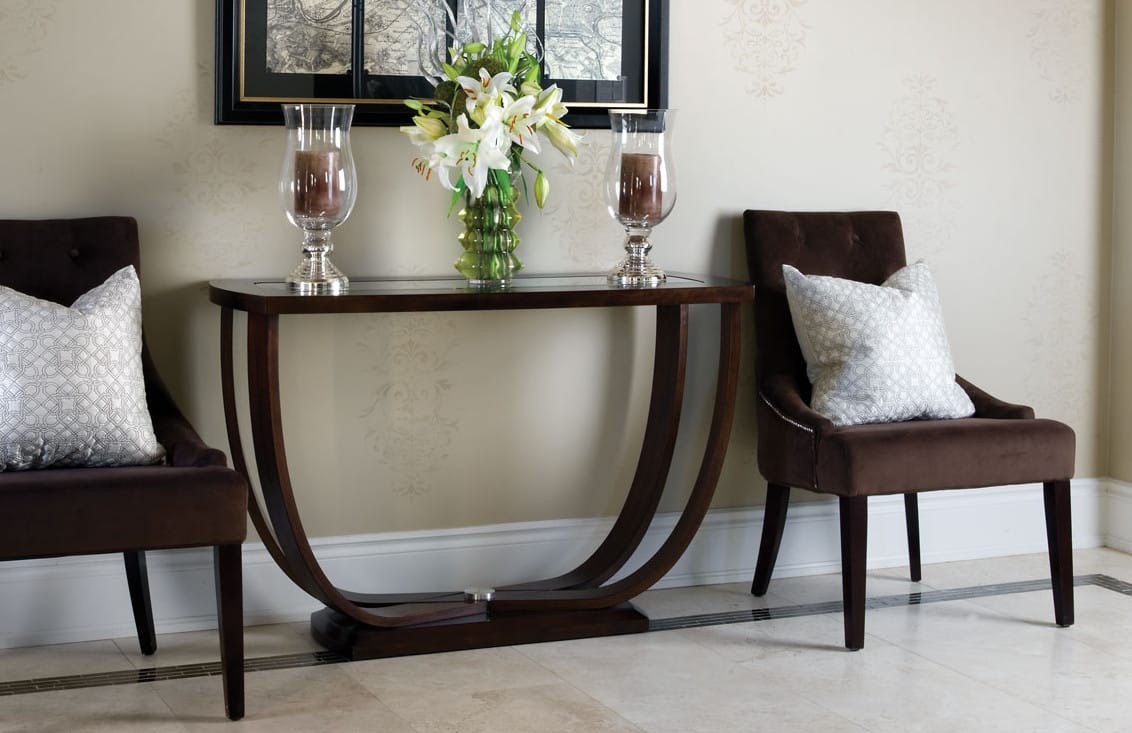 The dark brown entry table and armchairs are a great match. They also create a welcoming vibe.
Moreover, hanging artwork, bright flowers, and ornamental candles embellish the entryway.
5. Entry Table with Baskets and Drawers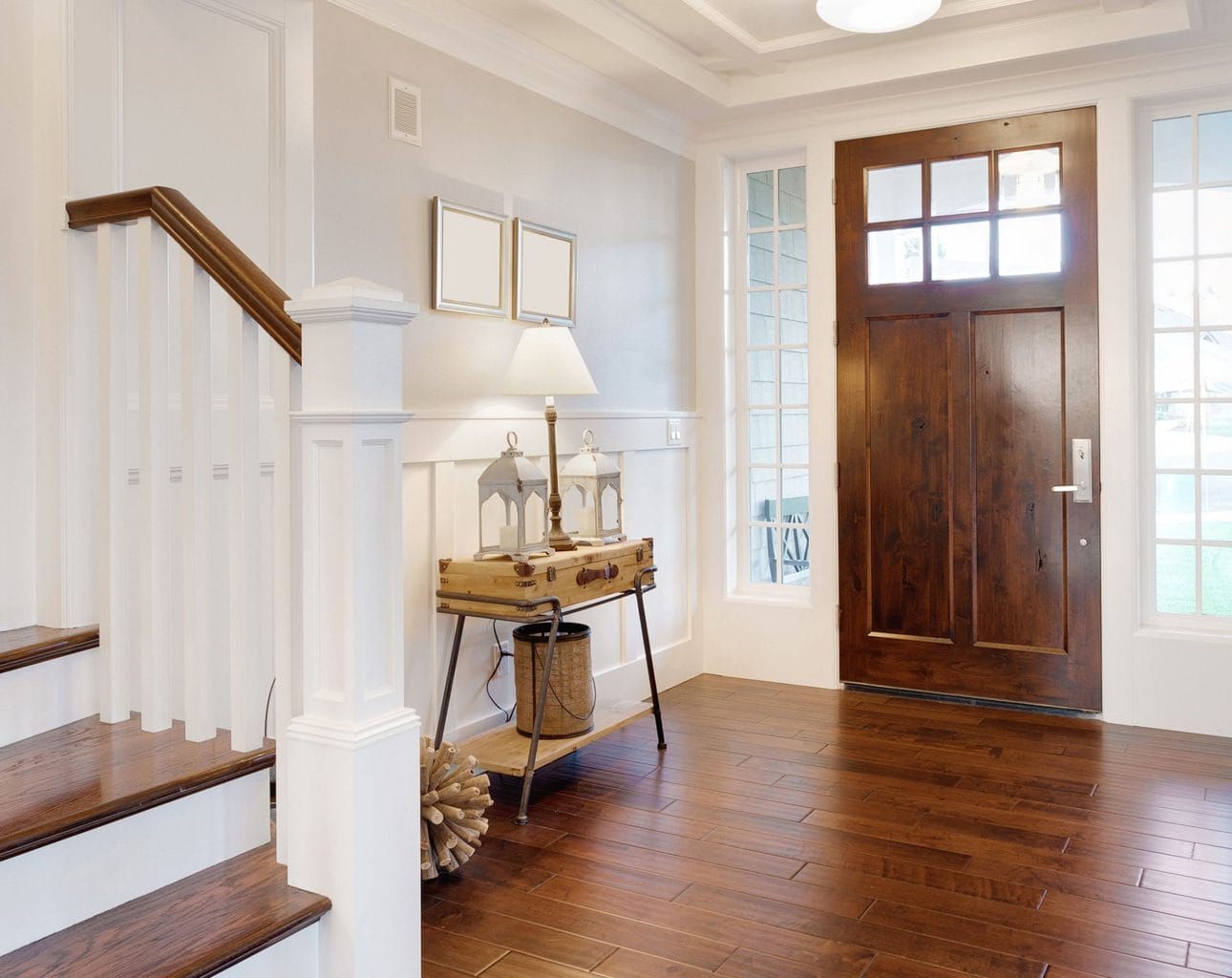 The foyer table comes with drawers. The vintage lamps pair perfectly with it. Furthermore, three wicker baskets on the lower shelf offer extra storage space.
6. Long Console Table for the Entrance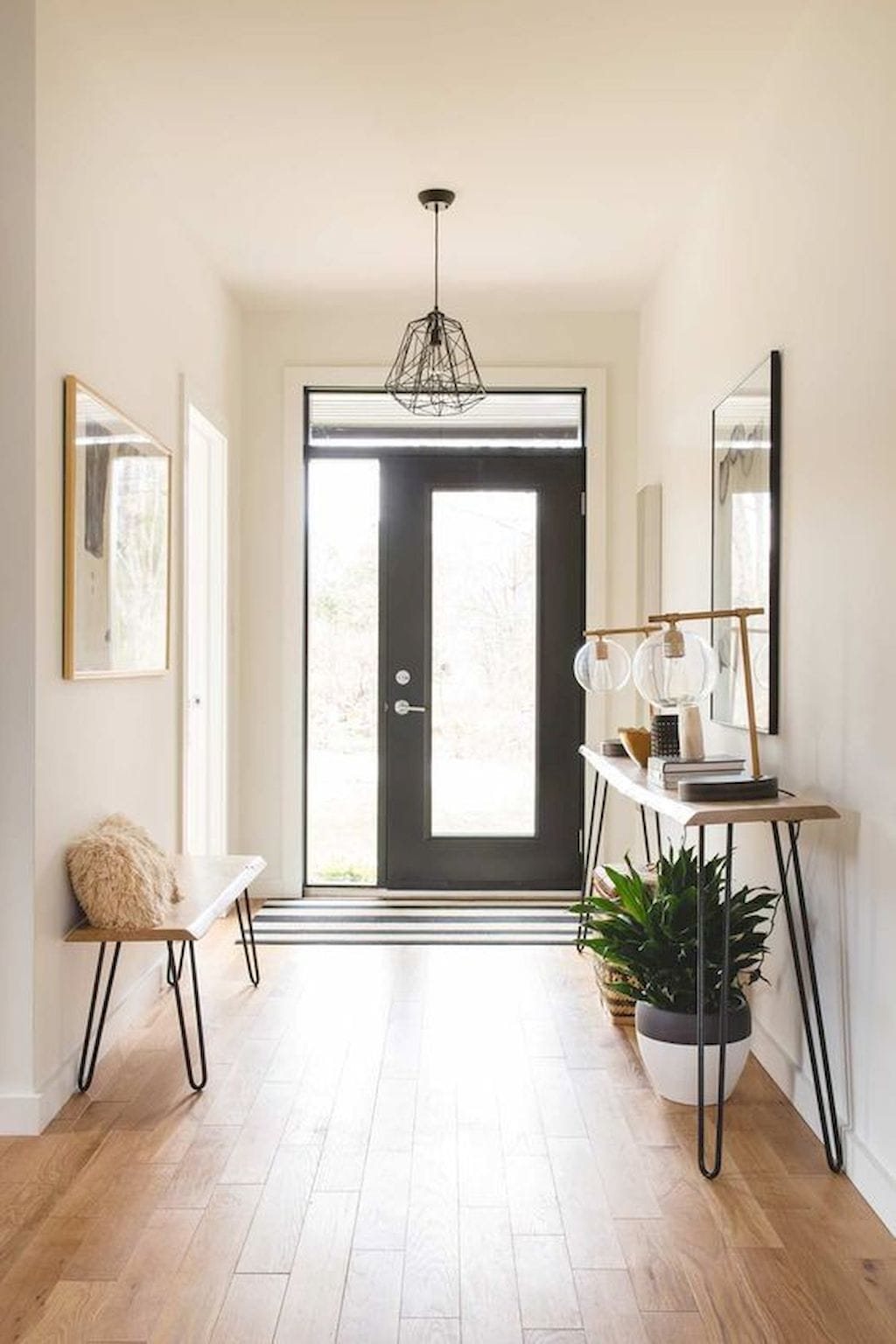 Searching for narrow entry table decor ideas? Give this style a go. The brass lamps work as accent accessories.
They instantly make the pocket-sized hallway shine too.
7. Farmhouse Entry Table Decor Ideas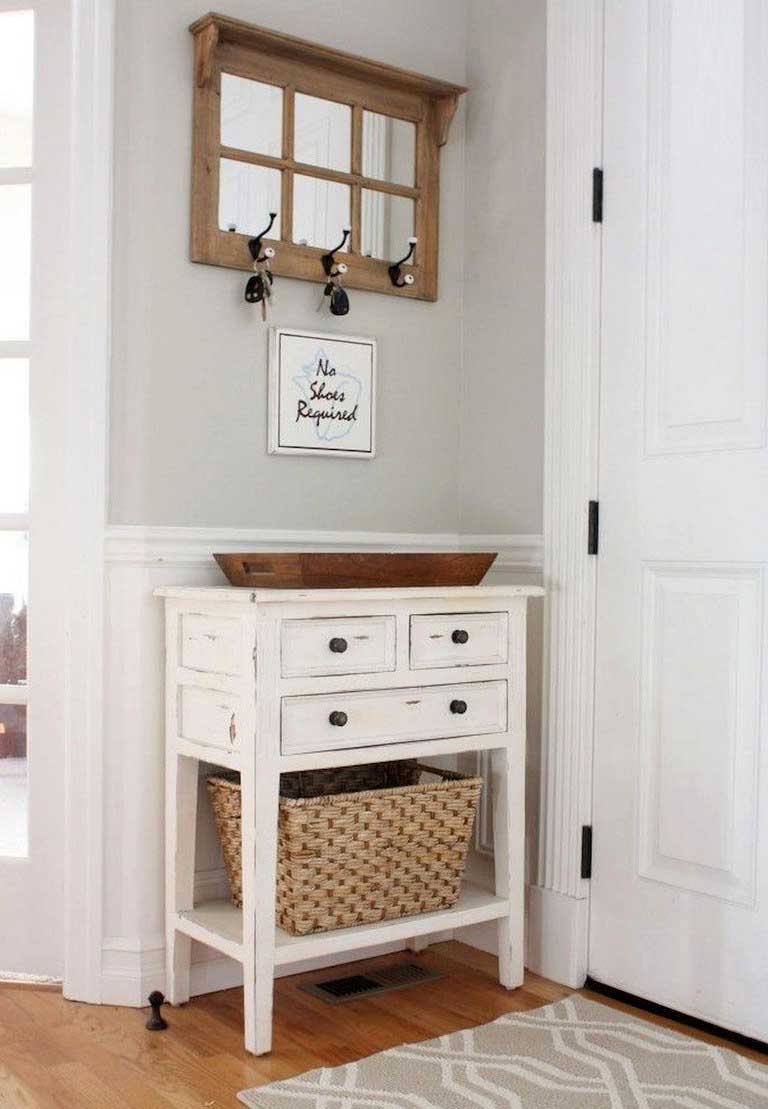 This farmhouse hall table has a nice rough finish. It lends the furniture unit a rustic charm.
Additionally, the basket and mirror with key hooks fit well into the neutral entryway.
8. Glass Foyer Table Decor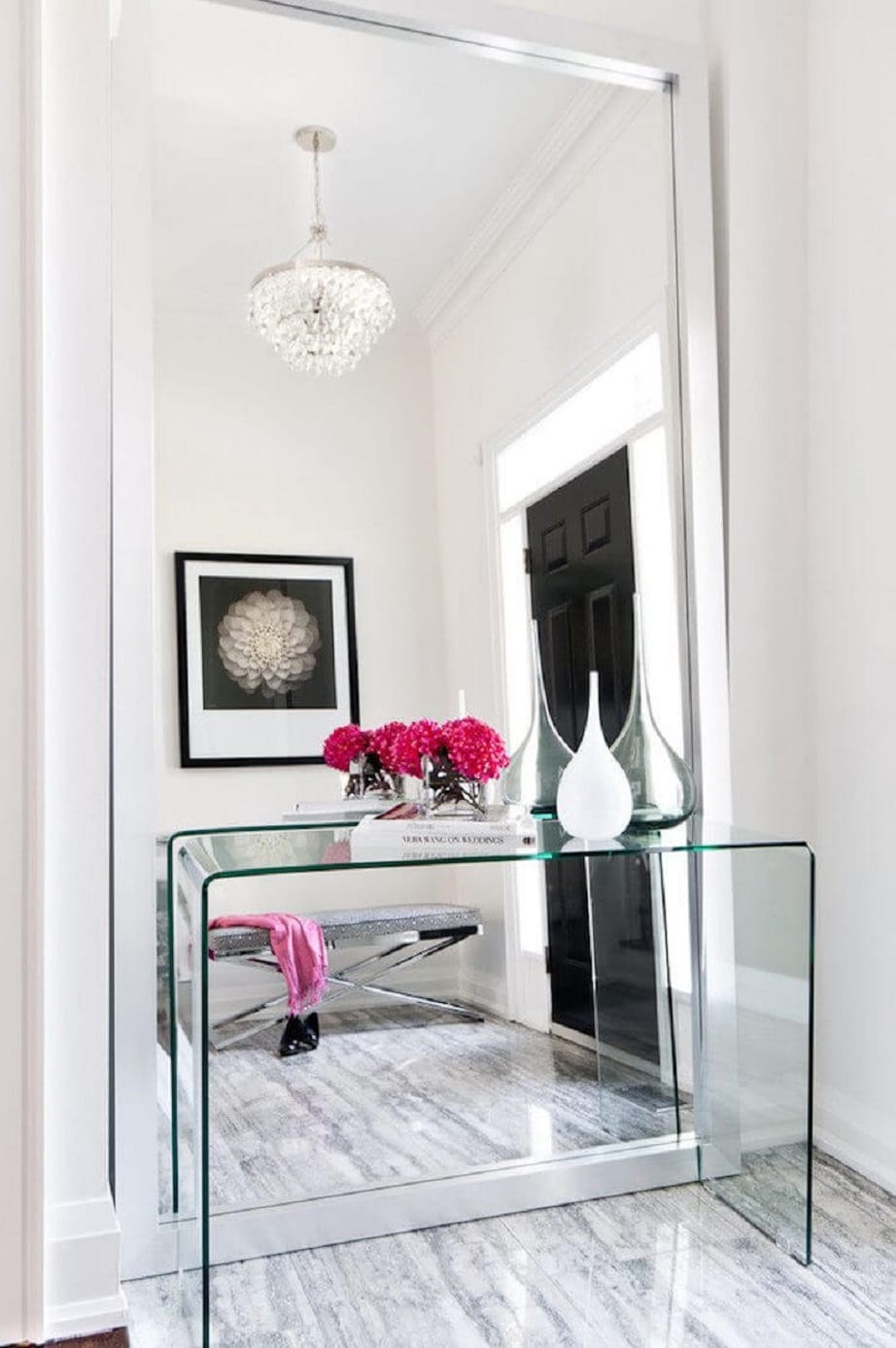 The glass table delivers texture and elegance to the entrance. It also magnificently holds decorative vases.
A massive mirror complements them, while giving the perception of a bigger space.
9. Hall Table with Chalkboard Sign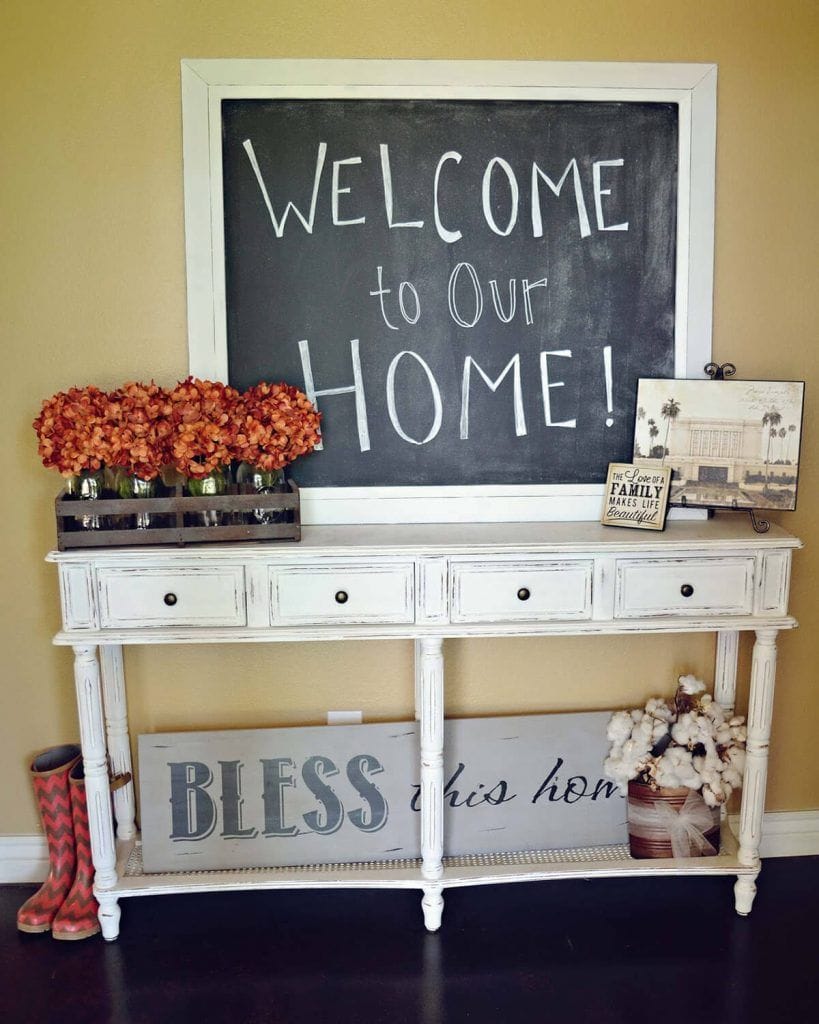 This whitewashed entry table produces a whimsical feel. Meanwhile, orange hydrangeas and cotton stalks bring the outdoors inside.
The welcome chalkboard sign carves a homey vibe.
10. Round Table for A Lavish Foyer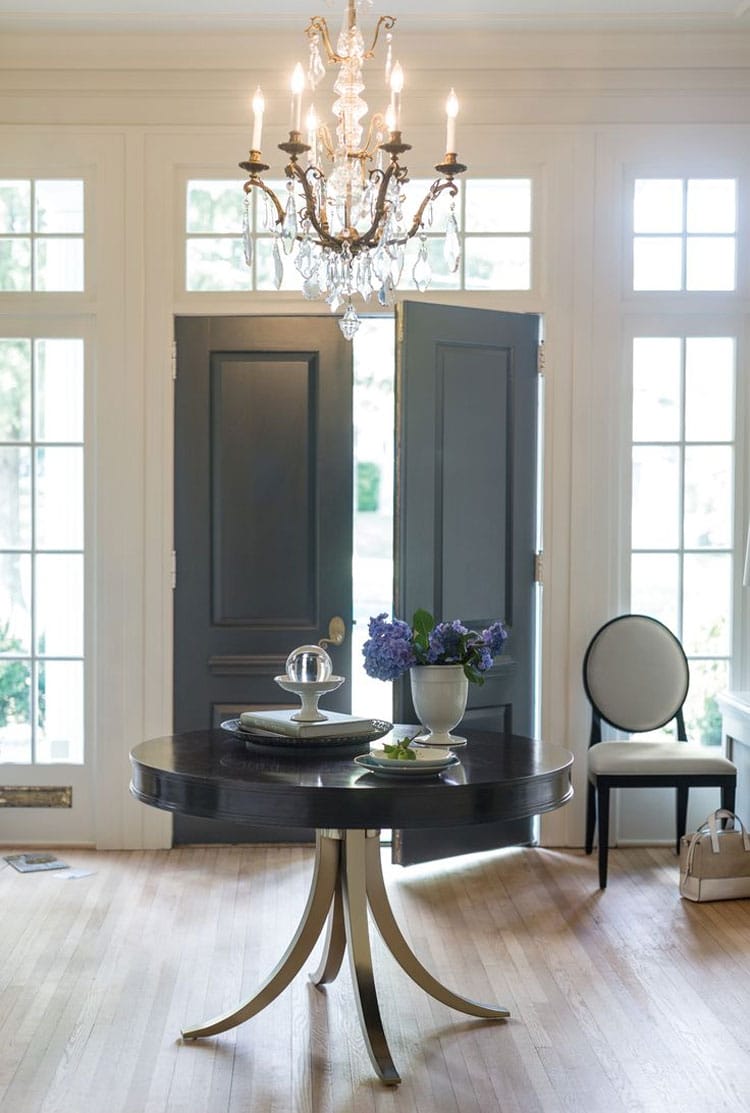 Looking for round entry table decor ideas? Try this design. The circular unit gracefully matches the front door.
Moreover, a glamorous chandelier rounds out the hallway.
11. Black Entrance Table Decor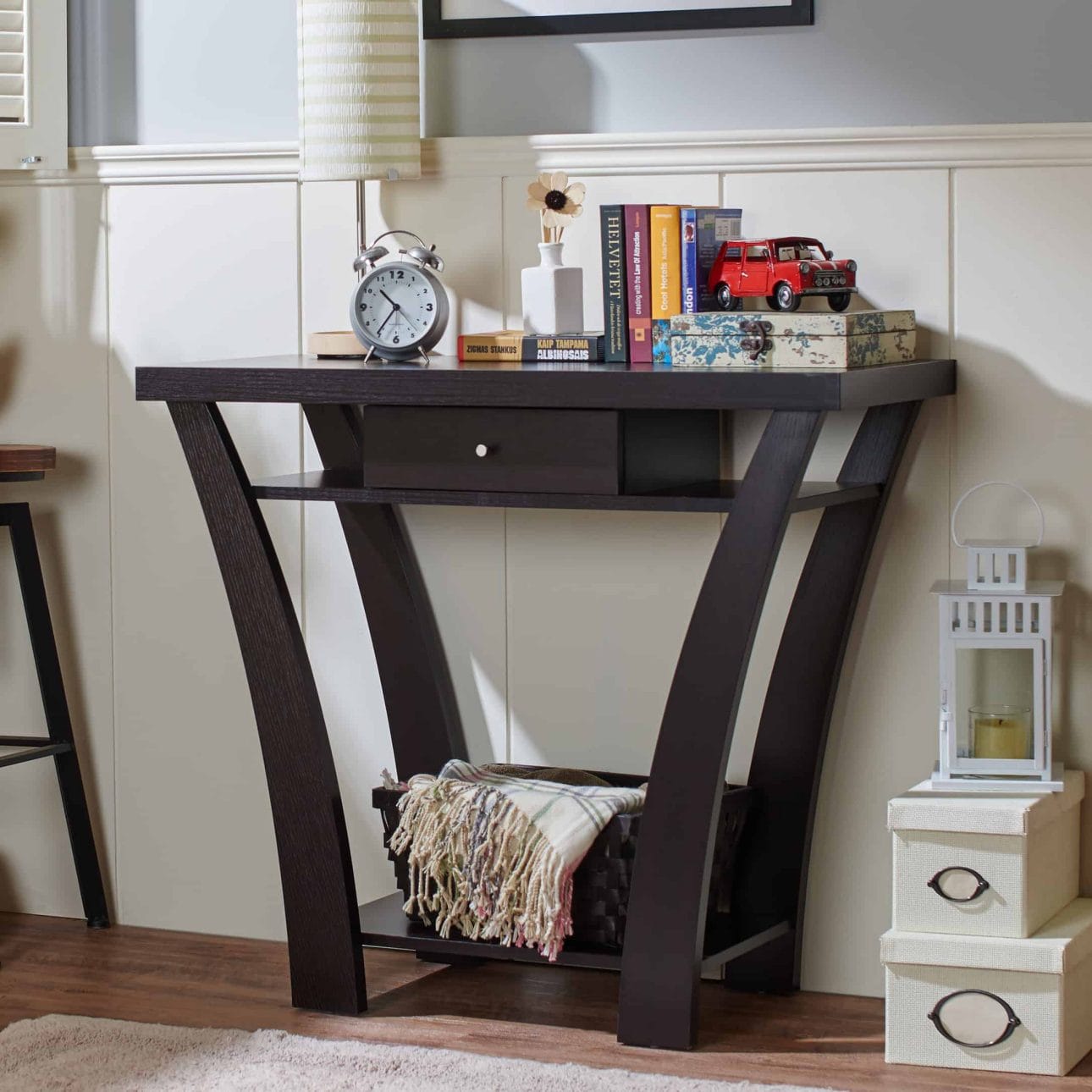 The black table adds drama to the foyer. Meanwhile, colorful decorative pieces generate a cheerful ambiance.
Lastly, exquisite boxes look especially attractive in the welcoming area.
12. Simple Hall Table in Metallic Finish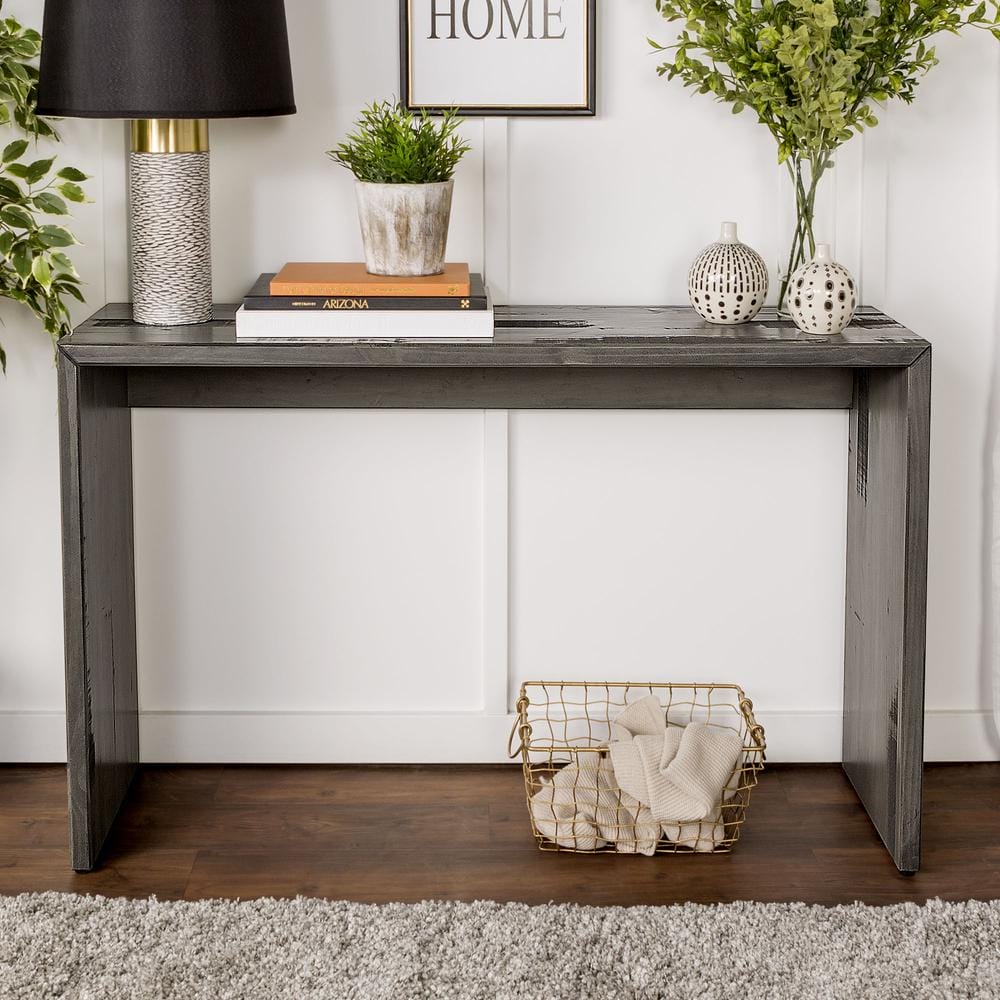 This foyer table is basic, but the metallic finish keeps it from looking boring. Gold lamps, vases, and artificial plants titivate the hallway.
13. Stylish Wooden Entry Table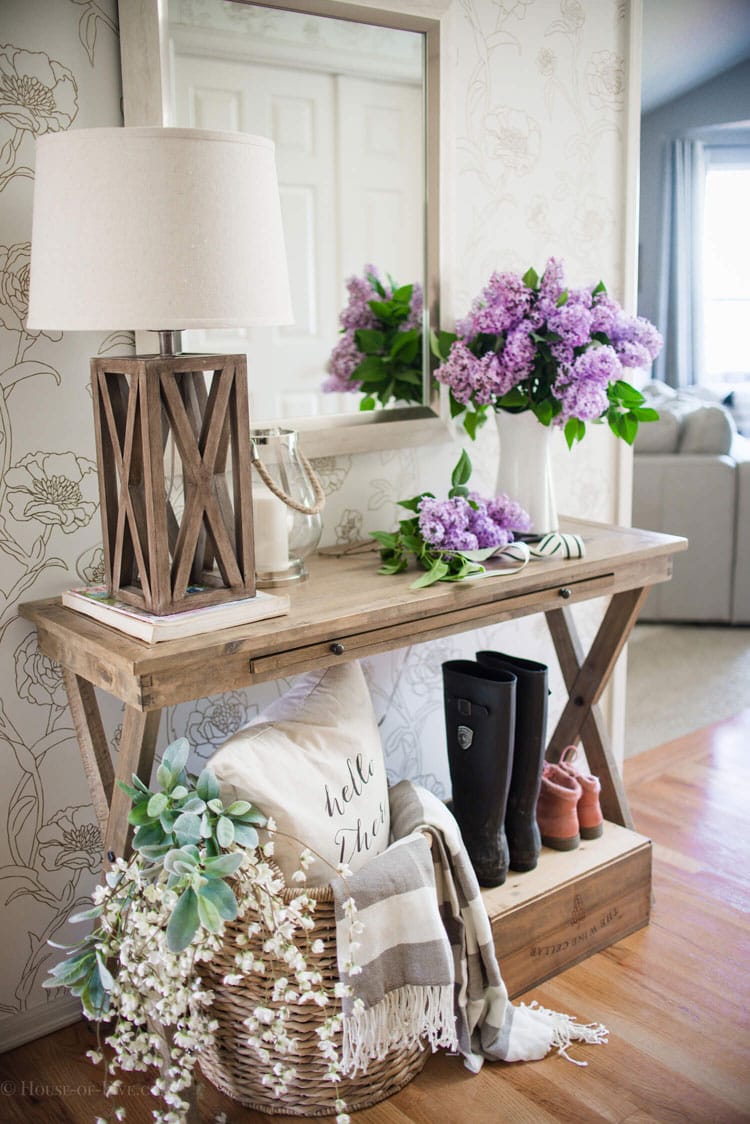 This wooden entrance table is trendy. It also evokes a sense of warmth. The purple flowers and greenery enliven the space, while the stunning lamp completes the scene. The entry table also have a space for a shoe storage.
14. Minimalist Modern Foyer Table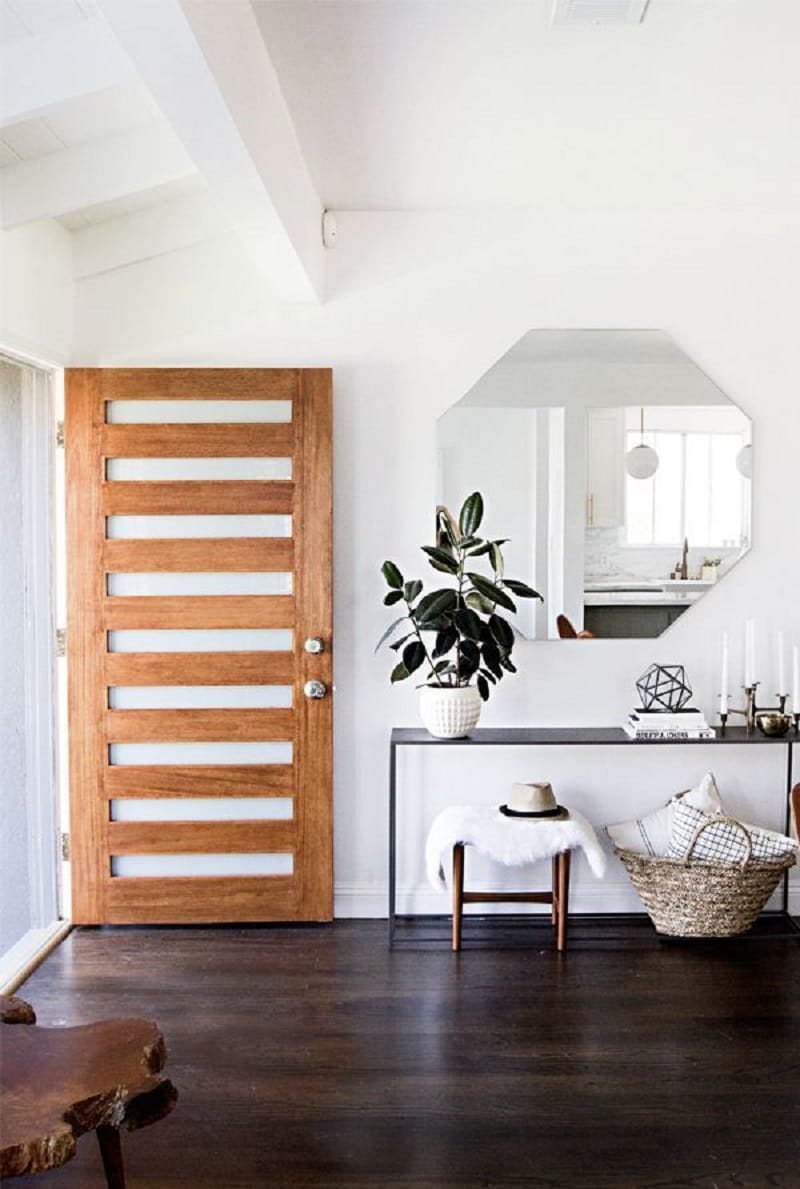 Undoubtedly, the foyer table embraces minimalism. Meanwhile, the wicker bag, potted plant, and shag rug provide rich textures. The frameless large mirror sends out a luxurious feel.
15. Adorable Entry Table Decor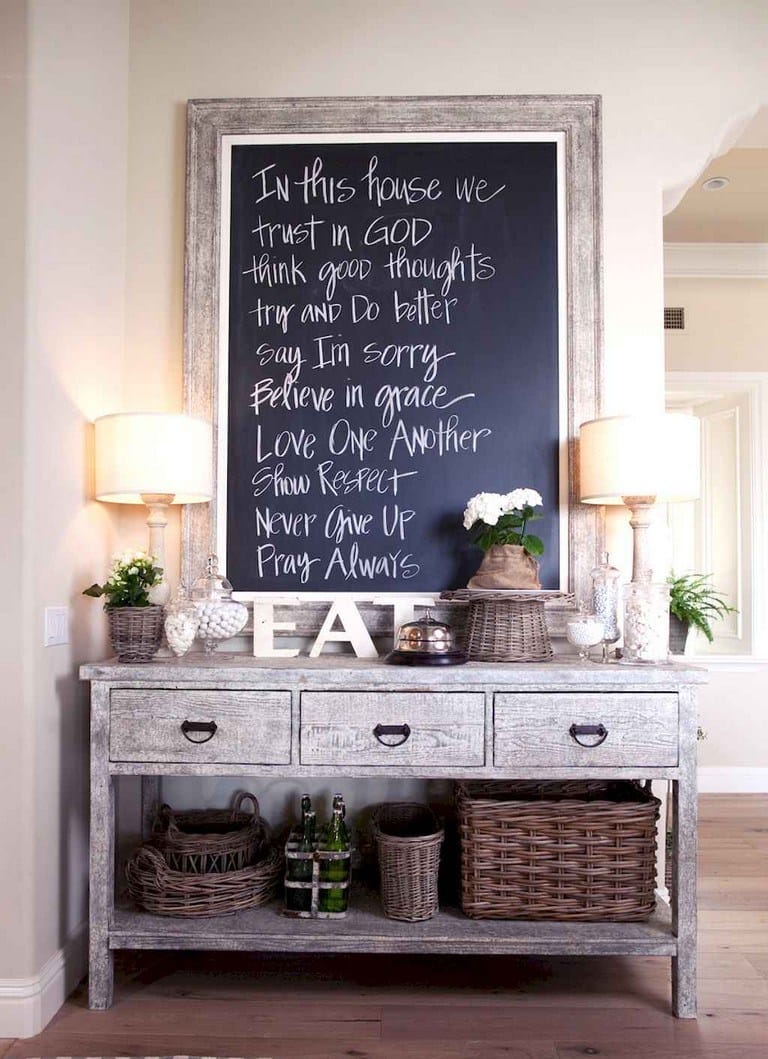 Unquestionably, the chalkboard sign does wonders in any hallway. To create positive vibes, you should write down inspirational quotes.
Then, pair the table with wicker baskets and greenery.
16. Luxury Small Entry Table Decor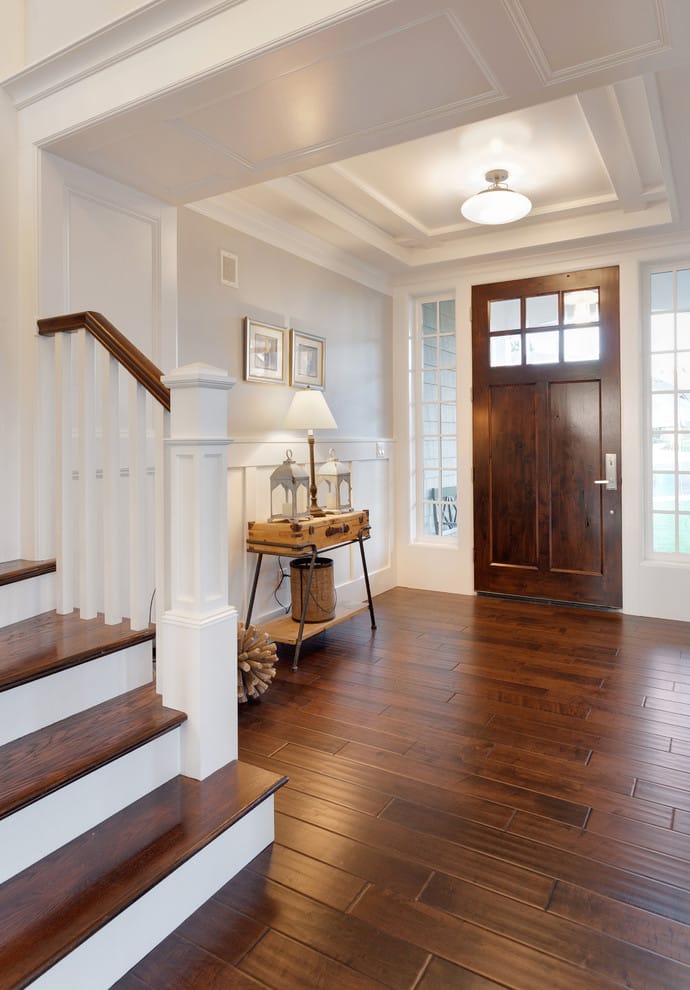 This extravagant entrance boasts a compact table. There are two ornate window frames over it. They accompany white lamps well.
17. Repurposed Desk for the Hallway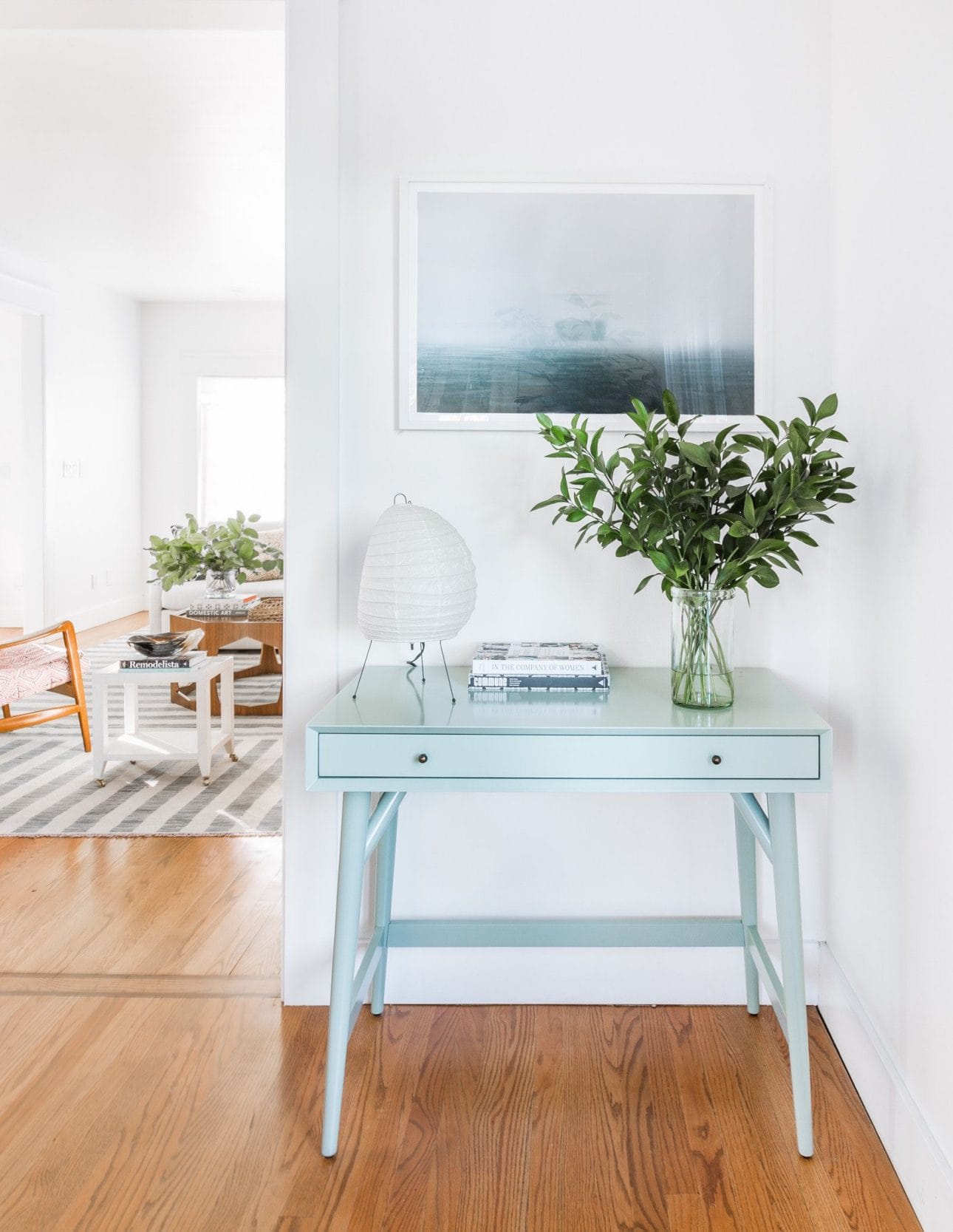 If you have a limited budget, try upcycling an old study desk. Then, decorate it with greenery, lamp, and books.
We guarantee your guests won't spot the difference.
18. Rustic Entrance Table with Big Accessories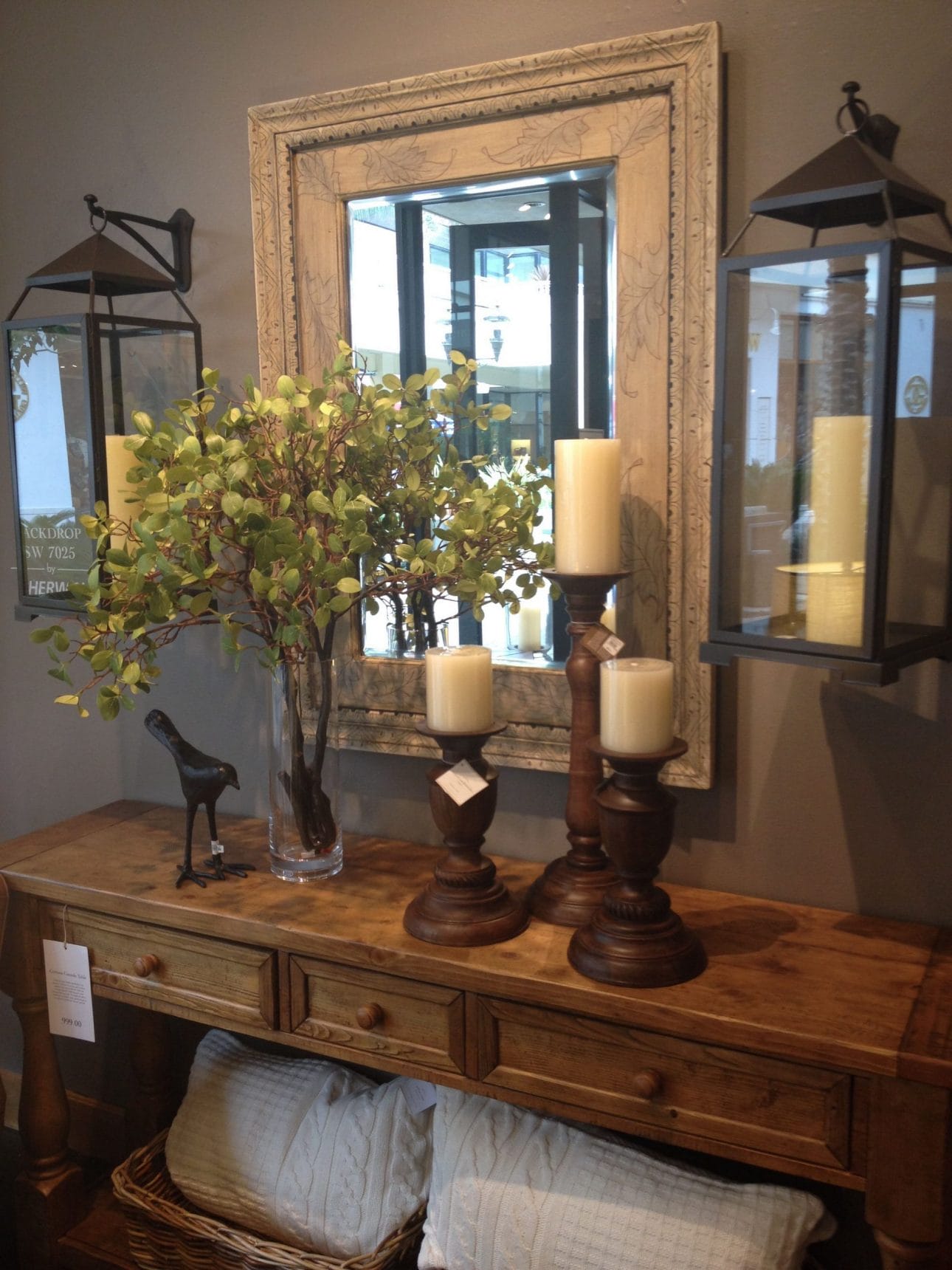 Undoubtedly, this rustic foyer table would go particularly great with a vacation home.
Furthermore, wood candle holders and greenery turn the entrance into an urban jungle.
19. Elegant Hall Table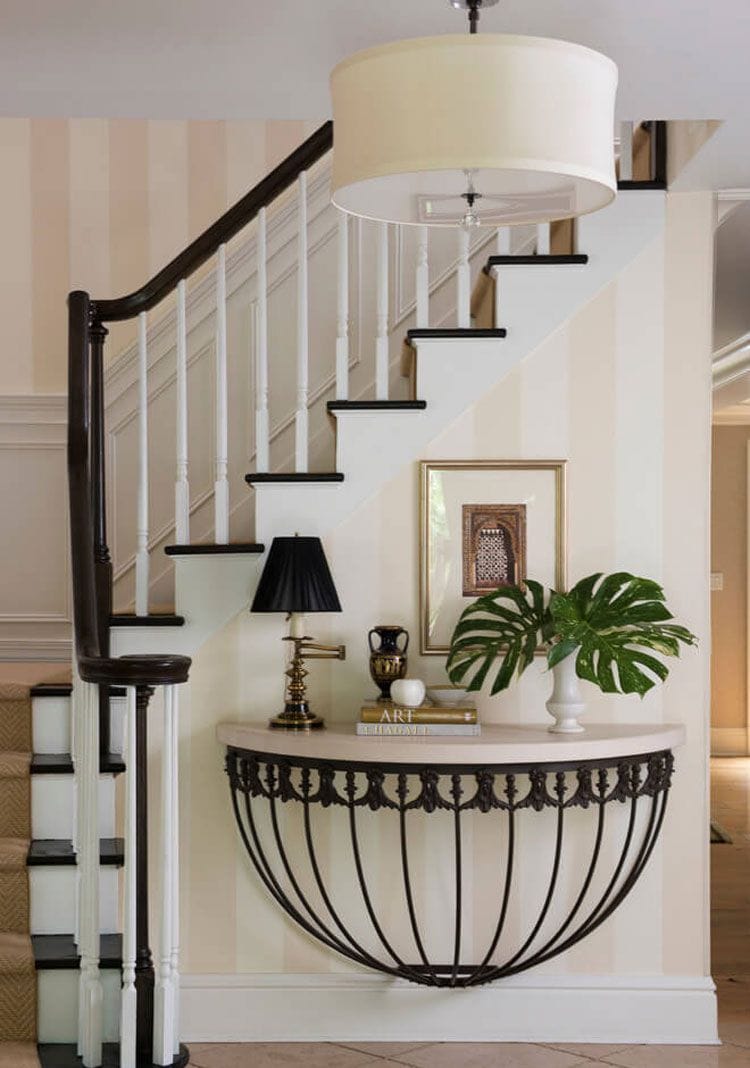 This entrance table looks dapper. Likewise, it has a bizarre style that can elevate the foyer in no time. You could buy the item from local thrift stores.
20. Long Table for A Large Hallway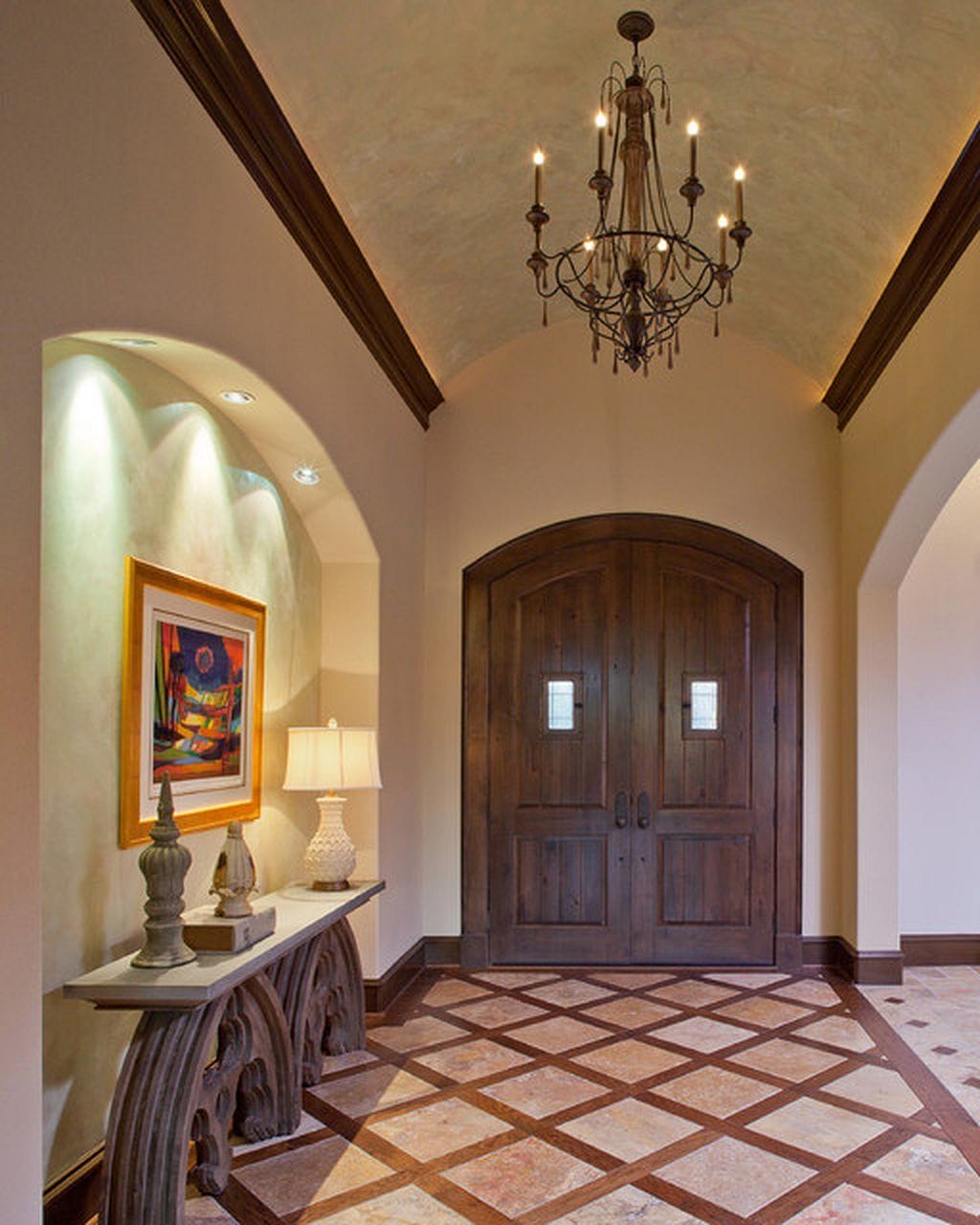 The long entry table would seem out of place in a tiny apartment. However, it is such a magnificent addition to the grand entrance which normally features a high ceiling.
21. Floating Entry Table Decor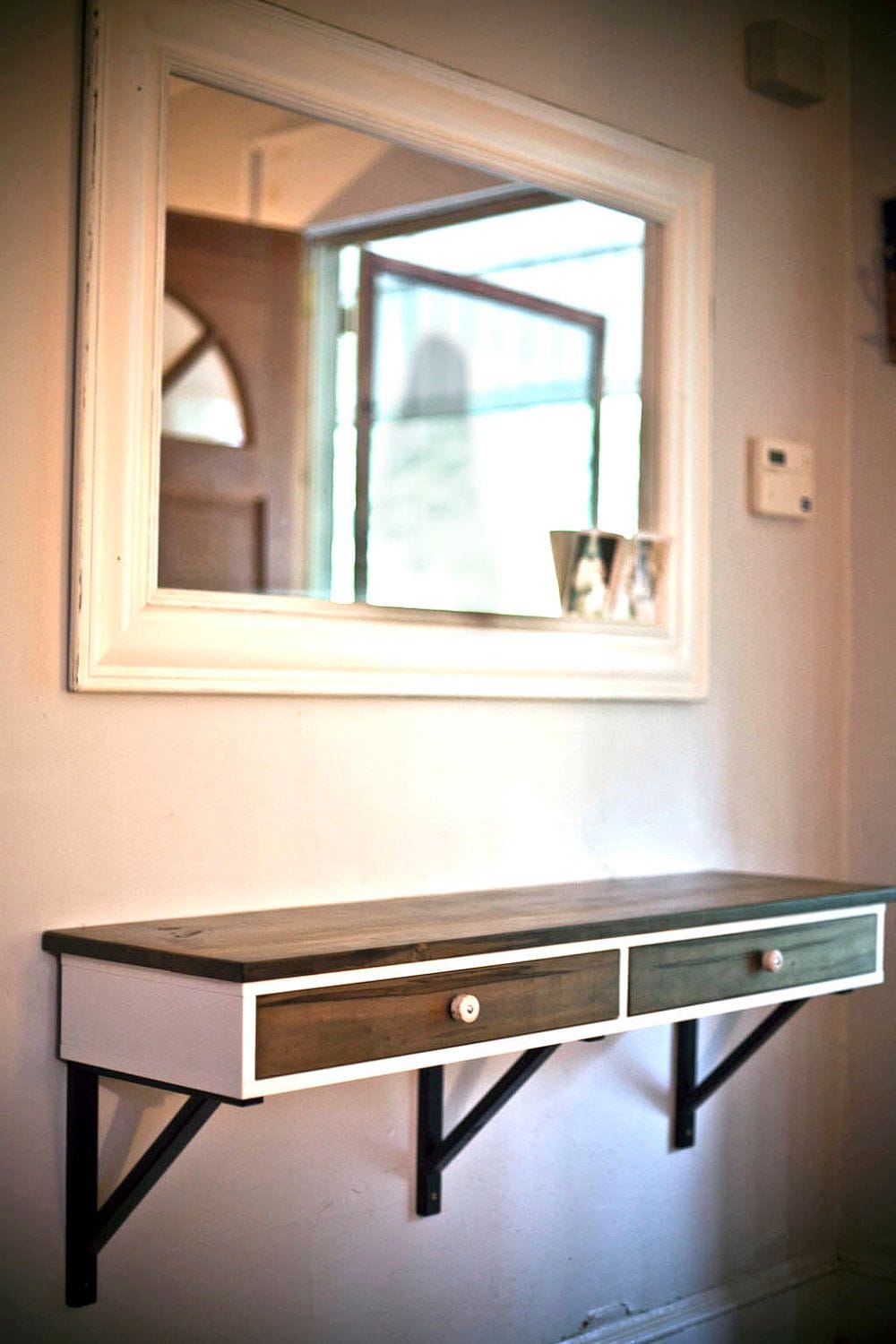 This foyer table with drawers is petite but functional. It employs dark and light wood tones.
The unit keeps the entryway feeling clean, while the framed mirror fills an empty wall.
22. Appealing Foyer Table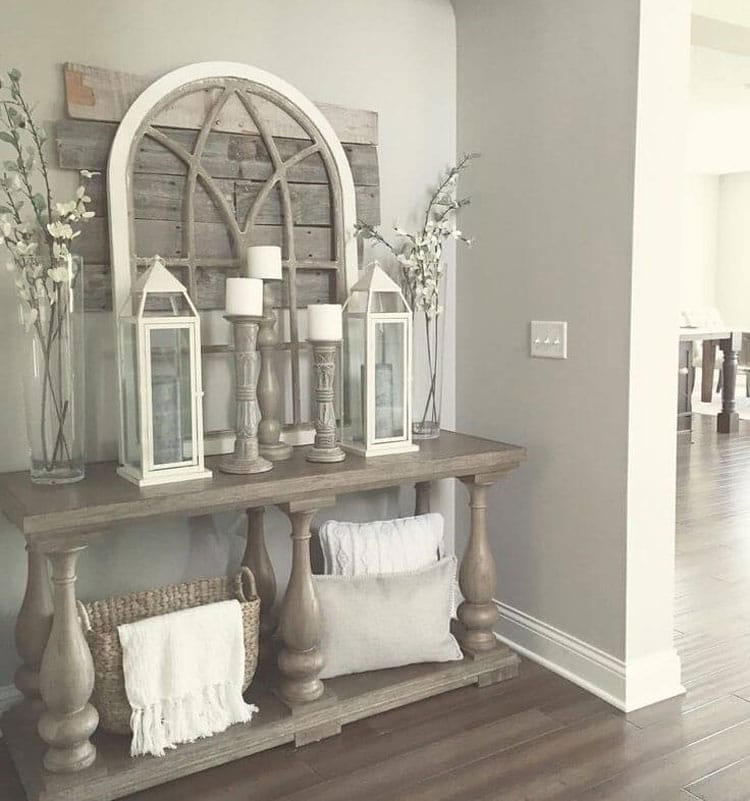 As you see, this classy console table looks excellent in the entryway. It makes the hallway more charming. Furthermore, pillows, baskets, and candles spruce up space.
23. White Hall Table with Creative Storage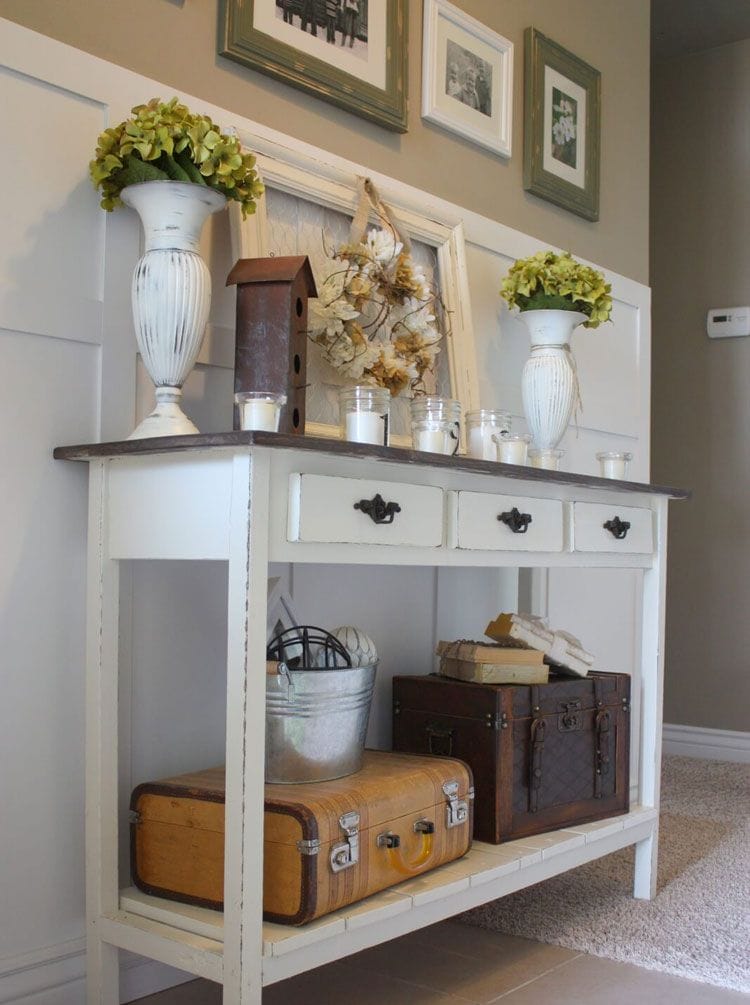 Boxes and baskets are common storage solutions. If you want to make an effort, place the vintage suitcases on the table's lower shelf.
They will grant your place a sense of class.
24. Old-School Entry Table Decor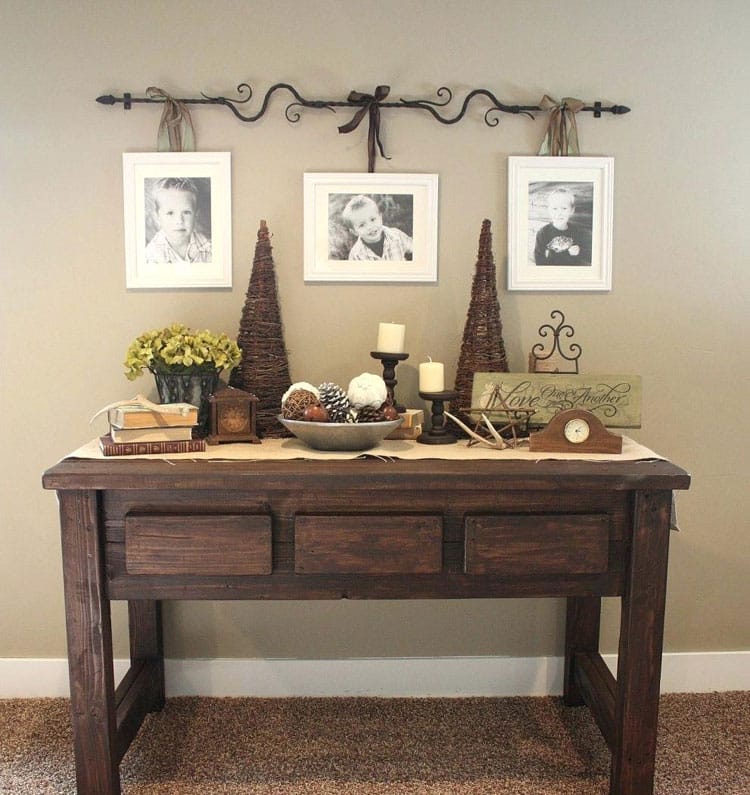 This wooden foyer table houses handmade Christmas trees and candle holders. They do not only fit the neutral color scheme but also produce festive vibes.
25. Easy DIY Hall Table with Artwork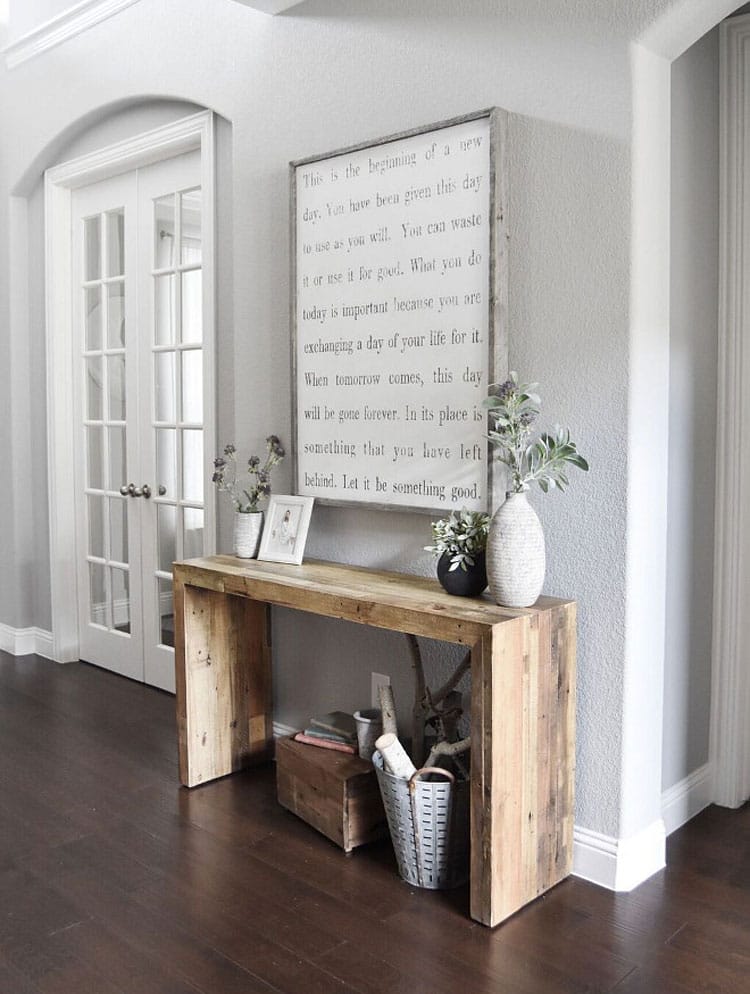 In this example, the unfinished wood entry table is long and skinny. The large print over it creates a nice visual contrast and positive feeling.
26. Dark Wood Entrance Table Decor
Here, the dark-toned wood mirror wonderfully complements the foyer table. Meanwhile, potted indoor plants and silver vase impart a luxury feel.
27. Pretty Antique Design
Are you a vintage lover? If yes, give this entry table decor idea a shot. The sign, lamp, glass vase, and balance scale match the whole theme.
28. Tall Monochrome Hall Table
Choose elegance over functionality? This simple foyer table is for you. Furthermore, the white dipped baskets provide additional storage.
31. Hallway with Family Mementos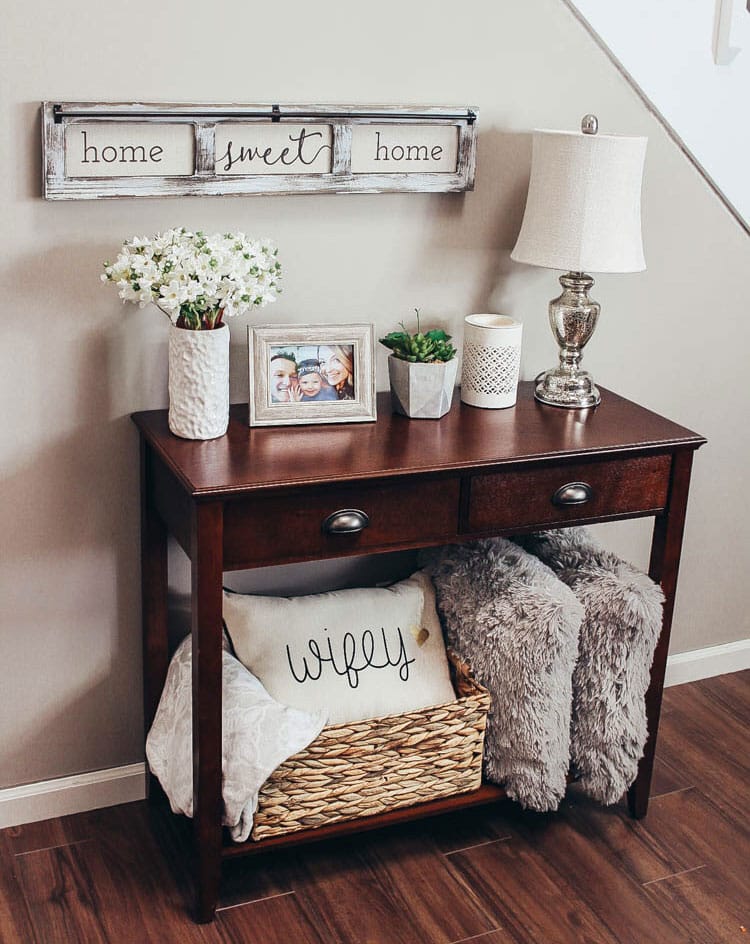 The dark wood table hugs the taupe wall. Meanwhile, the sentimental pieces like pillows, vacation souvenirs, and family photos set a cozy atmosphere.
32. Foyer Table with Eye-Catching Decoration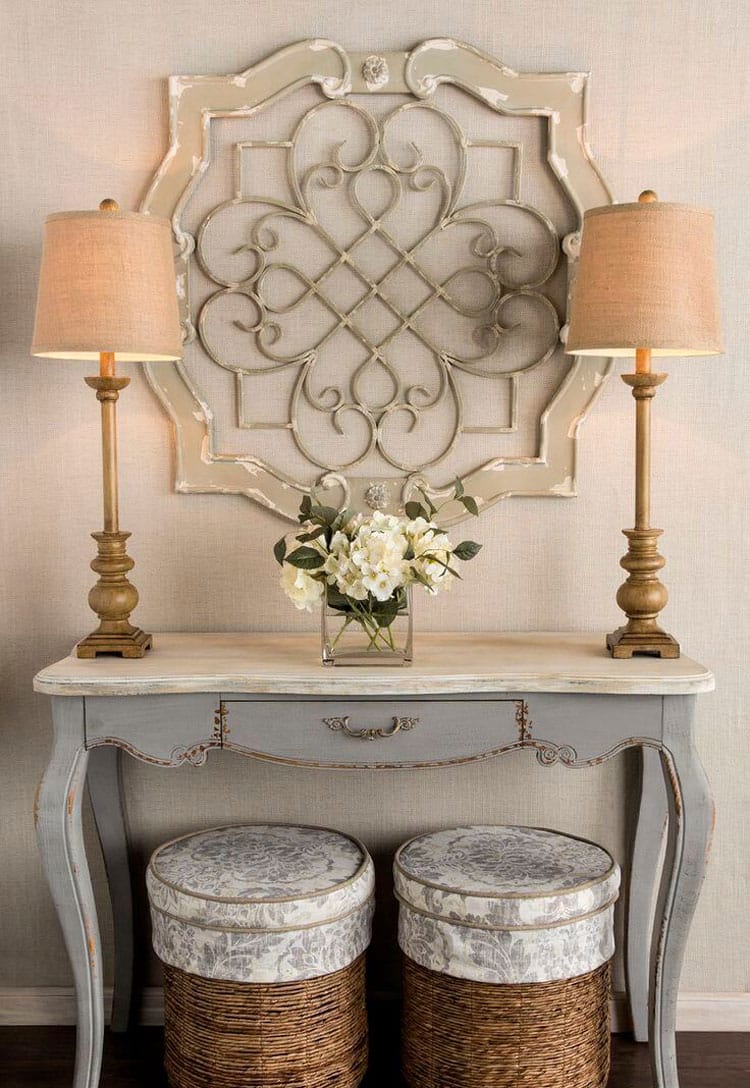 Searching for cool entry table decor ideas? This design deserves a try. The vintage suitcase definitely will win the heart of a keen traveler.
34. Glamorous Hall Table Decor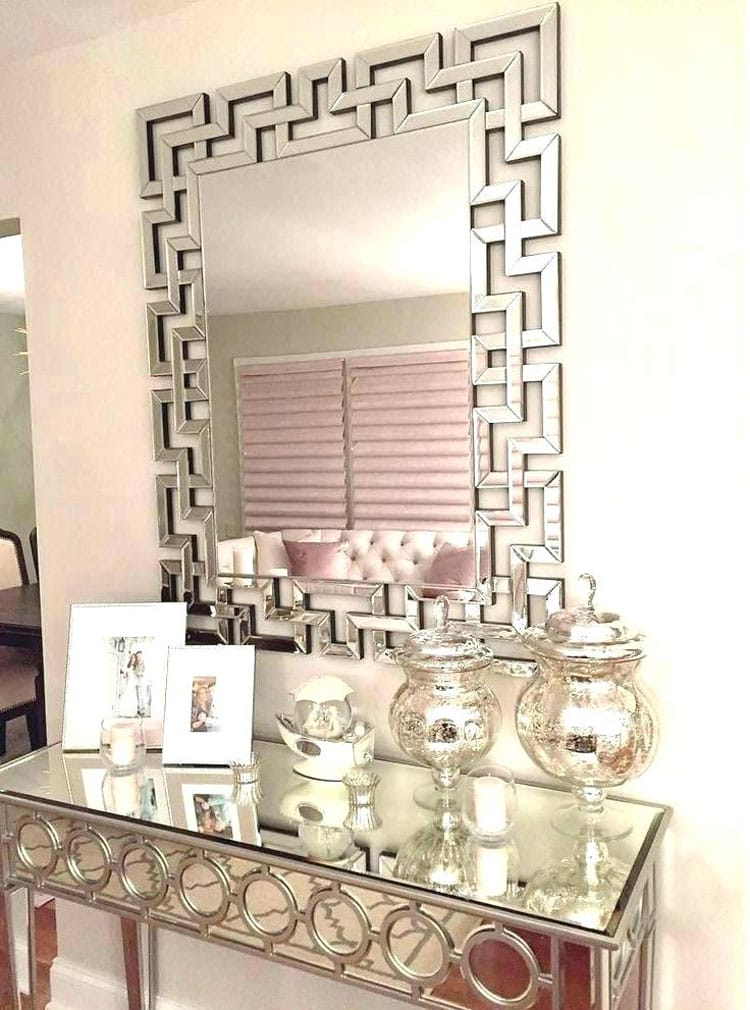 The black foyer table screams sophistication. To keep the hallway from looking gloomy, incorporate gorgeous blue vases into the area.
36. Small Red Entry Table
This entrance boasts round and rectangular tables. Since they come in similar styles, the space looks neat as well as inviting.
38. Entryway with A Woodsy Theme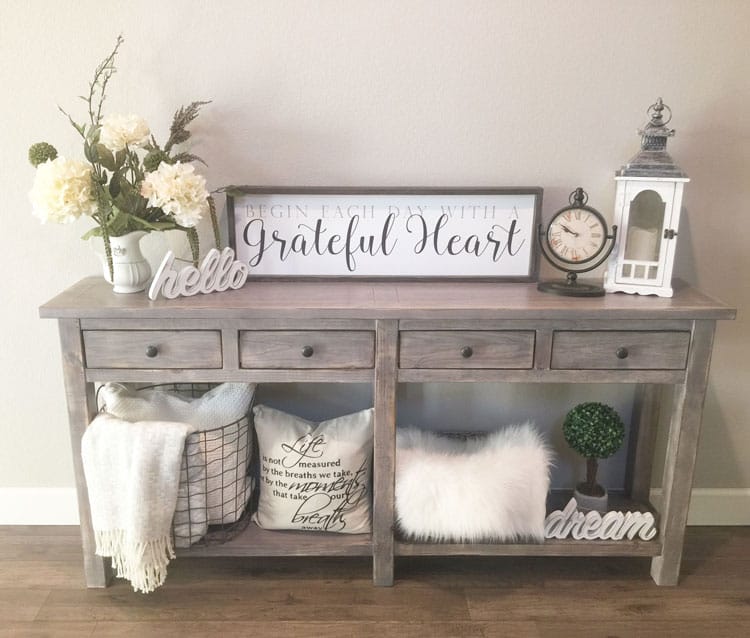 Clutter can make you feel stressed, so keep the foyer decor simple. Here, flower bouquet and wall art develop a tidy look as well as an inviting atmosphere.
40. Foyer Table with Seats
If you have a small entryway, pick multifunctional furniture. In this example, the lovely table and matching chairs create a cozy seating area.
41. Hall Table with Luxury Vases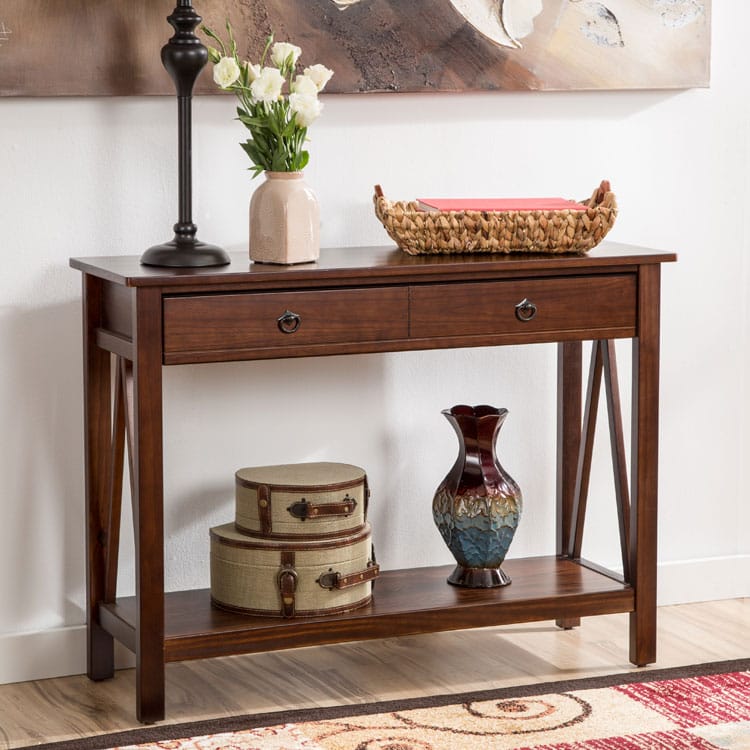 Vases are delightful decorative items. If you find their designs interesting, don't hesitate to display them on your entry table.
42. White Entrance Table with Greenery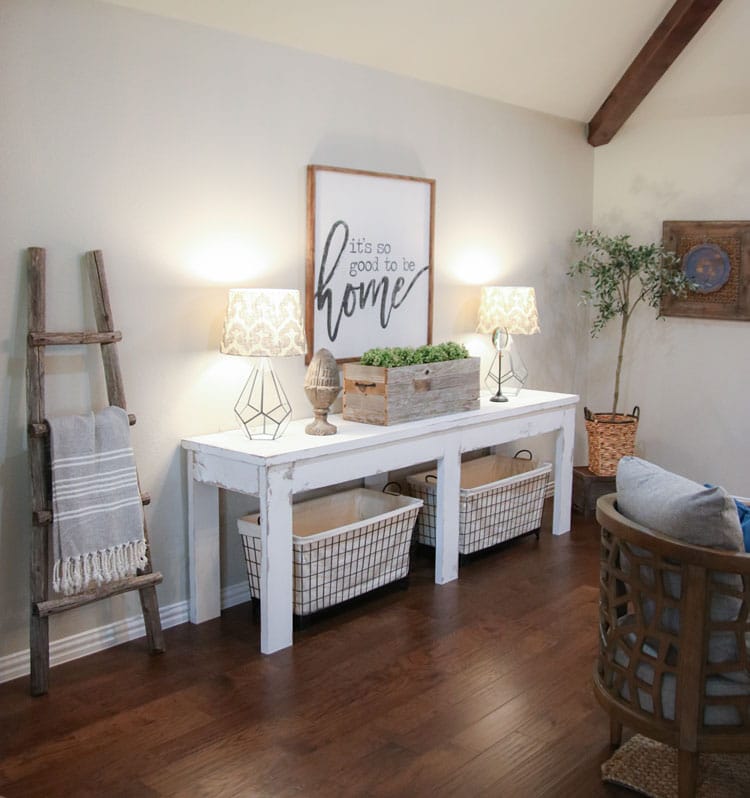 The console table and mirror give the entrance a farmhouse feel. Meanwhile, accent bouquets and wicker baskets draw the eye in a flash.
44. Modern Tables for Small Foyers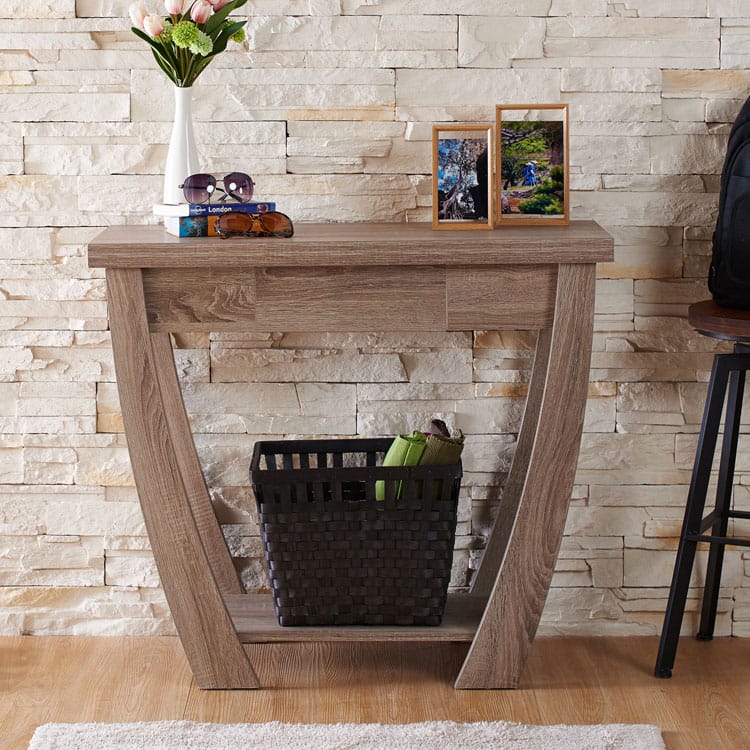 This tiny hall table doesn't offer plenty of storage. However, it will bring your entryway to the next level. You can put books, pictures, and keys on the tabletop too.
45. Luxury Entry Table Decor Ideas
This round foyer table is lavish. The vase flowers perk the entrance up. Meanwhile, the wicker basket holds wooden canes and umbrellas.
46. Unique Table Decor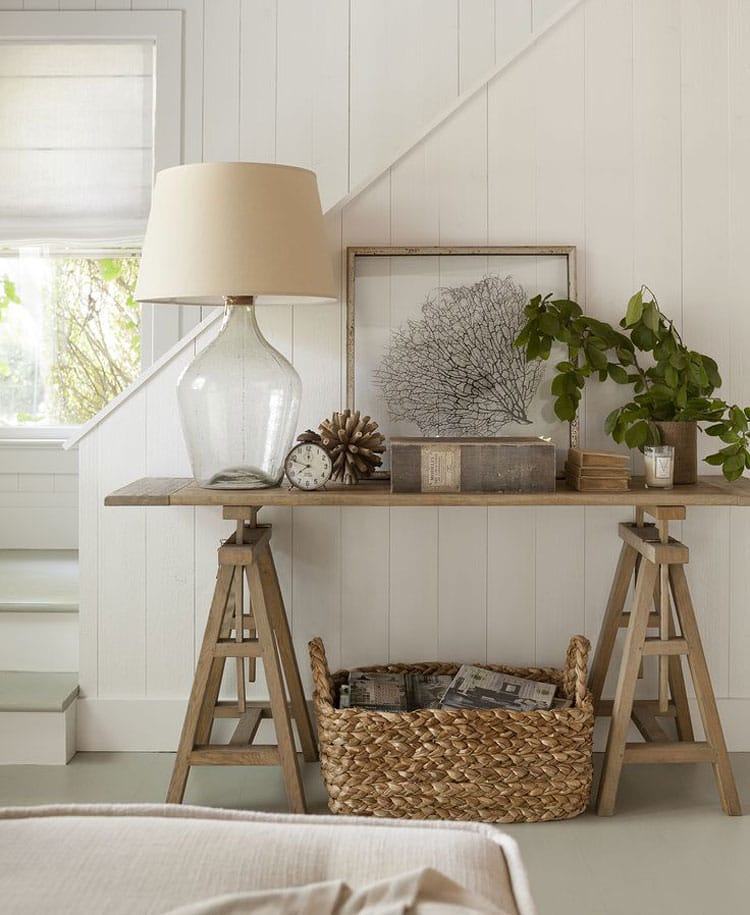 The carved wood sign looks so charming. It appends a comical impression of the hallway. Furthermore, tree branches and flowers lend the area an outdoorsy feel.
49. Easy Ways to Adorn A Hall Table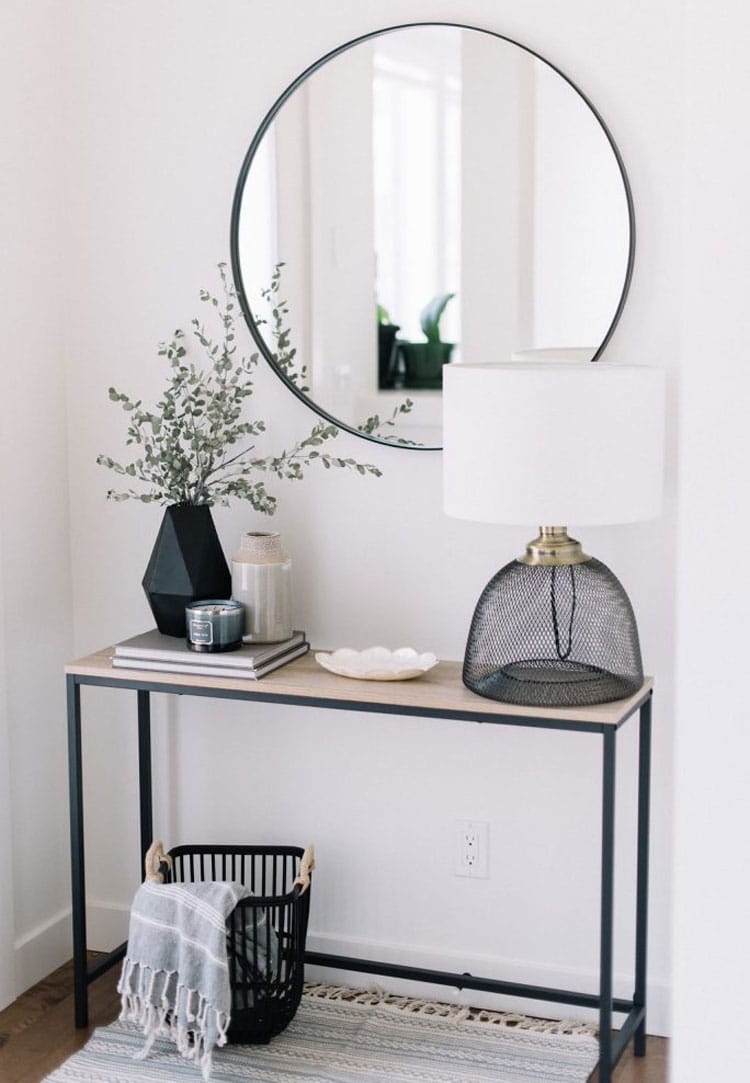 Although this DIY wooden foyer table is narrow, it can accommodate several decorative pieces. The grid mirror converts the wall into a beautiful focal point.
56. Contemporary Entrance Table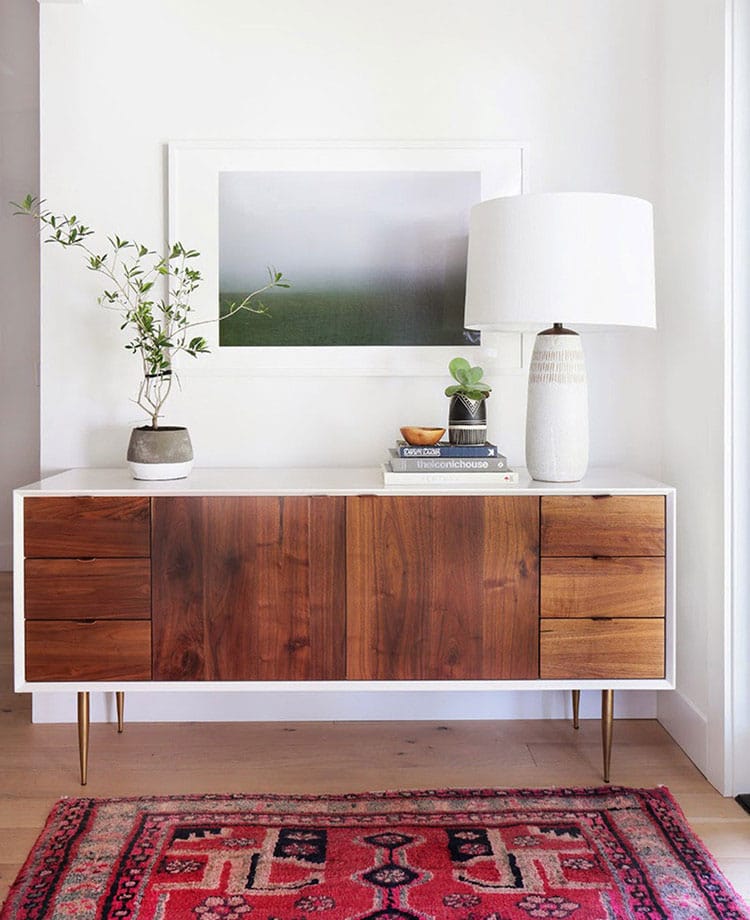 This foyer table comes in neutral shades. It adds functionality as well as style to the all-white hallway. The multicolored area rug brightens the space up.
57. Black Half Entry Table Decor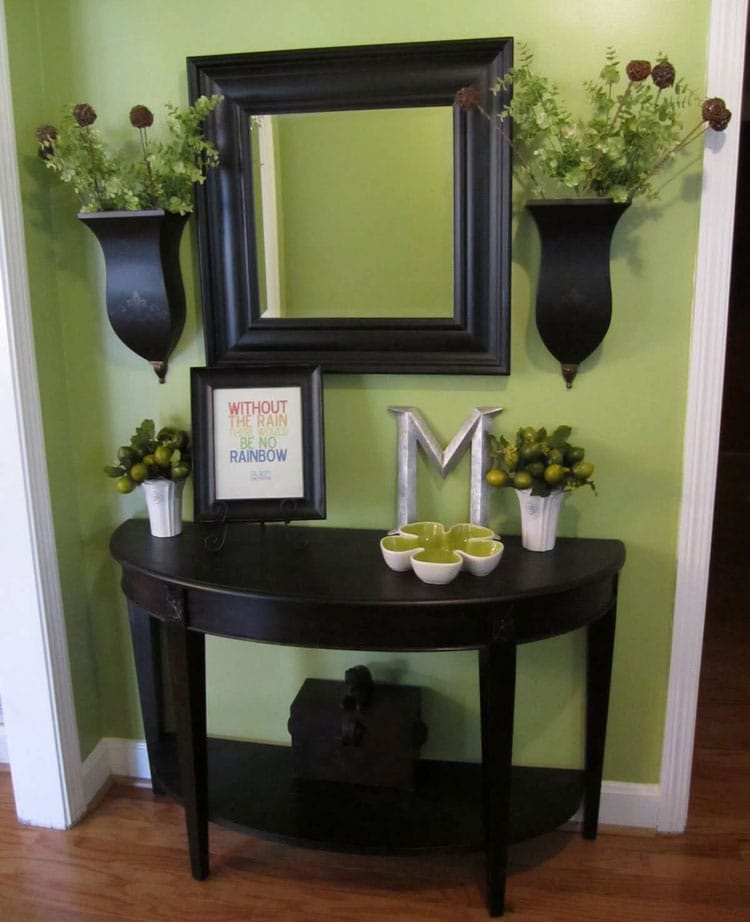 We love this entrance set. The mirror and photo frames along with stunning planters accompany a black half table.
58. Earthy Tones for A Simple Wood Table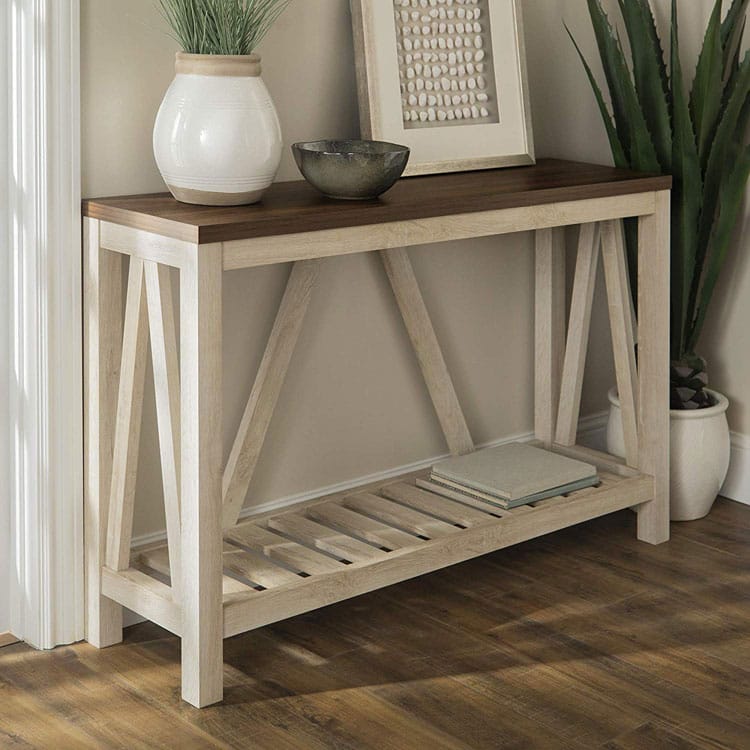 There are decorative pieces in the middle area. Furthermore, they make the entry table seem longer than it is.
61. Colorful Entry Table Decor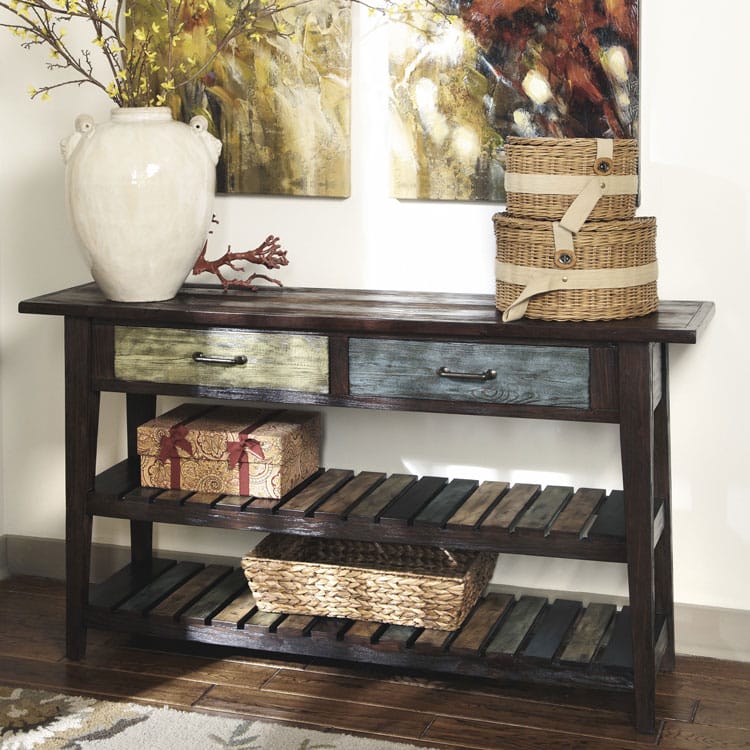 This foyer employs a multicolored table with wicker baskets and a large white vase. Moreover, the statement works of art grab everyone's attention.
62. Chic Entrance Table with Mirror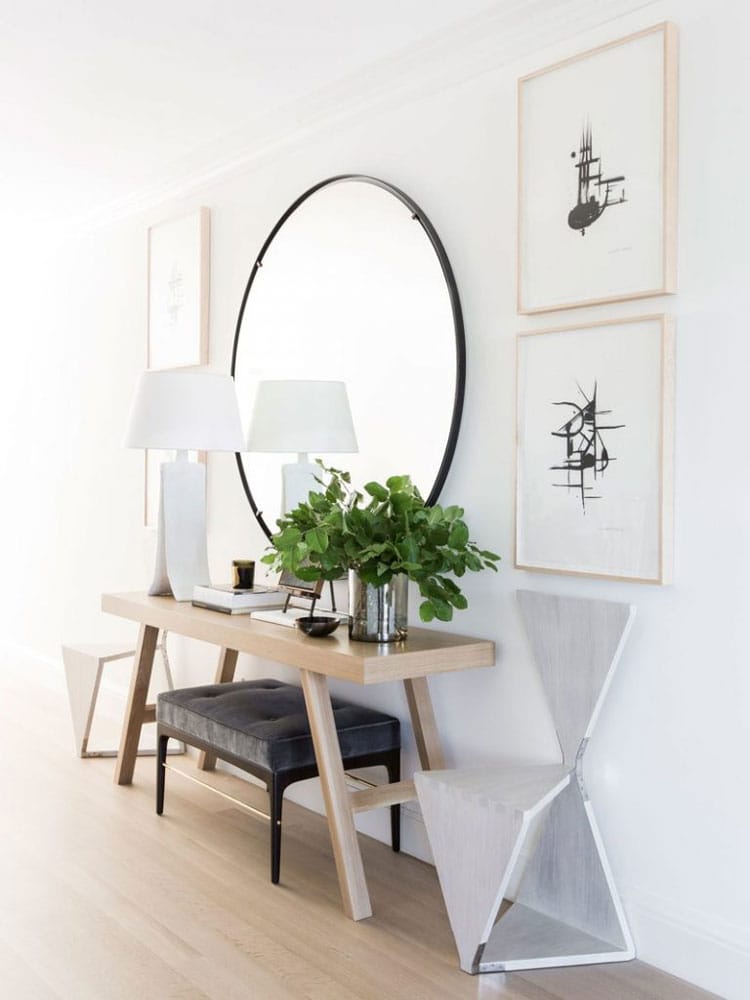 The minimal prints go well with the overall entrance design. Wooden foyer table and geometric chairs exude a modern vibe.
63. Shabby Chic Foyer Table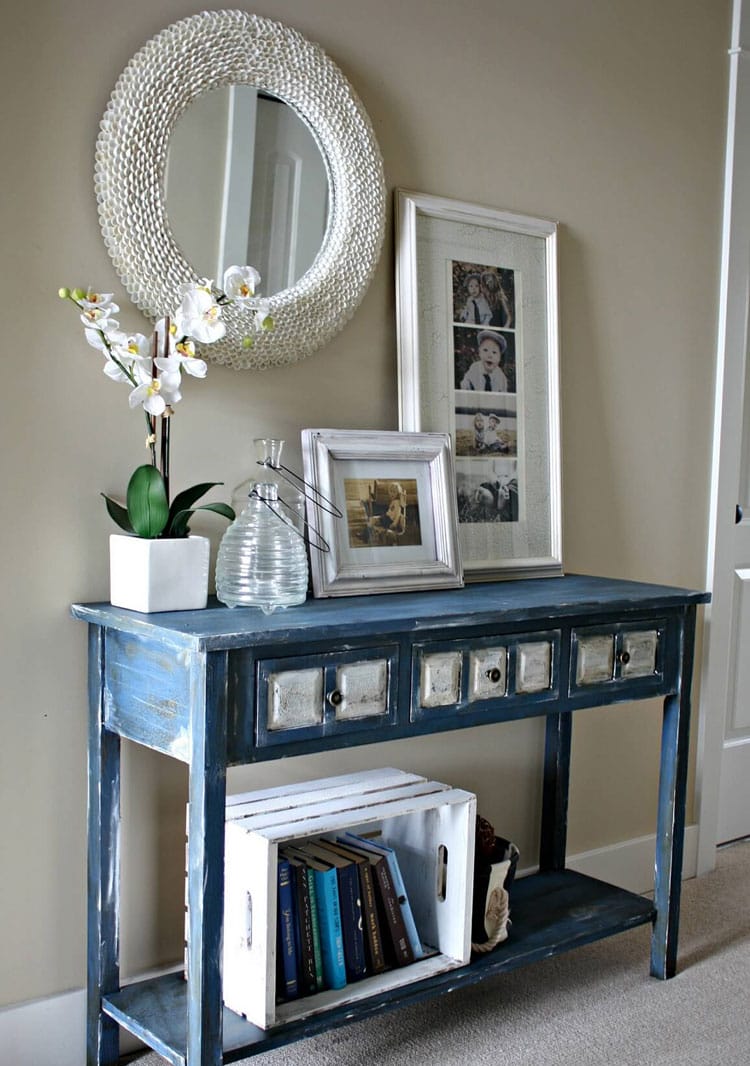 This blue hall table has a rustic flavor. Meanwhile, a wooden crate and drawers offer lots of storage space.
64. Boho Entry Table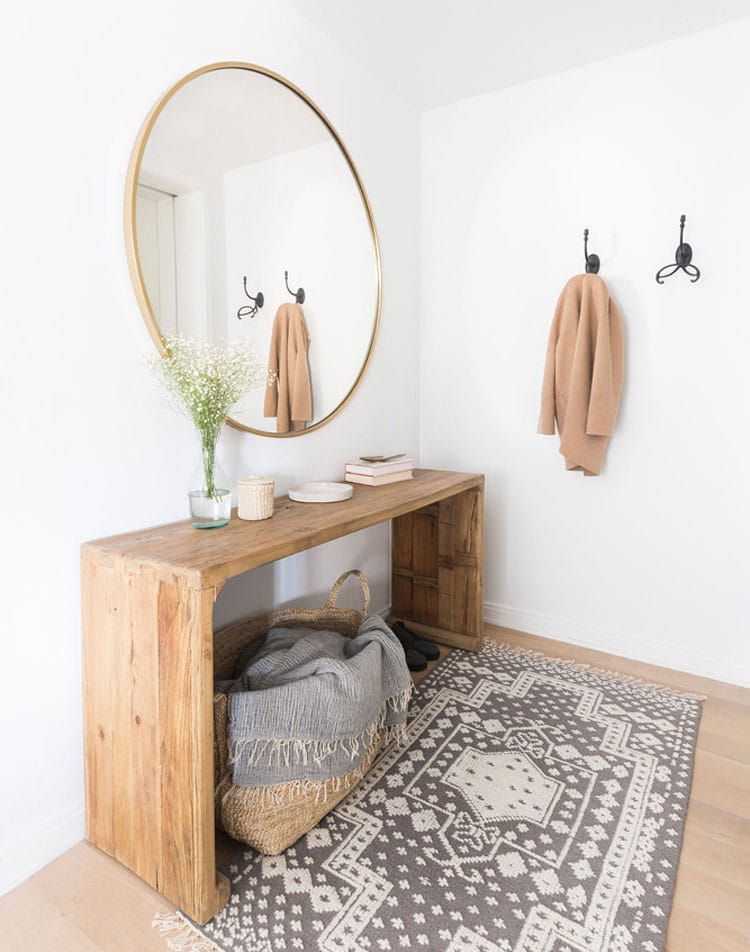 Here, the bohemian wooden table is a perfect fit for the tiny hallway. The plush rug conveys a sense of coziness.
65. Industrial Foyer Table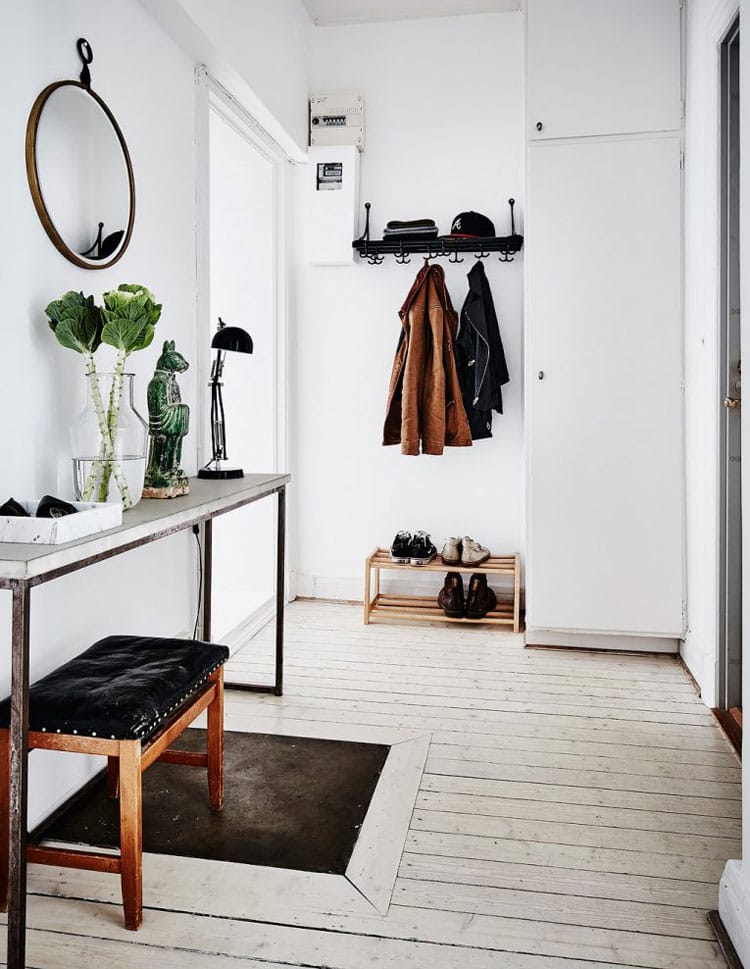 This skinny hall table doesn't waste too much ground area. Furthermore, the metal legs develop an industrial flair.
With so many entry table decor ideas, there is no reason to leave the hallway unadorned. Once you jazz the space up, it will unquestionably perplex your fellows and relatives.