In addition to functionality, the stairway offers nifty decorations that will give your home a unique personality. So, looking for stairwell trim ideas for gaining inspiration will not ever go wrong.
Furthermore, here we have collected several timeless stairwell trim ideas that will alter your home into a more stunning one.
We know stair trim is only a tiny part of the decor. Still, it has a significant impact on providing details on your stairway. That is why it would be a pity if you missed this part.
Without further ado, let us explore the thirty-one stair wall trim ideas worth trying!
1. Install White Shiplap and Step Lights to Highlight Stairway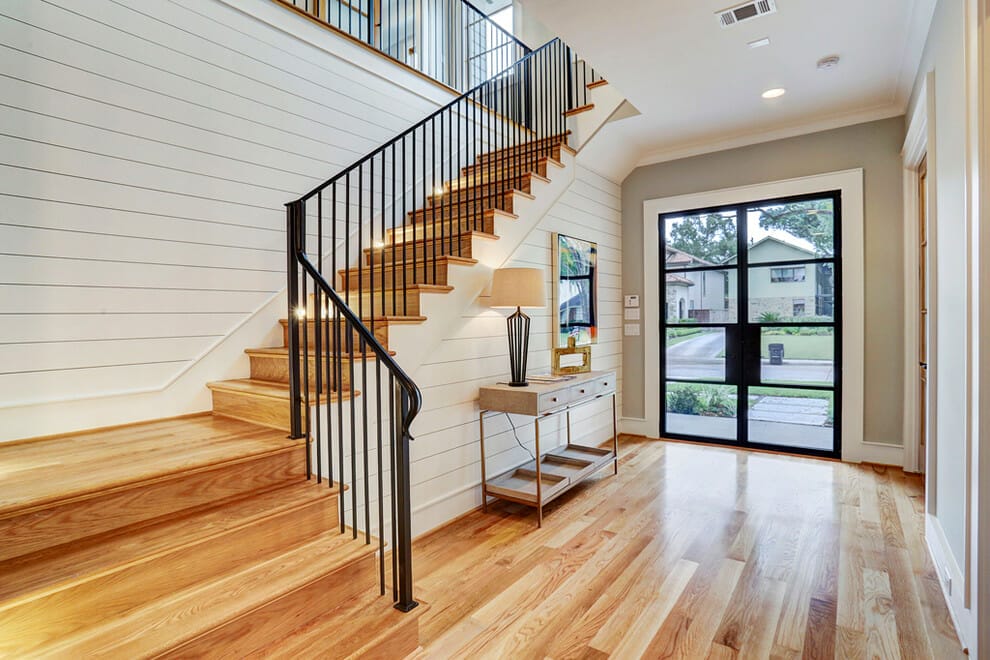 Shiplap will always succeed in providing texture, both on the walls beside and under the stairs.
Like the picture above, choosing white makes it easier for you to give any adornment to highlight the main staircase.
The black handrailing and the light-tone wood stair trim are enough to catch the eye with the white shiplap as the background.
But, if you want to add step lights to give it a warm feel, that is even better.
2. Stairwell Trim Ideas with Coffered Wall and Monochrome Arts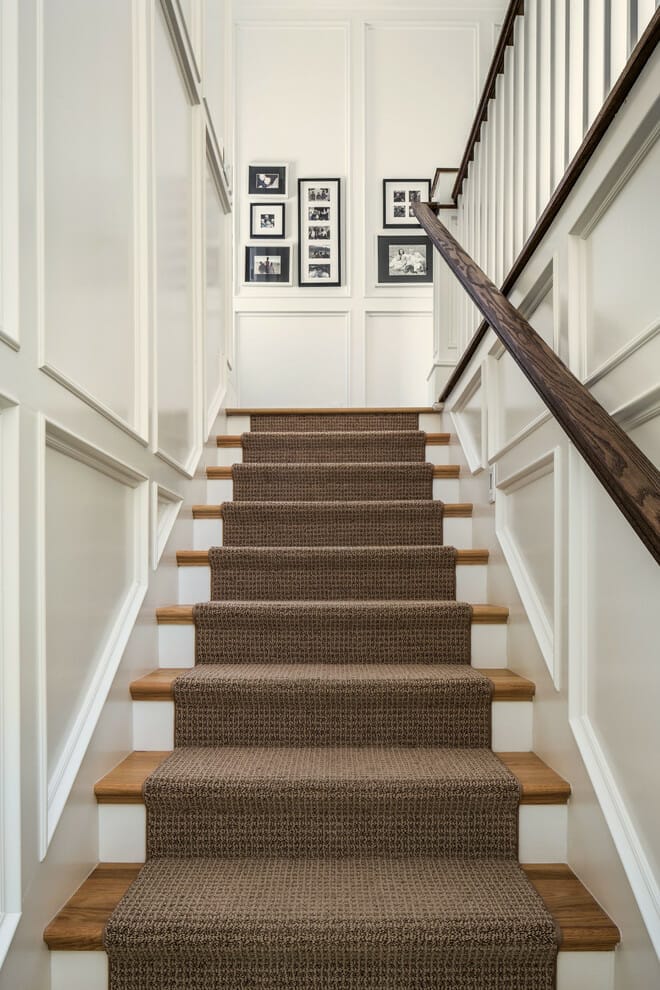 Coffered walls on the right and left of the stairs will provide drama without overcrowding everything. You can even mount some monochrome arts on it if you want.
Of course, this will immediately elevate your main stairway well.
Then, for a wall-mounted railing made of dark wood, it would be advisable to give the runner a lighter tone.
That way, everything set in your stairway will look cohesive together.
3. Triple Windows Along the Curved Stairway and Giant Wooden Sculpture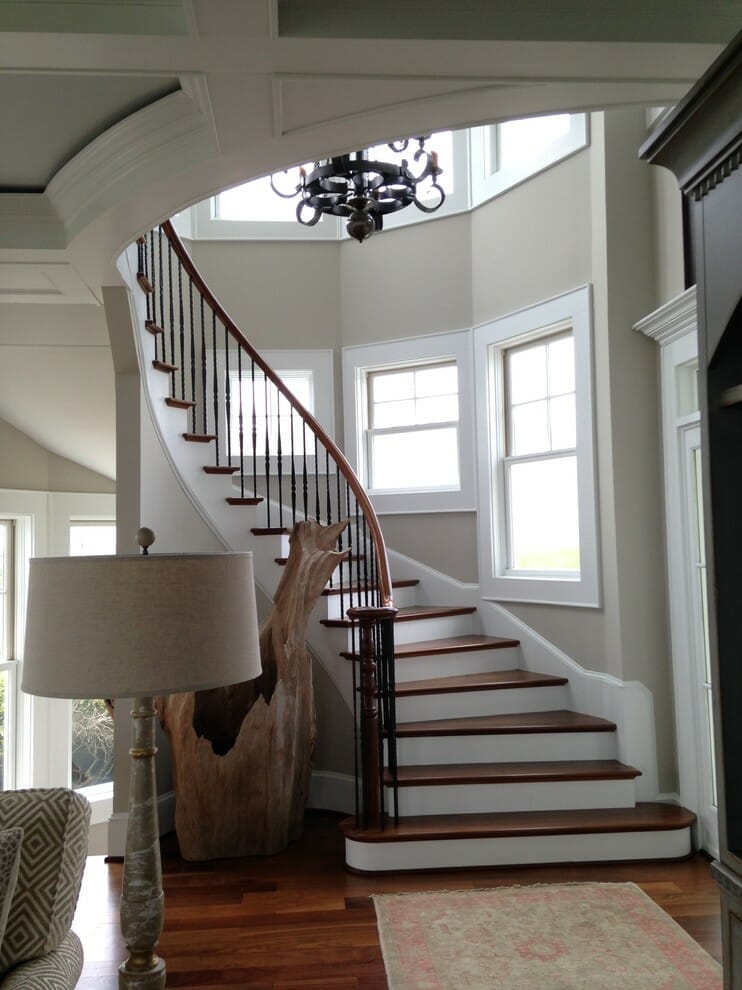 As guests go upstairs, they will naturally observe everything around them. So, make sure all your decorative stair trim gives an unforgettable impression.
If the coffered wall no longer interests you, it will be better to move the accent on the ceiling.
Meanwhile, provide three windows of different sizes on the wall to replace the molding. Rest assured; it will look captivating more than anything.
As a final touch, you can also place the giant sculpture that resembles a tree trunk to fill the empty spot on the side of the stairs.
4. Simple Stairwell Trim Ideas using Silvery Cable Railing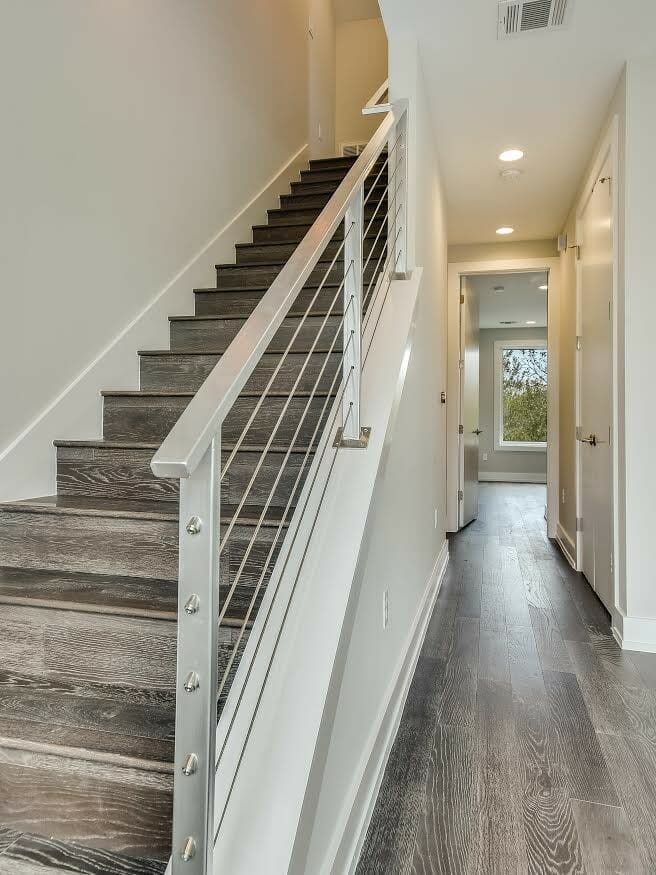 Having a straight staircase often makes people confused about what kind of adornment to add so that this feature looks attractive to the eye.
But it seems that now you don't need to worry anymore. Because just by installing the silver cable railing as above, everything looks more up to date.
Instead of setting the handrail straight, try to bend its center part as the wall ends. No doubt, it will give remarkable detail to your stairway.
5. Ceiling with Curvy Edge, Masterpieces, and Decorative Lights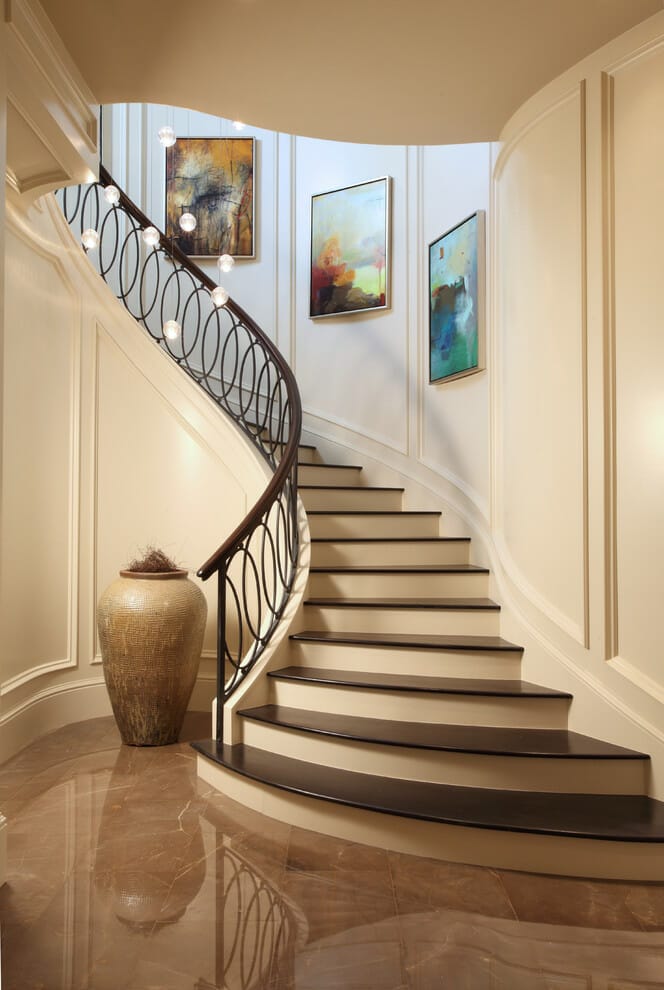 Curved stairs are truthfully attractive and elegant, especially if it comes with shiny polished concrete floors.
However, if you still want to give a distinctive stair trim, then put your choice on wainscoting that reaches the ceiling.
Keep the white on the wall treatment, and mount some masterpieces to create a focal point. Next, let the ceiling have curved edges to blend the existing look and keep it from being stiff.
Lastly, do not forget the unique light fixture to spotlight the corner space of the stairs.
6. A Sconce on The Wall and Built-in Shelves Under the Stair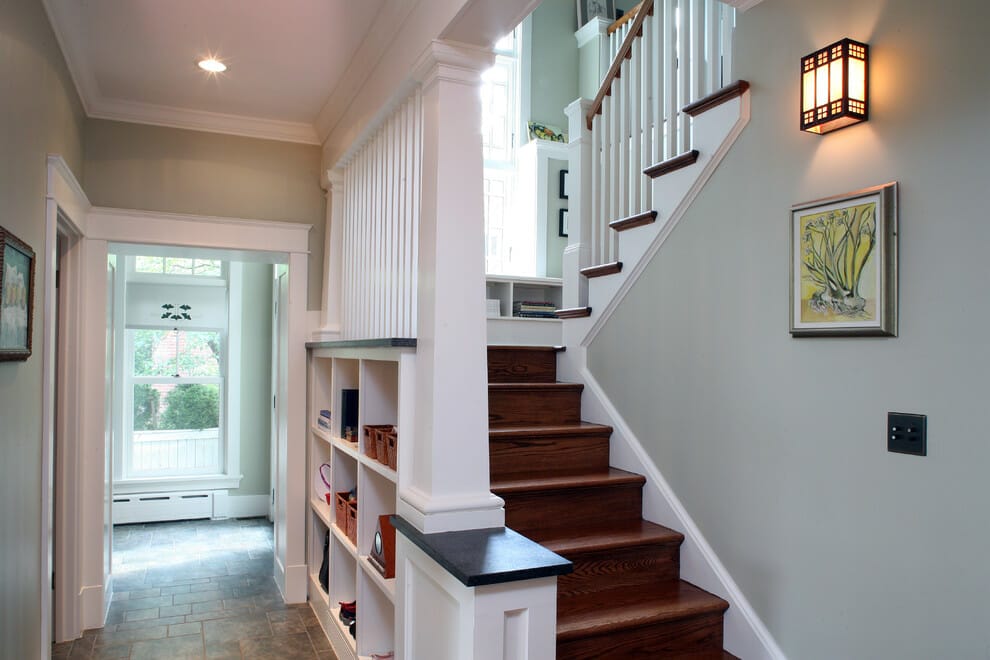 Stairwell trim ideas are not only promoting aesthetical value. More than that, it sometimes also promises good aspects of functionality at once.
One way is to arrange built-in medium shelving right under the stairs.
As a consideration, it is good to install balusters above the shelving system to give drama while allowing anyone to see through the gaps.
For the wall on the other side of the stairs, you can put a wall art and sconce to enliven the remaining blank space.
7. Expose the Original Wood Texture and Hang Lanterns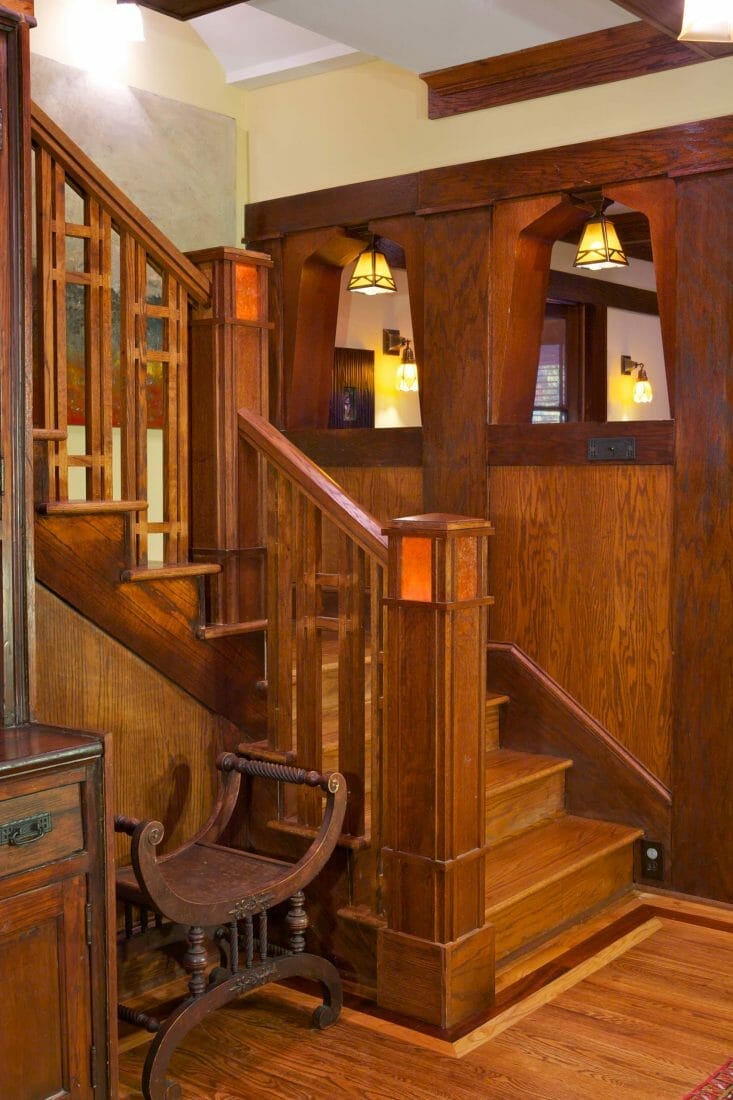 When you choose the traditional style, installing a wooden half wall near the stairs is the best option. Give the dome-like architecture to the top of the half-wall, and hang two lanterns on it.
Your stairway will give off a strong, classic yet stylish vibe. Look at the box newel post that also has illumination inside.
It is pretty dramatic for all the existing designs.
8. Modern Stairwell Trim Ideas with Black and White Winder Handrail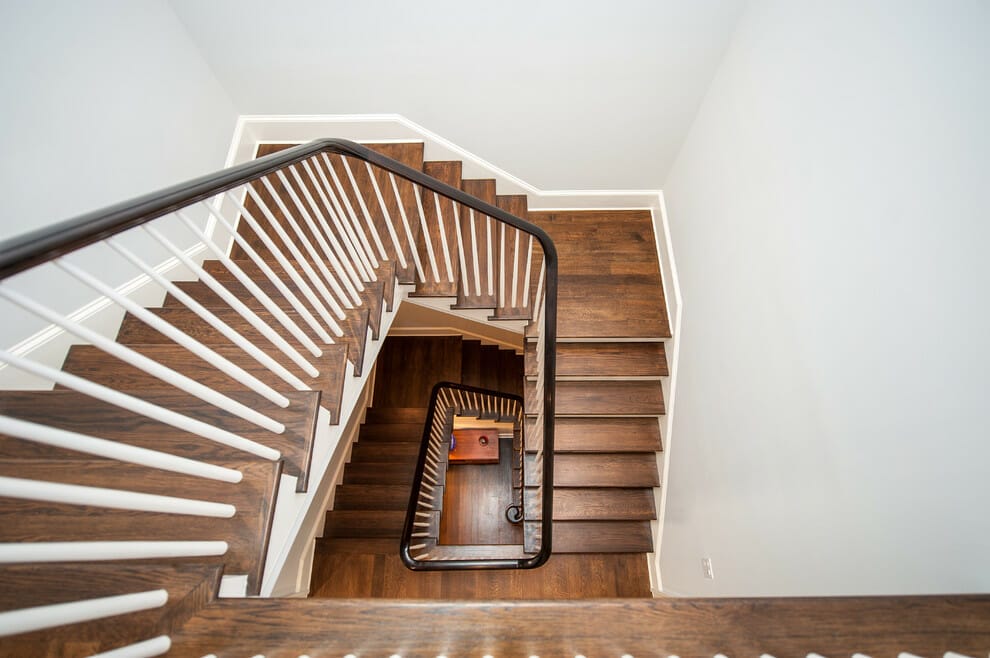 Not much different from the spiral one, the winder staircase also looks architecturally aesthetic. Thus, it does not require more effort to make it attractive in the eyes of everyone who passes by.
It would be best to make the handrail eye-catching by providing a contrasting color combination. As in the image above, a smooth metal railing surface will look great in black and white on the balusters.
9. Traditional Stairwell Trim Ideas with Wainscoting and a Round Window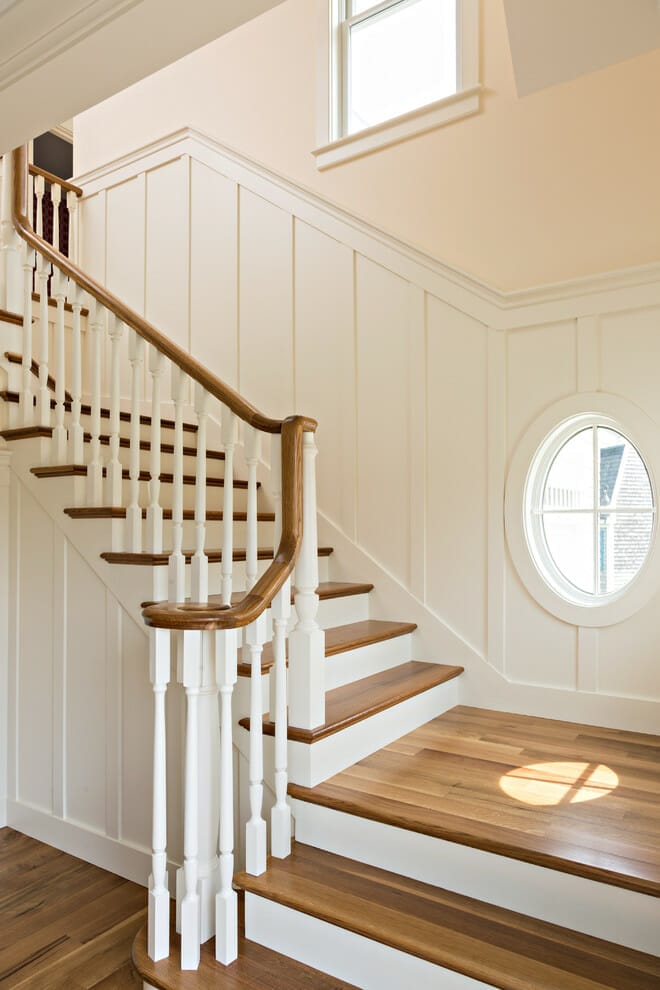 There are times when traditional wainscoting can be slightly dull to look at. Therefore, try to make it different by customizing one that has a space for the round window like above.
It would be best if this is placed close to the landing of the stairs. So it will provide an aesthetic silhouette during the day.
10. Wall-Mounted Railing with Banisters in Last Steps
We know wainscoting or coffered wall is not for everyone. Thus, there is also an alternative that you should try, namely by providing a wall-mounted railing as above.
The first way to do is to install it as it is, whereas the second one is to give trim around the railing. No need to hesitate, both ways have their charm to beautify your stairway.
11. X-Style Railing for Coastal Home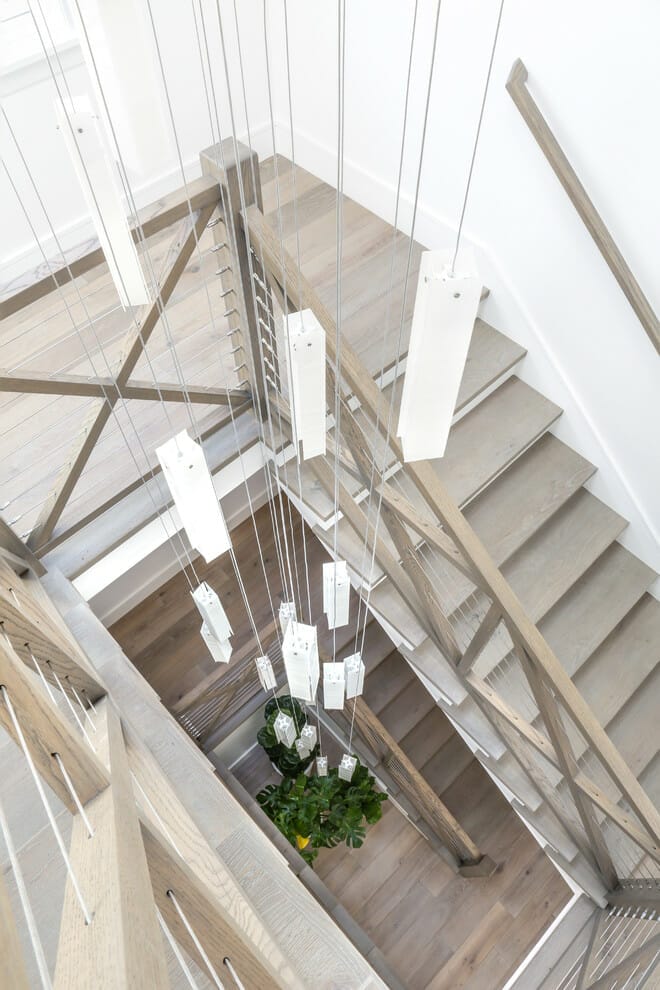 Coastal stairwell trim ideas are synonymous with subtle and soothing colors. For instance, you can see it in the design above.
There is not much wall treatment other than the white baseboard that matches the whole building painting.
Even so, this is no less a statement than the other designs.
It is due to the stair handrail having come with the X model and is complete with cable railings to provide more security in the middle.
It is even more remarkable because the stairway comes in the original pastel wood color. Besides, an indoor plant provides freshness.
12. Molding on Staircase Walls and Semi-Circle Bench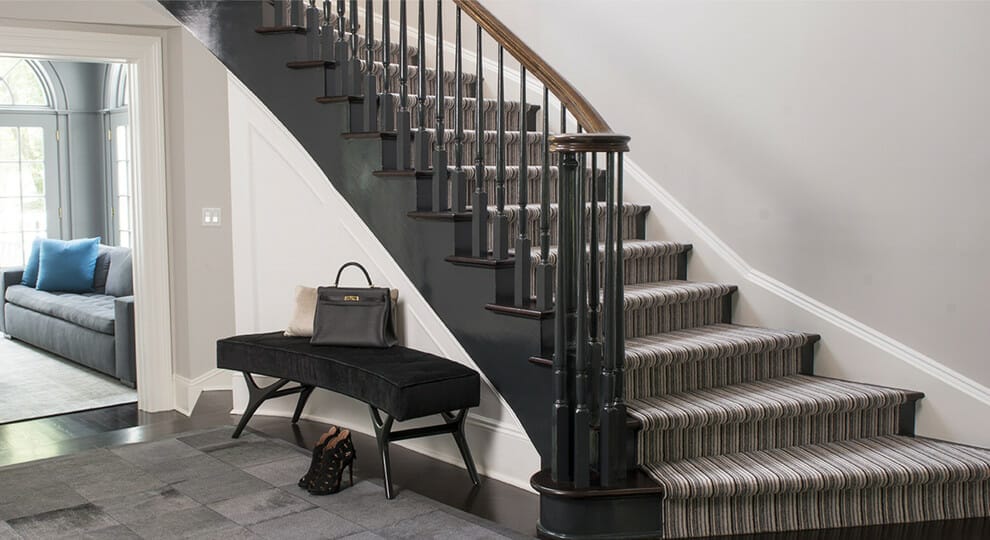 Black on the stringer and white molding on the wall under the stair is an irresistible combination. Those are such perfect modern stairwell trim ideas that worth stealing.
Instead of leaving this spot empty, providing a black bench with a semi-circle model would be better. Indeed, it looks aesthetic and functional at the same time.
13. Wooden Newel Posts in Different Sizes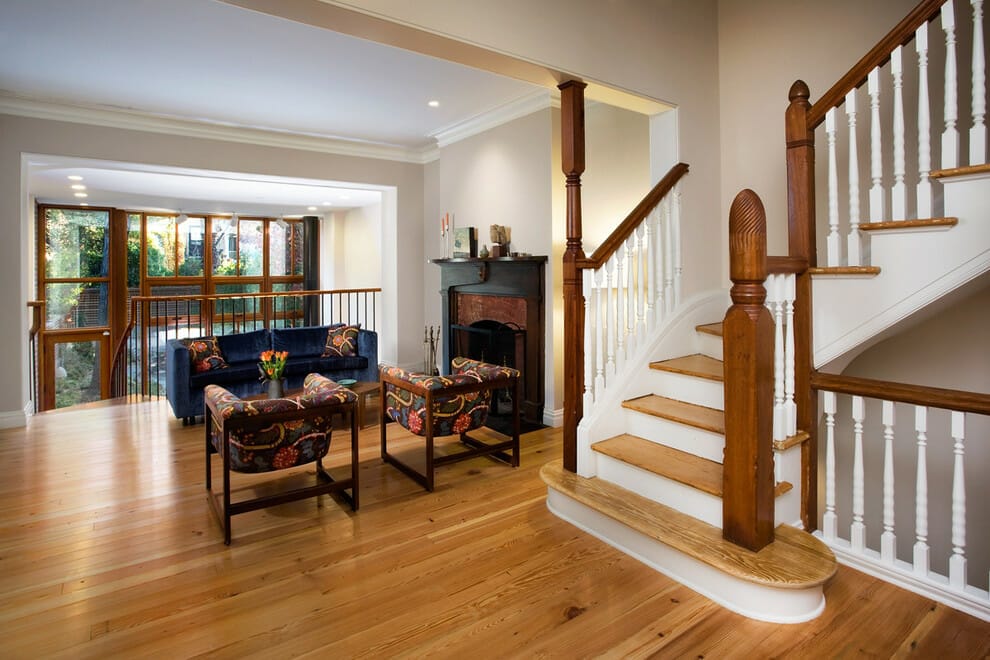 Bullnose step has become a favorite choice because of its non-rigid design. Usually, this is accompanied by a classic newel post.
However, to give an anti-mainstream guise, you can go with a different size and shape on the two newel posts instead. Thus, it will be fine.
It has a balanced finish and a lovely traditional look, though.
14. White Baseboard and Ash Gray Wall with Unique Sconce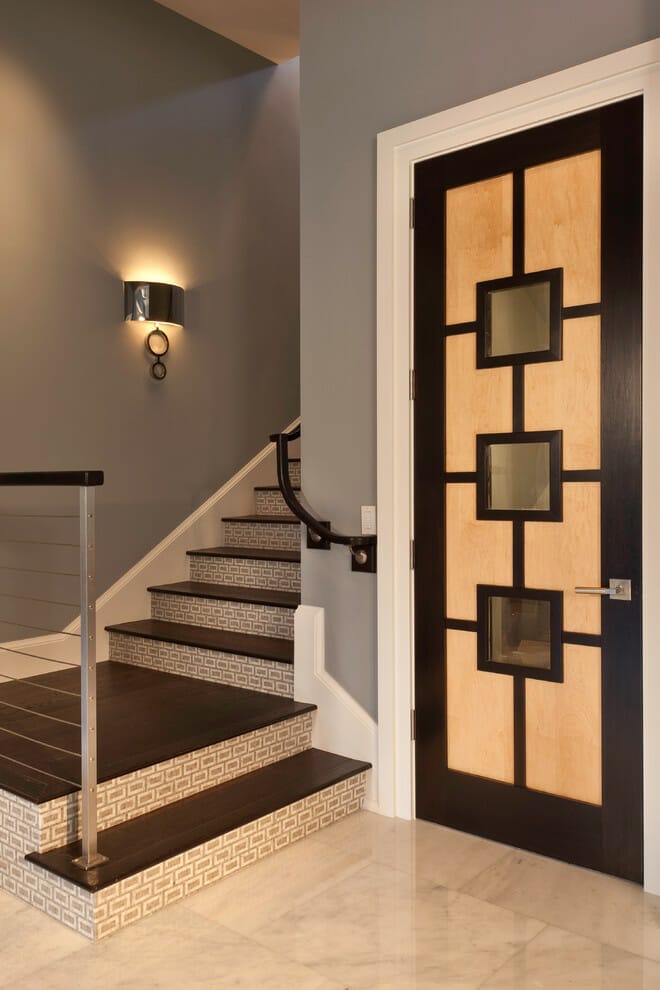 Keep your stairway modest but still fashionable by giving a white skirt board and ash gray painting on the wall.
Even though there is no artistic element, you can still develop an elegant concept. That is by mounting unique wall sconces like the one above.
Do not forget to give pattern tiles to the risers to give everything a harmonious look.
15. Double Window with Beautiful View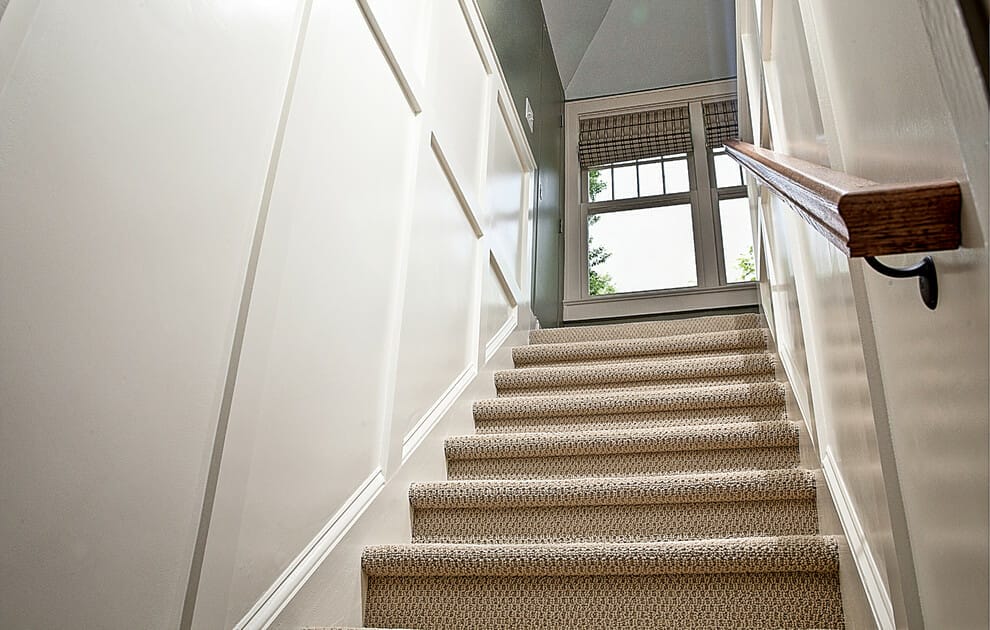 As we go up the stairs, we often expect a new scene that we can meet above. Therefore, you better adopt stairwell trim ideas with two windows right in front of the straight staircase.
If you cannot make aesthetically pleasing frames, make sure it has a beautiful landscape that is pretty stunning to look at.
16. Wavy Accent Under the Light Wood Stair Trim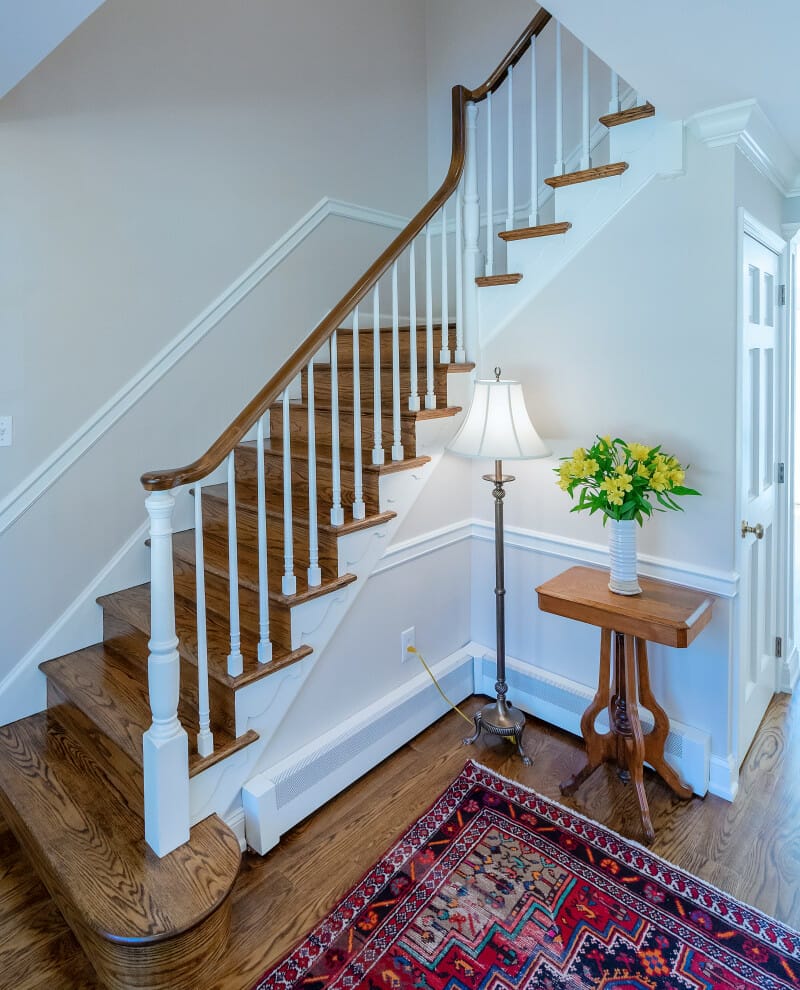 At first glance, you see this staircase only comes with a shiny wooden nosing. But take a closer look. It has wavy engravings on the stringer.
It will give enough texture to your stairs without going overboard.
Look at how the wooden handrail also twists like a roller coaster. All these little details manage to give a unique flair that is unforgettable.
17. Stairwell Trim Ideas with Chair Rail to Balance the Look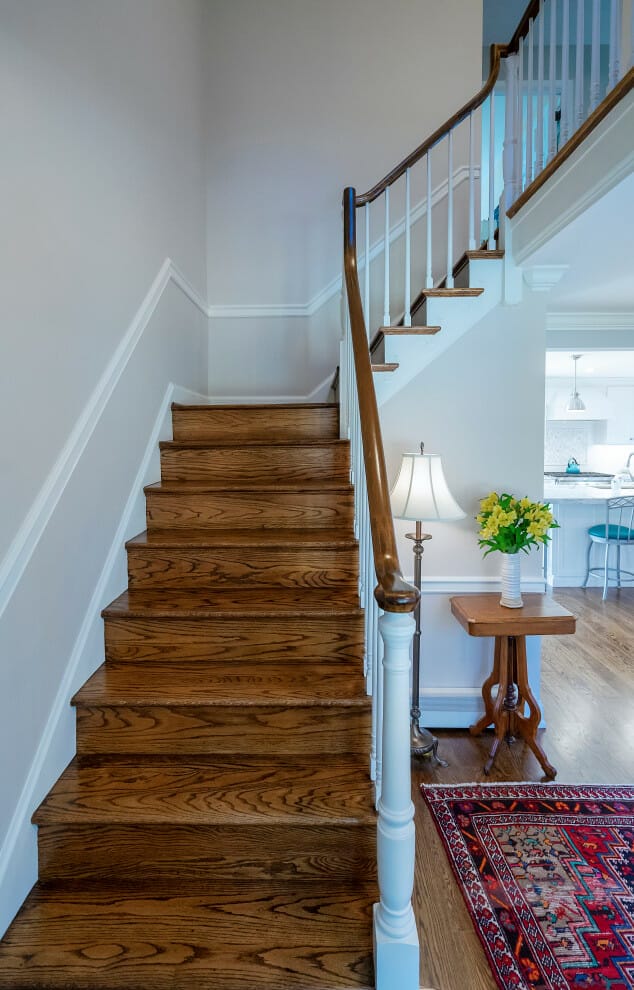 The staircase attached to the wall will look a little unbalanced because one side has handrails, but the other does not.
However, to provide a stylish final look, you can balance the appearance by installing a chair rail of the same height as the wooden railing next to it.
18. Grey Coffered Wall and Vinyl Letters on The Risers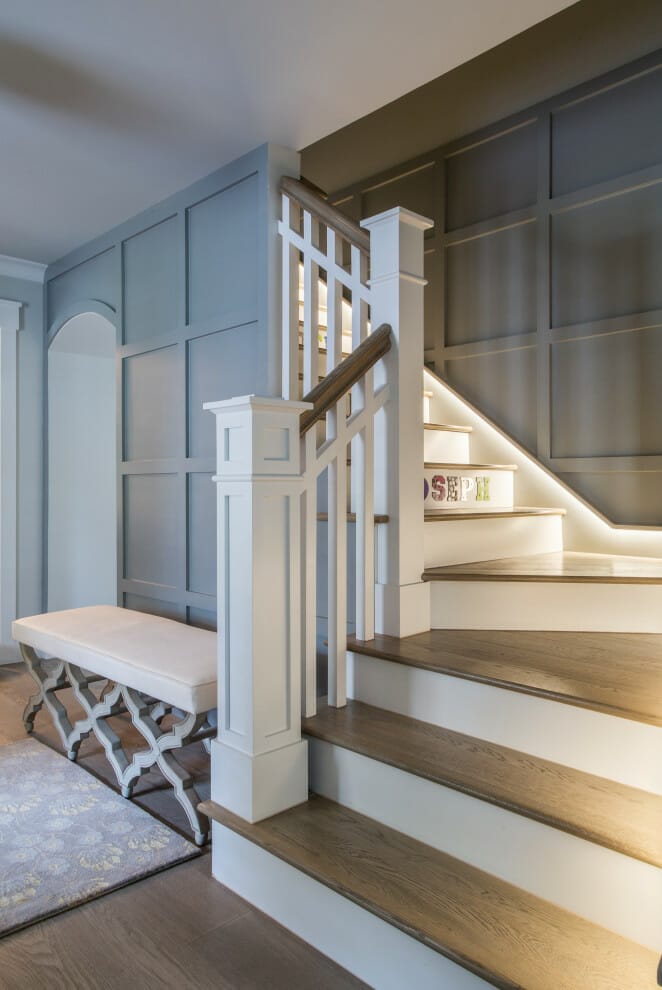 Generally, wainscoting and coffered walls come in white. And this is too mainstream to be applied. Thus, it is better to update the look.
You might consider painting it with subtle hues, like gray as above.
Do not worry. Your space will not be too gloomy as long as you combine it with white or cream on some elements.
You can also stick vinyl lettering on the risers to add drama to the staircase.
19. All-White Stairwell Trim Ideas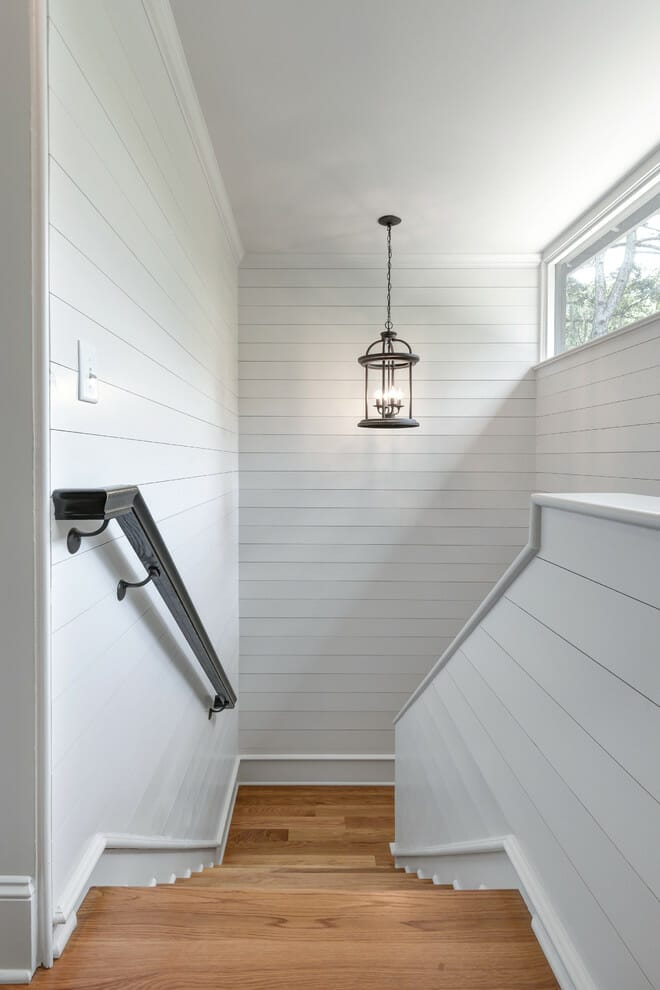 Do you want to arrange your staircase in all white? Consider using shiplap or beadboard to add texture without making it look overwhelming.
Next, install a wall-mounted handrail made of metal in black and hang a black lantern to provide a focal point.
20. Classic Window Frame and Secret Room Under the Stair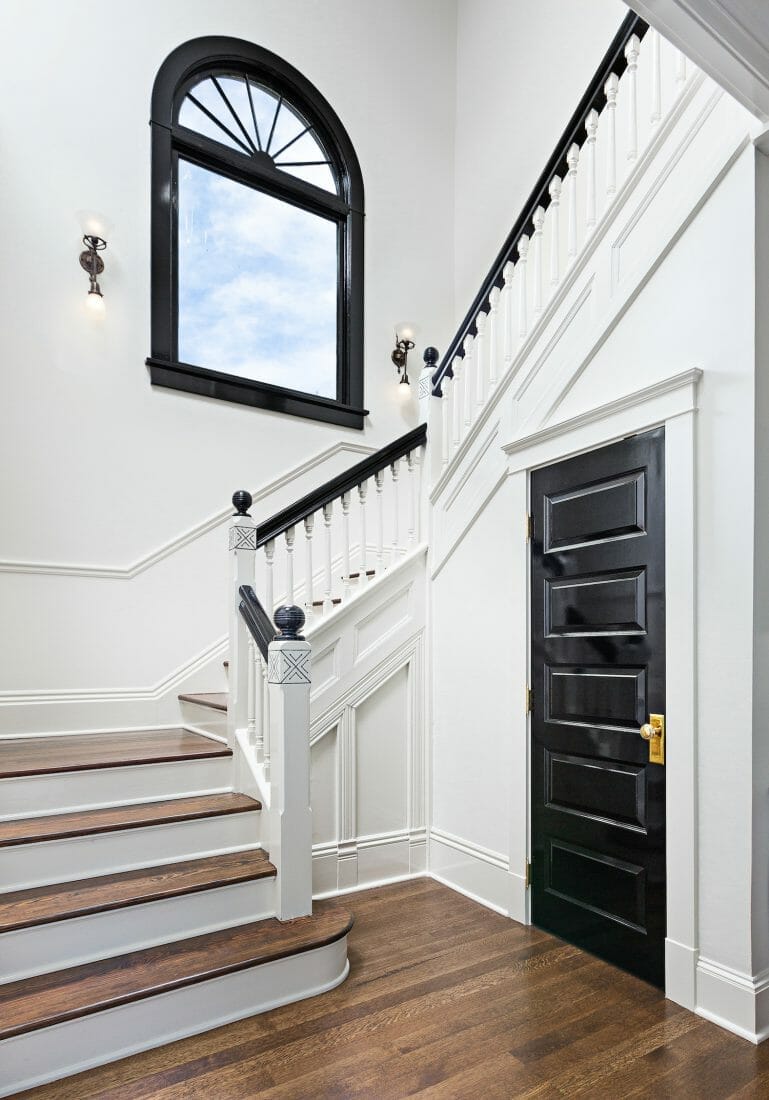 Staircase with double function, why not? It will be effortless to realize by transforming the space under the stairs as a secret room or additional storage.
Apart from having a high functionality aspect, this can also be attractive by giving the door a black color with a gold handle.
Give your classic handrails and windows similar colors to make things coherent.
21. Coastal Theme in Pastel Blue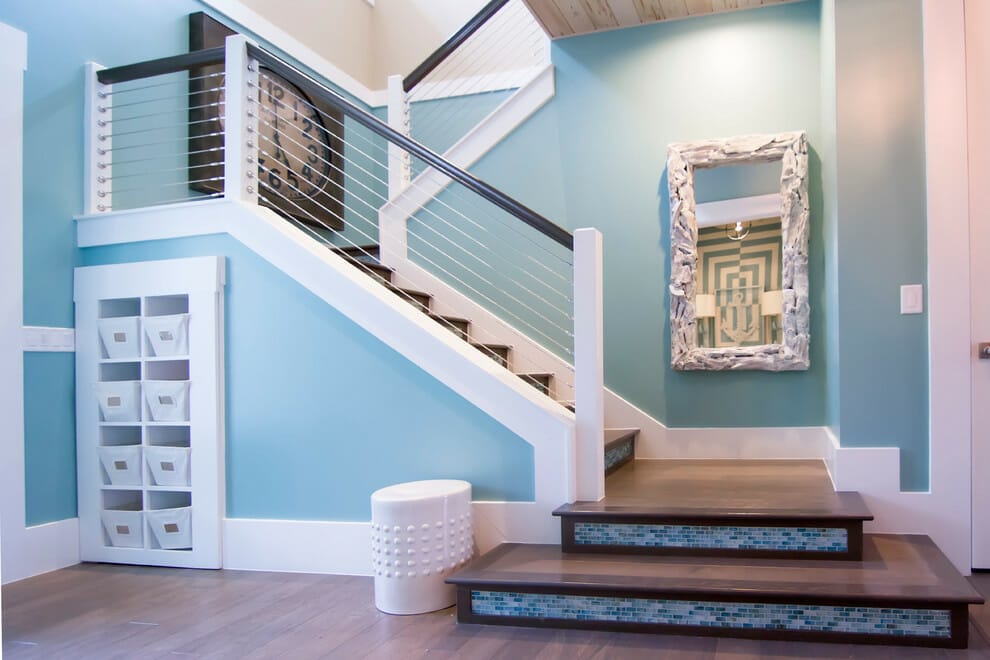 The stairwell trim ideas in this section give you options about combining white as a color for the adornment and pastel blue for the walls.
You will get a lighter and refreshing feel like a coastal house with this contrasting color.
All of this needs to be complemented by marine-themed decorative elements. You can start with a mirror with a distressed frame and a large wooden wall clock.
22. Install Mosaic Tiles in Blue on Each Riser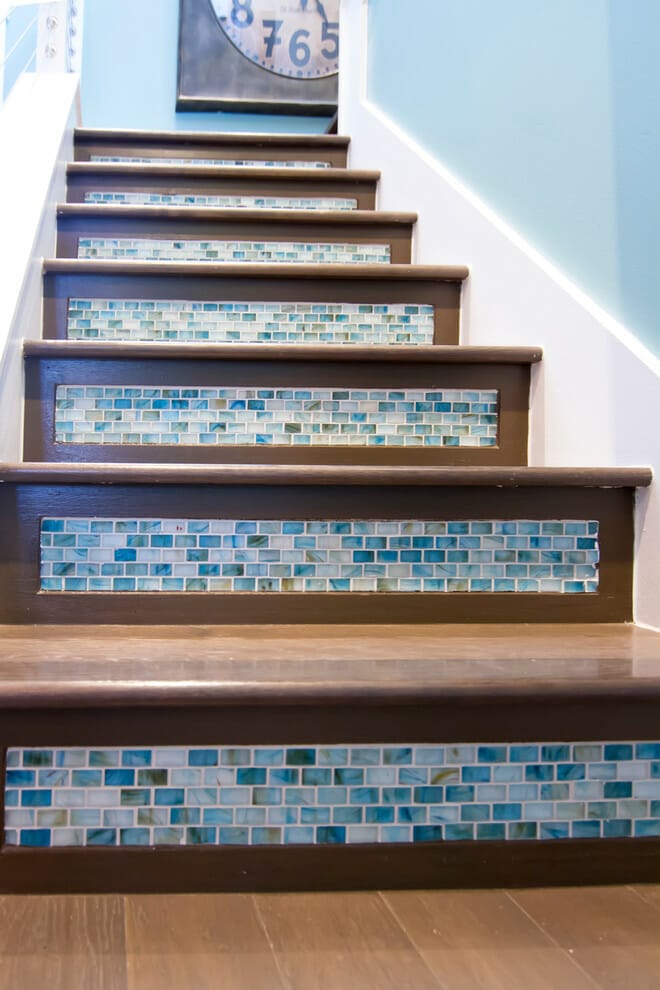 When all the areas around your stairway have come in bright colors, it is time to make sure your nosing has a darker color.
Besides, decorate the risers with mosaic tiles with hues that match the walls.
23. Curved Newel, Iron Balusters, and Zebra Runner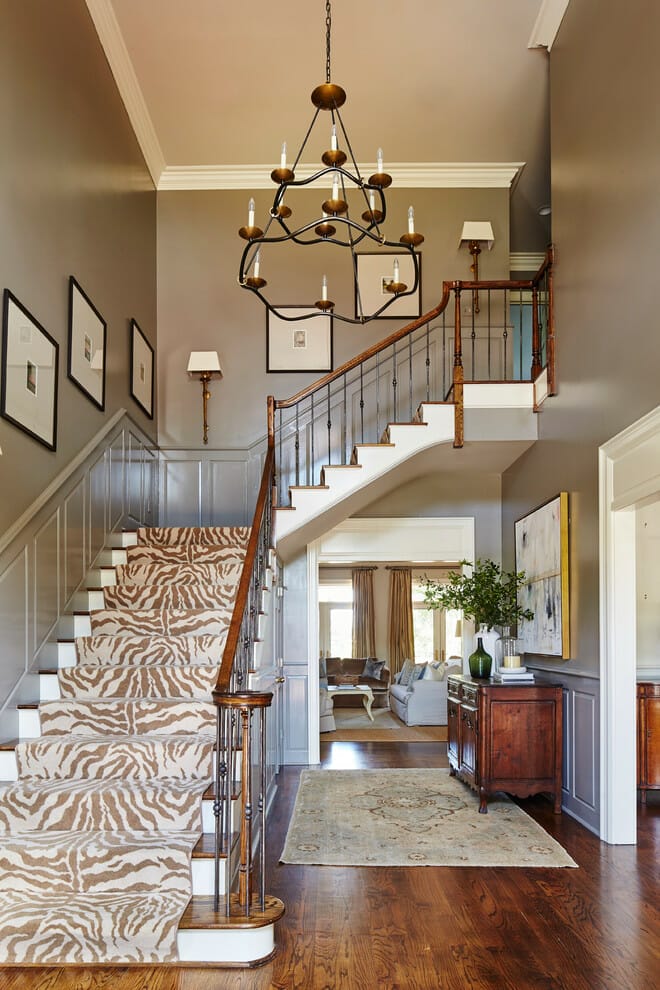 There are not many stairwell trim ideas that you need to add to a handrail that has a curved newel top. Its shape is enough to give an exciting personality, especially if it comes with classic iron balusters.
To add drama, you have to repaint the wainscoting in a color that matches the walls and zebra runner.
24. Traditional Dark Wood Handrail among the Whites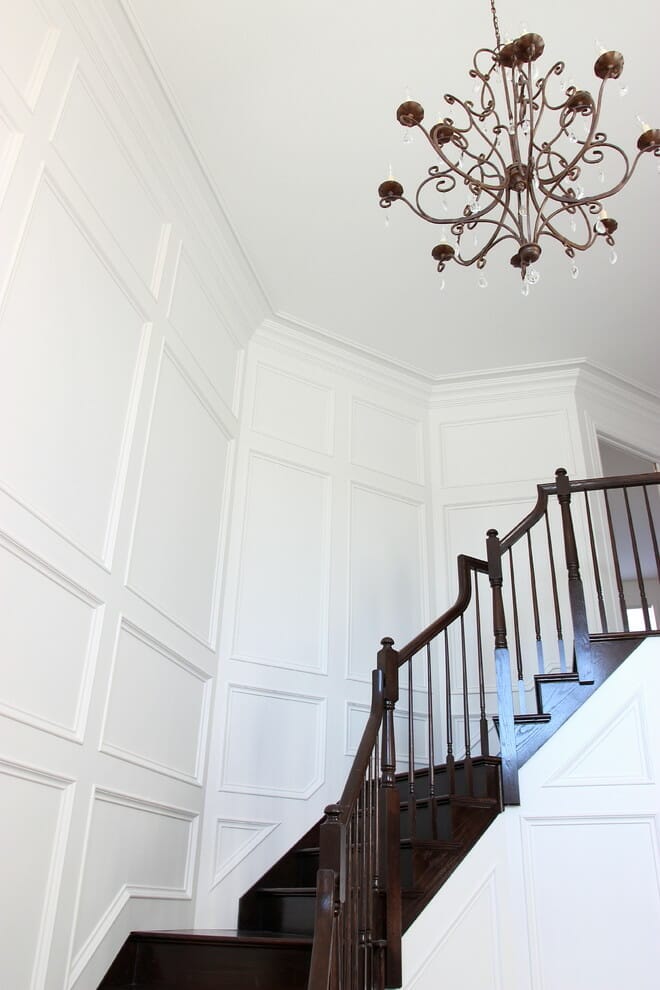 The dark brown of the staircase and chandeliers goes well with the all-white coffered wall. It will inherently succeed in highlighting your main stair without spending a lot of energy.
25. Red Bookcase on The Top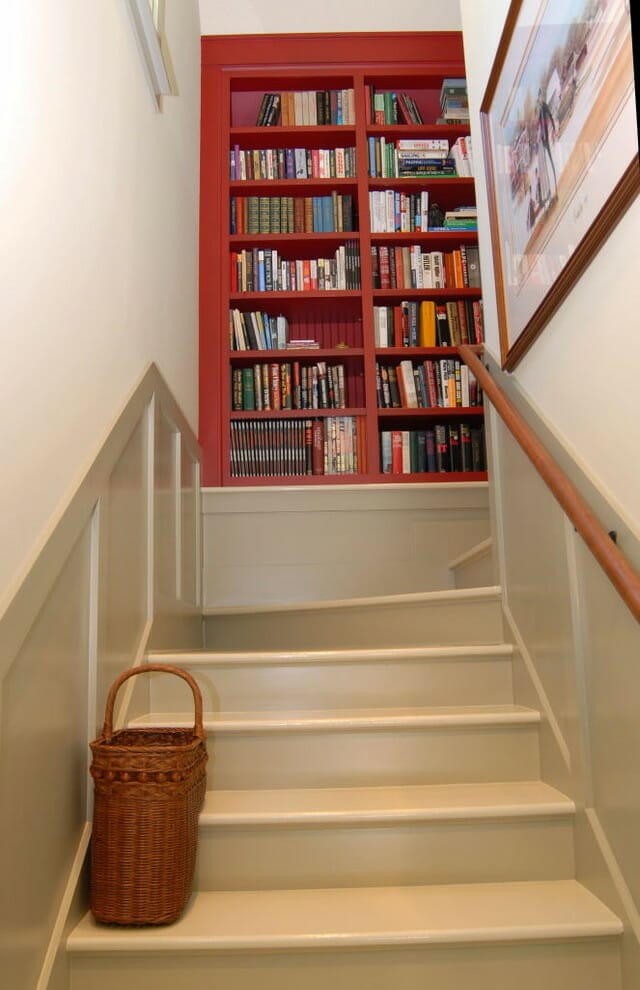 Here is a brilliant stairwell trim ideas option that you can copy. Namely by providing a built-in bookcase right at the top of the stairs.
Instead of leaving it in a similar color to the walls or wainscoting, make sure it has a bold color to make it a striking focal point.
26. Black Skirt Board and Muted Chevron Carpet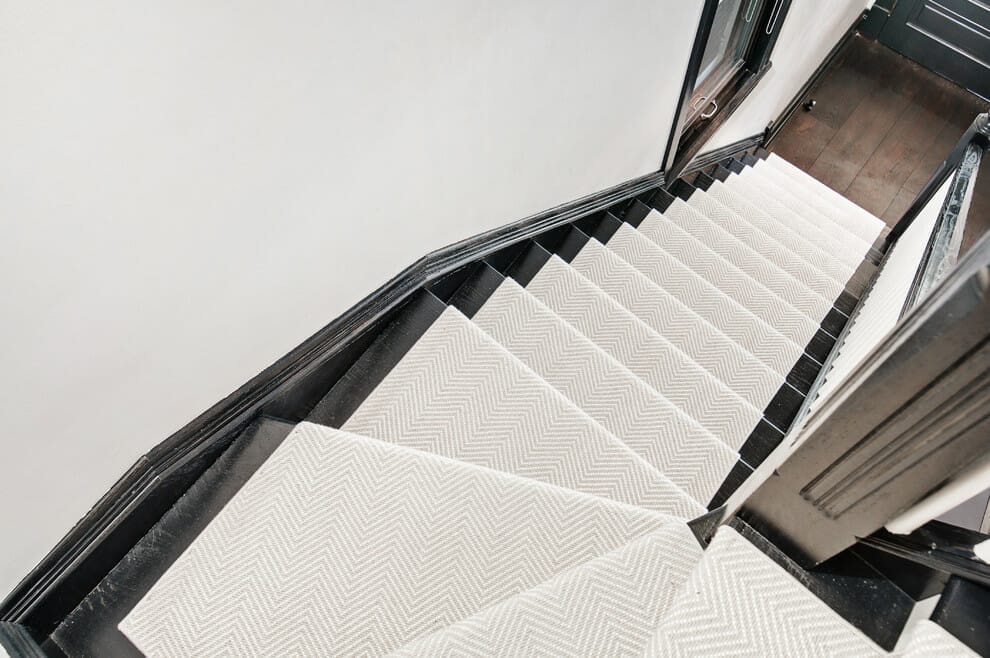 The standard skirt board comes in white. To make it different, repaint this feature in black to match your handrailing.
Then, place the runner with a more subtle color and motif, such as a mini chevron in cream.
27. Curvy Corner for Smooth Look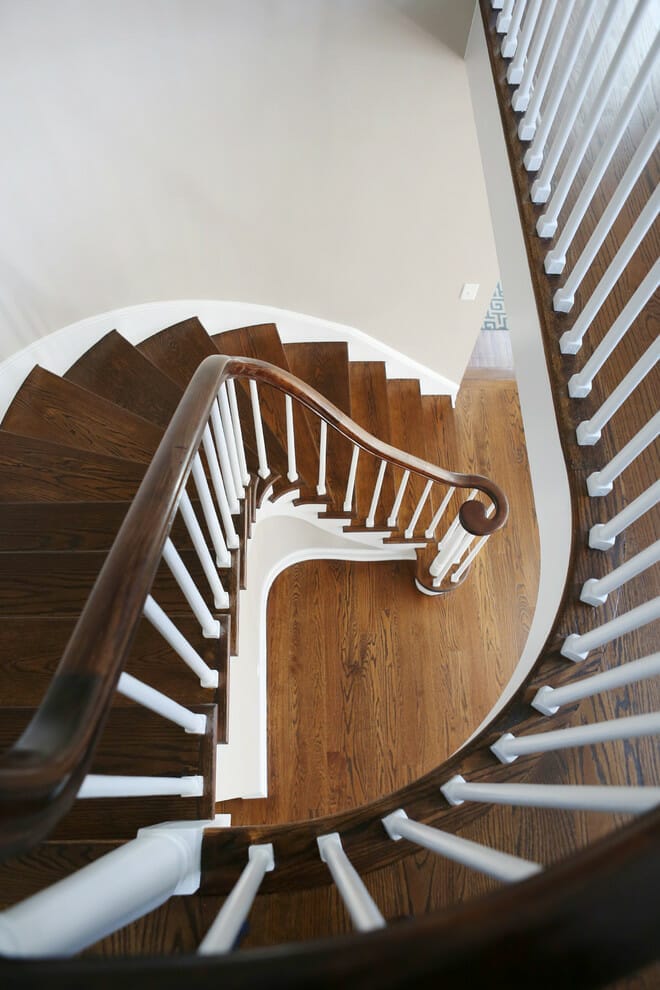 Winder stair is quite beautiful to own. Since it always has a curved corner, there is no need to apply many stairwell trim ideas.
Make sure your baseboard is brighter than the wall, and install a bullnose step and a curvy newel post to achieve perfection.
28. Photo Frame at The Same Color as Handrail and Risers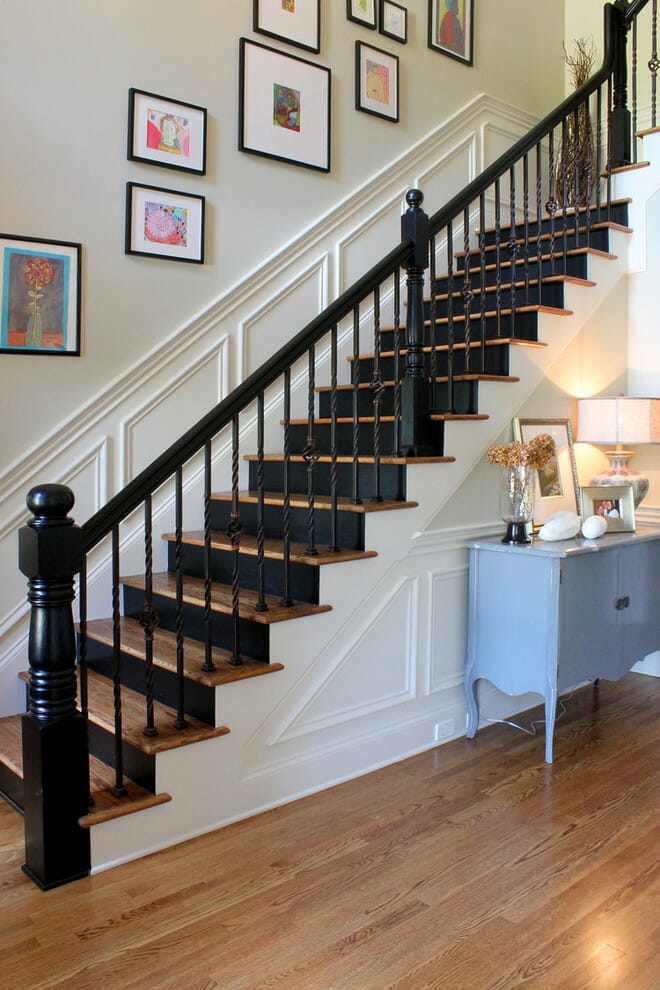 Setting up the gallery along your staircase is the easiest option to implement.
If you do not want to fuss with an indeterminate patterned frame, it will be better to uniform the stair with the color of the handrails and risers.
29. Slanted Ceiling to Give an Overhanging Impression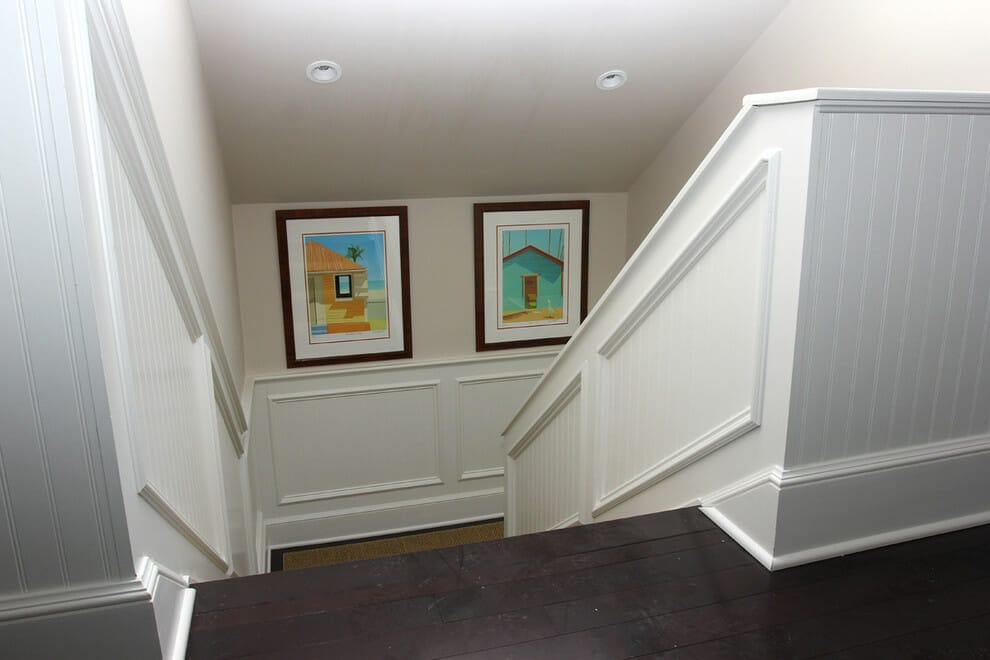 Traditional rectangular wainscoting with a slanted ceiling is a great combination to give the impression of overhanging in the staircase.
Combine these stairwell trim ideas with two wall arts in the frame to draw the vital essence of all symmetrical elements.
30. Double Function Post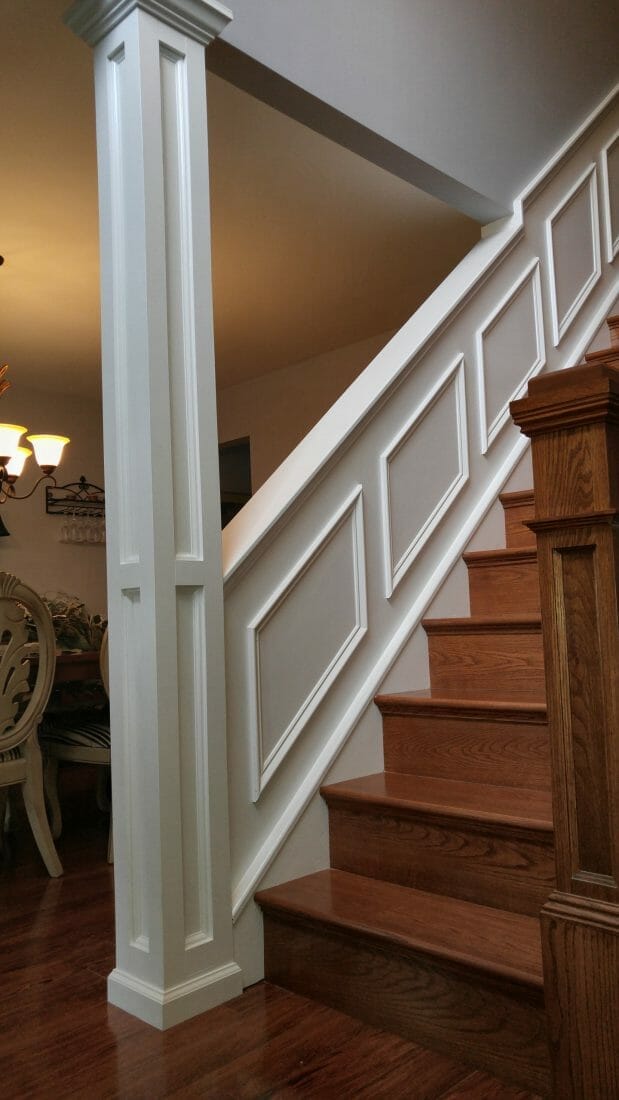 The box newel post soars to the ceiling. Hence, it allows you to have a multifunctional feature in your staircase.
Besides supporting the handrailing with square molding, this seems to separate one space and another without blocking the view and air circulation.
31. Set the Personal Gallery on Both Sides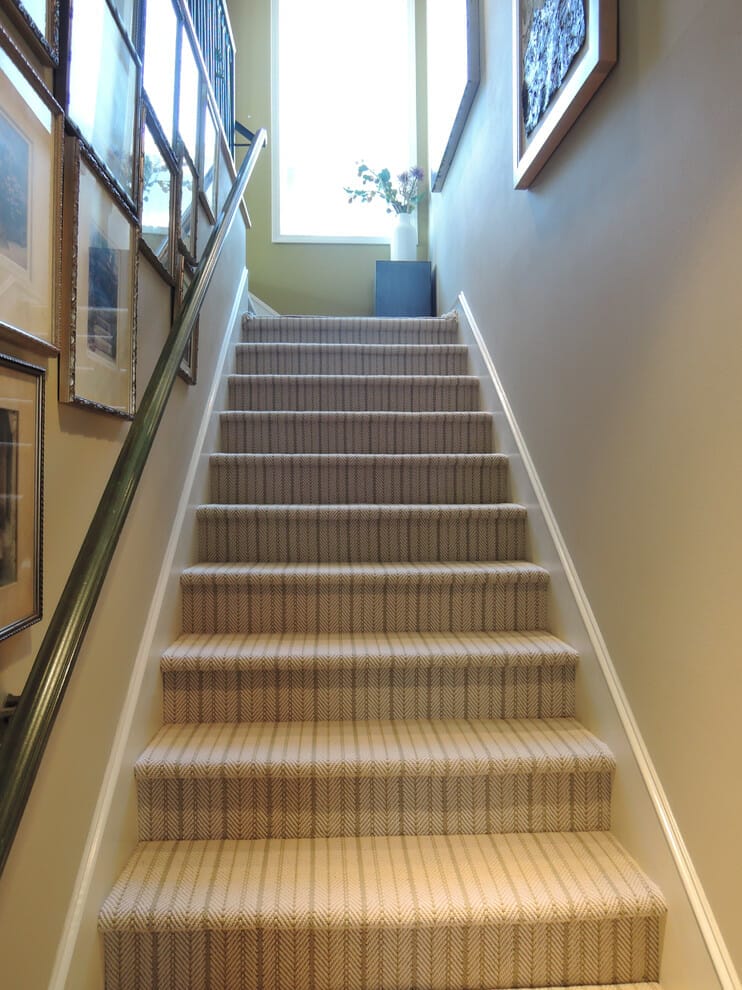 Previous stairwell trim ideas directed you to set up the gallery on one side. Now is the time to embellish both sides instead.
Whether you later fill it with photographs or wall art, it will still be ravishing.
After all, there is nothing wrong with leaving the stairway and its surroundings bare. But, of course, this is not the best move for you to take.
We know that mostly this feature is built at the heart of your home. Still, do you want this stair to look dull? We thought not.
Everyone loves peach, and to adorn your home, you should at least have one or two stairwell trim ideas to provide the best focal point.
So, from all the stairwell trim ideas that have been mentioned earlier, have you made a choice that fits your interior and taste perfectly?