Purchasing shoes is certainly fun. However, keeping them tidy can be a pretty challenging task. If you are looking to organize your footwear, luck is yours. We've rounded up some genius entryway shoe storage ideas.
A neat hallway can make an awesome first impression. For an organized living space, of course, you need a proper shoe storage solution. Be sure that it does not only hold everyone's shoes but also suits your home's decor.
Moreover, our shoe storage hacks range widely from chic to simple. They also help maximize the vailable space in the hallway. We suppose you will discover the most suitable one for your abode and stop the unwanted clutter.
1. Entryway Shoe Storage Ideas with Spinning Rack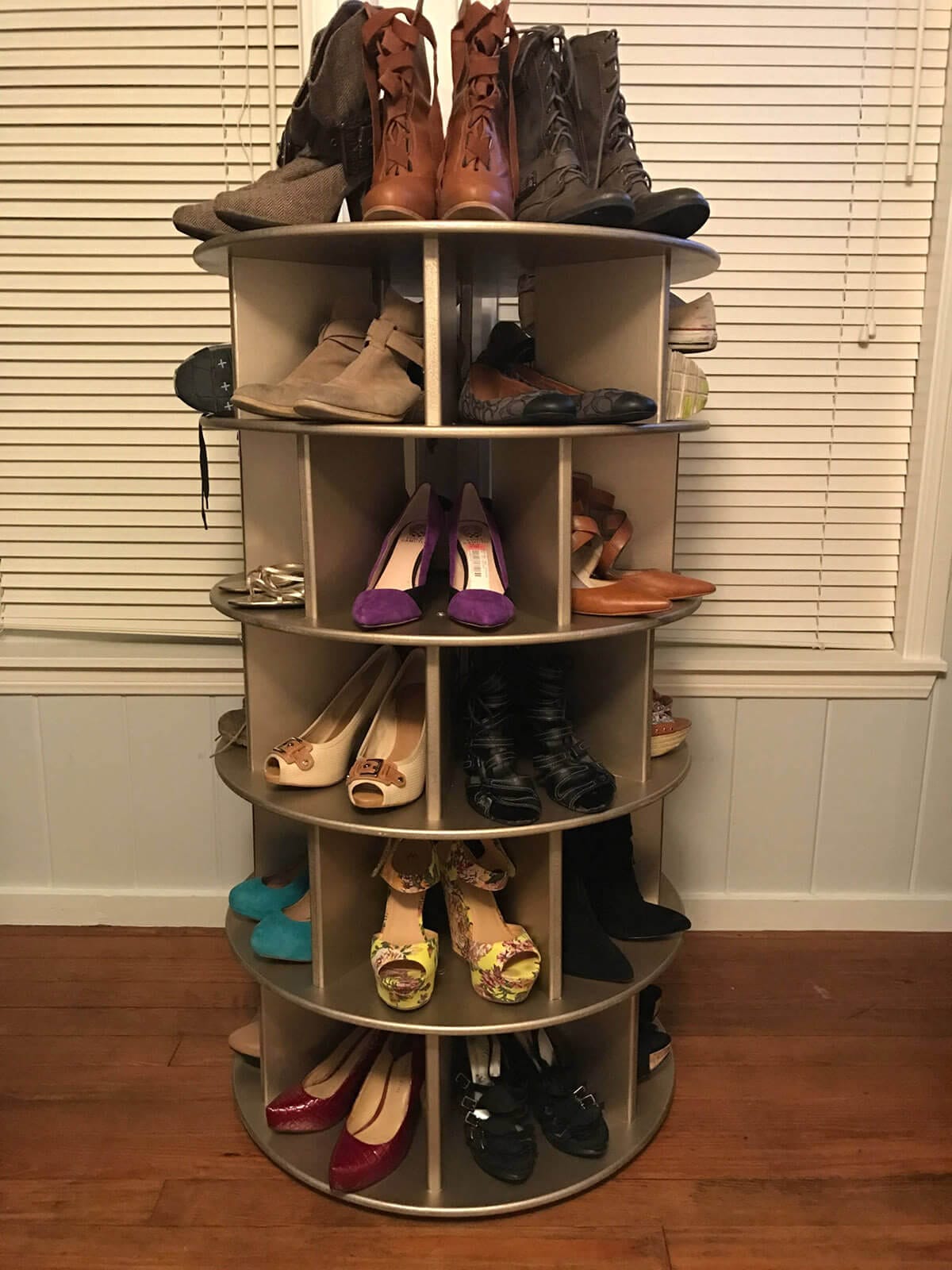 This shoe carousel is highly functional and similar to the retail displays. It is such a clever way of storing shoes in any entryway. Furthermore, the spinning shoe rack lets everyone find theirs with ease.
The shoe carousel works like a regular lazy Susan. It can accommodate up to 30 pairs of men's and women's shoes. Make sure your entryway isn't narrow, since this unit is quite large.
Moreover, this spinning shoe rack has a distinctive look. Certainly, you can utilize it as functional entryway furniture. However, the item makes an incredible conversation starter too.
2. Small Entryway Shoe Storage Ideas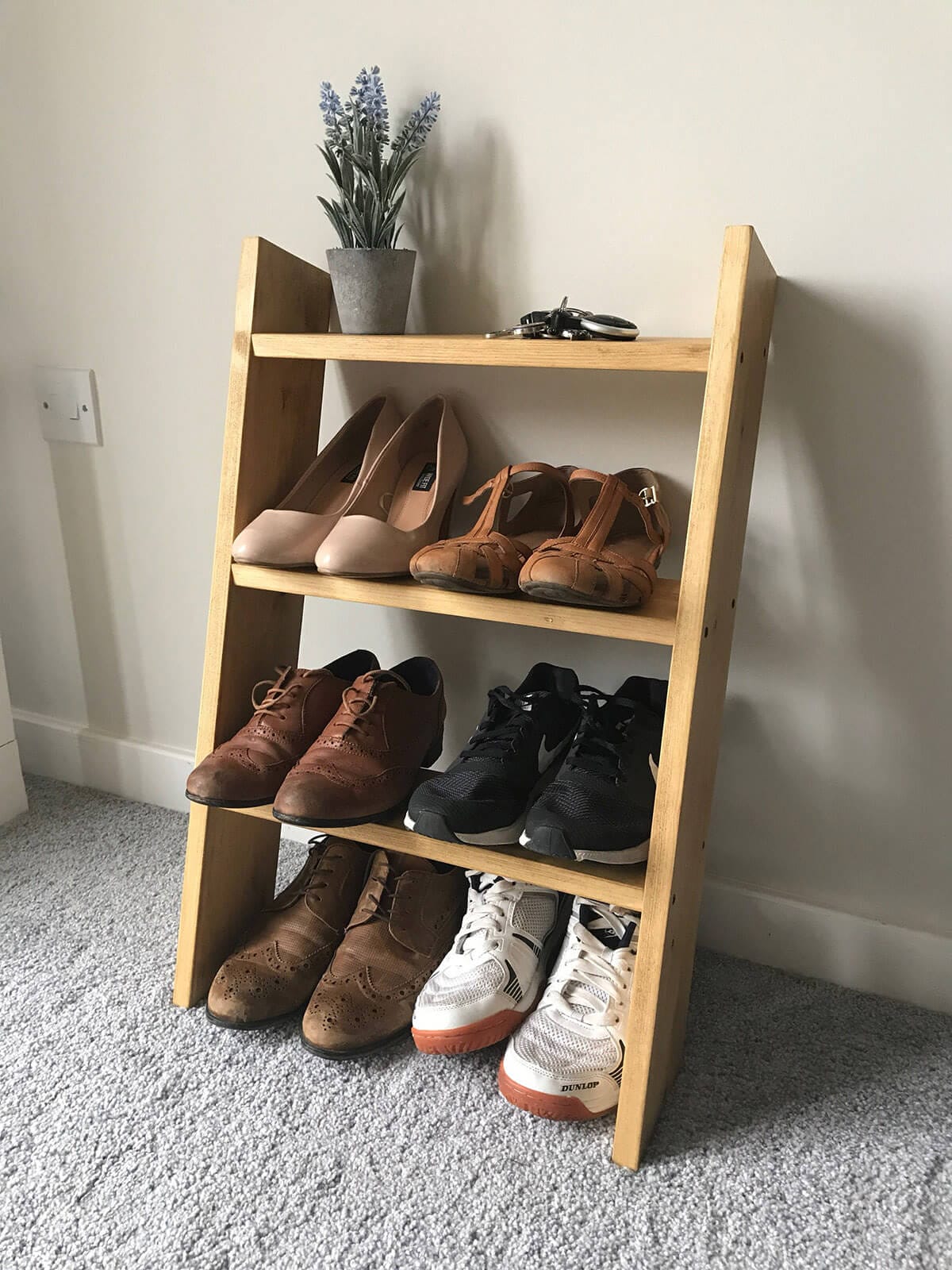 Speaking of entryway shoe storage ideas, consider a ladder. Currently, ladders have gained popularity in home decor. Since they feature shelf-like rungs and multiple tiers, people use them to showcase many pieces including shoes.
In this case, the short and compact wooden ladder is an excellent choice for your entryway. It keeps the mess at bay and gives the hallway a chic look. More importantly, the unit doesn't eat up lots of floor space.
This narrow wooden ladder provides additional space for your tiny decor. You can also put the ornament above the shoe rack. The decorative item will make your entryway more welcoming and appealing.
3. Cute and Stylish Rack for Boots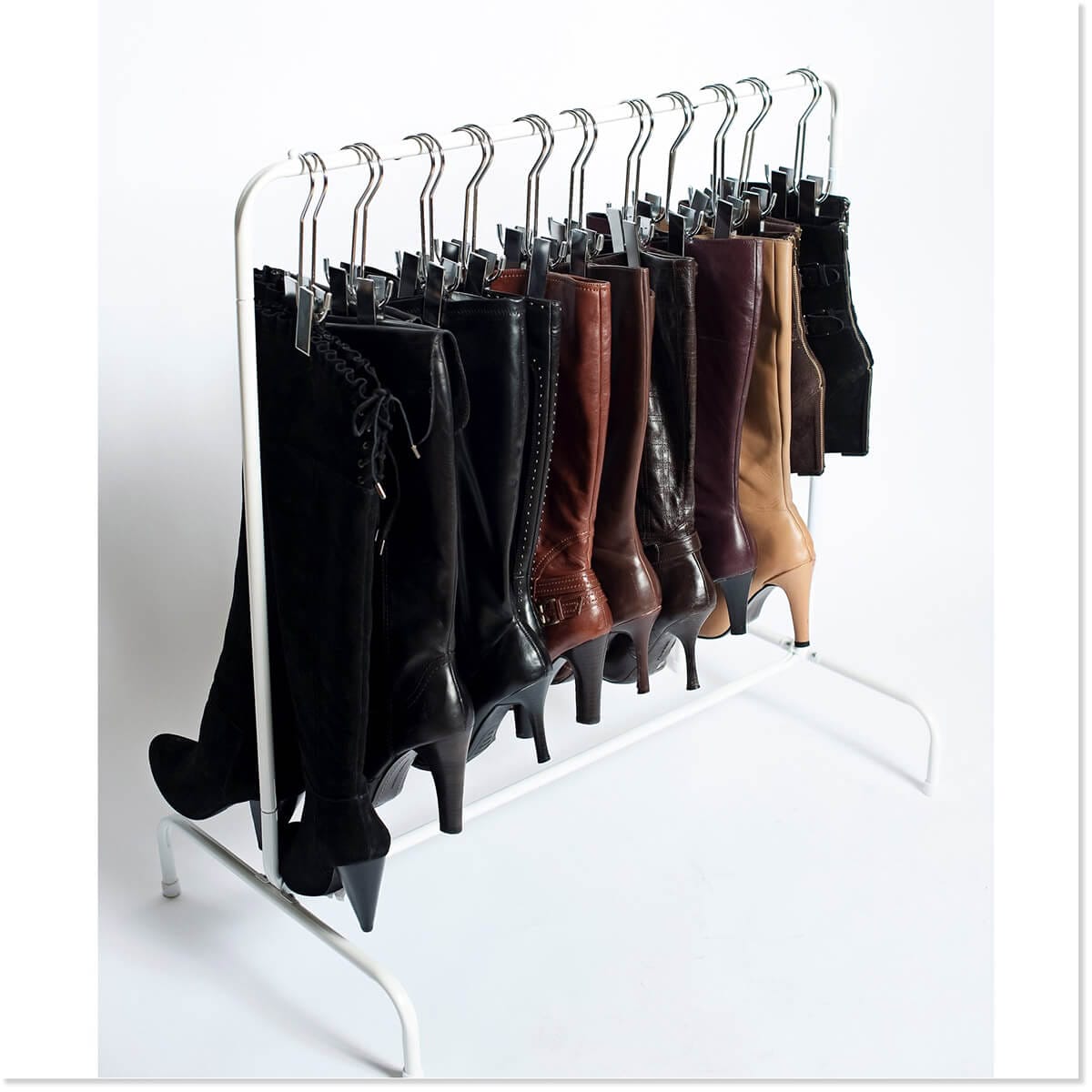 When it comes to entryway shoe storage ideas, you must put your footwear type into consideration. This can surely have a huge impact on the rack design.
Furthermore, boots are normally hard to organize. They often cause visual clutter. This hanging boot rack is not only space-saving but also prevents them from being misshapen.
As you see, this pop-up rack is small. However, it can hold leather boots neatly with the help of the clips. The unit keeps them in great shape. You can place the item in your nook or entryway closet.
4. Simple Floating Shoe Shelves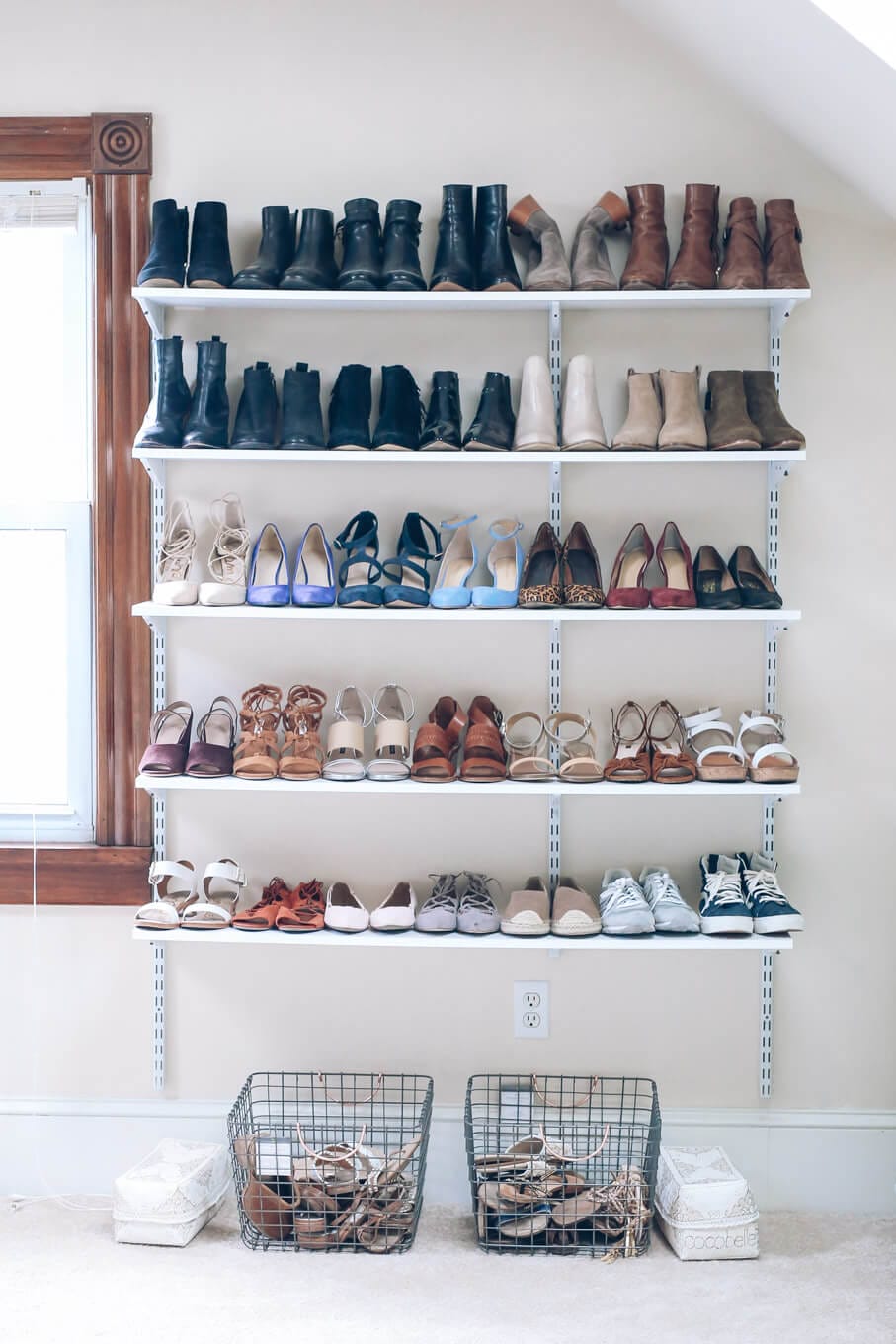 These shoe shelves have a simple yet stylish design. That's why we believe you can produce them on your own. Just buy the materials from the local hardware store first.
When arranging shoes on these white shelves, make sure you space them evenly. This will allow your boots, pumps, and sneakers to be visible. Furthermore, the shoe storage system doubles as nice contemporary wall art.
You could also modify the shelving by removing or adding open shelves. Remember, the shoe storage space must fit your home. Meanwhile, the wire baskets accommodate flat sandals.
5. Funky Triangle Shoe Cubbies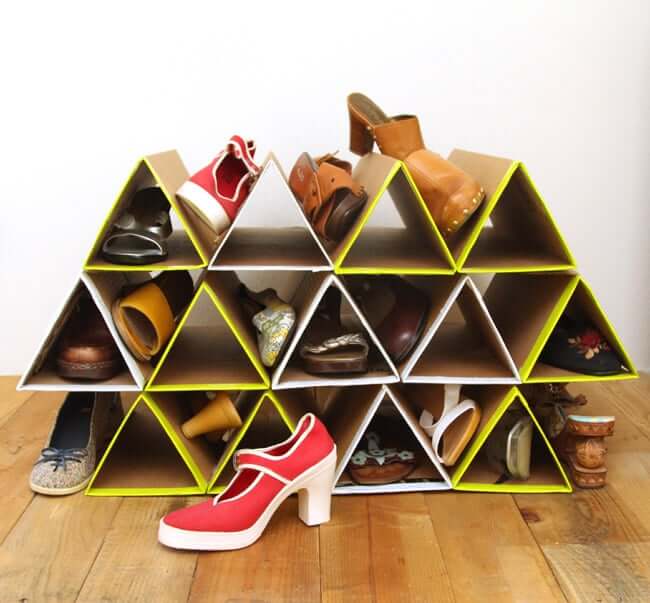 Searching for cool entryway shoe storage ideas? Give this triangle display a go. As you see, it features bright white and yellow triangular cubbies. Without a doubt, the unit lends your hallway a modern vibe and playful ambiance.
Furthermore, the shoe display boasts 25 separate triangle cubbies. It allows you to place a pair of thin sandals into one storage space. Another option is spreading out bulkier shoes between two slots.
You will certainly love these little fun shoe cubbies. They keep your footwear organized while ensuring the footwear is not challenging to gain.
6. Handmade Tote Shoe Cubbies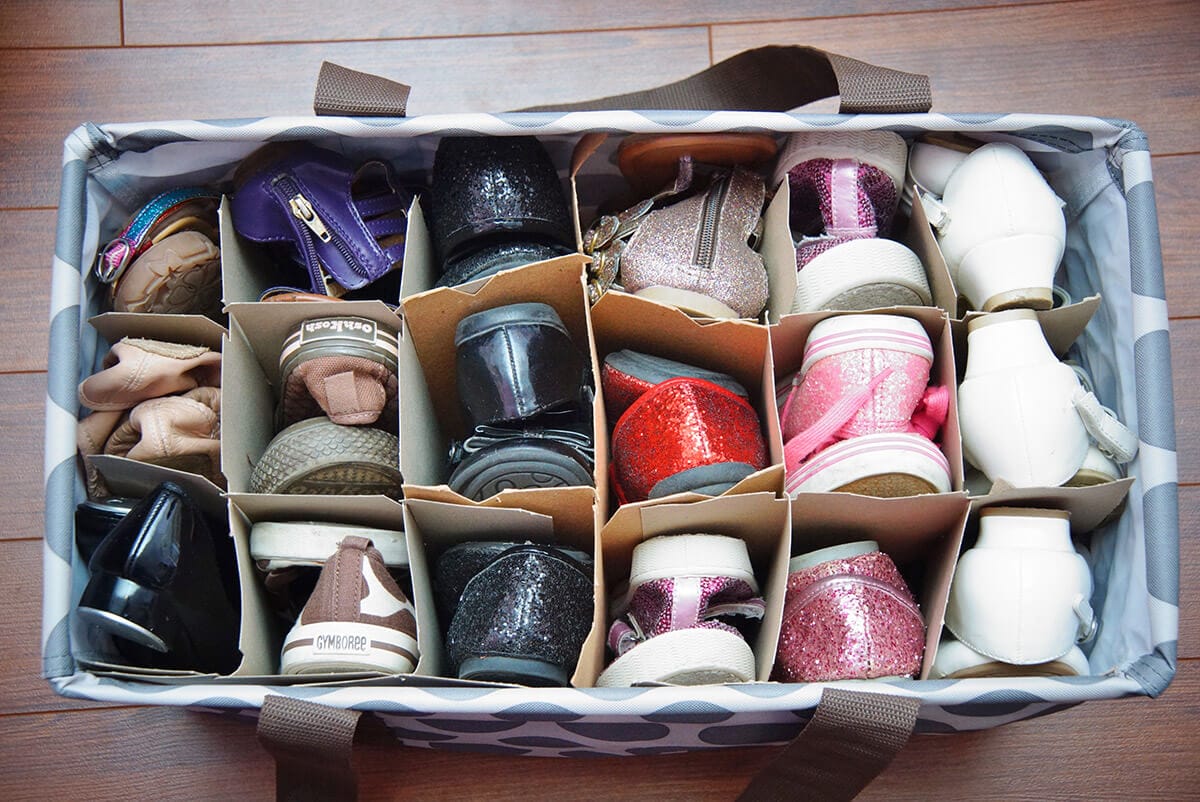 This is one of the terrific DIY entryway shoe storage ideas. These handmade tote cubbies are easy to craft. Furthermore, large totes with graphic prints come in different styles and colors. Purchase one and turn it into a bin for your shoes.
To make shoe cubbies, add some cardboard inserts first. Be sure the size meets your needs. This handmade storage bin is stunning, thanks to the patterned tote. Since the item is lightweight, you can move it easily.
7. Entryway Shoe Storage Ideas with Galvanized Buckets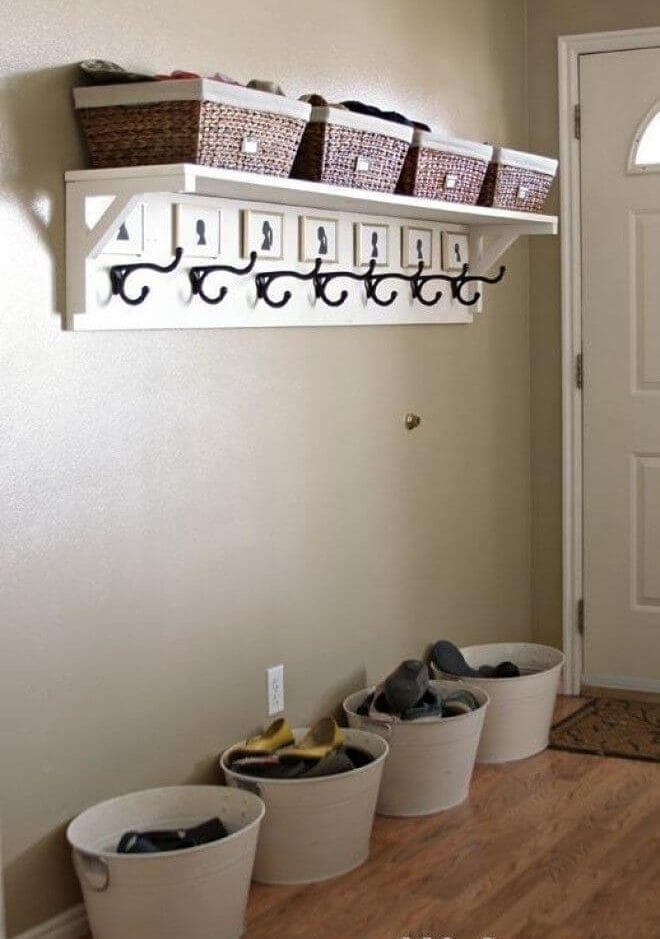 If your home has a farmhouse style, chance are you own some galvanized metal buckets. They are so versatile. The items also make a fantastic accessory and an amazing place to stow any shoes.
First of all, paint the chic tubs white. After that, tuck the galvanized buckets under your metal coat rack. You could place them along the entryway wall.
These galvanized buckets keep shoes from cluttering your hallway. Meanwhile, the wicker storage bins on the white shelf compliment them.
8. Dark Shoe Basket with Sign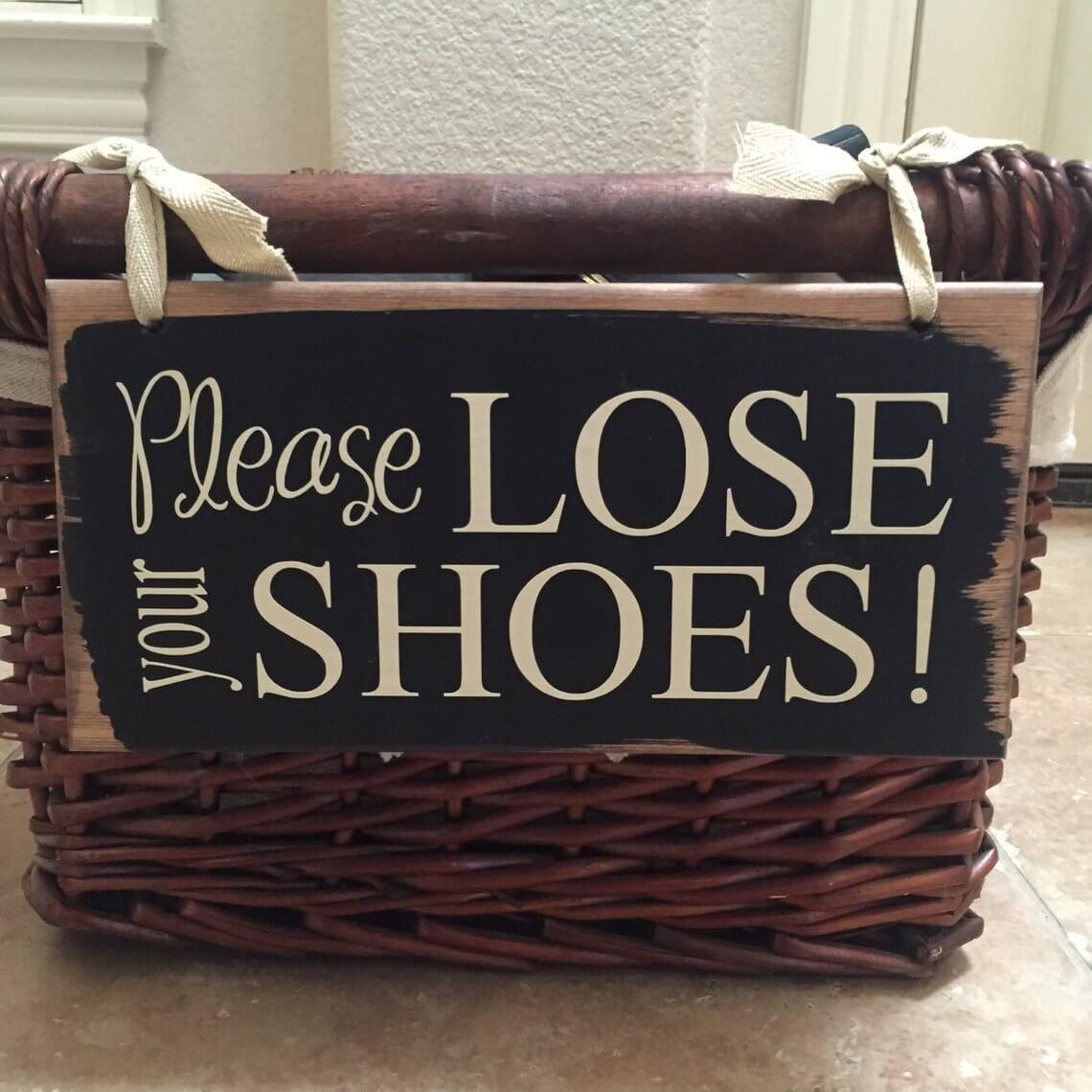 We love this dark wicker basket. It lends an inviting atmosphere to the entryway. Meanwhile, the clear sign reminds your guests that they should take their shoes off before stepping inside.
Moreover, this wicker shoe basket is a lovely addition to any farmhouse-style home. We suggest placing it near the front door.
This overcomes the guesswork. Furthermore, your visitors can have a neat and visible place to stow their beautiful shoes.
9. Narrow Entryway Shoe Storage Ideas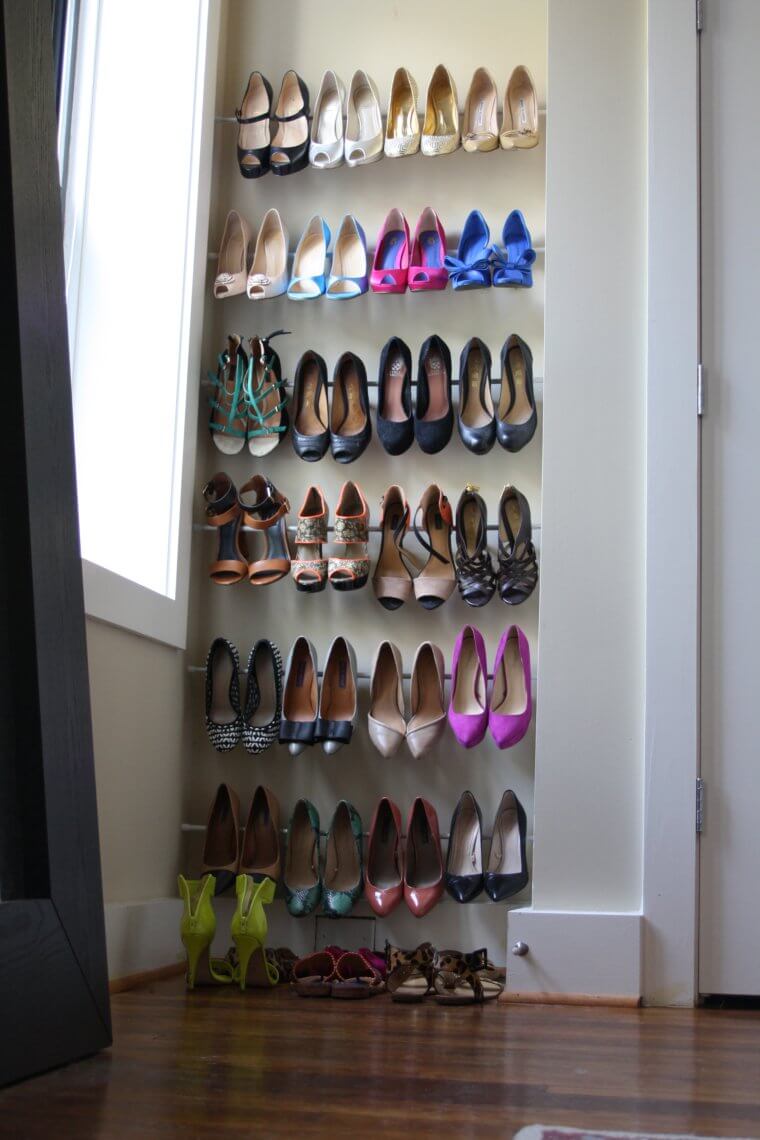 If your space is limited, implement this idea. Here, the homeowner sneaked the shoe storage system into the tiny entryway nook. Moreover, the heel hangers flush perfectly against the hallway wall.
This wall display is effortless to perform. We guarantee you can assemble it in minutes without breaking your bank.
Just buy a few adjustable metal rods and then install them. This solution is excellent for showcasing your gorgeous heels. It keeps your entryway floor clutter-free too.
10. Entryway Storage Solution for Sandals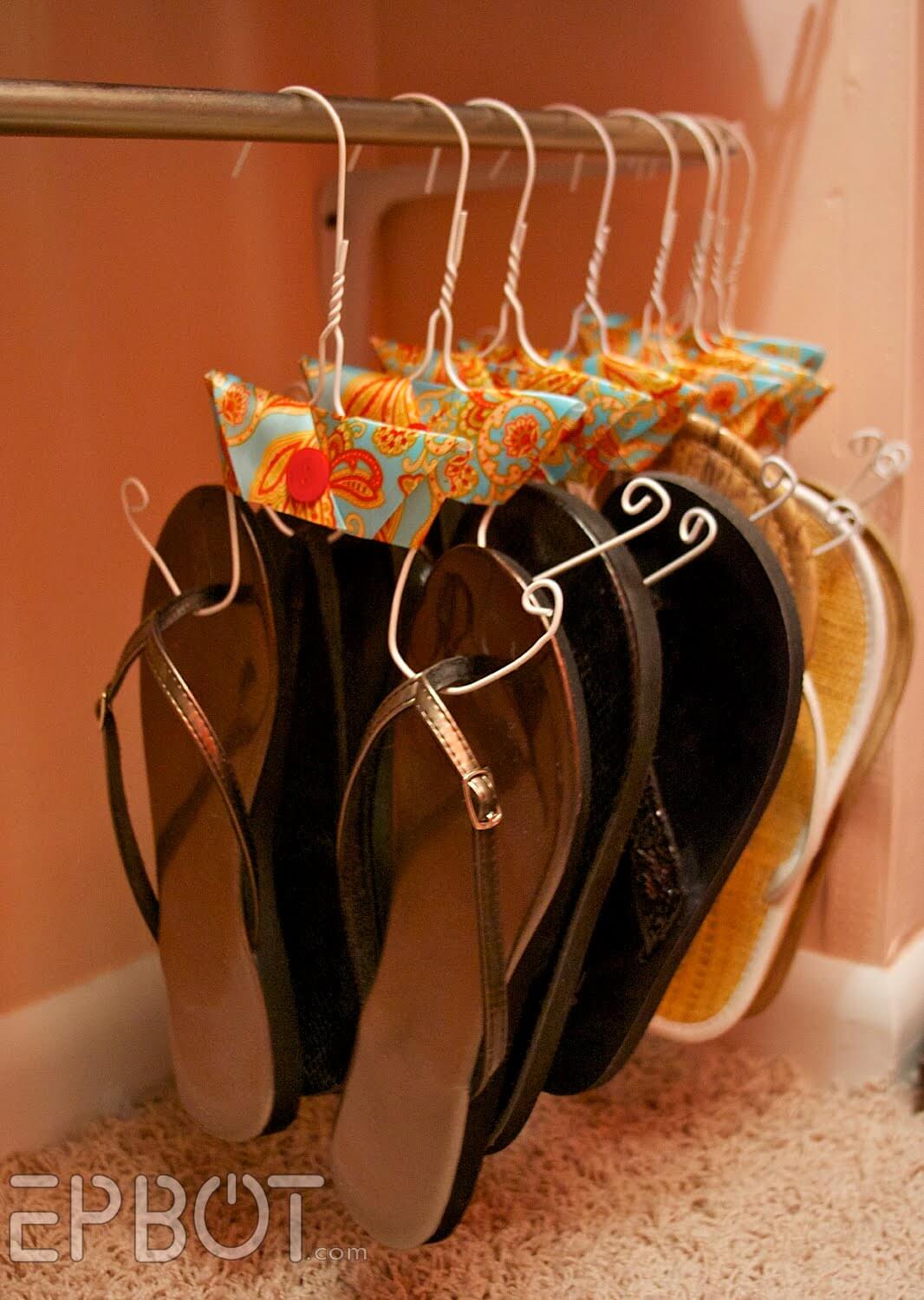 Summer is synonymous with lots of sandals. Do not let them create a horrible sandal heap. You should apply this smart storage solution.
Here, this simple sandal rock is close to the entryway floor. It boasts a simple metal rod and classic wire coat hangers.
You can personalize the flip-flop rack by bending the coat hangers creatively. We recommend adding patterned fabric for a sweet touch. Your visitors will appreciate your effort because they can find their sandals with ease.
11. Entryway Shoe Storage Ideas with Paint Cans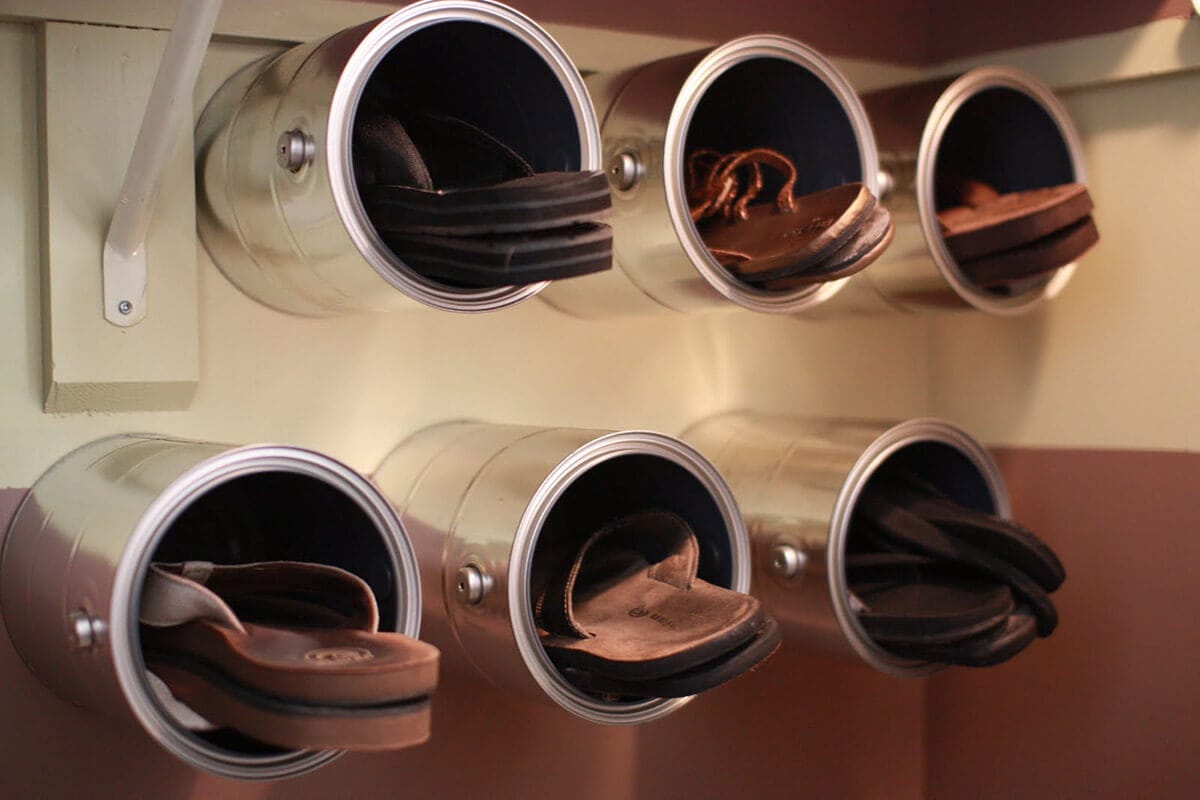 After redoing your wall trim, you certainly have unused quart metal paint cans. Do not throw them away. Transform the pieces into delightful shoe holders. Here, they serve as cute sandal and slipper cubbies.
The paint cans are not only sturdy but also easy to hang on the wall. They are also an unconventional but brilliant storage solution.
Furthermore, these paint can sandal cubbies are suitable for your small entryway. Considering you can fix them on the surface, they definitely can save some precious floor space.
12. Tall Glass Shoe Cabinet
Cabinets can accommodate people's valuable items, and this stunning shoe display case is no different. Furthermore, if you treasure your shoes, incorporating them into your entryway is an excellent choice.
The tall shoe display case only consumes little floor space. However, it can house different types of shoes such as sandals, heels, and sneakers. The unit keeps your footwear collection organized.
Moreover, this shoe cabinet employs glass doors. They enable you to spot your shoes quickly. The white finish of the display case makes it an outstanding model for every residence furnishings.
13. Front Door Shoe Storage Ideas for Entryway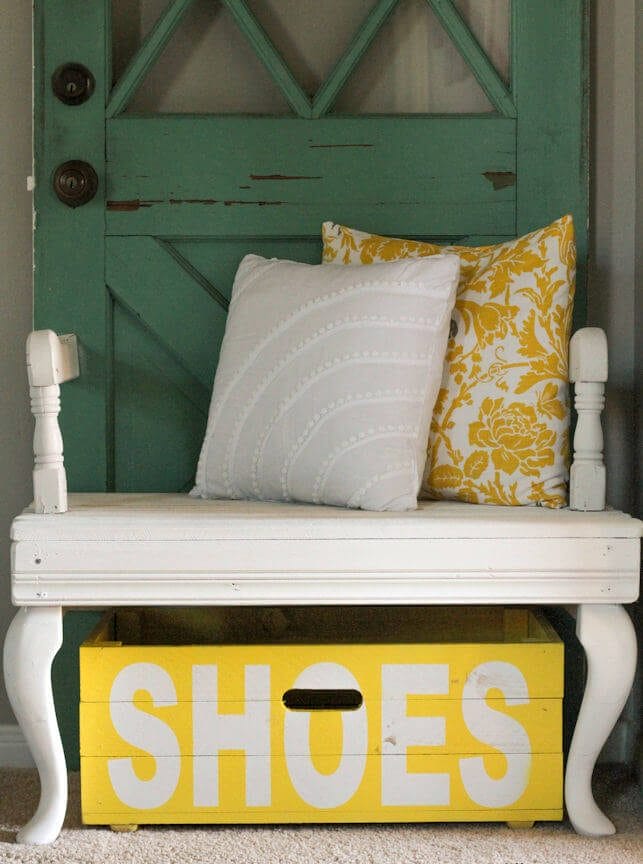 There is an old wooden crate lying around. We suggest upcycling the unit into a fabulous box to store your shoes. It is certainly one of the most imaginative entryway shoe storage ideas.
Do not forget to create a handle. That way, you can slide the wooden create out with ease under your foyer table or bench.
Here, the yellow shoe storage box matches nicely with the decor. The white "shoes" label is a great contrast to it. This bright item is not only attractive and practical but also gives the entryway instant cheer.
14. Rustic Entryway Shoe Storage Ideas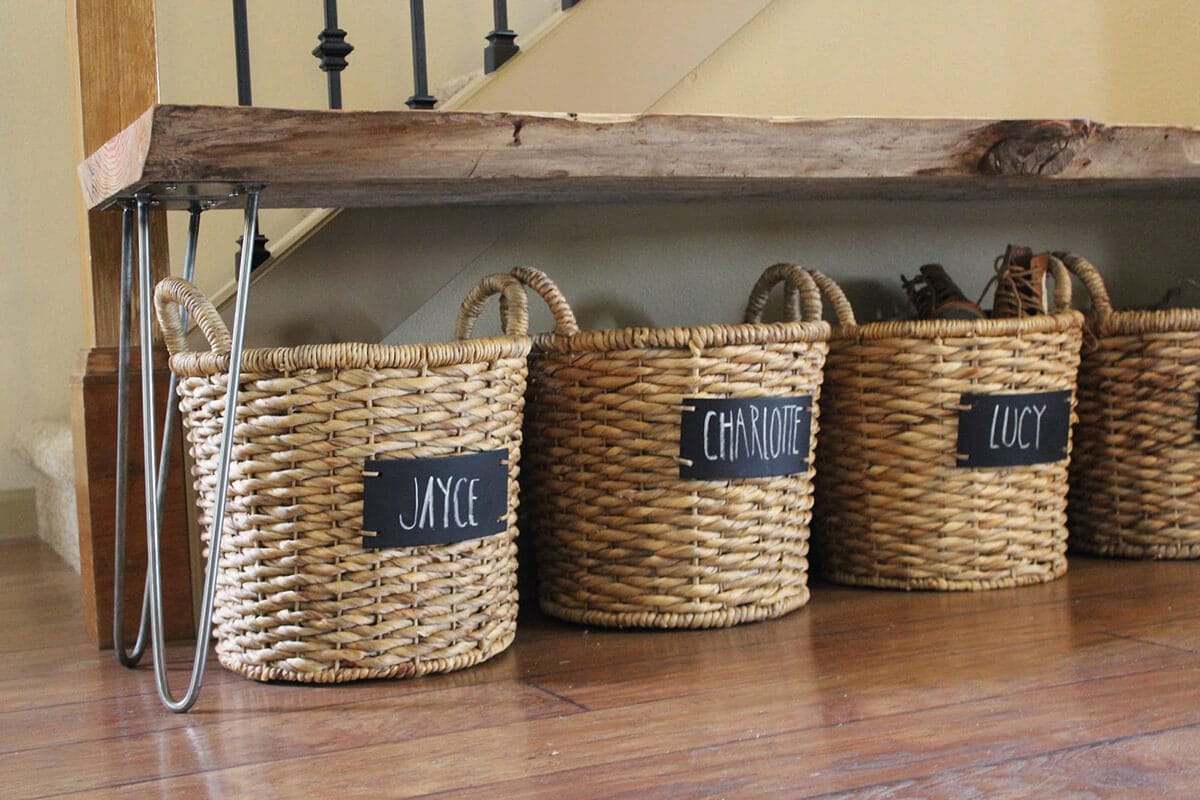 We admire these personalized wicker shoe baskets. They immediately deliver a rustic farmhouse charm to the hallway.
If the entryway boasts a wooden table or bench, these wicker storage bins will pair with it delightfully. They neatly hold the shoes of your household members.
This is one of the most marvelous entryway shoe storage ideas. The cute wicker baskets keep guesswork at bay. Furthermore, your hallway or closets won't look messy anymore with them.
15. Wire Entryway Shoe Storage Ideas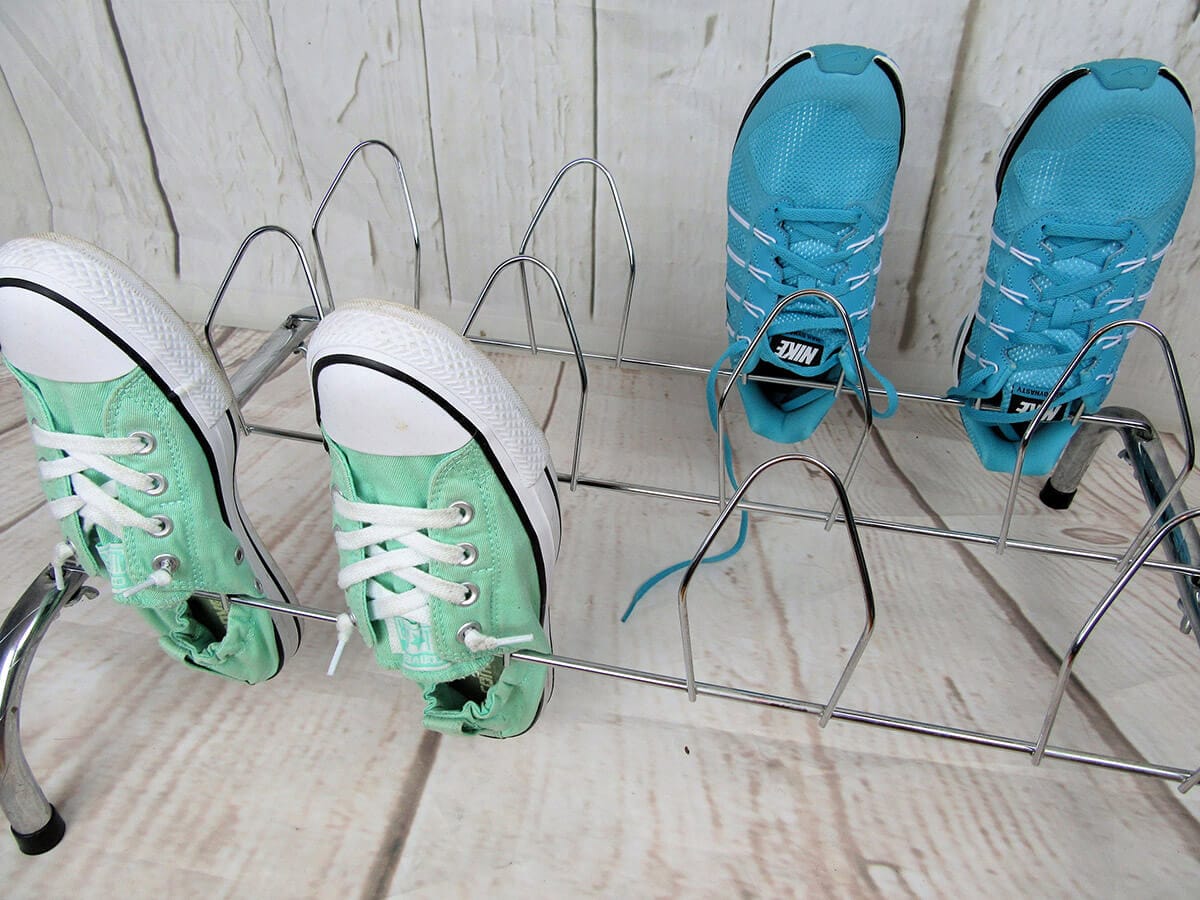 Without a doubt, this wire rack design is perfect for any house where shoes can cause an unpleasant smell. Moreover, the shoe holder vertically accommodates the footwear which lets air circulate. It helps get rid of bad odor.
This vertical shoe holder prevents your shoes from losing their original shape. In addition, they ensure that the dirty soles do not soil your entryway floor.
Furthermore, this wire shoe rack infuses a minimalist charm into the hallway. It allows your colorful shoes to stand out.
16. Modern Entryway Shoe Storage Ideas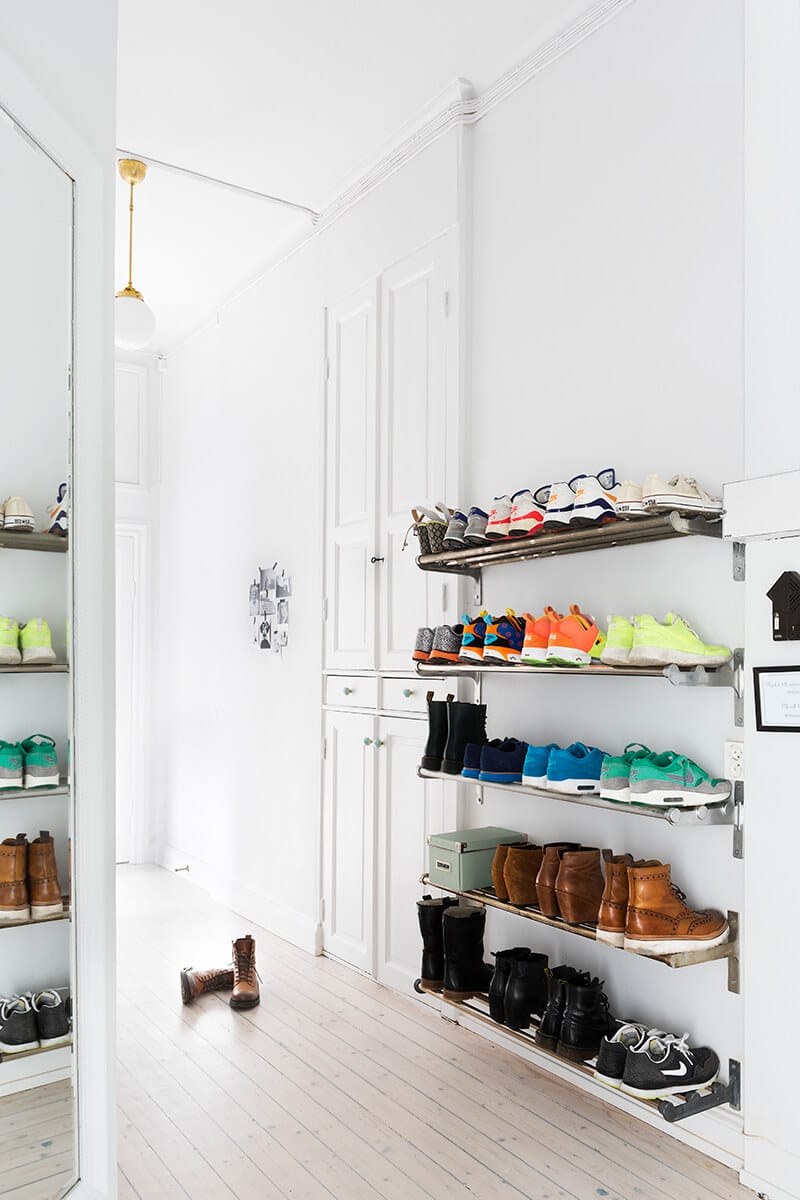 If you are searching for stylish entryway shoe storage ideas, then give these stainless steel racks a shot. They keep the footwear off the hallway floor. Moreover, the pieces make your shoes organized and visible.
These metal shoe racks lend an industrial flair to the entryway. They are not only utilitarian but also fashionable. The units also look wonderful in any contemporary hallway and let vibrant shoes steal the show.
17. Multi-Styled Shoe Display for Entryway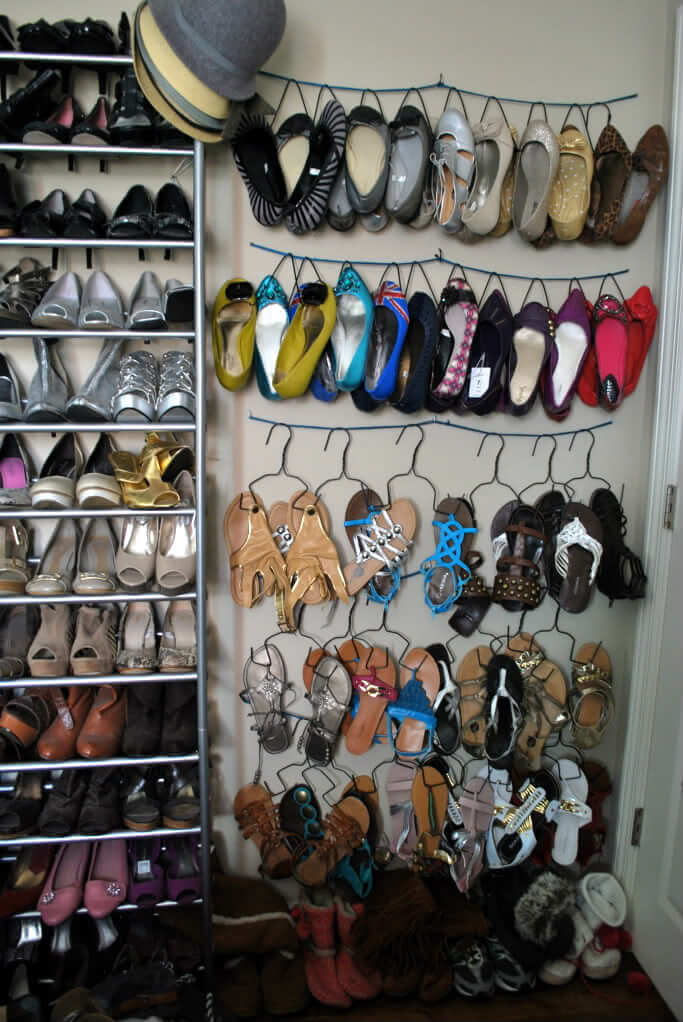 Are you obsessed with shoes? If so, try this shoe display. As the image shows, it combines different storage systems. The unit allows you to see and find your favorite footwear quickly.
Furthermore, this shoe display features a freestanding shelving unit and hangers. They hold your flat shoes and heels. The pieces prevent you from doing any footwear digging.
Moreover, this multi-styled shoe display accommodates everything. Nevertheless, it does not demand up a lot of floor space.
18. Wooden Entryway Shoe Storage Ideas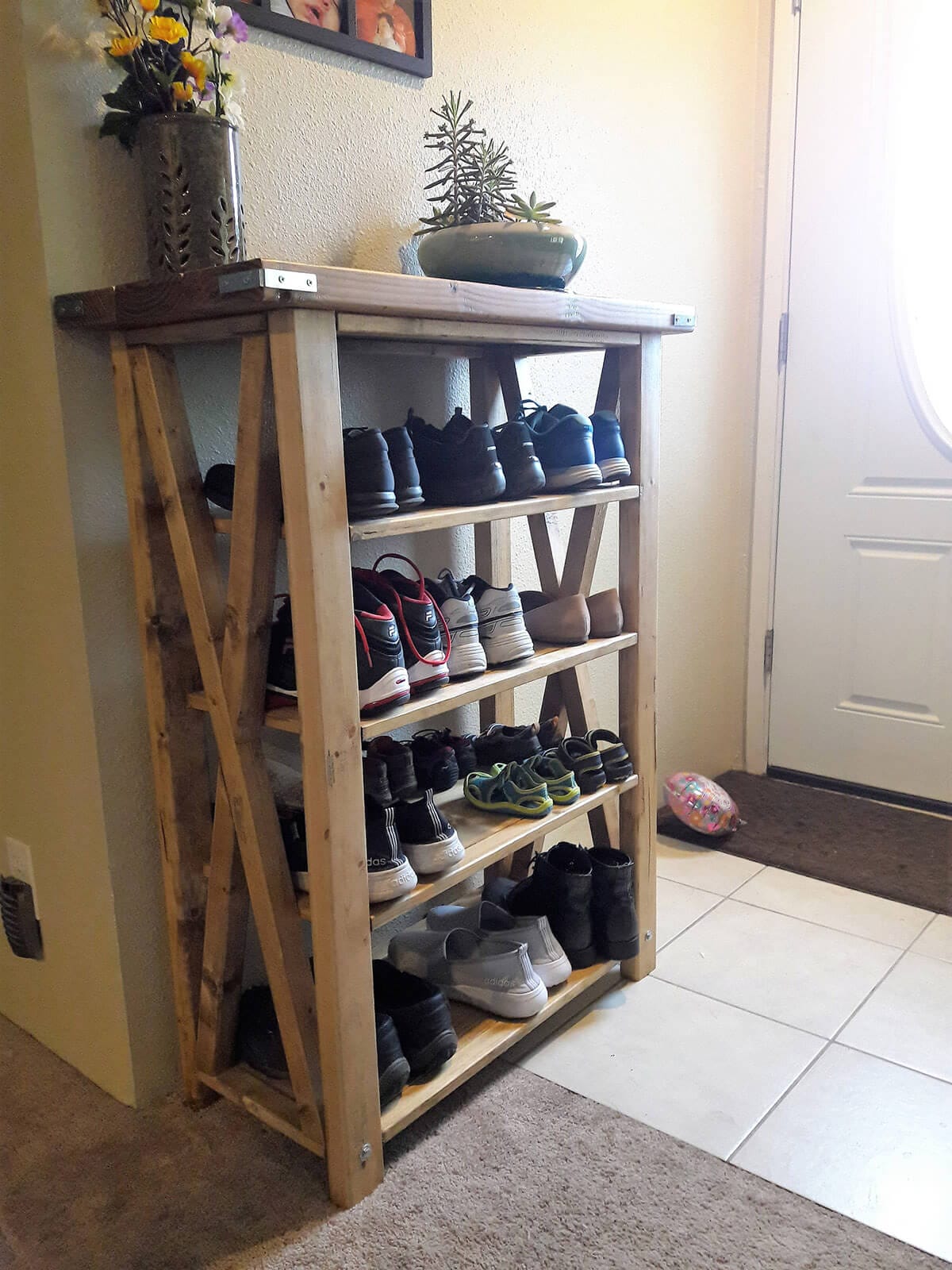 This wooden freestanding shelving unit looks really sturdy. It comes with four wide shelves. The item brings practicality and farmhouse style to the hallway as well.
Since this display shelving has a nice wooden design, it will fit perfectly into any living space. It definitely pairs with wood furniture, timber ceiling beams, and a hardwood floor. Meanwhile, the indoor plants sit on the dark top shelf.
19. Entryway Shoe Storage Ideas with Copper Pipes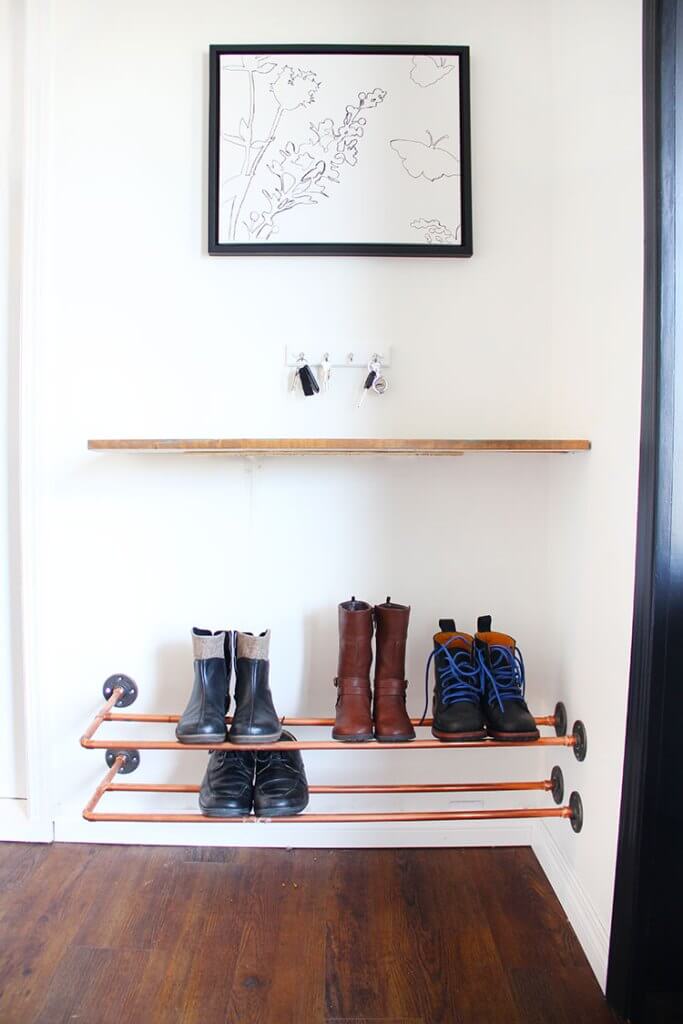 Without a doubt, this handmade copper piping shoe rack is an impressive addition to your entryway. It is both cool and captivating. The unit also can handle shoes with soggy bottoms really well.
Like traditional entryway shoe storage ideas, the copper rack is truly functional. However, it has a lot more character. To create this item, purchase the simple parts at the hardware store first.
20. Entryway Bench with Shoe Storage Ideas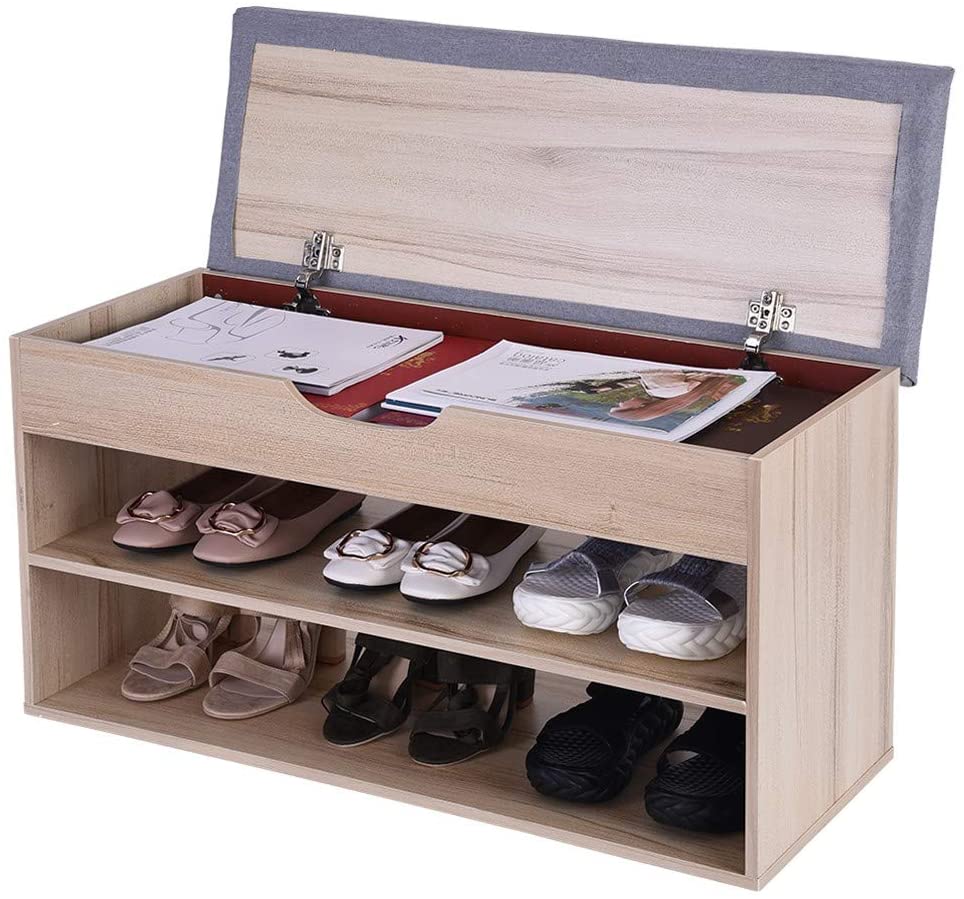 If you have a small entryway, then this shoe storage solution deserves a try. The hallway bench features two open wide shelves. They keep your pumps and flat shoes off the foyer floor.
Moreover, the bench provides a place to sit. You can put your footwear on and off in a comfortable manner.
Furthermore, the top compartment houses books or magazines. We guarantee this shoe solution will make you jump joyfully.
21. IKEA Entryway Shoe Storage Ideas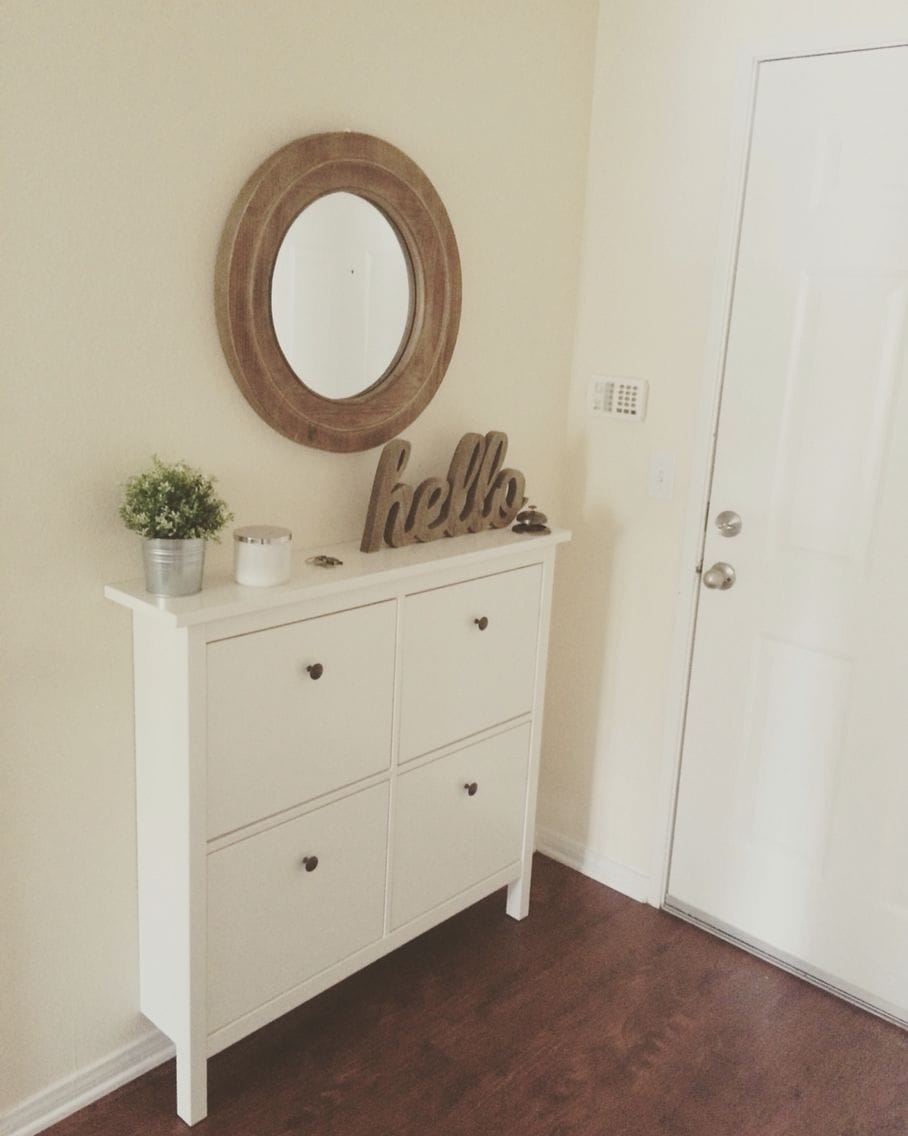 Do you have a narrow entryway? If so, give this Hemnes shoe cabinet from IKEA a chance. Since the unit comes with four deep compartments, it can house a lot of your shoes.
This white shoe cabinet only boasts two front legs. It can hug your entryway wall perfectly above the base molding. The decorations on the top shelf jazz the hallway up.
22. Wooden Boot Storage Ideas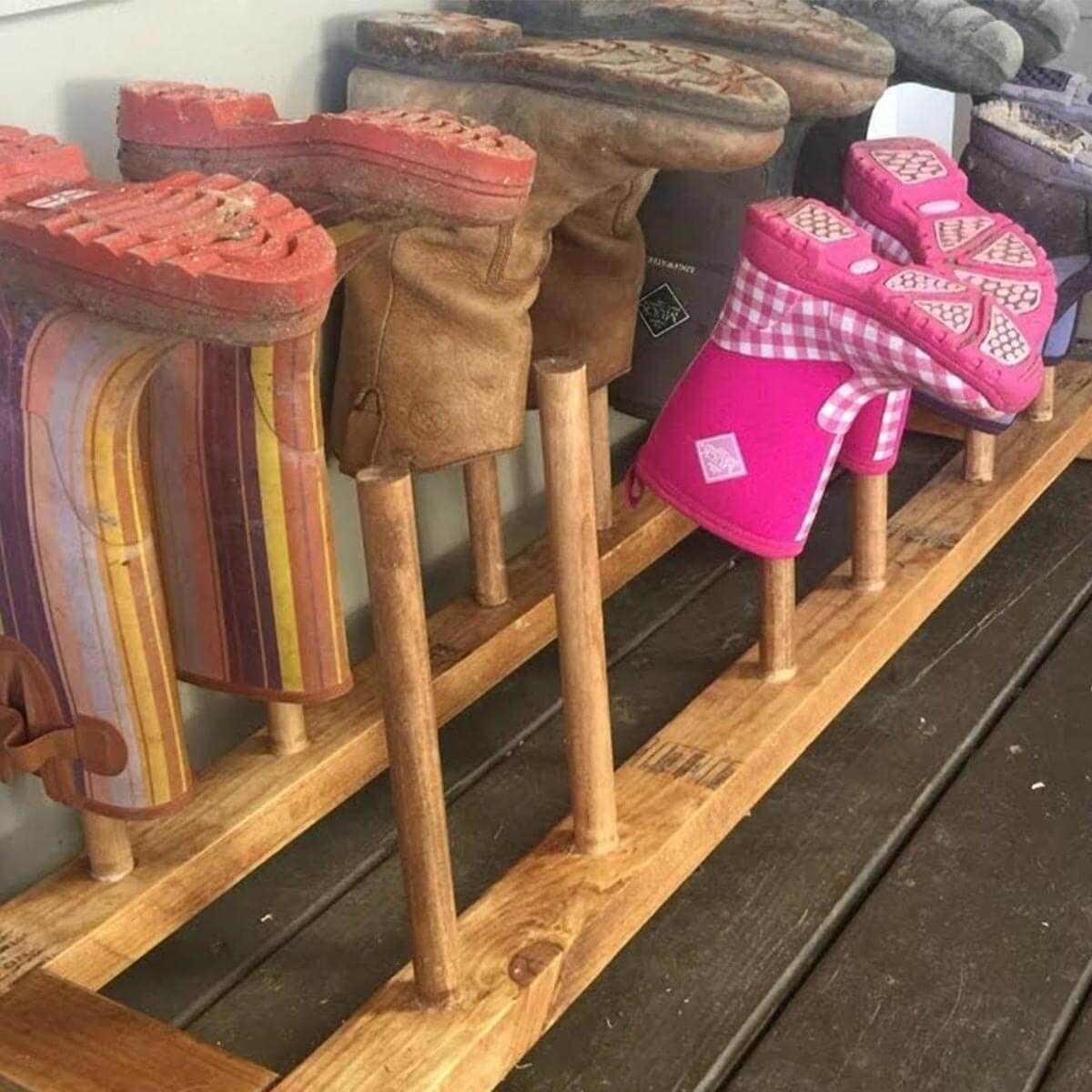 This wooden shoe organizer calls all the do-it-yourselfers. If you are one of them, don't hesitate to try the design. Here, the tray holds boots in diverse extents and tones.
Furthermore, this shoe holder handles the boots vertically. It keeps your entryway looking clean and neat. The unit also produces a welcoming mood.
Those entryway shoe storage ideas can help you tidy up your hallway. We recommend combining some creative solutions for the small entrance. Let's say goodbye to the messy shoes!
23. Wood Shoe Rack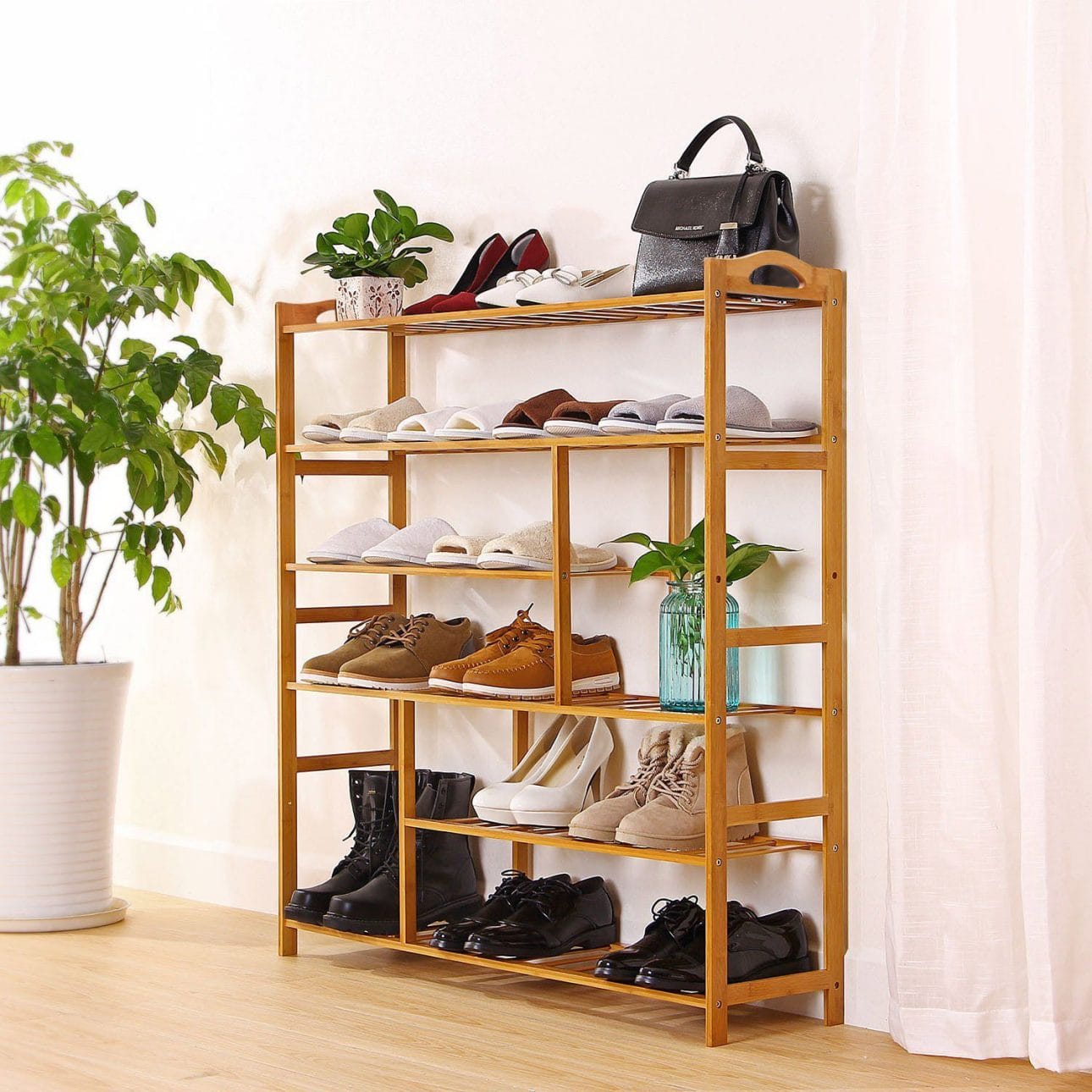 This modern wood shelf is genius because it has spots for both tall and flat shoes, so you can fit as many pairs of shoes as possible with room leftover to grow a cute plant.
24. Woven Basket Shoe Holders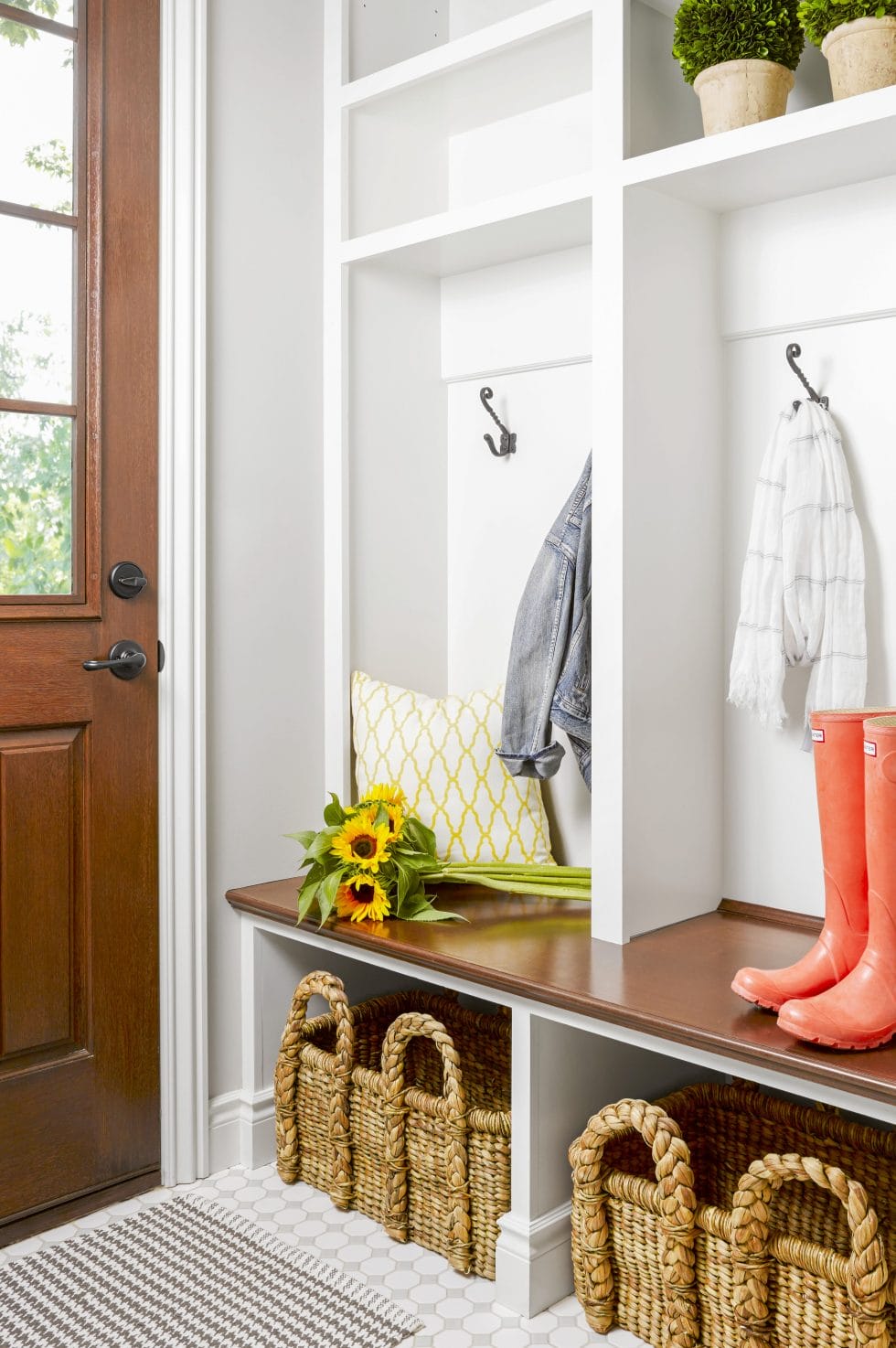 The key to an organized entryway is easy and quick access. Designate a basket for each family member that will corral all of the clutter from everyone getting ready in the morning.
25. Stacked Crates Shoe Storage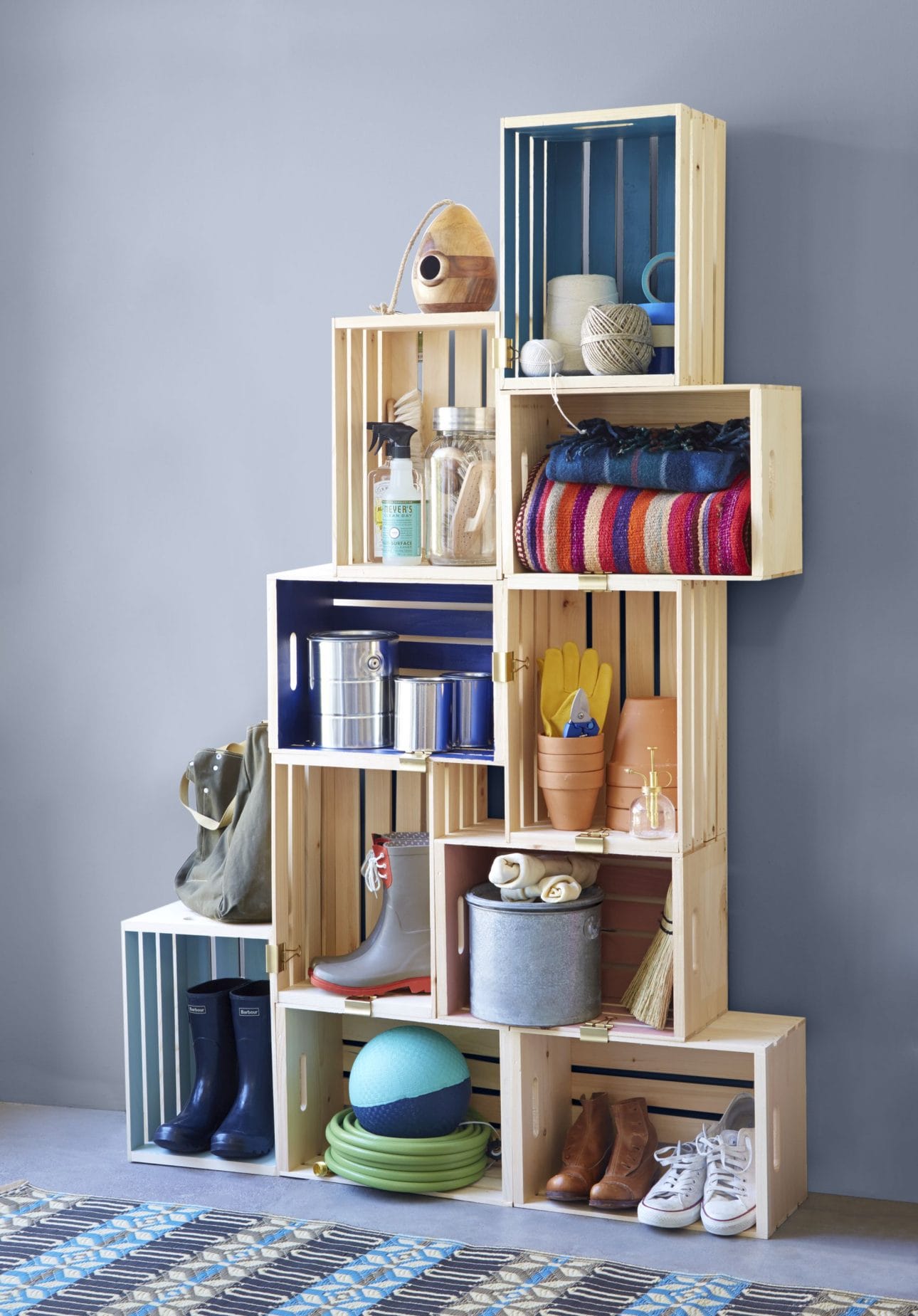 Create a storage solution for your mudroom that works best with the size and shape of space you have. Make sure to attach wooden crates by using binder clips so heavy objects like boots don't make shelves collapse any easier!
26. Shoe Storage Tricked Idea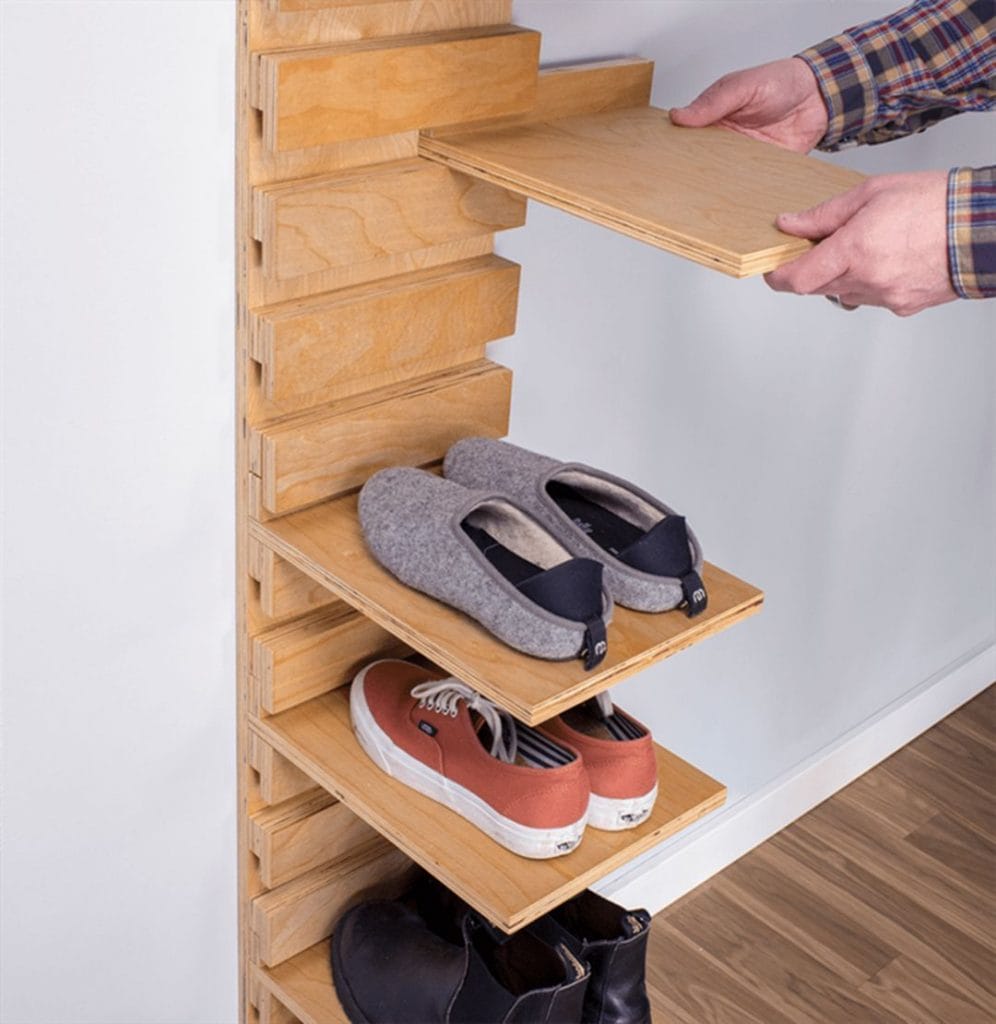 27. Cubby Shoe Storage
This white cubby bench is perfect for any entryway, especially if you're a sneaker and flats kind of gal. It's also the ideal size to wrangle your kiddos' sneakers and sandals. If you love this idea for all your shoes, I recommend getting a larger unit so that heals or booties have room to breathe too!
28. Shoe Self Storage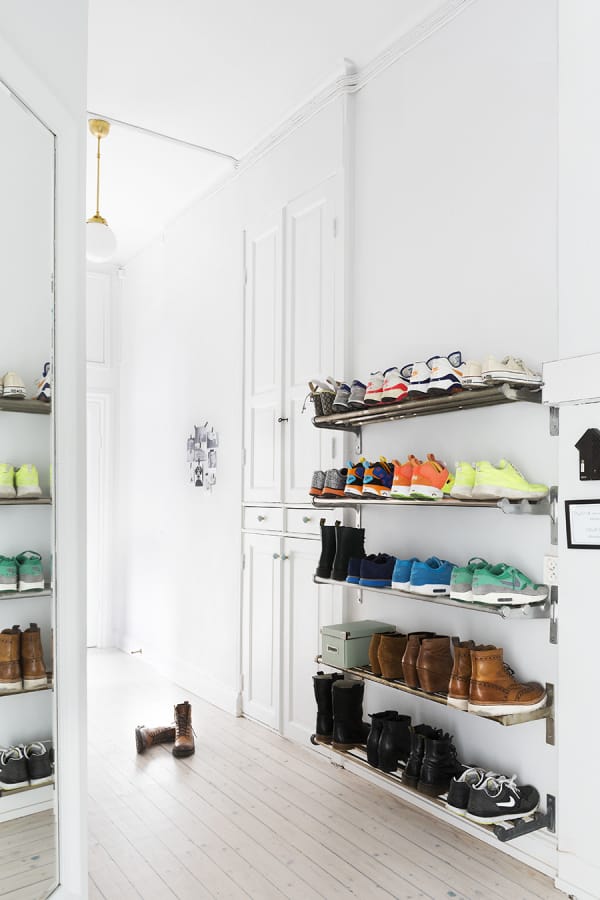 This sneaker lover has found a way to make use of unused space in their house by installing shallow vertical shelves on the wall. This creative solution utilizes all that is available and what better place for shoes than an accessible spot just off the walkway?
29. Double Stacking Shoe Storage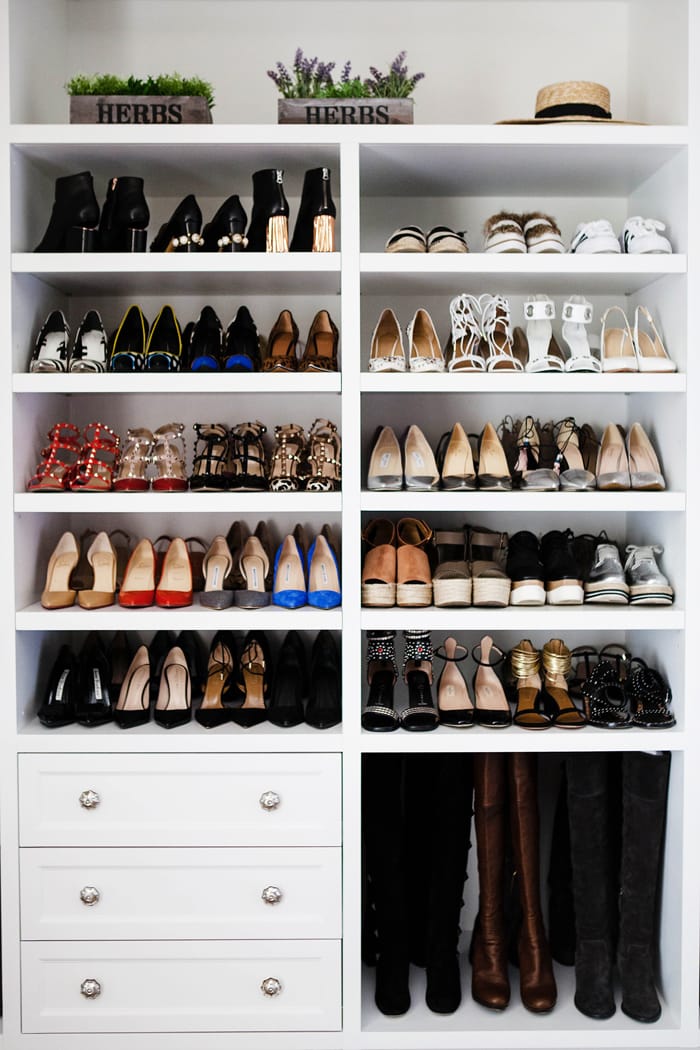 This beautiful, built-in closet is overflowing with clothes and shoes. Double stacking the shoes from front to back makes the most of this compact space saving more room for other things that are important!
30. Hall Tree Entryway Storage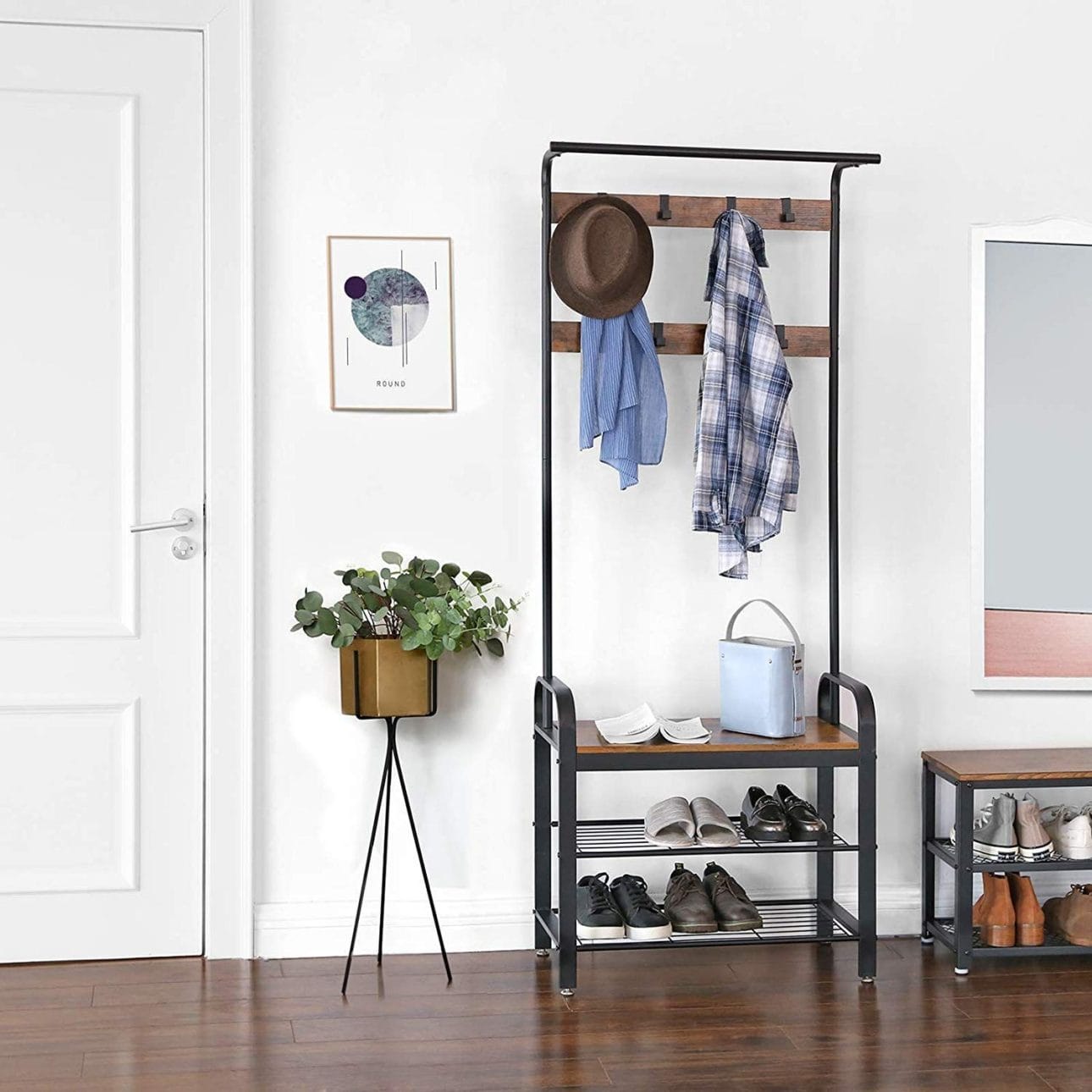 If you're looking for a space-saving way to organize your shoes, this shoe rack/coat hook combo will do the trick. With room for slip-on tennis shoes and an extra spot to hang up your leash, it'll have everything in its place before you know it!
31. Secret Shoe Storage Bench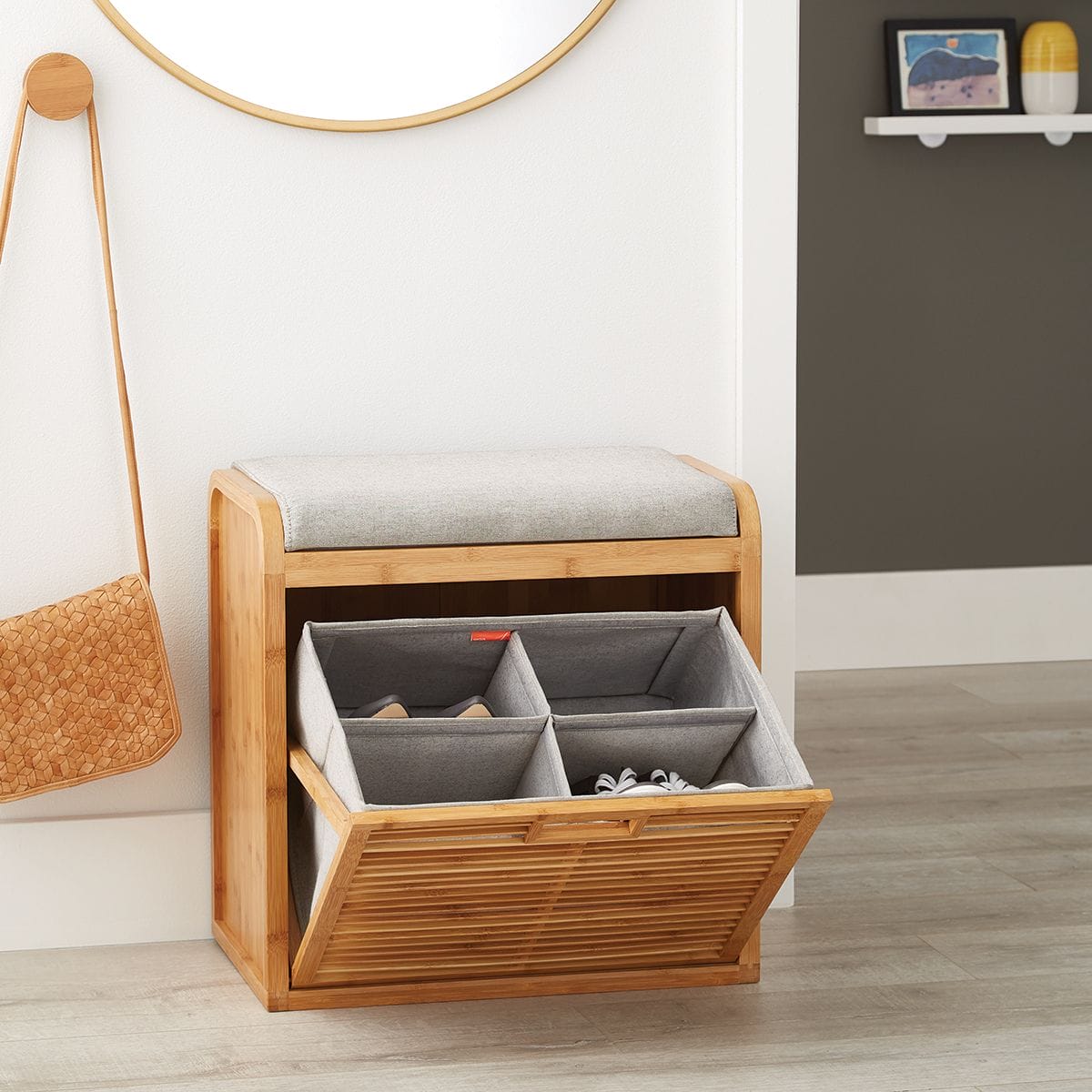 This clever seat is perfect for any entryway, providing a place to pull on boots and also hold your shoes. The inner compartment has sealed pockets which are designed specifically to keep the soles of your shoe clean!
32. Rotating Shoe Rack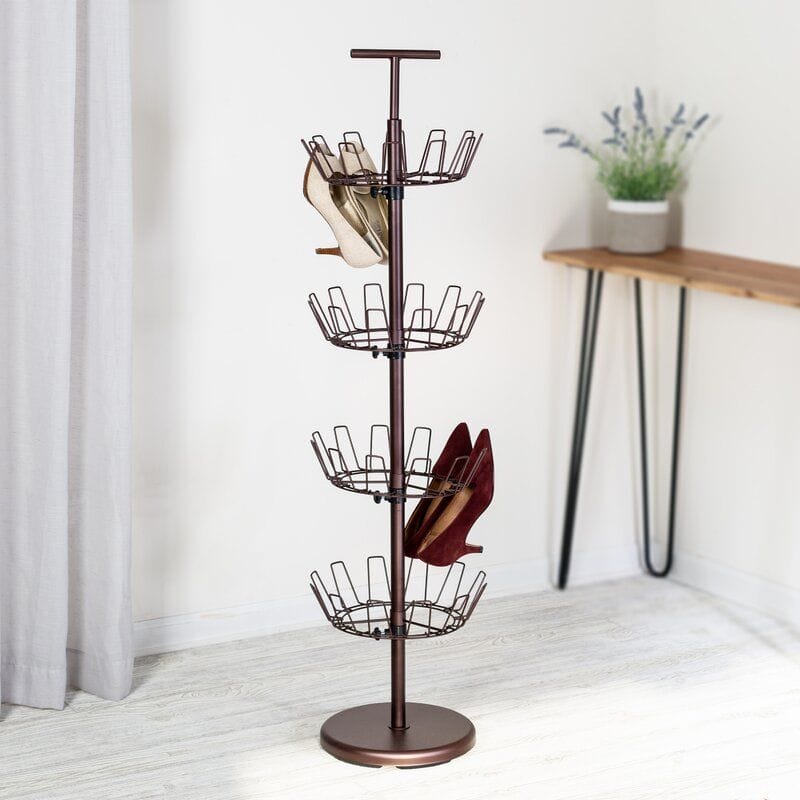 For any shoe lover, it's a problem that you can't see all of your pairs. Avoid this issue completely with the help of rotating racks which showcase more than one pair at once and make for easy access to every single one without having to shuffle through them!