A staircase can be the first area caught by visitors' eyes once they come to your home. For that, in this article, you are more directed to some stair riser ideas to follow.
Furthermore, it is noteworthy to make it as gorgeous as possible. You can embellish the stairs in many ways, including decorating treads or risers.
With the hope that it will help provide unique flair in a spot which often ignored by many homeowners.
Granted, leaving your staircase bare is no big deal. But once you can make it more stunning, then why not?
Regarding this, then what can you use for stair risers?
The answers are many. Multiple stair riser covers can give direct personality to your staircase. Let us say from wood coverings, tiles, wallpapers, decals, etc.
Once you are ready to explore the designs, below are some stair riser ideas worthy for you to borrow.
1. Moroccan Tiles to Blend with Your Interior Theme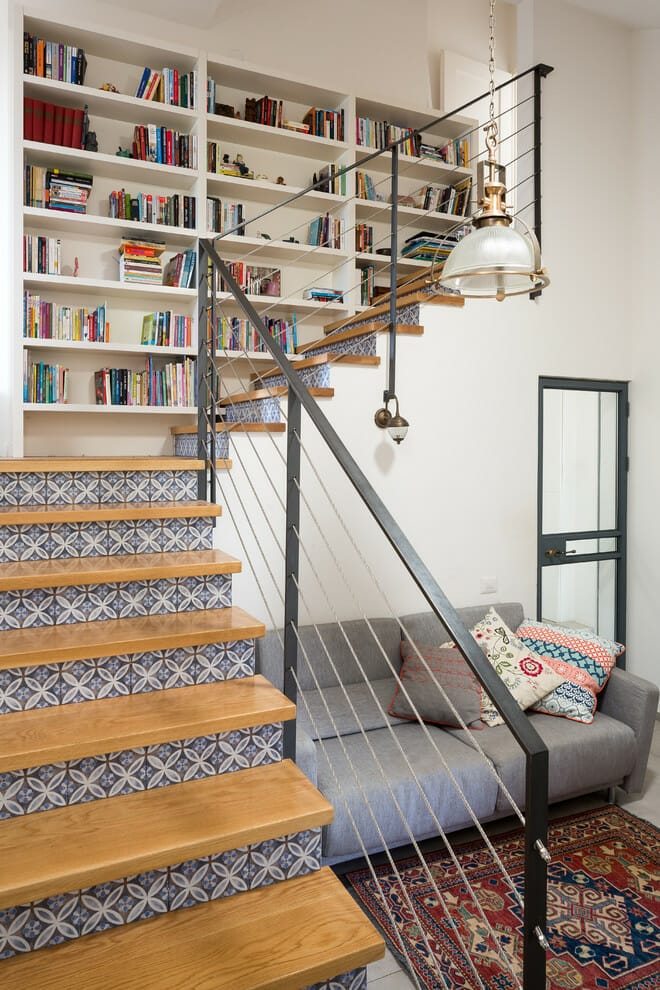 The first consideration in decorating the riser is as much as possible, it matches your overall interior design.
Although it is not an absolute rule, at least creating everything to fit will make your home look more cohesive.
One of the many stair riser ideas here refers to Moroccan tiles. Choosing the blue and gray ones will fit the accent on the cushions and rugs in your living room.
Moreover, it is enough to add drama without making your interior seem overpowering.
2. Different Patterns for Every Riser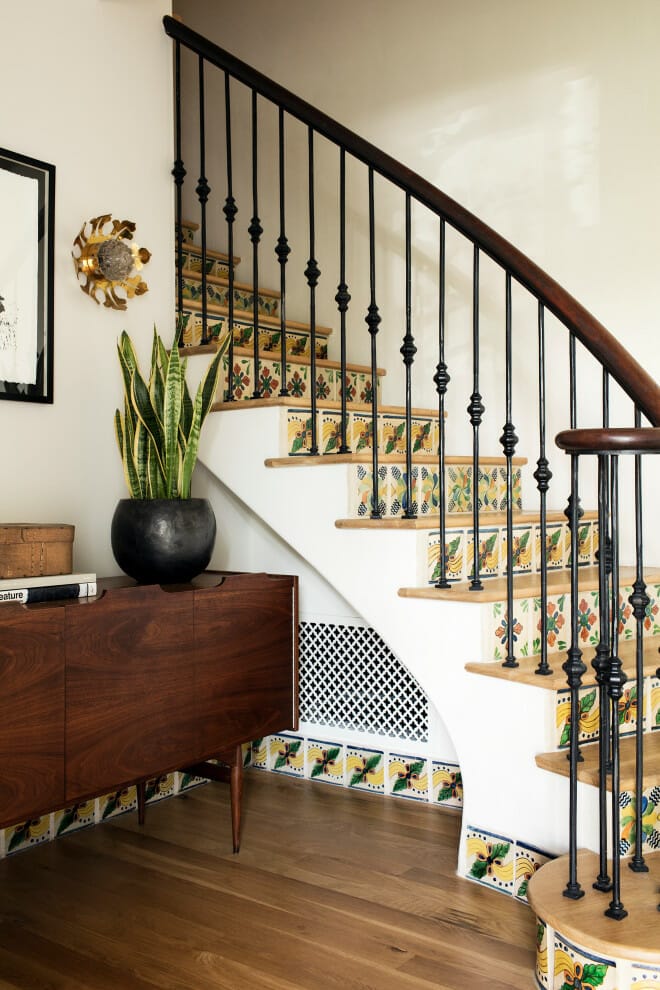 In classic style steps, white and brown are the most common color combinations you have ever found.
However, presenting it in plain will not be enough to alter your staircase into an alluring focal point.
One ultimate way you can accomplish this is by installing patterned tiles on the risers. Try to bring different accents from one riser to another to create unique flair.
Further, you can install identical decorative tiles as a wall trim line under the stairs.
3. Stair Riser Ideas with Metal Numbers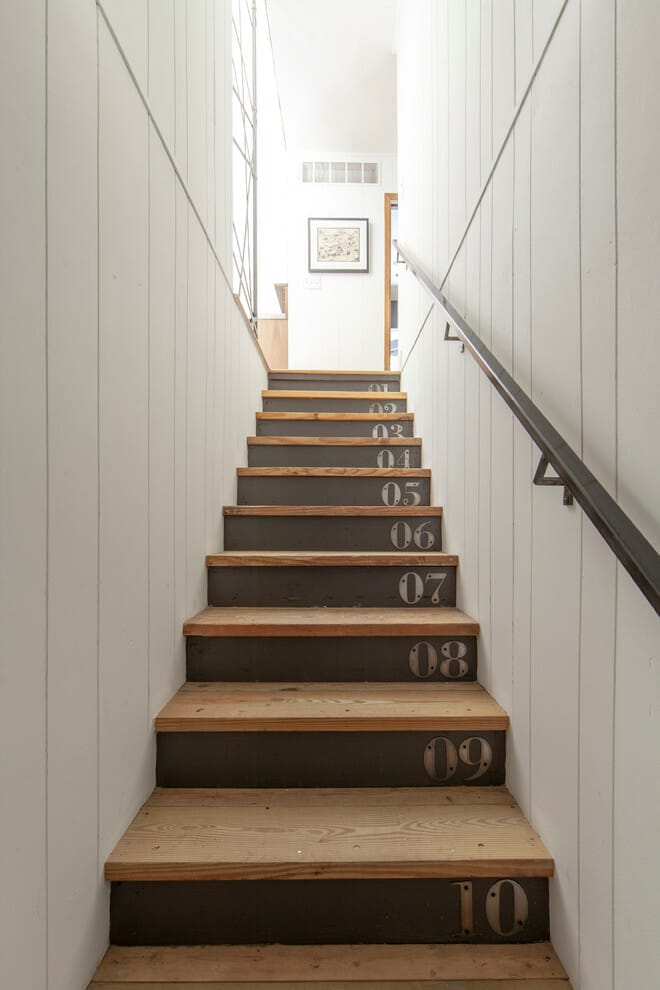 The industrial style mainly prioritizes sturdy designs to exude its charm. And even this is evident in the decoration of the main staircase.
It is undeniable that straight stairs require more treatment than spiral ones because, without any decorative elements, these stairs would be pretty dull to look at.
But you do not need to worry. You have elevated your main staircase to a new level without much effort by installing metal numbers as above.
4. Similar Tiles as The Flooring
In a rustic-style house, displaying several elements in wood is a characteristic. And usually, it cannot be separated from the use of tiles with earthy colors, such as ash gray, beige, and cream.
Thus, to match your existing treads with a natural wood structure now is the time to install tiles that match the flooring on the risers.
As a final touch, you merely need to add mini decorative accent tiles on several spots to give beautiful details to each riser.
5. Monochrome Vinyl Decals and Sculptures to Add Drama
The following idea is about using vinyl decals to give your main staircase a personal flair. Not much is needed, only monochrome decals with three different motifs, like round, chevron, and square.
Then, install them alternately to display a remarkable pattern play.
Last, place some sculptures that resemble animal heads near the wall to make your stairs even more stunning.
6. Paint the Risers in Black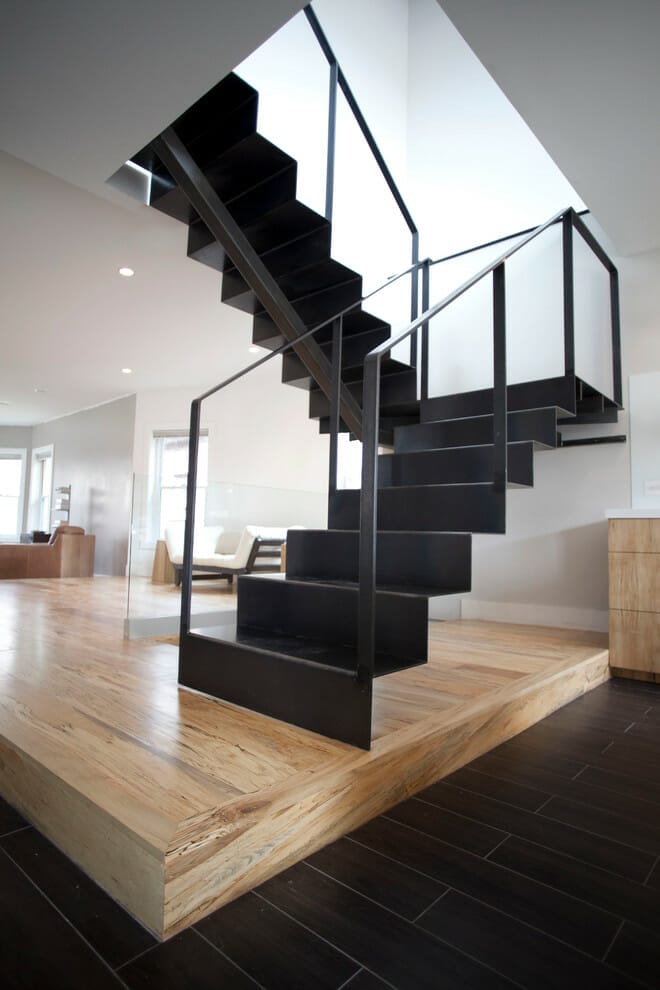 The most straightforward step in applying modern stair riser ideas is to repaint the existing main staircase. Besides being more practical, it does not cost you much money to improve it.
Also, since the modern style does not play much with bright patterns and colors, it is better to paint it black entirely.
Then, let the steps stand out among your predominantly white interior.
7. Bring the Mediterranean Vibes with Limestones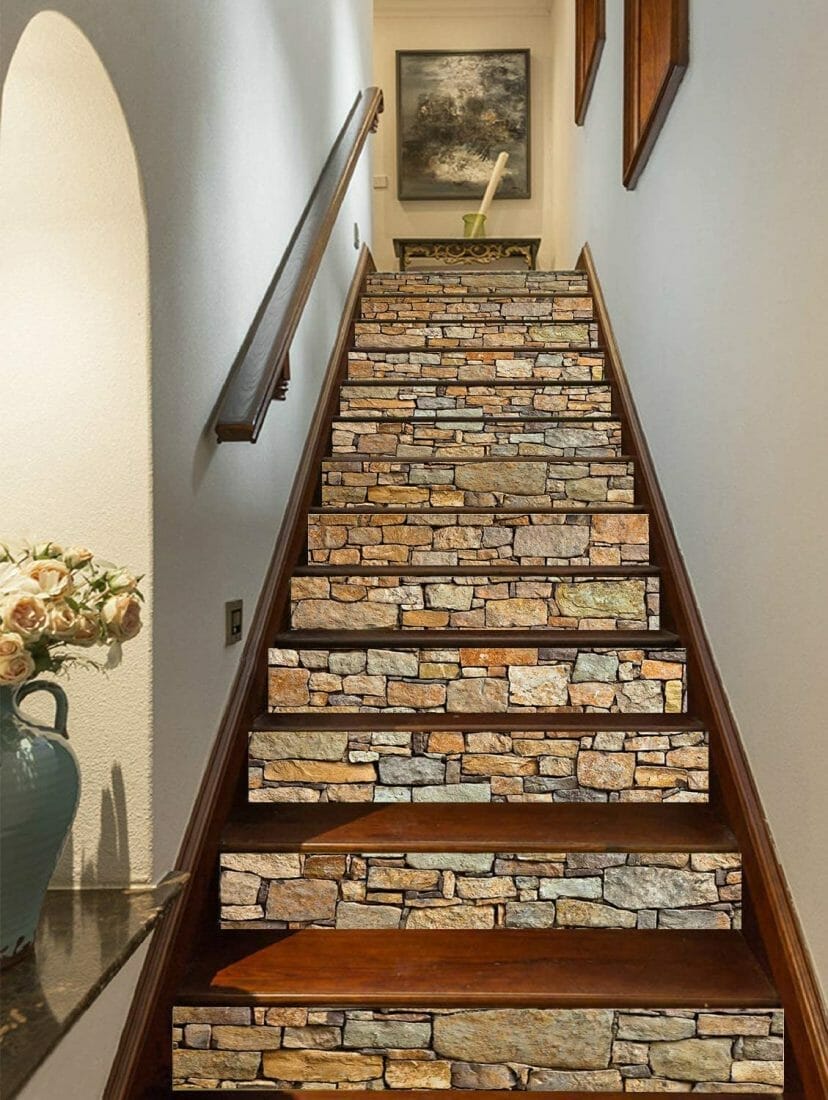 Mediterranean themes have been in vogue in recent years. Suppose you want to join the trend, then this is an excellent time to bring limestone as a decorative element for your riser.
You do not need to worry that it will take time, effort, and expense.
Now, many easy-to-peel-and-stick wallpapers come with accents resembling the original limestone. So, you can easily install it yourself.
Moreover, it is suitable for the interior, and it turns out that limestone is convenient for outdoor stair riser ideas.
8. Some Light Strips for Floating Steps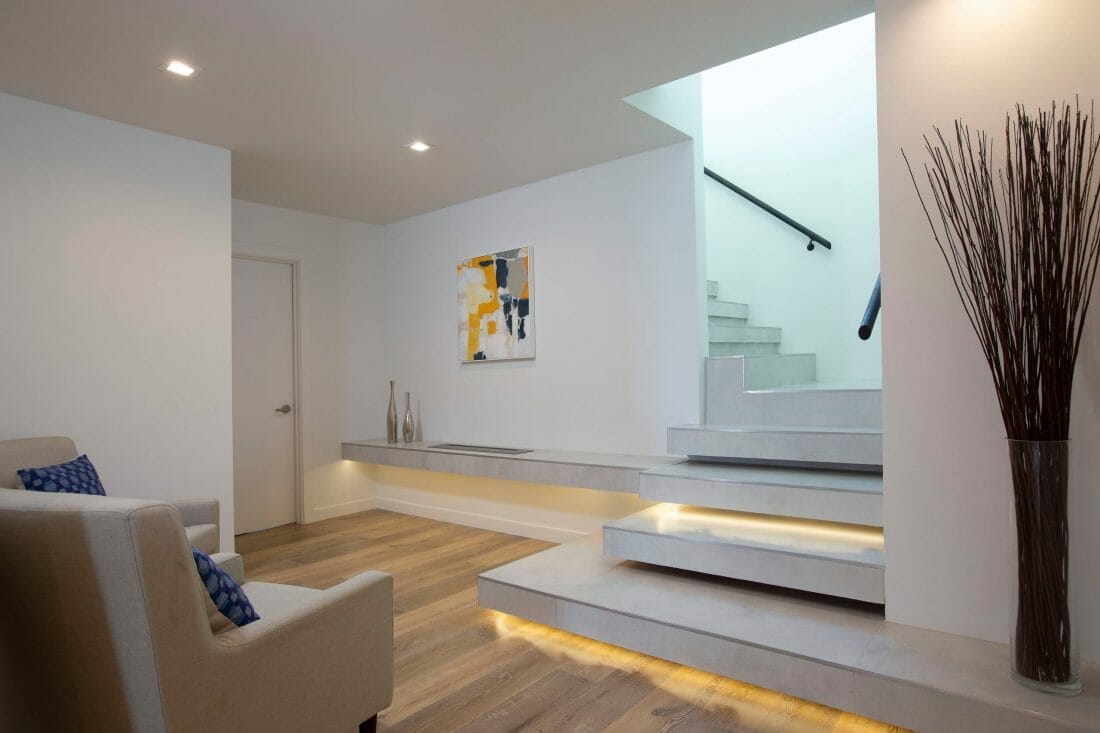 LED light strips can be the best choice when you have a floating staircase. Because usually, stairway designs like this do not have any visible risers.
Therefore, providing lights under its treads is the most promising option to make this area eye-catching.
9. Concrete Here and There
Who says concrete stairs are outdated? In fact, by adopting stair riser ideas like these, you will succeed in displaying naturalness in your home.
It would be more pleasing if it had a broken white color that matched the walls and floor. Even without any decorative elements, this is ready to catch the eyes of all visitors.
10. Create Your Own "Bookcase"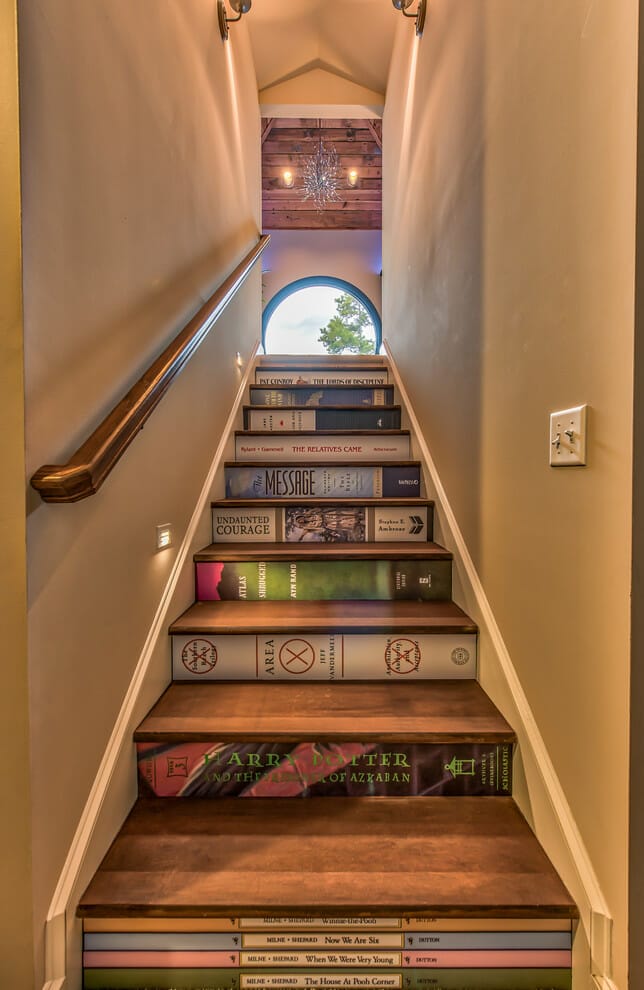 There is nothing more enjoyable than giving personality through custom wallpaper on risers. It would be good to include some of your favorite books or novels in decorating stairs among the many options.
It will help to let anyone know that you are a bookworm who loves art and values aesthetics.
11. Add Pattern Tiles by Turns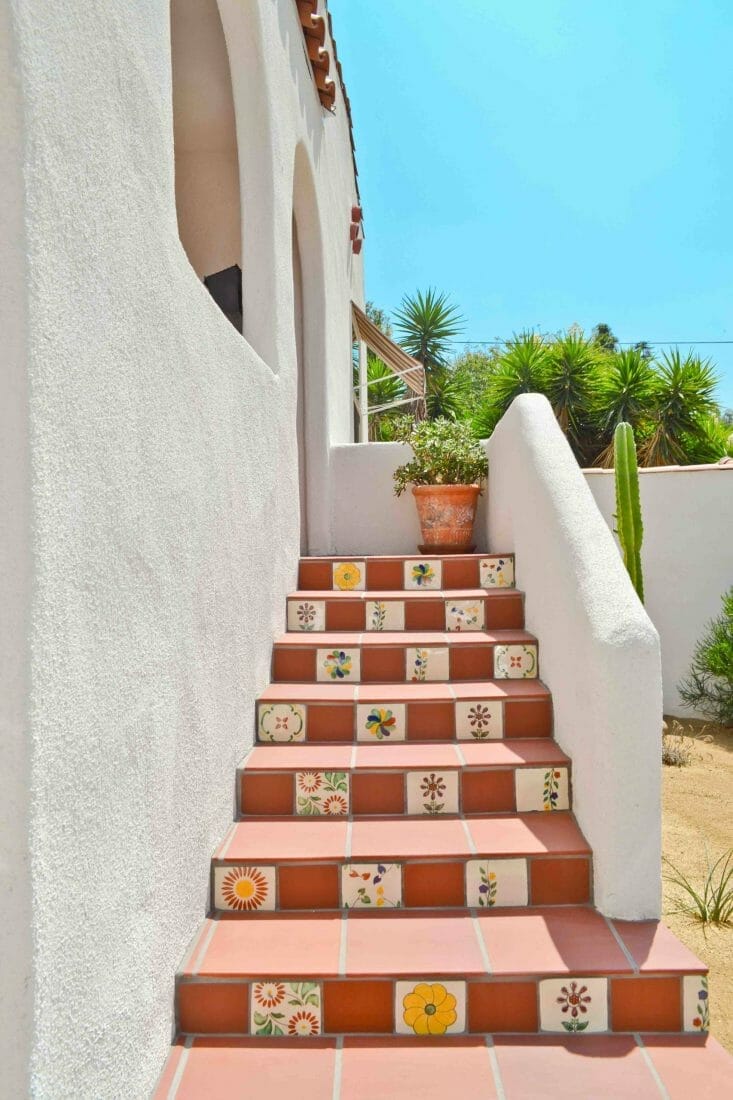 Presenting many motifs in one riser, why not? These are the most creative outdoor stair riser ideas you will ever take.
Instead of arranging them in rows, it is good to set them by turns like a patterned chessboard.
No doubt, it will be more pleasing to the eye as you present a variety of pop-up colors without having to change the primary paint of your steps.
Make sure it comes with white tiles in floral accents to blend with the surroundings perfectly.
12. Tropical Stair Riser Ideas with Wallpaper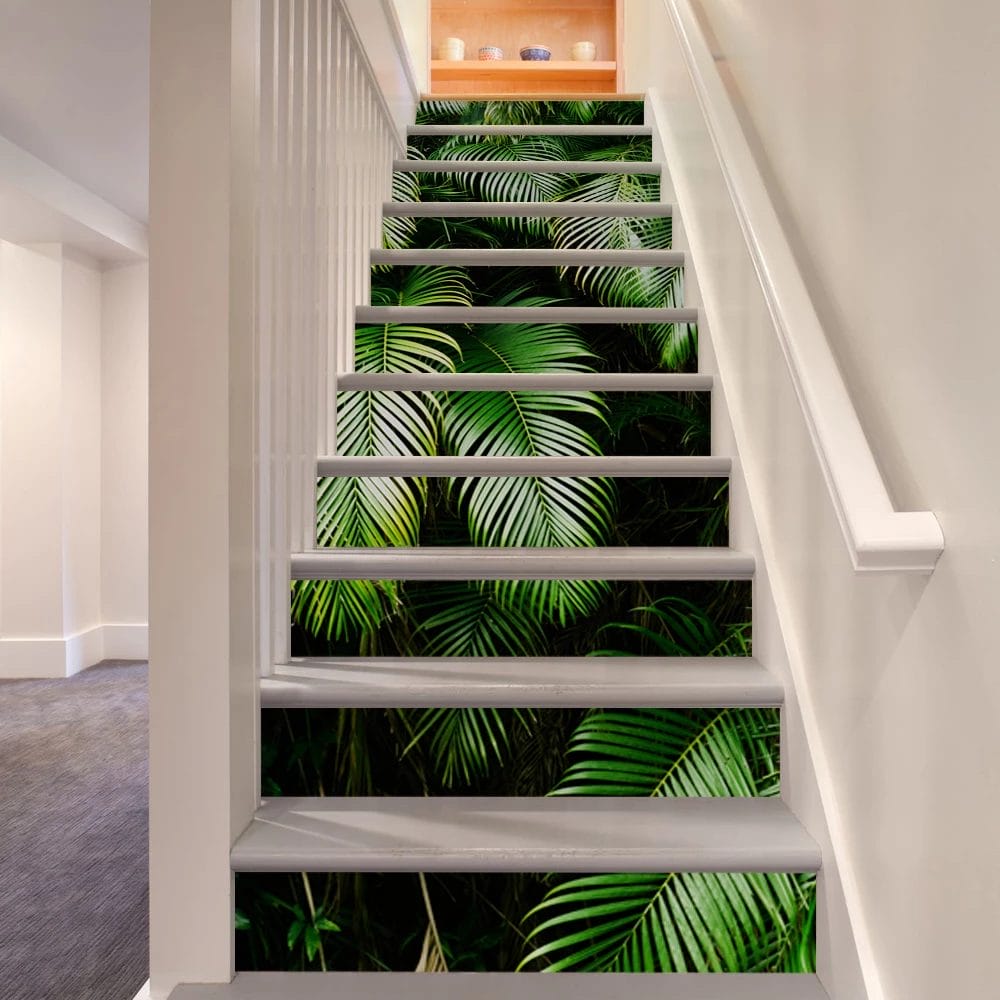 Staircase stickers come with many motifs. And of course, it will be effortless for you to find the lifelike.
Suppose you want to bring freshness to your steps. You can stick the wallpaper or stair stickers with the palm trees illustration as above.
Sticking this on a riser and surrounded by white shades makes your home full of tropical wilderness vibes, indeed.
13. Perfect Combination of Pattern Tiles and Lighting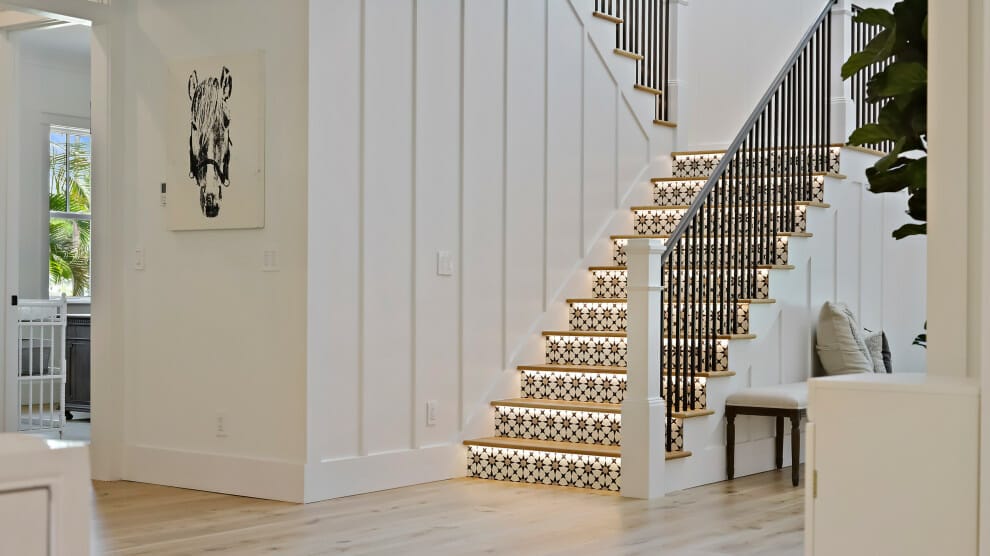 Patterned tiles or stair decals with monotonous accents will not produce a relatively impressive final result.
Therefore, it is essential for you to also think about other decorative elements to exude their charm. Of course, the strip lights are the best choice of all.
It will highlight whatever is in your riser flawlessly.
14. Chevron Accent in Earthy Tones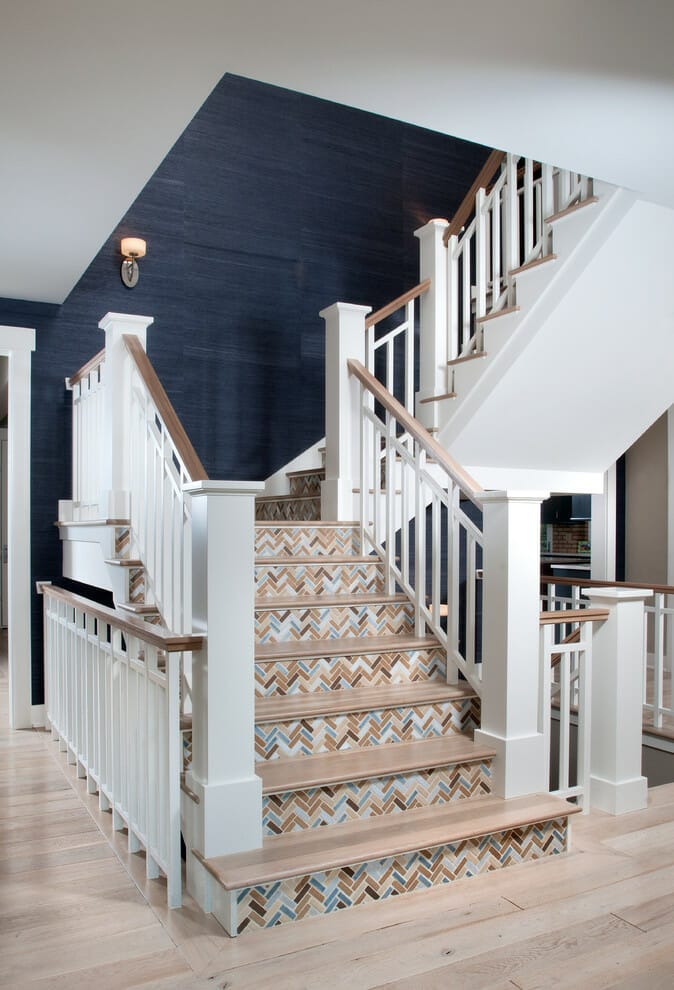 Applying stair riser ideas cannot be careless. You must consider the proper composition to get a balanced look and create an aesthetically pleasing final result.
For a small stairway, you can install wallpaper with tiny patterns on its risers. That way, everything on your stairs will not ever be overwhelming.
Like the mini chevron wallpaper that mixes the earthy hues above, it will make your steps look more expansive and attractive at once.
15. Brighten It Up with Mosaic Wallpaper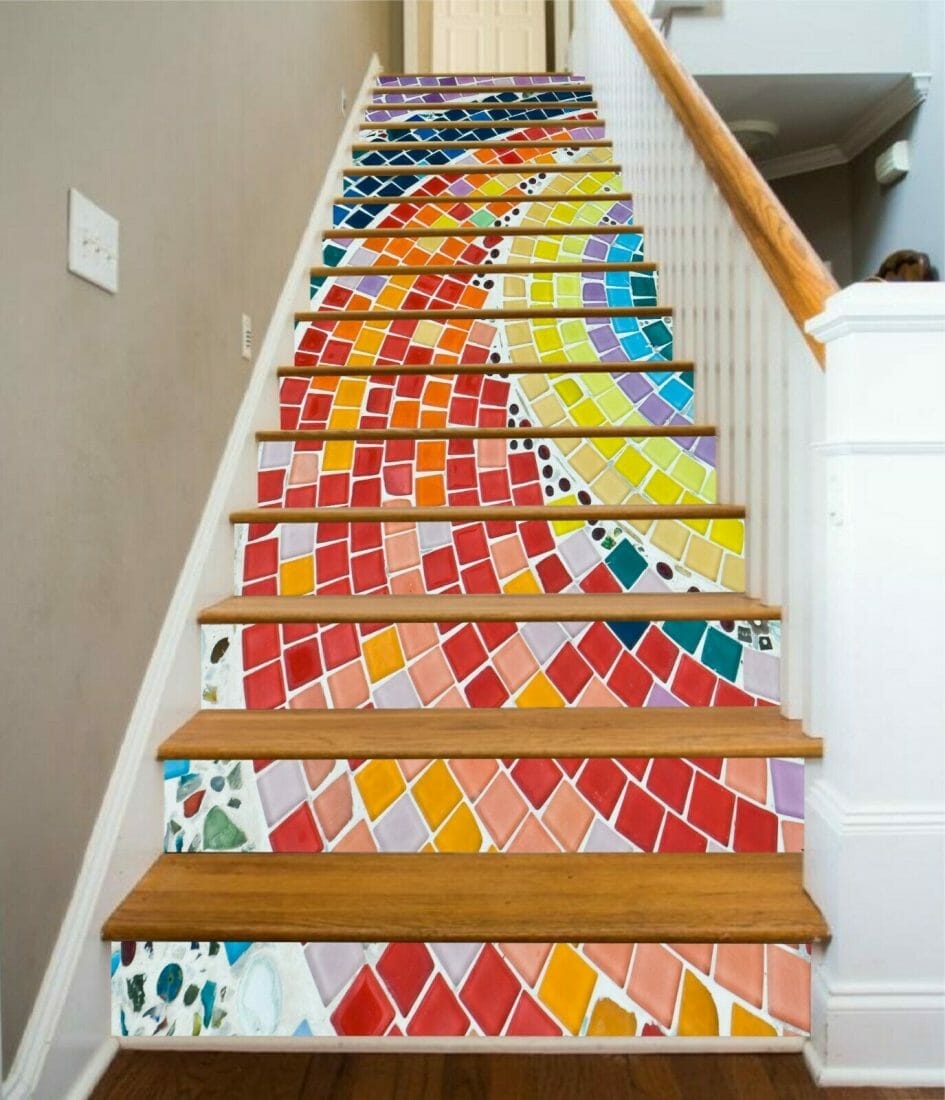 Manually installing mosaic accents on the riser will be very time-consuming and full of effort. But that does not mean you cannot bring the charm of mosaic to your stairs.
There are many mosaic tiles out there that are ready to install or even wallpapers with real-looking motifs that you can choose from.
Especially the wallpaper will make it easier for you to install it yourself and repair it without any significant damage to your existing staircase structure.
Pick one with a colorful mosaic accent to brighten your stairs up!
16. Cover the Staircase with Red Woven Accent Carpet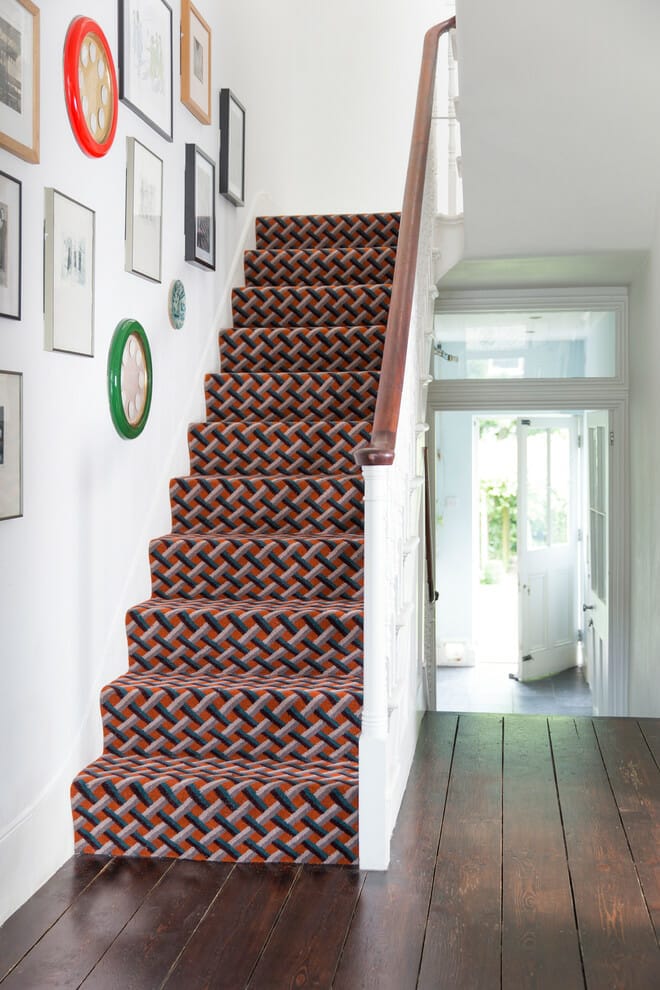 Here is one of the most practical stair riser ideas for embellishing your staircase. Namely by installing a runner or carpet that has a striking motif.
There is no need for flashy colors; just come with a carpet with red and black woven accents. Hence, now your stairway is ready to steal everyone's eyes.
17. Eclectic Stair Riser Ideas to Give a Pop of Colors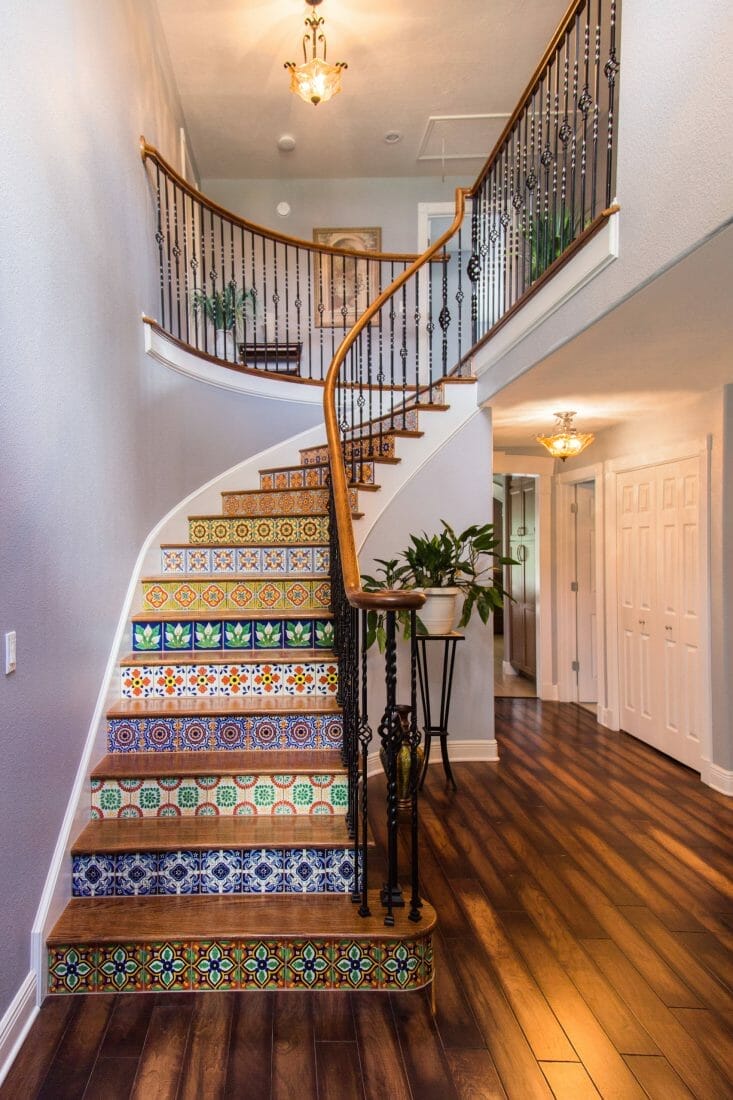 The interior with an eclectic theme allows you to combine many patterns in one area, and it will still be enjoyable.
To feel on the safe side, you can choose Moroccan tiles of the same size even though they have different patterns and colors.
That way, your main staircase will still be pleasing to the eye.
18. Showcase Your Favorite Books and Portraits Along The Stair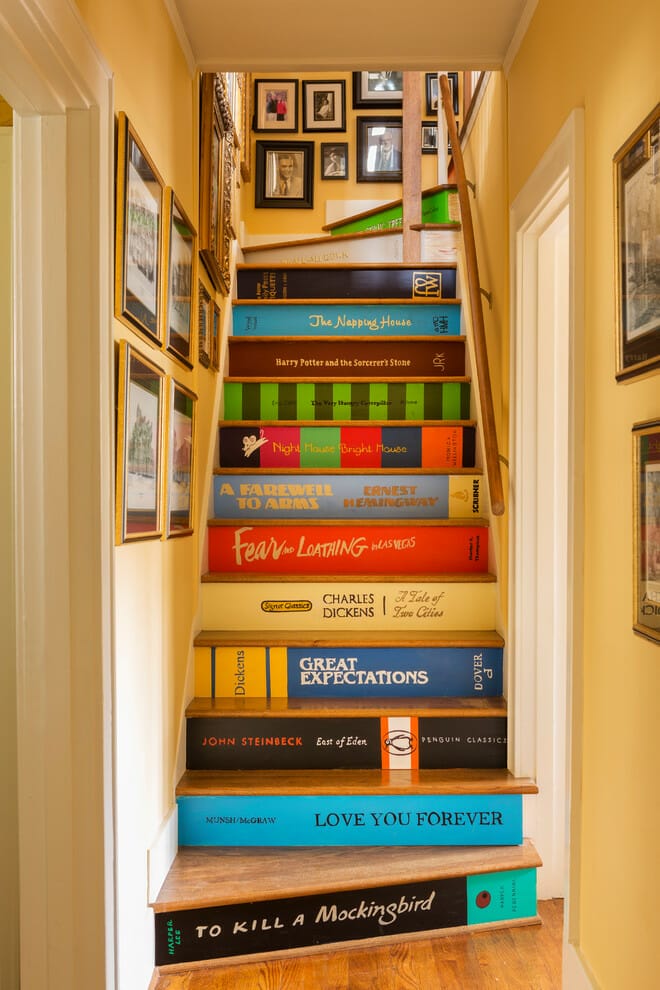 Why not just turn your stairs into a gallery?
In addition to sticking custom wallpapers that represent the titles of your favorite books on every riser, you can also hang lots of photographs along the walls of your stairs.
That way, anyone who passes this stairway will feel a strong memory that describes your persona.
19. Different Sizes of Risers to Add Texture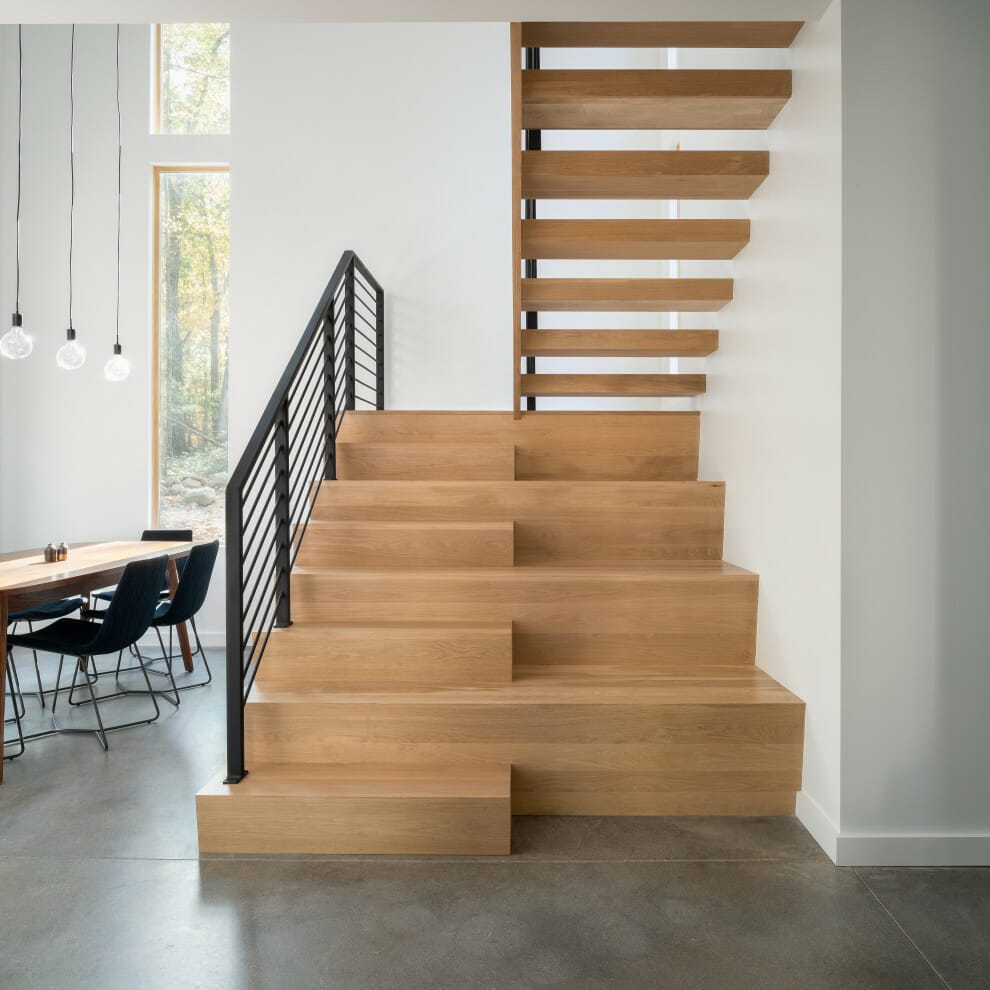 Adopting stair riser ideas does not always have to be attached to the use of wallpaper, tiles, decals, or even carpets.
You can even achieve high aesthetic value by simply having your risers come in different sizes.
Besides being successful in providing texture, it is also quite kids friendly with the "additional steps" on your bottom few steps.
20. Classic Stair Riser Ideas with Dark Pattern Tiles
Dark accent tiles are the best option if you want to give your riser a pop of texture without having to lose the elegance of your home.
Then, of course, Moroccan motifs always manage to grab anyone's attention. It would be more stunning if it came with polished wood treads and black metal baluster at the same time.
21. Leave the Risers in White and Carpet in The Middle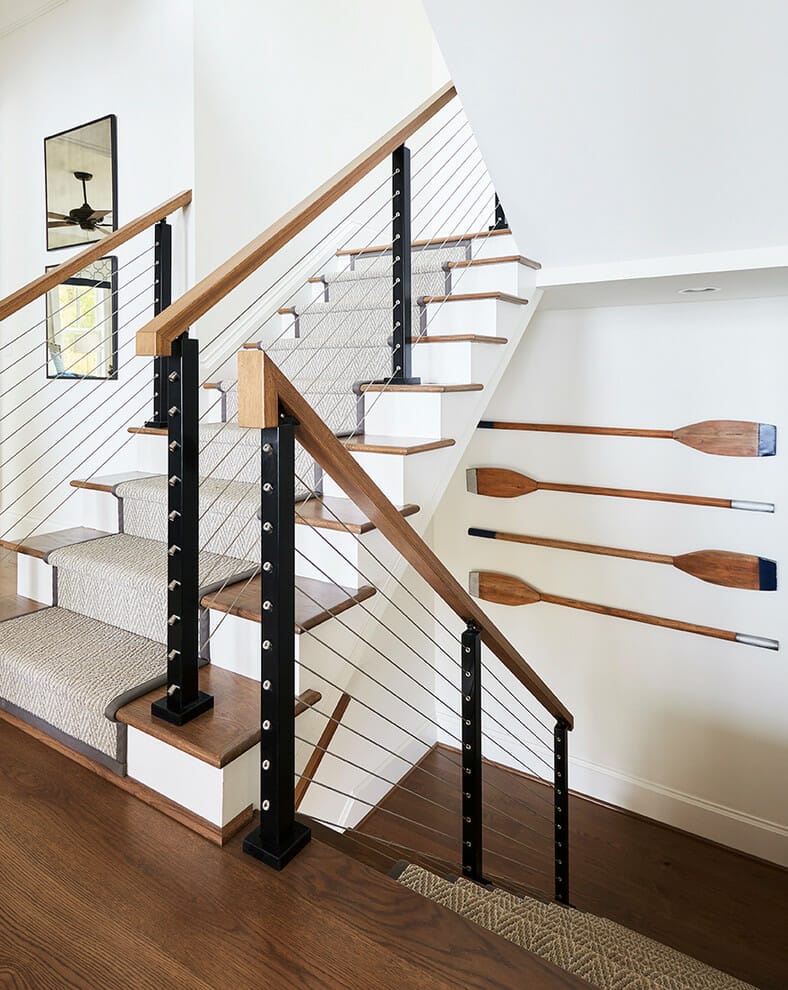 Runner not only serves to muffle the sound of your steps. More than that, it can be a decorative element for your stairs, too.
Installing runners, especially with subtle colors and motifs, will help you give modest flair to your plain risers and worn treads.
22. Mix Patterned Decals on White Risers and Dark Polished Wood Treads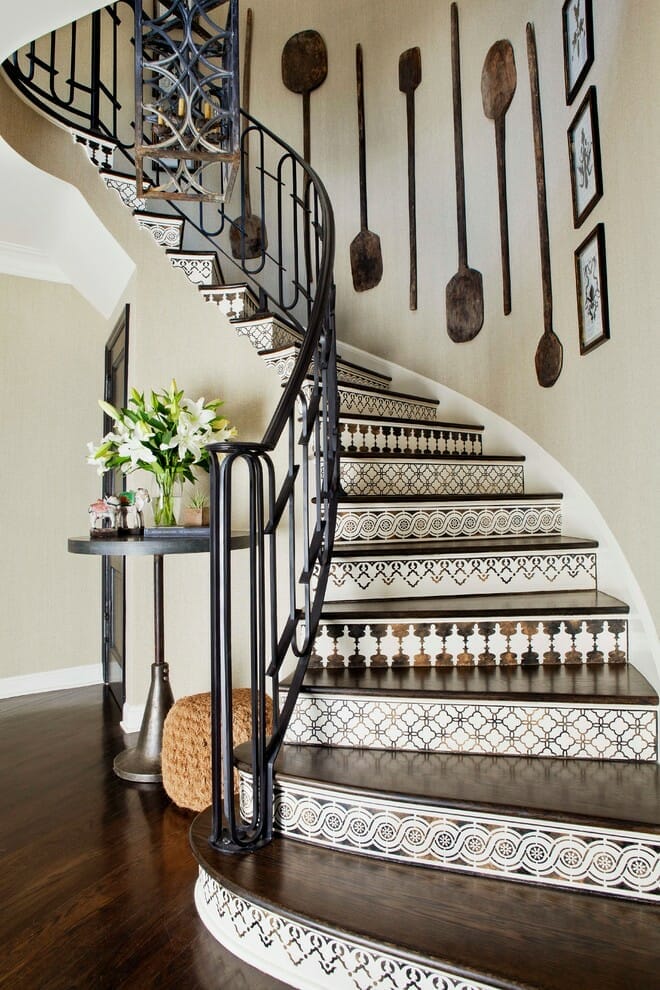 Stair decals never fail to give a remarkable personality to your main staircase.
Through these stair riser ideas, you can freely combine whatever motifs you like as long as they go well with your overall interior.
Additionally, you can also pick one that provides color gradations like above.
23. Create Slits on The Risers to Expose Everything Behind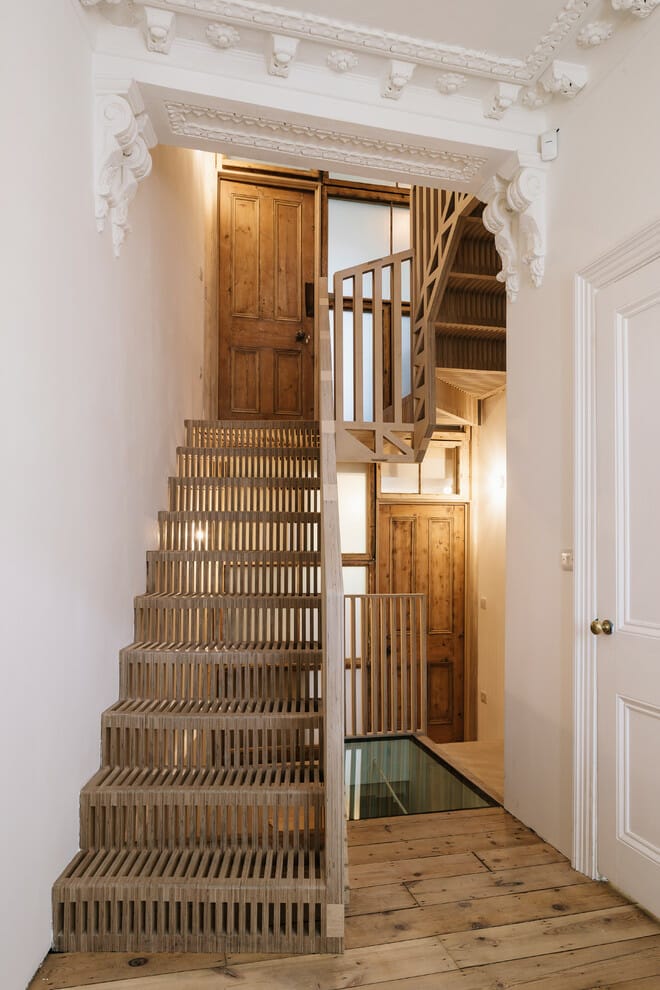 There is nothing better than giving textures directly to each tread and riser in a rustic-style staircase. Now, we invite you to adopt stair riser ideas without any wallpaper or decals.
Instead, please give your staircase a slit design like the one above. Thus, it is enough to make it an attractive focal point for anyone.
24. 2×2 Decorative Accent Tiles in Bronze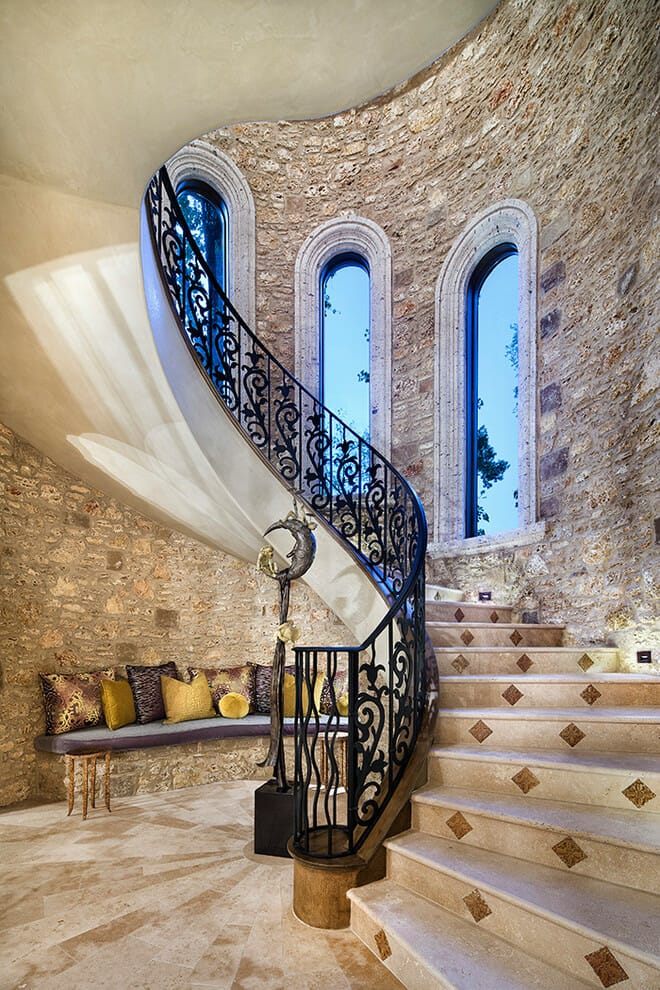 Do you want to give a touch of luxury to your plain concrete staircase? But you do not want to do a major makeover?
Then you can consider installing 2×2 decorative accent tiles in bronze on each riser. It will instantly bring your main staircase to the perfect splendor that many people desire.
25. Cheerful Stair Riser Ideas Among the White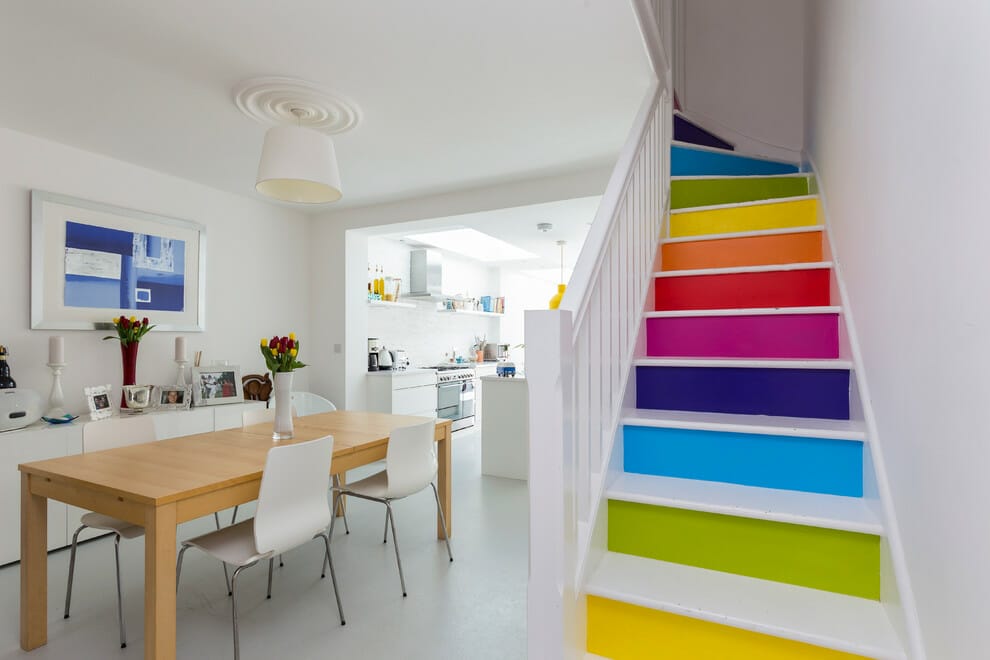 Giving an artistic guise on the stairs does not always come with painting or wallpaper with complicated accents.
Let us make it simple by repainting your risers with various bright colors like yellow, green, indigo, and purple that resemble a rainbow.
It will inherently make your room far from gloomy.
26. Mixed Colors and Sizes Strips Wallpaper
In addition to repainting the riser as suggested in the previous option, you can also take a more uncomplicated step, namely by installing stripes wallpaper with rainbow colors.
Later, it will simultaneously make your stairs appear higher and can spotlight the stairwell area well.
Considering the tiny patterns rather than the large ones are better so that it does not seem overcrowded.
27. Made It Fade then Pop Up Again by Turns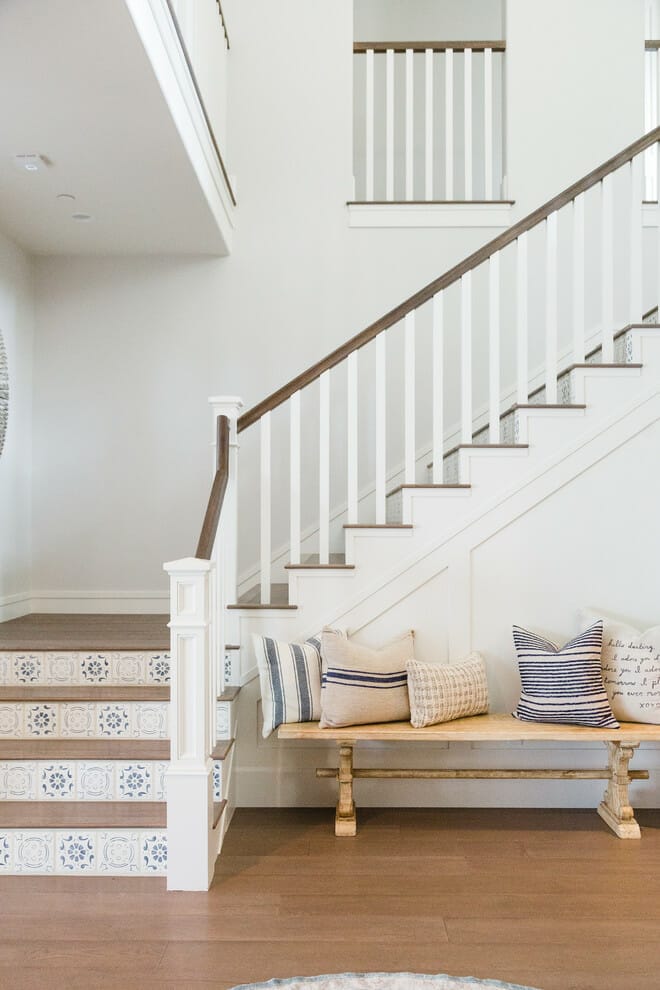 Tile with faded patterns at first glance will look unattractive. But you can combine it with bold ones to create a balanced look.
Install the tiles with these two types of patterns alternately. Therefore, these stair riser ideas will make your main stairway look prettier than before.
28. Yellow Steps with Artistic Wall as an Incredible Focal Point
Suppose you already have pretty artistic wall decorations around the stairs with a dark background. So, what you need to do next is repaint the steps with neon colors.
As in the picture above, leaving it in neon yellow makes your staircase become a spot that would be a pity to ignore.
29. 3D Piano Keys Stickers for Musicians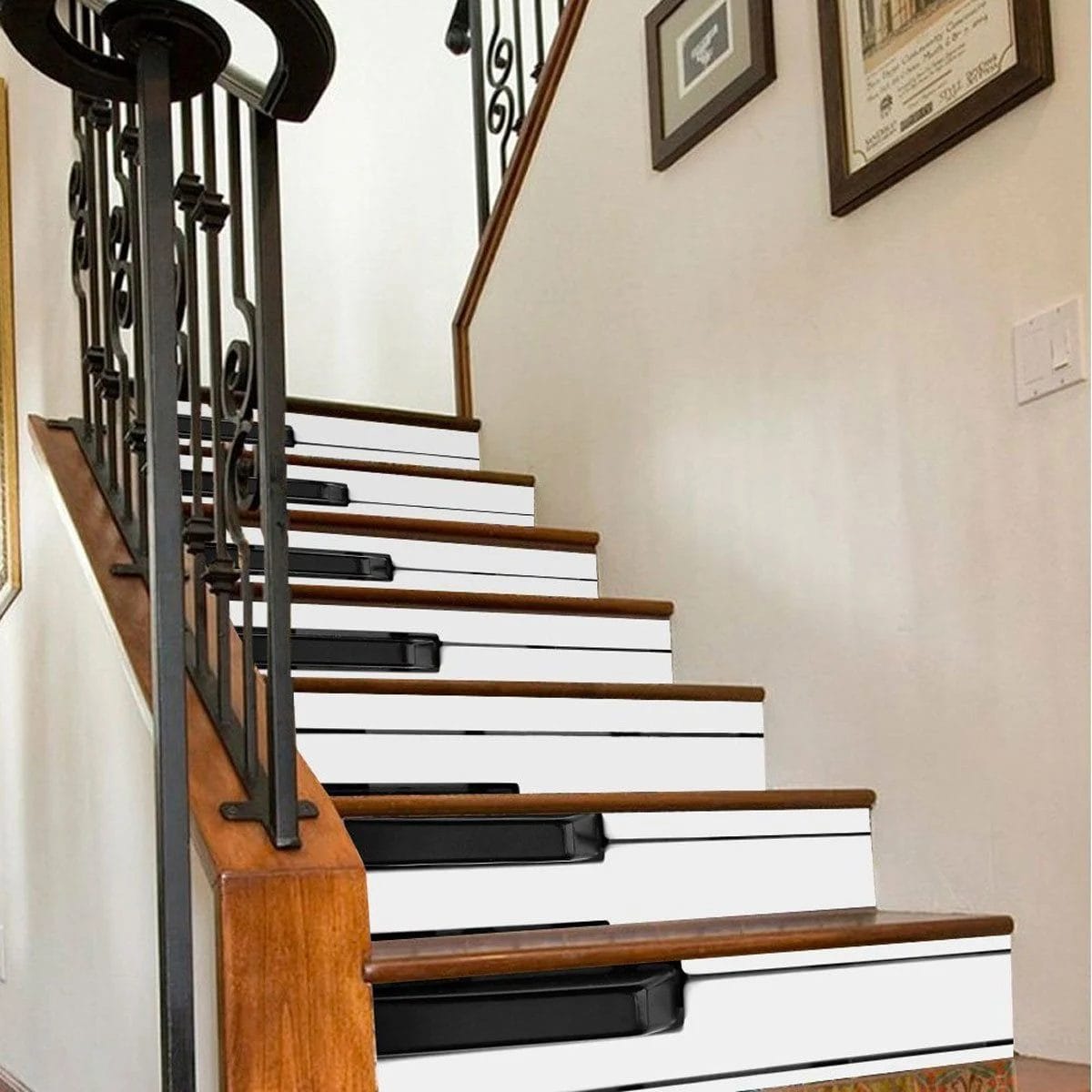 Look how the 3D stair sticker resembling the piano keys above seized the attention. It is a self-adhesive decorative object found in many marketplaces.
So, if you and your family are music lovers, installing these 3D stickers on the risers will not ever go wrong. It will give a unique flair that is timeless and fits into any interior design, though.
30. Custom Your Vinyl Quotation to Liven Up the Day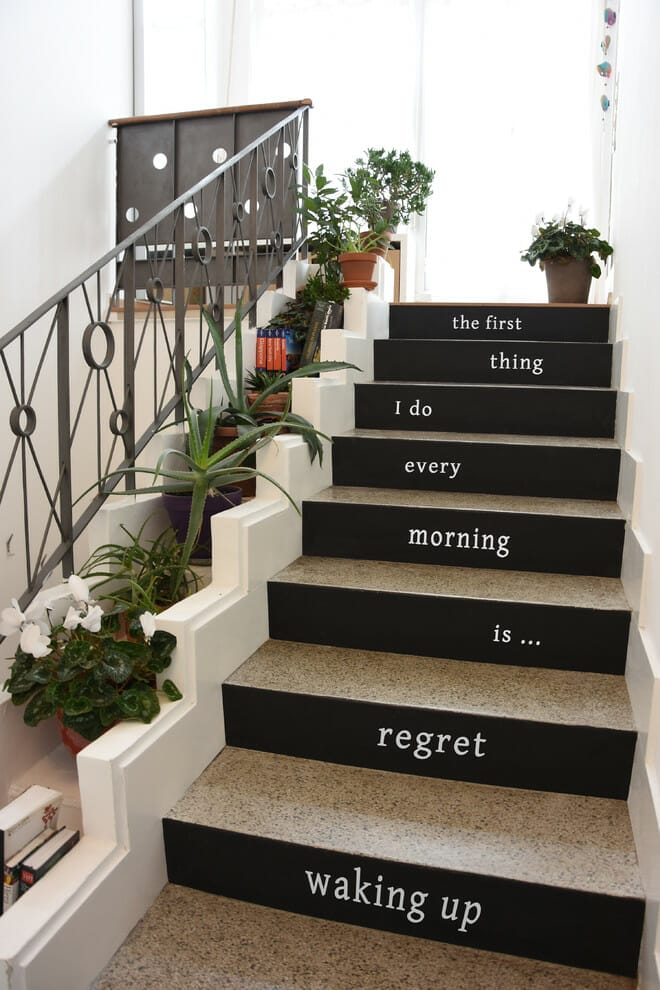 Last but not least, do you want other stair riser ideas that provide a meaningful impact on your daily life? If so, try to go with inspirational quotes or saying decals as above.
Suppose you want to make the quotation that best suit you and your life motto, then create your own and immediately stick it in each riser.
Redecorating a staircase to draw visitors' eyes is not hard. But, if you cannot develop expensive strategies, then merely go with some practical alternatives instead.
Do not worry, as they certainly manage to spruce up every detail in your steps perfectly.
So, after seeing a lot of stair riser ideas above, aren't you intrigued to make improvements to your home immediately? I bet you are.