Visually, protruding windows already have their uniqueness. However, it would be even better if you provided bay window decorating ideas that match your interior decor.
That way, it can exude its unlimited charm. Then, what looks good in front of a bay window?
There will be lots of bay window decorating ideas that you can adopt regarding that question—for example, giving it a set of curtains to attaching a nook which becomes the hallmark of this kind of interior.
If you are curious, let us look at the twenty-nine bay window decorating ideas below.
1. Bay Window Decorating Ideas with White Frames Among Black Walls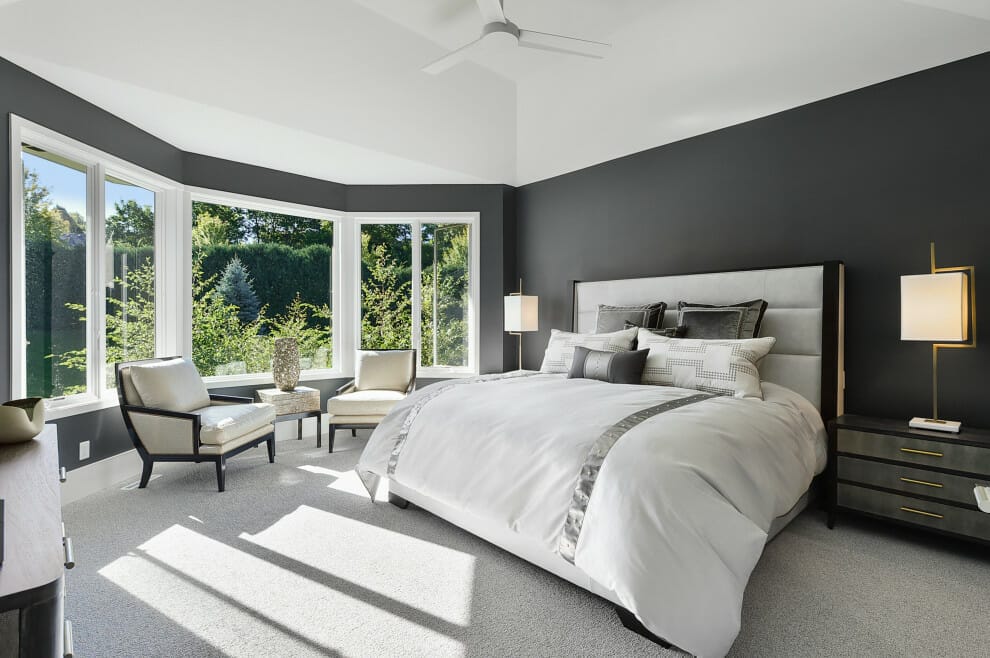 This first idea is quite simple, but it manages to exude the authentic charm of the bay window. There is nothing special window treatment than giving a frame in white between an utterly black wall.
Coupled with the natural landscaping that is already stunning outdoors, this bay window seems to have captured the scene perfectly when viewed from afar.
It is like a painting inside a wide frame that only you have.
2. Drapes Window Valance in Bright and Refreshing Color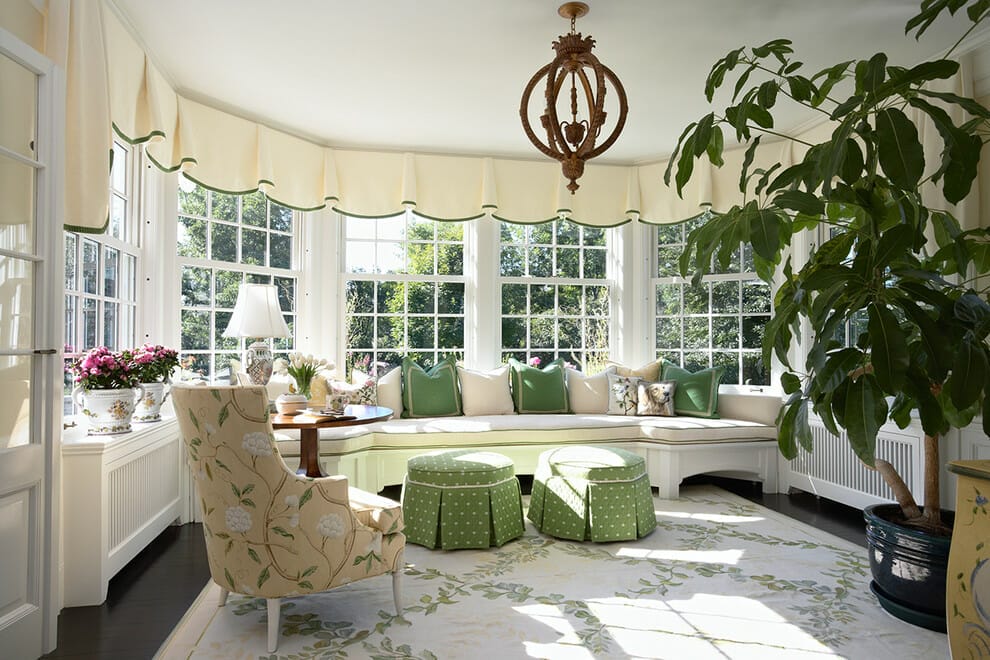 Valance is the second option to treat your bay window.
Usually, these items also come with curtains in similar motifs, but if you decide to go with only the valance alone, it will not be a problem, though.
After all, valance in bright colors and match to the cushions, rugs, and chairs will successfully add drama to your bay window.
3. Nook's Backrest in Striking Color and Pattern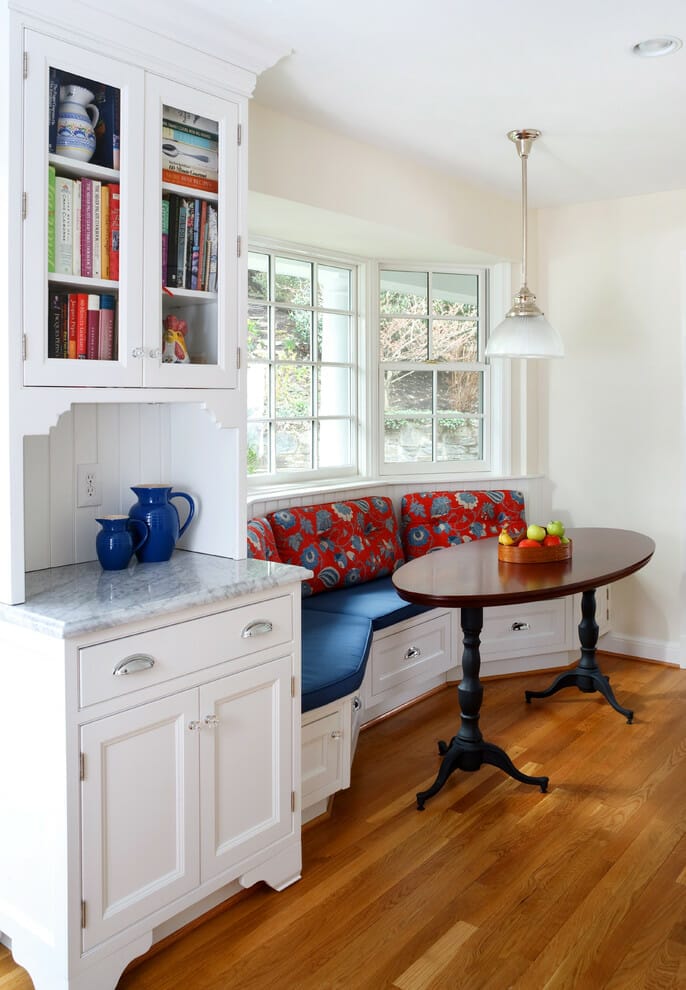 You do not need to implement complicated bay window decorating ideas in a narrow area. Everything will be stunning and timeless by giving striking colors and patterns to your breakfast nook.
Especially when your bay window comes with an all-white setting, no doubt about it, the combination of red and blue on the breakfast nook will balance everything out.
4. Two Great Pillars and Chandeliers to Dramatize the Ambiance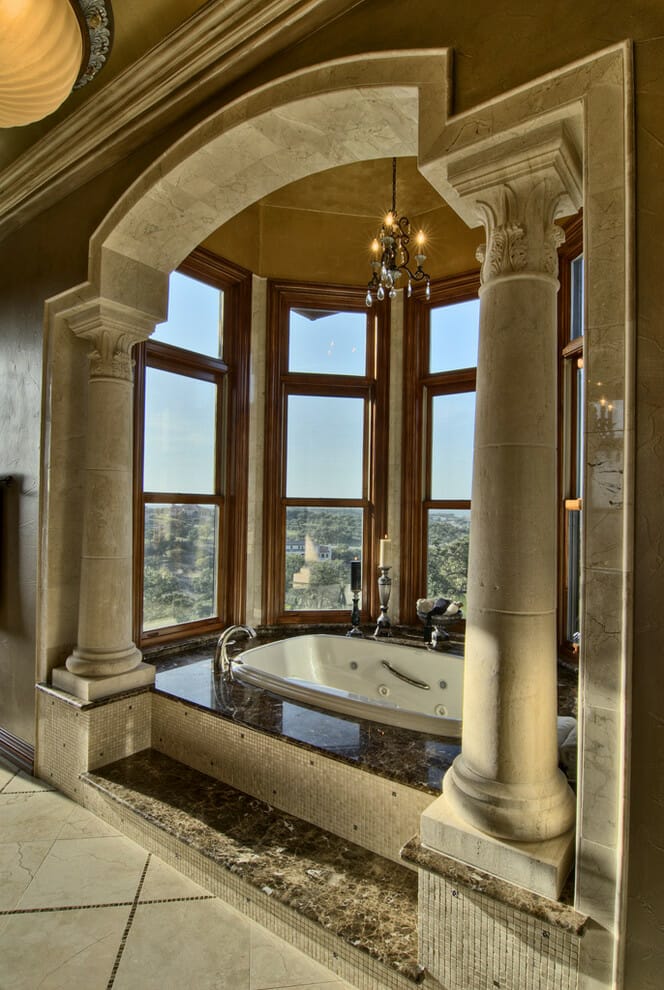 Besides being perfectly set in the bedroom, living room, and dining room, bay windows also look great in your main bathroom.
Give a luxurious impression by providing two solid concrete pillars, a classic chandelier, and marble tiling for the area around your tub.
A few aromatherapy candles are also nicely put close to the window without many decorative ornaments. Undoubtedly, your bay window has become a gorgeous object to look at.
5. Bay Window Decorating Ideas with Storage Bench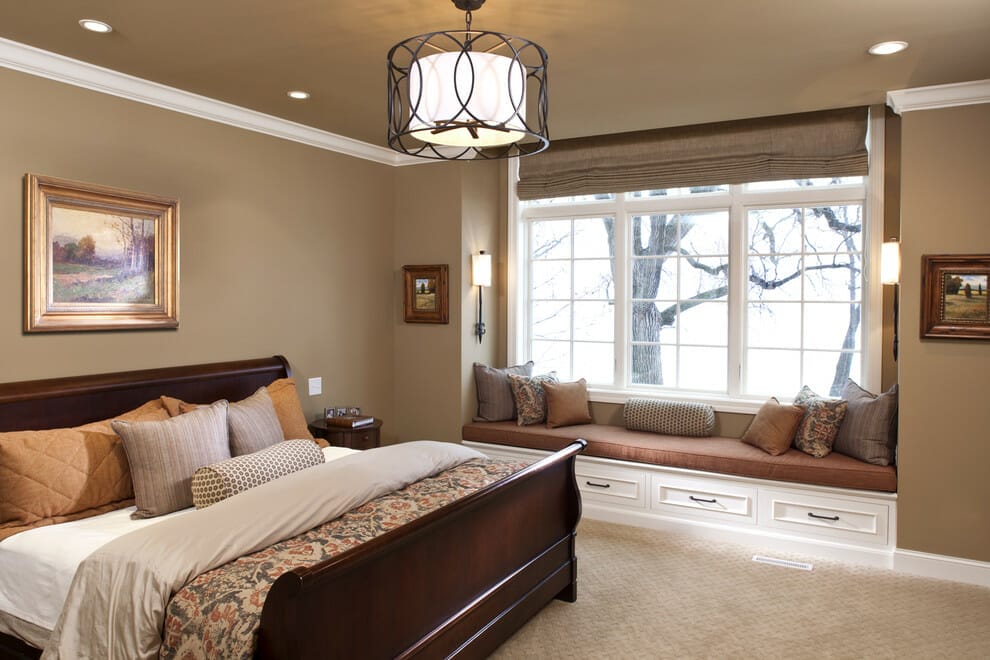 Bay windows in the bedrooms with a reading nook are standard. Make yours different from others by providing a storage bench as above.
So, you do not only provide window treatment that prioritizes aesthetic value but also consider its functionality aspect.
Moreover, implementing this strategy also help you to save space, so it is never in vain.
6. Set a Sitting Space Next to The Bay Window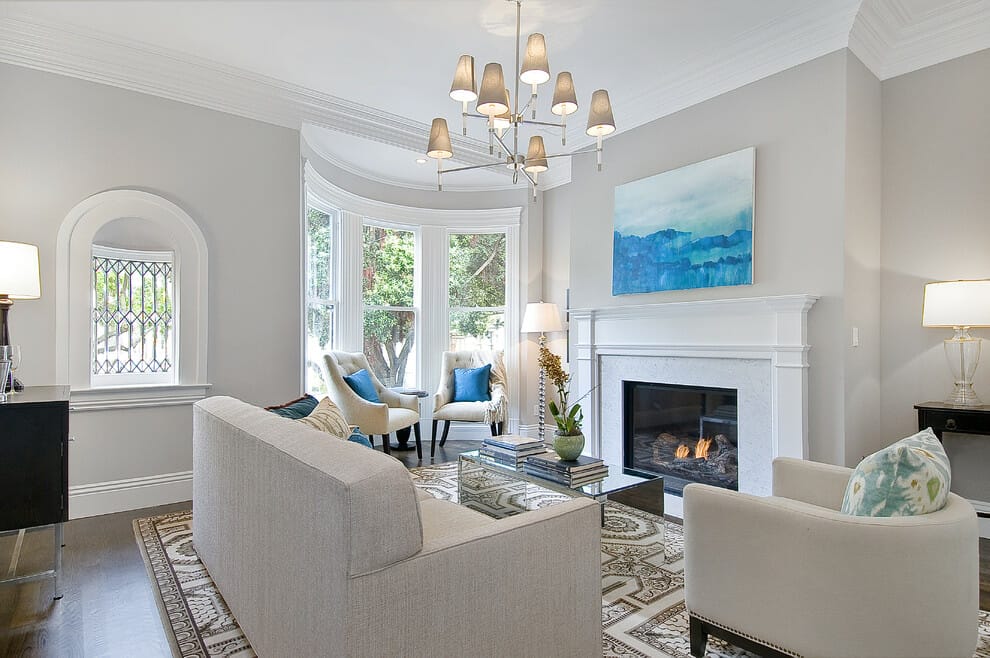 Small living rooms will generally lack a space to put your sofa set. Luckily, the bay window saves you from all those issues.
With an alcove on one side of the wall, you have more space to transform into your sitting spot.
After all, arranging a seat close to the bay window won't hurt you. You will get a brighter sitting space and a nice view that can relax your mind.
7. Reading Nook in Subtle Colors and Dark Table Lamp Shade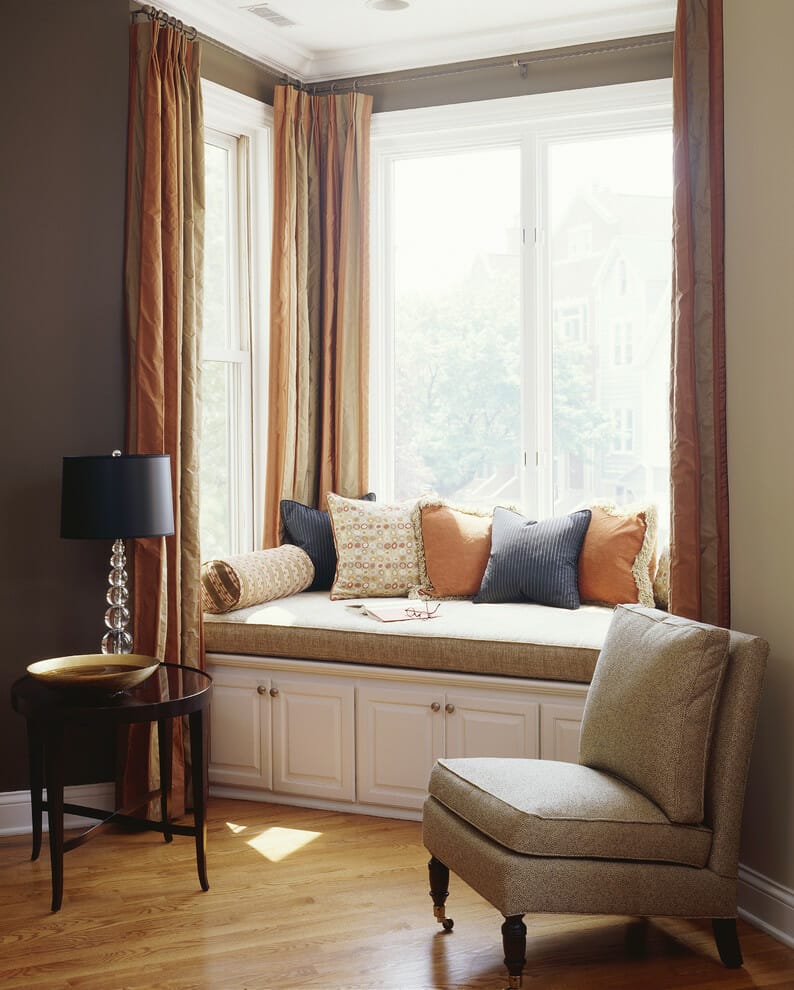 Implementing bay window decorating ideas in subtle colors is the right choice for you who like earthy hues.
This color combination can increase comfort and relax the mind better for some people.
If your window frames already come in plain white, it is okay to hang curtains in pastel orange and cream. Next, give the walls a subtle brown and table lamps in charcoal to create a cohesive blend of hues.
8. Kitchen Bay Window Decorating Ideas with Accented wall and Rattan Shades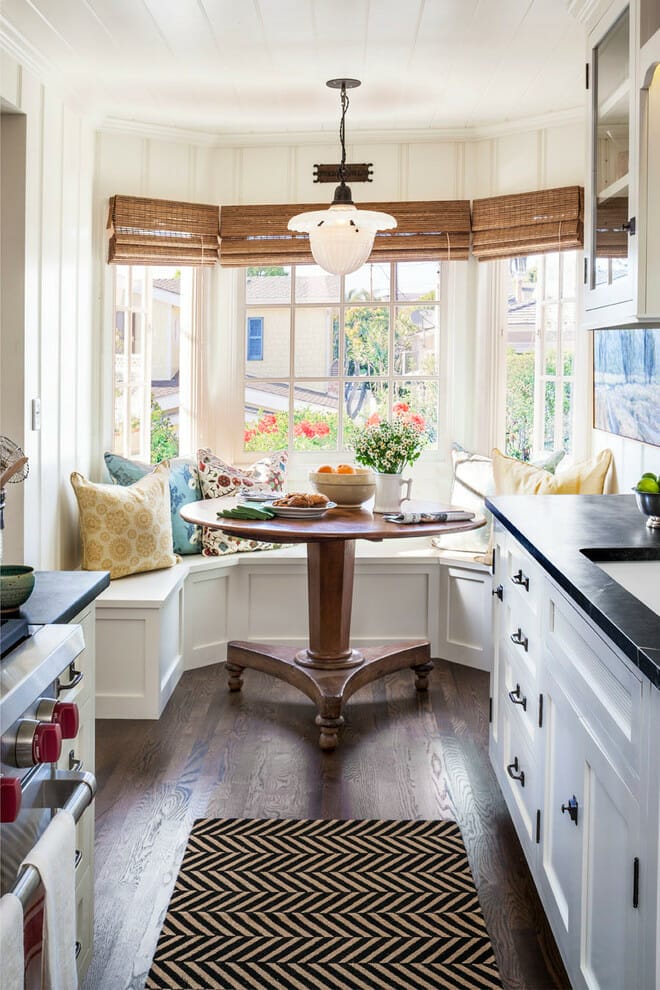 It is not difficult to decorate a bay window in a farmhouse-style kitchen. You only need to make the walls around accented and come in white, then hang rattan shades to give it a rustic touch.
You can also complement the nook with floral accented and brightly colored cushions to further enliven the ambiance.
Last, decorate the dining table with a vase of fresh flowers.
9. Paint the Wall in Grey to Match the Nook Cushion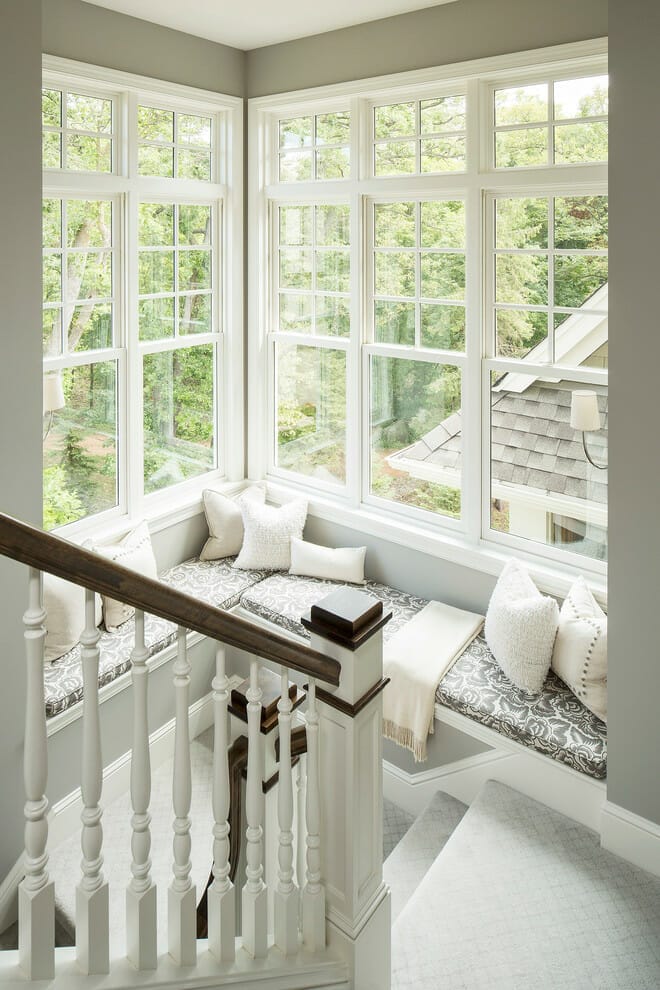 Making the walls around the bay window appear in uniform color with the nook's cushion is such a brilliant move.
Especially in subtle colors like gray and broken white, and the cushion comes with a pattern as above.
Because the bay window and nook are located close to the stairs, it is good to give the railing a touch of brown to provide an exciting pop-up of color.
10. Work Station Facing the Bay Window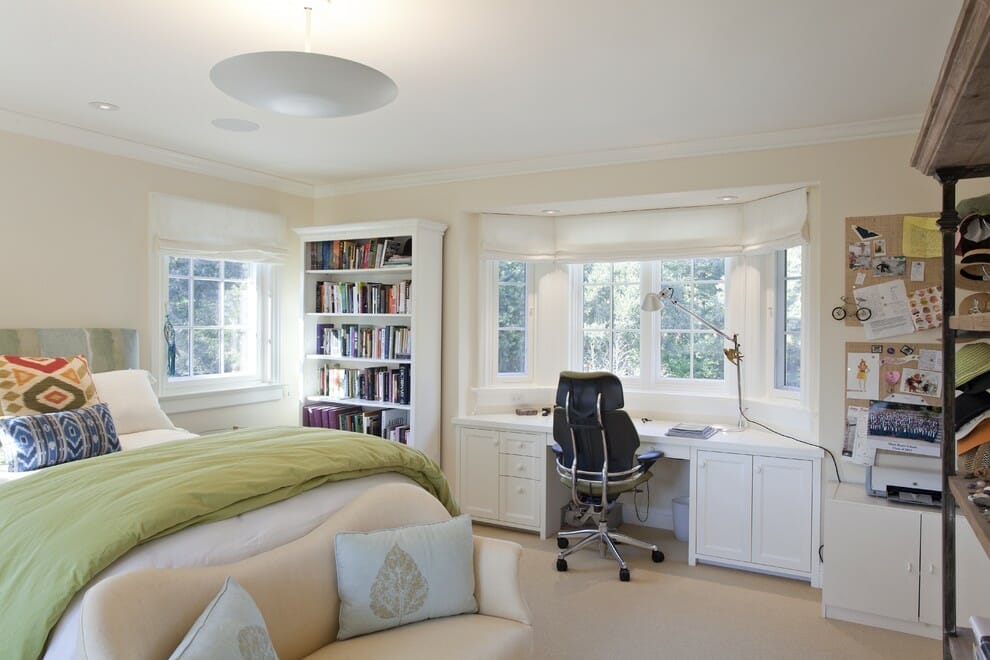 One of the most convenient bay window decorating ideas to apply in your room is to set up a workstation right in front of it.
Instead of bringing in a desk with standard sizes and shapes, it is better to have one that is customizable and adjusts to the shape and size of the bay window itself.
It is essential to consider so that no space is wasted.
11. Come with Bookcases in The Both Sides and a Sliding Ladder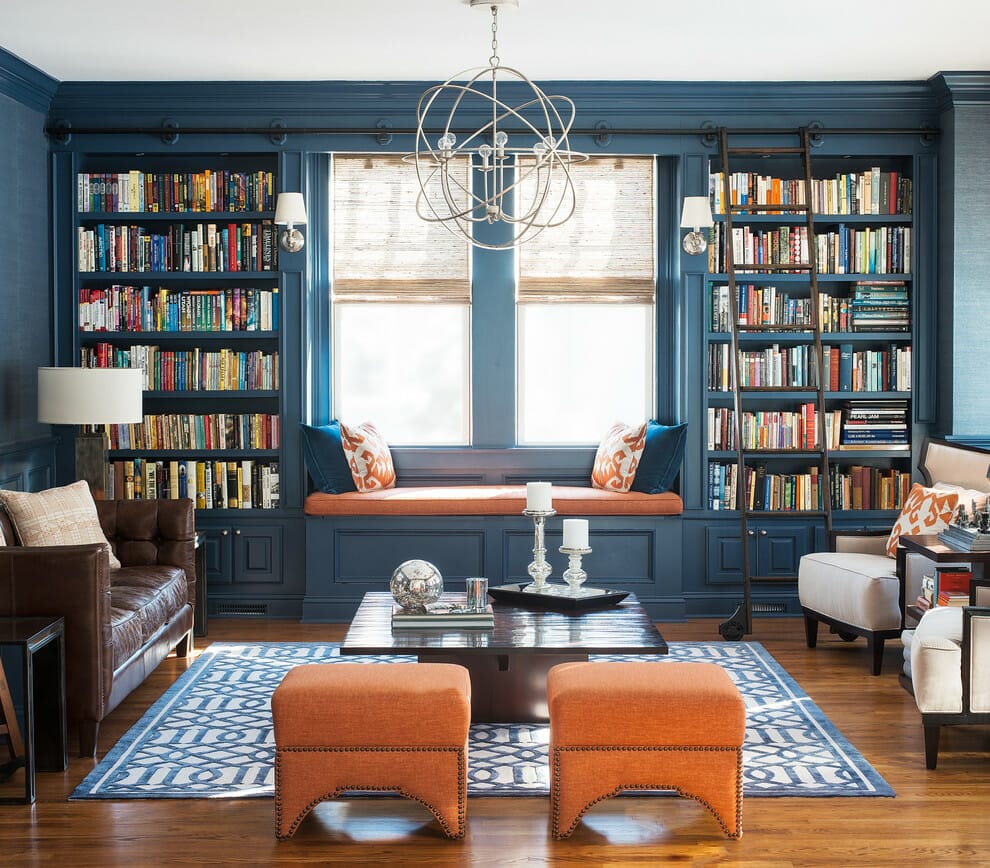 The bay window is quite attractive even without any treatment with its protruding shape. But take a look at the right and left sides.
If it is only showing blank walls that are less attractive, then consider turning it into built-in shelves like the one above.
Give it dark colors to deliver the illusion that the bay window is a screen that comes with only natural light.
Then, as the final touch, install a sliding ladder to make it easier for you to reach books that are not easily accessible.
12. Small Bay Window Decorating Ideas in Walk-in Closet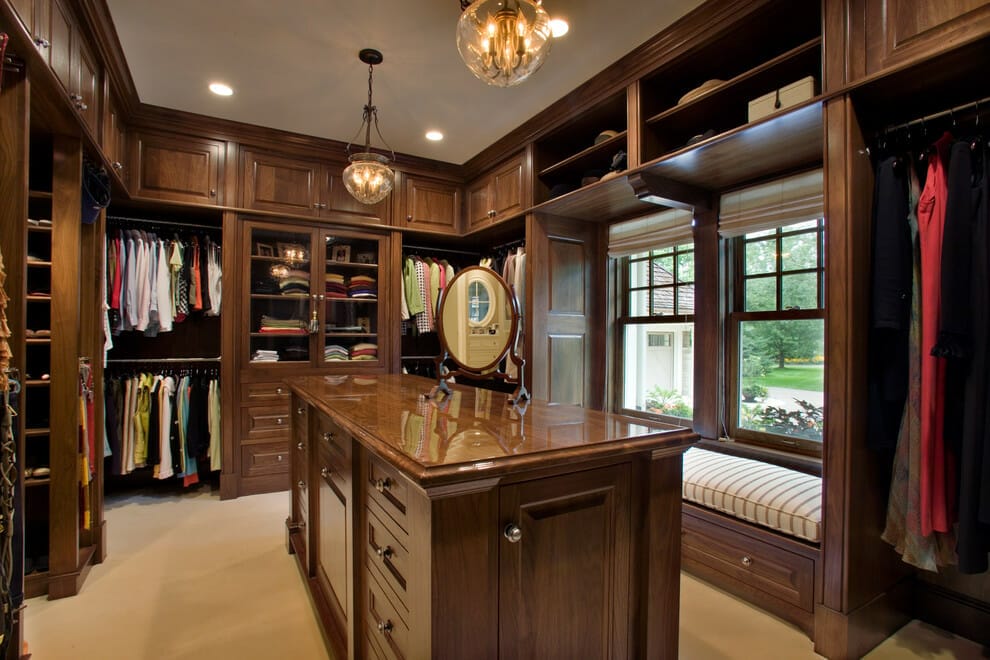 You can easily embellish the bay window in the walk-in closet by giving all elements throughout the room with original wood colors and textures if you like the traditional style.
Additionally, you can use the top of the bay window as additional shelves to store all your belongings safely.
Do not forget the blinds or shades for a bit of privacy, too.
13. Put Roman Shades with The Same Pattern as Cushions
Indeed, there are no rules to uniform elements with one another in decorating bay windows. However, if you choose to go with this strategy, it will be enjoyable.
Give roman shades to the bay window in the same accent as the cushions.
The subtle color combination will let you add whatever ornamental details without making this spot overwhelming.
14. Pastel Green Color Palleted for Refreshing Look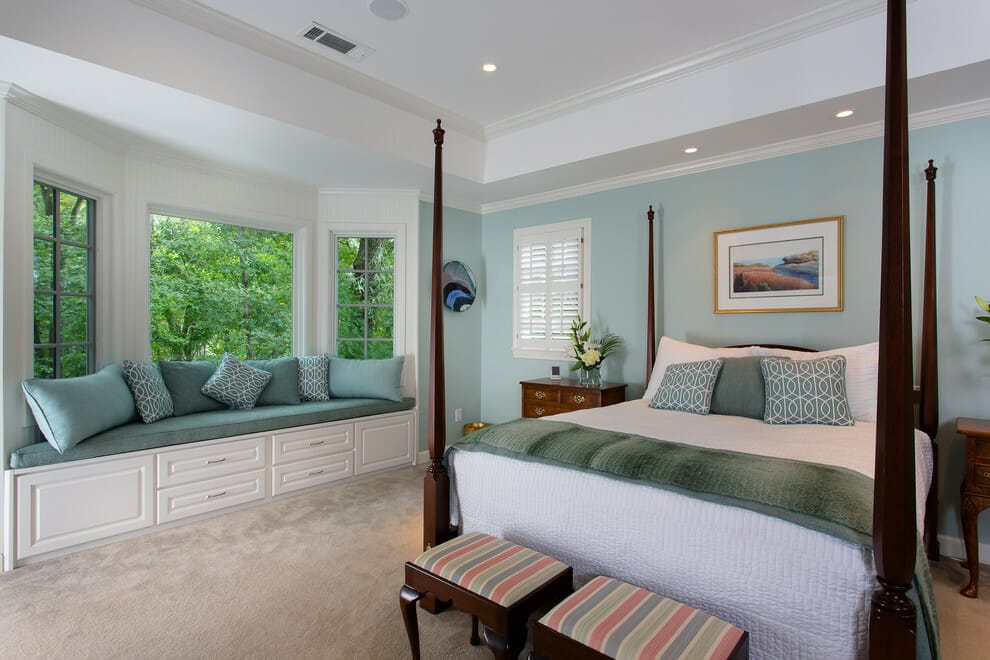 Bay window decorating ideas using a pastel green color palette will never fail to give freshness to your bedroom.
Give one side of the wall above your headboard pastel green, and leave the rest white. Then arrange the nook cushions in colors that match the green walls to create a coherent interior decor.
15. Cushions with The Same Hues as The Landscape Behind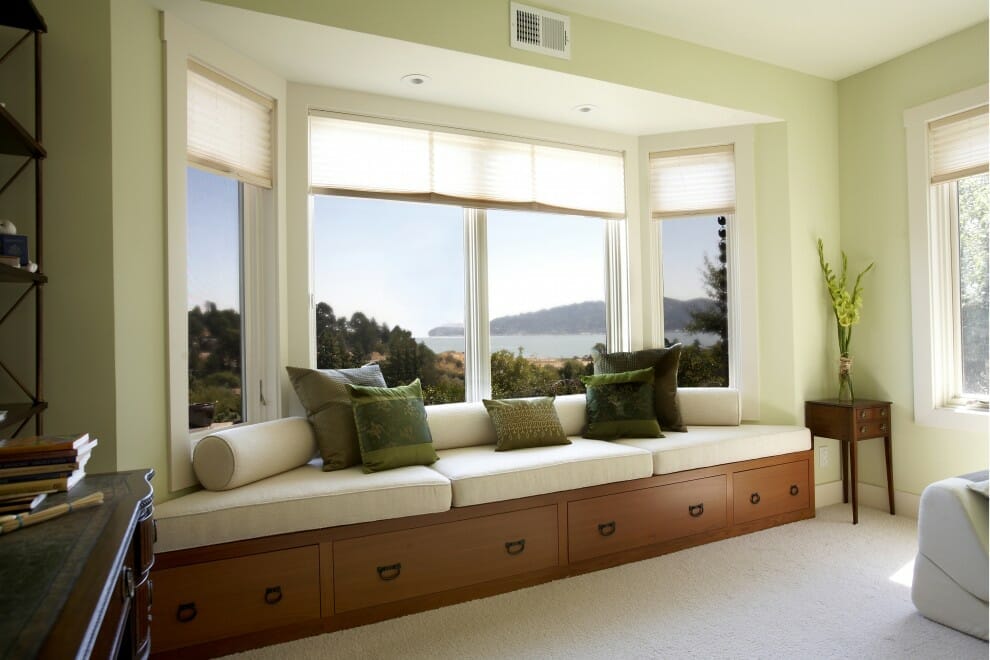 The following bay window decorating ideas will be perfect for plant lovers. You can set the nook in a combination of earthy colors.
For example, the colors include broken white and brown. Then, provide a cushion with similar hues to the natural scenery behind it.
Prioritize picking the green color of the trees for a refreshing final result.
16. Set the Reading Alcove and Tufted Sofa Near the Window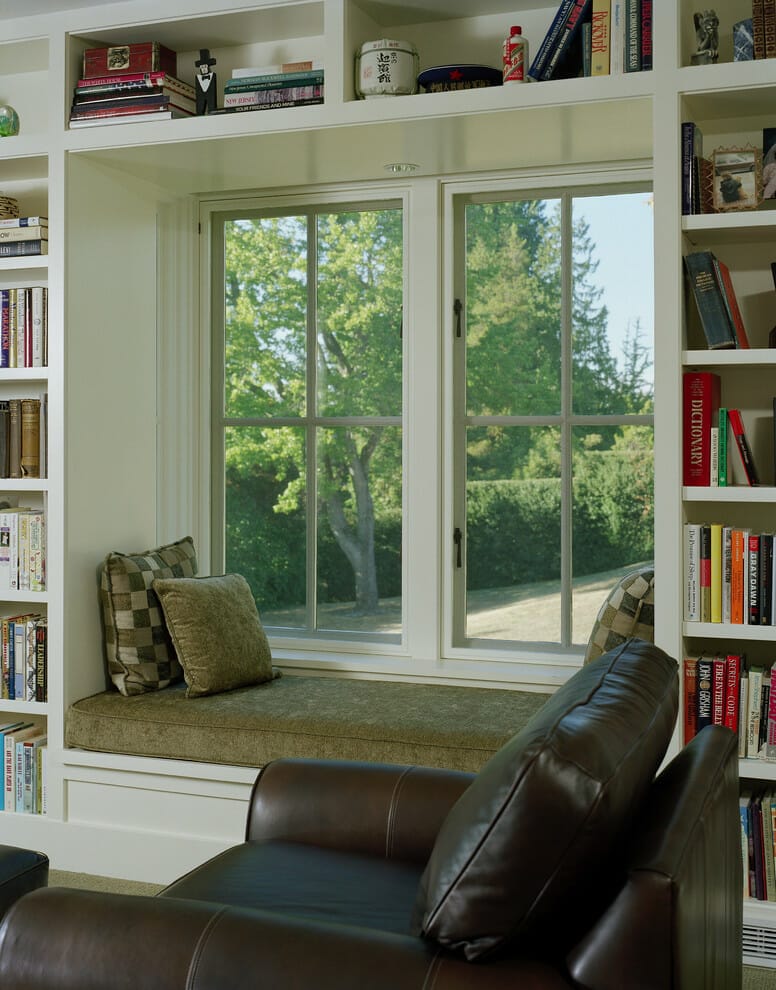 Bay window without the nook seems incomplete. Therefore, a layout like this has become the hallmark of every house that has windows with protruding shapes.
On windows with an angular shape, it would be better to pair them with a tufted chair or sofa above so that the interior decoration looks more balanced and not overly rigid.
17. Bedroom with Bay Window Decorating Ideas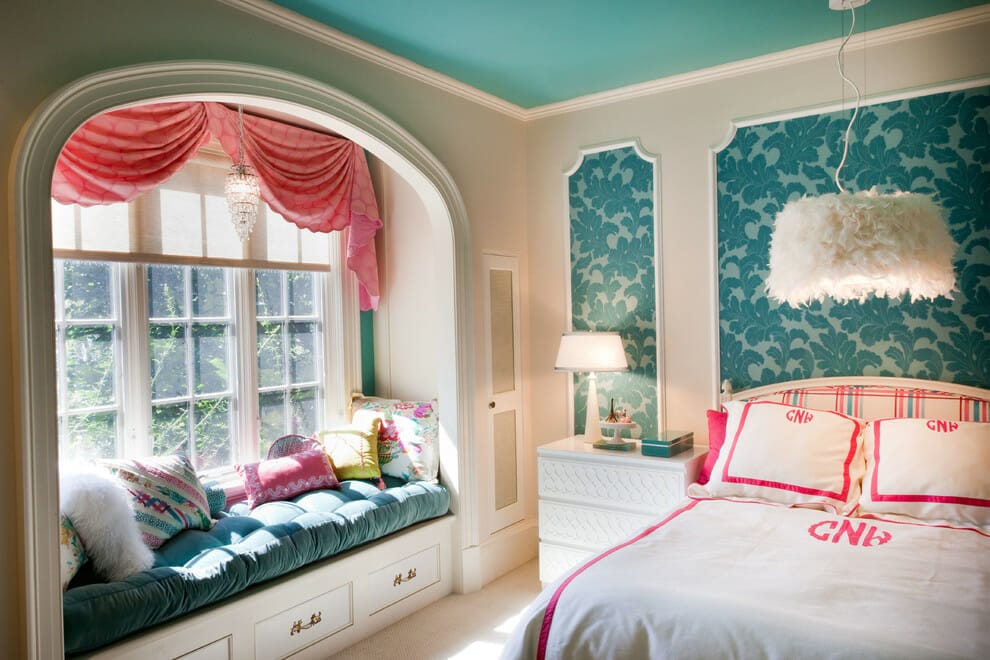 Of the many bay window decorating ideas, one that applies a colorful theme will be very suitable for children's or teens' bedrooms.
As in the picture above, a mix of pink on valance and blue on nook will be perfect for your daughter's chamber.
Consider that it has a color combination that matches the walls and bedding to look more coherent and feminine.
Hanging a mini chandelier right above the nook is also a brilliant idea to decorate the bay window, so do not hesitate to copy it.
18. Industrial Style with Black Window Frames and Glass Chairs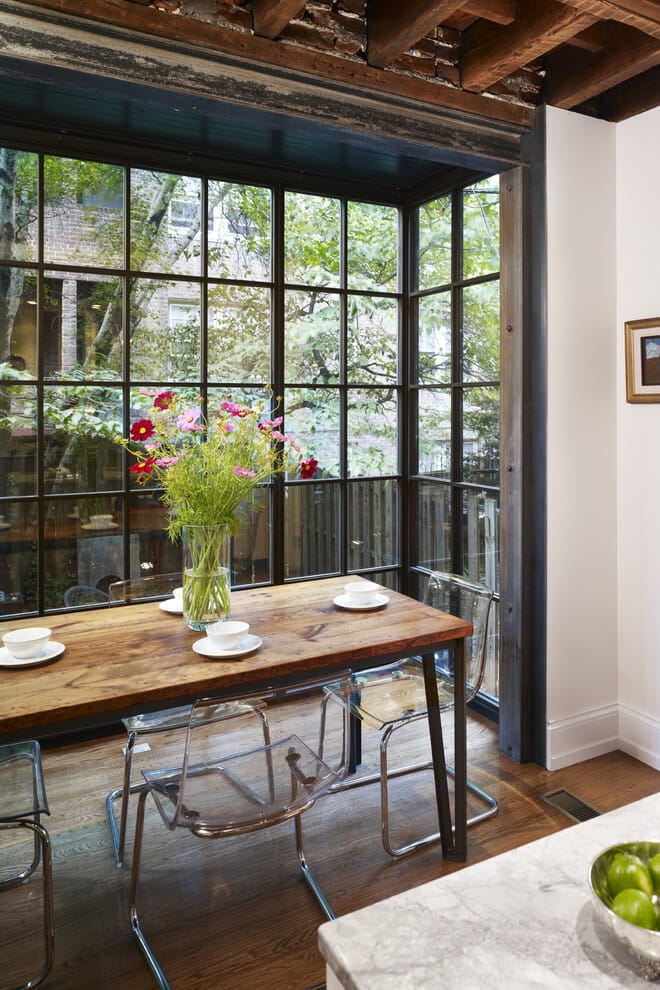 Having recognized the bay window with white and subtle colors, let us be more solid in this design.
Give black paint on the window frame, and expose the roughness of the surrounding wood element to display the industrial theme in your dining space perfectly.
Next, consider providing glass chairs and a vase of fresh flowers as a centerpiece to prevent excessive stiffness in your home.
19. Bay Window with Additional Shelves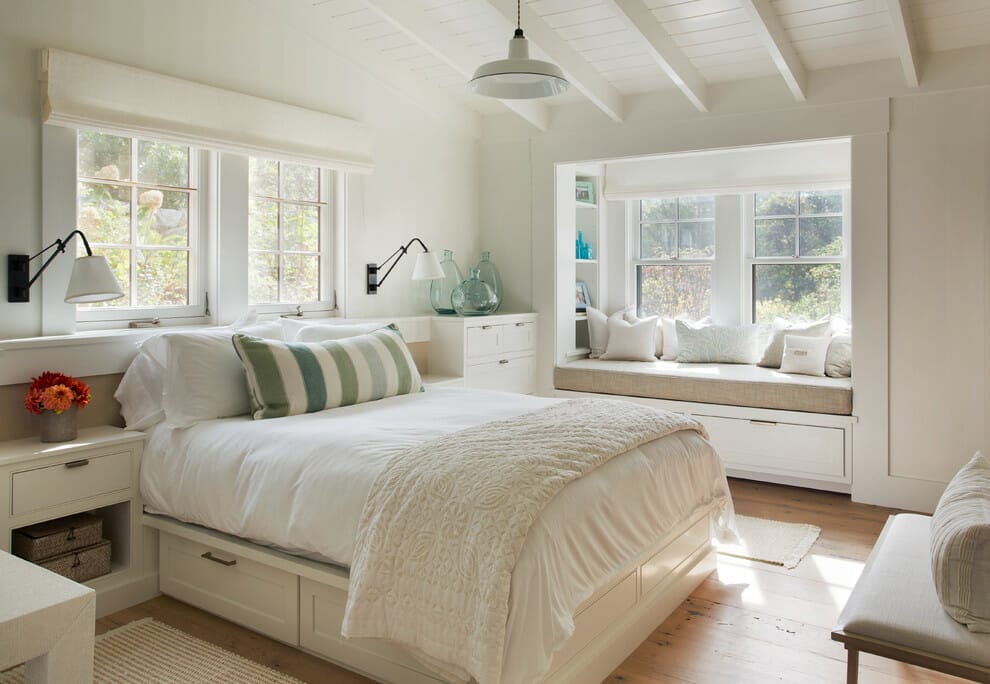 In addition to prioritizing the aesthetic value, bay window decorating ideas also come with a strategy to save space and pay attention to functionality.
As in the picture above, providing small shelves on the side of the bay window is such an excellent step that you should try.
Later, you can use this space to store your books or display decorative ornaments to beautify your reading corner.
20. Raw Wooden Frames for More Rustic Vibes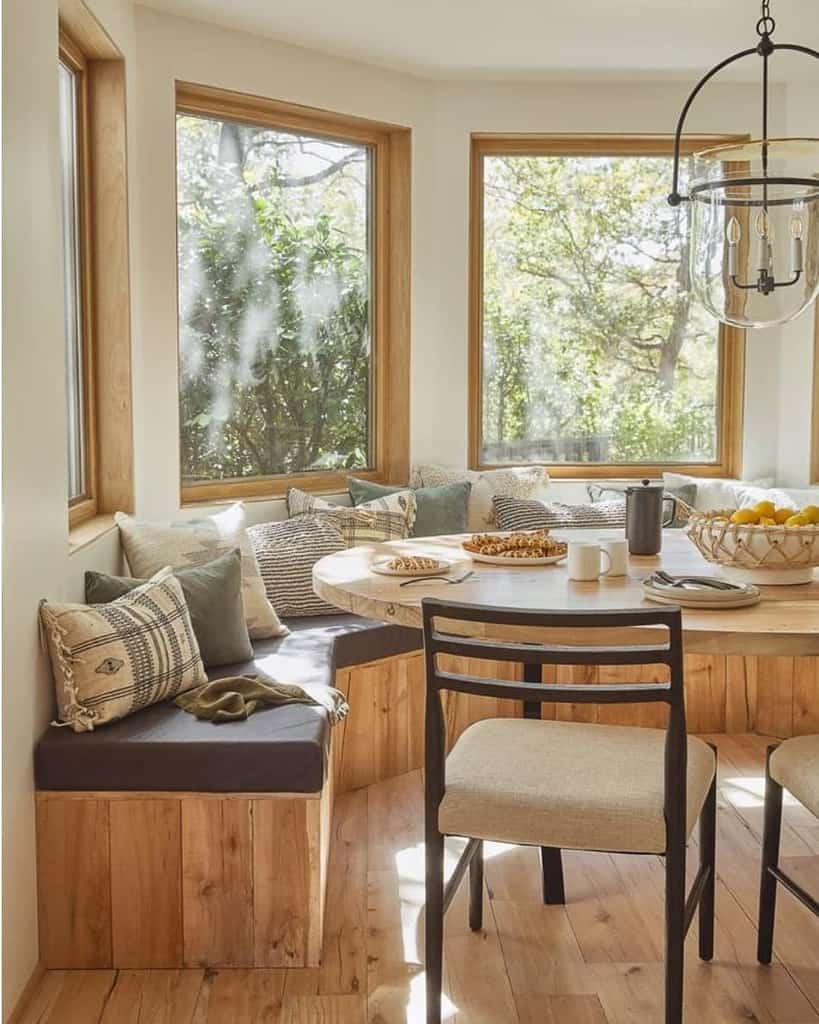 Raw wood frames will be remarkably aesthetic to be installed on your bay window. Combine this with a rustic breakfast nook and cushion in earthy tones to provide unmatched amenity in your space.
Lastly, hang a vintage light fixture to express the existence of your bay window.
21. Put Dark Arm Chair and Oak Side Table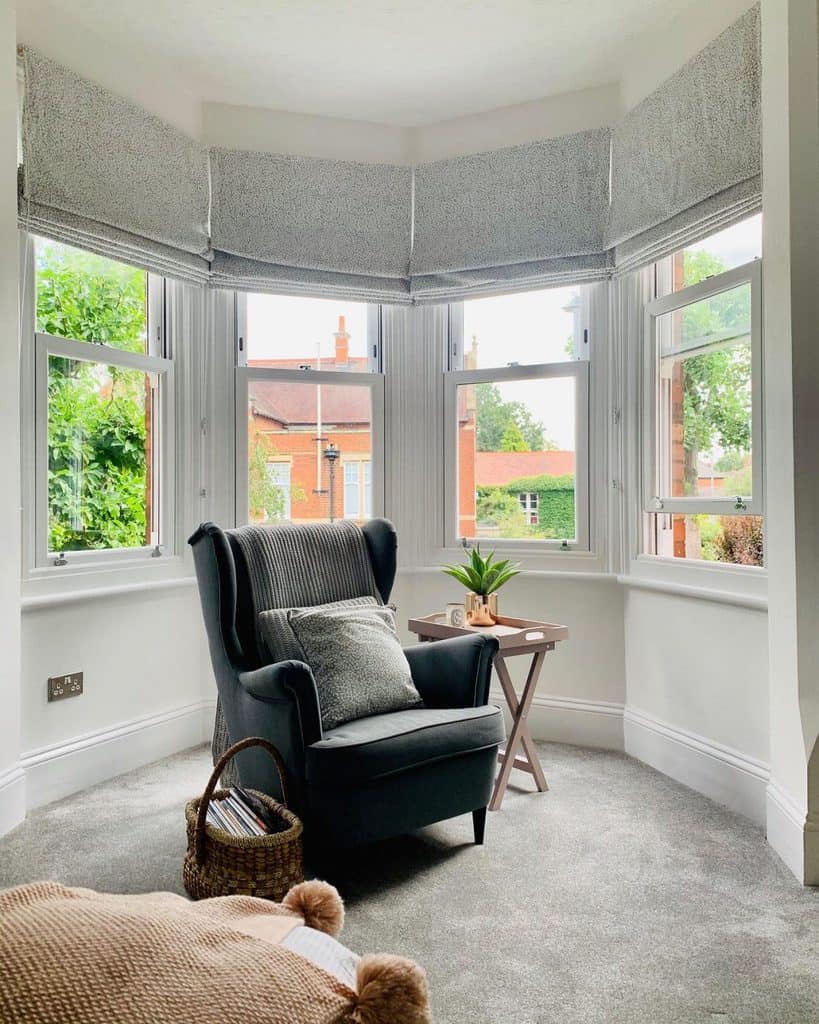 Bay windows surrounded by white are super easy to decorate. Even by placing an armchair, wicker basket, and side table in a dark color, your reading spot is already well-highlighted.
Consider putting greenery on the table to give a bit of freshness and shades to make it easier for you to adjust the light that enters the room.
22. Bay Window Decorating Ideas with Coffered Wall and Mosaic Tiles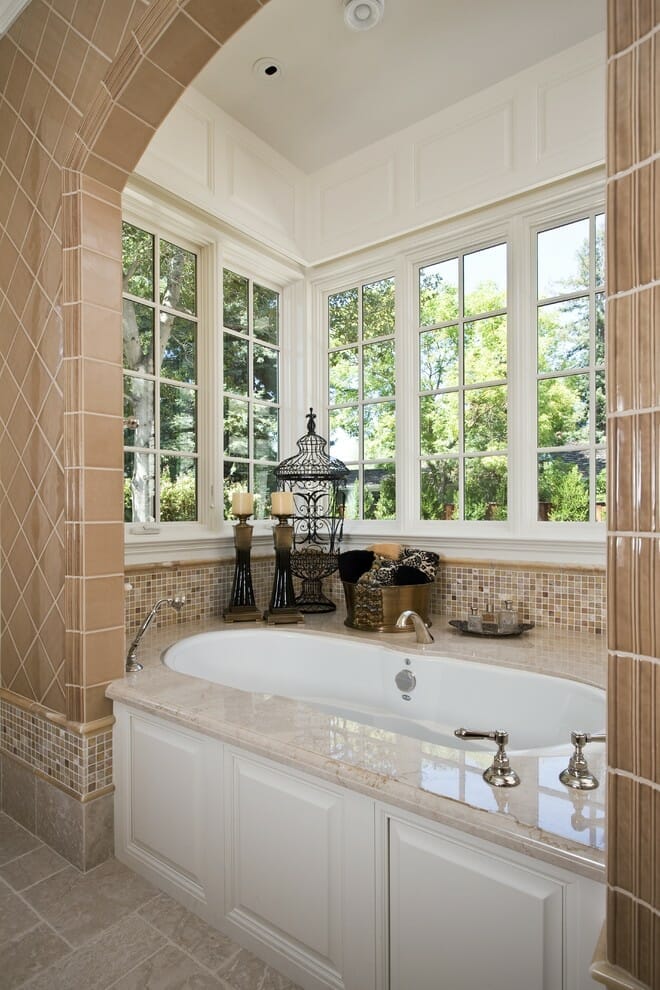 The bay window in the bathroom once again took the limelight. Complete the charm of this protruding window by installing a coffered wall and mosaic tiles around it.
As a final touch, you can arrange some sculptures and aromatherapy candles in the corner of the room and then transform it into a focal point that is a pity to waste.
23. All-White Setting to Get a Clean Result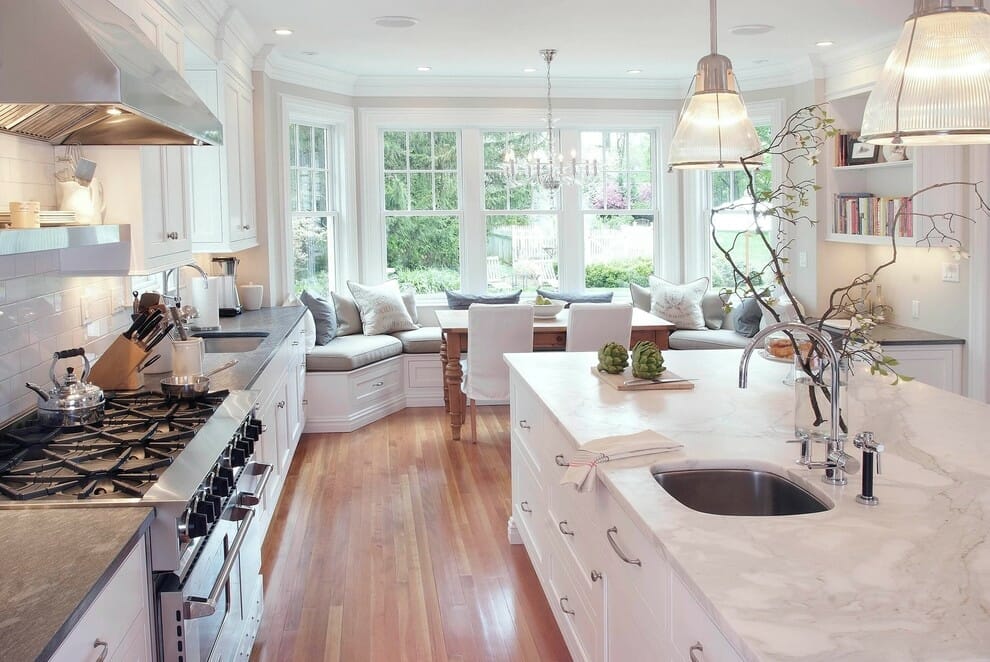 All-white bay window decorating ideas will be convenient for your open space home. It will simultaneously provide a comprehensive and cleaner look in every corner, no matter what.
Do not think it will look boring because you can play with some of the textures on the light fixture or other ornaments to make this layout timeless.
24. Roman Shades in Brick Tone for Strong Autumn Vibes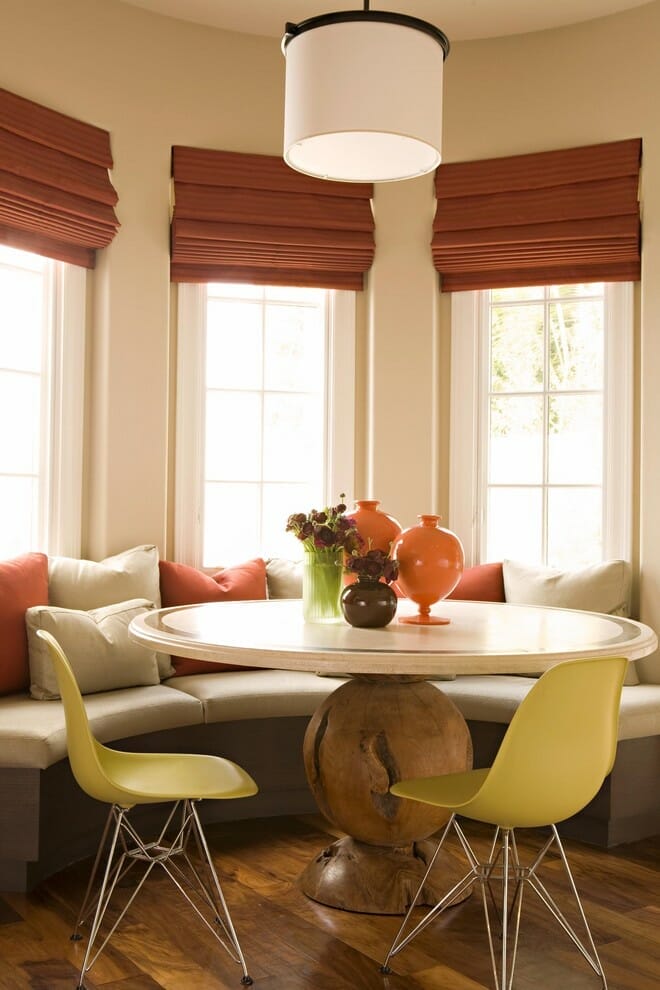 Bay windows are very promising because of their shape, which matches any window treatment. You can even change the shades at any time and adjust them to the season, and it will still appeal.
Roman shades in brick tones would be perfect for this fall season.
Present it with several ceramic pots of the same color as a centerpiece and nook cushions in pumpkin hues to enliven your breakfast alcove.
25. Bay Window Decorating Ideas with Cafe Curtain and Wall Sconces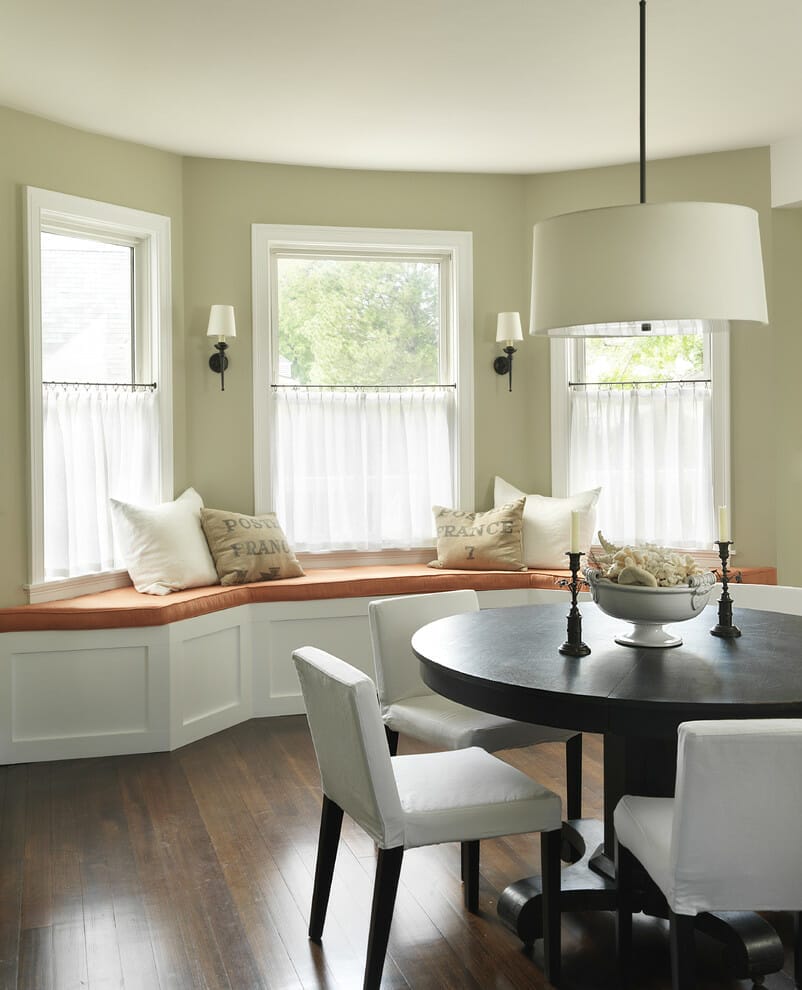 A cafe curtain is an ultimate option to provide privacy while maintaining the natural light that enters the house.
The white color and slightly transparent surface make your bay window appear more comprehensive.
Add two wall sconces on the blank spaces between the windows to highlight your reading spot at night.
26. Come with Two Task Lighting, a Barn wood Coffee Table, and Checkered Rug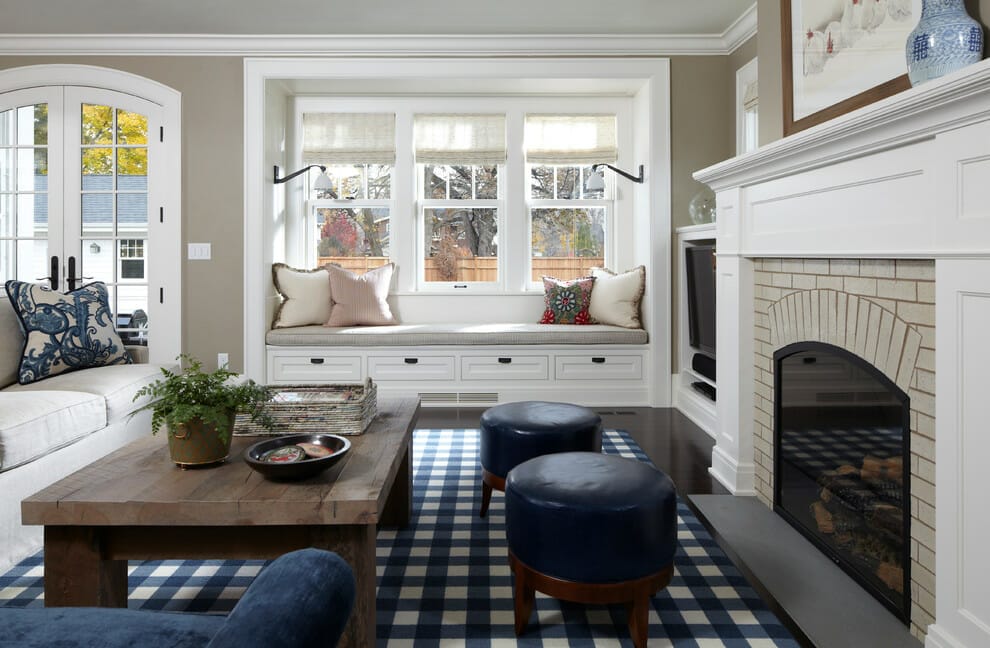 Even though the bay window already provides plenty of natural light during the day, you still need task lighting to provide illumination at night.
It is such a window treatment that many homeowners should not forget in any situation.
Besides considering the decorative elements close to the window itself, at least you must also provide furniture that supports the existence of the bay window.
For example, placing a barn wood coffee table and checkered rug in bold colors to add drama to your living room.
27. Bright patterned Shades and Unique Light Fixture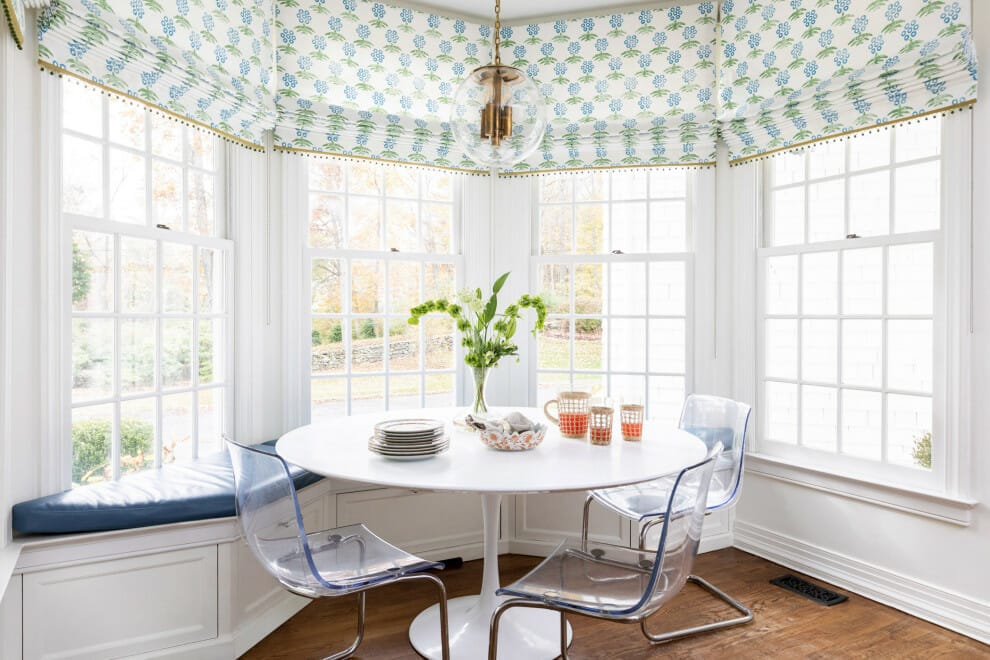 Bay window decorating ideas using bright shades in muted patterns will benefit you who need privacy but do not want to make your breakfast nook too dark and excessive.
You will get a lighter finish by choosing a shade with a white base and pastel blue patterns. To add drama, you can hang a light fixture with a unique shape and a touch of gold as above.
28. Twin Table Lamps, Sculpture, and Drapes in Cream as Window Treatment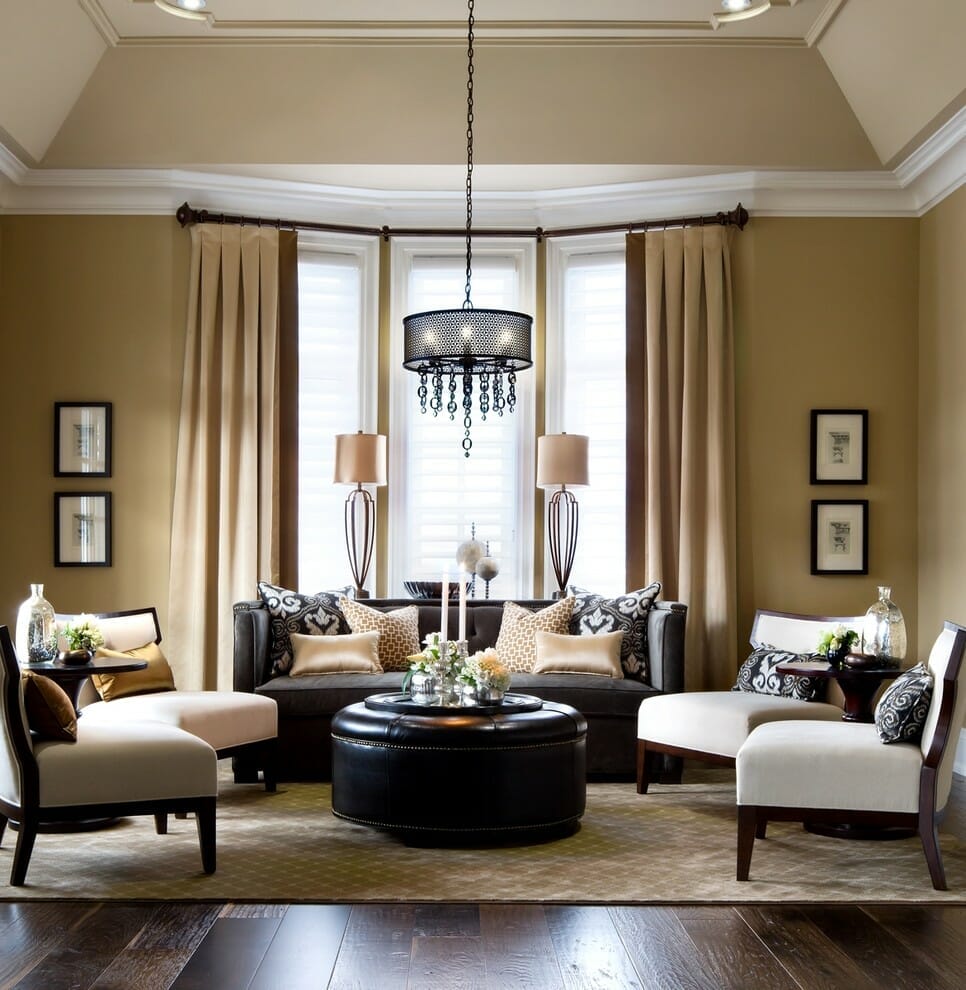 Let us make your bay window appear more elegant. The first step you need to take is to arrange all the elements in the cream, then place a twin table lamp near the window as above.
Add some sculpture and hang black chandeliers to give your bay window a remarkable statement.
29. Eclectic Bay Window Decorating Ideas with Mix Color and Patterns
The last option, here is the eclectic style! You are free to give treatment with any color and pattern on your bay window.
Express your limitless creativity with various favorite colors on the cushion, hanging rattan shades, and putting dried flowers to give a different personality from the others.
Whatever bay window decorating ideas you will take later, make sure it has in harmony with your overall interior decor so that it does not come in vain. After finding a suitable design, immediately beautify your home and get ready to amaze many visitors.