Instead of going to the sea or other destinations, why not create your amusement spot in the courtyard? Get an unforgettable experience only behind your house by adopting these backyard entertainment ideas.
Summertime is the best moment to spend a bit outdoors and have fun with the family. Therefore, with these backyard entertainment ideas, enjoy your vacation without spending a lot of money but still worth quality.
Furthermore, there are many backyard entertainment ideas on a budget and game spots to build in your courtyard.
When it comes to outdoor entertainment area, the sky's is definitely the limit. Whether you want an inviting lounge or a dining room, there are cool endless possibilities.
These 51 great ideas will earn your ideal outdoor escape area a certainty. If you already have one, use any of them to spice it up.
1. Basketball Hoop among The Vertical Shrubs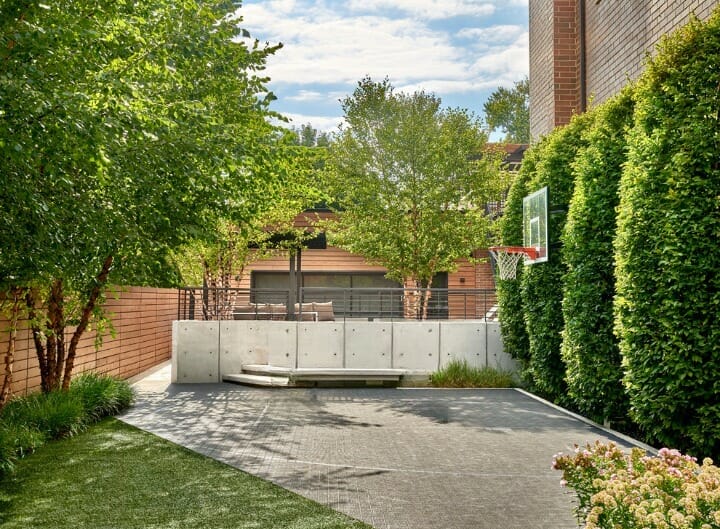 You have a private basketball court as the first option for backyard entertainment ideas.
It does not need to follow the standard size, though. Likewise, it is enough to provide a few meters of paved land behind the house and place a basketball hook between the upright shrubs.
No wonder this place will be a fun spot for teens and has a view that is quite refreshing for all ages.
2. Cozy Outdoor Sitting Space Under the Pergola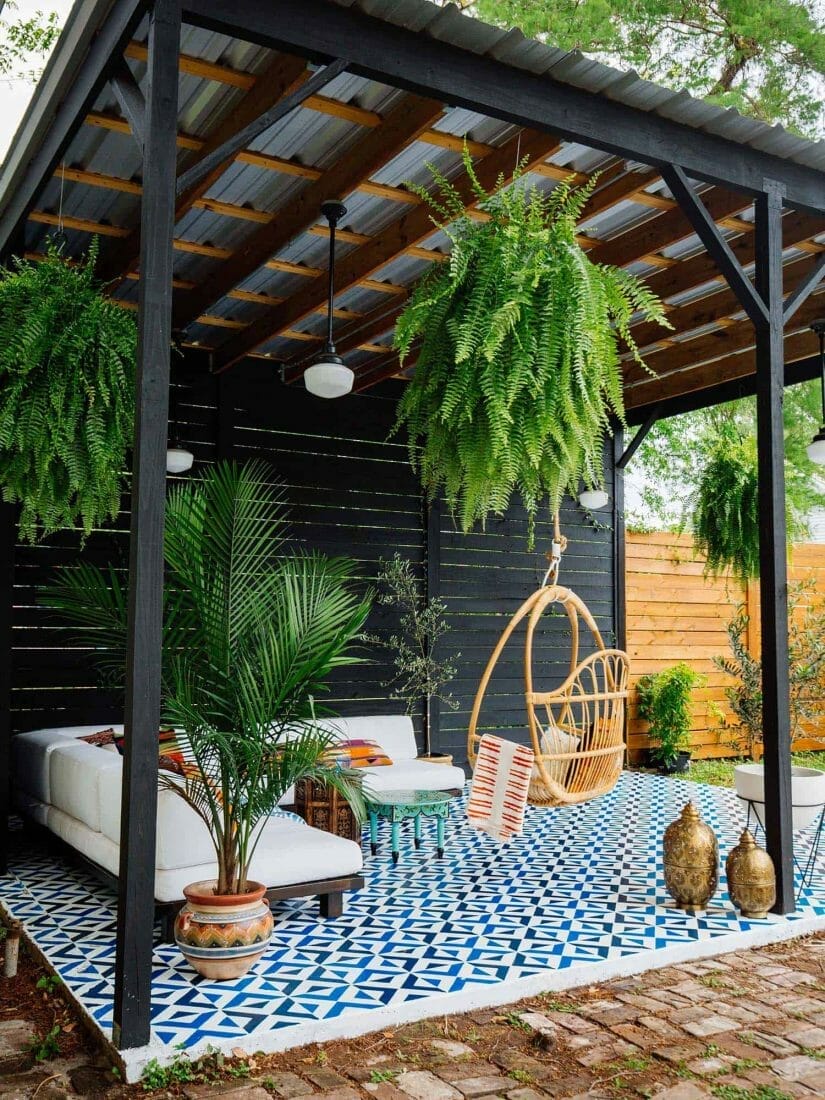 Ratan hanging chair and an L-shaped sofa set on the patio will become a cozy sitting spot. Besides delicate furniture, this concept also comes with eye-catching and refreshing decorations.
A floor with a blue pattern will go well with a black pergola background. Then, enjoy your relaxing time by always maintaining the greenery in this area.
3. A land of Wooden Playsets and Mini Lake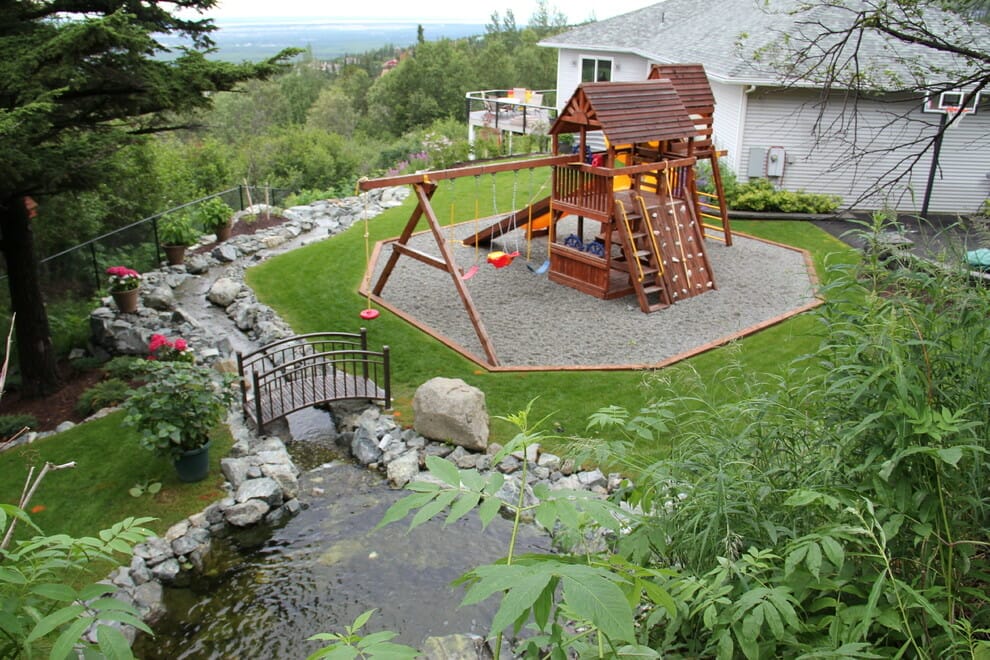 These kinds of backyard entertainment ideas can cost a lot of money initially. But at least this is worth having and helps you save funds on vacation every year.
To duplicate the comfort of a nature-themed playground, you can build wooden playsets in the middle of your backyard.
Furthermore, provide a mini lake or river on which a bridge is built. Undoubtedly, it will be a perfect replica of a refreshing and convenient playground for everyone.
4. Giant Nest Made of Bamboo on a Lush Tree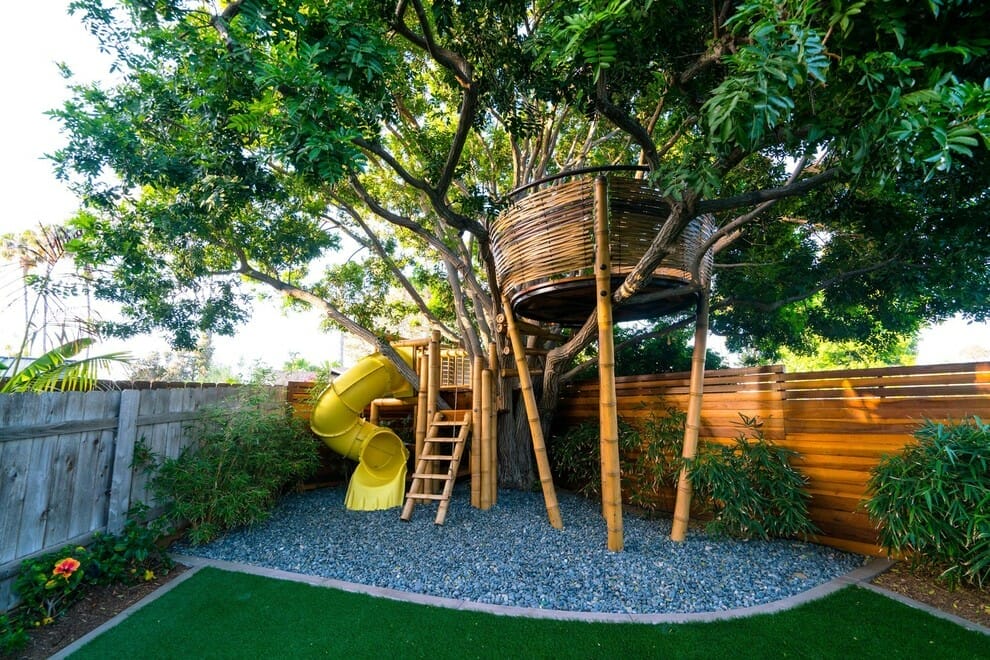 Create a giant nest of polished bamboo on a lush tree in your courtyard. Accompanied this unit with a slide that will be incredibly fun for the kids.
Thus, you can get this entertainment by doing a DIY project in more economical ways.
But of course, it will take energy, time, and qualified carpentry techniques so that the design remains sturdy and secure.
This giant nest will simultaneously increase the aesthetic value in your backyard corner through its unique design.
5. Private Backyard Entertainment Ideas with Outdoor Bar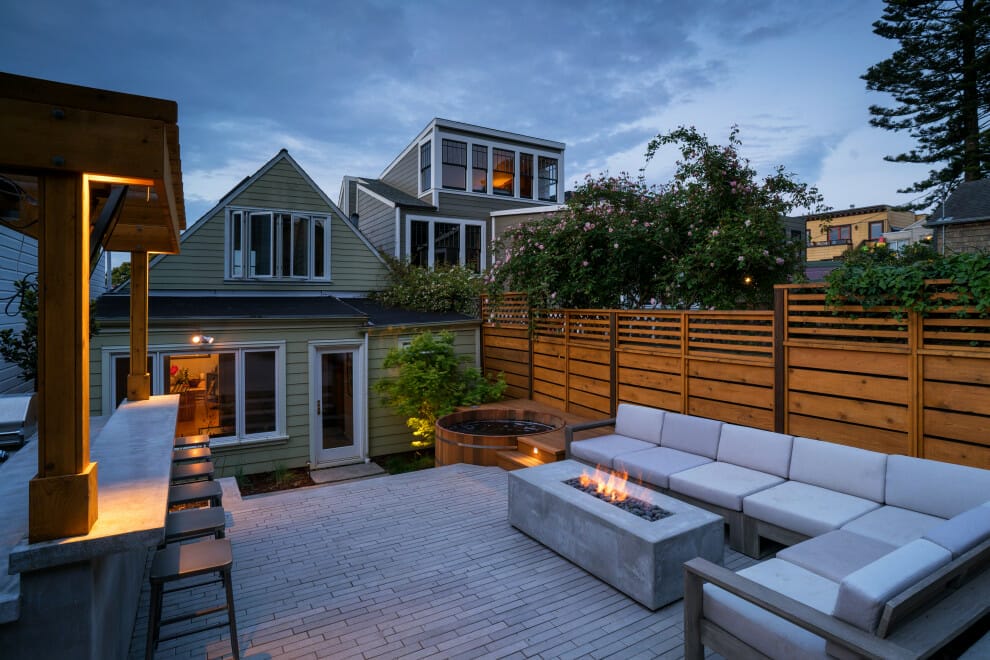 Provide a set of high fences to add privacy to your backyard. It is essential, especially if you plan to arrange an outdoor gathering space there.
In addition to providing a soft couch, you can also add a fire pit in the middle to provide warmth at night. Last, you can build a minibar opposite the seat to make it even more convenient.
6. Mounted TV on Wall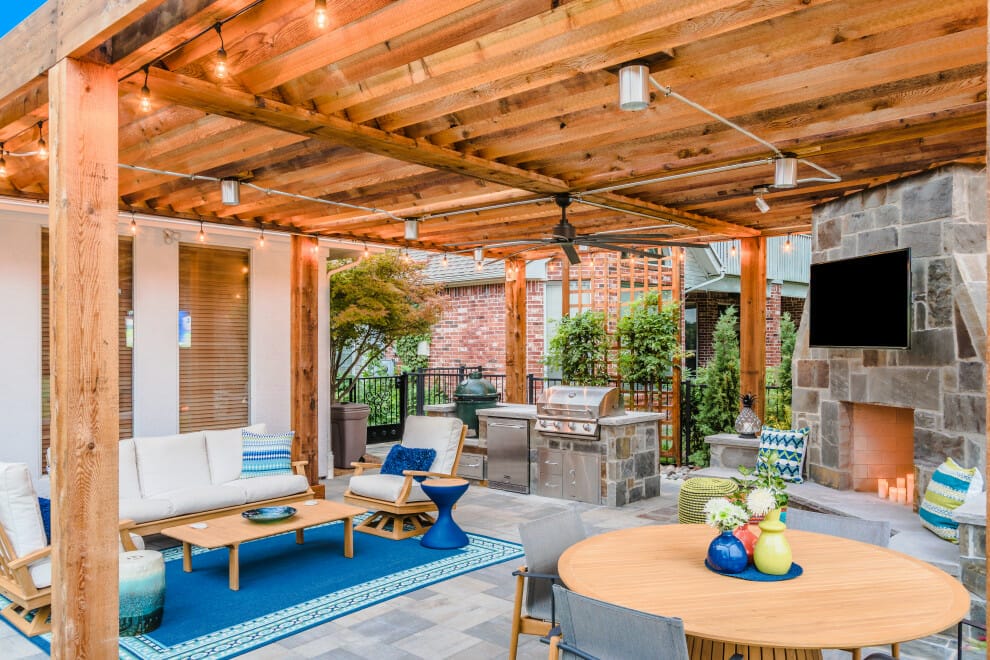 It is undeniable that the TV is not only a device that you need to have in the living room but also very suitable to be placed on your patio, too.
Mount this device on the wall above the fireplace to save more space. Besides, adopt some rustic elements and lighting to make your backyard more attractive and cozy.
7. Treehouse with Wall Climbing and Rope Net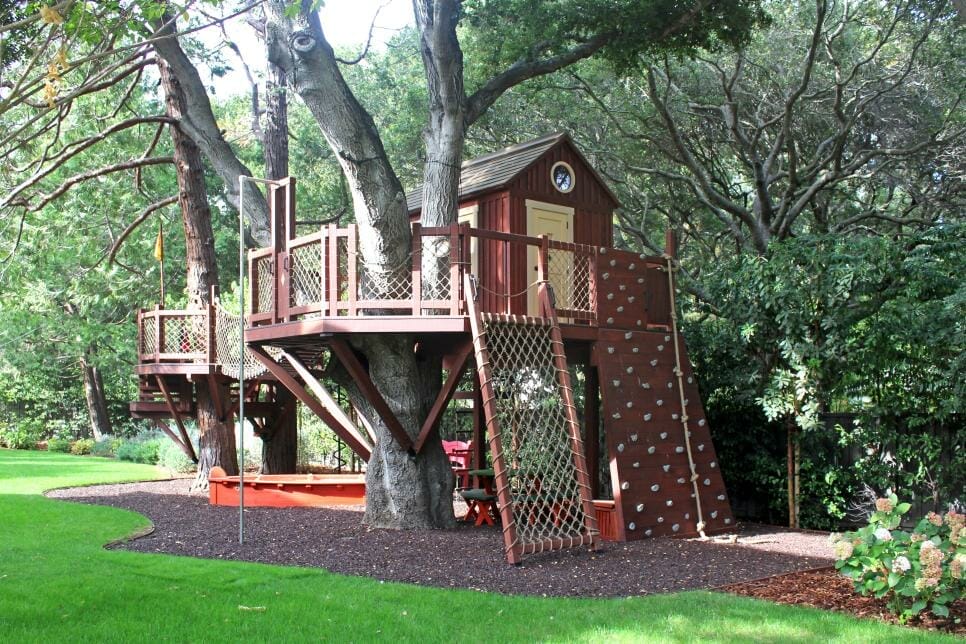 Perfect backyard entertainment ideas are ones suitable for all ages. Also, this treehouse meets that.
By providing a climbing wall and rope net on the treehouse, you will also get a medium to hone your child's toughness in reaching the top—also a gathering spot that is relaxing for teens and even adults.
8. Backyard Entertainment Ideas with Outdoor Theater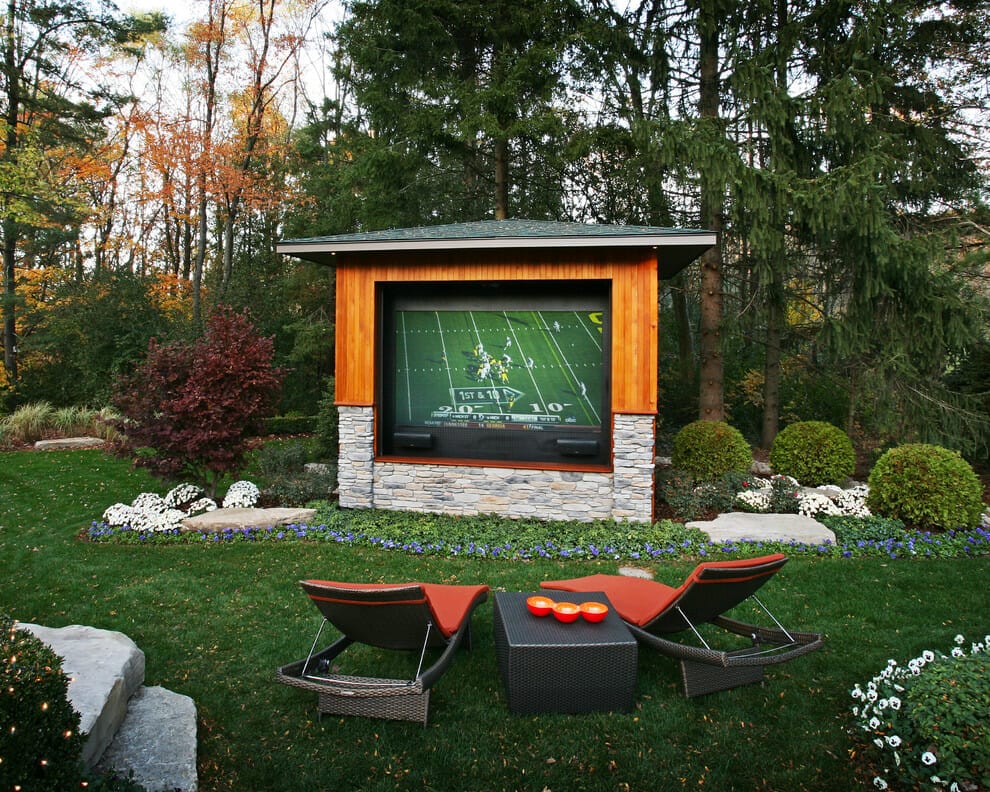 Unite your private theater with nature. This concept is perfect for you who are binge-watching a TV series on Netflix and do not want to miss the doozy of outside landscaping in the summer.
Place a large TV or projector screen in your favorite space. Then, top it off with shades to keep it protected from the weather and keep working well.
9. Striking Colors and String Lights to Embellish the Playsets
A playset behind your house is a favorite spot for children. Therefore, it is essential to make it present as attractive as possible.
You can start it by giving the slide in a striking color of Tosca green, then match it with several parts in your playset.
In addition to providing an attractive color, you can also hang a string light over to make it an appealing focal point.
10. Unique Backyard Entertainment Ideas with Mini Cottage for Kids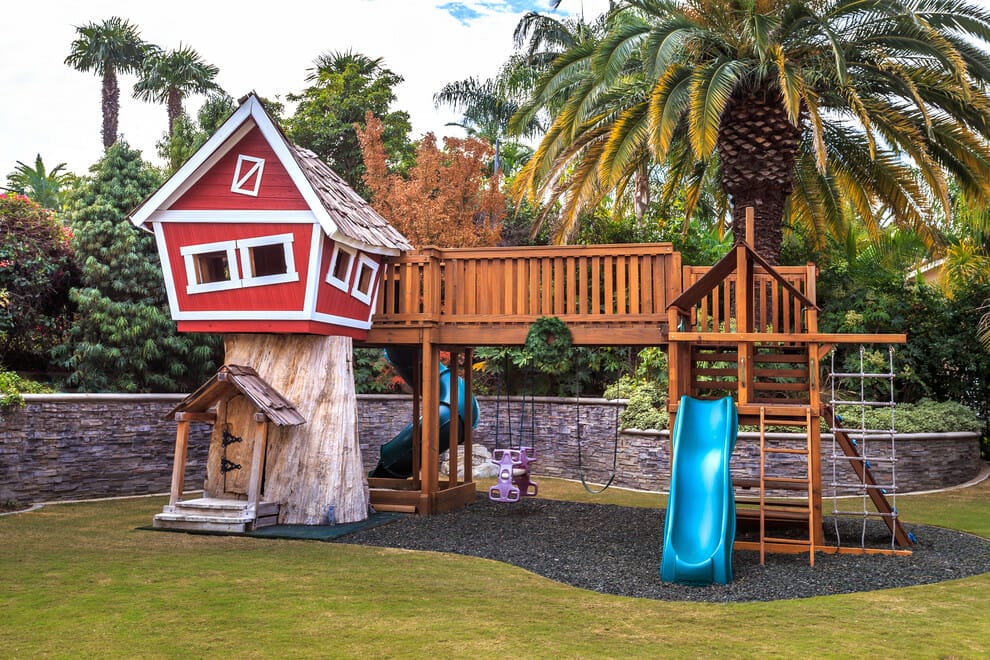 See how a mini treehouse represents a cottage for fairies. This concept is suitable to be applied in your backyard that adopts a magical world.
Even without many decorative ornaments, this will immediately attract children's attention with its unique shape.
11. Set Up Multifunction Court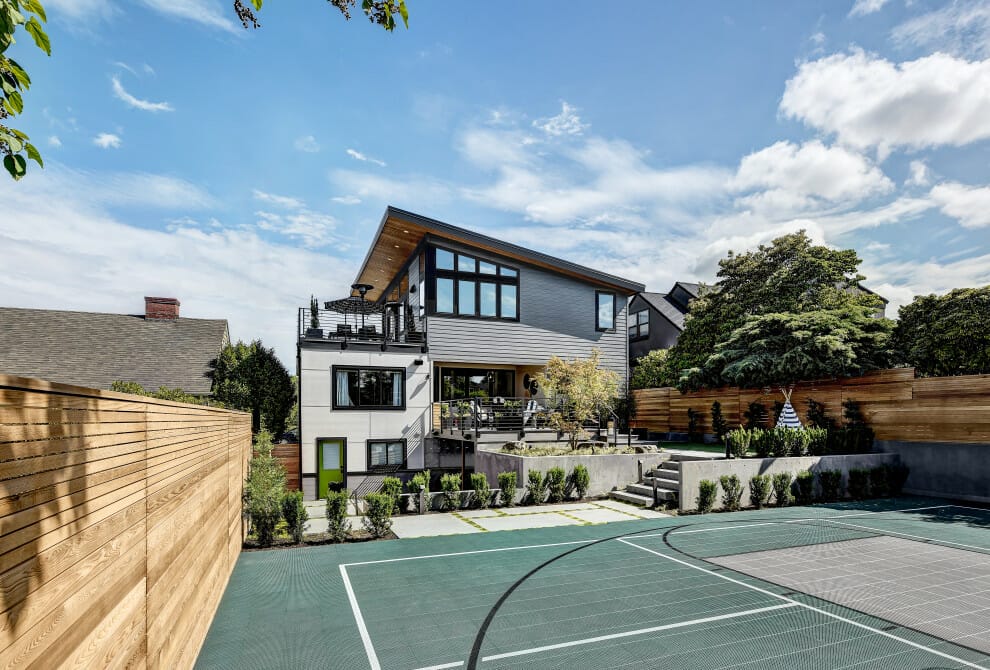 If you have a large backyard, it would be the best choice to provide a multifunctional court there. Indeed, it is actually a basketball court
However, using it for other purposes when gathering with your extended family will not ever go wrong.
12. Roofless Built-in Couch with Firepit in The Middle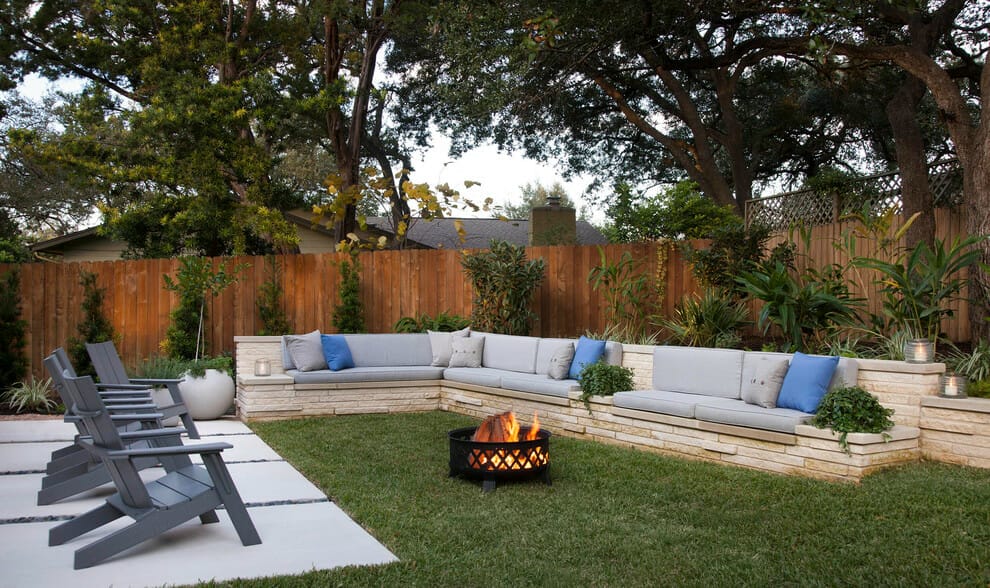 Backyard with the only lawn will be very dull to look at. Therefore, you need to entertain it by presenting a sitting area with a fire pit in the middle.
To give it a distinctive look and interesting structural transitions, consider installing concrete slabs paving on the other side of your backyard.
13. Children's Playground with Trampoline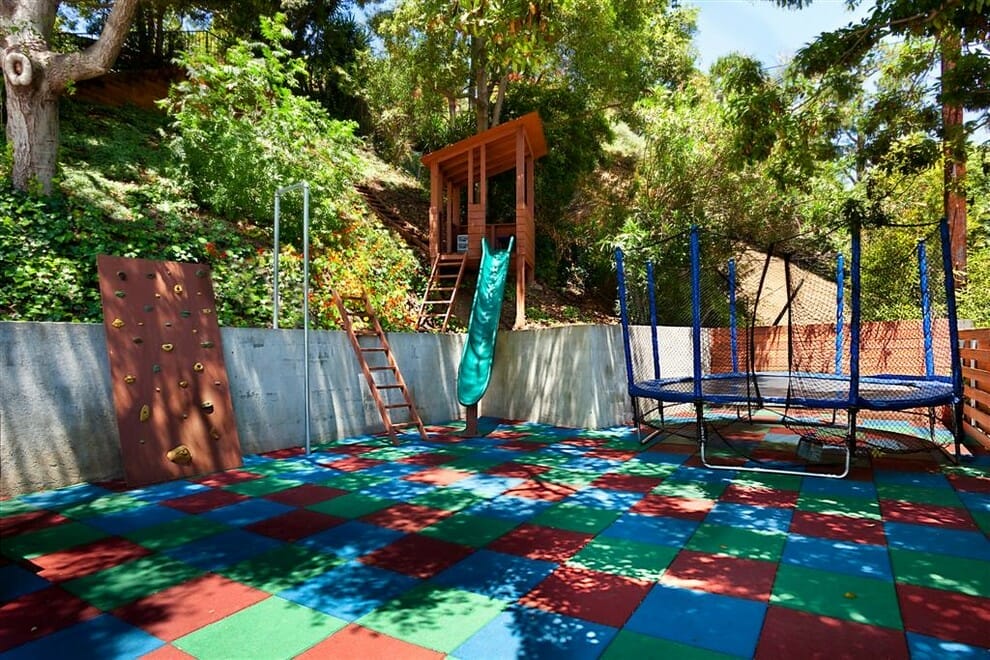 Another key to implementing backyard entertainment ideas is to ensure that it is safe, especially if it was created especially for children.
This idea offers a playset complete with a trampoline. It would help if you also equipped it with child-friendly fences and rubber tile flooring.
Hence, you can minimize incidents that will hurt your children and end an unpleasant vacation.
14. Swings and Wall Climbing Spot Under Lattice Shade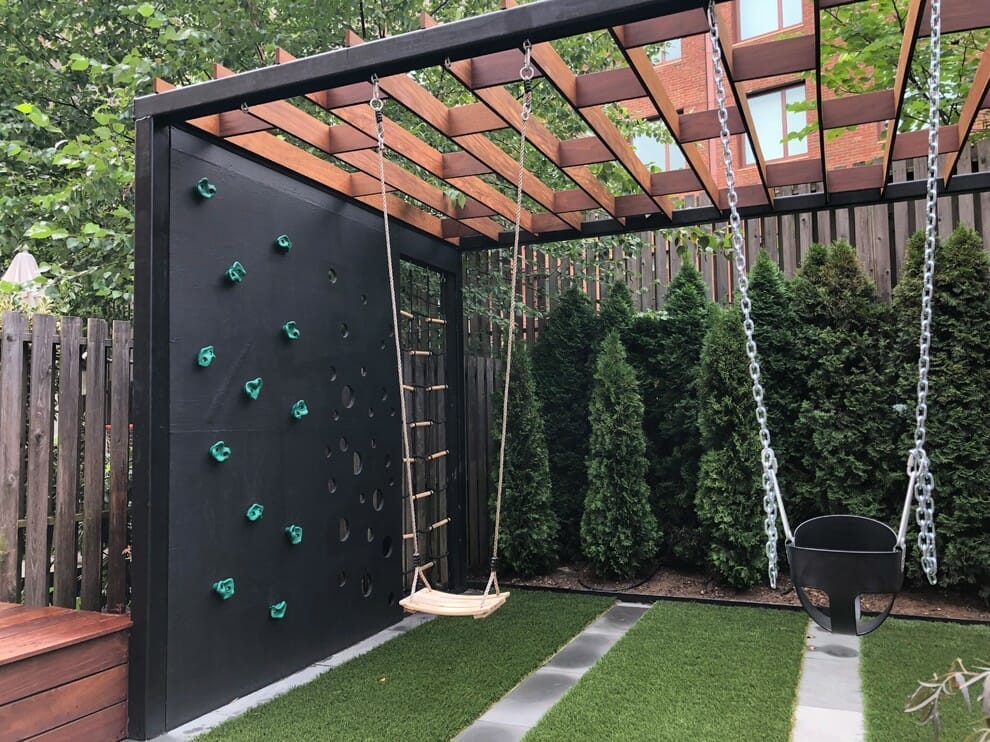 The lattice top is actually quite interesting to have in your backyard. Then, to make it even more entertaining, you can hang swings that are suitable for children and toddlers.
Other than that, you can also transform the lattice canopy's side into a wall-climbing spot.
15. Backyard Entertainment Ideas with Private Football Field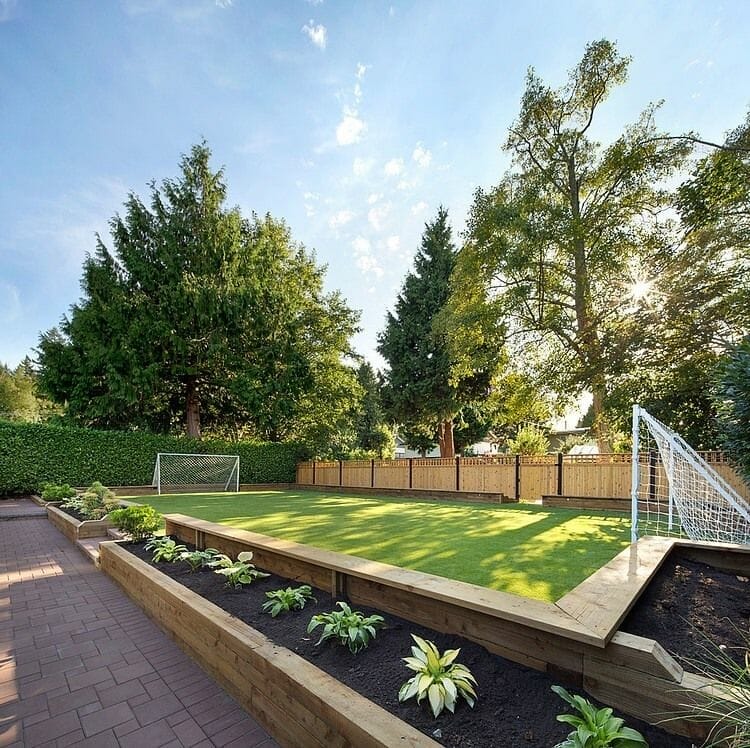 A private football court is one spot you should consider having in your backyard. The field, full of green grass, also includes a child-friendly element.
So, it has become such a perfect entertainment spot suitable for all ages.
Furthermore, to give the aesthetic value, you can arrange the edge of the field with a raised garden bed to plant several succulents, shrubs, or other perennial plants.
16. Mini Putting Green for Golf Lovers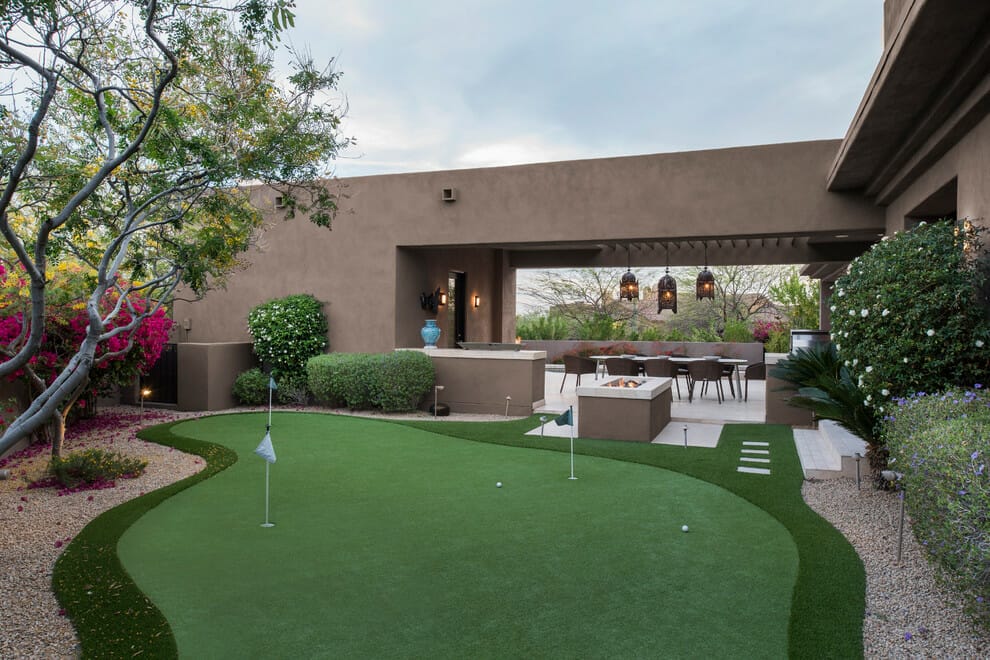 Some of the problems experienced by golf lovers are that they want to play around but are too lazy to go out.
Thereupon, to overcome this, you can provide a mini-golf court in your backyard.
Of course, you need a professional to install this putting grass because this is not something you can handle alone to get a pleasing final result.
17. Low-Budget Treehouse Made of Wooden Planks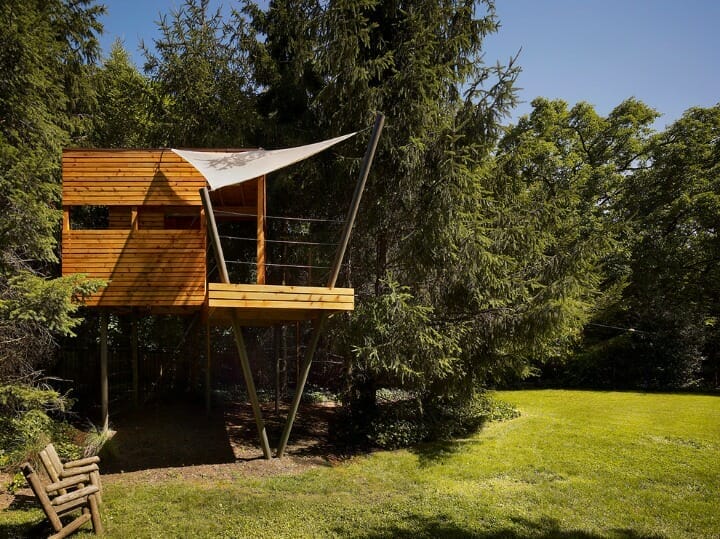 To build a treehouse behind the house without spending a lot of money, consider adopting backyard entertainment ideas that you can complete with a weekend DIY project.
For instance, one of them is the wooden treehouse above. You can use wooden planks in the barn or merely buy them at the Home Depot.
Then, assemble it by following the guide on the internet, and it is all done. Make sure everything is firmly and securely attached to stand for a long time.
18. Backyard Entertainment Ideas with Personal Campsite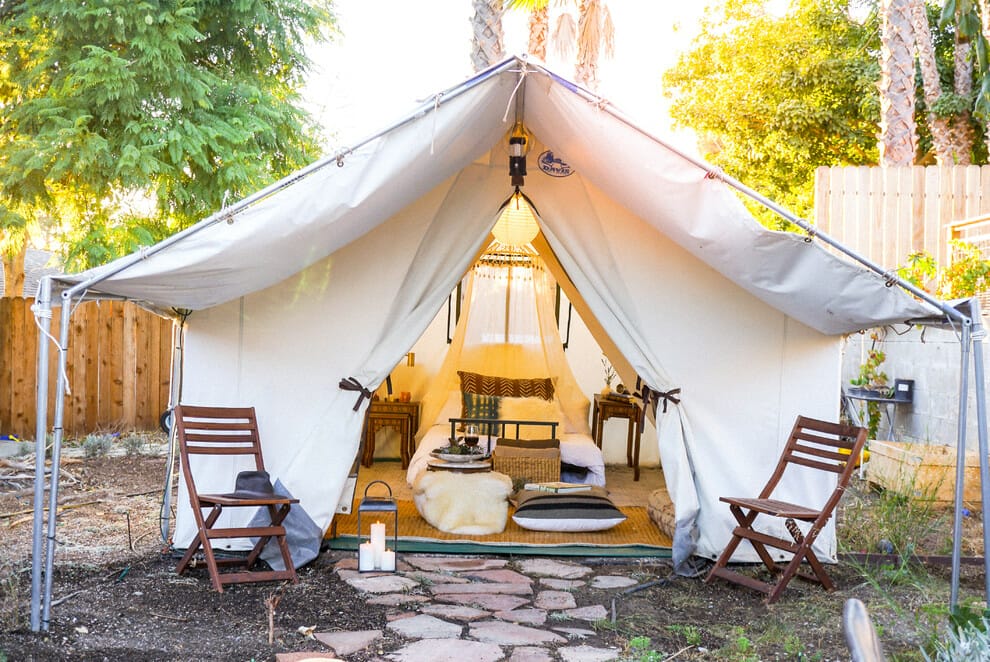 Summer is the time for camping. Then, none can resist. Furthermore, create your campsite by utilizing the empty area behind your house.
Set up a camping tent complete with a single bed and sitting space in front of it. After that, embellish it with lighting and fuzzy cushions to make it aesthetically pleasing and cozy.
19. Large Pool Unite with Nature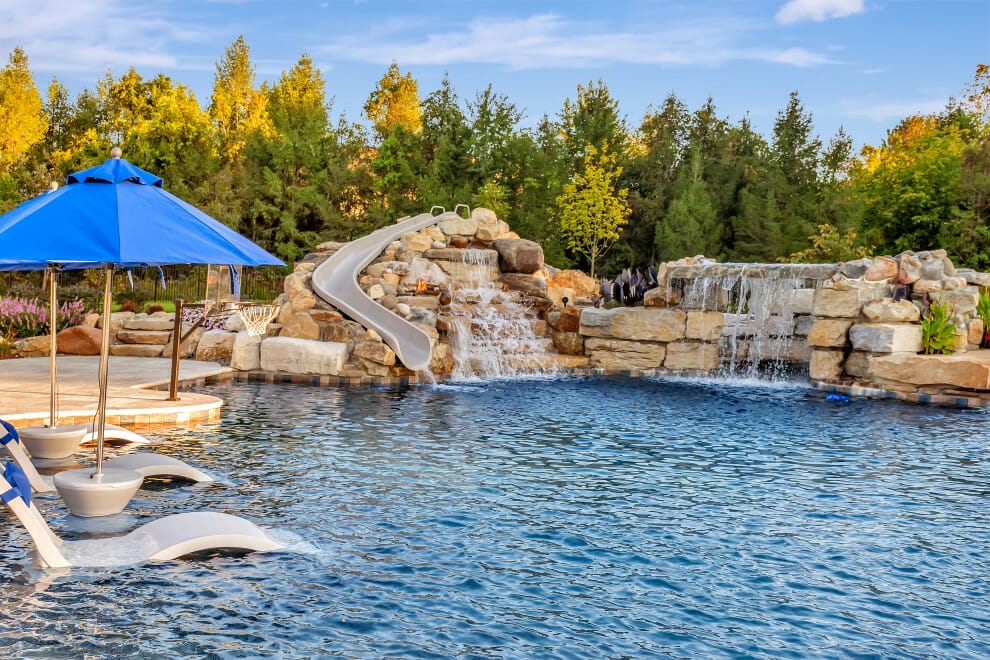 The swimming pool behind the house does not have to be square with refined edges. You can also create a large pool that directly joins nature as above.
The existence of a mini waterfall made of stackable natural stones makes this backyard pool truly represent a true natural tourist destination.
20. Small Backyard Entertainment Ideas with Outdoor Dining Table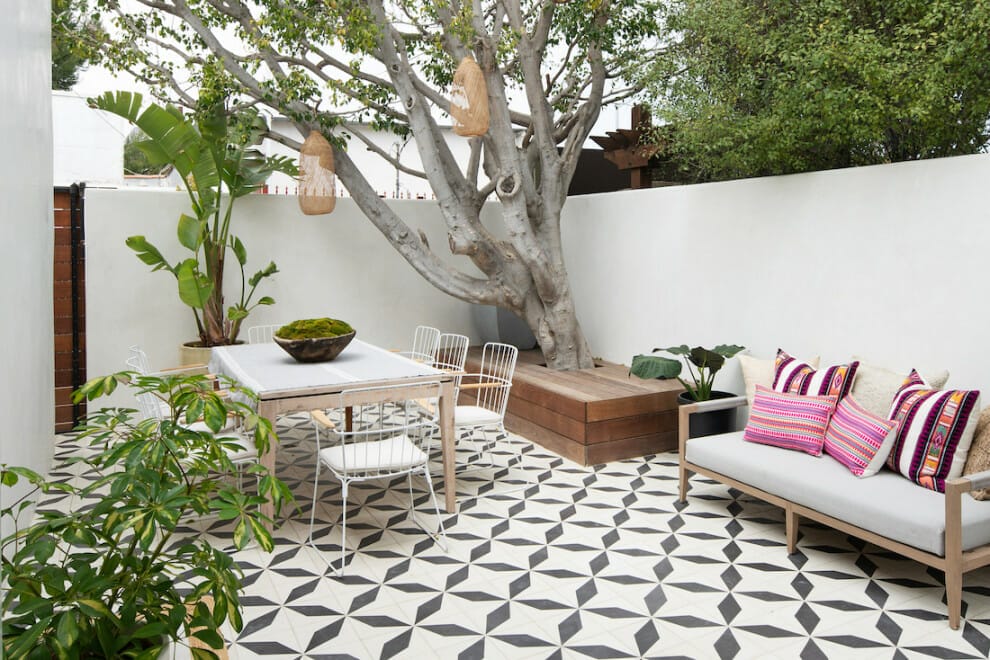 You do not need to force yourself to have a playset in a small space. Alternatively, you can provide other amusements by providing a couch with eye-catching cushions and an outdoor dining spot.
Moreover, you can arrange the floor with patterned tiles in neutral colors to add drama. Hence, your courtyard can look more comprehensive than before.
21. Replace the Sun Lounger with a Single Bed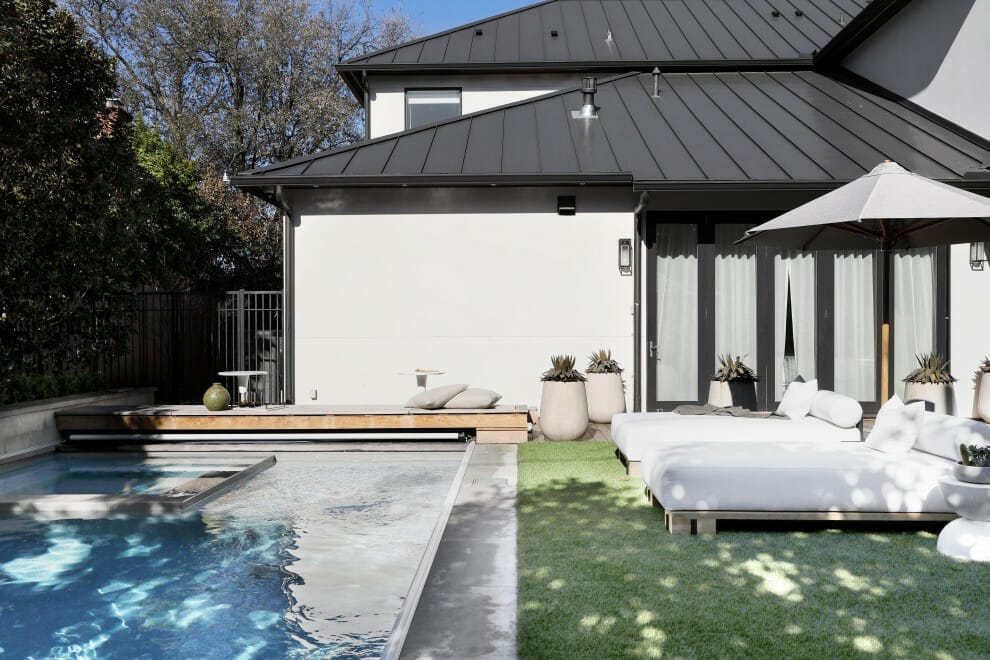 The backyard with a swimming pool would be incomplete without a sunbathing spot. Usually, you will quickly achieve that by placing one or two sun loungers.
However, to achieve an anti-mainstream final result that is still versatile and attractive, you can replace it with a single or twin bed as above.
Not only adults, but even children will also be happy to spend time here.
22. Complete Backyard Entertainment Ideas for Contemporary Home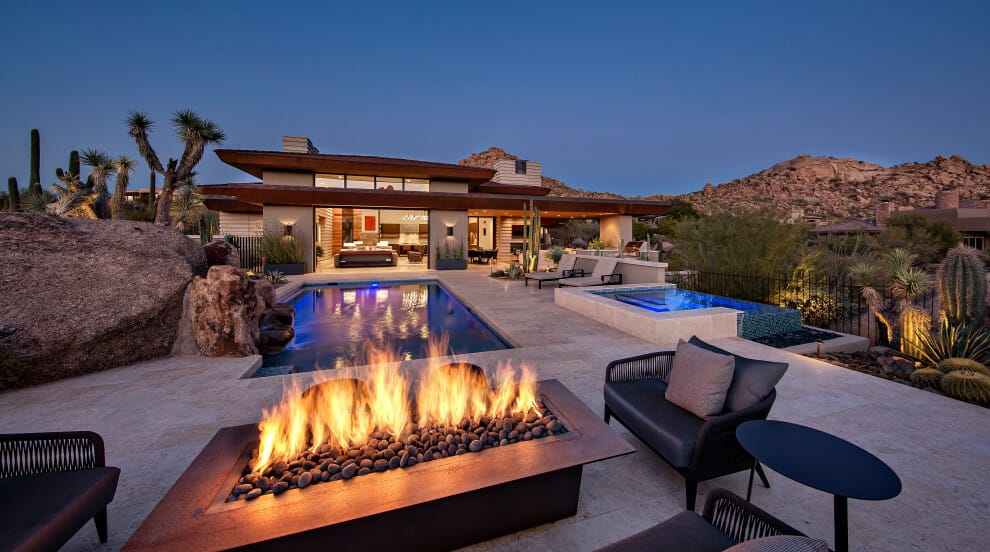 Look closely. This backyard has a complete entertainment spot. Likewise, there are warm sitting areas, pools, sunbathing spots, and a BBQ island.
Therefore, you can easily reach all of them in just one courtyard.
Another good news is this backyard can also accommodate many people to hold a party or merely spend a summer night together.
23. Picnic Time with Outdoor Rug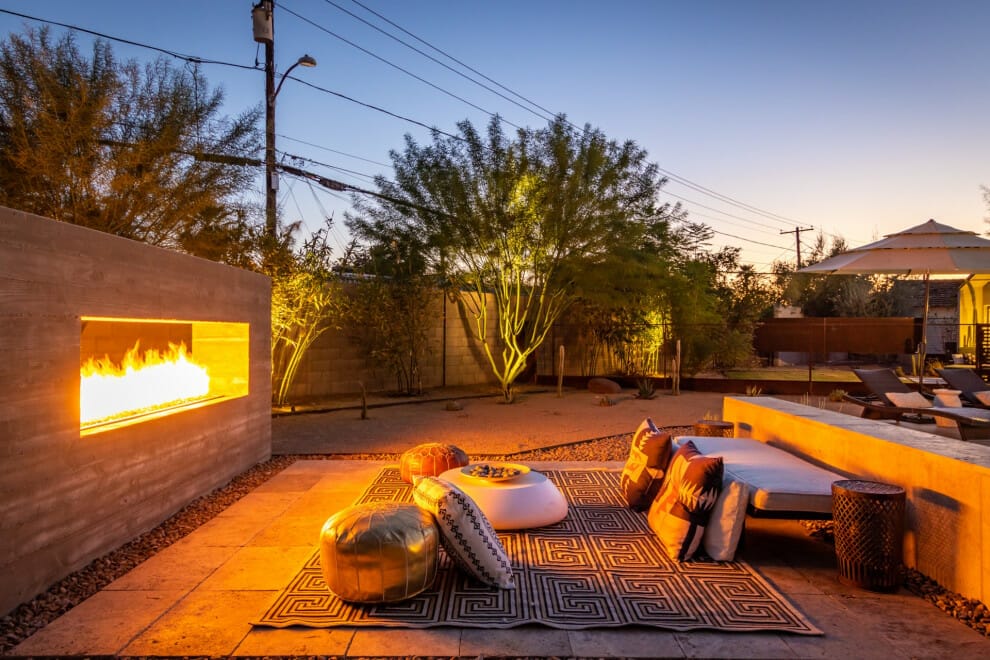 Replace your couch with an outdoor rug to give the impression of a relaxing picnic in the backyard.
To prevent the rug from getting dirty, be sure to install pavers in the backyard instead of leaving it on a green lawn.
Because outdoor rugs generally come with many motifs, choose the one closest to your taste and according to the existing exterior decor.
Thereupon, it will be a spot that many people enjoy.
24. Bocce Court Among the Green Lawn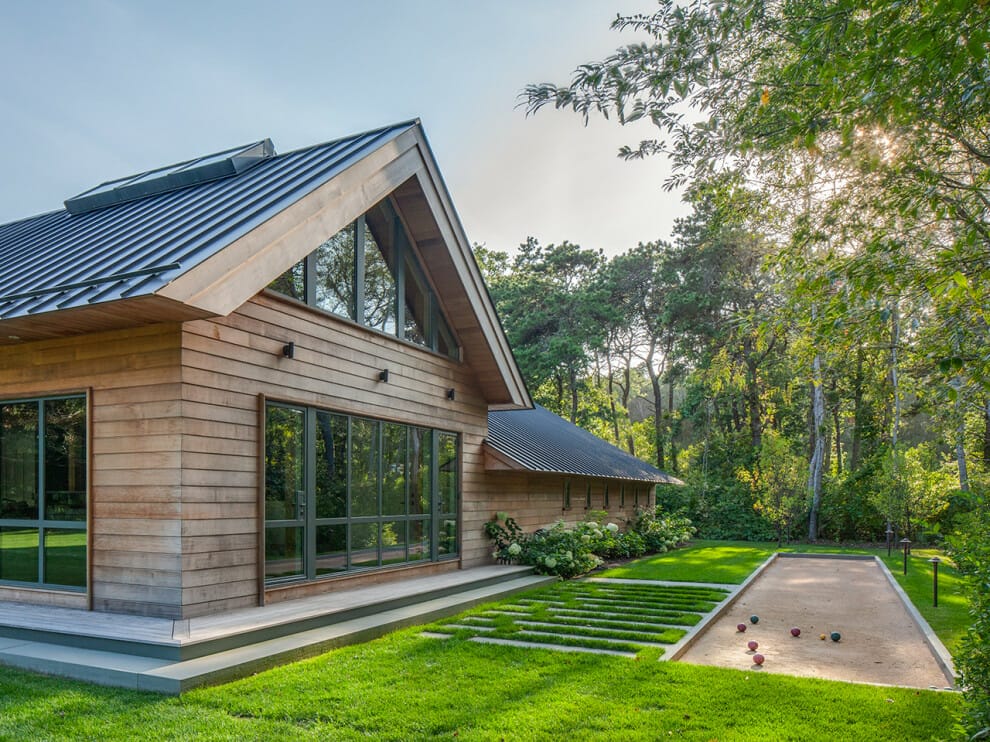 None can refuse to have a bocce court between the green lawns. Even though these backyard entertainment ideas only come with a flat land with a barrier, this is a convenient area for children to play around.
Moreover, growing a flower garden near the bocce court will be better to make your backyard more amusing.
25. Provide Different Styles of Flooring in One Area
Suppose your backyard has accommodated many entertainment spots such as an outdoor sitting room and playground.
So, now is the time to give different flooring to separate everything without any borders.
You can do this by combining the application of composite decking, rock landscaping, green lawn in the center, and concrete slabs for paving and stepping stones.
This layout is aesthetically pleasing, refreshing, and kid-friendly even without other decorative elements.
26. Put Artificial Grass Rug Under the Kids Swing Spot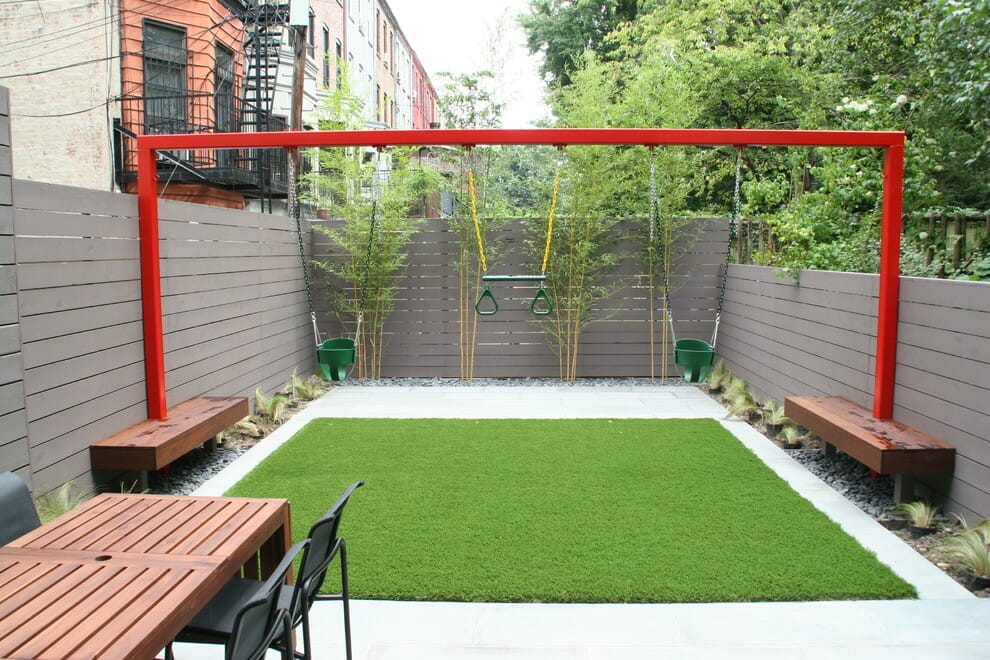 Backyard entertainment ideas for kids with a set of swings need more safety to avoid your children getting hurt when playing together.
Therefore, considering having an artificial green grass rug under the swing will be better.
As for the rest of the area, you can leave it with white concrete paving to make it look cleaner and easier to maintain.
27. Fill the Land Around the Golf Court with Rock Landscaping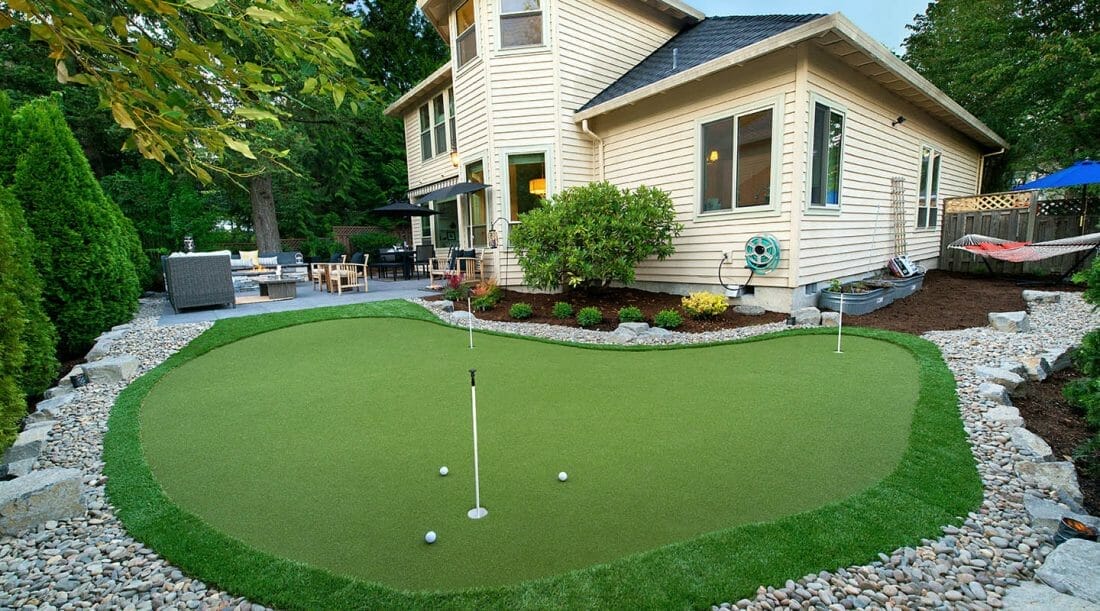 Rock landscaping put around the putting grass is the perfect strategy for bringing out a pop-of texture in your backyard.
This concept does not limit you to certain types of gravel. You can even freely go with white rocks or river stones.
Everything depends on your preferences.
28. Backyard Entertainment Ideas with Built-in Bench and Raised Composite Decking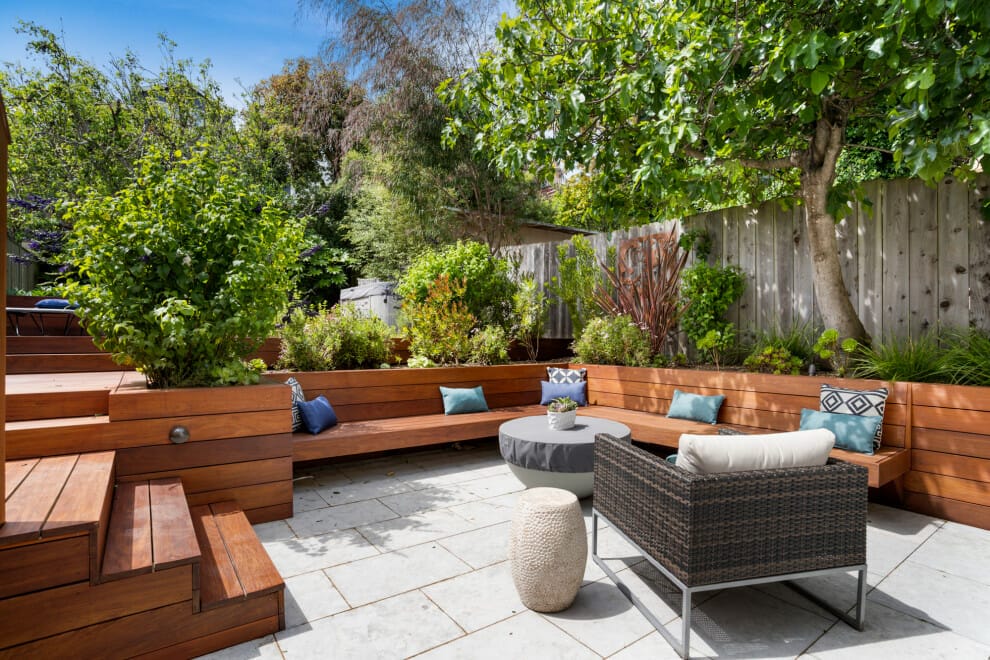 A set of built-in benches in the backyard will provide an aesthetically pleasing appearance and be space-saving.
It will be even better if you choose a similar material for the raised composite decking.
As in the picture above, it is good to display the solidity of the wood elements combined with a stone table and a rattan chair.
This concept is perfect for rustic lovers. It would be acceptable to provide the cushion with a bright color such as blue, yellow, or green to balance the look.
29. Backyard Entertainment Area Ideas for Outdoor Living Room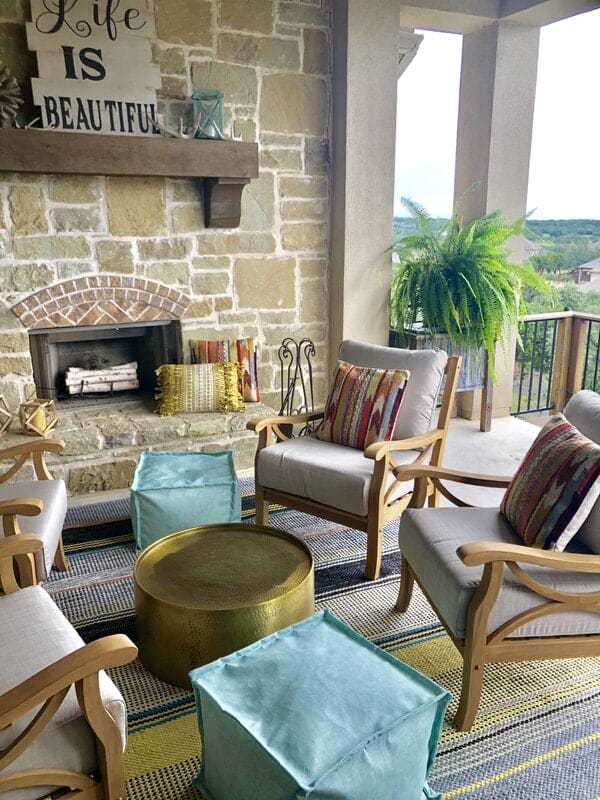 Do you love something casual and comfortable? If so, this is one of backyard entertainment ideas to try. The outdoor living room looks super cozy. It is surely a perfect place for spending free time with your dear ones.
This outdoor living space features a stone fireplace. In addition, it boasts a nice wooden awning that offers weather protection. There are also comfy furniture pieces like ottomans, armchairs, and charming tables.
30. Backyard Entertainment Space with A Hammock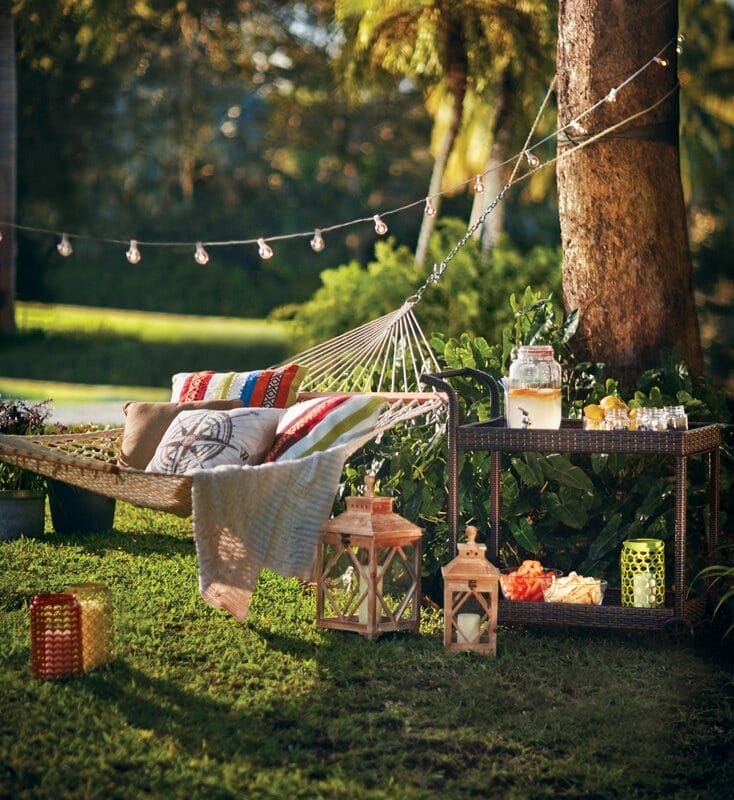 Do you like lounging? If so, a swing-bed to your lawn. It makes the entertainment spot look cozy and charming at once.
Get a super comfy hammock. Be sure it works well with the existing greenery. If you have no large trees, build the stand yourself. Then, add tables, lanterns, pillows, and blankets for a snuggly yard.
31. Outdoor Kitchen for A Backyard Entertaining Area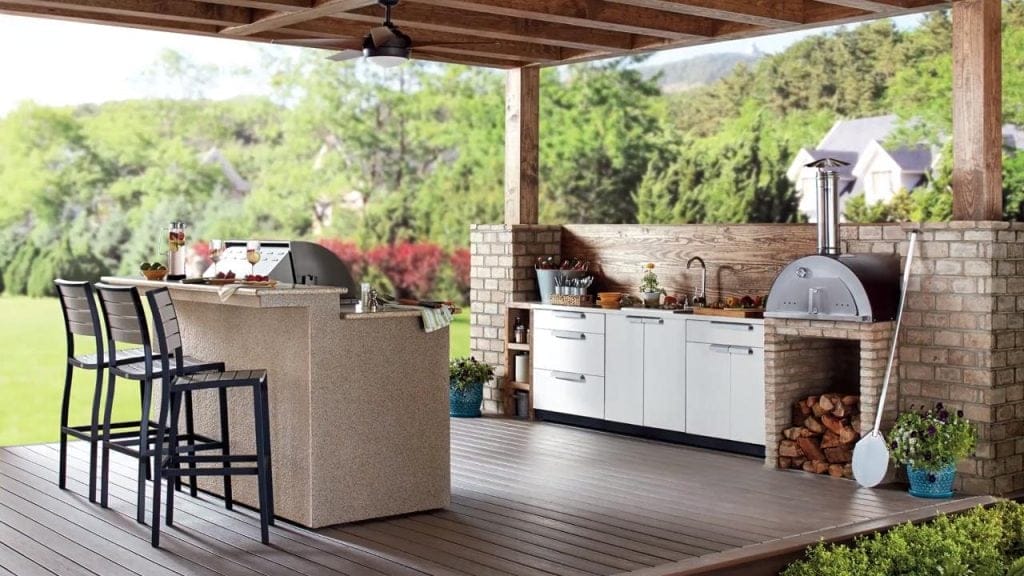 This outdoor kitchen features different materials. They lend the culinary space a unique look, but also make it more modern.
You can either add a full dining set or set up a simple breakfast bar. Don't forget to include kitchen appliances in your backyard.
32. Backyard Entertainment Space with A Snack Bar and TV Set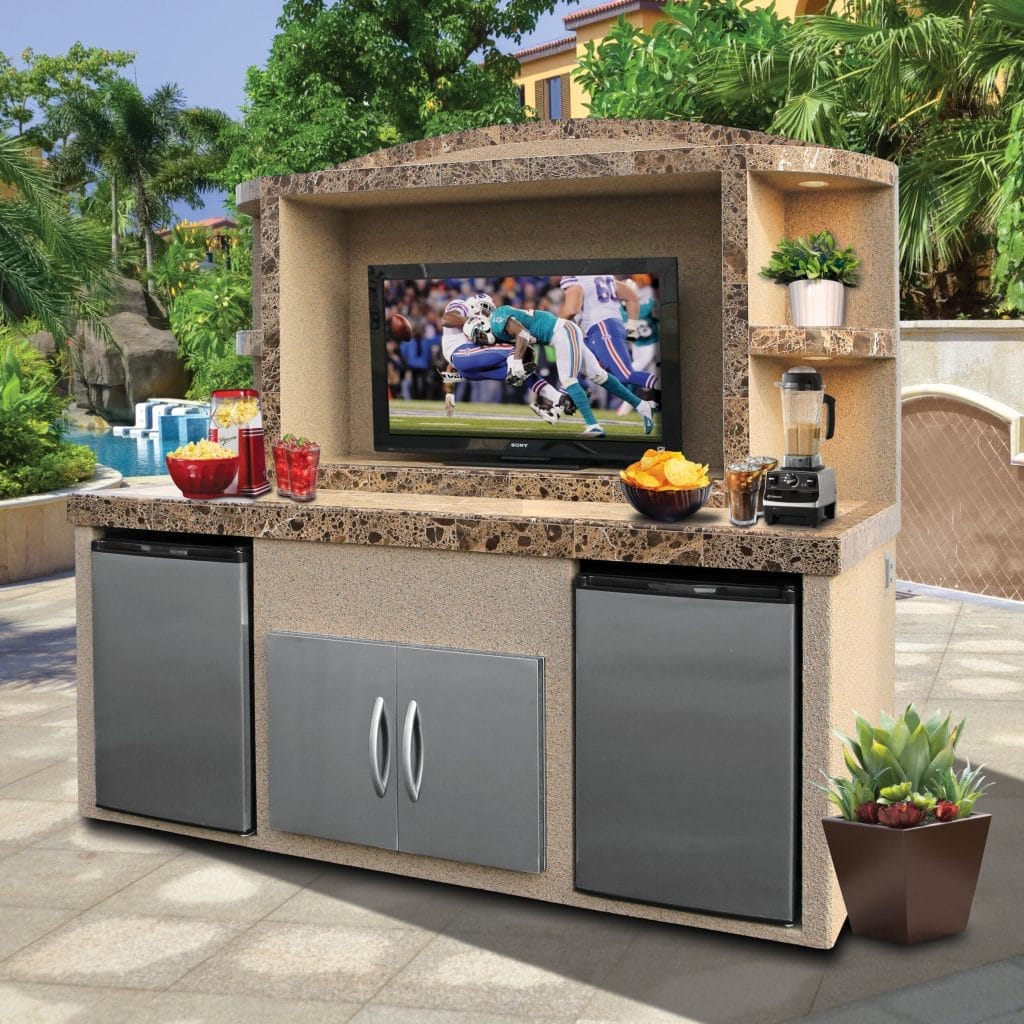 Searching for backyard party entertainment ideas? If yes, then give this design a go. As you see, the outdoor entertaining area emphasizes on the lounging rather than dining and cooking.
For an outdoor lounge space, protect your electronic gadgets from the weather elements. Take furniture arrangement and roof into consideration.
This mobile piece allows you to move the backyard party easily. Furthermore, it holds mini fridges and television.
Undoubtedly, this is an ideal space to enjoy a spring breeze or lounge in by yourself. Include potted plants in your backyard for a lively environment.
33. Backyard Entertainment Ideas with A Dining Area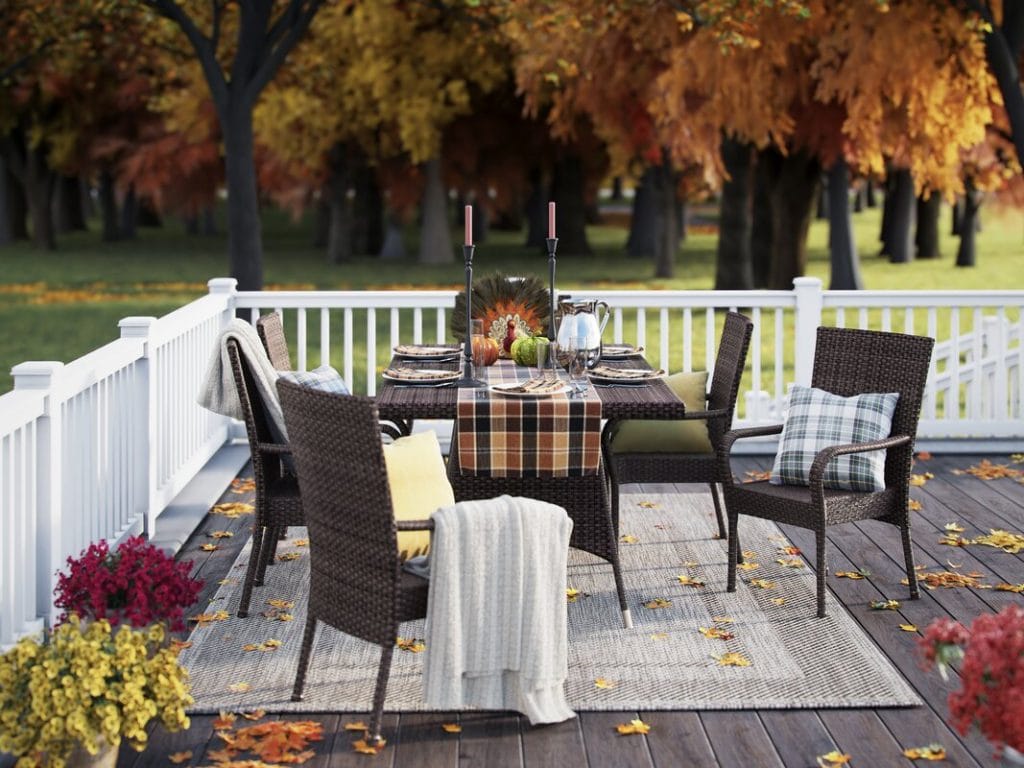 Talking about popular backyard entertainment design ideas, some of them center around the outdoor dining area. This is particularly true when you like entertaining your guests over meals.
In this case, the homeowner set up her backyard space for a lovely holiday dining experience. However, you can adjust the feel and look depending on your needs.
Moreover, this dining area lets you and your family dine in the summer. If your backyard is large, we suggest adding some extra chairs and outdoor couches.
Feel free to incorporate a firepit. No one can resist tasty S'mores, right?
34. Backyard Conversation Area with Curtains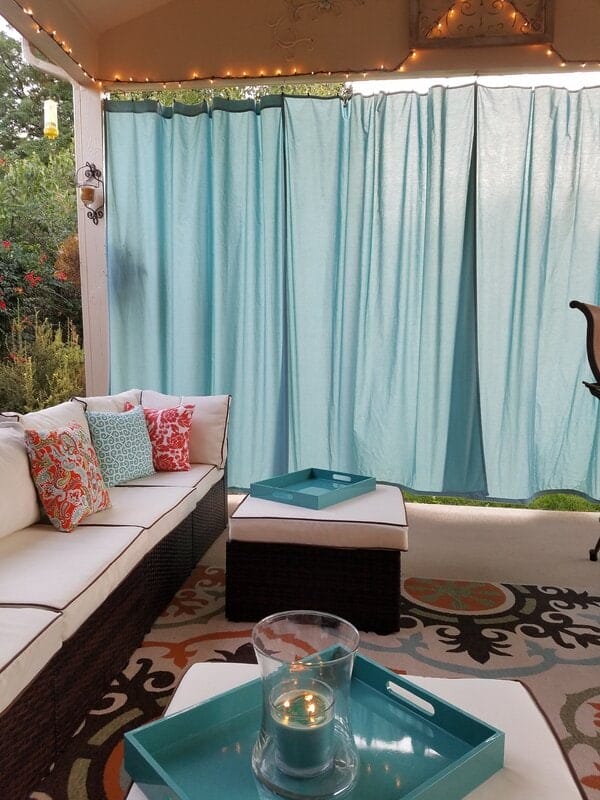 This is one of brilliant backyard entertainment ideas. Here, the curtains make the outdoor living area graceful and intimate. They also provide great privacy without the need to construct a wall.
First of all, add a sturdy wooden frame to the outdoor living room. It will let you hang some curtains with ease.
Be sure the curtains are weatherproof. After hanging them on your wooden frame, then furnish the outdoor living space.
You could add gorgeous lanterns or some comfy furniture pieces. They will make the area feel homey and extra cozy.
35. Backyard Entertainment Ideas on A Budget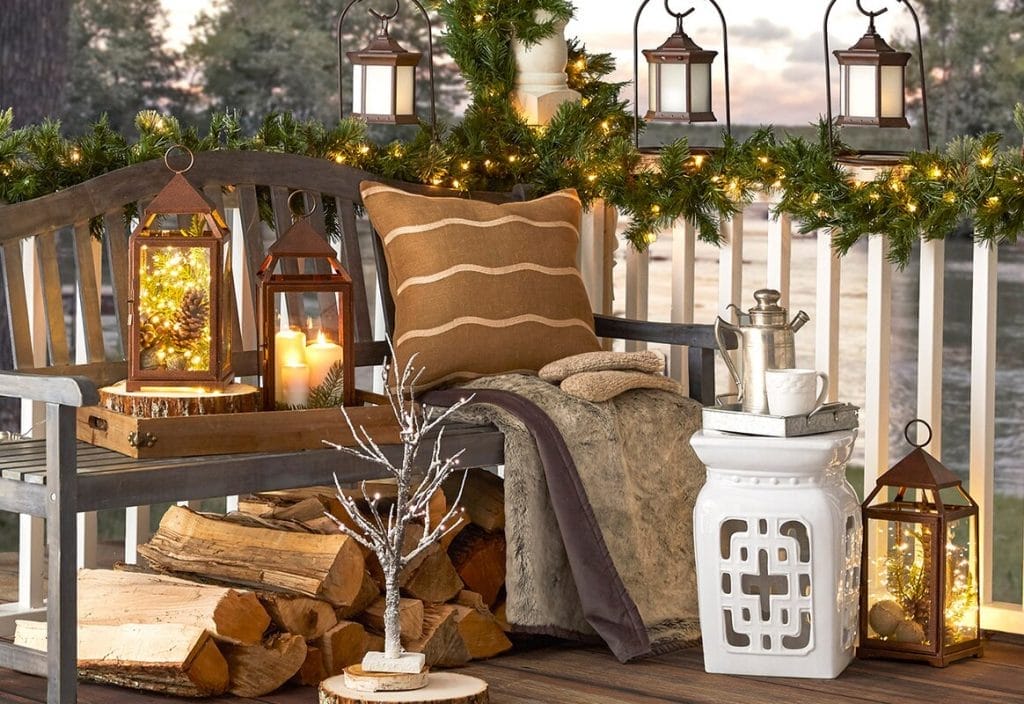 We recommend adding a lot of throw pillows to your outdoor seating area. They will quickly make visitors feel truly welcome. For chilly nights, incorporate some storage boxes or baskets with plush blankets.
By integrating the throw blankets into the space, your guests can grab the pieces themselves. Moreover, they don't need to ask you for one. The visitors will certainly feel comfortable.
Use your colorful throw pillows for sprucing up the outdoor sitting area. They help encourage lounging without having to impress the guests.
36. Backyard Games Space Ideas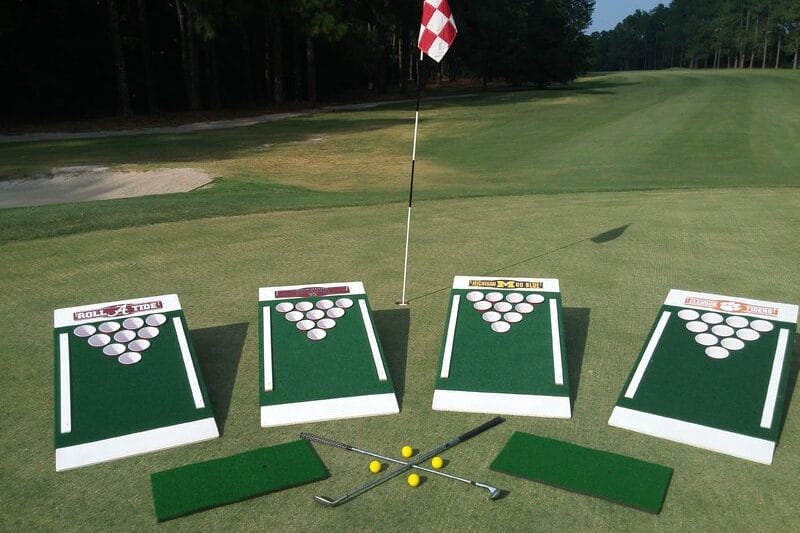 Whether you have children or not, don't hesitate to create a yard games space. Then, host a fun outdoor party with games like Cornhole, Kubb, and Giant Tumbling Timbers.
The backyard games allow couples and singles without children to have fun. If you are parents with kids, your little ones will grow into adoring them.
Bear in mind that an outdoor recreation area doesn't have to be mature or serious. You can lighten it up with some fun activities. Love something more permanent? Build your own bocce ball court.
37. Backyard Entertainment Ideas with Adirondack Chairs and Firepit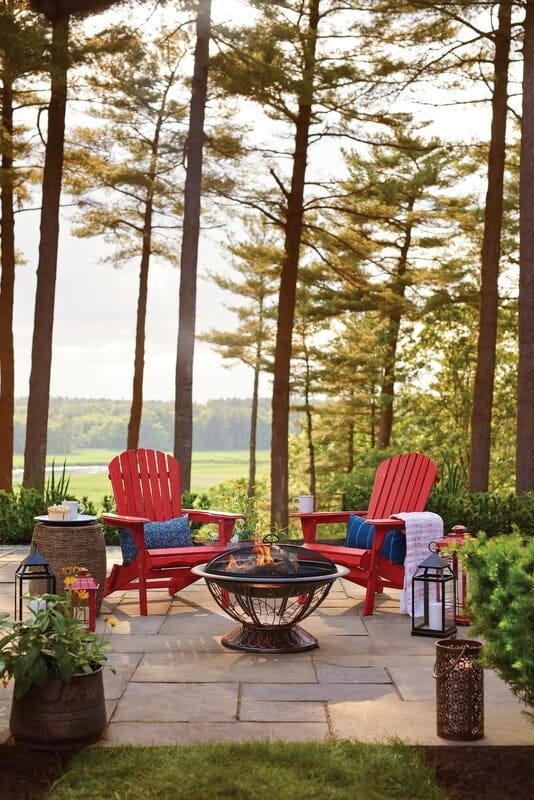 When thinking of backyard entertainment ideas, you surely can't forget about firepit. It works very well for any outdoor seating area. The unit is also easy to manage.
The nearby red Adirondack chairs jazz up the backyard entertaining area. They also let your friends relax around the firepit. Now, it's the right time to roast marshmallows.
38. Small Backyard Entertainment Area Ideas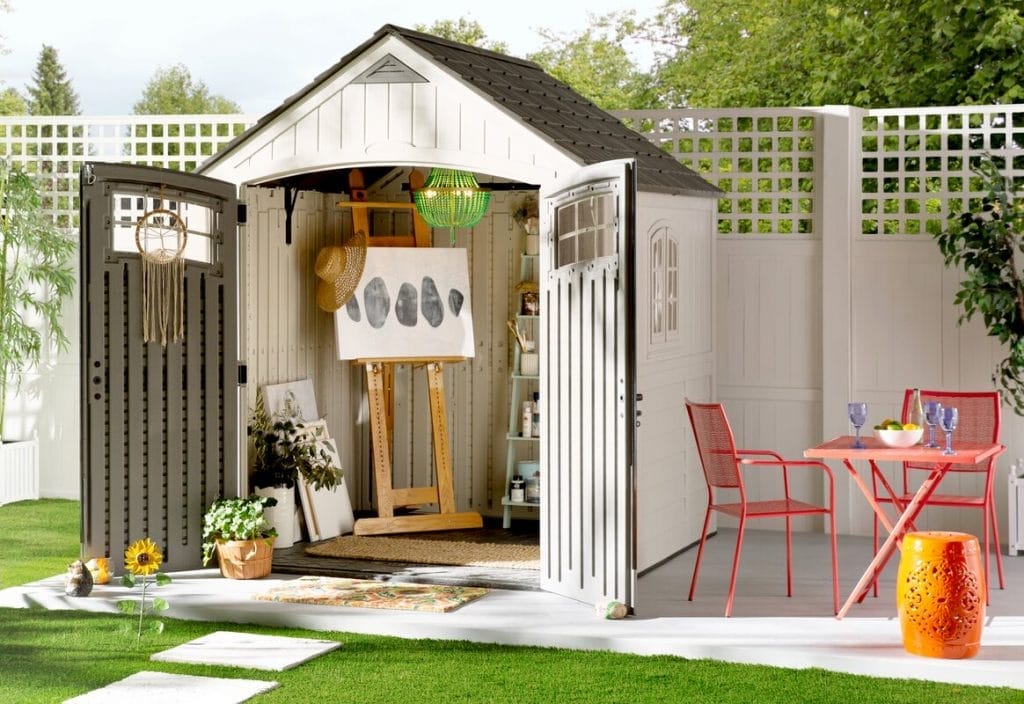 This little backyard entertainment space will unleash your inner artist. You can turn any small shed into an art gallery and studio. Then, hang some display mounts on the walls for cool artworks.
The subsequent thing to do is joining some super comfy furniture pieces. They will make your art studio the coziest place in the backyard. You can unwind, create an artwork, or sip lemonade when the mood strikes.
39. Backyard Entertainment Ideas with Plants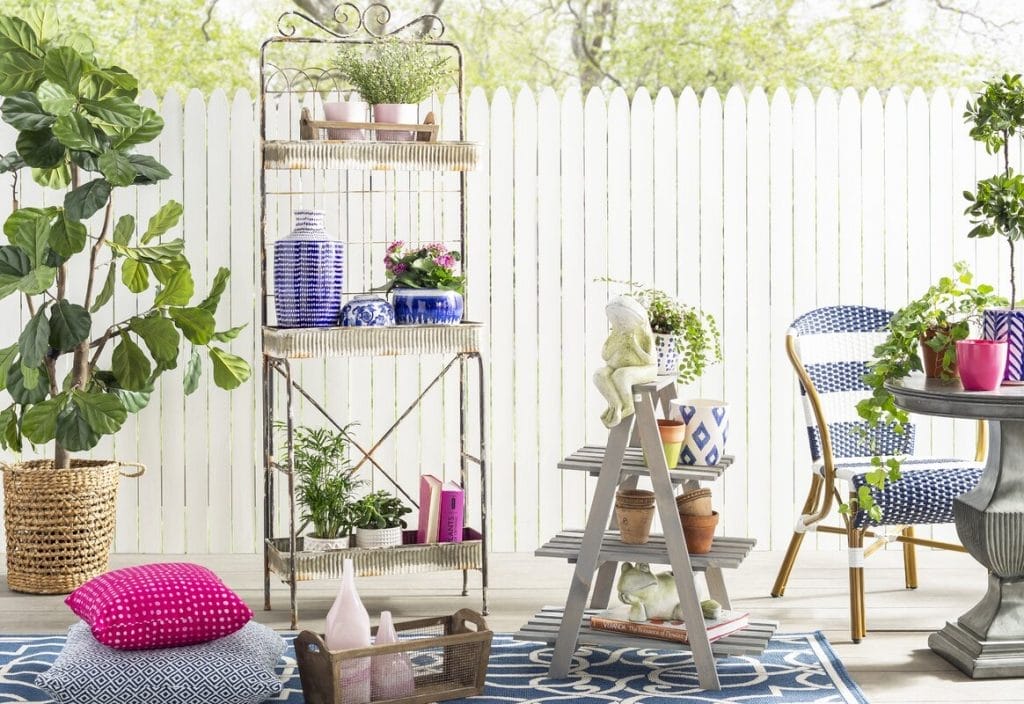 Talking about backyard entertainment ideas, small touches do matter a lot. Freshen things up with lots of potted plants. However, too much greenery will make you feel overwhelmed. Not enough, the space can look bleak and lifeless.
We recommend getting some beautiful manicured plants. Be sure they always seem neat as well as tidy.
Do not forget to buy bold, eye-catching plants too. If your backyard isn't large, no worries.
Just include a ladder plant stand and a freestanding shelving unit. They carve a boho outdoorsy feel while occupying less floor space.
40. Backyard Entertaining Area with Couch and Firepit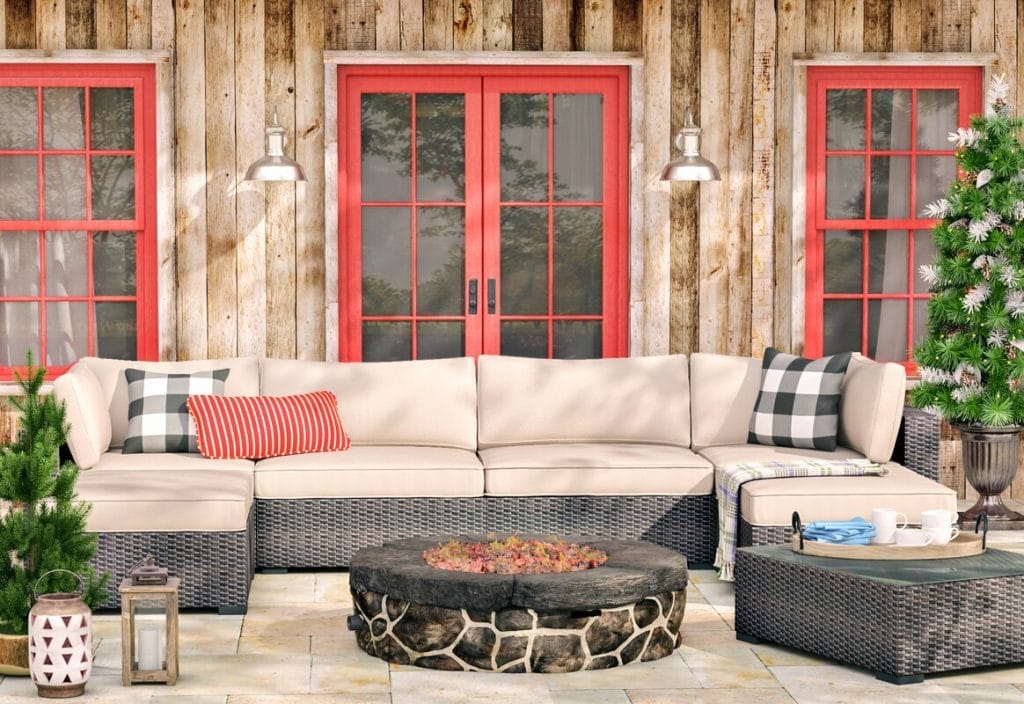 Not into complicated backyard entertainment design? Then, this idea is undoubtedly for you. Here, the firepit warms up the space on chilly evenings. Meanwhile, the couch lets your friends curl up on.
Since it is an outdoor family room, opt for what makes sense. Without a doubt, couch and firepit are such a simple yet splendid combination.
41. Basketball Hoop for A Backyard Entertaining Space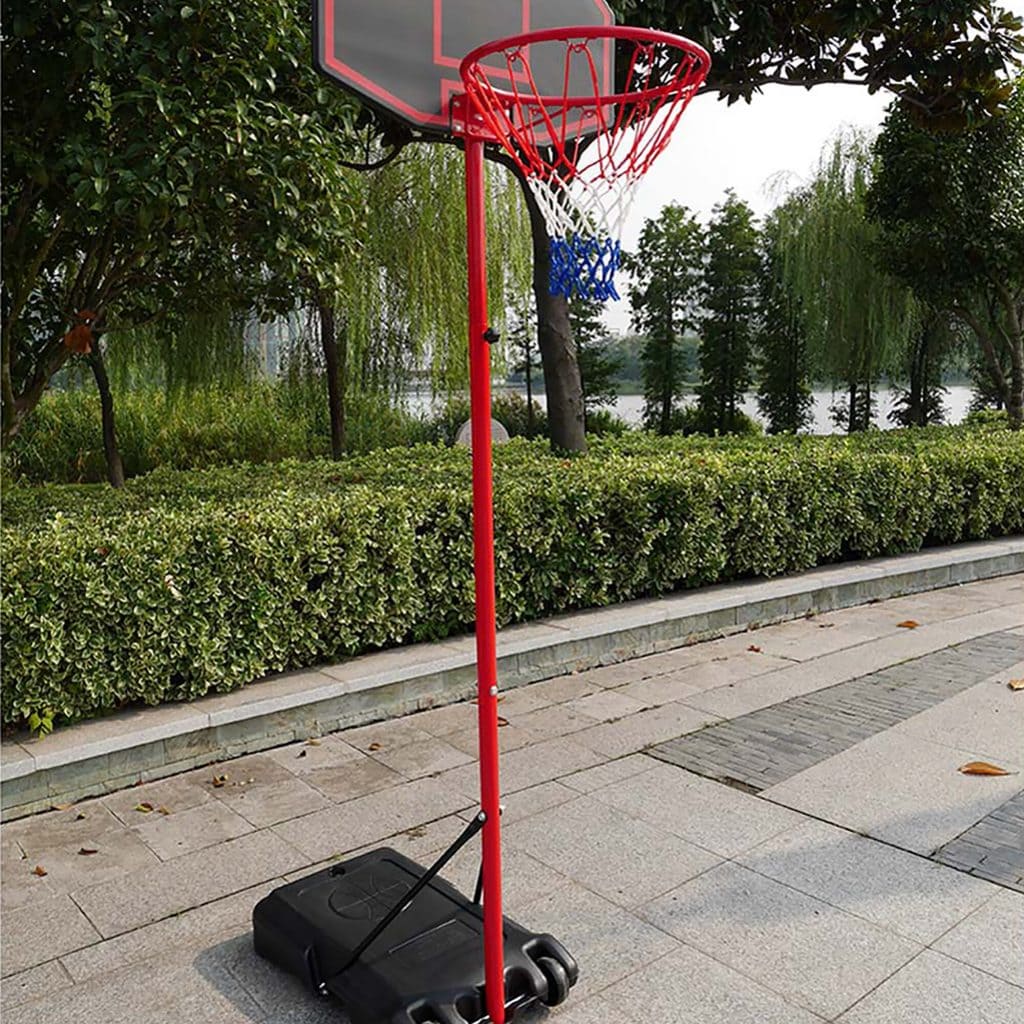 Looking for marvelous backyard entertainment ideas? If yes, you must try this design. Here, the outdoor entertaining area boasts a basketball hoop. It allows your loved ones to relieve stress.
Adding a basketball hoop to your backyard is definitely a great choice. Moreover, you could integrate a volleyball court or a hockey net into the sports spot. Once everything is ready, choose an opponent.
42. Backyard Entertainment Ideas with Composite Fencing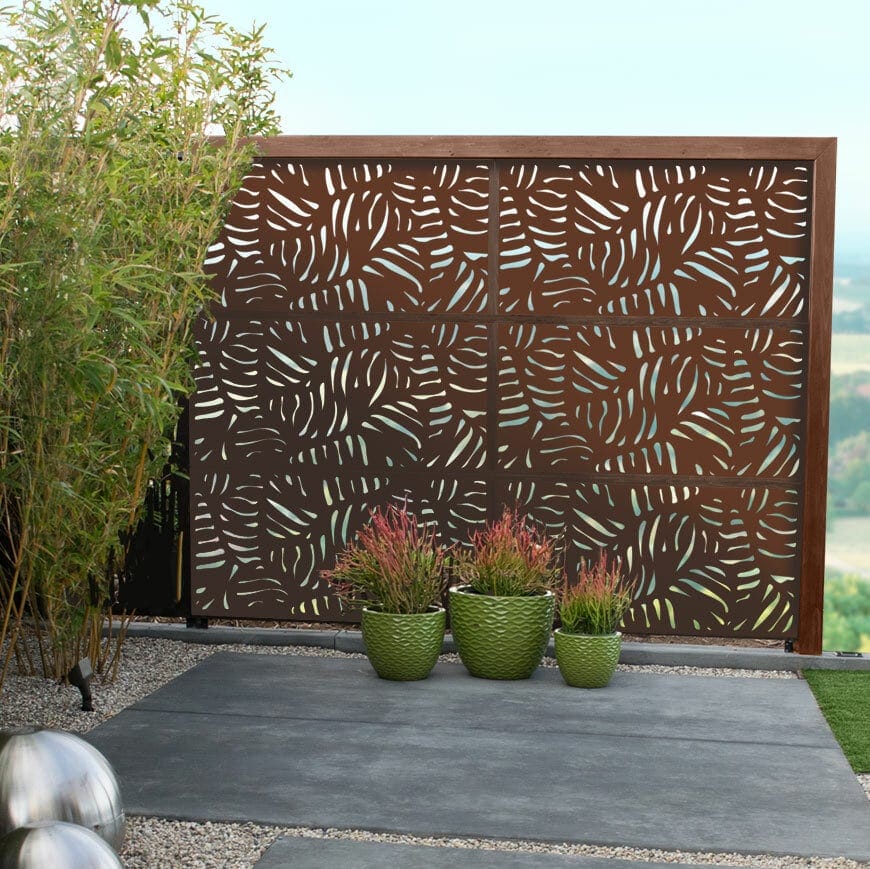 You like the concept of a backyard privacy fence. However, we recommend installing a composite fencing. Not only does it look a bit fancier, but also makes your outdoor entertaining area more intimate.
Edging an outdoor space with stunning composite fencing is a wonderful option. It lends the backyard a unique touch.
Furthermore, composite fences come in various styles. They effortlessly reinsure any space with visual space as well.
43. Cheap Backyard Entertainment Ideas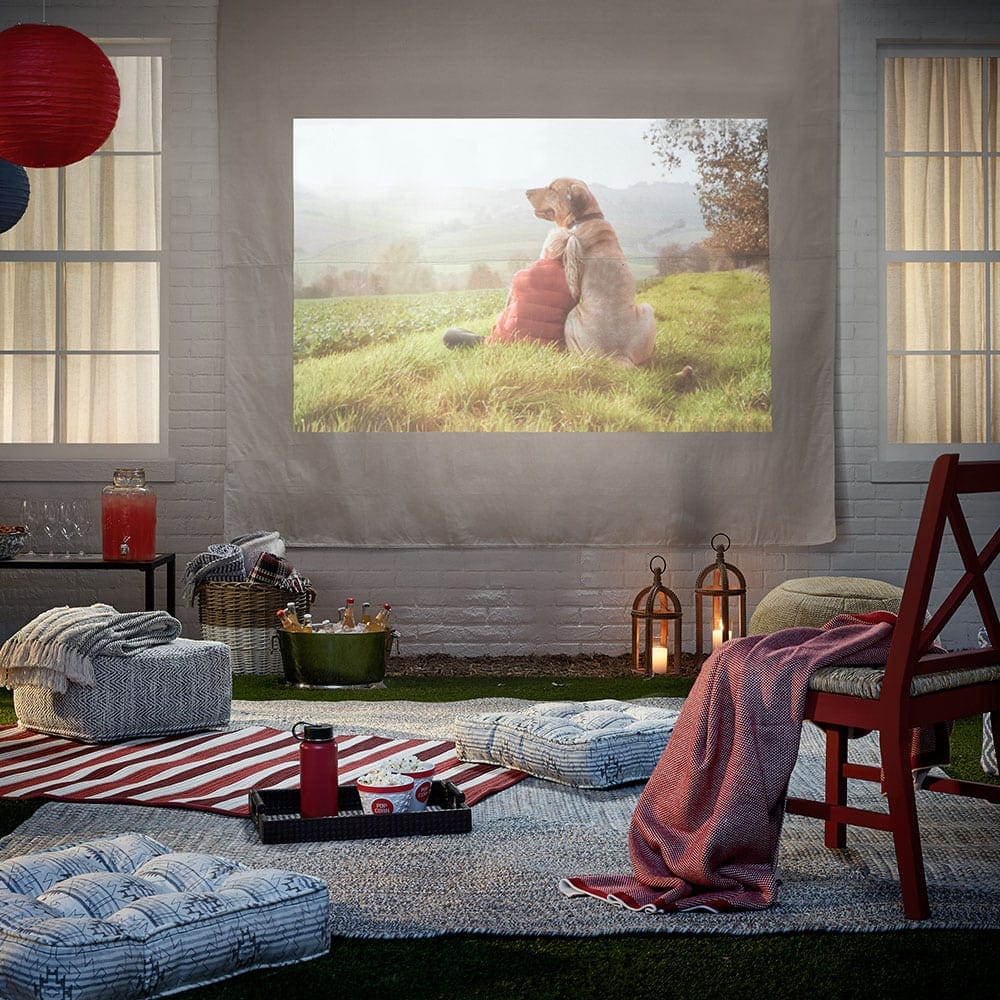 Planning outdoor movie nights? If yes, you have to hang a white sheet on your wall. Moreover, watching movies outside is surely an amazing experience for adults and kids.
You can bring out lots of snacks, drinks, and blankets. They deliver picnic vibes to the backyard movie theater. Another option is tossing in some comfy folding chairs.
The sheet lets you host a regular backyard movie party in your neighborhood. This is an awesome way to spend free time with the local community.
For an affordable option, simply create a frame using tree branches.
44. Fan and Fireplace for A Backyard Entertainment Spot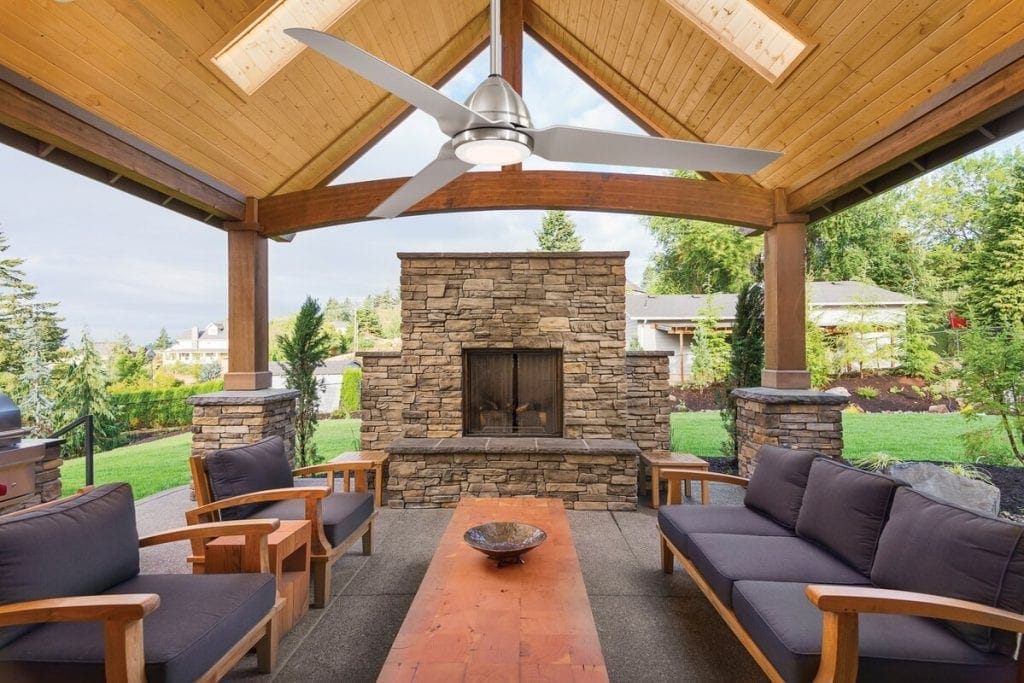 When it comes to backyard entertainment ideas, put your environment into consideration. If the area has plenty of varied weather, try this design. The stone fireplace allows outdoor gatherings during colder months.
Moreover, the fan is equally useful. The unit allows you to lounge on hot days. It also keeps your guests cool.
Both fan and fireplace lets you use your open-air living room in any clime. Sometimes, small things are what break or make a backyard space.
45. Backyard Entertainment Ideas with A Wall Garden
You love a full outdoor entertainment space. However, keeping things private is really important. That's why we suggest installing a fabulous, privacy fence. Then, transform it into a lovely wall garden.
With this fence, don't hesitate to go wild. It is definitely an ideal place for growing vegetables, flowers, or herbs.
Moreover, this wooden fence maintains your privacy. The unit also becomes a focal point. You will certainly love gazing upon it while appreciating warm chocolate and prattling with buddies.
We recommend using plants that you can enjoy throughout the year. Feel free to change those beauties out for a fresh look.
46. Backyard Entertaining Area with Greenhouse Living Room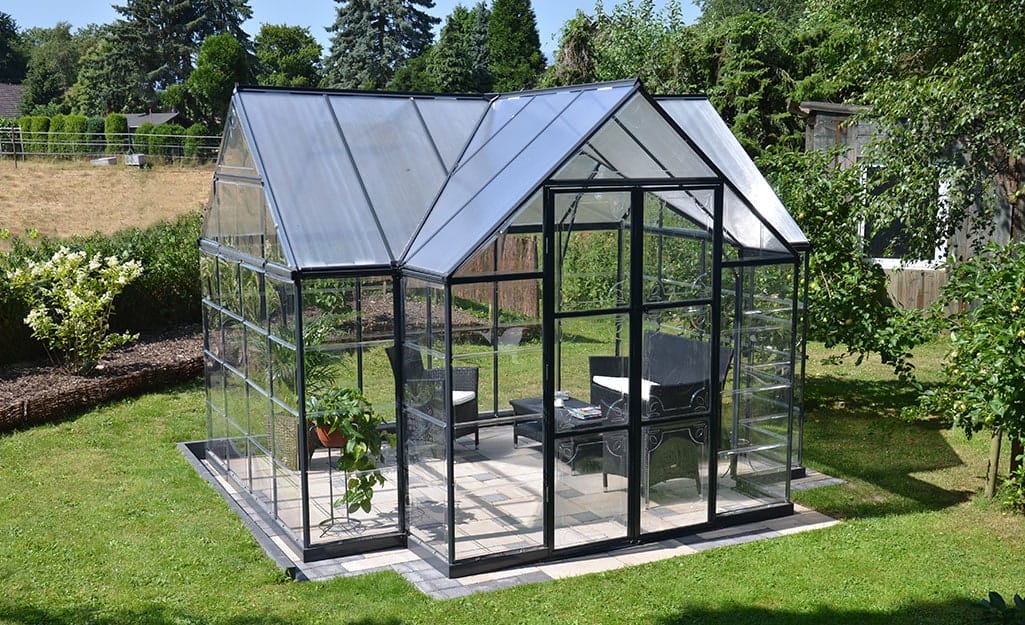 Your area is neither too cold nor overly hot. Undoubtedly, this is one of the backyard entertainment ideas to apply. The greenhouse creates a cozy ambiance while providing weather protection.
First of all, get a medium greenhouse. Don't fill it with many houseplants. Add comfortable furniture pieces to space instead.
The greenhouse offers 360-degree backyard views. Even you can use it on a snowy day with the help of aheater, pillows, and blankets. Since the view is breathtaking year-round, this idea is worth implementing.
47. Poolside Breakfast Bar for A Backyard Entertainment Space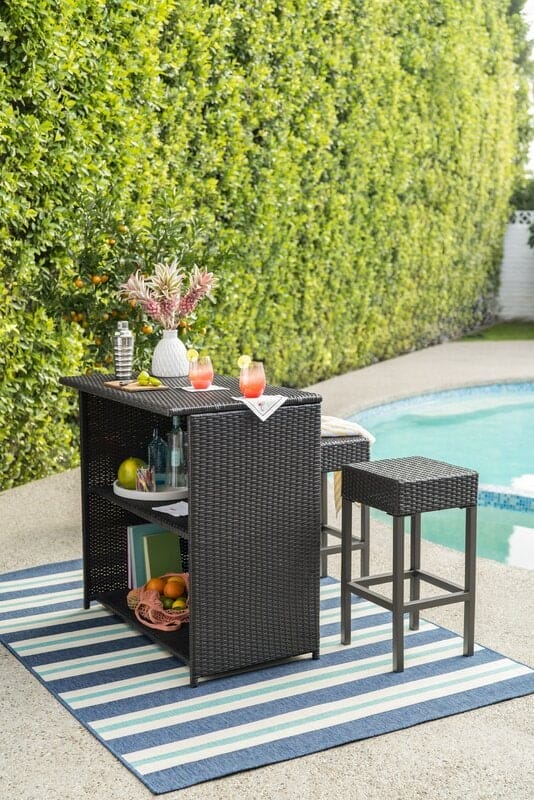 You love to spend a lot of your leisure time outdoors. Why not going all out with the backyard entertainment design? This picture is such a great example. The poolside breakfast bar evokes a resort-like atmosphere.
Here, the casual breakfast bar sits next to the inground swimming pool. It features a table and comfy stools, too. This space lets you unwind with a tropical ambiance. Consider adding a TV or some couches into the mix.
48. Backyard Entertainment Ideas with An Illuminated Plant Wall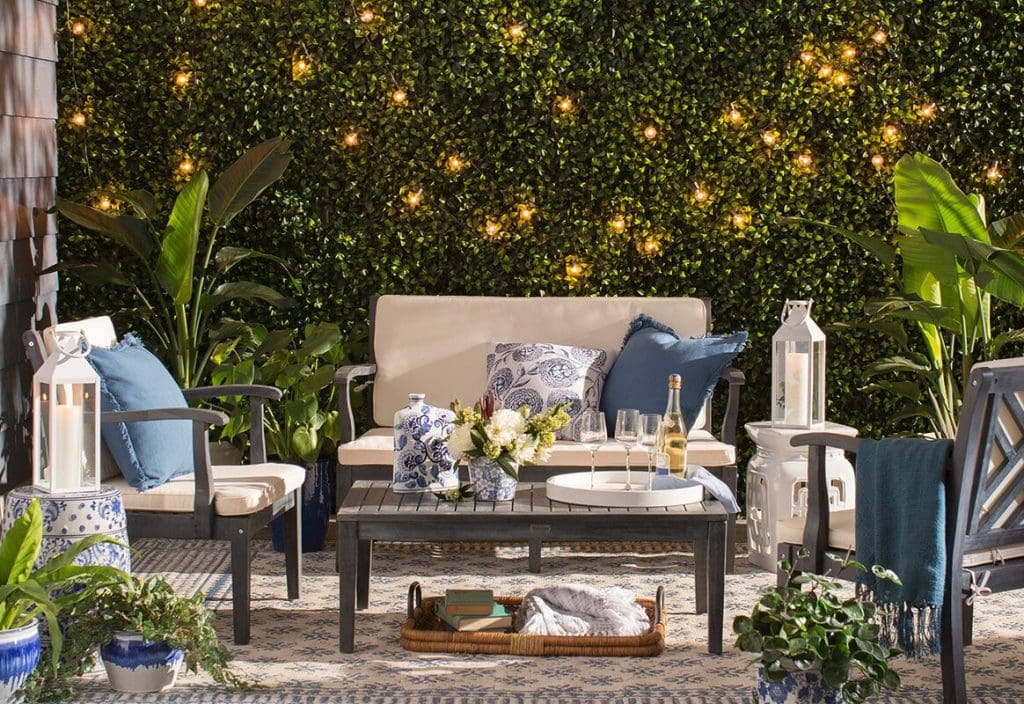 Many backyard entertainment ideas include plants. However, this spectacular wall is our favorite. As you see, it sports bushes.
The twinkling lights steal the attention and carve a quirky look. Meanwhile, greenery creates some privacy.
Furthermore, you could use a few walls to develop separate entertaining areas. These rooms are certainly ideal for relaxing and playing yard games.
49. Jacuzzi for An Outdoor Entertainment Space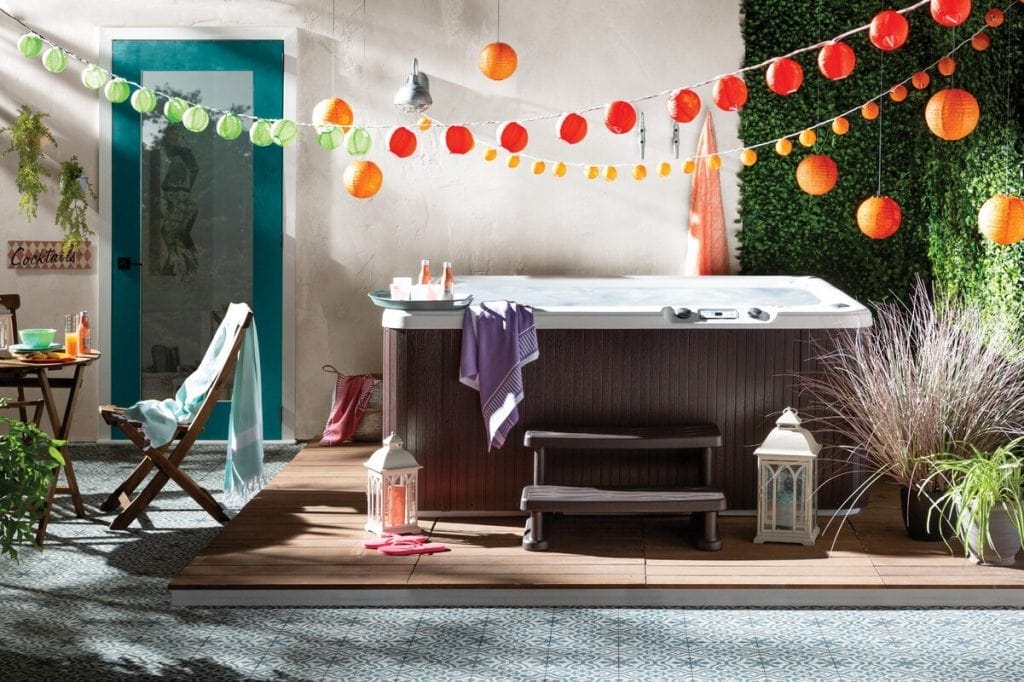 Do you want a more private outdoor space? If yes, this is one of charming backyard entertainmet ideas to consider.
Here, the yard features a dining area and a jacuzzi. They set an intimate vibe quickly.
Moreover, the jacuzzi will make you feel relaxed. Add paper lanterns or string lights to the backyard. They complete the peaceful look. Meanwhile, the hooks keep your belongings and towels off the ground.
50. Backyard Entertainment Ideas with A Chatting Area
If you aren't into an elaborate outdoor space, just steal this look. Here, the homeowner built a welcoming intimate spot only for chatting.
You can either toss in a small couch or hang a few egg chairs. They make a simple yet striking chatting area in the backyard.
51. Small Backyard Entertainment Ideas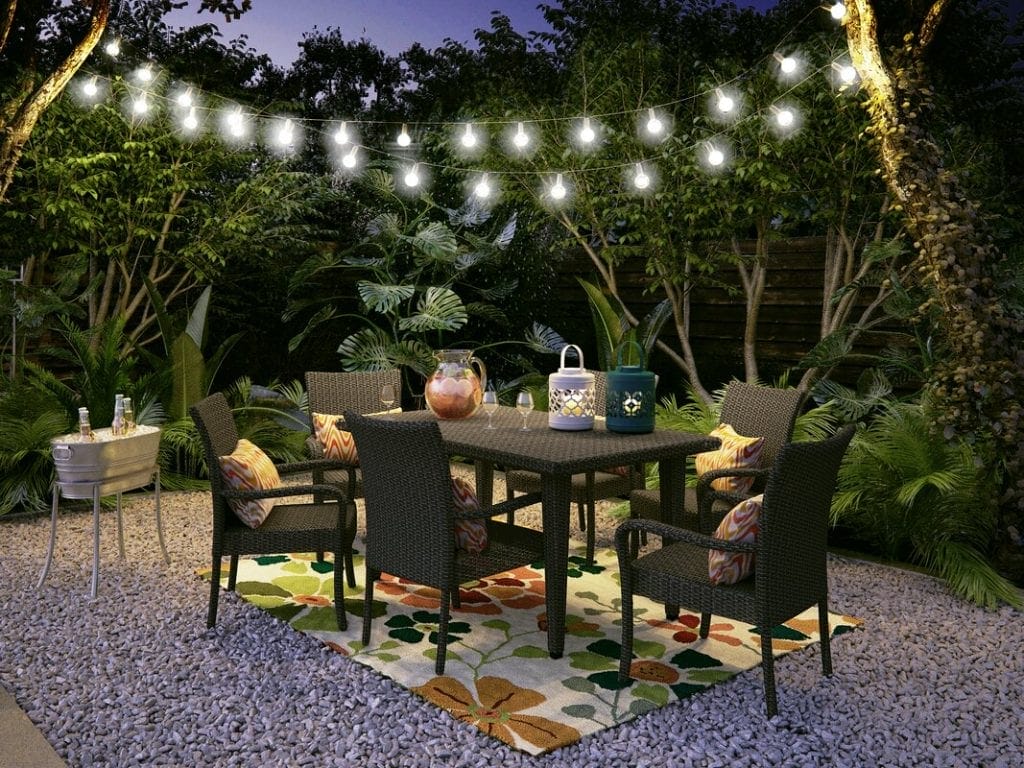 The adorable lanterns carry charm to your small backyard entertainment space. In addition, they give off a romantic ambiance.
Hang LED string lights over the outdoor dining area. They'll instantly lend your backyard a magical touch.
Speaking of backyard entertainment design, proper lighting is truly crucial. Find a good balance between not enough illumination and too much.
By applying those backyard entertainment ideas, you can create a fab and functional outdoor space. Last but not least, take lighting and design into your consideration.
Those are backyard entertainment ideas for you. If you want to realize one of the recommendations above, consider it convenient enough to fit your budget.