Having a patio, deck, garden or backyard certainly gives you an amazing feeling. This space allows you to spend time with your loved ones. If you need some privacy, look at my delightful outdoor privacy screen ideas.
Moreover, the screen protects your area from harsh sunlight, wind, and heat. Without further ado, let us get into this list. You will find a variety of screens to beautify your outdoor oasis.
1. Outdoor Privacy Fence for Hot Tub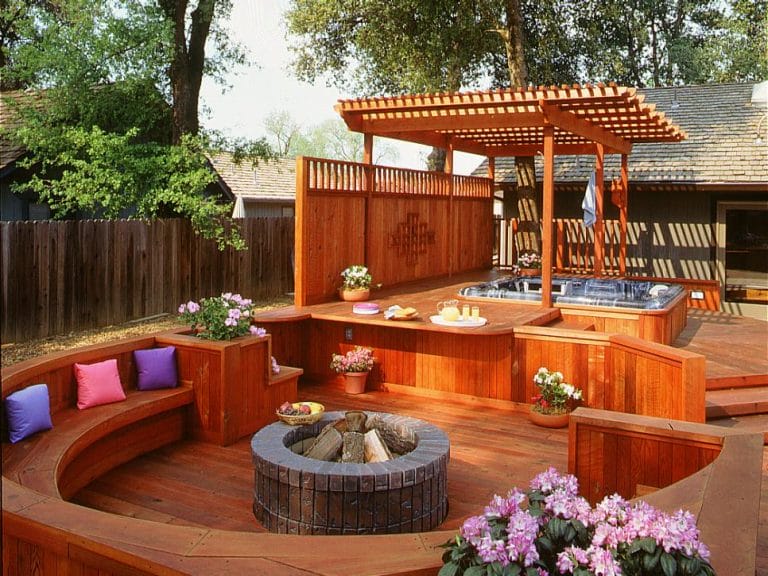 The wooden privacy wall lets you enjoy a relaxing soak in your hot tub. It effectively keeps the area from prying eyes too. Just be sure it is taller than your backyard fence.
2. Outdoor Privacy Wall Ideas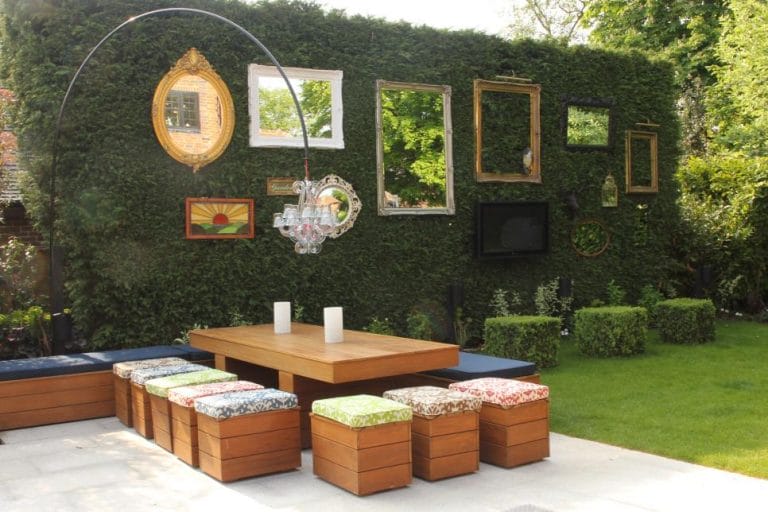 No question, this garden is such a perfect spot to throw an afternoon tea party. The artificial hedge screen serves as a gallery wall. It displays stunning mirrors, stereo, and TV.
3. DIY Privacy Screen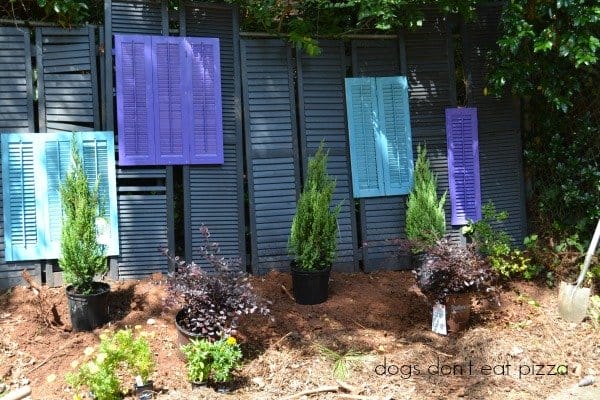 Do you have ignored shutters? Convert them into unusual privacy screen. Paint short and long shutters in different colors. Not only do they add nice details to your outdoor sanctuary, but also some boldness.
4. Outdoor Screen for Patios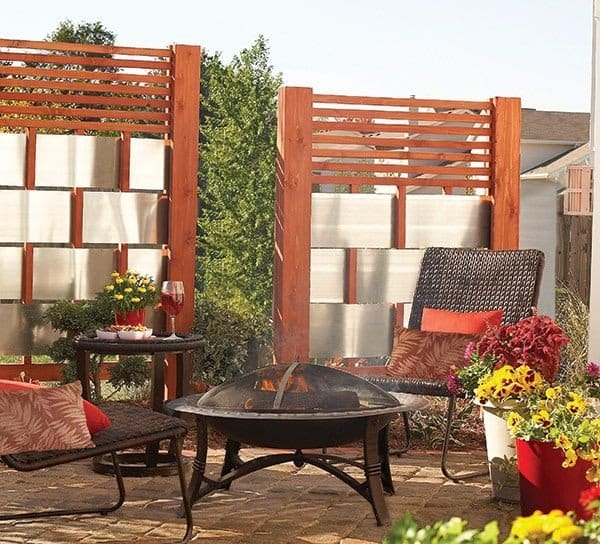 Are you up for something modern? Give this idea a chance. As you can see, the shiny aluminum panels are beautifully woven through the cherry wood screens.
5. Outdoor Curtains Waterproof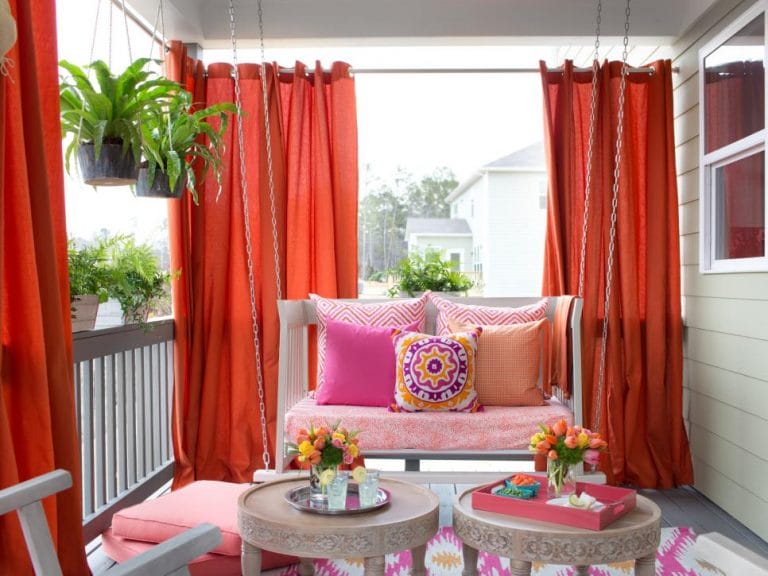 This front porch is beyond gorgeous. The rusty orange waterproof curtains offer a sense of elegance. Moreover, they help you get an intimate atmosphere. Meanwhile, potted plants are a great completing touch.
6. Bamboo Privacy Screen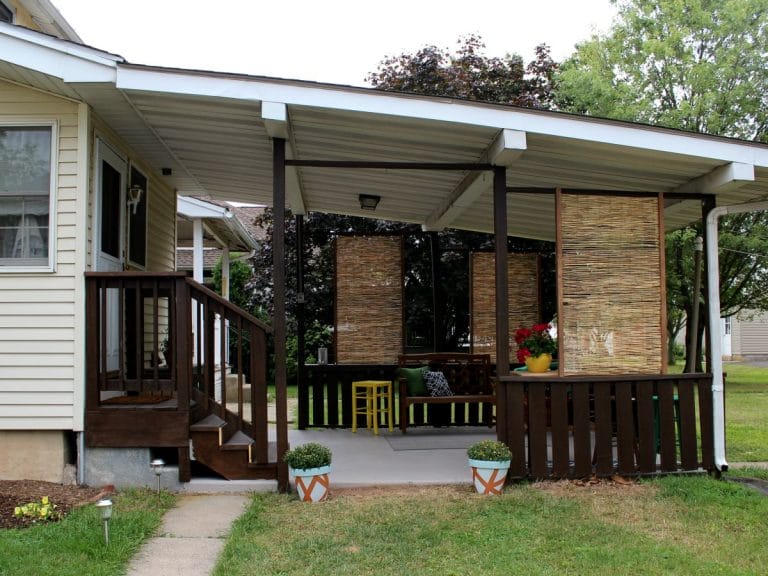 Are you tight on budget? It is no worries. Make outdoor screens out of wood strips and bamboo fencing. They are not just affordable but also spruce up the deck instantly.
7. Outdoor Privacy Solutions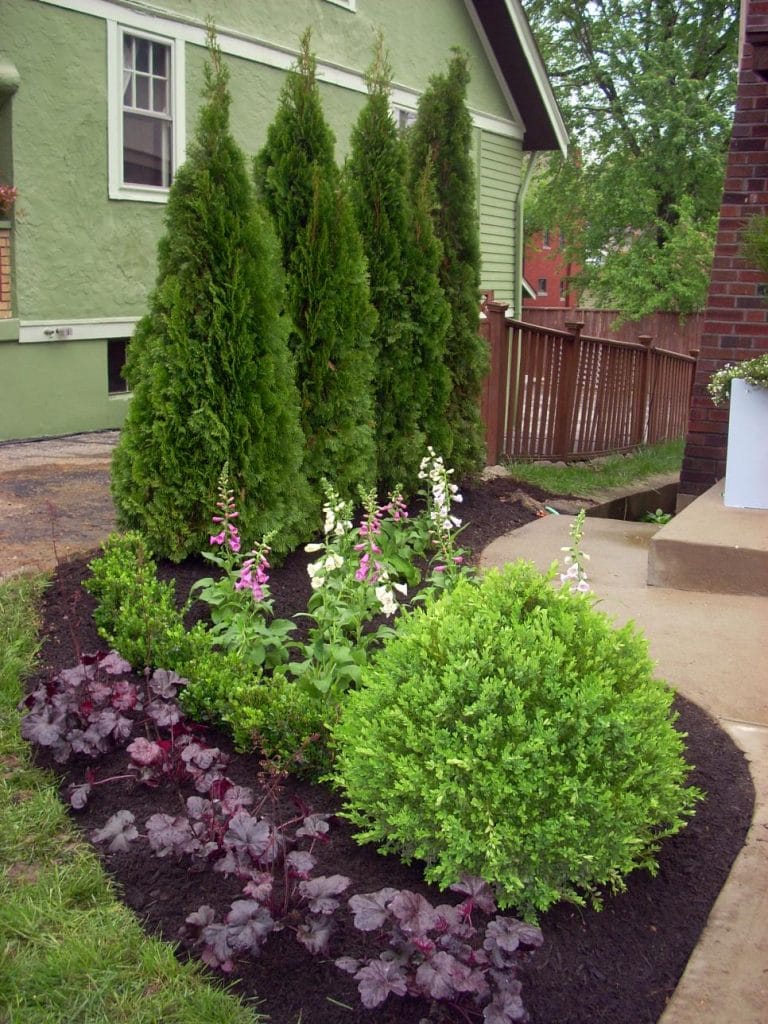 Grow shrubs in your backyard garden. They will act as the green screens and lend the space an impressive view. Not to mention, they delimit your border.
8. Outdoor Privacy Screen Panels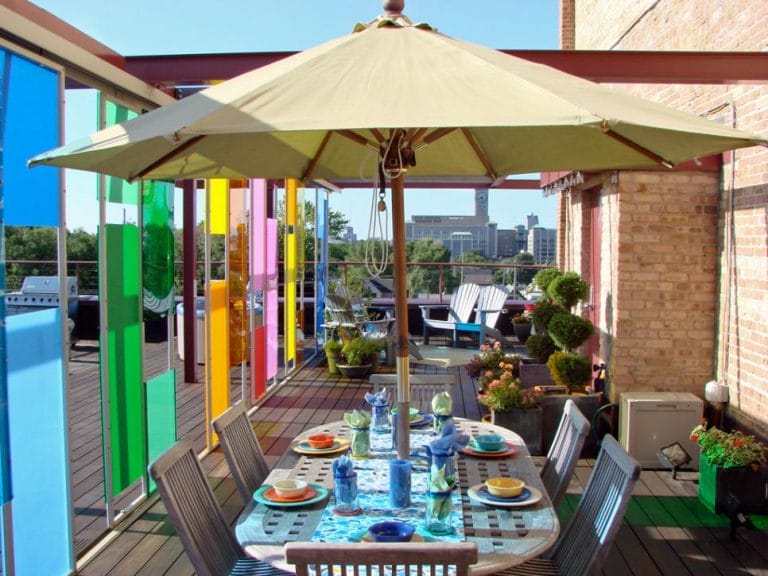 Those colorful sliding panels add a sense of versatility to the sunny rooftop terrace. In a moment, they brighten up space.
9. Privacy Fence with Planters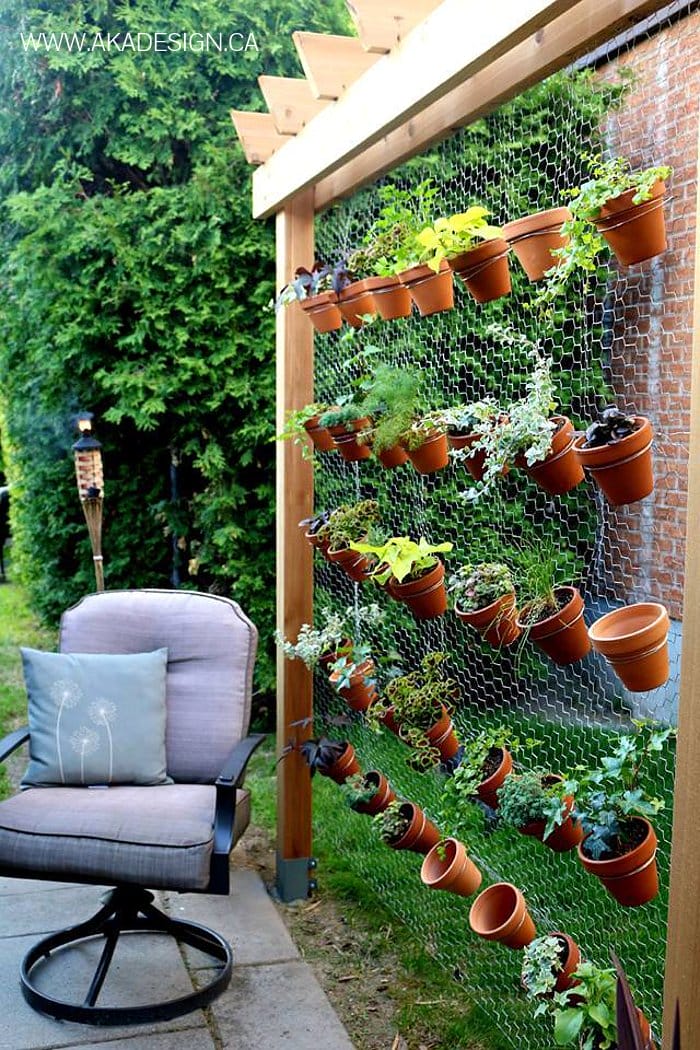 Above is a steel wire privacy fence. The terracotta planters transform it into a vertical herb garden. You can also place upholstered armchair and throw pillow to up the cozy vibe.
10. Wood Privacy Screen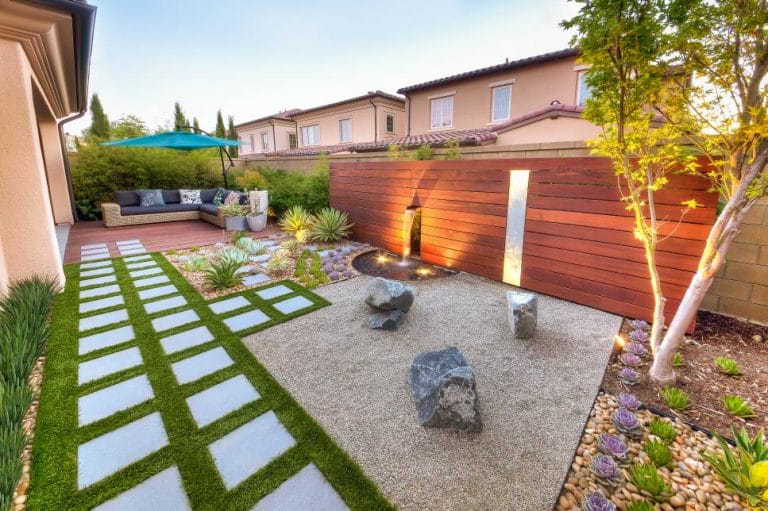 The homeowner constructed his outdoor fence using cinder blocks. To complement the patio, he installed a mahogany wood screen. The synthetic waterfall develops a Zen-like ambiance.
11. Trellis Privacy Screen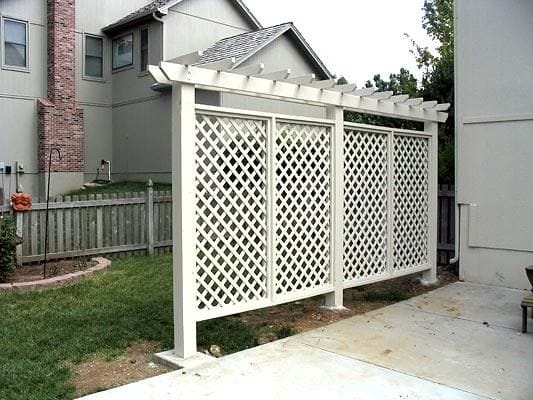 Here, the white-painted lattice panels pose as an outdoor screen. They allow in a good amount of sunlight while maintaining your privacy. Do not hesitate to plant fast-growing flowering vines for a more enchanting backyard.
12. Vinyl Privacy Screen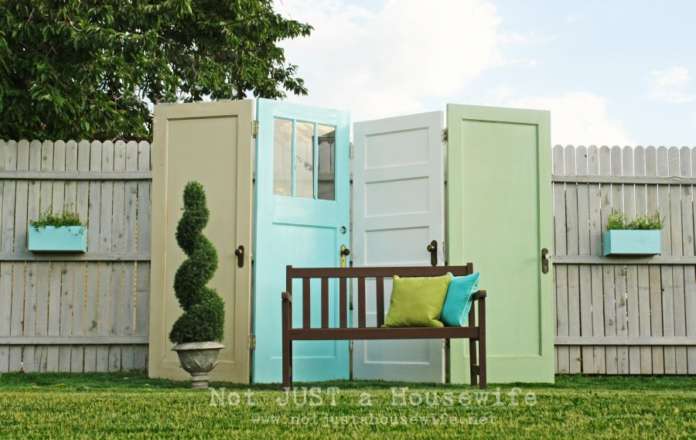 Convert your unused closet doors into a cool screen. Paint them in pastel colors to soften the look. They keep your neighbors from hearing every conversation.
13. Sunbathing Privacy Screen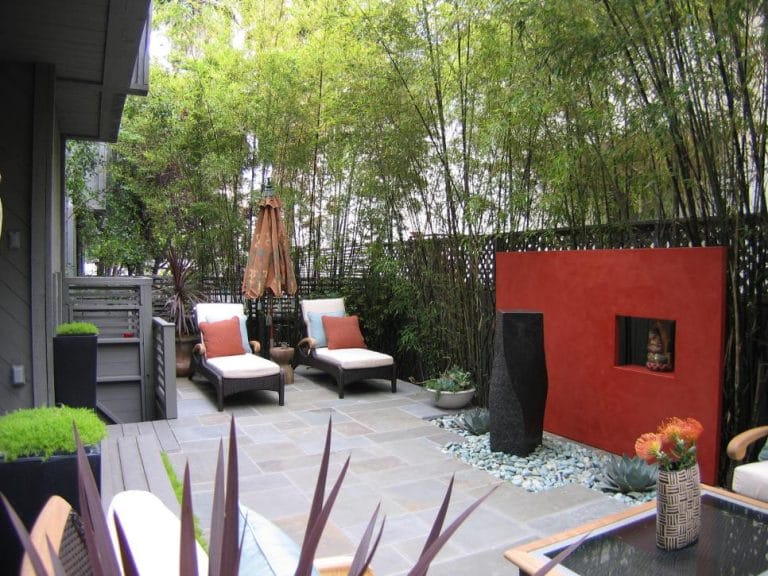 This patio features screens made out of mixed materials. The bamboo trees and wood fence generate a serene ambiance, while lounge chairs allow you to catch some rays.
14. Pallet Privacy Screen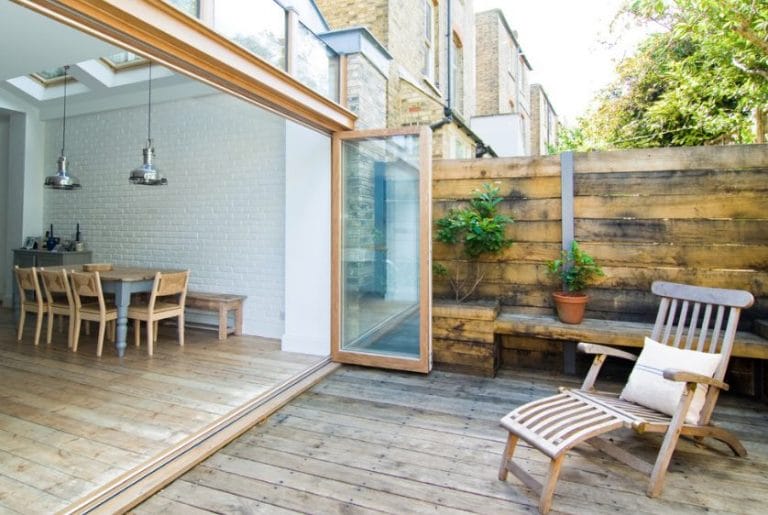 For sure, this idea is suitable for people on a budget. The reclaimed wood pallets make a rustic yet charming privacy screen. It shields your outdoor retreat from nosy neighbors.
15. Privacy Screen Fence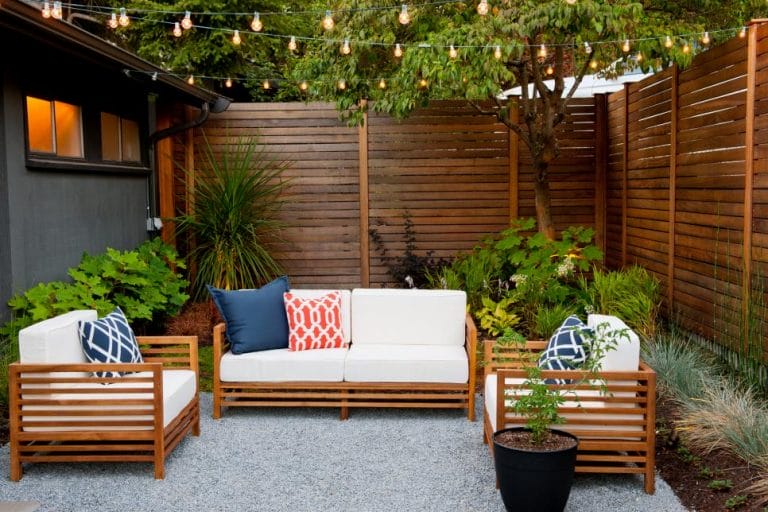 I know you do not feel comfortable when passerby and neighbors see every your move. Why do you not install a high wooden fence? Then, illuminate the space with strings of lights.
16. Privacy Planter Wall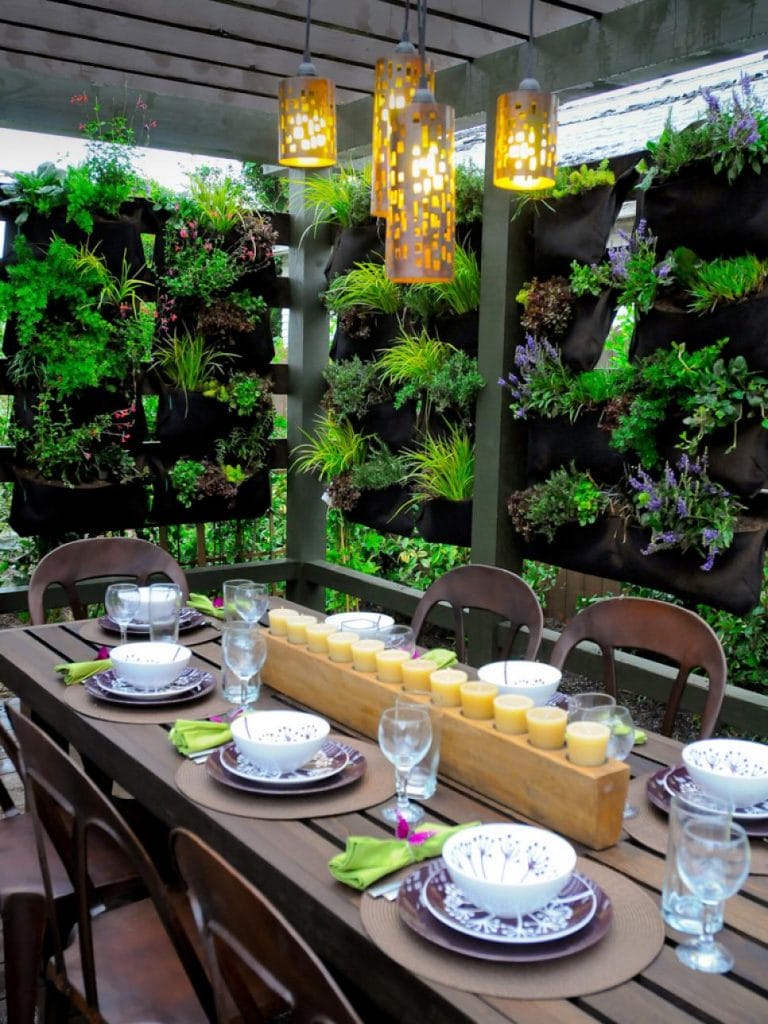 The flowers and greenery in fabric planters bring a breath of fresh air to the outdoor dining area. Meanwhile, candles and light fixtures set a romantic scene.
17. Outdoor Privacy Screen Home Depot
Pictured here is a slated screen from Home Depot. Not only does it ensures your privacy, but it also protects the seating area from wind. Besides, it lets in a dosage of natural light.
18. Floor Apartment Patio Privacy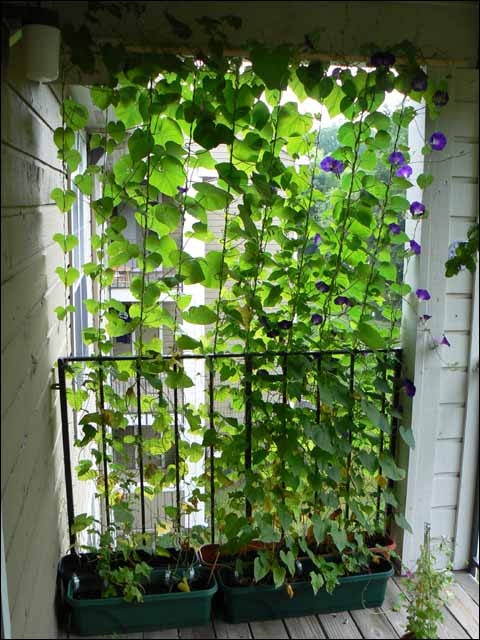 You should plant flowering vines in the planters. They will grow mesmerizingly on your patio balusters. You get shade and privacy at the same time.
19. Outdoor Privacy Screens for Decks
You hate when neighbors snoop around your outdoor retreat, right? That is the reason you should install a lattice balustrade screen. It adorns the otherwise plain deck.
20. Privacy Fence Fabric Outdoor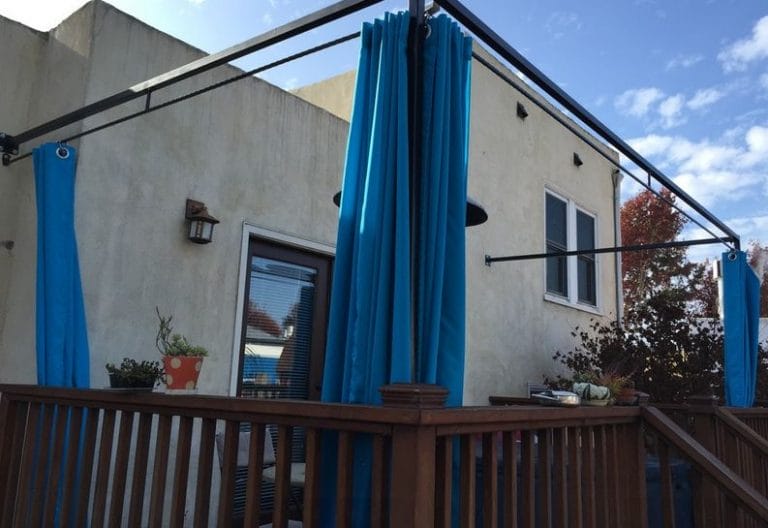 Those sapphire blue curtains help the homeowner obtain privacy from stalkers. Moreover, they take the porch from meh to marvelous. Dark wood handrail and staircase carve a welcoming vibe.
21. Tall Privacy Screen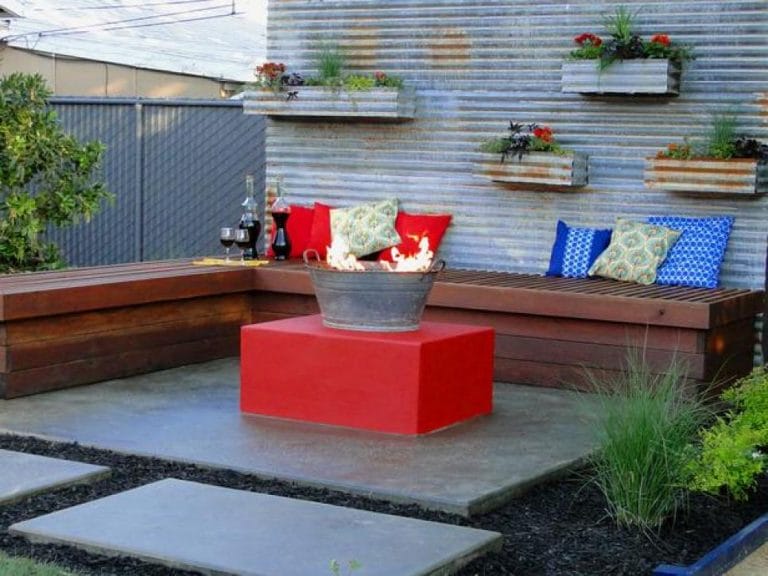 The rusty corrugated metal sheet works as a privacy screen. Since it is tall, the seating area is safe from prying eyes. Meanwhile, galvanized fire pit, metal planters, and bold throw pillows complete the patio.
22. Garden Privacy Screen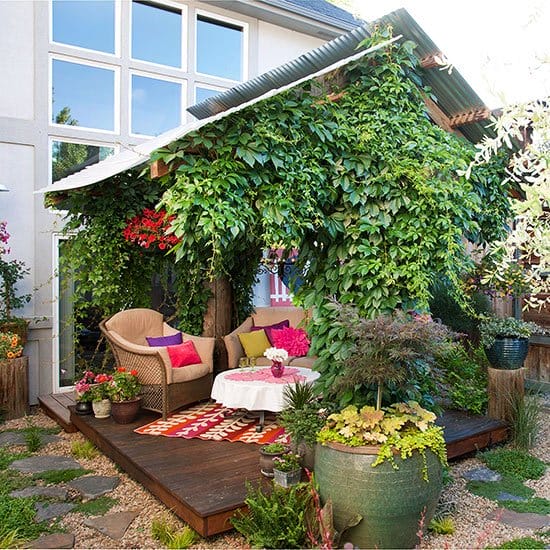 You never go wrong with the living privacy screen. It is both economical and delightful. Grow different vines, plants, and flowers to make your backyard garden more captivating.
23. Privacy Screen Roll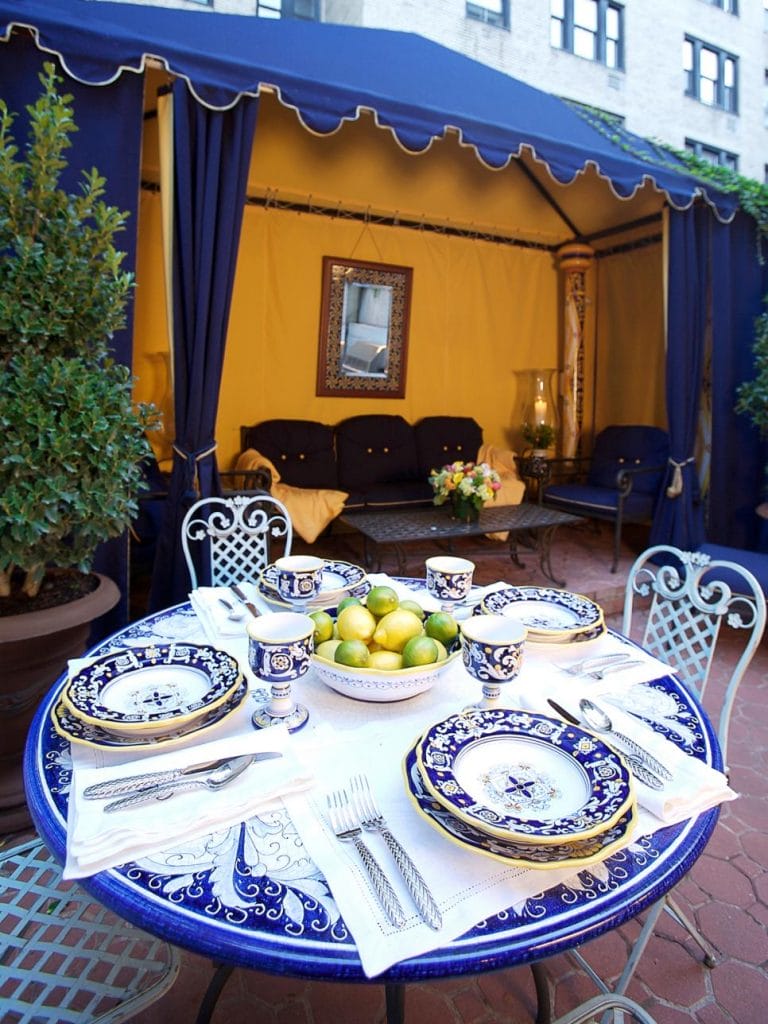 Here, the azure-and-mustard roll out awning wall kit is so pleasing to look at. There is a hanging ornament to titivate the space, too. French dinnerware and chairs convey a sense of class.
24. Backyard Privacy Ideas for Renters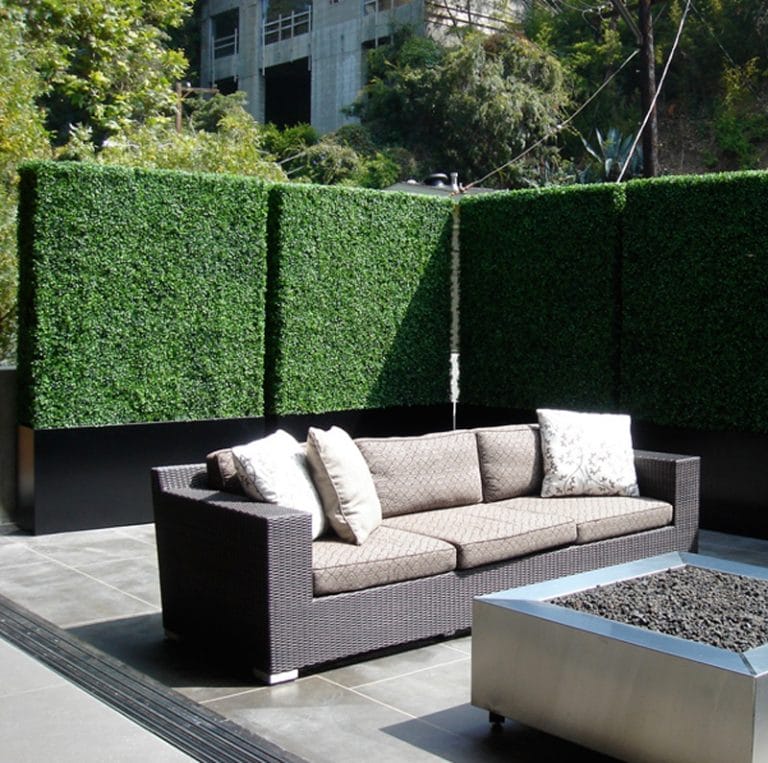 This outdoor living room is wonderfully framed with artificial hedges. They lend the seating location a modern flair as well. Metal fire pit and polished concrete floor introduce industrial charm.
25. How to Make a Fabric Privacy Screen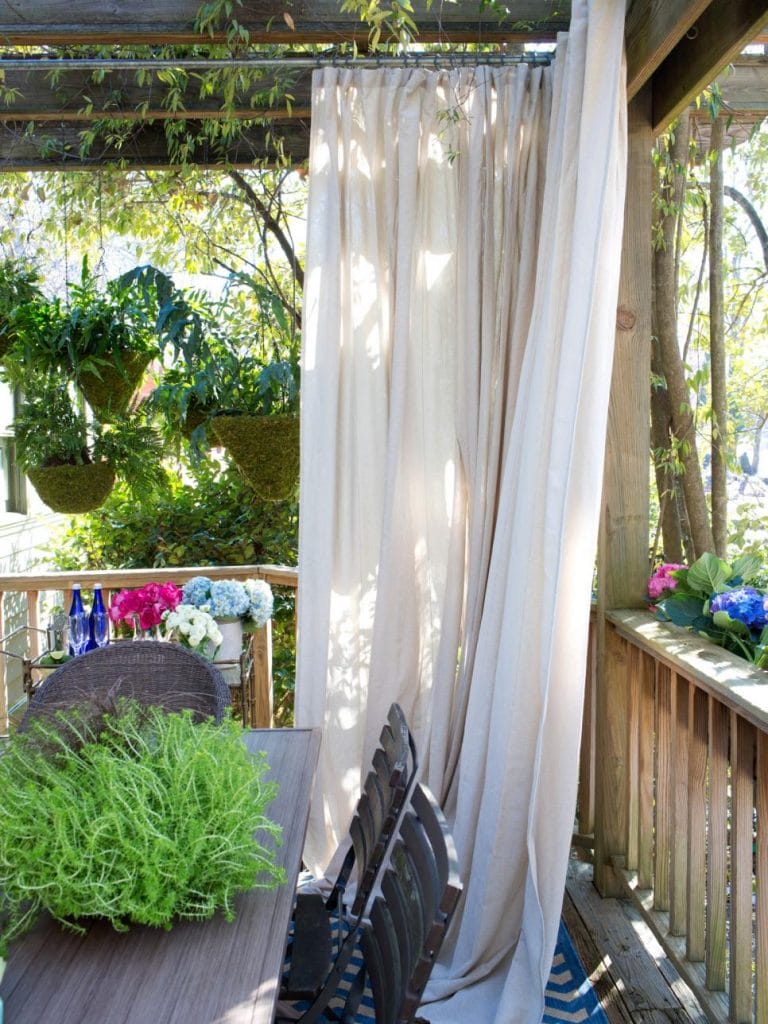 As the image shows, curtain rods are installed around the deck. The beige curtains protect from heat and cold gales. Lastly, hanging plants enliven the deck in a split second.
26. Plants for Privacy from Neighbors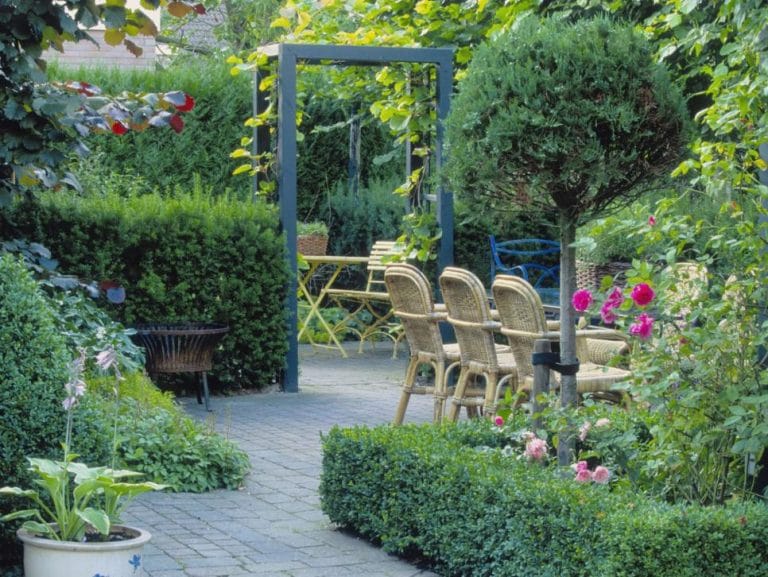 In this backyard garden, the hedges and vines double as privacy screens. Not to mention, they make the outdoor hideaway look fresh and ravishing. There is no annoying neighbor anymore.
27. Decorative Outdoor Privacy Screens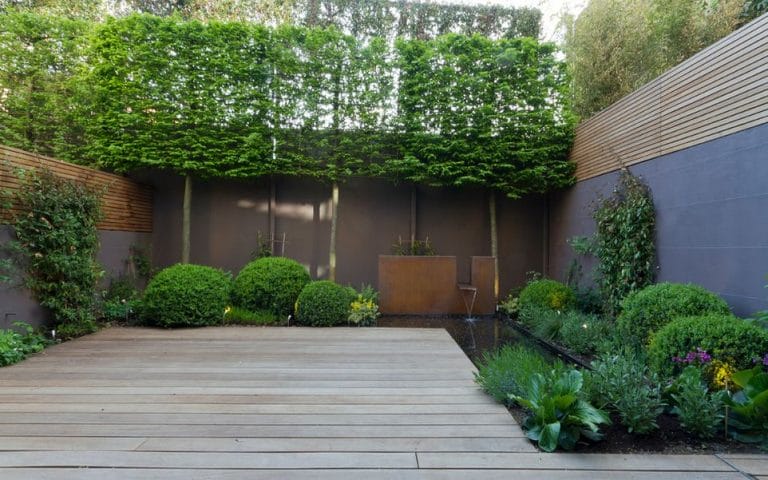 Concrete walls and horizontal wood panels are utilized to create awesome privacy screens. The plants breathe new life into space, while the feature of water exudes a tranquil air.
28. Privacy Plants in Pots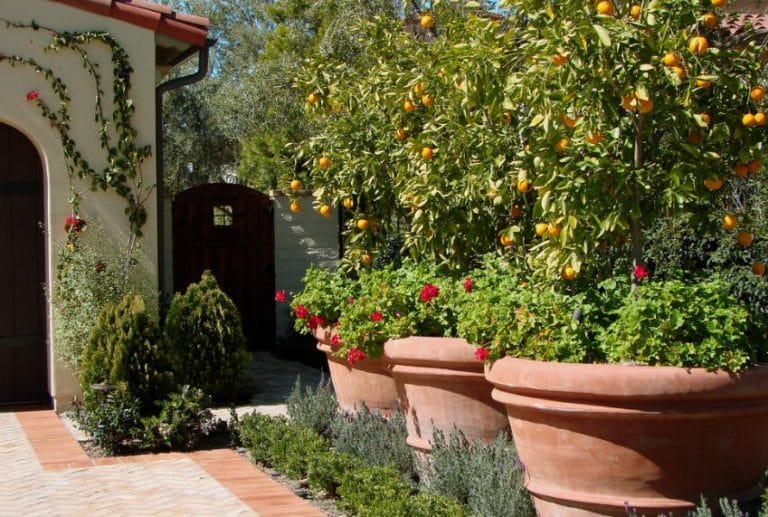 This backyard is so enthralling, thanks to fruit trees and potted plants. They evoke an organic feel and jazz up the outdoor area at once. Besides, they protect you from obnoxious neighbors.
No matter how fantastic your patio or deck is, you surely still want to acquire privacy. After reading those outdoor privacy screen ideas, which one you like the most?
***
Whether you want to prevent your inquisitive neighbors from peeping or beautify your backyard, these lattice privacy screen ideas will allow you to get them both.
Therefore, keep on reading to learn how to use latticework for fencing and partition.
29. Japanese-Style Lattice Privacy Screen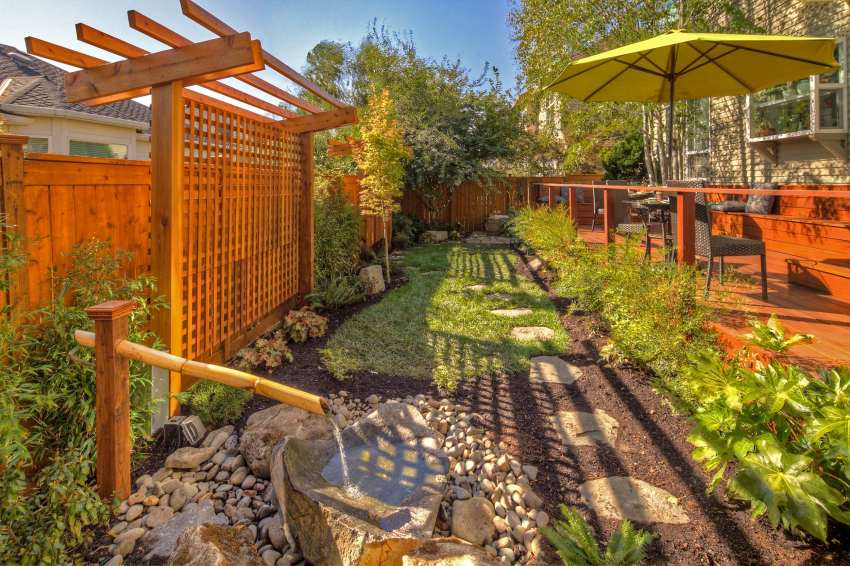 This backyard lends the serenity of a Japanese garden. It does not look complicated since all you can see here are some shrubs, moss, and bamboos. The water feature is also the hallmark of this style.
In addition to a pond and rocks that are typically found in a zen garden, this backyard also has a lattice privacy screen to decorate the space.
Many traditional houses in Japan use a reddish-brown hue for the exterior. Therefore, painting your privacy screen this color will incorporate an instant hint of a Japanese garden.
To accentuate the style, you can install three or four pergola rafters that significantly protrude from the beams.
30. Lattice Privacy Screen and Divider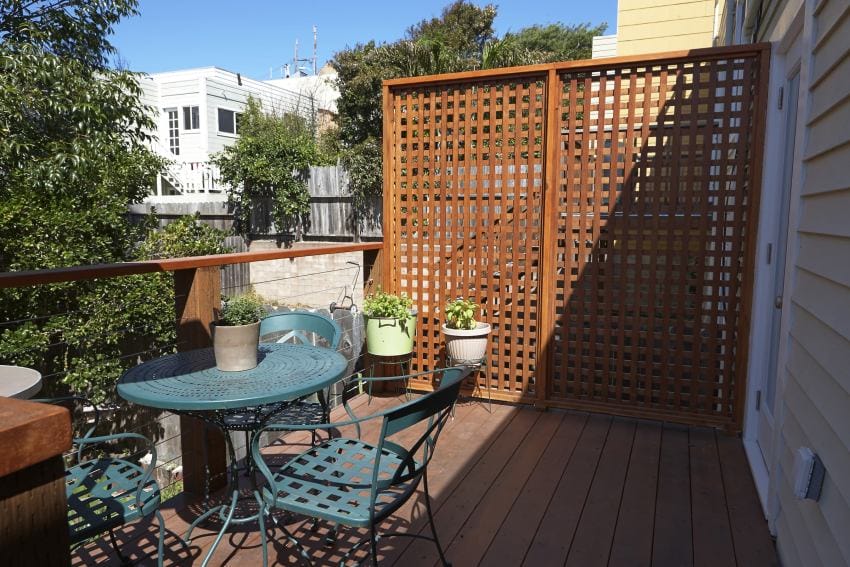 If you have a spacious deck and want to split it into two different functional rooms, try a lattice privacy screen that doubles as a partition. By doing this, you can separate the outdoor living area with a mini garden.
You can also use this idea to stash away the unwanted view, like a condenser unit, so that you can enjoy shooting the breeze with your friend or family without being distracted by it.
31. Latticework Garden Fence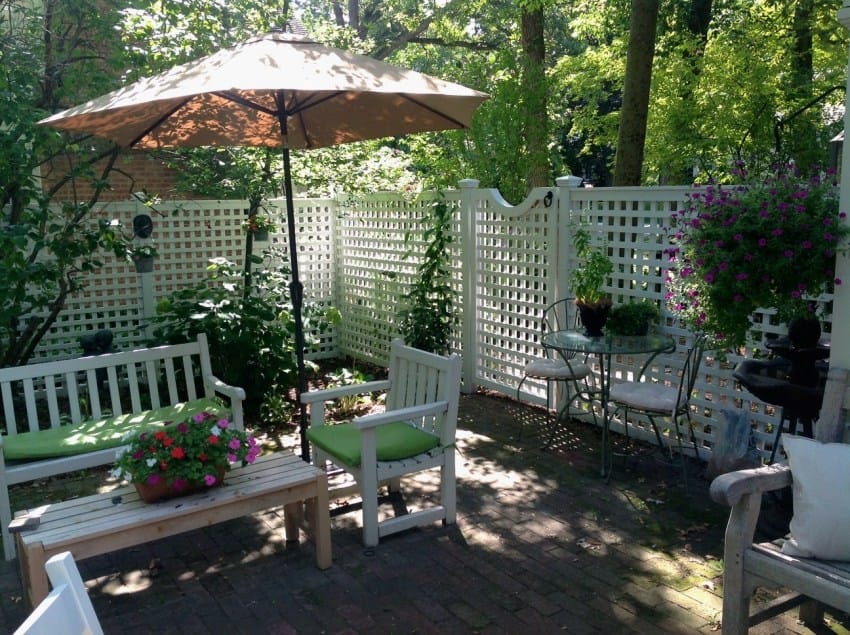 Many people enjoy growing some flowers or vegetables in their backyard.
However, wildlife or your neighbor's dog can ruin everything and wreak havoc in the garden. You can overcome this problem by surrounding it with a fence.
You can find many fence materials you can choose from. If you want to protect the plants without completely blocking the view, try opting for a lattice privacy screen.
Latticework is renowned for being eminently versatile. Thus, it can make a great fence. It creates a clear border around your backyard while driving away dogs and wildlife.
Additionally, it also has holes that allow you to see what is outside.
32. Bring in Asian Vibes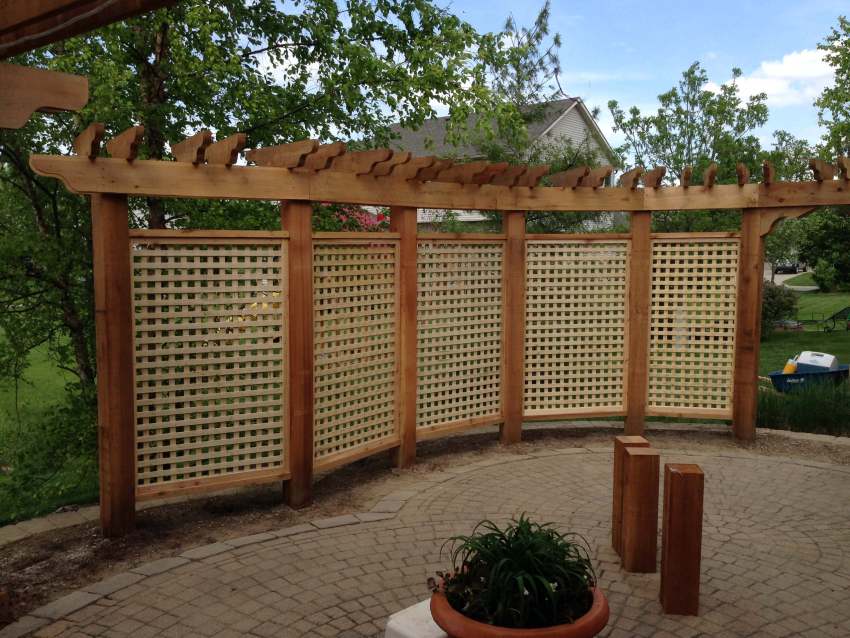 Some latticework has a hint of Asian style, just like this one. The frames and the wood stripes do not share the same tones, but they still come in brown hues.
The frames feature a darker brown hue while the wood stripes come in a lighter tone, which makes them look in contrast to each other.
Besides the color hues, the rafters attached on top of the beam play an essential role in carving out Asian vibes.
33. Help Them Climb Up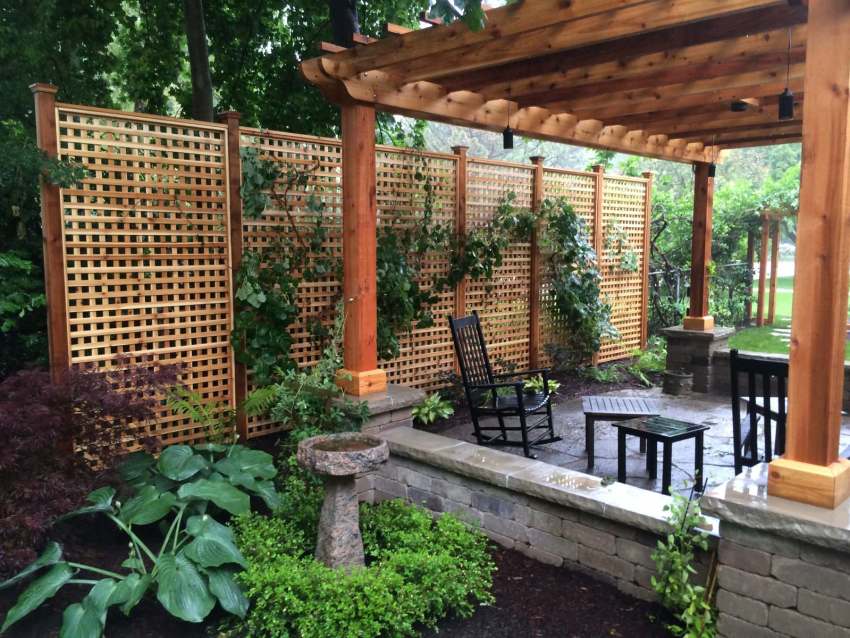 Some vine crops, like cucumbers, melons, and squash need support to thrive well and produce straighter and cleaner fruits. Therefore, you had better invest in a lattice privacy screen.
Many people use latticework as a trellis for vein vegetables to thrive well. It turns out that it can do more than merely supporting those edible plants.
You can even train a decorative variety, like ivy and rose, to climb up the privacy screen and create a dramatic backdrop for your patio.
34. Cozy Corner Relaxing Area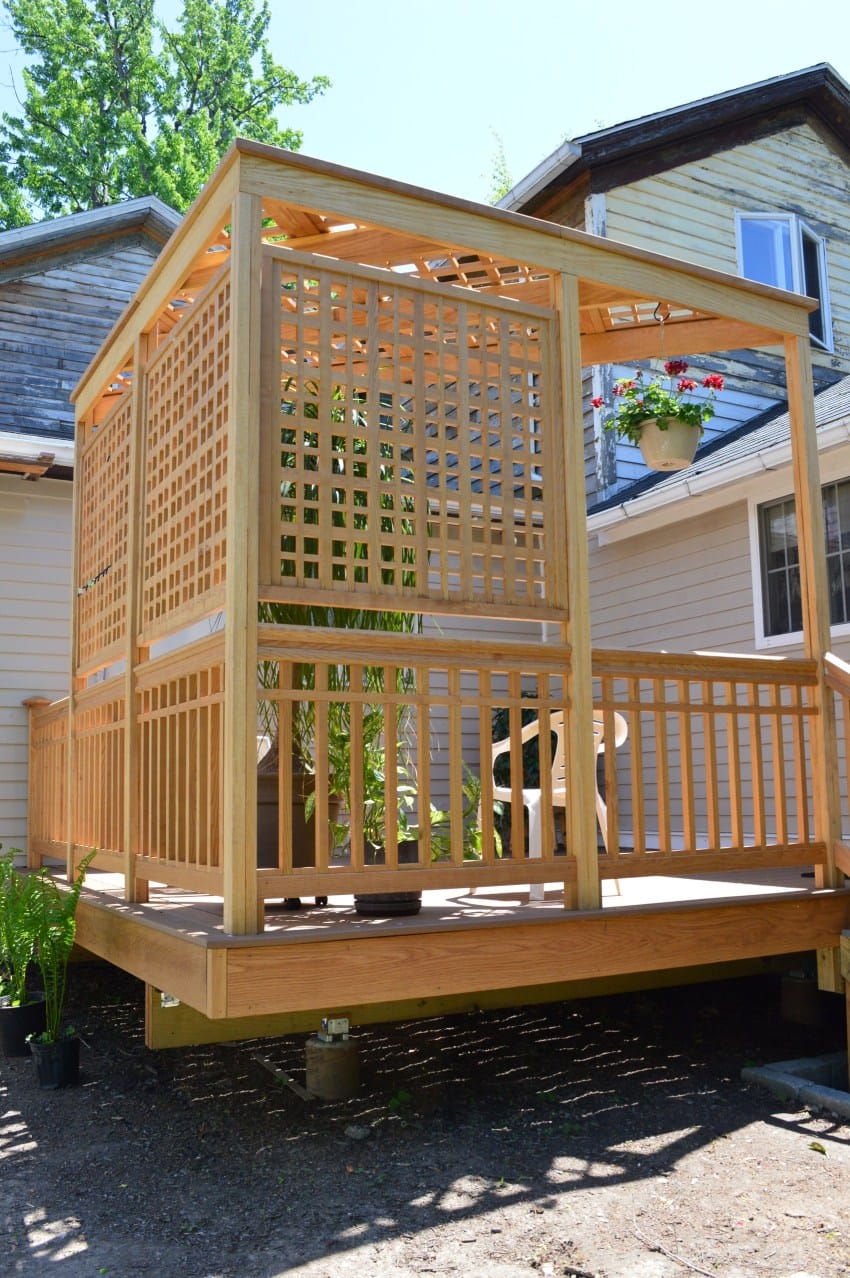 This small deck offers a cozy place to relax or a garden. Since it is raised a few feet off the ground, you need to install a railing that can prevent you or any user from falling.
At the corner of the deck are some lattice privacy screens that top the railing. They provide sufficient shade for you and your plants.
More importantly, the deck cover allows you to hang a few planters to jazz up space.
35. Latticework and Hydrangeas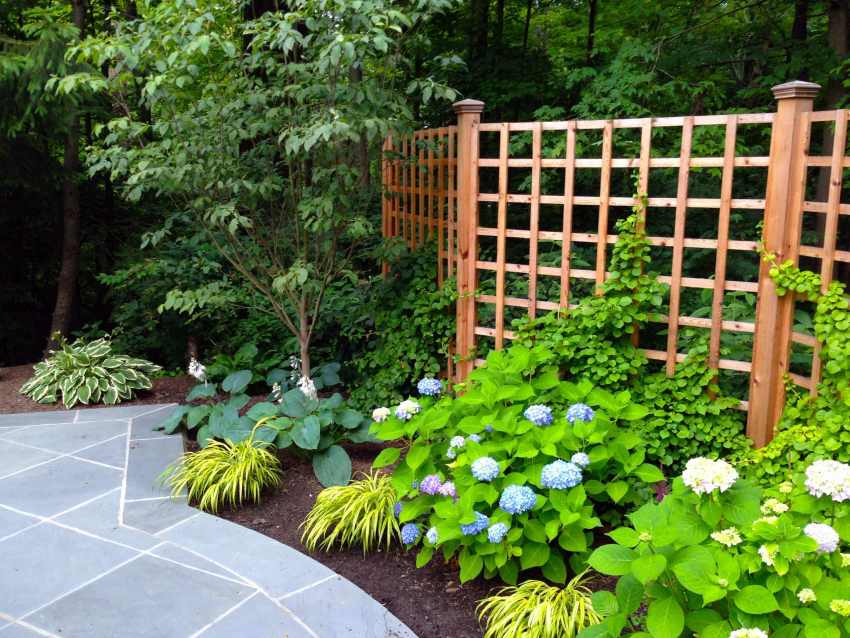 Apparently, latticework is not always about making a great privacy screen. Surprisingly, it can be an excellent addition to your flower garden.
This backyard offers dramatic landscaping with latticework standing among the plants. It makes an alluring backdrop for the green leaves that climb up and wrap around the wood stripes and post.
You can also find some hydrangeas with their subtle colors. Since the latticework comes in a natural wood finish, it will not overlap the flowers. In fact, it can make the plants look more standout.
36. DIY Lattice Privacy Screen on a Budget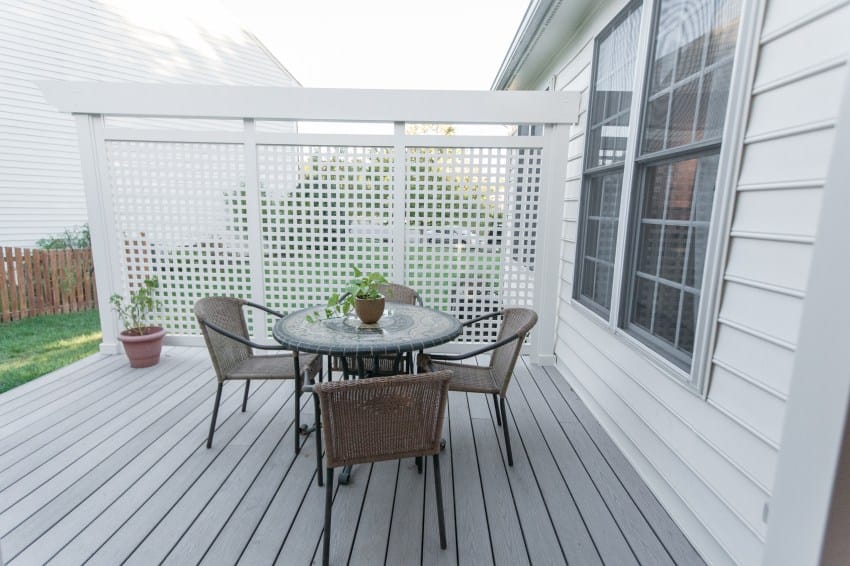 A lattice privacy screen always provides a simple yet intriguing pattern to any space including your deck.
Actually, you can find it easily in a home-improvement store. However, if you are a DIY addict, making latticework will be a fun challenge for you.
To make this privacy screen, you need to get some 1×4 pine boards and paint them white. They are going to be the support frame that holds the lattice.
You will also need to purchase three lattice panels. It will better if you can get them at a garage or estate sale because you will be able to salt away some money.
Next, lay your frame down on a flat surface, place the lattice panel on top of it, and put down the other frame. It is like making a sandwich. Screw them from the inside to the outside to secure them together.
You will want to do it from the inside out to hide the flaws made by the screws.
37. Effortless Lattice Privacy Screen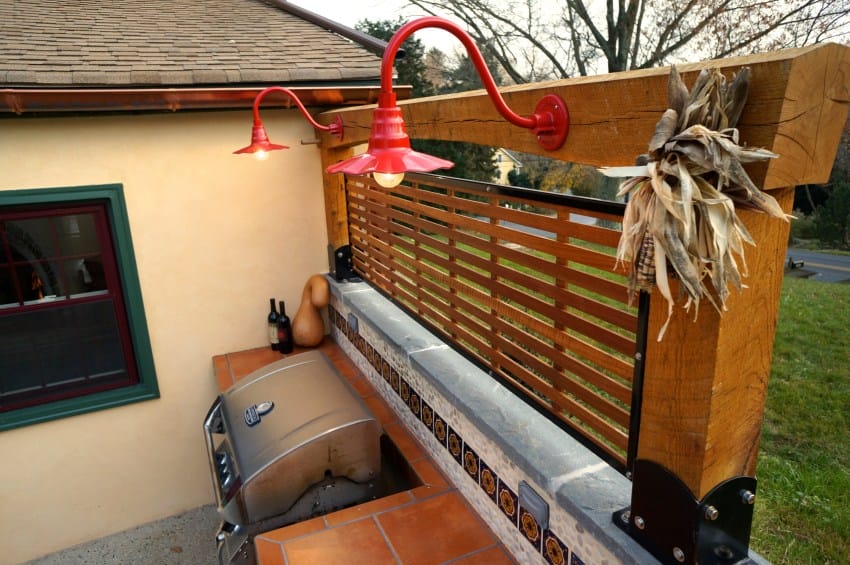 Most lattice privacy screens feature diamond-like or square patterns. However, this one is a bit different because the horizontal stripes of wood lie on the vertical ones, creating some rectangular holes.
The frame not only holds the lattice screen but also two red sconces that illuminate the countertop. An accessory made of corn husks and feathers embellishes it nicely.
38. Luxurious Cabana with Lattice Privacy Screen
Having a cabana by the pool is such a terrific idea. It is a perfect entertaining area for relaxing while enjoying the soothing ambiance created by the water.
This cabana is simple with a pergola as the shade and latticework surrounding it form a privacy screen.
Half of the structure remains open to give you easy access and allow you to enjoy the best view. You do not want to see things through small holes, do you?
Since the front part remains open, you can hang white sheer curtains. They will complement the lattice privacy screen well.
39. Staggered Deck Railing
People usually make a deck by raising the structure a few feet off the ground. It can be quite high sometimes. Therefore, installing the railing that surrounds it is necessary to prevent any unwanted accidents.
This deck, for example, features a lattice privacy screen that acts as the railing. Instead of installing the panels that have the same size, you can vary the heights to create a staggered pattern.
You can find two different kinds of latticework in this deck. The first one that you see as the railing has vertical and horizontal stripes.
The other has a garden-spaced pattern with much smaller holes to conceal the messy area underneath.
The latticework installed under the deck not only cover the unwanted area but also prevent pets or wildlife from sneaking into it.
40. Hanging Lattice Privacy Screen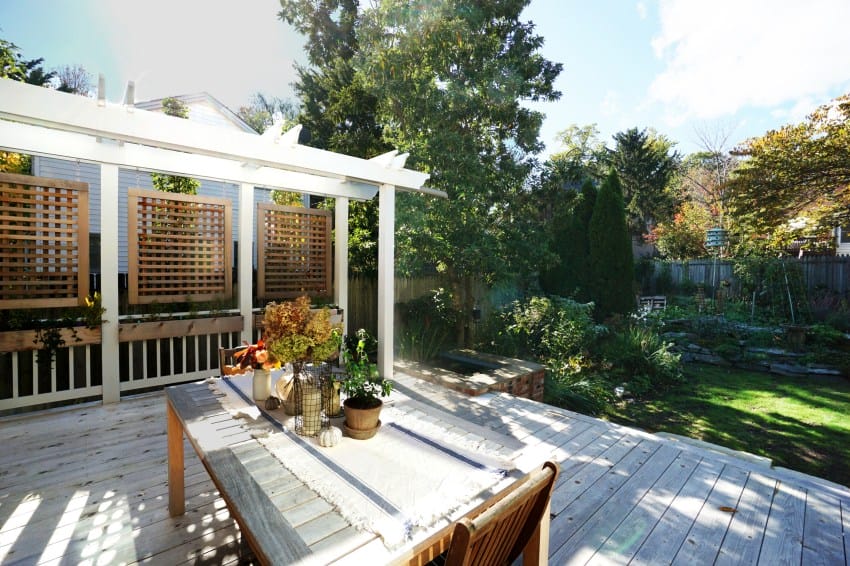 This is another way to install a lattice privacy screen. Instead of attaching it to the pergola's posts and beams, you can just hang it from the beam, just like what you can see here.
Moreover, this backyard features a white pergola on one side of the deck. Chains suspend square lattice panels from the beams, allowing them to hang loosely above the railing.
41. Chinese-Style Lattice Privacy Screen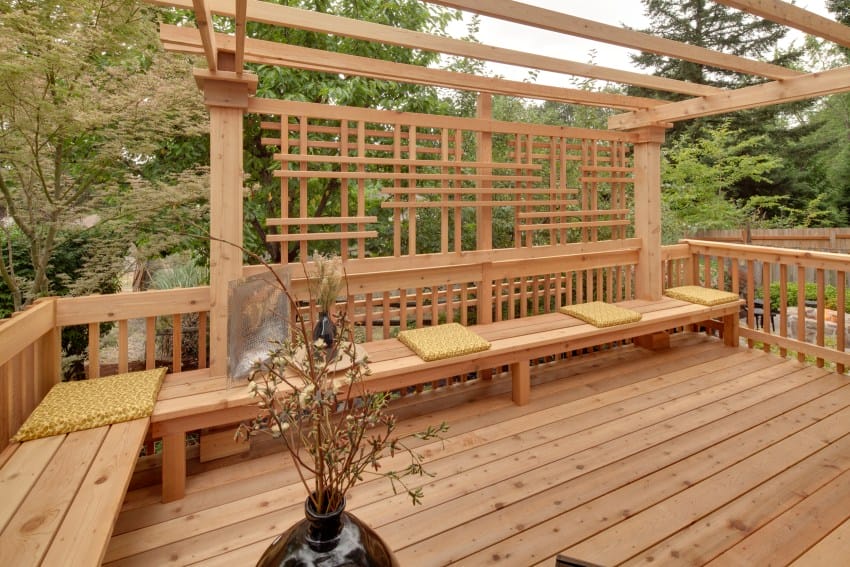 This latticework is unique. It can bring Asian vibes to your backyard instantly.
The privacy screen stands between the built-in bench and railing. What makes it have a distinctive look is the pattern made by the stripes of wood.
Unlike the typical latticework that tends to feature steady spacing between the stripes of wood, it has a much larger gap, which does not provide the ultimate privacy. But you can gain it by training vines to climb up it.
42. Lattice Privacy Screen Idea for an Outdoor Shower Room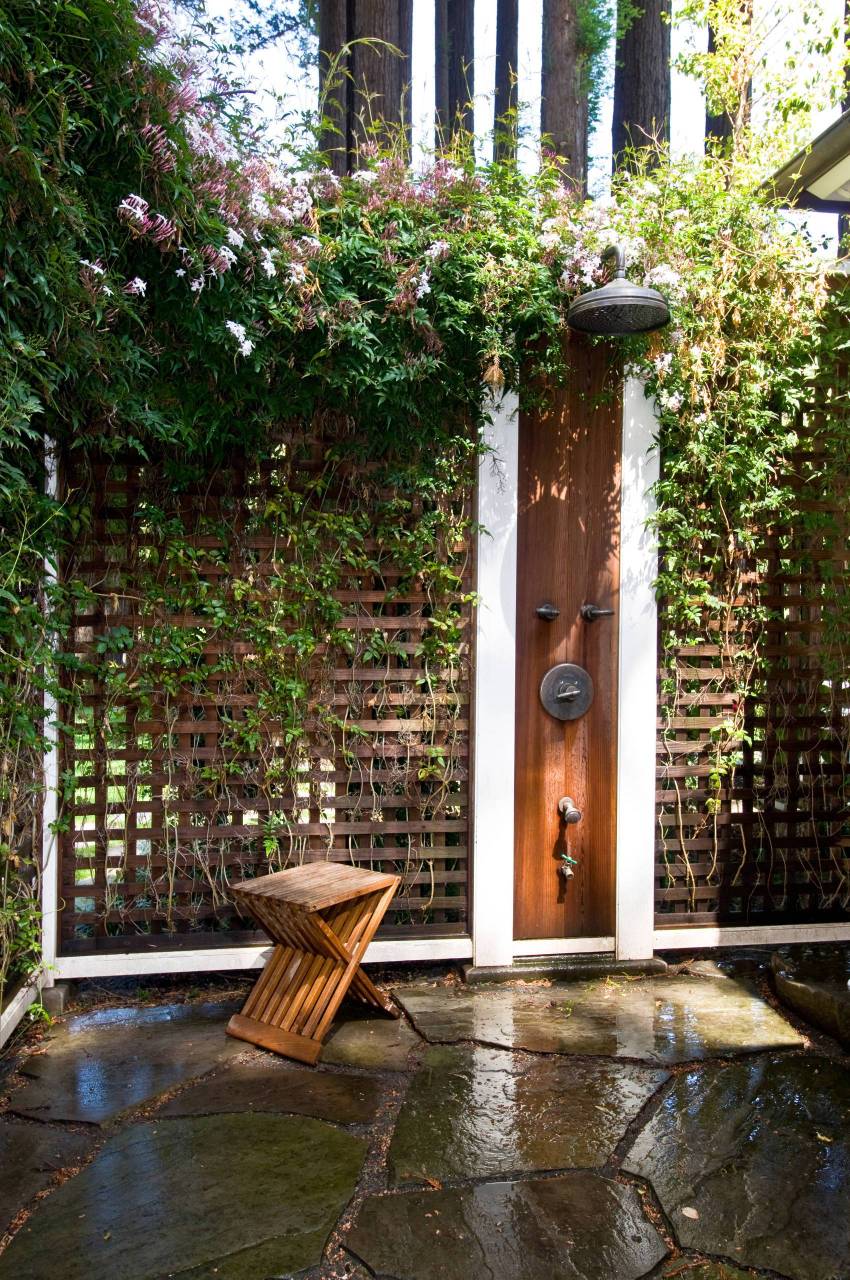 Taking a shower outdoor can be a thrilling idea. However, what makes it become atrocious is the presence of a peeping Tom. Thinking about it gives you goosebumps, doesn't it?
You can build an outdoor shower room, but you also have to find the best privacy screen.
Consider installing latticework as the privacy screen for your outdoor shower room. You might think that it is not a good idea because some panels have large gaps.
The spacing of latticework varies. If your privacy screen features quite big gaps, you can train vines to climb up it and eventually cover it. As a bonus, you can get a dramatic backdrop when taking a shower.
43. Create the Ultimate Privacy
Talking about the spacing of lattice panels, this one is a perfect example of a screen that can give you the ultimate privacy.
This pergola has vertical and diagonal stripes that tend to make an excellent grid pattern.
To add more privacy so that you can sit back and relax comfortably without worrying about inquisitive neighbors, you can layer another latticework over the first one.
By overlapping a lattice panel with another one, you can prevent anybody from peeping into your backyard. They cannot even see you at all.
44. Lattice Privacy Screen and Shade
Relaxing on a patio when the weather is nice is worth a try. You need to go outside even though it is just your backyard. You deserve a breath of fresh air.
But if the sun is too glaring and the weather is too hot, you may need to consider installing a patio cover.
The materials used for a shade vary depending on your need. If you do not want to block the light completely, you can opt for latticework.
This patio looks great with latticework as the shade that alleviates the glaring sun and a privacy screen. The natural finish complements the brick wall well, creating rustic flair.
45. Modern Lattice Privacy Screen Idea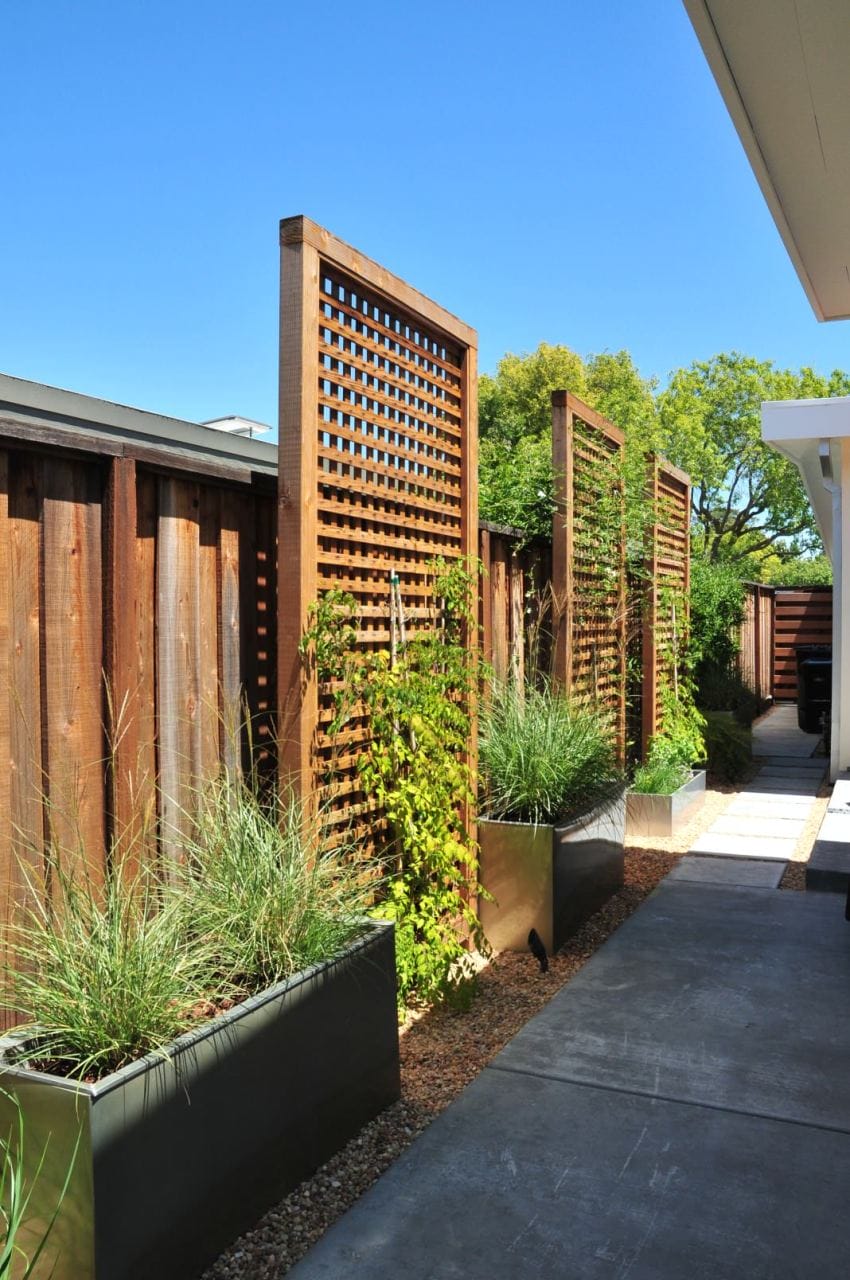 Lattice privacy screens are not only suitable for contemporary houses. They can also fit in with a modern style.
In this modern backyard, the lattice panels do not act as a screen that provides more privacy for the homeowner because this is the role of the wooden fence. The screens become epic trellis that support climbing plants.
Simple design and a symmetrical look are the heart of a modern home. That is why you can see the organized arrangement of the planters and lattice screens here.
To highlight the climbing plants, you can install one or two spotlights in front of each panel.
46. Simple Above-Ground Pool Railing
Some people prefer an aboveground pool to an in-ground counterpart because it is easy to install and remove.
Another benefit of it is its low maintenance, which makes it more preferable and affordable than the other one.
As the name suggests, an aboveground pool protrudes a few feet from the ground, which makes it a bit dangerous. Kids can slip and get into a severe accident. But do not worry! You can always find a solution to this problem.
To prevent any accident, you can install lattice privacy screens around the pool deck. These panels will be a safety fence for any user.
47. Rustic Lattice Privacy Screen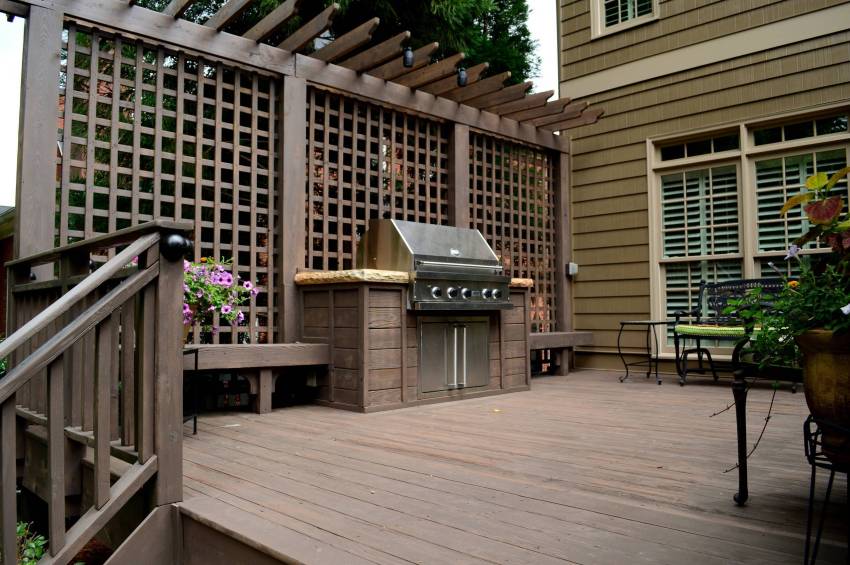 Matching is a common thing that you can do to create a united look.
This deck, for example, features a lattice privacy screen that has the same color tone as the railing and flooring, which makes them look as if they flow into one being.
48. Elegant Deck with Latticework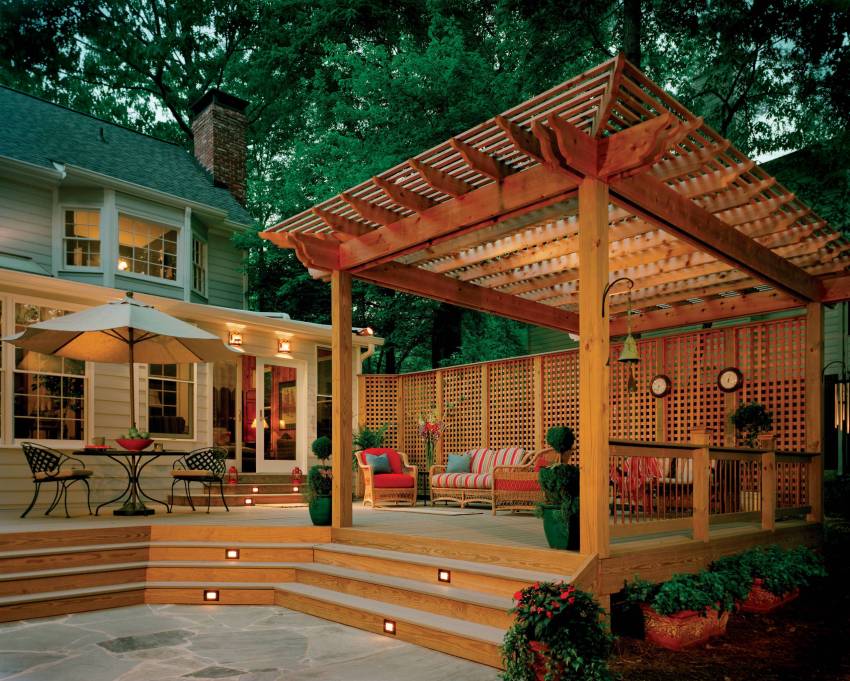 This is another example of creating a coherent look by matching the privacy screen with the deck. Although it is simple, it can give a significant impact on space.
49. How to Decorate Backyard with Latticework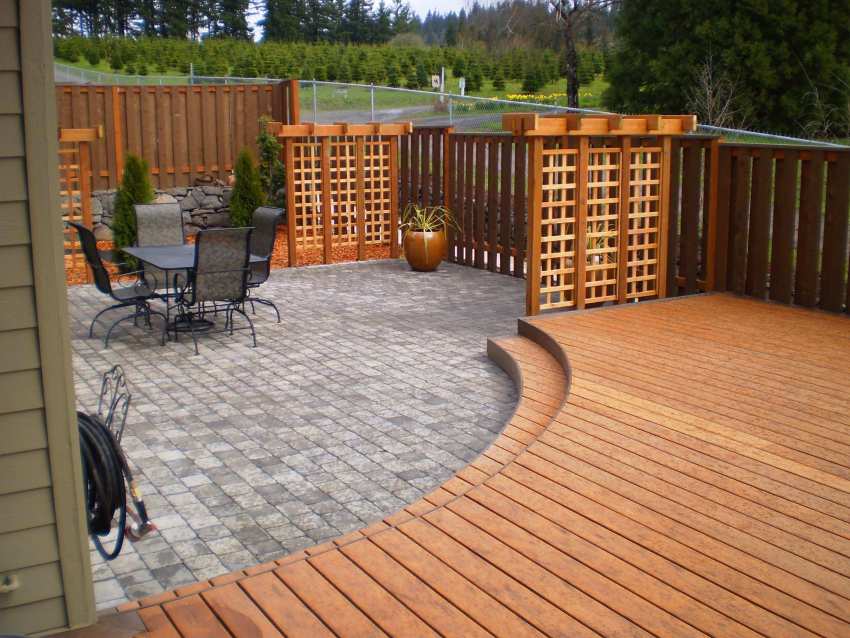 The versatility of latticework allows it to be more than just a privacy screen. Apparently, lattice can be a decorative item that spruces up your deck or patio, too.
This backyard shows you how it works. As you can see, the lattice screens provide an epic transition from the deck to the mulch. They are like gates to different areas.
A lattice privacy screen is more than just a panel that prevents other people from seeing what you are doing. It can be a part of your backyard landscaping or even improve the curb appeal of your home.
***
There is nothing more amazing than having a stunning garden, patio, or backyard. This place allows you to enjoy quality time either with your loved ones or alone. Without an outdoor privacy screen, you certainly can't get relaxed.
Regardless of your house's size, you should place the screen on certain spots such as in the hot tub, patio, swimming pool, or outdoor kitchen. Here, I have rounded up some cool outdoor privacy solutions. The list includes DIY screens, too.
50. Vines for More Privacy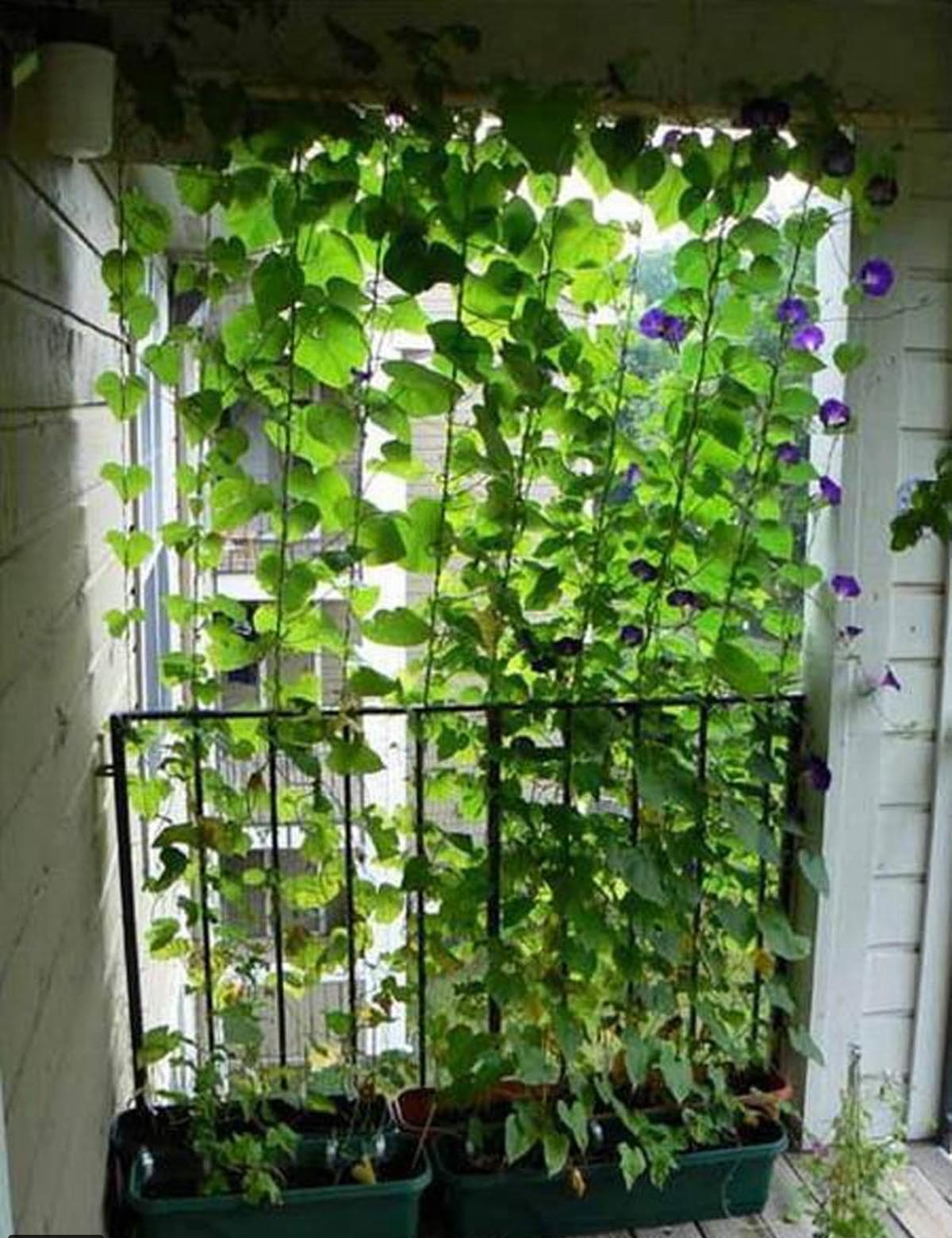 If you love plants, give this idea a go. Here, flowering vines beautifully cover the metal privacy screen. They fill the eyes with green and blue colors. Keep in mind it would take months for them to grow as well as shield the screen entirely.
With the right procedure, the project is certainly doable. You can also bend your growing vines on either patio roofing or pergola. Once they have grown up, prune the plants to your desired shape and height.
51. Balustrade Wooden Screen Design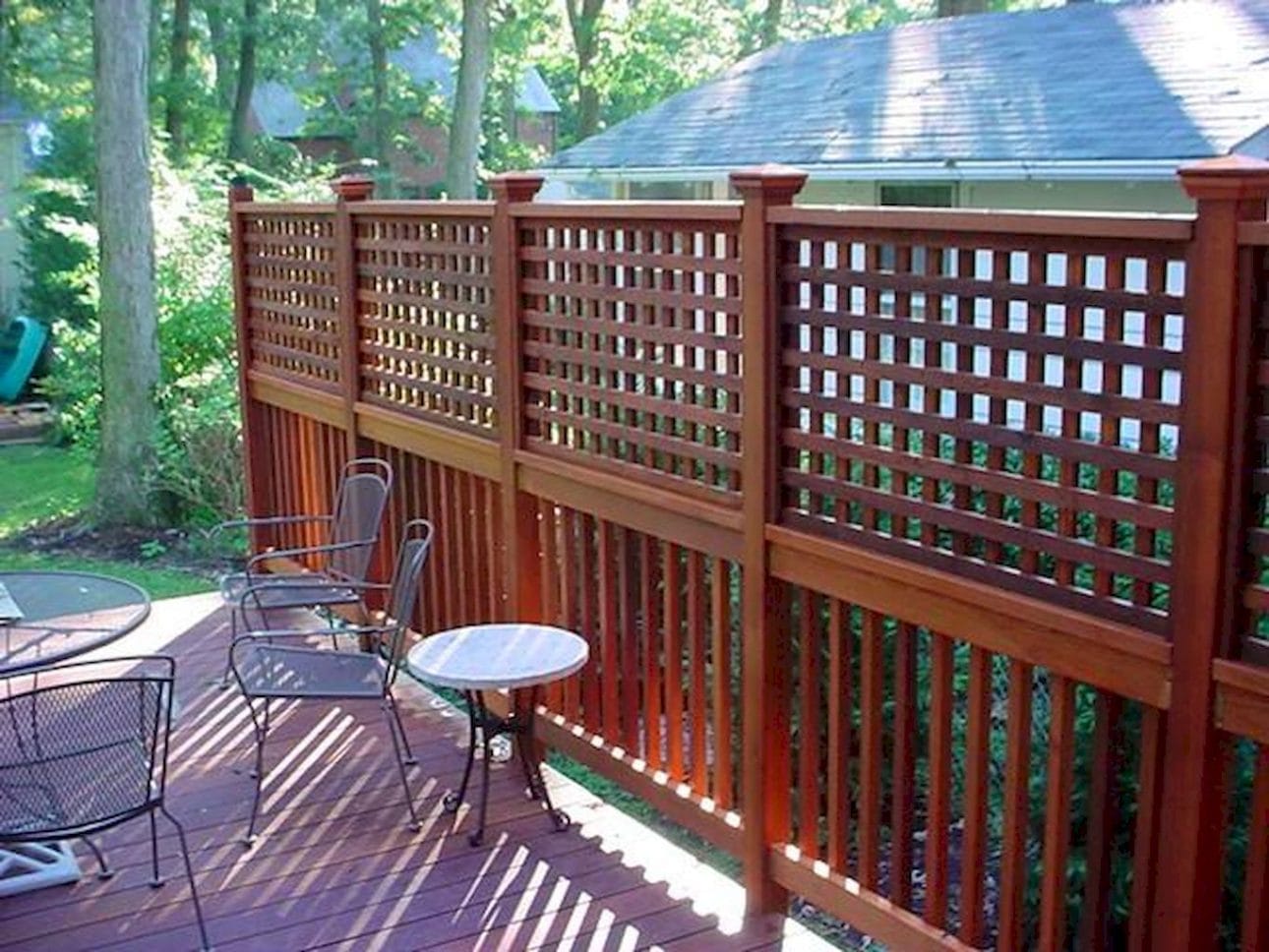 As the image shows, the homeowner added a comparable outdoor screen to her deck. In no time, it makes the area cozier and inviting. Moreover, it is such a stylish way to get some privacy from nosy neighbors.
Speaking of panel installation, it is truly easy. Be sure you have a small wooden fence around your deck. You can put tables and chairs on the deck. It would be better if the furniture units come in neutral colors.
52. Privacy from Neighbor Ideas with Curtains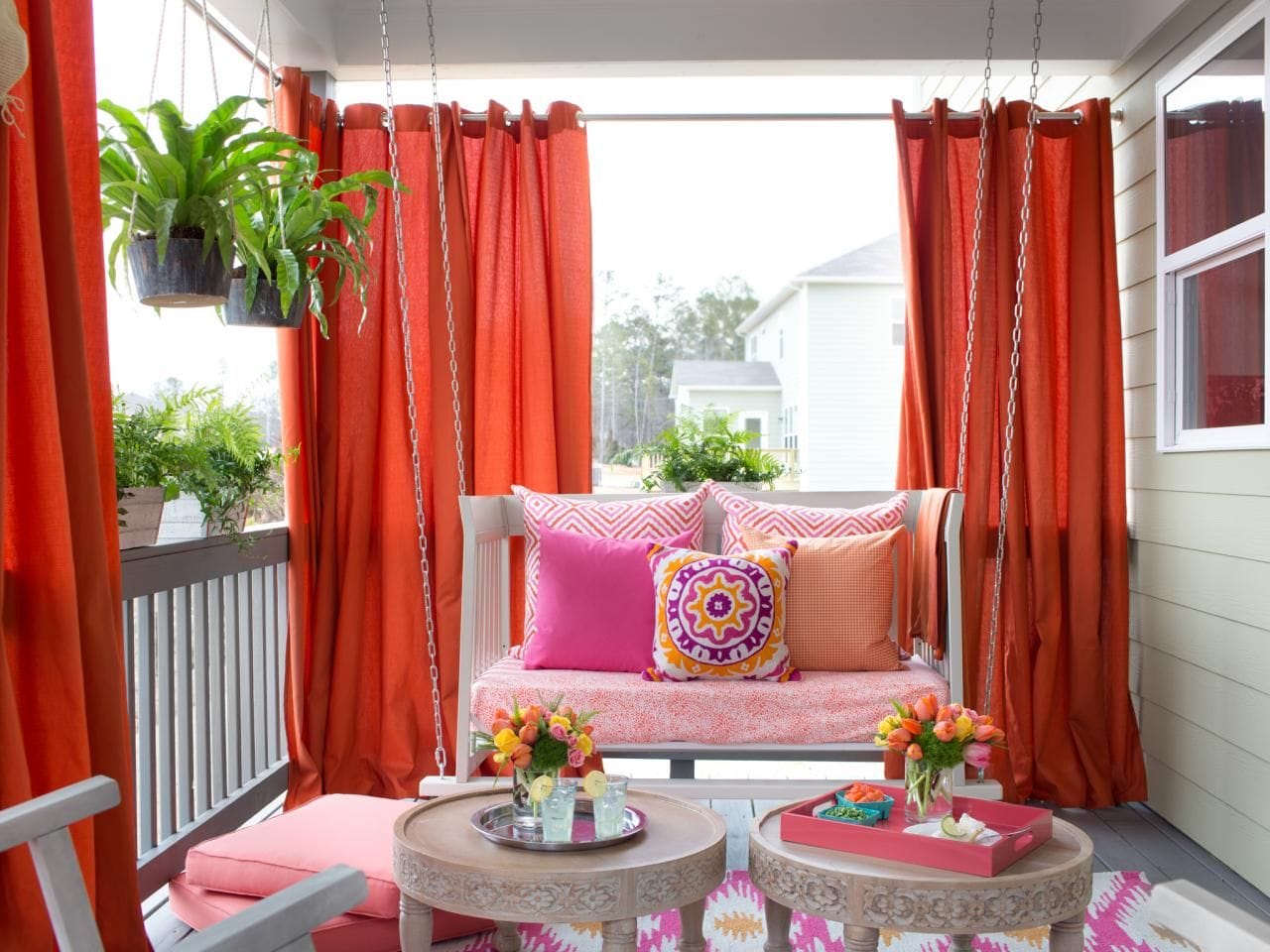 In case you are on a low budget, use drop cloth curtains for an outdoor privacy screen. Even though the curtains are inexpensive, they can change the atmosphere of your porch or deck.
Furthermore, curtains are quick to set up. They offer defense from your neighbors and harsh sunlight, too. In this example, the red curtains bring energy to space. Flowers and hanging plants liven up the scene.
53. Privacy Screen from Mixed Materials
This backyard patio features a herringbone pattern privacy screen. It lends a worn-out completing touch to the area. Moreover, the screen was constructed of different recycled materials.
The privacy screen is not just fabulous, but also exudes a rustic feel and creates a charming appearance. You can find products to make it with ease. Two lounger chairs let you and your significant other catch some rays.
54. Outdoor Privacy and Gallery Screen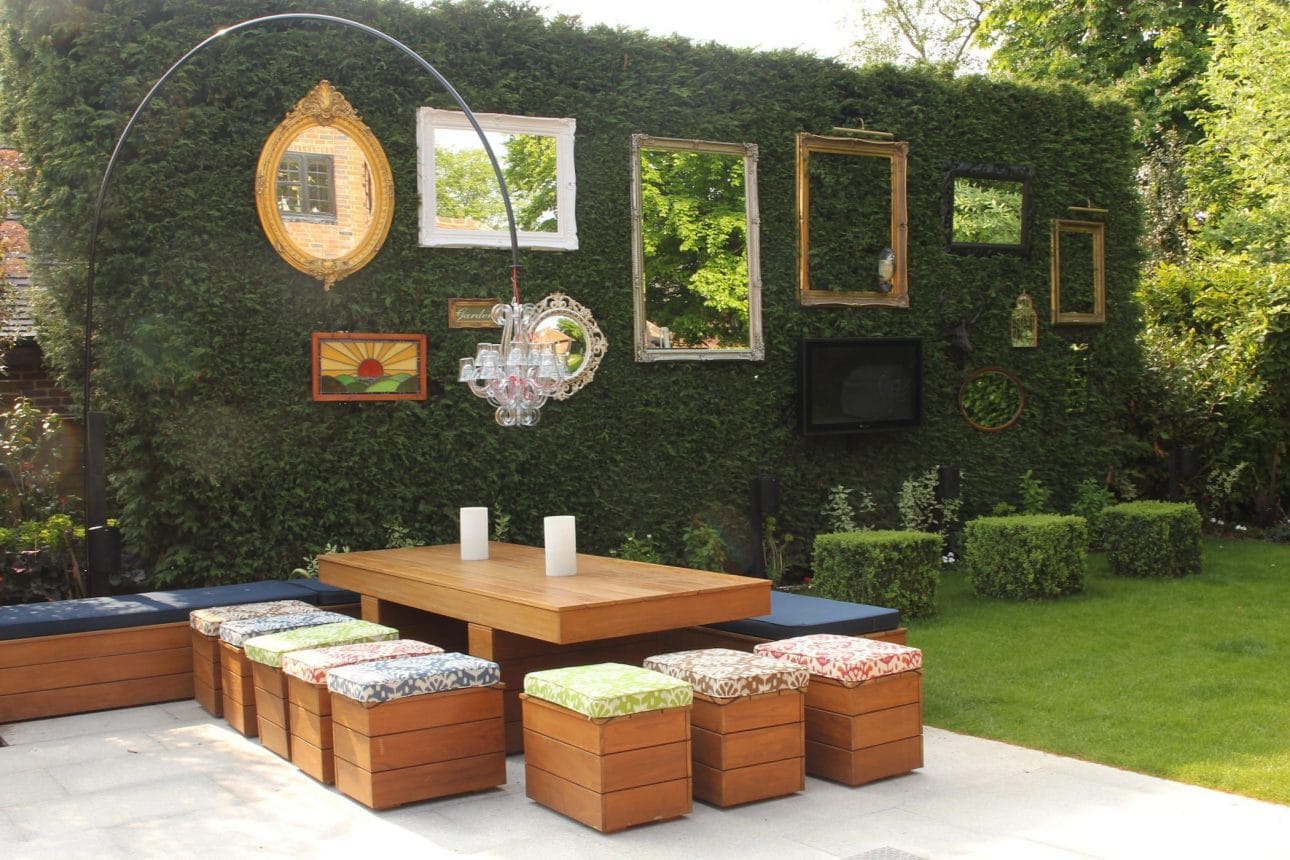 Your backyard patio can be a perfect spot for teatime. It boasts an impressive hedge that keeps spying eyes away. The hedge also doubles as an art gallery screen.
Furthermore, the screen displays stereo, framed artwork, TV screen, and shabby chic mirrors. The floor lamp adds an eclectic touch to the area.
Wood furniture pieces carve a welcoming atmosphere. Colorfully patterned stool cushions and square hedges produce a dynamic environment.
55. Screen from Window Shutters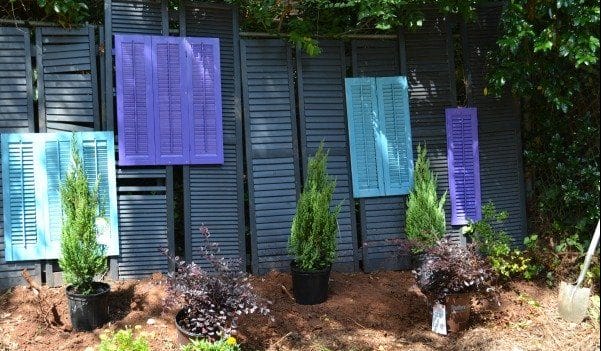 Are you crafty? If yes, try this brilliant idea. Convert your old window shutters into a delightful privacy screen. It is such a great addition to your patio or backyard garden for certain.
Here, the window shutters have vivid colors and different measurements. They make the area more lively in an instant. The potted plants provide a nice finishing touch. Well, this concept truly lets your imagination soar.
56. Wood and Aluminum Privacy Screen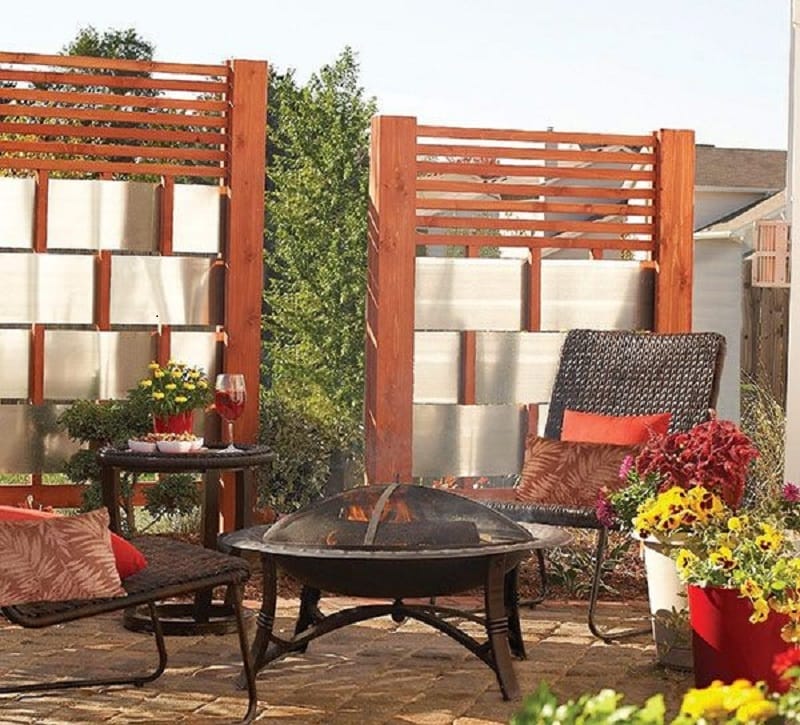 It might appear weird to include an aluminum privacy screen in your backyard or garden. However, metal screens are such a good alternative to the regular ones.
As you see, tin accents generate a trendy look. Meanwhile, wood elements take the chill off them. They develop a relaxing ambiance, too. It is prudent to build a metal partition. Perhaps, it will perfectly mix in.
57. Living Outdoor Privacy Screen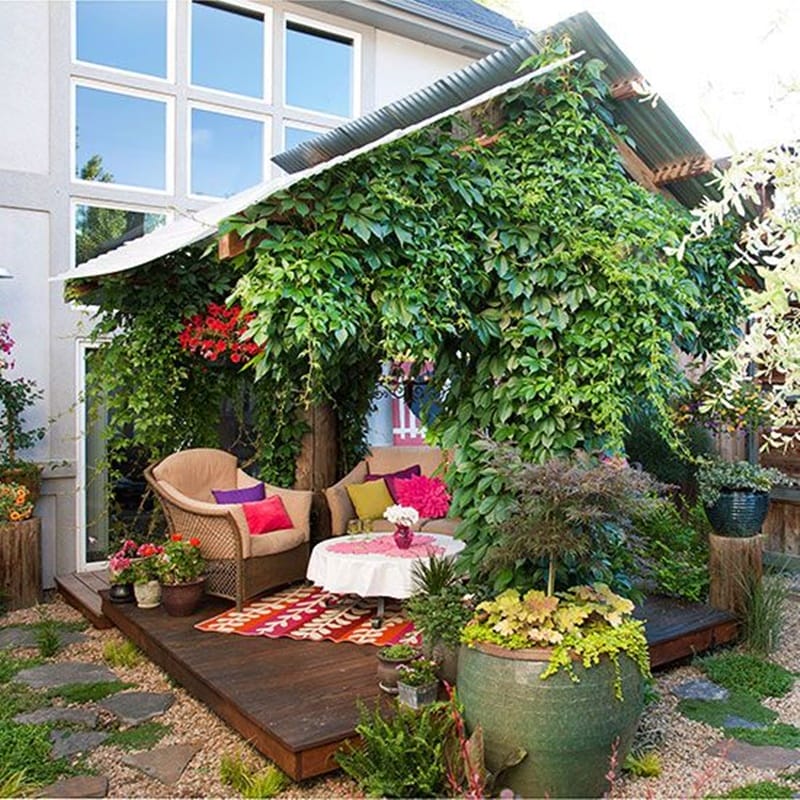 Instead of using synthetic materials, you have to invest your time building a living outdoor screen. It doesn't only help you obtain more privacy, but also offers protection from sunlight and heat.
The climbing vines can grow up to 12-30 feet high. When it comes to a living screen, you should look for the right plants. You need to anticipate their maximum width and height as well.
58. Modern Outdoor Privacy Screen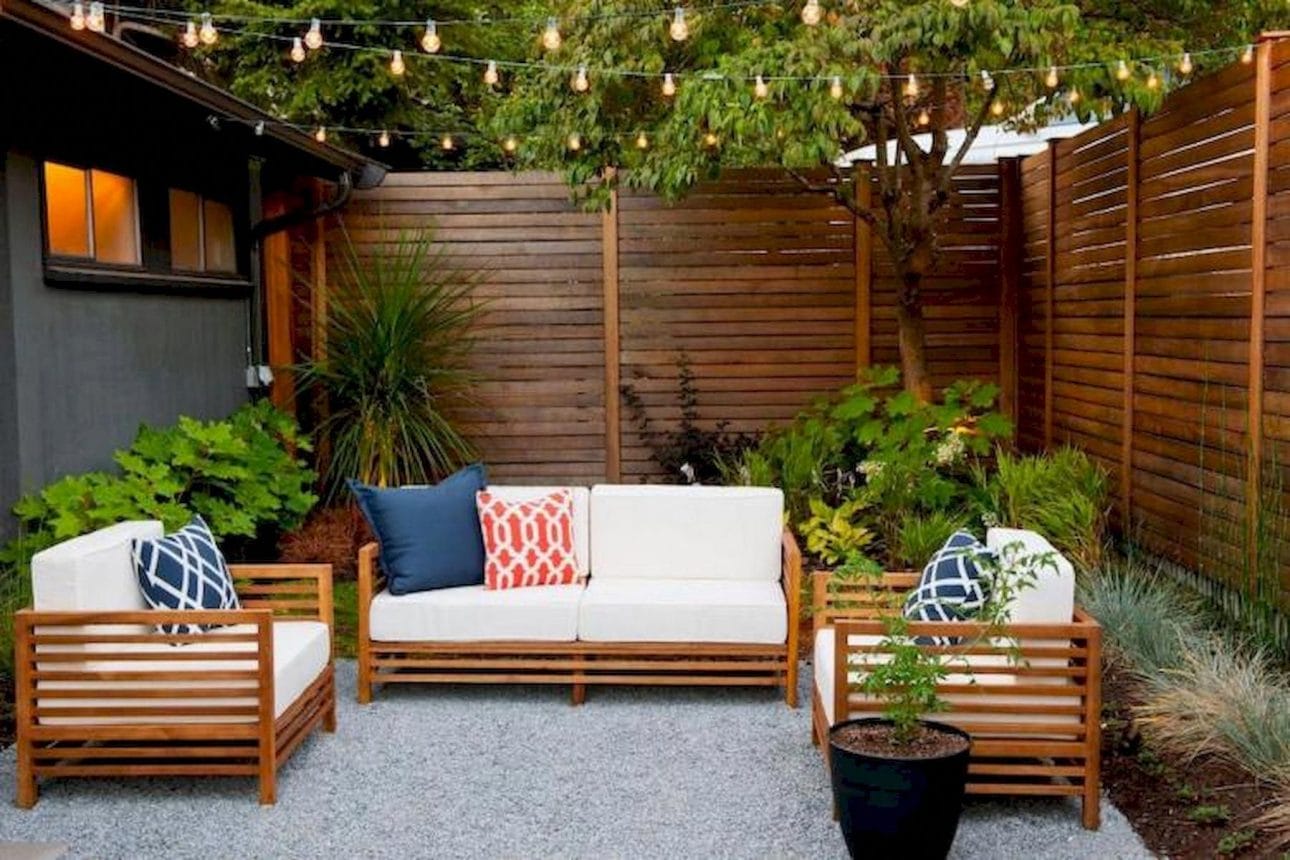 This contemporary courtyard employs wood furniture units with white cushions. They evoke an enjoyable atmosphere in a flash. Striking cushions rise toward a stiff setting.
The seating area is excellently illuminated by LED outdoor string lights. A wooden fence makes a lovely privacy screen. It keeps your neighbor's eyes out of your yard and sets a modern vibe. Meanwhile, plants carve an organic feel.
59. Sliding Outdoor Privacy Screen Panels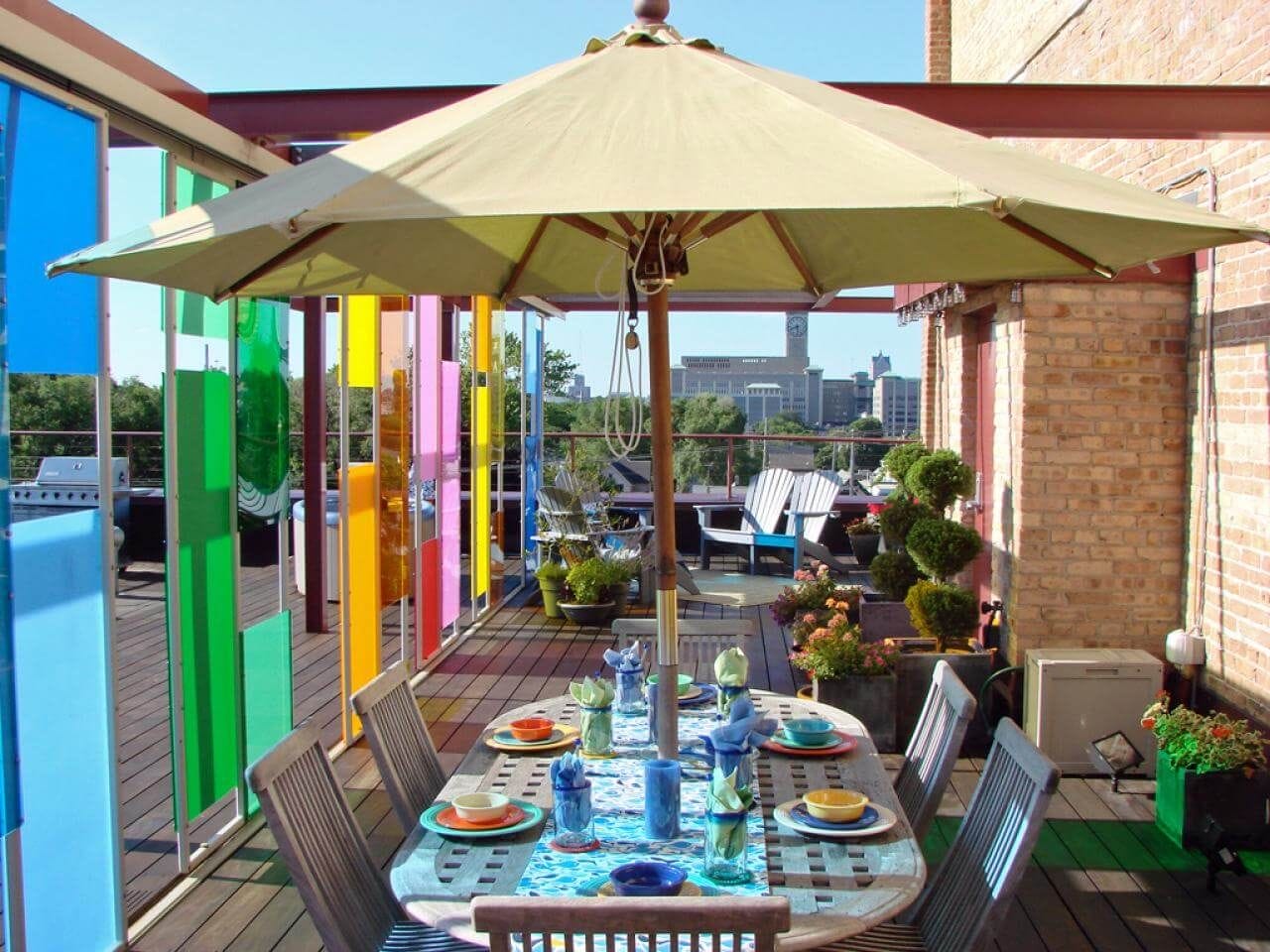 Talking about outdoor privacy screens, put moving colorful glass panels into your consideration. They grant adaptability and look clever at once. In addition to that, they bring this rooftop patio to life.
Since the panels can slide, they enable you to modify their position depending on your choice or sun exposure. Compared to other panels, they take up much less space. A patio umbrella completes the wooden furniture setup.
60. DIY Metal Outdoor Privacy Screen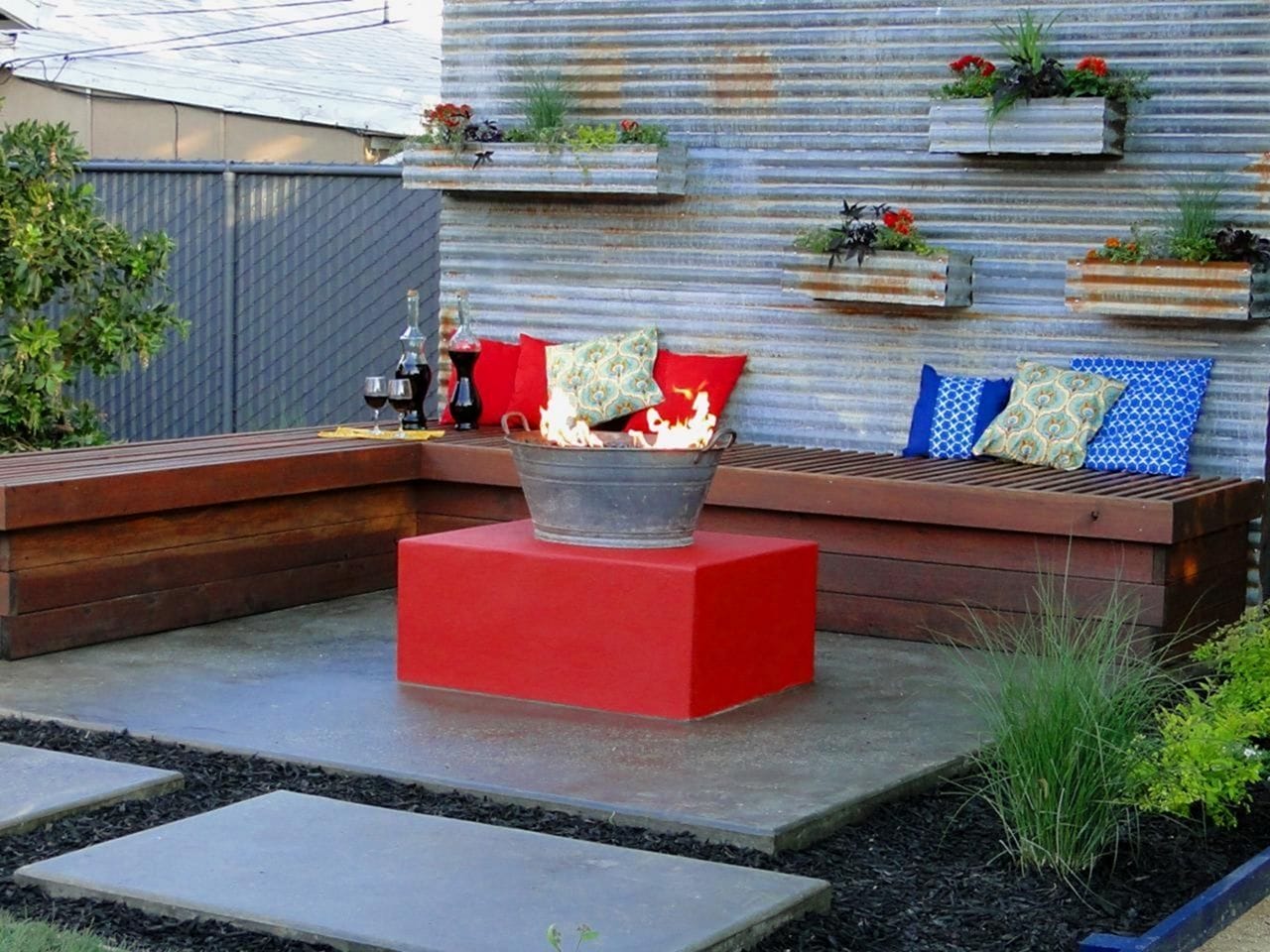 Here, salvaged galvanized metal is used to build an outdoor privacy screen and create an unpretentious background for patio. Furthermore, the metal wall lets the homeowner combine different functions into one design.
The privacy screen accommodates galvanized metal planters for flowers and succulents. Wooden seating and vibrant throw pillows generate a comfortable event area.
To build an unusual fire pit, the homeowner installed the gas line through a repurposed metal pail. After that, she filled it with volcanic lava rocks.
61. Patio Privacy Screen Ideas with Awning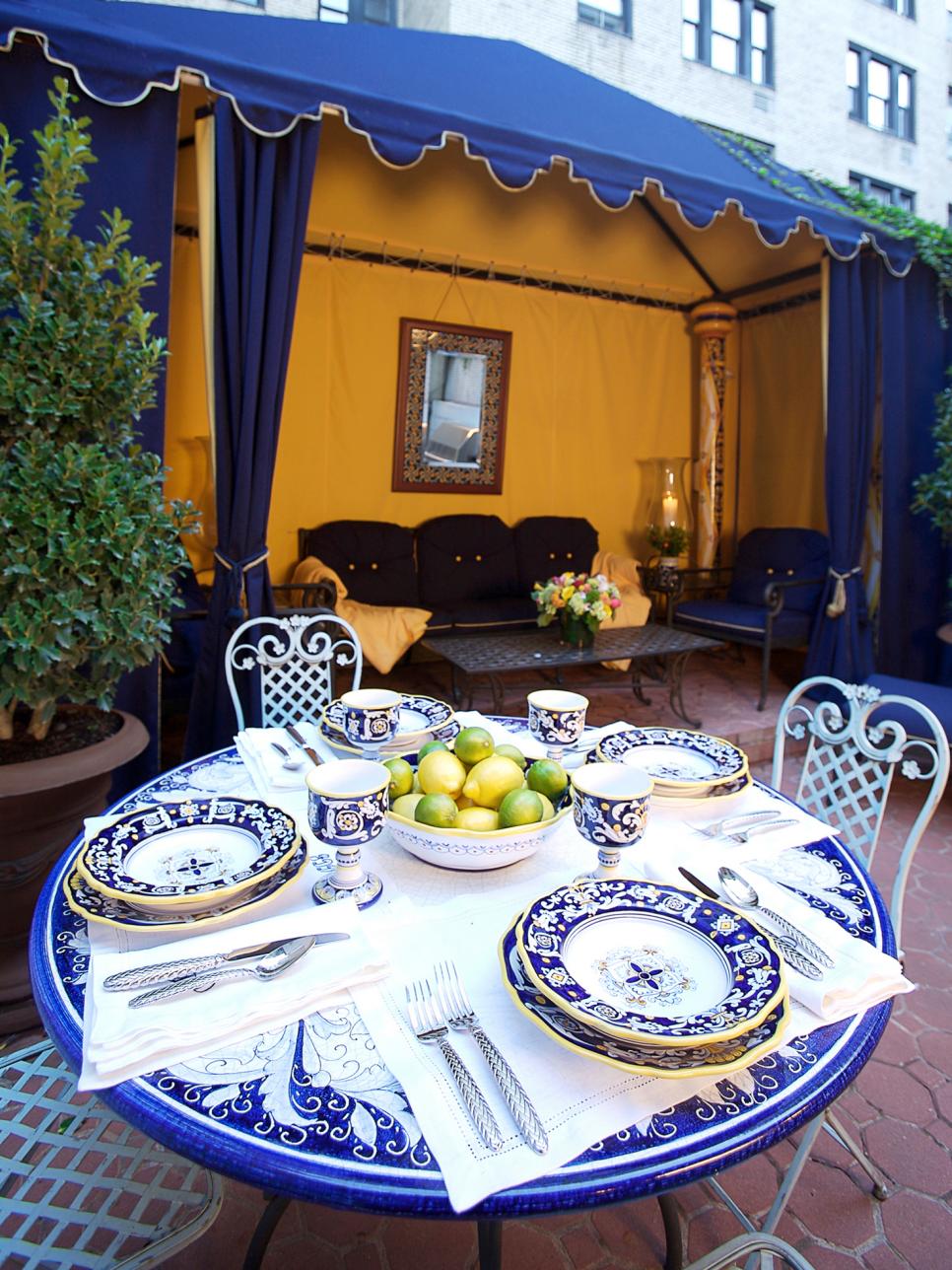 This bold awning is not just stunning, but also elegant and practical. It also provides much-needed privacy from spying eyes.
Moreover, the awning structure itself is constructed from terracotta pots and poles of bamboo. The concrete weights down it as well. I also love the simple furnishings and yellow accents on this patio.
Classic chairs and round tables make for an intimate outdoor dining area. The stone flooring and plants lend some nature-inspired textures to space.
62. Privacy Screen from Large Planters and Pots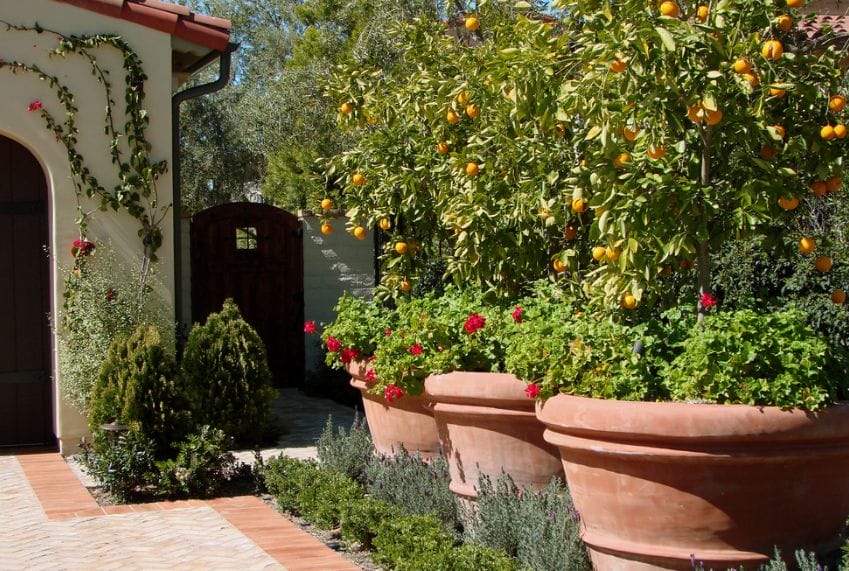 A great way of transplanting your plants to the desired location is with huge planters and pots. Moreover, trees can be planted in those. When moved to the outdoor areas, they add some privacy.
The big planters, pots, and flowering plants adorn the patio, garden, deck, or other space you are using. For a more pleasing look, you can decorate the planters or paint them in your choice of color.
63. Hedge Privacy Screens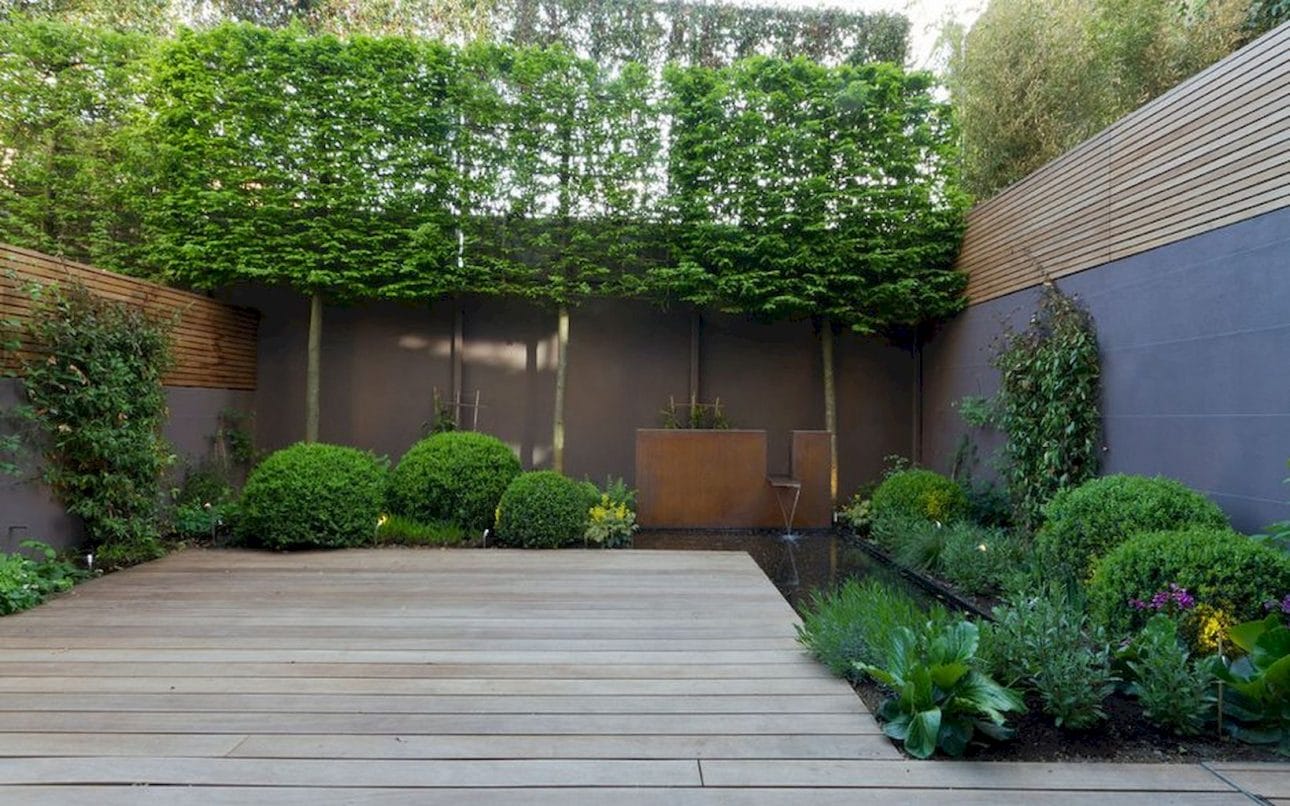 You certainly need privacy when whiling away the hours in your outdoor space. That's the reason you should give this idea a chance. Here, the area features existing concrete walls.
Wooden boards and hedge walls increase your privacy. The water function exhibits a tranquil ambiance and keeps the unwanted noise out.
Furthermore, light-toned wood flooring delivers a rustic appeal to the backyard. Small trees and shrubs transform the area into a lively sanctuary.
64. DIY Old Door Privacy Screen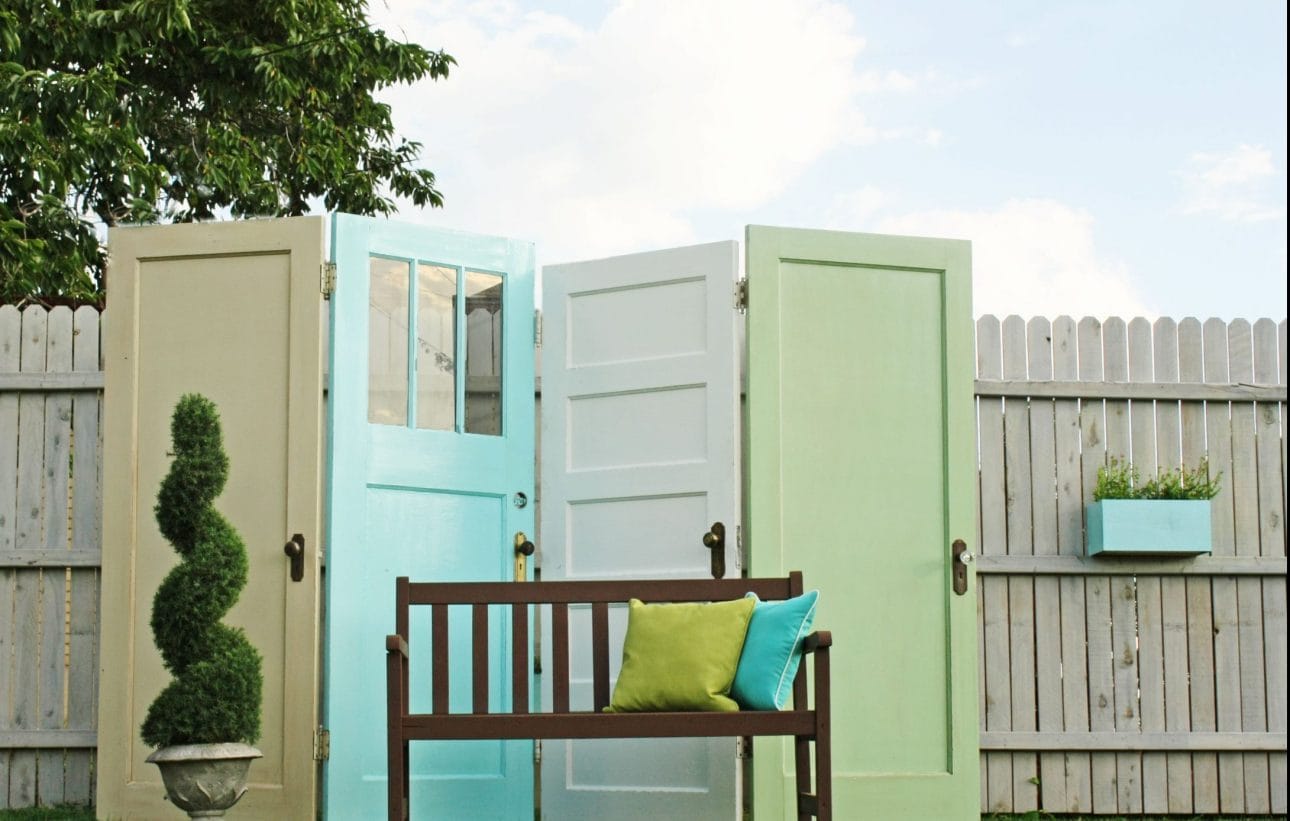 Do you have four old doors? Instead of letting them go unused, turn them into a remarkable privacy screen in a fun DIY task. For the project, the doors do not have to come in the same design.
Moreover, you can paint your doors in different colors. Here, they have light turquoise, crisp white, muted green, and vintage cream shades. They jazz up the outdoor area.
To create a unique privacy screen, join those doors together. Then, hang turquoise planters on a wooden fence. Lastly, put lime green and turquoise throw pillows on a long chair for a cohesive appearance.
65. Privacy Screen Ideas for Patio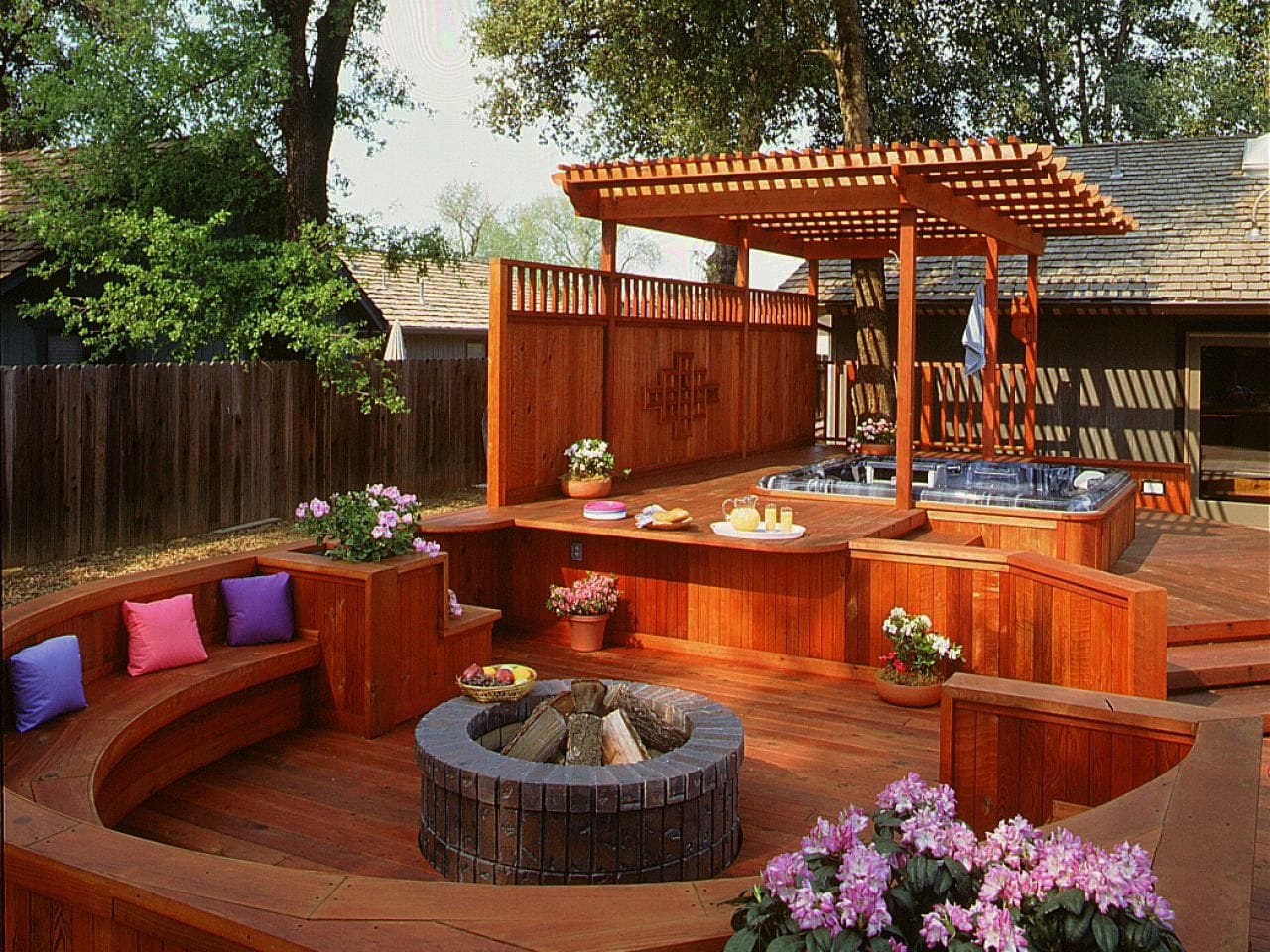 There is nothing more enjoyable than taking a dip in your jacuzzi. If you build it on your patio, adding a privacy screen to the outdoor space is seriously crucial. It assists to protect yourself from neighbor's prying eyes.
The wood privacy screen makes the area more inviting. Colorful flowers and throw pillows bring some vibrancy to the whole space.
66. Decorative Outdoor Privacy Screens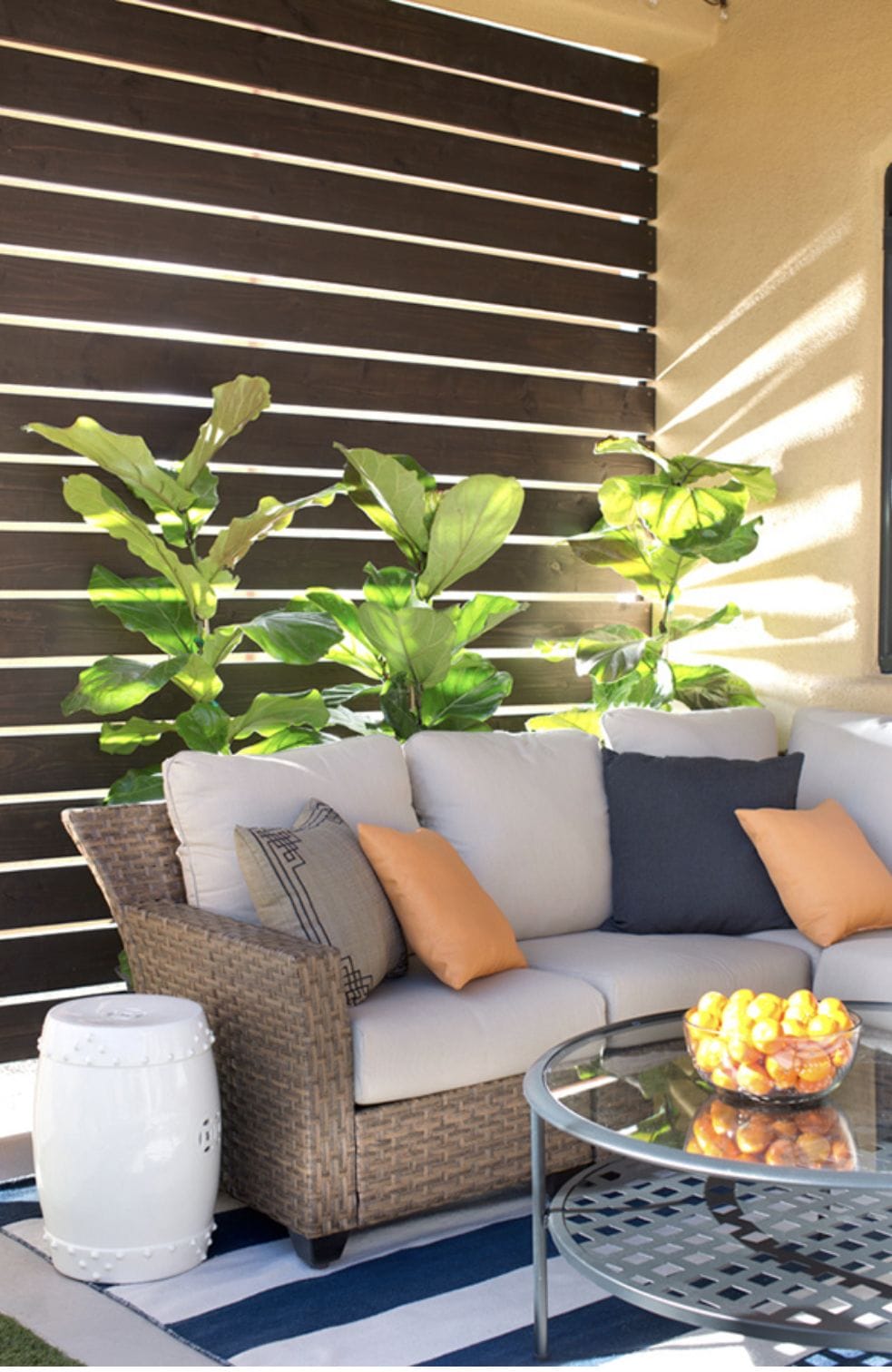 In case you live in an area with brisk winds, implement this idea. Here, the slated ornamental wall performs a few functions. It gives solitude to the area. The screen also adds protection from speedy winds.
Moreover, the privacy screen complements the modern patio and lets sunlight in for an airy environment. Potted plants and barrel side table are a perfect addition to space.
67. Privacy Screen with Water Feature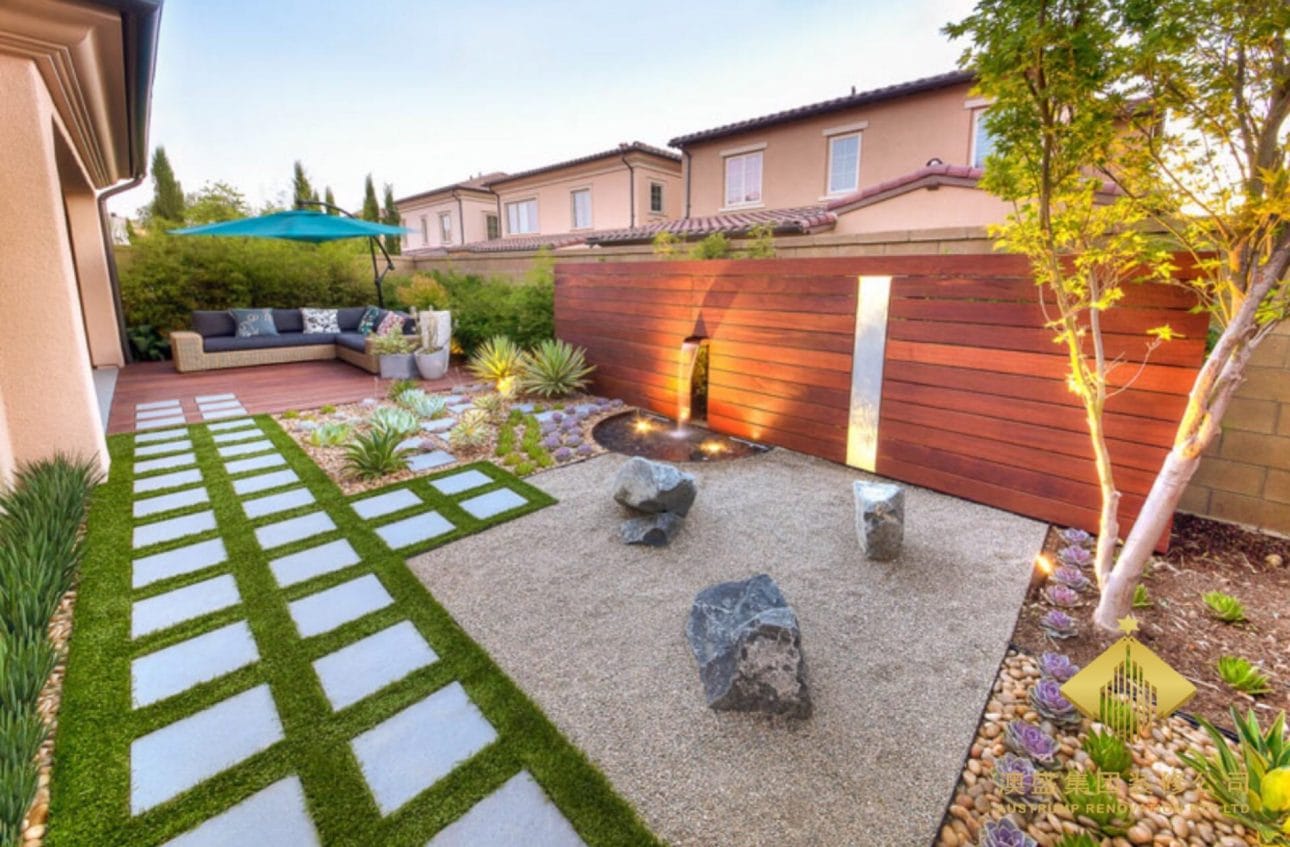 Pictured above is a backyard patio with a simplistic cinderblock fence. The medium-toned wood wall nicely camouflages it. Furthermore, the screen improves the privacy level.
The artificial waterfall increases the backyard's beauty and creates a zen-like ambiance. Light fixtures cast a relaxing glow after dark.
68. Reclaimed Wood Privacy Screen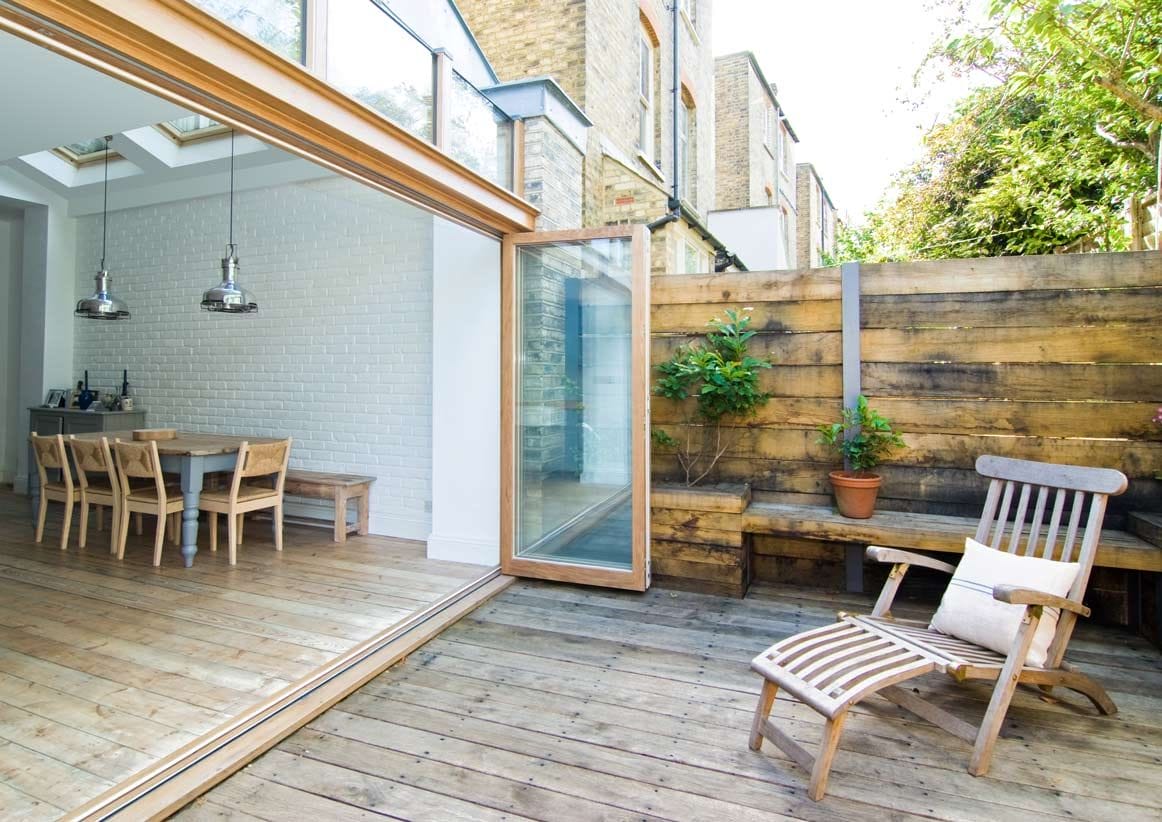 Just because you have a limited budget, doesn't mean building a proper privacy screen seems impossible. A truly inexpensive idea is using reclaimed wood boards as a patio fencing unit.
Measure and mark your wooden boards. Then, trim the pieces to your preferred size. Sand as well as stain them. Lastly, link the boards to vertical supports. Wood lounge chair and plant holder infuse the area with extra rustic charm.
Chek this out for more chair ideas for your living quarters.
69. Drapery Panels As Privacy Screens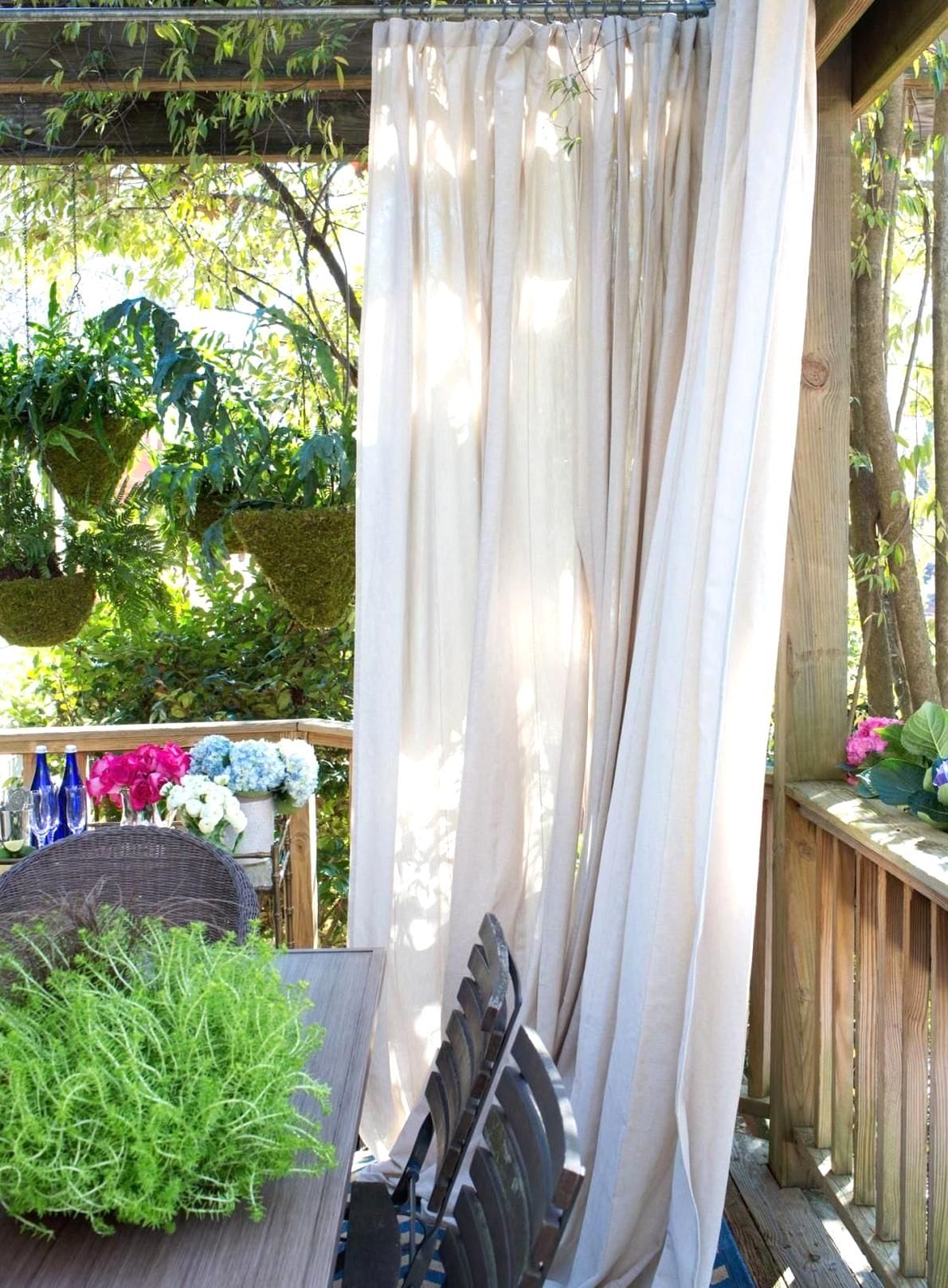 Not enough time to build a privacy screen? No worries. Just buy off-white drapery panels. Then, connect them to the metal framework. They offer privacy and exude a sense of class at once.
During the summer months, drapery panels make the deck more pleasurable. They protect yourself from the heat and glaring sunlight, too.
70. Lively Privacy Screen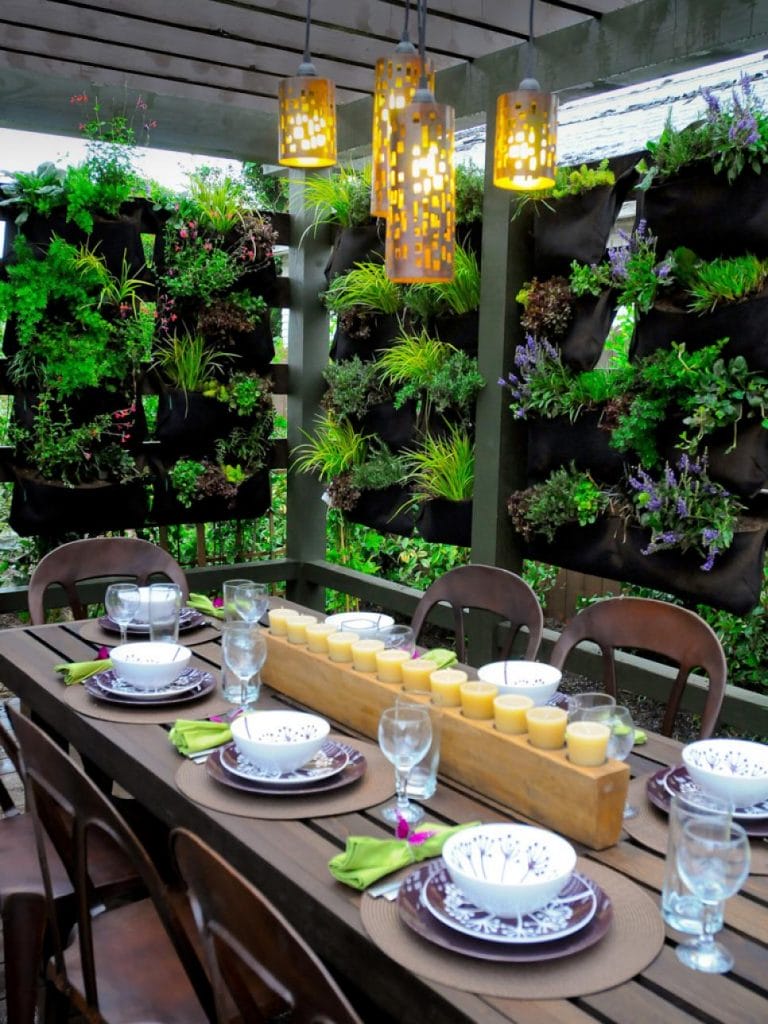 Another excellent option is to create a living screen. It effectively gives you some privacy. Meanwhile, the plants lend the outdoor area a stunning sight. They also generate a fresh look.
Flowers and candles set a romantic atmosphere. The pendant lamps emphasize the dining table and make quality time unforgettable.
71. Privacy Screen from Faux Hedges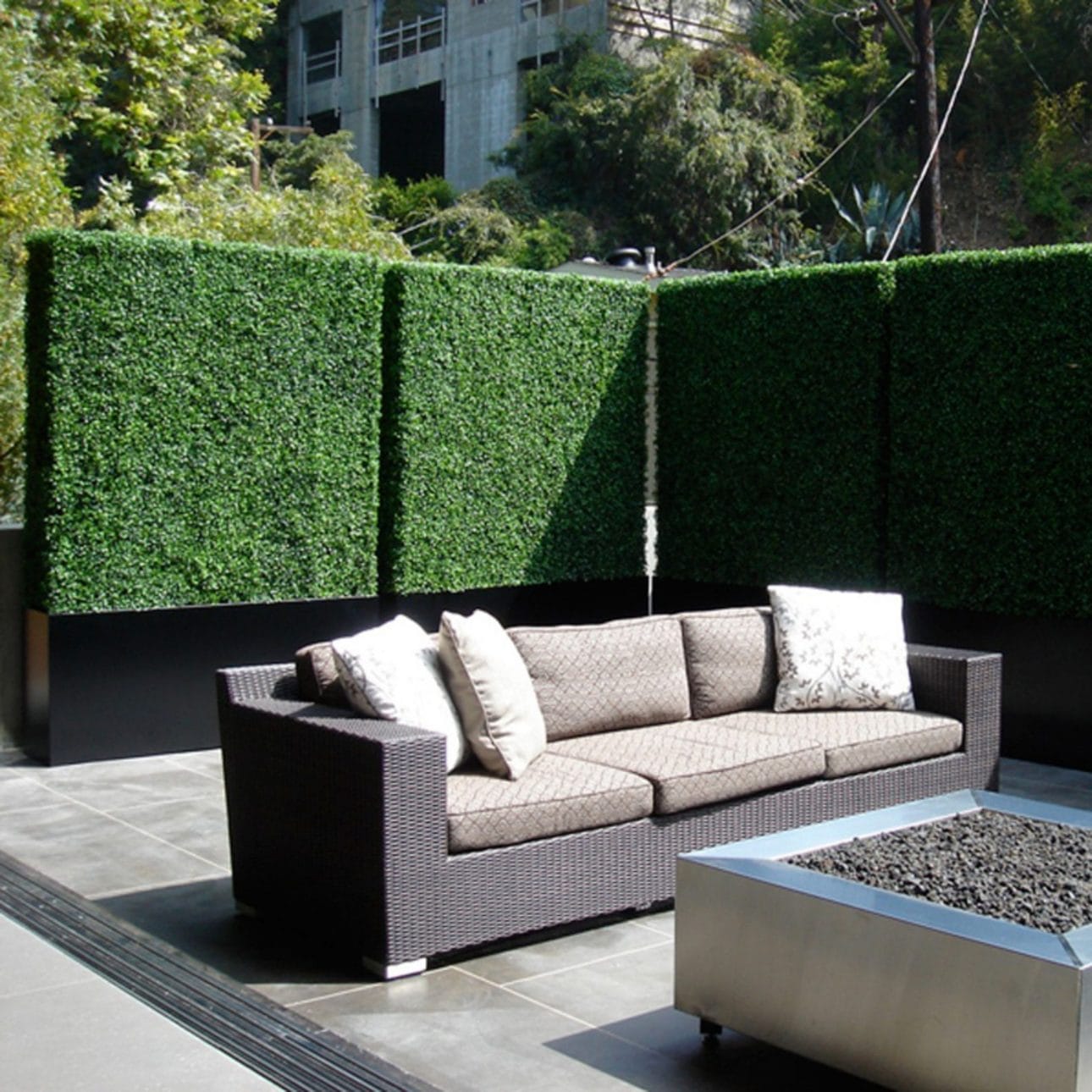 Here, the artificial boxwood hedges work as privacy screens for patio. They are built of long-lasting elements. Moreover, they spruce up the outdoor space. Since the faux hedges are nearly natural, the units develop a timeless style.
The black planters team well with boxwood hedges. Without a doubt, the long chair and fire pit represent contemporary style.
72. Freestanding Outdoor Privacy Screen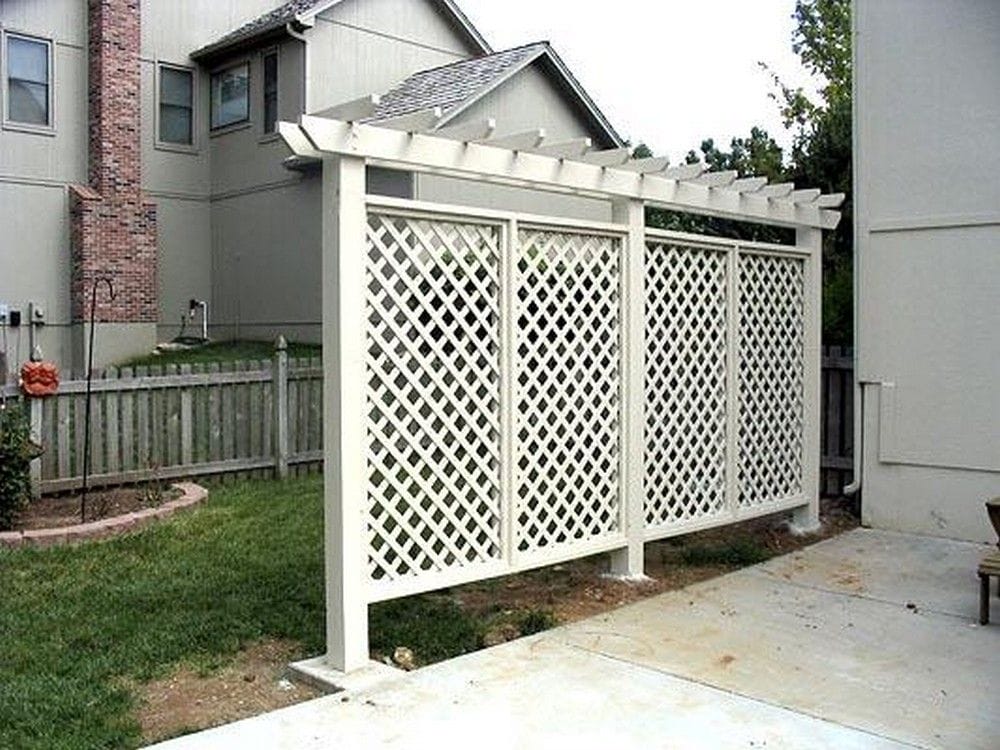 The freestanding lattice panels act as a privacy screen. To build it, create the wood frames first. After that, paint them white. Then, stick the lattice panels to the frames.
As you see, the freestanding privacy screen brings stylish detail and elegance to space. It keeps wandering eyes out, too.
73. Outdoor Privacy Screen Ideas for Porch
Curtains are customizable and simple to install. Furthermore, there is a wide selection of fabric curtains to choose from.
You will need an unused screen framework. Next, hang some blue curtains and voila. They inject the porch with grace and boldness.
74. Real Hedges As Privacy Screens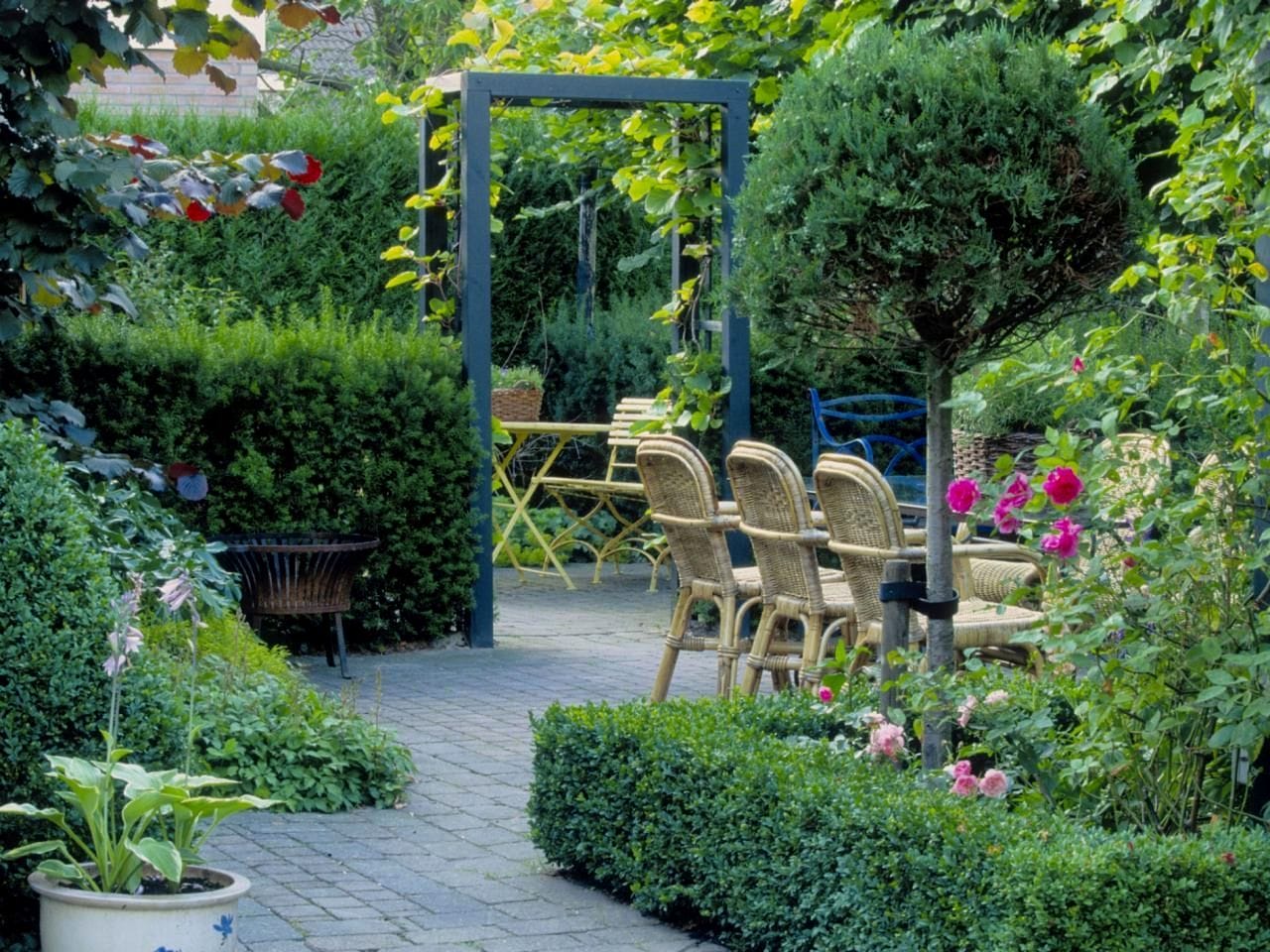 If you want to green your outdoor area, growing boxwood hedges is a great choice. You can shape them into walls. They are more efficient than wood fences.
The hedge walls offer increased privacy. Additionally, they develop an organic yet glamorous feel.
75. Natural Privacy Screen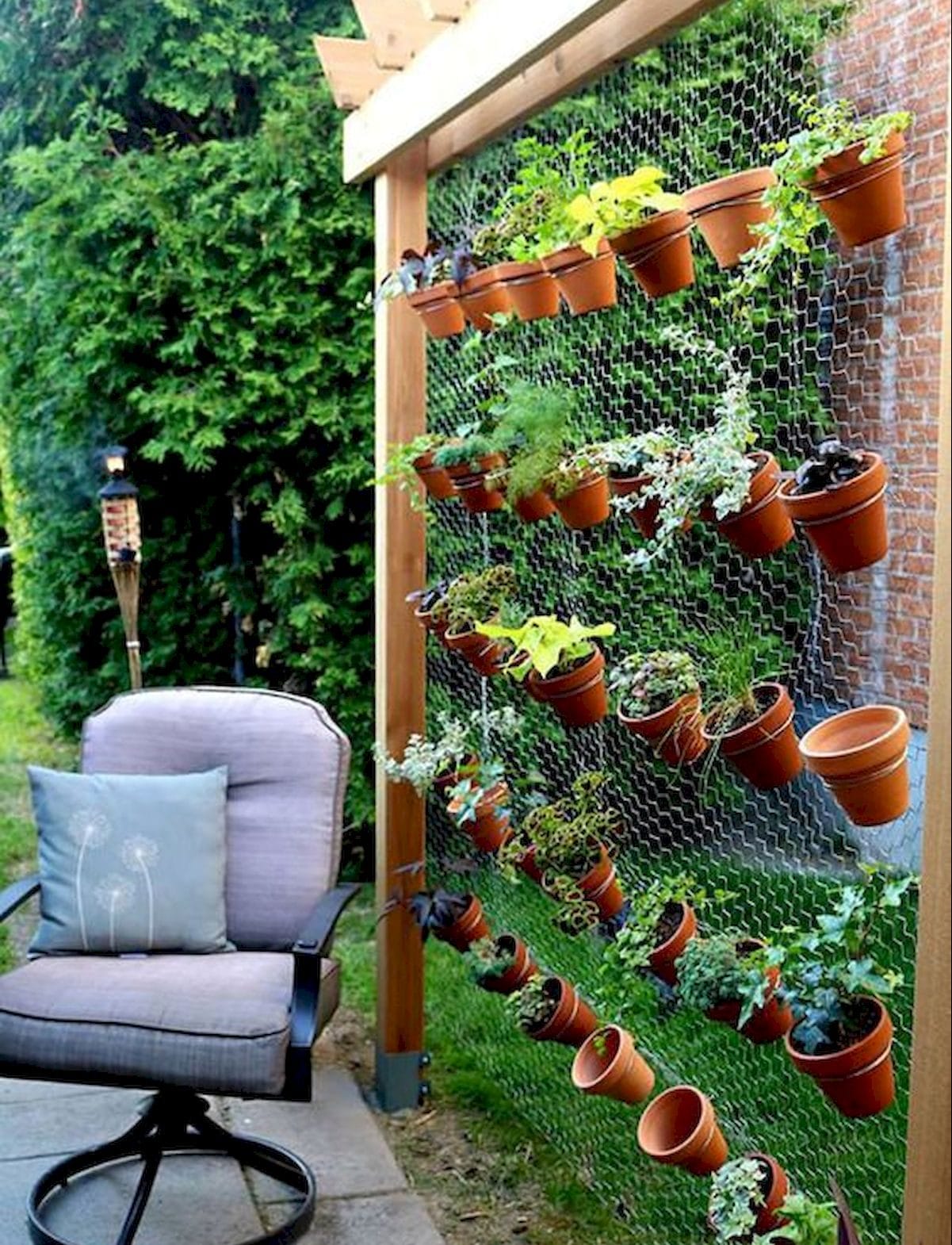 This backyard patio was outfitted with a chain link privacy screen. The unit serves as a gorgeous vertical garden. It is functional and enchanting.
For the project, you need fence staples, scrap wood, ground spikes, terracotta pots, steel wire, cedar slabs, and posts. Don't forget to add a chair and throw pillows for a more comfortable environment.
76. Bamboo Outdoor Privacy Screen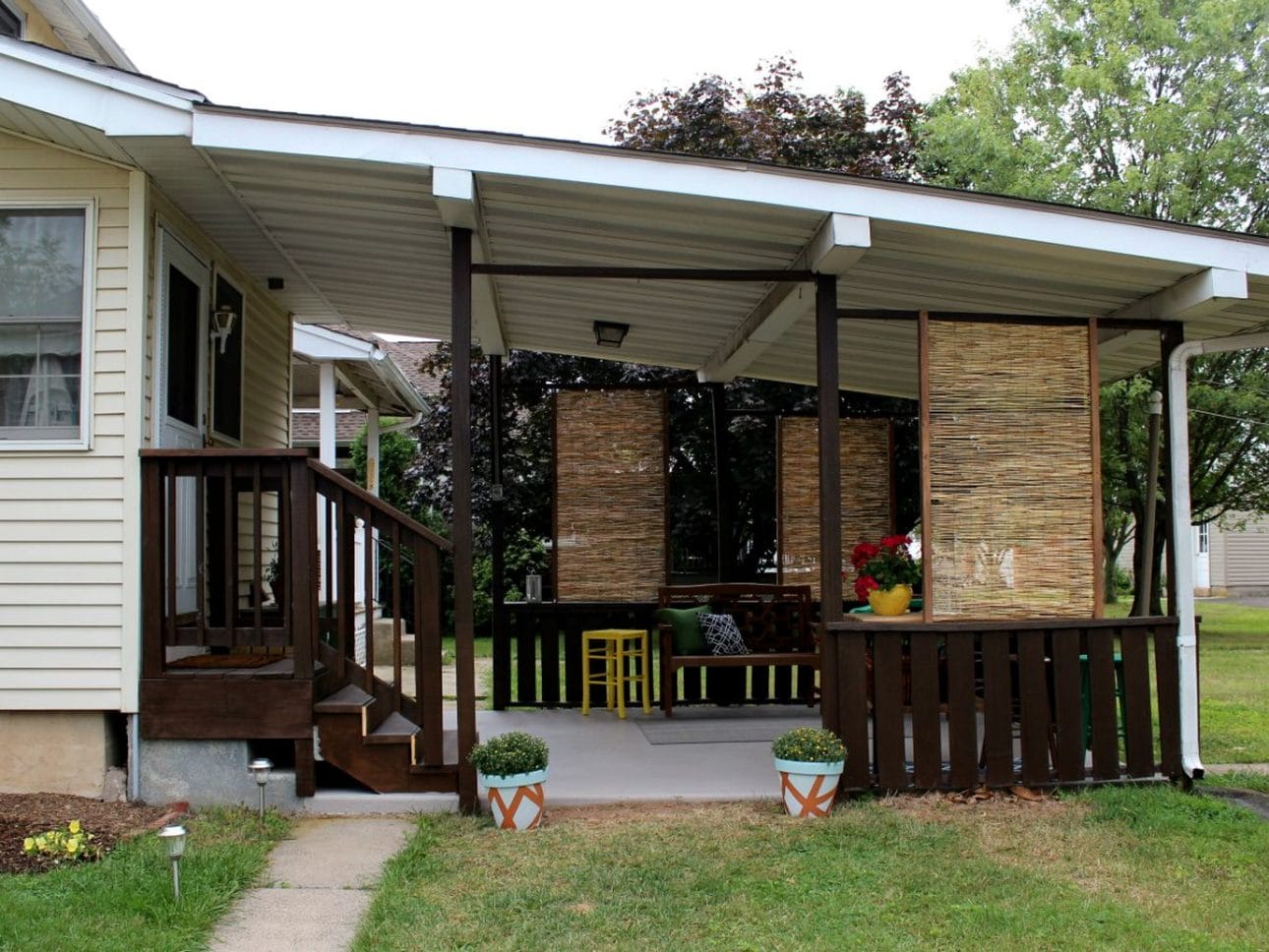 Minimum budget? No problem. You can create your outdoor privacy screen using cup hooks, thin strips of wood, bamboo fencing, small-sized L brackets, and wood stain.
First of all, stain the thin wood strips. Let them dry naturally. Next, utilize them to nicely frame the fencing. Lastly, secure the privacy screens to your porch with hooks and brackets.
77. Privacy Screen from Trees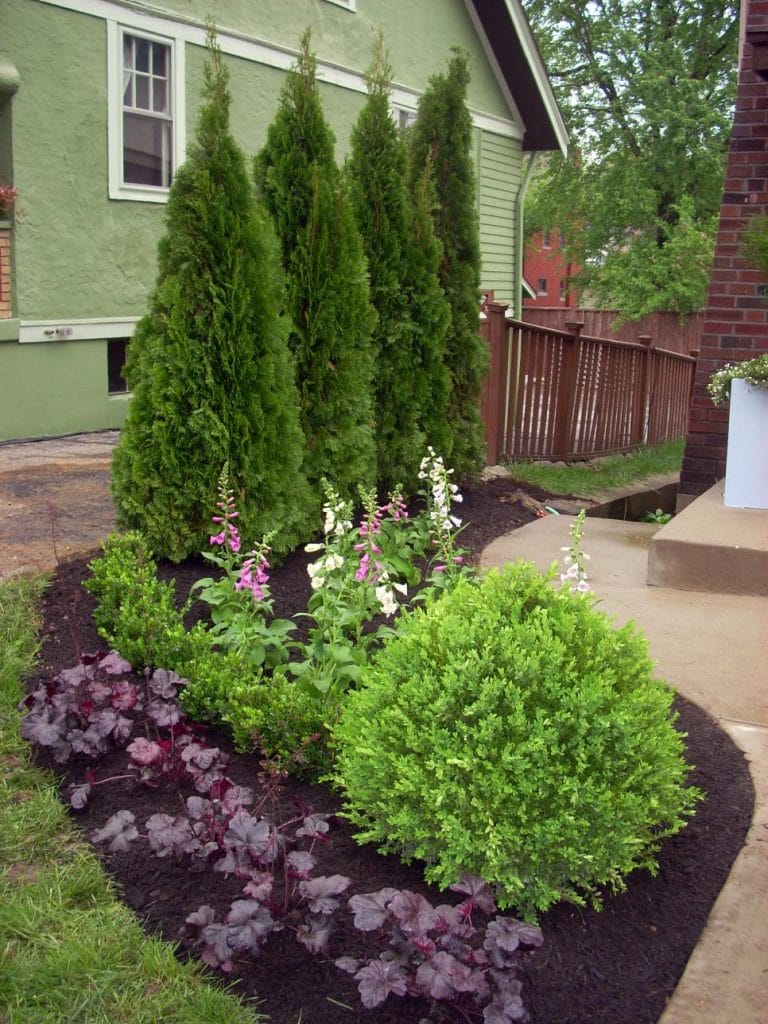 Instead of using faux products to acquire privacy, it would be better if you grow small trees and shrubs. They can pose as a green outdoor screen.
The plants help demarcate your border. Moreover, they provide a captivating view and send out a peaceful ambiance.
Bear in mind green grass and comfortable furniture mean nothing without privacy. I hope you get inspired after reading my outdoor privacy screen ideas. Pick the design that meets your budget goals, needs, and personal style.