Some of you probably think the step-down living room outdated. It gains more popularity these days. It does not only help divide your space but also sets a cozy atmosphere. I have prepared these sunken living room ideas to inspire you.
Generally, recessed living areas can be found in retro houses. If you live in a modern abode, do not worry. I have got you covered. Here are fascinating step-down living rooms in various styles.
1. Sunken Living Room Couch
Above is a rustic sunken sitting room. For sure, it is such a perfect spot to spend quality time with your family and friends.
Red couch and throw pillows bring energy to the space. Light blue rolled towels on a wooden tray create a beach ambiance.
2. Step Down Living Room Solutions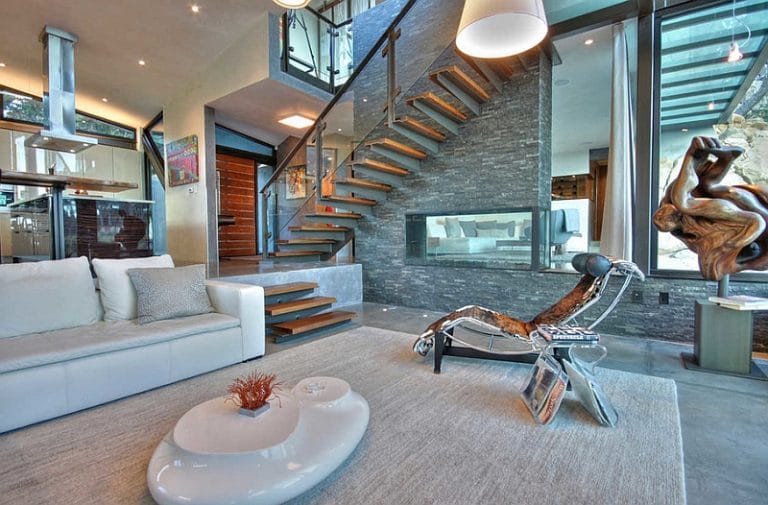 This sunken living space is not built in a high traffic area for convenience's sake. The wooden steps give it warmth.
The white table and decorative piece lend the room a futuristic touch. An area rug offers comfort underfoot. Lastly, a Scandinavian pendant light illuminates the whole space at night.
3. Kitchen with Step down Family Room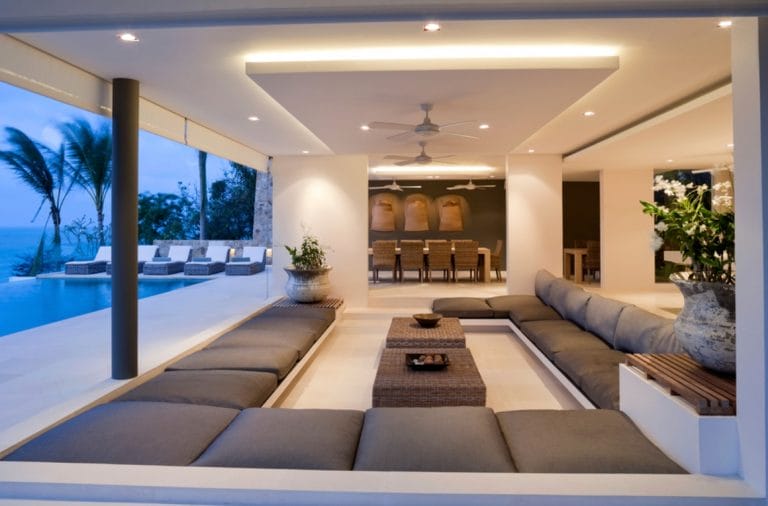 Do you have a large family? If yes, steal this idea. As you see, the step-down living room features gray sofas and floor cushions.
Two square rattan coffee tables infuse a coastal air into the area. Potted flowering plants on wooden stands titivate the room.
4. Sunken Living Room 70s
The vaulted ceiling generates an airy environment. Meanwhile, wooden open shelves display homeowner's favorite books.
Furthermore, large windows and doors let in an abundance of daylight. The sofa and chairs in the 1970s recessed living room are facing each other. They spark up an intimate conversation.
5. Sunken Living Room 60s
This step-down living room boasts polished concrete sofas, steps, and floor. The tufted cushions lift the cozy vibe.
Colorful poufs and throw pillows keep the area from being monochromatic. The paintings, lanterns, table lamp, and statue carry a country feel to the interior. What a funky room!
6. Sunken Living Room Safety
To increase safety in your sunken living area, you should install a railing. It successfully prevents injuries and falls when you go up and down steps.
The vibrantly patterned throw pillows look stunning on the off-white sofas. Gold accents carve a luxurious air. Lastly, indoor plants spruce up the scheme.
7. Photos of Sunken Living Rooms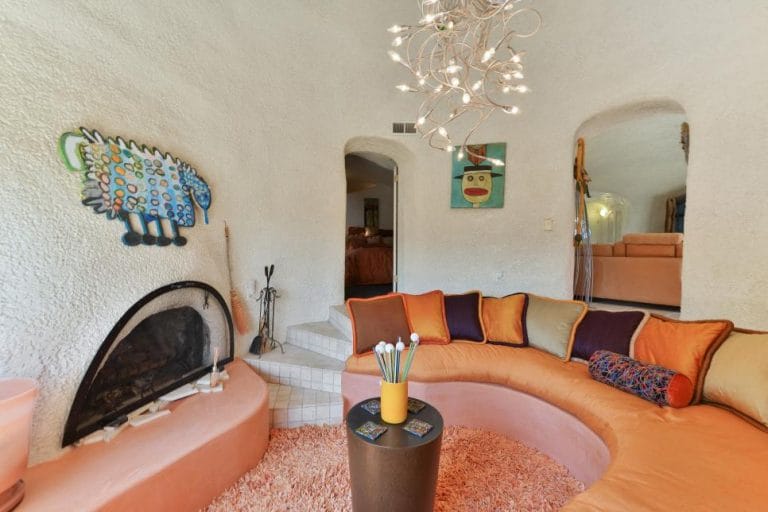 White textured walls and geometric tiled steps develop an open feel. A show-stopping light fixture brightens the space.
Pops of coral, orange, and brown imbue the sunken living area with Spanish vibes. A fireplace exhibits a welcoming scene, while wall ornaments instill a playful ambiance.
8. Sunken Living Room NYC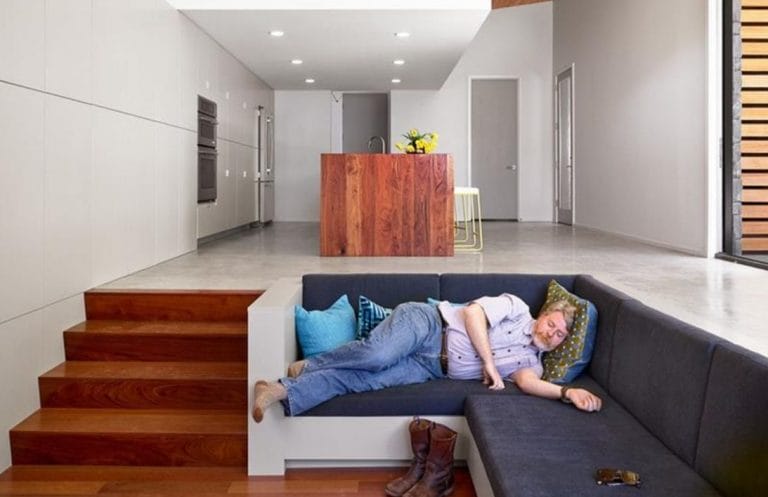 This perpendicular recessed living room is small yet classy. The navy cushions and throw pillows turn it into a personal retreat.
Wooden floor and steps deliver warmth to the space dominated by cool tones. Well, the room is the best space for indulging in a great book and taking a nap.
9. Sunken Living Room with Fireplace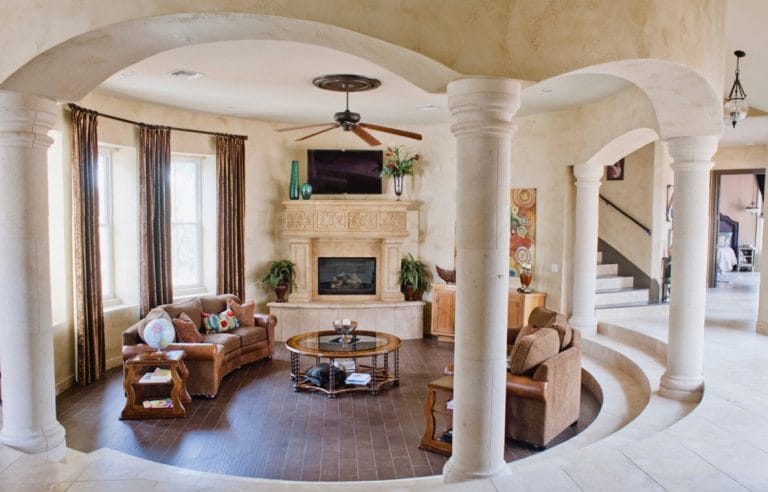 Pictured here is a circular traditional sunken conversation area. It instantly exudes a feeling of togetherness.
The intricate fireplace, pillars, and silk curtains promote a deluxe setting. Round coffee table, wooden floor, curved sofas, and wooden side tables inject an inviting vibe into the space.
10. Sunken Living Room Spring Place
Who says sunken living space just works indoors? You can build an outdoor step-down sitting room if you want to. It lets you enjoy the crisp air of spring.
The fireplace, coffee table, and seating celebrate modern design. Striped throw pillows catch the eye.
11. Sunken Living Room Transition
Does your home have a breathtaking outside view? If yes, you must install sliding double-glazed floor to ceiling windows. That way, you can witness the changing seasons.
Wooden floor counteracts the gray sofas and stainless-steel wall. Flowers in vase naturally adorn the room.
12. Living Room Pits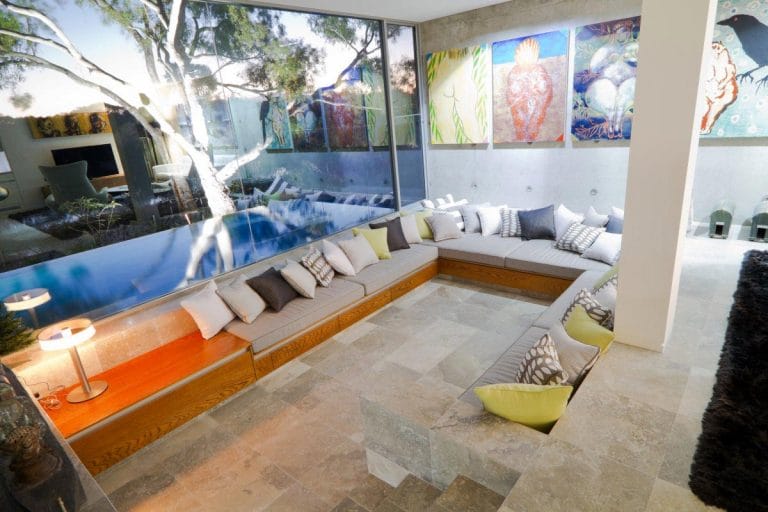 This step-down living room comes with discussion pits. The limestone tiles and wood table bring the elements of nature inside.
Cushions and throw pillows ensure that your guests feel completely comfortable. Works of art embellish the space, while the table lamp casts a soft glow.
13. Contemporary Step down Living Room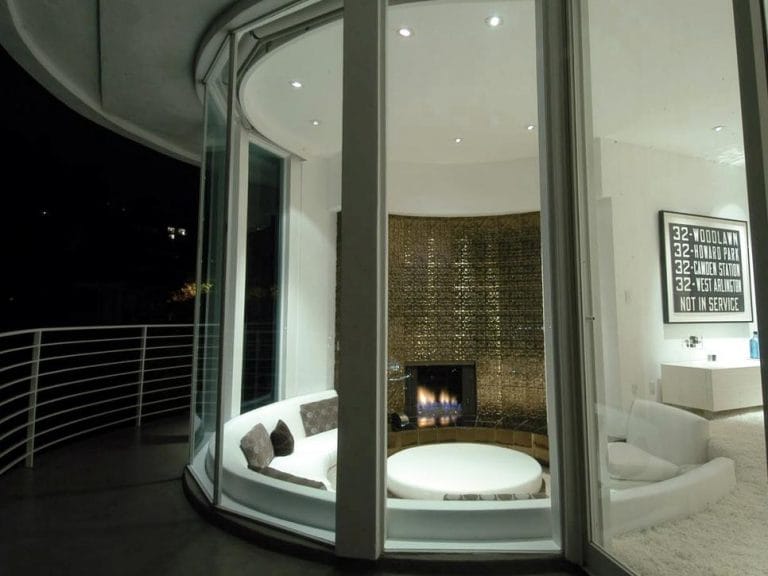 Are you not into a classic sunken conversation area? This one surely captivates your heart. It employs white sofas and a coffee table.
Dark wood floor lends the contemporary sunken room drama. Floor-to-ceiling windows introduce a touch of grandeur. A modern fireplace generates a stylish appearance.
14. Sunken Living Room Step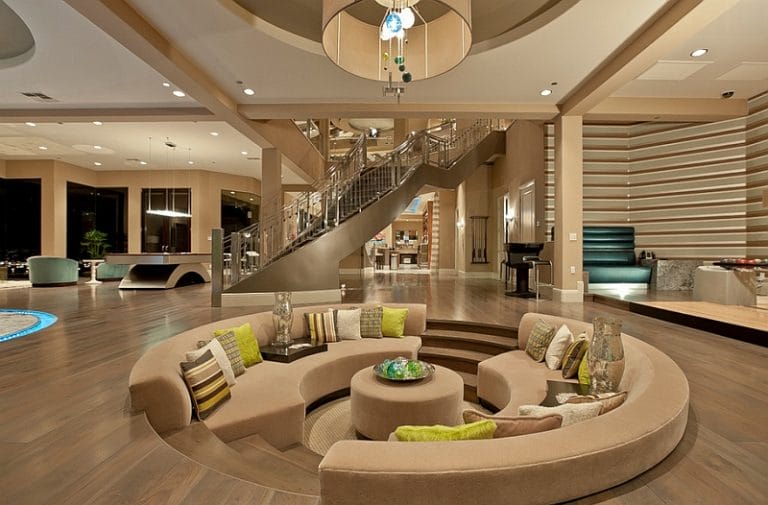 If you are up for something impressive and posh, try this idea. The beige curved sofas, wooden floor, and steps evoke an inviting atmosphere.
Furthermore, the pendant light matches the shape of cylinder coffee table. Bright green and striped throw pillows make the living room more appealing.
15. Sunken Living Room House Lounge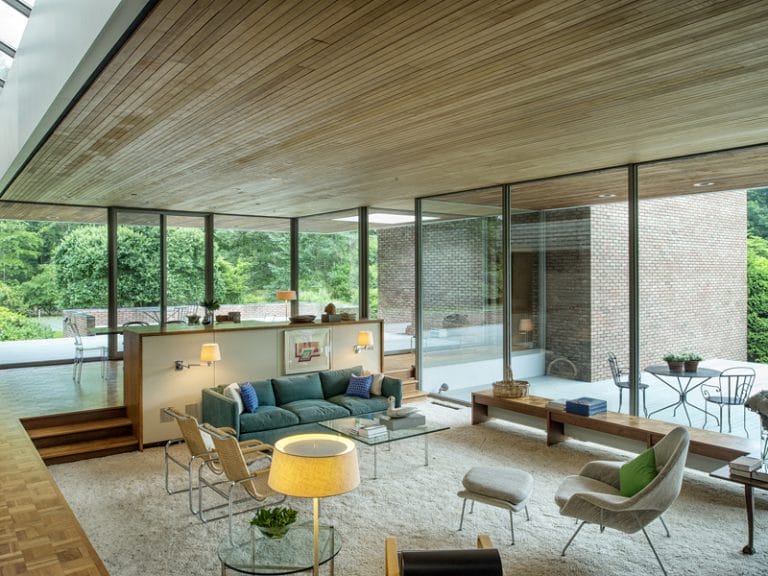 The unpainted beadboard ceiling, wood floor, and steps embrace rustic aesthetic. Walls of the window allow you to see stunning outdoor views.
A large wool rug pampers the feet. The chairs, table, and wall-mounted lamps fill the sunken-style living room with modern eclectic touches.
16. How to Make a Step-down Living Room Safe
This tiny recessed living room looks welcoming, thanks to the wooden floor and loft-style fireplace. Red sofas stimulate conversation.
Moreover, railings along the top edge and on the wooden steps are necessary to improve safety. Lastly, a larger-than-life wall art draws the eye upward.
17. Rustic Sunken Living Room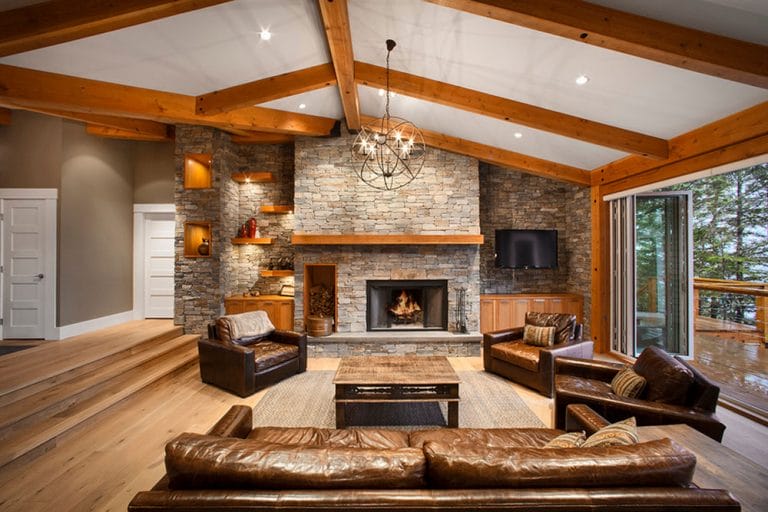 Here, bare wood floor, ceiling beams, and steps emanate a rustic vibe. Stacked stone wall and fireplaces give the living room more texture.
Leather sofa and chairs contribute to the upscale setting of the space. A vintage orb is such a nice final change.
18. Step Down Living Room from Dining Area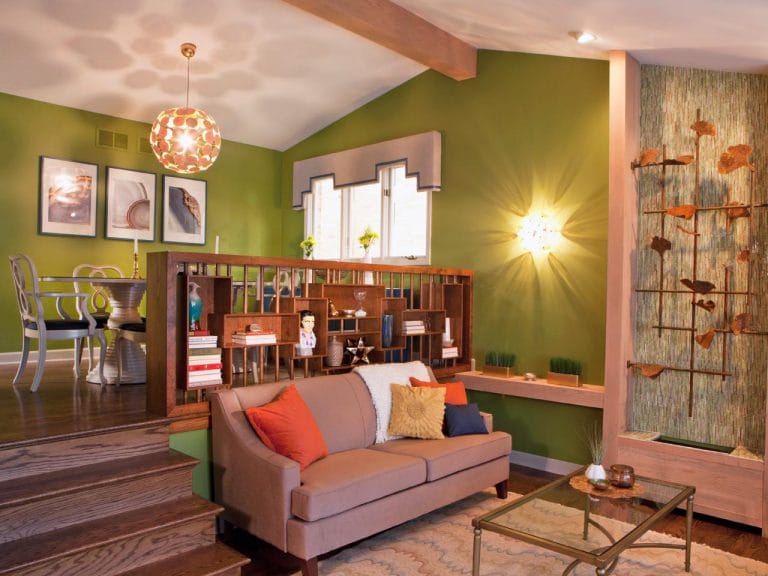 White vaulted ceiling evokes a sense of openness. The olive green walls and wood floor keep the dining area calm.
In addition, the homeowner linked her dining room with sunken living space. Patterned rug and bold throw pillows produce a fun ambiance.
When it comes to decorating a sunken living room, you certainly will use customized furniture units. Moreover, you should think about their configuration and the safety of your conversation pits.