If you are not a person who can sit all the time at work, the chance is you will fall in love with a standing desk. It offers an ergonomic design and movement variability. To save some money, you should make a DIY adjustable standing desk.
Here, I provide you with systematic pictures, detailed instructions, tools, and materials needed. This DIY project requires no woodworking experience. I guarantee you can nail it. So, let us have a look!

Tools You Will Need
Tape measure
Wood planer
3 to 4 Large pipe clamps (a ¾ inch size)
Trigger clamps
Miter saw
Impact drill or wrench
Small paint roller for spreading woodworking glue
T square
Palm sander with 80 grit
240 Sandpaper
Circular saw
Supplies and Materials
Woodscrews
Lumber for tabletop
Standing desk frame
4 wood scrap pieces longer than your tabletop's width
16 ounces of good quality woodworking glue
1. Build the Standing Desk Frame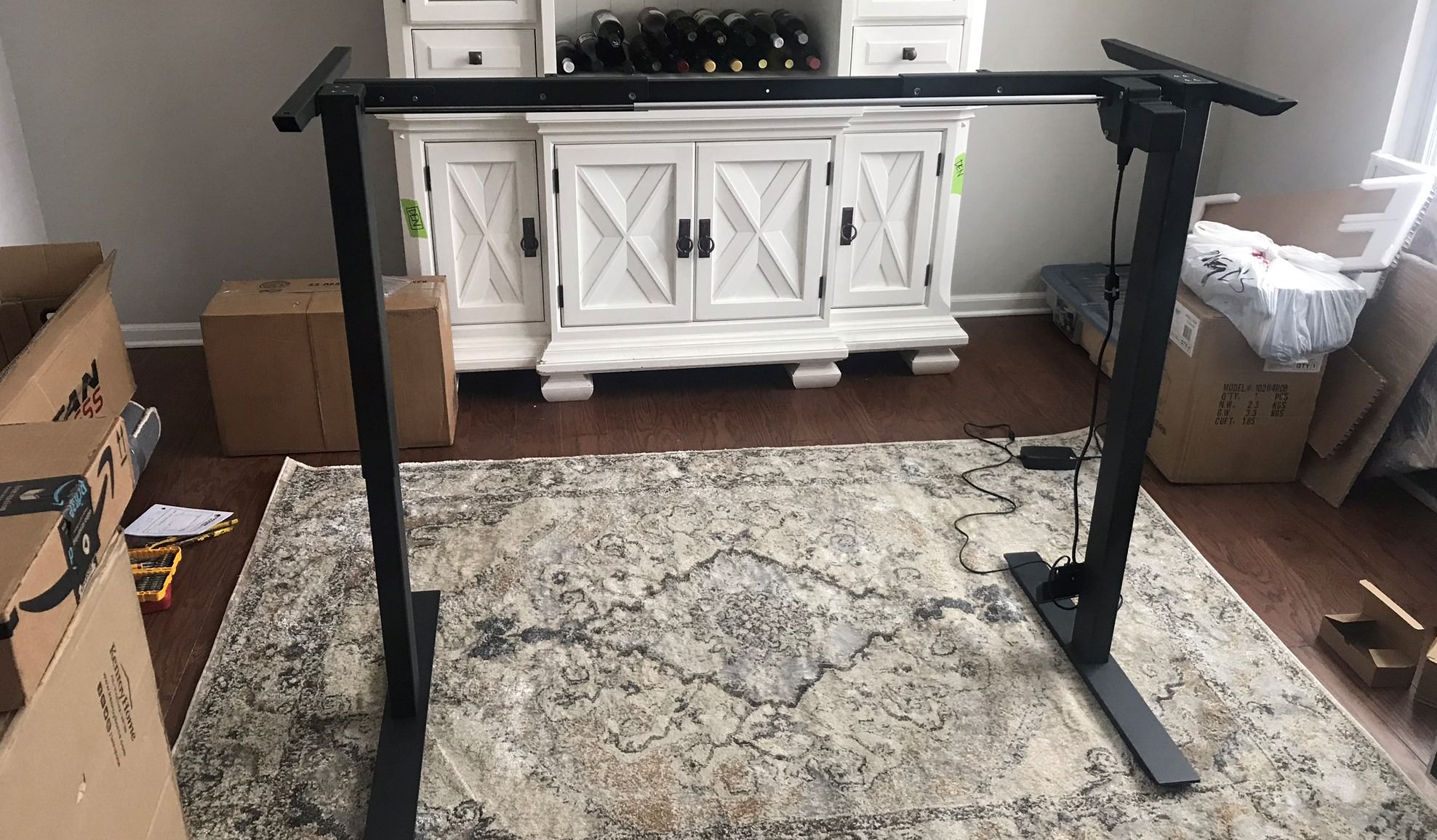 Before you start building your adjustable standing desk, you certainly must make the frame first. Moreover, you have to think about the placement of the frame. It can be located in your office or at home.
Furthermore, measure the width and length of the tabletop. For this project, the tabletop's length, as well as width, is 5' 55" and 26". Since the desk is large, it allows you to work comfortably. Even, you could put some decorations on.
2. Choose Your Wood
After measuring the desk frame, it is time to pick the right lumber. For you who are on a budget, pine can be the best option. Use wood conditioner to make the staining process easier.
If you plan to paint the tabletop, look no further than Poplar wood. Moreover, walnut and oak are expensive yet impressive.
As you buy the lumber, check for twists, bends, and cupping. By doing so, you can get an amazing result.
3. The Gluing Process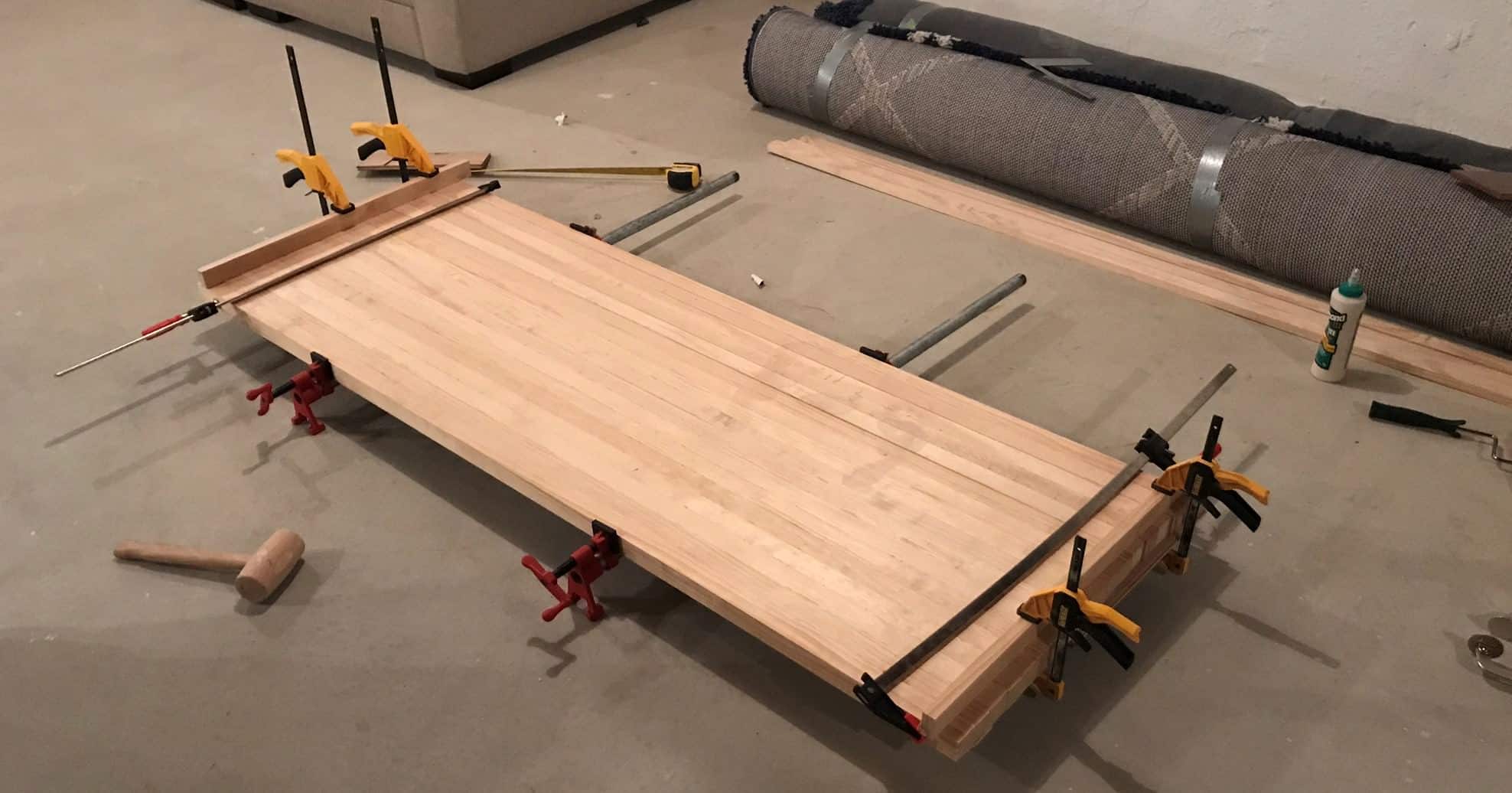 The large woodworking pipe clams are so crucial in the gluing step. Do they not only keep the wood off the ground but also offer powerful clamping force and level the wooden boards.
First, lay out the lumber. Then, clamp it together. This helps expose the problem areas that require further clamping. If you deal with alignment issues at the ends of your boards, scrap wood to ends.
You can practice the gluing process without glue a couple of times. Rotate each wood piece 90 degrees at a high level. It helps you brush on the woodworking glue. After that, rotate it back 90 degrees. The glue takes 6-12 hours to dry.
Use a miter saw to create 45 degrees angles and ornamental border around the perimeter of the tabletop. Then, cut your wood and glue it to all the edges of your tabletop.
4. Cut the Tabletop to Length

The next step is cutting your tabletop to its final length using a circular saw. In this process, you need to clean up its rough-cut ends. You can also trim both ends of the lumber.
Furthermore, the tape and sharp circular saw help prevent tear-out. Cut the table from the bottom to ensure that the blade spins into the finished surface first.
5. Plane Wooden Tabletop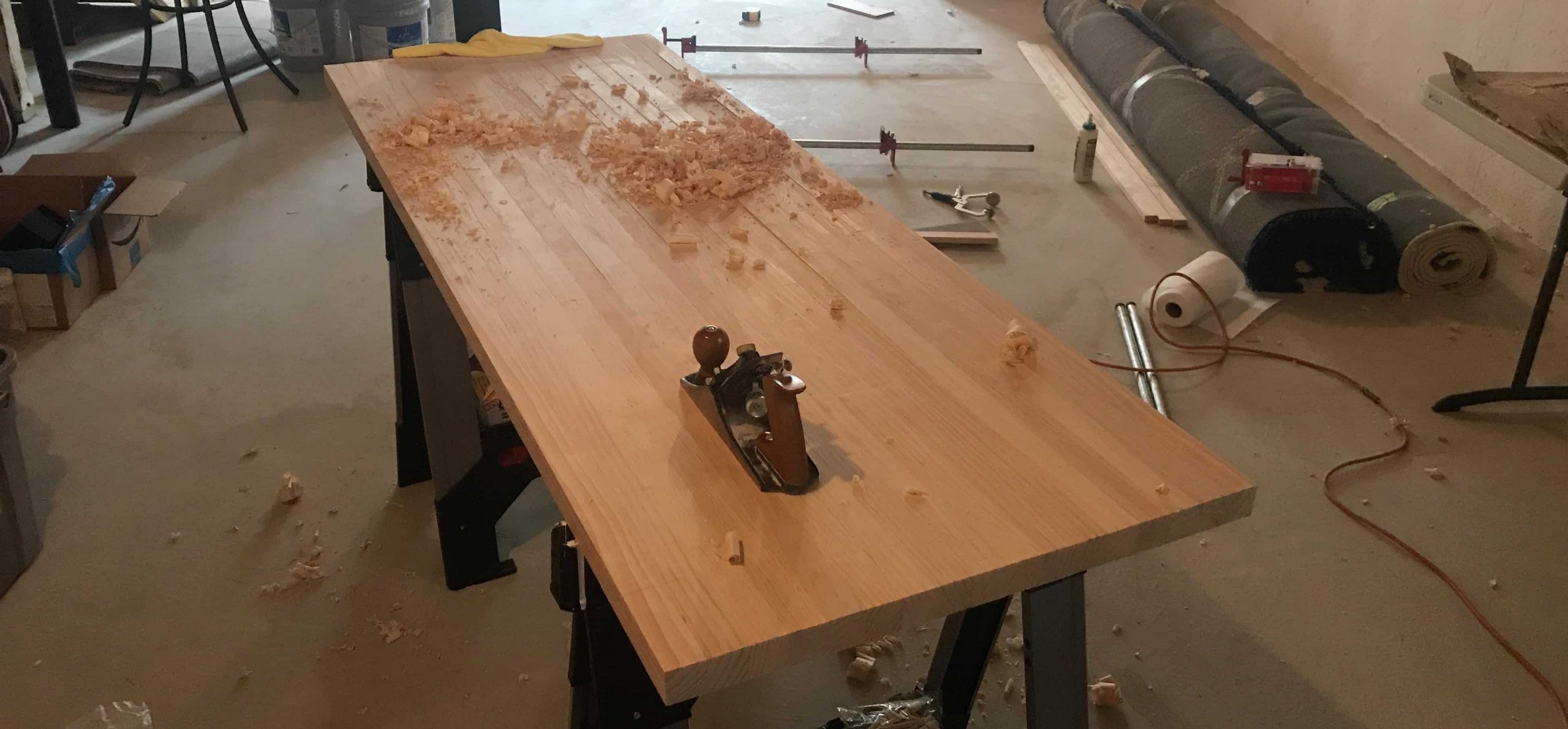 Next up is planning wood. First thing first, prepare your wood planer. This tool is used to level off high spots and shave thin strips from the wood. As a result, your lumber has a smooth and even surface.
Moreover, you need to plane down inconsistencies, uneven spots, or sawn edges left from the gluing process. Use a level to uncover high points, if there is any.
Then, use your wood planer at alternating angles of 45-degrees. This will offer you a good result. If you still find any roughened areas, no worries. I have got you covered. Let us go to the next step!
6. Sand Wood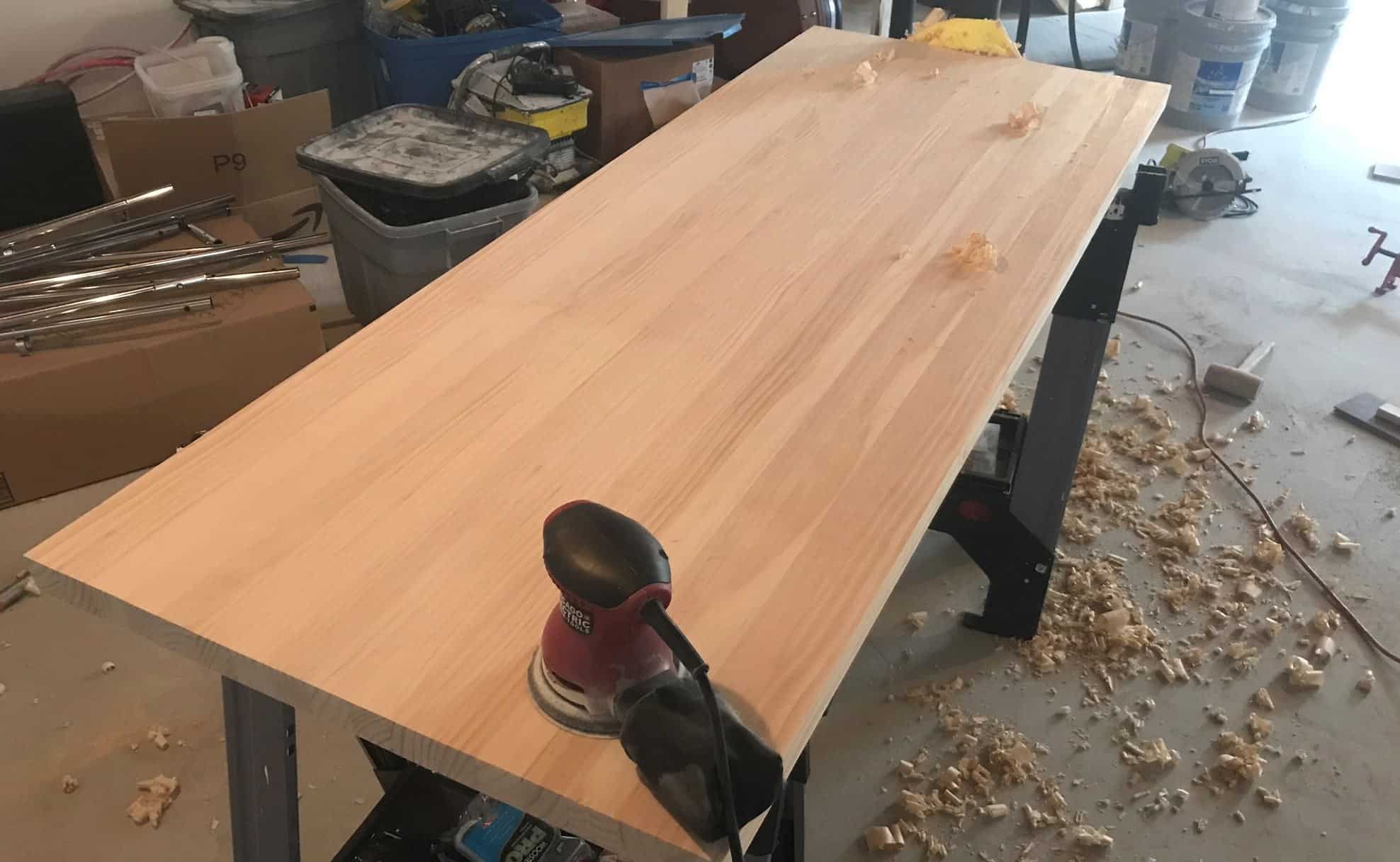 Sanding wood is an important part of any woodworking project. This aims to remove dents and mill marks caused by woodworking machines. If you do a lousy sanding job, you will not get the desired result.
Furthermore, use an orbital wood sander to finish your tabletop. You may start right away with a 240 sandpaper.
If your tabletop has a rough surface, it is better to do a two-step sanding job. You can start with an 80 or 120-grit palm sander. After that, use a 240 sandpaper to refine wood.
7. Finish Wood
The object of staining wood is to bring out wooden furniture's rich textures as well as colors. If you prepare your lumber the right way, you can stain it easily.
Before you stain your wood, make sure it has no debris or dust. Then, it is time to apply a wood stain to get a perfect finish.
Since you select pine in this woodworking project, use a wood conditioner first. Remember that you must do the research thoroughly to know the great combination of stain and lumber.
8. Install the Tabletop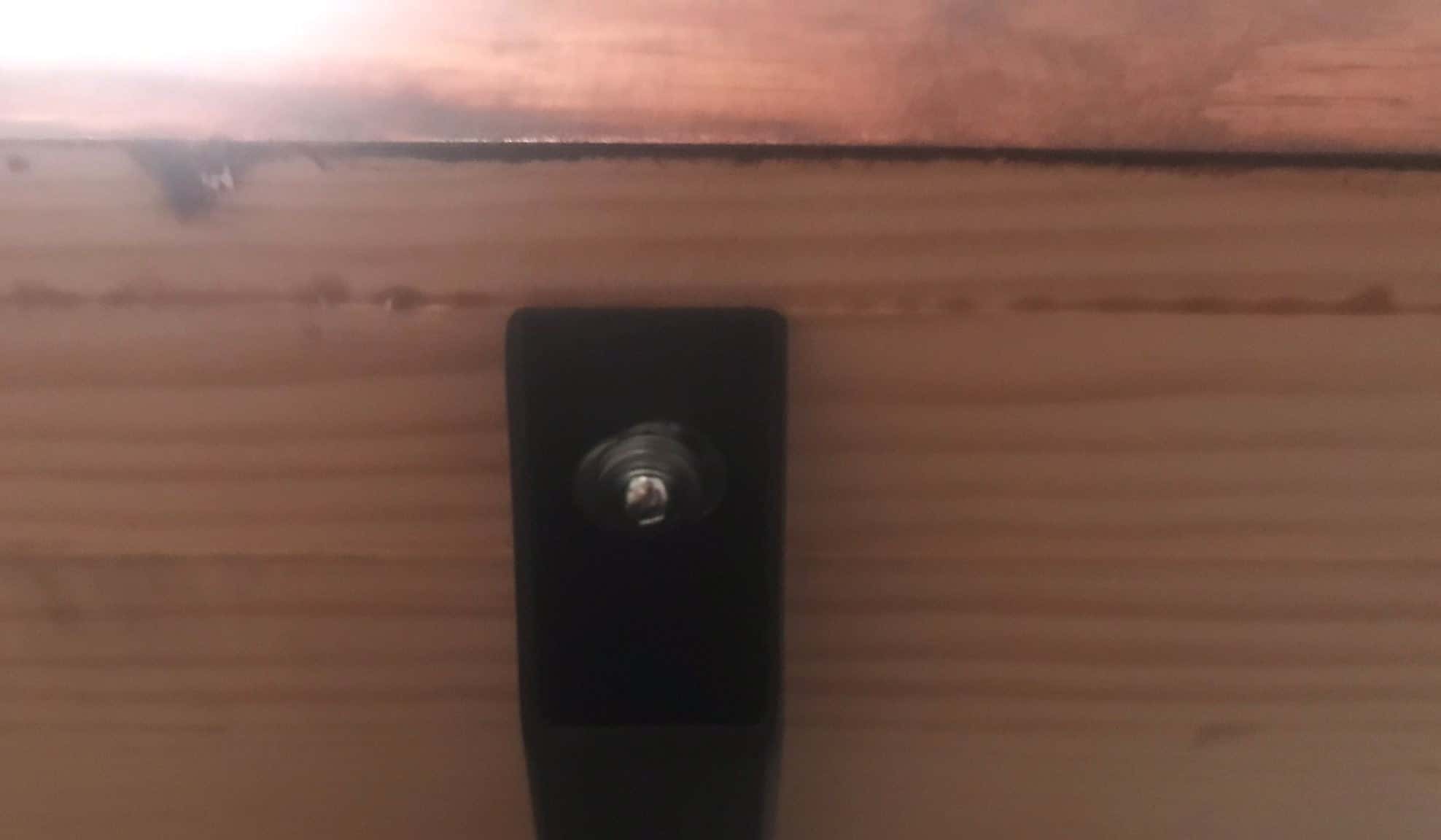 This step is quite straightforward. You may need someone to help you lift the tabletop into its place.
First, lower the standing desk. This makes you lift the tabletop on the frame easier. Then, you have to raise the desk. The tabletop must be squarely aligned and perfectly centered.
After dialing the tabletop in, clamp it to the bracket. This prevents movement when you drive in screws. Be sure you have compared the length of the screws to the tabletop's thickness. They should be neither too long nor too short.
Moreover, extra washers must be stacked if you are concerned about the length of the screws. Not to mention, use wood screws when attaching to a wood piece.
9. Install the Control Units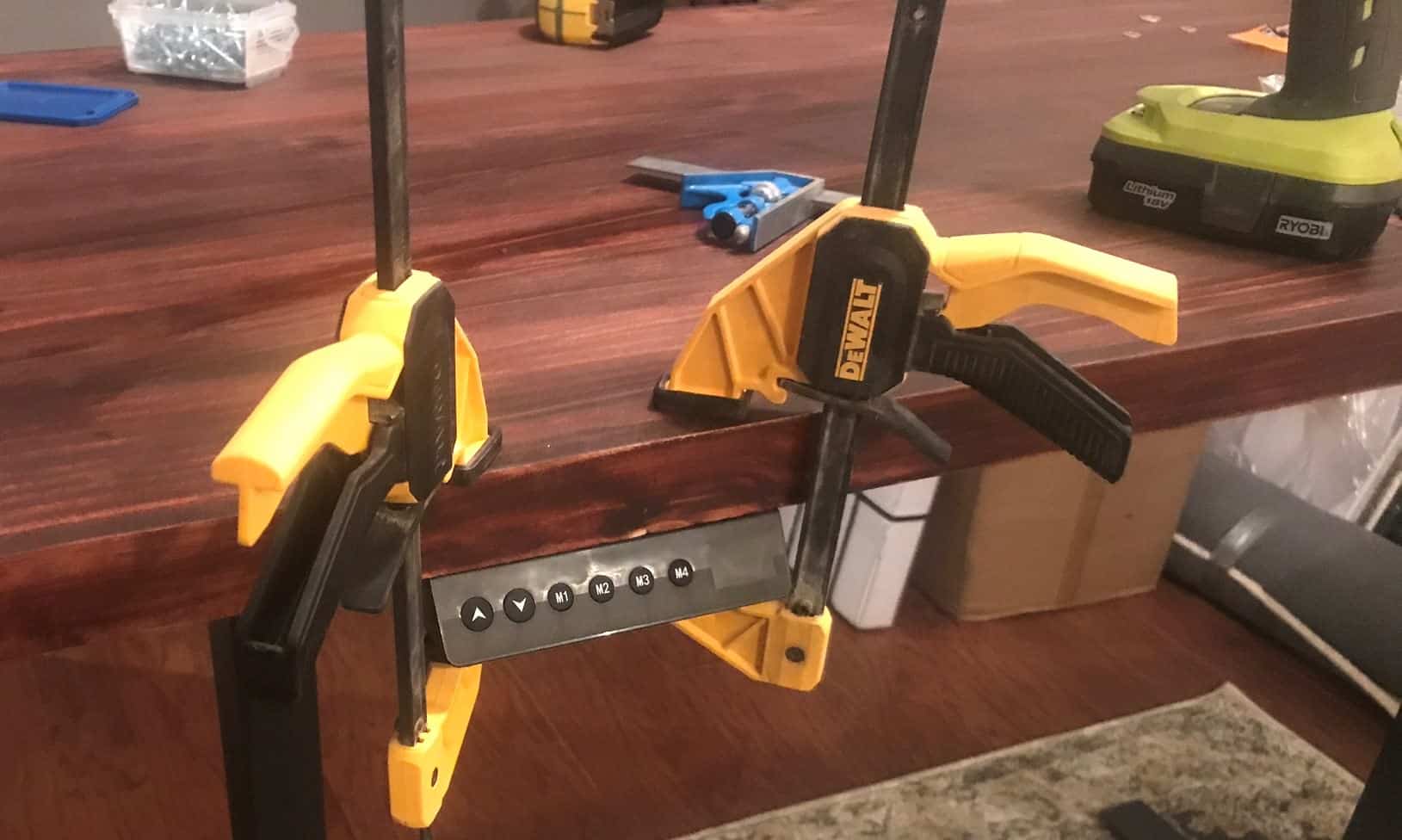 The last step is installing the control units. It will be much easier if you have small trigger clamps.
In the picture above, the controls are compact yet functional. They are specifically designed for height-adjustable desks. Moreover, they allow for transition from standing to sitting. Therefore, you do not have to stand all day.
In short, having a DIY adjustable standing desk is necessary. It does not only add a sense of personalization but also lets you select the material and finish. So, what are you waiting for? Let's build your standing desk!