The fire pit is a must-have element in any backyard patio. Both round and quadrangular shapes have characteristics in exuding their charm. For you who have fair ones, this article has compiled many square firepit ideas to inspire you.
Furthermore, you can take many ways to elevate your square fire pit, from decorating the area around to creating a unique firepit shape that only you have.
Without further ado, here are the thirty square firepit ideas for you!
1. Raised Square Firepit Ideas with Strip Light Under the Deck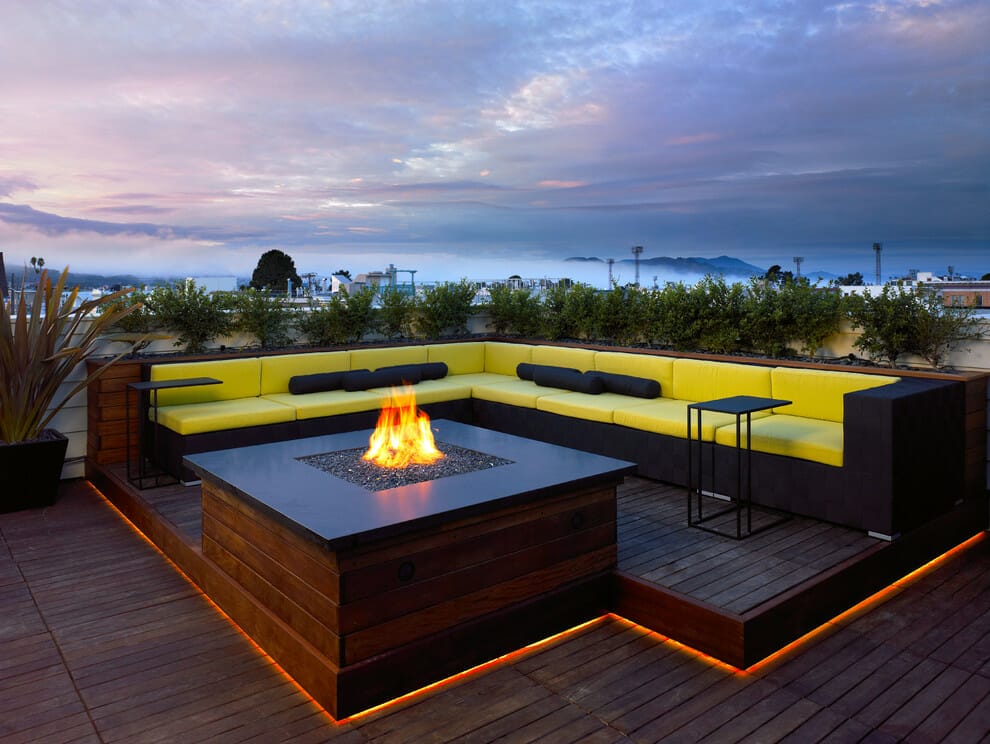 Raise the corner area of your backyard to further transform it into a sitting space complete with a firepit.
Set the firepit and bench close to the edges to give the impression that it blends in with your patio trims.
Next, attach strip lights under the deck to create a floating illusion on your "warm island."
2. Repaint the Fire Pit in Light Cream with Stone Framing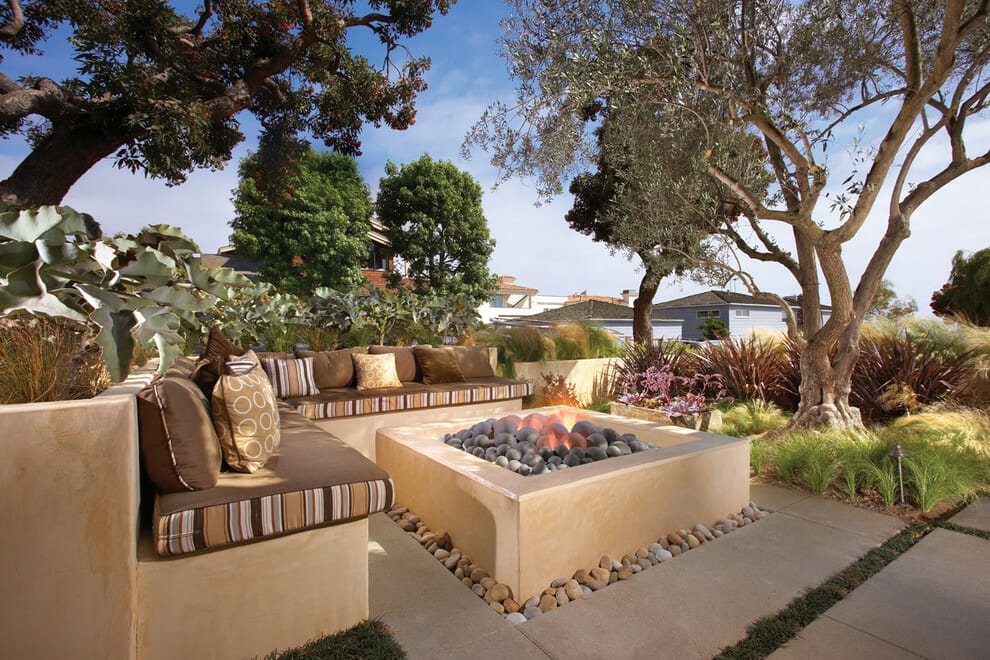 Adorn your old firepit by giving it a new color. It is the most economical step you can take at any time.
Choose a light cream shade to match the tones on your couch cushions. Then, give a stone frame around the firepit border to provide an excellent focal point.
You will succeed in entertaining the guest through this concept even without professional help.
3. Distressed Square Metal Fire Pit Ideas in Contemporary Backyard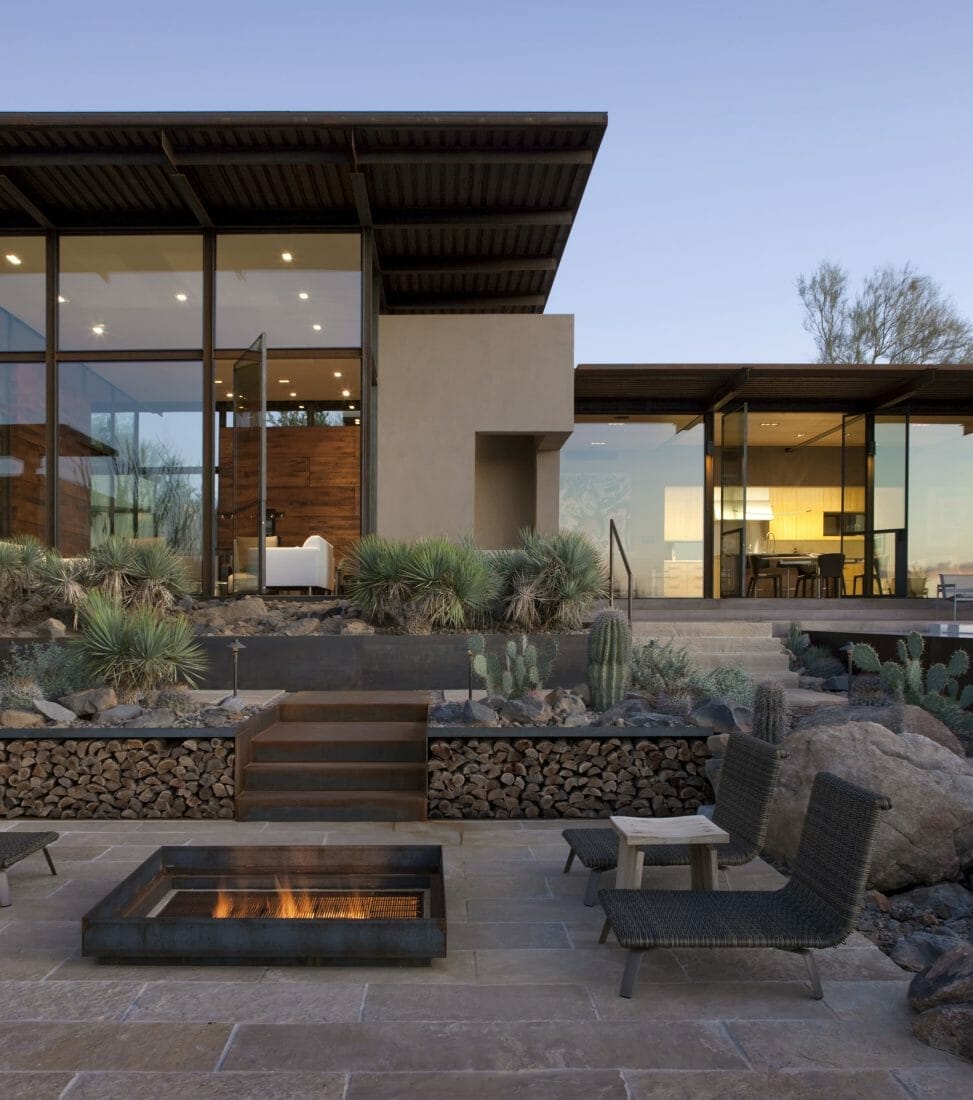 A contemporary-style house always combines modern and rustic elements in remarkable ways. One of the many square firepit ideas you have ever seen is using a metal border.
Instead of buying a new metal fire pit kit, it is better to reclaim old items that you already have. The distressed pattern around the border will give natural flairs that not everyone has.
Consider furnishing your backyard levels with worn metal to make everything look harmonious.
4. Square Firepit Ideas That Unite with the Patio Floor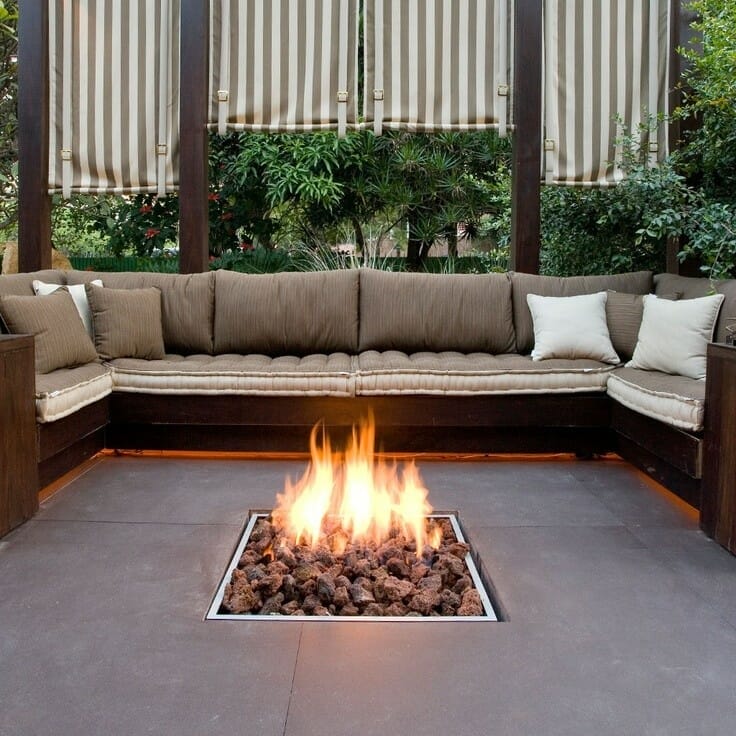 A built-in fire pit that integrates directly into your patio flooring will give your backyard setting a sleek and modern look.
It looks even better when you install concrete for your patio floors.
Complete your gathering area with an outdoor sofa in earthy hues to provide a warm and inviting ambiance.
5. Square Concrete Fire Pit in White and Dark Gray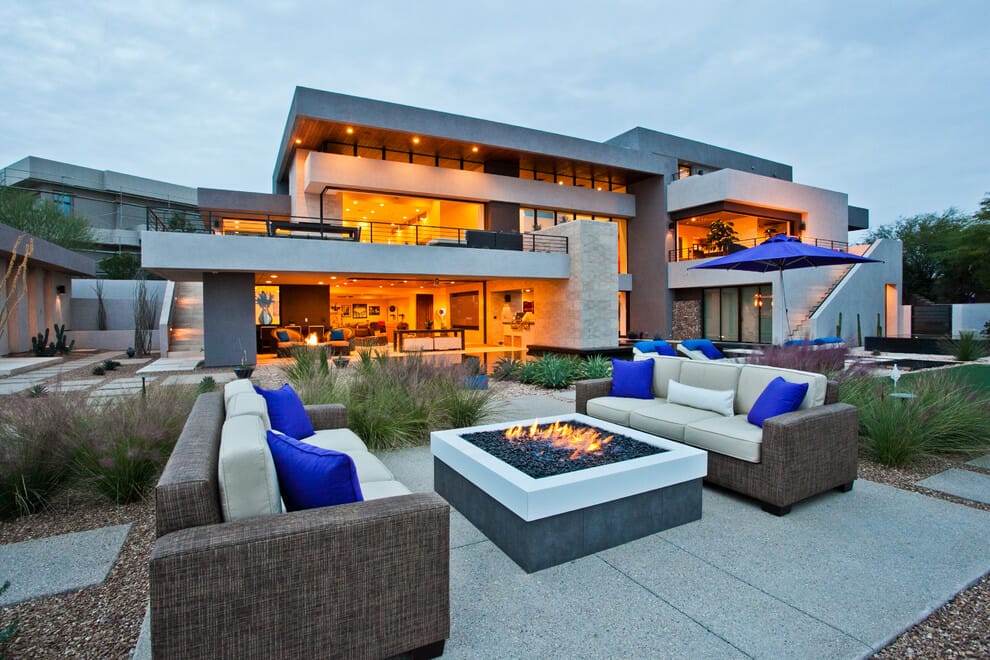 The square fire pit with contrasting colors such as dark gray and white combination is pleasing to the eye and can better state your outdoor sitting spot.
Installing a large plot of concrete pavers will draw an illusion of a vast grey natural rug under the fire pit. It will be more perceptible when you cover the rest of the land with gravel.
6. Floating Fire Pit on The Pebble Flooring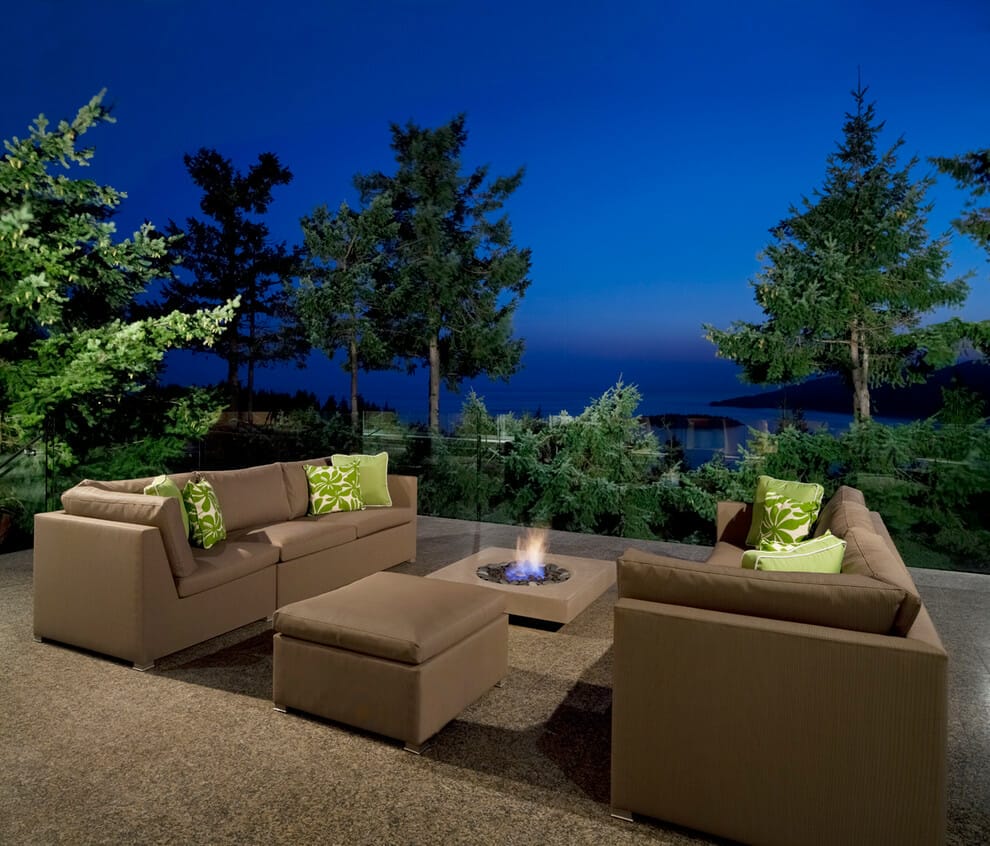 There are also floating square firepit ideas in this world. It turns out super easy for you to create this. You only need to set the bottom of your firepit smaller than the top part.
So it seems like your firepit has an invisible leg there. To add personality, you can install pebble tiles as the flooring in your backyard patio.
7. Come with Built-in Benches in Different Texture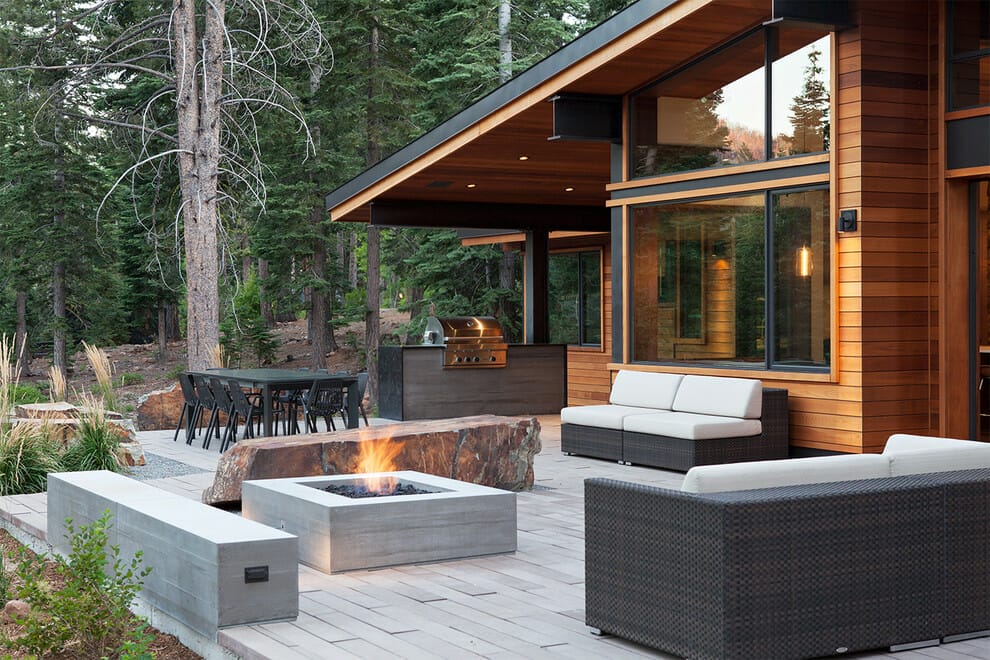 Presenting built-in benches around the fire pit is the ultimate way for you who plan to save the floor space.
Instead of giving the ordinary one, try to customize a bench that resembles a long boulder with uneven edges.
This element will be beneficial in providing distinctive flairs in the area near the fire pit.
8. Unique Square Firepit Ideas with Mini Waterfall and Pool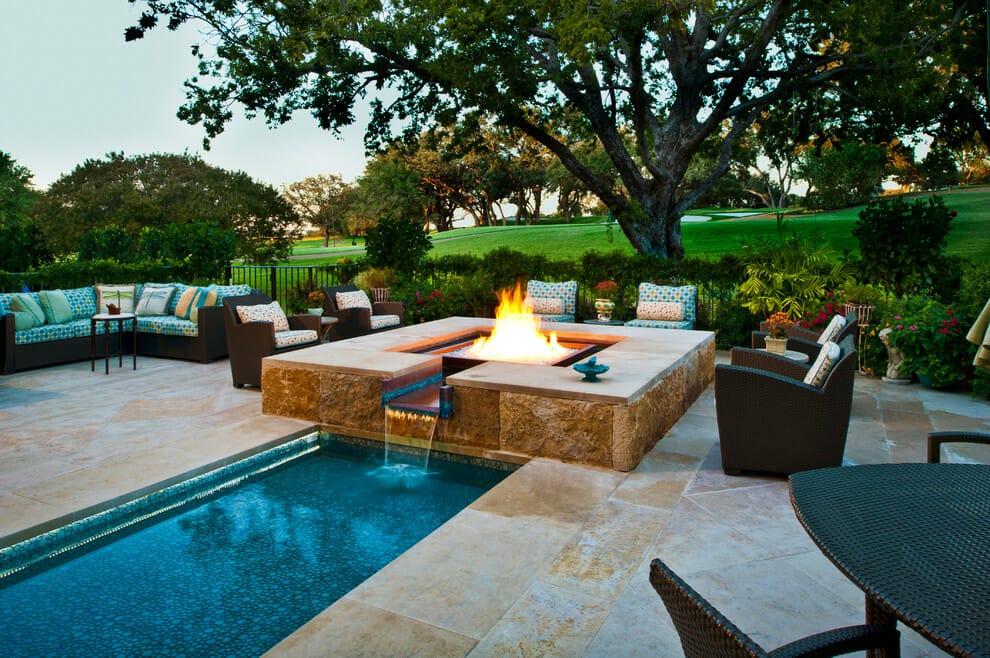 Have you ever thought about simultaneously presenting a waterfall and pool under your fire pit? If so, this is not an impossible thing to realize.
Get professional help to make it happen for you. Hence, enjoy the nighttime warmth around the fire pit with the relaxing sound of gurgling water.
9. Fire Pit in The Rooftop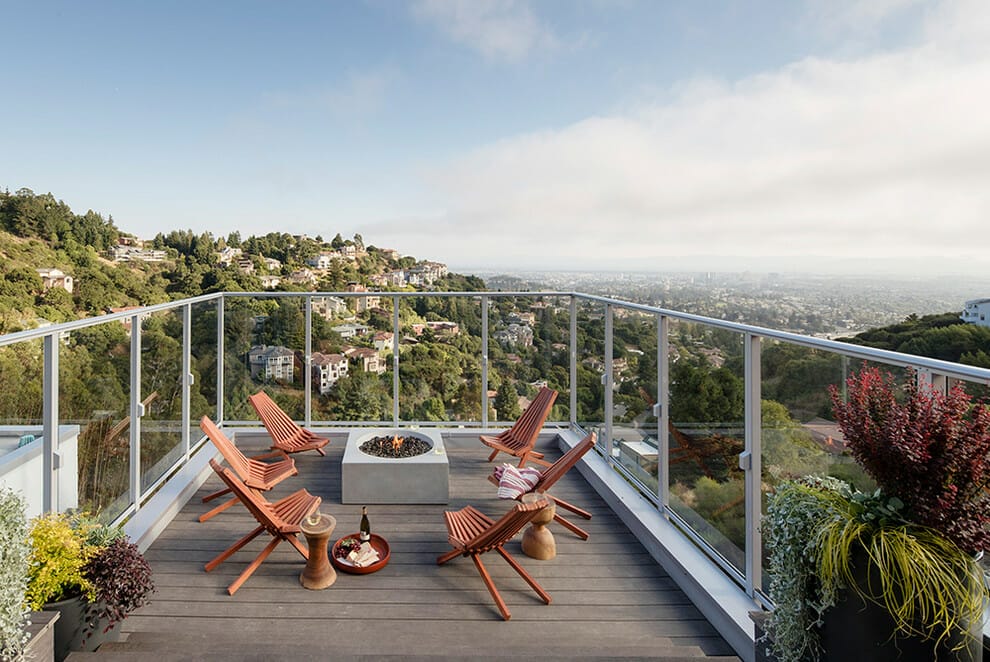 Who says you can only serve fire pits in the backyard? You can even put it in the outdoor sitting space on the rooftop.
It will be a new experience because you can enjoy the warmth of a bonfire while enjoying the natural landscape from a higher place.
Ensure this area is equipped with railings to provide security for everyone spending time there.
10. Give Red for The Fire Pit Border and Outdoor Couch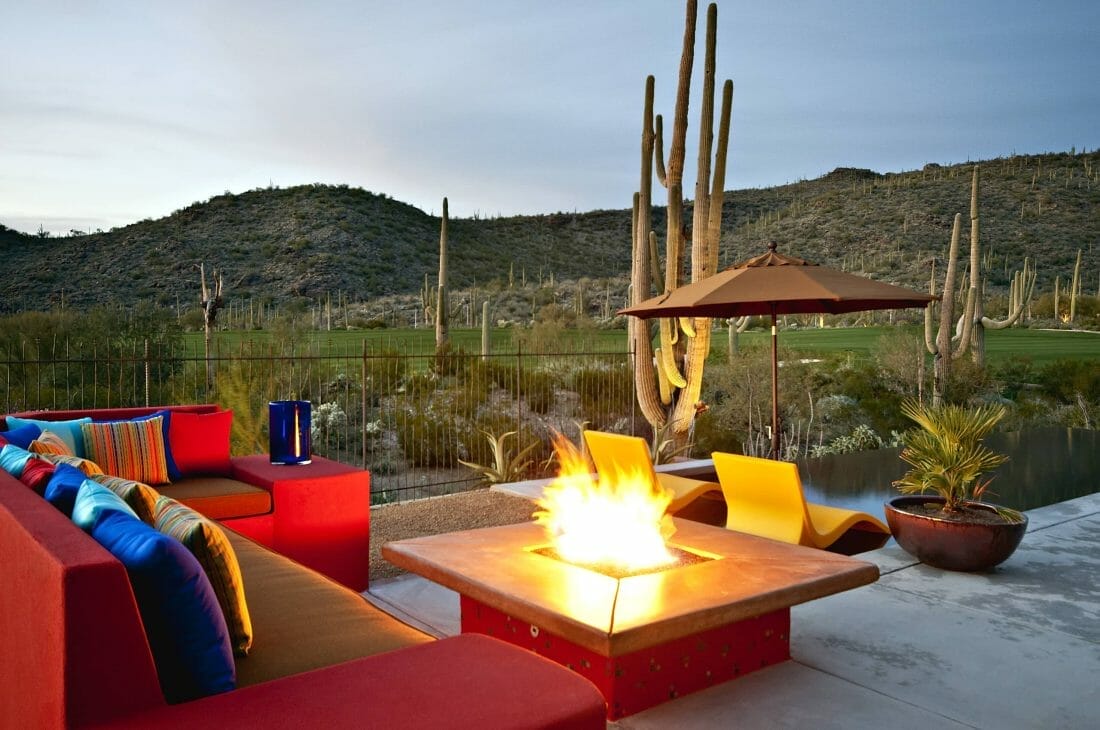 The following square firepit ideas are about color mixture to add a pop of color to your backyard patio. The robust red will be suitable for displaying around the fire pit, including the border.
Additionally, you can also adjust your outdoor sofa to the same hue. It will immediately grab the attention of everyone who visits your home to spend the summer nighttime together.
11. Square Firepit Ideas with Additional Top for Coffee Table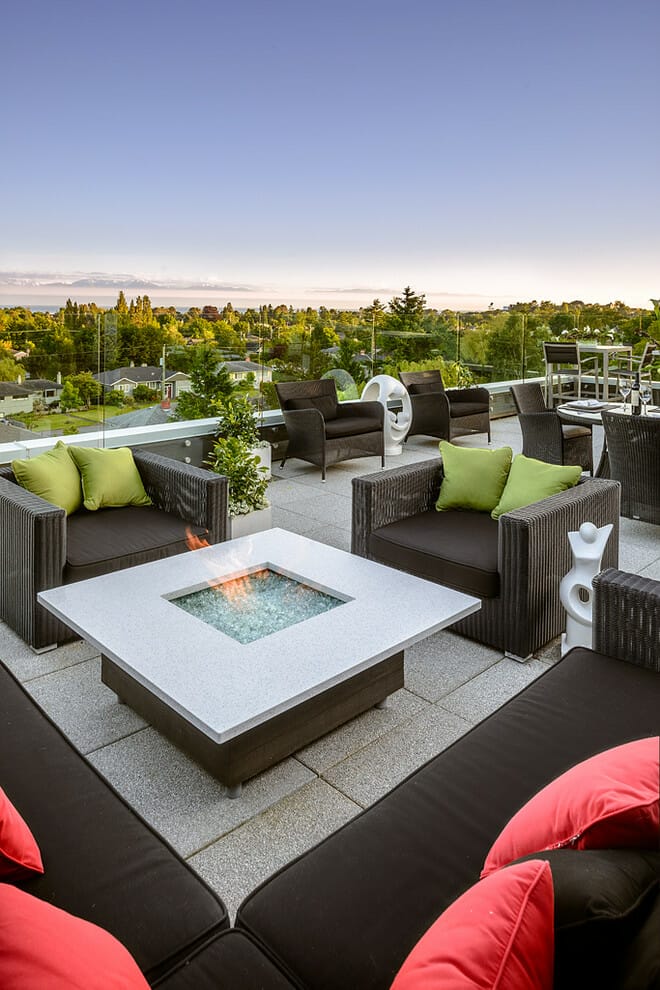 The fire pit table is an important feature to make your togetherness far from bland without a nice cup of hot chocolate and a few other things on it.
Besides promoting aesthetic aspects, a fire pit with an additional top as a coffee table also proves that versatility is also crucial to consider.
So, let us say that previously, you only had a standard fire pit. Try replacing it with this model and get everything feels more convenient than before.
12. Square Fire Pit Kit with Prescott Bluff Stone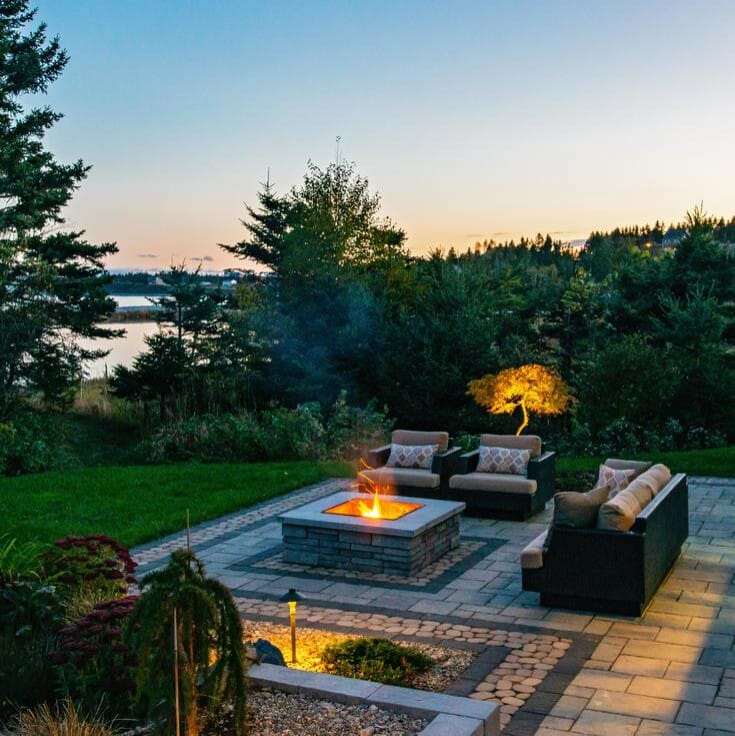 Today, it is effortless for you to get a fire pit kit from the online marketplace. Usually, these are supplied with complete elements, including the installation guide.
So, there is no reason for you to have an unstylish fire pit in your backyard patio.
Like the Prescott fire pit above, you might not expect this one comes from a complete kit because of the natural appeal it has.
13. Square Firepit Ideas with Tempered Glass Wind Guard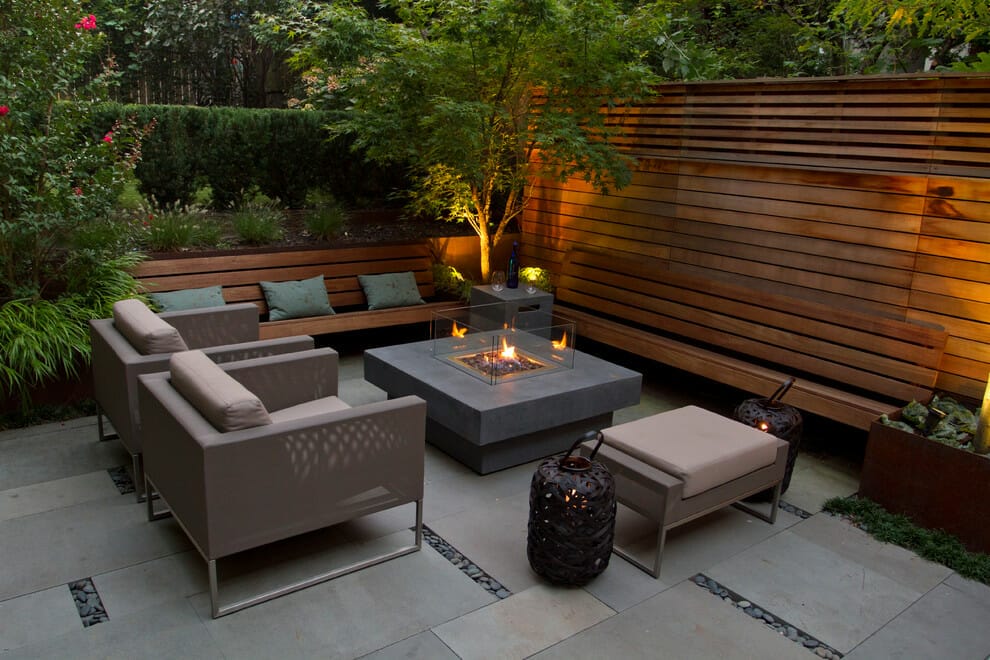 We need a wind guard to protect the fire from suddenly being snuffed by the wind. One that is made of tempered glass is very aesthetic and looks modern at the same time.
Besides keeping the fire alive even when the wind is blowing, this feature can also reflect the flames. So you can get the illusion of three flames at once from various angles.
14. Tiny Chevron Tiling for The Fire Pit Border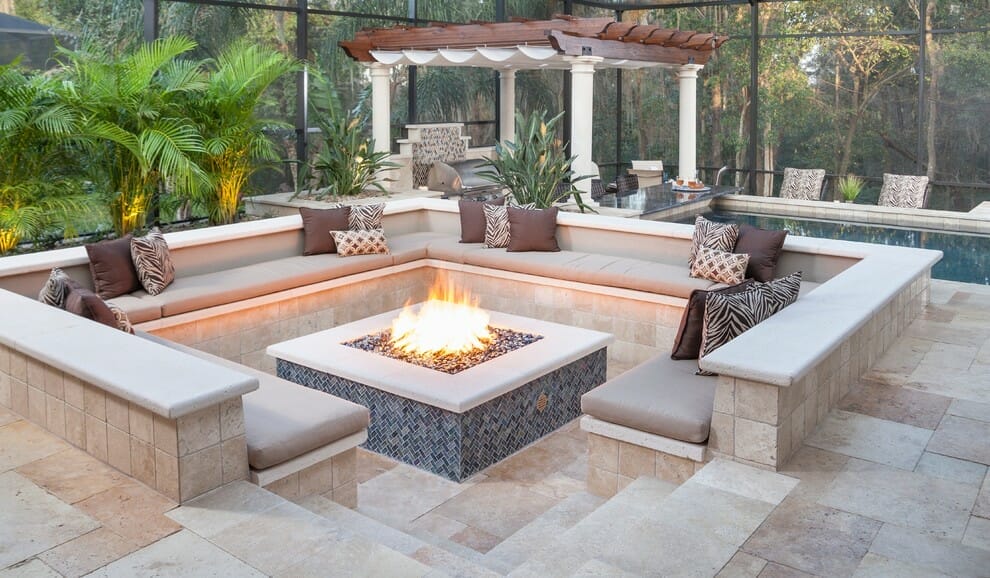 Embellishing the firepit border is a must if you want this spot always to be a focal point on your backyard patio.
One of the most potent steps is to install tiles around it.
Consider going with a tight pattern like the tiny chevron above. That way, your fire pit can exude its distinctive flairs better than others.
15. Limestone Fire Pit on The Concrete Patio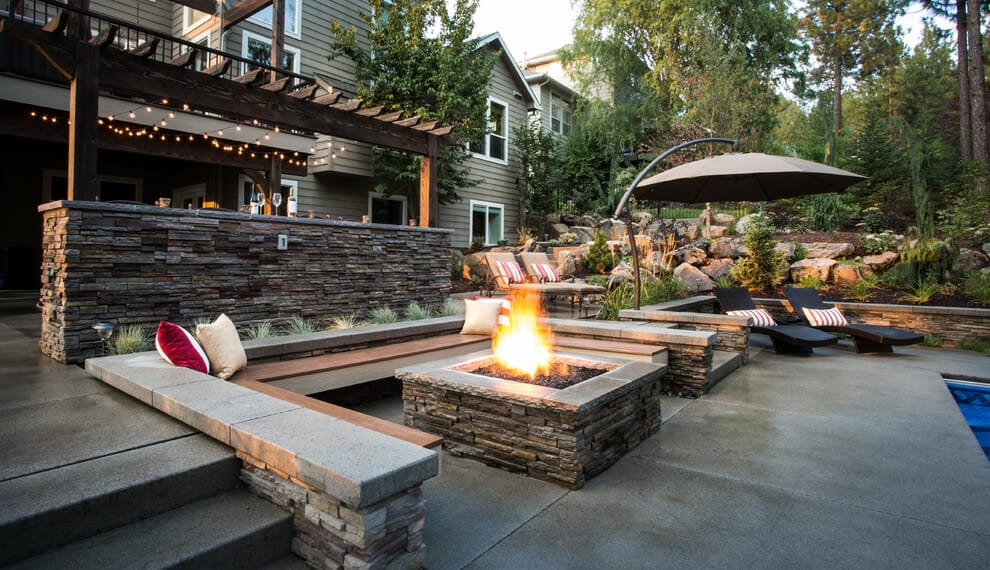 Without a doubt, square firepit ideas with limestone borders will attract the attention of many people.
The uneven surface will give a strong pop of texture, so it is important to give the bench a smooth veneer so they do not seem overpowering.
To reduce the existing stiffness, you can set some cushions on your built-in bench as above.
16. Fire Pit with Asymmetrical Legs in White to Add Distinctiveness to Your Backyard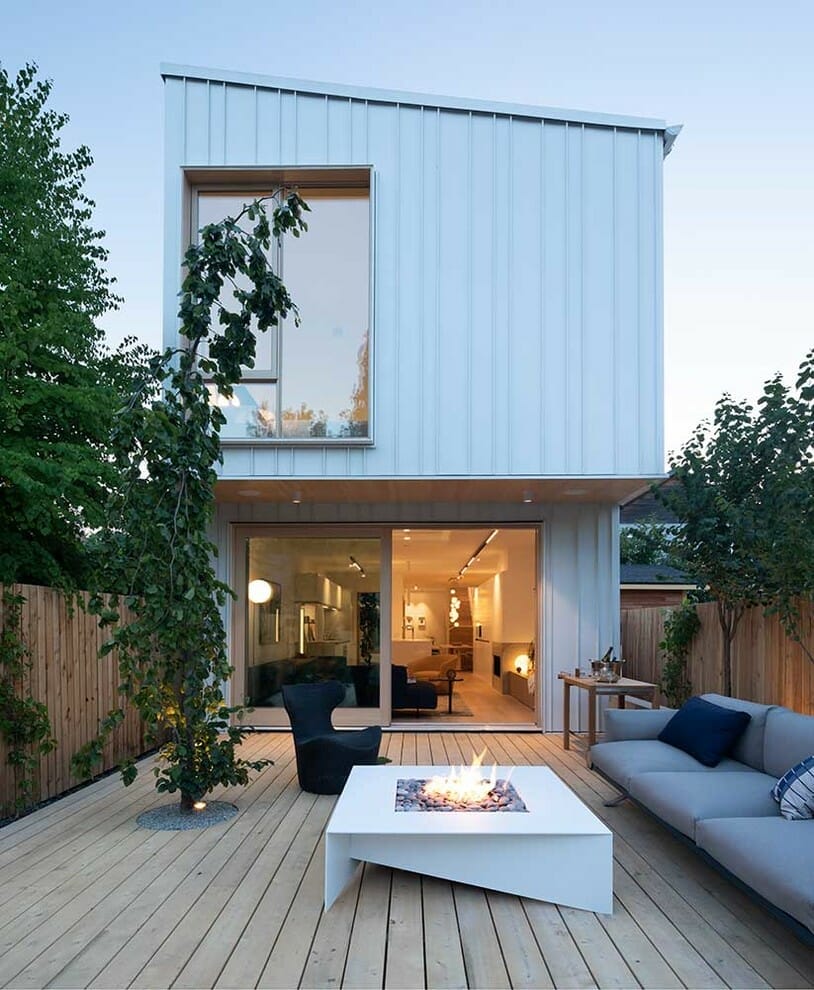 A square firepit with asymmetrical legs will give your backyard a unique flair. Even it will be eye-catching in only a white hue.
Such a fire pit design is most suitable for your suburban house in a contemporary theme.
Along with this feature, you can install composite decking and place modern outdoor sofas and greenery to liven up the atmosphere.
17. Rattan Rocking Chairs Surround the Concrete Fire Pit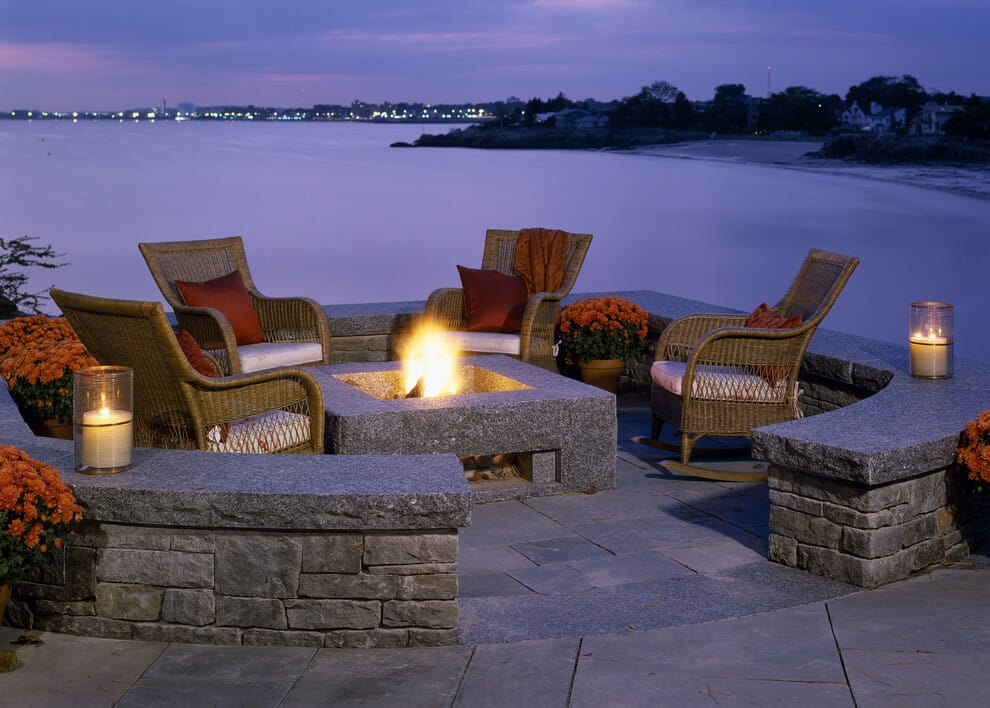 Concrete square firepit ideas turn out to be going well with any kind of decor and furniture, including the rocking chairs.
You may never have thought of this design before. But after seeing this picture, you will be sure that it is the best concept that you should adopt.
Reduce the stiffness of the square firepit by providing a round enclosure around it. Then, place some rattan rocking chairs inside the enclosure, too.
Meanwhile, you can decorate the outer part of the round border with some flowers to give a bit of pop-up color.
18. Red Cushion to Liven Up the Atmosphere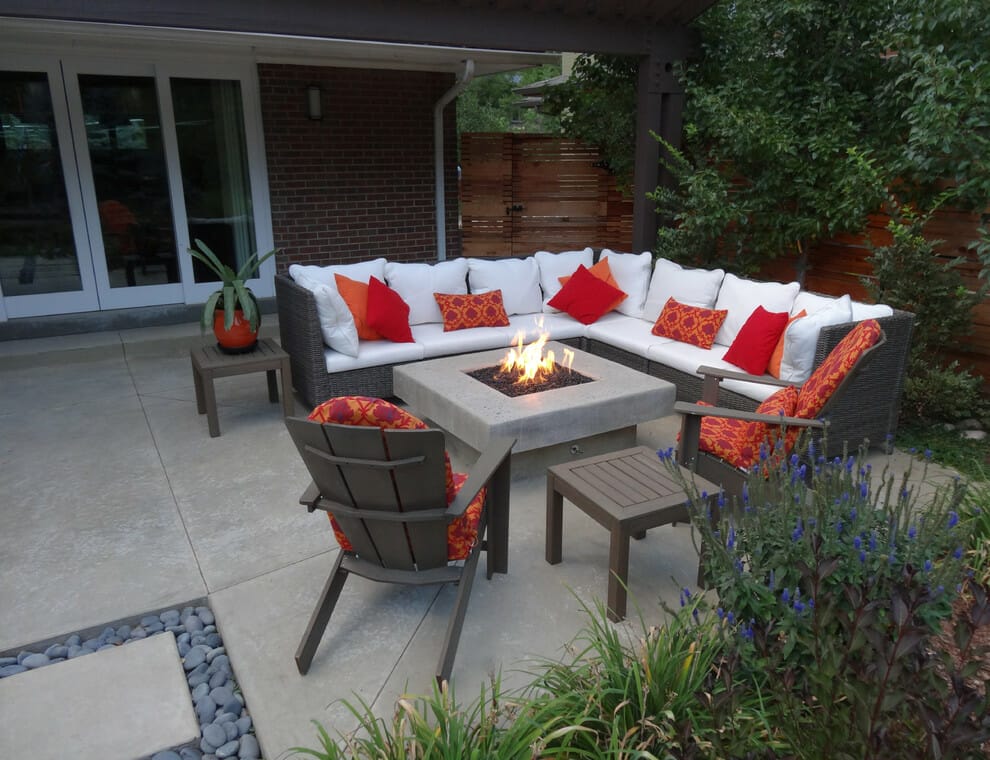 After being directed to give a red hue to the fire pit border, in this section, you can display a touch of this energetic color only to the cushions.
On the other hand, you can let the outdoor sofa be white and a firepit in its natural concrete color.
At first glance, this backyard patio arrangement looks simple, yet it is cozy and inviting because it presents a harmonious color mixture.
19. Small Square Firepit Ideas in Refined Look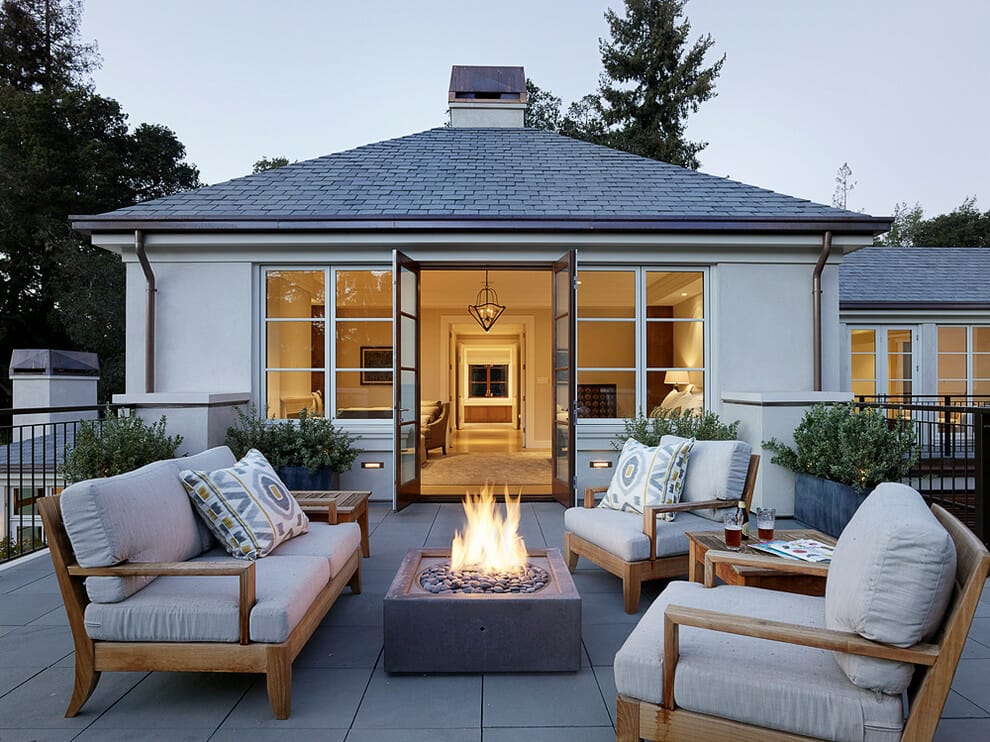 Different from other fire pit sizes previously mentioned, this one looks smaller, yet remarkable due to its refined surface.
This design is ideal because you have already given a strong texture to the concrete pavers.
To avoid a monotonous impression, it would be better to give the cushions in a more colorful motif as above.
20. Brick Border to Match All Exterior Decor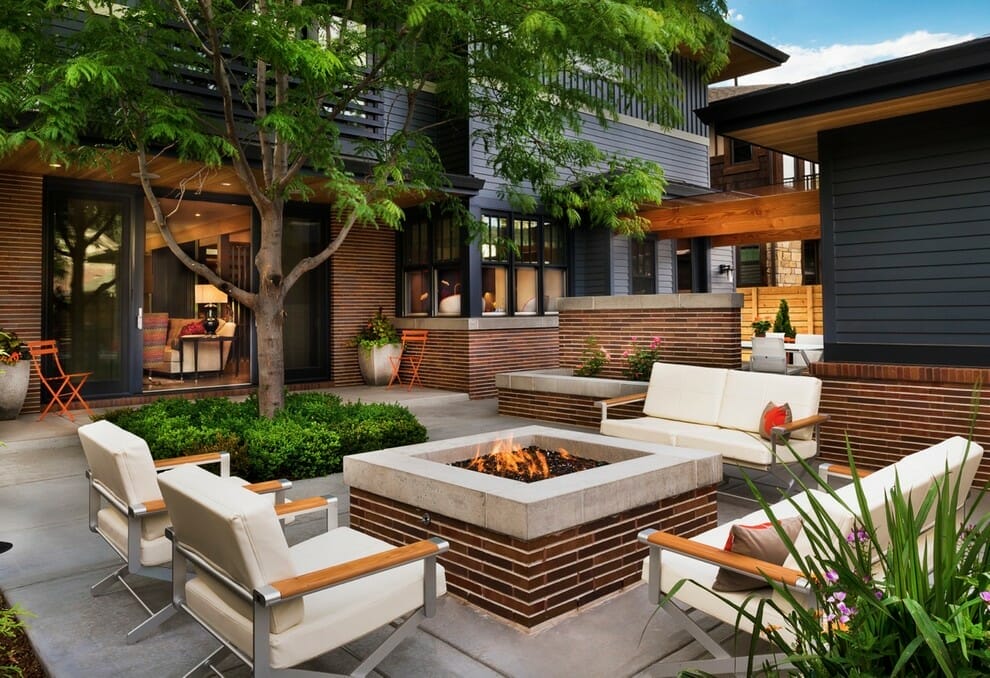 Uniform the embellishment on your firepit border with the existing exterior decor. It aims to provide a cohesive personality between one element and another.
To give a pop of texture and color, installing bricks to elevate your exterior decor including a firepit is the best way.
Meanwhile, you can leave the outdoor sofa in cream or broken white to balance the look.
21. Cement Fire Pit with Rock Landscaping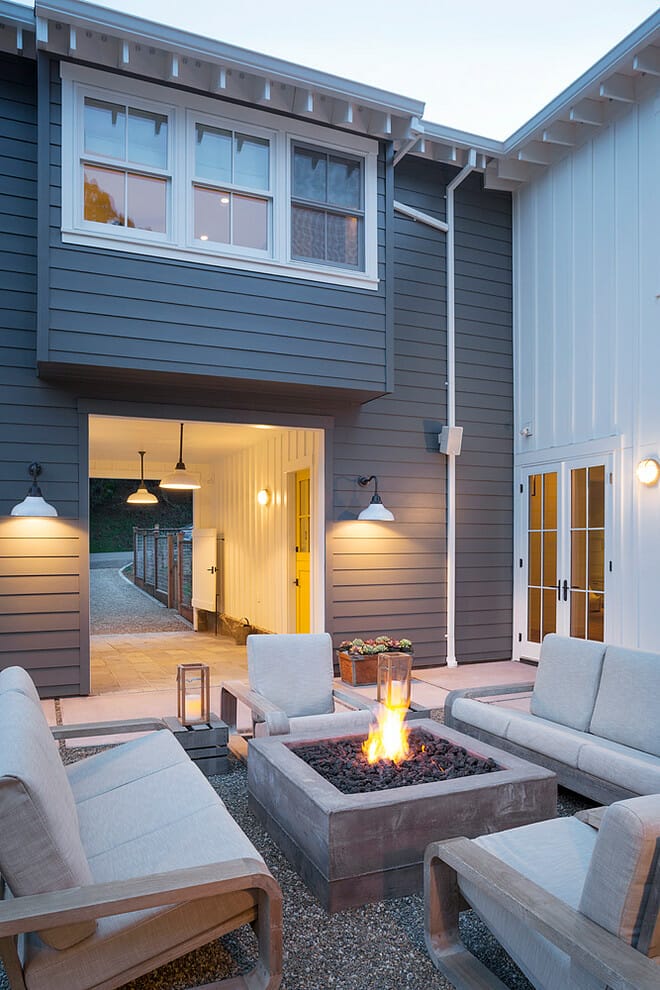 Be creative in implementing square firepit ideas in your backyard patio. One of the easiest and effortless strategies is to spread the gravel around the firepit and your sitting area.
No wonder this rock landscaping will be able to elevate your cement fire pit, which is way too simple, perfectly.
22. Mixing the Colors, Patterns, and Shapes of The Patio Pavers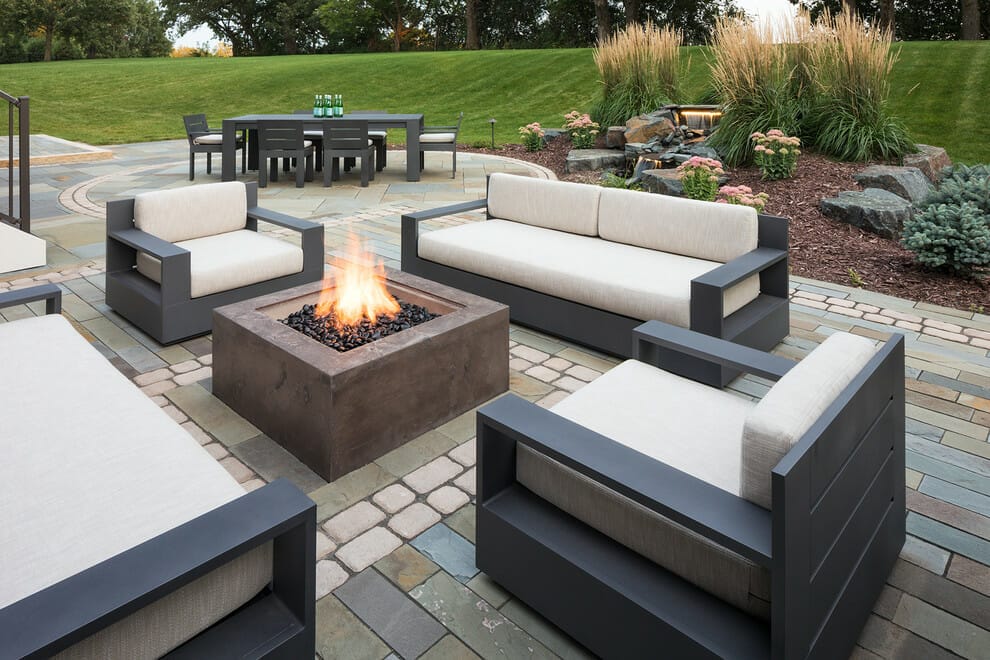 Suppose you have enough to leave the fire pit border with a plain hue. So you only have to present a pop of color, pattern, and texture simultaneously in your paving layout.
Through so many color mixtures and shapes variations, you do not need to force yourself to put a distinctive flair to the firepit unless you want to make your exterior layout look overwhelming.
23. Cacti Around the Fire Pit to Create Desert Landscaping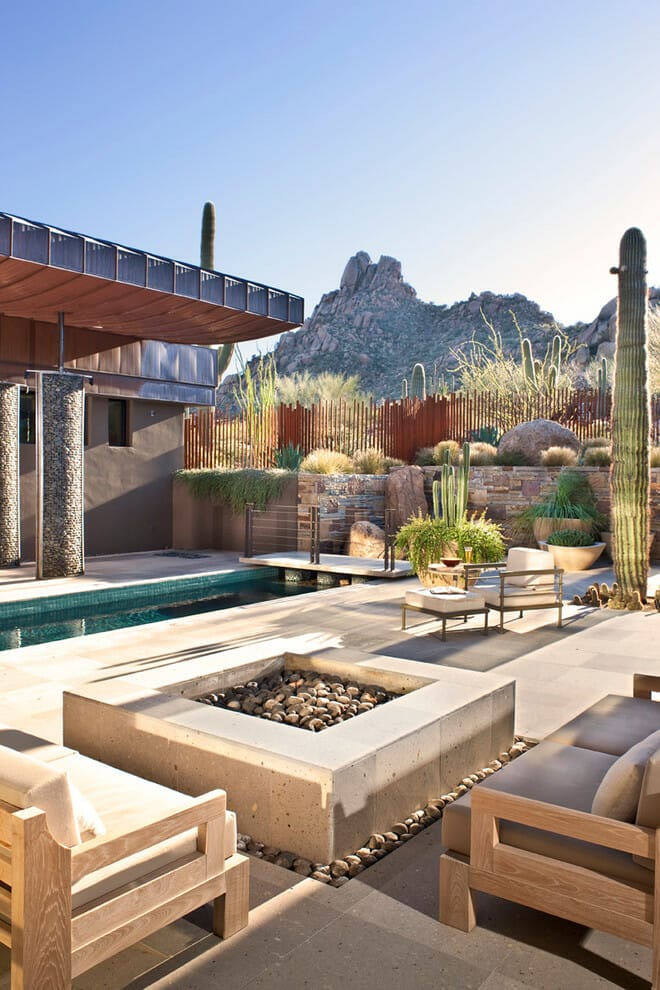 Attractive square firepit ideas are not only about adopting a unique item but also including a patently conceptualized surrounding decoration.
If you want to present a desert finish in your backyard, opt for a fire pit in concrete in sand tone as above. Next, complete the exterior decor with cacti at certain spots that you have prepared before.
24. Set Square Firepit far From the Building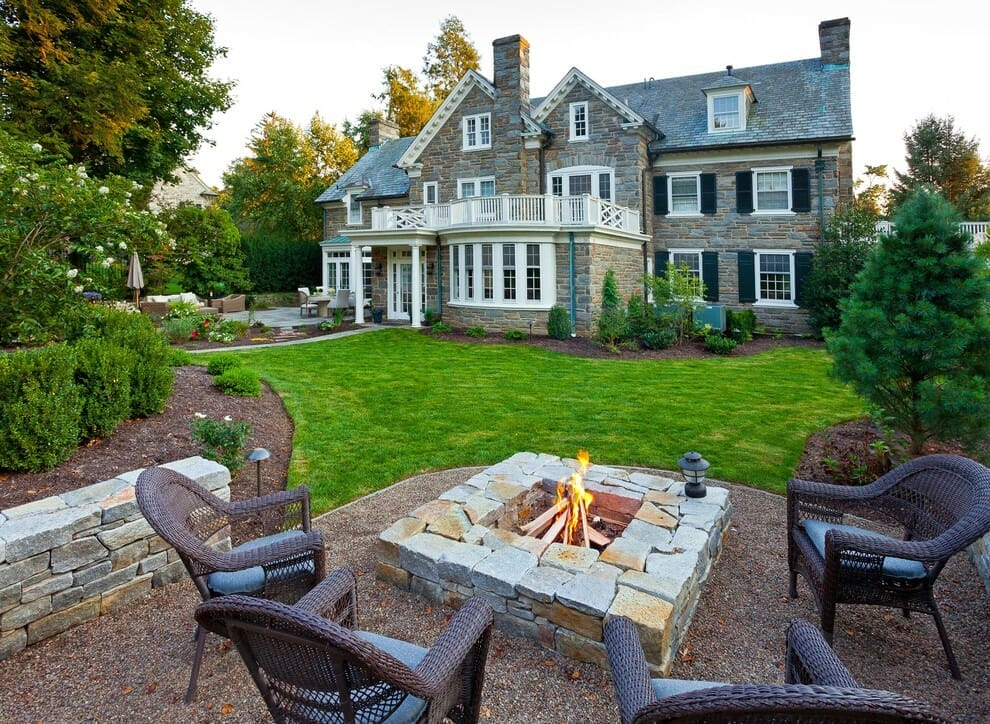 In the large backyard, you can set your firepit away from lawns and buildings. Create as if it was a private land with gravel.
Then, build a fire pit from flat stones that are stacked to form a box like the one above.
Even though it is located far from home, this design will still succeed in stealing the attention of many people.
25. Square Firepit Ideas with Pathway and Sage Green Outdoor Sofa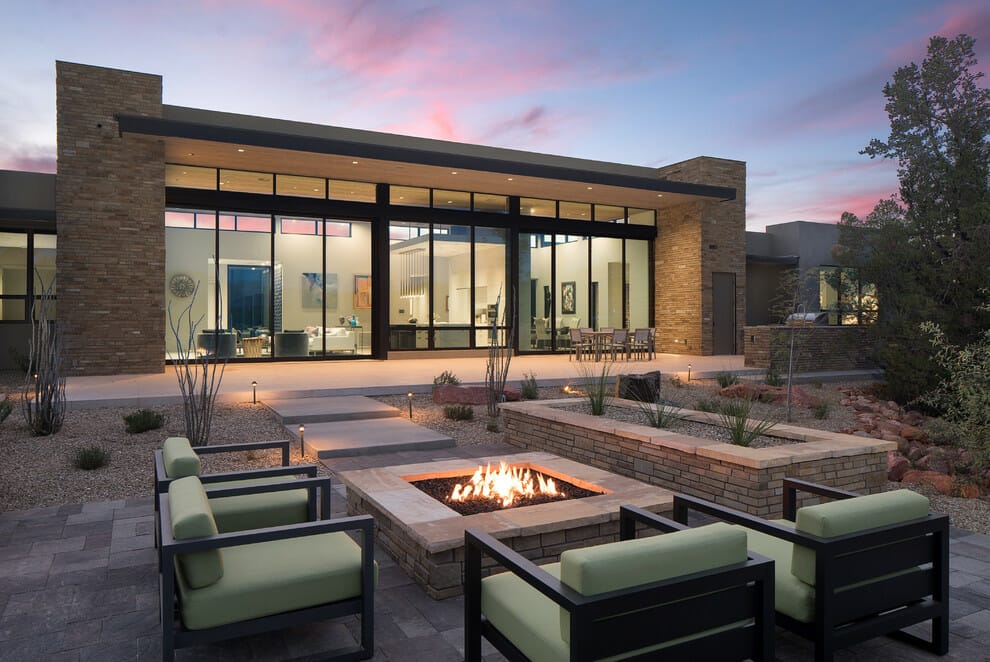 Direct the pathway in your backyard to the sitting area to give an accessible and inviting impression of the fire pit spot.
When the land around the fire pit does not have a lot of greenery, then try putting an outdoor sofa in sage green instead.
It will help refresh the look of your backyard so it does not look too arid.
26. Exposed Interior as The Fire Pit Background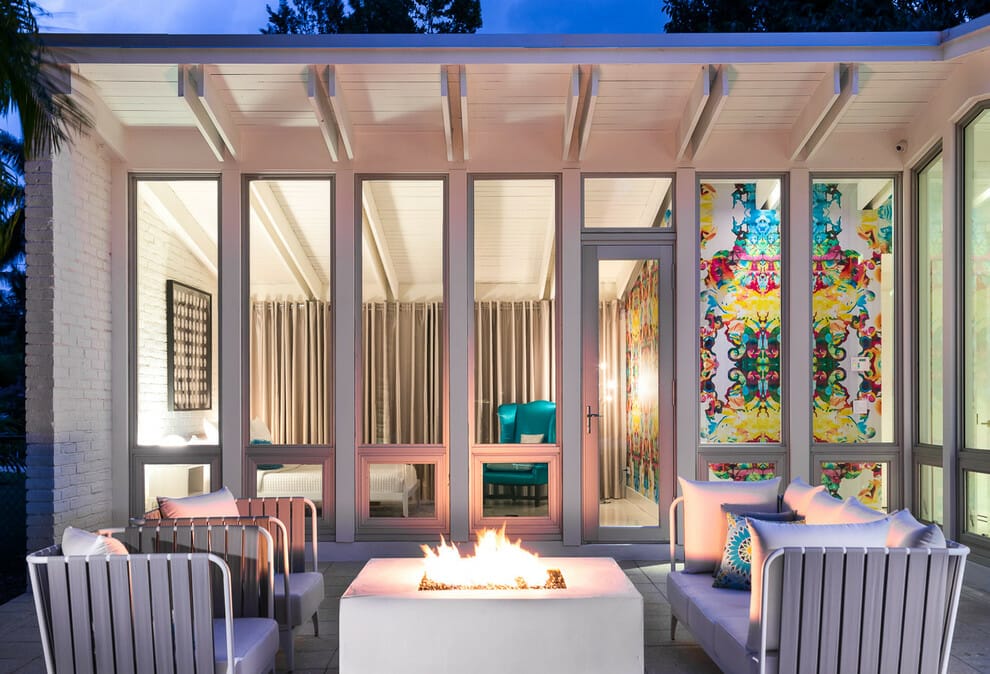 Install the glass walls at the back of the house to expose your artistic interior decor.
Remember that this strategy is not only to show off everything inside the house. More than that, it is about providing an attractive background for your firepit area.
After all, setting the firepit close to the backyard entrance would make things convenient, though.
27. Unite with Nature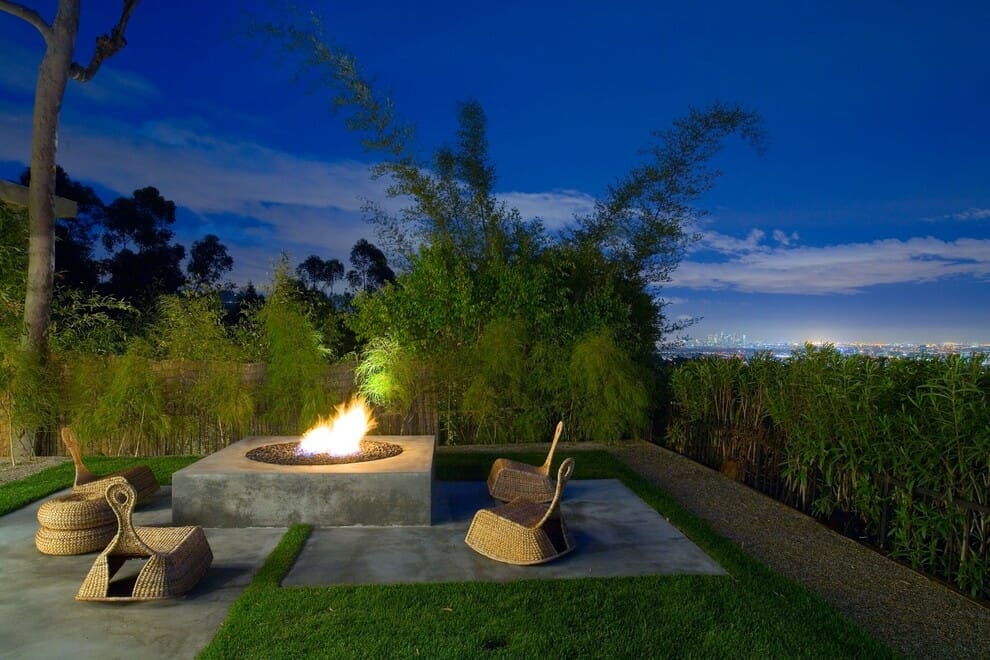 Combine any square firepit ideas with nature to get a relaxing and refreshing ambiance day and night.
Instead of only providing concrete flooring as a fire pit foundation, you can also grow lawns in other areas to give a remarkable transition to your backyard patio.
28. Square Firepit Ideas in All-White Theme
If you want to display a cleaner and brighter decor on your backyard patio, then an all-white theme can be the most effective strategy to go.
To prevent being dull, it would be better to give a fire pit top a darker color but still in a subtle tone, such as a dark gray or charcoal hue.
29. Place the Green Chairs around The Metal Fire Pit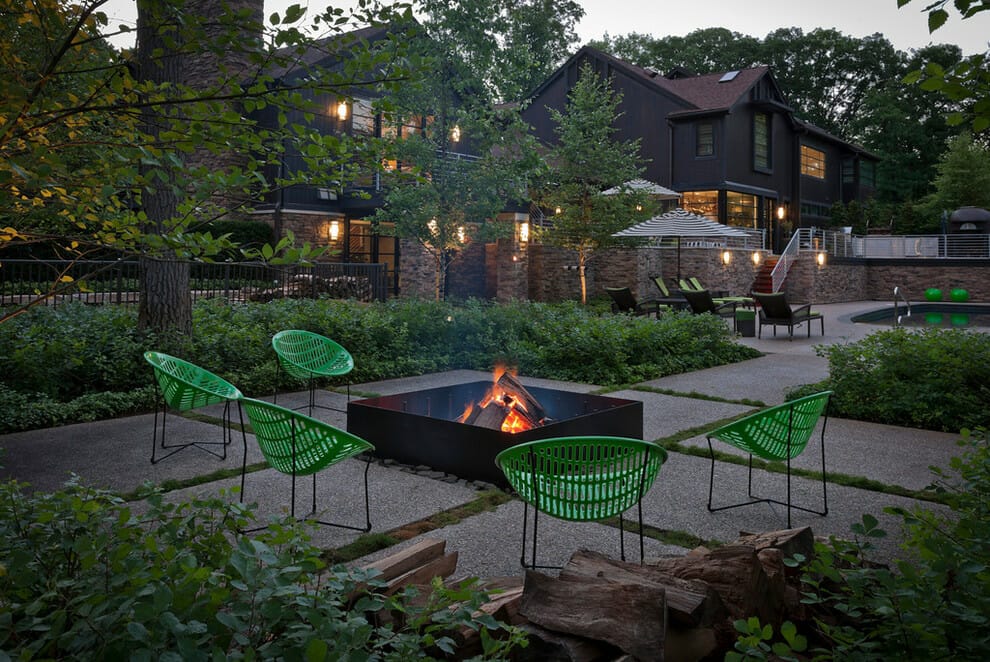 Metal firepits can look outdated without additional decoration. Therefore, you need to match it with chairs in odd shapes and flashy colors.
Like the picture above, the industrial-style green chair will elevate the square metal fire pit more uniquely and artistically.
So, that item remains stylish and timeless.
30. Simple Backyard Fire Pit Ideas with Built-in Bench and Lantern
The last option here is the simplest design, yet does not miss the smallest details to make the firepit special.
That is by installing accent lighting under the built-in seat to expose the bench texture and two additional lanterns to highlight the fire pit area.
Besides, take a closer look at the wooden fence. There are also some string lights there to increase the aesthetic value around the backyard patio.
The square firepit ideas above will only be a dream if you do not execute them immediately. So, before your neighbor steals the design from you, quickly secure yours and realize it with or without professional help.