Green grass seems to be the main element in decorating the house's exterior. Some are great for large spaces. Also, the rest small backyard turf ideas are perfect for your narrow land.
Thus, you no longer need to make excuses for having an arid and unattractive backyard because there is not enough land to lay grass on.
Additionally, there is also artificial turf grass today. These are easier to maintain and don't require regular trimming than fresh ones.
Below we have rounded up twenty-eight small backyard turf ideas to inspire you. All of them are stunning with their charm and deserve to be adopted.
1. Small Backyard Turf Ideas with Built-in Bench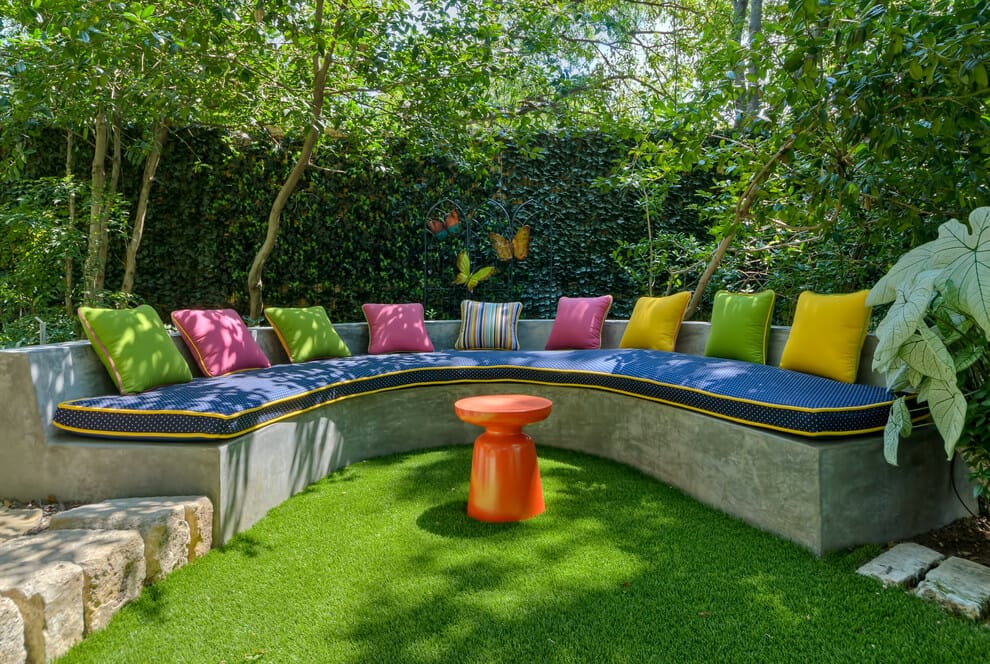 The problem with a narrow backyard is that there is not enough land to build a square lawn. However, you should not run out of ideas and still use the existing ground in the corner.
Furthermore, you will have a unique lawn shape by laying the grass on this spot.
Next, set a built-in bench with a curved shape that follows the turf's edge to complete the exterior decor. You can also arrange some colorful cushions to give a pop of color as a final touch.
2. Grass in The Middle of White Concrete Pavers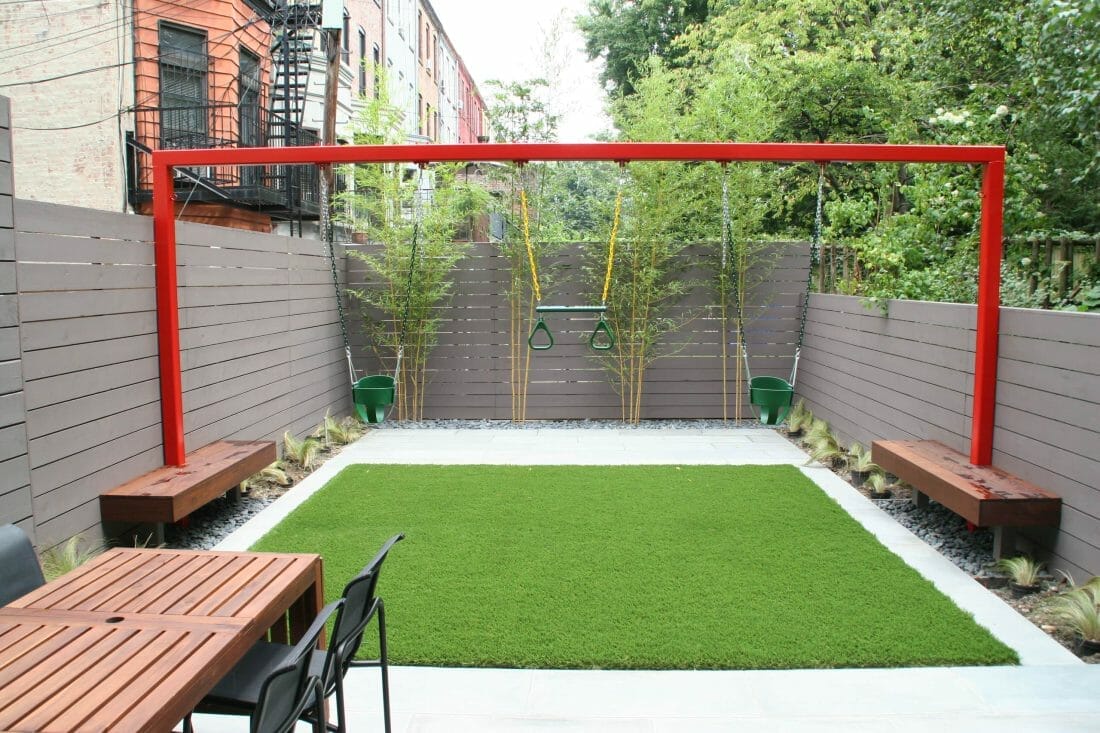 A backyard with entertainment spots for children requires more security to prevent kids from being hurt when playing together.
For homeowners who already have white concrete pavers and plan to install swings above, it is better to lay artificial grass right in the center of the backyard.
Moreover, its delicate surface will be safe enough for children than leaving it with only concrete pavers.
3. Come with Wooden Borders, Bright Daybed Couch, and Rattan Sofa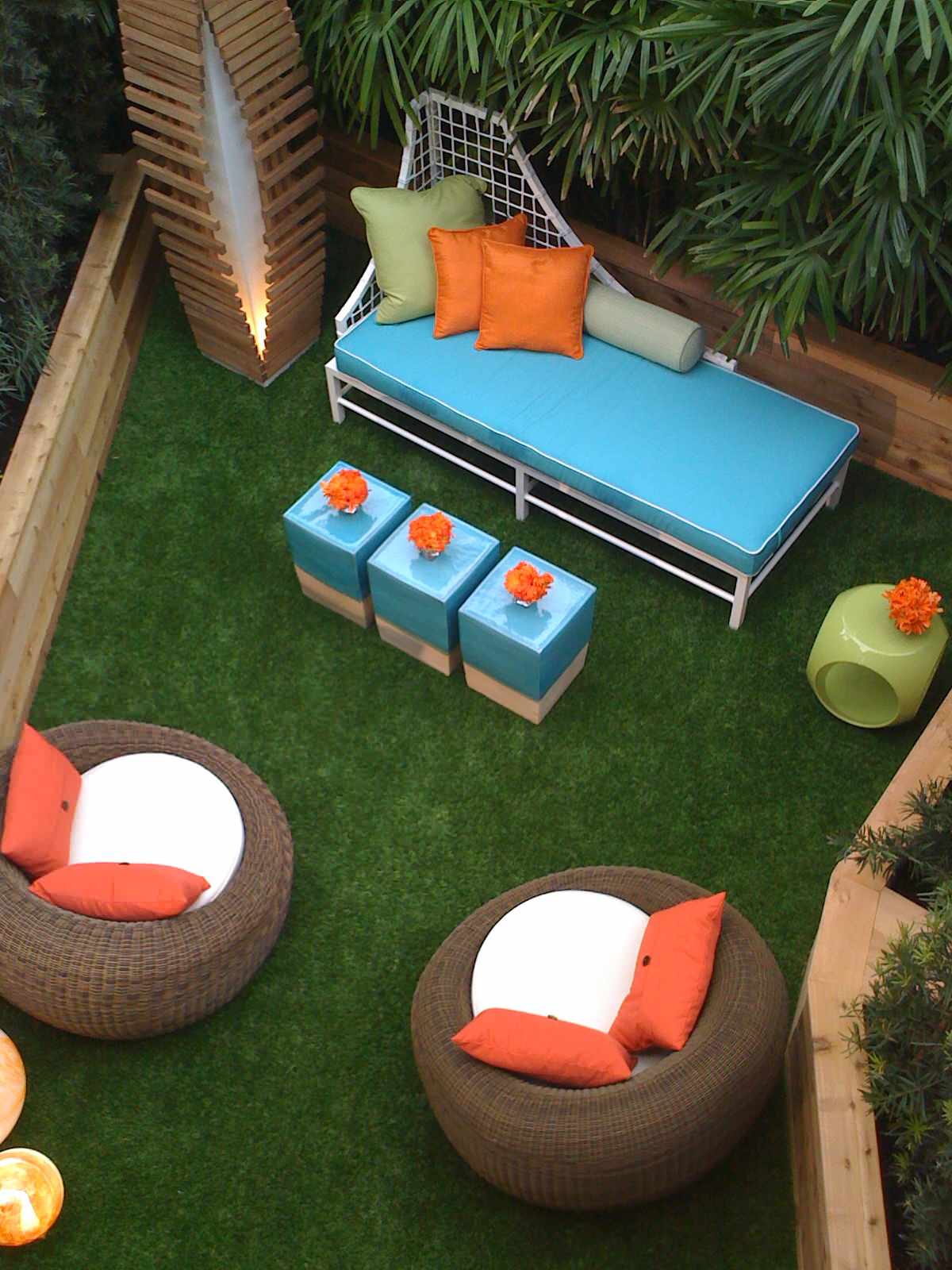 The following small backyard turf ideas lead you to a more aesthetic courtyard arrangement. Look, the asymmetrical shape has already given a distinctive flair to your outdoor spot.
Then, consider pairing it with wood borders, a brightly colored daybed set, and rattan sofas to accentuate the unique shape and texture.
Undoubtedly, you have managed to take your backyard to another level by adopting this design.
4. Divide the Backyard into Two Areas with Different Flooring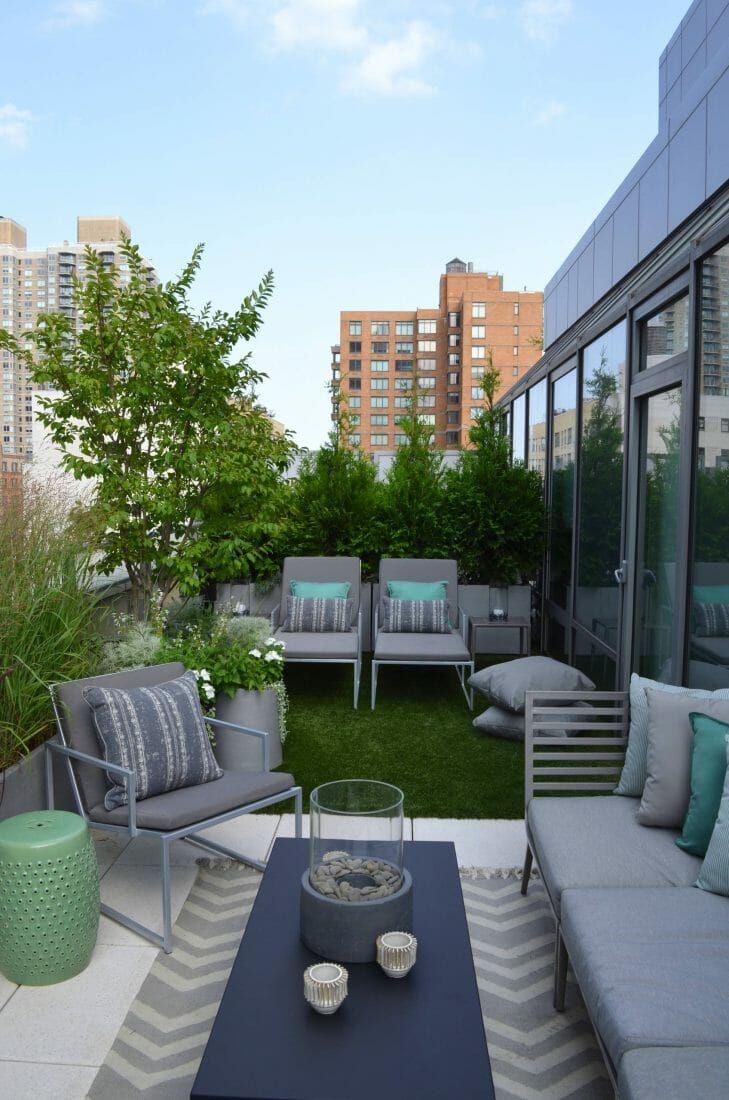 Laying turf grass on one side and concrete tiles on the other is a clever strategy for adding texture to your backyard.
Likewise, this combination is interesting without making your small space seem narrower.
The good news, this layout provides a balance of appearance without losing the freshness of natural elements.
Besides, complete this spot with a gray seat set for unmatched comfort.
5. Patio in white Flooring and Fake Grass Decoration Ideas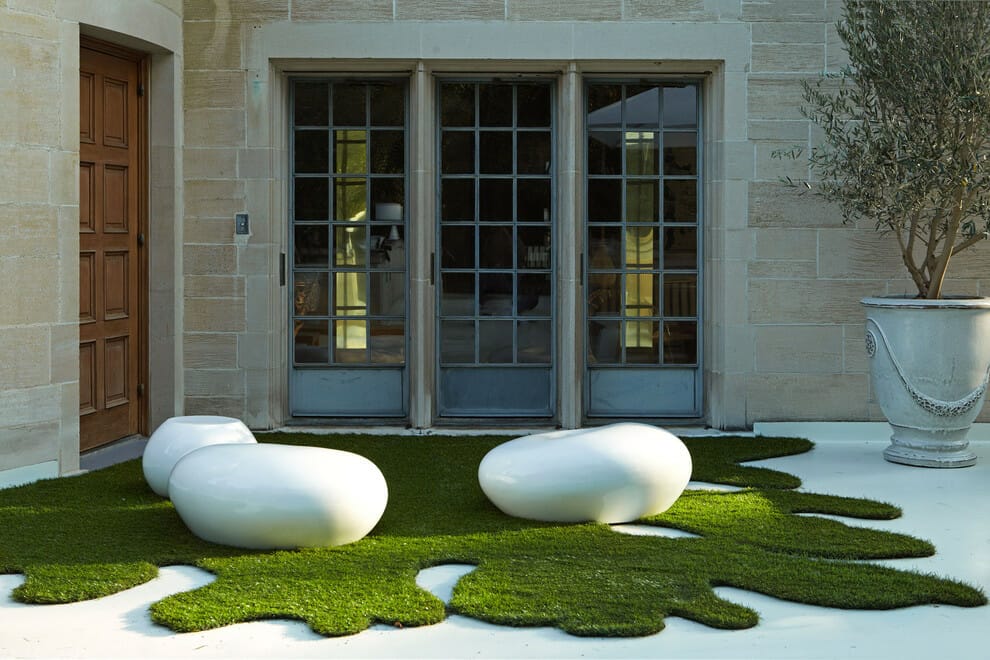 The best small backyard turf ideas for contemporary-style homes are those that adopt artificial grass with unique edges.
It said so because most contemporary homes often come with a refined look of a concrete patio, and it would be a pity to dismantle it and replace it with all turf.
You can buy an artificial grass rug and lay it on the existing pavers as an alternative. Let the turf's unique shape give personality and highlight your backyard with its charm.
6. Small Backyard Turf Ideas with Raised Garden Beds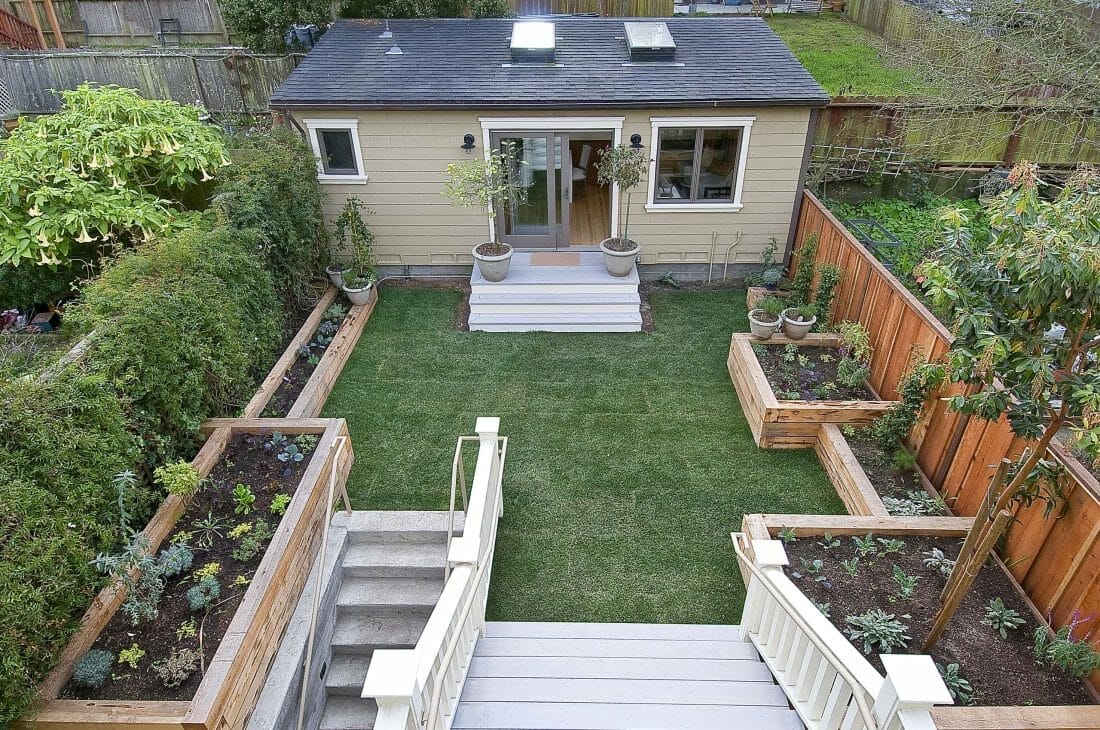 Presenting a green lawn with a raised garden bed with wooden borders in the backyard will not ever go wrong.
You can leave the courtyard's center only with green grass while arranging the garden bed close to the fence.
That way, you have a spot that is quite roomy as a place for your children to play around without damaging the existing plants.
7. Putting Green Between Rock Landscaping and Stone Pathway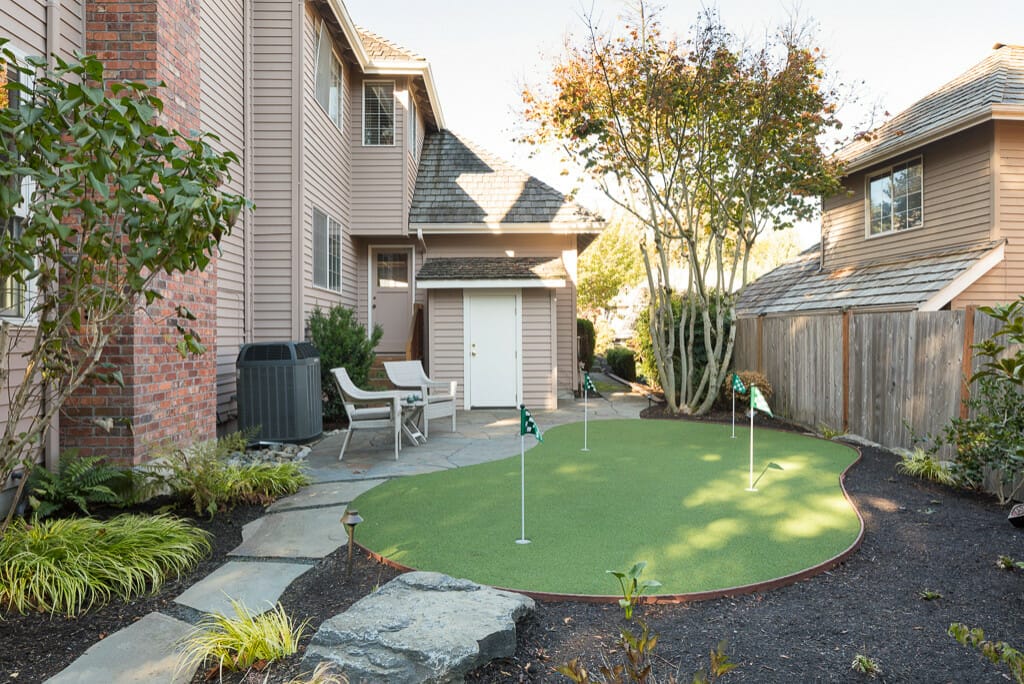 No one can resist the charm of a private golf course behind the house. It is pretty convenient as well as attractive with its curvy edges.
Therefore, consider embellishing this backyard entertainment with rock landscaping and stone pathways so that the golf court is well-highlighted.
8. Small Backyard Turf Ideas in Square with Vines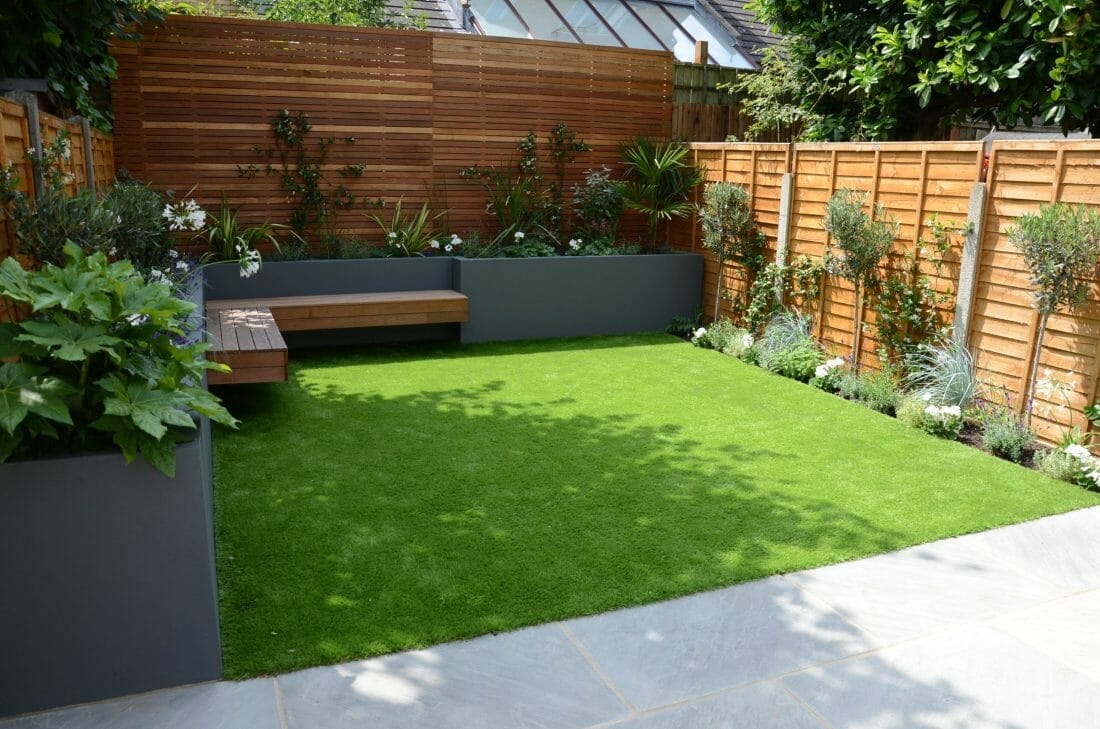 Backyard turf in this section is quite common for many people. But you can still give some decorative touches to distinguish it from others.
One step you can take is to build a dark gray raised flower garden bed close to your wooden fence. After that, add an L-shaped floating bench in one of the backyard's corners.
As a finishing touch, it would be great to hang some vines on the fence to amplify the natural vibe.
9. Round Turf Grass Resemble Stepping Stones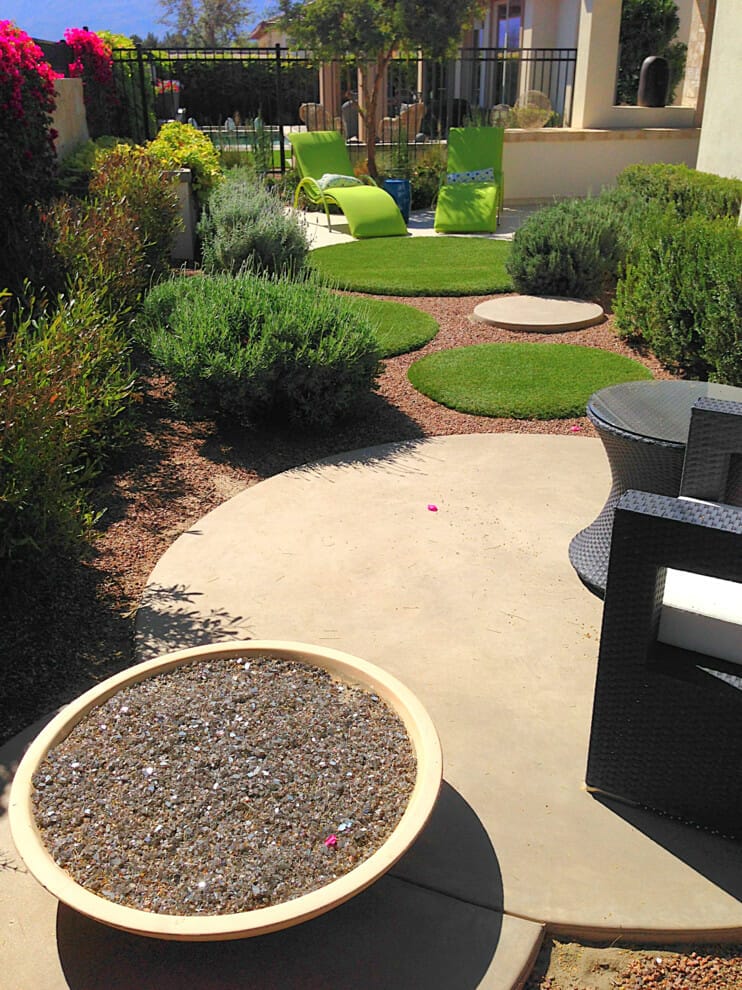 The turf in the backyard does not have to stretch from the left to the right side. You can even make it distinctive by presenting round sods and arranging them like stepping stones in your courtyard.
Then, fill the entire side with perennials or shrubs.
10. Perfect Transition Between the Turf and White Sealed Concrete Patio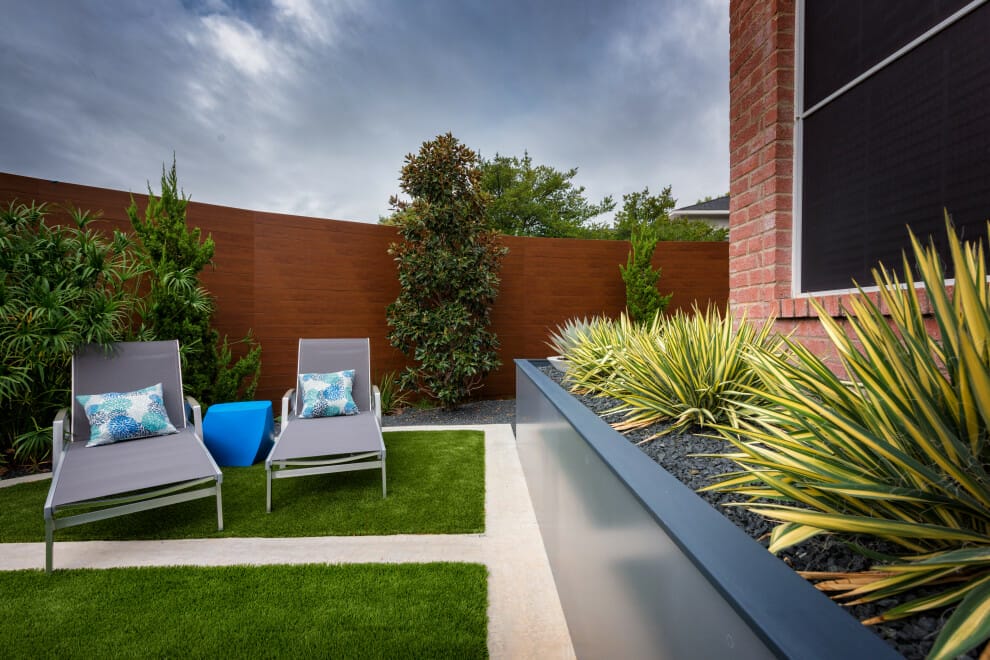 Suburb's courtyards are often relatively small, which doesn't allow you to divide them into two areas with different flooring.
However, you do not need to worry because there are small backyard turf ideas with a strategy of giving the patio such a transition.
Hence, you can start by setting the turf in several blocks and then using white sealed concrete to fill the gap between each sod.
Like the picture above, you merely have to arrange sun loungers there if necessary.
11. Grow the Trees and Cover the Mulch with Pebbles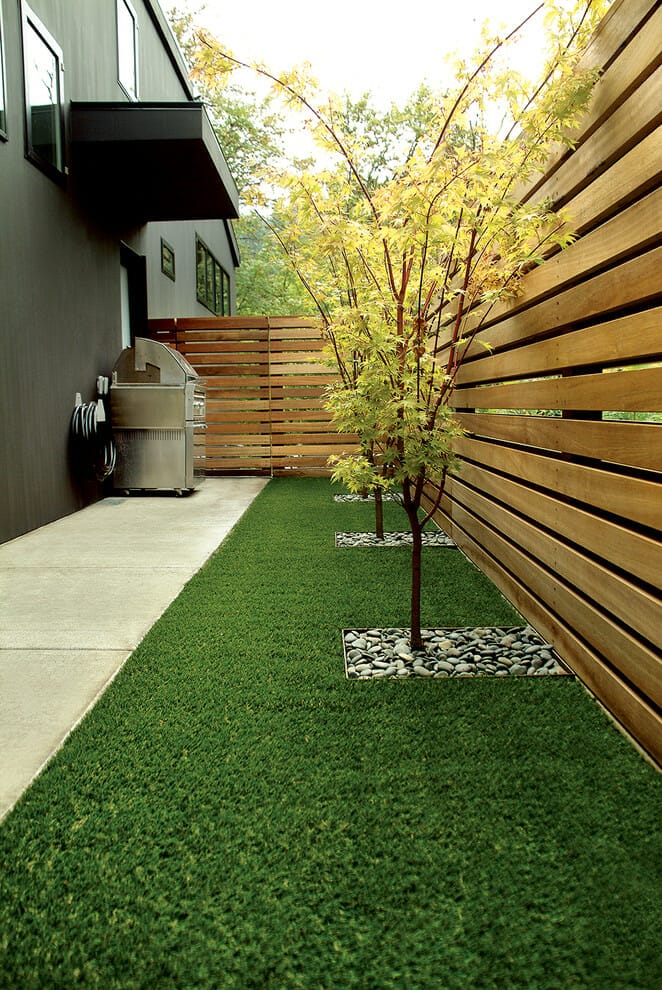 Long turf on one side and extended concrete pavers on the others is the best strategy to keep adding texture to your narrow backyard.
It is a good idea to also plant trees on the edge of a small lawn close to the fence. Cover the mulch at the bottom of the tree with gravel to make it look cleaner and more aesthetic.
12. Small backyard Turf Ideas with Composite Decking and Shrubs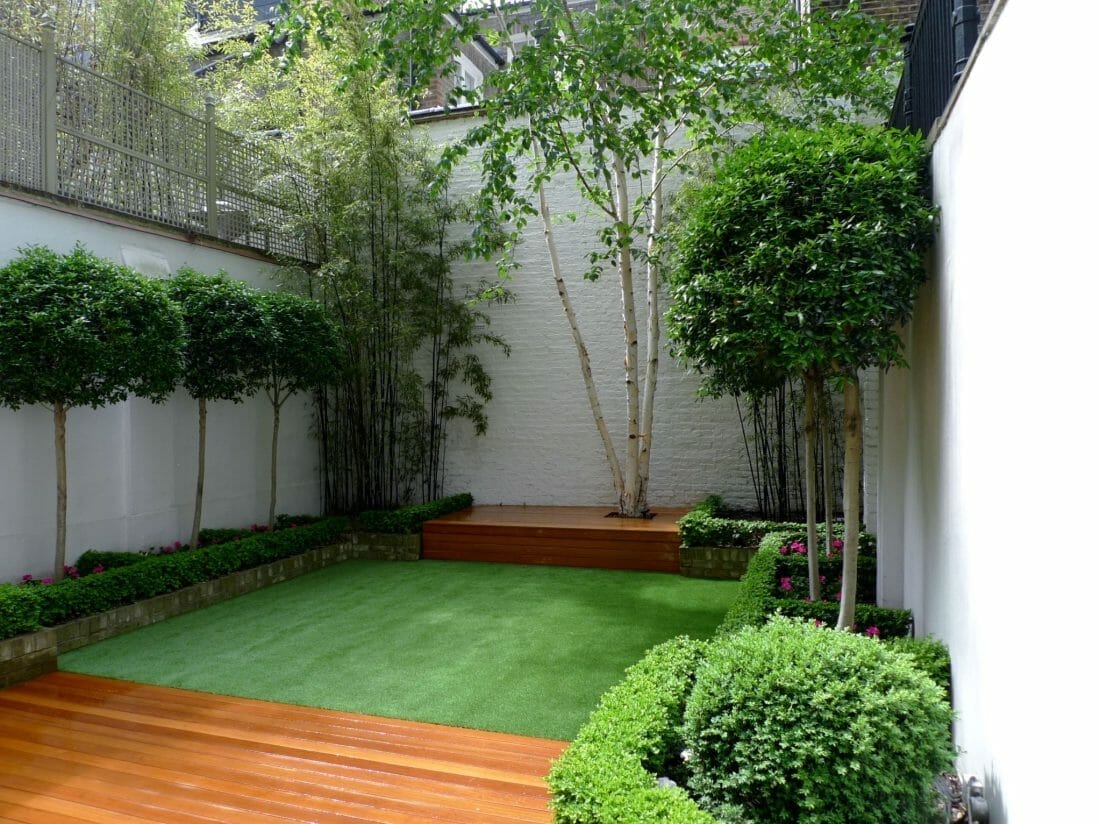 Composite decking is the umpteenth alternative that you can choose to decorate your mini green lawn. A layout like the one above will be perfect for anyone who wants to adopt a Japanese-style exterior decor.
Combining the green grass with the robust wood structure will create a calming and refreshing ambiance in your backyard.
13. Narrow Lawn Inside the Concrete Border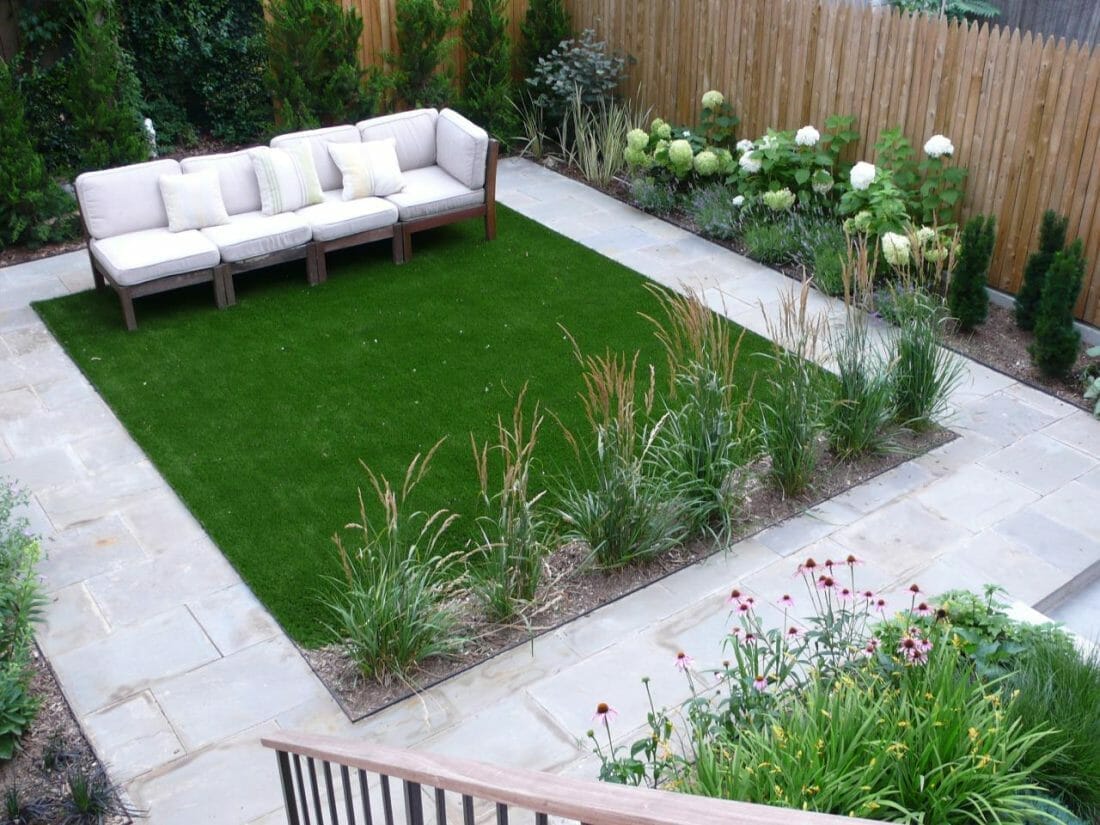 Again, concrete pavers become the frame of the square turf behind your house.
It is more engaging because it also comes with feather reed grass on one side, a white rose garden, and some cypress trees behind the sitting space.
Because everything comes fresh, it makes your backyard feel newer than the one that adopts artificial grass.
However, it would help if you did extra care and regular trimming to keep the lawn and plants growing healthily and aesthetically.
14. Place a Turtle Statue as a Focal Point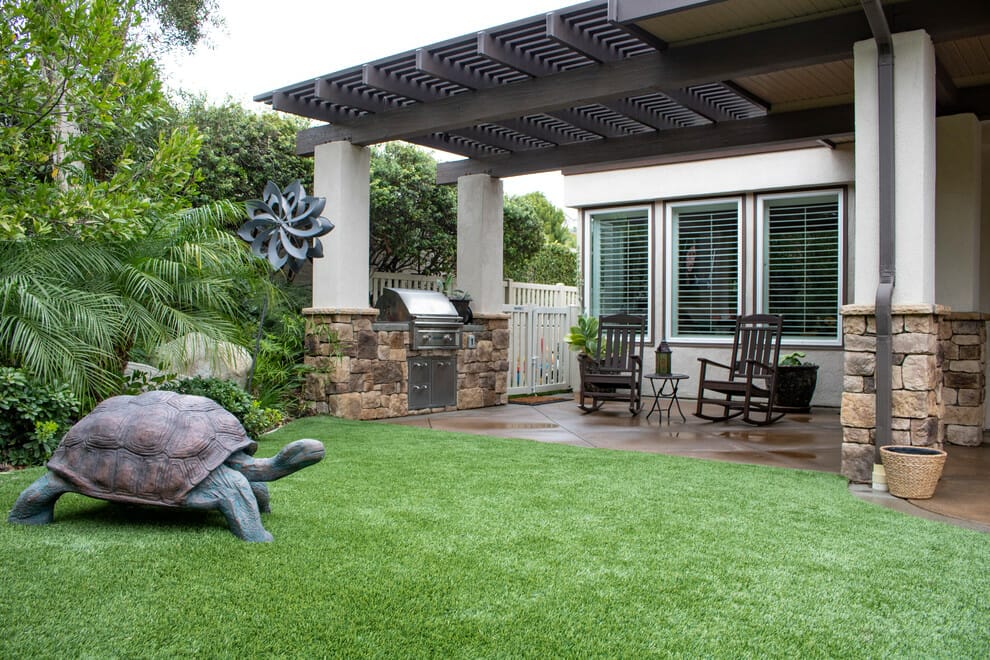 Anyone who does not have much time to do maintenance in the courtyard, consider sprucing it up with small backyard turf ideas using artificial grass and some perennials around.
Further, place some sculptures, such as a medium-sized turtle statue, in the middle of the turf to make your backyard look attractive even without a flower garden.
15. Small Backyard Turf Ideas with White Rock Landscaping and Wall Décor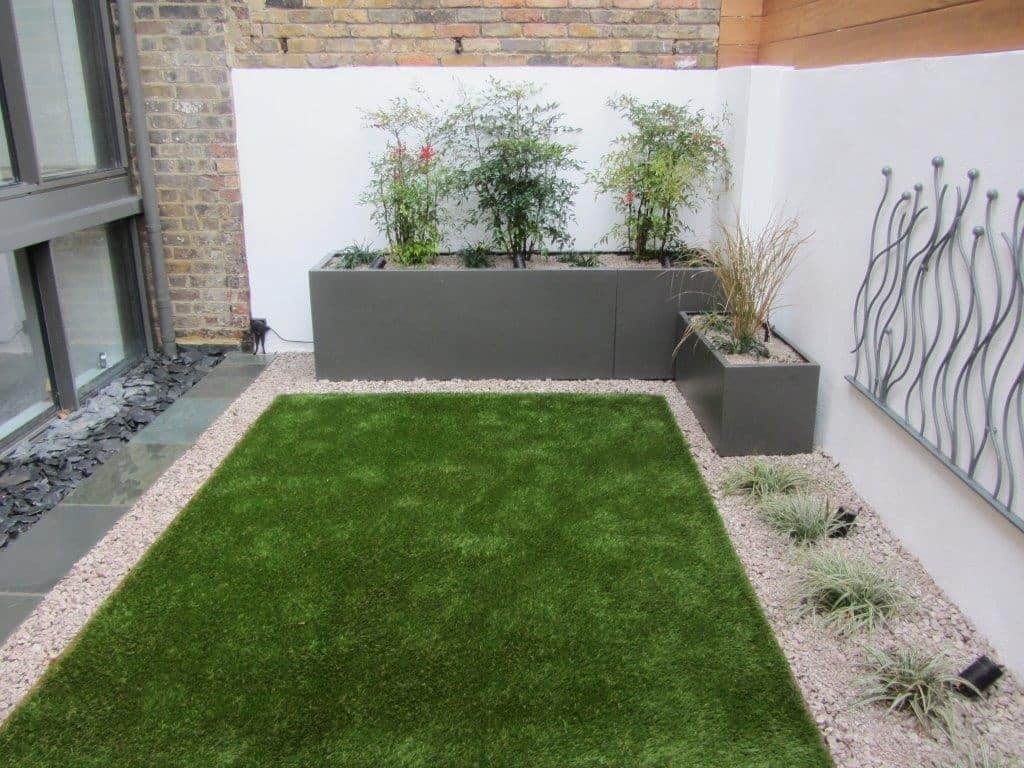 White rock landscaping and white wall border are the easiest to create in your mini lawn. You can spread gravel on the edges of the turf to form a textured frame.
Furthermore, as the white wall border can be too dull to look at, it is good to add metal sculptures or other ornamental objects to fit your backyard decor.
16. Put L-Shaped Couch in The Corner of The Lawn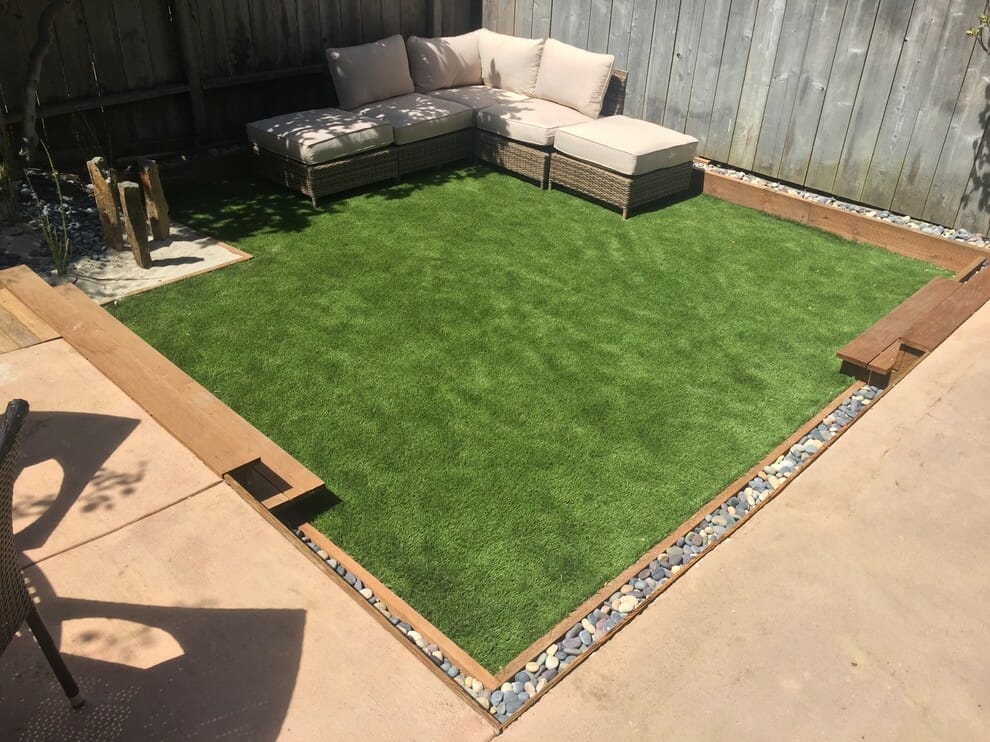 Let us move to the functionality aspect in this section. A couch in the backyard with turf is the most important of all.
Although sometimes it requires additional shades to protect you from sun exposure, you can plan to place it close to a tree as an alternative.
Choose the L-shaped outdoor daybed couch and set it in the backyard corner. Meanwhile, let the center of your lawn remain exposed without anything.
17. Artificial Grass Rug with Shrubs and Dining Space in The Center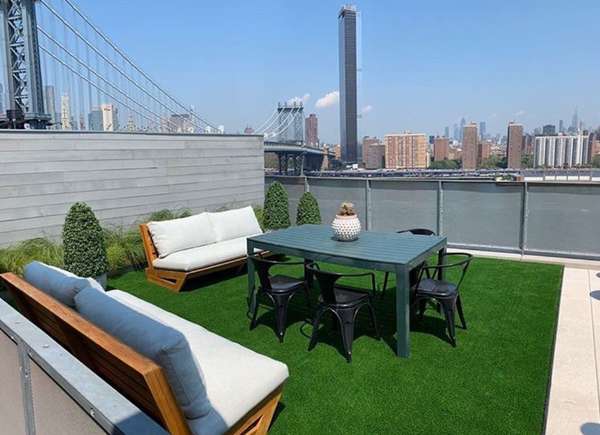 Small backyard turf ideas with artificial grass rugs are the ultimate way to bring freshness to your backyard without intensive maintenance.
You can still sit back and relax without regular trimming, and your backyard remains tidy all year round.
To get a more inviting result, you can place a couch and dining table in the middle of your backyard. Then, add artificial shrubs too to enrich the look.
18. Football Court with Raised BBQ Island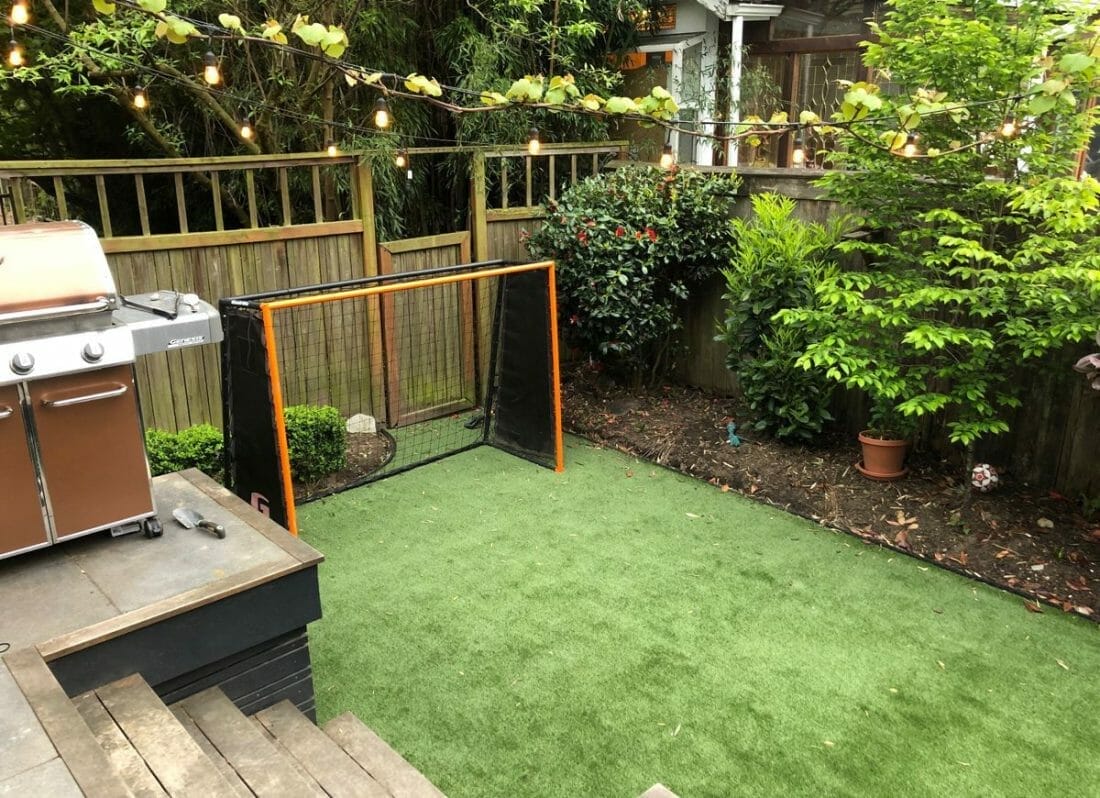 Transform your simple backyard turf into a football court. Besides, you can also build a raised patio as your BBQ area.
This layout is very beneficial for anyone with a narrow area who wants to present two entertainment spots simultaneously.
Lastly, spice up the look of your backyard by hanging string lights as above. So, get ready. It will become a place that people of all ages will love.
19. Small Backyard Turf Ideas with Polished Wood Decking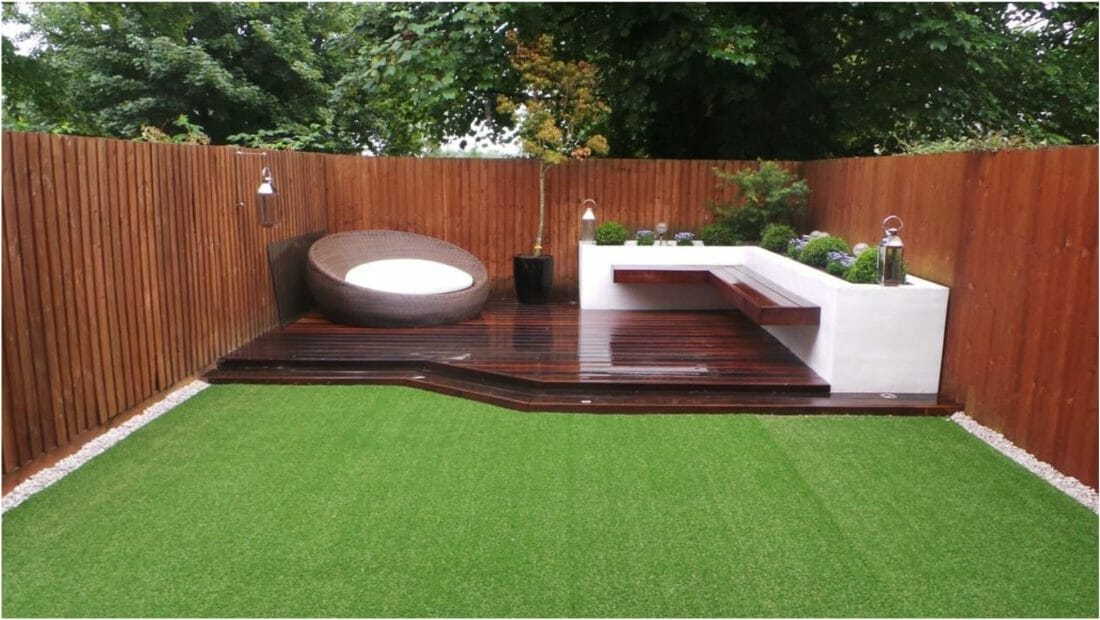 Wood decking and green lawn are the best combinations to create a modern rustic vibe in your backyard. You still have to provide regular maintenance on these two spots.
Because polished wood decking can be worn and slippery if it is not sealed or polished regularly.
Likewise, with natural lawns, regular trimming is essential so that your backyard does not turn into a messy and unattractive spot.
Embellish your backyard turf with a white flower bed, rattan sofa, floating bench, and some lanterns for lighting at night.
20. Bring in The Lattice Shade and Swings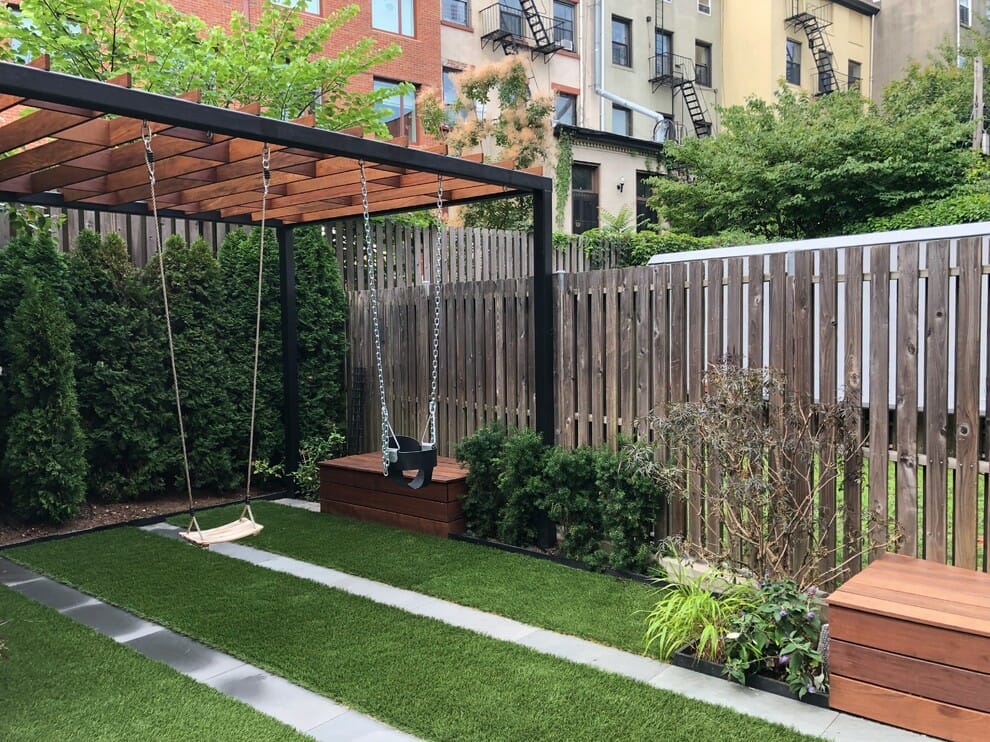 Set the sods in rows and fill the gaps with metal lines as above.
A backyard turf setting like this will suit any entertainment, including installing a lattice shade with the dual function of holding swings.
You can grow some trees and shrubs around the turf to complement the greenery behind your house.
Do not forget the wooden benches in several spots that you can use as a seat and a table to display plants in pots.
21. Lilac Sun Lounger to Match the Colorful Flower Garden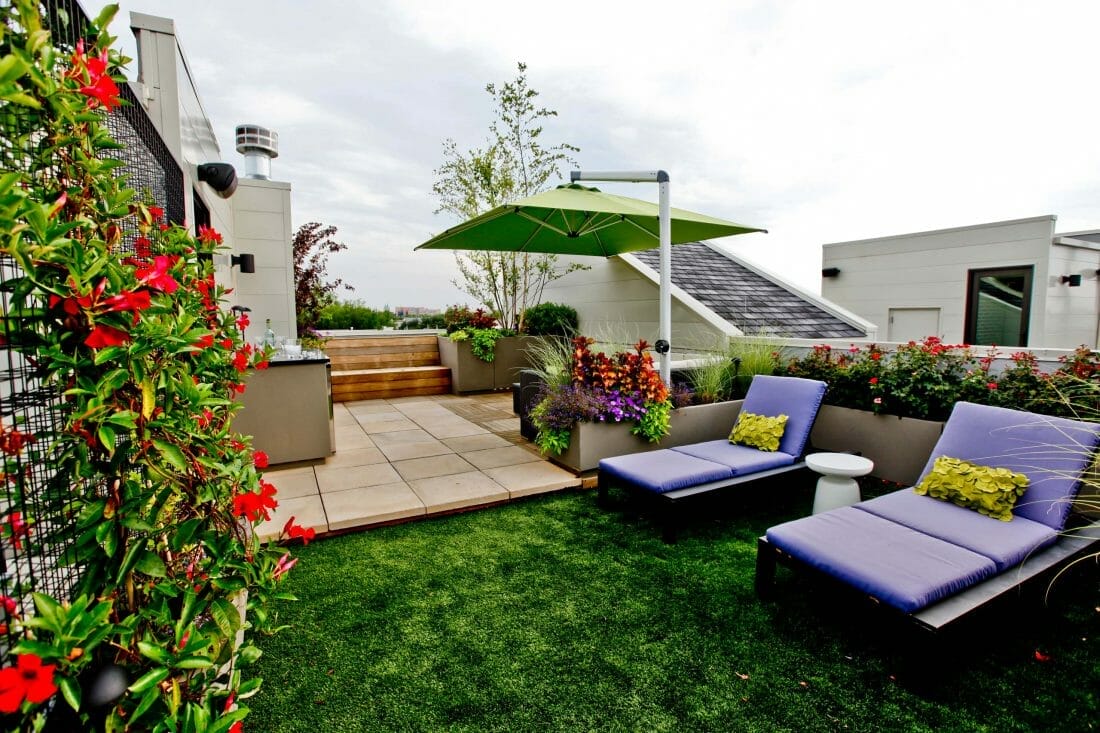 Small backyard turf ideas with a raised patio in granite tiling provide a pretty rough transition but are still aesthetic.
Consider sprucing up your outdoor space with a flower garden all around and two lilac sun loungers for a cheerful pop of color.
22. Small Backyard Ideas with Turf and Dark Gray Seats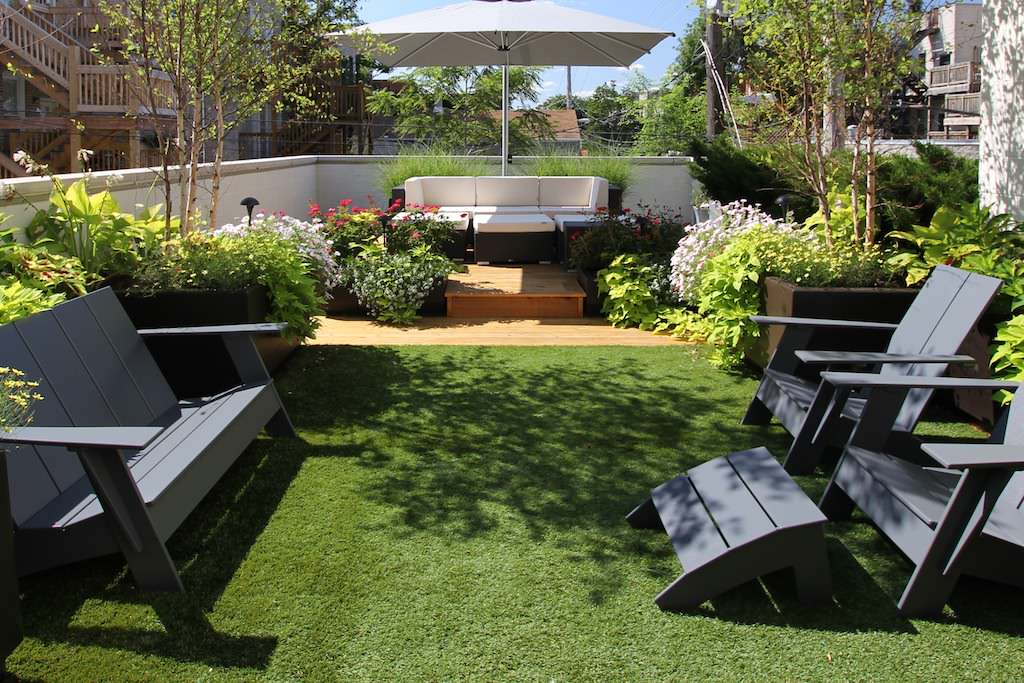 Dark gray or charcoal seats will go well with your green lawn. Make sure they come in a remarkable shape to give your backyard turf personality.
Also, you can adjust this spot with or without shades according to your preferences. If there are enough trees above your sitting to provide a natural shade, you can skip the outdoor umbrella.
23. Install High Wooden Fence to Add Privacy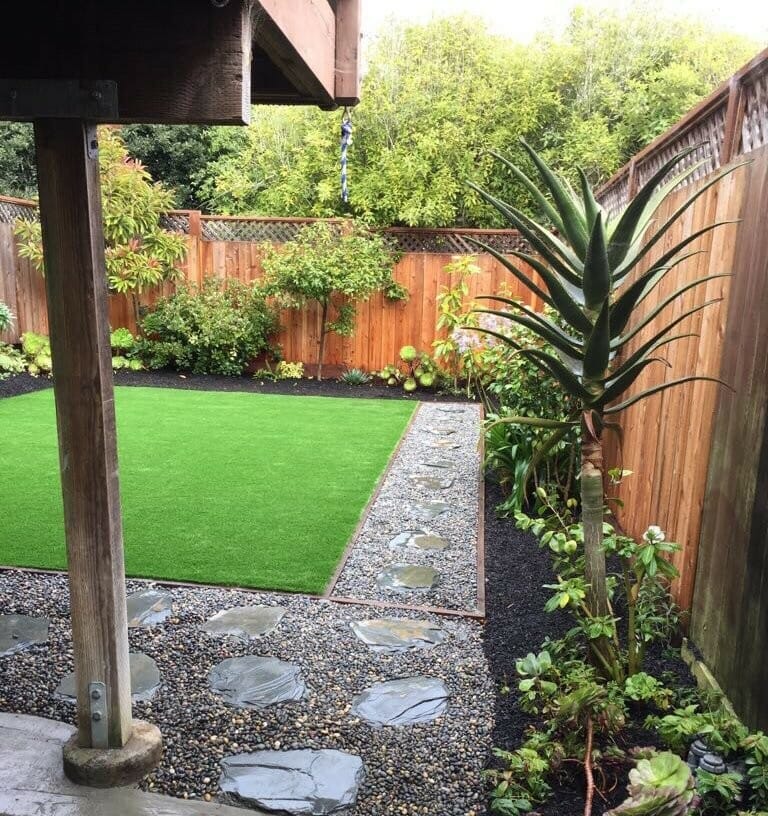 Small backyard turf ideas also convey strategies to add privacy to your home, besides recommending unique and aesthetic layouts.
A high wooden fence is the most convenient feature to maintain solitude while emitting a rustic vibe with your green lawn and rock landscaping.
You can also go with other materials for the fence, such as metal, if you want a more modern look in your backyard.
24. L-Shaped Turf and Wooden Paneling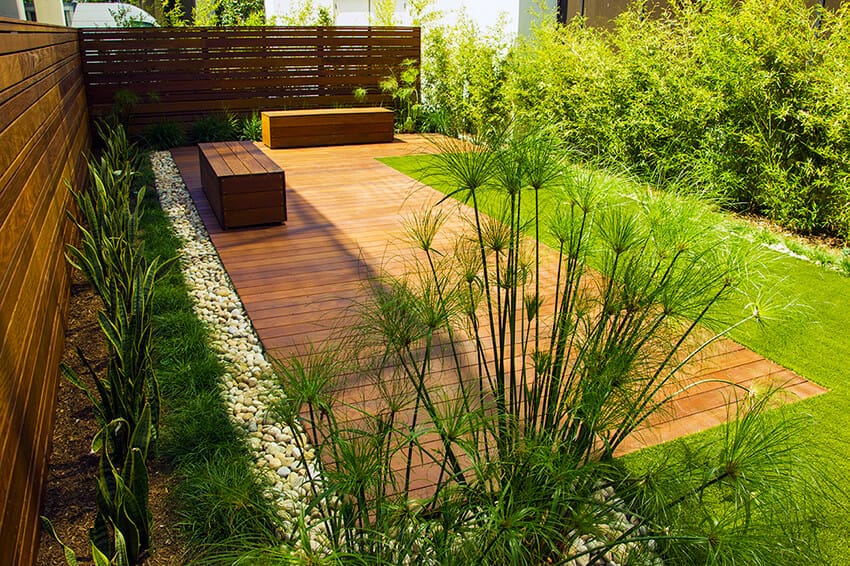 Besides coming with rectangular and round shapes, it turns out that you can also set your turf to resemble an L shape as above.
Divide the land into two parts, and let the rest come with wooden paneling to give a pop of texture in the courtyard.
25. Fill the Gaps with Pebbles and Metal Sculpture on the Lawn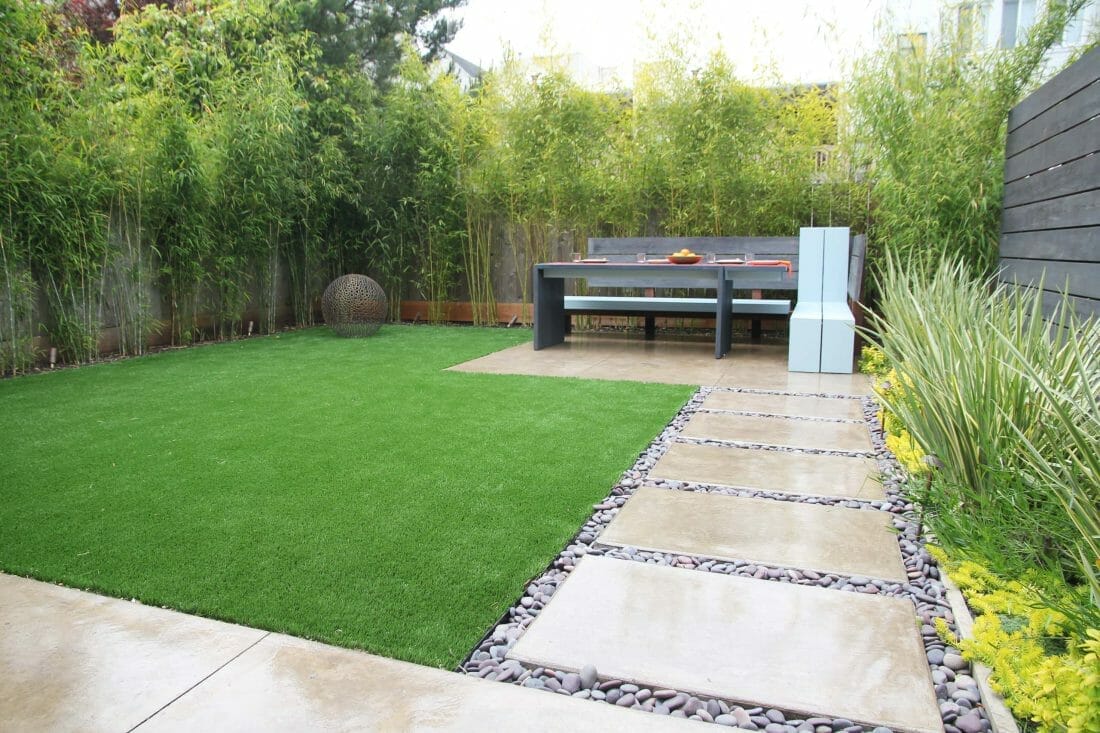 Small backyard turf ideas with quarter sections that appear with granite pathways will be exciting to adopt.
Fill the gaps between the slabs with gravel or river stones, and add a round metal sculpture on the green grass to give your courtyard a distinctive flair.
26. Small Backyard Turf Ideas with Accent Wall Border in White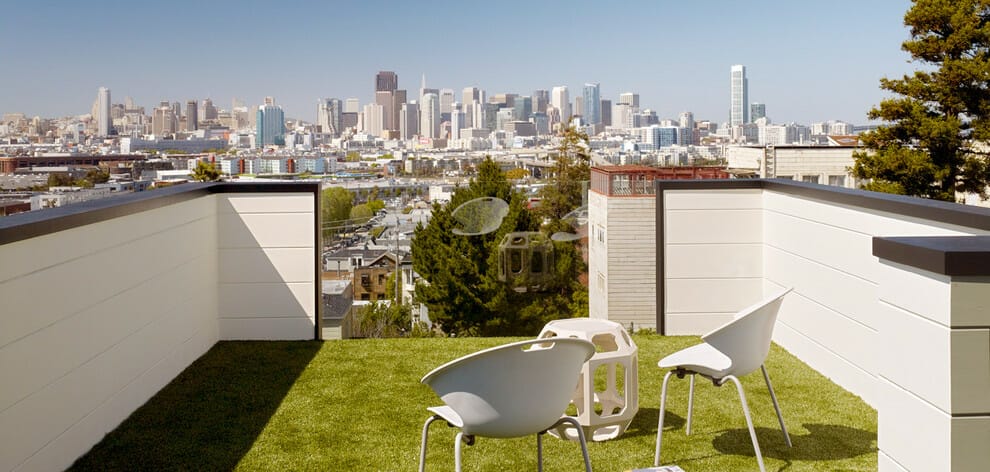 Green and white stand as a refreshing color combination and are relatively neutral to be fused with any decorative elements and furniture.
In this idea, you can surround your backyard turf with a white border and beautify it with some outdoor furniture of the same color.
Pick a seat set in unique shapes to exude the modernity in the backyard.
27. Curvy Edges and Limestone Wall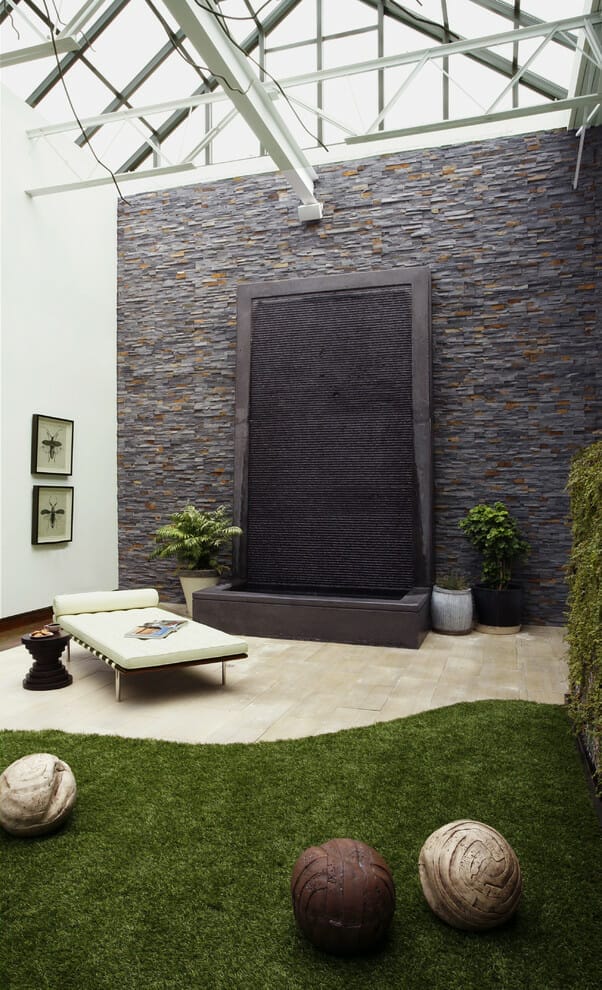 In contemporary and Mediterranean-style houses, limestone walls are the hallmark. But you do not need to worry because these small backyard turf ideas also match this kind of home.
Consider laying the grass on only one side and giving it a curved edge. Meanwhile, you can provide natural stone tiling on the rest land instead.
A daybed couch, stone sculptures, wall arts, and vines would be the perfect addition to this backyard styling.
28. Small Backyard Turf Ideas with Complete Garden
We call it a complete garden because this backyard turf comes with various outdoor plants that are pretty comprehensive—starting from flowers, and perennials, to trees.
In addition, it also comes with a mini waterfall or fountain that will give a more relaxing atmosphere in your backyard.
Here we come to the last part. The small backyard turf ideas above already come with fresh and artificial options.
You merely have to choose the design that best suits your taste, budget, and needs. Everything will immediately bring your backyard to another level!