There is nothing happier than expecting a little bundle of joy. If you are a soon-to-be parent, it is time to make the nursery ready before her arrival. I have rounded up wonderful baby girl room ideas for some inspiration.
Decorating a little girl's room is not that frustrating. The only hard thing is choosing the right style, color scheme, furnishings, and decorative elements.
In case you don't know your baby's sex, no worries. This list included gender-neutral ideas.
1. Shabby Chic Vintage Little Girl Nursery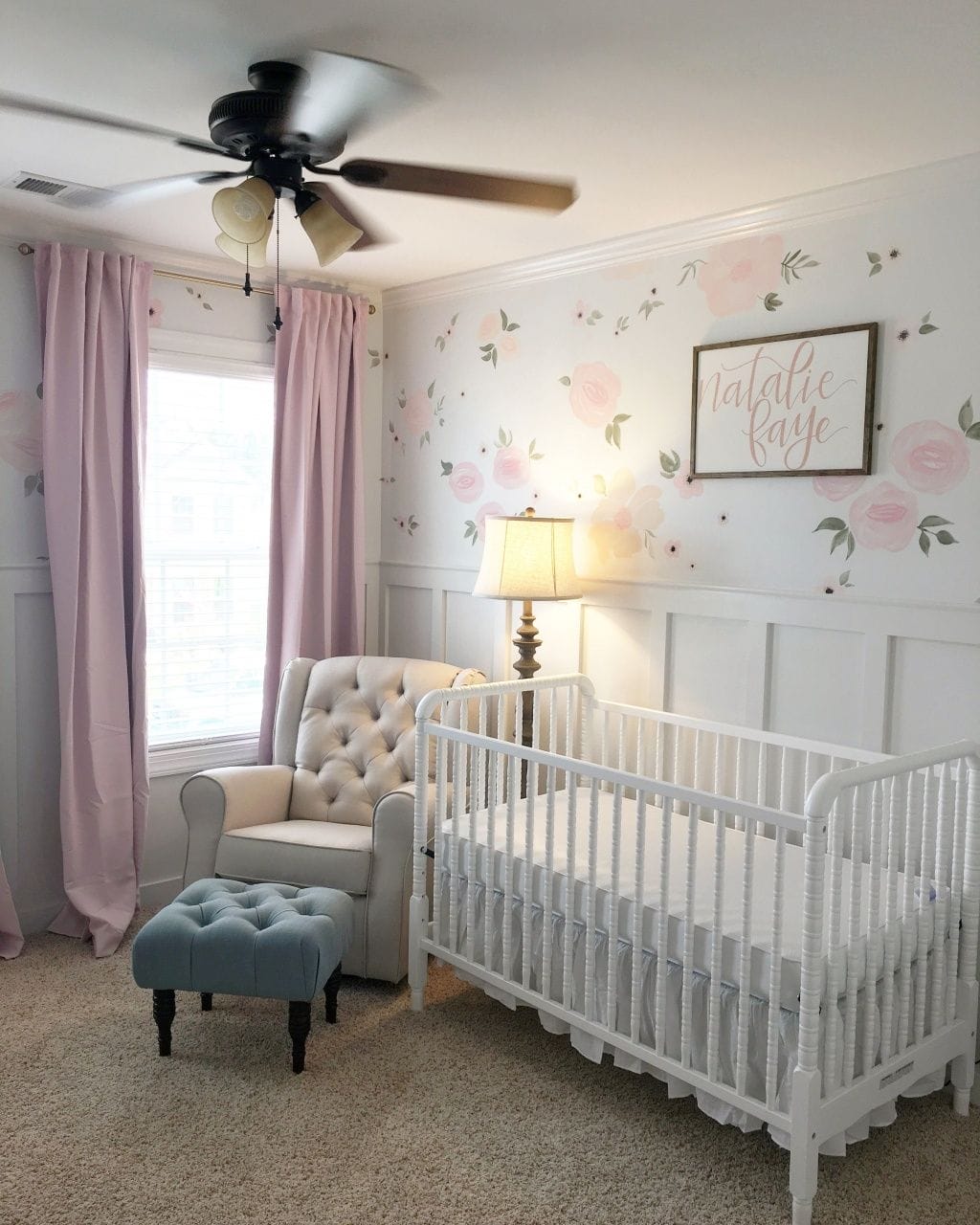 The vintage theme works well in both the adult bedroom and baby girl nursery. If you love it, incorporate white, pink, and gray into her room first. Cover the upper half walls with floral wallpapers. They give the space a feminine feel.
Shabby chic floor lamp and ceiling evoke the feeling of nostalgia. Tufted sofa chair and stool create an elegant look. Meanwhile, the framed name sign over the cot gives this baby girl room a personalized touch.
2. Mediterranean-Style Baby Girl Room Ideas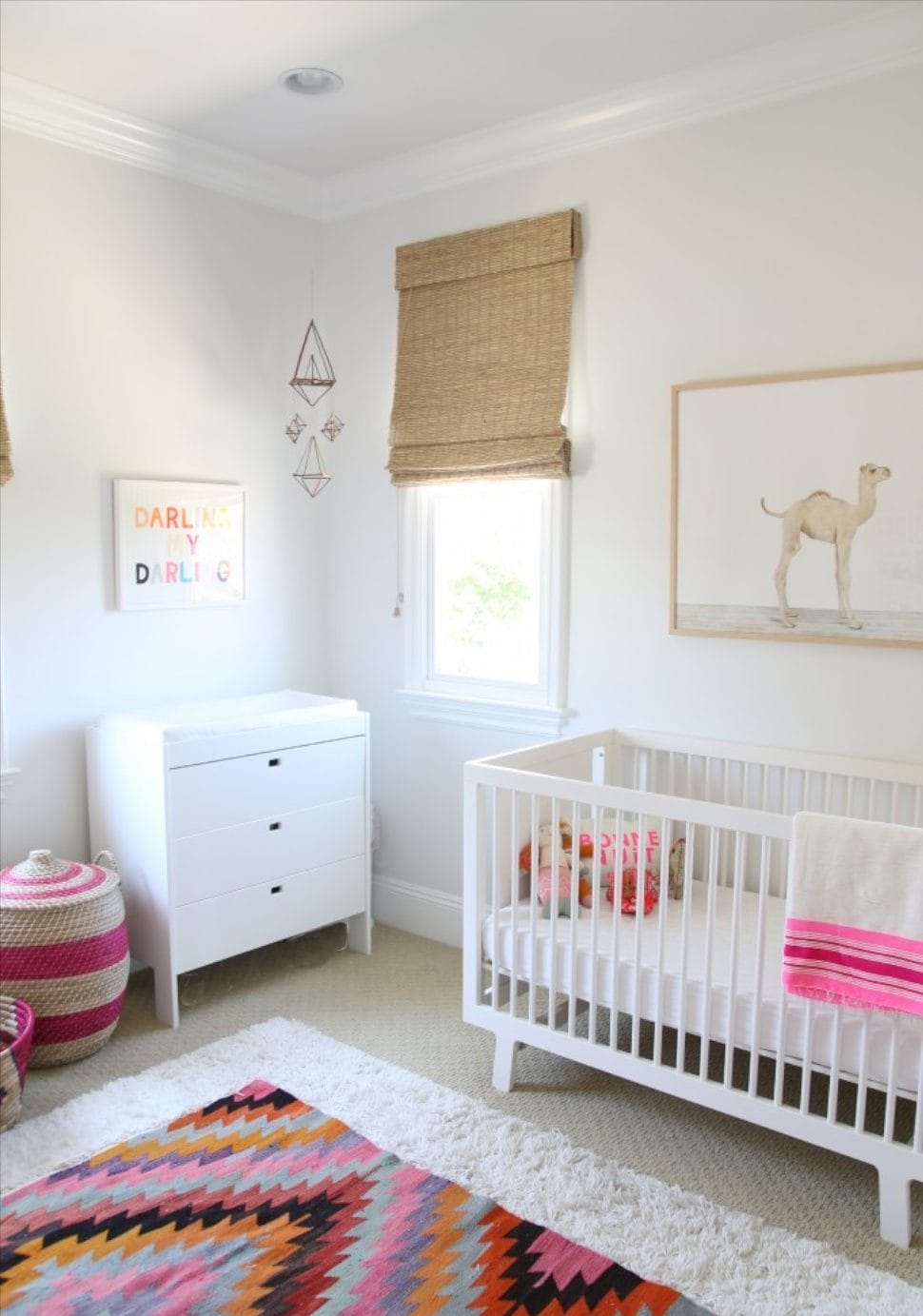 Pure white serves as the foundation in this baby girl nursery. The color expands the room visually, while the window lets plenty of sunlight shine through. Jute roller shade adds to nature's true charm to space.
Patterned rug injects energy and texture into the baby girl's room. It makes a vibrant statement as well. The wood-framed camel artwork lends an exotic vibe to the area.
3. Carnival-Inspired Baby Girl Nursery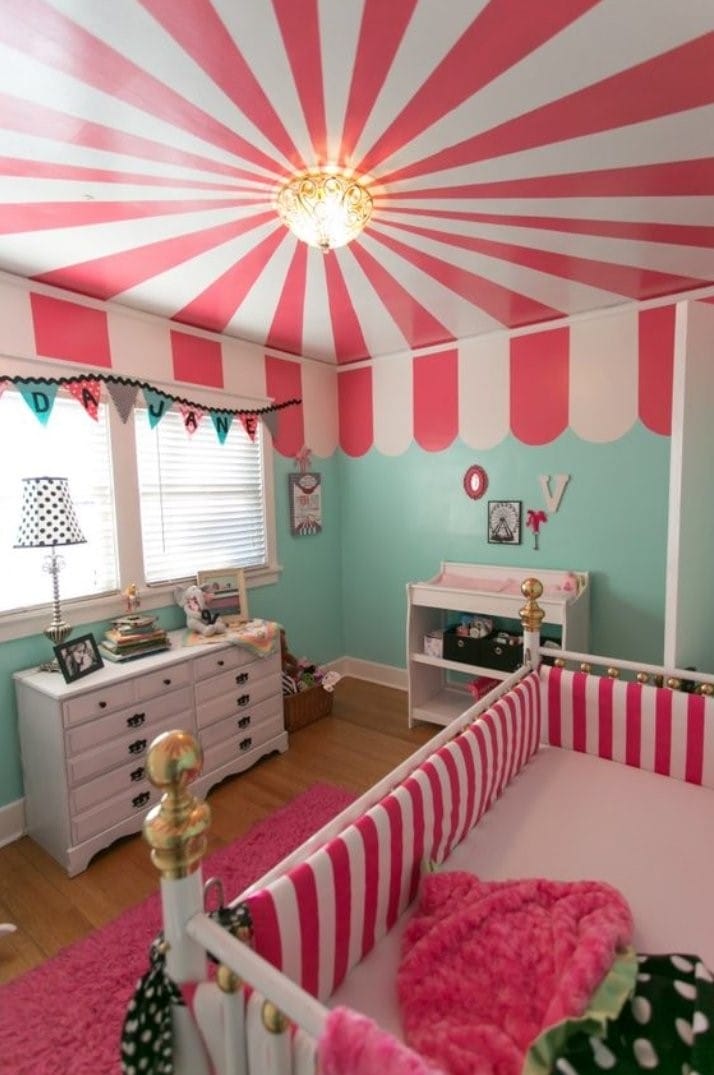 White and pink stripes turn this baby girl room into a cheerful circus-themed area. The hot pink shag rug and Tiffany blue walls bring more boldness to the nursery.  Vintage flush mount ceiling light draws the eye upward.
Big windows exude a sense of airiness. Both white changing table and sideboard accommodate newborn baby essentials as well as ornamental pieces. Wood floor balances out punchy stripes.
4. Pink Bedroom Ideas for Little Girl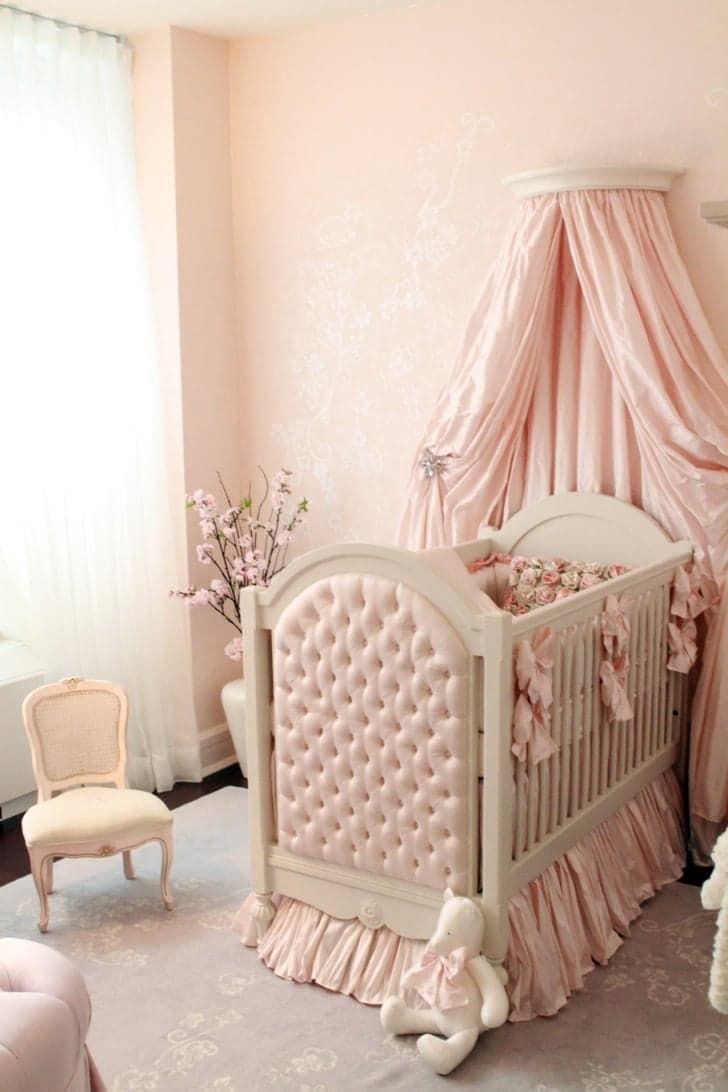 Talking about baby girl nursery, you can't go wrong with light pink. This shade gives the space a pleasant atmosphere. Additionally, it keeps the area from becoming too dull.
Tufted cot, small princess armless chair, and bed canopy instantly convert this baby girl room into a castle. Long, silk curtains imbue the space with glamor. Meanwhile, light gray rug and faux flowers complete the interior.
5. Baby Girl Nursery with Chandelier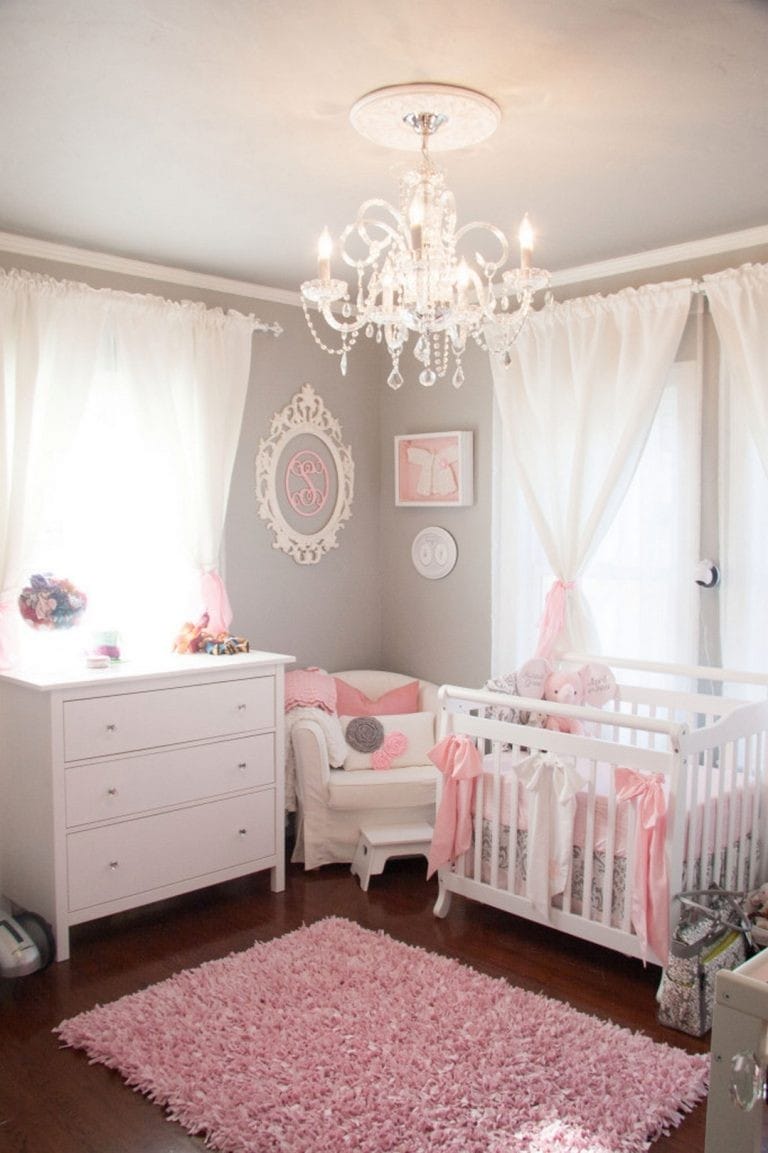 Gray is not just neutral, but also versatile and clean. The color comes in many variations. Cool shades make your baby girl room tranquil and bright at the same time. They pair really well with pink and white.
The dark-toned wood floor allows the pink shag rug to stand out. While the crystal chandelier illuminates the room and sends out a luxurious air. Wall decorative items over the curved back chair generate a cohesive look.
6. Twin Baby Girl Nursery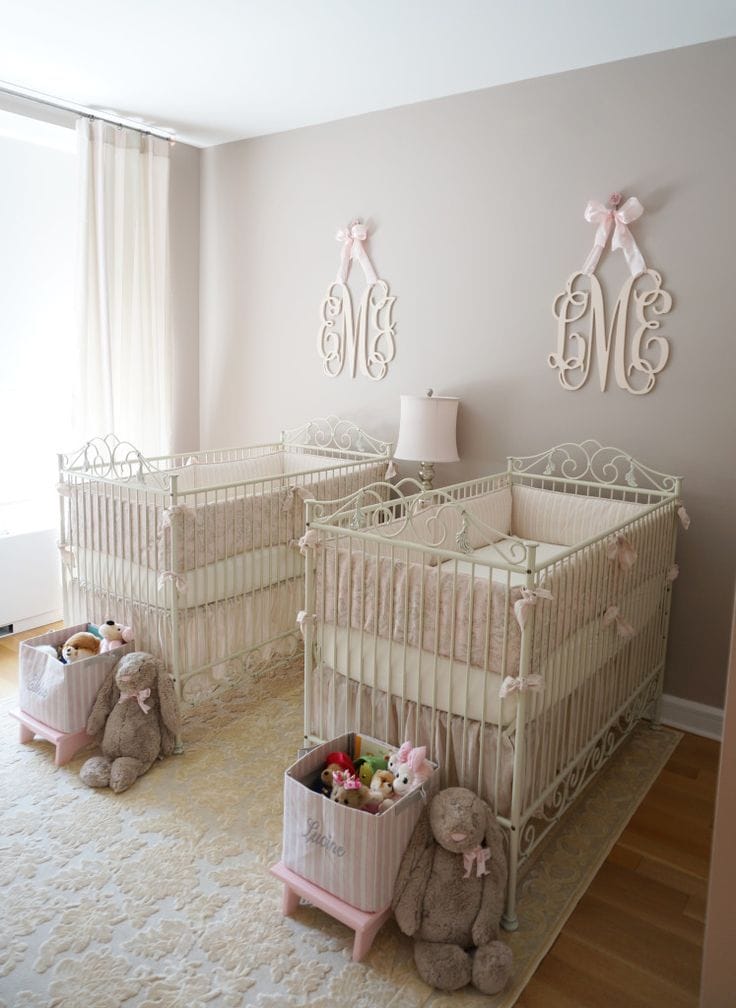 If you are going to have twin baby girls, try this idea. The nursery features warm gray walls. They contrast nicely with a crisp white ceiling and produce a calming feel at once.
The vintage white metal cots, initial name wall ornaments, storage baskets, and table lamp offer a visual balance. Two stuffed bunnies lend the space a playful atmosphere, while this embossed area rug provides comfort under their small feet.
7. Baby Girl Nursery Ideas Small Room
Whether you live in a studio apartment or small house, building a baby girl room is not out of your reach. In the beginning, a little child only requires tiny space. That's why going for the mini cot is a great option.
White ceiling, table lamps, and furniture pieces open up the room. Metallic chandelier acts as a showstopper. The curtains were hung from ceiling to the floor. They trick the eye into thinking space is bigger.
8. Baby Girl Room Ideas Not Pink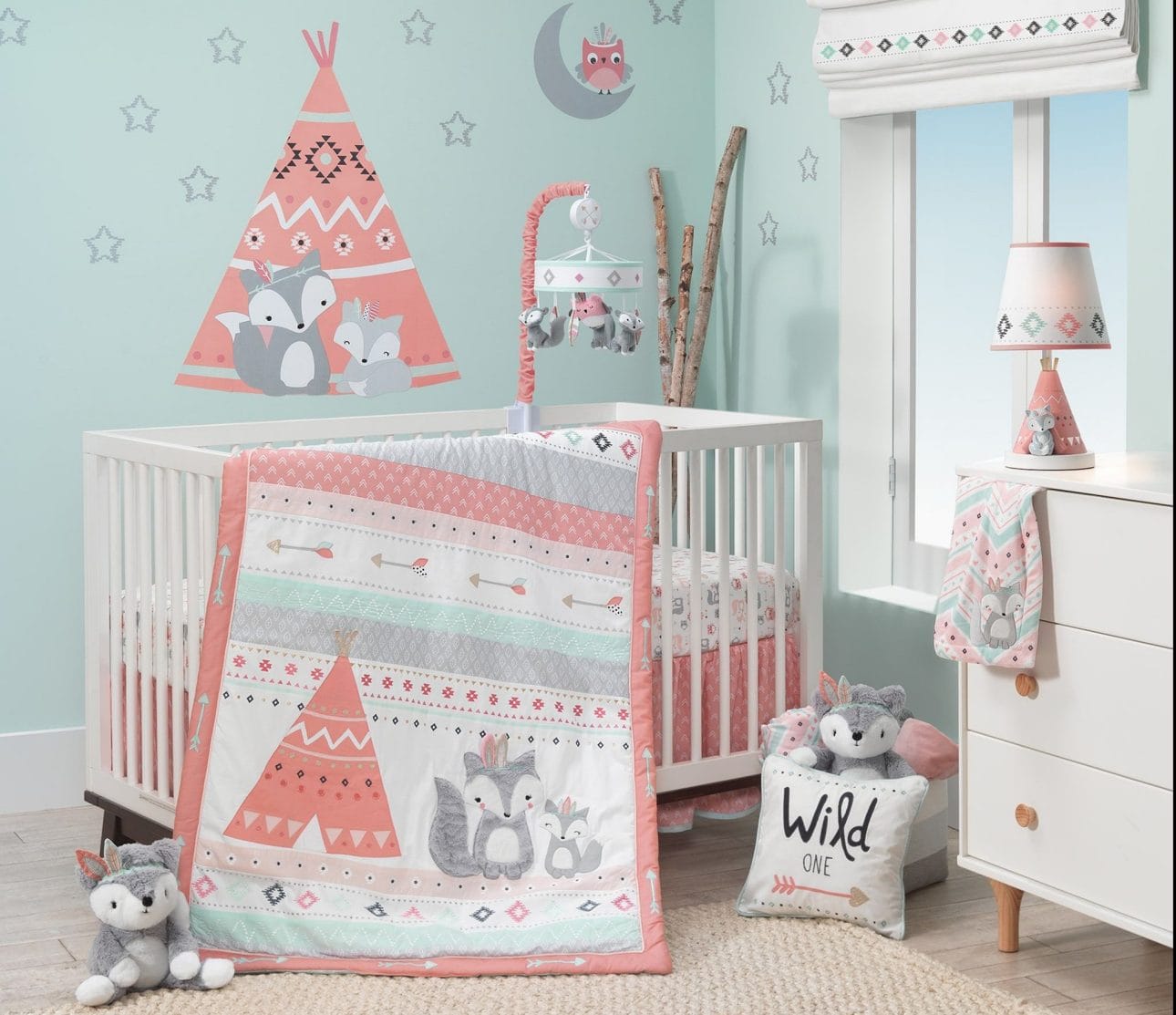 Who says that blue isn't for baby girls? If you want to stay away from common stereotypes, paint the nursery walls soft blue. The color infuses brightness and freshness into space. Coral pieces set a youthful ambiance.
Outfit the baby girl room with white furniture units. They compliment the walls perfectly. The hand-woven jute rug, light gray wood floor, and tree branches bring the outdoors indoors. Fox dolls are an adorable addition to the room.
9. Nature-Inspired Baby Girl Nursery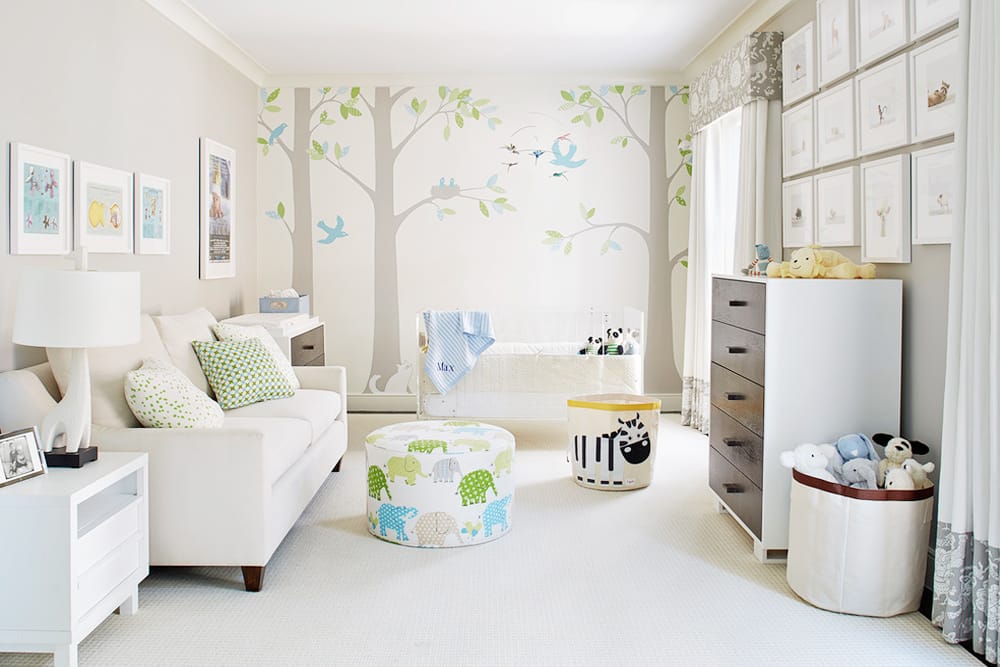 Without a doubt, this baby girl nursery has a forest theme. Pale gray walls assert a feeling of serenity. They allow colorful and monochrome artworks to steal the spotlight. Those white ceiling, carpet, and furniture units keep the space light.
Tree and bird wall decals exhibit an outdoorsy feel. Storage basket and stool boast animal patterns. They liven up the baby girl's room. The plush toys and throw pillows reinsure the space with a happy atmosphere.
It's also a good idea for both boys and girls bedrooms.
10. Gray Baby Girl Nursery Ideas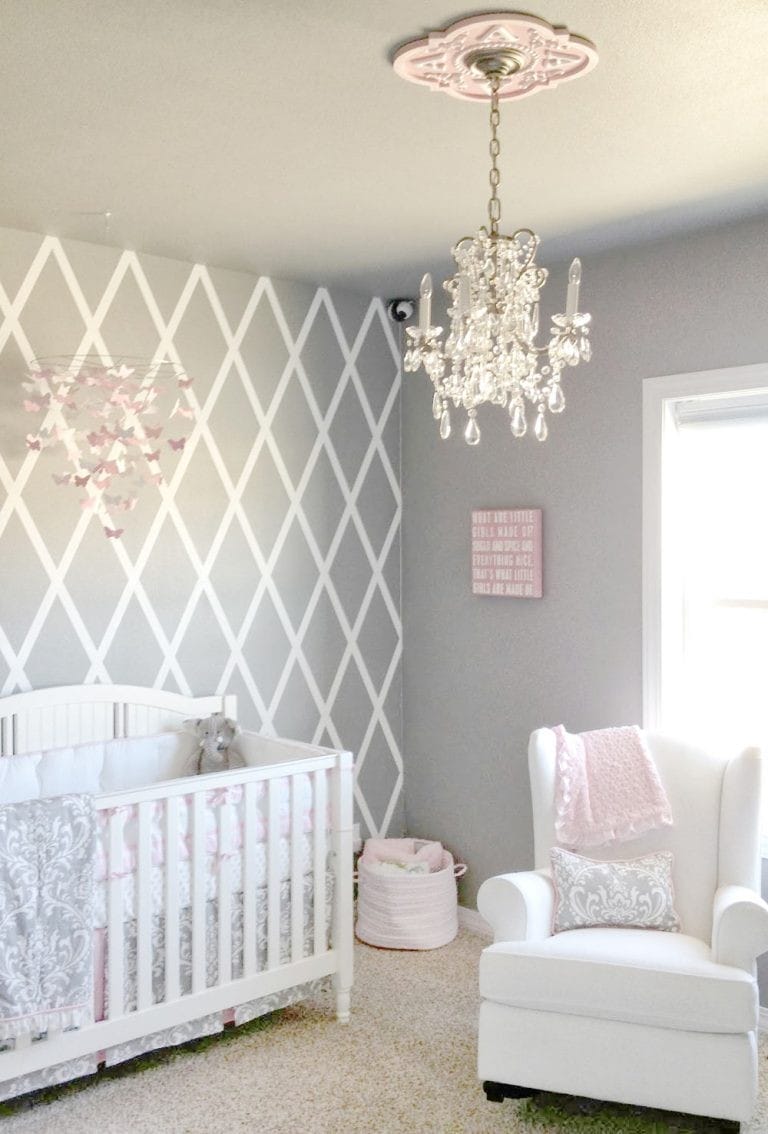 You probably think gray is not a great color for baby girl roomIt can add sophistication and calmness to space. Pure white sofa chair and cot go nicely with the walls. The CCTV camera helps watch your little child.
Light pink butterfly mobile, wall decor, storage basket, and blanket lend a womanly touch to the nursery. The rhombus pattern decals create visual interest. Meanwhile, the chandelier offers a vintage aesthetic.
11. Glamorous Baby Girl Room Ideas
This baby girl nursery is gorgeous and luxurious. It employs purplish-pink wall decals and silk curtains. The cot and wardrobe have intricate details. Tufted stool and sofa chair exudes a state of elegance.
The huge mirror reflects the light and makes this baby girl room seem more expansive, while crystal chandelier provides a relaxing yet superior illumination. White sheer curtains prevent the area from feeling too heavy.
12. Baby Girl Nursery Decorating Ideas with Butterflies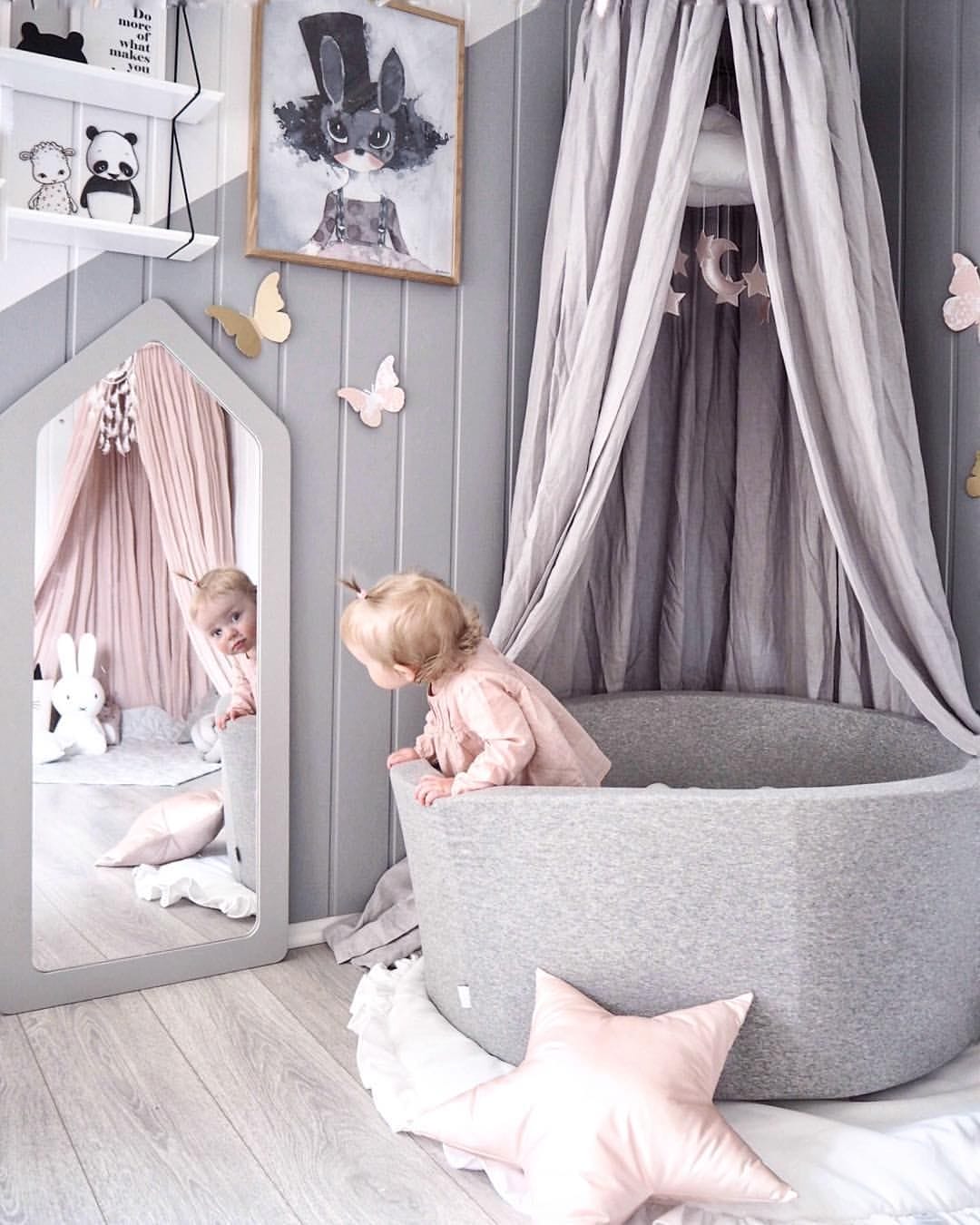 Gray is a dominant player in this baby girl room. The ceiling, floor, canopy, playpen, and mirror feature the color. They carve a peaceful ambiance in no time.
Framed bunny artwork and panda wall decal generate an artsy appearance. Soft pink canopy and throw pillows bring a girly touch to the room. Gold and pink butterflies titivate the interior.
13. Simple but Graceful Baby Girl Nursery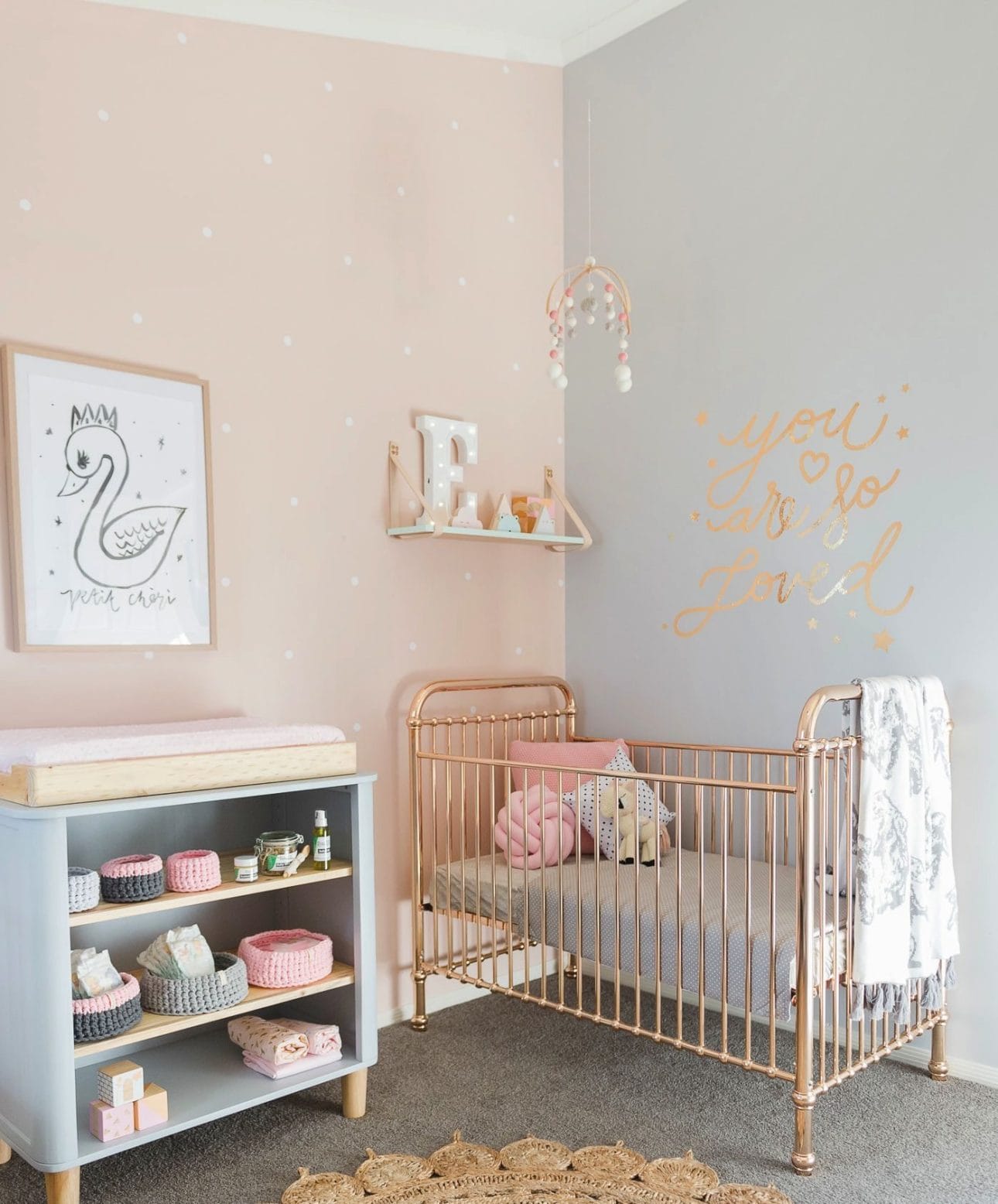 This baby girl room has different shades of gray. They produce a clean look and a serene environment. That pink wall and decorative items represent womanhood.
The changing table comes with open shelves for an airy setting. Copper cot, crochet area rug, and gold wall decal evoke a decadent feel.
14. Unisex Baby Girl Room Cabinet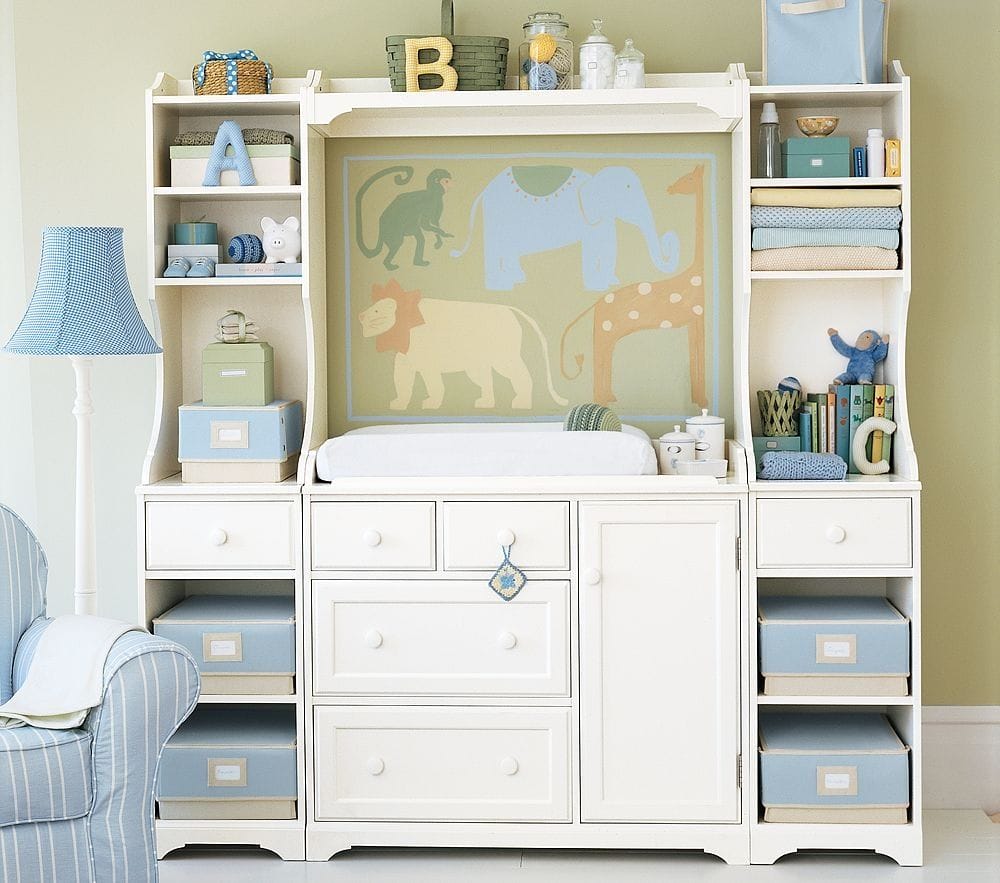 For first-time parents who are still unaware of their babies' genders, no worries. Just add this unisex cabinet to the nursery.
Here, the crisp white cabinet keeps toys, ornamental pieces, and baby essentials in place. Storage bins on the bottom racks will house kid's crafts later on.
15. Princess Baby Girl Room Design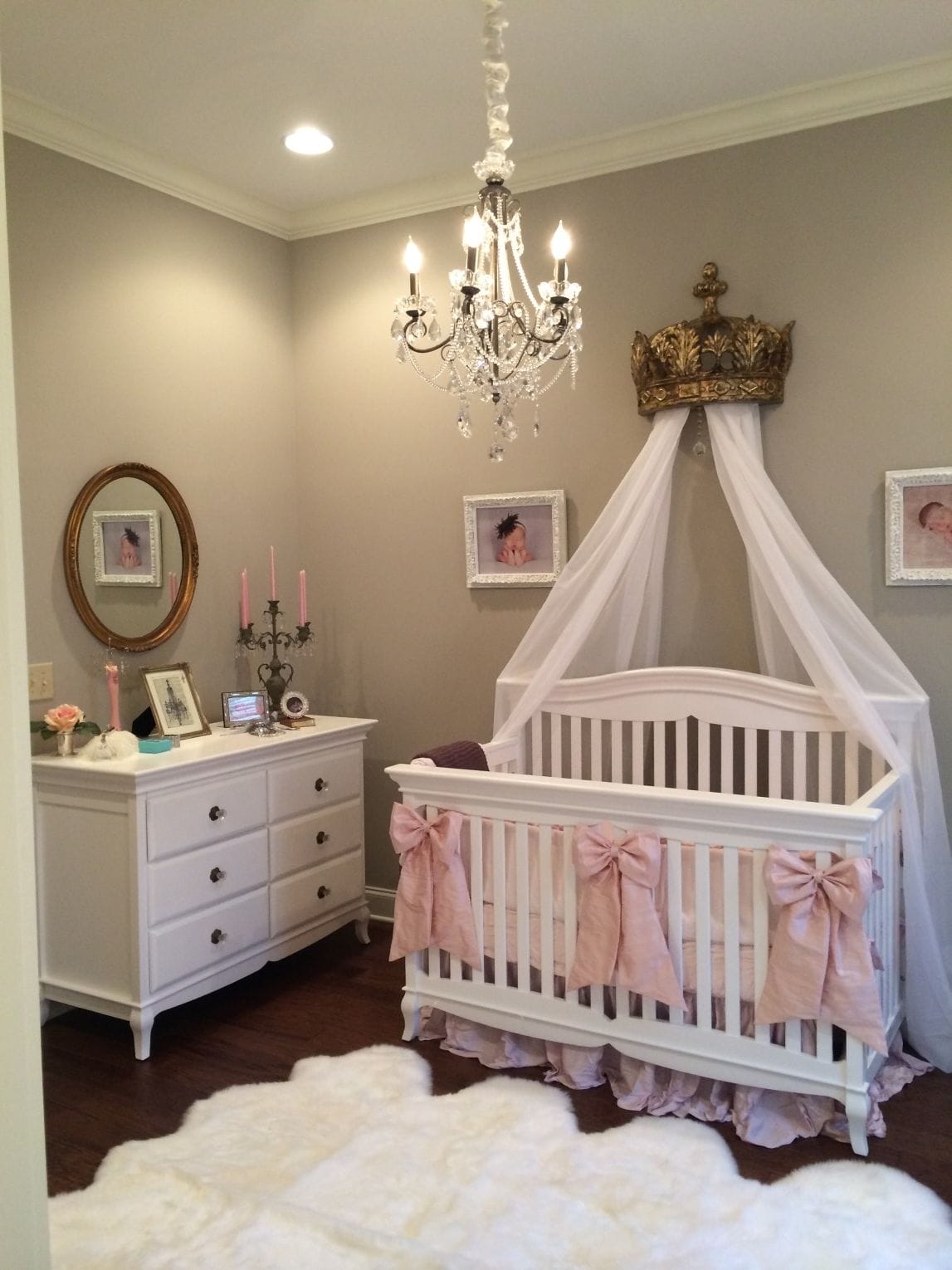 Your baby girl is a little princess. That's the reason you should apply for this idea. Gold mirror and bed crown along with crystal chandelier develop a royal look.
White sheer canopy and wool rug infuse a cozy feel into space. Pink accents keep the gray and white nursery from being bland.
16. Baby Girl Room Decor with Swan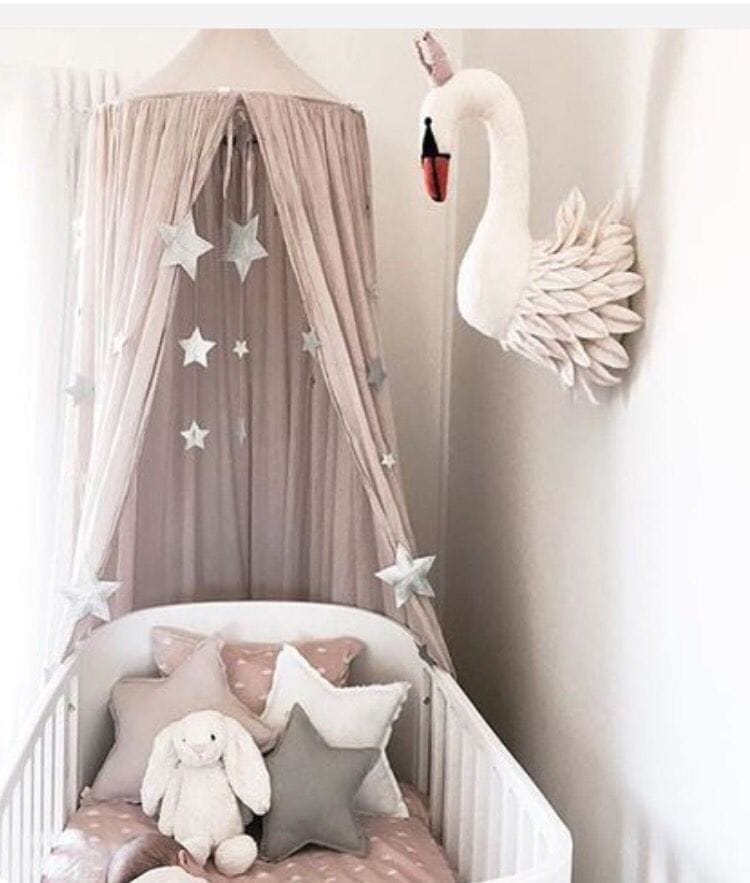 If you are not into an owl, decorate your baby girl nursery with princess swan. It exudes a sense of grace.
Dusty pink canopy and bedding spruce up space. Meanwhile, star mobile stimulates sweet dreams.
17. Pink and White Baby Girl Nursery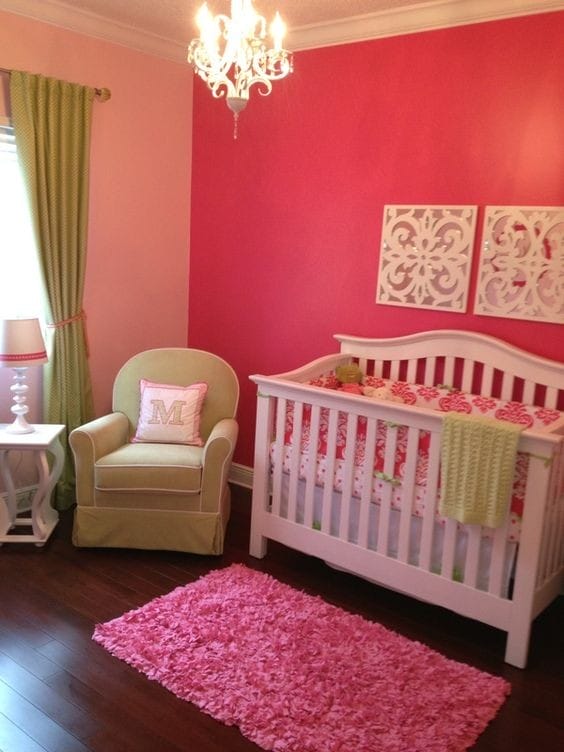 Varying shades of pink come together in this baby girl's room. They turn the space into an eye-catching retreat.
White and moss green team tastefully with pink. The colors make the nursery more welcoming and sweeter.
18. Baby Girl Nursery Wallpaper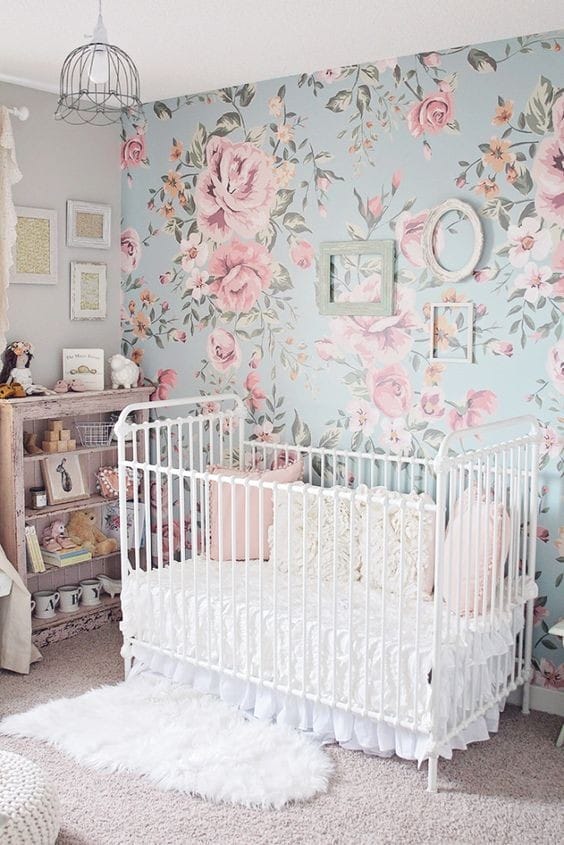 Fresh flowers can wilt for sure. That's why you should choose the floral wallpaper. It adds visual appeal to the baby girl nursery.
Distressed wood cabinet, white cot, black metal pendant lamp, and wall ornaments ooze vintage charm. Shag rug and ruffled pillows offer a luxury touch.
19. Minimalist Nursery for Baby Girl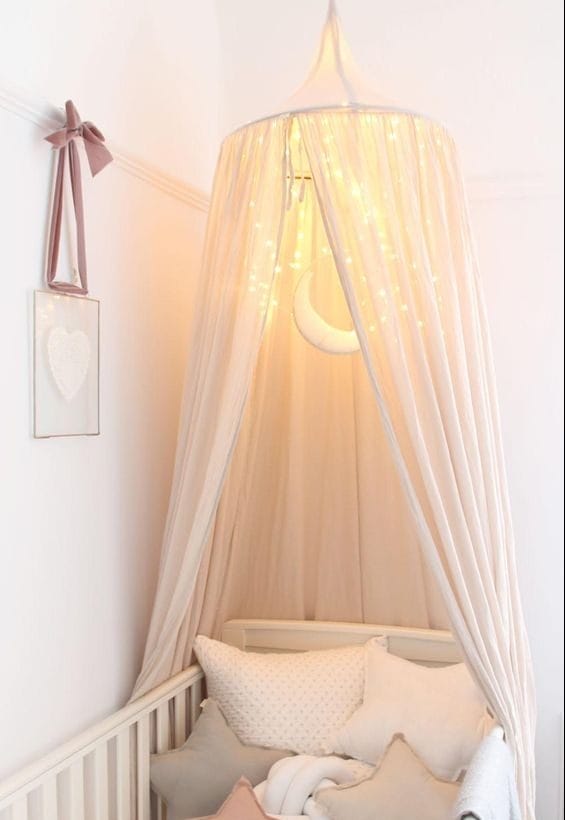 Expecting your baby girl and thinking about decorating her room? Do not panic! If you have limited time, go for a minimalist nursery.
Paint the entire room in pure white. Then, incorporate simple cot, canopy, throw pillows, and decorative items into space. For some whimsy appeal, install fairy lights.
20. Baby Girl Nursery Ideas on A Budget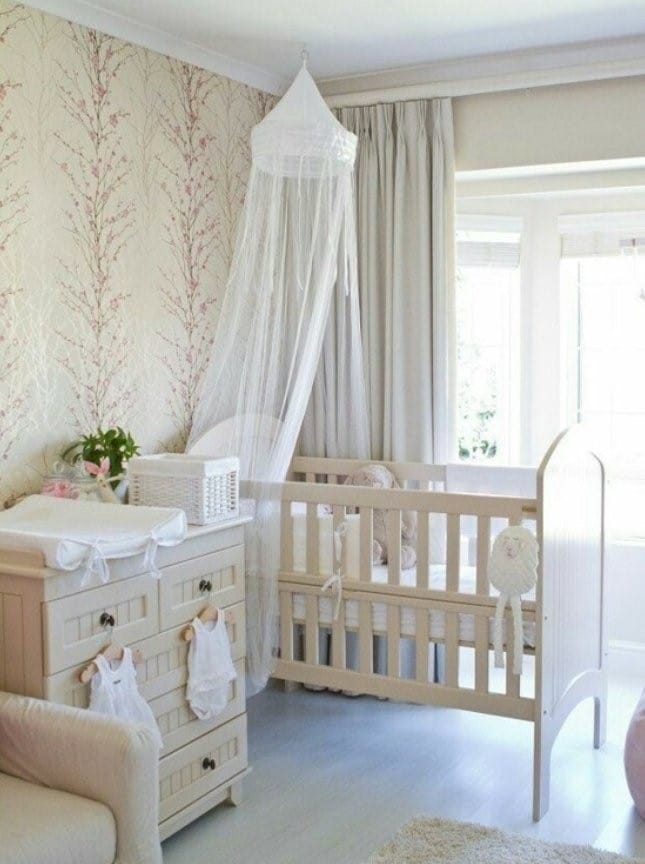 Are you a crafty mom? If yes, give this budget-friendly nursery idea a chance. Handmade bed canopy and baby cloth hangers make the room more appealing.
The off white curtains, furniture units, and shag rug carve a restful ambiance. Floral wallpaper adorns the space.
21. Pink and Gray Elephant Nursery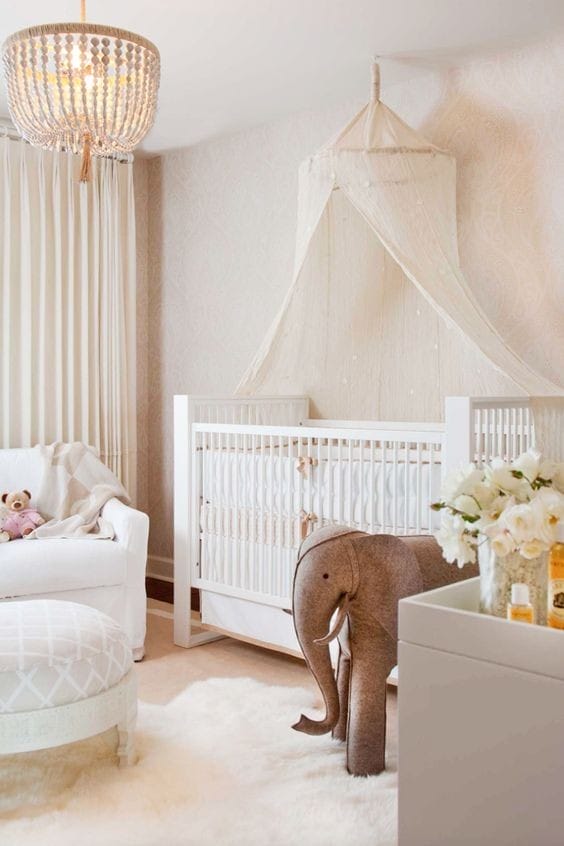 Some white color scheme lends this baby girl nursery a fresh look. It visually enlarges the room as well.
Gray standing elephant plush toy and pink bear doll animate this space. Sheer bed canopy and beaded chandelier impart glamor.
22. Baby Girl Room Ideas Pink and Gray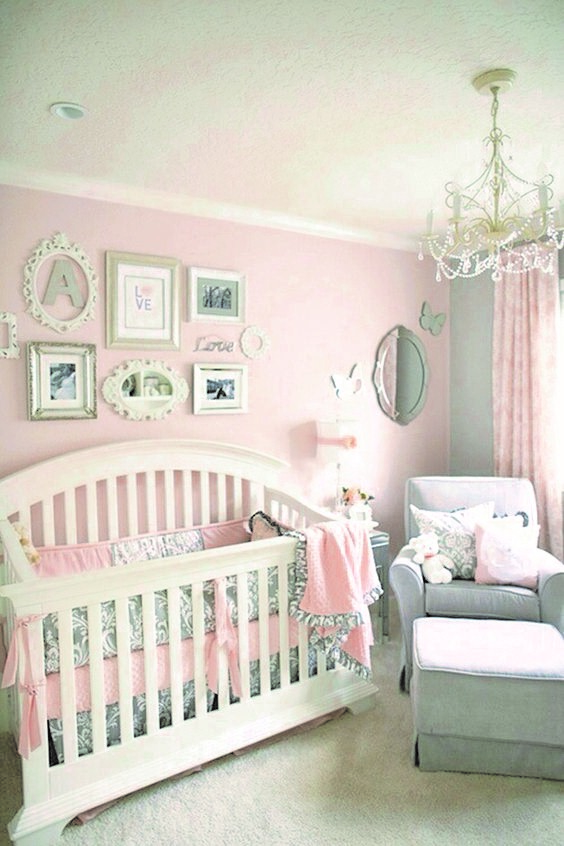 Pastel and peach pinks exhibit a relaxing atmosphere. Chandelier and wall ornaments change the baby girl room into a sweet sanctuary.
White and gray introduce a pretty contrast. Sofa chair beside the cot lets you comfortably accompany your baby girl.
23. Turquoise Baby Girl Nursery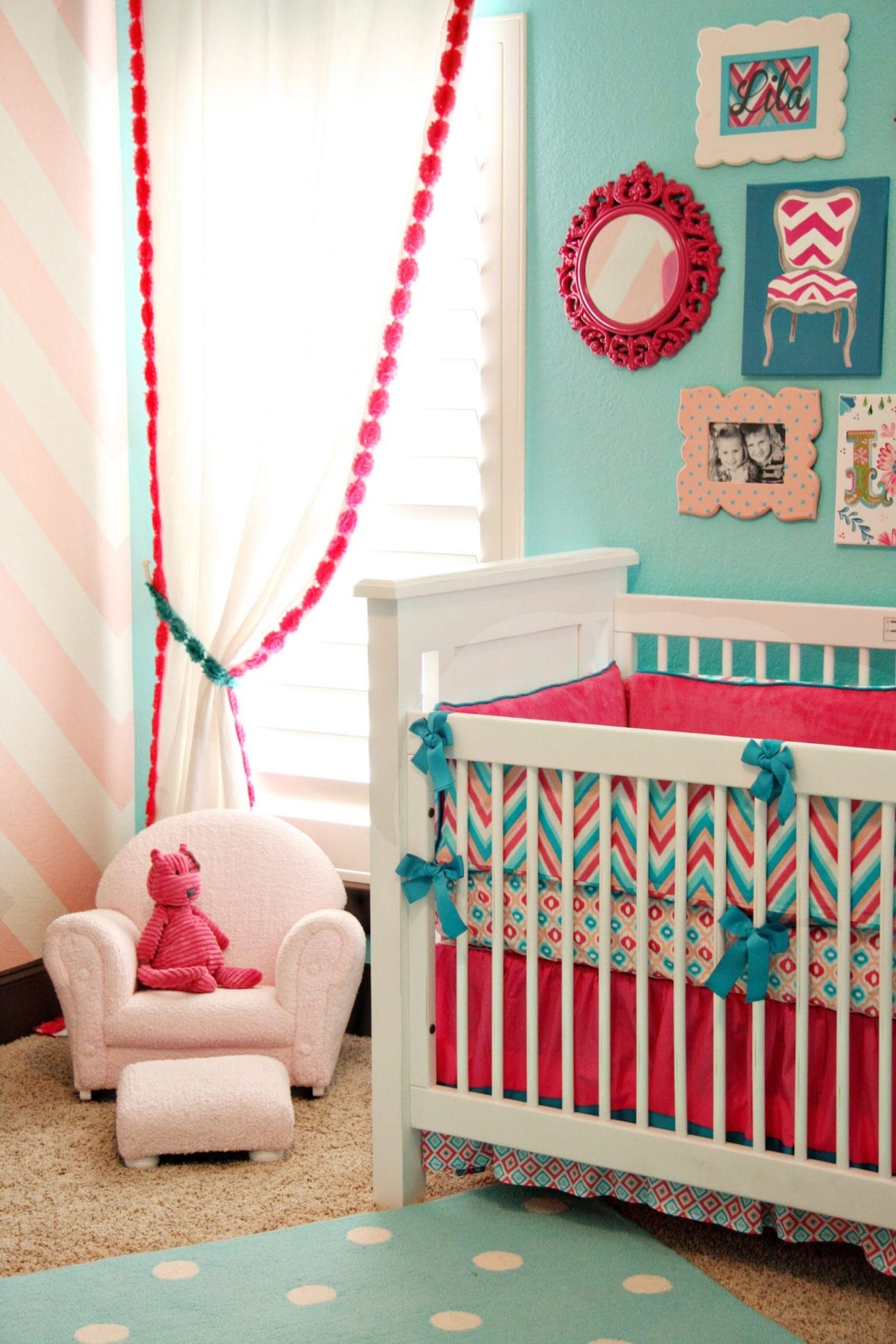 If you want to break guidelines, paint the baby girl nursery walls turquoise. The color sends out a happy ambiance.
Light pink and white stripes add a womanly feel to the room. Meanwhile, the wall ornamental pieces grab the attention.
24. Baby Girl Room Ideas with Floral Theme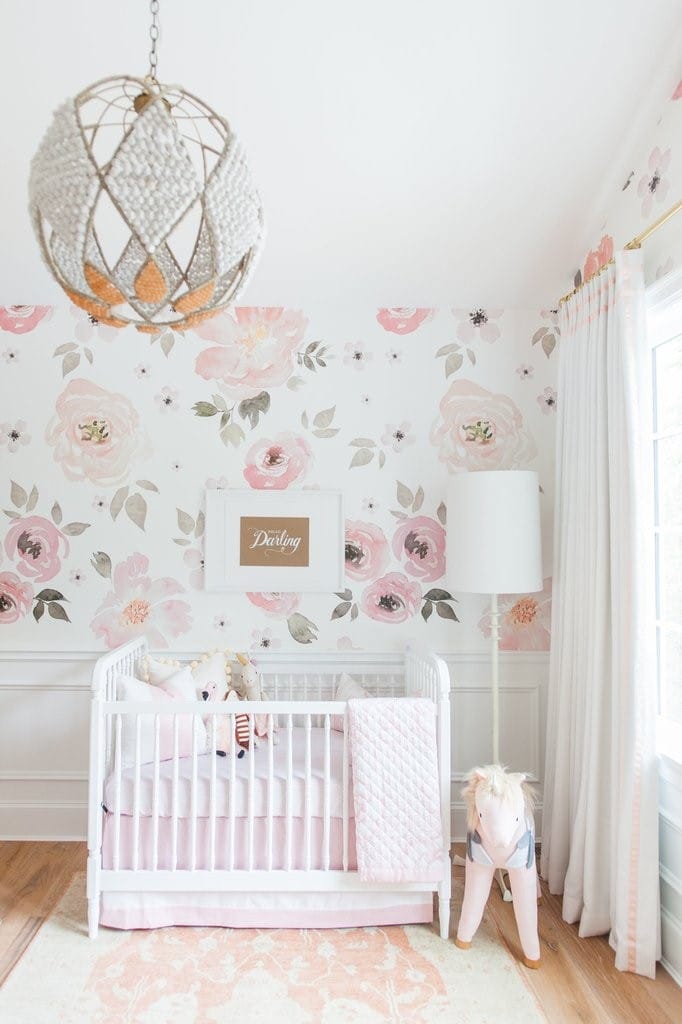 This baby girl nursery makes a major design statement with floral wallpaper. It boasts stunning, watercolor tones.
Pure white curtain, furniture, paneling, and light fixture keep the room airy. Wood floor oozes warmth, while the crystal ball chandelier casts a sumptuous glow.
25. Baby Girl Nursery Necessities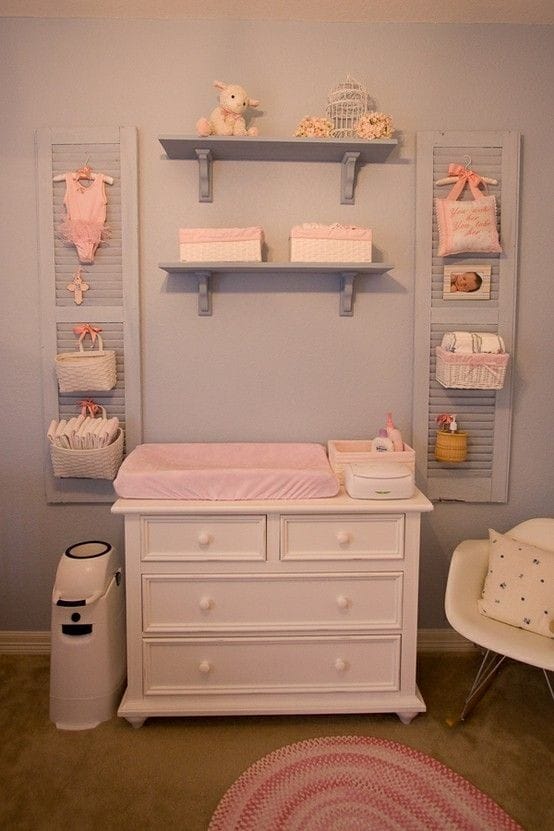 Do not throw out your old window shutters. Transform them into wall display stands. They should be painted the same color as the backdrop.
The window shutters showcase baby girl essentials. Light pink accents set a soft setting, while the extra seating provides flexibility.
26. Gray and White Nursery Ideas
Crisp white ceiling, furniture units, and walls produce a bright look. Massive gray floral wallpaper and black-framed artworks spice up baby girl nursery.
That wooden floor allows the monochrome patterned rug to shine. Peach pink curtains inject the room with girly vibes. Gold detailing generates a more glamorous appearance.
27. Baby Girl Nursery Decoration with Striking Stripes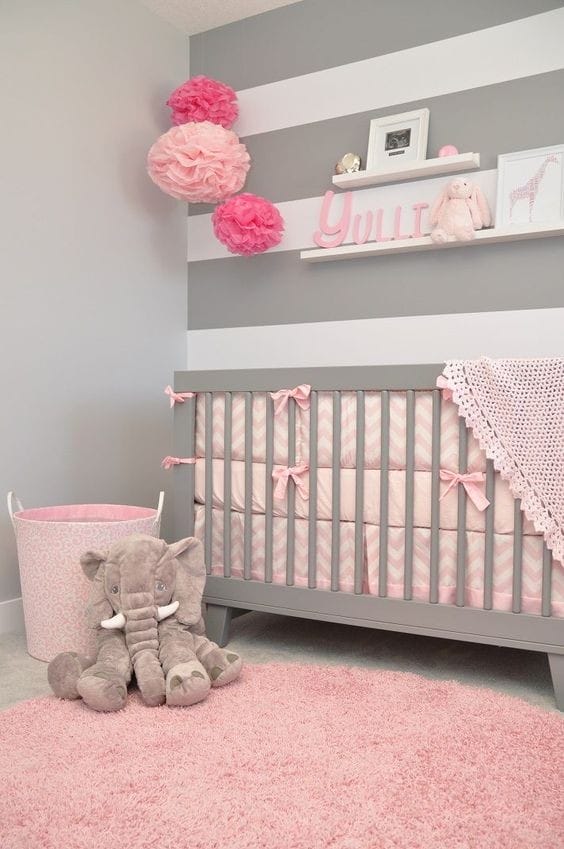 Whether you opt for simple stripes or the unique ones, they will make your baby girl room more attractive. Here, white and gray line patterns catch the eye.
Different pink shades lend the room a young touch. The shag area rug and stuffed animals add cozy textures to space.
28. White Baby Girl Room Ideas
White works as a base in this baby girl nursery. It delivers an open ambiance and airy environment to space.
Sky blue ceiling, area rug, and decorative units imbue the baby girl room with carefree vibes. Pink accents keep the space gender-neutral. The gold light fixture brings a dash of luxury to the nursery.
29. Nautical-Themed Baby Girl Nursery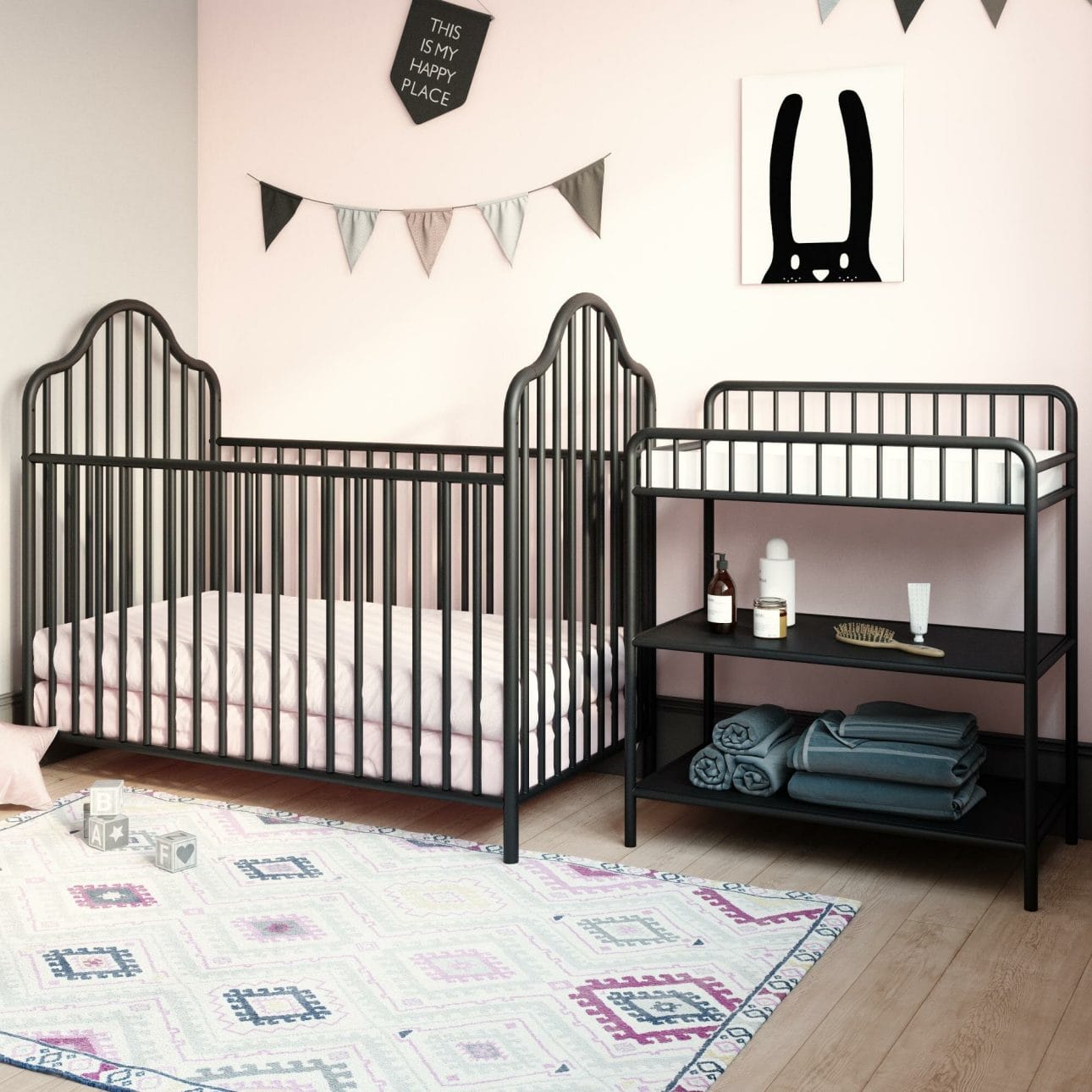 When talking about a nautical theme, the baby boy room probably comes to your mind. It also works great in the little girl nursery.
White and light blue develop a light yet enjoyable setting. Nautical bedding and wall decor encourage your baby girl to cruise in her imaginative world.
30. Inexpensive Baby Girl Nursery Ideas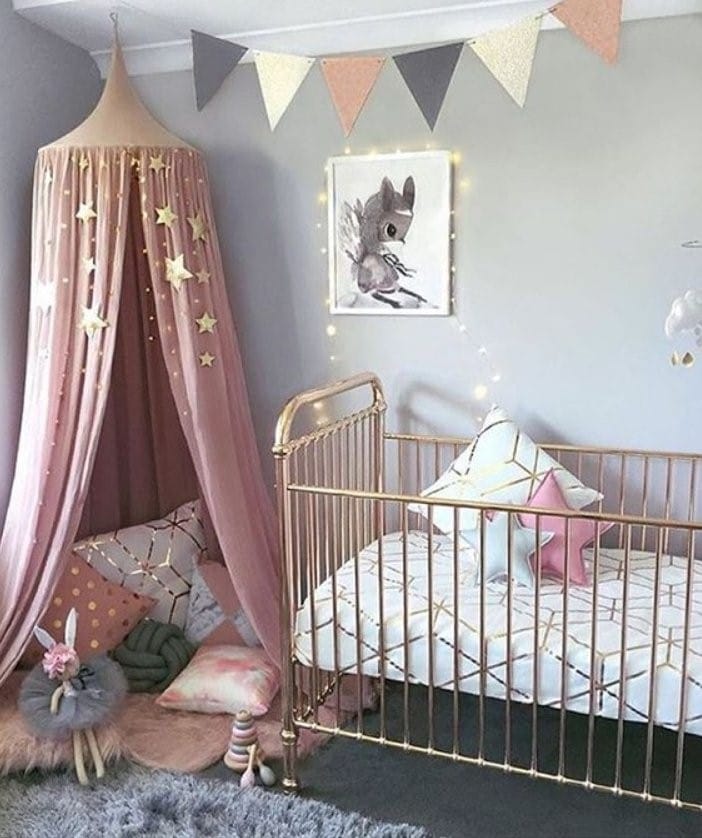 Do not hesitate to paint your baby girl room walls gray. The color lets you include aspects of her design as she grows.
Pink canopy, shag rugs, and throw pillows turn the nursery into a dreamy retreat. Gold accents and fairy lights add a healthy dose of glamor to the room.
31. Baby Girl Nursery with Rabbits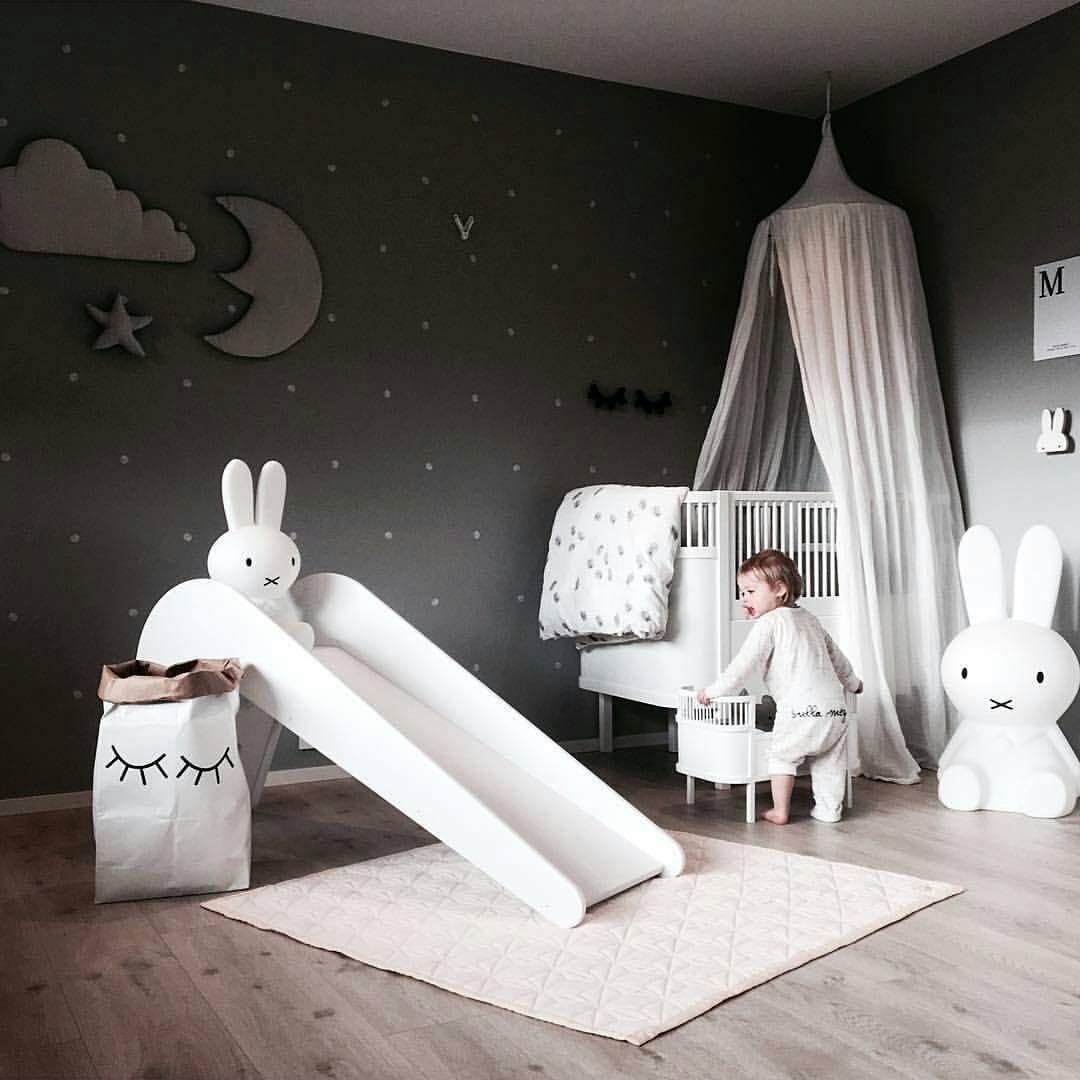 Another theme for your baby girl nursery is bunny. You can integrate two white rubber bunnies into her room.
Use a monochrome hot air balloon wallpaper to titivate the scene. Hang soft pink bed canopy and warm gray curtains for a peaceful mood.
32. Space-Inspired Baby Girl Nursery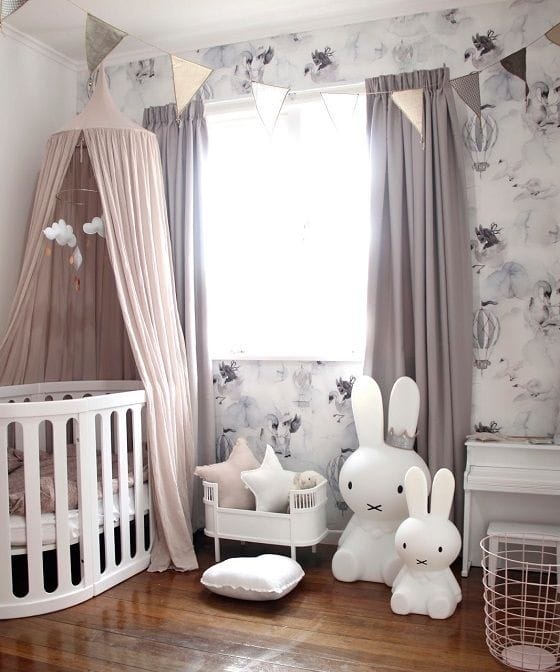 This baby girl room features dark gray walls. They impart serenity and encourage your little child to sleep a lot.
White ceiling, canopy, cot, slide, and bunnies prevent the space from being too gloomy. Cloud, star and moon wall ornaments help develop a space-themed nursery.
Converting a regular bedroom into a nursery may seem challenging, but it is seriously worth the effort. With my baby girl room ideas, you can create a dashing space that is both secure and safe for your youngster.