Finding an eye shadow can be a frustrating job if your magic tools are misplaced. Instead of letting the everyday essentials clutter the room, you should arrange them properly. Here, I have collected clever DIY makeup storage ideas.
In this article, you are going to find great ways of decluttering makeup items. From simple and cheap makeup organizers to the elegant ones, I show you ingenious storage solutions. Don't worry. They won't break your bank.
1. Plate Makeup Storage Ideas
You love collecting branded perfumes and makeup, so why not put them on display? This no-brainer storage idea only requires a small soup bowl and a medium flat plate. Since that dinnerware comes in white, they carve a clean look.
To create the organizer, flip the bowl over. Then, put the plate at the top. Use bright scrapbook papers for ornamentation. Place your makeup and perfumes on it. Once they have been nicely arranged, you can discover them easily.
2. Magnetic Makeup Board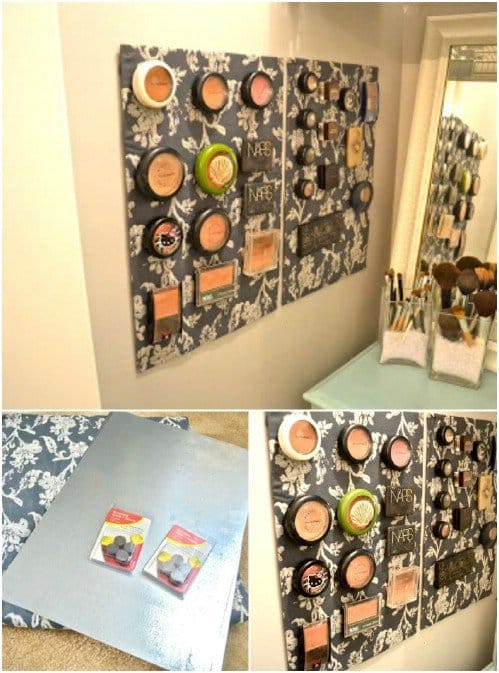 Let's be honest, you normally put your makeup essentials here and there, after using them. They instantly clutter the countertop. With the magnetic cosmetic board, there won't be a storage issue anymore even when you are in a hurry.
For this DIY project, you need a metal board, glue, patterned paper, and magnetic pieces. The paper takes the board from plain to pretty.
Moreover, the organizer lets you find the makeup items quickly. Cosmetic storage does not get easier than this for sure.
3. Wall-Mounted Jar Makeup Storage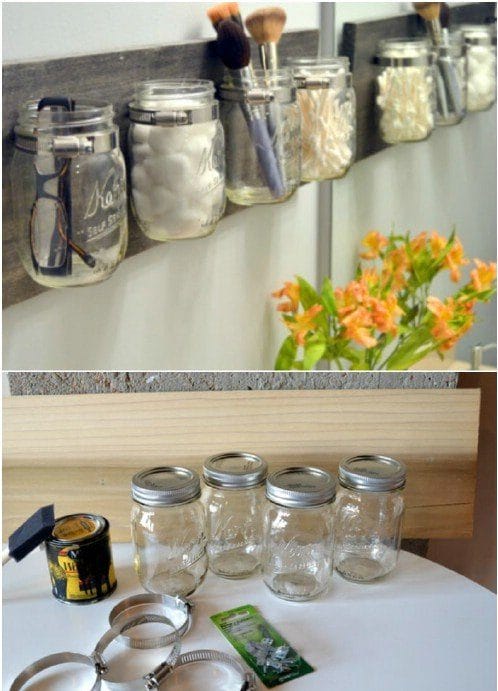 When it comes to makeup storage ideas for a small bathroom, you can't go wrong with this organizer. It is simple yet super charming. The project just utilizes mason jars, metal strings, reclaimed pieces of wood, and decorative material.
You must secure the mason jars to the wood piece first. Then, hang it on your wall. Fill the jars with makeup brushes, cotton balls, and glasses. This makeup holder offers rustic charm and a neat appearance at once.
4. Glittery Jar Makeup Storage Ideas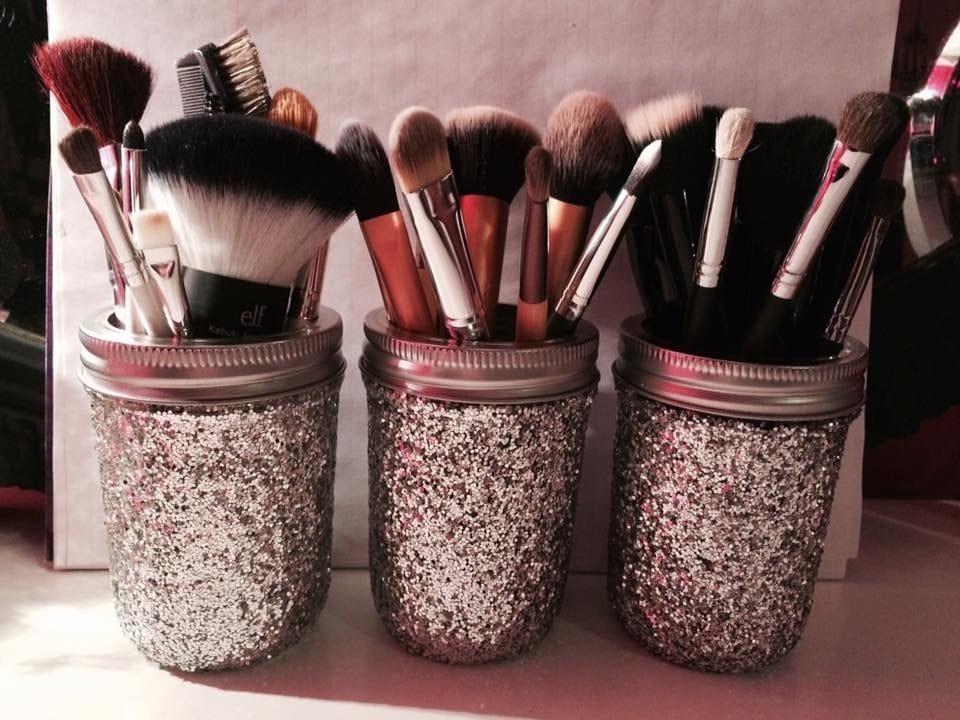 If you have numerous makeup brushes, give them chic homes. That way, they won't make your room uninviting and messy. A good organization allows you to grab your favorite brush without trouble.
First of all, prepare mason jars with lids, glitters, and mod podge (a type of glue). Apply glue to the jars. After that, cover them with glitters.
The glitters magically transform cheap jars into terrific organizers. Lastly, put your makeup brushes in the holders.
5. Wall-Mounted Nail Polish Storage Racks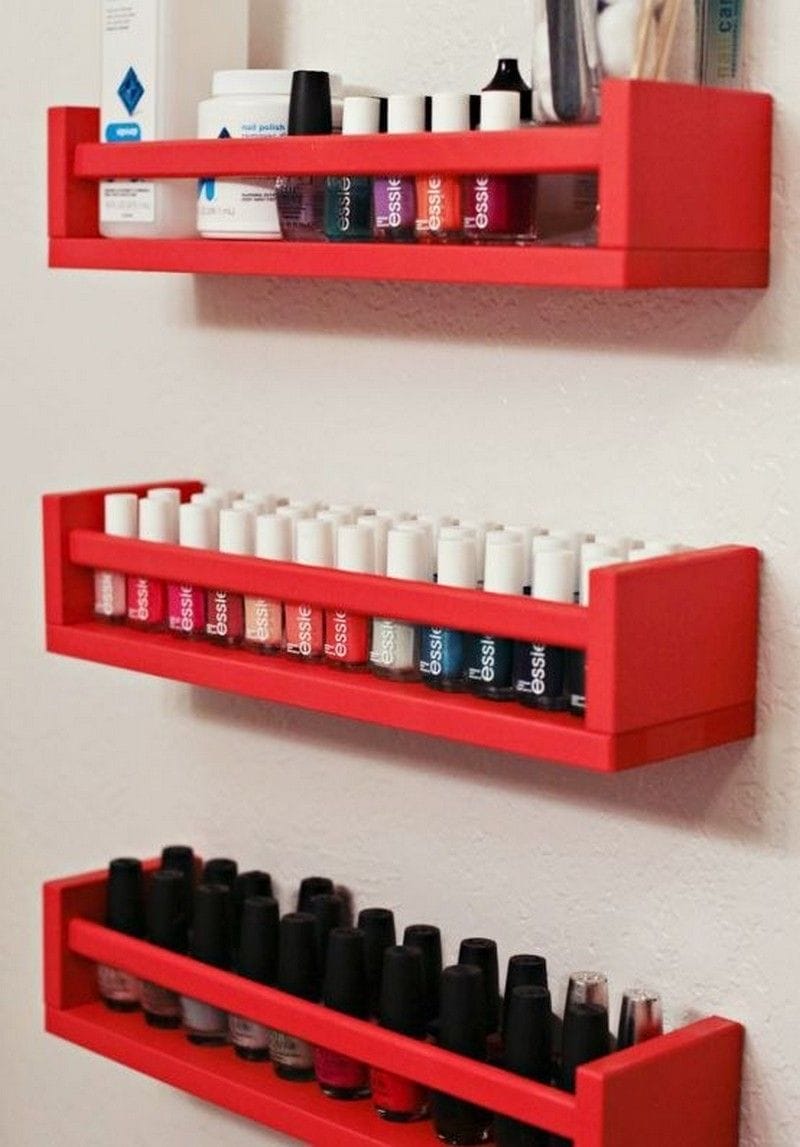 Your nail polishes are gorgeous, but they can get misplaced without proper organization. That's the reason you should put them on display. When guests come over to your house, they can see those colorful pieces.
You have to purchase small, candy apple-colored racks from IKEA. Next, install them on your white wall. Arrange the nail polishes on the racks. That way, you can organize nail polishes and have vivid wall decorations. Isn't it fantastic?
6. DIY Hanging Makeup Storage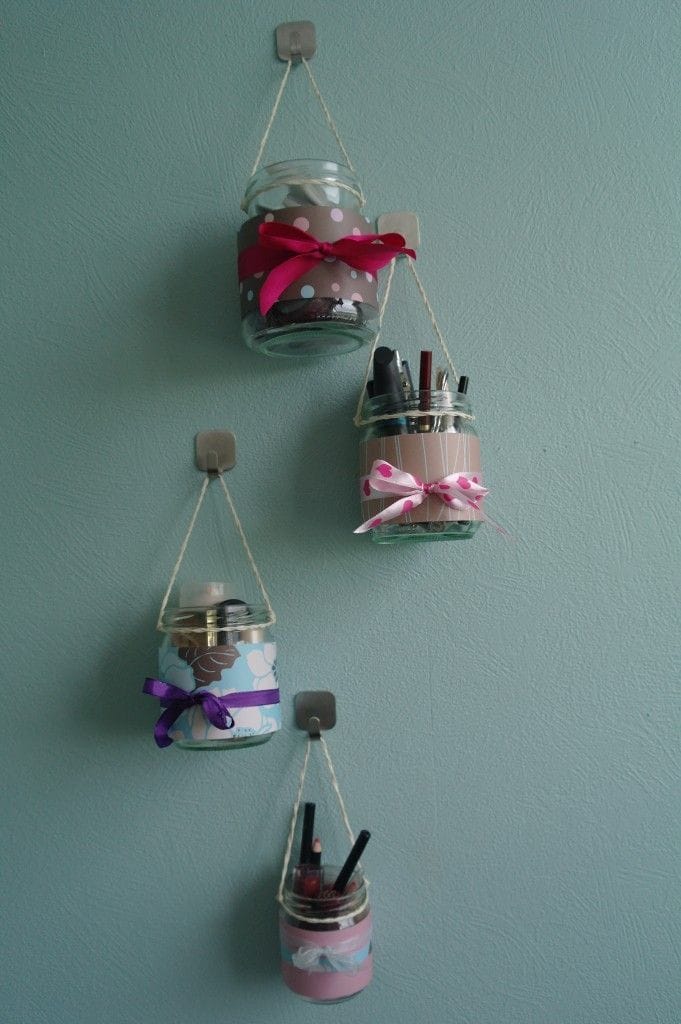 There are old glass pots in your home. Do not throw them out. You should turn those items into striking makeup holders instead. They are both unique and functional. Most importantly, the project needs little cost.
Use washi tape and colorful ribbons to adorn your glass pots. Then, simply tie some twines around their necks. Hang the units on the metal racks. You can fill the organizers with foundation, lipsticks, eye shadow, and brushes.
7. Makeup Storage Box Drawer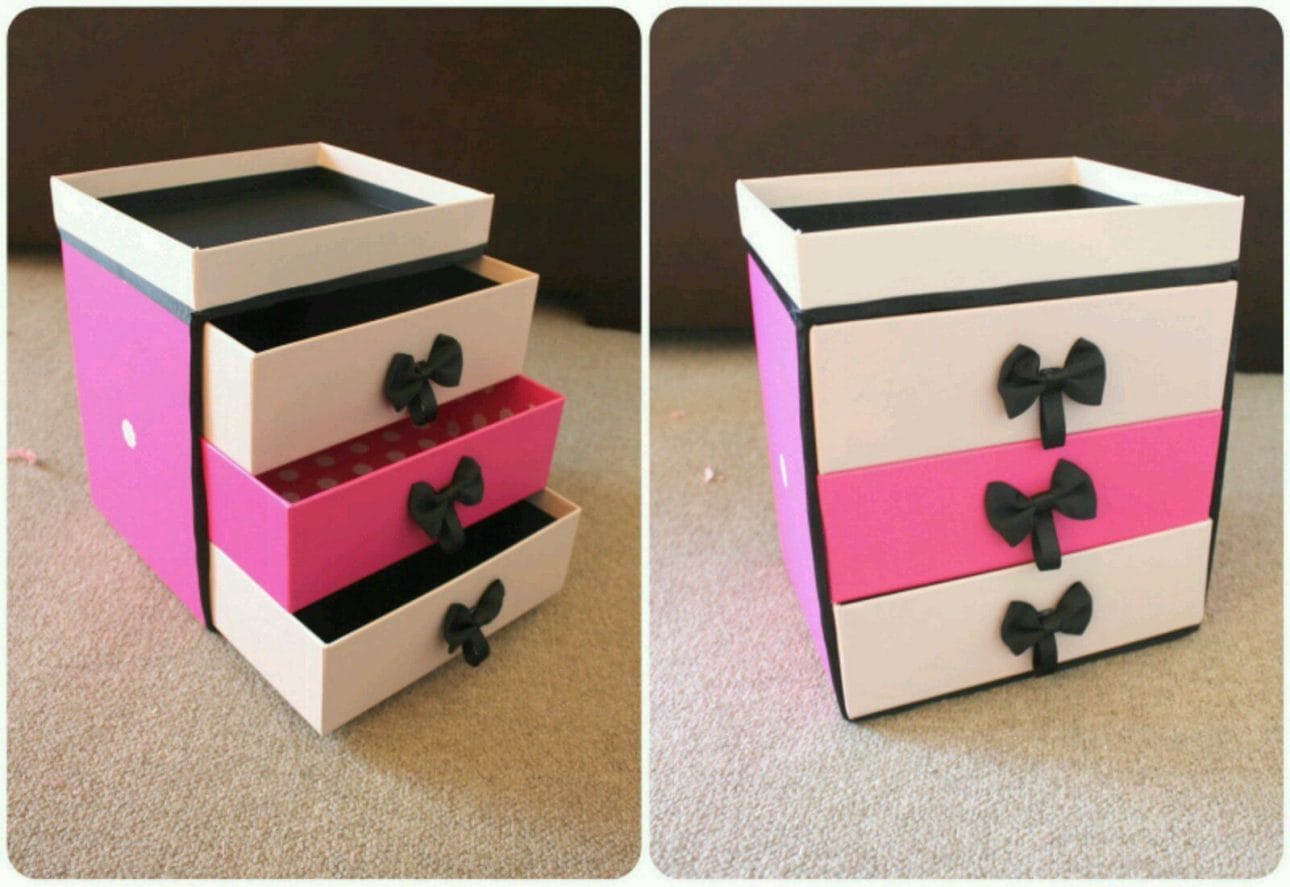 As a makeup junkie, you certainly keep your cosmetic boxes. Make your adorable drawer system out of them. This handmade organizer will accommodate some items for your daily makeup regimen, so they won't cause visual clutter.
To build this box drawer, you must grab glue, containers, some black ribbons, and colored papers. Store frequently-used makeups on top, while putting the others in the drawers.
8. Foam Makeup Storage Box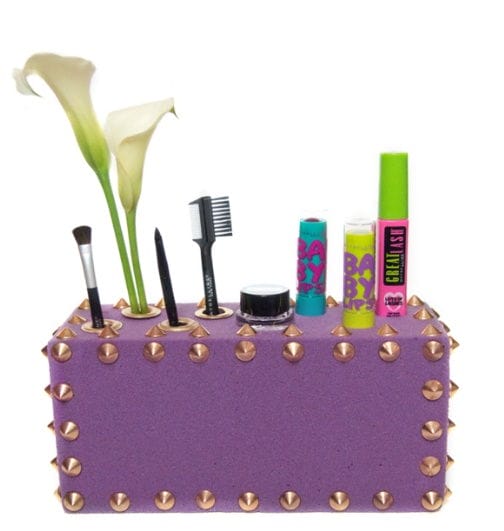 If you are crafty enough, give this idea a chance. All the materials for the vibrant makeup box are glue, bright floral foam, studs, grommets, and test tubes. Glue the floral foam together to generate a box.
The next step is adding golden studs to the box and marking the areas for test tubes thoroughly. Then, utilize grommets to top the makeup holder. Place flowers, mascara, lip balms, and makeup tools in the test tubes.
9. Plastic Bottle Cosmetic Storage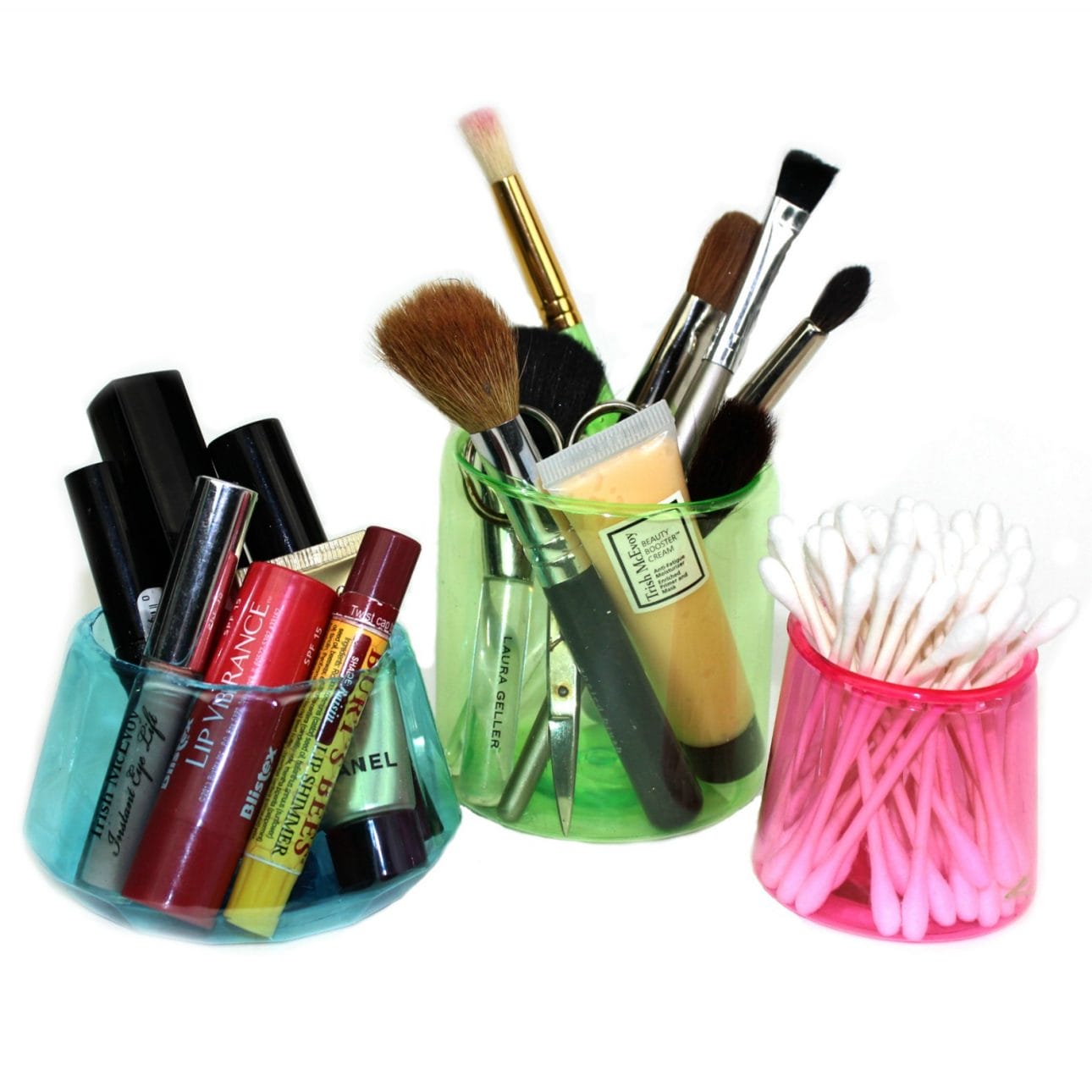 This makeup storage idea transforms the trash into a treasure. You simply need to recycle your unused, bright plastic bottles. Cut them open to your preferred size. After that, make their edges more even by ironing them.
Feel free to add some ornamental touches. They will let plastic bottle makeup holders shine. The storage containers keep your brushes, cotton buds, lipsticks, and small scissors in place. I love this super cool storage concept.
10. DIY Candle Jar Makeup Storage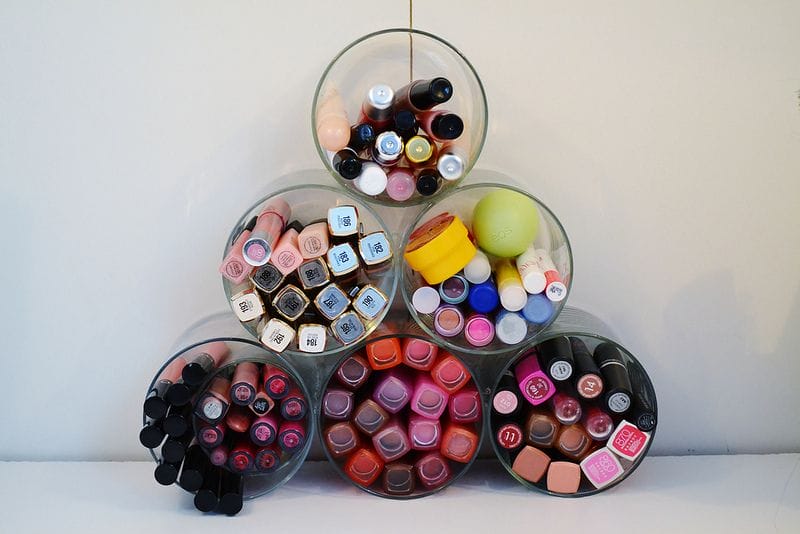 You are a makeup addict. No surprise, you have lots of lipsticks. To declutter the room, make this clever makeup holder yourself. It is simple but incredible and neat. Additionally, the storage idea saves money.
For the project, prepare strong glue and six unused candle jars. Be sure your old jars are clean. Stack them on top of each other to form a triangle using strong glue. It should stand firm. Lastly, display your stunning lipsticks.
11. Roll-Up Makeup Brush Holder
If you love makeup and traveling, try this idea. It is easy to create, but also travel-friendly and elegant. The project only requires some time as well as your average sewing skills.
The materials you need to craft this roll-up makeup holder are sewn leather or flannels, small cutting knife, and twine. Use the knife to make the brush slots. Once the project is done, store the tools in this roll-up brush organizer.
12. Painted Patterned Jar Makeup Storage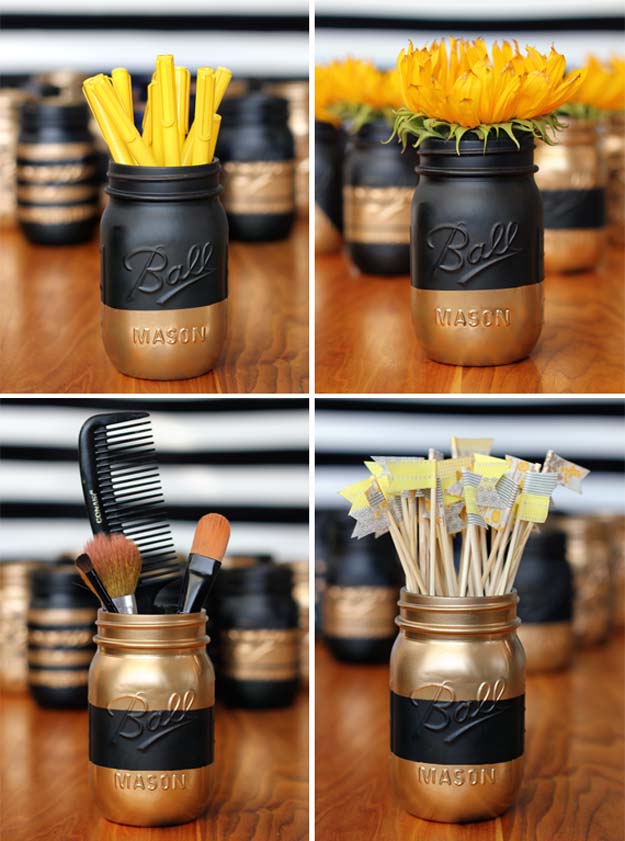 Mason jars are seriously versatile. They offer a simple but remarkable design. This cosmetic organization concept will transform them into makeup organizers that appear limited and glamorous.
The project starts with an easy paint job on the mason jars. Here, black and gold develop a marvelous contrast. After that, put your makeup tools, decorations, and personal items in the expensive-looking holders.
13. Portable Makeup Storage Rack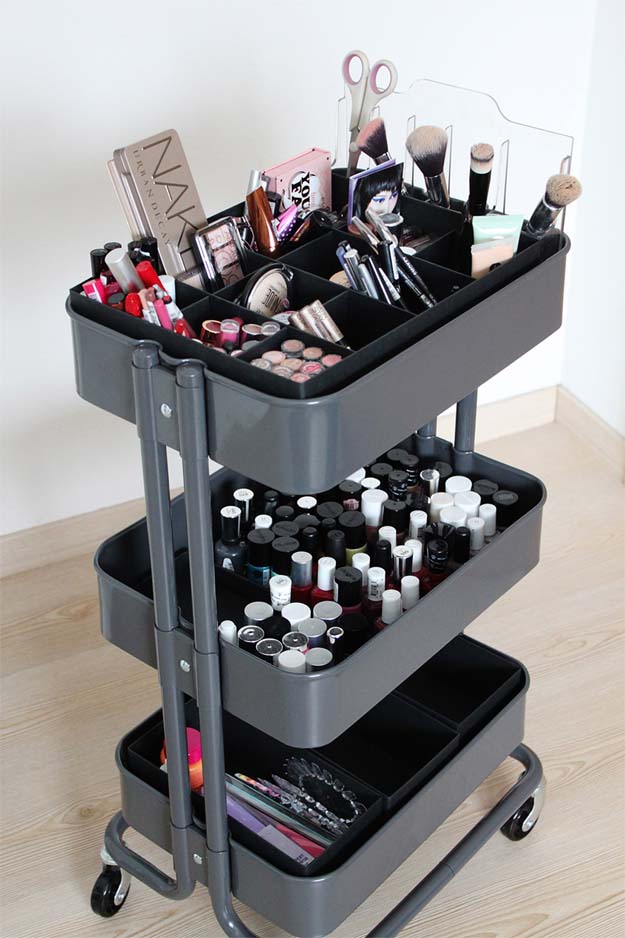 This DIY makeup storage idea is wonderful. Since the rack includes wheels, you can easily move it from one place to another. The cosmetic organizer is truly suitable for a very mobile person.
When you don't use the rolling makeup rack, put it in the corner of the room. Moreover, the unit allows you to add containers on both sides for extra storage space. They can accommodate your small accessories.
14. Makeup Storage Ideas IKEA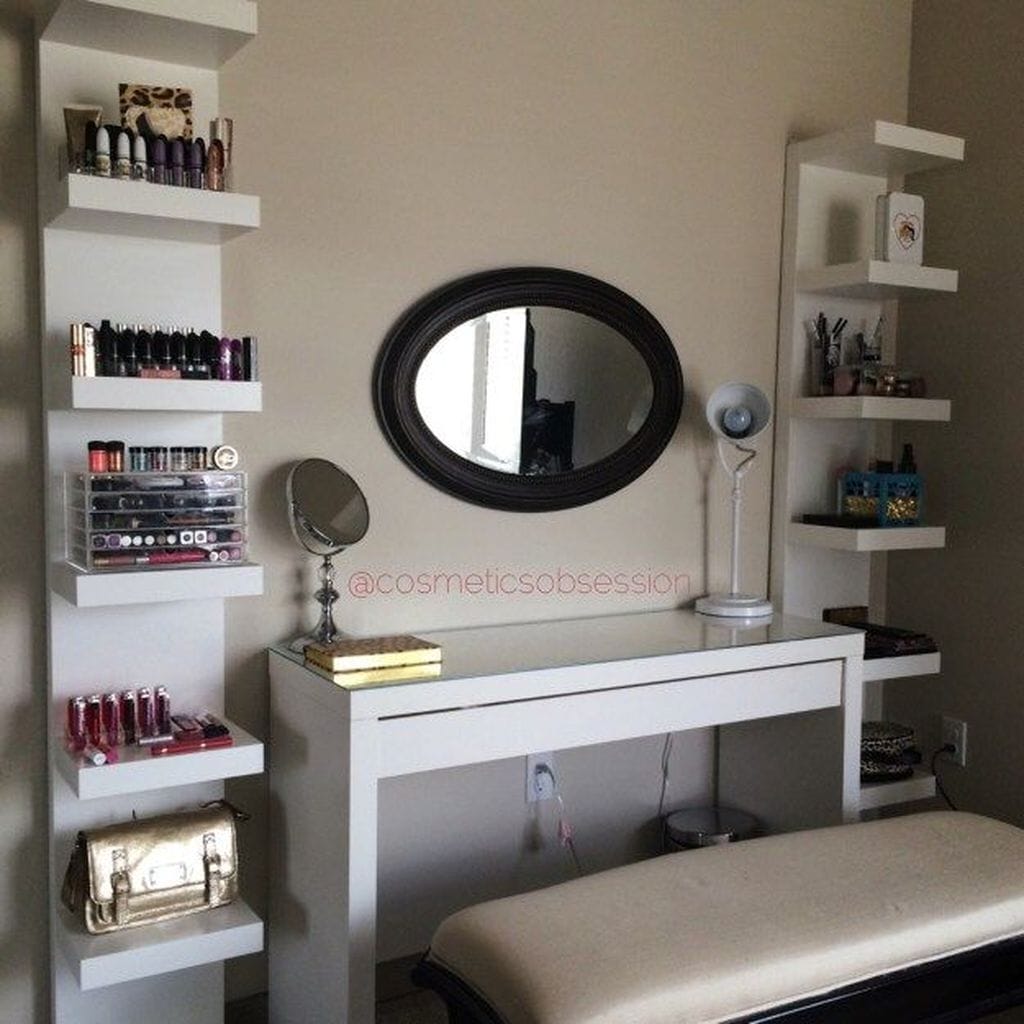 You collect so many cosmetics, makeup tools, and bags from various brands. They definitely can't fit in your small storage boxes. If you want to keep things organized, give this star-inspired makeup vanity idea a go.
Both the dressing table and wall-mounted shelving units are from IKEA. Since they come in pure white, the room looks clean and open. After installing the racks, arrange your makeup items on the shelves.
15. Wooden Tray Makeup Organizer
You find your existing makeup storage boring. Well, apply this cool idea. The storage tray is constructed out of different reclaimed wood pieces. They give the makeup organizer rustic aesthetic.
Put your daily essentials on the tray. Then, place it on top of your dressing table. White vanity and wall allow the wooden tray makeup organizer to be a showstopper. It goes perfectly with geometric succulent planters.
16. Vintage Dinnerware Makeup Storage Ideas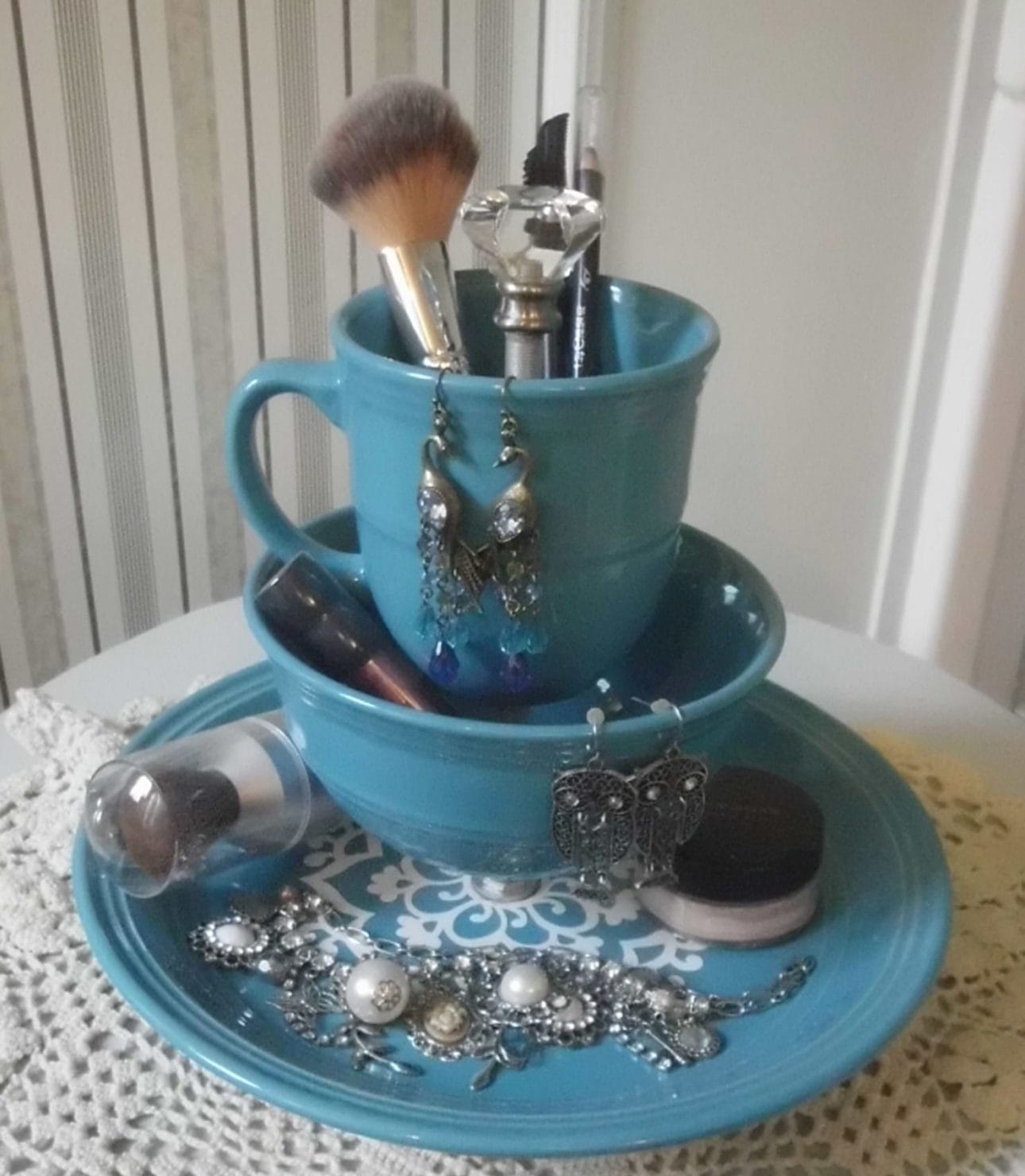 Do not let your old classic bowls, cups, and plates go unused. You can turn that vintage dinnerware into makeup displays. To spice up your space, utilize the bright-colored dishes.
This eye-catching makeup organizer is made of three blue old dinnerware. They hold silver fashion jewelry, foundation, brushes, and other tools. The vintage dishes seem better for storing makeups than serving meals, right?
17. Chalkboard Makeup Storage Ideas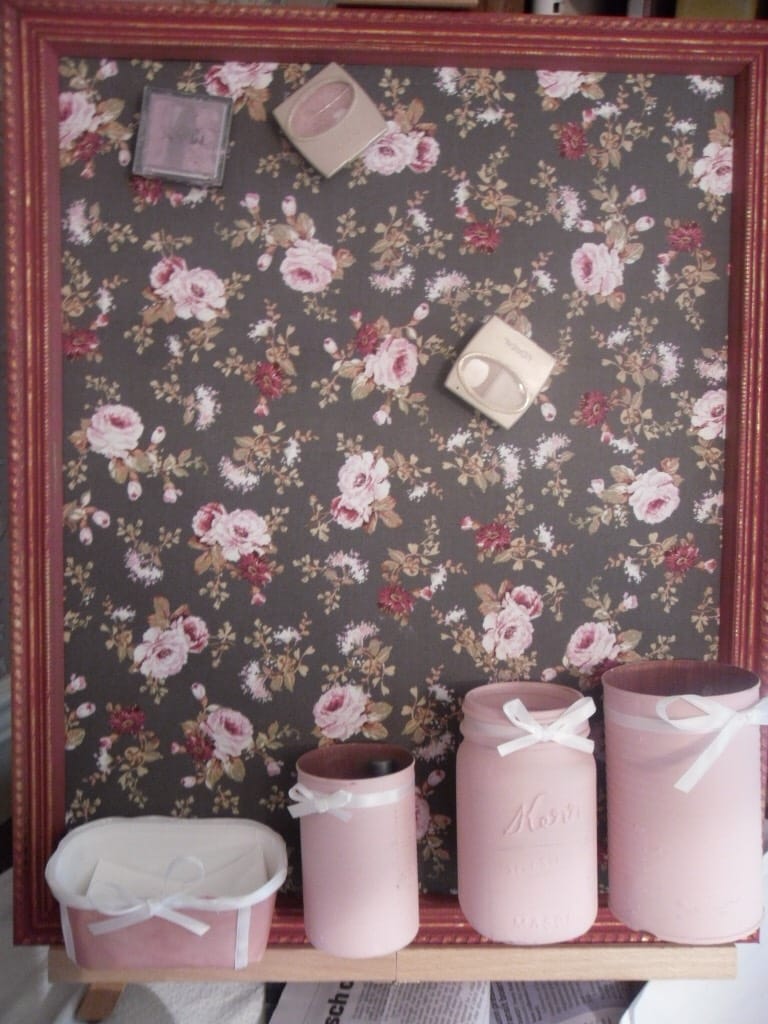 Beads and necklaces can get tangled up quickly when they are put in your cabinet drawer. To overcome this issue, craft an organizer that is both functional and fabulous. It saves some money as well. What else could you want?
For this DIY project, grab old chalkboard, picture frame, metal sheet, blonde wood piece, floral patterned paper, pastel pink paint, some magnet pieces, and white ribbons. These materials make for a cute, feminine makeup organizer.
18. Makeup Brush Storage with Washi Tape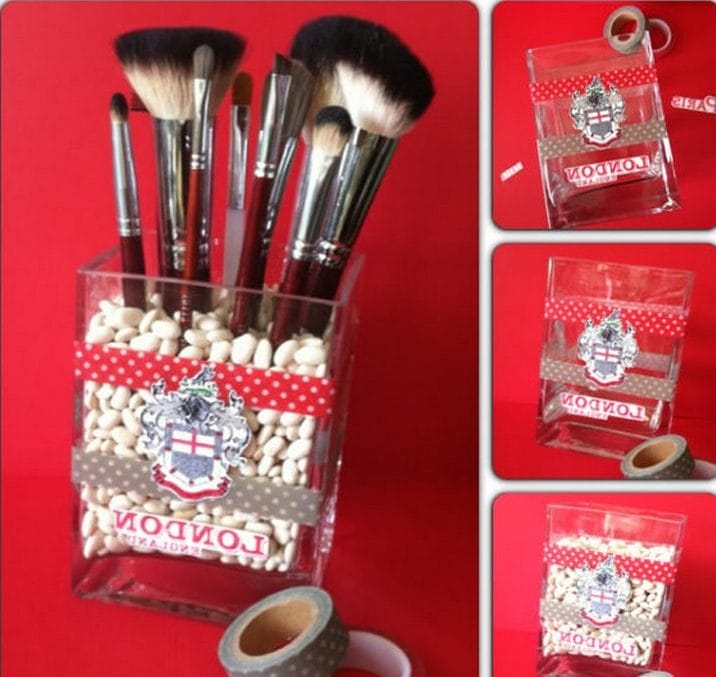 When in a rush, you usually misplace your makeup brushes. In no time, they clutter your vanity table. To avoid tragedy, create a simplified brush holder. It is suitable for minimalists. If you are one of them, execute this idea.
First of all, use colorful washi tape to decorate the square glass vase. Then, fill it with dry beans for a little visual depth. Place the makeup brushes in the organizer. It is basic but beautiful.
19. Plastic Bead Makeup Storage Box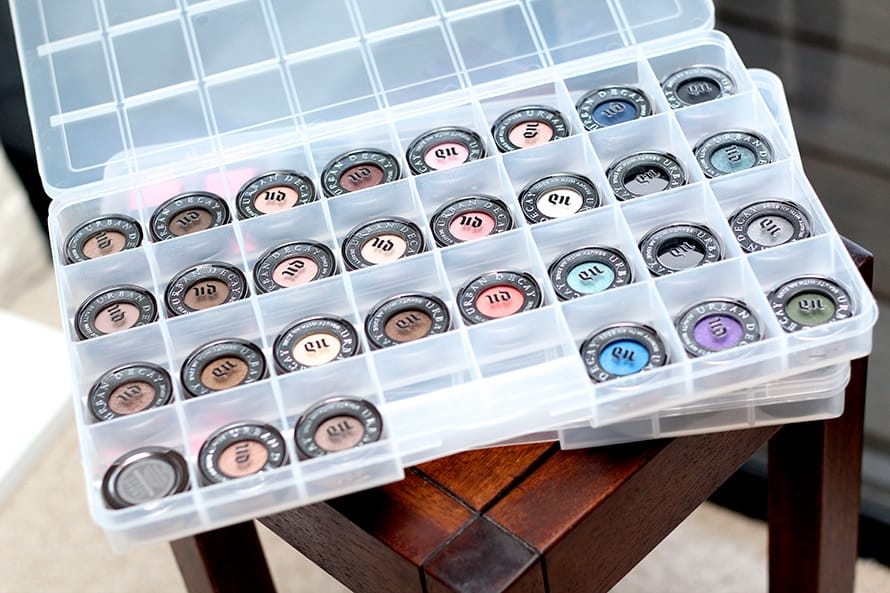 You do not collect beads anymore. The clear plastic bead storage container box in your walk-in closet may gather dust and dirt now. Put it to great use by storing the round single eyeshadows in its compartments.
This makeup organizer is not only lightweight and clean but also captivating. As the image shows, it accommodates up to 30 eyeshadows. Once those pieces have been properly arranged, they won't mess up your vanity table.
20. Makeup Storage Cabinet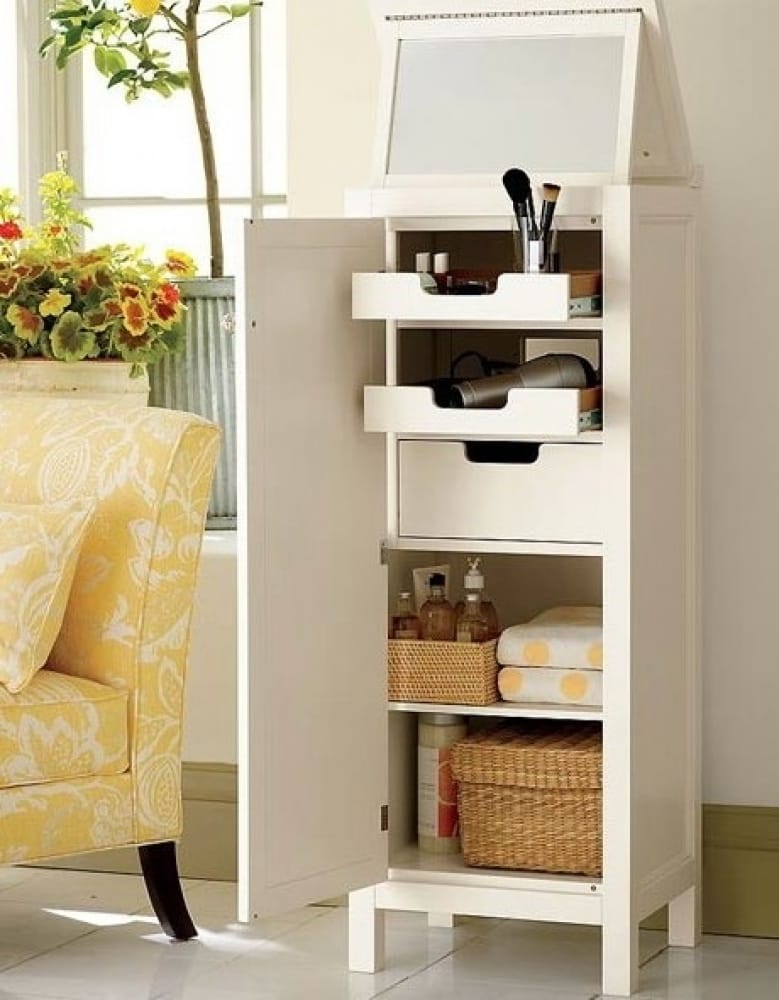 If your bedroom is large enough, buy a vintage white bookcase and wicker storage boxes to construct a magnificent makeup closet. It carves an open atmosphere and light feeling at the same time.
This cabinet is quite tall and narrow, so it does not take up a lot of floor space. Moreover, the unit features two shelves and three pull-out drawers. They hold makeup essentials, towels, and intimate items.
21. Glass Countertop Makeup Vanity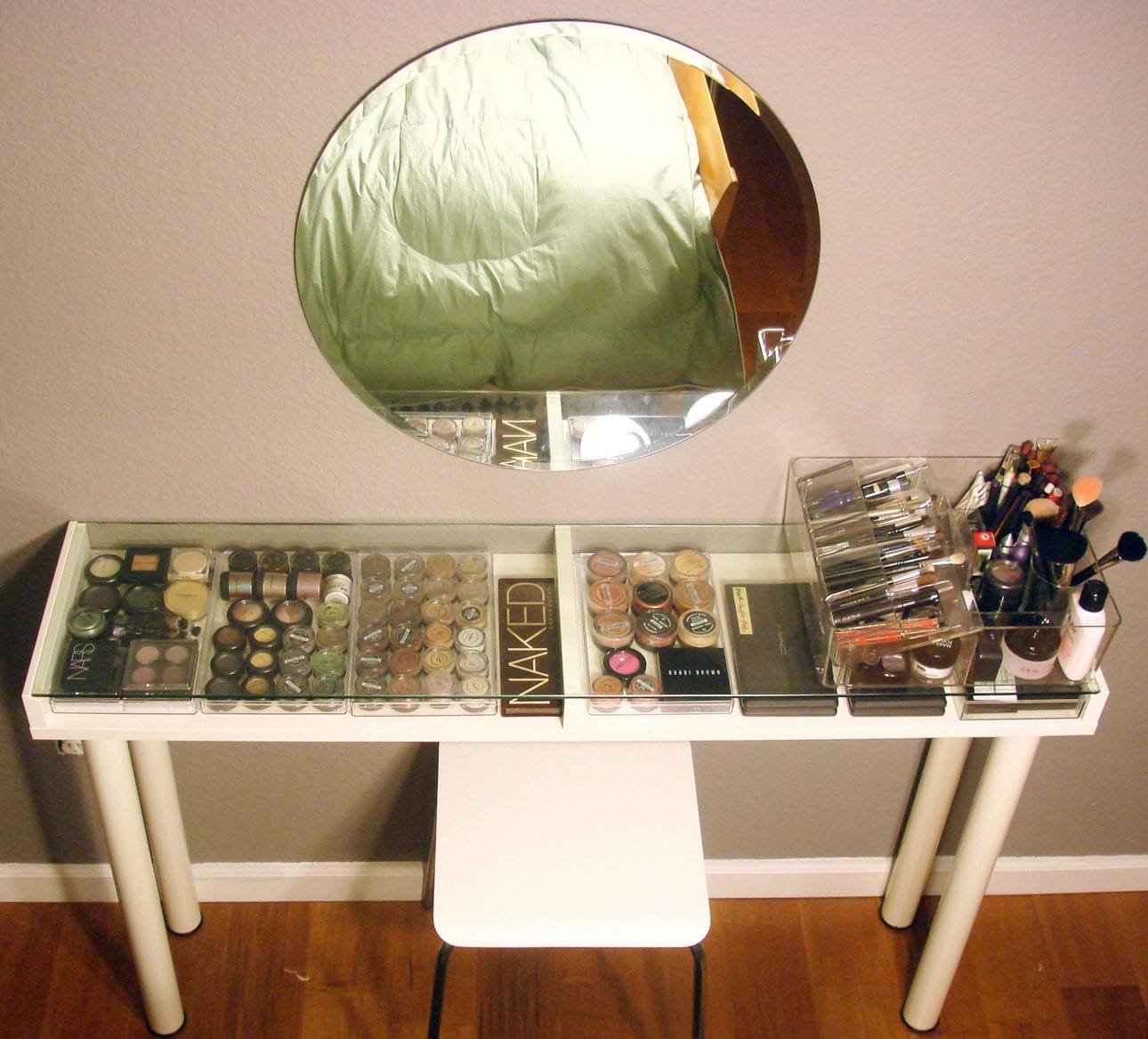 I adore this custom-designed makeup vanity. You can also apply the same concept with your old table and clear glass top. Keep in mind that the right measurement does matter.
Furthermore, the glass countertop enables you to see what makeup items inside the clear drawers. Put an acrylic box for additional storage space. Pair the star-like vanity with a round mirror and minimalist dressing chair.
22. Makeup Brush Displays from Glass Storage Containers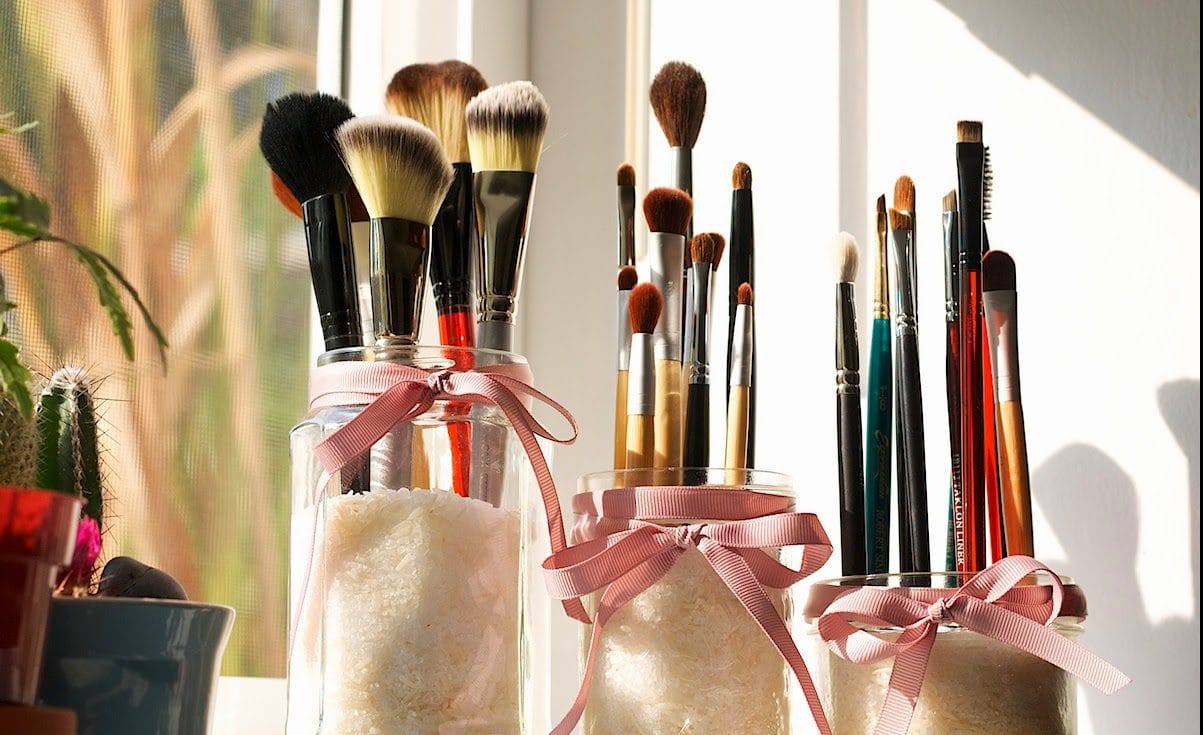 You love your makeup brushes. Why not showcase them in the most elegant manner possible. Creating this brush organizer is a cakewalk, not to mention the project requires little effort and small amounts of money.
Grab three glass food storage containers. After that, fill them with glossy decorative stones. Tie cute pink ribbons around their necks. Lastly, display your lovely makeup brushes.
23. Nail Polish Storage Ideas
Without great organization, your nail polishes can get misplaced very easily or lost on the countertop full of cosmetics. The most effective way to handle those small pieces is by displaying them.
You need an artsy picture frame, board, and pieces of wood to make a handmade makeup display. Be sure you paint them crisp white. That way, your vivid nail polishes will pop against the stark backdrop.
24. Makeup Storage Ideas for Small Spaces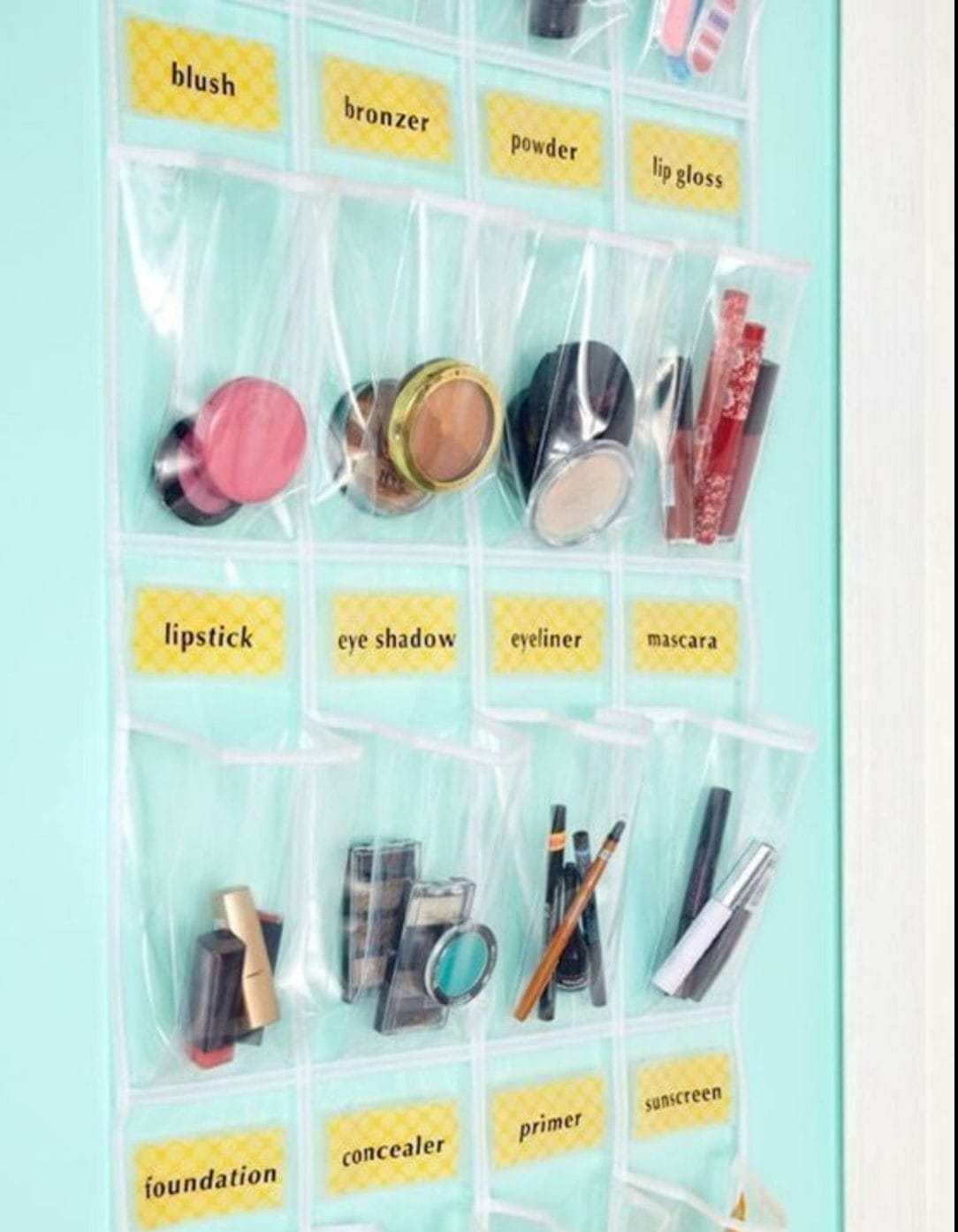 Who says makeup items must be put on the fancy countertop. If you are space challenged, display your everyday essentials in a hanging shoe organizer. It is not only chic but also affordable.
Mount the shoe organizer at the bathroom or closet door's back. For a more lively room, you can paint the door in a bright color.
Then, add labels to the transparent pockets. The shoe organizer lets you find your makeup products quickly. It prevents you from getting late for an event, too.
25. Simplistic Makeup Brush Holder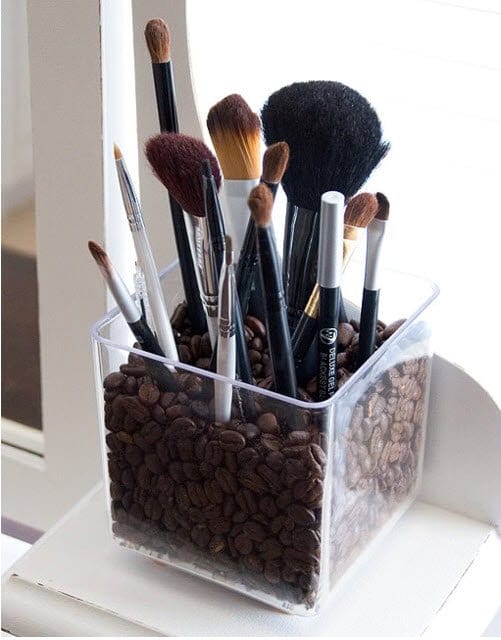 As a beauty enthusiast, you certainly have so many makeup brushes. After using them, you mostly disarrange them. Keep your tools together by making a minimalistic holder yourself. No worries. It is truly budget-friendly.
You need to prepare a square acrylic display bin first. Then, add some coffee beans to it. They give the container depth and visual interest. Lastly, put your brushes in the clear makeup organizer.
I hope my makeup storage ideas help you to get your creative juices flowing. By trying a concept or two, you won't have a clutter problem anymore. It is time to organize those daily essentials for a more liveable environment.