Your bathroom needs to be uncluttered and clean. That way, you can get ready faster and feel so relaxed. If you are looking to organize your bathing space, luck is yours. I have assembled some clever bathroom storage ideas.
These tips and tricks encourage you to take advantage of your whole space. From open shelves to chic bathroom storage tower, at least one detail must stun you.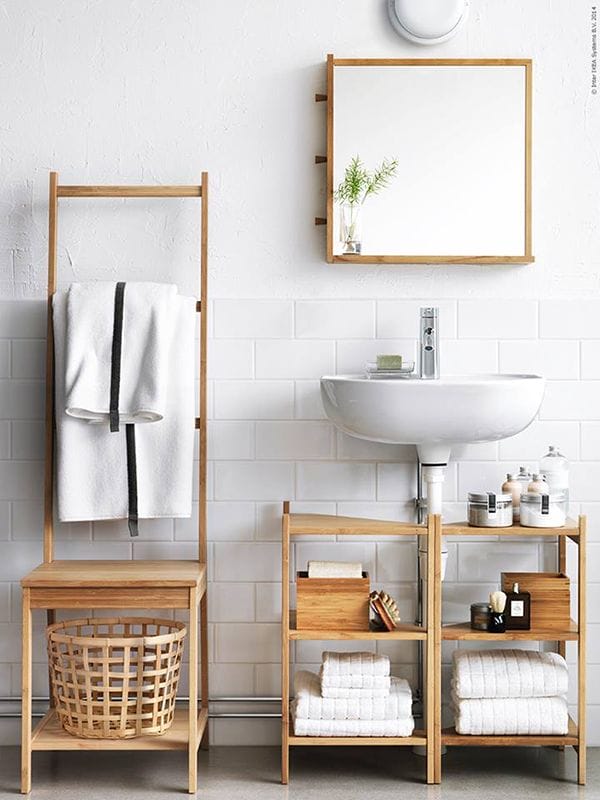 This bathroom is filled with unfinished wood furniture units for a rustic look. The custom shelves under the white sink hold extra linens and beauty products.
The high back chair offers a bonus space. It neatly accommodates wooden basket and spare towels.
2. Bathroom Storage over Toilet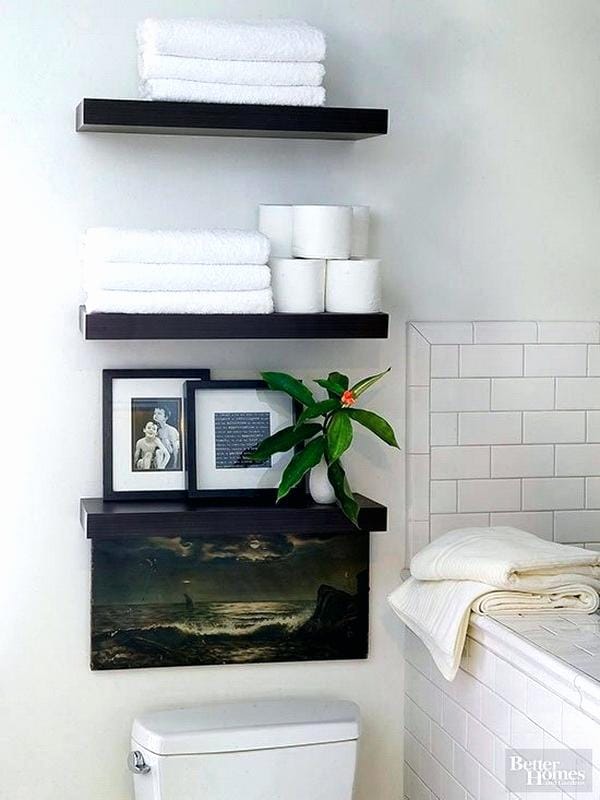 Do you have a small bathroom? It's no problem. You can make use of your vertical space. Mount black open shelves on the white wall over the toilet.
Place towels, framed artworks, potted greenery, and tissue rolls on the shelves. Lastly, hang a painting between the lower shelf and toilet tank lid.
3. Bathroom Storage Ideas Pinterest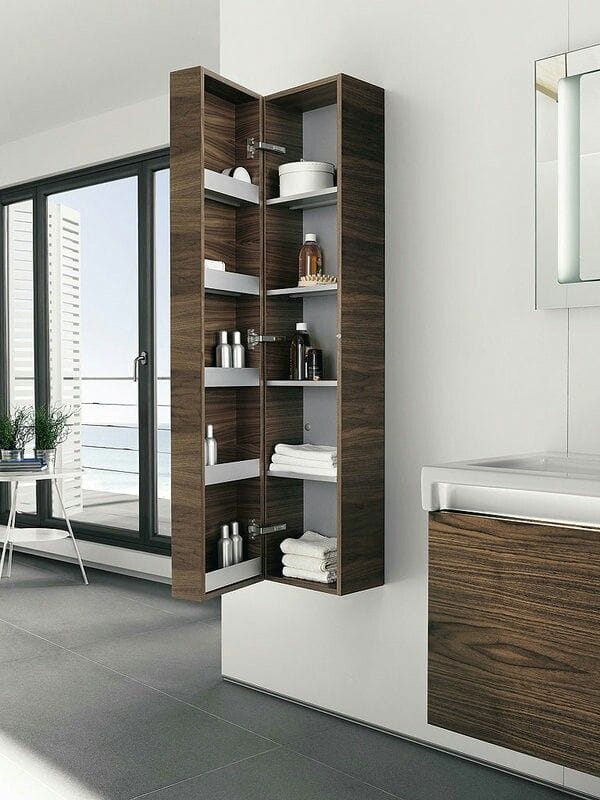 In this bathroom, the dark wood wall-mounted cabinet provides a ton of storage. It carries a homey feel to the space as well.
Moreover, the cabinet features shelves for storing towels and cleaning products. Therefore, those items are always easy to access.
4. Creative Bathroom Storage Ideas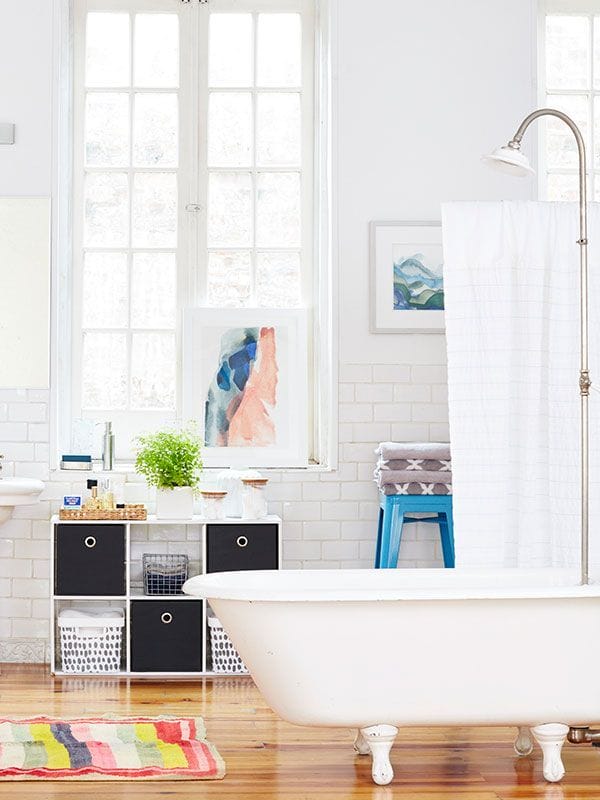 There is a cubby storage cabinet next to a pedestal sink. It employs baskets and boxes to keep bath knick-knacks off the floor.
The homeowner put a wooden tray, potted plant, and decorative pieces on top of the white cubby organizer. A bold blue bar stool handles folded towels.
5. Slim Bathroom Storage Tower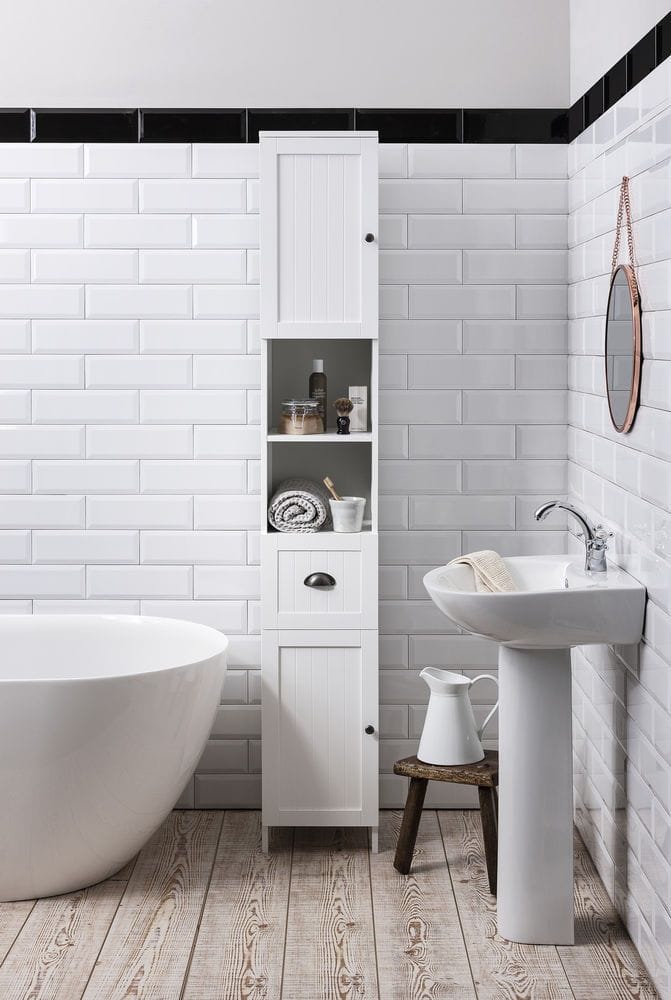 A slim white storage tower blends in effortlessly with the surrounding walls. It creates an airy environment too.
The doors of cabinet tower hide unsightly clutter. Meanwhile, its open shelves display things that are frequently used.
6. Ensuite Bathroom Storage Ideas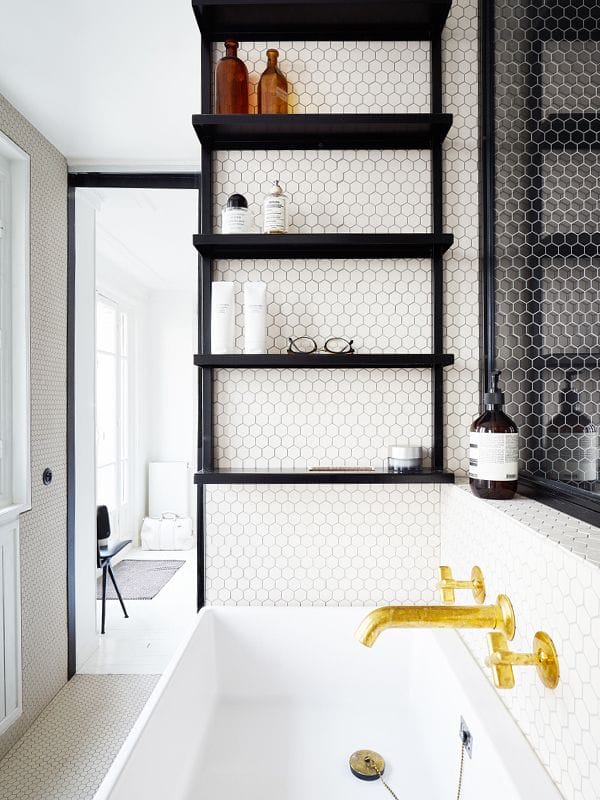 Black shelves stand out against white hexagon tiled backdrop. For sure, the homeowner, due to their inky shade, will not ignore them.
The eyeglasses, skincare products, and ornamental bottles sit mesmerizingly on shelves. Gold accents glamify the ensuite bathroom in a snap.
7. Wheeled Bathroom Storage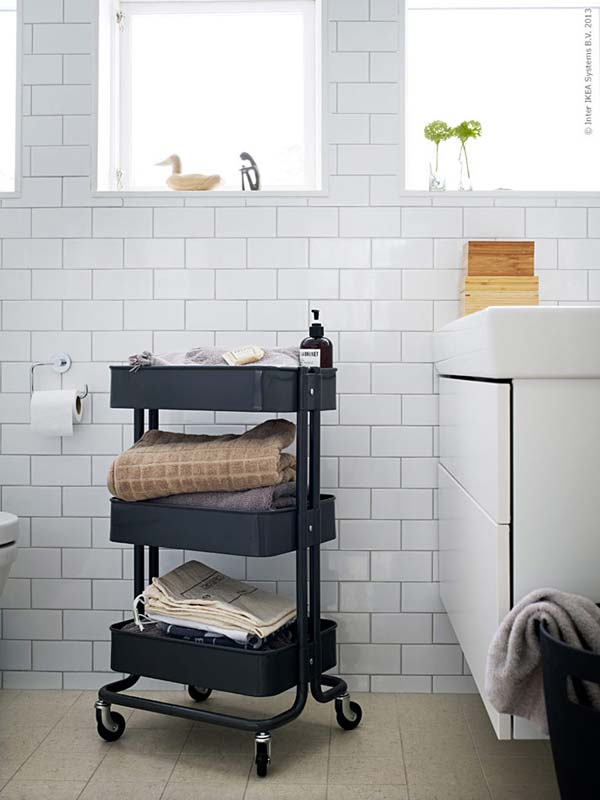 Metal storage shelves and wheels make for a cool bar cart. You can move it from place to place with ease.
The black rolling cart keeps towels, linens, and bath essentials in place. It lends drama and industrial charm to the bathroom too.
8. Modern Bathroom Storage Ideas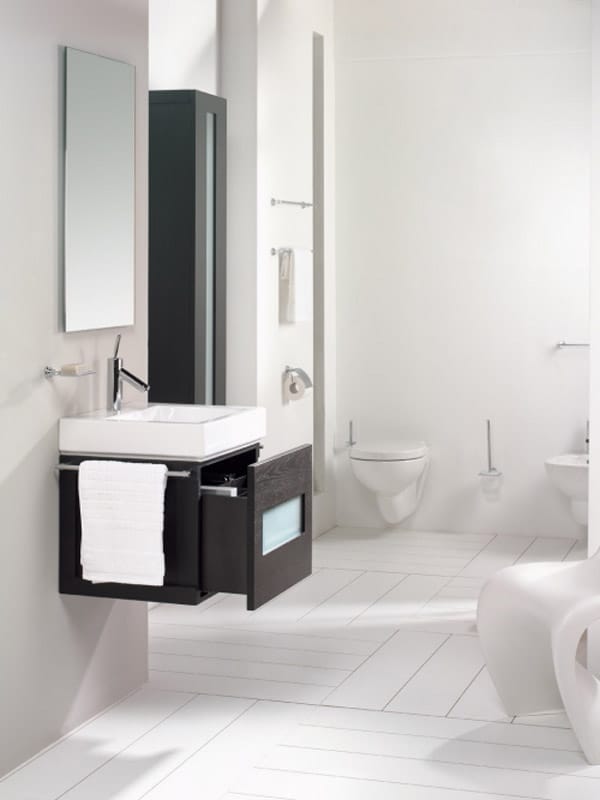 Mirror and light tones promote a light feel. A black cabinet with a pullout drawer underneath white sink grabs the attention.
The cabinet undeniably embraces modern design. Towel bars on its sides offer additional storage space.
9. Freestanding Bathroom Storage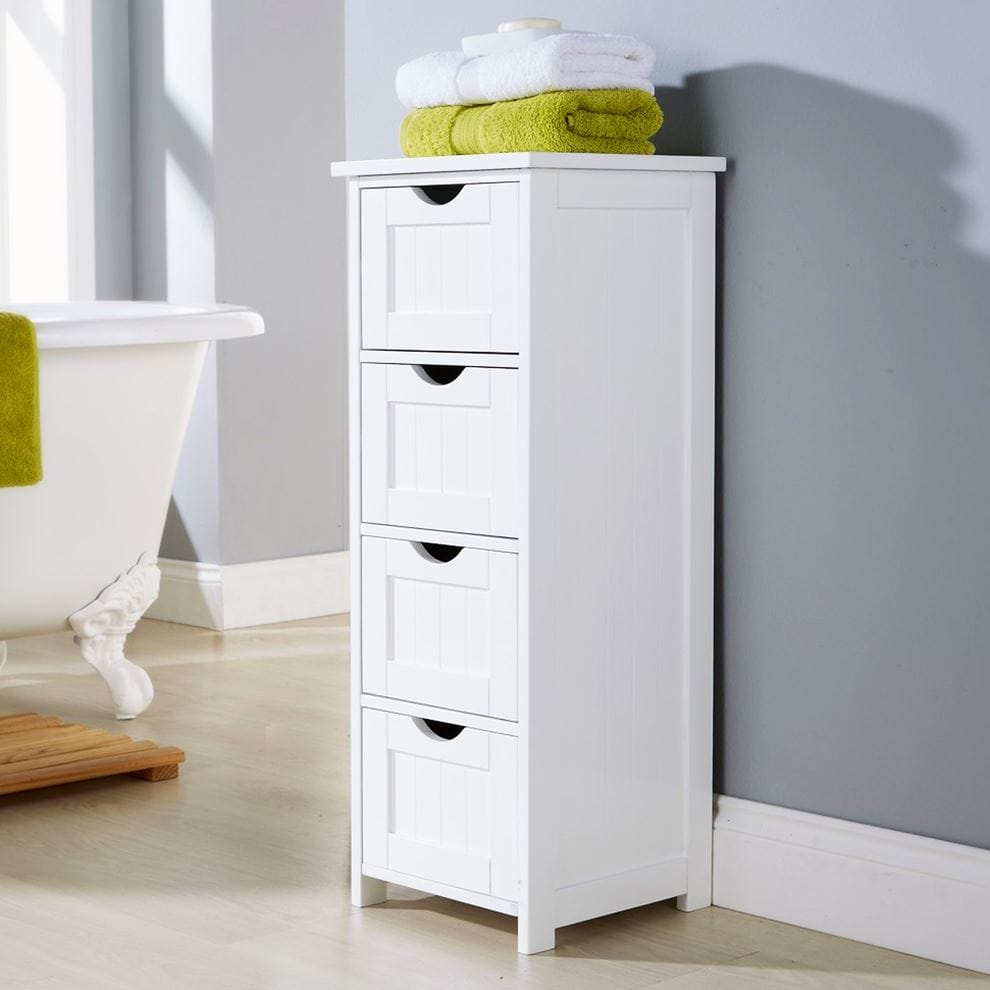 Above is a white freestanding cabinet. It does not take up too much of floor space since it is slender in design. White and green towels are put on the cabinet top. The cutout drawer pulls are easy to use.
10. DIY Bathroom Storage Ideas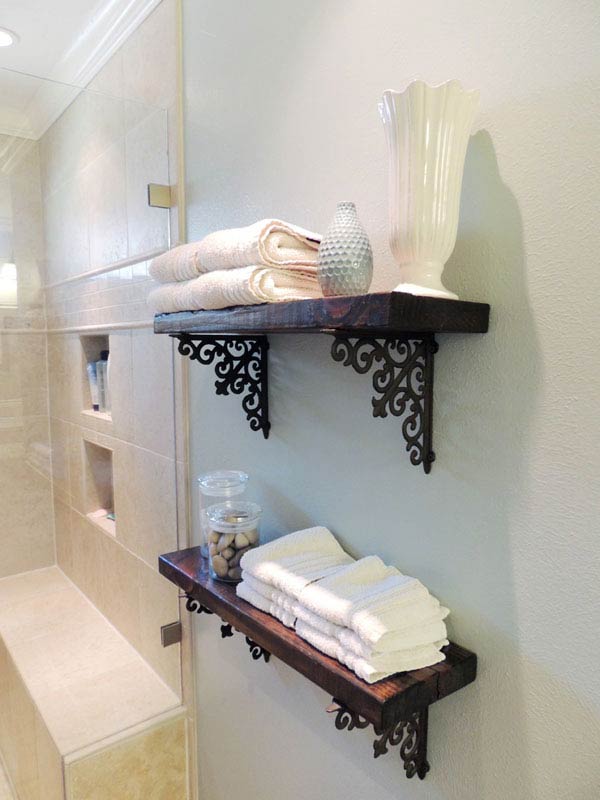 Does your bathroom crave traditional aesthetic? Create shelves using black iron brackets and stained reclaimed wood boards.
Place towels and vases on gorgeous shelves. Display river rocks in glass canisters. You can also invest in shower niches for adding more storage space.
11. Small Bathroom Built-In Storage
Here, the wooden bathroom vanity utilizes drawers. They hide the items that are not easy on the eye, while the lower shelf displays spare towels. Meanwhile, integrated shelves are the homes for perfume and skincare products.
12. Under Bathroom Sink Cabinet Storage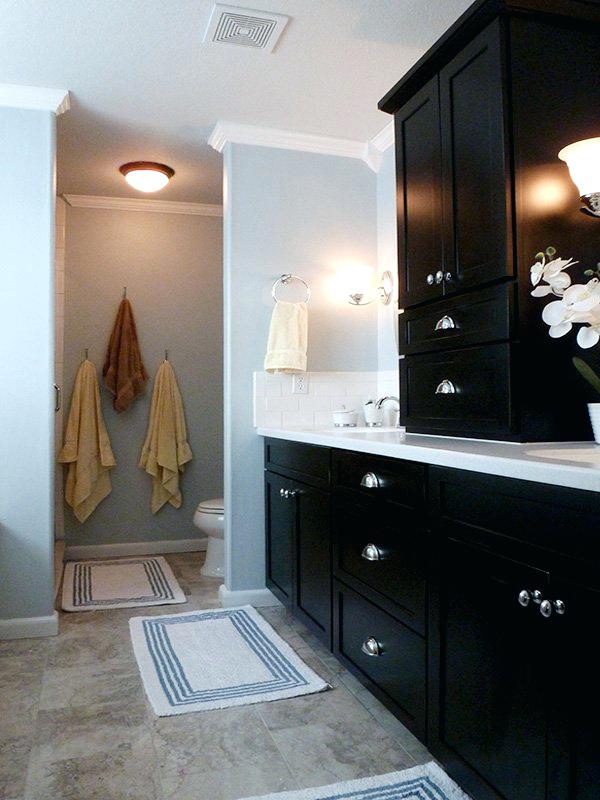 Black cabinets are a dramatic contrast to white sink and vanity top. They give the space generous storage capacity. Stainless steel rings and hooks are used to hang the towels on.
13. Very Small Bathroom Storage Ideas
A white single door floor cabinet keeps the tiny bathroom feel modern and organized. It is equipped with storage bins, wooden box, tray, and canisters. An open shelf over the cabinet holds knick-knacks and greenery.
14. Bathroom Storage Baskets
There is no wasted space in this small bathroom. The off-white built-in cabinets hide bulky items.
Corner shelves accommodate toilet paper, flowers, washcloths, and perfume. Rattan basket and ring store towels.
15. Bathroom Open Shelves Ideas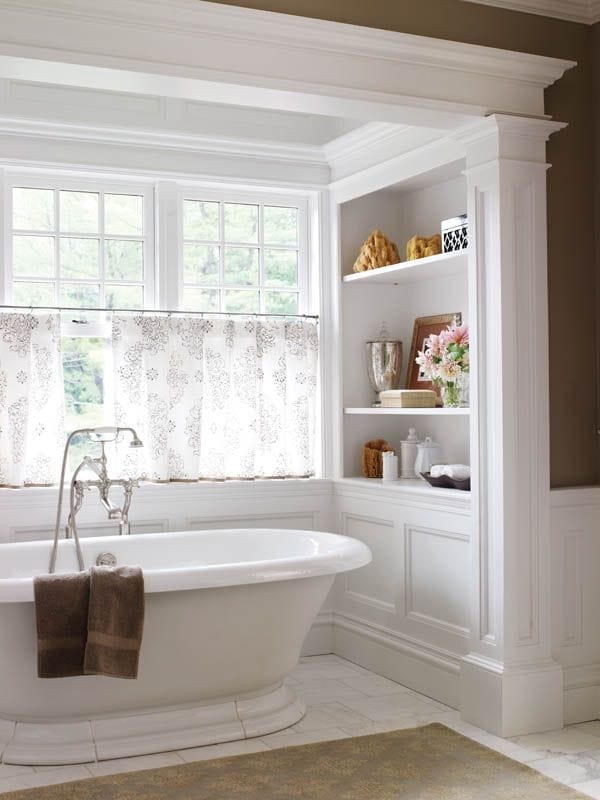 This contemporary bathroom looks bright and open, thanks to the white color scheme. Recessed shelves allow the homeowner to gain storage space inside her bathroom walls, while flowers titivate the area.
16. Natural Wood Bathroom Shelves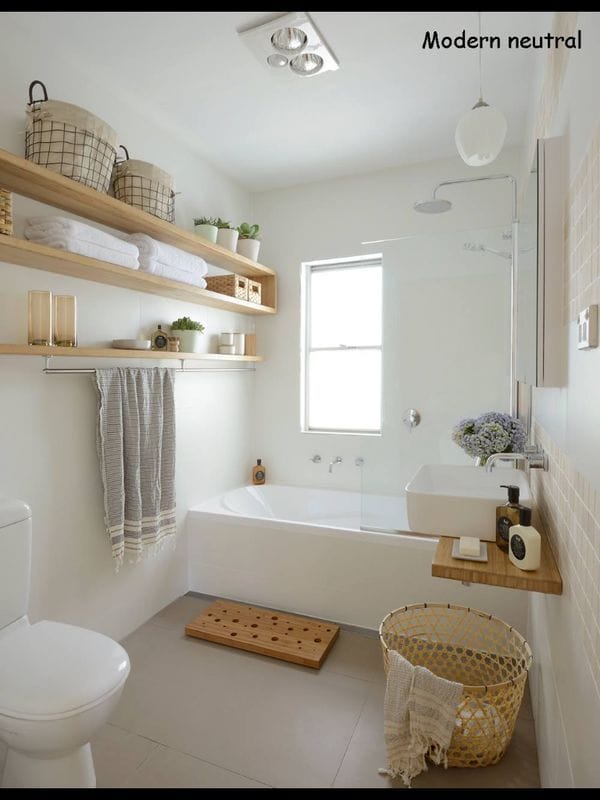 The natural wood hues of shelves, floating vanity countertop, and laundry basket cozy up the bathing space. Stainless steel rail is perfect for holding linen. Hydrangeas and houseplants freshen up the room.
17. Small Bathroom Storage Ideas IKEA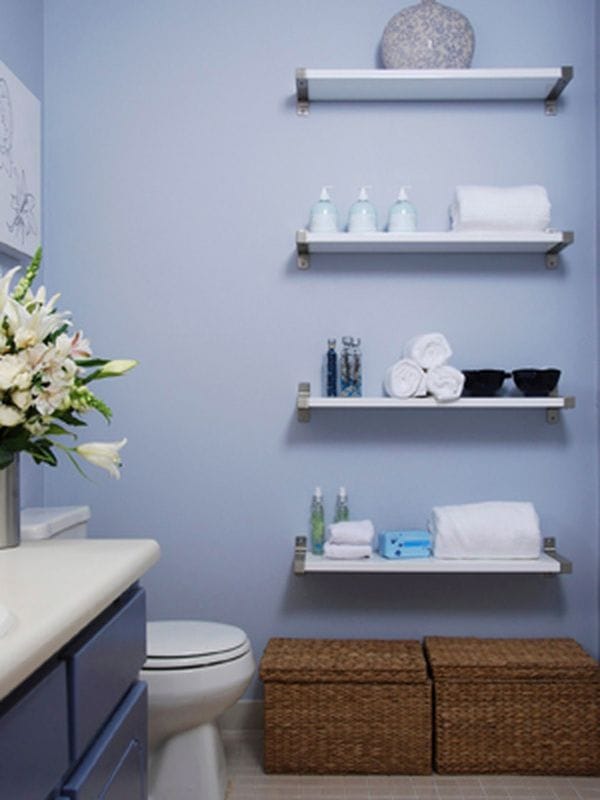 White open shelves from IKEA do not only make the bathroom organized, but also let the eye focus on the bright colors. Lidded woven wicker baskets hide eyesores and develop a farmhouse feel.
18. Bathroom Storage Cabinets Wall Mount
This bathroom is furnished with a wall-mounted cabinet. Its wood grains instantly draw the eye.
Moreover, it has drawers of different sizes. The bottom one is used to stash away hot styling tools.
19. Bathroom Storage Towers with Drawers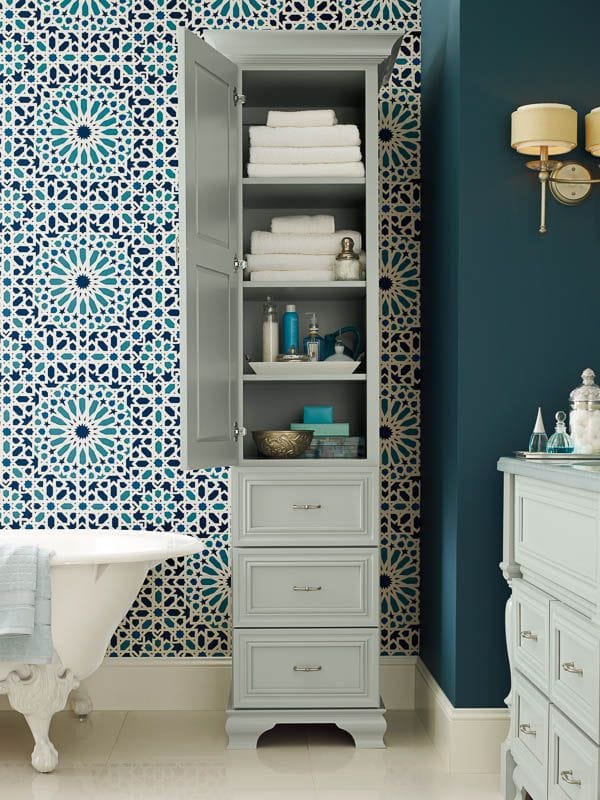 Pastel gray vanity and slimline tower provide an abundance of storage space. The curvy stainless steel drawer pulls scream traditional style. The patterned tiled wall works as a showstopper.
20. Bathroom Sink Shelves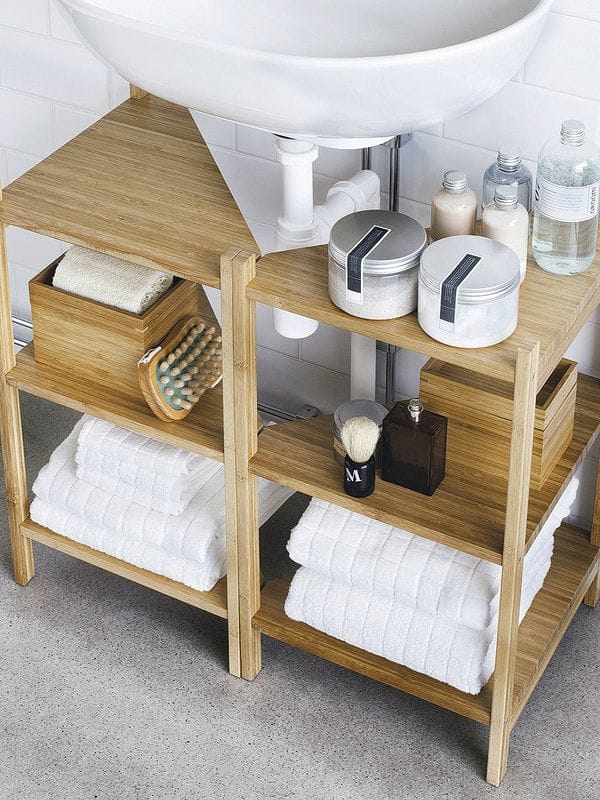 If you are short on space, position custom raw wood shelving units under your bathroom sink. They carry a modern rustic vibe to the area. Not to mention, they keep bath necessities from creating unwanted clutter.
21. White Bathroom Storage Cabinets
The handleless white cabinet underneath the sink introduces a sleek aesthetic. Three white open shelves showcase frequently used bath essentials. Lastly, the windowsill offers additional storage space in a tiny bathroom.
22. Bathroom Storage Cabinets Floor Standing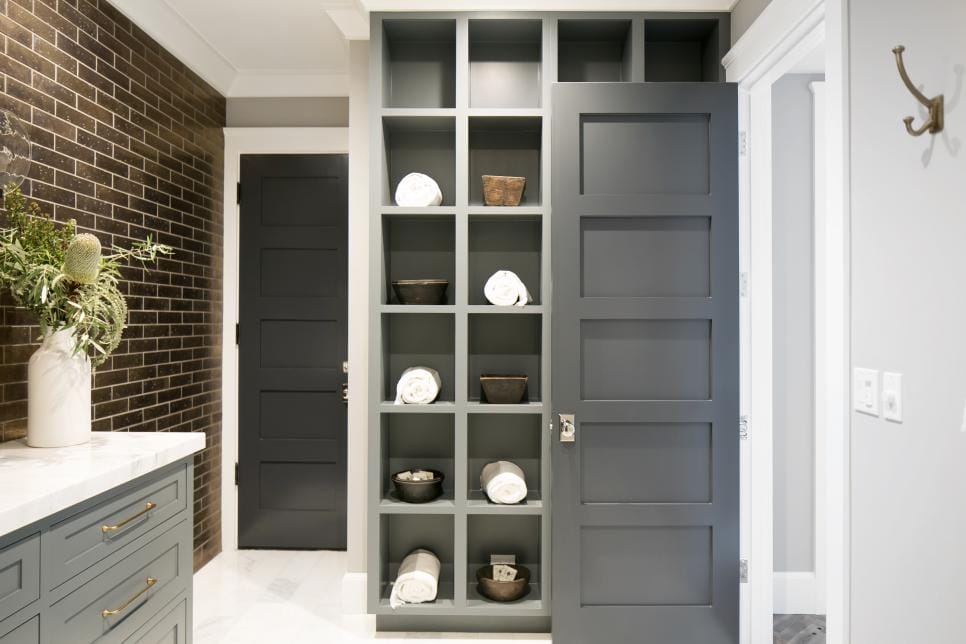 You never go wrong with floor-to-ceiling open cabinets. They are painted pastel gray to match the door and vanity. The rolled white towels, baskets, and bowls are stored in the cubbies. What a captivating display!
23. Bathroom Storage Walmart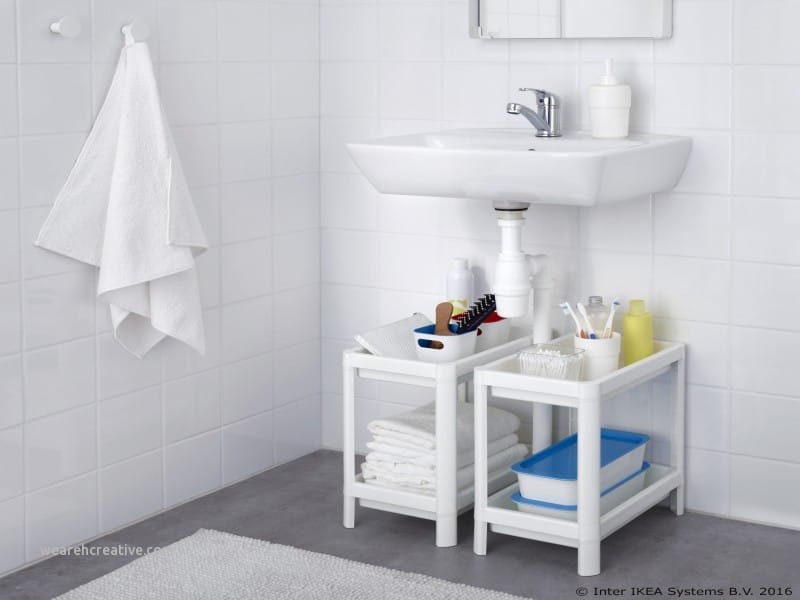 Forgo the cabinets and arrange freestanding shelves from Walmart on the floor under your sink. Do they not only keep the mess at bay but also carve a crisp look and an airy scene.
In essence, my bathroom storage ideas motivate you to live a chaos-free life. Try any of those at home. I guarantee you will love your bathing space repeatedly.