No bathroom is complete without a fabulous vanity unit. It helps you get ready in the morning and prepare for a fun night out. Knowing its importance, I am unveiling captivating bathroom vanity ideas below.
The materials, colors, and shapes of bathroom vanity vary drastically. You can opt for either a traditional vanity or the minimalist one. Without further ado, let us dive into these vanities!
1. Build Open Shelf Vanity
This bathroom is perfect for a couple. It boasts two sinks and illuminates a full-width mirror. Therefore, they do not battle for space anymore.
The wooden vanity with an open shelf conveys a sense of airiness. Rolled towels and wicker boxes create a spa-like ambiance.
2. Cool Bathroom Vanity Ideas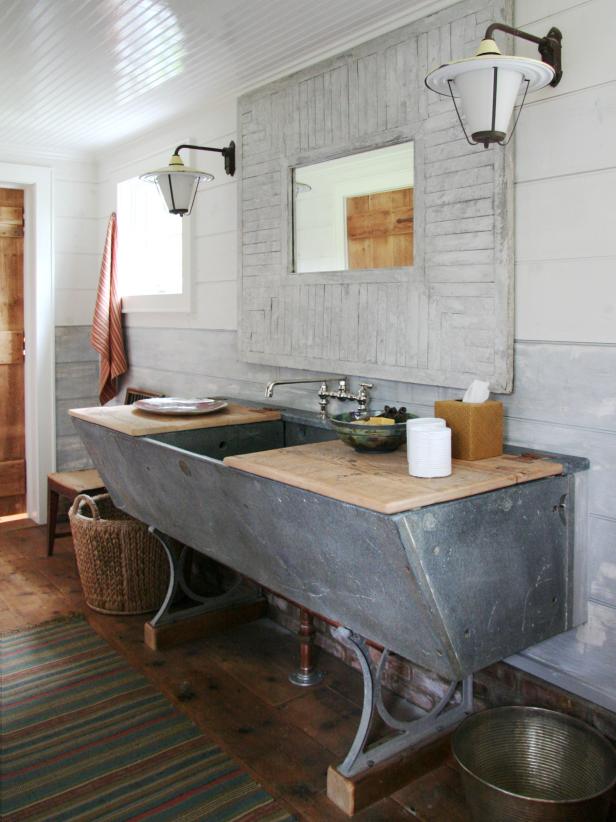 In this cottage bathroom, you can see an unusual vanity. It is made out of old soapstone cow trough and blonde wood tops.
Moreover, the vanity adds a Barnhouse vibe to the space. The whitewashed mirror over it produces a shabby chic flair.
3. Antique Bathroom Vanity Ideas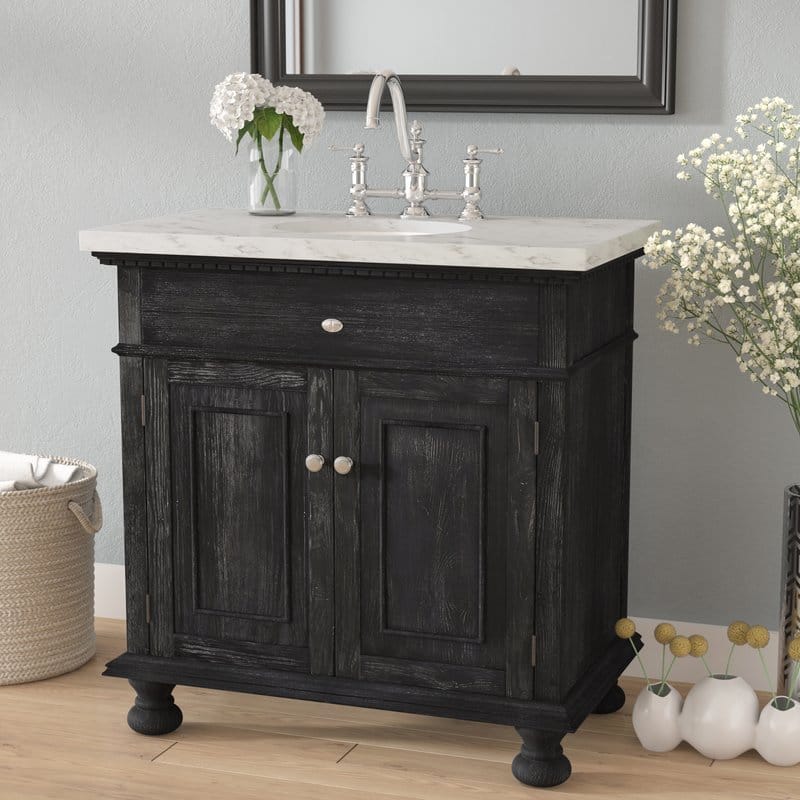 Here, the black distressed vanity gives the bathroom a stunningly worn look. It also features a drawer, inset doors, and metallic knobs.
The white marble countertop sets a lavish scene. Meanwhile, a black framed mirror injects a touch of cohesiveness into the room.
4. White Bathroom Vanity Ideas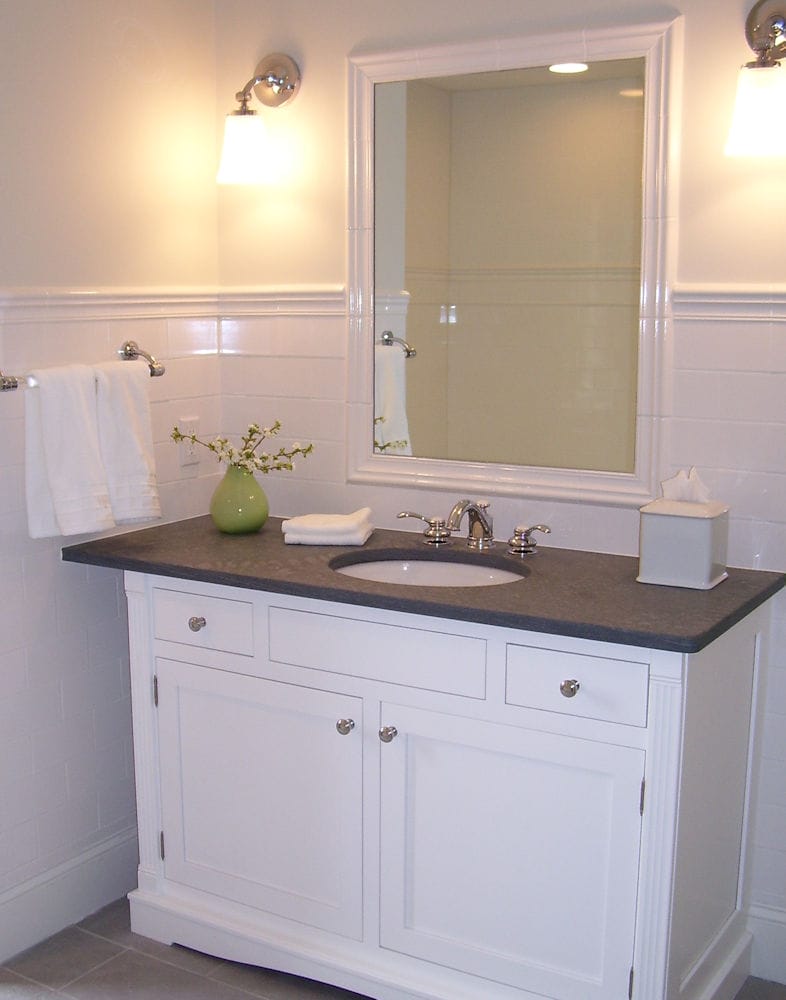 Above is a pure white bathroom vanity. Not only does it keep the area feel open, but it also offers plenty of storage space.
The charcoal concrete countertop introduces visual drama. Two brushed nickel and frosted glass wall sconces brighten up the vanity.
5. DIY Farmhouse Bathroom Vanity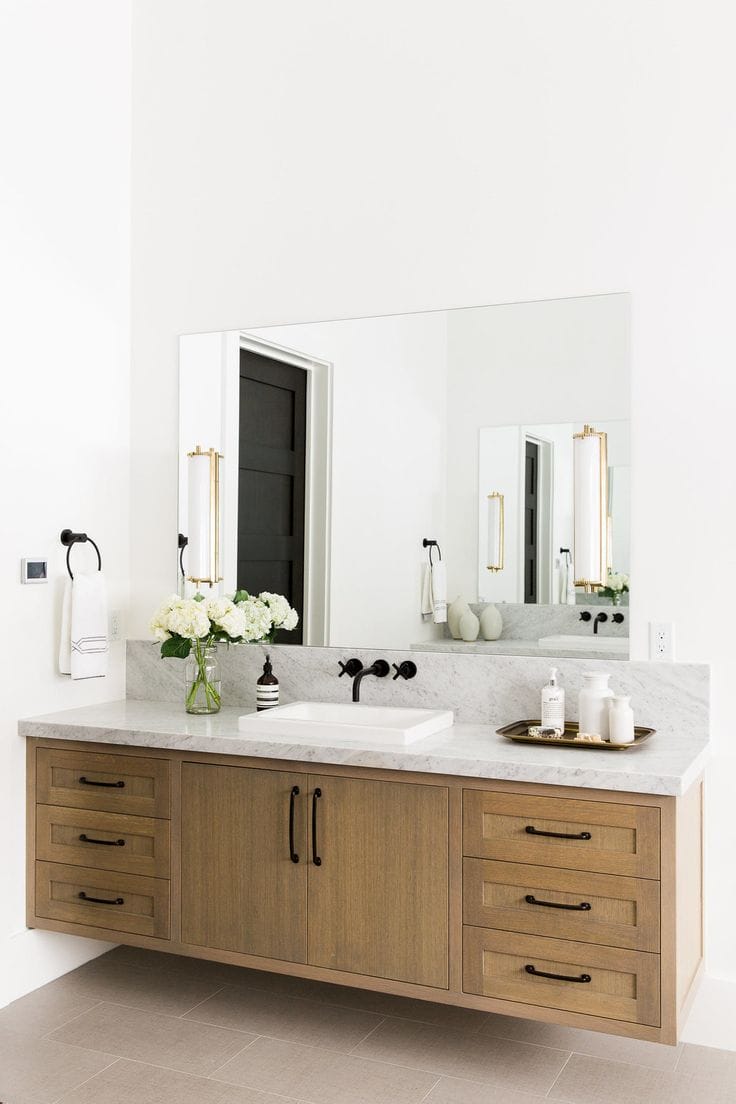 The wall-mounted raw wood vanity employs wrought iron handles. In a flash, it fills the bathroom with a modern farmhouse vibe.
Furthermore, the marble countertop provides a large space for flowers in vase and bath essentials. The black towel ring is a high contrast to white wall.
6. White Corner Bathroom Vanity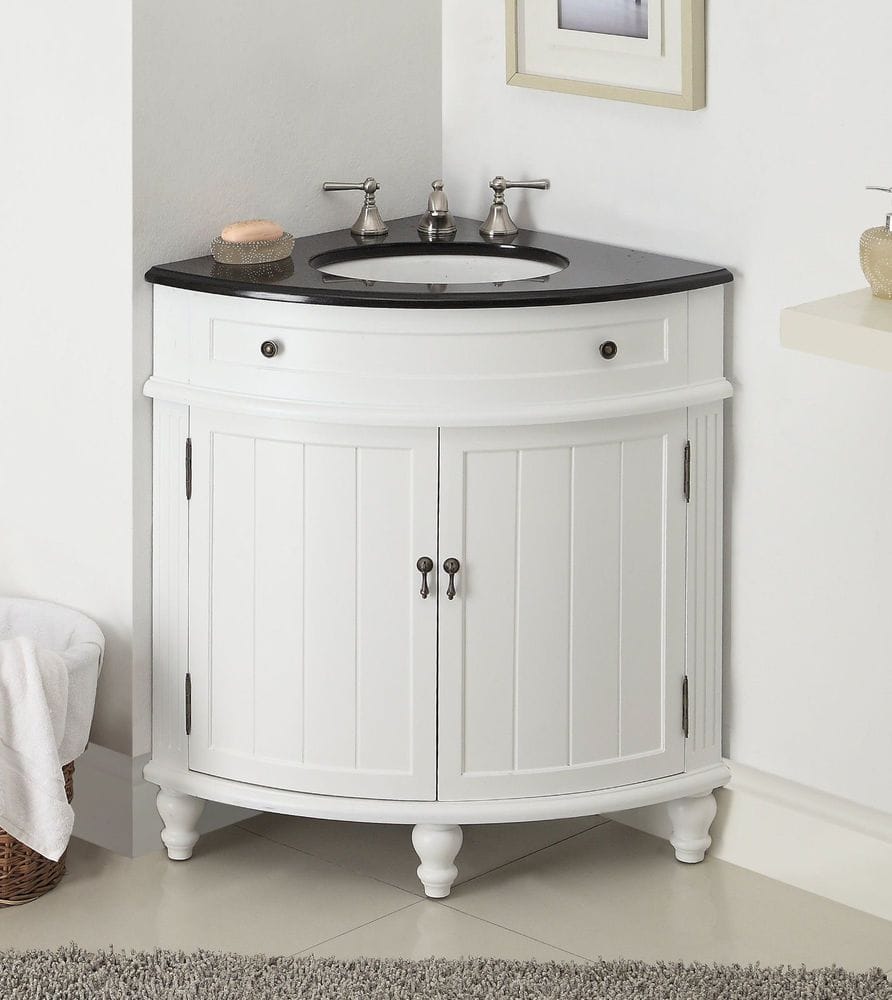 Are you working with a small space? It's no problem. This white-painted corner vanity fits nicely into the corner of your bathroom.
The vanity legs, faucet, and cabinet hardware generate a more traditional appearance. Gray shag rug, rattan laundry basket, and black countertop carry layers of texture to the zone.
7. Vanity with Towel Bar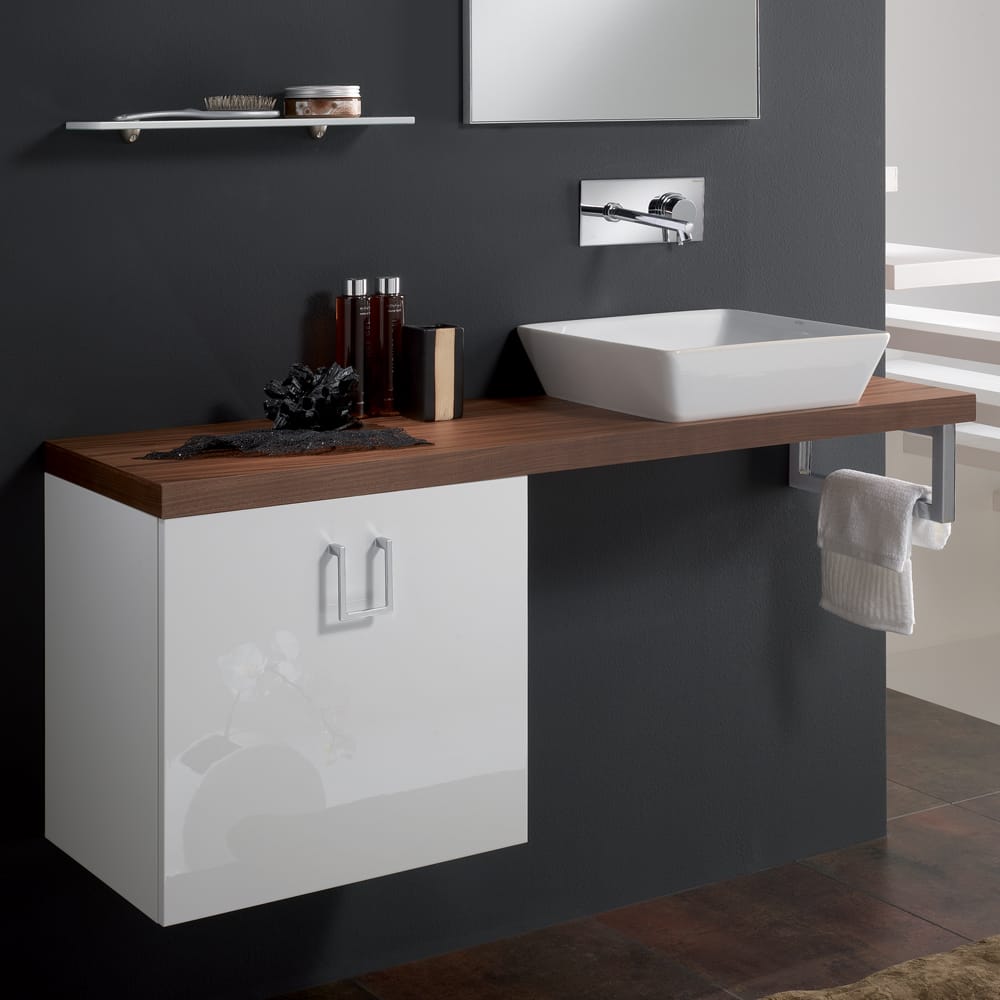 This asymmetrical bathroom vanity is super stylish. The white cabinet hides bath knick-knacks. A metal rail beneath the wood countertop displays a fresh towel.
Both vanity and rectangular vessel sink look striking against charcoal backdrop. The single shelf above vanity holds a hairbrush and skincare product.
8. Solid Wood Bathroom Vanity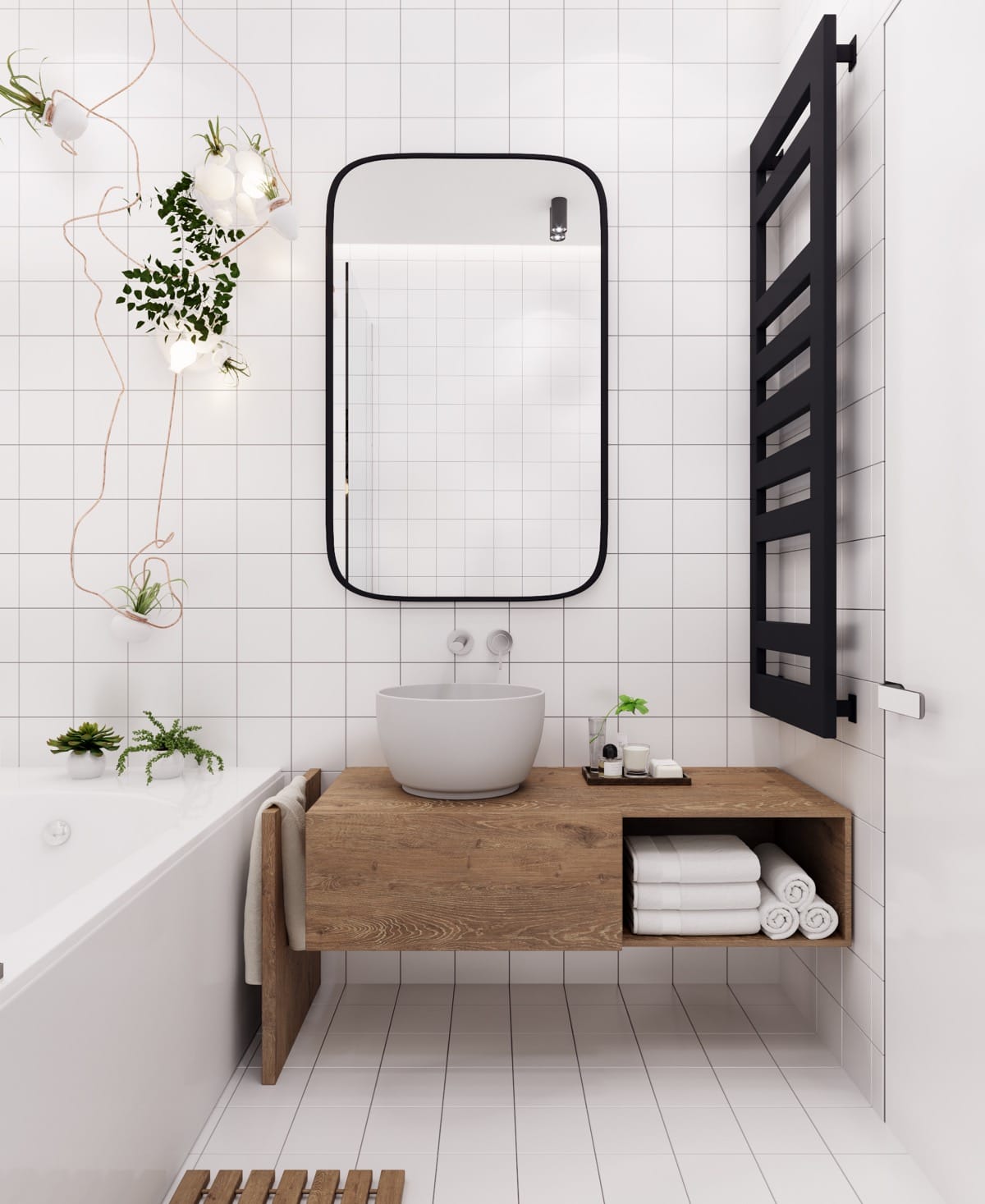 The white color scheme effectively makes this tiny bathroom appear bigger than it is. Moreover, it adds lightness to the bathing space.
Floating vanity recalls the unfinished woods on the floor mat and freestanding board. It accommodates folded and rolled towels too.
9. Freestanding Vanity Unit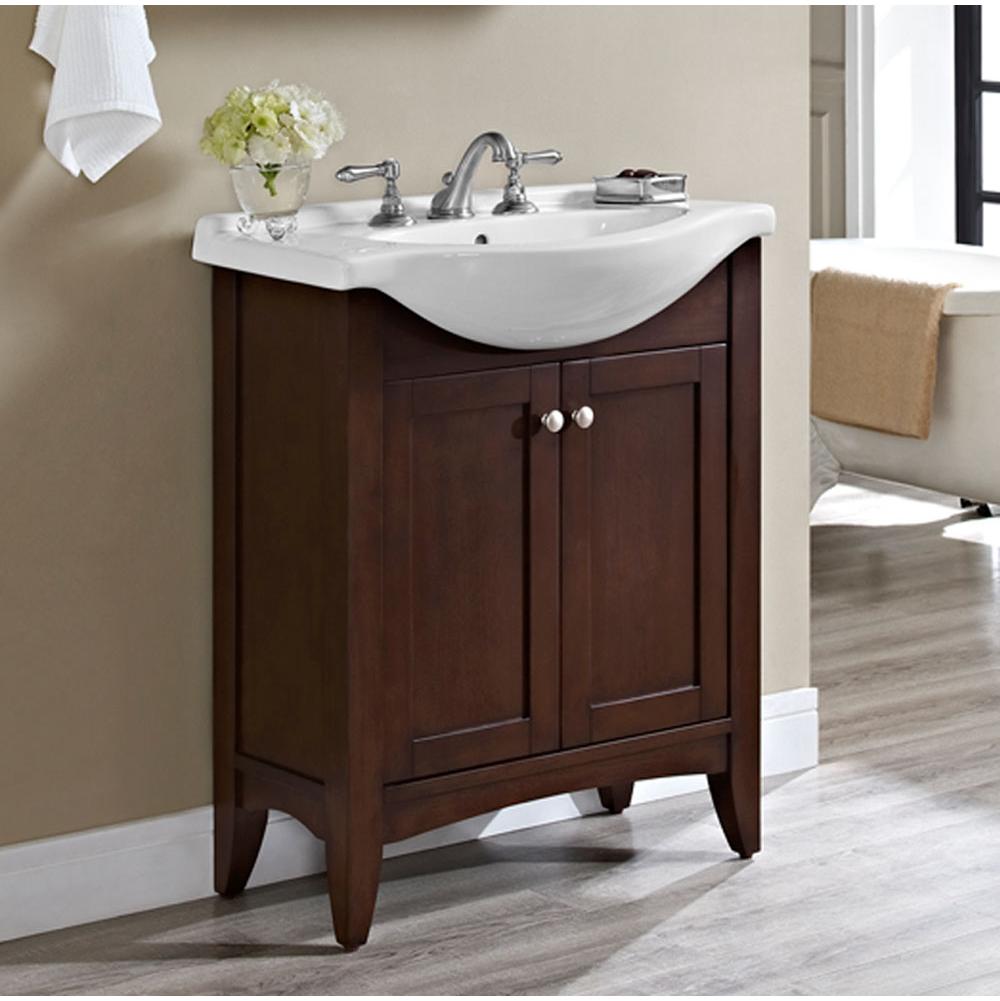 Brown wall and laminate wood floor conjure a homey atmosphere. Freestanding wood vanity takes center stage due to its rich tone.
White sink and faucet develop a contemporary appeal. Fresh flowers spice things up in a moment.
10. Rustic Bathroom Vanity Ideas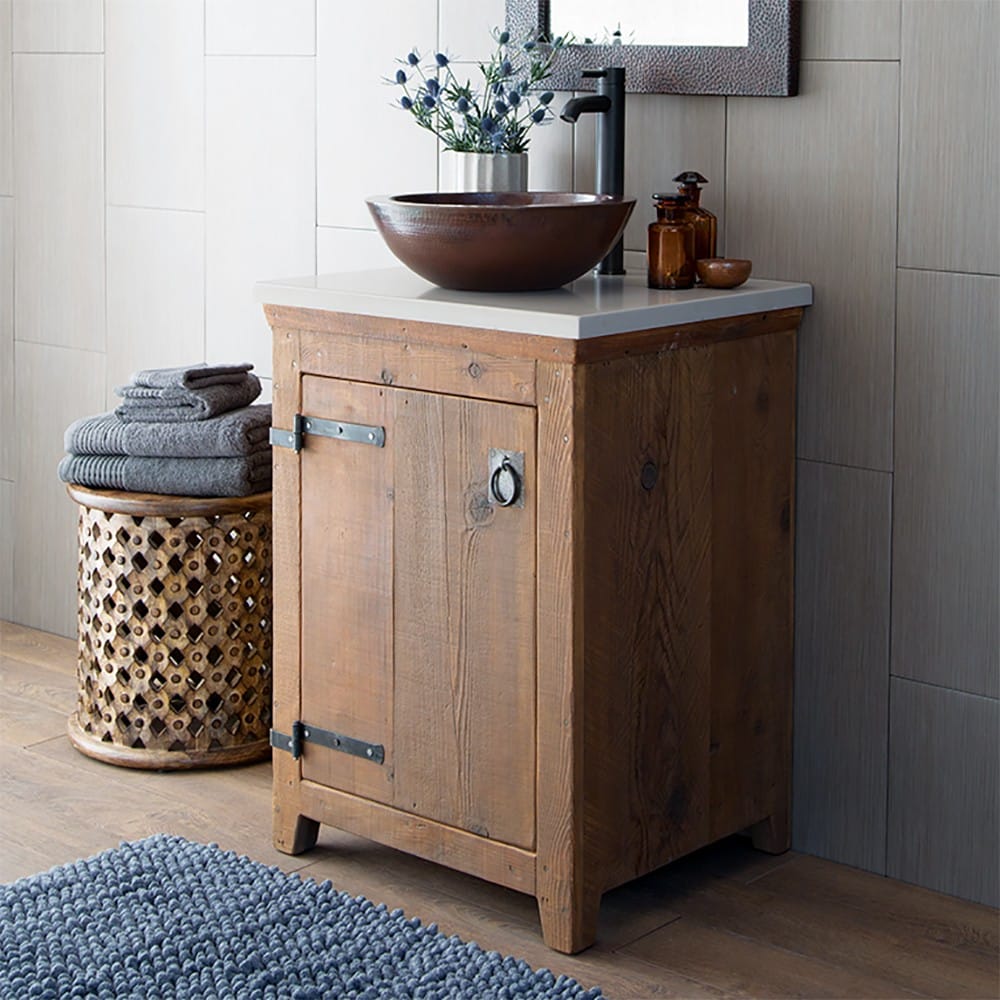 Do you have a compact bathroom? If yes, furnish it with small wood vanity. The iron hinges and door ring handle up the rustic vibe.
White countertop and vessel sink boost the attractiveness of the vanity. Mirror above the vanity bounces the light back into the room.
11. L-Shaped Bathroom Vanity Home Depot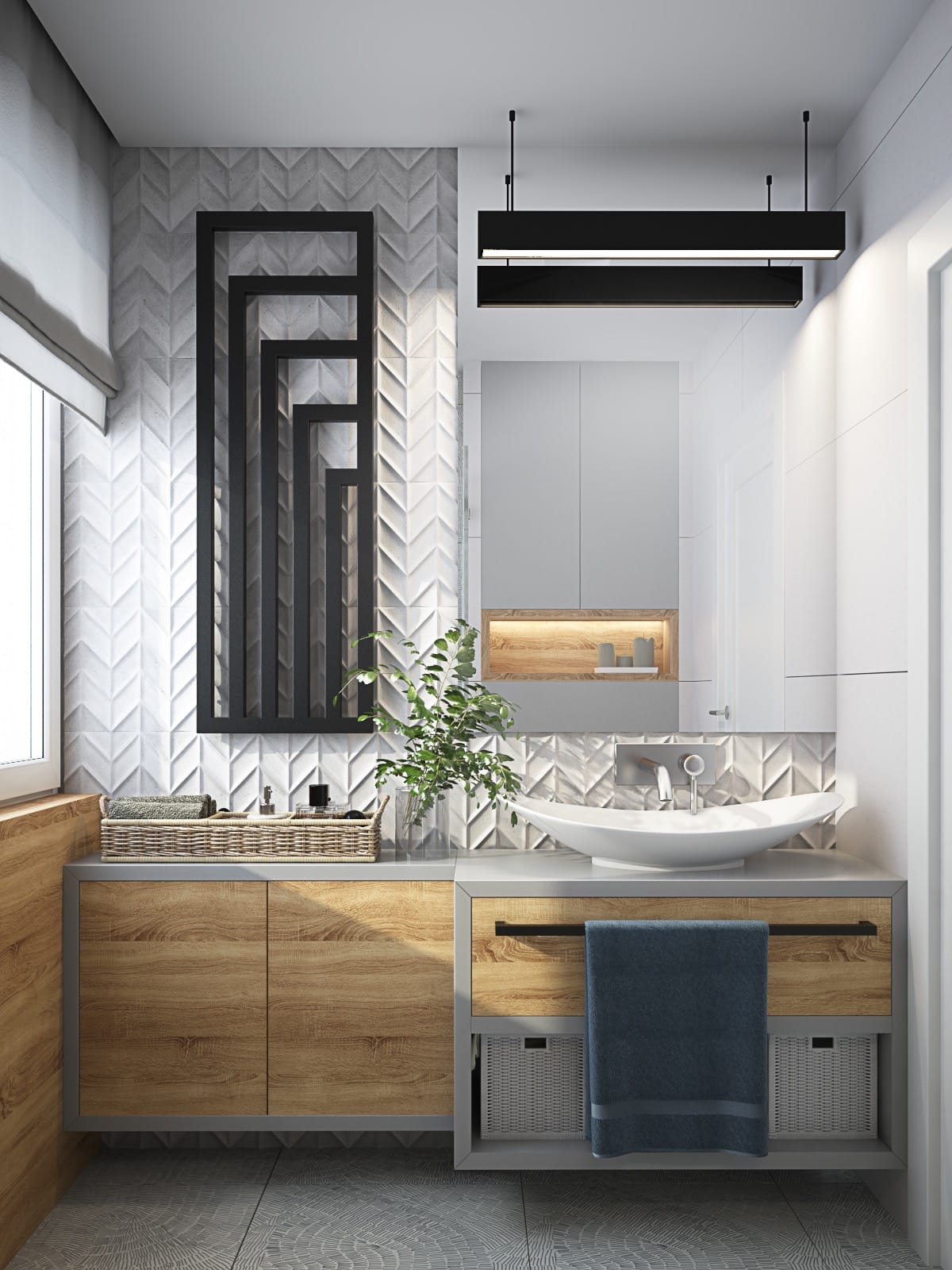 The L-shaped vanity is attached to the bathroom wall. That furniture piece draws the eye because of its natural wood and gray color scheme. Meanwhile, the greenery breathes life into the area.
12. Modern Bathroom Vanity Ideas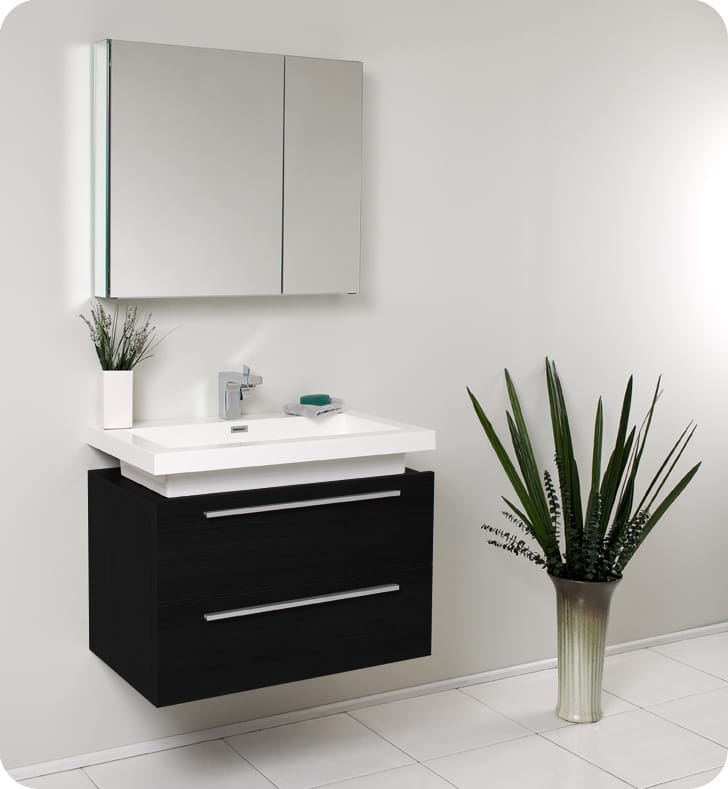 Undoubtedly, wall-mounted black vanity, streamline stainless steel drawer pulls, and white basin delivers modern aesthetic to the bathroom. Greenery and flowers make the space lively.
13. Bathroom Vanity Ideas Pinterest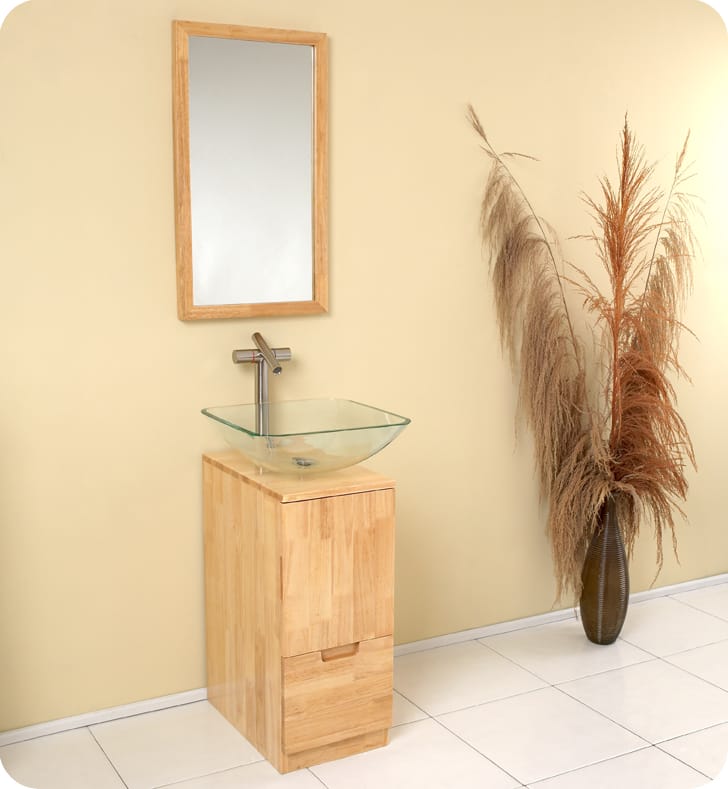 Both slimline vanity and framed mirror lend the bathroom blonde wood tones. Along with the cream wall and white floor, they set a harmonious setting. Lastly, the glass vessel sink leads to a clean feel.
14. Vanity Storage Drawers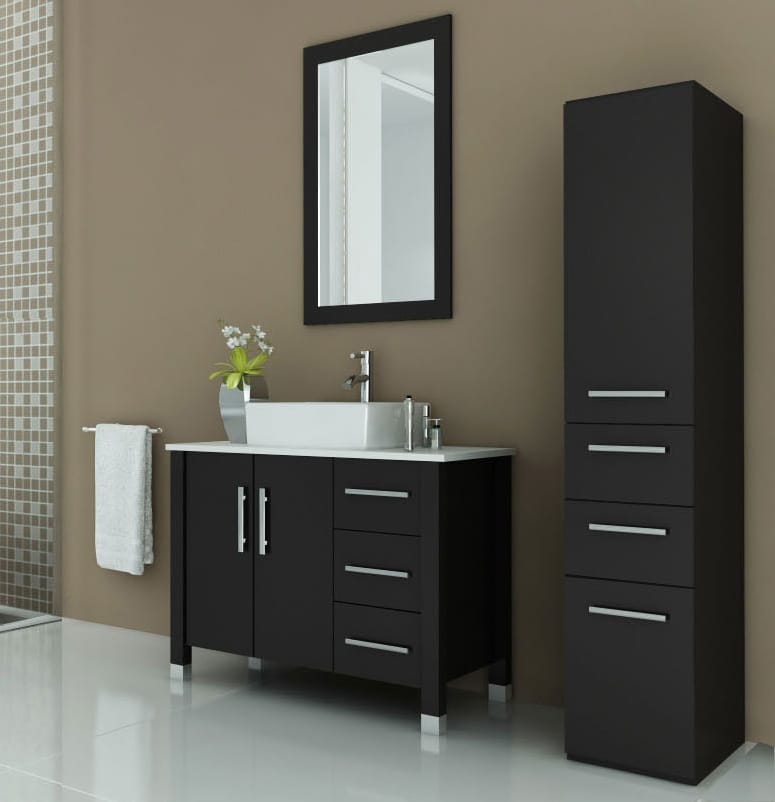 This bathroom is so tranquil, thanks to subdued hues. Black vanity stands on the light gray floor. It comes with cabinet doors, drawers, and metallic pulls. A slender cabinet tower ensures lots of storage space.
15. Wall Hung Vanity Unit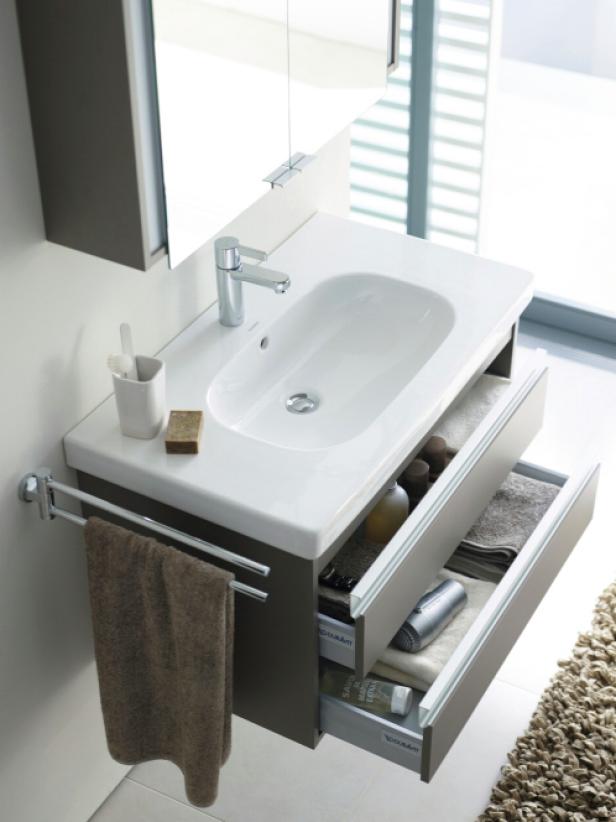 Here is another modern bathroom vanity. Its drawers have zero hardware for a sleek look. Chrome rail by the vanity is used to hang the towel on. Two-tone cabinet over the vanity introduces a light-reflecting texture.
16. Melamine Bathroom Vanity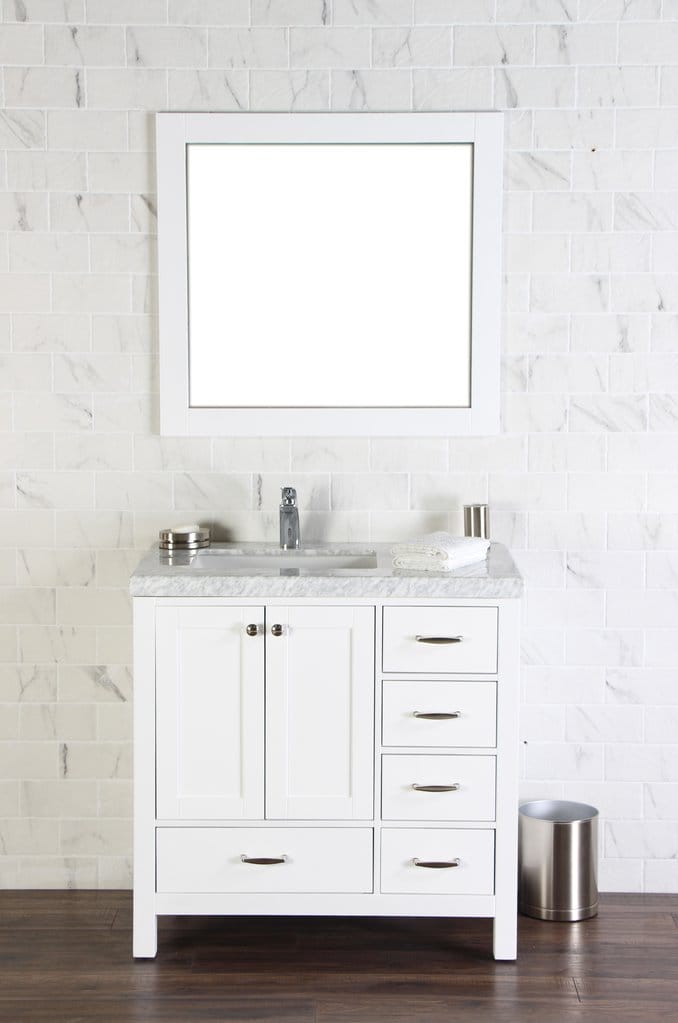 Marble countertop and subway wall tiles contribute to the bathroom's glamorous scene. White vanity has multiple drawers for stashing away bath necessities, while dark-toned wood floor provides a welcomed contrast.
17. Bathroom Vanity Ideas DIY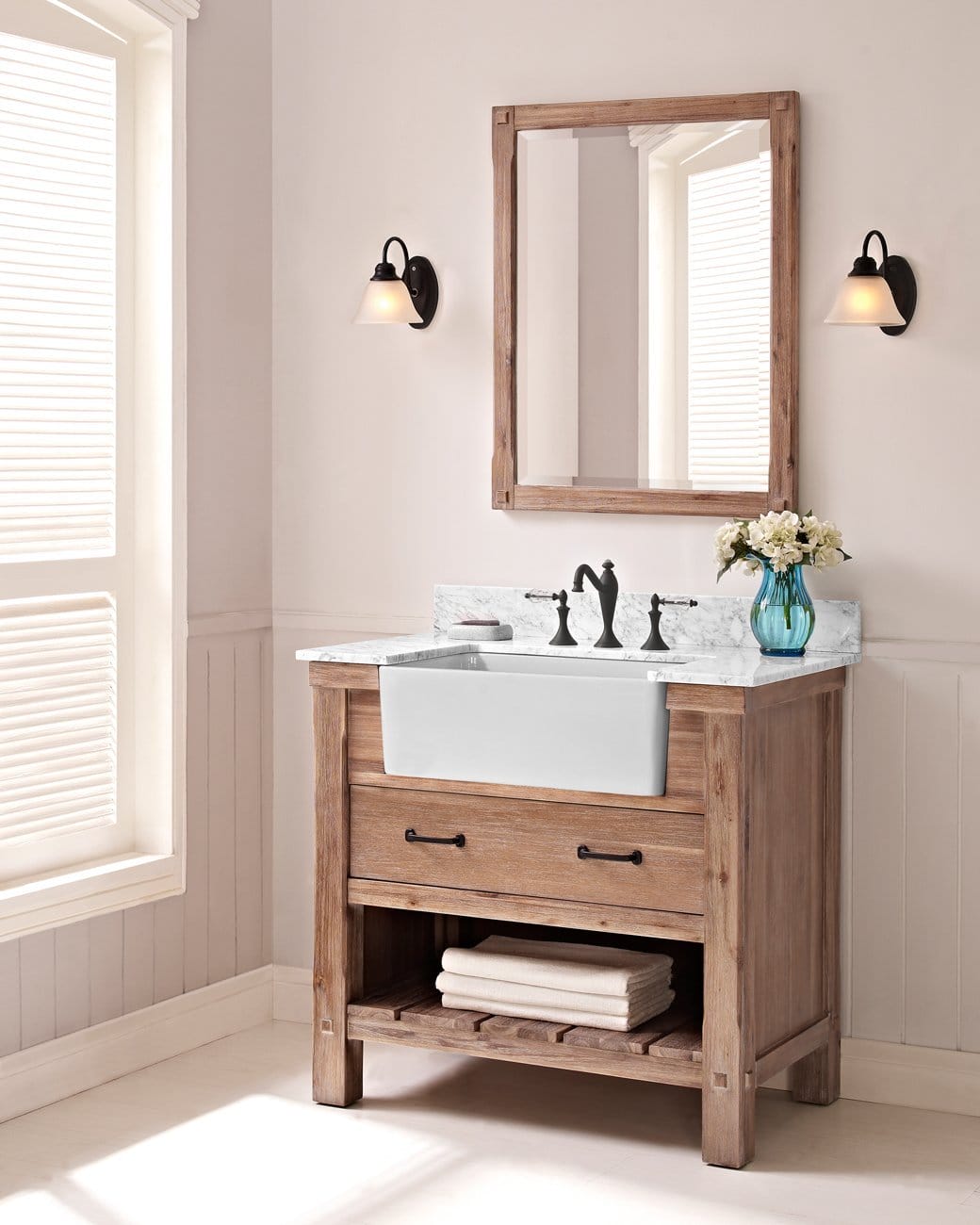 The unpainted wood vanity includes an open shelf and drawer with iron pulls. Both vanity and mirror look outstanding in a muted color palette. Faucet, apron-front sink, and wall sconces exude modern farmhouse charm.
18. Barrel Bathroom Vanity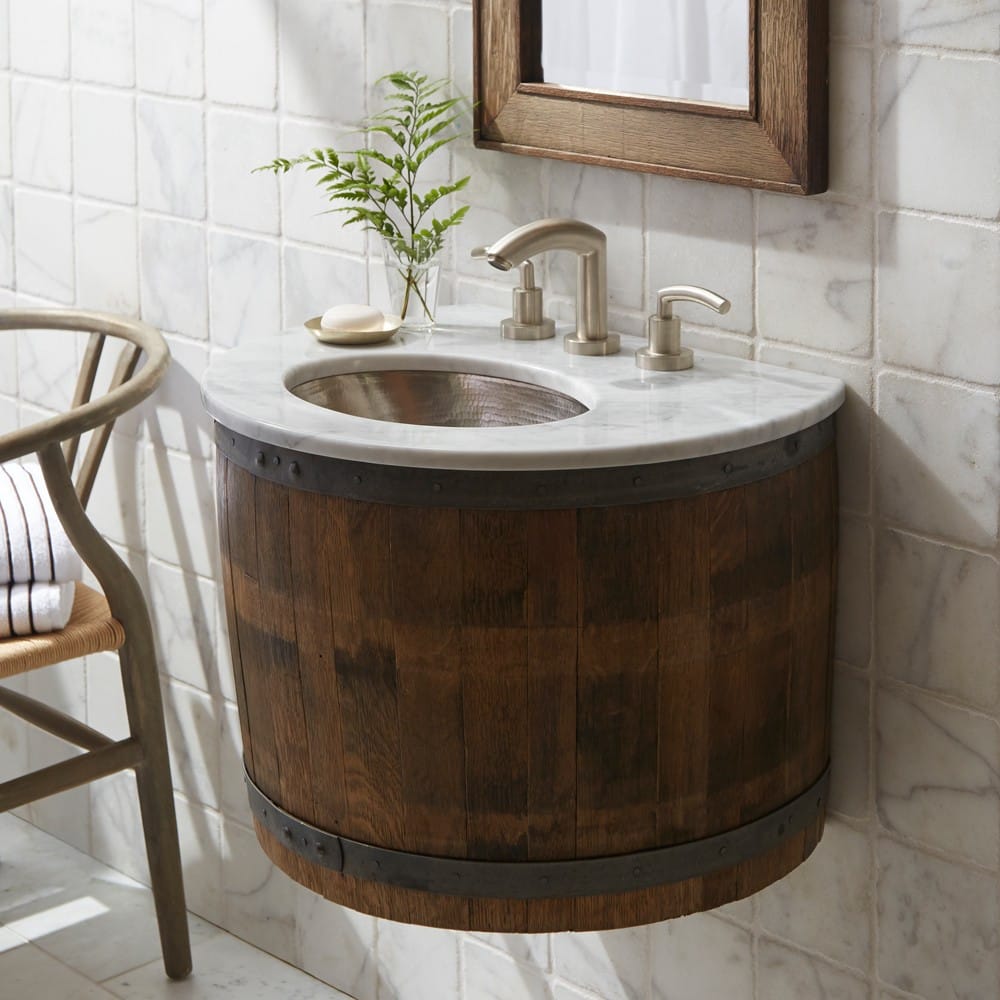 Square marble tiles cover the wall as well as generate a grid look. The old wooden barrel has been upcycled into a charming bathroom vanity. Lastly, greenery, wood-framed mirror, and armchair bring nature inside.
19. How to Make Drawers for Bathroom Vanity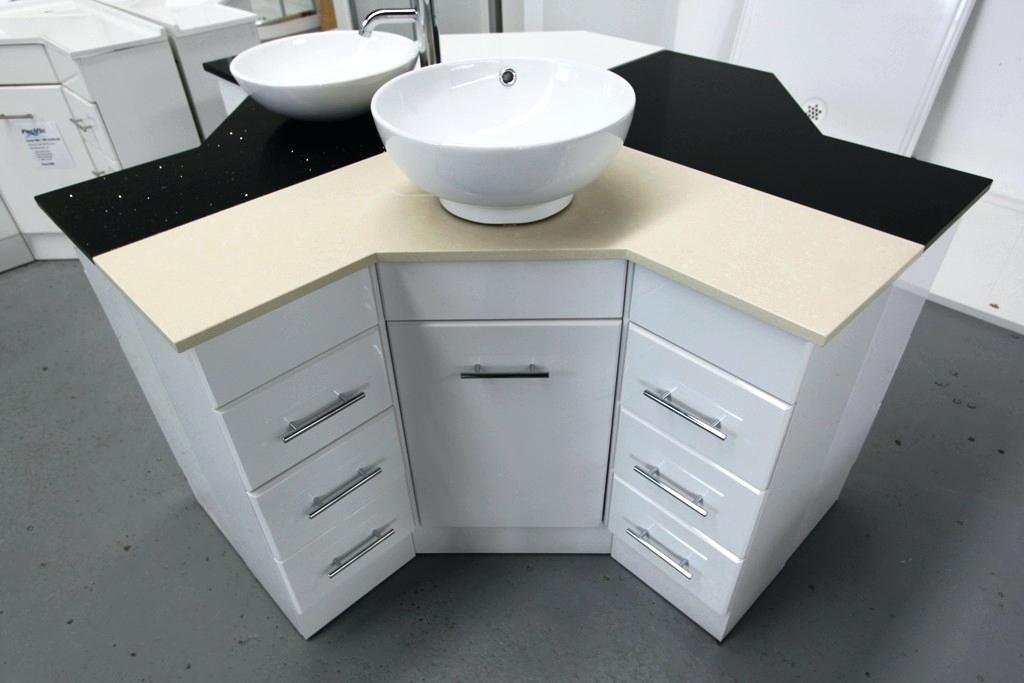 Gray floor allows the white vanity to be the center of attention. It does not only come in a unique shape but also boasts multi-tone countertops and two sinks. The drawers with streamline silvery pulls project a contemporary flair.
20. Floating Bathroom Vanity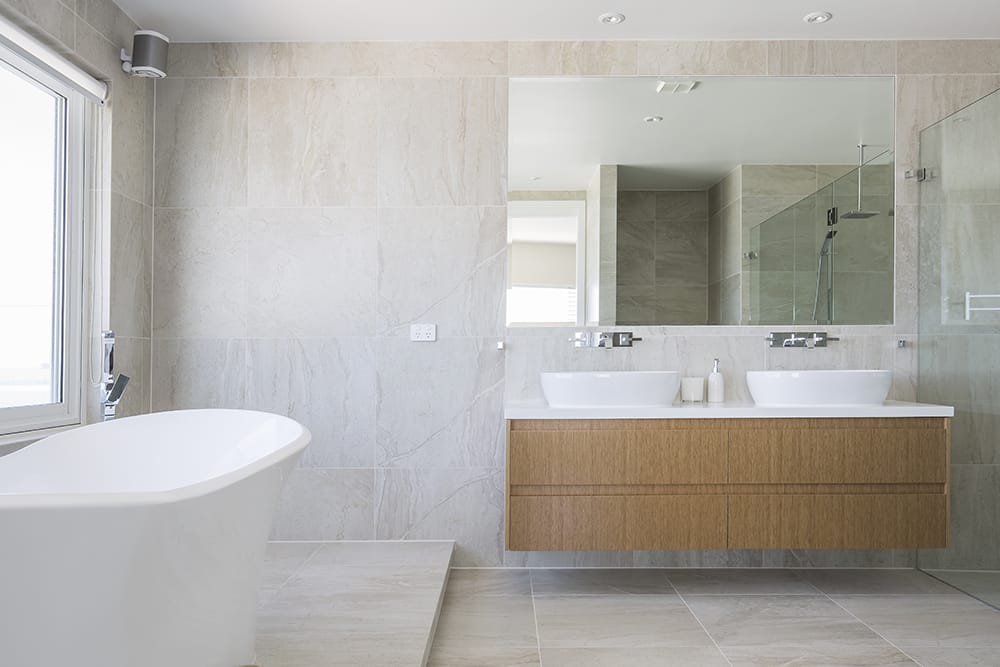 A handleless floating wooden vanity gives the bathroom an ultra-modern feel. It is also such a perfect accompaniment to pure white countertop, stainless steel faucets, and vessel sink of relaxing color palette.
21. Double Sink Vanity Sizes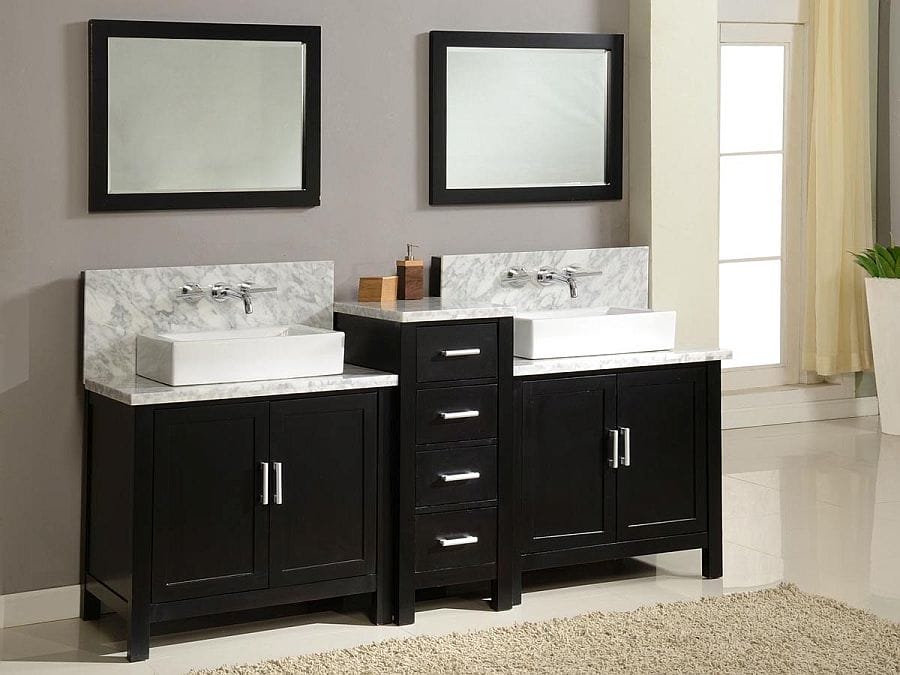 Muted tones reinsure your bathroom with a peaceful atmosphere. Shag rug and curtain cozy up the space.
Light taupe backdrop lets black vanities catch the attention. Those furniture units carry some depth to the room too. Black-framed mirrors and white rectangular sinks keep you from stepping on your spouse's toes.
22. Cheap Bathroom Vanity
For you who are dealing with cramped space, steal this idea. The reclaimed wood vanities are equally cheap and ravishing. They are paired with iron drawer pulls.
White sinks and stainless steel faucets lend the vanities textural as well as visual contrasts. Wood-framed mirrors fool the eye into thinking the bathroom is larger.
I hope a host of bathroom vanity ideas listed above can motivate you to change up yours. Picking an ideal vanity unit might be a daunting job, but it pays off.