Kayaking is one of the most popular water sports. Compared to an inflatable kayak, the traditional hard-shell one eats up more space. If you have that water-going vessel in your home, read on for brilliant kayak storage ideas.
Storing your kayak properly is important. This helps you preserve it over the long term. There are several storage options to choose from, including free-standing kayak racks, gadgets, and ceiling storage system. Check these out!
Kayak Storage Rack Ideas
Racks are an excellent kayak storage solution. They are portable and have easy installation. You can conveniently move them from outdoors to inside. Besides, they let you plan the space effectively.
1. Small 2-Kayak Rack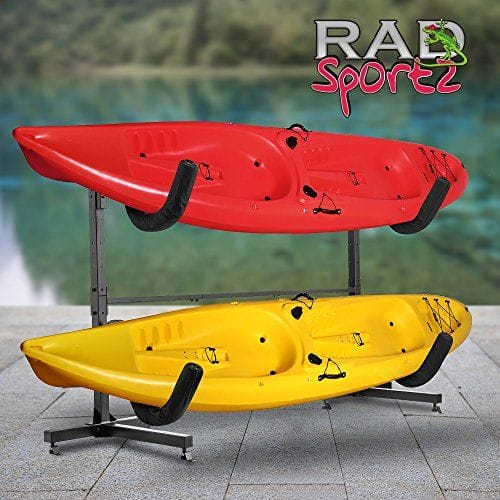 Do you own a small kayak collection? If yes, you should purchase this kayak storage rack. Even though it is compact, it can accommodate two hard-shell kayaks at an angle. It has a weight capacity of 175 pounds.
All you have to do is simply tossing your hard-shells onto it. You do not need to mount it to the ceiling or wall. It does not occupy a lot of space. Besides, you can transport it easily wherever you go.
2. Malone 6-Kayak Rack System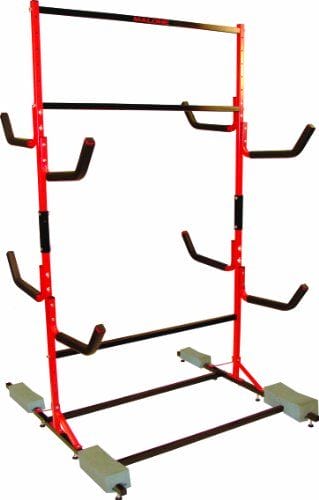 Having various types of hard-shell kayaks is awesome. However, you must get them out of the way when not in use. Therefore, they will not clutter your space.
This Malone kayak rack can hold up to six kayaks. Be sure your floor space is spacious enough due to its large size. Its load capacity is 500 pounds. Moreover, it comes with eight frame levelers for easier placement.
In case you only own one kayak or two, you could store other things such as stand up paddleboards, jackets, and waterproof dry bags on it. Isn't it multifunctional?
3. Kayak Storage Rack Freestanding Outdoor
This freestanding kayak rack is perfect for storing one or two long kayaks in a side-tilt position. It enables you to move your kayaks from one place to another with ease. You do not have to remove the bolts of the rack.
Moreover, freestanding kayak usually allows you to adjust the distance between each end. You can use it either as an indoor kayak storage system or as the outdoor one. The choice is yours.
There is a huge selection of freestanding kayak racks, from metal to wood. If you are a handy person, you could make one yourself. Therefore, it nicely fits the number of kayaks you have.
Kayak Garage Storage
Many people store their hard-shell kayaks in a garage. Here are three different types of kayak garage-storage systems.
4. Wall-Mounted Kayak Rack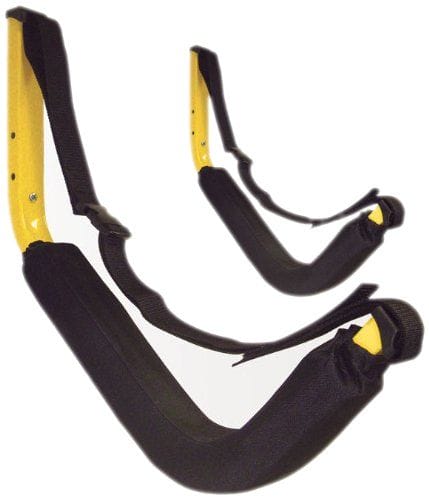 Do you not have a big garage? It is no problem. You could mount this hook-style rack to the garage wall. It will keep your kayaks in place without consuming floor space.
Wall-mount rack offers some versatility. It can bolt to anywhere that is strong enough to hold the hard-shells. Additionally, it will house the kayaks on its side.
Do not forget to think about how high you want to mount it. Higher rack lets you store things underneath, but it requires more effort to lift the kayak into position.
The lower rack makes a kayak more accessible. It allows for overhead storage too. However, it is vulnerable to disturbance from critters. I recommend you to buy the Suspenz EZ Kayak Rack. It keeps yours protected and within reach.
5. Ceiling Rack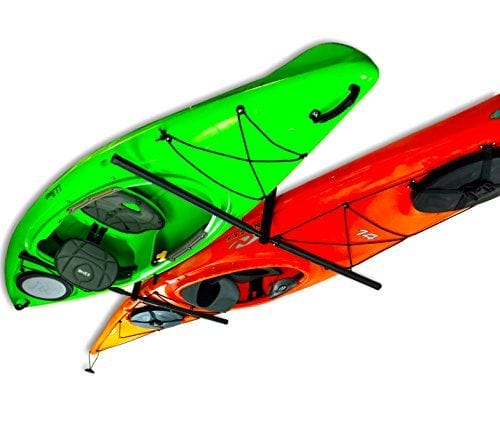 Pictured above is Hi Port 2 Kayak Ceiling Mount made of heavy-duty steel. It is quick to install. Additionally, it is suitable for various kayaks such as ocean, fishing, recreational, and whitewater.
The rack can hold two hard-shell kayaks snuggly against the garage ceiling. Unlike the ceiling hoist system at all costs, it will not hang down much.
Since your kayaks do not rest on the ground, you retain the garage floor space for cars and other stuff. It would be better if you cover the kayaks before storing them on the ceiling rack.
6. Kayak Storage Hoist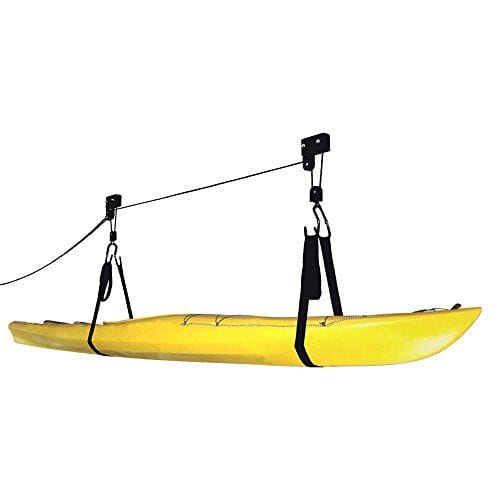 Do you want to free up floor space? The hoist storage system is for you. It keeps your kayak off the ground. When you are ready to hit the water, you just need to ease them down with the pulley hoisting system.
In the picture is RAD Sportz Kayak Hoist Storage System. This rack can accommodate up to 125 pounds. It is ideal for one kayak.
Furthermore, it is convenient to use. It features rubber-coated hooks. They protect your kayak from scratches. The safe locking mechanism itself helps avoid accidental release.
7. Kayak Storage Ideas Outside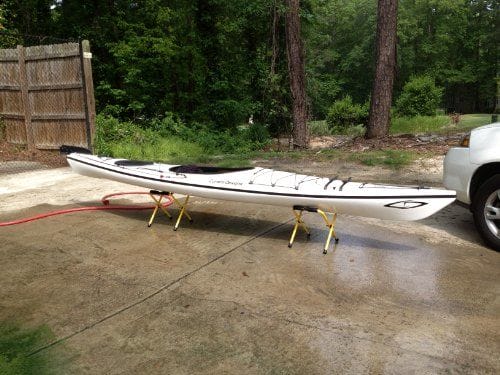 Storing a hard-shell kayak outside is not a good option. If your garage or basement runs out of space, you could store your long kayak on a stand. Therefore, your water-going vessel does not sit on the ground.
The design of a kayak stand is basic. You can paint it your choice of color. Probably, you need a kayak storage bag with it. The cover ensures that your kayak is well protected. Lastly, place the kayak stand in your yard.
8. Storage Cover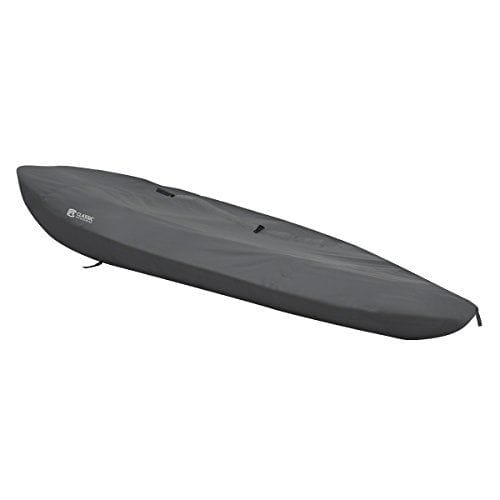 Whether you will store your kayaks indoors or out of doors, you never go wrong with a storage cover. It protects the kayak from mildew, critters, and ultraviolet rays. Since it is affordable, there is no reason not to buy one.
Pictured above is the StormPro Kayak Outdoor Storage Cover. It is made from heavy-duty polyester for wonderful durability. Besides, its full-cut design enables you to stash away life vests and paddles.
9. Kayak Storage Shed
As the image shows, the kayak shed is such a cool storage solution. It can house multiple kayaks, not to mention it keeps yours out of bad elements. Therefore, it stays in peak condition throughout the year.
You could buy pre-made kayak sheds to store your kayaks. Another option is building a simple storage shed yourself.
10. Kayak Storage Rack DIY
All the kayak racks are quite basic. That is the reason you should make a kayak wall rack or the freestanding one yourself. The DIY project requires some equipment. Speaking of the rack material, you can opt for either PVC or wood.
You just discovered those kayak storage ideas. No matter how great the storage system is, you still need to clean the kayak because oils and dirt can degrade its shell. Finally yet importantly, select the right spot for your kayak storage.