There is nothing better than enjoying a cup of tea on a deck. It is also a great place to gather with family and friends. If you want to use your deck throughout the year, look at these covered deck designs.
The deck cover provides shade from the sun. Besides, it complements the style of your home and creates a focal point. Here are some magnificent overhead structures to consider.
Types of Covered Decks
These different types of covered decking will help you narrow down your choices for sure.
1. Deck Gazebo Ideas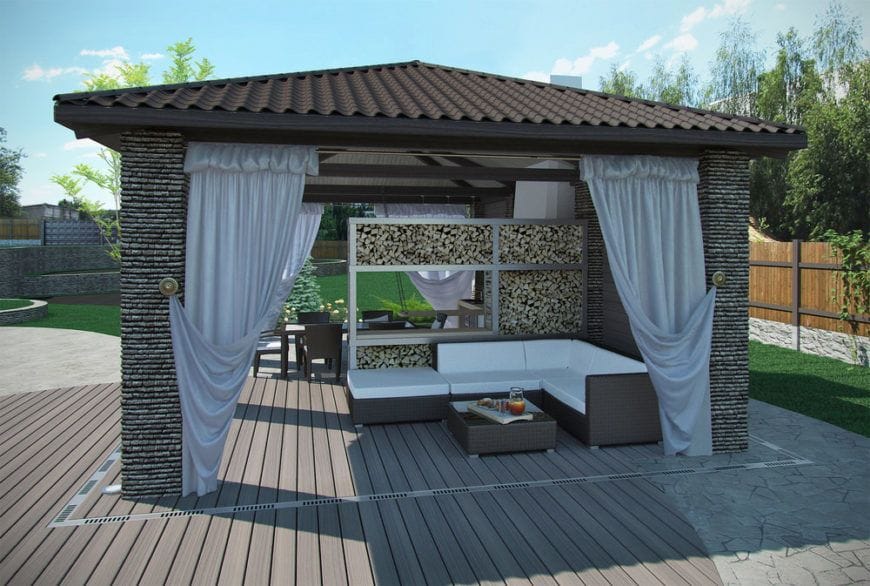 Maybe, it is not common to include a gazebo on a deck. Since the gazebo is perfect for outdoor spaces, it would be a perfect fit for your deck too.
Gazebo refers to a stand-alone structure on a property. It features roof and posts. Compared to the other garden structures, it is more enclosed. It can be circular, rectangular, octagonal, or hexagonal.
Perhaps, the gazebo seems not spacious. However, it comfortably accommodates several people. Dining under a gazebo is a cool experience.
2. Pergola on Deck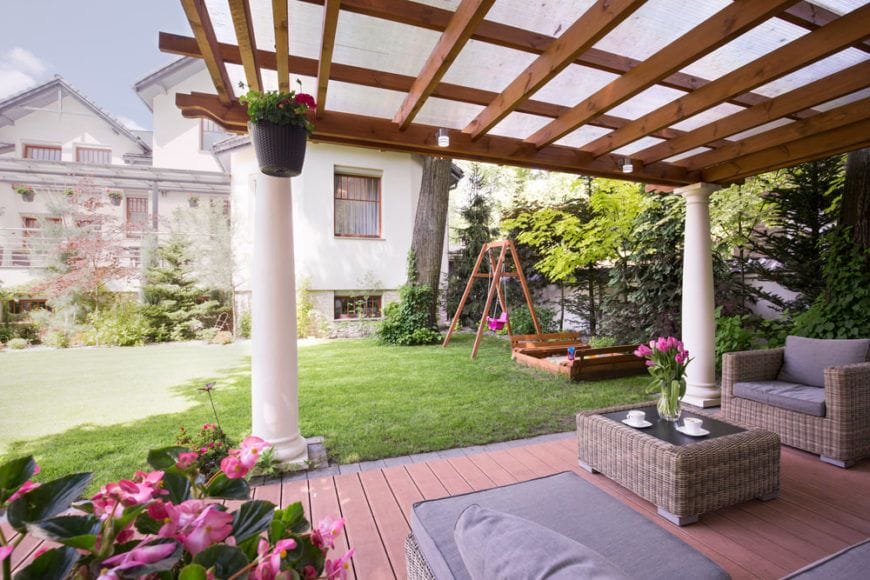 Pergola is one of the most popular overhead structures. It typically employs four or more columns or posts. They bear the flat roof of the pergola strongly. Besides, the pergola has exposed cross beams.
Furthermore, pergola is aesthetically pleasing. However, it does not shelter you from the rain. You should cover the top of pergola with something waterproof.
To make your pergola more stunning, plant fast-growing vines. That greenery will grow up the side of the pergola.
3. Louvered Roof
You are probably not familiar with this louvered roof. It is constructed from interlocking sheets. They can be opened and closed depending on your needs.
The louvered roof gives the protection as the awning does. For some people, it is not as fabulous as an awning. You cannot retract it too. The structure remains in place when the louvers are open.
4. Awning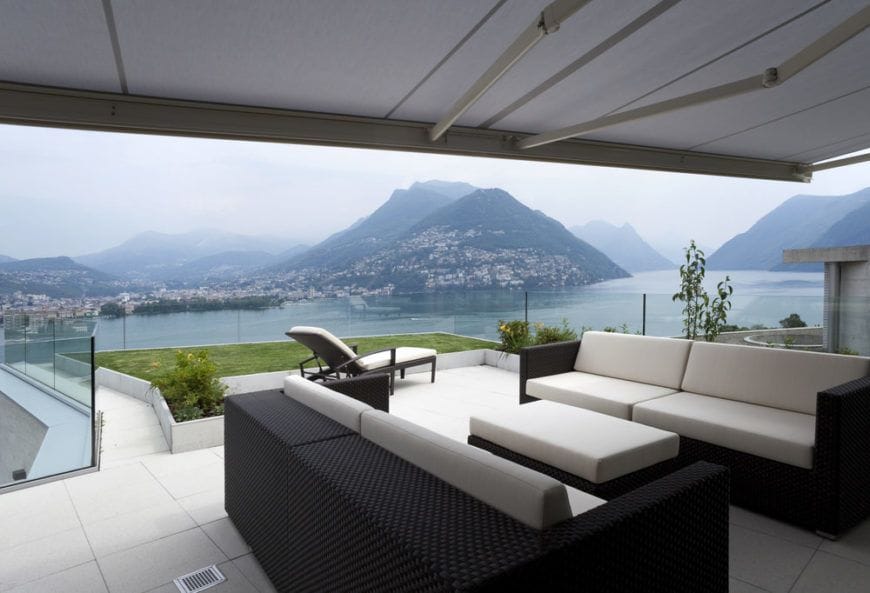 Awning is a nice covered decking option. This overhead structure enables you to extend and retract it. Since it can be retracted when not in use, it saves energy costs during summer months.
Although awning is made from fabric, it costs you a lot of money. On top of that, the motorized retraction mechanism will add to the expense.
5. Screened-In Deck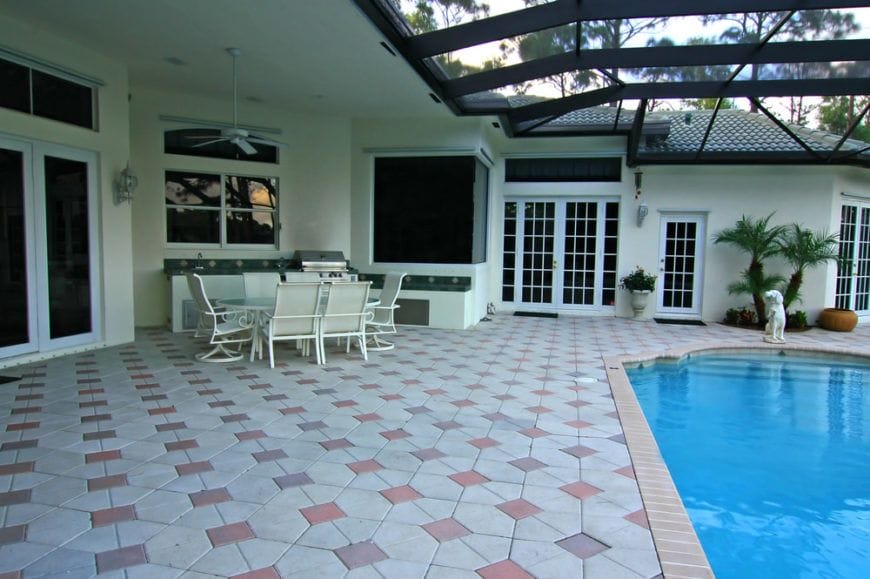 For you who dwell in an area with lots of bugs, you should consider a screened-in deck. Technically, it is not a deck covering because it does not resist water and offers shade. Nevertheless, it brings more comfort to the deck.
In case you have a roof extension, use this covering to create an extra layer of protection. Keep in mind that the project will be super expensive.
6. Roof Extension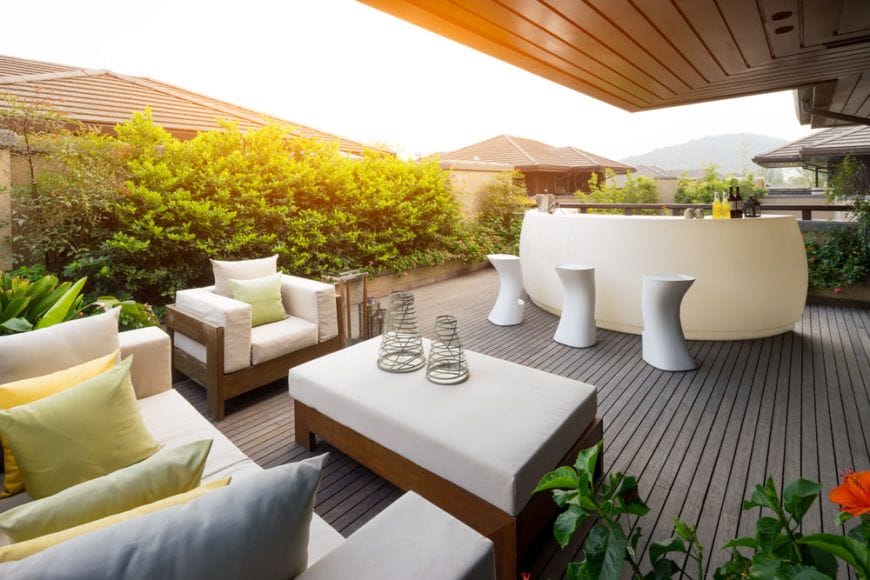 If your second floor extends over the deck, roof extension is such a smart solution. This overhead structure will not interrupt the lines of your home's roof.
The roof extension is the most costly option since it requires building onto the second story. You must construct two or three supporting walls too.
Your decking area tends to be darker than pavilion, awning, or pergola on some occasions. If you love an open plan look, the roof extension is not for you.
7. Pavilion
The pavilion gives both protection and shade. That is why you should build a permanent pavilion onto your deck. It allows you to specify its size.
Some people chose to build the pavilion that eating up part of the deck. Therefore, they have covered and uncovered deck areas.
The portable pavilion is relatively small and easy to set up. It will not break your bank. Additionally, it offers more flexibility. However, it cannot fit every visitor underneath.
The Examples of Covered Decks
Here, I have provided you with a massive photo gallery of covered decks. Be ready to get inspired.
8. White Covered Deck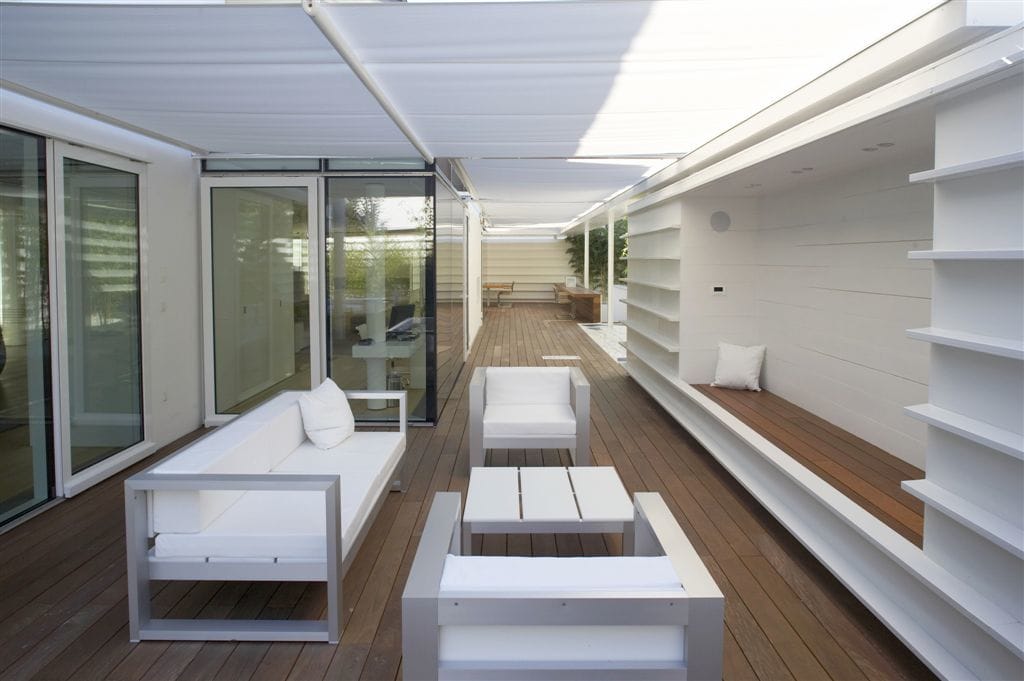 This covered deck feels open and warm at once. The white bench and seats lend the deck a modern sensibility.
9. Small Covered Deck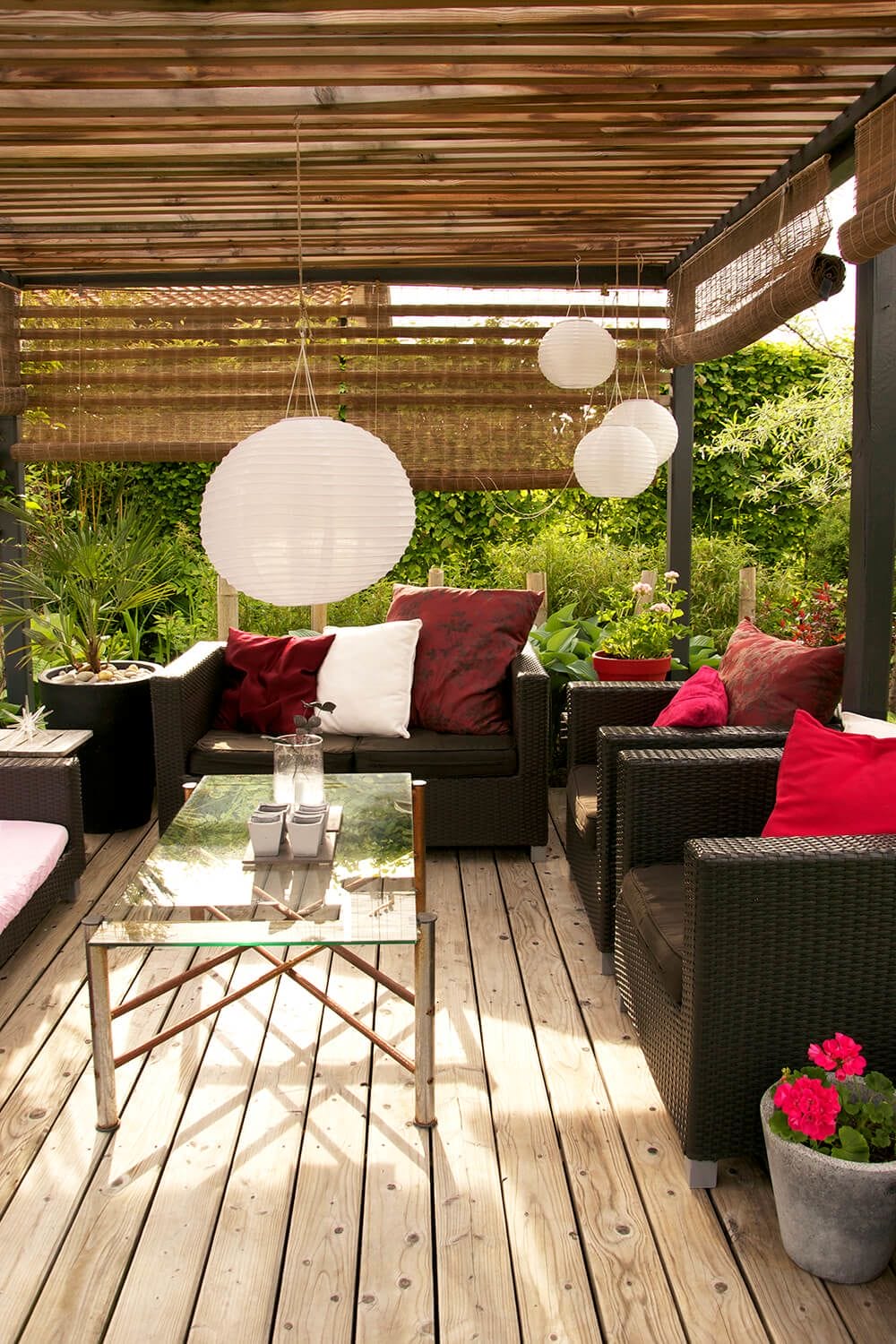 As you see, this rustic deck is full of personality. The pendant lights act as the stunners.
10. Traditional Covered Decking Area
The pillars, wall lamps, tables, armchairs, and outdoor sofa exude a state of the class.
11. Covered Deck Pictures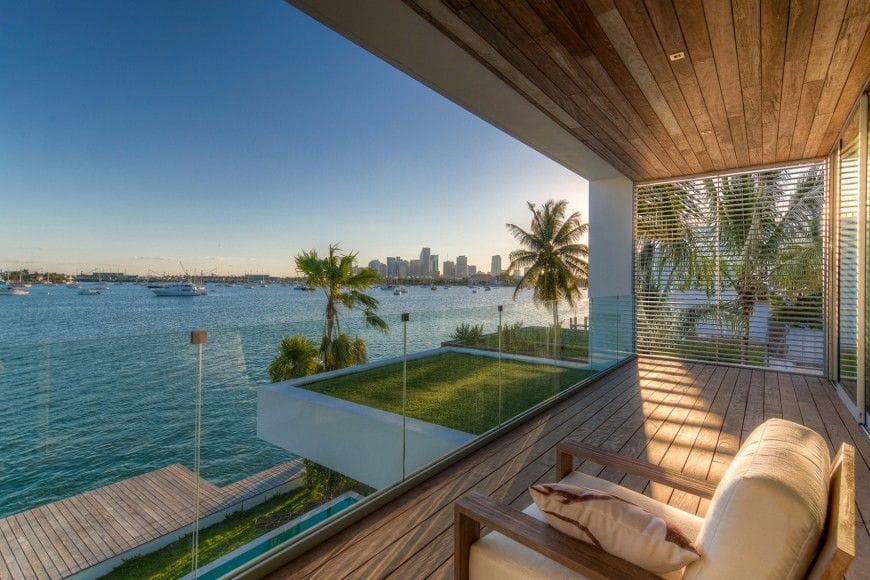 The covered wood deck with glass railings overlooks the breathtaking ocean.
12. Covered Deck Ideas on a Budget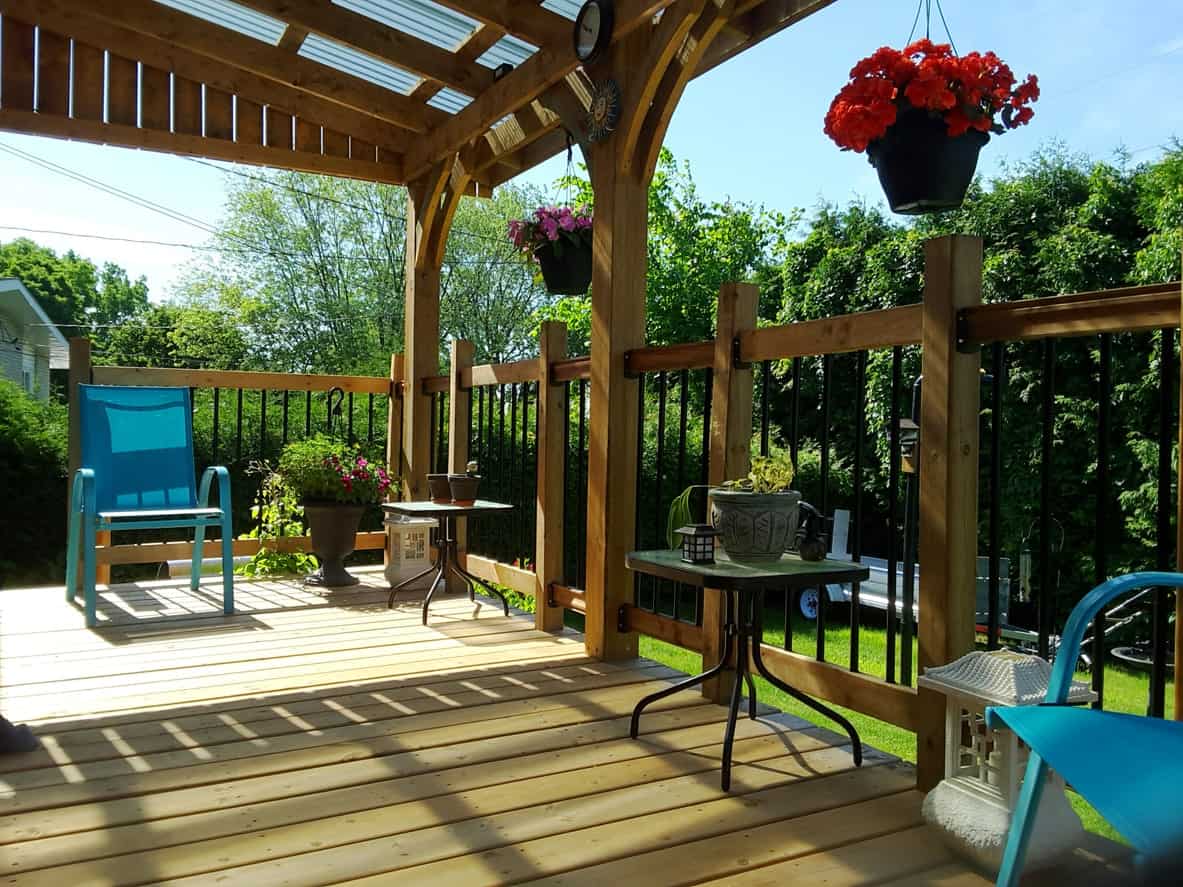 This covered deck employs iron railing and an unfinished wood frame. Blue armchairs and potted plants spice things up.
13. Rustic Covered Deck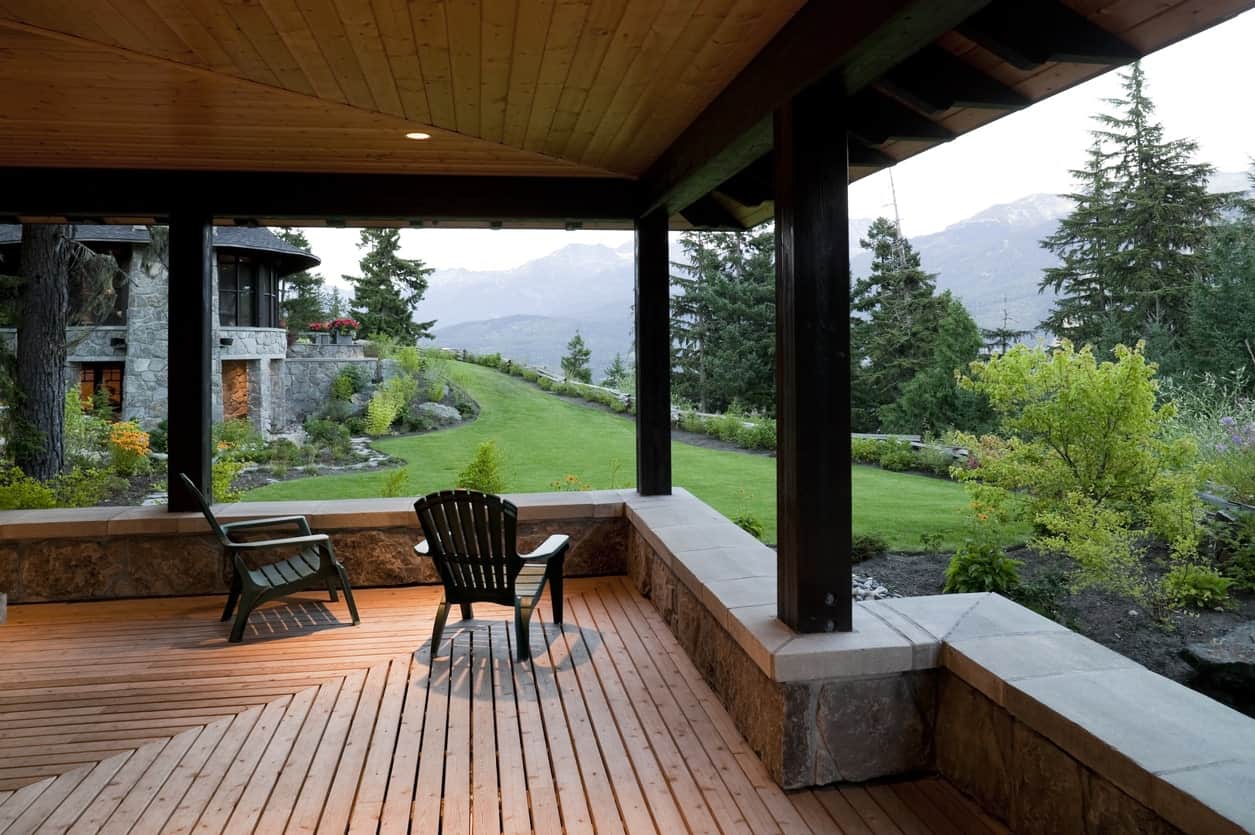 This open-concept covered deck lets you and your loved one enjoy the jaw-dropping garden views.
14. Covered Deck with Grill Stove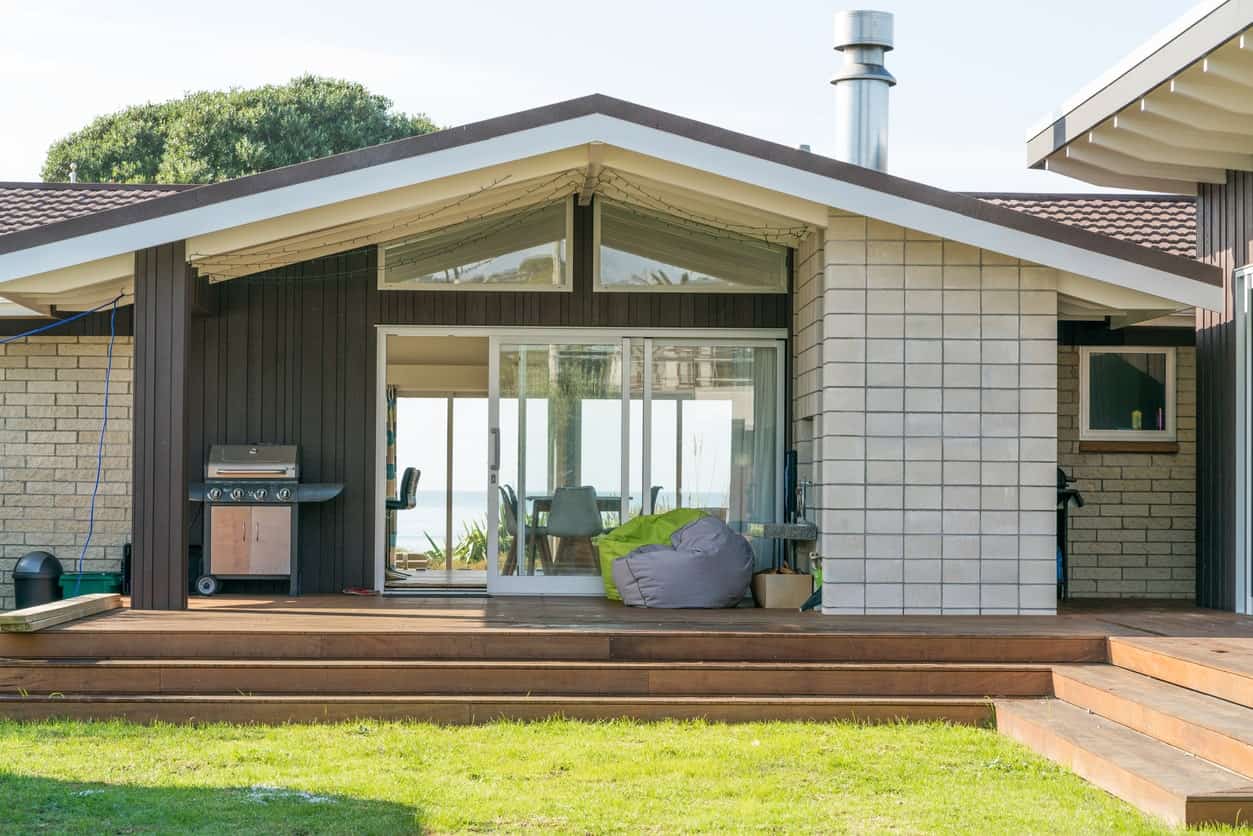 Undoubtedly, this covered deck is the best place to host a party. It is outfitted with a grill stove and seats.
15. Covered Garden Deck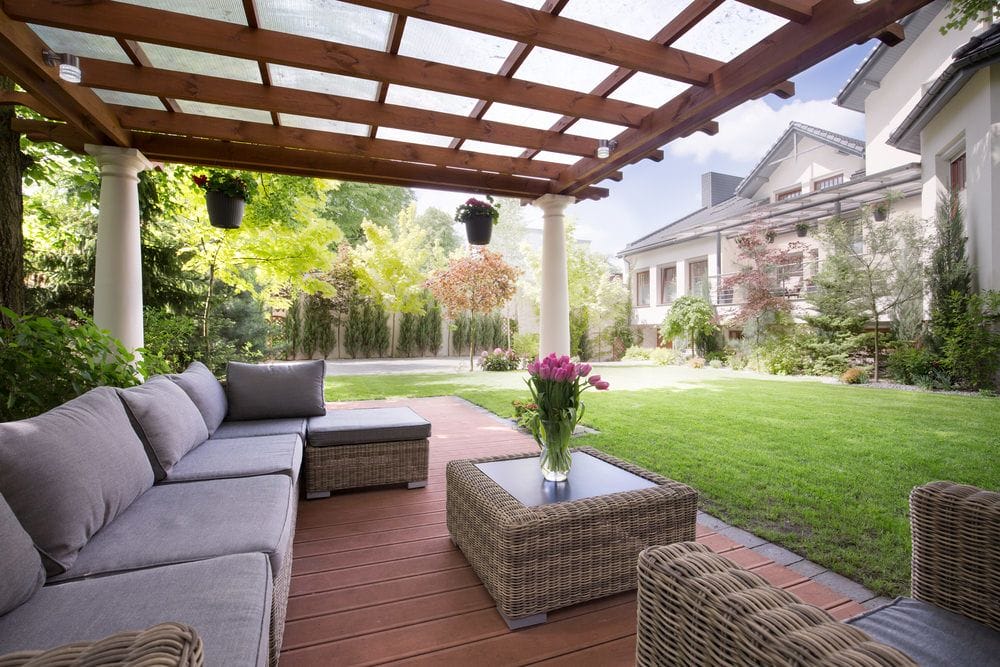 This deck is located in the garden. It looks striking and inviting at once.
16. Modern Covered Deck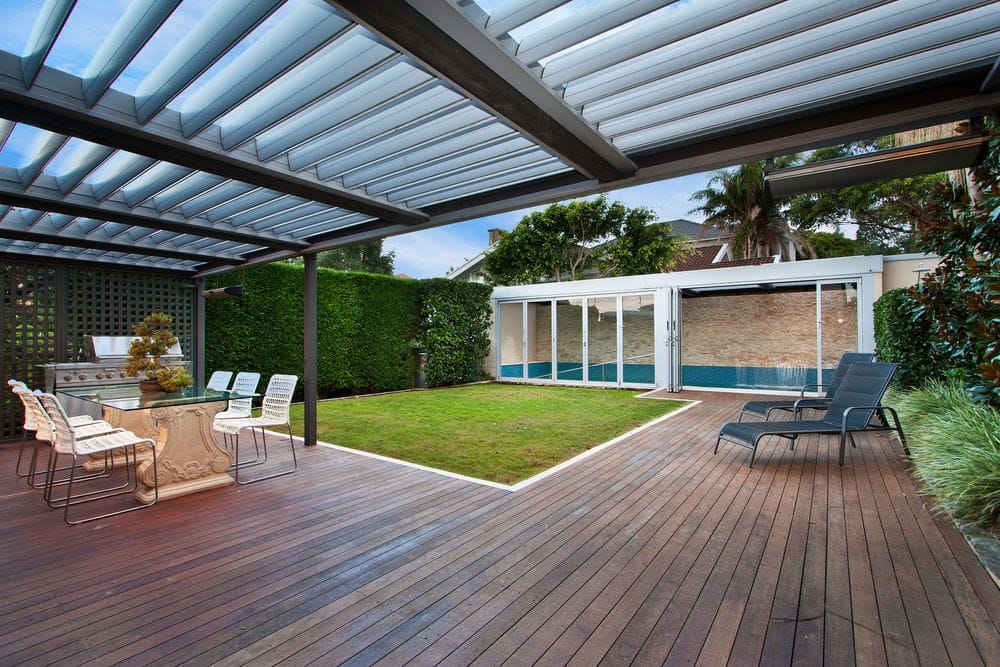 An ornate dining table with a glass top adds a classic touch to the modern covered deck.
17. Contemporary Covered Deck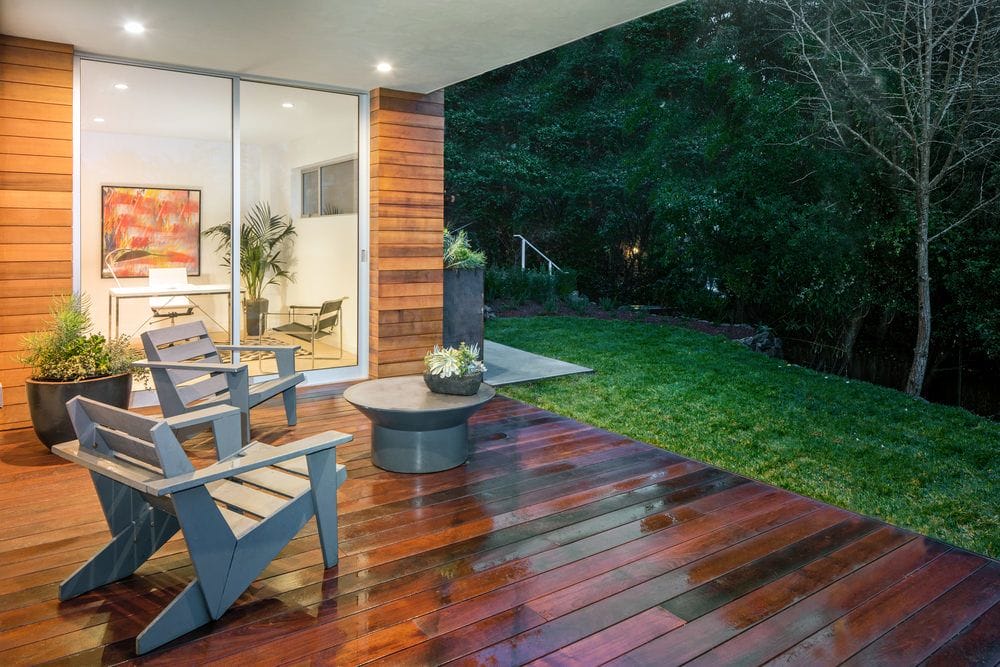 The gray table and armchairs are a nice contrast to this contemporary wood deck.
18. Decorating a Deck with Lights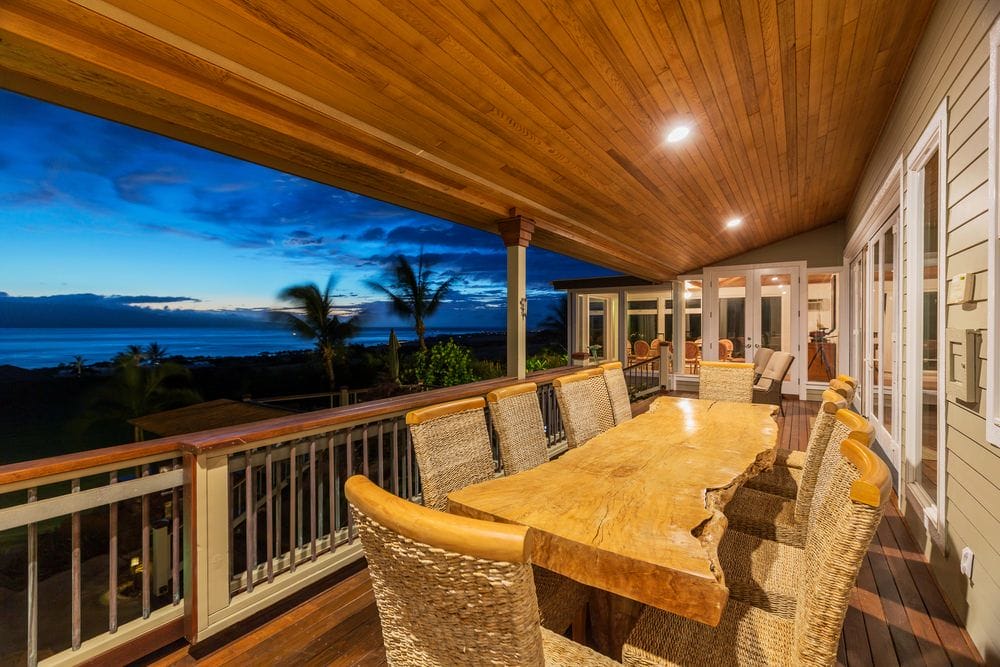 This covered deck features a live-edge table and rattan chairs. The recessed lights illuminate the whole area.
19. Partially Covered Deck Ideas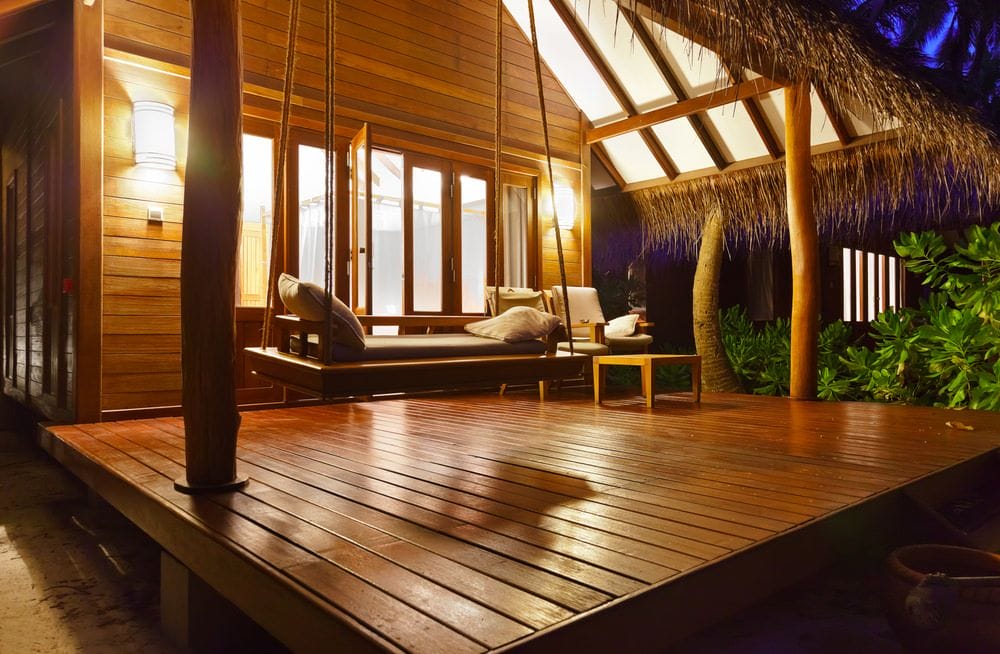 This tropical-inspired deck is partially covered. The swing and chairs set a cozy vibe.
20. Deck Roof Covering Options
This small yet elegant deck boasts the striped awning.
21. Covered Deck with Fire Pit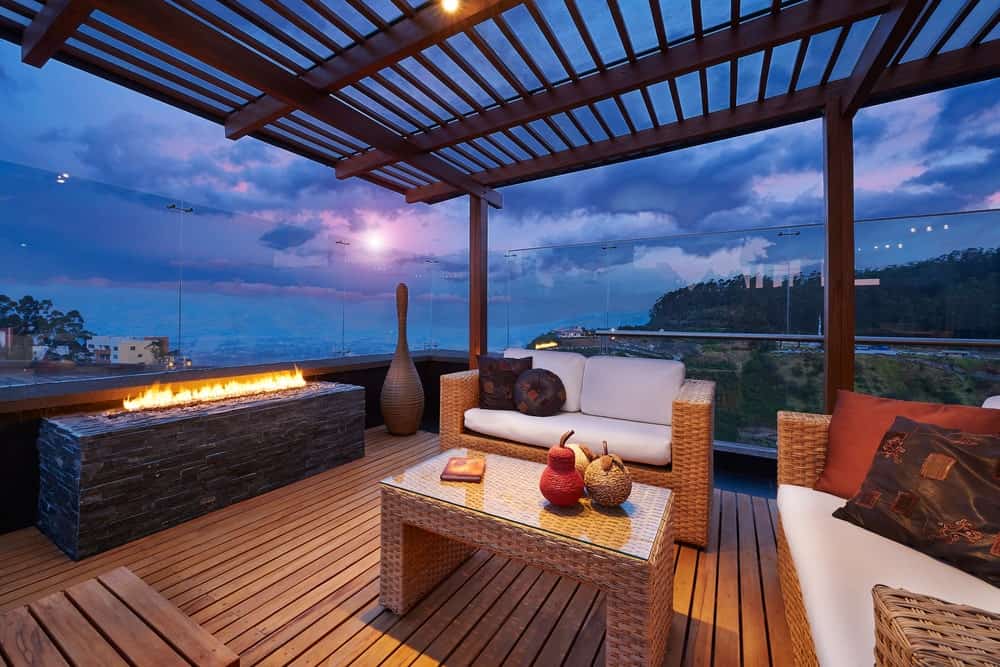 Both the rattan furniture and fire pit evoke a feeling of intimacy.
22. Seaside Covered Deck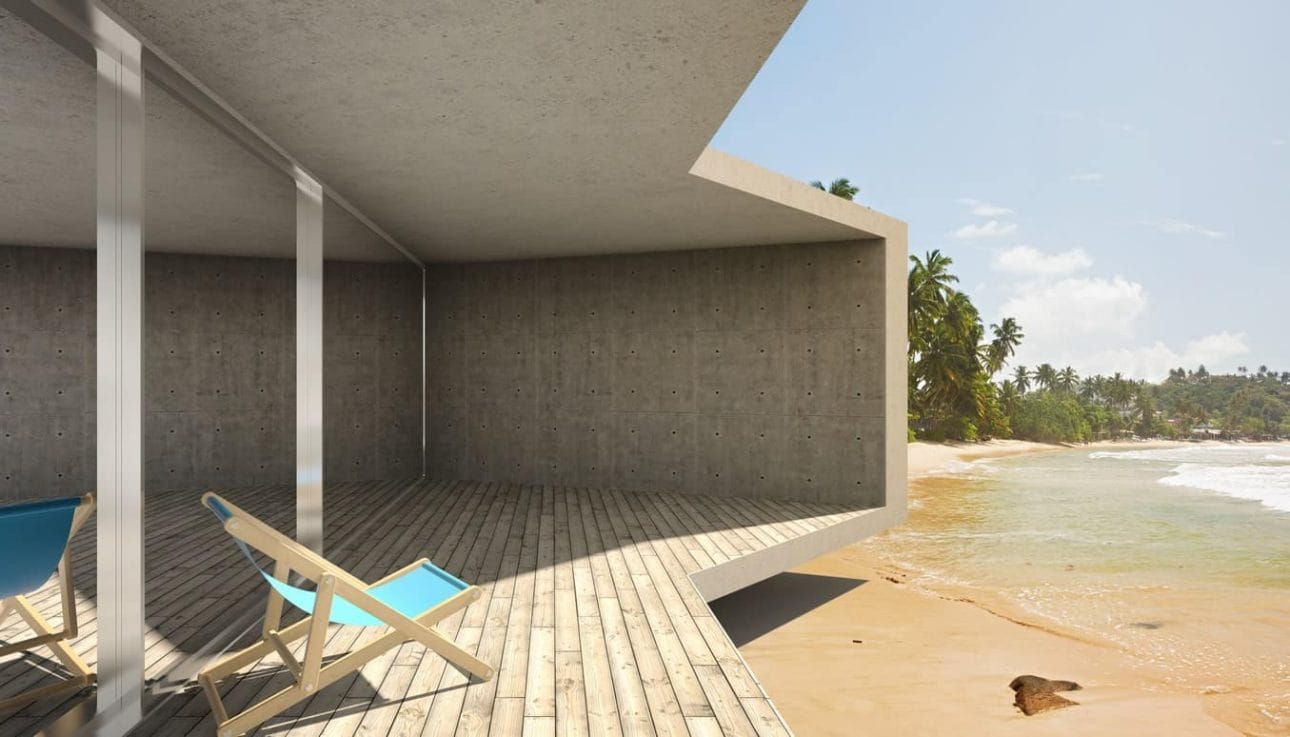 The deck has no railing. It offers limitless sky and sea views.
23. Large Covered Deck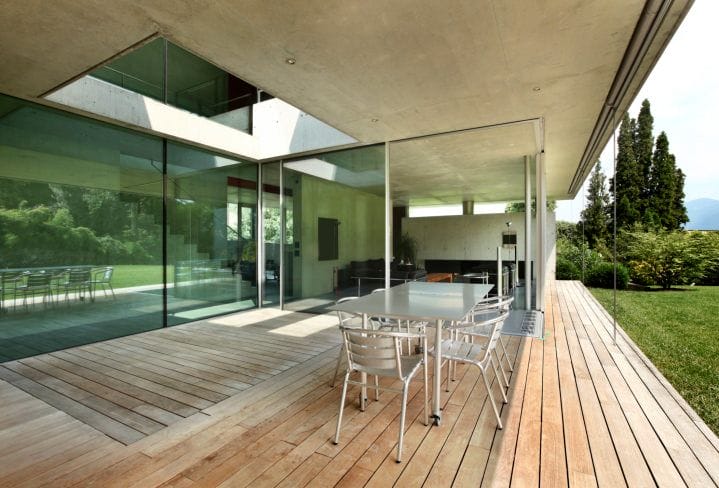 This massive covered deck is perfect for summer dining.
24. Beach-Style Covered Deck
The hanging egg chair and lounger set a laid-back atmosphere.
25. Beautiful Covered Deck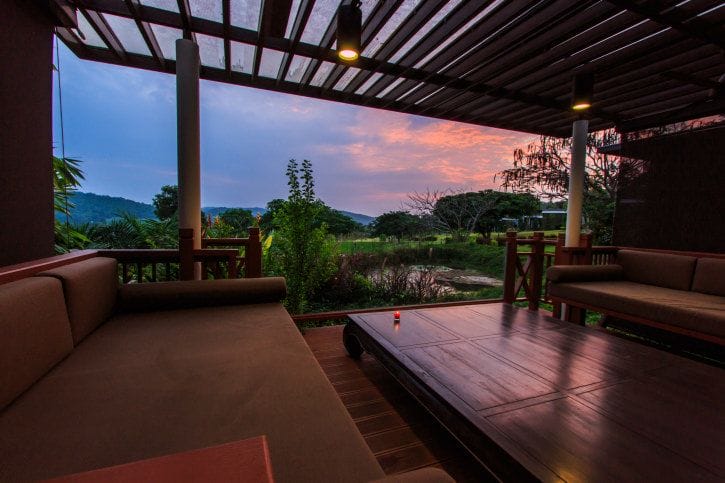 This wood deck provides enthralling views of the surrounding nature.
26. Covered Deck with Hammocks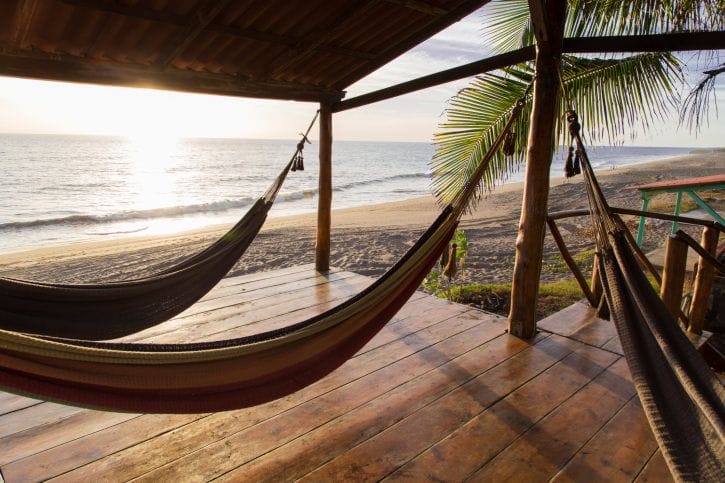 The hammocks are surely perfect for an afternoon nap.
27. Covered Backyard Deck
Here is a covered deck overlooking the lovely backyard area.
28. Simple Covered Deck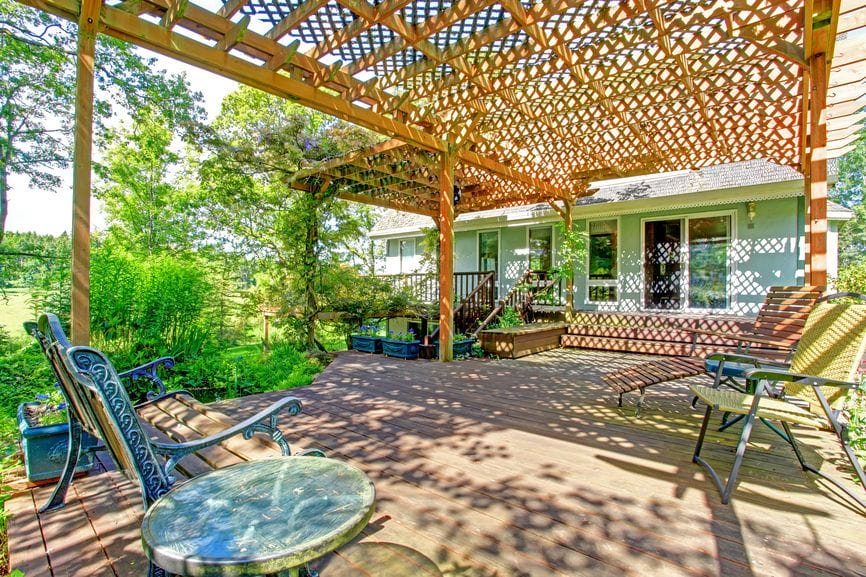 The lattice cover and chairs make the deck more appealing.
29. Mid Century Modern Deck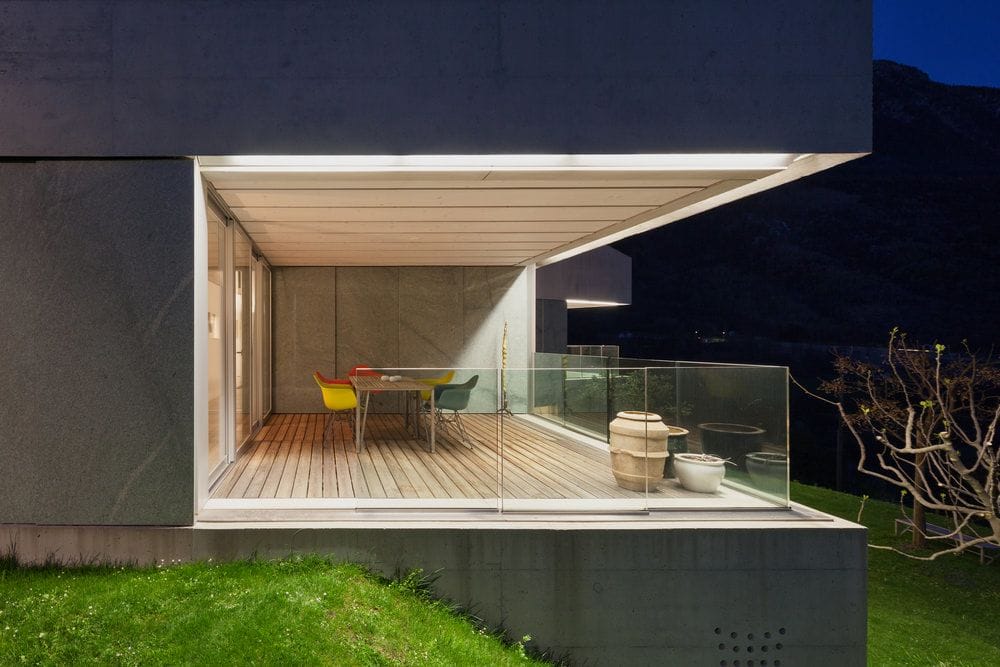 The glass railings and chairs lend the wood-and-black covered deck a mid-century modern flair.
Covered deck is expensive, but it is worth the cost. Steal any of those covered deck designs to turn your deck into a relaxing retreat. So, let's get the project started!