Major home improvement may require a large amount of money. If you want to update a space without spending a fortune, painting your stairs is a great choice. Here, I have assembled some mesmerizing painted staircase ideas.
In most houses, the stairway is a narrow and plain corner that no one likes. That's why turning the tired-looking staircase into an appealing piece of art will change the whole ambiance.
Below are 18 beautifully painted stairs. I guarantee there must be at least one staircase that steals your attention. Check these decor inspirations out!
1. Ideas for Painting Stairs and Landing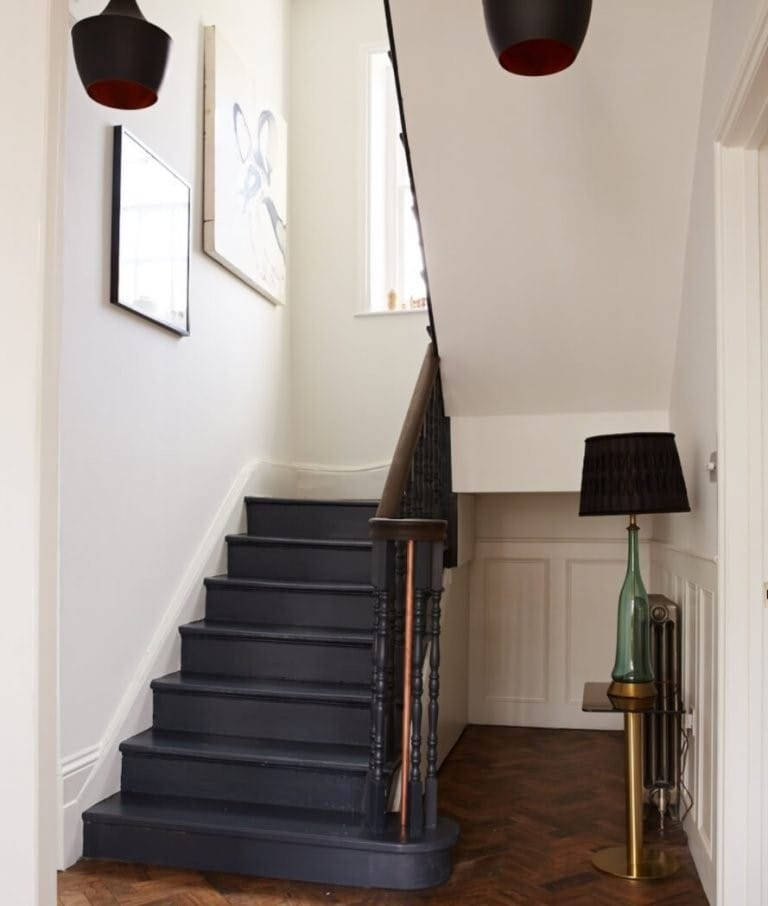 As you see, the area features a white background that serves as an empty canvas. She opted for white and black color scheme. The herringbone flooring itself is constructed of pine or oak wood.
Crisp white walls set an airy atmosphere. Black-painted staircase and pendant lamps introduce a dramatic contrast.
Both black stairs and white background make a strong impression. They exude a sense of sophistication and keep the room simple at once. Monochrome wall ornaments create a cohesive feel. Gold detailing generates a sumptuous air.
2. Painted Spiral Staircase Ideas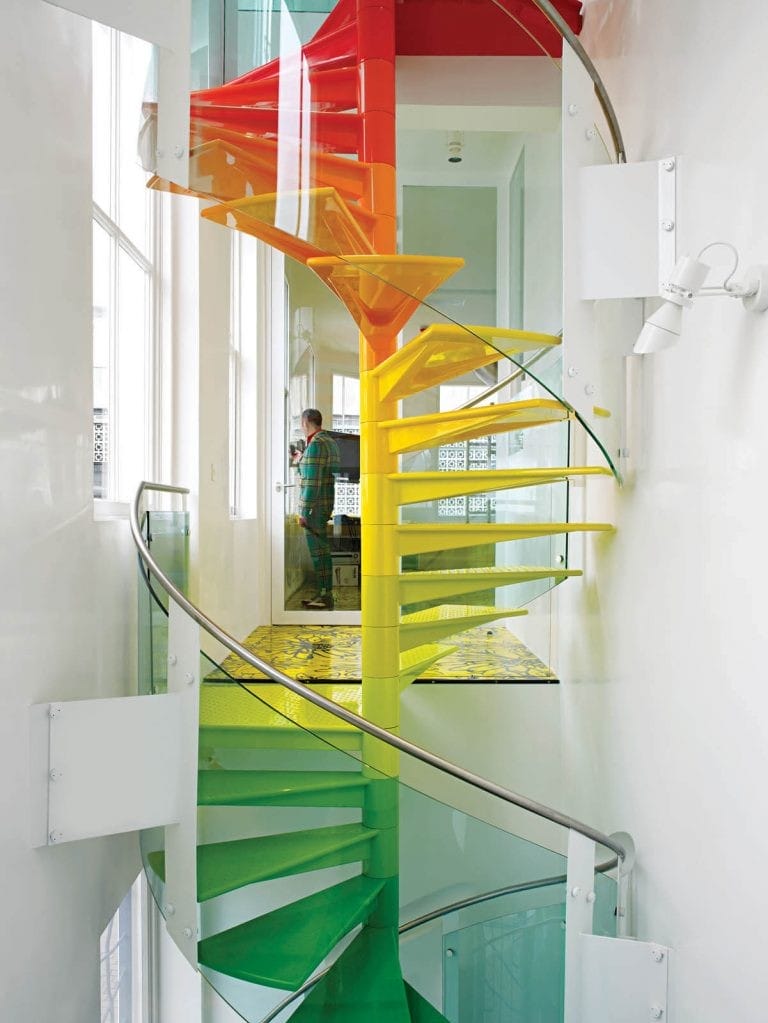 If you love uncommon stairway design, give this idea a go. Unlike regular, corner stairs, the circular staircase does not look stiff at all. It is both intriguing and aesthetically pleasing.
Furthermore, the spiral staircase ideas develops a modern vibe. Additionally, it conserves some precious floor space, thanks to its vertical foundation. The concept works well in small homes for certain.
Pure white walls evoke a feeling of openness. They let yellow, red, green, and orange painted staircase ideas draw the eye. Metal handrail and glass balustrade allow the colorful stairs to shine even more.
3. Brilliant Painted Stairway Design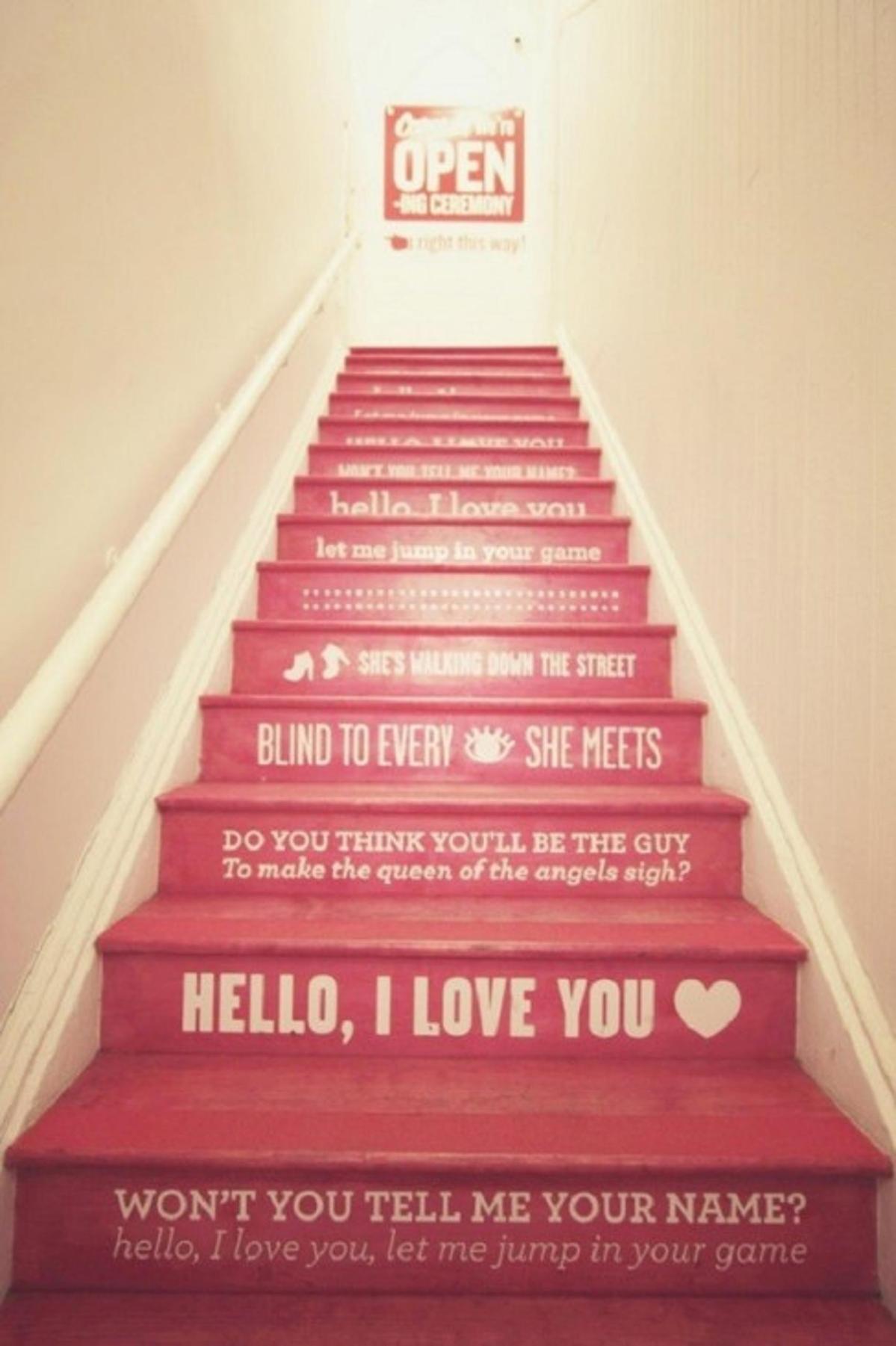 Sometimes, life can be hard. To help you go through the day, implement this ingenious stairway idea. I believe the staircase will lift your mood in no time.
First of all, use white paint for the handrail and walls. That way, you can paint stair risers and treads red. They highlight the messages.
Moreover, this idea is truly creatives because it lends a strong character and an energizing ambiance to the room. Another option is to write religious phrases or motivational quotes on the risers.
You may find red too intense for your small space. If that is the case, play with softer colors like gray and brown.
4. Monochromatic Staircase Design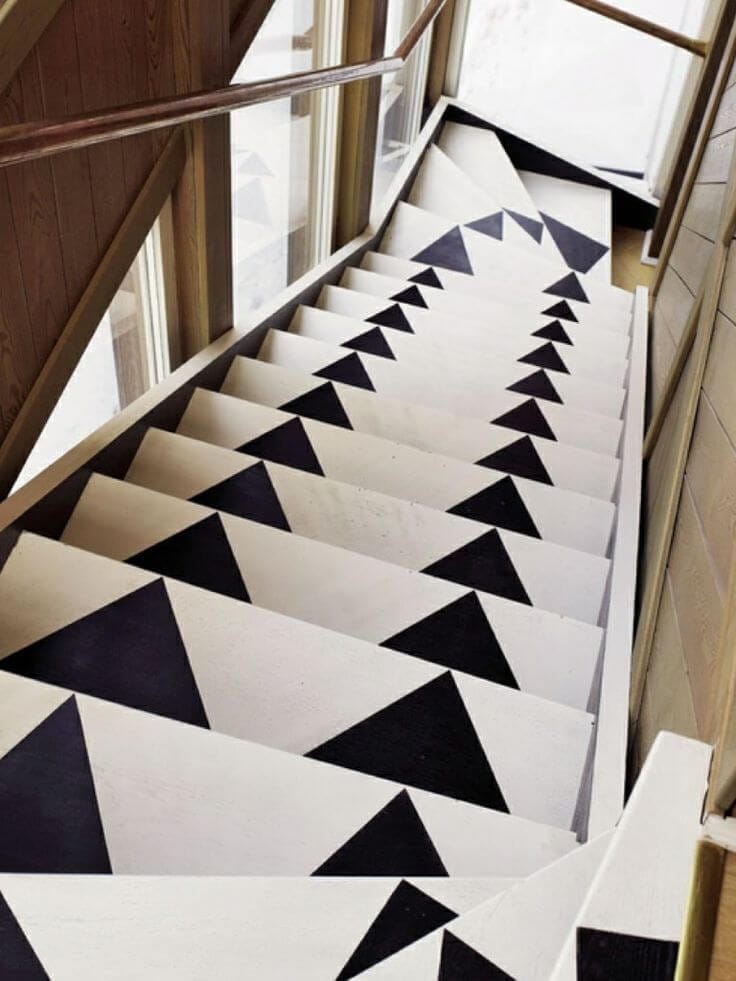 The monochrome color scheme is widely used by homeowners. Even though this painted staircase ideas utilizes a black and white color palette, it will make your stairs distinctly unique.
As the picture shows, the staircase boasts black triangles on white painted treads. They have a simple yet stunning pattern.
Since the black triangle coordinates well with each other, the pattern pleases the eye. In an instant, the dark painted triangles deliver an updated feel to the interior. I am sure that you adore this elegant staircase, too.
5. Vivid Colored Stairway Ideas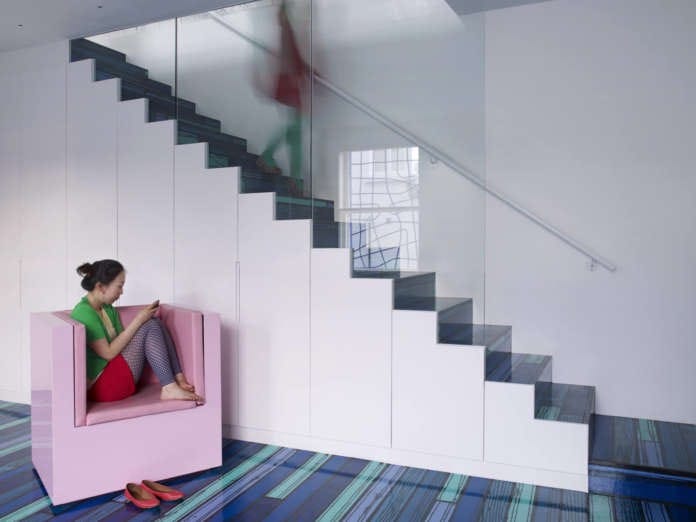 When it comes to decorating the staircase, many people choose a modern design. It certainly helps you maintain uniformity as well as simplicity in your home. However, the design looks too stiff and bland sometimes.
This modern space features a glass hand grip and a crisp white background. The bright painted staircase and floor covering produce a seamless appearance. They make the room more attractive.
Both colorful floor and staircase set a lively atmosphere. They change the mood of space entirely. The pink square chair near the stairs adds a womanly touch to the area.
6. Unfinished Staircase Painting Ideas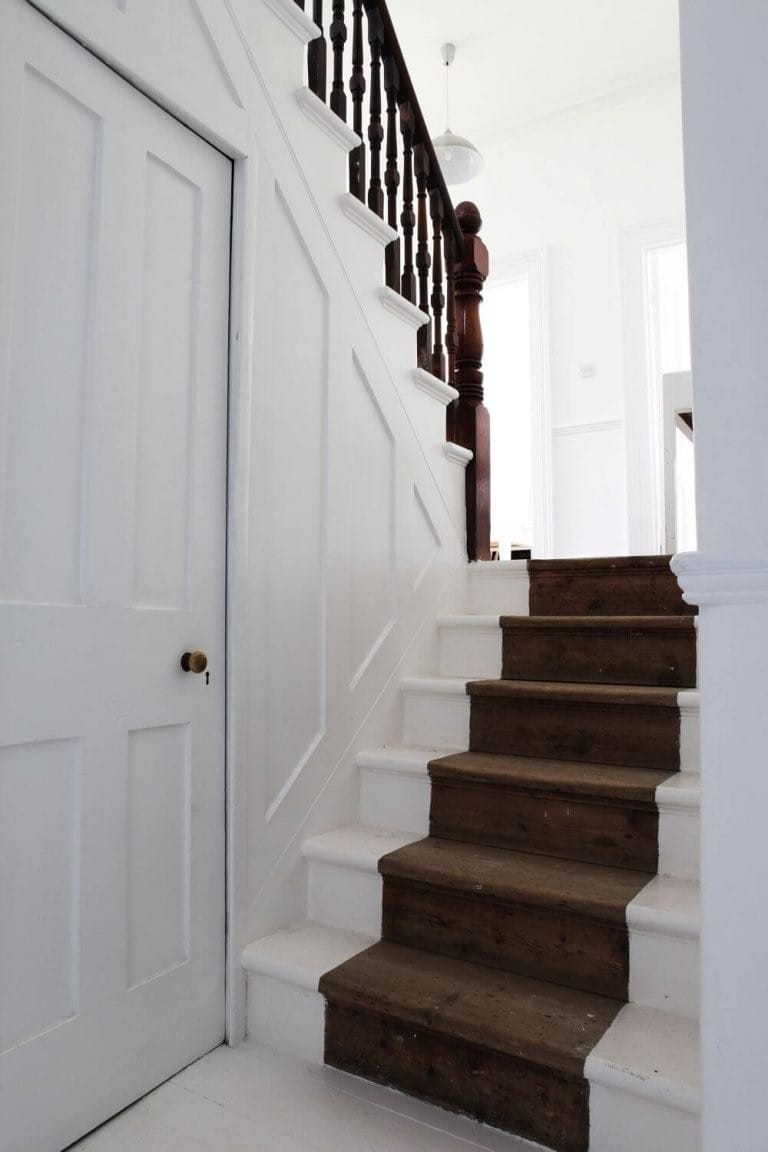 Speaking of modern houses, you can't go wrong with white. This neutral color opens up the room in a flash. Furthermore, the shade makes space feel larger and fresher.
In addition to that, homeowners opt for a white background because it evokes a sense of simplicity. However, it still manages to look elegant. Its sophistication must be teamed with an alluring contrast like the one pictured above.
Here, the hardwood staircase is too charming to be coated in white. That's why you shouldn't paint the middle parts. The unpainted stairs look like a dark brown runner from afar.
7. Stairway Paint Color Design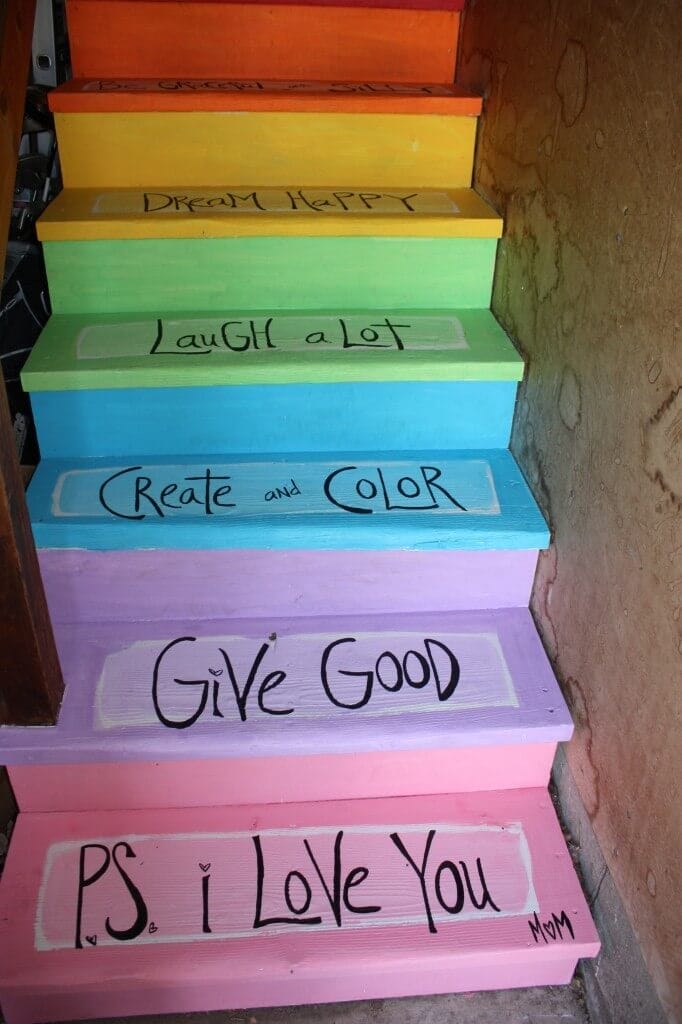 The staircase in your home is dull and boring. Why not transforming the stairs into vibrant quote pages? They help you stay motivated no matter how stressful your day is.
Moreover, the idea enables you to use a different color on every step. Here, the rainbow staircase creates a cheerful atmosphere and a bold impression. White rectangles on treads emphasize the quotes.
Without a doubt, the colorful stairs make you feel truly loved. You may forget that the staircase is narrow. Wood handrail and wall tone down the vibrant hues. They emanate a welcoming vibe as well.
Check out other ideas about paint color in Living Room Paint.
8. Black and White Staircase Ideas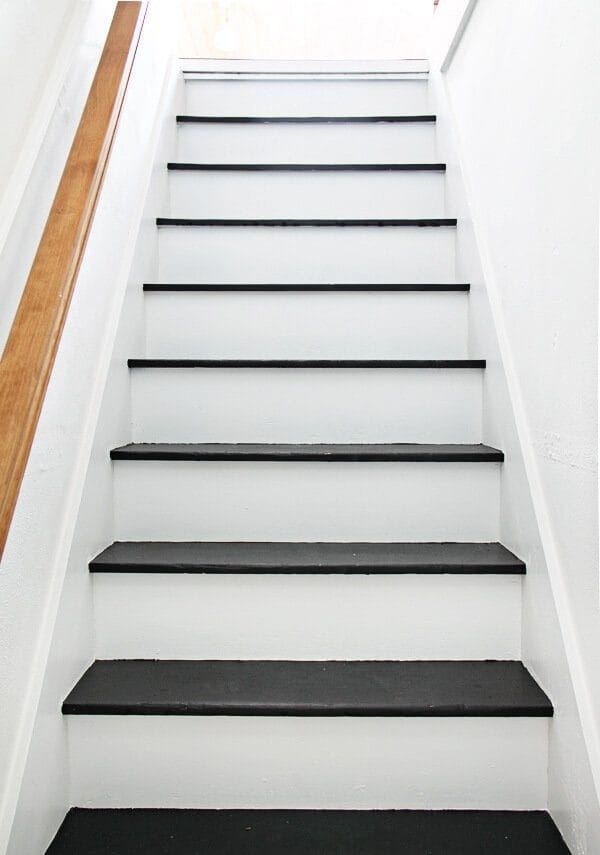 This article covers some stairway painting ideas with white background. It also shows you different staircase color combinations. This one gives you the choice of monochrome.
White and black are such a classic color pairing. It is a good bet when you have no clue what shades to use. In this example, the risers were painted pure white. Meanwhile, the treads were covered in black.
The white walls and risers develop a clean, airy environment. Black treads offer visual depth and drama. Wood handrail adds a bit of warmth to space. It carves an outdoorsy vibe, too.
9. Seaside Vibe Painted Staircase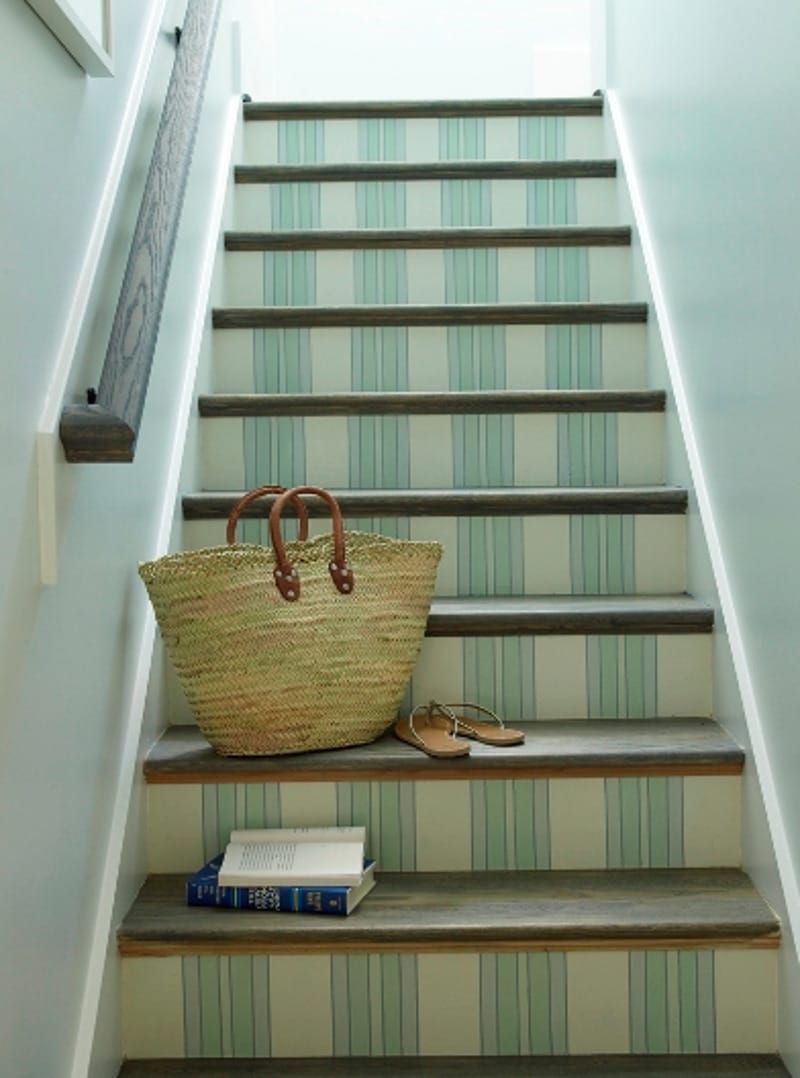 Whether you have a house by the beach or not, it is seriously advisable to apply this idea. Here, the staircase reinsures the room with a coastal vibe and a carefree ambiance.
The seaside vibe is typically filled with soothing, calm, and happy feelings. Those are perfectly captured in the staircase pattern.
As you see, the unpainted stair treads were made of wood. They send out an inviting air. Pastel blue and light green stripes on white risers generate a "summery" nuance. The vertical lines nicely work against wood steps.
Dark wood handrail emanates an intimate vibe. Wicker beach bag and flip flop look great on the cottage-style staircase.
10. Colored Stairway Gray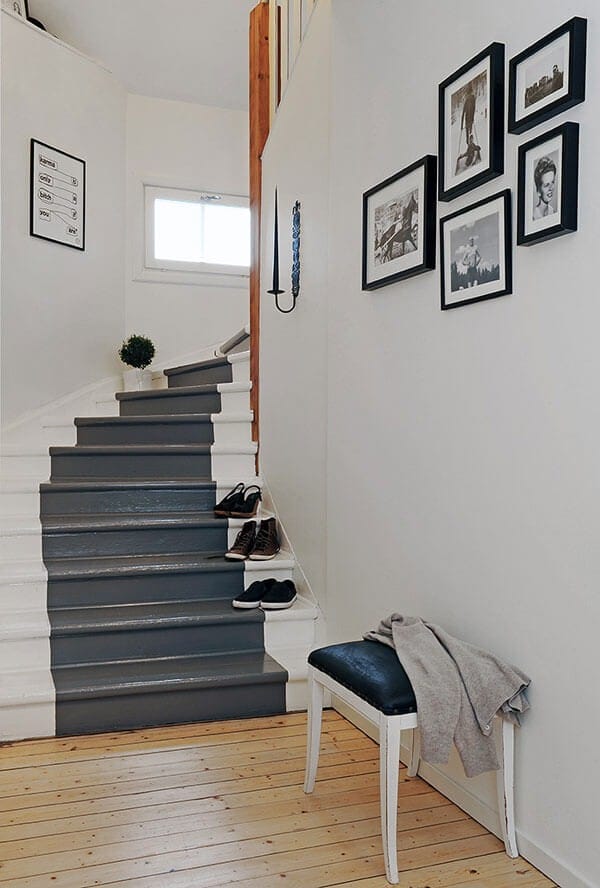 White is one of the most popular neutral colors among homeowners. They use it on ceilings, stairs, walls, and furniture pieces.
However, it seems impossible to have a space decorated in just one color. There must be another shade to produce a lovely contrast.
In this example, stair treads and risers are crisp white. They assert the feelings of airiness and cleanliness.
The middle staircase part employs a wide dark gray stripe which looks like a carpet. Meanwhile, blonde wood flooring and potted plant bring the outdoors inside. Monochrome decorations fill the white blank walls.
11. DIY Painted Staircase Ideas with Cool Lettering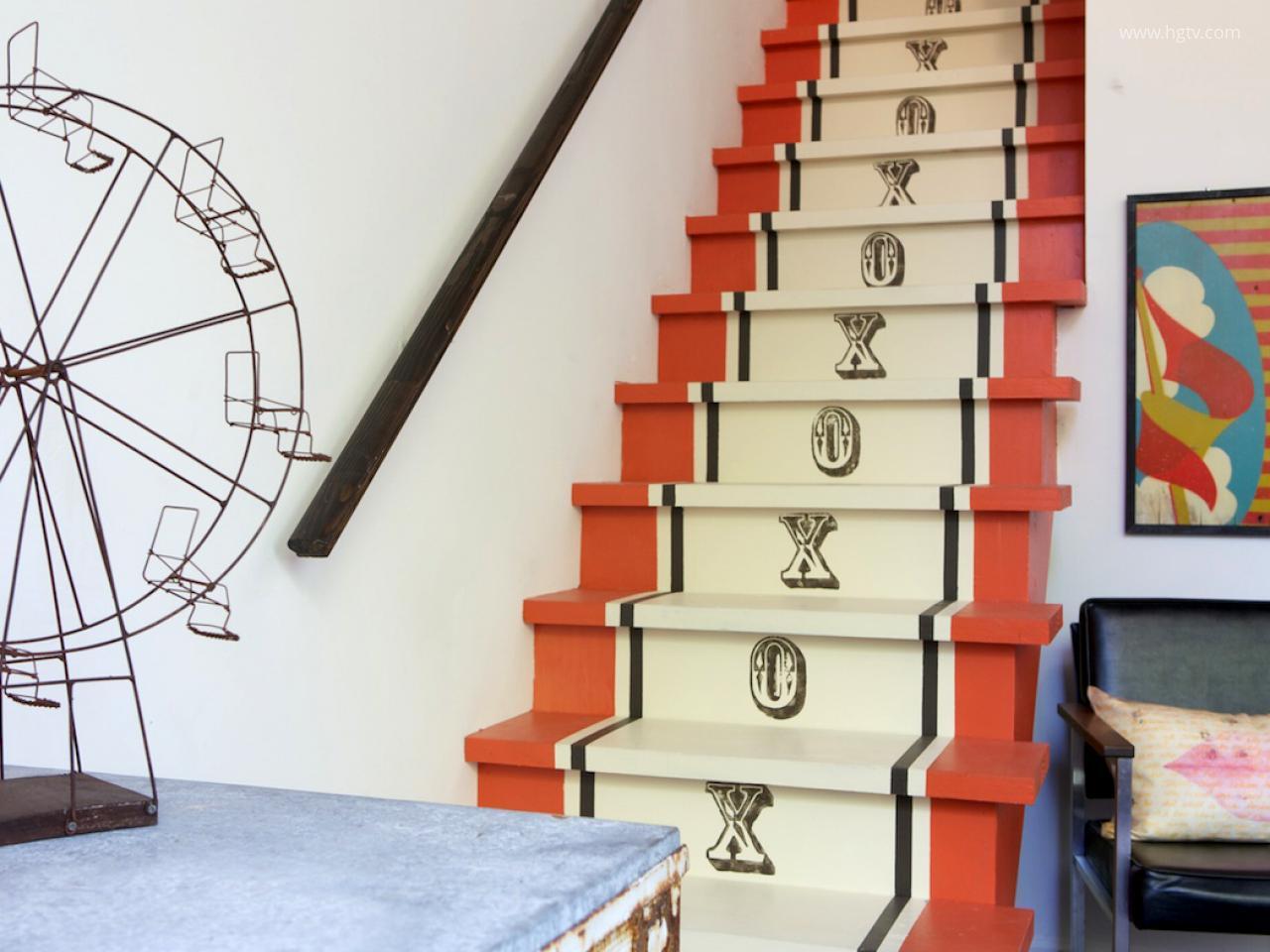 This staircase does not only enable you to reach the second floor, but also let your children learn about a few letters. As shown in the picture, it has an unusually interesting design.
The risers and treads were covered in dark orange. Moreover, the staircase boasts three bands of cream paint that allow the black capital letters to shine.
Furthermore, the painted narrow staircase delivers an eye-catching pattern and vibrant color to the room. In a jiffy, it steals everybody's attention. The black minimalist handrail is a high contrast to white background.
12. Bold Stairway Paint Color Ideas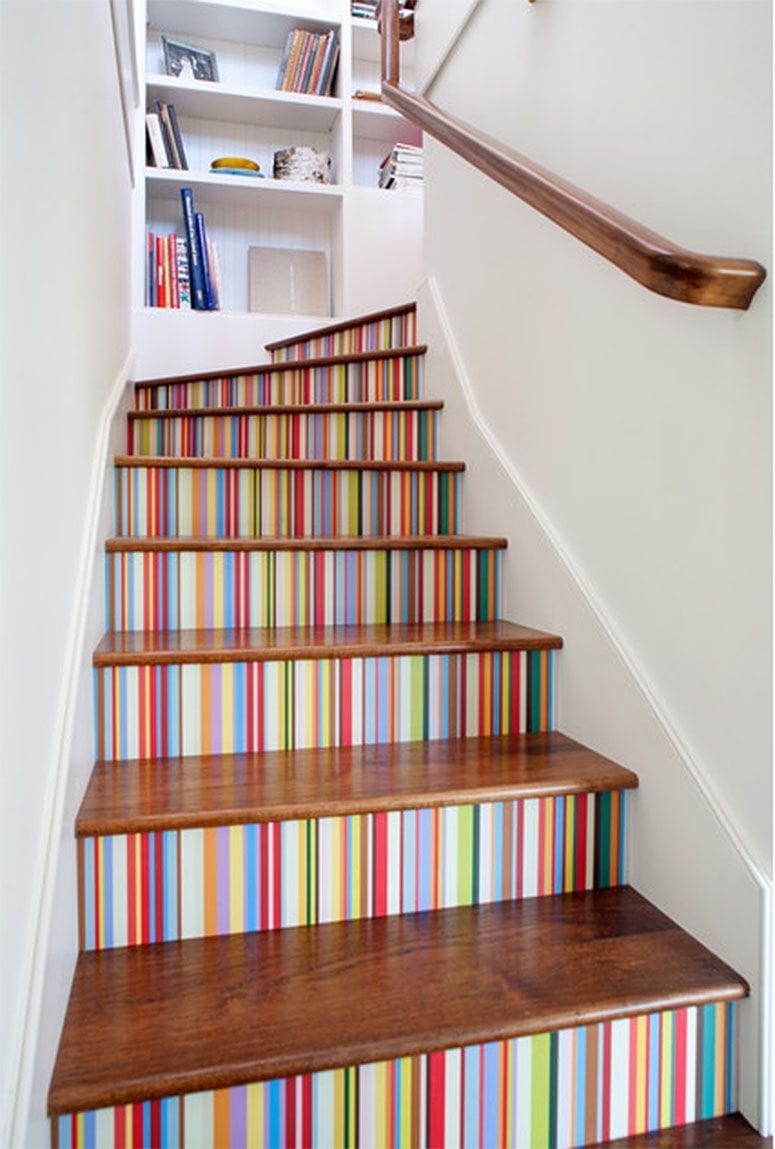 Needless to say, the all-white color scheme visually expands the room. However, that neutral produces a boring appearance and a feeling of emptiness if no vivid colors are accompanying it.
Picking only one color can be a confusing job. That's why you should include all bright hues. In this example, the staircase employs a pure white background. It features wood treads and handrail, too.
The staircase also boasts a modified rainbow pattern on each riser. Vibrant colors successfully take the stairs from stark to stunning. They exhibit a cheerful ambiance as well.
Moreover, the staircase landing was outfitted with a white bookcase. The books add more pops of color to the room.
13. Painted Staircase Railings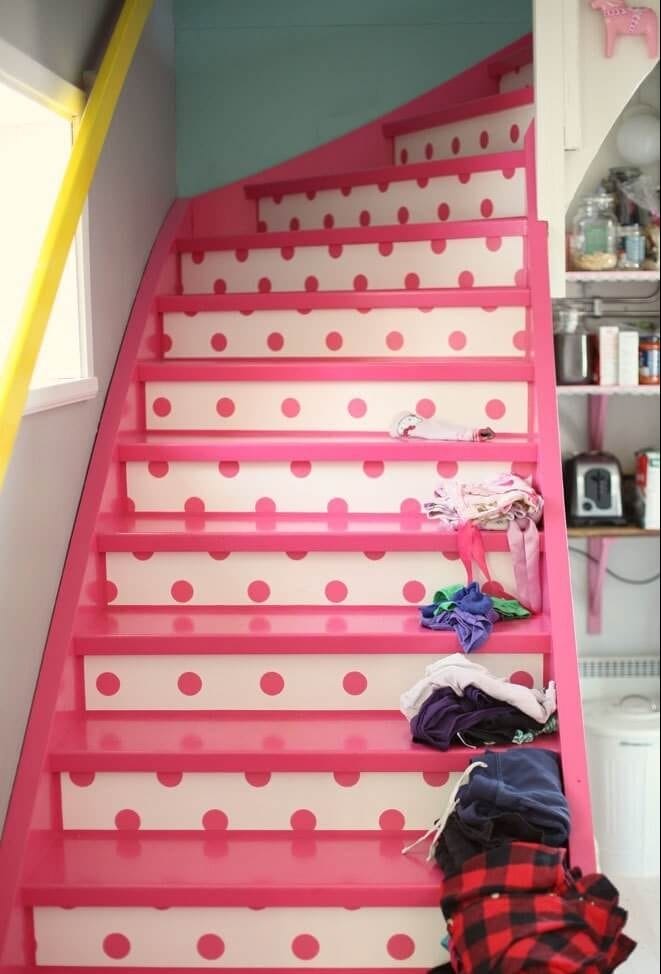 If you find an absolute white backdrop too plain for you, give bright colors a chance. To get a feminine feel, look no further than pink.
Furthermore, pink represents compassion, affection, womanhood, and harmony. That's is the reason this stairway looks girly and adorable. The pink polka dots on white risers exude a youthful atmosphere.
The walls were painted pastel gray and blue. Yellow handrail pops against a muted background. It infuses the space with positive vibes, too. A window allows lots of natural light to brighten the area.
You should install this lovely stairway that reaches to your girl's bedroom. I guarantee that she will be delighted when climbing up and down the pink staircase.
14. Multicolored Staircase Ideas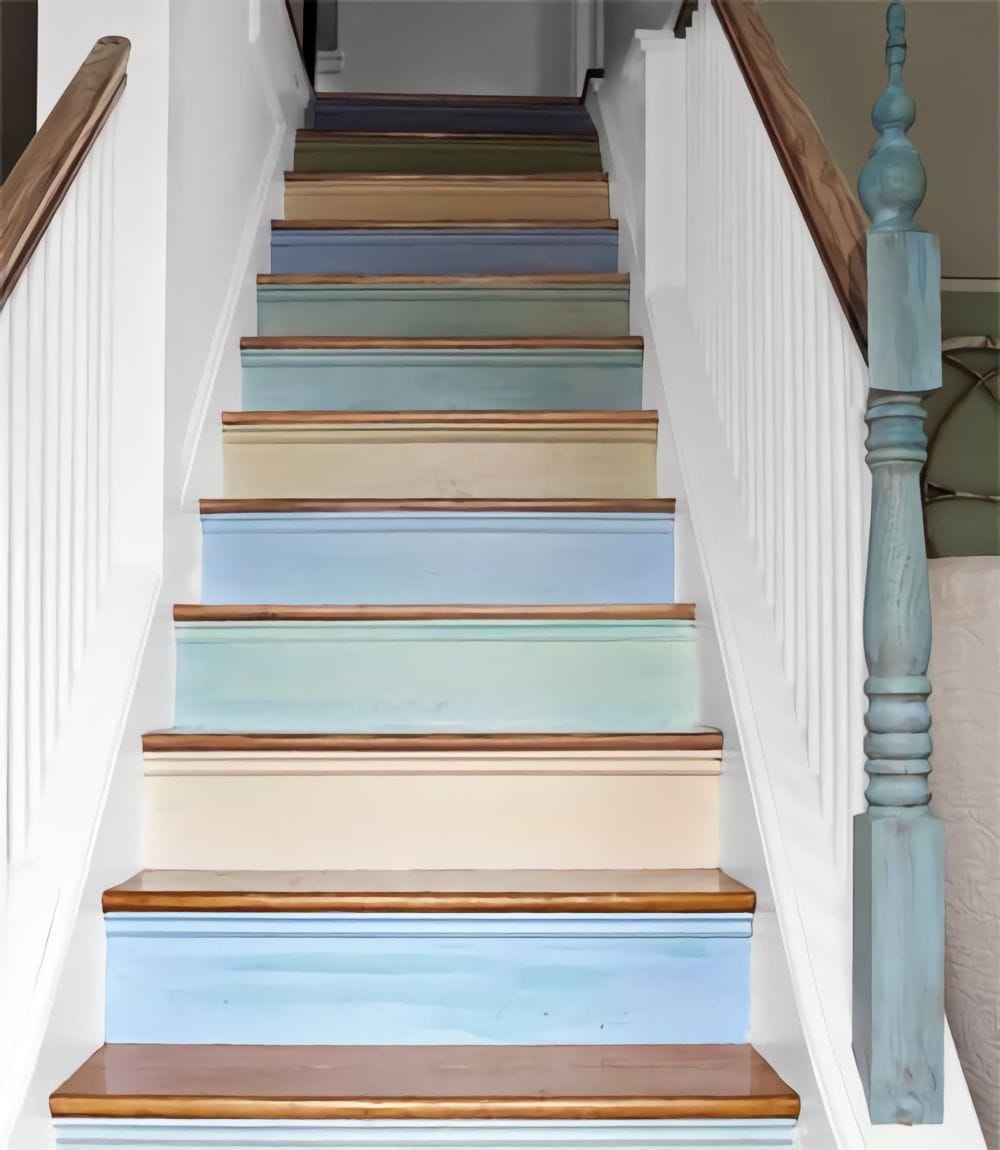 No surprise, white walls, and balustrade grab your attention in a flash. The staircase itself boasts wood handrails. They add a warm feeling and a natural look to the room.
The stair treads were built of polished hardwood. Meanwhile, the antique newel post was painted bluish-gray. It lends a shabby chic appeal to this space. The only thing missing is bold ornamentation.
To spruce up the staircase, you should paint each riser in a different shade. For a playful scene, choose pastel colors. Once the stairway has been painted, it seems more playful and appealing. Don't you fall in love with this staircase?
15. Painted Stairway Ideas with Optical Illusion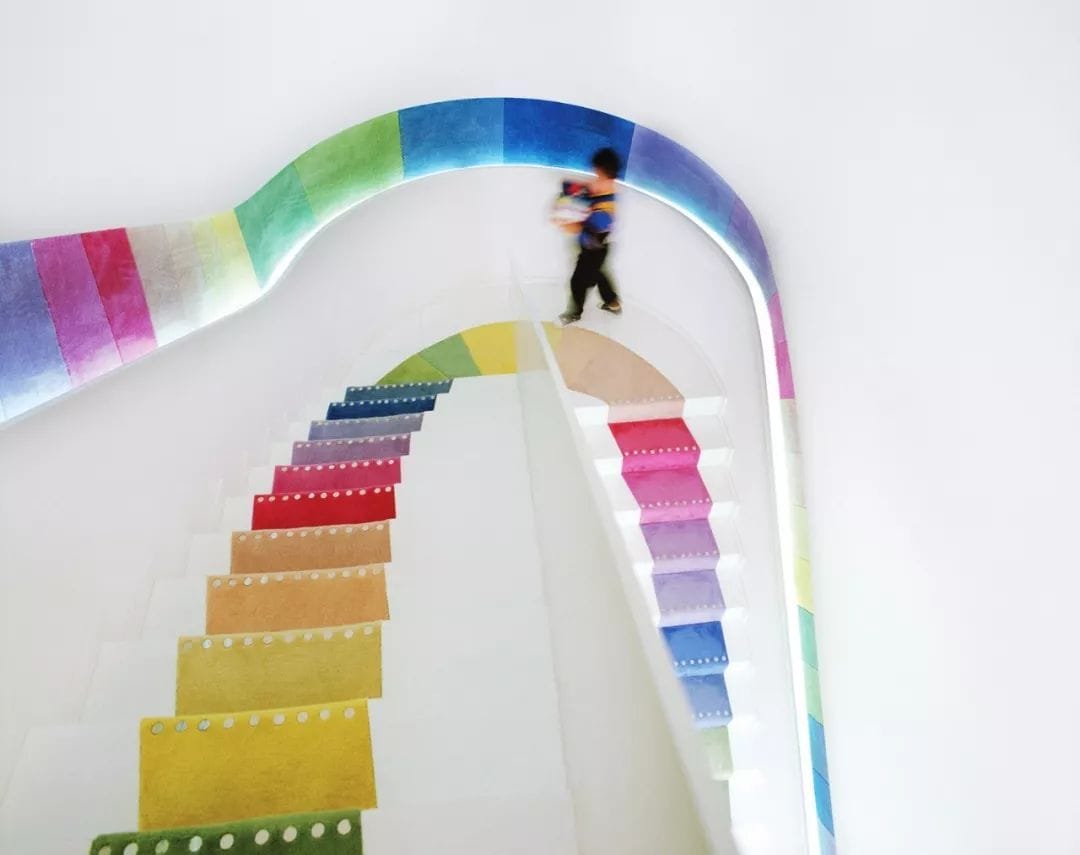 Pictured above is an intriguing staircase. It does not only performs its functional role but also works as a marvelous artwork. The homeowner successfully chose the right concept. It turns her dream into reality.
The pure white balustrade and walls exhibit an airy ambiance. Meanwhile, the staircase provides an eye-catching color scheme. Since each step has a different bright color, the room gets more cheerful.
Moreover, the rainbow steps look like a bold runner. The homeowner's kids love it. That white background lets its vibrant colors stand out. Handrail LED lighting prevents nighttime accidents and creates magic at the same time.
Instead of installing an ordinary hardwood handgrip, the homeowner also implemented the color-wheel theme to it for an extra optical illusion. The lighting tastefully accentuates the handgrip.
16. Grayscale Painted Staircase Ideas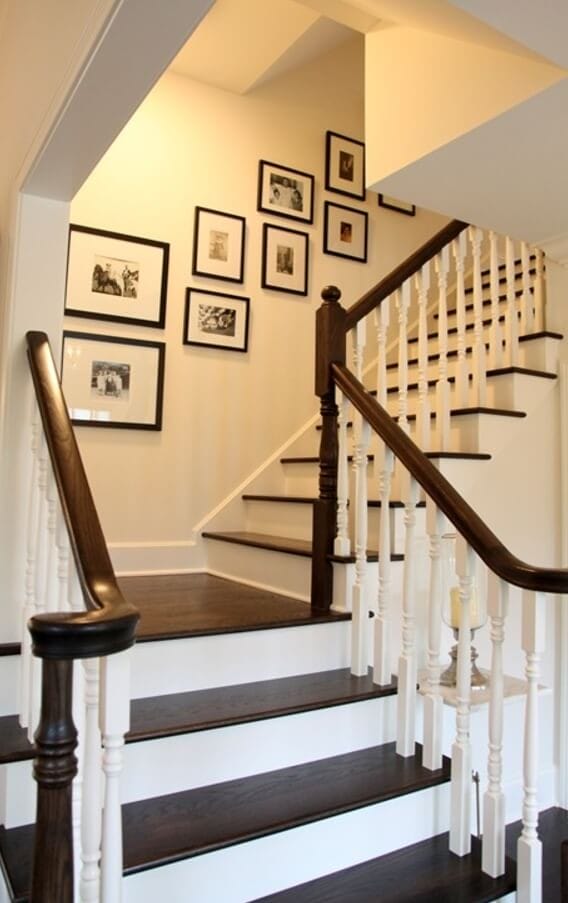 If a circular staircase is not suitable for you, take a gander at this stairway painting idea. As the image shows, the risers and treads are neither steep nor narrow. They still allow for lots of space to climb and step the staircase.
The antique balustrade and newel post develop a comfortable environment. Somehow, the stairs feel so homey.
Dark-toned wood handrails and treads are a welcomed contrast to crisp white background. The black-framed photographs adorn the wall and inject the room with character.
In case you desire something more traditional, then apply this idea. It will make your space welcoming and charming.
17. Staircase Pattern Ideas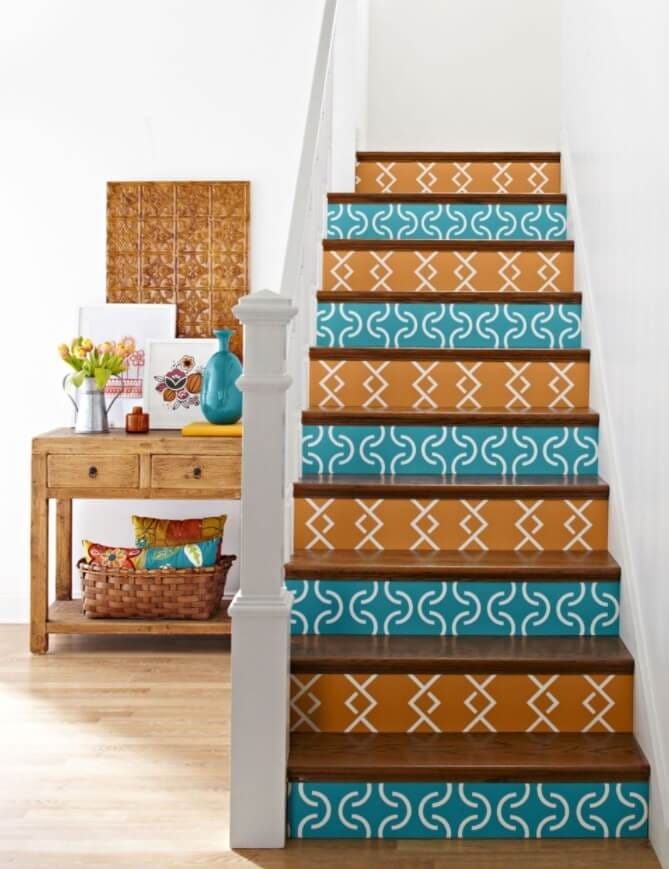 When in doubt, go for a white background because it can pair well with other colors, from bright to subdued. Here, white handrail, balustrade, newel post, and walls exude a sense of openness.
Furthermore, this concept offers an unusual perspective of different hues which are pastel blue and brown. Those two colors pop against the stark white background.
The colored stair risers feature striking patterns. They carry visual interest to the area. Brown risers display fabulous vertical lines.
Moreover, the patterns of the staircase do not overwhelm the room. They let the wood ornaments catch the eye instead. Well, this staircase may be narrow, but it is nearly perfect.
18. Innovative Painted Staircase Ideas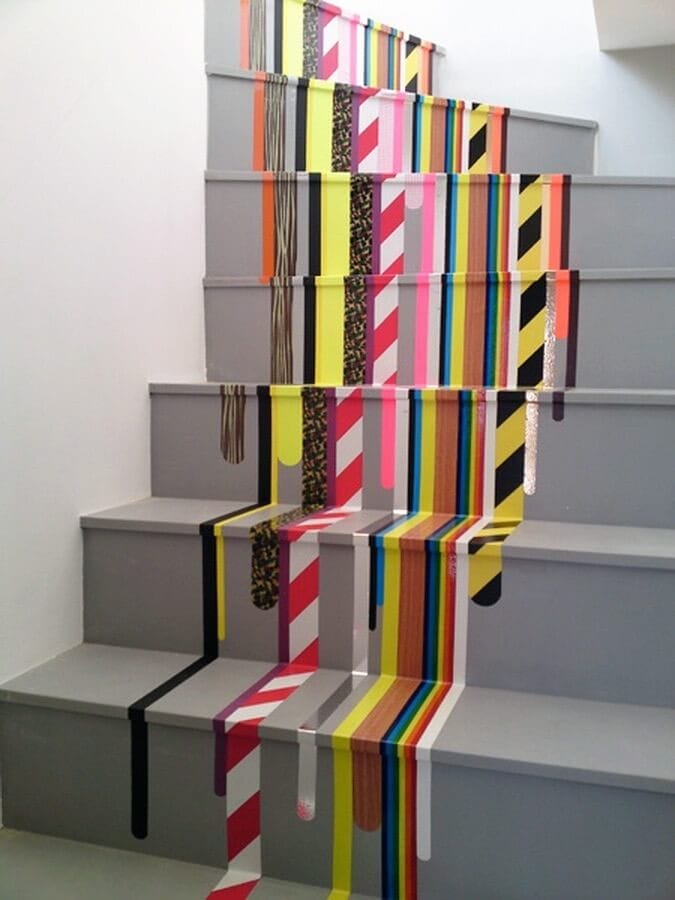 Another popular neutral color is gray. It instantly makes your space more relaxing and sophisticated. However, the atmosphere feels quiet if the color is just gray. You should apply this ingenious idea to get vibrancy and energy.
Here, the gray staircase is a subtle contrast to this white background. The bold colors and cool patterns on the steps take the stairway from dull to delightful.
The creative painting visually makes the colorful stripes are dripping from the upstairs. As you see, the result is impressive. Gray's modern vibe is perfectly complemented by the playful mood of the vivid paints.
A stairway is one of the most overlooked house elements. With those wonderful painted staircase ideas, you can totally transform your utilitarian zone. Are you ready to make it more likable and lively?