The outer space never ceases to amaze people. If your youngster has a fascination with its strange but wonderful nature, use it as the decorating theme. I have rounded up some space themed bedroom ideas for you.
Moreover, the space theme is flexible and fun. It also sparks your kid's imagination.
You can start the room decorating project by buying astronaut suits, constellation wallpaper, planet ornament, telescope, spaceship, and rocket-shaped units.
1. Space Themed Bedroom Lighting
When it comes to the space theme, you won't go wrong with a dark blue color scheme. It injects visual depth and energy into the shared bedroom for teen twin boys. Red accents liven up the interior even more.
LED-wall lighting creates a magnificent effect. Black valance, storage cabinet, and curtains exude a masculine feel. Meanwhile, rocket furniture transports your young men to the galaxy.
2. Attic Bedroom in the Sky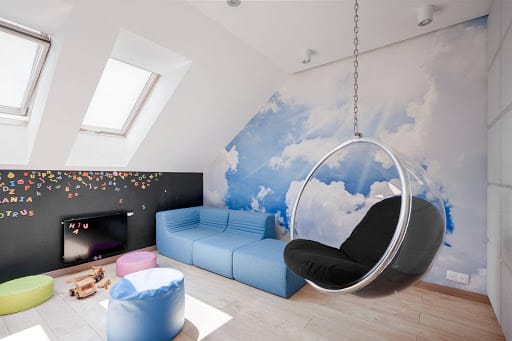 If you are looking for a place for your child's bedroom, an attic is such a great option. Since it comes with a unique ceiling, the sleepy space will appear impressive.
White color palette and skylights make the room airy. Pastel-colored furniture pieces and sky wallpaper send out a cheerful ambiance. Black magnetic alphabet board and hanging egg chair cushion lend the space drama.
3. Vivid Bedroom Design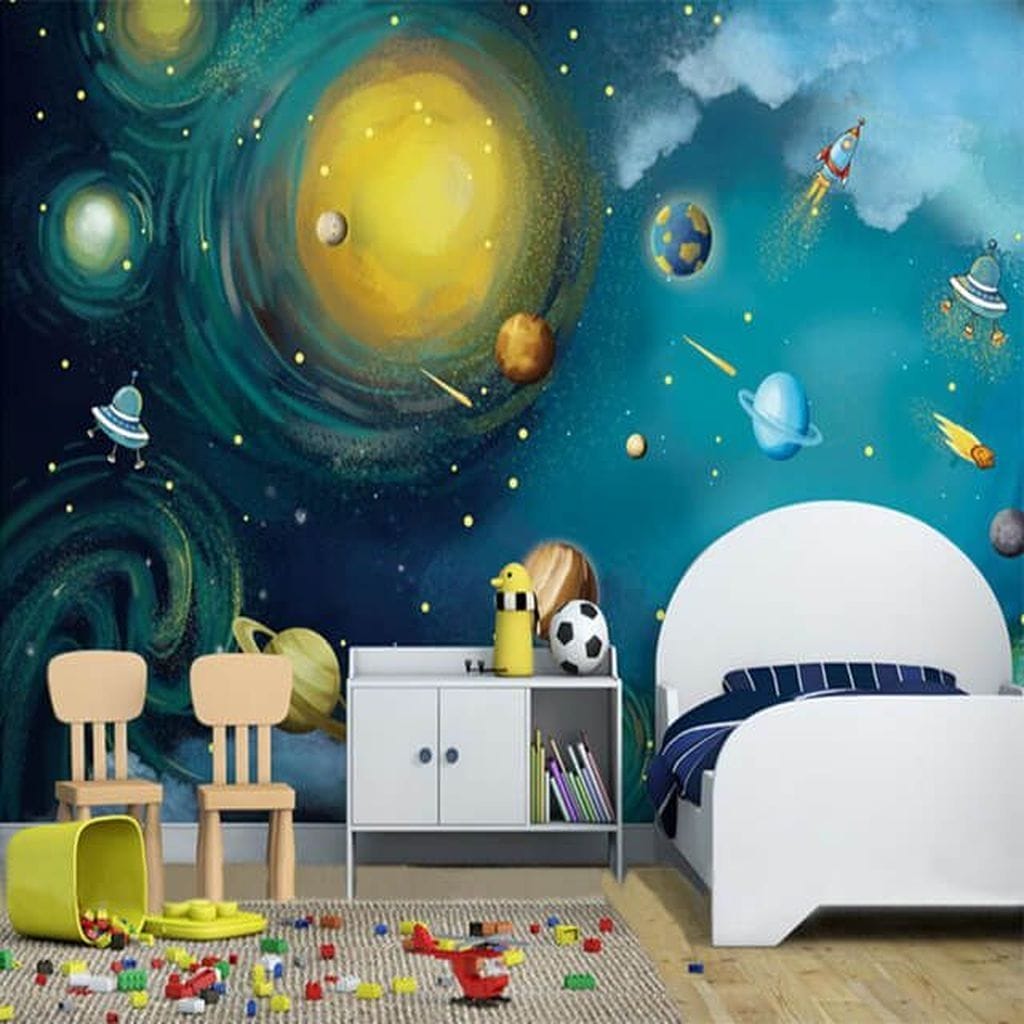 This kid bedroom features a retro white bed and cabinet. They assert a feeling of cleanliness. The vibrant space mural produces a creative vibe. It shows the formation of new planets as well.
The wood flooring and beige tables set a restful atmosphere. That yellow storage box keeps small lego pieces in place. Duck and ball decorations bring playfulness to the area.
4. Solar System Wallpaper for Bedroom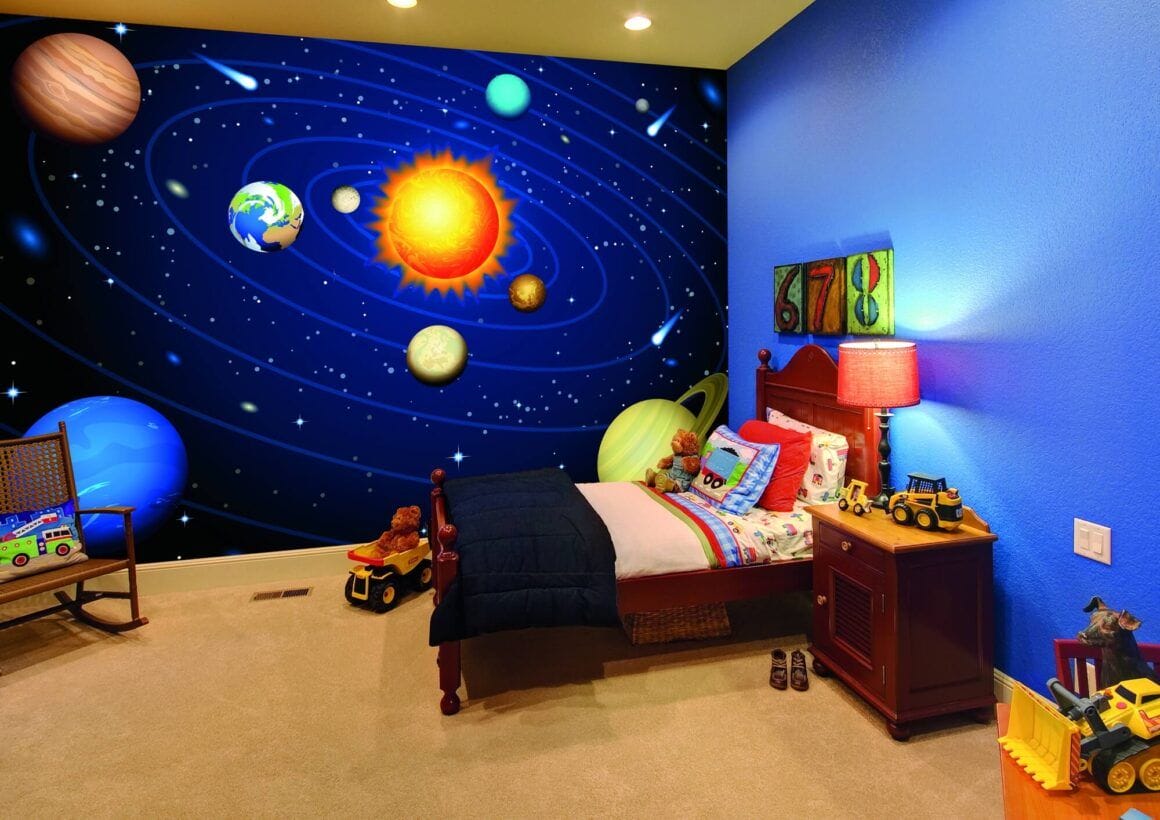 The wall was nicely covered with a solar system wallpaper. It gives this kid bedroom character and dynamic look, too. Wood furniture pieces radiate warmth throughout the space.
Yellow ceiling and blue wall deliver more vibrancy to the area. The beige carpet offers maximum comfort underfoot. Toys, stuffed animals, and embellishments complete this space themed bedroom.
5. Spaceship Themed Bedroom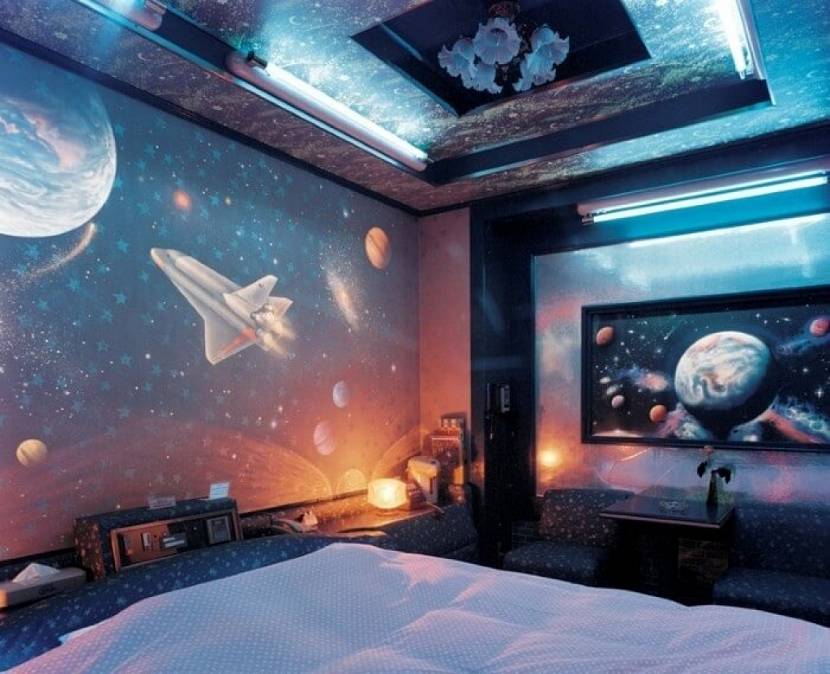 This modern bedroom helps unleash your kid's inner space explorer. It boasts a terrific spacecraft mural. The solar system artwork and constellation sofa lend visual interest to the interior.
Flower pendant, table lamp, and fluorescent tube lights generate a magical lighting effect. White bedding balances out vivid elements. I guarantee your kid will love this bedroom since it lets him escape to his dreamland.
6. Galaxy Themed Room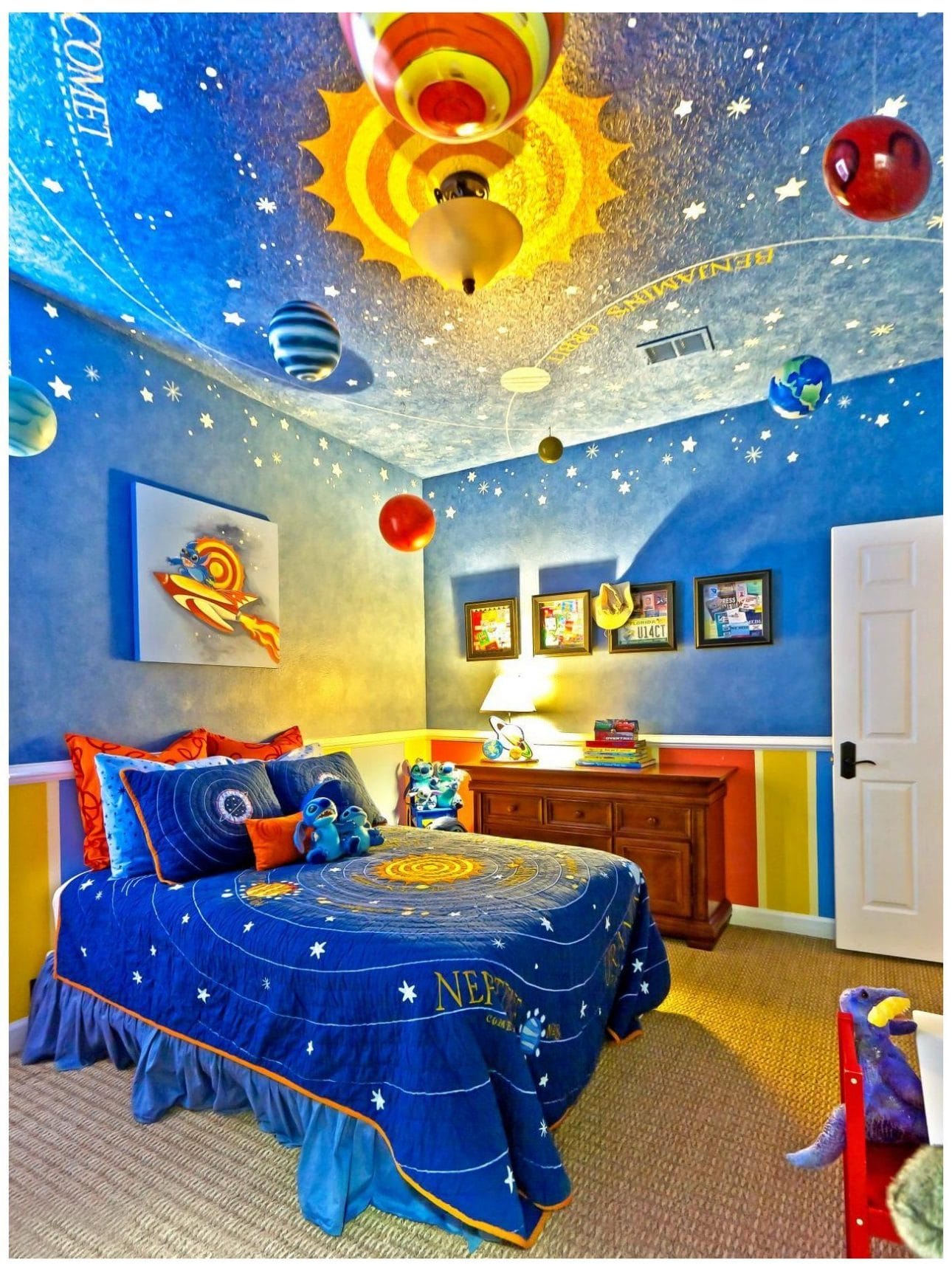 The bright colors come together in this kid's bedroom. They create a happy ambiance instantly. Faux planets were suspended from the ceiling. Those items double as pieces of art.
This dark blue bedsheet features an eye-catching solar system pattern. Stuffed toys and wall ornaments adorn the room. Wood furniture and jute area rug lend the space natural textures. Ceiling light and table lamp cast a relaxing glow.
7. Bedroom with Rocket Tent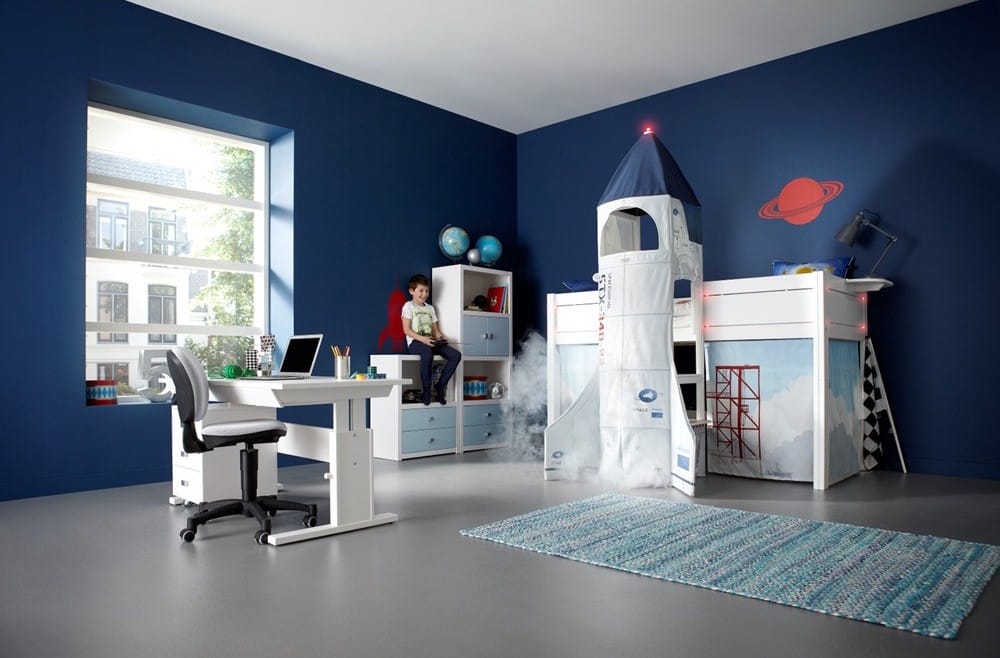 As you see, the walls were painted a deep blue. They make a strong statement. Red planet and space shuttle decals keep them from looking boring. The large window allows the morning light to brighten this space-themed bedroom.
The white ceiling and gray floor are a subdued contrast to navy walls. The furniture units develop an open feeling. Space rocket tent delightfully accompanies bunk bed.
8. Cozy Space Bedroom Design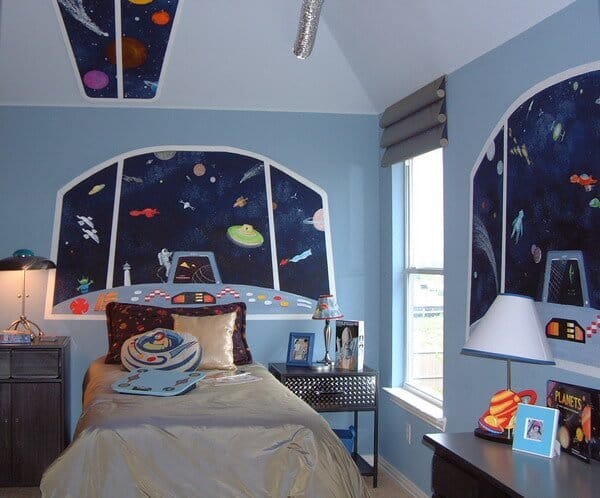 This boy's bedroom employs white ceiling and pastel blue walls. In no time, they create a fresh look and calm atmosphere. The space exploration murals steal attention.
Space-themed table decor and throw pillows along with framed photographs titivate the scene. Metallic accents exhibit a manly vibe. Silk bed linen and pillow cover carve an enjoyable atmosphere.
9. Space Themed Bedroom Accessories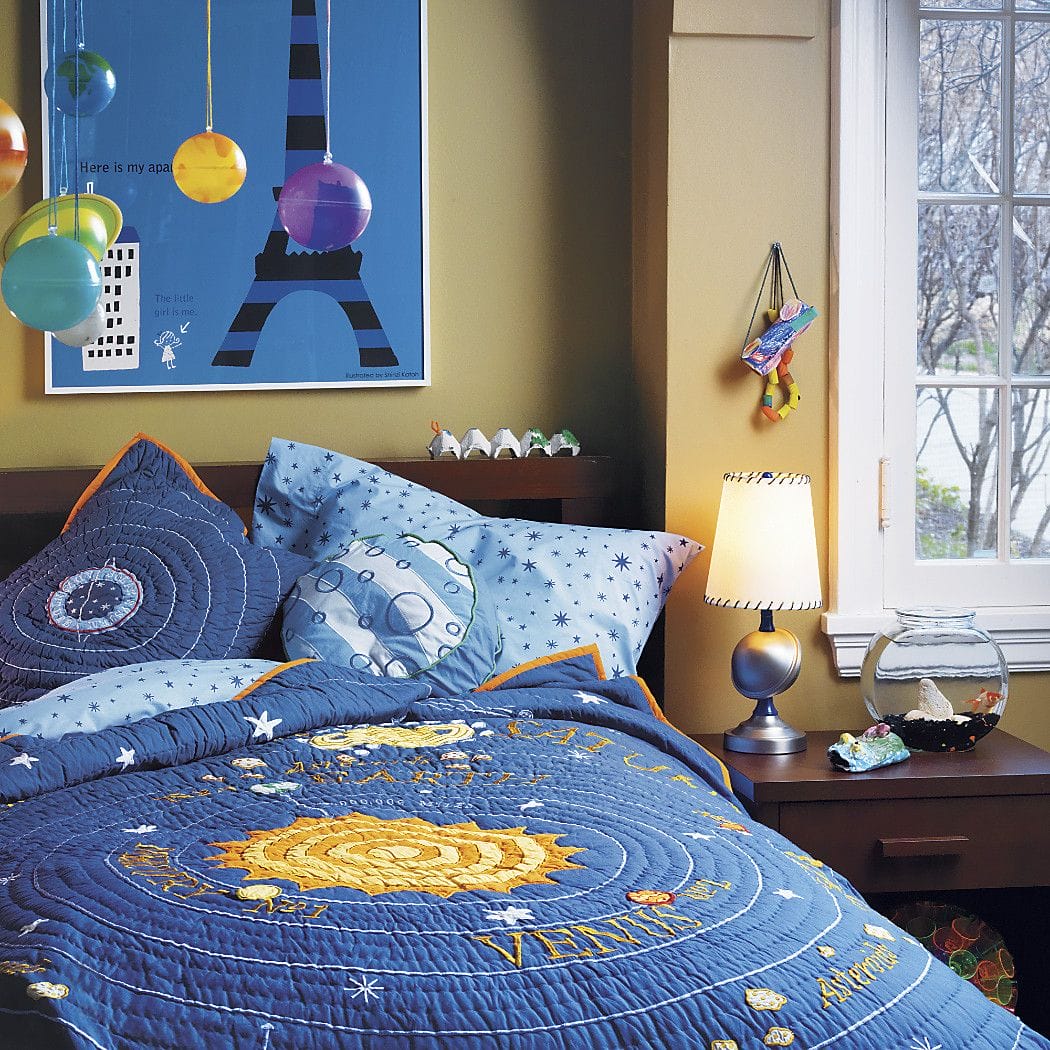 The solar system quilt and pillows jazz up the bedroom. They encourage your kid to learn more about the fascinating world that sits beyond earth. Warm neutrals balance out the vibrant colors.
Artificial planets work as the bedroom accessories. Those ornaments draw the eye upward in an instant. Dark-toned wood bed and nightstand take the chill of a metallic table lamp.
10. Space Themed Bedroom Girl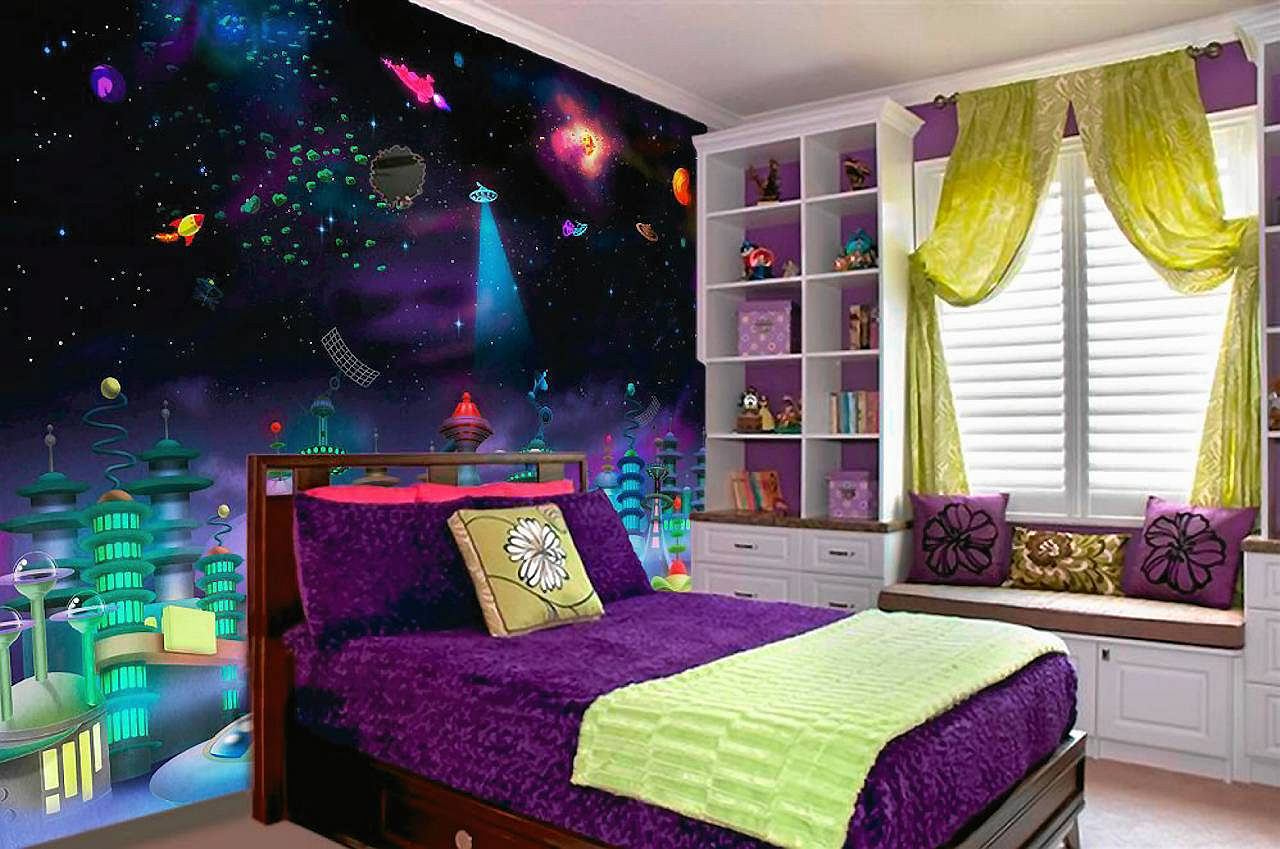 The space theme is not only for boys but also for girls. If your kid wants to become an astronaut when she grows up, this bedroom will win her heart. The outer space wallpaper steals the spotlight.
Purple walls, bedding, and throw pillows carry a feminine vibe to the room. Lime green accents evoke a sense of cheerfulness. A built-in bench is such a comfy reading spot, while drawers and open shelving units keep space clutter-free.
11. Small Modern Space Themed Bedroom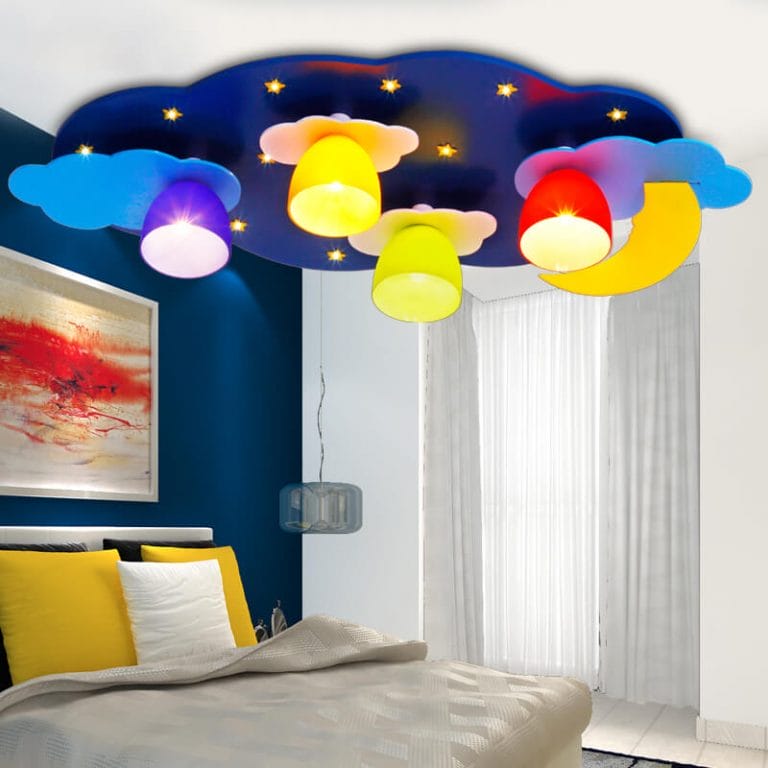 If your kid's bedroom is not large, apply this idea. Paint the accent wall navy to resemble the deep space. For the rest of the area, use crisp white and light colors. They produce an open setting and make the room visually more expansive.
The artwork and yellow pillows pop against a dark backdrop. Star and colorful light fixtures emanate a youthful ambiance. They were attached to the blue board. There are also the moon and clouds on it.
12. Astronaut Bedroom Decor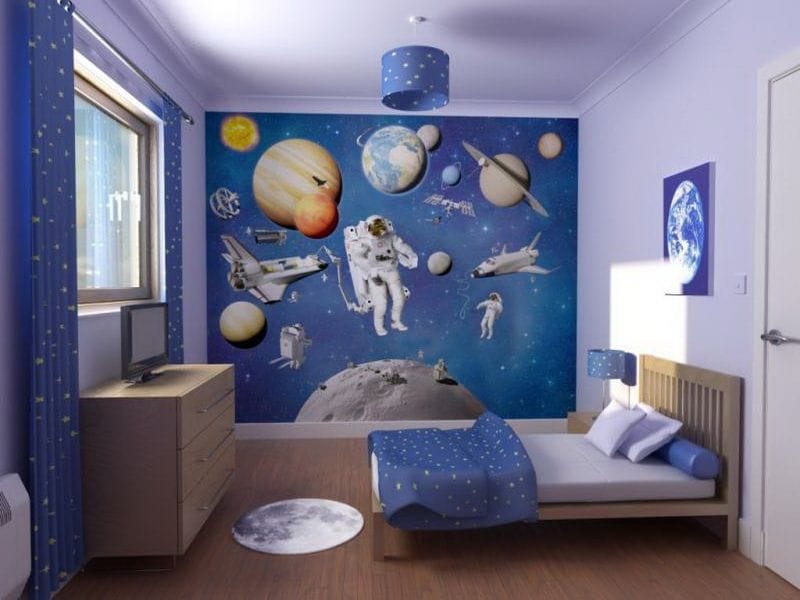 Sky blue ceiling and walls create a relaxing atmosphere. The window gives the bedroom a sunny ambiance. Wood flooring and furniture infuse the area with warmth.
Mural acts as bedroom decor. It features astronauts, moon, spacecraft, and planets.. The earth artwork and star bedroom set add more interest to the area. Moon rug lends the room a big visual impact.
13. Space Themed Bedroom with Murphy Bed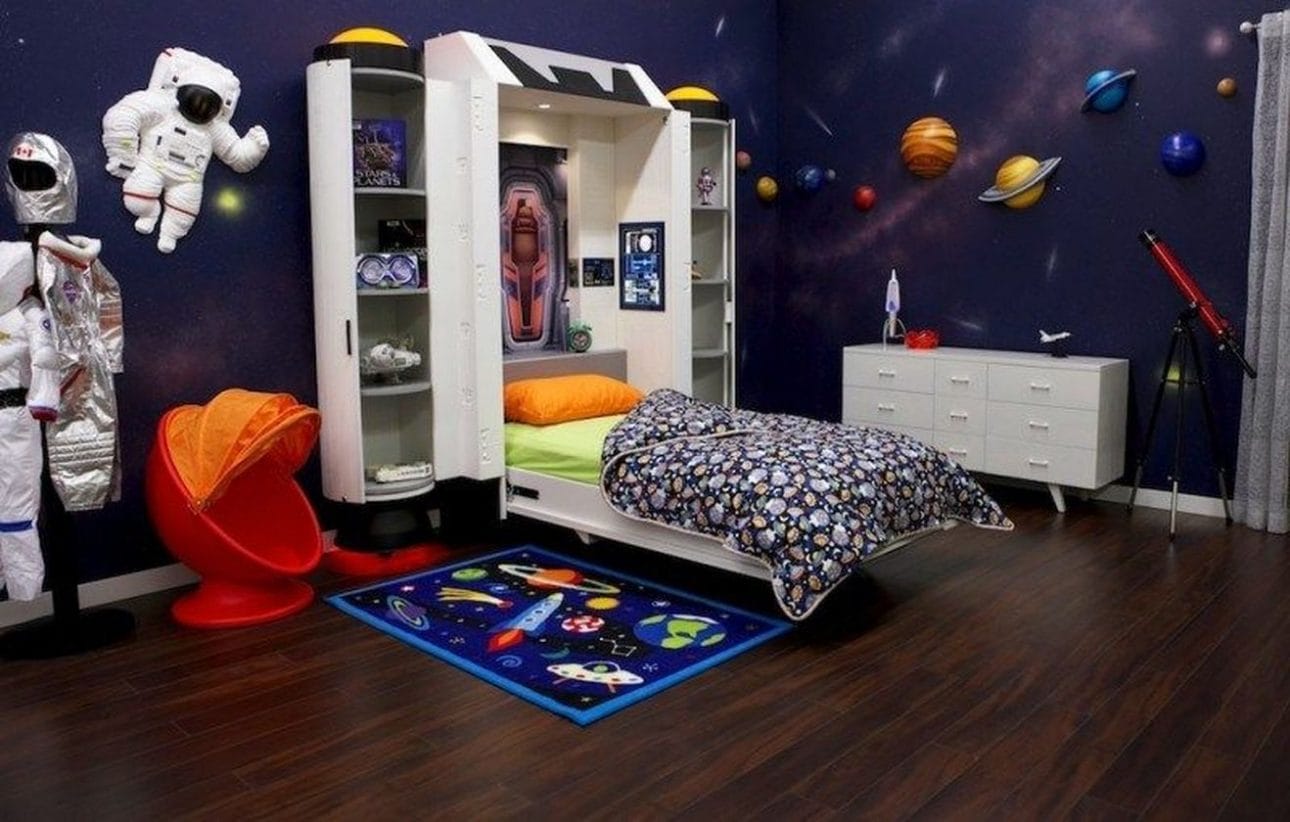 Your child's bedroom is small. Why not incorporating a murphy bed into it? The furniture unit saves precious space. You can also store toys and intimate things on its built-in shelves.
The intense navy walls and white trim generate a ravishing, sharp contrast. Astronaut suits, telescope, and artificial planets enable your kid to dream about space exploration. Rug and bed linen produce a finished look.
14. DIY Space Bedroom Decor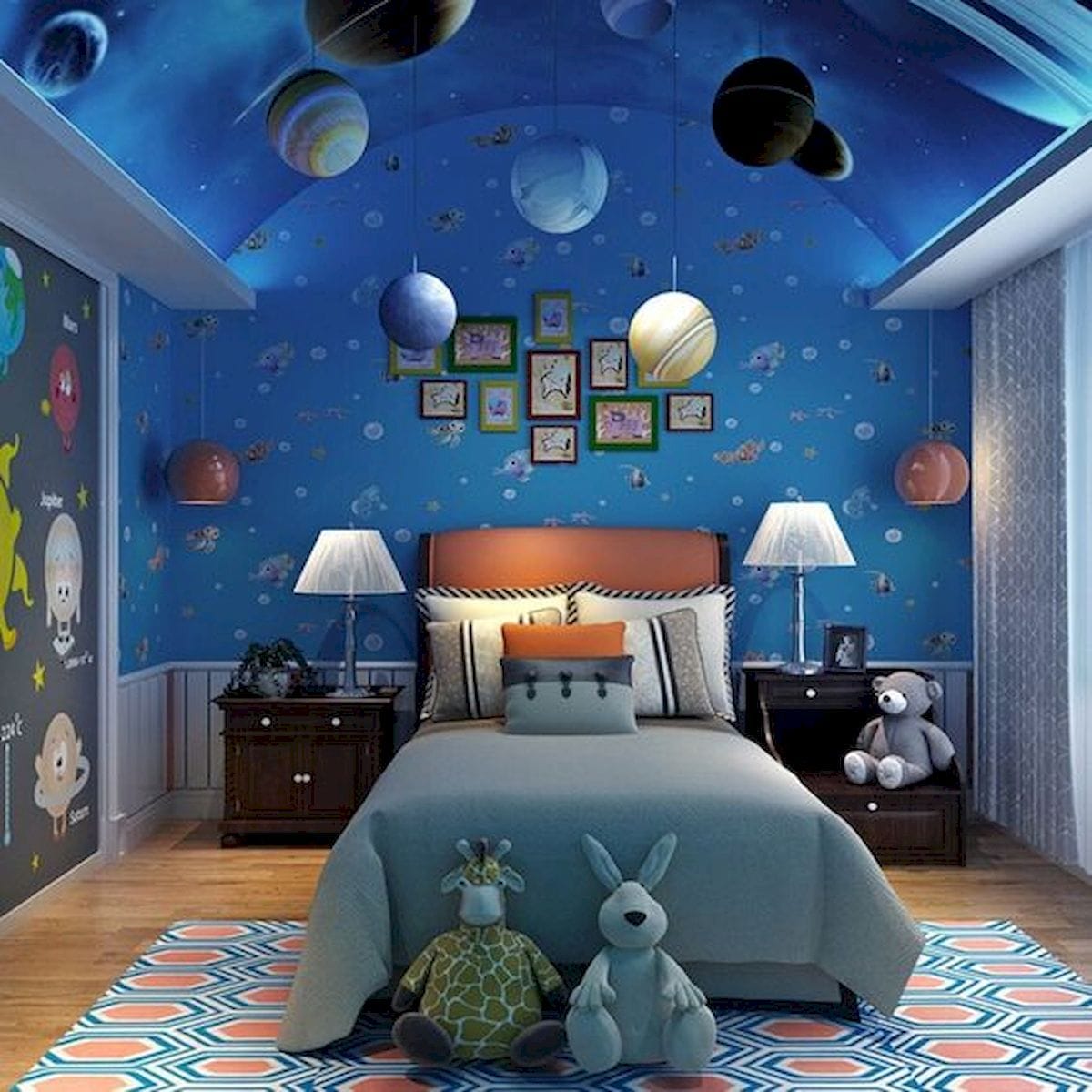 If you find dark blue overly intense for your child's bedroom, opt for the lighter shade. Then, add an underwater world and space murals on the walls as well as the ceiling for an intriguing effect.
Patterned area rug tops wood flooring and acts as a stunner. Table lamps and pendant lights illuminate the space. The DIY hanging planets are made out of light bulbs and round planetary bodies.
15. Space Themed Bedroom Teenage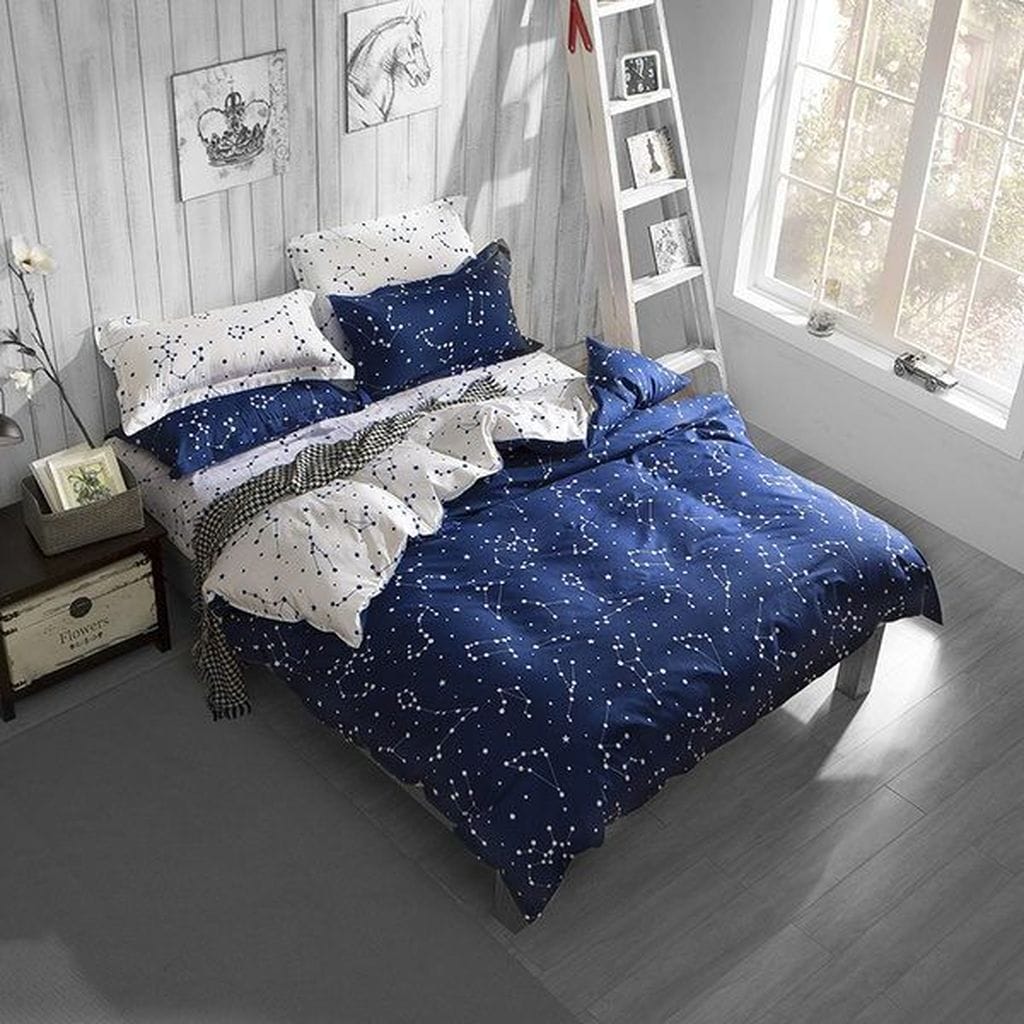 Does your teenage boy love astronomy? If yes, you should include a constellation-patterned bed set in his bedroom. The quilt itself is reversible. It features white and blue constellation prints.
Gray wall and flooring inject a serene atmosphere into the area. The side table and storage box offer shabby chic charm. A ladder leans against the wall. It holds monochrome decorative pieces.
16. Space Inspired Bedroom with Corner Cabinet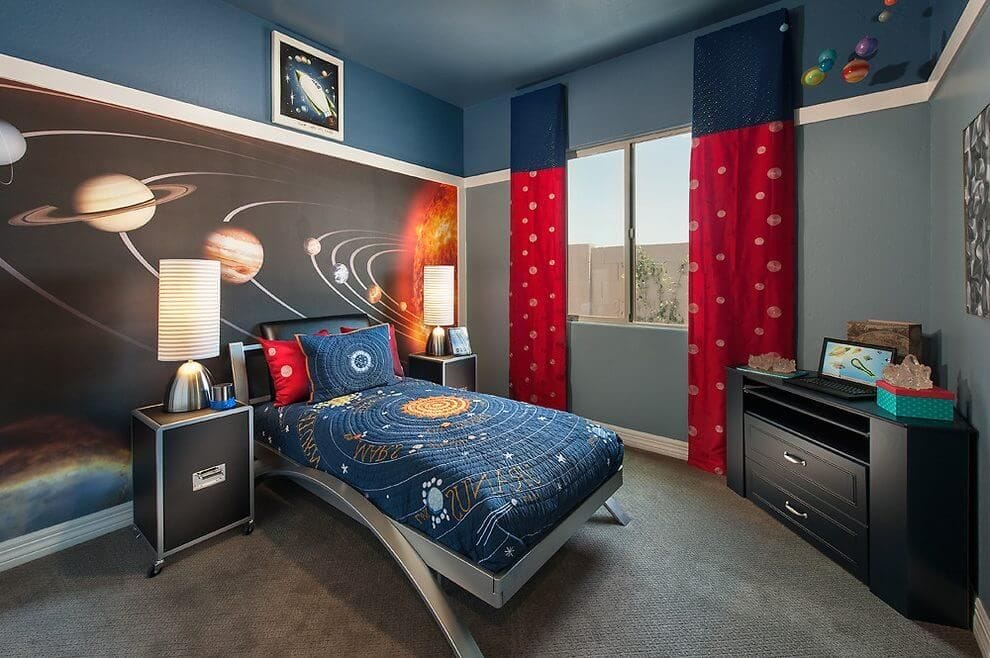 Varying shades of gray gather in this boy bedroom. They give off a diverse feel and manly touch. The nightstands come with wheels. You can easily move them from one spot to another.
Solar system mural doubles as a high-impact headboard. The space bedding, artwork, two-tone curtains, and colorful planets pamper the eye. Black corner cabinet stores and displays kid's items without consuming a lot of floor space.
17. Space Bedroom with Inflatable Planetary System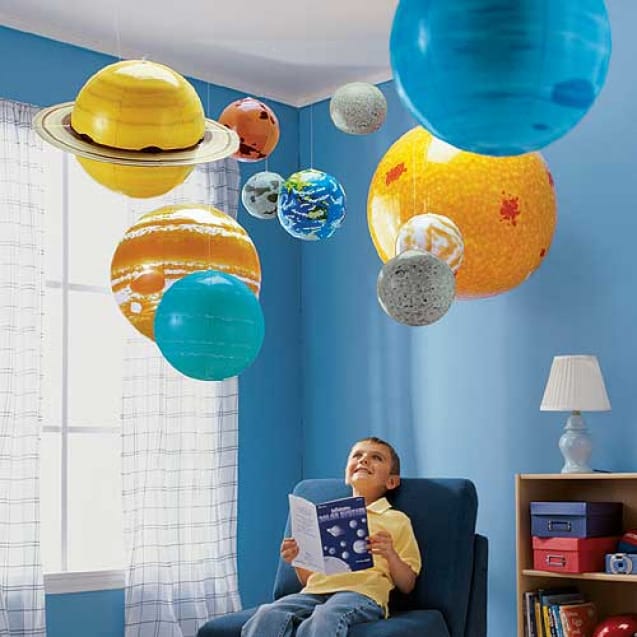 This kid's bedroom boasts a reading spot with an upholstered chair and wooden cabinet. Storage boxes keep knick-knacks out of sight. The light blue walls are an enchanting contrast to white patterned curtains.
There are inflatable artificial planets overhead. Before hanging them from that white ceiling, the homeowner filled the balloons with air using a foot pump. The little explorer can gaze at them while learning about outer space.
18. Bedroom with Retro Space Mural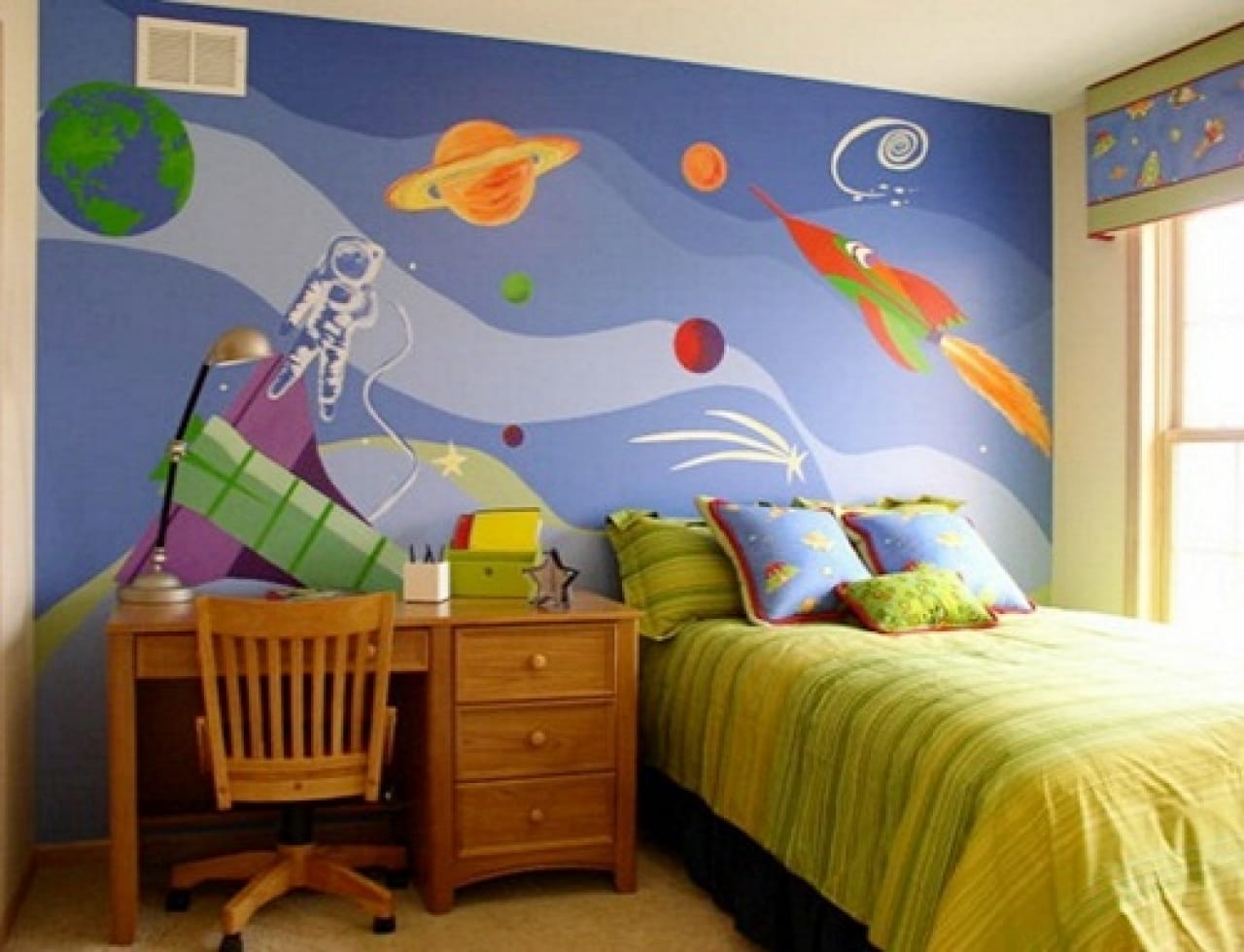 The retro cartoon outer space mural lends this boy's bedroom a vintage flavor. Space-inspired valance and throws infuse more fun appeal into the area. Striped green bedsheets and pillows carve a happy vibe.
A wooden study desk and rolling chair warm up the interior. The drawers hide small child's items from view. Telescopic table lamp and star decoration are a great addition to the room.
19. Space Bedroom Design with Star Bedroom Set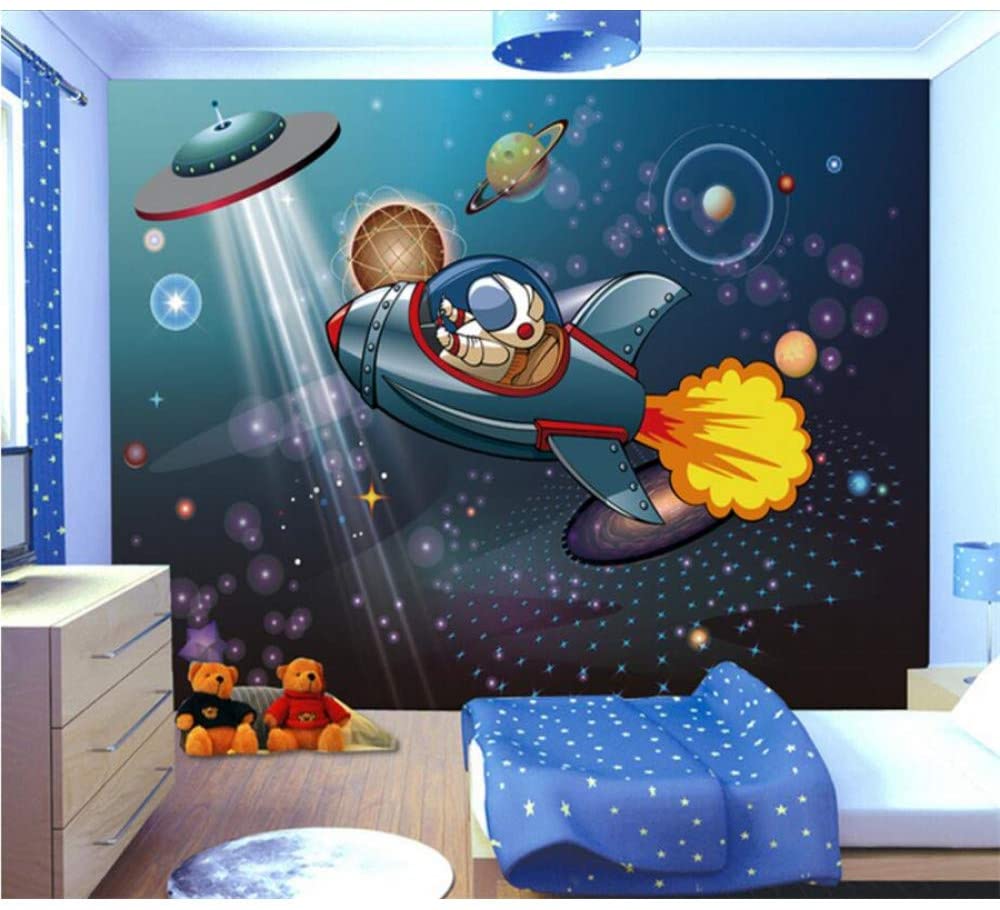 The space wallpaper covers the otherwise plain wall. It encourages your little boy to dream about being an astronaut inside his spaceship. Blue and white bedroom set makes him feel like he sleeps among twinkling stars.
Light-toned wood furniture units ooze modern charm. Round moon rug develops a perception of wider outer space. Bear stuffed toys produce a playful mood.
20. Bedroom with Spaceship Bunk Bed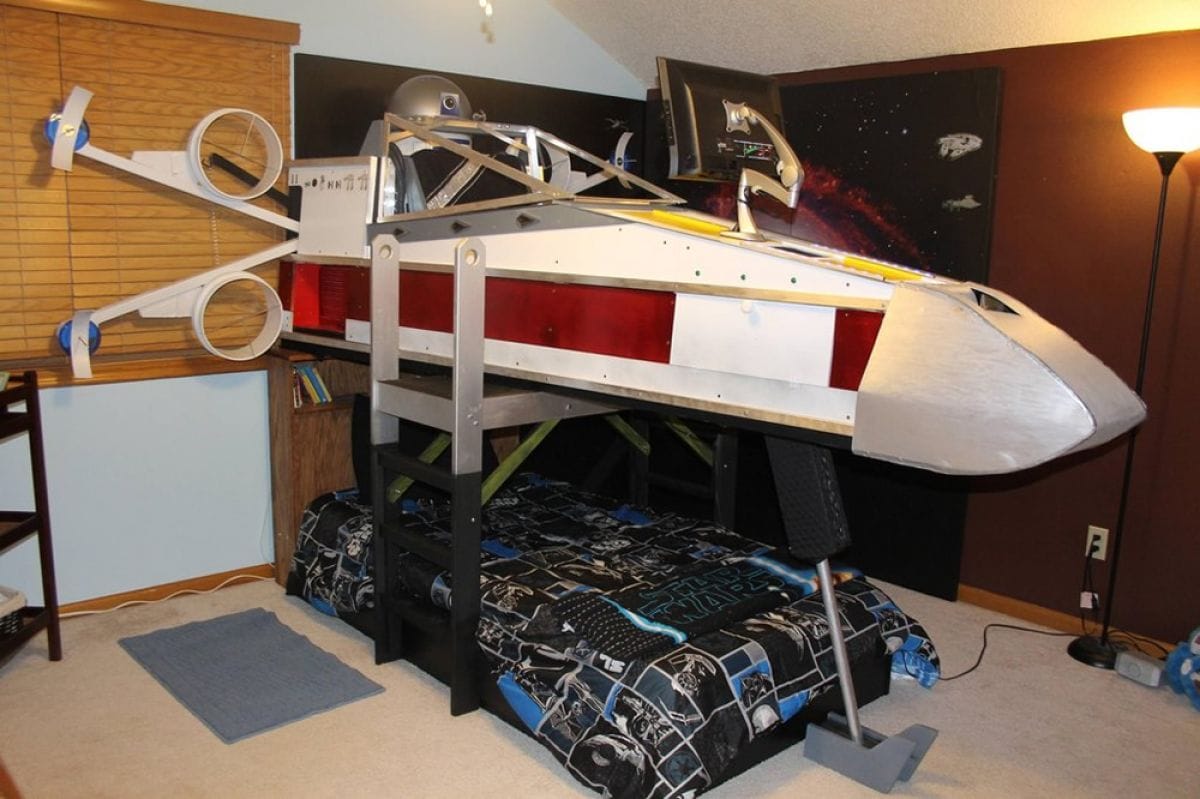 Speaking of color scheme for space themed bedroom, you can't go wrong with black. This dark shade instantly imbues the area with deep space energy. Beige carpet and floor lamp brighten the room.
The spaceship bunk bed has red accents to trigger a brave exploration. The integrated ladder lets small kids climb up to the cockpit. Well, this bedroom is certainly full of excitement!
Check out these Triple Bunk Beds to complete the space bedroom for kids.
21. Space Bedroom Ideas for Little Boys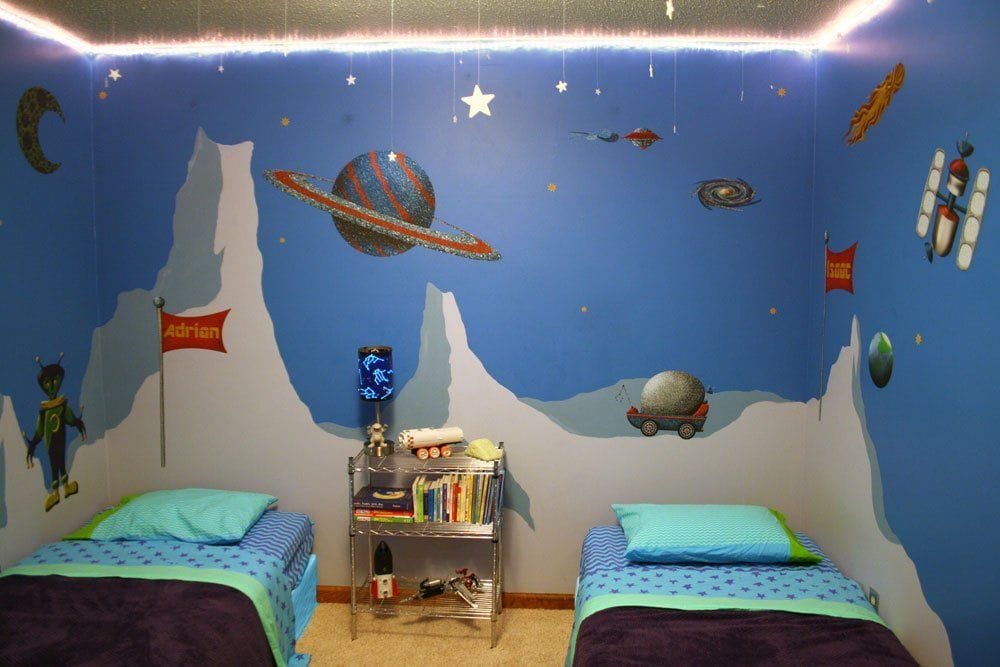 Do you have two boys? If yes, give this idea a go. It features light blue-colored space mural which comes with a flag-shaped name tag above the bed for each of your young men.
Rope lighting accentuates the space-inspired mural. Turquoise bedding adds a youthful ambiance to the bedroom. The three-tier metal shelving unit accommodates books and ornamental pieces.
22. Bedroom with Space Rocket Things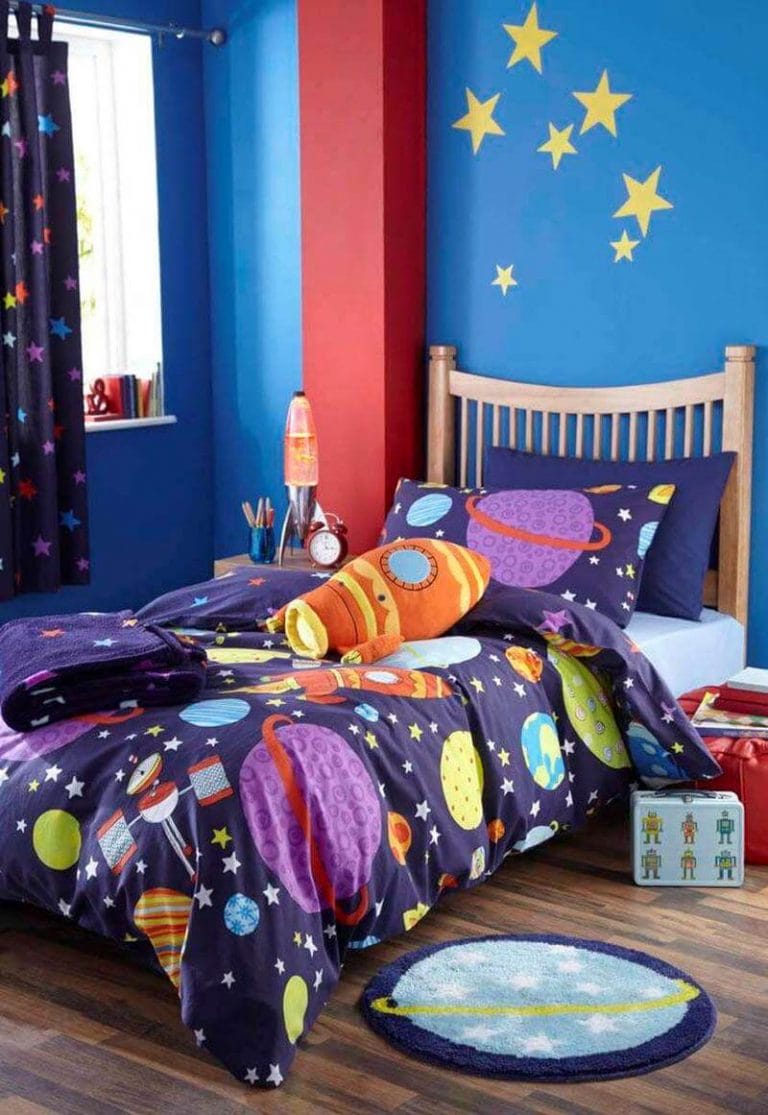 The yellow star decals over the headboard take the blue wall from boring to beautiful. Navy space-themed bed set and curtains inject visual drama into the scene. They please the eye as well.
Round planet rug adorns the wood floor. Red accents encourage a courageous mind. Rocket-shaped stuffed toy and table lamp launch a little boy to his dreamland.
23. Teenage Boy's Bedroom with Space Wallpaper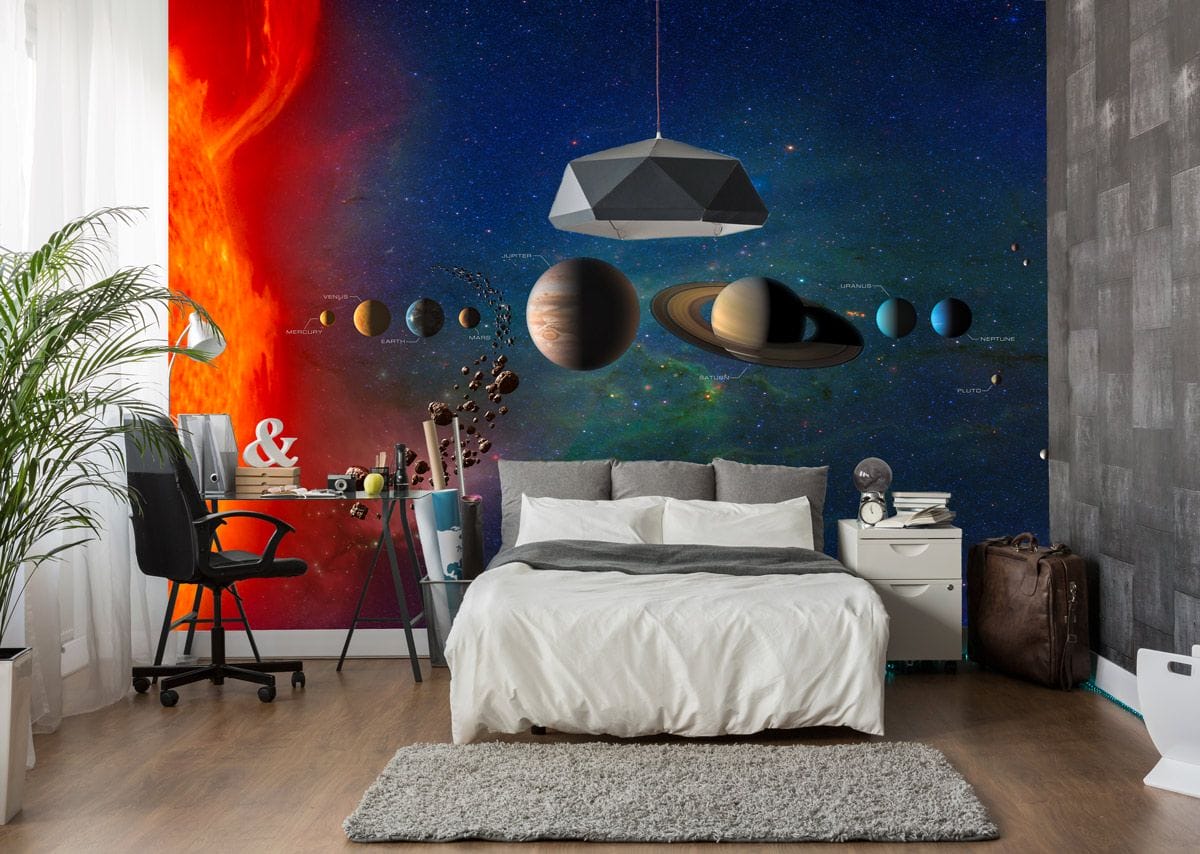 Gray wall, shag rug, pendant lamp, and pillows evoke a sense of masculinity. Crisp white curtain, quilt, and side table carve a clean look.
The wood floor and vintage leather suitcase give this teenage boy's bedroom rich textures. Space-themed wallpaper keeps the area from feeling too bare.
24. Bedroom with Space Ceiling Mural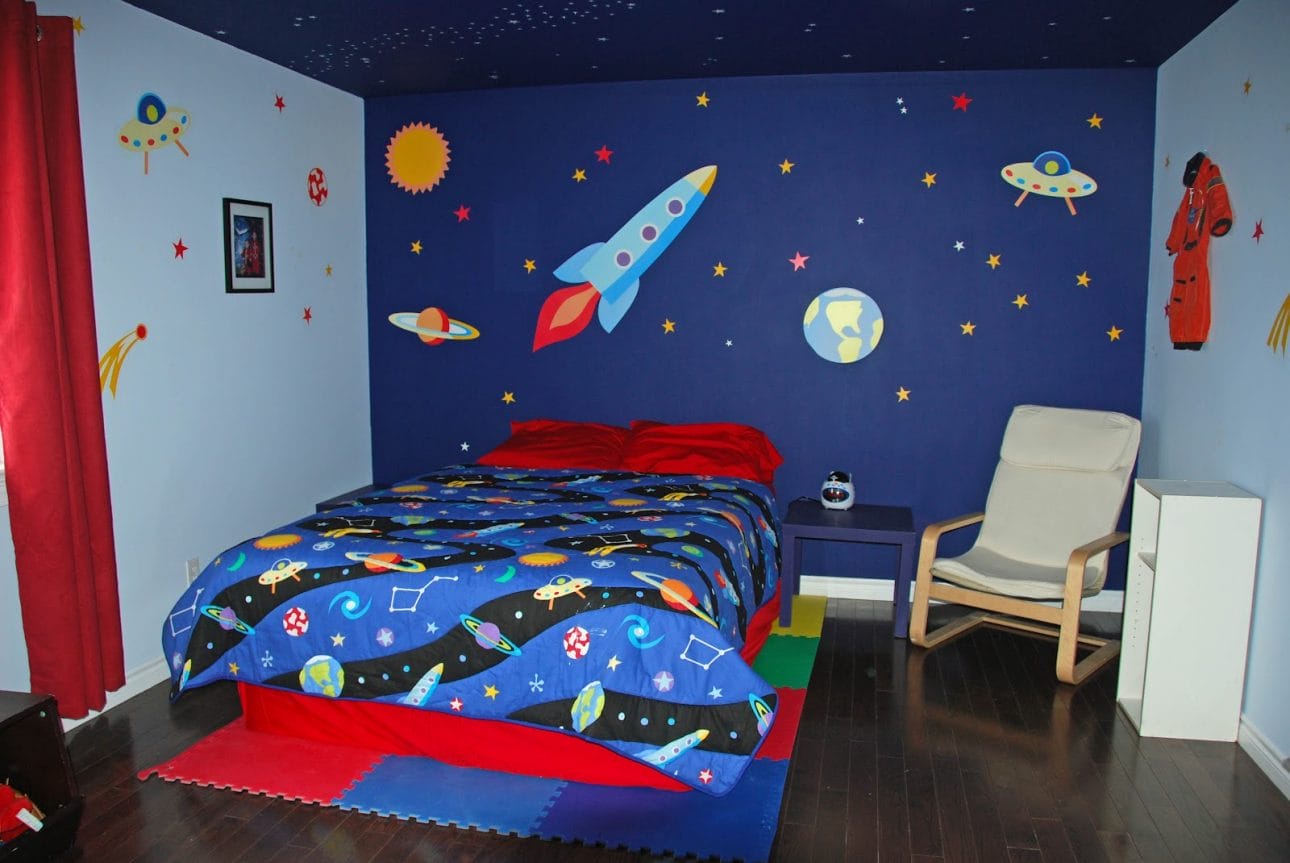 The bedroom walls were painted light and dark blue shades. They boast rocket, comets, planets, and stars drawings.
Ceiling mural lets its small occupant contemplate the magic of the starry night sky before bedtime. Light and dark neutrals prevent the homeowner from going overboard.
25. Rocket Themed Bedroom for Boys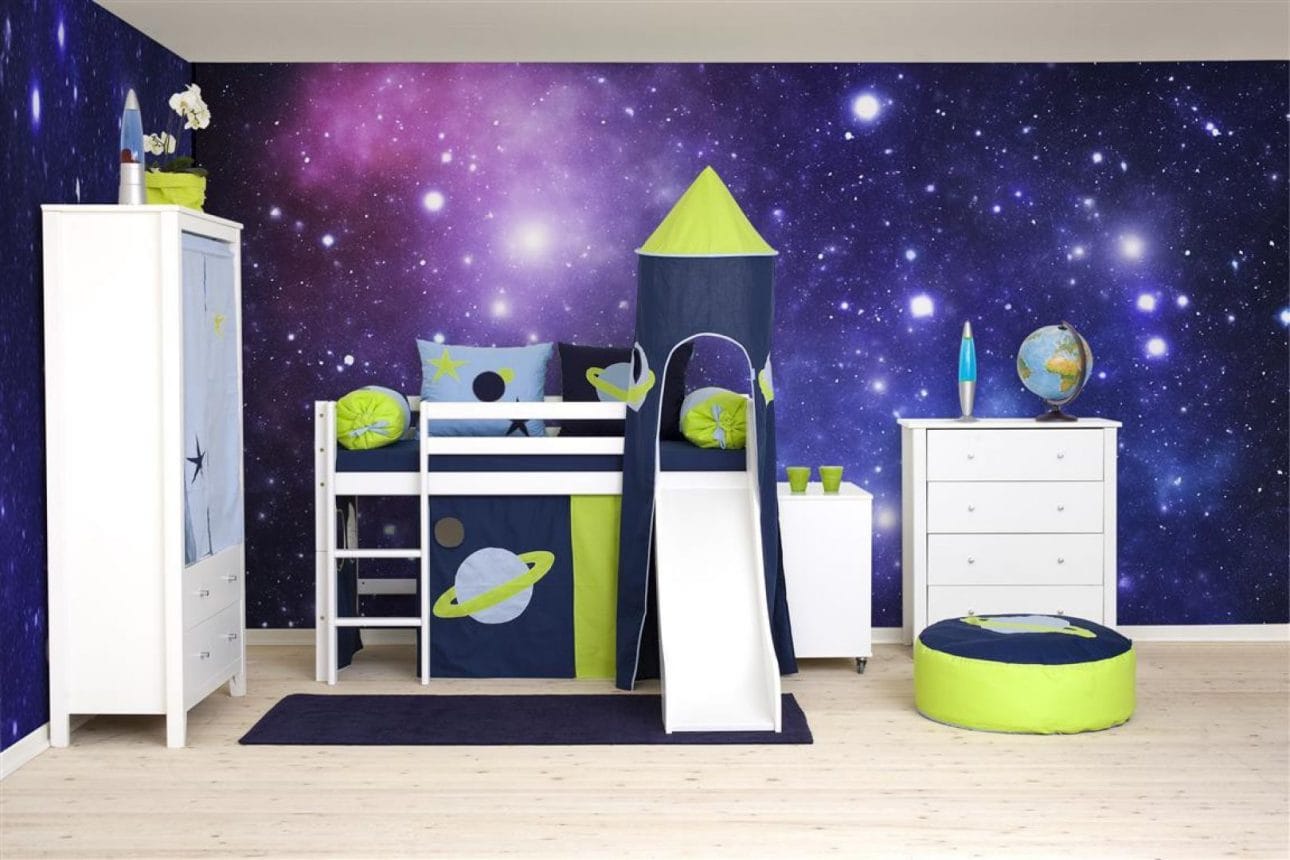 Pure white ceiling and furniture units assert a feeling of openness. The unfinished wood floor creates a rustic feel.
Galaxy wallpapered walls jazz up the area. The bunk bed includes a connected slide and rocket play tent for a fun vibe.
26. Vibrant Space Themed Bedroom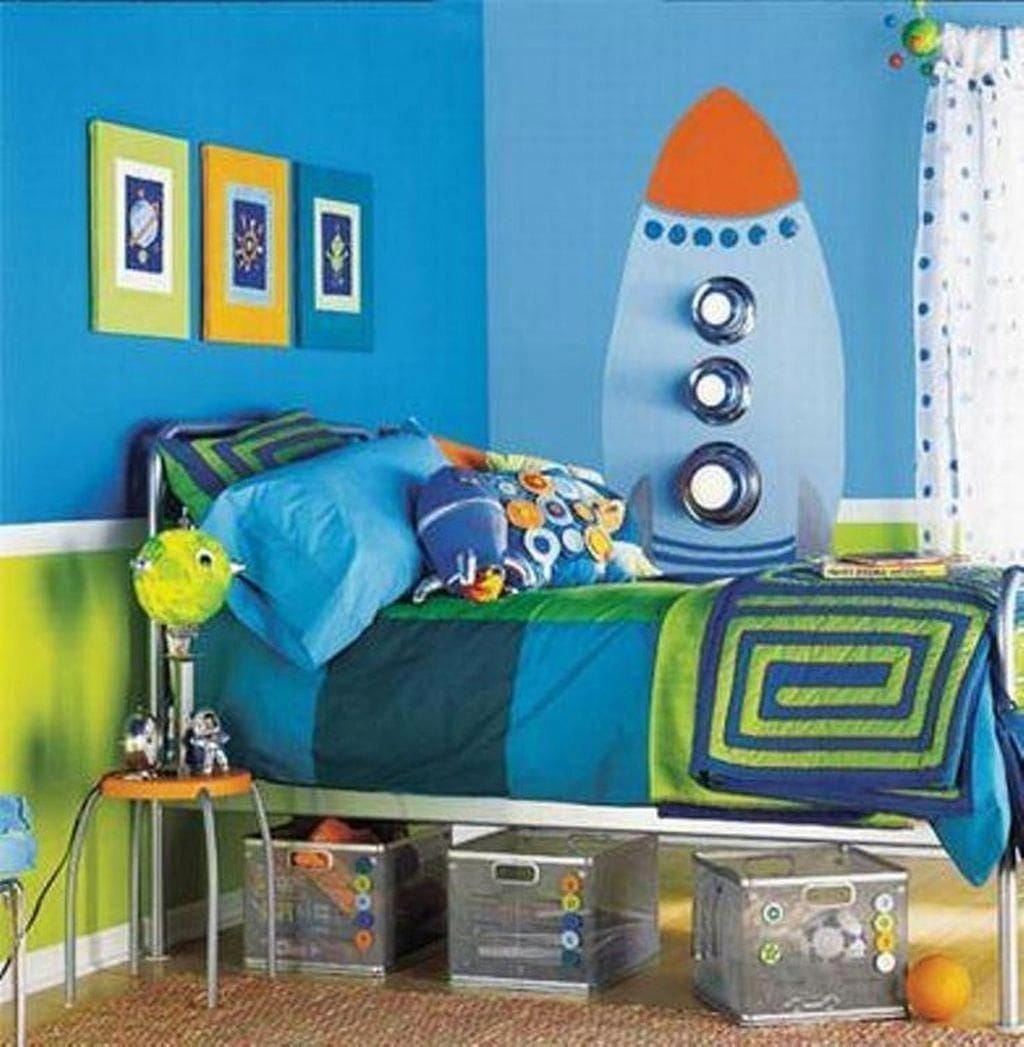 Blue and lime green are big players in this kid's bedroom. They set a cheerful scene. The orange accents add warmth to the area.
Rocket mural, robots, stars, and planets embellish the space. Mesh storage boxes are the homes for books and toys.
27. Space Bedroom Design Using Pastels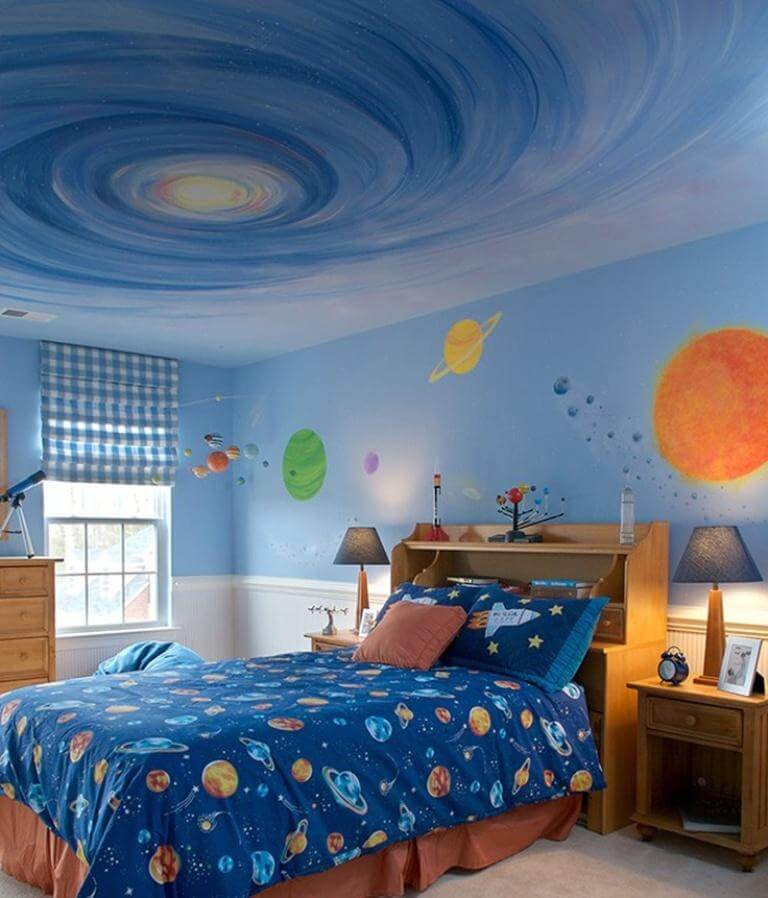 If your kid is not into a dark color, utilize pastels in his bedroom. They generate a restful vibe and playful ambiance at once.
Galaxy ceiling mural, space bedding, checkered curtain, and planet decorations complement the room. Wood furniture pieces create a casual setting.
For more ideas, check out these kid's bedrooms with space theme.
28. Futuristic Space Themed Bedroom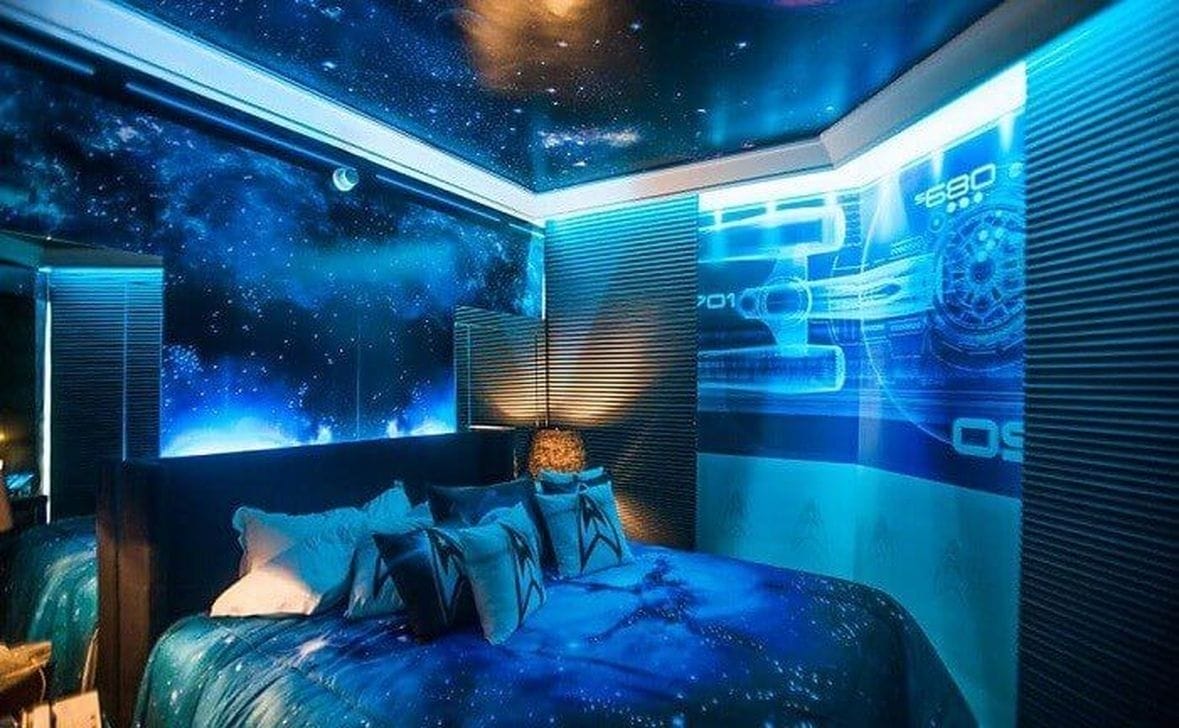 The ceiling and walls were clad in galaxy wallpapers. They glow in the dark and lend the teenage boy's bedroom a marvelous galactic transformation. Meanwhile, the lighting makes the interior more thrilling.
Furthermore, quilt and pillows offer optimum comfort. Black headboard allows them to shine even more. For sure, your boy feels like he is in the actual space center when stepping into this bedroom.
29. Solar System Bedroom Decor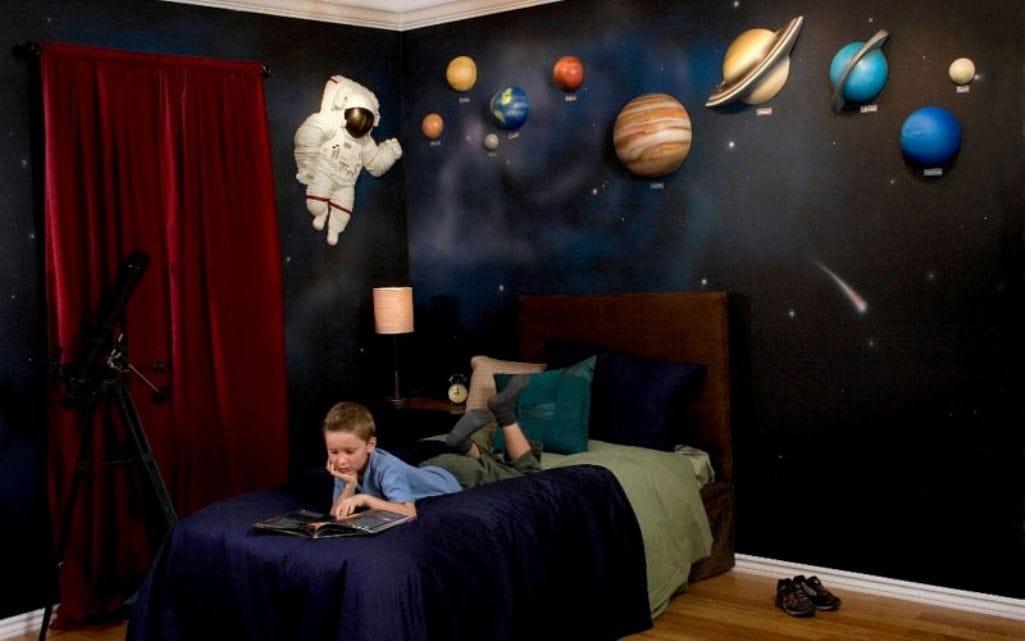 This child's bedroom employs black galaxy wallpapered walls. It brings a healthy dose of drama to the area. The three-dimensional solar system ornaments give this space themed bedroom a realistic feel.
Dark red, green, and navy accents infuse more boldness into the scene. The black telescope motivates a small kid to learn about astronomy.
30. Bedroom with Astronaut Inspired Bed Cover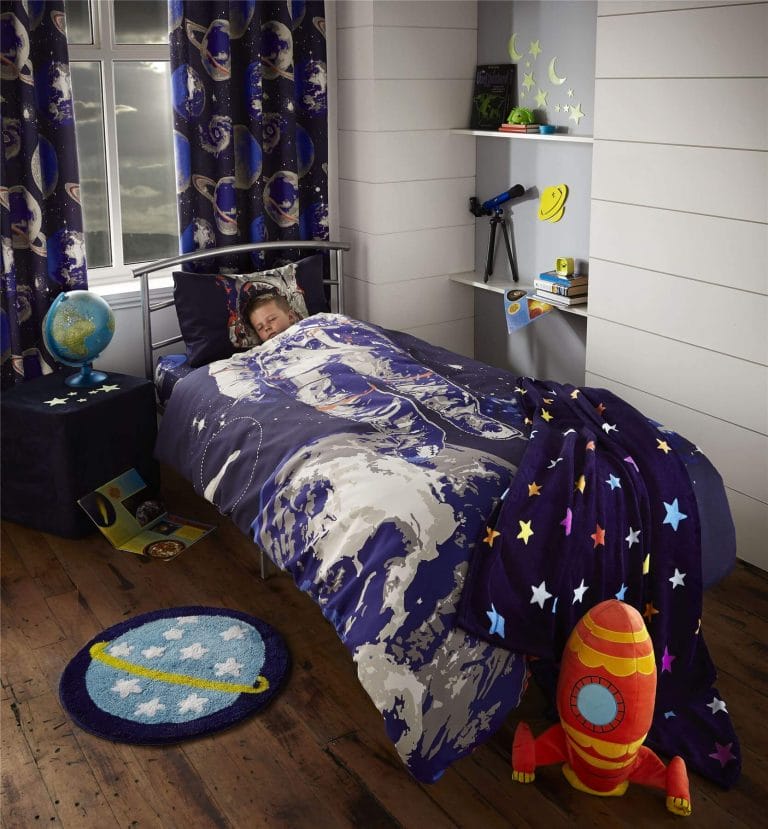 Space patterned curtains come in navy color. They contrast dramatically with white walls. Wood floor lets planet rug and rocket stuffed toy steal the show.
Moreover, the astronaut suit bed cover and helmet print pillow make your boy feel like he is a space explorer. Open shelves display books and space-related decorations.
The space theme might sound complicated at first, but it is practically doable. With those brilliant space themed bedroom ideas, you can turn your kids' dreams into reality. They may become real astronauts someday. Who knows?