Teal is a combination of green and blue. This shade makes a big impact when used in the sleepy space. Plus, it matches nicely with nearly all colors and metallic. No wonder many homeowners want a teal bedroom.
I have had a collection of ideas showcasing the teal goodness from bedding to ornamental pieces. They also prove that teal fits in well with any style and size. If you are excited to go teal, let's get into these.
1. Teal and Turquoise Bedroom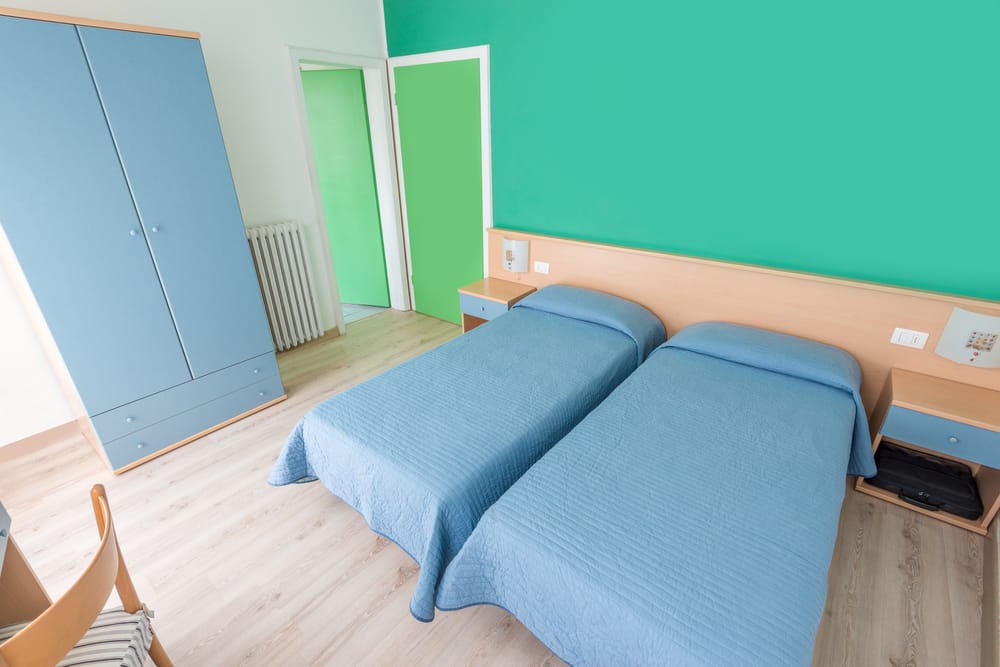 As you can see, this bedroom has a modern appeal with the help of minimalist furniture units. Light-toned wood accents offer a rustic feel.
The teal-turquoise and white walls create a magnificent contrast. Pops of blue and green add some vibrancy to the space.
2. Teal Bedroom Color Scheme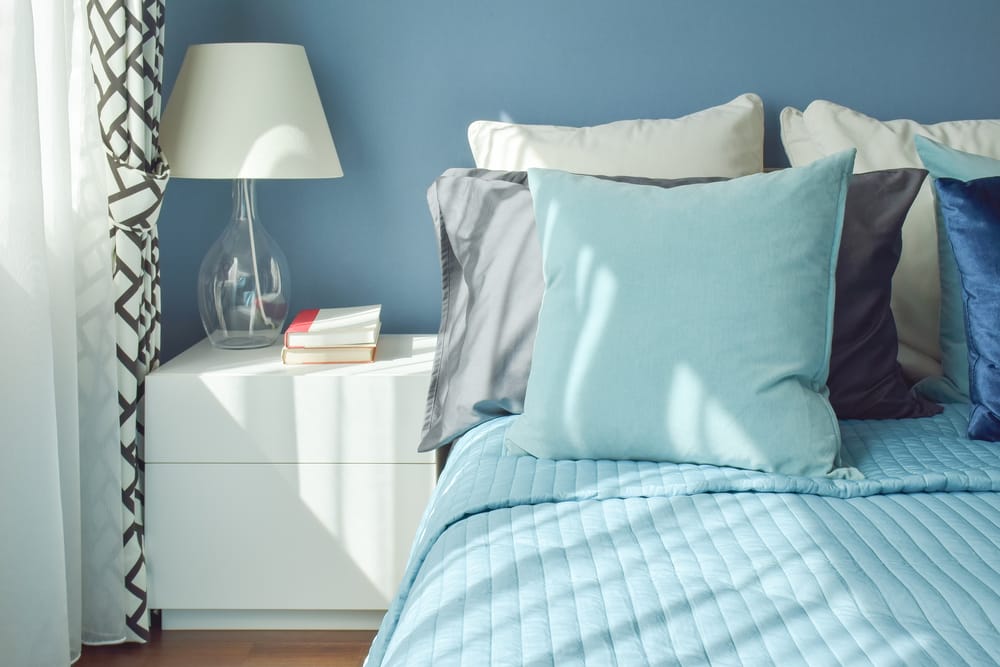 White table lamp, nightstand, and curtains keep the sleeping zone bright. Plush pillows in varying shades of blue generate a dynamic look.
Muted teal back wall imparts a serene atmosphere. Patterned curtains draw the eye in minutes.
3. Light Teal Bedroom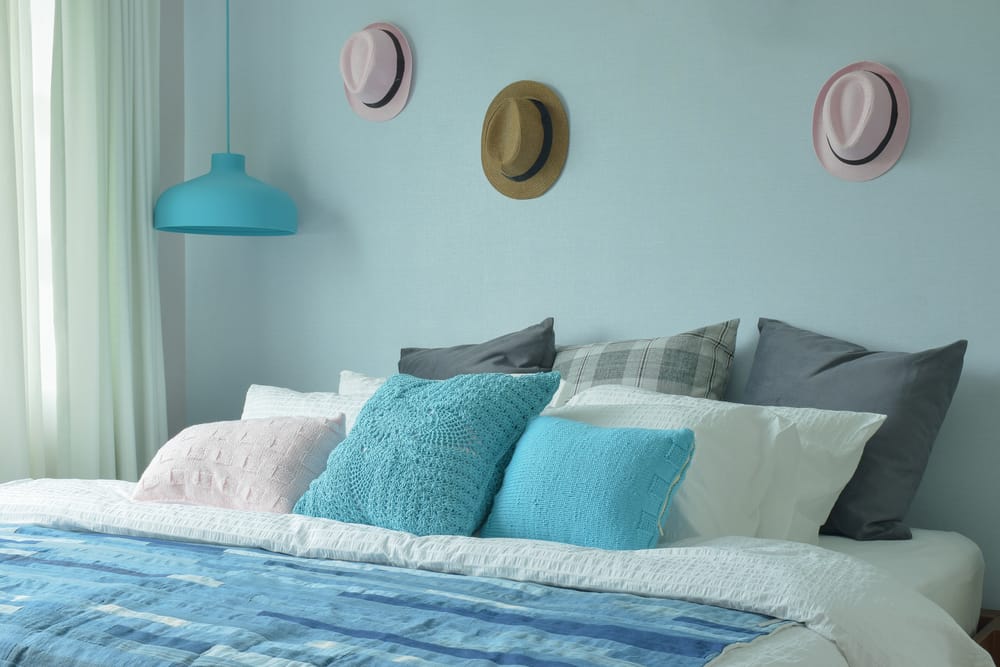 Any teenage boy can't say no to this bedroom. Light teal accent wall and curtains lead to a relaxing personal oasis.
Soft pink, gray, turquoise, and white throw pillows provide maximum comfort. Panama hats in an asymmetrical arrangement promote a playful vibe.
4. Teal and Gold Bedroom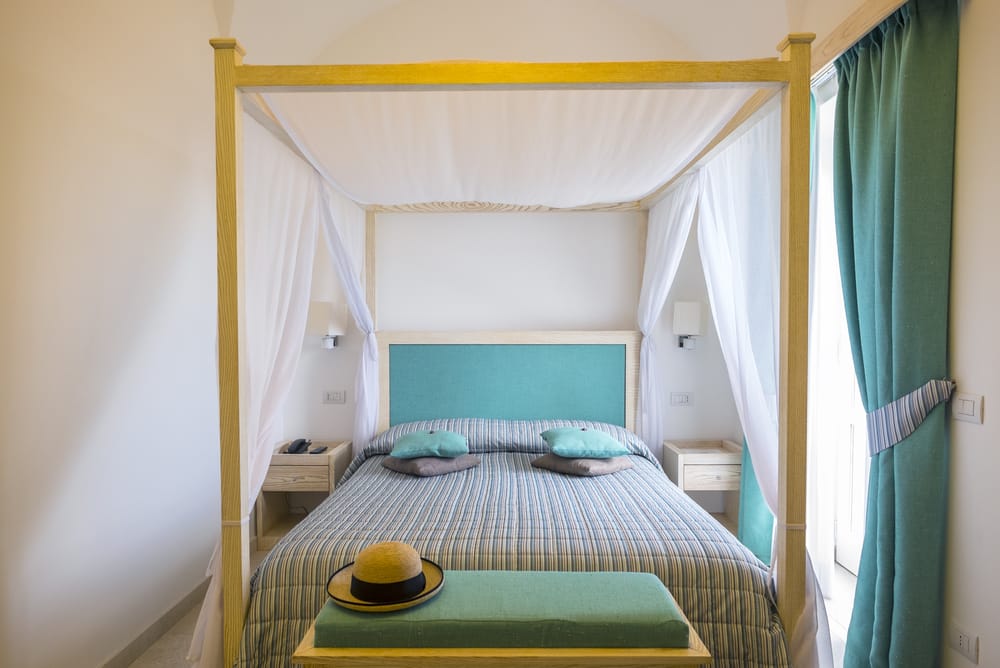 Whether or not you live by the beach, this idea is worth to try. Teal headboard, end bench, curtains, and throw pillows add a sense of rejuvenation.
Crisp white walls and sheer curtains exemplify a cottage feel. Gold wooden four- poster bed sets a glamorous mood.
5. Dark Teal Wall Color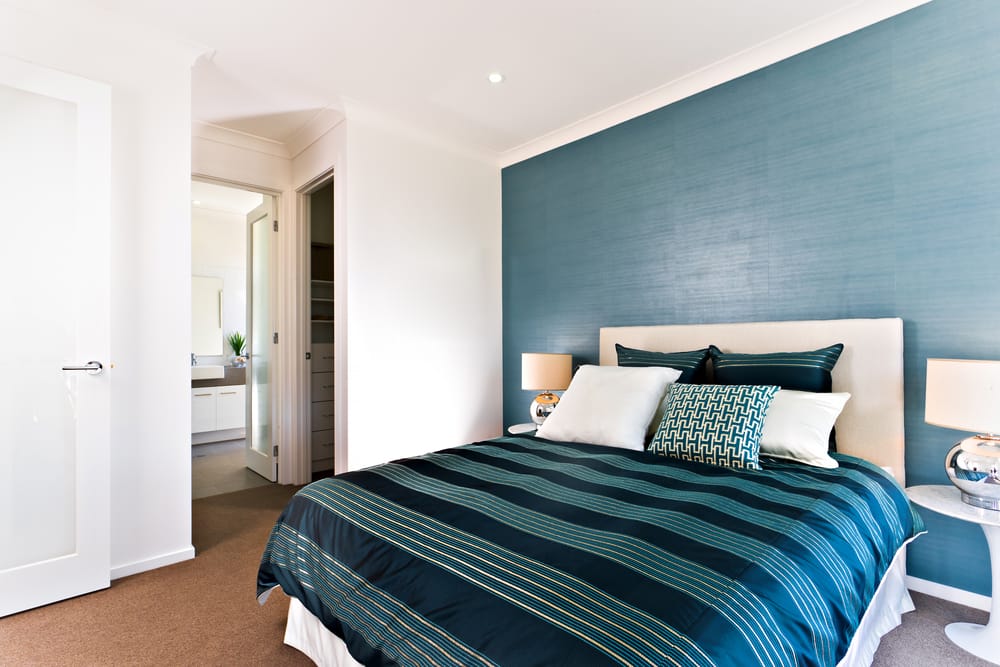 Here is a bedchamber decorated in white and deep teal. The white ceiling, wall, door, bed, and nightstands ooze refinement.
Moreover, deep teal back wall, comforter, and throws promote a cocoon-like atmosphere. Prints, patterns, and metallic prevent the room from being soulless.
6. White and Teal Bedroom Decor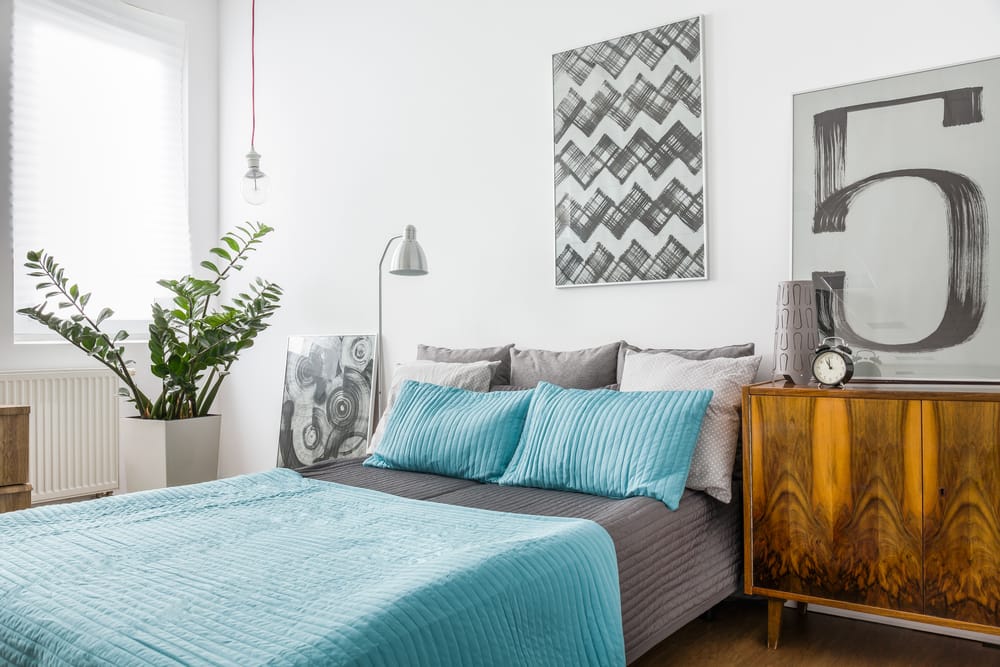 One word to describe this bedroom is sophisticated. Wooden sideboard and floor's warmth counteract the coolness of light teal and gray bedding.
Potted plant brings a splash of green in. Three sizeable gray artworks embellish the room instantly.
7. Navy and Teal Bedroom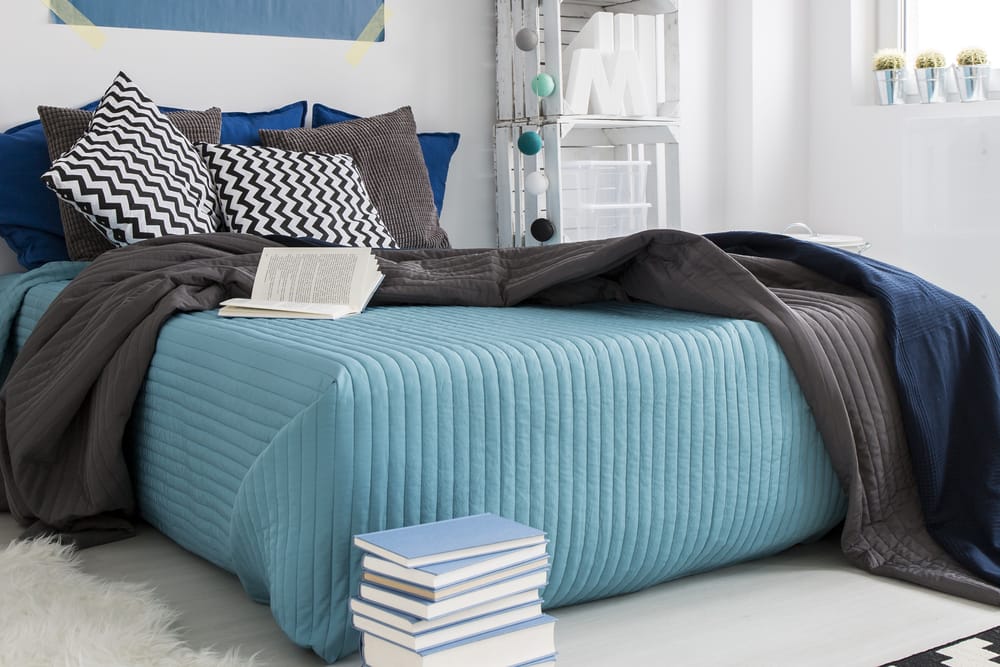 The dweller furnished his bedroom with white-painted crate shelving unit and pale teal bed. He also placed pillows and blankets in gray and navy.
An artwork over bed gives the room visual interest. Felt ball garland, monochrome chevron throws, and potted plants spice the things up.
8. Teal and Yellow Bedroom Decor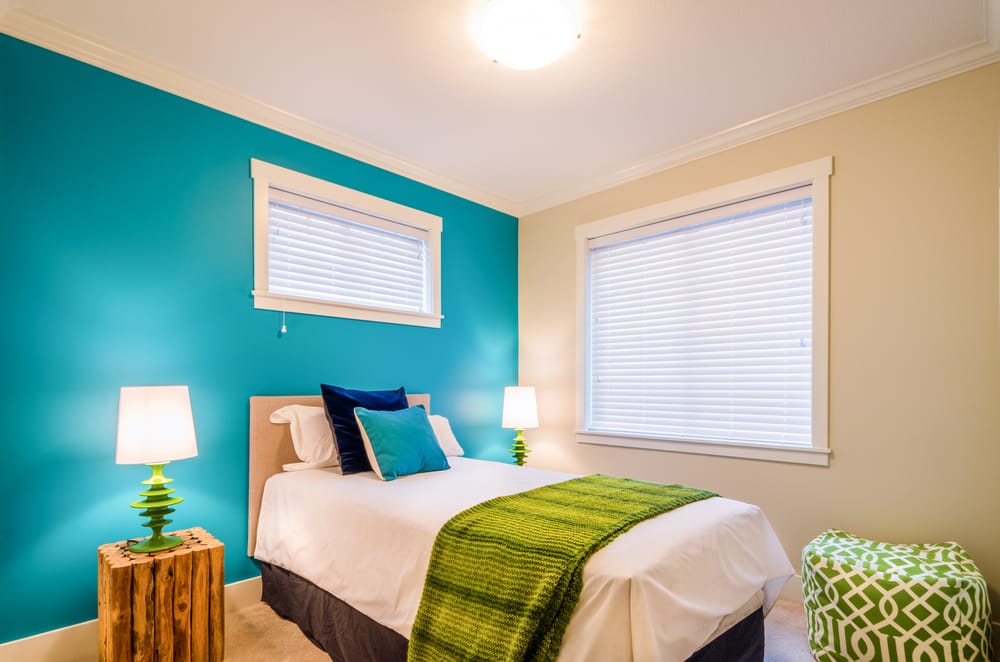 Pale yellow and teal walls result in a captivating contrast. Brown bed skirt, sand headboard, and cream floor promote a soothing nuance.
Green, teal, and navy textiles on the white bed along with patterned stool enliven the scheme. Wood cube side tables offer a rustic edge. Table lamps double as the quirky decorative pieces.
9. Teal Bedroom Accessories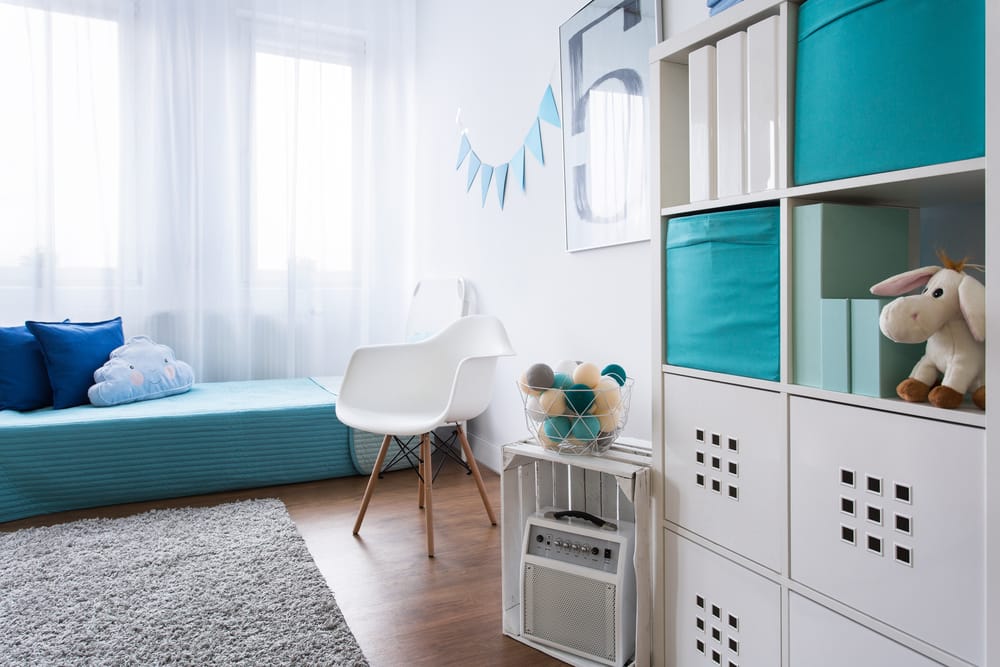 Since the homeowner is working with small space, she mostly dressed his young man's bedroom in white. Baby and azure blues instill a happy ambience.
Teal comforter, bunting flag, and storage box up the youthful vibe. Cubbies and geometric wire mesh basket keep things off the floor.
10. Teal Walls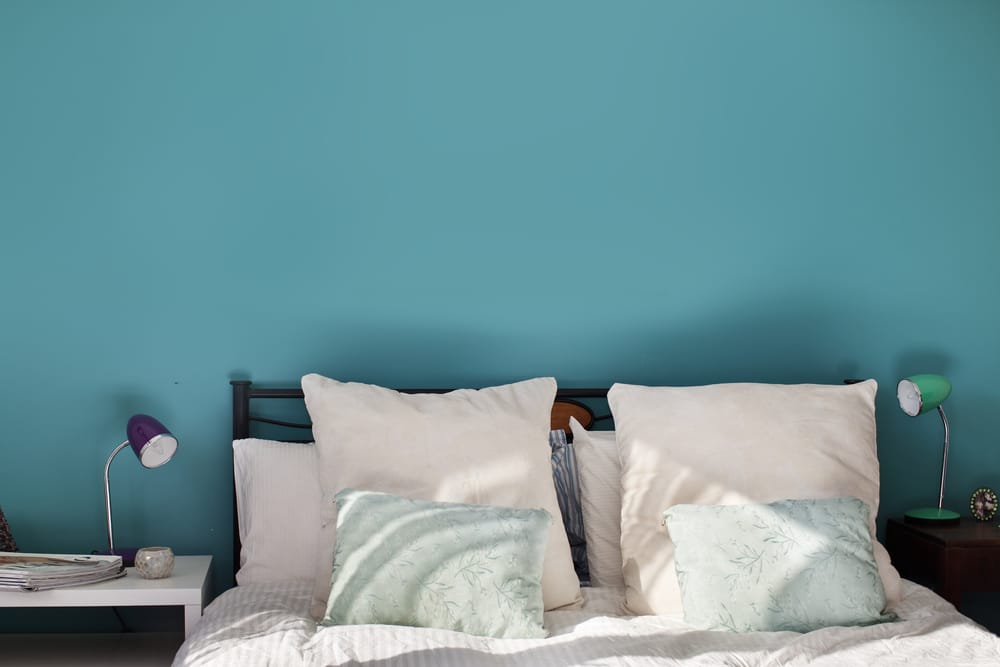 After seeing the picture above, you definitely wish you could sleep in this bedroom. I do, too. The medium teal accent wall makes a bold impression.
White and pale teal throw pillows look fabulous against the wall. Mismatched nightstands and bedside lamps infuse an eclectic touch.
11. Teal and Gray Bedroom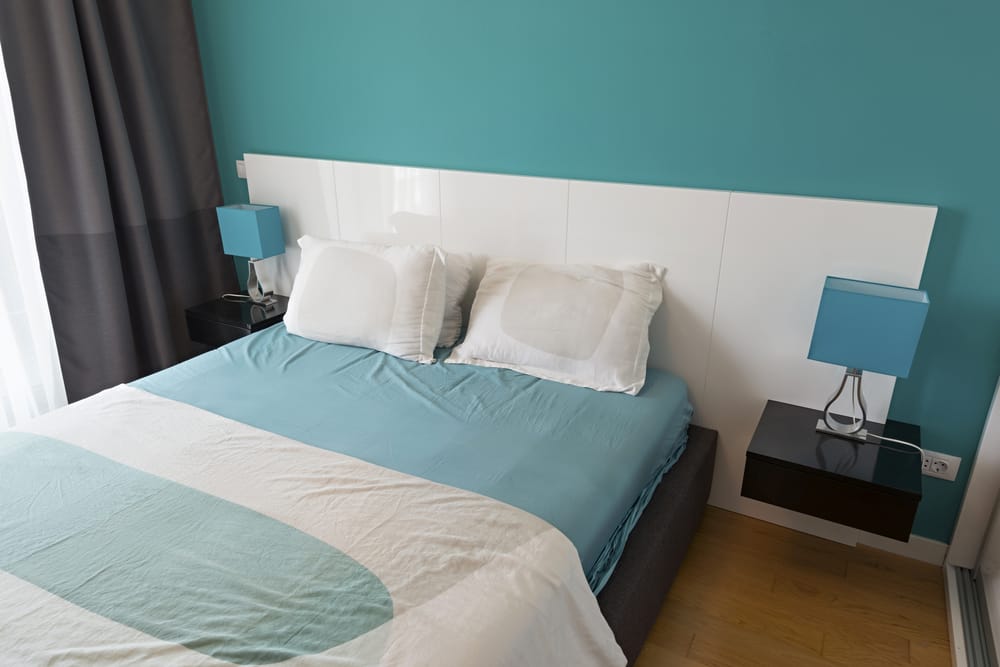 I just love how terrific this resting space is. White headboard, bed sheet, curtains, and throws open up the room.
Gray blackout curtains and black floating nightstands add depth. The explosions of teal deliver a fun vibe to the otherwise neutral bedchamber.
12. Teal and Gray Bedding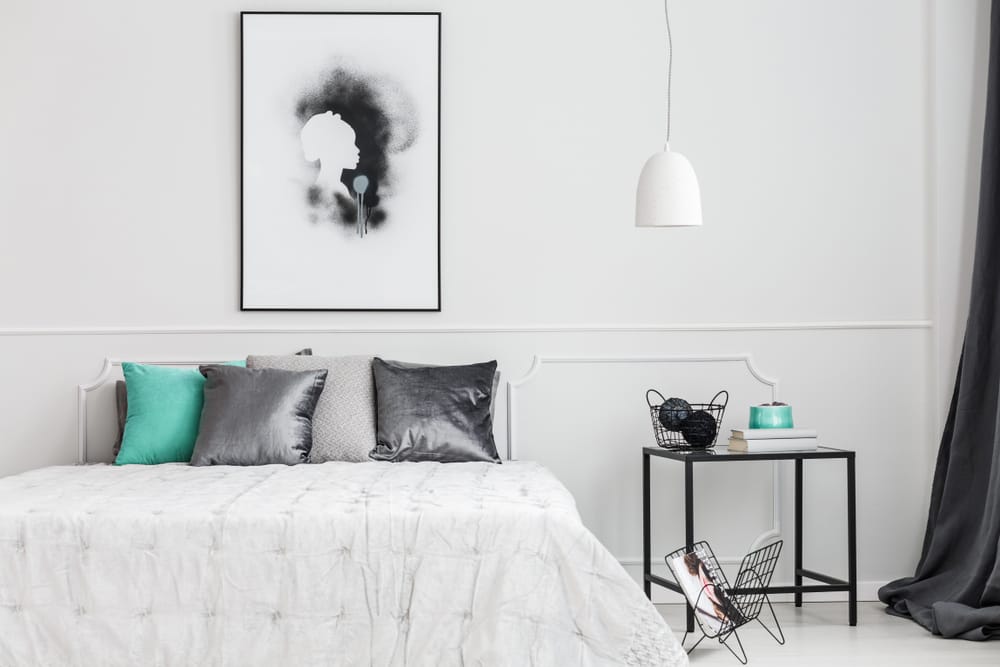 White panel, floor, pendant light, and comforter create a clean look. Small bits of light teal brighten up the room.
Minimalist side table, magazine holder, blackout curtains are a high contrast to the whites. Metallic gray throws exude opulence, while framed artwork is the showstopper.
13. Dark Teal Bed Set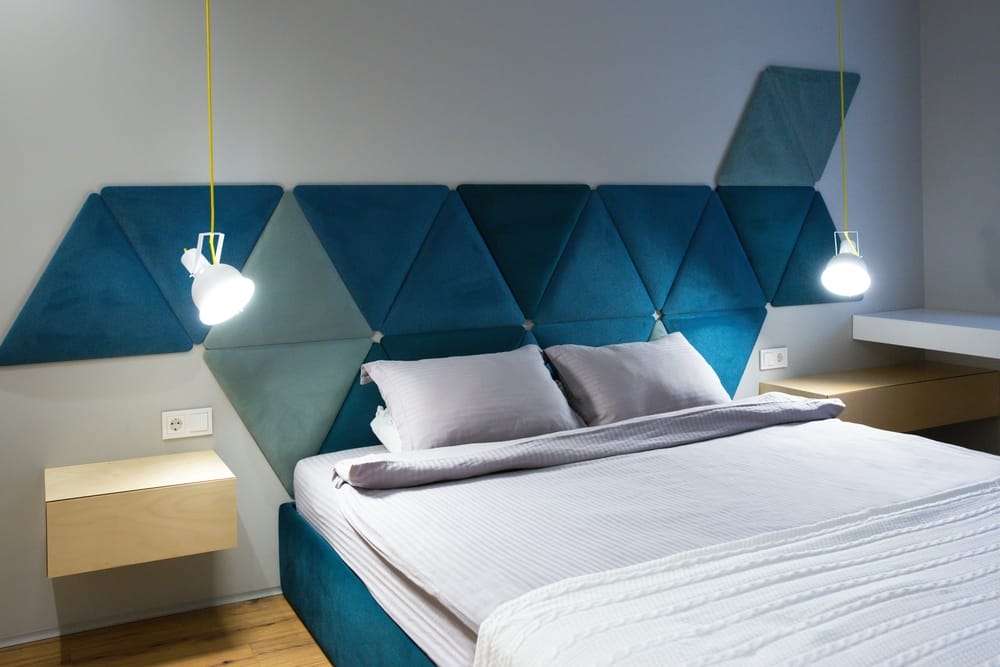 This modern sleeping zone features dark teal bed and raw wood nightstands. Geometric triangle pads over the bed in different teal shades add dimension.
Plush pillows and textured blankets increase the coziness of the room. Two pendant lights free up the floor space.
14. Coral and Teal Bedroom Decor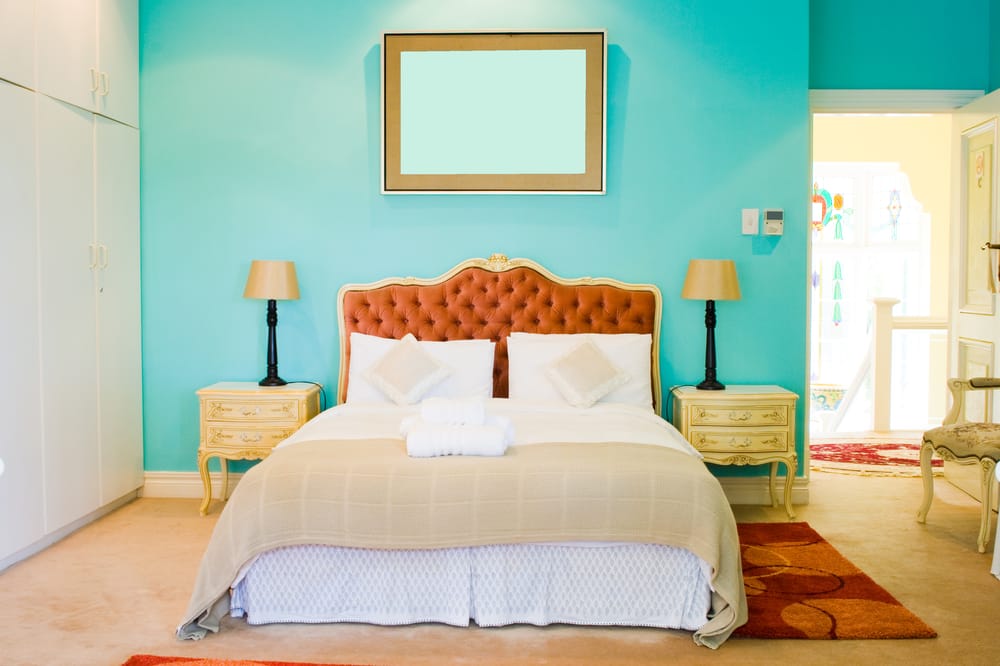 Vibrant teal accent wall, white bedding and built-in wardrobe generate a fresh look. Deep coral units warm up the entire area.
Classic tufted headboard, armchair, table lamps, and nightstands convey elegance as well as luxury. Two-tone wall art fills a blank wall.
15. Teal and Brown Bedroom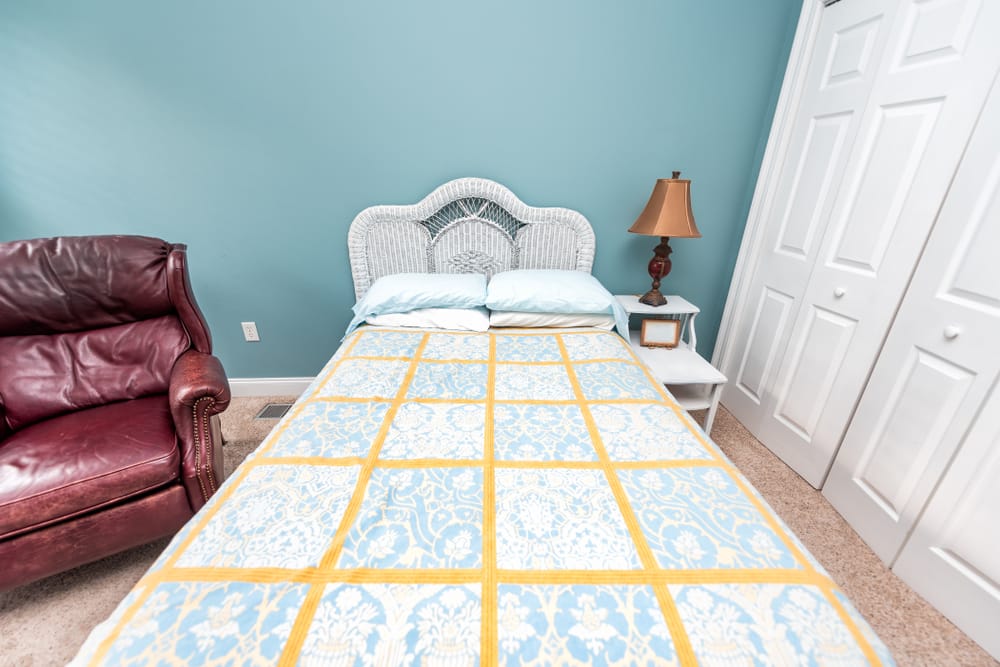 Subdued teal wall imparts tranquility. It also lets the dweller's personality shine. The curved headboard and floral bed sheet carve a feminine feel.
A rich brown leather armchair is a nice piece for reading and contemplating about life. Lastly, metallic brown table lamp embraces traditional flair.
16. Modern Teal Bedroom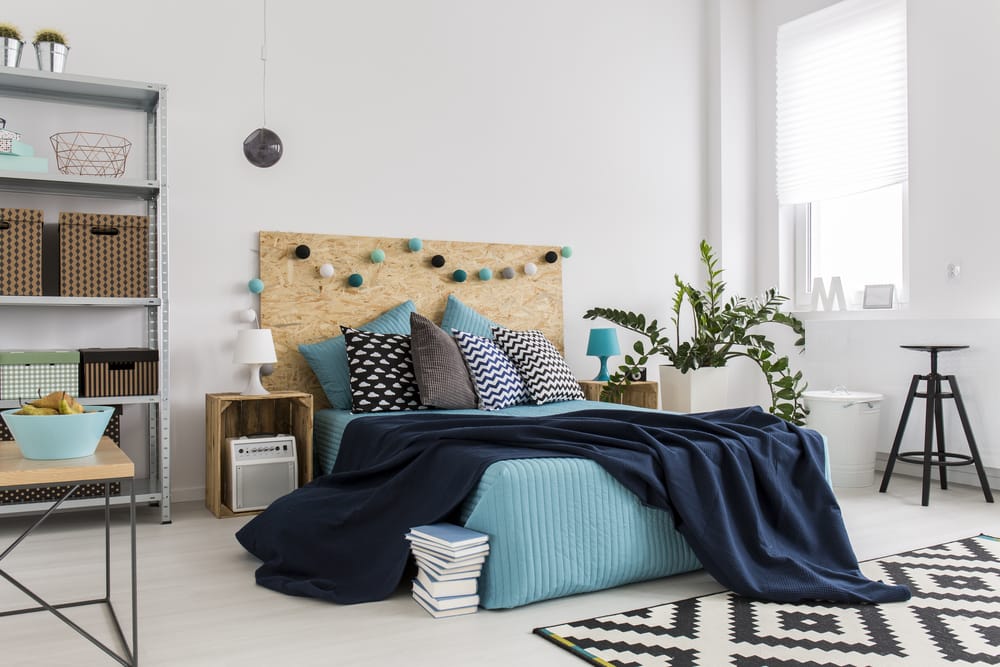 Window allows abundance of sunlight to enter the sleepy space. Well-defined lines and sharp edges scream modern design.
Wood accents and plants lend the area natural elements. Bursts of navy, teal, and light blue refresh the room.
17. What Colors Go with Dark Teal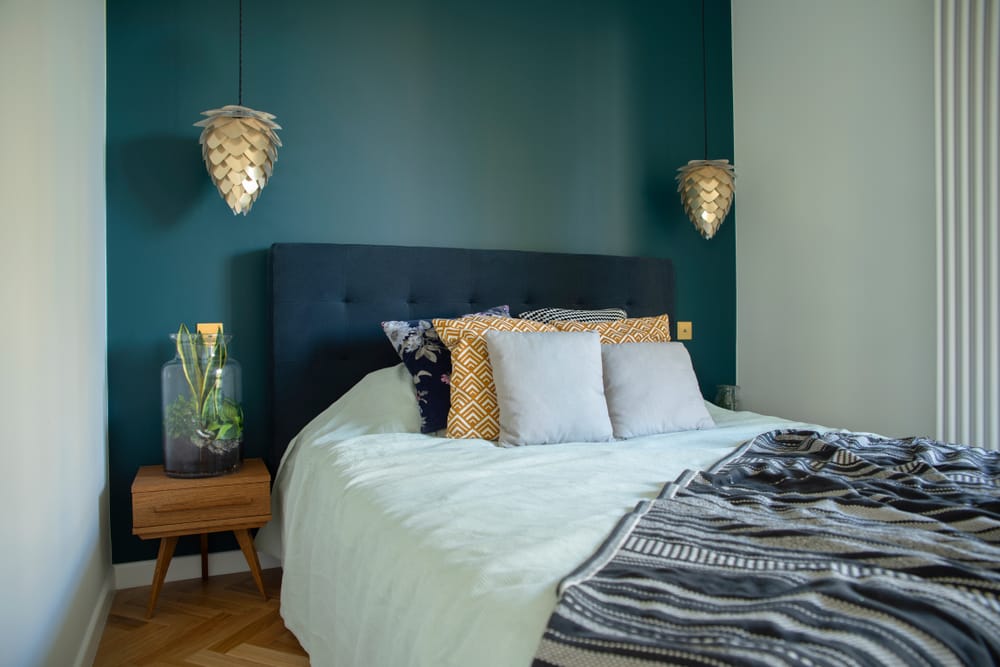 Both dark teal back wall and headboard develop a dramatic scheme. White, gray, and yellow colors pair perfectly with the deep teal tones.
Stunning gold shapes exhibit an upscale setting. Multi-layer fabrics provide comfort, while terrarium titivates the space.
18. Teal and Green Bedroom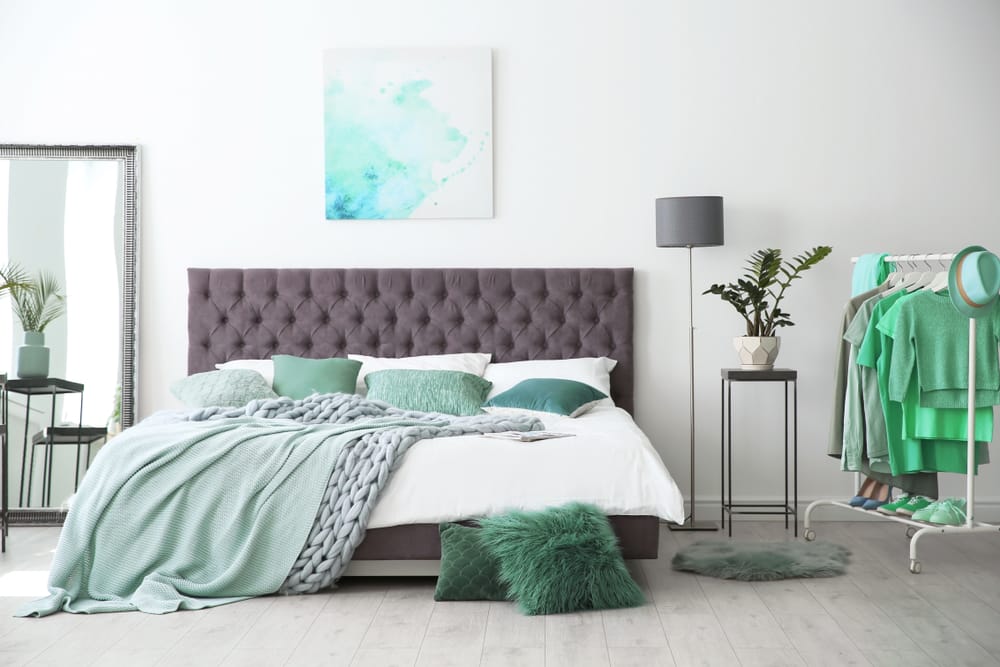 Do you swoon over this bedroom? I do, as well. Gray tufted headboard, minimalist floor lamp, and tall side tables elicit trendiness.
A mirror reflects light into the space. It makes the space seem bigger. Shades of green enliven the room. The teal painting gives gorgeous watercolor effect.
19. Teal and Pink Bedroom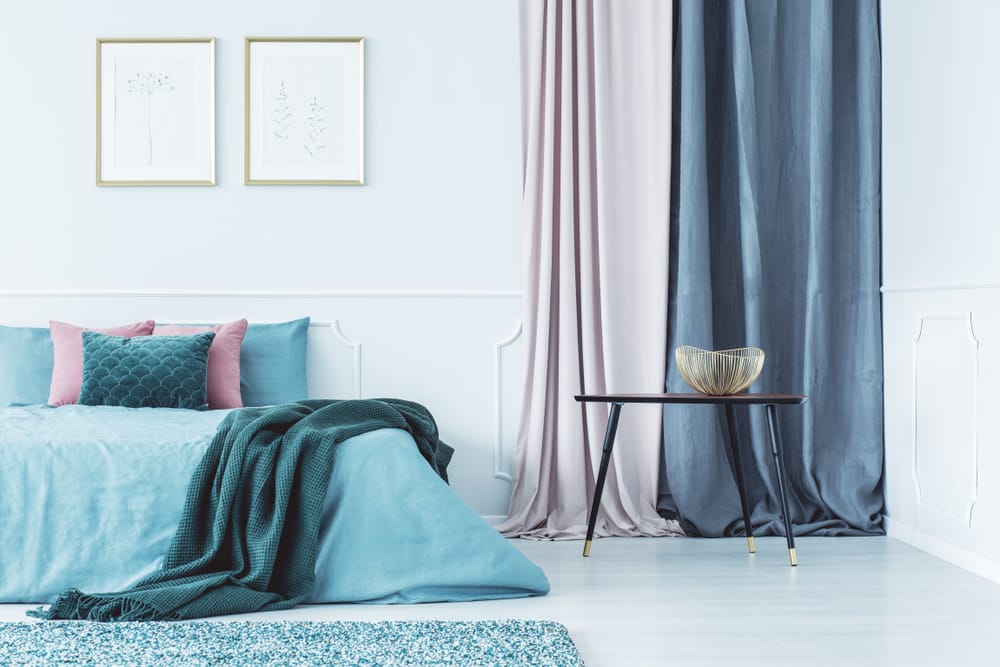 Here, teal and pink marry together. They create a soft yet dynamic look. White panels instill an airy ambience.
Shag rug, blanket, bed sheet, curtains, and throws promote a cozy sleep environment. Gold frames of the wall art glamorize the room.
20. Teal Bedroom Furniture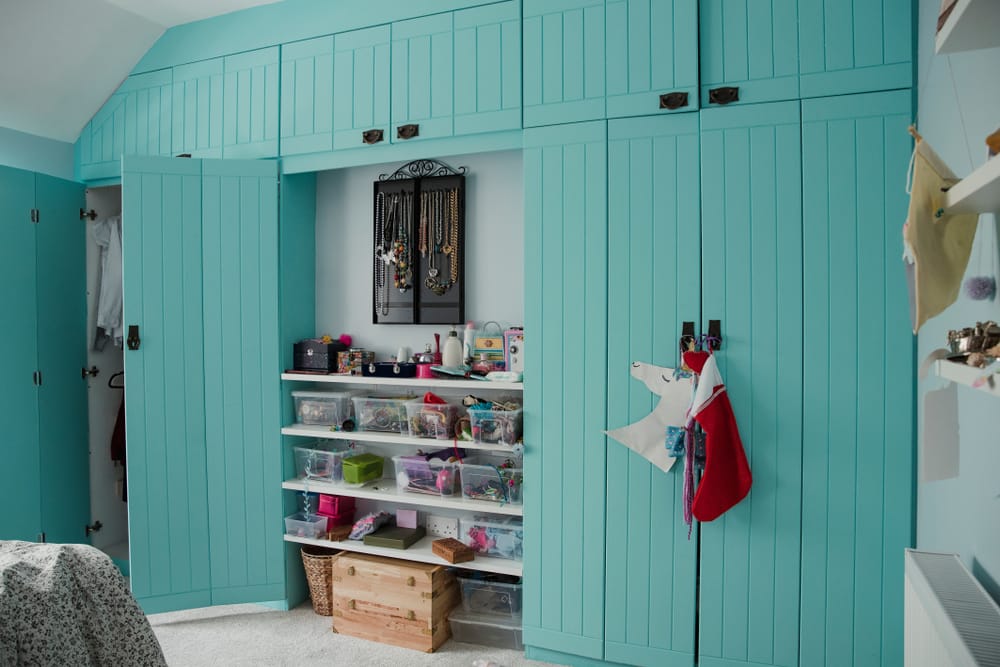 If you have lots of things in your resting zone, this idea would be a brilliant inspiration. Built-in wardrobe provides ample storage space.
The open shelves allow for easy access. Teal, unicorn, and Christmas sock add a touch of fun to the area.
I hope some teal bedroom photos above help you do the color the right way. Whatever the hue of gray you opt for, it should represent your true personality.