Designing your young man's bedroom is not a daunting job. This is why I suggest you create his ultimate space for relaxation immediately. In case you are in need of inspiration, look no further than my boys bedroom ideas.
Some boys love graphic prints and bold colors, but some do not. No matter what your little's dude demands, I have got these designs. They foster creativity in him.
1. Blue Boy Bedroom Ideas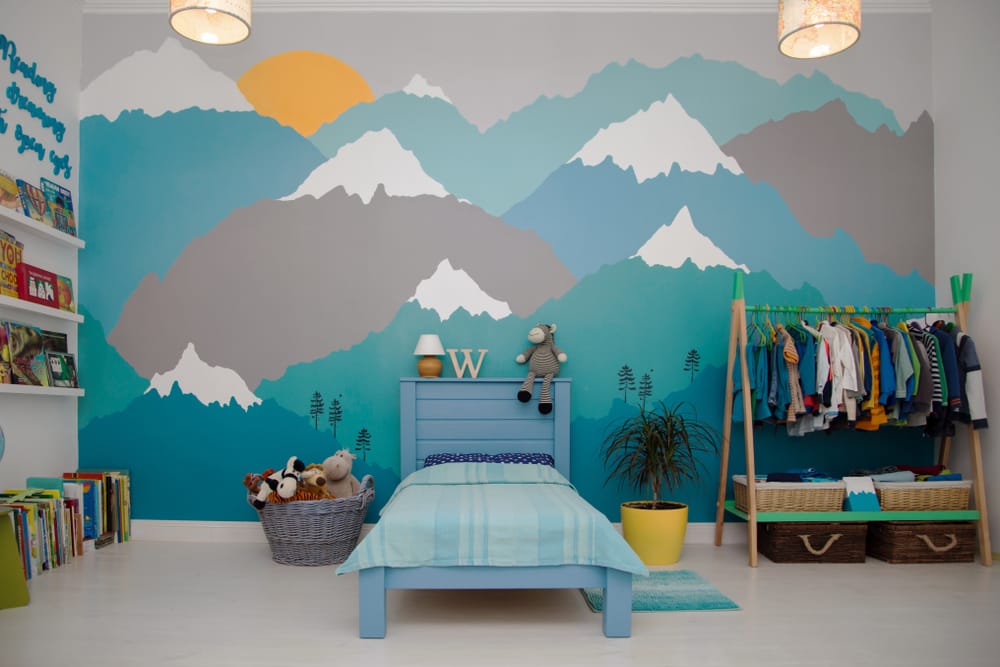 This bedchamber has a lot of blue shades, from sky blue to teal. They add some freshness to the area. Meanwhile, white and gray tone down the blue shades.
Mountain wall decal and plush toys emanate a kid-inspired atmosphere. Teepee clothing rack and open shelves keep the space organized.
2. Wallpaper for Teenager Boy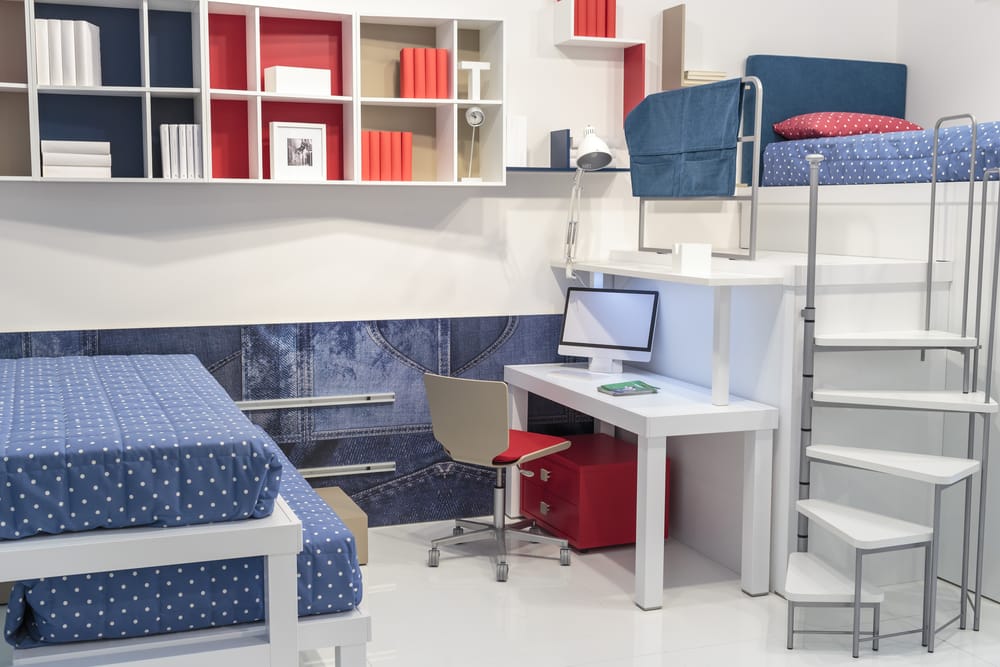 As you can see, the white foundation makes this teenager boys' bedchamber feel open. Polka dot beddings are chic and young at once.
Denim jeans wallpaper gives the sleeping zone a sense of maturity. Orange, red, and navy blue energize the room.
3. Boys Bedroom Sets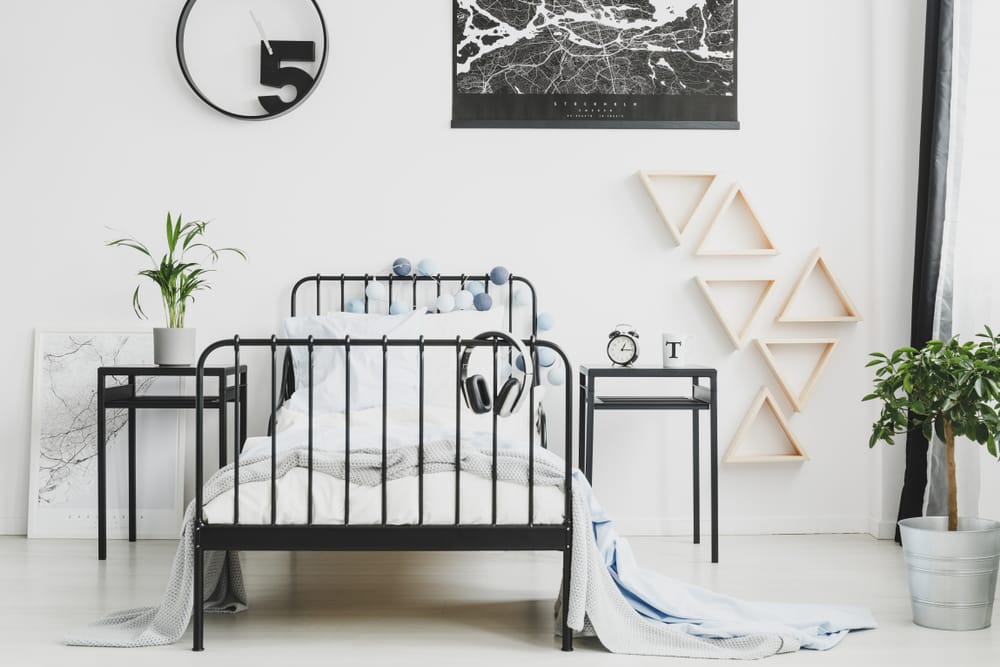 Your son will be a teenager and an adult. It is better to build a bedroom that still looks stylish for years to come.
First of all, stick to the black and white color scheme. Fill the space with wrought iron bed frame and nightstands to get the industrial charm. Then, hang round mirror and monochrome map on the wall.
4. Boys Bedroom Ideas for Small Rooms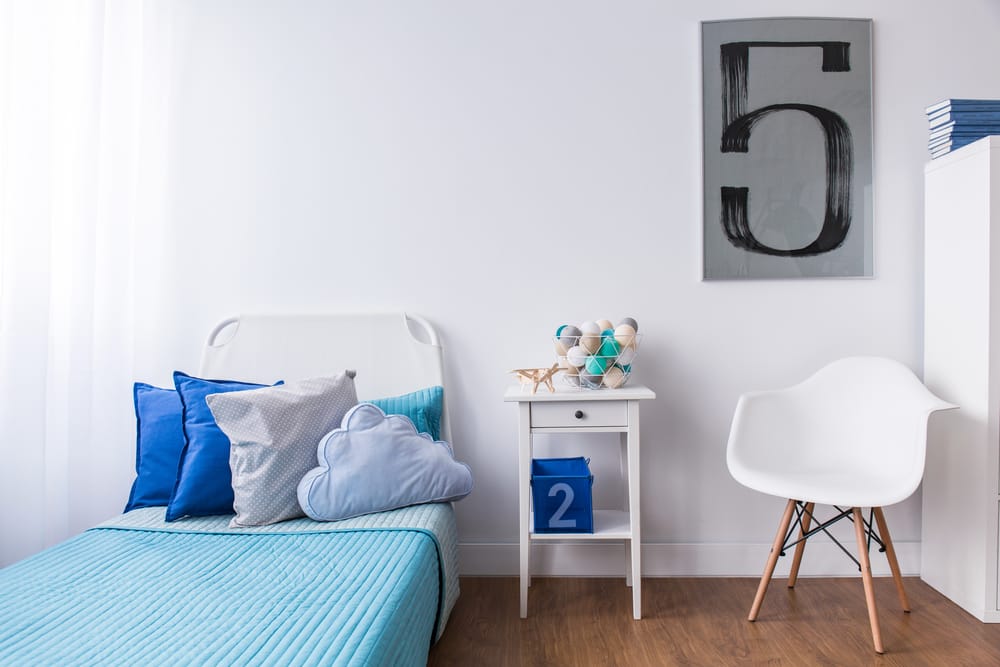 White base and furniture units create the impression of a bigger space. Wooden floor and chair legs convey warmth.
Different textures result in a cozy retreat. Comforter, felt wool balls, and throw pillows prevent the bedroom from being too basic.
5. Boy Colors That Go Good Together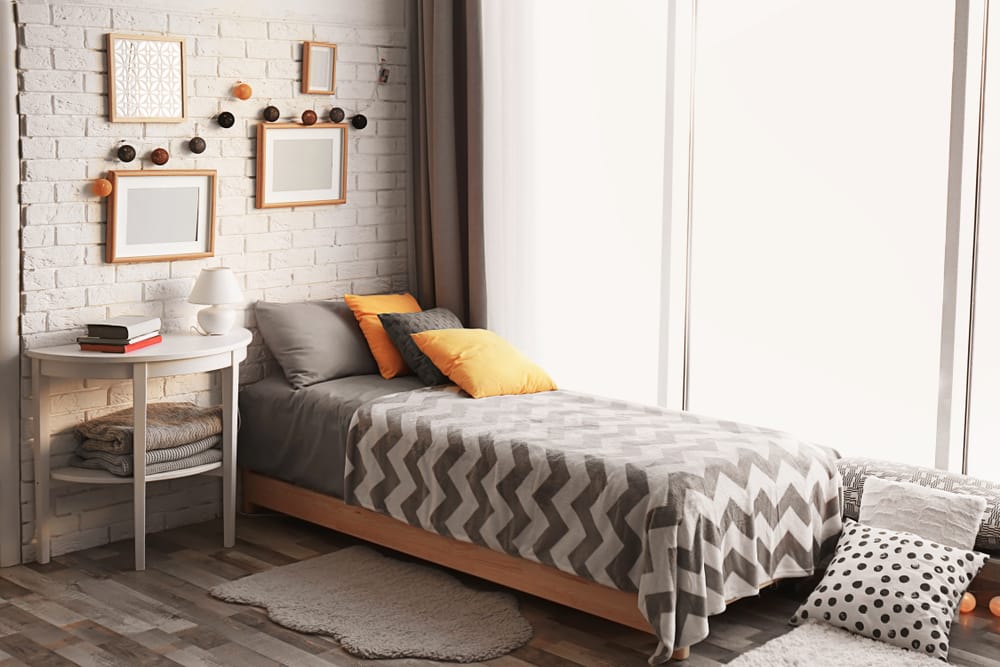 When it comes to boy's bedchamber, opt for neutrals like taupe and white. They marry together and let you add in patterns.
Throw pillows and ball garland inject a cheerful vibe into the space. Brick wall, shag rug, wood floor, and linen bedding provide textural contrasts.
6. Boys Bedroom Furniture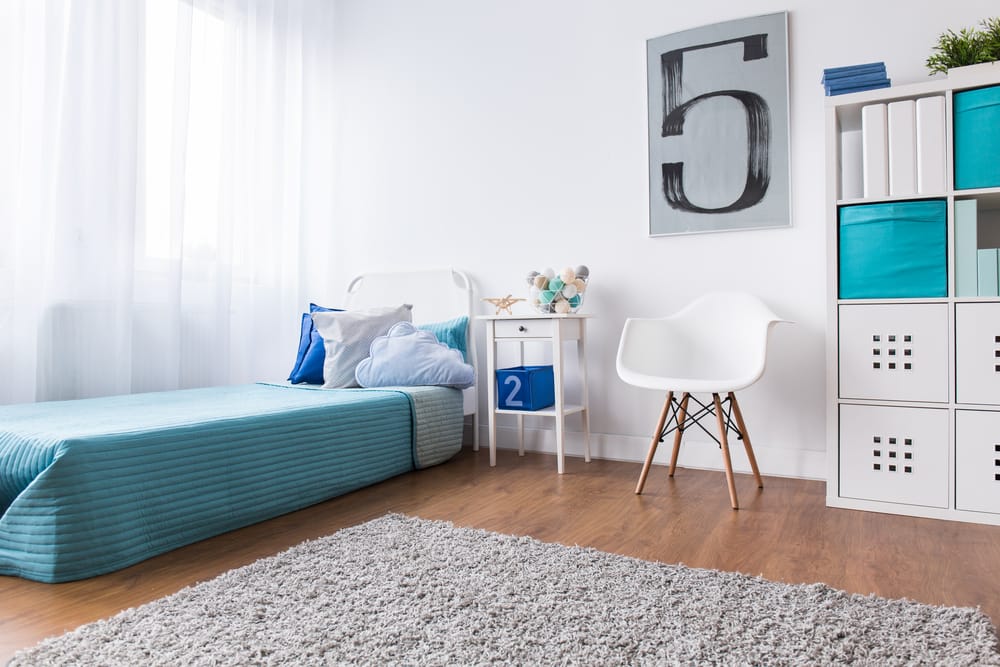 This sleeping space looks airy with the help of white color palette and unobtrusive furniture pieces. Number wall art lends the bedroom personality.
Storage cubes hold books, toys, and potted plant. Gray shag rug tops the wood floor and pampers boy's feet.
7. Boys Bedroom Decor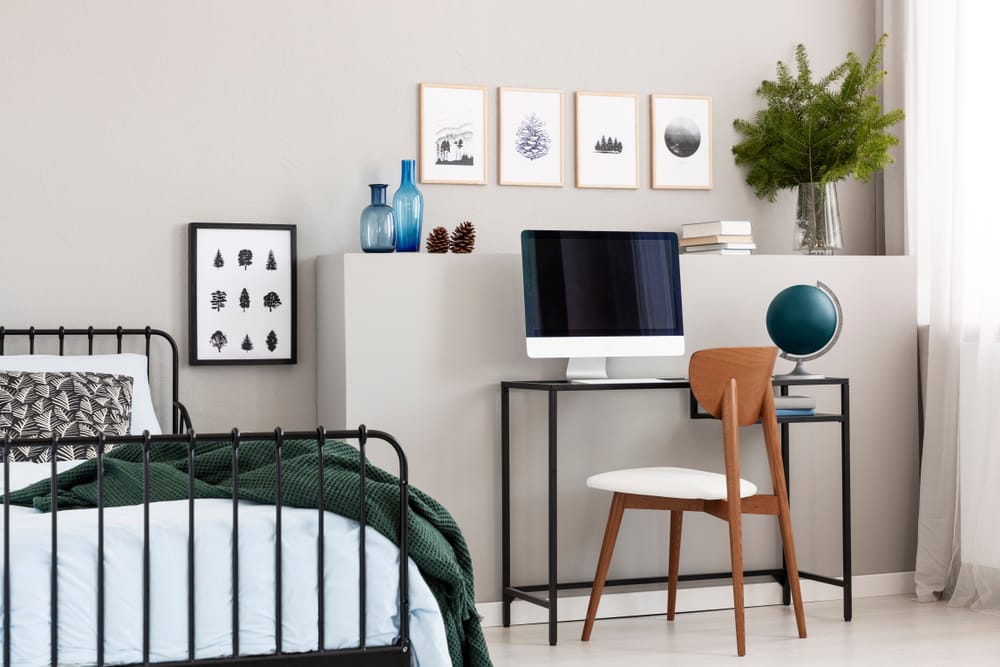 Light taupe walls are a lovely contrast to the black metal bed frame and desk. Dark green blanket and teal globe elicit boldness.
Black and wood-framed artworks serve as modern decorative elements. They are congruent with the overall design of teenager's boy bedroom.
8. Boy's Room Curtain Ideas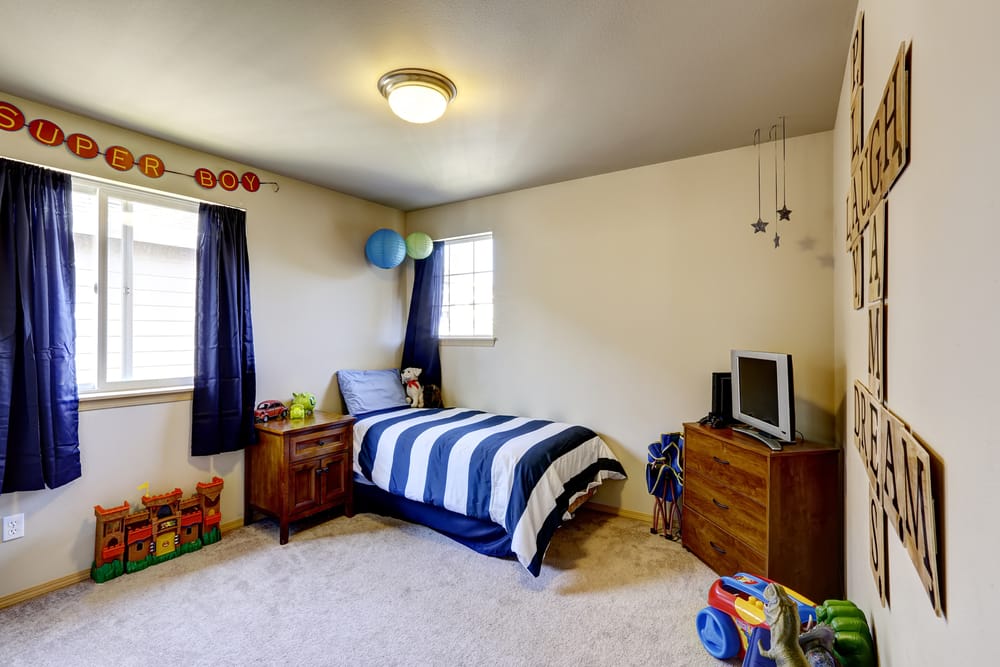 As shown in the picture, this boy's bedchamber is mostly white. Navy blue curtains and striped bedding spruce up the scene.
Signs add character to the sleeping zone. Meanwhile, colorful toys on show deliver an aura of excitement.
9. Toddler Boy Room Decor

Light blue and white transform the bedroom into a peaceful sanctuary. Unpainted wood desk, headboard, and floor generate a soft look.
Striped pillow and rug catch the attention. Black framed antique sign and stuffed animals bring the toddler's room to completion.
10. Brothers Room Ideas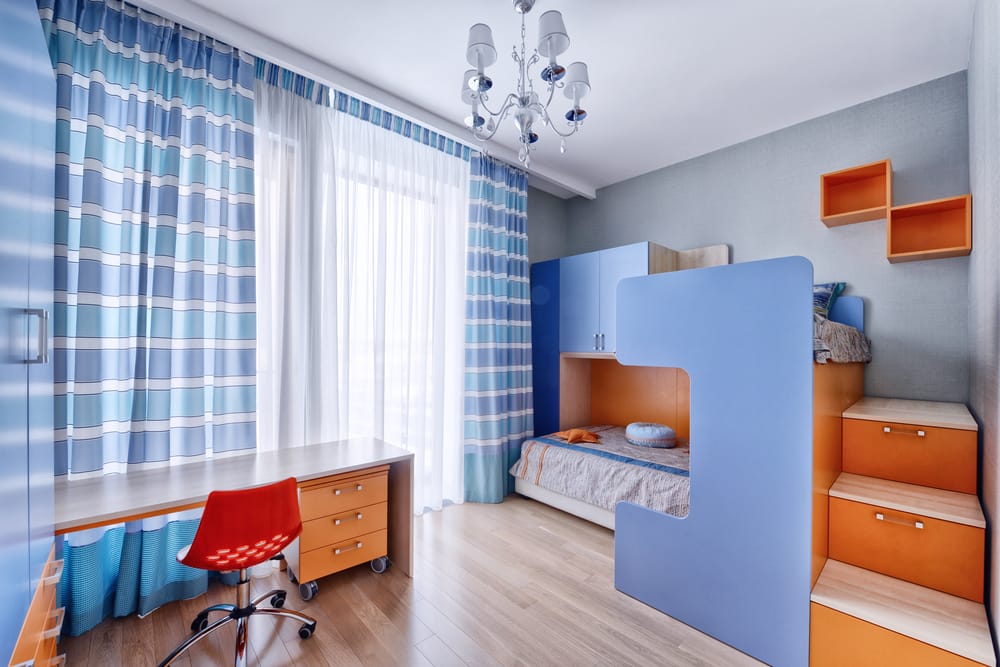 Do you have two young sons? If yes, you must include space-saver beds in their bedchamber. Install a statement chandelier to illuminate the room.
Throw in red and orange. Those warm colors rival the coolness of electric blues. Rolling chair and storage drawers allow easy movement.
11. Boy Bedroom Ideas 5 Year Old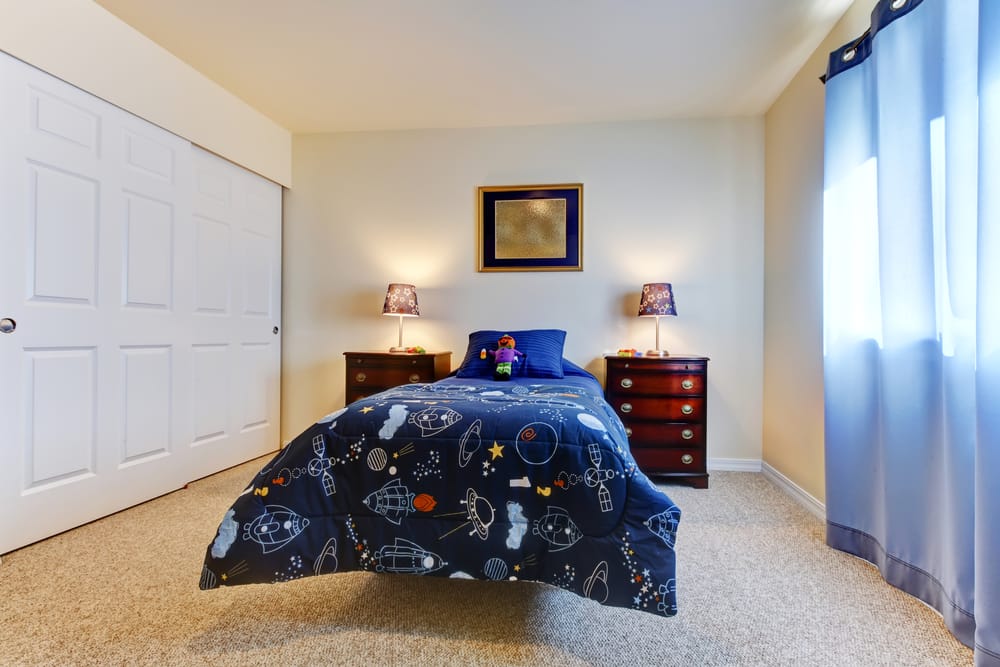 If your young man is a space geek, he loves this sleeping zone. The space-themed bedding contributes to the bedroom's whimsical feel.
White, beige, sand, and cream instantly evoke tranquility. Cherry wood nightstands carve a cozy atmosphere.
12. 6-Year-Old Boy Room Ideas

Every boy will count himself lucky for having this captivating bedroom. The starry sky decal and space blackboard wall flood the area with playfulness.
Red, light blue, azure, and yellow enliven the otherwise neutral bedchamber. Wooden floor and furniture legs bring nature's beauty.
13. Awesome Boy Bedroom Ideas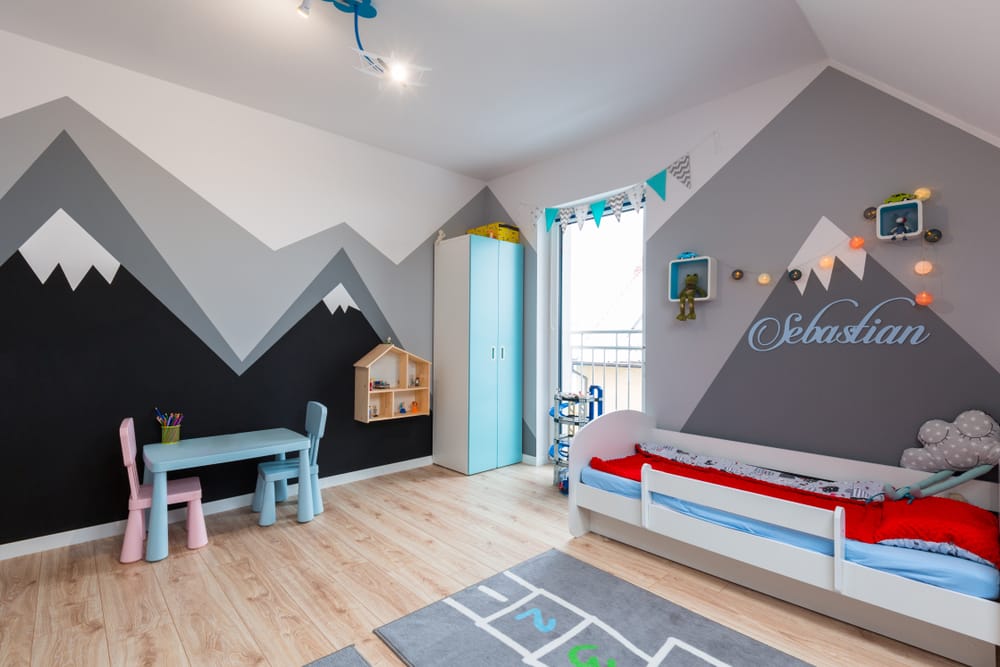 This little dude's sleeping space is marvelously covered in neutrals. They work nicely with funky patterns and vibrant colors.
Name sign on the wall ensures that the bedroom is exactly his. Playmats and plenty of toys turn the area into an indoor playground.
14. Boys Bedroom Ideas Pictures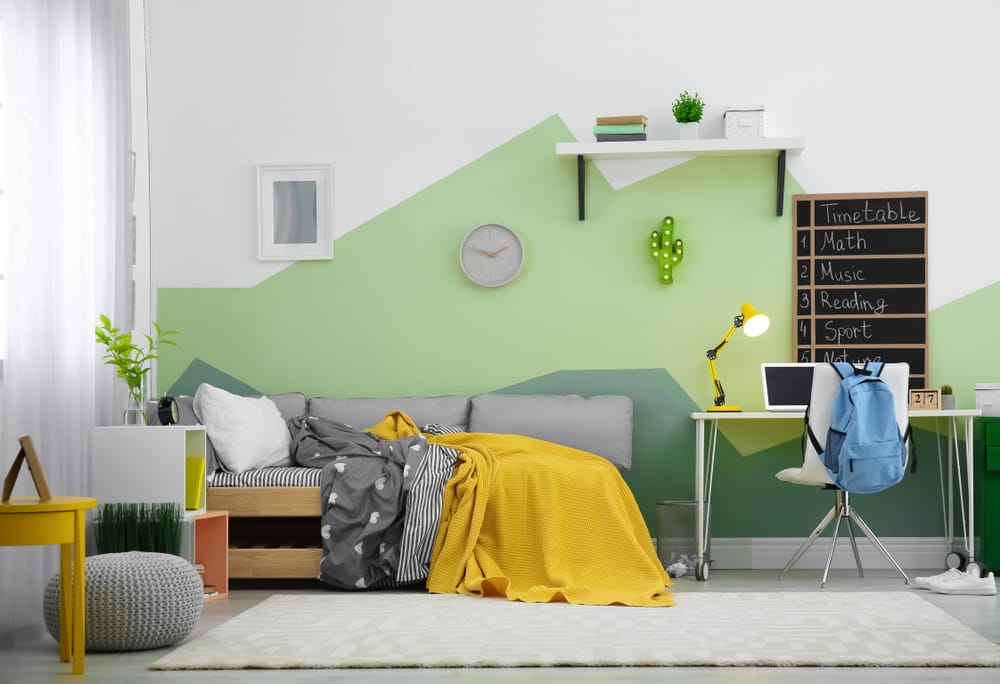 If your son's favorite color is green, gives this idea a go. Pastel greens on wall along with houseplants rejuvenate the room.
Yellow blanket, task table lamp, and table generate a sunny, youthful ambience. Meanwhile, artwork, open shelf, cactus lamp, and clock fill a blank wall.
15. Decorating Ideas for 8 Year Old Boy's Bedroom

Scattered yellow, blue, green, and peach add fun pops to the bedroom. Both of pastel gray and white balance out their boldness.
Box, storage cubes, and drawers are used to stash away his favorite items. Cactus wall decor boosts up a sense of youngness. Framed wall hangings unify the space.
16. Paint Color Schemes for Boy's Bedroom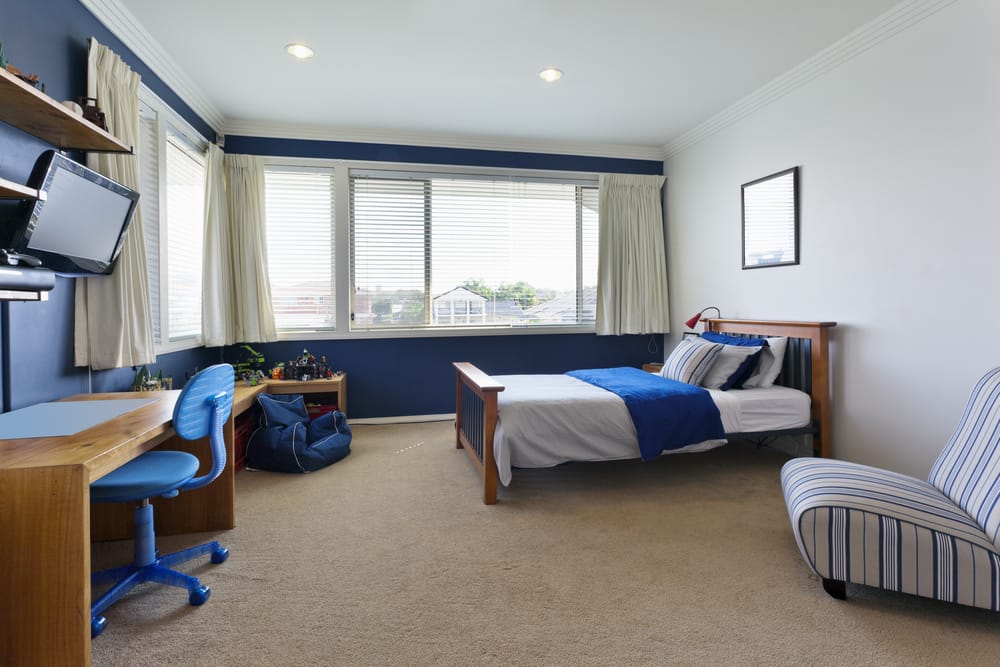 The walls are painted white and navy blue. They create a refined, fresh, and dramatic sleeping space at once.
Wood bed frame, desk, and open corner cabinet line the walls in a rustic manner. Stripes are playful, but not distracting.
17. Boys Bedroom Paint Ideas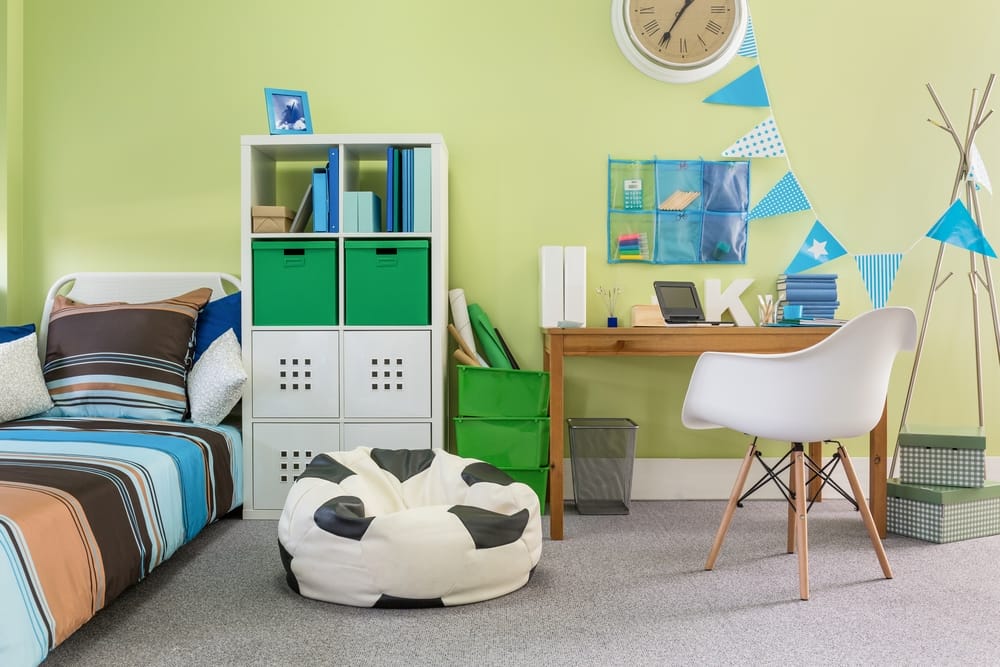 If you plan to paint your son's bedroom, lime green is the great choice. This youthful shade produces a soothing environment.
Blues and deeper greens raise up the fun vibes. Muted colors such as dark brown and tan complement bright tones. Ball bean bag evokes a cozy feel.
18. 10 Year Old Boy Bedroom Ideas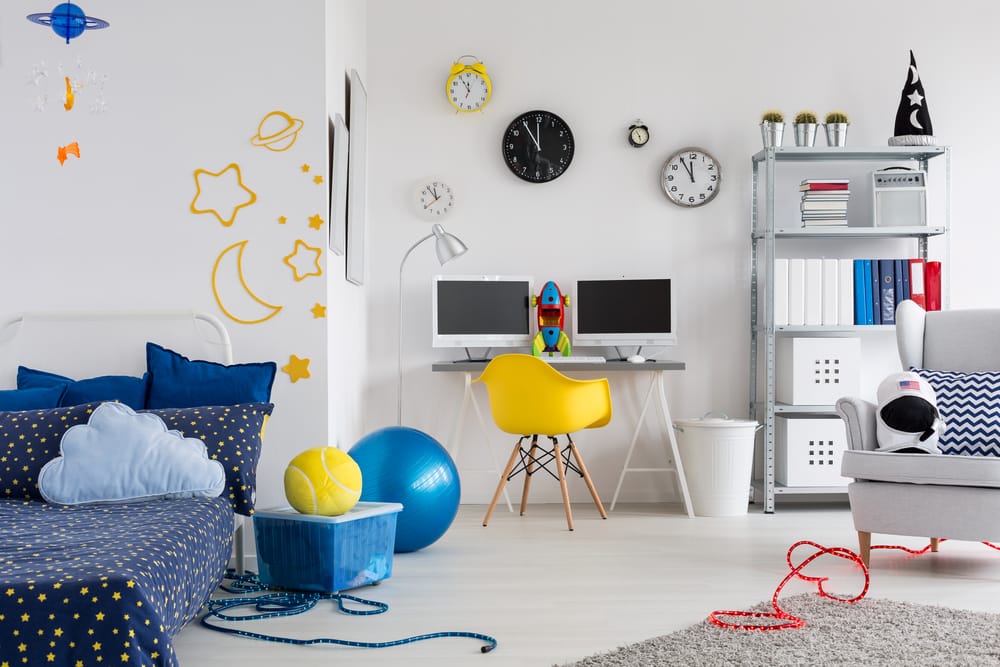 Your young man has a love for outer space; why not go with that theme? Install pale gray laminate floor and paint the walls white first.
Use starry sky bedding to complement outer space wall decal. Lastly, hang clocks over the homework station.
19. Green Boys Bedroom Ideas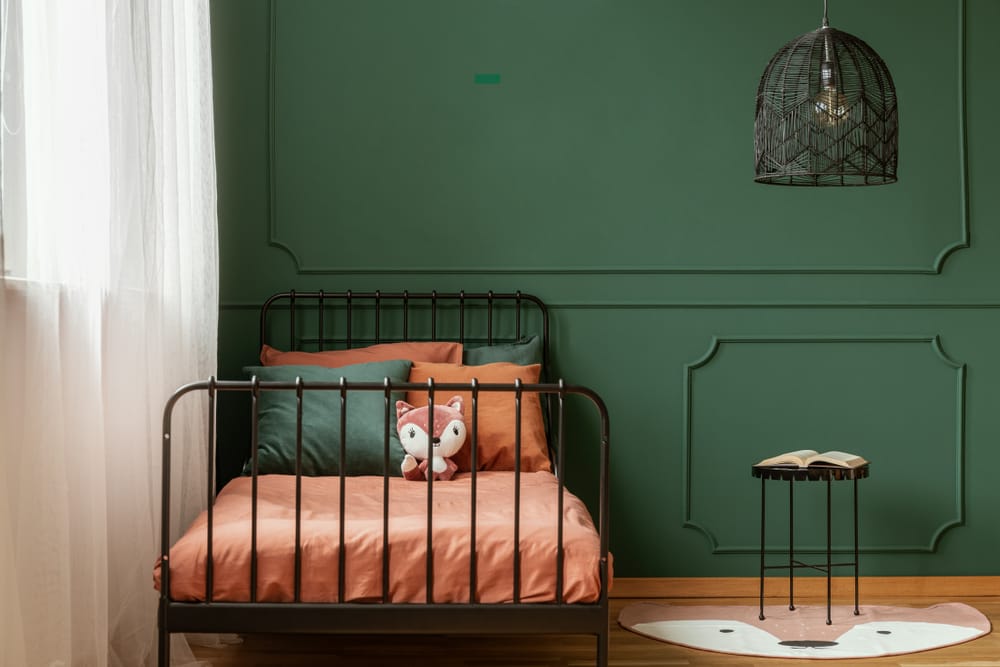 In this teen's bedroom, dark green wall panel offers an edgy look. It calms down the peach bedding too.
Black pendant light and wrought iron furniture stamp industrial style. Fox stuffed toy and rug finish out the space.
20. Cool Room Colors for Guys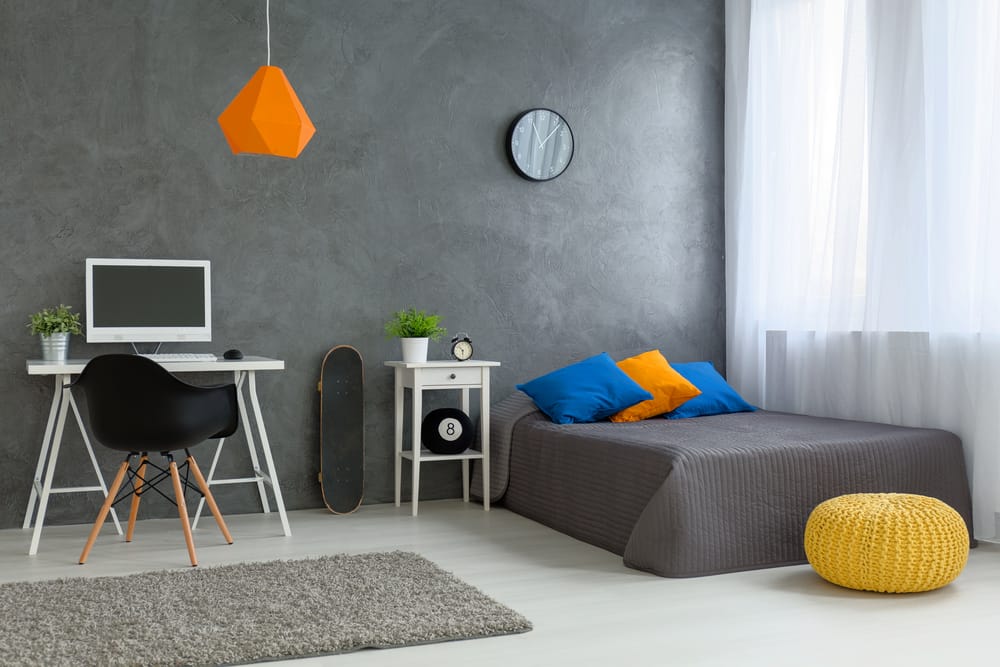 Concrete wall and cool gray shades preserve the sophistication of the teenager's room. Plus, they help prepare for the man's life.
Explosions of blue, orange, and yellow channel the youthful spirit. Potted plants improve the air quality.
There you have it, wonderful boys bedroom ideas. Pick a design that you and your son agree on. I guarantee the end result couldn't be more astonishing.