Surveys revealed that blue is the most favorite color of the homeowners. It comes as no big surprise because of blue channels tranquility and calmness. So if you want to sleep restfully in the night, the blue bedroom is the key.
Since blue has a huge selection of shades, it can pair and contrast other tones captivatingly. It also fits in perfectly with any interior design. Scroll down these ideas and pick the right blue for your retreat.
1. Blue and White Bedroom Decorating Ideas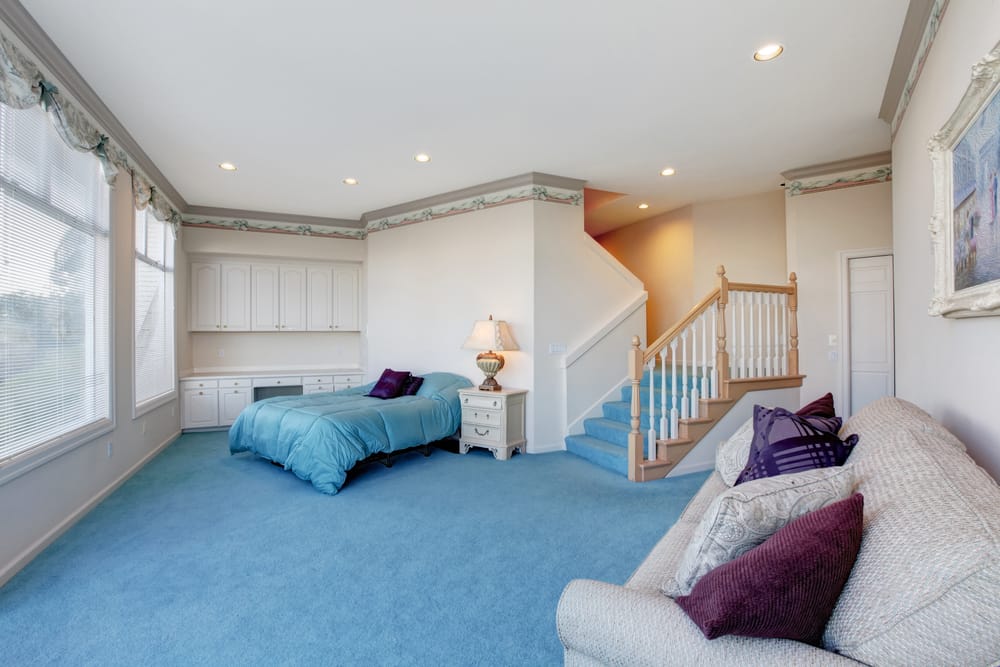 You can't go wrong with white and blue combo. Carolina blue duvet and carpet bring an instant freshness to the space, while the white base promotes a clean setting.
Purple throw pillows complement the sofa. White framed artwork decorates the traditional bedroom.
2. Blue Bedroom Furniture Ideas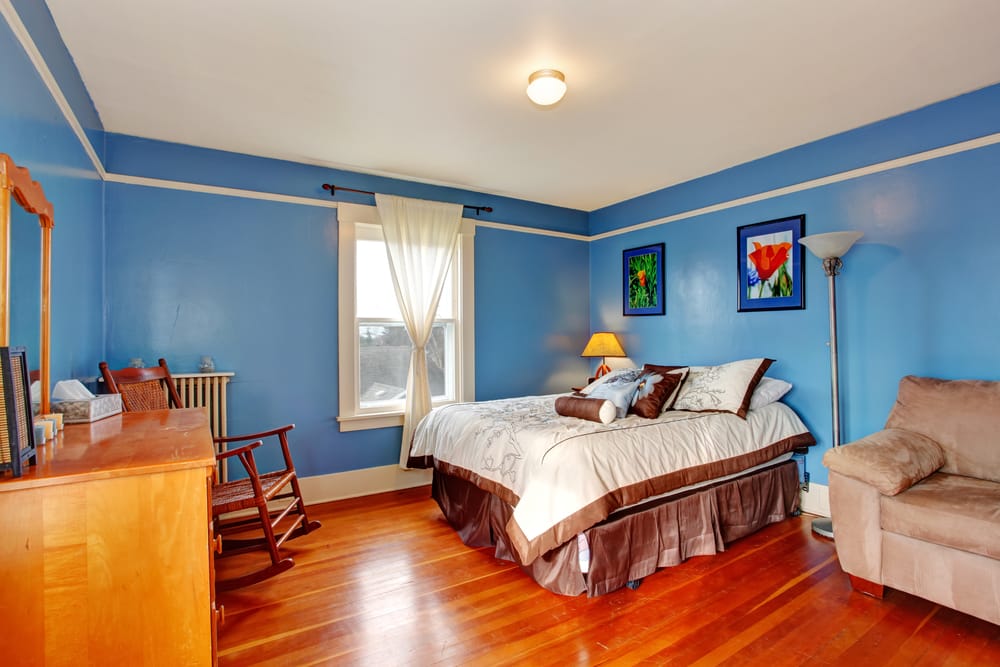 Blue walls keep this sleeping zone relaxing. Orange-toned wood floor and furniture pieces offer a warm contrast to the blue's coldness.
Beige velvet sofa and brown bedding magnify the intimate atmosphere. Works of art on the wall liven up the area.
3. Light Blue Bedroom Walls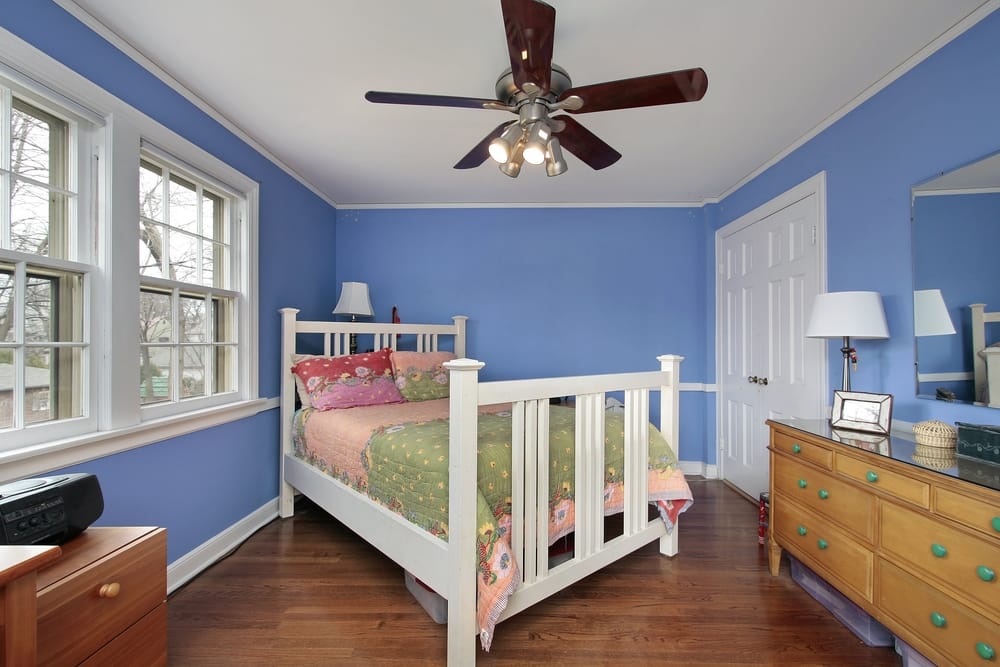 Girl's bedroom has to be cheerful. If you would like to inject happy vibes into her sleeping space, look no further than cornflower blue.
As you can see, cornflower-painted walls make the room more alive. Turquoise knobs on drawers and pastel floral bedding lead to a sweet, lovely sanctuary.
4. Blue Bedroom Ideas Pictures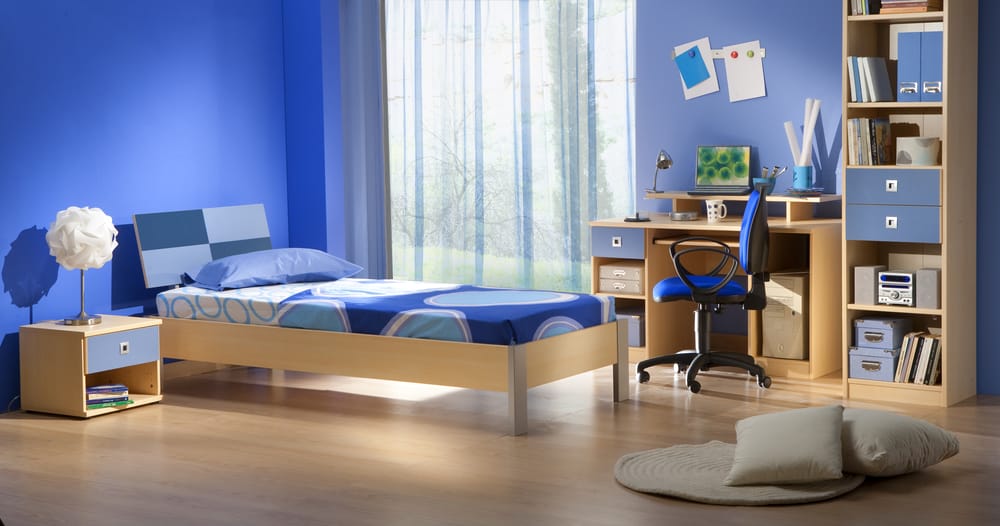 The homeowner involved a palette of azure, cornflower, and sky blue in his teenage boy's bedroom. They result in an interesting sleeping space.
Natural materials produce a rustic feel. Soft textures develop a cozy and welcoming ambiance.
5. Boy Bedroom Ideas Blue and Gray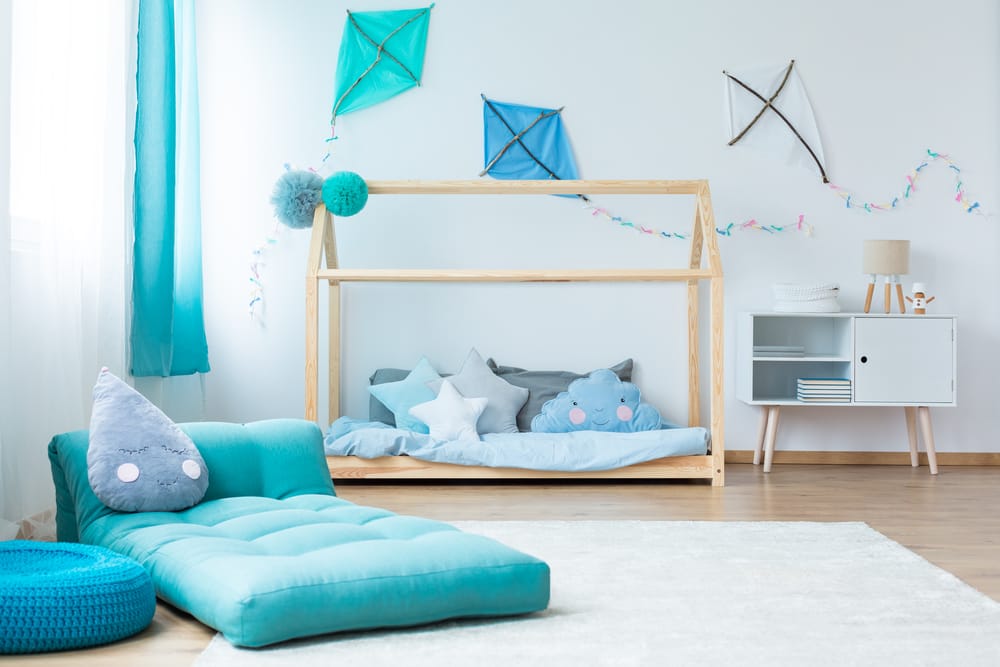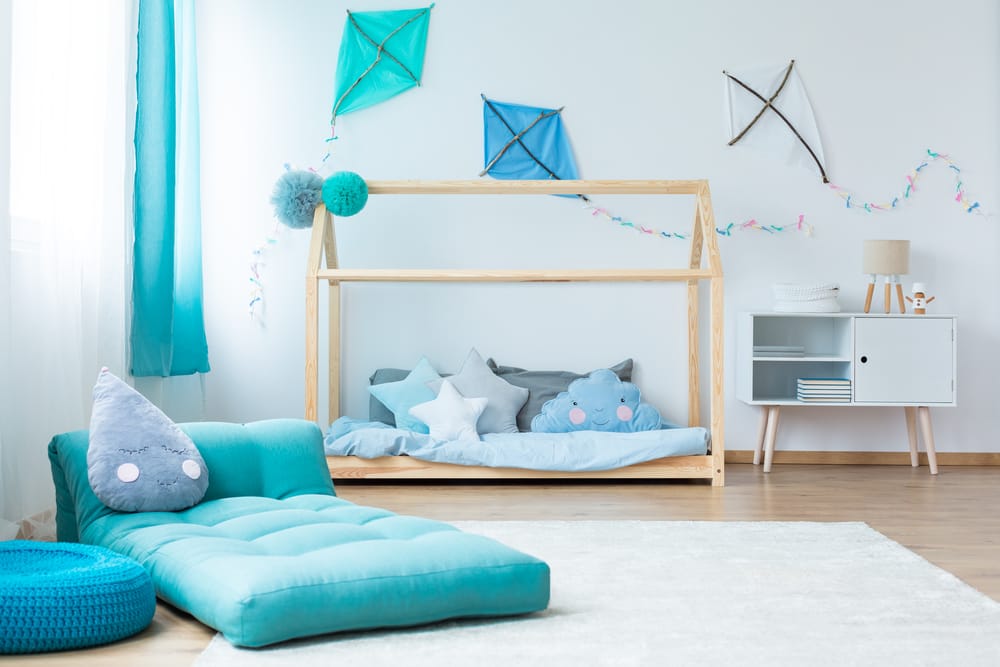 White walls and unfinished woods promote a bright as well as the airy environment. Turquoise and blue evoke a fun atmosphere.
Gray pillows tone down the vibrant units. Shaped throws encourage sweet dreams and inspire creativity. White, blue, and turquoise DIY kites unify the bedroom.
6. Dark Blue Bedroom Ideas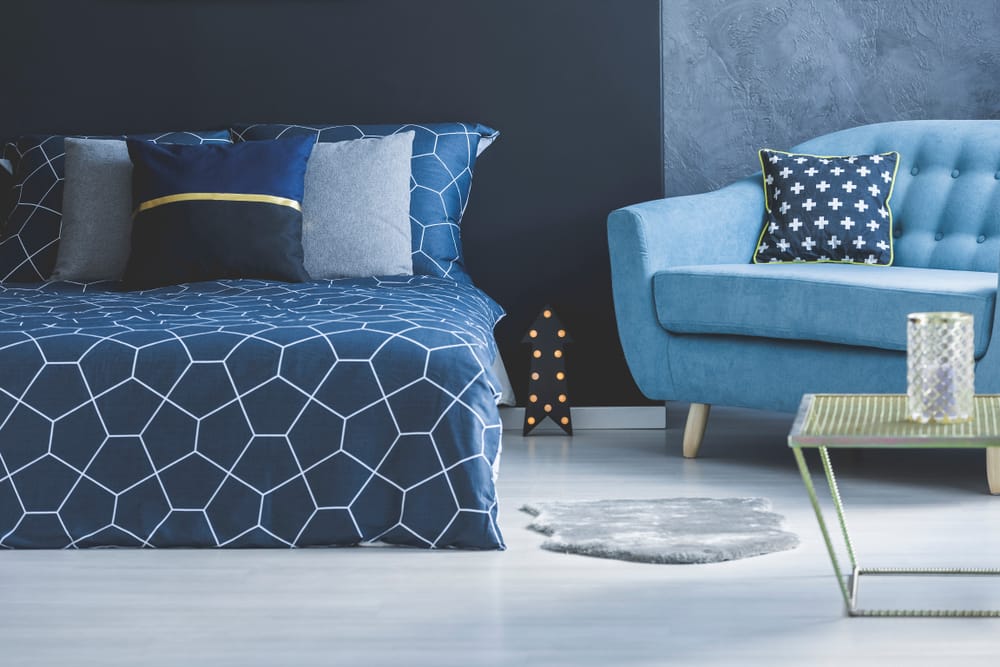 In this photo, dark blue wall lends the sleeping zone natural drama and sophistication. It also generates a moody feel.
Medium blue, green, and gray are thrown in for keeping the space from being drab. Lots of patterns provide an eclectic style.
7. Light Blue Paint for Bedroom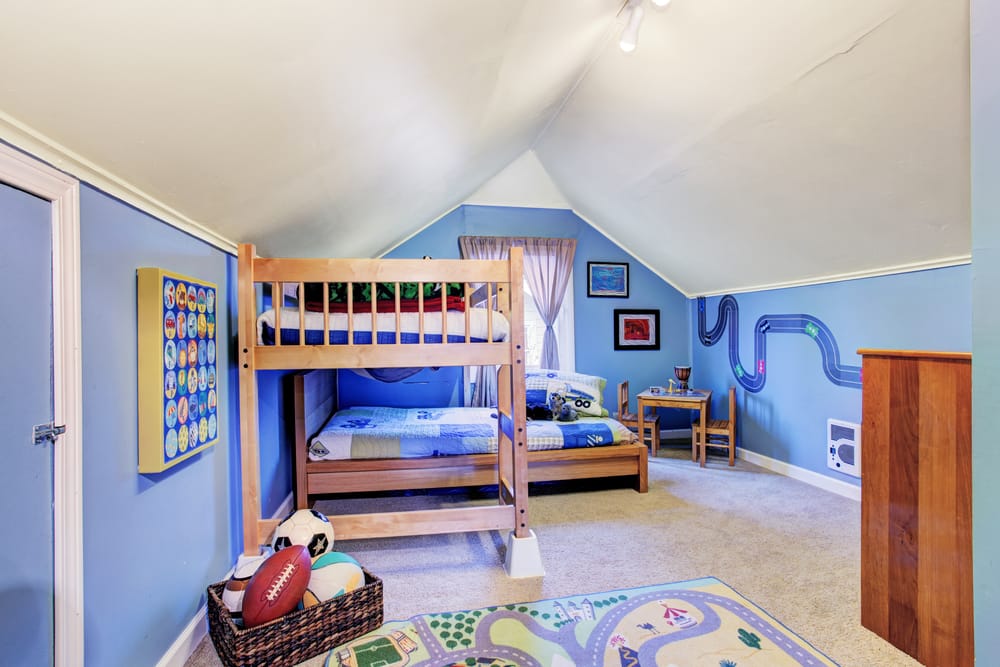 White vaulted ceiling creates the perception of larger space. It teams with light blue walls. They exhibit a casual and playful vibe.
Wooden bunk bed, table, cupboard, and chairs offer a lived-in atmosphere. Play mat, wall decal, framed artworks, and hanging ornament complete the scene.
8. Navy Blue and Pink Bedroom Decor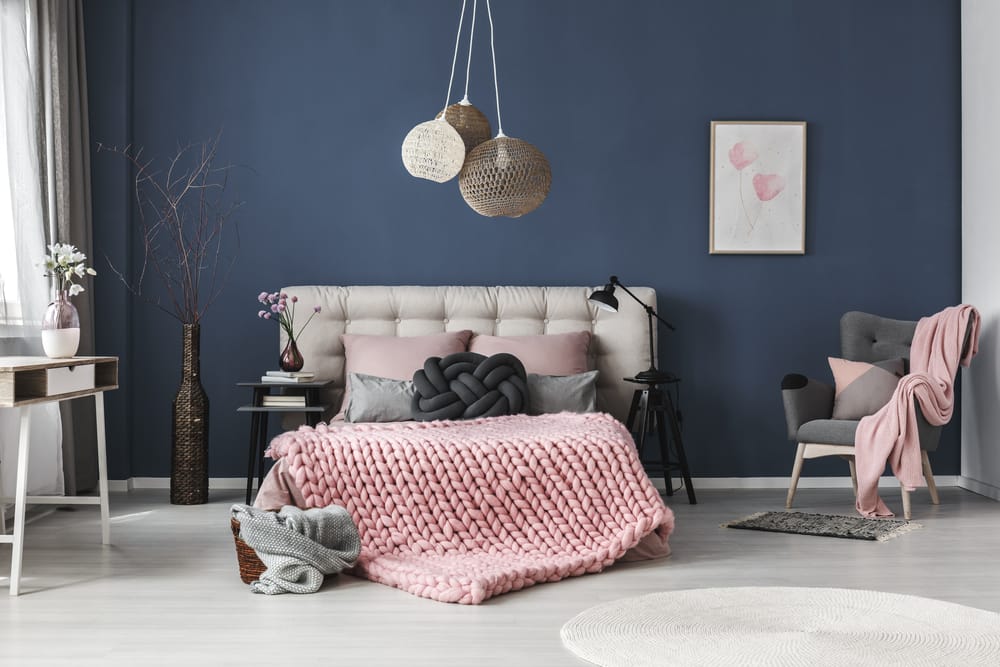 Here, the accent wall is painted navy blue. This intense shade adds depth and a bit of mystery to the sleeping zone.
Pastel pink throw pillows and blankets produce a gentler look. Floral wall art, flowers on vase, and leafless branches embellish the bedroom.
9. Blue Bedrooms Pinterest

This bedchamber seems so open due to white ceiling, bed frame, walls, and nightstands. Two table lamps coordinate well with the overall flow of the room.
Prussian blues keep the sleeping space peaceful despite the busy patterns. Brown carpet conveys an aura of warmth in a flash.
10. Royal Blue Bedroom Decorating Ideas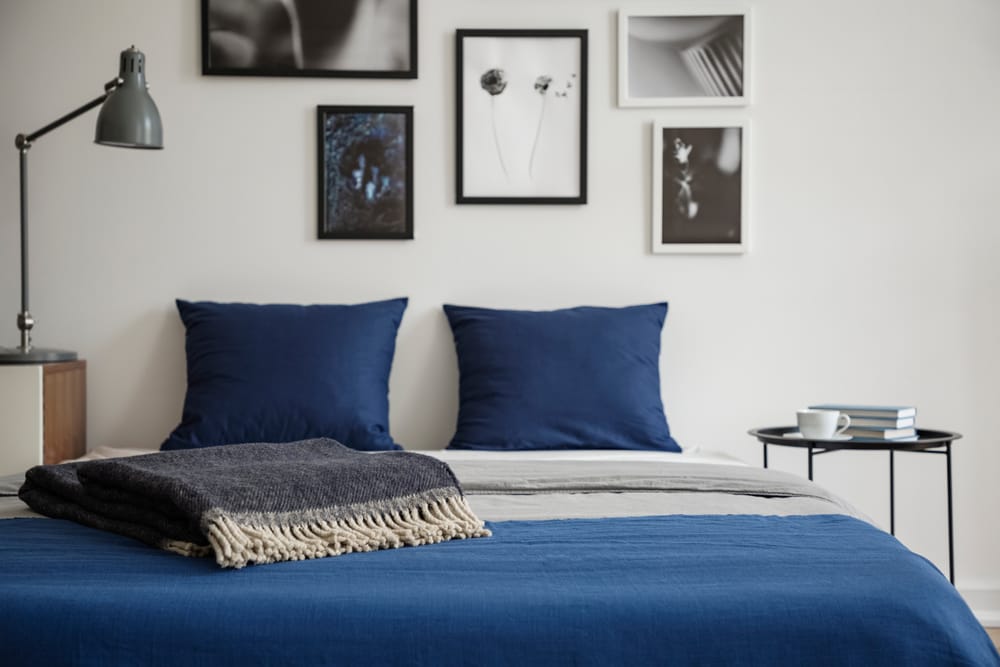 Although this sleeping space is small, it does not lack of personality, thanks to framed artworks on wall. They are such show-stopping decorative pieces.
Royal blue comforter and throw pillows break up the whites. Gray blanket and task table lamp raise the elegance of the room.
11. Blue Bedroom Color Schemes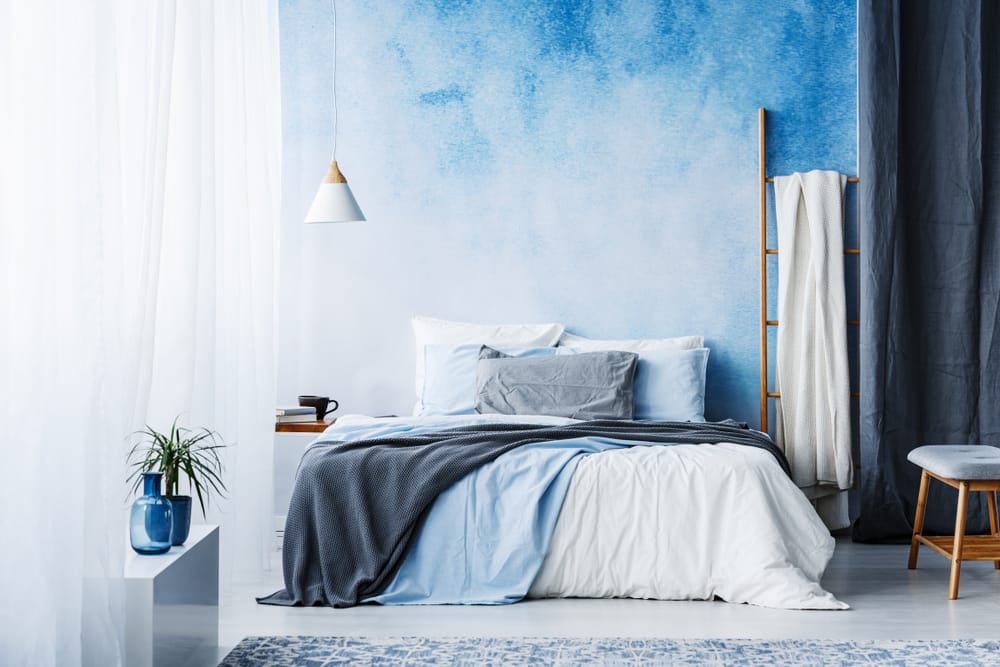 Blue and white produce fantastic watercolor effect in this Scandinavian-style bedchamber. Shots of light blue, azure, and gray emanate a soothing ambiance.
Unpainted wood side table, stool, and ladder bring the outdoors in. White-and-wood cone pendant light gives a cohesive look.
12. Teenage Girl Blue Bedroom Ideas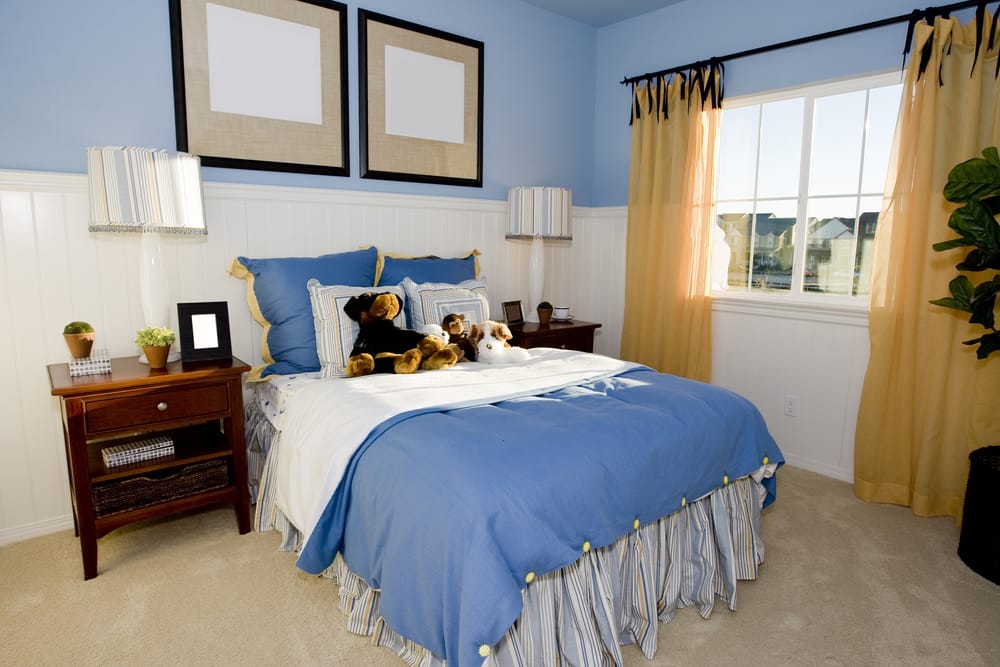 This teen's girl bedchamber is covered in beige, white, cornflower and sky blues. Those shades exude a breezy atmosphere.
Sunny yellow curtains are a bold contrast to white and blue walls. Dark wood nightstands ooze a sense of warmth.
13. Gray and Blue Bedroom Ideas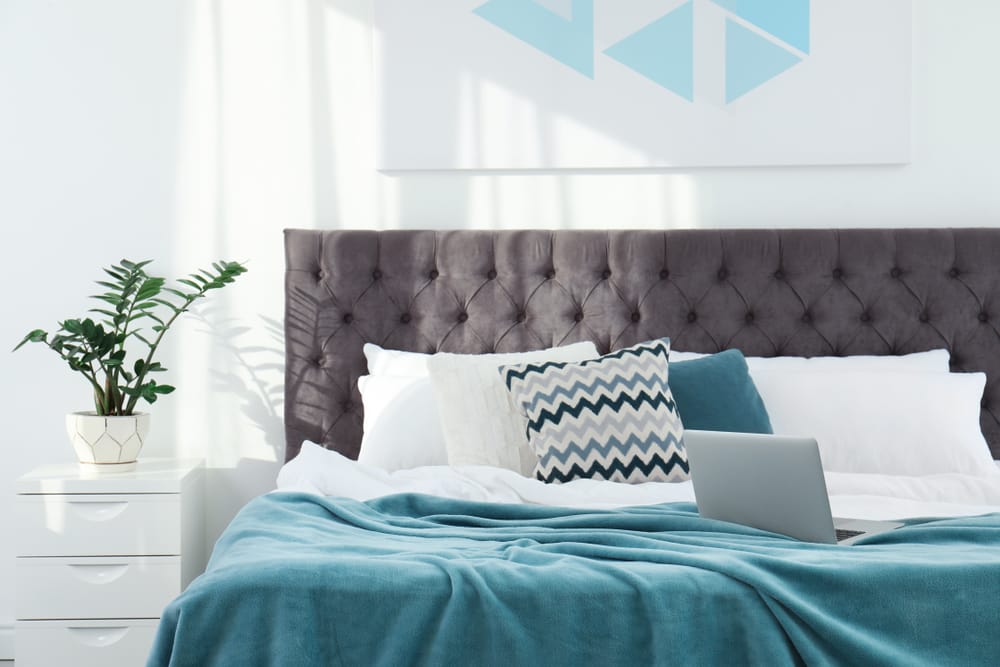 Who says blue bedroom can't be glamorous? Here, teal blue blanket and throw pillow along with gray tufted headboard promote a classy setting.
White wall allows the artwork to be more noticeable. Meanwhile, multi-tone throw pillow on the bed draws the eye in a split second.
14. Navy Blue Bedroom Color Schemes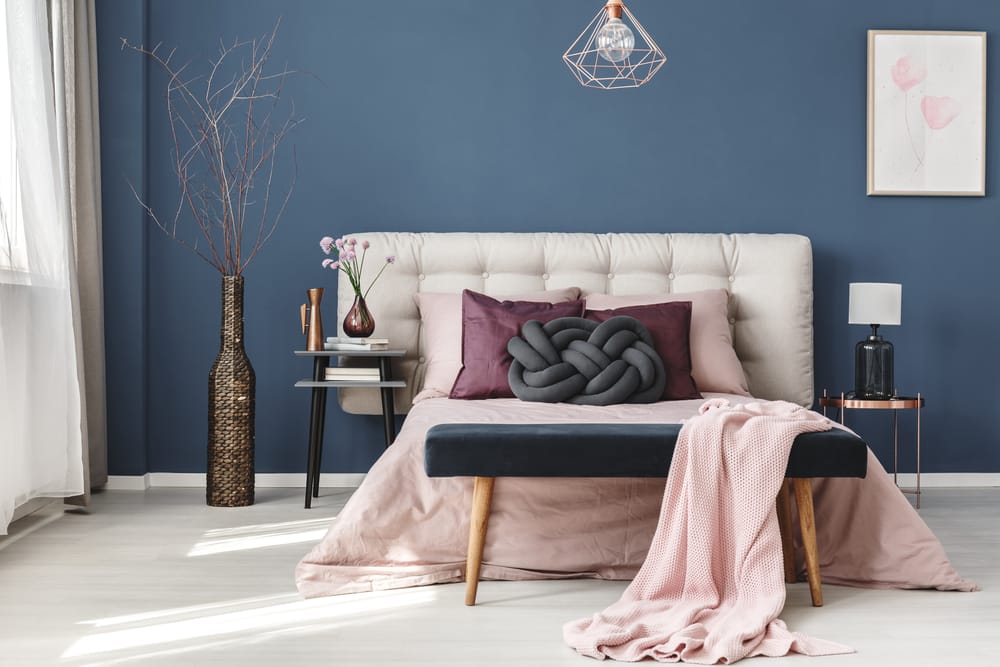 If you wouldn't like to go all blue, give this idea a glance. Navy blue accent wall and bench at the end of the bed appear so sophisticated.
Pink blanket, comforter, and pillows add some softness to the room. Plum purple throws develop a blissful setting. Copper units infuse a dash of opulence.
15. Blue Boy Bedroom Ideas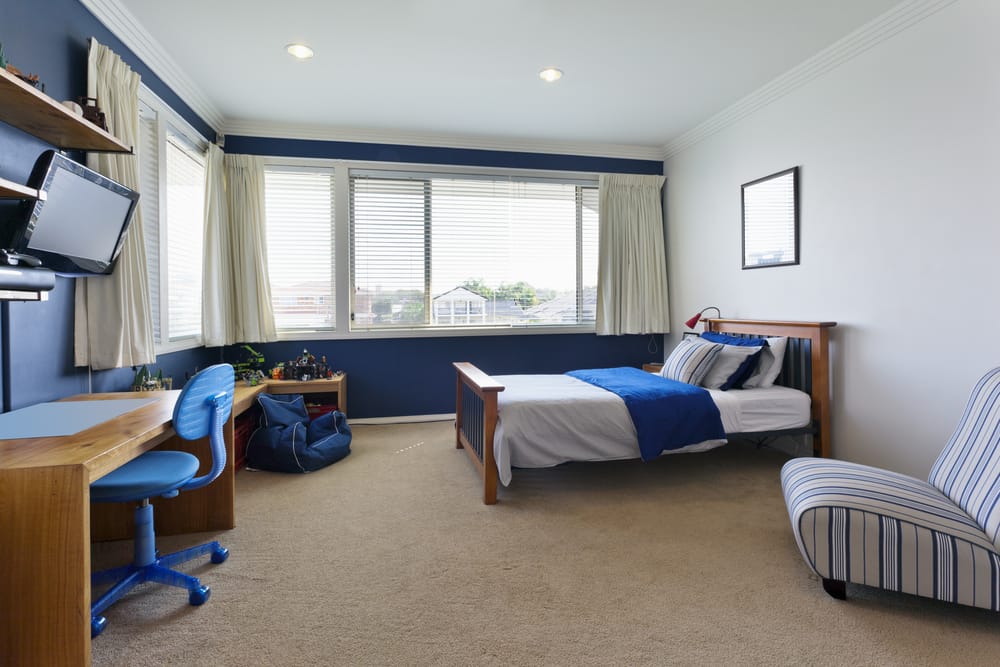 Ivory curtains contrast delightfully with navy blue walls in this boy's bedroom. Meanwhile, azure blue chair and comforter radiate cheerfulness.
Long wooden desk contributes to an ultimate homework station. The stripes do not seem clashing since they have a palette of white, blue, and ivory.
16. Blue Bedroom Ideas for Adults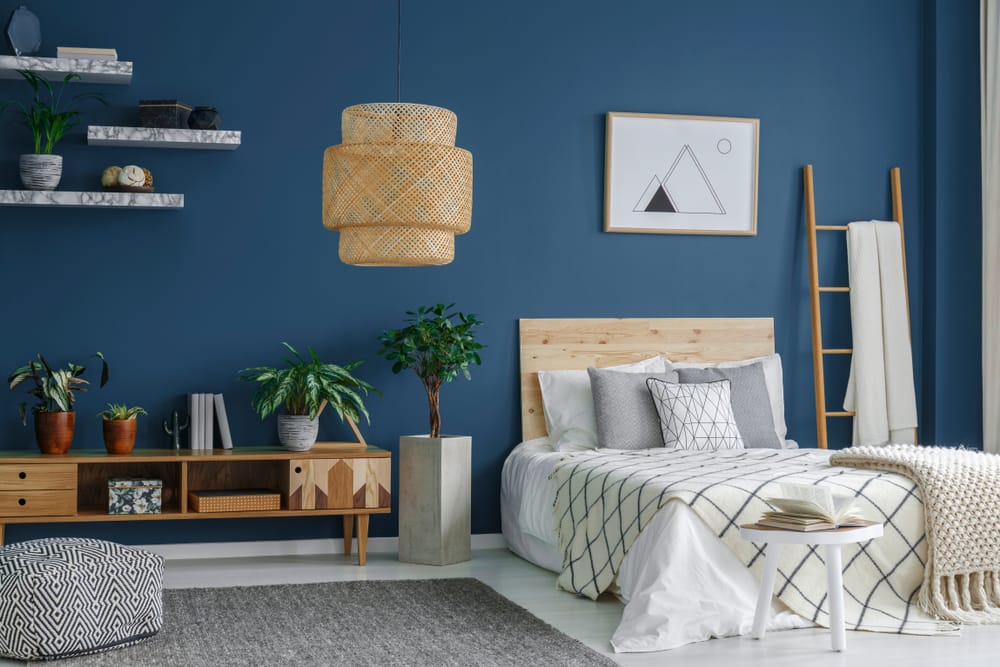 Pictured here is a bedroom with navy blue wall, white rubber floor, and raw wood furniture units. Plenty of patterns lend the area boho chic.
Marble open shelves on the wall transform the space into a luxe escape. Potted leafy plants revitalize the room.
17. Blue and White Bedding Sets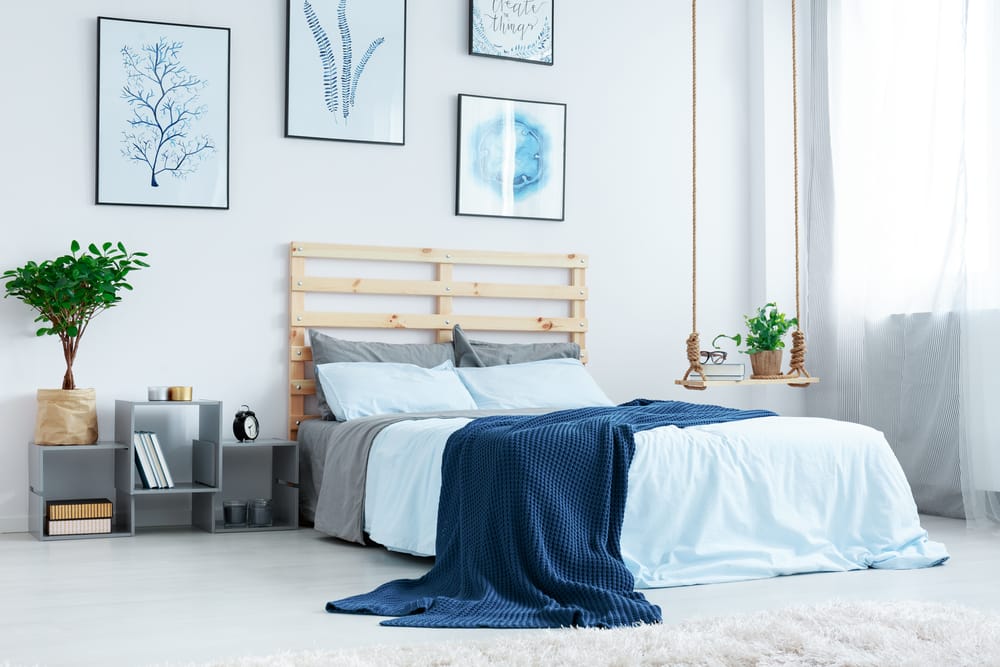 All blue is too much for your bedchamber? Just top the white bedcover with textured blue blanket. It poses as the focal point of the room.
Place indoor plants on shelving unit and swing. Black frame blue and white artworks are terrific crowning touches to the space.
18. Blue Wall Paint Combinations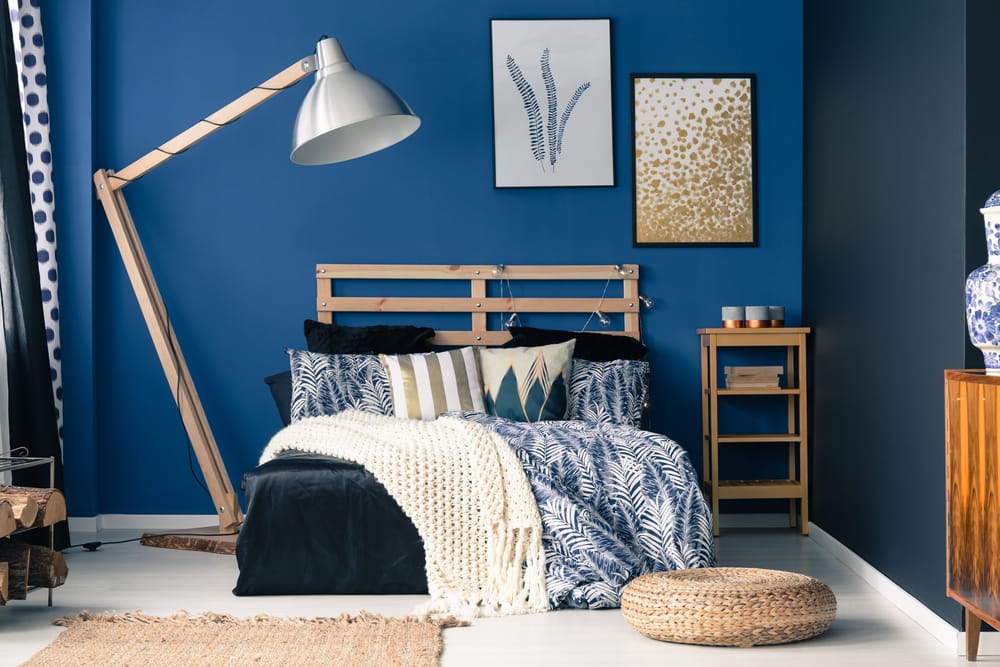 If you prefer something dramatic but not so gothic, paint the walls of your bedroom navy blue and azure. Inject more depth with navy curtains and bedding.
Unfinished wood furniture, wicker pouf, and jute rug offer rustic textures. Prints, patterns, and gold things add spice to the area.
19. Light Blue Bedroom Ideas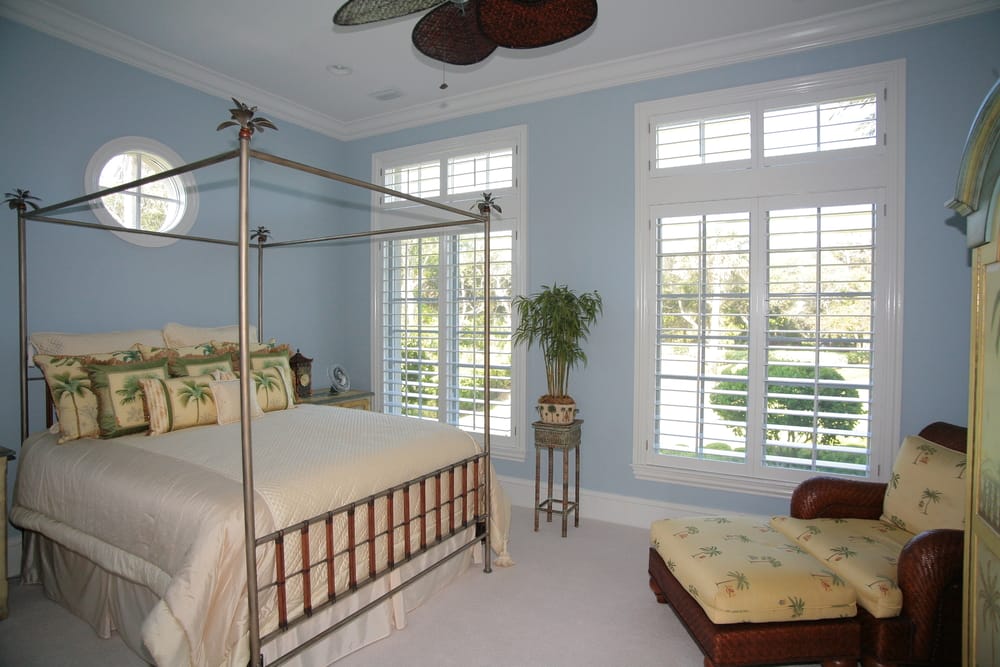 Sky blue and white are major players in this bedchamber. They exhibit a serene ambiance and remind you of a beach vacation.
Brown leather armchair and golden four poster bed make a design statement. Palm tree prints on pillows and pads up the tropical vibes.
For sure, those blue bedroom photos leave you speechless. Whatever the idea you choose, take a few factors such as your lifestyle and environment into consideration.